I (Monica) have a large family by today's standards. I have successfully taken my family of 6 to Disney World multiple times, and I am here to share my best tips and tricks. Consider this your complete guide to surviving Disney World with a big family.
Disney + Big Families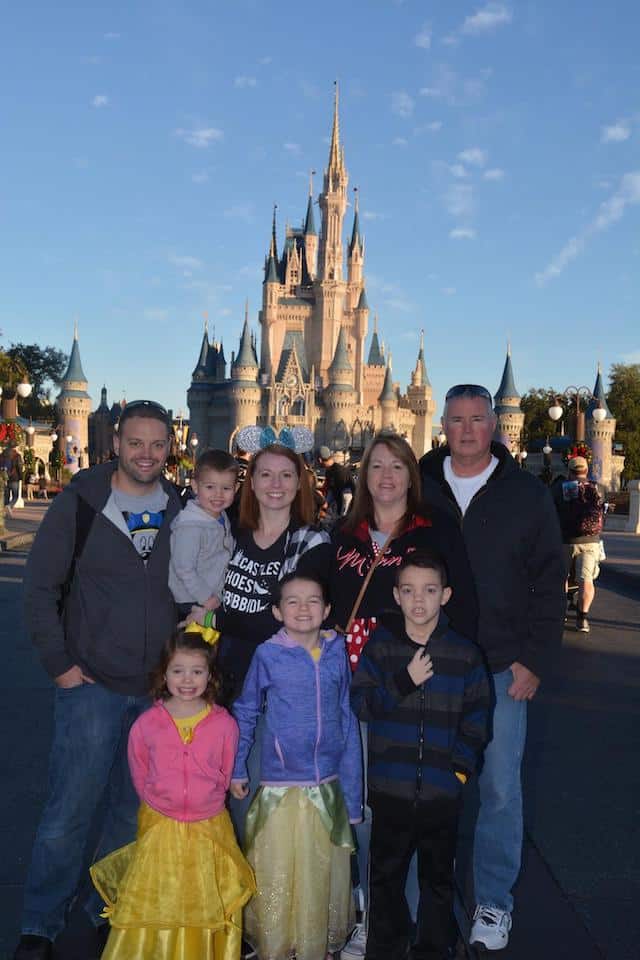 Yes, it is possible to go to Disney World with a lot of kids. I have 4 of them, and just like everything else in life, you learn how to navigate the world with a large crew. Disney World is no different. Not only do my husband and I take our four kids, but my parents usually come with us so we end up with a total of 8 on most trips.
I've had to figure it all out – from which rooms accommodate big families, how to stretch that Disney food budget with so many mouths to feed, and just how to navigate park touring with so many varying interests (and heights).
I'm going to share everything I've learned along the way to make it easier for you as you plan your Disney trip! Let's take a look at the major parts of planning a Disney trip through the lens of a large family: resort, transportation, food, and park touring.
Choosing the right Resort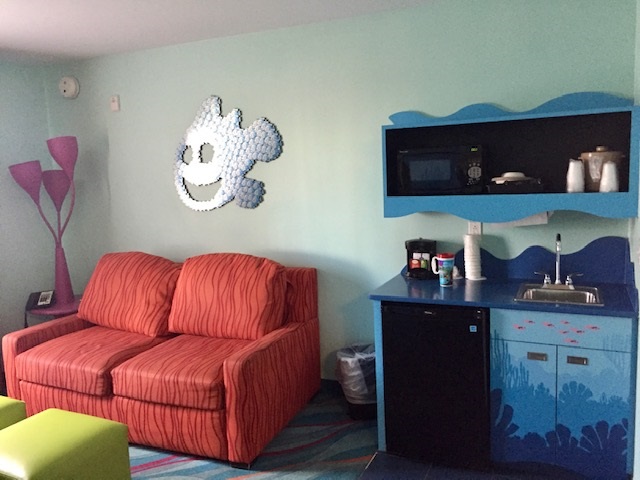 Finding hotels are one of the biggest obstacles I face when planning a trip anywhere. I can either get two rooms or dump a bunch of money and get a suite. The same is essentially true at Disney World, but there are some cheaper options that sleep larger families. Let's take a look at all your options for big families.
Value Resorts
The only value resorts that sleep 6 people are All Star Music and Art of Animation. Both resorts have suites that include a separate bedroom, a kitchenette, and pull out sofa. Unfortunately, All Star Music is closed at the time of writing so your only option would be Art of Animation. To give you an idea of what those suites are like, read Kate's review HERE.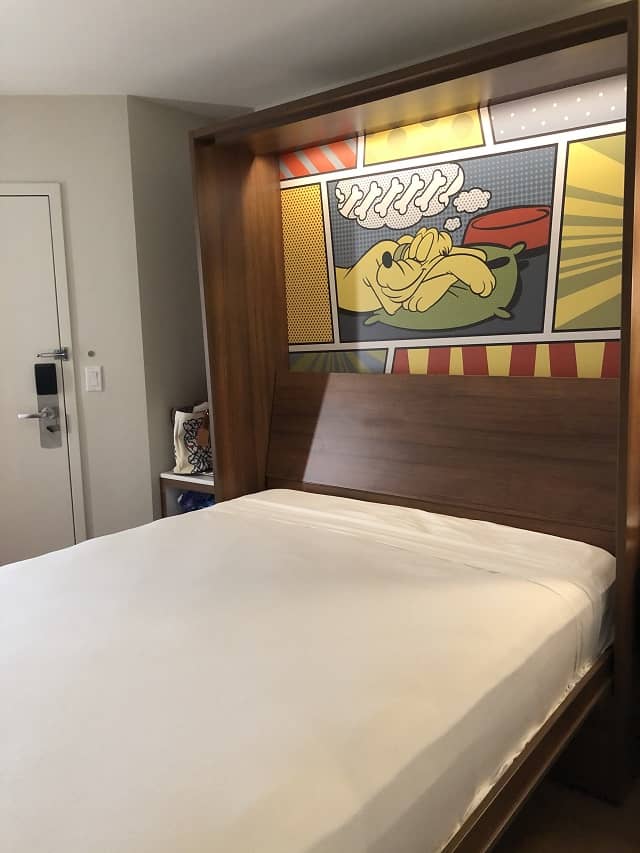 Your other option for value resorts would be to get multiple rooms. Depending on your family size that could be up to 3 rooms (which would sleep 12 for most resorts). If you find a great discount for your travel dates, it may be worth splurging to get multiple beds (no pull outs!) and bathrooms.
I would consider the campsites at Fort Wilderness Resort to be value in price so I'll include them here. If you have an RV (we do!), taking your camper down to Disney would be a fun experience! We haven't been able to do this yet, but being in your own "home away from home" while in the Disney bubble is a huge money-saver for larger families.
Hopefully we will take our camper down there soon so I can do a big review!
Moderate Resorts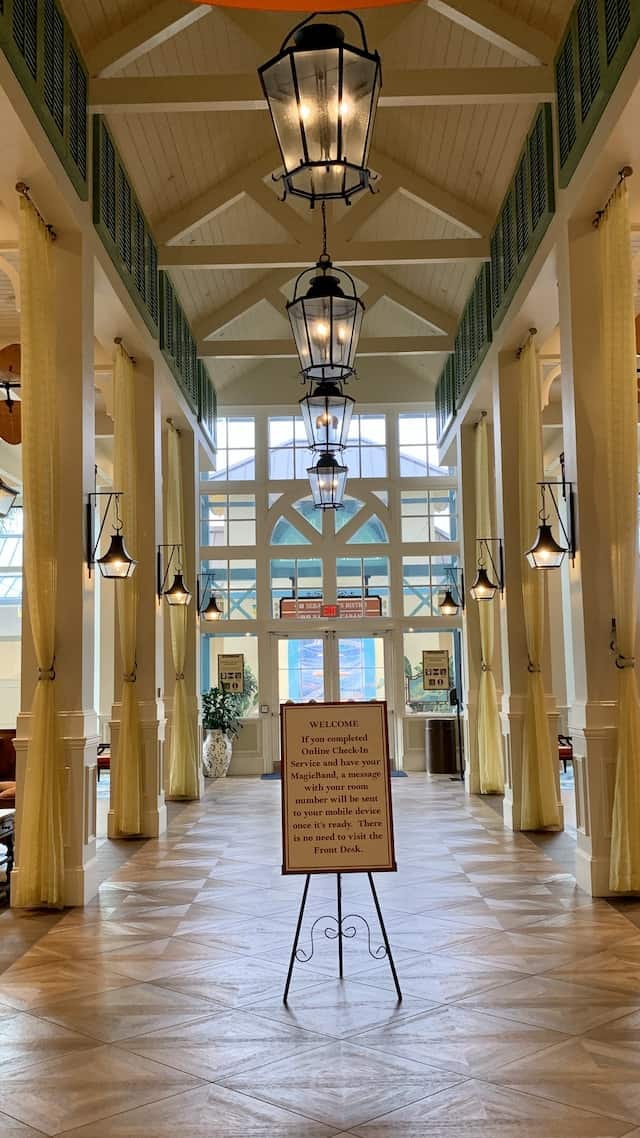 The moderate resorts at Disney offer a bit more flexibility for your larger family. Caribbean Beach Resort and Port Orleans Riverside (currently closed) sleep 5 in some rooms because they offer a pull-down bed.
Coronado Springs offers suites that sleeps up to 8 depending on room type. However, those can be almost as expensive as deluxe resorts! Additionally, the Cabins at Fort Wilderness can sleep up to 6 people but are considerably smaller than other Disney Resort rooms.
Like value resorts, you can book two moderate rooms. If you have 10 people in your family, you could get two of the 5th sleepers. Otherwise, if I were to get two rooms I would just stay at a value resort. You're getting the same number of beds and bathrooms for less money at a value resort.
Deluxe Resorts and Villas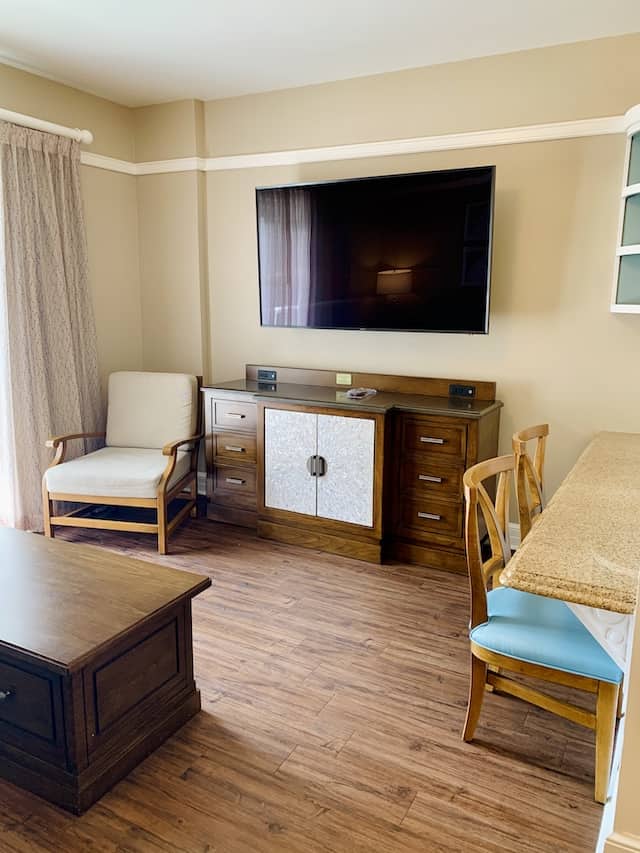 If you have a larger budget for your larger family (and even if you don't – there are some ways around that!), deluxe resorts offer accommodations that sleep up to 12. These are the nicest resorts on property, though, and they do come with a bigger price tag.
Old Key West and Saratoga will have your biggest rooms at the cheapest price. After that, you are looking at Animal Kingdom Lodge and the EPCOT area resorts as being the next most expensive. Finally, Riviera Resort and the Magic Kingdom resorts will have the largest price tags. Do note that pricing can vary depending on season and discounts.
On our first family trip to Disney, we stayed in a 2 bedroom at Old Key West. We did not have a big budget, but my parents paid for their part of the room. We also ate at quick-service restaurants only to offset the resort cost.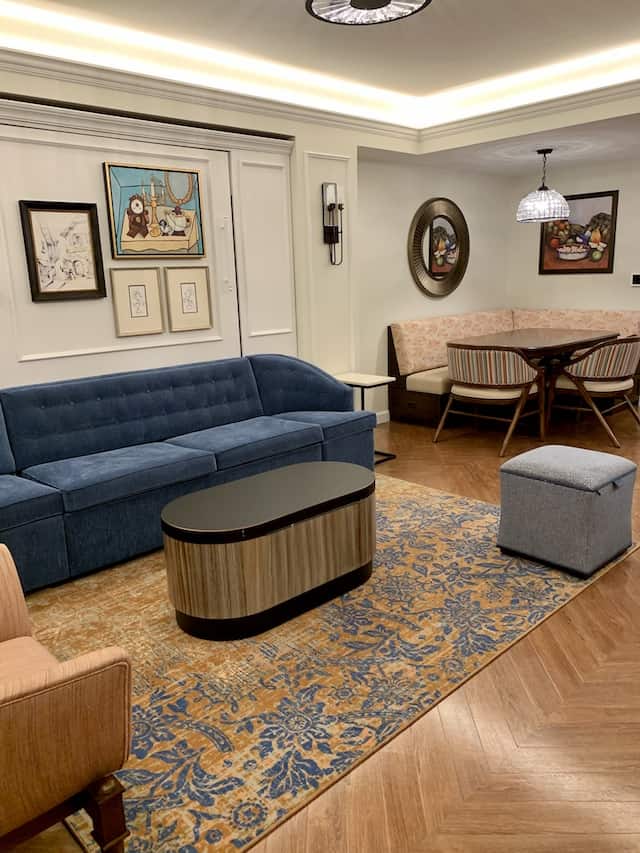 Don't let Disney scare you if you have a big family! Shift some things in the budget if you need to spend more on a resort.
Now that I know about renting points, I have a completely different view of deluxe resorts. If you want to get really savvy, check out my how-to for renting DVC points HERE. Renting points allows my large family to stay in a big enough room without blowing the vacation budget.
Offsite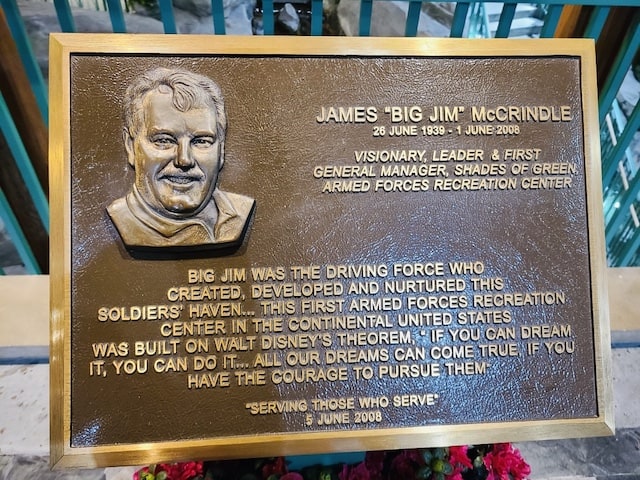 Finally, offsite hotels are an option for big families. If you are a large military family (thank you for your service!), Shades of Green has suites as do the Swan and Dolphin hotels.
Finally, there are countless hotels and rental houses nearby that will accommodate your large family. Many times they are very cheap compared to Disney Resort hotels so you can have the best of both worlds: a large space for your family and staying in the budget.
While you will have to get a bit more creative finding enough space for your big family at Disney, you already do that all the time in real life, right?
Transportation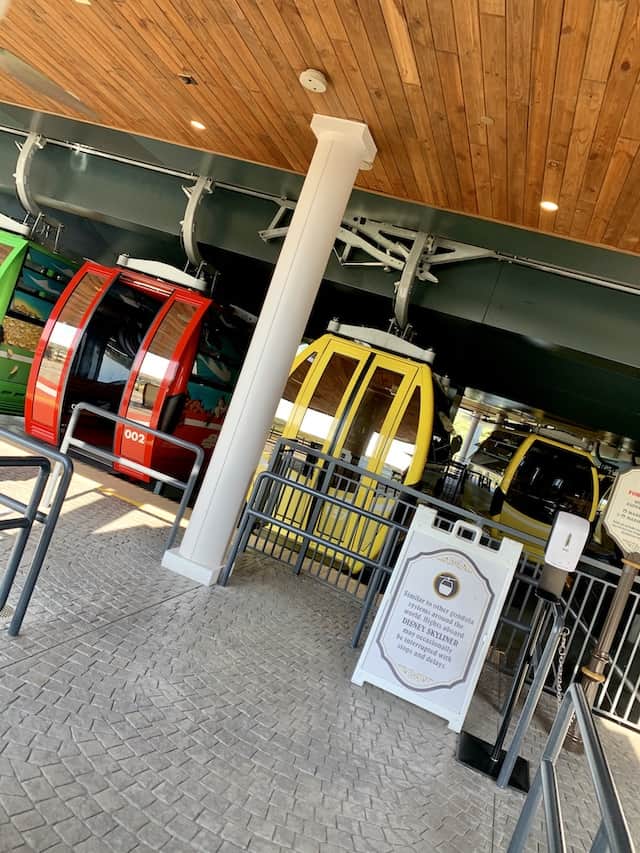 Speaking of real life, transportation for a large family can be a struggle. Having to skip all those sleek cars for a huge SUV or minivan can drag you down. There are a few key things to keep in mind when getting to and around Disney World. Taking your own vehicle or renting one will be your best option, but there are some ways to get around not having that huge minivan on vacation.
Disney's Magical Express and Resort Transportation
If you plan to fly into the Orlando area versus driving, Disney's Magical Express is a godsend for big families. This is a free service Disney provides for Guests staying at a Disney Resort. This is a large motor coach so no car seats needed, and there are plenty of seats!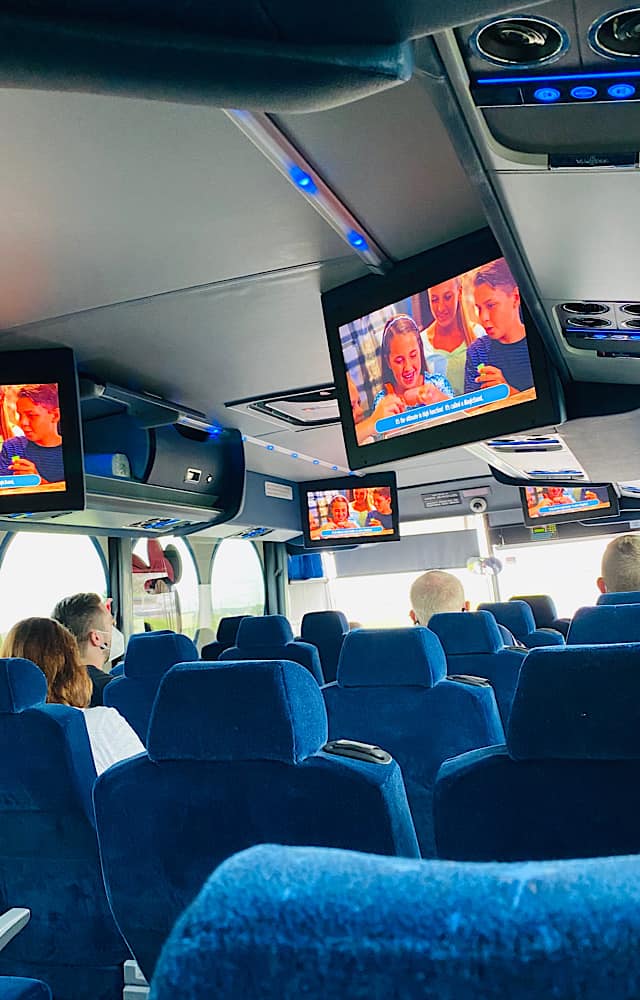 Unfortunately, this free service will end in 2022. This is problematic for large families in particular because our options for ride sharing will be smaller than normal-sized families.
Once you are on property, you can use Disney transportation to any of the theme parks, resorts, and Disney Springs area. The Skyliner, Monorail, and Boats don't present a problem at all for large families. You may have a bit more trouble using busses because of the physical distancing and reduced capacity on busses.
Solely using Disney transportation can be problematic for early or late dining reservations. In most cases, park transportation doesn't start until an hour before the parks open, and busses don't run between resorts. Using a ride share service would be your only option in some cases, which can be costly for big families.
Personal Vehicles and Car Rentals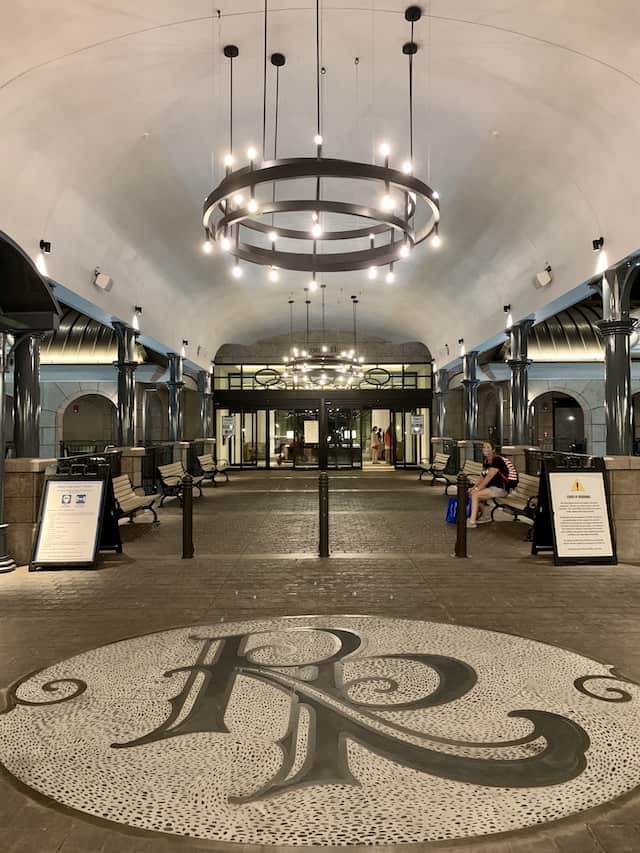 As I mentioned above, taking your personal vehicle or renting a car will circumvent many of the issues large families run into using Disney transportation. However, it can add up with overnight parking fees at Disney resorts. Right now, value resorts cost $15/night, moderate resorts cost $20/night, and deluxe resorts cost $25/night. DVC members do not pay for resort parking.
Parking at the parks is free right now for Guests staying at Disney hotels, but if you are staying offsite you will have to figure in the cost of parking each day ($25/day). Parking at Disney Springs and the water parks is complimentary for all Guests.
Ride Sharing Services and Car Services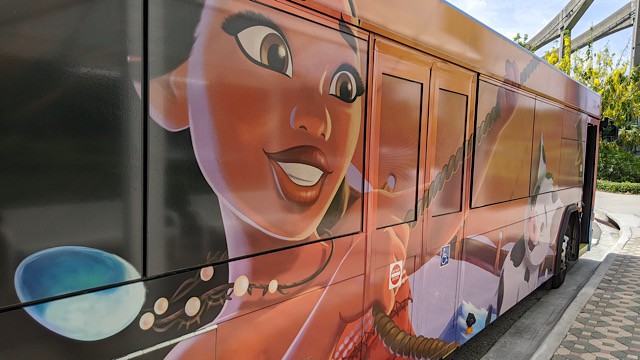 Several companies offering car services are available in the Orlando area. I remember for one trip we were lodging at Shades of Green. Since they do not offer complimentary transportation, we decided to have a car service take us to/from the airport and hotel. My husband absolutely loved it because the driver handled our bags, we didn't have to wait for the Magical Express, and we went straight to the hotel.
However, we had to get a large SUV to accommodate all 6 of us plus the driver and the cost (about $100 each way + tip) pushed me to never book a hotel offsite again!
Using Uber/Lyft is also an option for getting around property and to/from the Orlando airport. However, this can be very costly for large families. The few times we have used this service, my parents had to get their own Uber, and it cost me upwards of $40 one way to have the Uber XL. I do not recommend solely relying on car services for your entire Disney vacation.
Food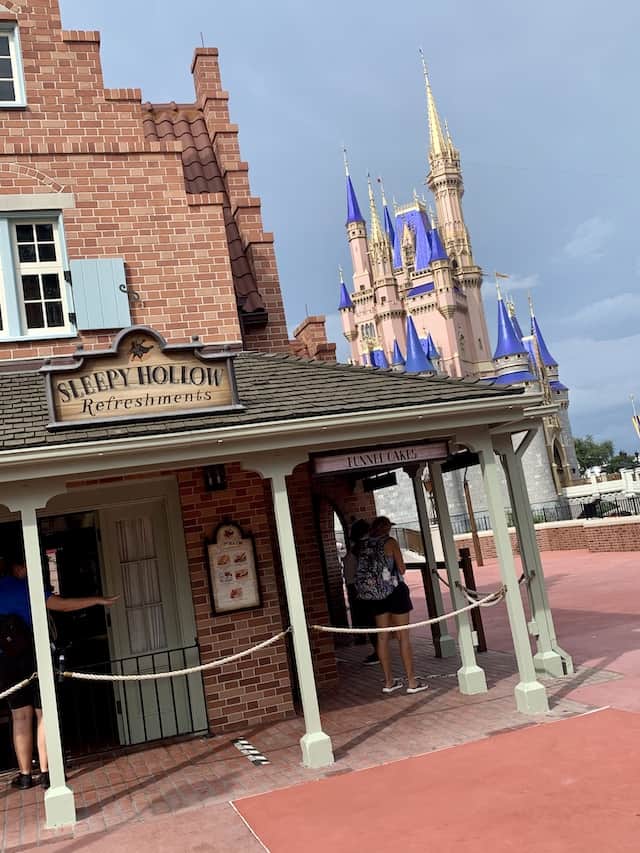 Ah, feeding your big family. This is hard enough at home ($50 for fast food…no thanks), but at Disney it can be a total buzzkill. I cook almost every meal at home to keep food costs down, but at Disney it is a whole other ballgame.
There are a few options, though, so don't worry!
Eat in the hotel room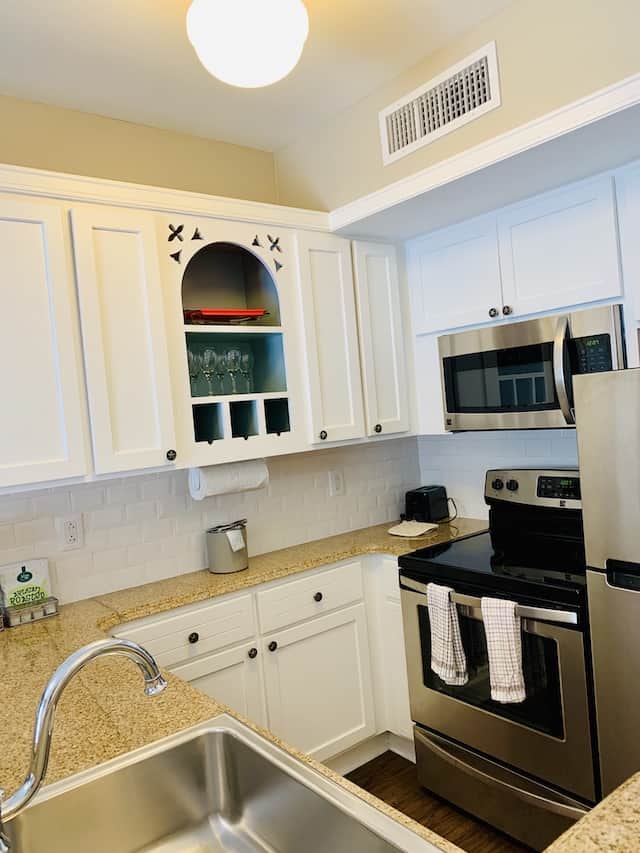 I didn't mention this when talking about resorts, but the villas offer full kitchens! Yes, full kitchens will full-size refrigerators, all the cooking supplies you need, and a dining space. If you need to save money on food, consider increasing your hotel budget and cook the majority of the meals in that kitchen. I'll be the first to say, "But who wants to cook on vacation!?"
However, making a hearty breakfast in the room every day or taking a mid-day break and making a late lunch or early dinner in your villa can save you a lot of money. Take your crock pot (if you're driving) so you aren't spending valuable park time preparing those meals. Prepare easy meals that will feed everyone.
Ordering groceries makes it insanely easy to have a week's worth of groceries sent to your hotel. If you aren't staying in a villa, I still recommend having an order sent to cover breakfast staples, non-perishable snacks, and more.
Snacks, Snacks, Snacks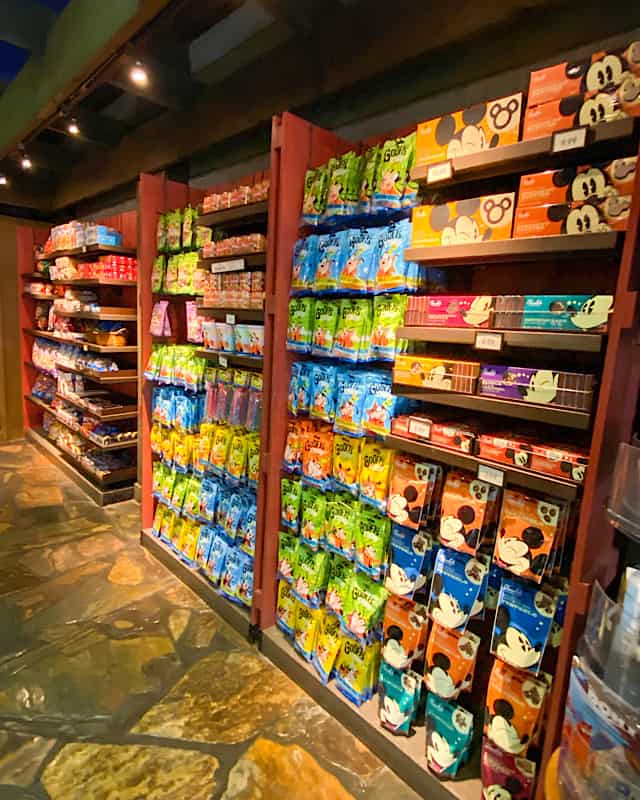 Speaking of snacks, bring lots of them. If you have young kids who prefer to snack more than eat full meals or have picky eaters who won't like park food, snacks are a lifesaver. For one trip, I had groceries sent to the hotel and I made my picky son a peanut butter and jelly sandwich in case he didn't want park food. Sure enough, he ate that sandwich every day.
I also packed an obnoxious amount of snacks in a separate bag each day. I ordered individual servings of chips, fruit snacks, applesauce, juice boxes, and cookies. No, they didn't eat very healthy that week, but it was so easy to pull out a snack and it saved us a lot of money.
Share meals when possible but also realize vacation is still vacation…so have fun!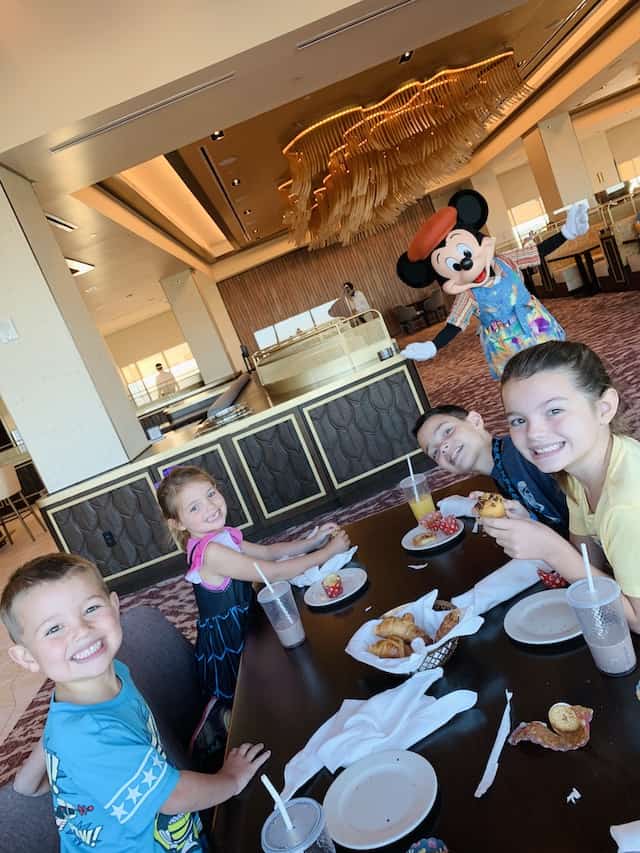 When you do eat at a restaurant on property, whether that be quick-service or sit down, be prepared to spend some money. When we first started going to Disney, we had a much tighter budget. My kids shared meals when we could. Honestly, I knew they wouldn't eat an entire burger anyway so it produced less waste as well.
But, we also wanted to enjoy ourselves and treat our kids to many character meals so we just prepared ourselves financially as best as we could. On a week-long trip in 2018, one child was under 3 and the three others were between 3-9 so we ate at 'Ohana for breakfast, San Angel Inn for the Candlelight Processional package, Cinderella's Royal Table for breakfast, 1900 Park Fare for dinner, Hollywood and Vine for breakfast, and Bon Voyage for breakfast.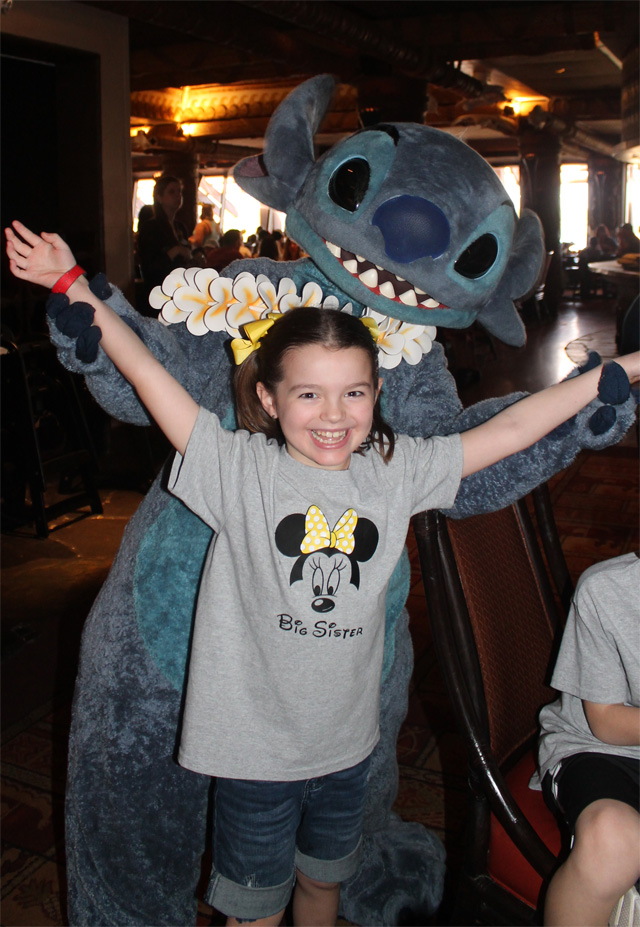 Pirate tip: large parties will often have tip automatically included at sit-down meals. Don't forget to budget for that!
Now, with 2 kids over 10 and no one under 3, we do a lot less sit-down meals, and I just research restaurants that fit our preferences and budget. However, I don't let the numbers freak me out. If it's something I plan in advance, I can prepare to cover the cost of anywhere we desire to eat.
Park Touring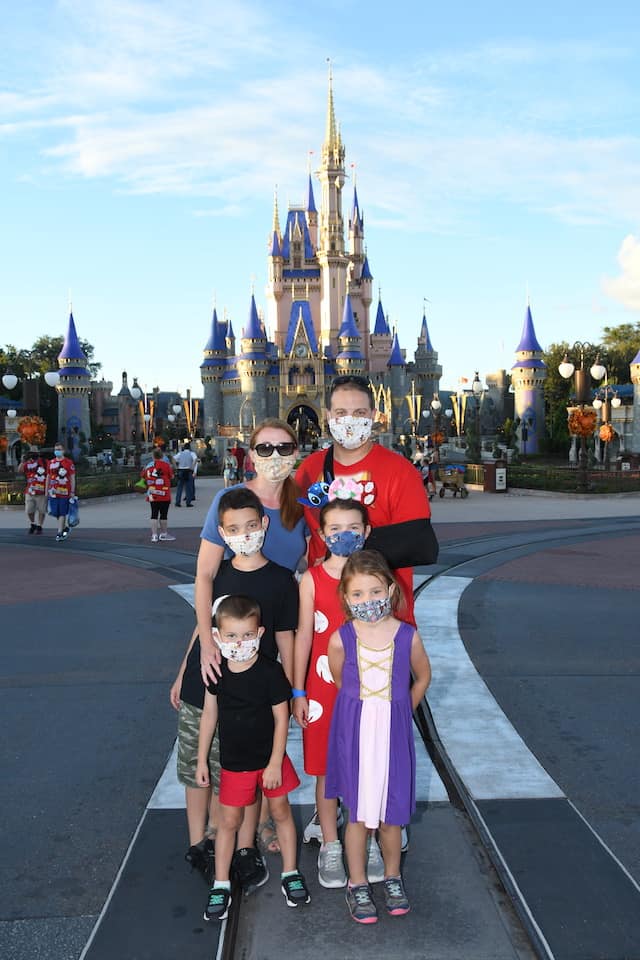 Yes, it's tricky finding the perfect resort for a big family and finding the right balance between your budget and having fun…but park touring can be one of the most difficult parts of Disney vacation planning for large families.
Depending on the ages and interests of your kids, you could find yourself being pulled in several directions once you step foot in the parks. Should you go straight to Dumbo for the toddler or head to Space Mountain to please the older kids? Does only one child want to see the Frozen Singalong while the rest would rather go back to the hotel and swim?
There are some ways around the situations you may run into so your big family can still have a magical time!
Have a good touring plan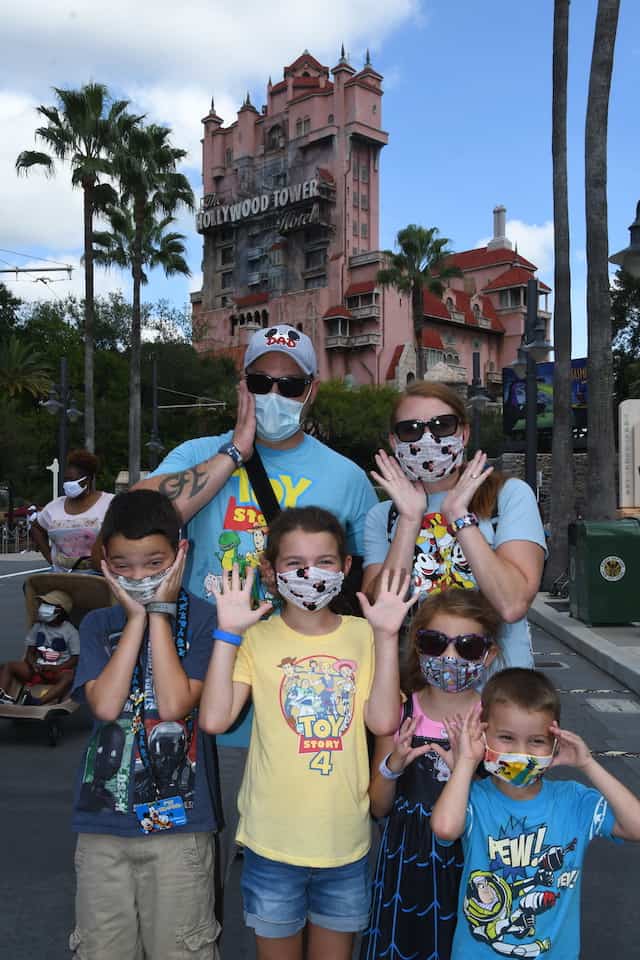 Even if you don't have a large family, I will always and forever recommend Character Locator. Kenny's touring plans are designed and tested to minimize time waiting in line.
The sooner you accomplish your goals for the day, the more time you can have to "wing it" or head back to the hotel for a break. The better your touring plan, the more attractions you can squeeze in for everyone. You get the idea.
Breaks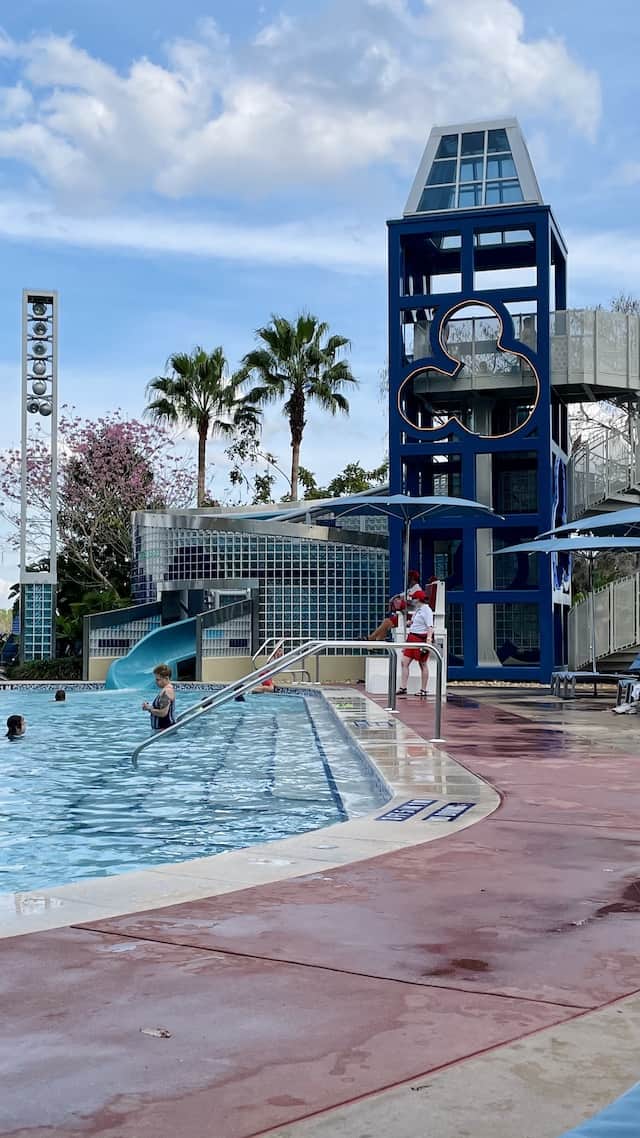 Speaking of breaks, they are so necessary for a large family. If you have younger children, the parks can be very overwhelming. Nap time should not be missed just because you're on vacation. If you can get them to nap in the stroller, then great, but sometimes your baby or toddler just needs some peace and quiet.
The older kids will surely enjoy the pool time and the parents definitely need a break, too. My husband and I are always exhausted on our trips because taking care of a lot of children is hard enough to do at home. It's amplified during a week-long family vacation. However, it's the best kind of exhaustion though!
It's ok to split up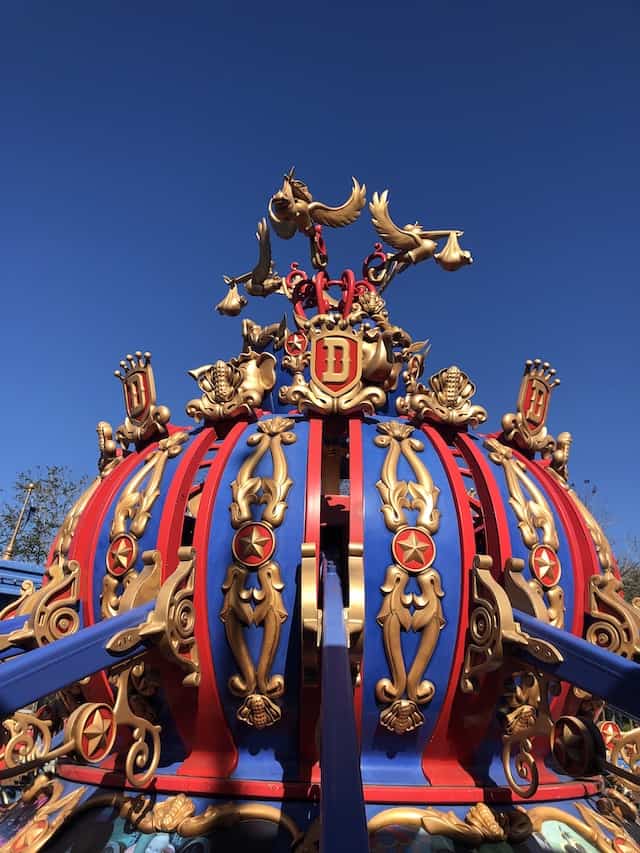 If you have a wide variety of interests and "must do" attractions in your big family, it's ok to split up for a bit so every child gets to do what they want. If you have some kids who can't ride some of the attractions anyway due to height requirements, use that opportunity to take them off to do something else that the other kids don't care about doing.
My only request for the times our family does split up is that we each have to take plenty of videos and photos so we don't miss out on anything!
Try to bring help if you can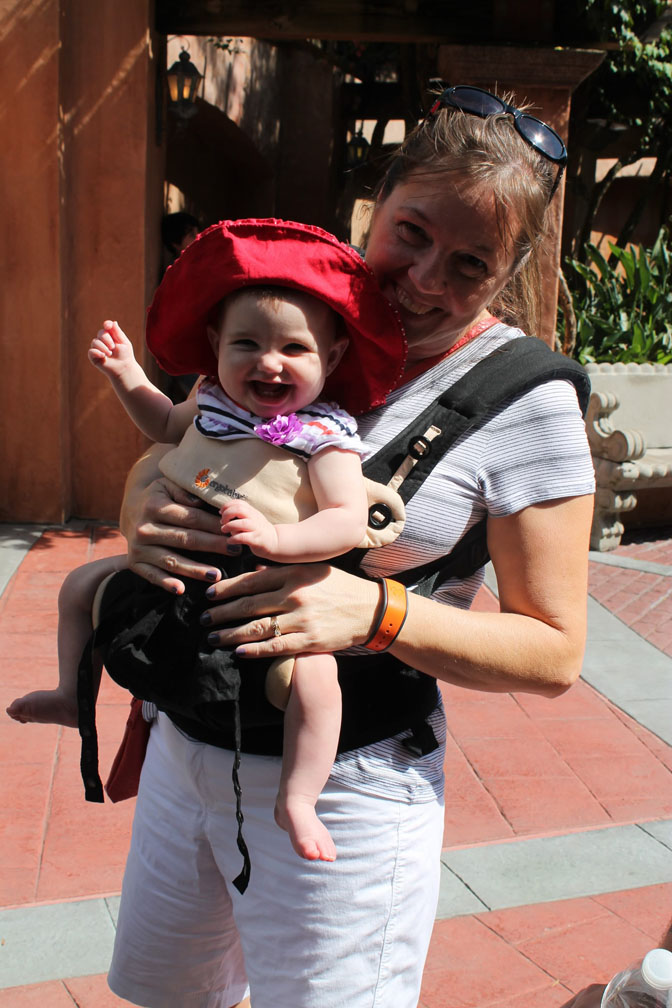 I mentioned before my parents usually come with us to Disney World. This is for two reasons. One, because we love to spend time with them. During our first trip, we only had two children plus an infant so it wasn't too challenging. But, we invited them because my parents took me and my brother on so many trips as kids. I wanted them to experience Disney with their grandkids.
As the years went on and our family grew, we realized what a blessing it was to have two extra sets of hands and eyes to help! My dad isn't much of a ride guy so he will gladly sit out with anyone who is too short to ride. My mom is a rockstar at those late-night baths when we all come back to the room exhausted.
I realize it's not always possible to have extra help with you, but it is something to consider if you have someone in your extended family who would love the invitation.
Going to Disney World with a big family is completely doable!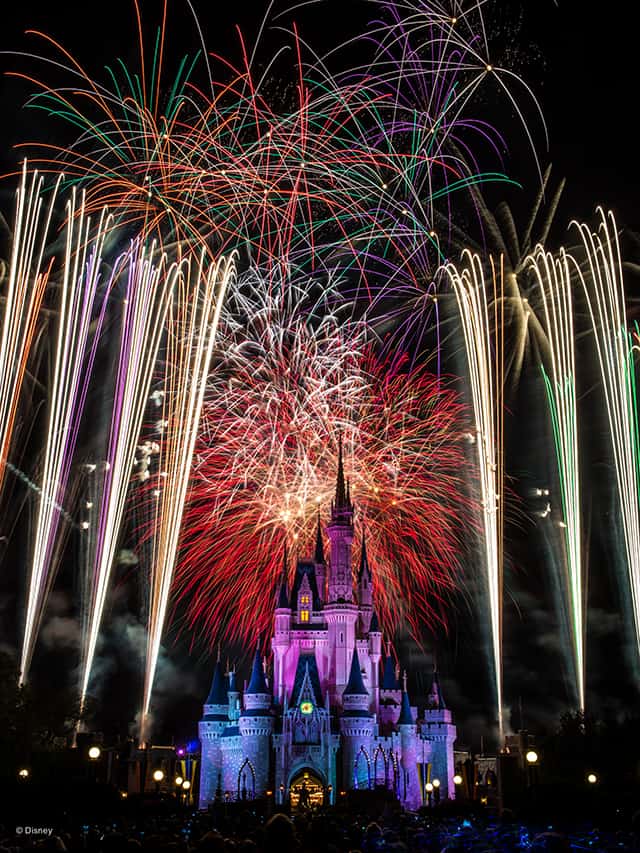 I hope I've eased your worries a bit about traveling to Disney with your big family. There are a few logistical things to consider, but once you make it past those, a Disney vacation can be very magical!
Some of my best memories from Disney trips involve watching 3 of my 4 kids do the Jedi training at Hollywood Studios and seeing them all surround Mickey and give him a giant hug.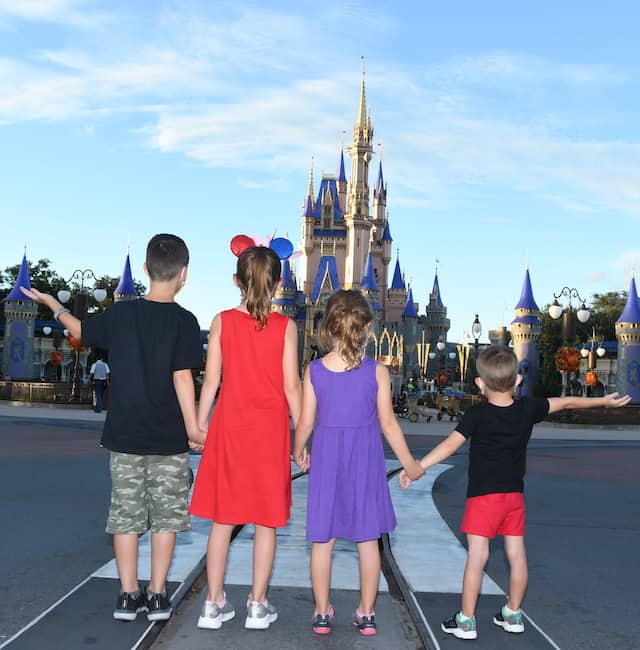 I love that they are making memories with each other that we will all talk about years from now. I definitely won't remember how much I spent on food or how we had to skip out on a ride, but I will always remember how special it is enjoying Disney with all of my children.
Do you have a large family? What tips do you have about taking a trip to Disney? What questions do you have? Comment below or share on Facebook!
Are you planning a vacation? Reach out to our trusted travel agency sponsor Authorized Disney Vacation Planner
Mouse Class Travel
!