Who says you can't have a taste of the Caribbean while you're visiting Walt Disney World? I recently had the opportunity to stay at this massive moderate resort. Check out my complete guide and honest thoughts about staying here.
Caribbean Beach Resort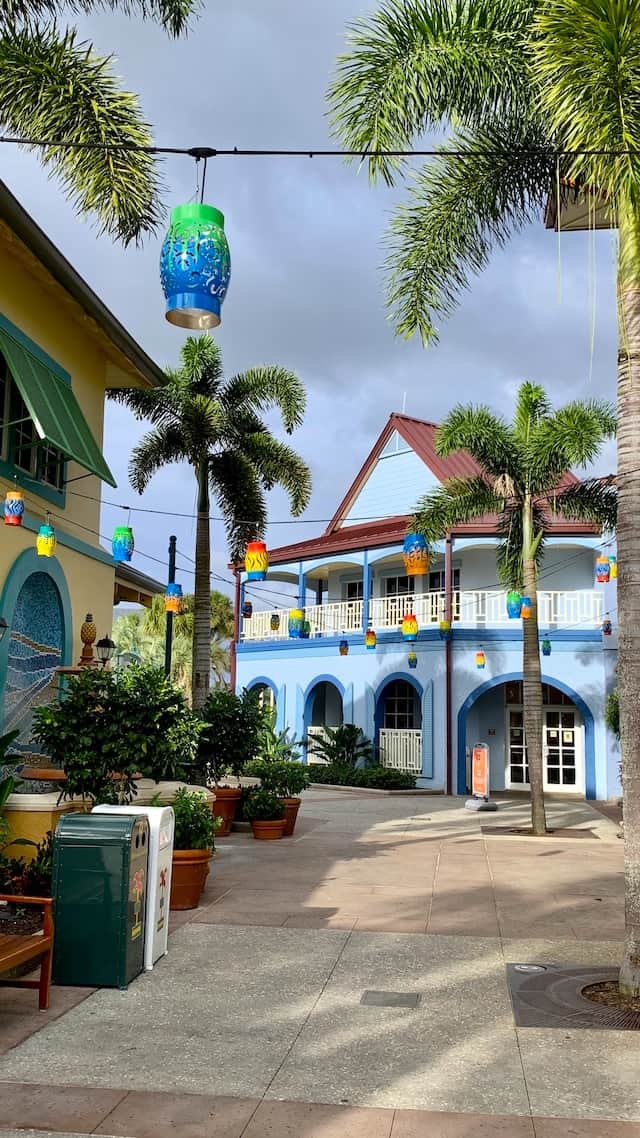 Caribbean Beach Resort is one of the five moderate resorts on property. Guests are transported back in time to the laid back and relaxing beach vibes of the Caribbean Islands. Sandy beaches, hammocks, and the vibrant colored buildings make you feel like you are taking a tropical vacation within a Disney vacation.
Caribbean Beach Resort was built in the late 1980s. It opened on October 1, (sound familiar?) 1988 as Disney's first moderate resort. I remember staying here in the late 1990's as a tween so I was excited to come back as an adult to see if it was how I remembered it.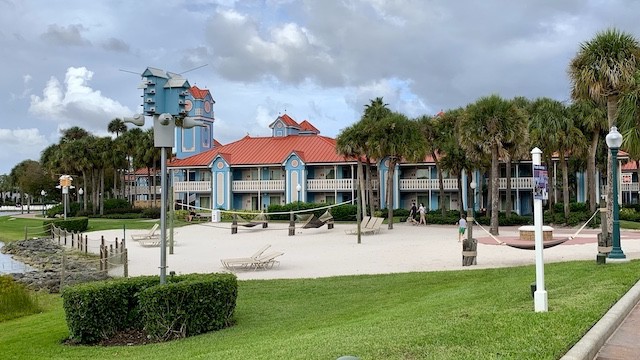 This resort is sprawling – there are 5 distinct areas in this resort. Each island – Barbados, Jamaica, Martinique, Trinidad, and Aruba – is made up of several buildings. Each section features brightly colored buildings and are reminiscent of the culture and architecture of the Caribbean Islands.
Room Accommodations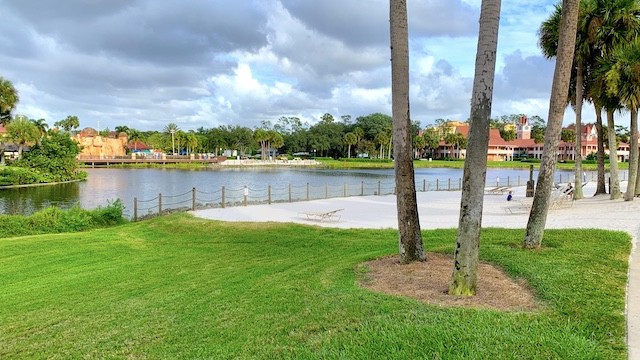 In total, there are over 1,500 rooms at Caribbean Beach. Standard and preferred rooms may include one king sized bed, two queen beds, or two queen beds PLUS a child-size pull-down bed.
Pirate rooms are located in Trinidad. Since I did not stay in one of those rooms, I cannot review it. The beds are not regular queen size beds though, and I do hear it is a farther walk to the main building from this section. They are nicely themed, however, so it may be worth it if you have a pirate-loving kiddo!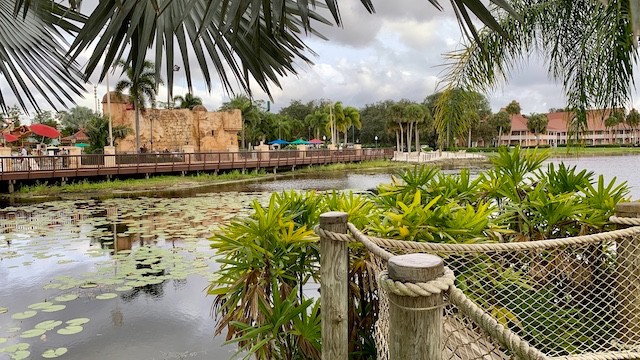 We stayed in the Jamaica section – building 44 to be exact. After careful examination of the resort map, I decided on this building for two reasons. One, I wanted to be close to both the main Skyliner hub and Old Port Royale (the main building where the pool, dining, and shopping amenities are). Second, I wanted to be right next to one of the smaller pools as well as a sandy beach area.
Do note that some of the buildings in Aruba are close to the Riviera Skyliner station so that is an option as well.
This was an excellent choice, and I am so glad I picked this area. We were less than 5 minutes to the pool, Skyliner hub, and a bus stop. I had fantastic views of sand and water as well as access to one of the small pools a few steps away.
Room Review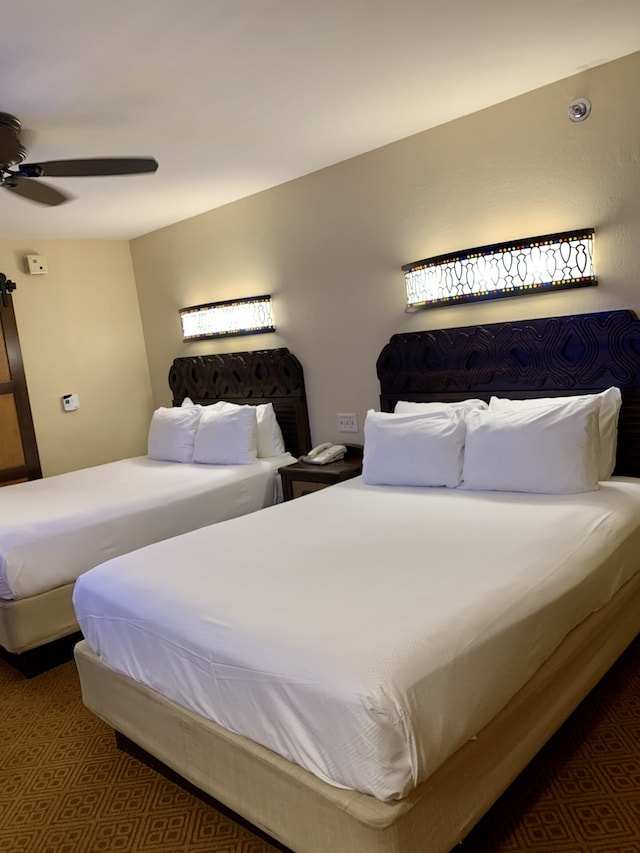 As far as the room itself, we had a standard room with two queen beds and a large bathroom. The main area has a small table and two chairs and a bench. There was a small console area that has a few drawers and the mini-fridge.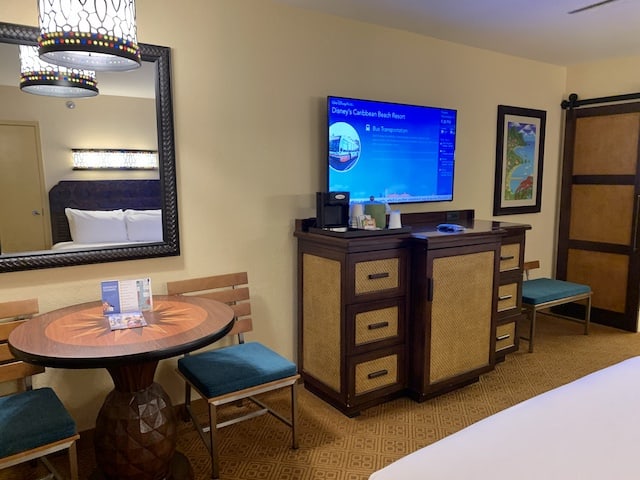 If you are staying in a room with a child-size pull down bed, it will be part of the dresser area. This type of accommodation is great for larger families since these rooms sleep up to 5 guests. I am still waiting on a moderate Disney Resort that sleeps 6!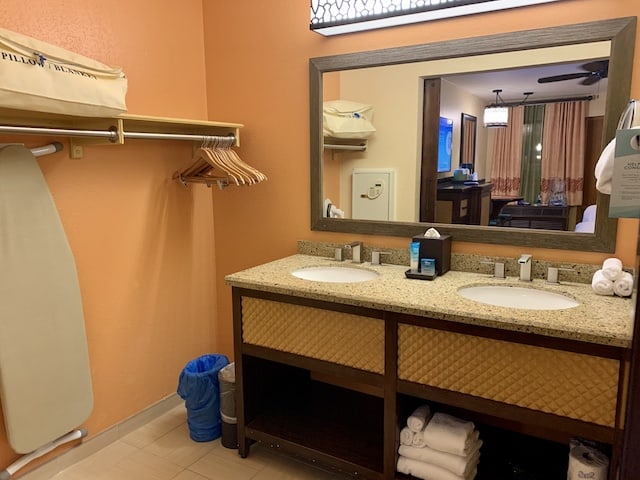 The bathroom area is blocked off with a sliding door. There is a double sink (loved it!) and plenty of counter space. The standard safe, ironing board, and open closet for hanging clothes are also in this area. The bathroom area is very private because the toilet and shower/tub combo are blocked off from the main bathroom area.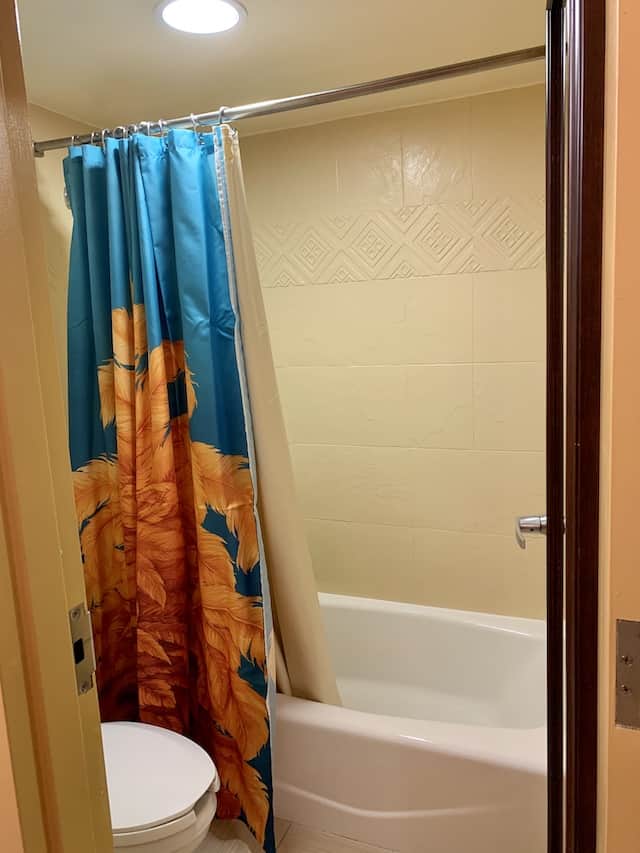 The rooms are larger than value resorts like All Stars of Pop Century but not as big as the deluxe resorts at Disney. These rooms are truly moderate and offer decent rooms at a decent price. Overall, the theming of both rooms and the resort as a whole is not as Disney-fied as the value resorts are. This resort would be suitable for a group of adults or a couple. However, it is fun enough to be well-loved by children as well. Caribbean Beach Resort tiptoes the line just right!
Old Port Royale and Shopping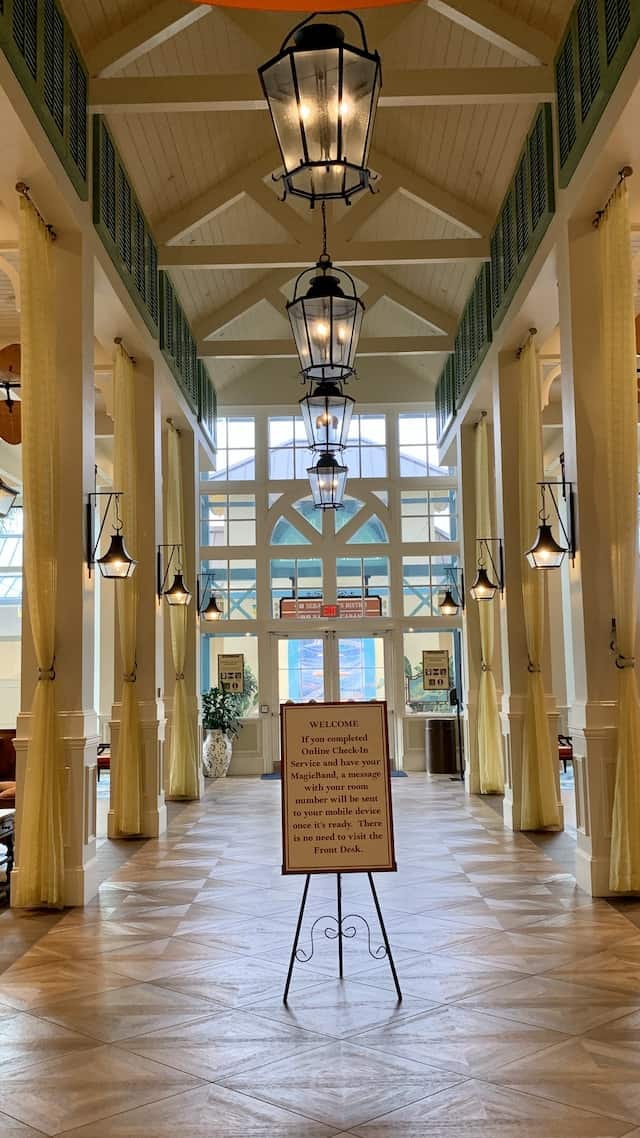 Old Port Royale is the main building where Guests can check in, grab a bite to eat at Centertown Market, and do some light shopping. The lobby is very light and airy, and the smell is fantastic. It really does smell like you're near the ocean, but it is not the same smell as Beach Club. It has a hint of coconut.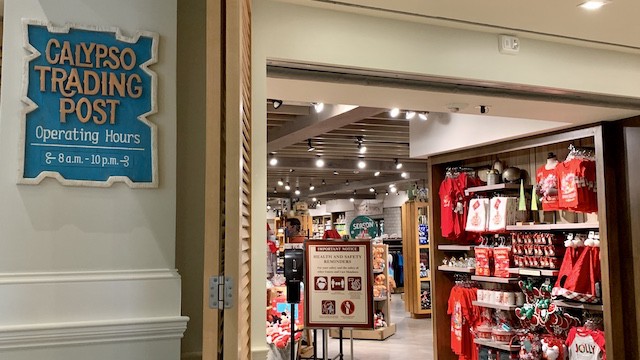 The Calypso Trading Post is open! This resort gift shop is located in Old Port Royale and offers a few of the same items you can find in the parks.
They also offer some Skyliner merchandise, snacks and beverages, and even coconut postcards! My friend had one sent to her family back home during our stay.
Dining Options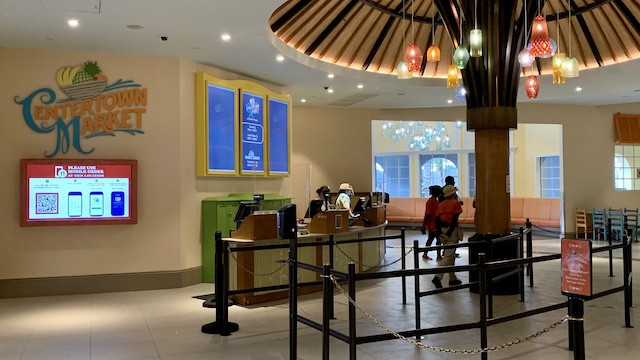 Right now, the only dining options that are open right now are Centertown Market and Banana Cabana. Centertown Market is the quick-service dining option located in Old Port Royale. It features items like Mickey Waffles, omelettes, and oatmeal for breakfast. Lunch and dinner feature salads, Cuban sandwiches, chicken fingers, fish tacos, burgers, pizza, and Jerk chicken.
We preferred to eat at other resorts (seriously – the dining options at Riviera cannot be beat) or in the parks so we did not eat at Centertown Market.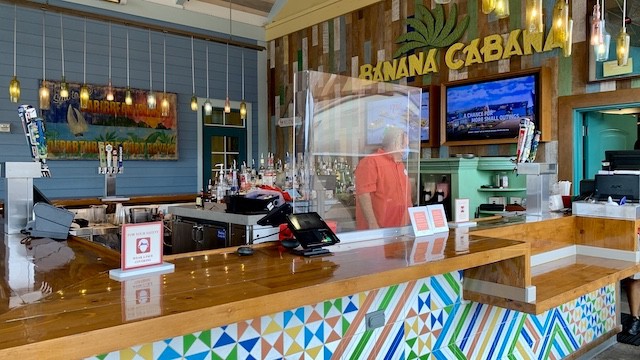 Banana Cabana is the poolside bar and serves drinks and some of the same food options available at Centertown Market. You can find appetizers, sandwiches, and burgers. This the perfect spot to hang out after a long day in the parks or after taking a dip in the pool. Banana Cabana is an outside bar area and the vibe is very laid back and carefree. This is one of the areas of the resort where I felt like I was really on a Caribbean Island resort!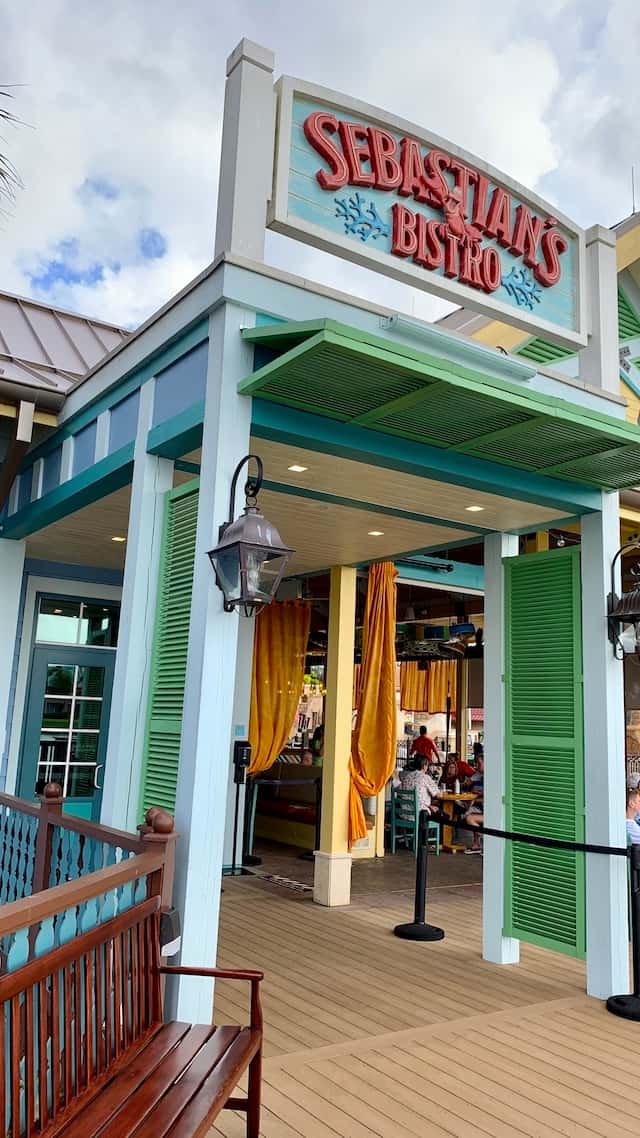 Currently, Sebastian's Bistro and Spyglass Grill are both closed. Sebastian's Bistro is the table-service restaurant that overlooks the water in the main resort area. Spyglass Grill is a counter-service joint located in the Trinidad pool area.
The lack of dining options at Caribbean Beach is one of the main disadvantages of staying at this resort. Hopefully, all dining locations will reopen sooner rather than later.
Recreational Activities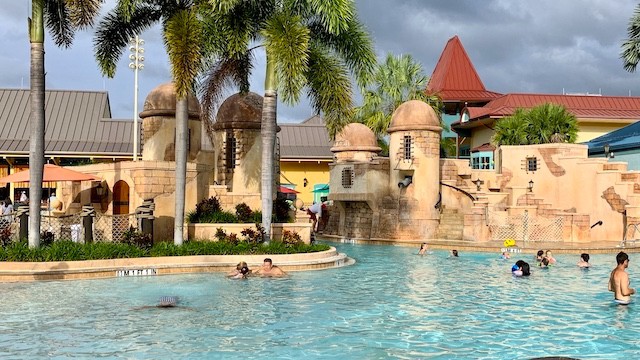 There is one main feature pool and five quiet pools located in each section of the resort. Fuentes del Morro Pool is themed after a colonial Spanish fortress. It is zero-entry and features two slides, making it perfect for the younger crowd!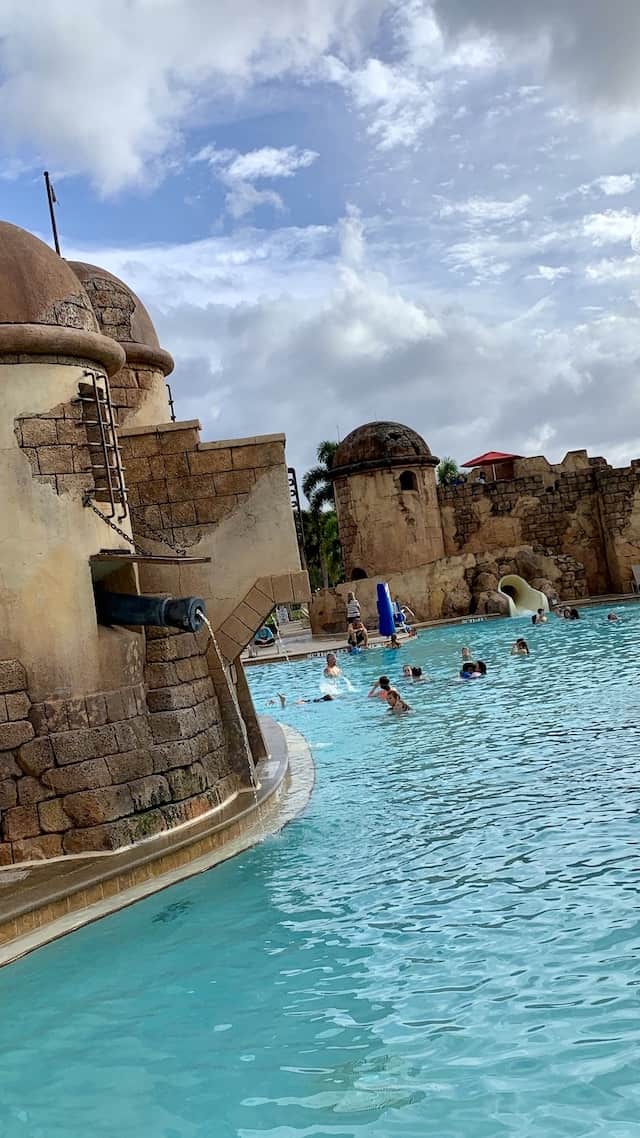 Kids will also enjoy the spray cannons, the shipwreck play area, and giant barrels that pour water down on you.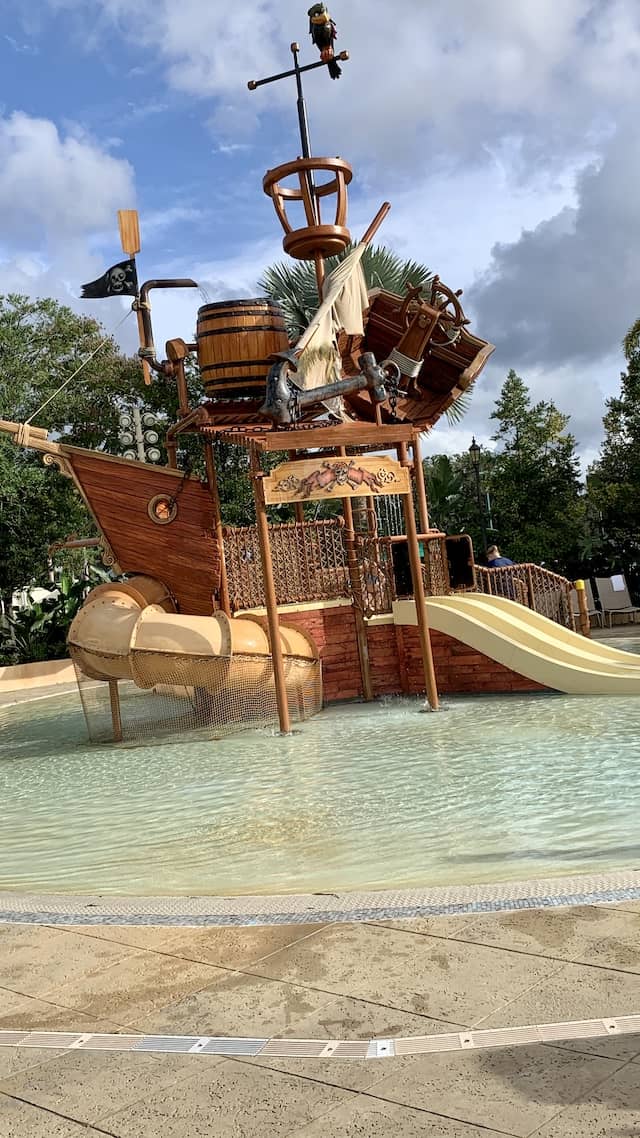 There is a spa behind the main pool area for adults to enjoy as well as several lounge areas.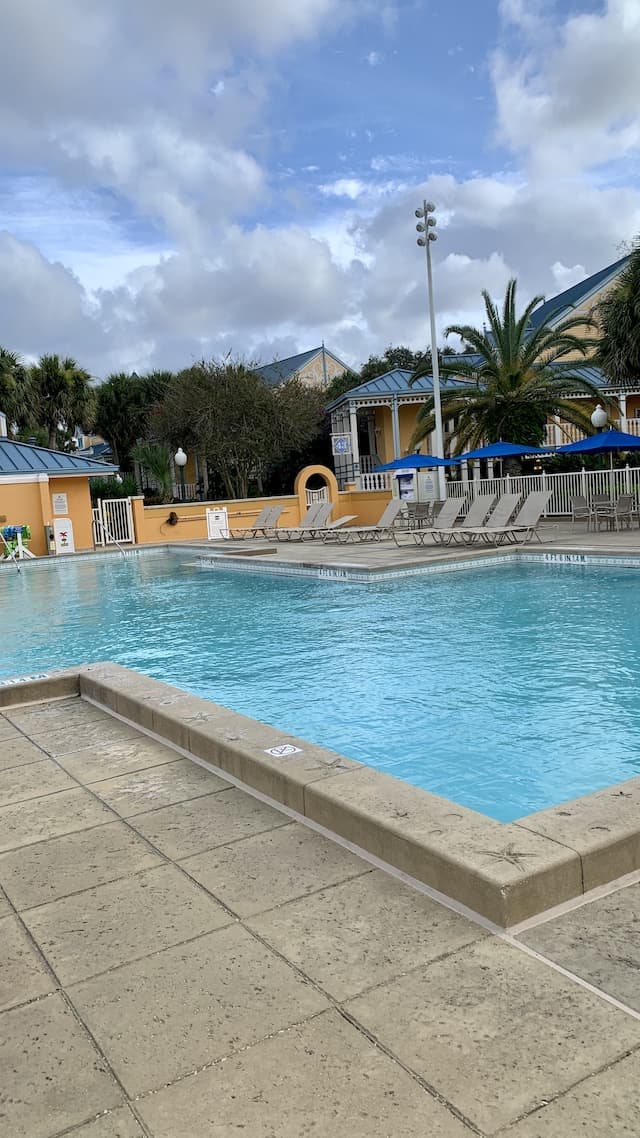 There are five leisure pools located in each section of the resort. While there are no slides or lifeguards like at the main pool, all pools at Caribbean Beach Resort have complimentary towels and life jackets.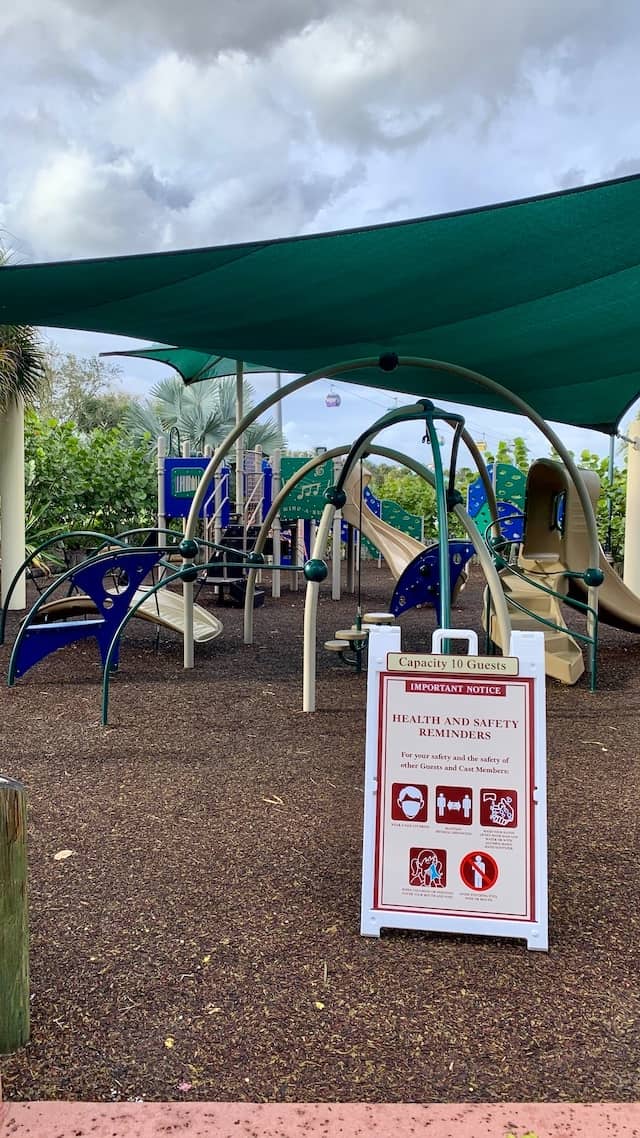 Other recreational activities include movies under the stars, fishing at the marina, a jogging trail around the lake, volleyball sand courts, and a playground. The playground is located along Castaway Bridge on the way to Old Port Royale.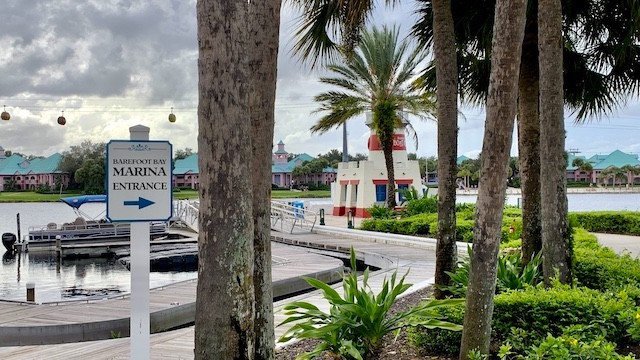 Campfire activities, bike rentals, and the Pirate Adventure Cruise are not currently available. Additionally, the motorized boat rentals for enjoying some water time on the marina are not available.
Skyliner Transportation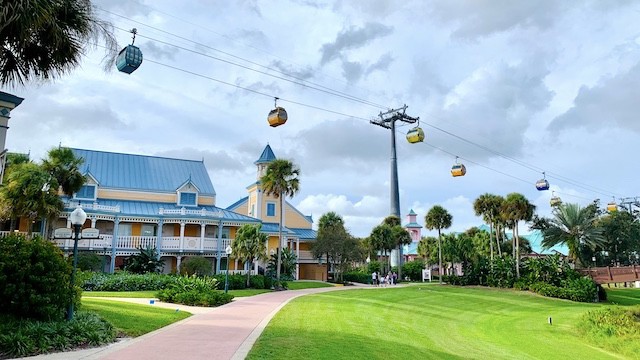 Caribbean Beach Resort utilizes the Skyliner and bus transportation for getting to theme parks, water parks, and Disney Springs.
The Skyliner is my second favorite mode of transportation – behind the monorail, of course! The main hub is located at Caribbean Beach, giving Guests a distinct advantage for getting to Hollywood Studios, EPCOT, and the other Skyliner resorts (Riviera, Pop Century, and Art of Animation).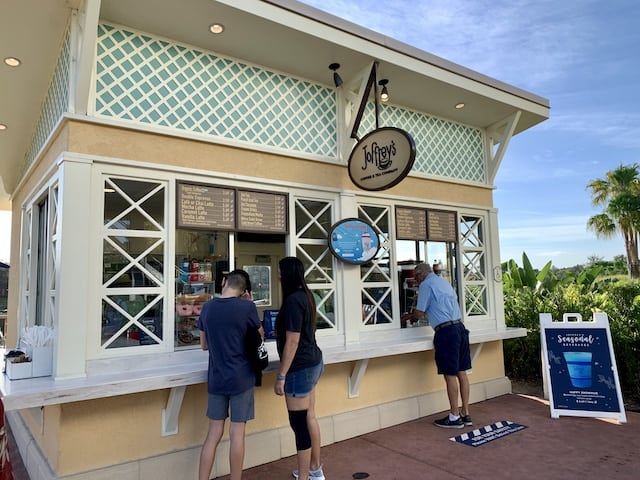 By loading the Skyliner at the main hub, you beat the rush of Guests from other resorts trying to get to Hollywood Studios for those early mornings. I still recommend lining up at 8:00 am for a 10:00 am Hollywood Studios opening, however. By being towards the front of the line at the only resort with direct access to Hollywood Studios, you have a great chance of getting towards the front of the line at the park.
We did exactly this on our Hollywood Studios day. We lined up around 8:00 am, grabbed a light breakfast at the Joffrey's located at the Skyliner station, and loaded before 9:00 am. Then, it was a short (like less than 5 minutes short) ride to Hollywood Studios, and we were towards the front of the line!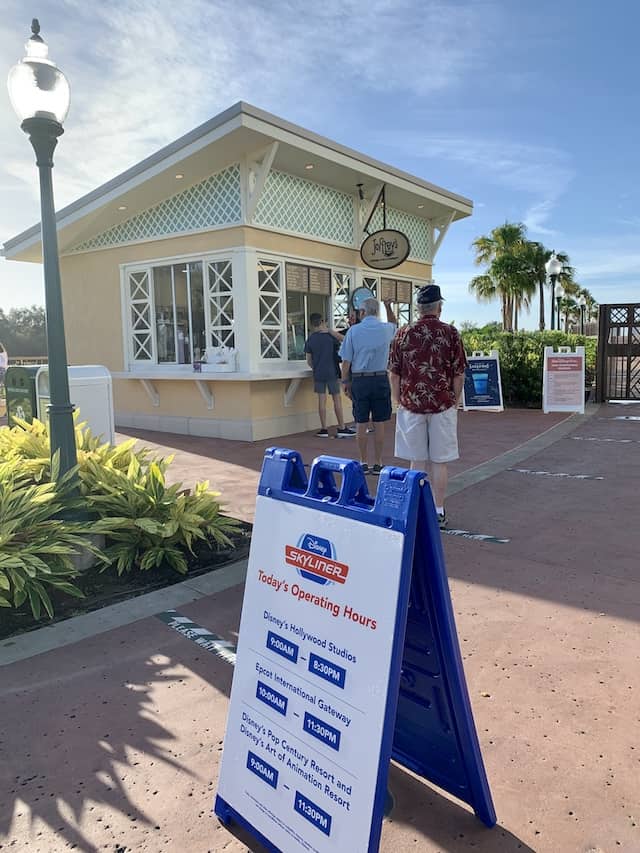 To get to EPCOT via Skyliner, you can get on at the Caribbean Beach station and then travel along to EPCOT. You can also simply walk to the Riviera station and get on there. This would make the most sense if you are closer to the Riviera hub than the CBR hub.
Bus Transportation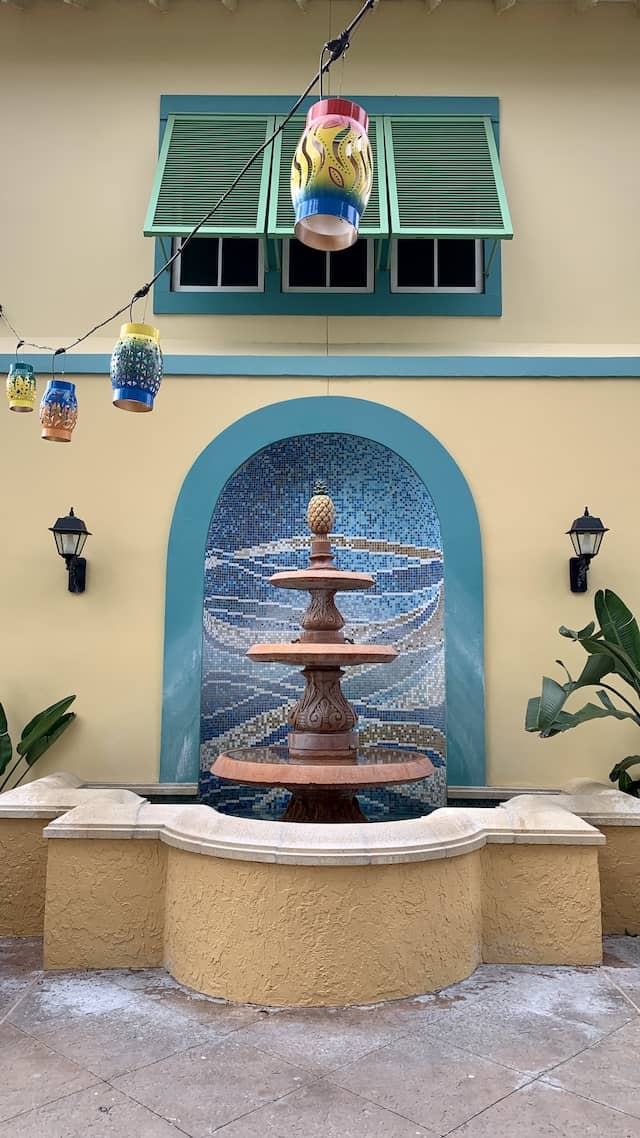 Guests must utilize bus transportation to get to Magic Kingdom or Animal Kingdom. We waited almost an hour for the bus to arrive at our bus stop the morning we went to Animal Kingdom. I was not about to wait the same amount of time for Magic Kingdom so I used a ride share service. We had no issues getting back to the resort using the bus.
I do not care for bus transportation as it is, but since the resort is so spread out it is really hard to tell when you will get another bus. I was told there is no specific route the bus takes as it enters the resort. It can go one of two ways so you may be the first stop or the last stop or somewhere in the middle.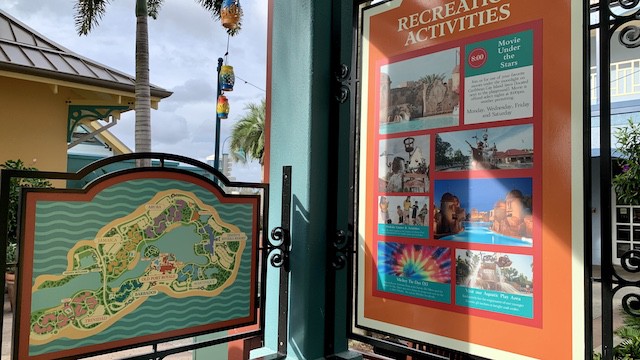 I tend to stay at hotels where I have multiple transportation options or smaller resorts that only have one bus stop. That morning trying to get a bus for Animal Kingdom was a nightmare, and I am happy I used Uber the following day for getting to Magic Kingdom in a timely manner. I was not able to rope drop Flight of Passage but made it to Magic Kingdom in plenty of time to begin riding before the park officially opened! Getting to the park early can really make a huge difference!
Would I stay here again?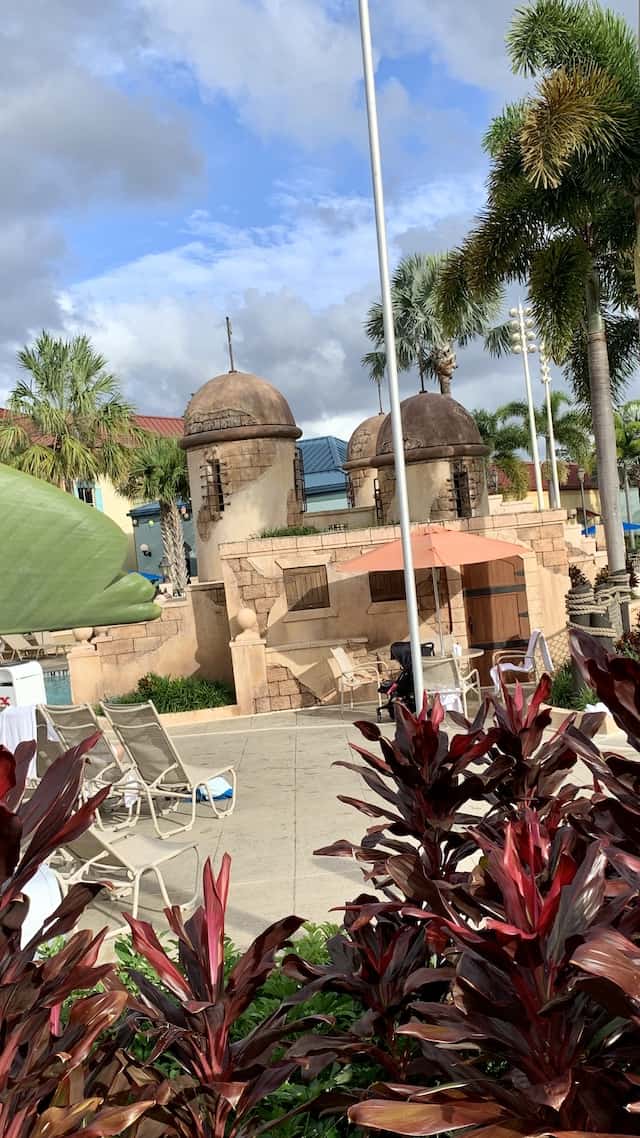 The room accommodations were great. We had plenty of space, and I love how large the bathroom is. The theming was not in-your-face Disney which was nice for my adult-only trip. However, I think the theming is still fun enough for kids to enjoy. I would say this is the biggest advantage for staying here.
The dining options are seriously lacking right now with Sebastian's Bistro closed. The quick-service option will do in a pinch, but I prefer resorts that have excellent dining. I love the food options at Riviera Resort and Boardwalk Resort. You simply can't find places like that at moderate and value resorts.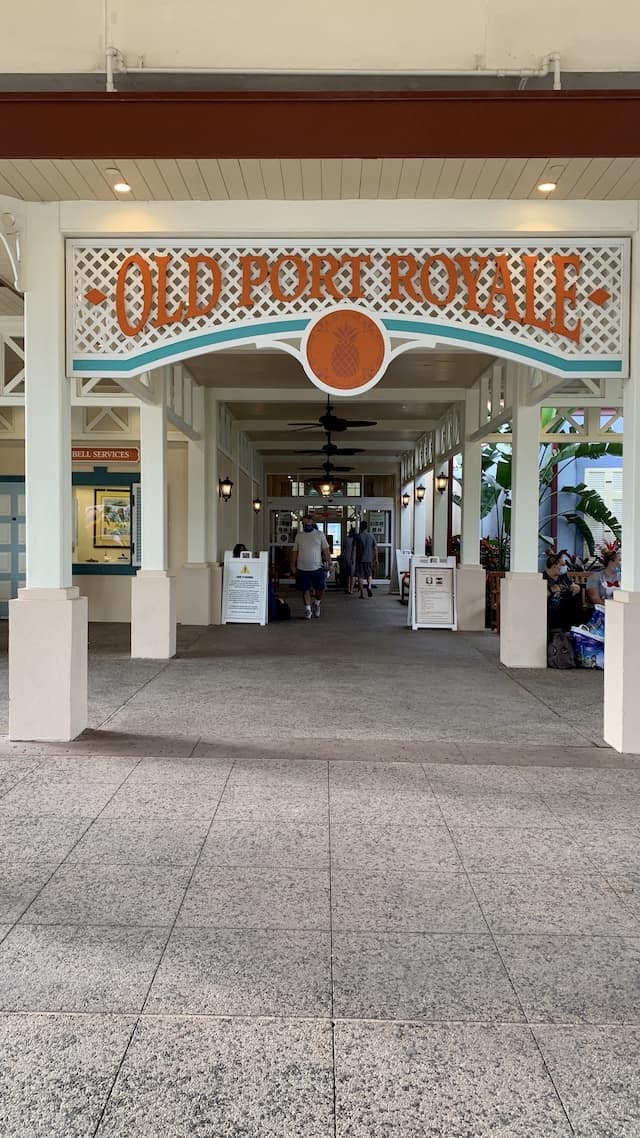 Since this resort is so spread out, getting to the main building or Skyliner can be an issue. Be prepared to walk if you want to head to the pool or get on a bus to visit a theme park. The bus service seems to be unreliable, but I did not use it enough to be able to make a fair judgment on this. I would say this is the biggest disadvantage to staying at Caribbean Beach Resort.
Bottom line: Caribbean Beach Resort was a great choice for an adult-only trip, but I would probably not stay here with my family. Not only would we have to get two rooms to accommodate all of us, but there are not a lot of great food options right now. Plus, the resort is so large and we prefer the tower hotels like Riviera where everything is is one building.
Have you ever stayed at Caribbean Beach Resort? What did you think? If you haven't, does this review help you in your planning? Let us know on Facebook, or join the KtP Crew and tell us there!