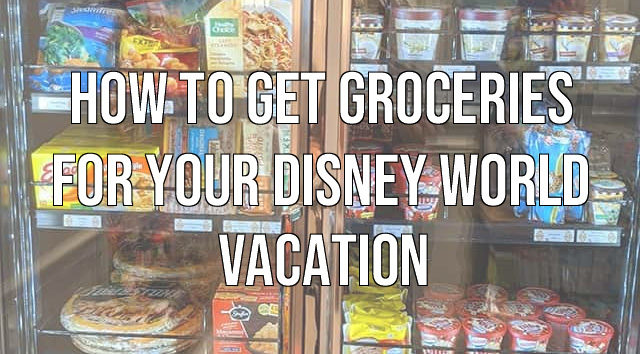 The food is plentiful at Disney World. However, you may need some additional groceries to suit your needs or help you save money. Let's explore all the ways you can get groceries at Disney World.
There are many ways to get groceries at Disney. In a digital age, it's easy to hop on the internet and purchase food. Sometimes going into the grocery store yourself and grabbing some food items may be the best route for you. First, we need to consider your food needs and transportation options and then move from there and figure out how to get them.
Room Accommodations
First, it's important to understand the room accommodations at the resorts. You may have a villa with a full kitchen, a suite with a kitchenette that provides a microwave, mini fridge, and counter space, or a standard room with just the refrigerator.
The refrigerators in the standard rooms and kitchenettes are very small. They may only fit a half-gallon of milk/juice and a couple of bottles.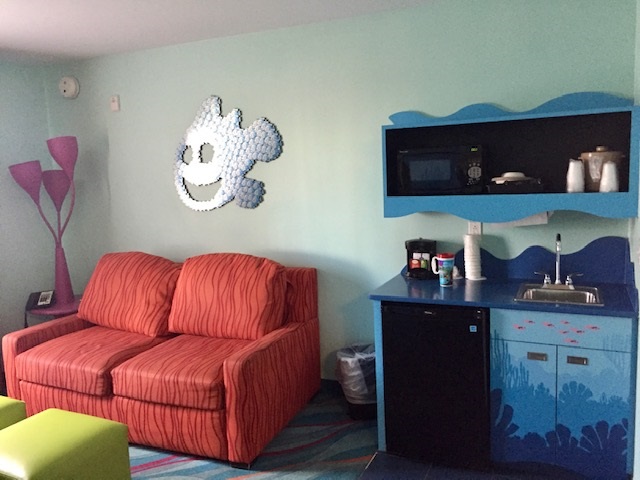 It's also important to know that there is not a true freezer in the mini fridges. I ran into this issue with Uncrustables because you need to keep them frozen. You cannot store frozen items in the mini fridges.
If you have a full kitchen with a full-sized fridge your options are much broader. Anything you can store at home, you can store on vacation.
How much refrigerator space and overall kitchen/storage space will determine how much you should get for groceries. If you're staying in a small room it's not feasible to have a lot of items.
Now that you know what kind of options are available at the resorts, you can consider other factors for groceries.
Consider Your Needs
Do you want snack food? Easy breakfast and lunch items? Do you want to be able to cook some meals?
Your decision will impact a) what type of room you book and b) where you should get groceries.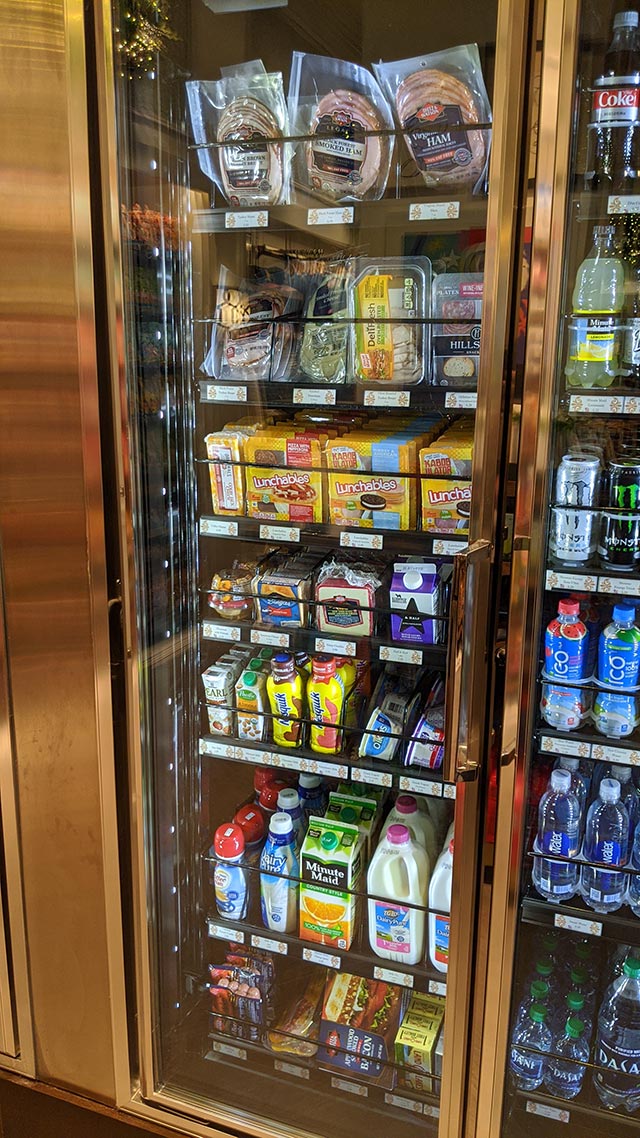 If you want to make meals you will definitely need at least a kitchenette or, preferably, a villa with a full kitchen. If you aren't concerned about having extra food in your room and will get almost all your food in the parks you don't really need to worry about getting extra groceries.
Transportation
The next step is determining the type of transportation that will be available to you during your trip.
If you will have a car for your vacation, it's very easy. You can drive yourself to any grocery store in the area to pick up some items.
If you are driving down to Disney, you can even bring the food with you. The one time we drove to Disney, we brought snack food with us. We stopped at a grocery store near Disney and grabbed milk, eggs, bacon, and other refrigerated items.
Just remember where your parking space is in relation to your room. You may be walking pretty far with your arms full of groceries.
However, if you are staying at a deluxe resort you may be closer to your room. When our family stayed at Old Key West, we were able to park our vehicle right outside our building. This made it very convenient for carrying things in.
If you are relying on Disney transportation, know that they do not take you to any local grocery stores. You will need to use taxi services like Uber or Lyft to get you around. If you only have a couple of things to pick up, the service may wait for you. However, if you will be in the store longer, you will probably have to order another car to take you back to your resort.
If you have ordered a car service to take you to your resort from the airport, some offer a quick stop at a grocery store. You just have to be careful when your flight arrives because they may not be able to accommodate this request early in the morning or late at night.
Be sure to inquire about this when you book your transportation service because the policy varies by company.
If you are considering what type of transportation you will use to get to Disney World, check out this article for pros and cons of flying and driving.
Now that we have considered a few factors, we can move on to how to get groceries for your stay.
Hotel Gift Shops
Resorts on Disney property have some type of gift shop that sells a variety of food. It is very convenient to stop by and grab breakfast items, small bottles of milk or juice, plus even bread for sandwiches to make in your room.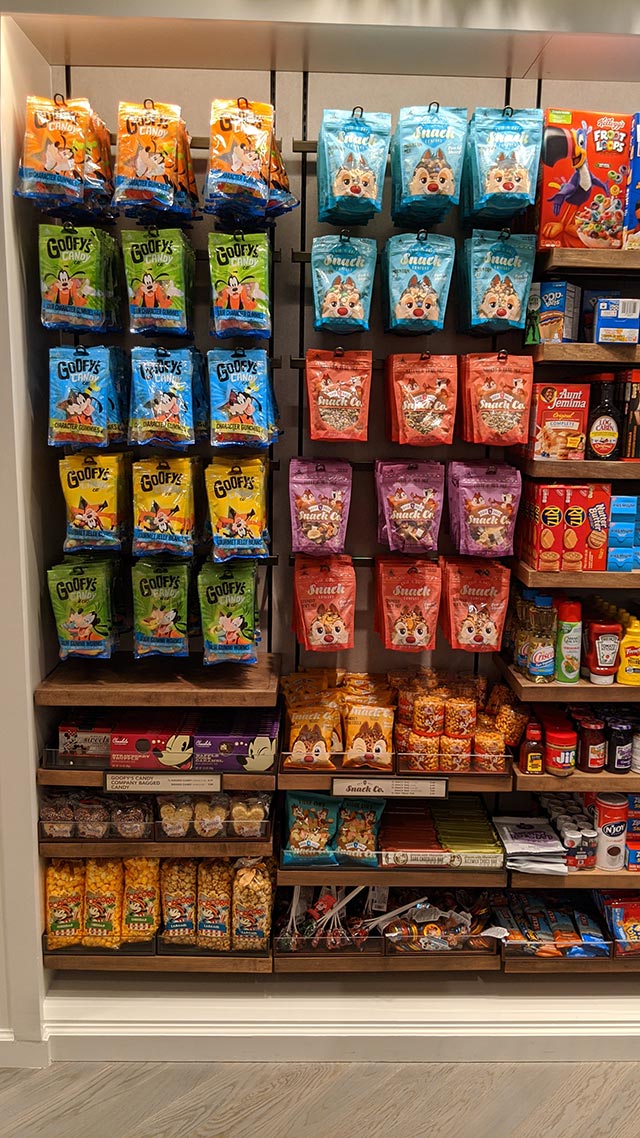 With this convenience comes a price. Usually, items sold in these gift shops are marked up higher than what you are used to at home. An apple isn't going to cost you $5, but you will still notice an increase in many items.
It still beats having to trek to the store if you only need a couple of things or spending an even higher amount of money for the same items in the parks.
Bring Groceries with You
If you are driving to Disney you can easily bring groceries with you, as stated above. Depending on how long your drive is you may be able to even bring a cooler for cold items.
If you are flying, you can still bring some groceries with you! Bringing an extra suitcase to hold snacks is an option. Be mindful of bag fees, which vary for each airline.
If you bring food with you then you can also use that suitcase to bring souvenirs home! Bonus!
Grocery Stores Around Disney World
The following is not a definitive list of all the grocery stores in the area but will give you a good idea of your options.
Walmart
Target
Publix
Winn-Dixie
KA Supermarket
Lucky's Market
Gooding's
Aldi
You can head into any of these stores to do your grocery shopping. Many offer grocery delivery or pick-up services. This can save you time if you order groceries in advance; however, many have minimum purchase amounts and delivery fees can be pricy. More on that in a second.
All you have to do is hop in your car or call an Uber, and you're on your way. This is the least appealing option to me, though, because who wants to spend some of their vacation grocery shopping? Usually, when we visit Mickey, we want to spend as much time as possible enjoying vacation and not doing household tasks like we do at home.
I understand this can't be helped sometimes! In fact, we did it once. I sent my husband out for a few things when we had our vehicle. All he did was search for the nearest grocery store and he was back in less than 2 hours.
Online Grocery Delivery
Online grocery delivery is probably the most popular way to get groceries at Disney. Many of the stores I mentioned above also offer delivery services. Amazon and Garden Grocer also offer this service, too! It's as easy as finding the grocery store you want to order from and creating your order. You choose the delivery address and the date/time you want it to arrive.

Currently, the resorts can hold groceries for you at bell services if you choose to have them delivered. You can pick them up from bell services yourself or you can pay the $6 service fee to have them sent to your room. This is very convenient if your vacation is jam-packed or you want to go to the parks upon your arrival.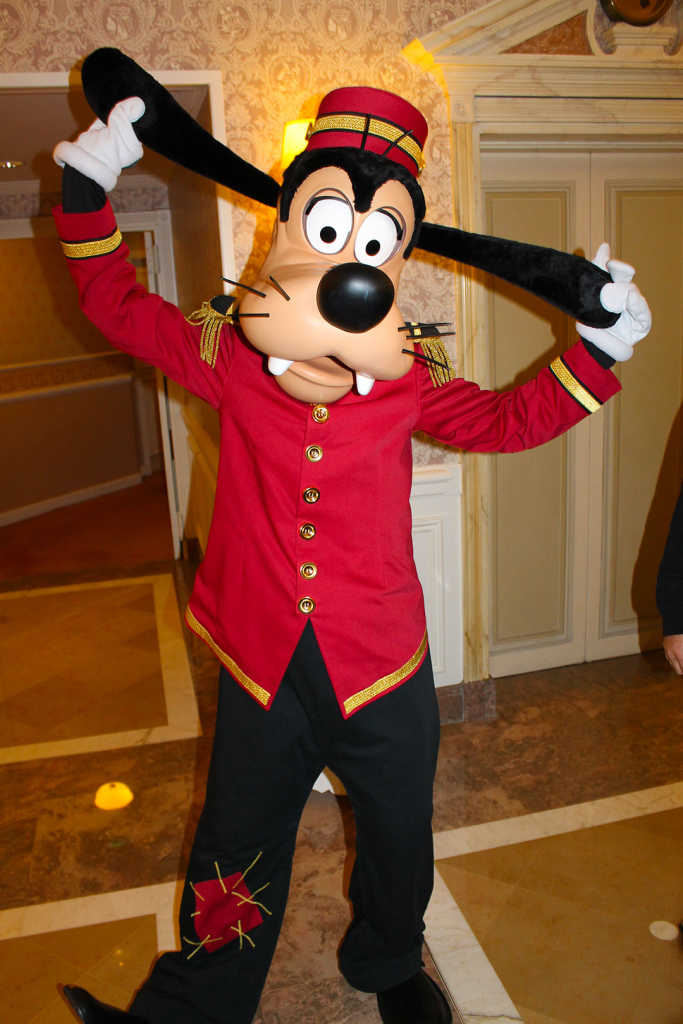 Be sure to evaluate your needs and transportation options, and then you can compare grocery stores. If you only need lunch items and cereal for your stay, you may not meet the minimum for some deliveries and would need to find transportation or look at ordering from another store.
If you are staying in a suite with a full kitchen and plan to prepare many meals, it would probably be wise to have them delivered. Not only will you save yourself a few hours grocery shopping but you probably have enough in your order to satisfy minimum requirements.
Amazon is a great choice for ordering items because all you need is a membership! There are a few options you can take advantage of to order groceries from Amazon.
Prime Now is the 2-hour grocery delivery service that is especially convenient for day-of ordering. You can have fresh foods and cold items sent to you.
Prime Pantry is your typical 2-day delivery service; however, you can't order cold or fresh food items through Prime Pantry and delivery may be delayed. There is also a $6/box fee charged by Disney to have groceries sent via Prime Pantry.
I ordered from Prime Pantry on a recent trip because the prices were better than what I was seeing on Prime Now. I ordered a few days in advance and it was delivered the day I arrived. Then we just grabbed cold milk, bread, and bananas from the resort gift shop. It was nice having bottled water, chips, snacks, and peanut butter jelly sandwiches at a reasonable price. At the time I was not charged the $6/box fee.
If you order alcohol you will need to get your groceries from bell services instead of having them sent to your room.
Send Groceries to Yourself
Yep, you read that right. You can mail grocery items to your resort and then pick them up when you arrive. Obviously, you should stay away from perishable items, cold items, and things that can be easily damaged or crushed.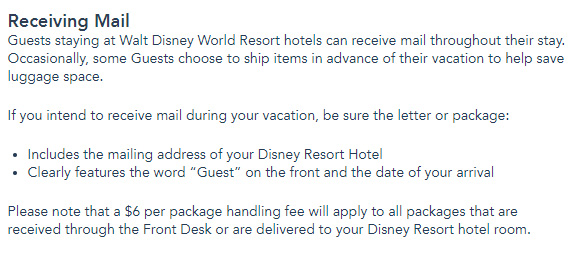 Currently, there is a $6 handling fee per package that they hold for you. If you are sending two-three boxes of food, that adds up quickly.
Prime Pantry would technically be organized in this category with the $6 resort fee.
I do not recommend this at all because of the price and the possibility it may be delayed getting to your resort. You can't fit much in priority flat-rate boxes, and shipping a huge box is not very cost-effective. Plus, if it gets delayed by even a day or two, you are out of luck. The other options are much better in my opinion.
There are many ways to get groceries at Disney World. You can pick up what you need at the hotel, head into the store yourself, or order groceries from a delivery service. You'll need to consider a few factors like the needs of your travel party and what type of transportation you want to use.
What questions do you have about groceries? Share them with us on the facebook page where we can answer them for you! Also, be sure to join the KtP Crew where you can gain additional insight from other members.
-Monica S.