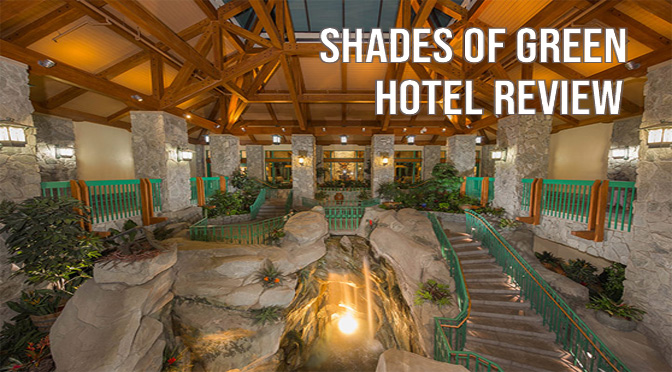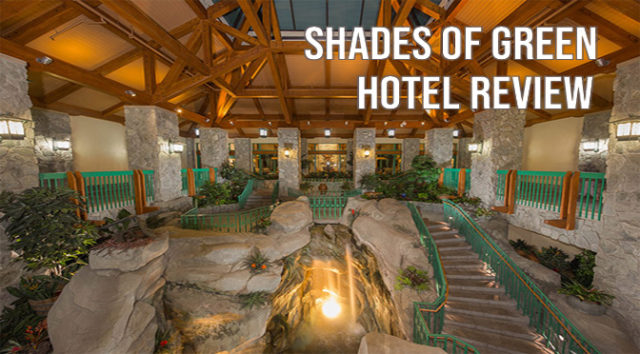 Shades of Green is the military-only hotel on Disney property. My family stayed at Shades of Green in late 2018, and I thought it would be beneficial to share my thoughts on the hotel for those who are thinking about staying.
Shades of Green originally opened in 1973 as a Disney-owned golf resort known as the Golf Resort (so original, right?) but in 1996 was bought by the Department of Defense and renamed Shades of Green. It still has two active golf courses and has a country-club feel.
Make sure you know eligibility requirements as they are very specific to who can book at the hotel.
They do offer discounts sometimes that usually include some type of bundle with breakfast and/or dinner. It didn't seem worth it to make sure we are at the hotel getting our meals when we wanted to rope drop the parks or have our pre-park opening reservations.
Ordering Tickets at Shades of Green
Before our stay, I ordered our park tickets through Shades of Green. I used the Armed Forces Salute discount, emailed my request in, and they called back a few days later to take payment and confirm.
Along with ordering tickets through your local military base, tickets at Shades of Green are tax-free. You can also order tickets for many special events at Disney, golf outings, and other Orlando-area theme parks all tax-free! Woot! Definitely make sure you know all the ticket options available because it will save you money if you purchase through Shades of Green versus other places.
They sent me my ticket confirmation numbers, which were already activated (unlike purchasing through your local base office). I did have a few issues keeping the confirmation numbers in My Disney Experience (there are two different sets of numbers but I called Disney IT and they got it in once and for all), but got it all sorted out before my FastPass day.
I opted to pick up my physical tickets at check-in versus paying the $10 to have them sent to my house.
Pirate tip: Did you know you can still order tickets through Shades of Green even if you are not staying at the hotel? I like buying them here instead of through my local base because they already come activated. I just pay the $10 shipping fee.
Shades of Green First Impressions
When we first arrived at Shades of Green, I was blown away by how big it was! There is a long drive from the gates to the actual hotel with trees, rocks, and waterfalls cascading into a large pond. There are two levels: the bottom level is for the bus system, and the main level is where the lobby and reception are.
Speaking of the lobby, there is a television and a small sitting area for kids to watch movies while you are checking in or grabbing coffee. When we were there, The Polar Express was playing almost every time we walked in and out of the lobby.
There is really no Disney theming here, which I kind of expected knowing it's not a Disney resort, but a few smaller touches would have been nice. The only thing that sticks out to me as being Disney was a small Mickey statue in the lobby area, seen in the photo below.

We did go in December, and there was a lot of Christmas decor up around the hotel, including a very large Christmas tree in the lobby as soon as you walked in.
Room Accommodations at Shades of Green
My parents joined our family of six for this trip, and unfortunately, the suites were all booked up so we got two adjoining standard rooms. There was a door between our rooms so we just left it open the entire week, and it kind of felt like a suite? Ha!
I wish I had taken photos of the room, but being that we have 4 children it was pretty much destroyed upon entering.
There are approximately 600 rooms divided into two sections: Palm and Magnolia. Not all rooms were renovated when we went (although we did stay in a refurbished room), but all 600-ish rooms should be done by now.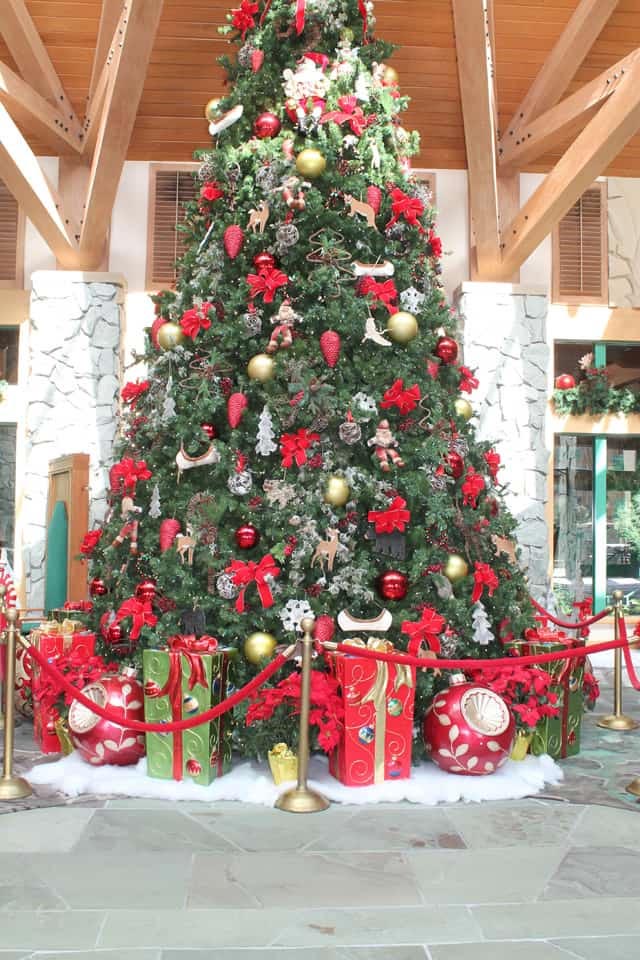 The rooms here felt bigger than the value rooms on Disney property, especially compared to the All Star Resorts. They are much longer, accommodating two queen beds, a sleeper sofa, and a table with chairs.
There was not nearly enough closet space, but between that and the dresser, we got most of the clothes put away.
The bathrooms are pretty standard, with the shower/tub combo and toilet sectioned off from the sink area. They also felt bigger compared to Disney value resorts, with the sink being really wide.
The rooms also include a television, coffee maker, and mini refrigerator.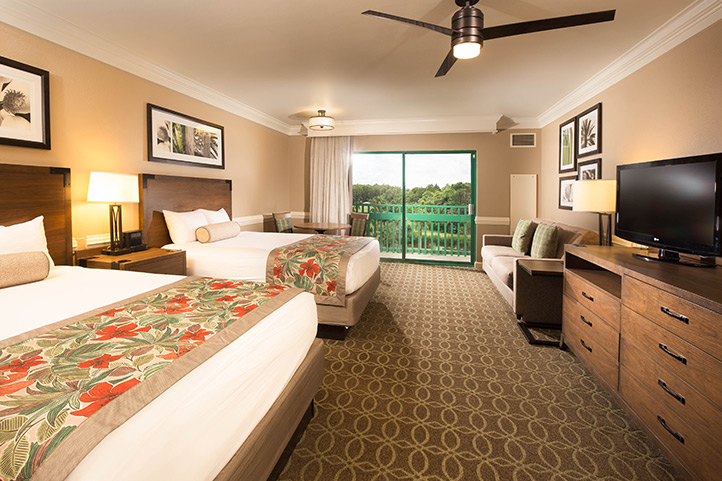 Overall, I thought the price was great for the size and accommodations of the room. Depending on which category you fall in (which is determined by your rank), you will pay as little as $124/night. I always use the Armed Forces resort discount and usually get a room for $115/night at one of the All Star Resorts so paying just a little more money for more space is worth it.
However, I do not think paying essentially the same price is worth it overall. Read on to find out why.
Dining at Shades of Green
We had breakfast one morning at Garden Gallery, and we enjoyed it. It was buffet-style with plenty of options. It was cheaper than most breakfast buffets at Disney; however, there were no characters or otherwise any benefit like getting into the park early. The restaurant was bright with plenty of windows, and there were plenty of sections for seating. It worked well for us though on our late morning arrival to Epcot one day during our trip.
We also ordered pizza one evening from Bistro to Go after a day at the park. We called in our pizza and beer, and it was delivered up to our rooms about 30-45 minutes later. We really enjoyed relaxing after a long day at Magic Kingdom.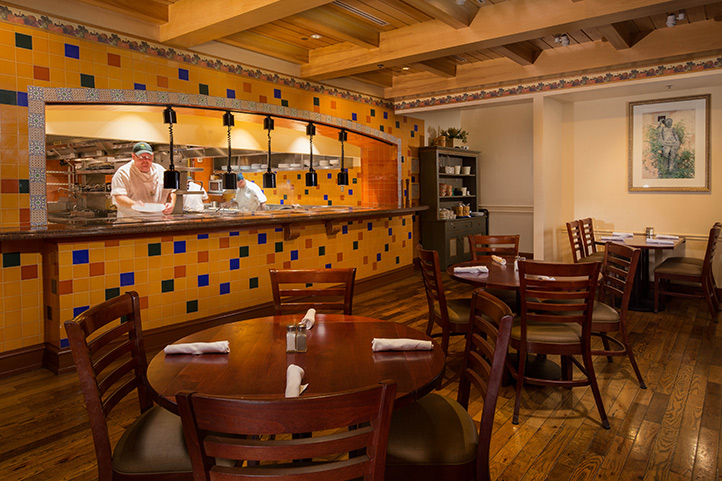 There is also a small cafe, Java Cafe, in the main lobby area right next to the reception desk. There was always a line for coffee and breakfast items, but the line moved quickly enough, and it was nice to have coffee on our way out to the parks for the day.
There are also a couple of other quick-service type places at Shades of Green that provide sandwiches, salads, and more but we did not eat at those places. There are plenty of food options though at Shades of Green, from quick on-the-go options to a sit-down restaurant. Just make note that since Shades of Green is not a Disney resort, you cannot use the Disney Dining Plan.
Transportation at Shades of Green
There is no complimentary transportation that runs from the Orlando Airport to Shades of Green. They recommend you call MEARS Shuttle. You can also hire a private car and driver to take you to and from the airport, which is what we did. It cost us $200 (plus tip) round-trip. We are a large family so we needed a large SUV to accommodate the six of us.
My parents were on a separate flight and used MEARS Shuttle to get to and from Shades of Green. It was not a giant Magical Express bus but more like a 15-passenger van.
Shades of Green is located just next to the Polynesian. It is a short 15-minute walk to get to the Polynesian's main building, although I do admit after a few days of walking this path back and forth our family was tired of this method of transportation. It was fun to look for ducks, geckos, herons, and alligators in the water along the walking path, though.
The "Shady Shuttle" will also take you from the hotel entrance to the end of the property. Then, you just have to walk across the street and you're at the Polynesian. From there to the main building, it's a short 5 minute walk.
You do need to reserve this by talking to the people set up at the station outside or calling the guest service desk. It is recommended that you tip a few dollars each trip.
Once you get to the Polynesian, you can access the Disney bus or monorail systems.
Shades of Green does have a bus system, but it does not run on the same schedule as Disney busses. It runs usually on the hour and half hour. You will get more specific times when you check-in. There are busses that take you to Animal Kingdom, Hollywood Studios, and the Ticket and Transportation Center where you can get on the monorail to ride to Magic Kingdom and Epcot.

You must present your military ID (if you are the sponsor) or photo ID (if you are a guest of the sponsor) AND your resort ID (which you get at check-in) each time you get on the bus. This was such a pain for our large family. We had a stroller, bags, four kids, and then to make sure we had our ID cards ready to go was just too much. We only took the bus on our Animal Kingdom day.
The transportation was the biggest drawback for me. By the end of the trip, we just started using Uber or Lyft to get us around. This got really expensive for our large family, but we were so tired of walking to the Polynesian and the busses did not run early enough for our pre-park opening breakfasts.
Amenities at Shades of Green
Since we went in December, we did not use their pool, but it looked really neat with slides and a splash area. Since we were in the very back of the hotel, we were next to a playground, which was a short little walk and nice for the kids to just run around and be kids.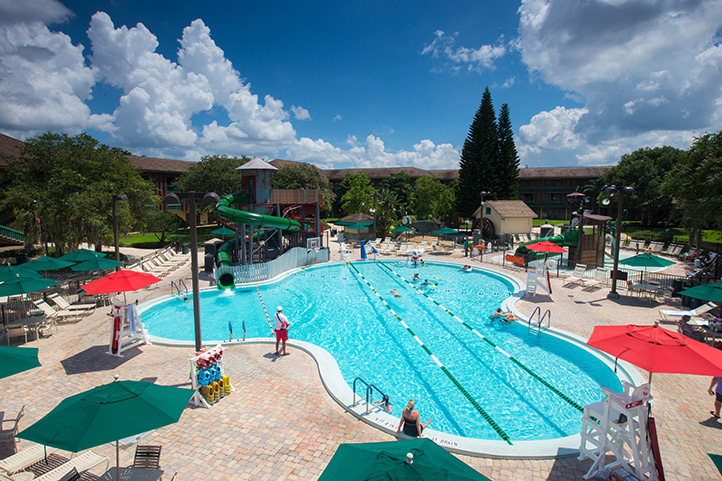 Shades of Green does have an Exchange with vacation staples (like when we didn't bring enough diapers for the baby and our toddler regressed with potty training and was having nighttime accidents) and souvenirs. I noticed the prices were a little better than the parks and shops at Disney Resorts, and the fact that it was tax-free was even better.
Plus, you can use your Military Star Card for purchases there (and also to pay for your room). It was located in the main area of the hotel so it was nice to stop in real quick on our way back in from the parks.
They had washers and dryers which we used often. It runs on a text-messaging system like Disney where you can sign up for alerts to notify you when your laundry is done.
It was pretty expensive. We had brought a couple of packets of laundry detergent but had to pay for more, along with the cost of actually using the machines. If you do a lot of laundry on vacation like we do, I suggest bringing your own detergent or seeing if the Exchange has a small bottle.
There is one in each wing so two total in the entire hotel. Since we were not on the same floor as the laundry room, it was quite the trek with our laundry. Note: bring collapsible laundry baskets or use the boxes that came from your Amazon delivery to the resort. Either one works, really.
Final Thoughts on Shades of Green
Overall, I thought the hotel was nice. I loved that we got to check out the Polynesian Resort and use the monorail, but the lack of transportation options was a huge drawback.
The rooms were a good size and updated, but since we were in the back of the hotel we had a long walk getting to our room from the lobby. If you can, request a room on the same floor as the laundry room (if you plan to use it) or closer to the front of the hotel.
I do like that we got a lot of the same benefits like we get staying on Disney property. Getting to make dining reservations for the entire trip and 60-day FastPasses is a major perk for me.
Since I had to pay $200 for the car service and then another $150 ordering Ubers on our last day or so, it negated any savings from staying there. Staying at a value resort is essentially the same price, and I would rather have free and more efficient transportation than extra space in the room.
Our family will likely not return unless we can't find available rooms with the Armed Forces discount. I try to save money where I can so unless this is the cheapest hotel I can get while still being in the Disney Bubble, I won't be returning to Shades of Green.
Did you know Disney offers more discounts than just the Armed Forces Salute discount? From special events to Memory Maker, they treat our nation's bravest well! Check out a full list of discounts available to active duty and retired service members HERE.
What are your thoughts on Shades of Green? Have you ever stayed here, or are you considering it? I would love to hear your thoughts!
-Monica S.
Are you planning a vacation? Reach out to our trusted travel agency sponsor Authorized Disney Vacation Planner
Mouse Class Travel
!