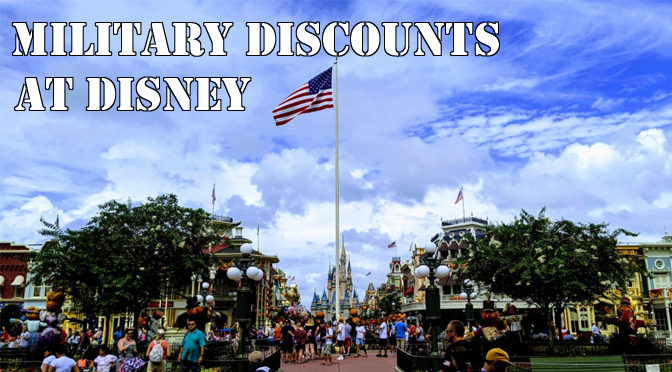 Disney is known for giving great discounts to members of our country's military.  Aside from promotions on room and tickets, there are several other military discounts available that you may not know about.
With the Armed Forces Salute and room promotions renewed for 2020, I wanted to share several other discounts for special events, dining, shopping, and more! This is one of Disney's ways of saying "thank you" to our nation's heroes.
Memory Maker
Memory Maker is available to purchase for $199 ($169 if you buy in advance); however, service members and retirees who qualify for the Armed Forces Salute can purchase Memory Maker for $98 plus tax! It cannot be purchased in advance, but you can go to any ticket counter at any time during your trip and still have access to all photos and videos for the entire length of your stay.
MNSSHP and MVMCP
Discount tickets can be purchased for both holiday parties that take place at Magic Kingdom! Depending on the date of your party, tickets are as low as $59 for kids and $64 for adults for the 2019 season.
Just call or email Shades of Green (no, you do not to be a guest there to get tickets from them), and they will email you an order form to purchase tickets! You will not pay tax, but you will have to pay for a shipping fee if you are not staying at Shades of Green. Another option would be to wait until you are at Disney to order in person at the Magic Kingdom ticket counter. Do not fret if your party is sold out; they will still sell you tickets except for the party taking place on Halloween night.
Walt Disney World Golf
If you are looking to get in some tee time during your vacation, consider booking through golfwdw.com. You can choose between Disney's Magnolia, Palm, Lake Buena Vista, or Oak Trail courses. Pricing varies based on the day and tee time you choose.
Restaurants
While Disney does not offer any military discounts on food in the parks and resorts, there are several other restaurants in the Disney Springs area that offer discounts on food.
AMC dine-in theater
Blaze Fast Fired Pizza
Bongo's Cuban Cafe
Chef Art Smith Homecomin'
Cooks of Dublin
Erin McKenna's Bakery NYC
Ghirardelli
House of Blues
Paradiso 37
Planet Hollywood
Polite Pig
Raglan Road
Rainforest Cafe
Splitsville
T-Rex
Terralina Crafted Italian
The Boathouse
Wine Bar George
Wolfgang Puck Express
Shops, Stores, and Entertainment
Again, no military discounts are offered at stores in the parks or on Disney property, but there are several stores in the Disney Springs area that offer some type of discount. This is not an exhaustive list, but it does give you a good idea. Remember, it doesn't hurt to ask if a store offers a discount.
Alex & Ani
AMC theater
House of Blues merchandise store
Kate Spade New York
Pandora Jewelry
The Boathouse Boutique
Under Armour
Vera Bradley
While the sections listed below are not Disney-related they are services you may need to use during your trip.
Mobility Scooter Rentals
Several rental companies offer discounts on their ECVs and wheelchairs. I would suggest finding the right rental company for you based on your needs and then asking about a discount. The option to have it delivered to the resort would be the biggest variable for me. Remember, Disney recently changed their policy regarding outside vendor drop-offs. Please note you will likely need your military ID to receive the discount. That little card is pretty handy – keep it close by throughout your whole trip!
Transportation Services
Your party may need a right back and forth to the airport, especially if you are staying at Shades of Green or offsite. Maybe you want to check out Legoland or Kennedy Space Center but won't have a vehicle. Check with the car service you are thinking about booking with to see if they offer a discount for service members. There are countless companies out there so if one doesn't offer a discount another likely will.
Where else have you received a military discount at Disney World? I would love to update this list!
-Monica S.