If you love Lady and the Tramp or want to try a new restaurant at Disney's Magic Kingdom, check out our Tony's Town Square review. This restaurant has a notoriously bad reputation. Do you agree with my opinions?
Tony's Town Square Restaurant at Disney's Magic Kingdom has delightful decorations and theming. Offering a variety of Italian dishes, guests can take a break from their busy theme park day here. Check out our thoughts along with a photo tour of this endearing dining spot.
Table Service Locations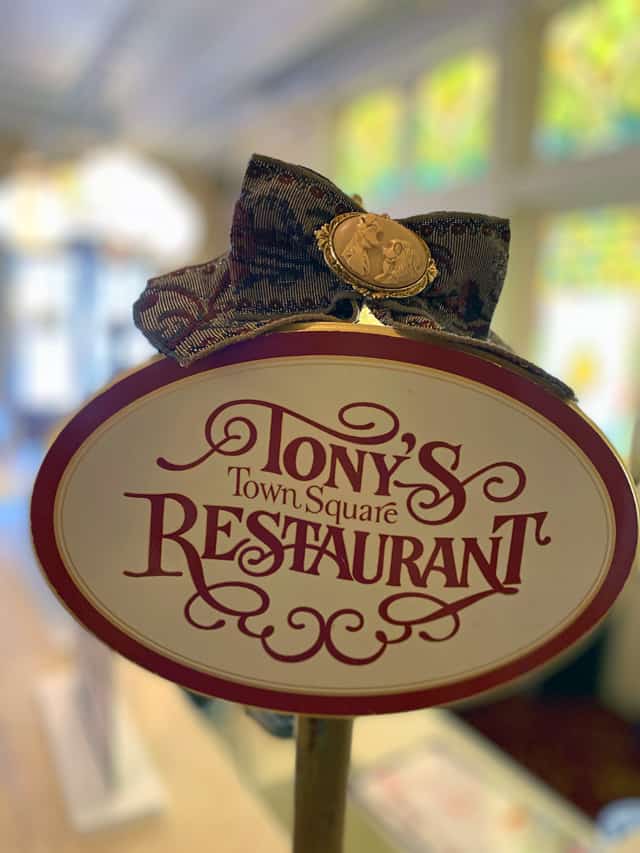 Since Magic Kingdom only has a handful of table service restaurants, it's difficult to eat a variety of foods. Also, some locations can be pricy, such as Be Our Guest, Cinderella's Royal Table, and Crystal Palace.
More budget friendly table service locations include Skipper Canteen and The Plaza. However, many people skip Tony's Town Square restaurant since it has a reputation for mediocre food. Keep reading and decide if you should try it or not!
Location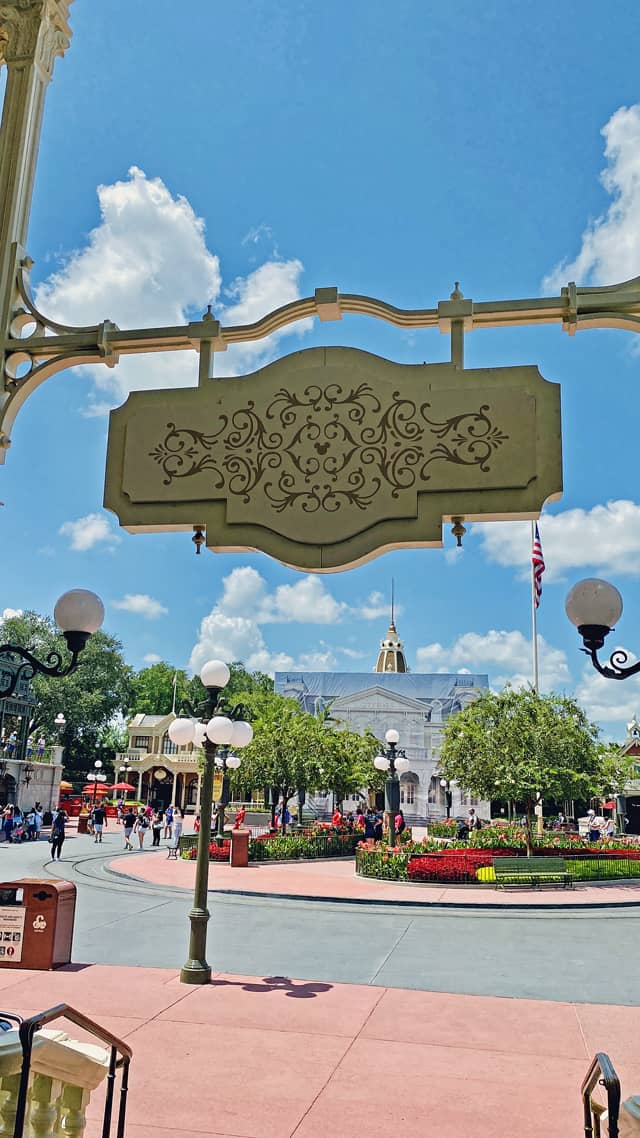 As guests enter Magic Kingdom, it's easy to pass by Tony's. Cinderella Castle captures our attention the moment we arrive on Main Street. However, if you're craving pasta, Tony's Town Square Restaurant may just hit the spot!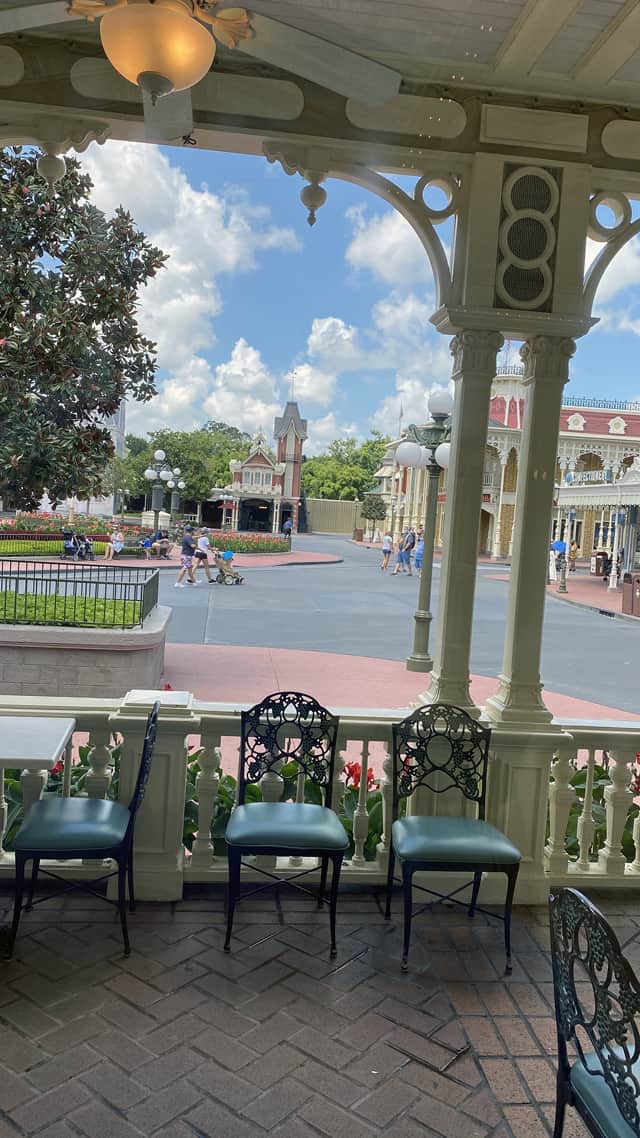 Serving Italian food, Tony's offers both indoor and porch dining. Please note that porch dining hasn't been available since Disney reopened in July 2020. Even when dining in the sunroom, guests get the best view of Main Street U.S.A. Also, guests get the best views of the Disney Cavalcades here. We were allowed to walk to the outside porch while dining and get amazing cavalcade pictures!
Check-In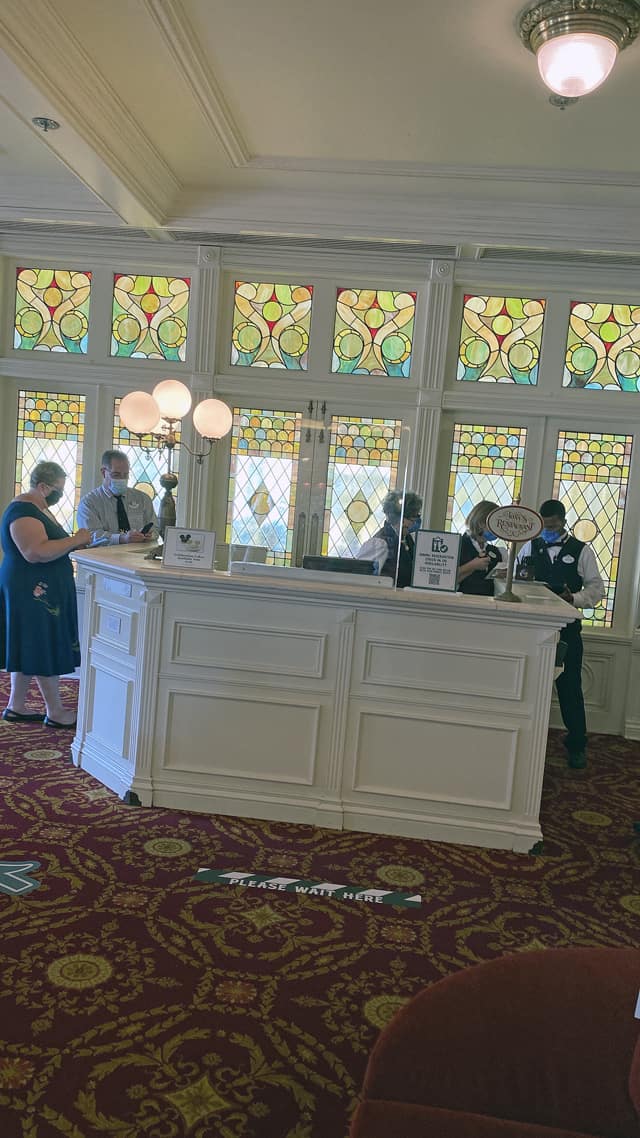 Tony's check-in area is located inside the Town Square building. When you enter, you'll see the photography area to your right, and Tony's check in to your left. Simply check in on your phone and enjoy the comfortable waiting area. In the lobby, Disney's 1955 animated classic, Lady and the Tramp, plays in the background.
Pirate Note: Tony's will not seat you until your entire party is present.
Beside Tony's waiting area are the cutest restrooms. Check out the Lady and the Tramp changing table sign below.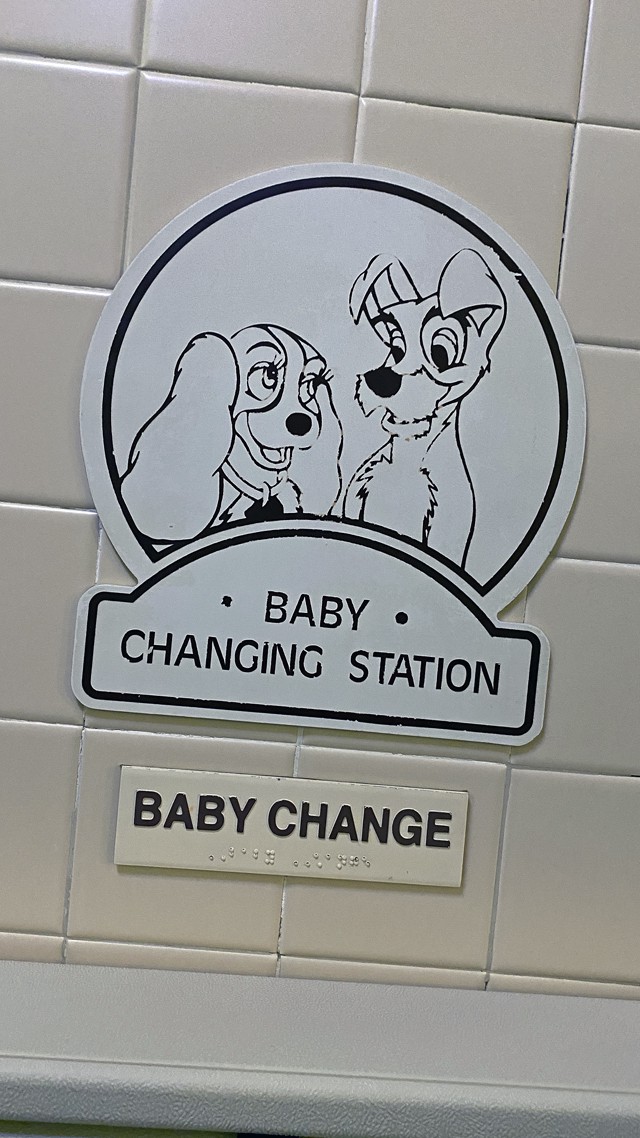 Also, in this area, guests can purchase Lady and the Tramp pressed pennies. These make such a fun and cheap souvenir!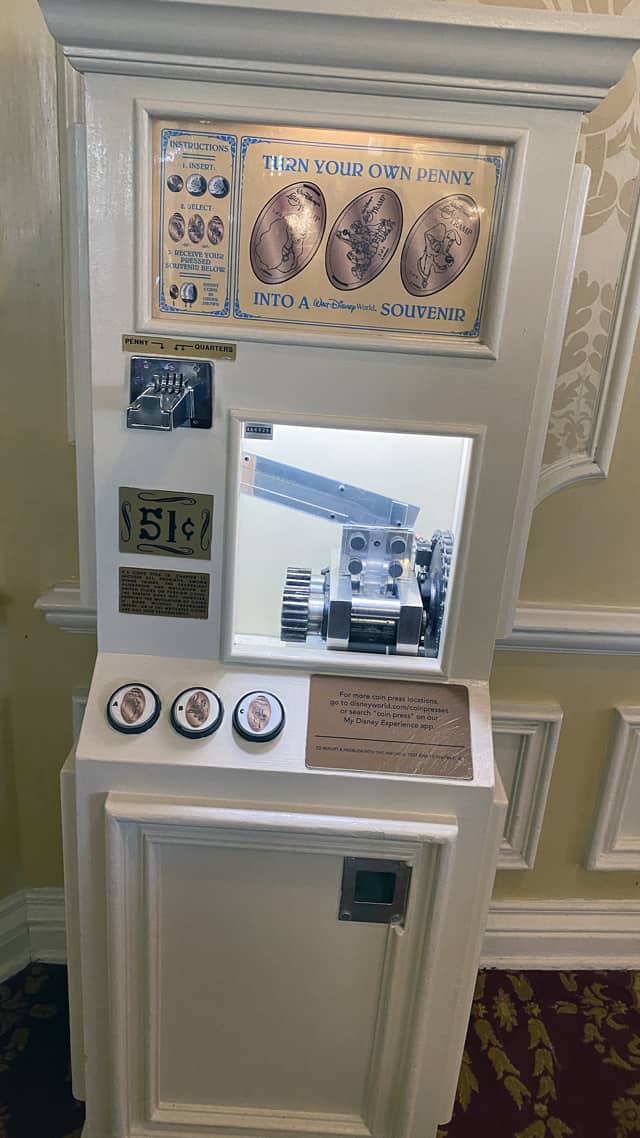 Entering the Restaurant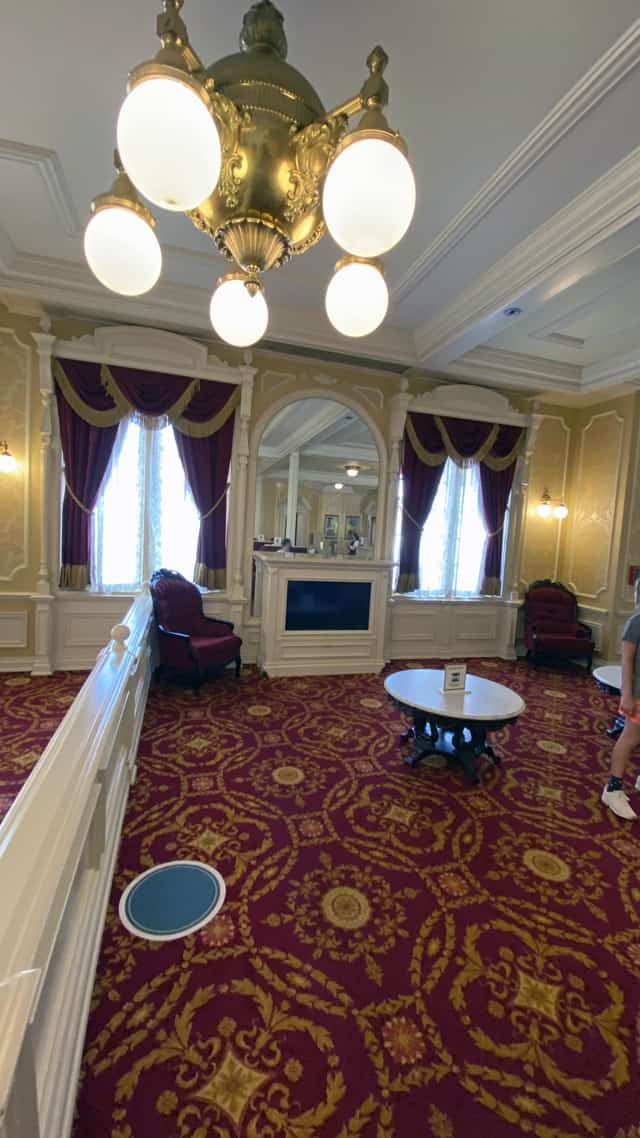 Guests step inside this charming restaurant on Main Street, U.S.A. to see Lady and the Tramp details and artwork throughout the dining areas.
In addition, take in the whitewashed balustrades, French doors and expansive front porch.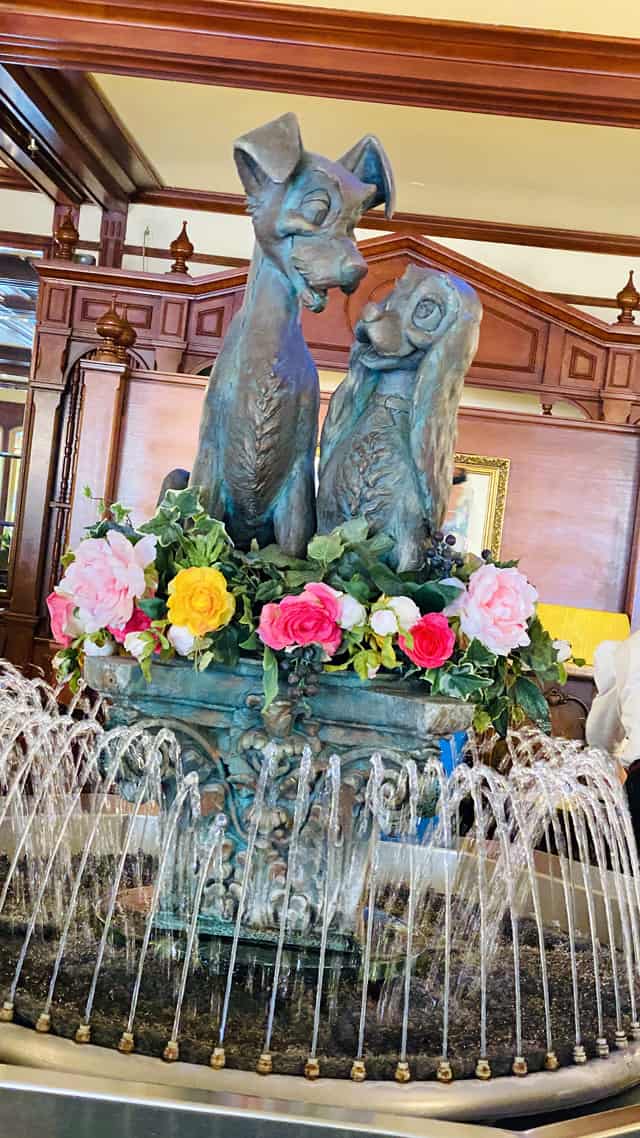 Hopeless romantics and dog lovers alike love the central fountain depicting the adorable canine couple, Lady and the Tramp. My favorite dining location is the sunroom with its abundance of windows and wonderful views.
Theming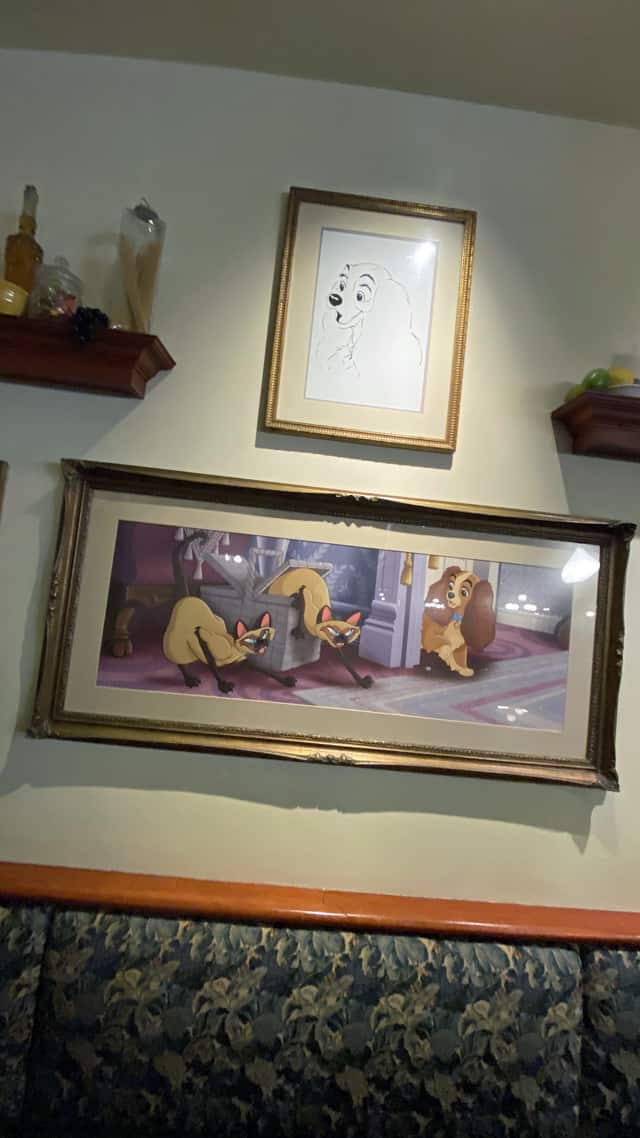 On our first visit, our wonderful hostess insisted on giving us a complete tour of the restaurant. After being seated and ordering, the Cast Member arrived at our table to take us on the tour. I couldn't believe the incredible Lady and the Tramp details weaved into the very thread of the building too.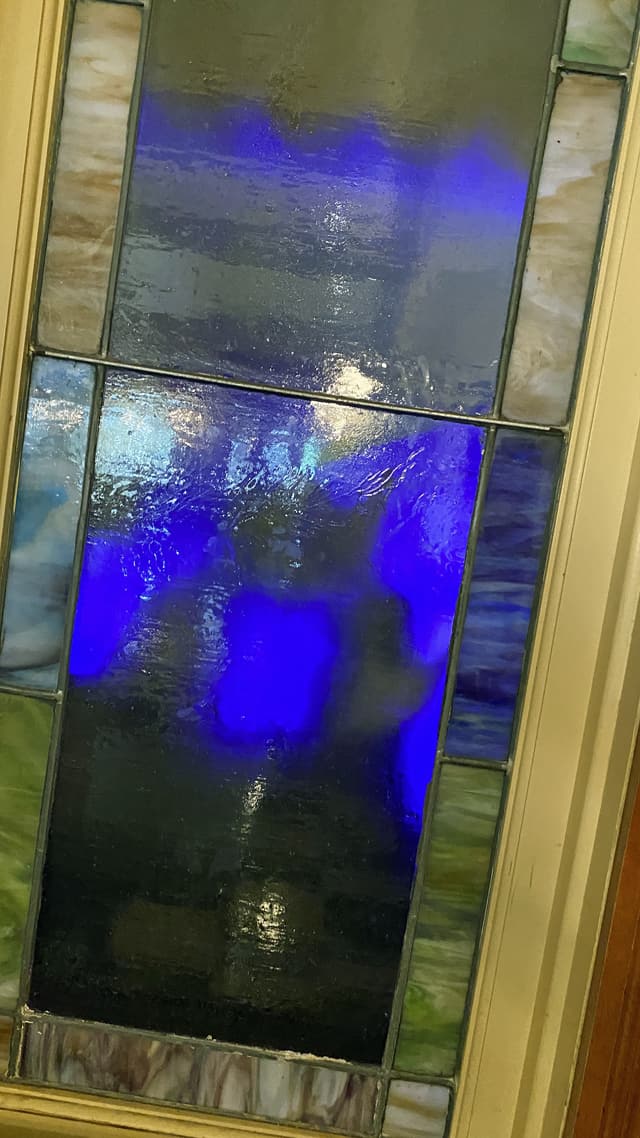 We started at the back of the building. Since no one was seated there, we were able to view the shadow of Lady and the Tramp through the "nighttime window." It was just magical!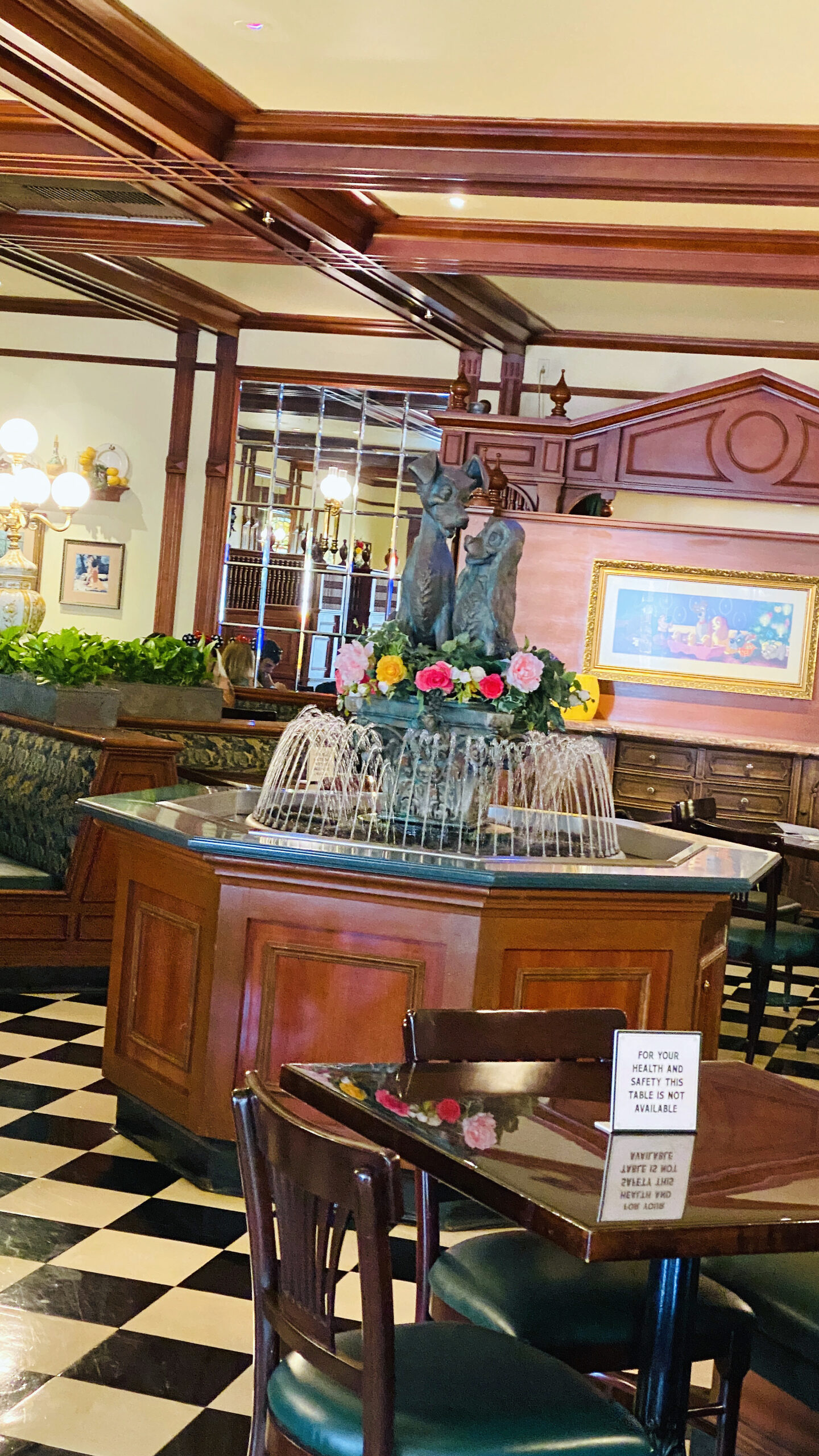 Every piece of artwork, along with the water fountain centerpiece captures the essence of the sweet and charming Lady and the Tramp movie. If you visit, please ask for a restaurant tour!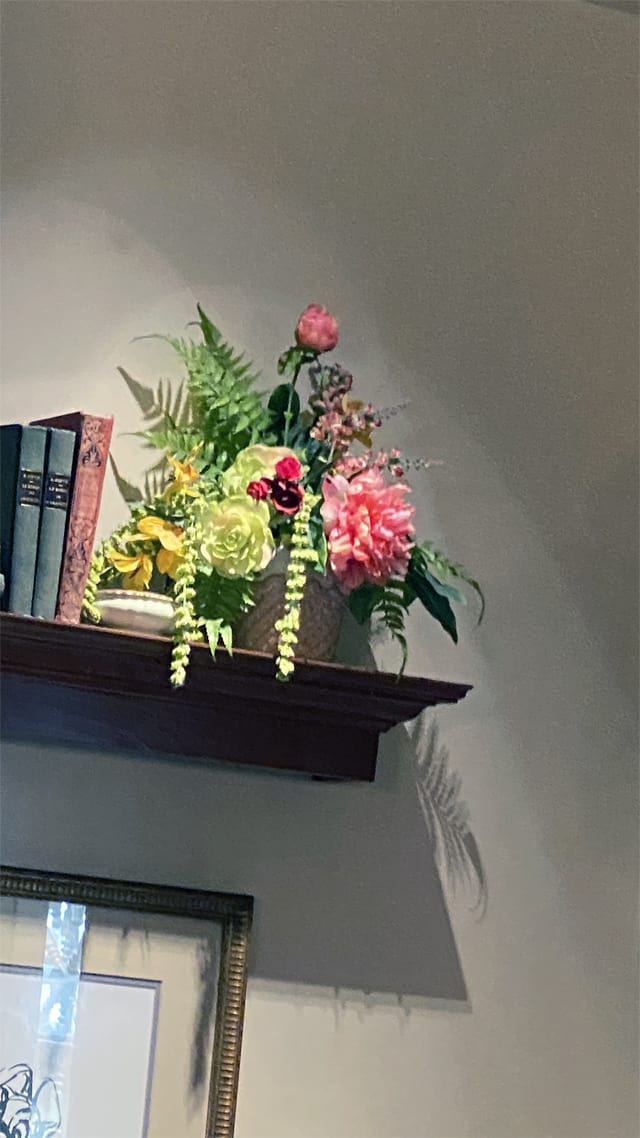 We even spotted a couple of Hidden Mickeys here. After waiting for the table to clear, our tour guide showed us a Hidden Mickey above in the flower arrangement and in the tiles. If you're like me, you'll love these special touches!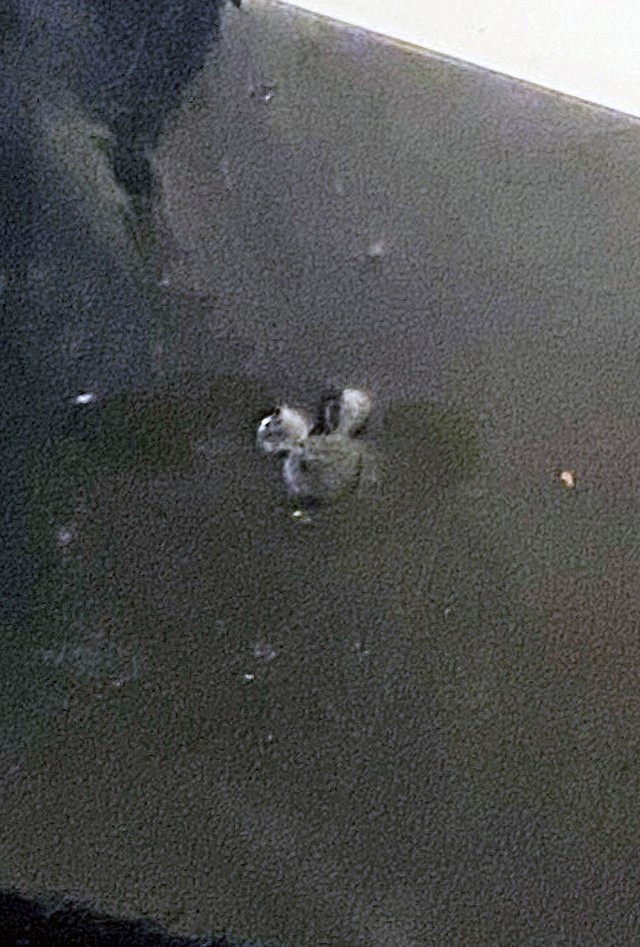 The Menu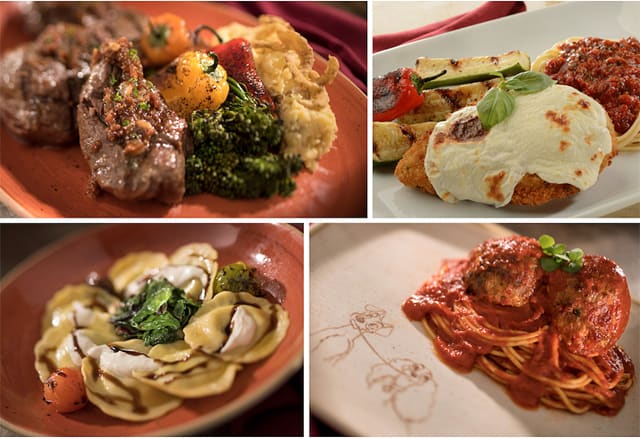 Not surprisingly, the menu is traditional Italian food. However, what makes Tony's unique is the menu is based on what characters would order! Lady and the Tramp even had their first kiss here!
Since my daughter is a vegetarian, we appreciated the options available for her. However, we had mixed feeling about the food.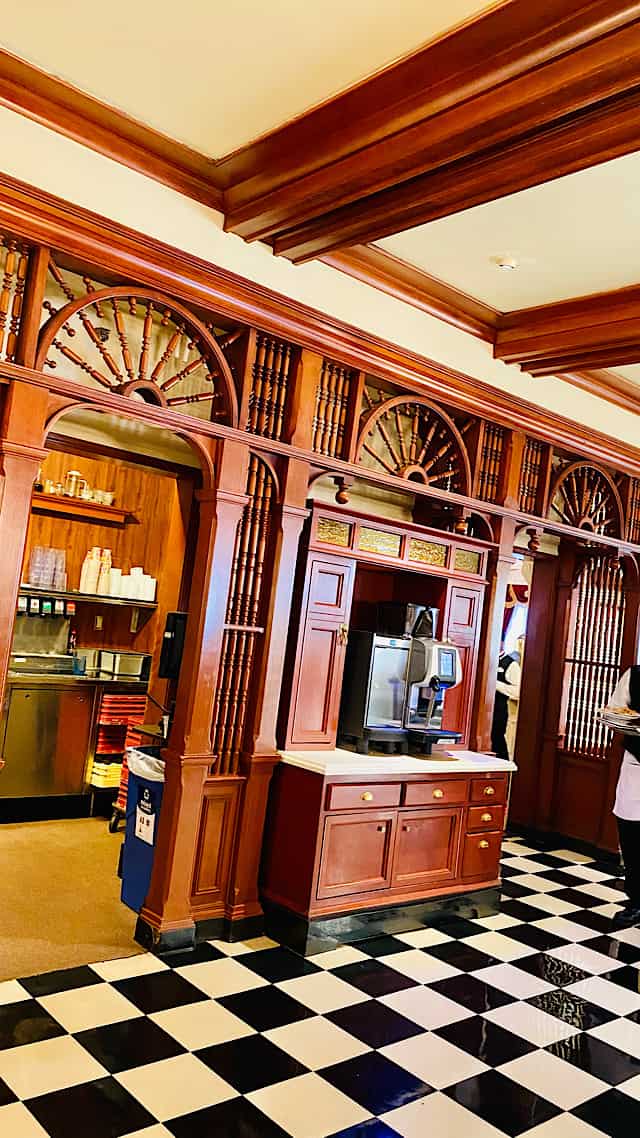 Guests can order specialty espresso, latte, and cappuccino coffee drinks at Tony's. Check out the coffee making area above.
Antipasti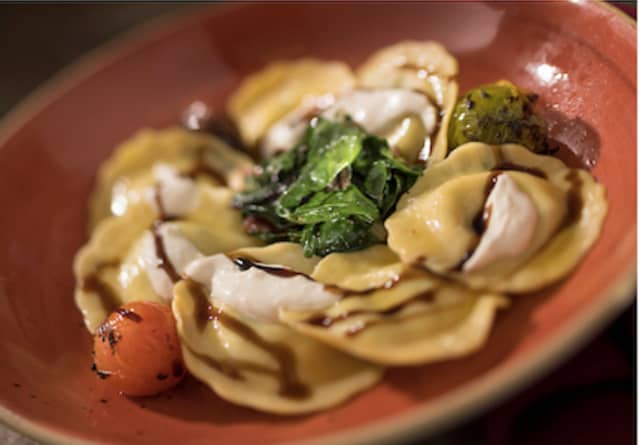 Fried Mozzarella – Herb-marinated Fresh Mozzarella with Creamy Tomato Sauce $12.00
Caesar Salad – Wedge-style Hearts of Romaine, Tony's House-made Caesar Dressing, Romano-Focaccia Crostini $12.00
Seasonal Soup – Ask your server for the daily specialty $9.00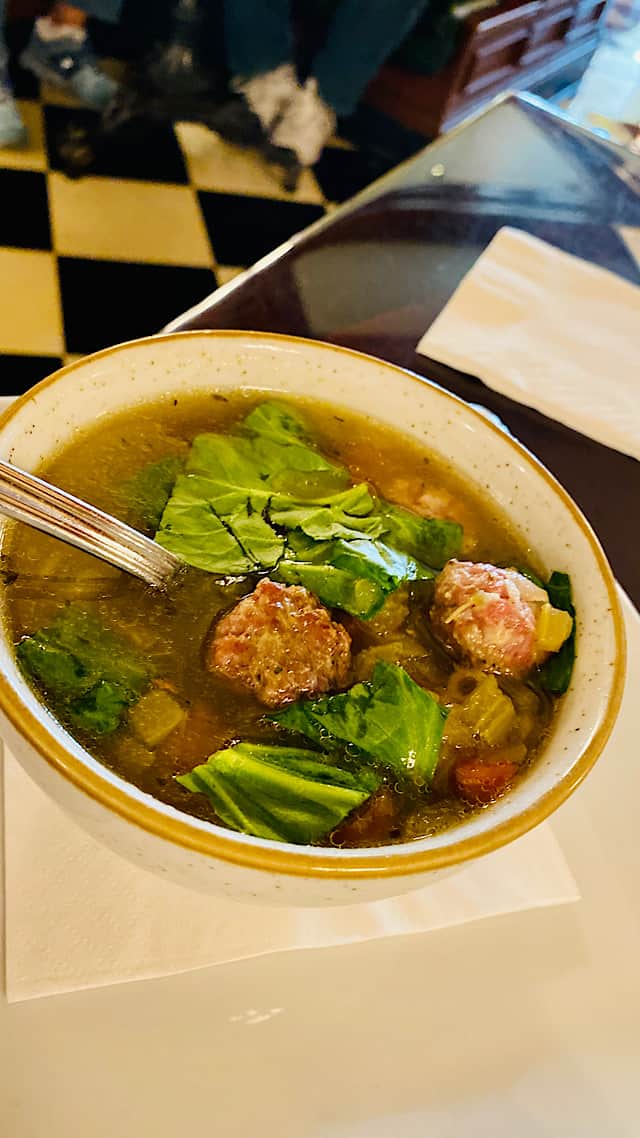 Garden Salad – Mixed Greens, Balsamic Dressing, Olive Medley, Marinated Artichokes, Tomato, and Shaved Rainbow Carrots (Plant-based) -$12
Caprese – Vine-ripened Tomatoes, Fresh Mozzarella, and Balsamic Glaze – $12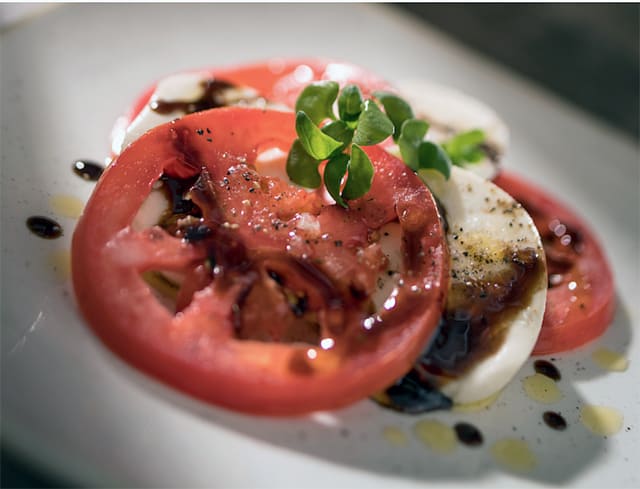 Second Piatti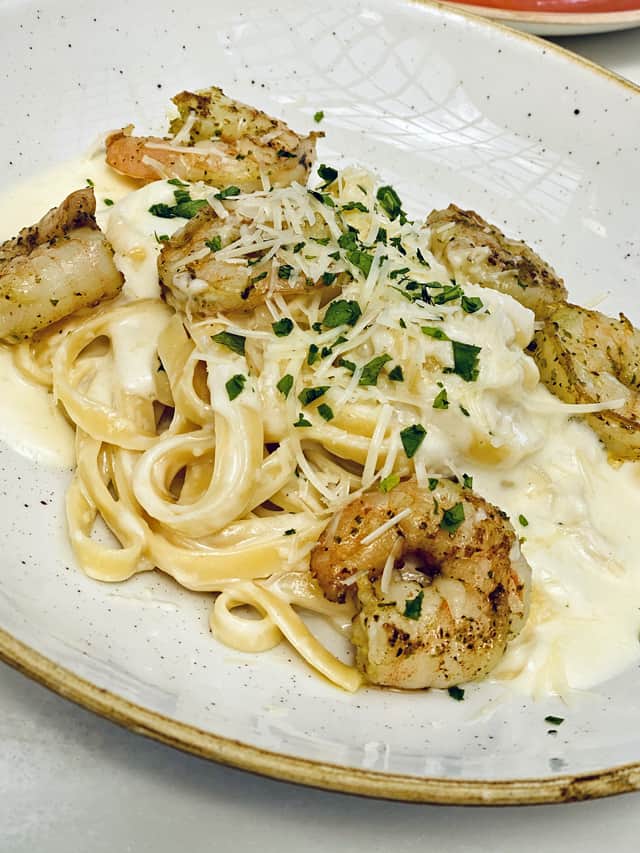 Chicken Fettuccine Alfredo – Herb-grilled Chicken Breast with Fettuccine and Alfredo Sauce $23.00
Scampi Pasta – Freshly Made Linguine Pasta tossed with Shrimp, Mussels, Spinach, Tomatoes, and Onions in a Herb Butter Sauce $27
Tony's Pizza Pie – Hand-tossed Pizza Dough, Blend of Cheeses, and Tony's Pizza Sauce $19
Spaghetti – Choice of Hand-rolled Pork-Beef Meatballs or Italian Sausage with Spaghetti and Tony's Marinara Sauce $22.00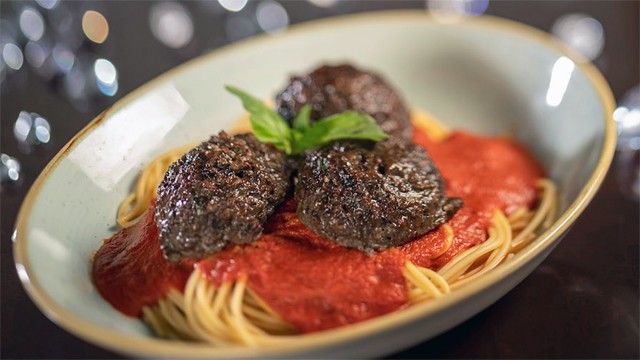 Spaghetti with Impossible Meatballs – Spaghetti, Mushroom Garlic Basil Impossible™ Meatballs, and Tony's Marinara Sauce (Plant-based) $22.00
Roman-Style Steak – Herb-marinated Steak Medallions, Blistered Tomatoes, Broccolini, Herb-roasted Potatoes, and Caper-Herb-Butter Sauce $34.00
Tony's Pizza Pie – Hand-tossed Pizza Dough, Blend of Cheeses, and Tony's Pizza Sauce with Pepperoni or Sausage or Garden Vegetables $21.00
Chicken Parmigiana – Lightly-breaded Chicken Breast with Provolone and Tony's Marinara Sauce over Spaghetti $26.00
Desserts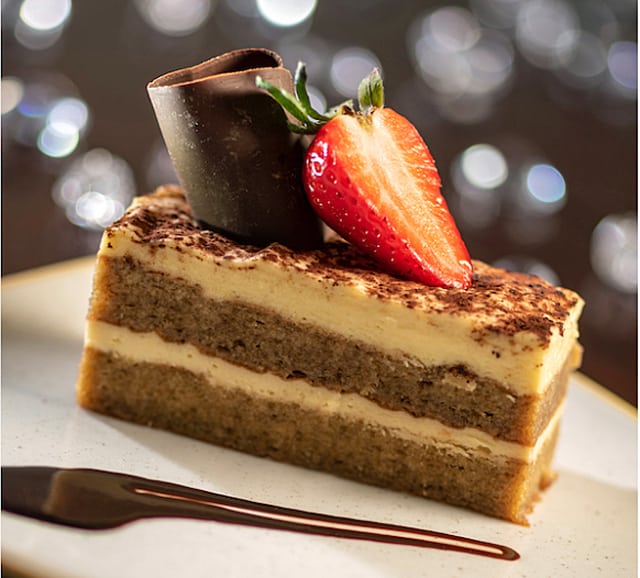 Italian Strawberry Shortcake – Vanilla Cake with Whipped Topping, Balsamic-marinated Strawberries, and Fresh Basil (Plant-based) $8.50
Tiramisù – Espresso-soaked Sponge sheet layered with Sweet Mascarpone Cream and served with Chocolate Sauce $9.00
Cannoli – Ricotta Cream-filled Shells dusted with Powdered Sugar $8.00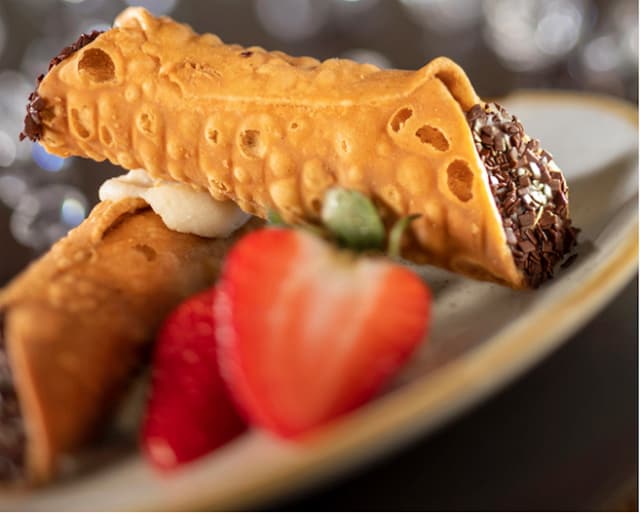 What We Ordered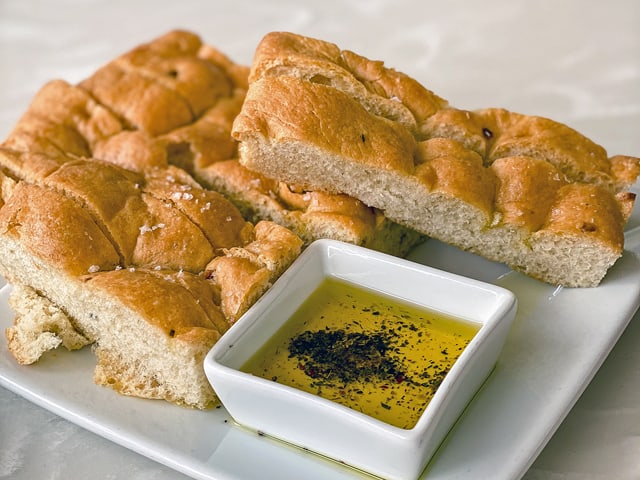 Tony's includes bread service with Olive Oil and garlic for dipping. The Italian bread slices were nice while we waited for our food but not worthy of a glowing review.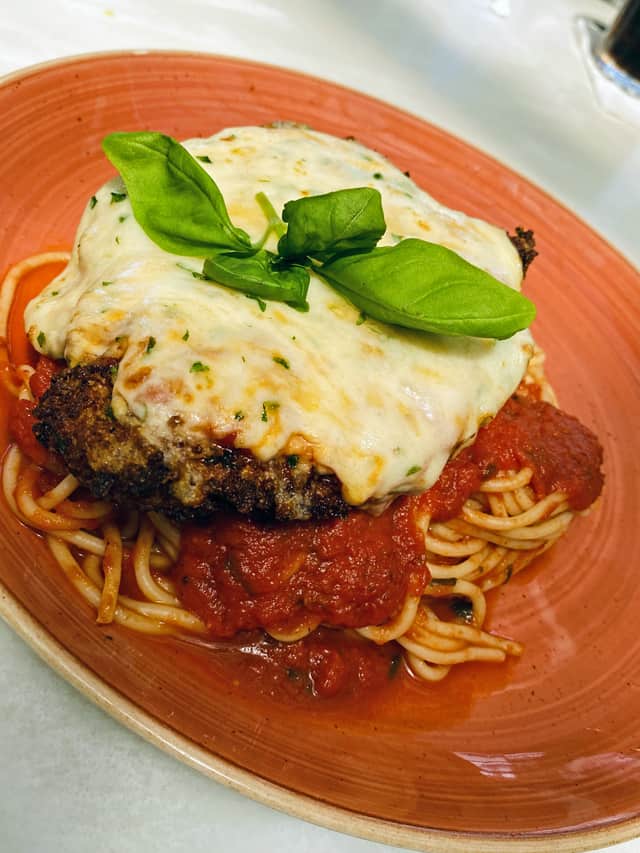 On our first visit, we ordered the Chicken Parmigiana and Scampi Pasta. The chicken was a huge chicken breast fried to perfection! While the sauce wasn't that of a fine Italian restaurant, it was tasty and complimented the dish well.
Also, I loved the generous portion of cheese melted on top. Finally, the pasta was cooked nicely. I ended up eating most of it, but there was enough to share.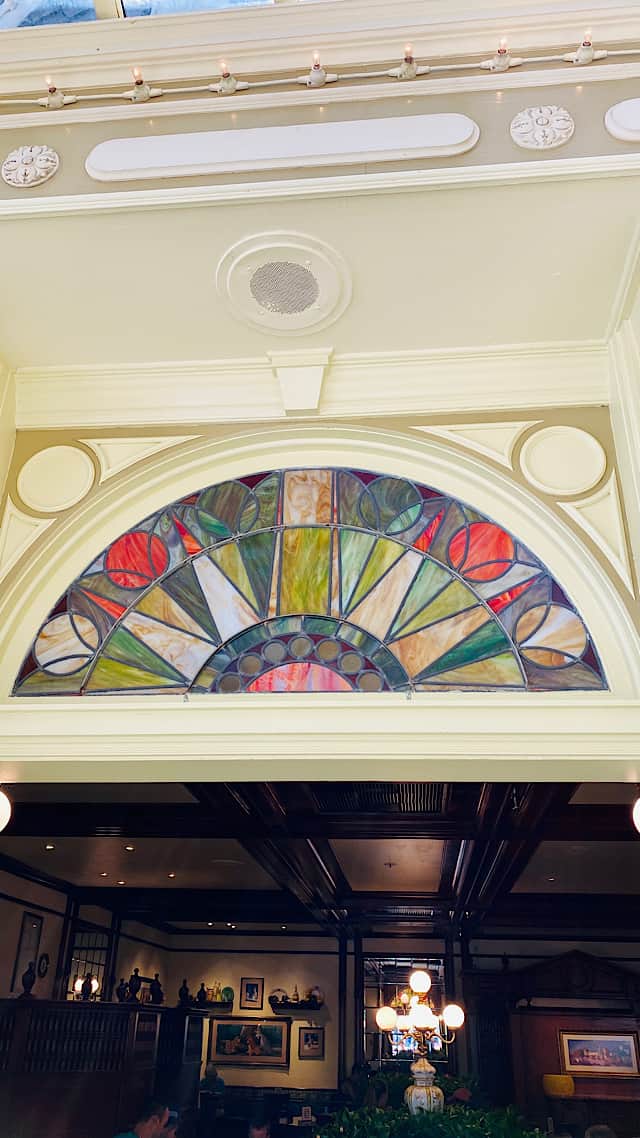 We ordered the Fettucini Alfredo with shrimp. This dish features fresh linguine pasta made from scratch in-house and tossed with shrimp, classic butter sauce, Parmesan, and fresh vegetables.
As seafood lovers, we expect it to be fresh and flavorful. This dish surprisingly exceeded our expectations. The shrimp were cooked just right, and the garlic scampi sauce were absolutely delicious!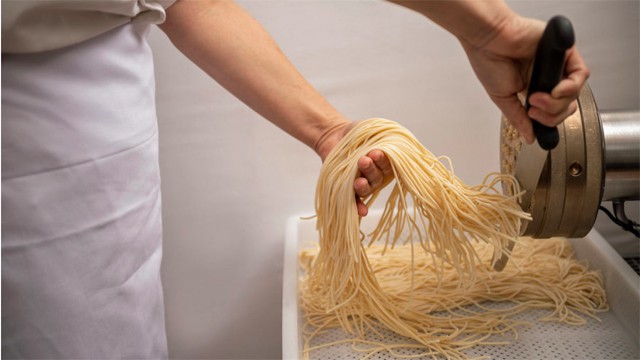 On my second visit, I wasn't terribly hungry so I ordered a couple of appetizers. First, I ordered the Caesar Salad. Not sure what I was expecting, but the menus description of "Wedge-style Hearts of Romaine" didn't quite describe this dish. I was surprised how little lettuce there actually was here. Not only that, but the bread was mediocre, and the I expected more from the dressing itself.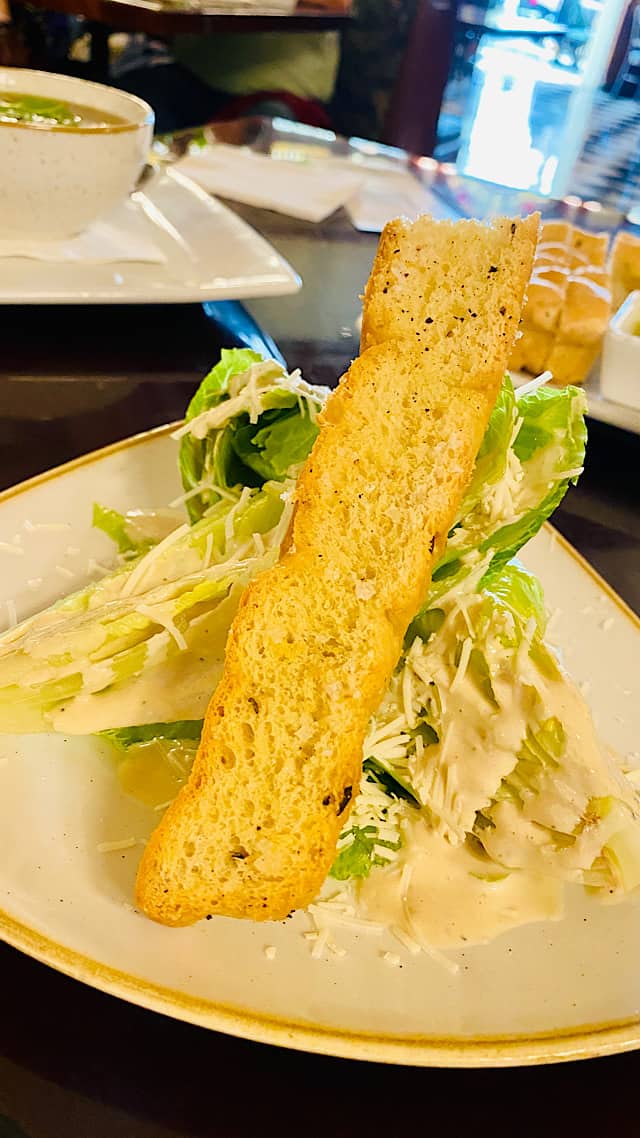 Second, I ordered the Seasonal Soup. On the day I visited, it was an Italian Wedding Soup. I appreciated the fresh diced onions, carrots, and celery in this soup, but this dish needed more seasoning.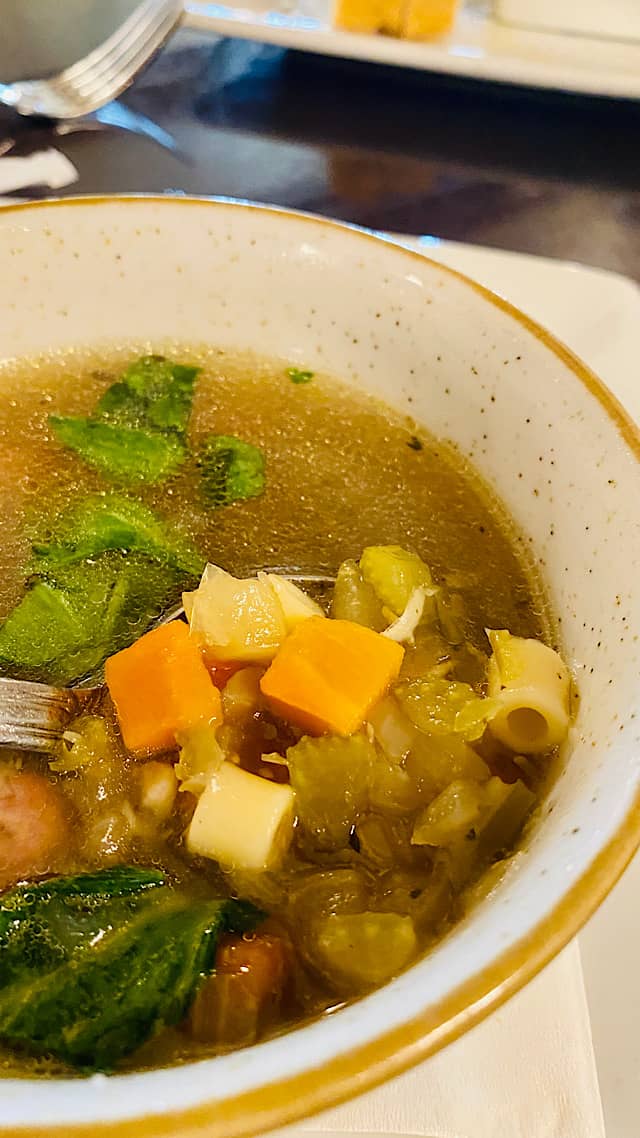 The addition of Italian herbs and spices would have greatly improved this soup. The tiny meatballs were just okay, and the soup was overly salted.
Final Thoughts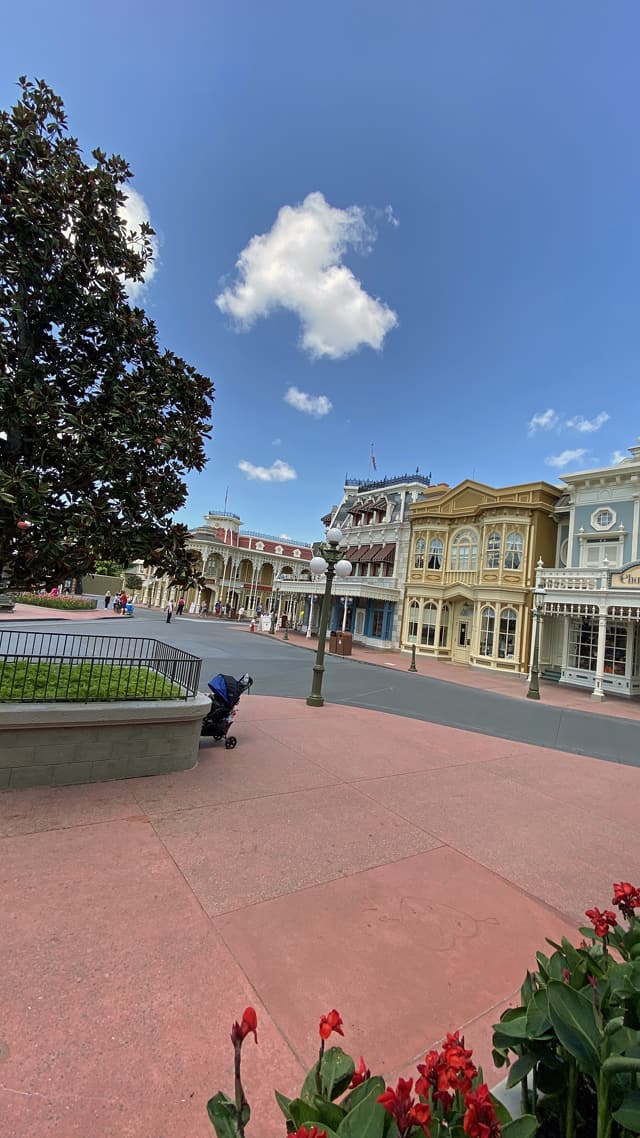 As you can see, we have mixed feelings about the Tony's Town Square dishes. In contrast, we just fell in love with the theming and the bright and cheery sunroom. Would we eat here again? Absolutely!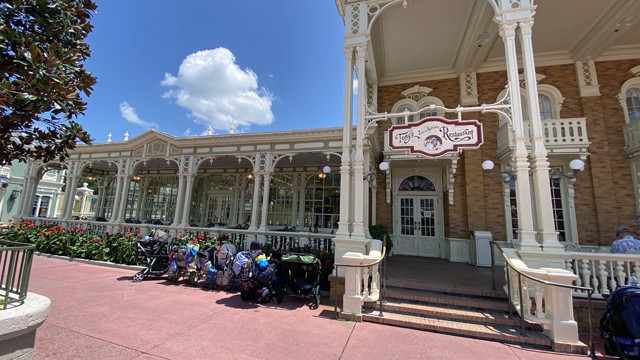 Although dishes on the second visit were just okay, the dishes on our first visit were good enough to warrant a return visit. Plus the views from Main Street, especially when a cavalcade comes by, are simply the best!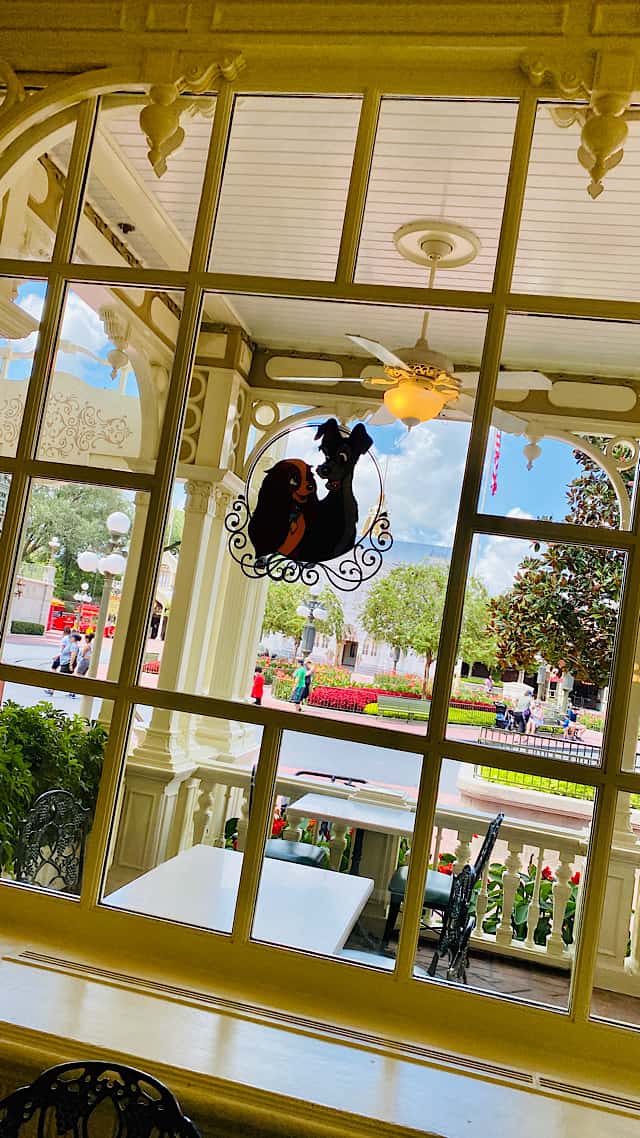 In addition, we've heard that Tony's dining rooms can get quite loud, but this was not our experience. Like Disney's attractions and queues, restaurants are adhering to social distancing practices. More than likely, this is why Tony's has been quieter since reopening.
Have you eaten at Tony's Town Square restaurant? Would you be willing to try it? Please share your thoughts and experiences on our Kenny the Pirate Facebook page.