Disney has become insanely crowded! With so many vacations being put off from the pandemic, the 50th Anniversary celebration underway and travel restrictions being lifted, it has created the "perfect storm" of chaos. Don't start pulling out those brown paper bags just yet, though! We have some tips to help you have a magical Disney vacation and you don't even have to step foot inside of a theme park!
Even during the most crowded times of the year, it's possible to have a magical Disney vacation. The #1 secret to that success is plan, plan, plan! If you are visiting Disney World for the first time, or even since the parks reopened, check out our advice on how to plan for a stress-free Disney vacation.
Planning is the key to making sure your family accomplishes everything they want and setting realistic goals. There is nothing less magical than getting to the parks without a plan and now the lines are long and everyone is cranky.
For my family, avoiding crowds is key to keeping everyone in our travel party happy. That means getting up early, taking afternoon breaks and zigging when others zag. To help you navigate through the hustle and bustle of Disney crowds, we've complied a list of things to do when you need to step back from the busy park crowds.
#1. Resort Character Meals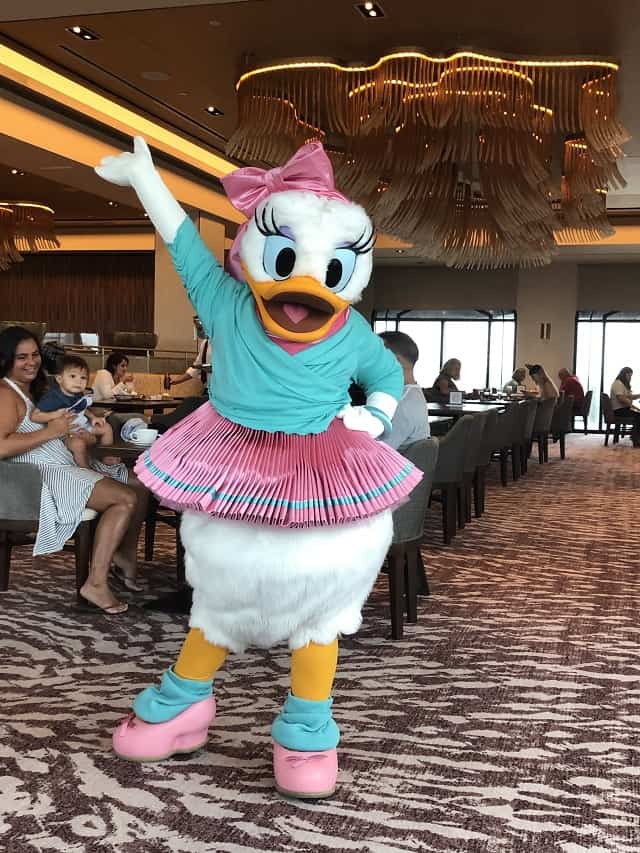 One of the best ways to take a step back from the crazy theme park atmosphere is by booking a character meal at one of the Disney resort hotels. Character meals provide much-needed reprieves after a morning of rope dropping, for mid-day break or even on a rest day.
Character dining is a great way to still immerse yourself in the magic of Disney without all the crowds and lines. Some of the best meals in Disney reside outside of the theme parks and that includes many opportunities to see some of your favorite Disney friends.
While fan-favorite character meals such as 1900 Park Fare and the Bon Voyage Breakfast have yet to return, there are still plenty of excellent character meals available such as Topolino's Terrace, Chef Mickey's and Storybook Dining at Artist's Point.
#2. Resort Dining
If characters aren't your thing or you don't see the value in paying character dining prices without the same interaction as before, there are still plenty of fabulous non-character restaurants outside of the parks. In fact, I would go as far to say that I prefer dining outside of the theme parks on most occasions.
For more relaxed and casual dining, I highly recommend Beaches and Cream at the Beach Club, The Grand Floridian Cafe or Whispering Canyon Cafe at Wilderness Lodge.
If you are looking to splurge on some luxurious fine-dining experiences, you can't go wrong with Narcoossee's at the Grand Floridian, California Grill at the Contemporary or Jiko at Animal Kingdom Lodge.
Sometimes all you need is to step back and have a delicious dinner. Vacation is about relaxing as much as it is about having fun!
#3. Rent a Watercraft or Surrey Bike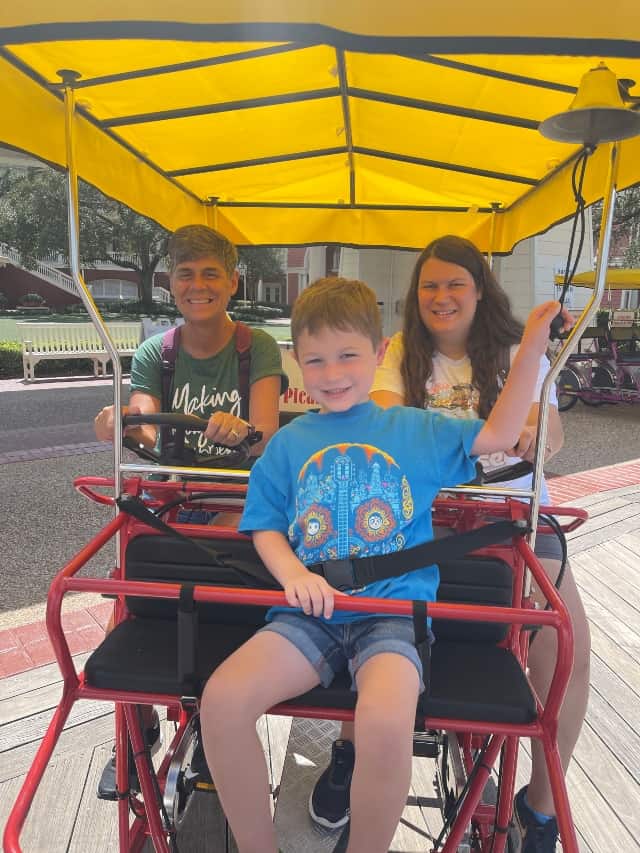 Recreational activities have always been a favorite way for my family to escape the parks. So many people overlook these activities because they jam-pack their trip full of park time. I highly recommend taking time in your vacation for fun rental activities that the whole family will enjoy.
Since I was a wee little squirt, my family has always had a love for watercraft rentals at Disney. A trip to the Most Magical Place on Earth was not complete without a day cruising down the Sassagoula River to Disney Springs or exploring the Seven Seas Lagoon and Bay Lake. For a fun day with the family, consider splurging for a Pontoon boat rental. These boats can fit up to 10 adults and are such a fun experience for the whole family to enjoy.
As a young tween, I particular loved renting the Water Mice speedboats (now call SeaRaycers). The minimum age to drive was 12 and as a kid who always longed to get behind the wheel of the driver seat, this was as close as I could get.
My favorite places to rent watercraft at Disney are at the Disney Springs resorts or Magic Kingdom resorts because you have a much larger area to explore. 
Just don't forget those hats, sunglasses and sunscreen! Taking a boat out in the heat of the day can be fun, but the Florida sun can also be brutal if you are unprepared. Check out how to pack for Disney summers HERE and makeup products that can survive the hot Florida sun HERE!
#4. Go Horseback Riding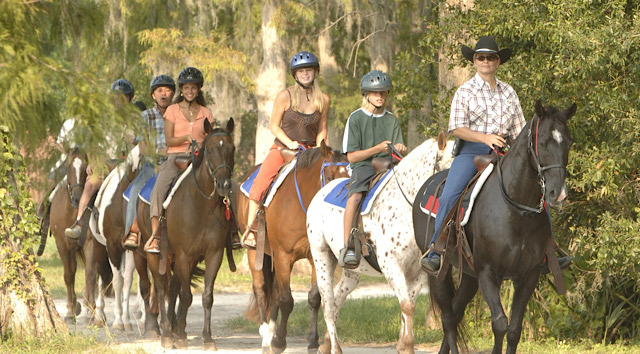 I bet you didn't even think about going horseback riding when you were looking at all the things there are to do at Disney. Most guests don't realize this opportunity is even available to them.
For guests ages 9 and older who love equestrian activities, this is something you need to put on your Disney to-do list! You will enjoy a 45-minute ride through the beautiful woodlands at Disney's Fort Wilderness Campgrounds and possibly encounter deer, ducks, armadillos and rabbits.
Sometimes, there is just nothing like the great outdoors to clear your head of all the Genie+ stress and vacation planning woes. Price per guests is $55 and guests must check-in at Tri-Circle-D Ranch, located at the entrance of Disney's Fort Wilderness Resort & Campground. Reservations are recommended by calling 407-WDW-PLAY, and closed-toe shoes are required. Riders must be over 48 inches tall and weigh under 250 pounds.
#5. Take a Horse-drawn Carriage Ride
If you love horses, but your days of actually saddling up on a horse are long over, worry not. There is still another way to get up close with these beautiful creatures! At both Disney's Port Orleans Riverside resort and Disney's Fort Wilderness Resort & Campground, guests can book a 25-minute relaxing horse-drawn carriage ride. Carriages fit up to 4 adults, or 2 adults and 3 small children. Each horse-drawn carriage ride costs $55. Advance reservations are highly recommended.
Many years ago my family of 4 booked a horse-drawn carriage ride at Disney's Port Orleans Riverside resort. My mother used to ride as a child and absolutely loves horses, however she is unable to ride anymore. The horse-drawn carriage was the perfect way to still make her Disney dreams come true!
We checked in by the Riverside Levee Marina and met our carriage driver. She was absolutely wonderful! She took our family picture in the carriage and spent the whole ride telling us interesting stories about the resort and about her time working for Disney. She also mentioned that famous celebrities often enjoy booking carriage rides and shared some of her favorite encounters.
We were told there are two paths that the carriage drivers can take per booking slot. Our driver's route was through the Alligator Bayou and around Disney's Port Orleans Riverside resort. The other route goes along the river and down by Port Orleans French Quarter. If I booked again, I would have preferred the French Quarter route simply because the Riverside route wasn't as scenic.
If you are looking for something different to do on your next vacation, consider this relaxing and amazing experience!
#6. Have a Spa Day
This is one of my (Christina) favorite things to do in all of Disney! I am absolutely obsessed with the Senses spa experience. While there are different spa locations scattered across Disney property, my favorite location is the one at Disney's Grand Floridian Resort & Spa.
From the moment you walk in the door, you feel instantly at peace. The entire spa is a tranquil oasis away from the hustle and bustle of park life, family meltdowns and heat exhaustion. The Senses spas have recently reopened and we are so thrilled to see them return!
One of my favorite birthday splurges is to book a Swedish massage. Let me just say that there is nothing more magical in Disney. From the moment my treatment began, I felt like the rest of the world was miles away. There was nothing I needed to do or even worried about in those 30 minutes.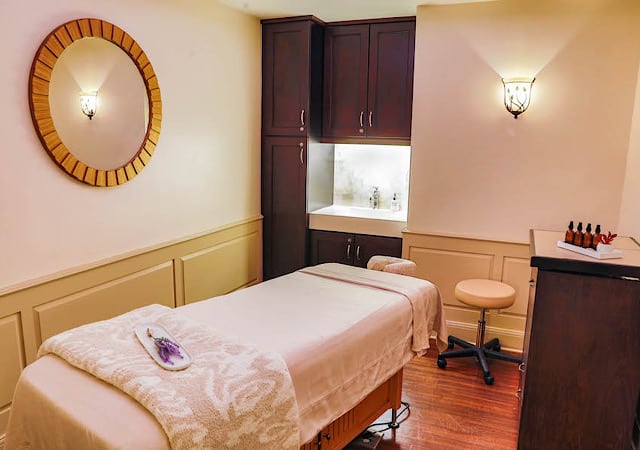 The only bad part of the experience was that it ended. The good news is even after your treatment is over, you still have full access to the lounge and spa amenities all day! Spend the rest of the day, if you desire, just relaxing in a poofy recliner chair with a cup of tea and trail mix.
We also had the chance to experience a pedicure at the Senses spa, which is the ultimate pampering. You won't find any crazy art options here – just a basic paint job, but the whole experiences was very luxurious. What I loved most was that I got to keep the nail polish bottle once they were done!
The menu selection at the Senses spa is quite extensive so you are bound to find at least one treatment that interests you. Though I won't judge if you find more – live your Disney dreams!
Character Couture Makeovers
One of my favorite things I experienced right before the pandemic closure was the Character Couture Makeover at Ivy Trellis Salon inside the spa. This was basically like an adult version of the Bibbidi Bobbidi Boutique. I booked a hair-only package and asked my amazing stylist for a Queen Anna inspired hairdo. *Spoiler alert* – she did not disappoint.
The whole experience was so much fun and was a great deal for the price! The hair salons have not reopened just yet, but we hope they do soon! This was a fantastic magical extra that will make any woman feel like a princess.
#7. Visit the Resorts
There's so much to see and do at the parks that many people don't take the time to explore the Disney resorts. Each resort has a unique theme and backstory. You'll find some of the best dining on Disney property at the resorts, not to mention all the of the amazing recreational activities we have already talked about!
Even if you don't find a ton of time to visit various Disney resorts, don't forget about the one you are staying at. Your Disney resort is not just a place to sleep. There are lots of fun activities to experience at the resorts that are totally free, too! Check your resort guide upon check-in to see everything going on during your stay!
One of the ultimate vacation must-dos is to spend a day relaxing at the pool. It's easy to get caught up in all the planning and forget to make time for a resort day. I know I regret every time I don't plan a day to enjoy our resort pools, because Disney has some of the best themed pools for kids and adults. You do not want to find yourself at the end of your vacation and realize you missed out. 
#8. Go Mini Golfing
This is one activity I personally feel not enough guests take advantage of. I have always loved playing mini golf with my friends and family. I may not be any good at it, but that doesn't mean we don't make some awesome memories along the way.
Disney has two amazing locations for mini golfing: Fantasia Gardens (located across from the Swan and Dolphin resorts) and Winter Summerland (located across from Disney's Blizzard Beach Waterpark).
Winter Summerland
Because no one does backstories like Disney, Winter Summerland is no regular miniature golf course. According to Disney, "That's because Santa Claus, himself, designed it!"
"Late one Christmas Eve, as Santa was flying back to the North Pole, he discovered snow in Florida. After surveying the strange sight, he decided to build a vacation destination for his off-duty elves, a Winter Summerland.
Seeing that the only thing Winter Summerland lacked was a golf course, Santa and his elves divided into 2 camps, one that enjoyed the warm Florida sun and another that preferred the snow and cold of the North Pole. The elves then built 2 distinctly different 18-hole golf experiences: a sand course named "Summer" and a snow course named "Winter."
On "The Summer Course" guests will encounter surfboards, sandcastles and ornaments hanging from palm trees. You'll have to maneuver your golf balls through a labyrinth of peppermint-striped inner tubes, snapping clamshells and a melting snowman.
"The Winter Course" is my favorite course because of Squirty the Snowman! "This "jolly, happy soul" sprays water at golfers when golf balls pass beneath him."
I think the whole course has a better theme and better effects including giant peppermints, hockey sticks and a melting castle. Regardless if you are on the Winter or Summer course, all guests experience the same 18th hole where they receive a special message from Santa Claus, courtesy of the WinterNet!
Fantasia Gardens
As much as I love Winter Summerland, I love the Fantasia Gardens golf course even more!
Now, Fantasia Gardens also has two 18-hole golf courses, however, only one of them is themed. If you are looking for the course that is themed to the movie 'Fantasia', you want to make sure you ask for the "Gardens Course".
This course is a ton of fun for the whole family and each hole is themed to a different section of 'Fantasia'. The only thing that makes Winter Summerland a bit better is that they have more water effects that get you wet. If I was picking solely on theme, however, I would choose to visit Fantasia Gardens every time.
The "Fairways Course" is designed like a traditional golf course – just built on a miniature scale.
If you are looking for a fun way to perfect your golfing skills, over just hacking at the ball and hoping it bounces off an obstacle and into the hole, this course might be better suited for you.
You'll find all the usual golfing hazards such as sand traps, bunkers, water and sloping greens. Par-3 and par-5 holes range in length from 63 to 109 feet long.
#9. Visit Disney Springs
There is so much to do at Disney Springs, I could spend an entire day there. Disney Springs has some of the best dining locations on property and 6 of their restaurants were created by James Beard award-winning chefs! 
Not only are the restaurants spectacular, but there are plenty of unique snack locations to indulge in, too. Some of our favorites are: Gideon's Bakehouse, Glazed Donuts, The Polite Pig, Vivoli Il Gelato and Jock Lindsey's Hanger Bar.
#10. Go Bowling or See a Movie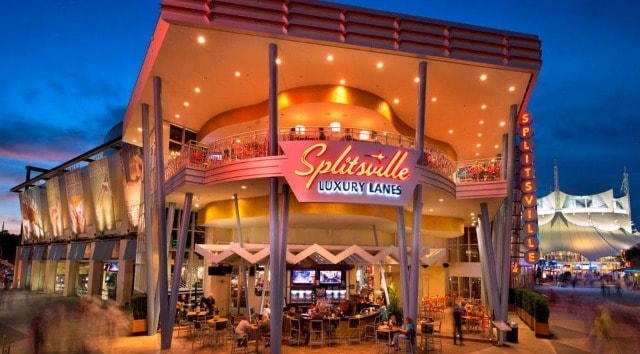 As a kid, my family used to visit Disney Springs frequently on rainy days. That's because there were so many indoor activities like Disney Quest and the AMC theaters. While Disney Quest is gone, the movie theater is still around. What better way to escape the heat or rain and watch the latest release?
If you would rather spend your vacation with family bonding activities, rather than sitting in a dark room watching a movie, that's understandable. Consider taking some time for a bowling night! Bowling was one of my favorite past times as a kid. Sadly, most of the alleys in my hometown are gone now, but bowling is alive and thriving at Splitsville Luxury Lanes in Disney Springs!
These activities are the perfect way to escape the Disney crowds and still have lasting memories!
#11. Fireworks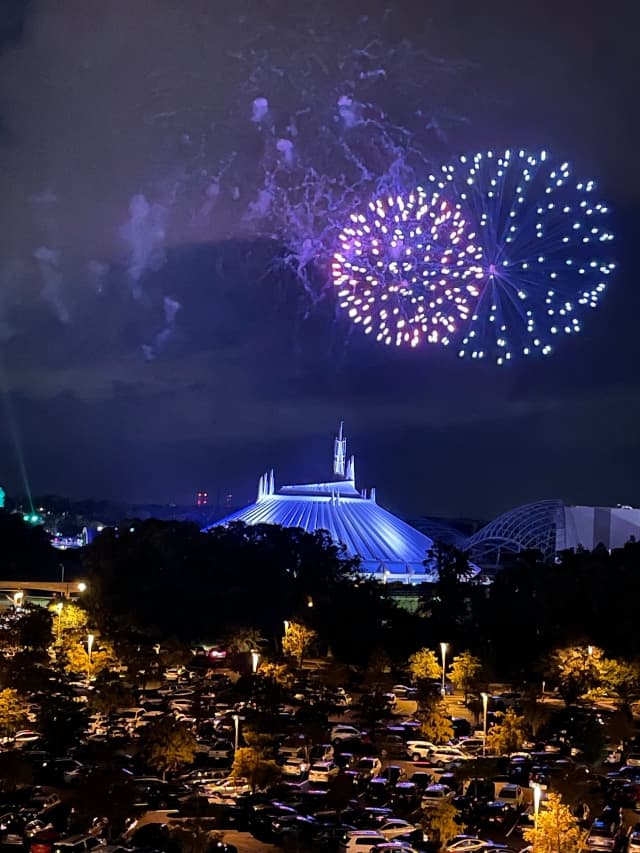 You don't have to be inside the parks to enjoy the fireworks! Some of the best secret viewing spots lie outside the theme parks. If you are like me, and the images of the firework crowds make you woozy, consider viewing them from a less crowded area. 
Firework cruises
There are lots of ways you can take in the fireworks at Disney without being in the parks. One of the best ways is to book a fireworks cruise! These cruises provide guests with fun and unique vantage points that keep them out of the crowds and offer a more relaxed experience.
Ice cream and Fireworks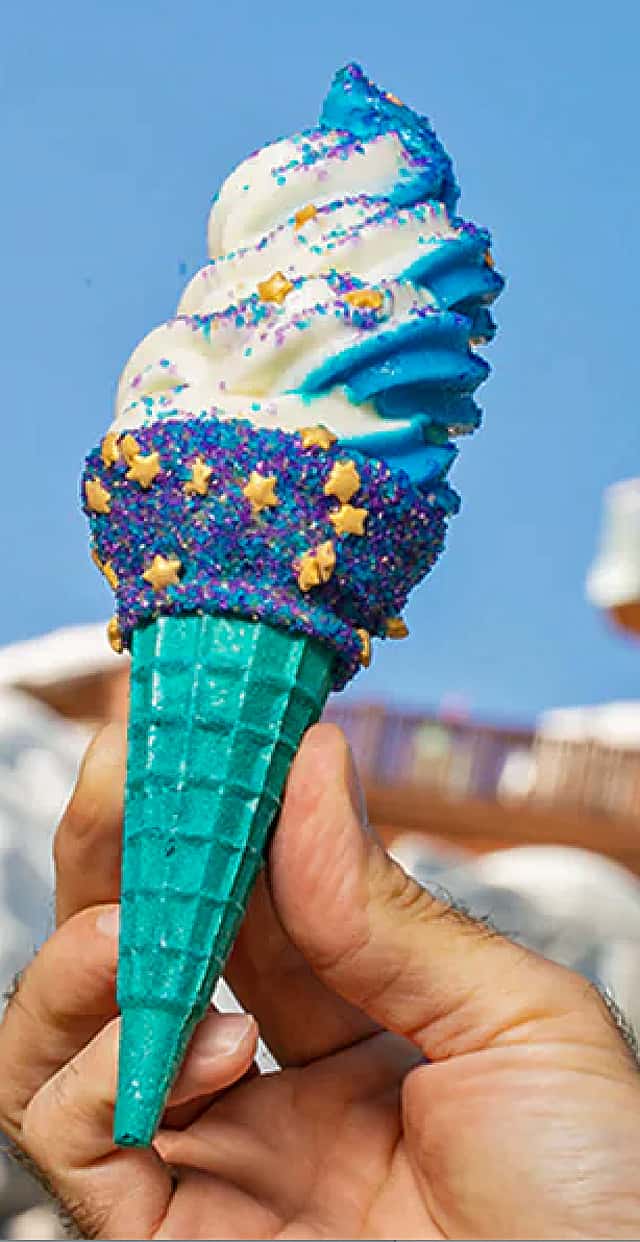 You can also watch various firework shows from Disney resorts, as well. Fellow KtP Writer KatieP said her favorite place to watch the HarmoniUS fireworks is at the Boardwalk resort while indulging in some hand scooped ice cream.
You can also catch some great views at the Polynesian beach while eating Dole Whip, if that is more your thing. There is no wrong way to do ice cream and fireworks!
Dinner and Fireworks
If you are looking to take in the firework views while dining, there are a few places you can go. California Grill at the Contemporary, Narcoossees at the Grand Floridian, 'Ohana at the Polynesian, Topolino's Terrace at Riviera Resort and Toledo at Coronado Springs all provide amazing vantage points for fireworks viewing.
You do not have to be sandwiched like a sardine to enjoy the magic of Disney fireworks. There are are tons of great locations that have plenty of breathing room and personal space!
There are so many things to do at Disney that you don't even have to step foot inside a theme park to experience! These are some great escapes when you need to step back from the crowds, but want the fun to continue. Make sure to plan time in your trip for more relaxing activities. Your whole family will be happier and you'll create lasting memories and traditions for years to come!
What are some of your favorite things to do outside of the Disney theme parks? Let us know in the comments below and on Facebook!
-Christina