California Grill at Disney's Contemporary Resort offers a unique private dining and entertainment experience. Check out all the details here.
Fireworks Party Choices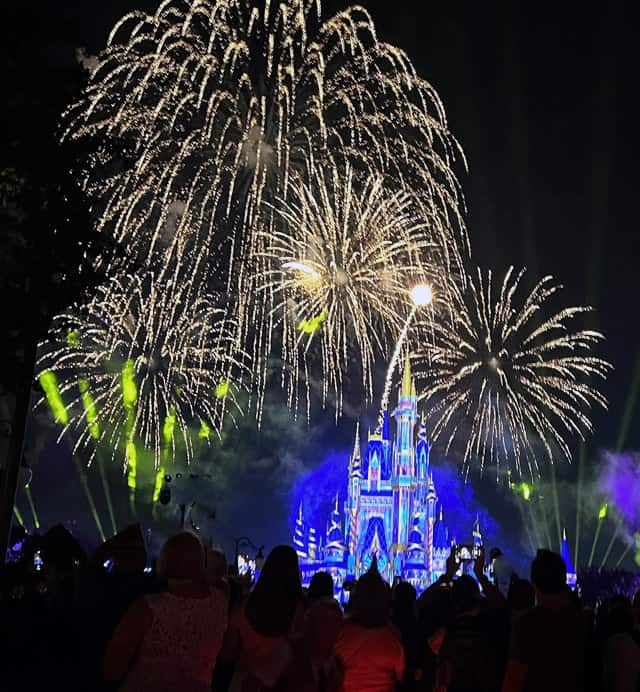 We (Susan and friends) were thrilled when Disney announced fireworks parties were returning to Magic Kingdom, California Grill and EPCOT! Although Magic Kingdom offers pre- and post-fireworks parties, we wanted food, not just desserts. Because of this, we considered California Grill, and EPCOT's Rose and Crown fireworks dining packages.
Ktp Writer Maggie and I were so excited to secure an October 3 Celebration at the Top reservation at California Grill. Although we wanted a Rose and Crown firework party reservation, we didn't get one. Check out our tips for scoring those hard-to-get reservations.
However, our disappointment was short lived. We saw comments in the KtP Facebook Crew group stating that Harmonious viewing was terrible from Rose and Crown.
California Grill's New Fireworks Party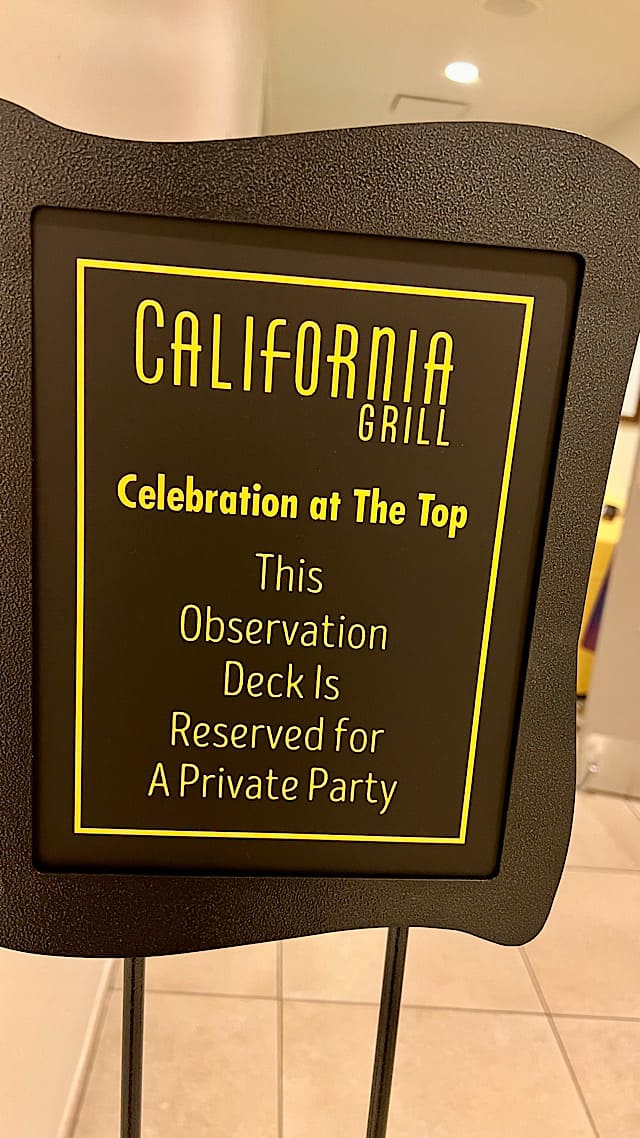 Beginning on October 2, guests can enjoy a brand new Celebration at the Top: 50th Flavors and Fireworks dinner party. Disney describes this even as an upscale cocktail party that allows guests private fireworks viewing along with food before and after the show. Cost for adults is $129 plus tax and gratuity. This event is reserved for those 10 and older, but we only saw adults when we went.
Note that fireworks are not guaranteed with this party.
As part of this experience, complimentary valet parking is included with this event. Just arrive to Disney's Contemporary Resort's valet attendants and let them take care of your parking.
California Grill Dress Code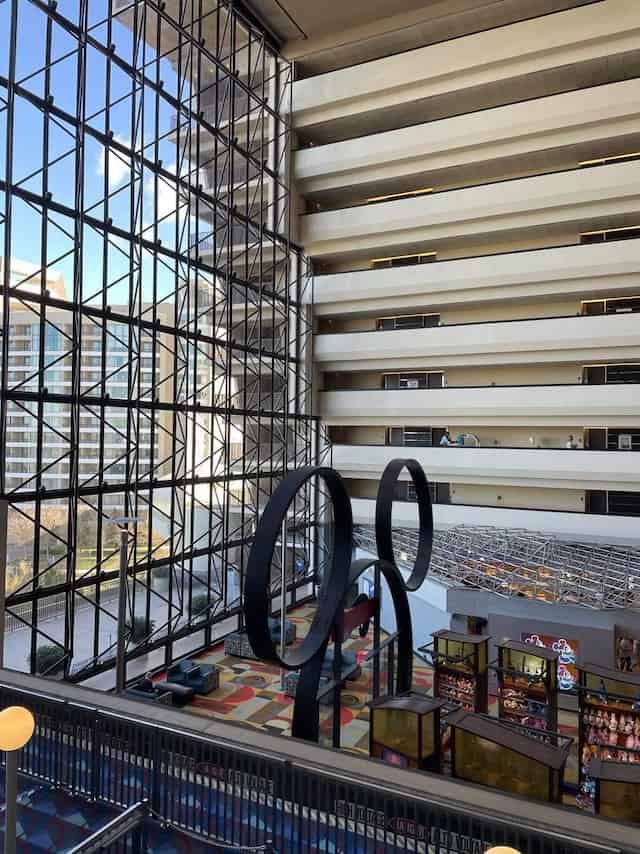 As a signature Disney restaurant, California Grill adheres to the following dress code:
Men must wear khakis, slacks or dress shorts and collared shirts.
Women must wear Capri pants, skirts, dresses or dress shorts.
Jeans may be worn for men or women if in good condition.
Not permitted are tank tops, flip-flops, swimsuits, swimsuit cover-ups, hats for men, cut-offs, torn clothing, and t-shirts with offensive graphics and/or language.
Checking In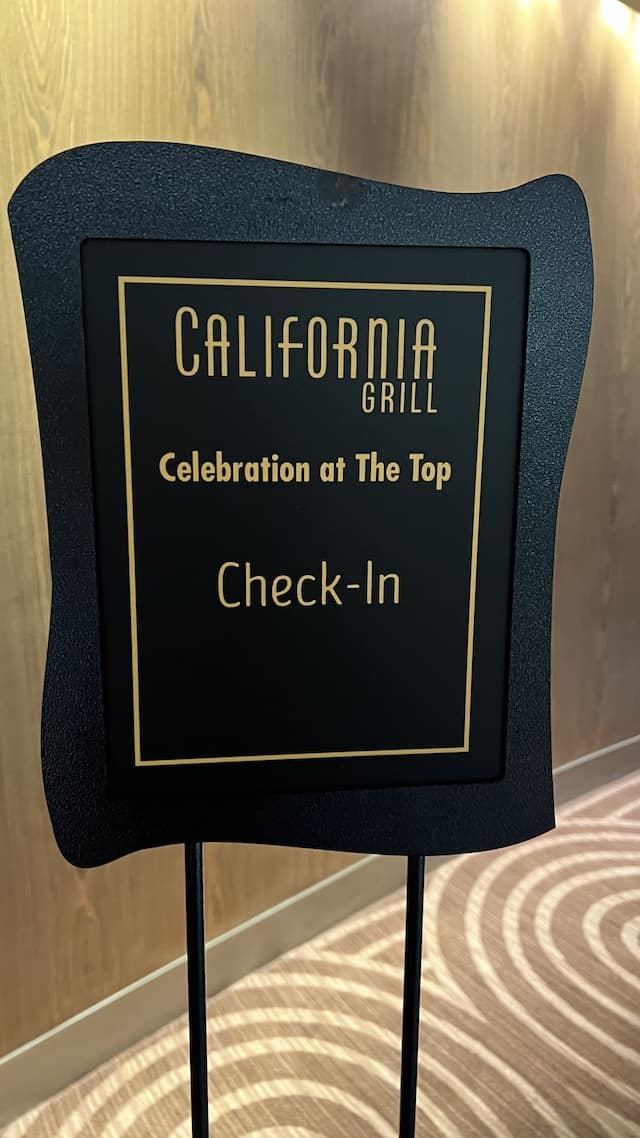 After a busy day at the Magic Kingdom, Maggie and I looked forward to a relaxing evening at our resort. It was so convenient since we stayed at Bay Lake Tower that weekend just taking the walkway to the Contemporary.
When we checked into the My Disney Experience app (like other dining reservations), we were instructed to go to the California Grill check-in area.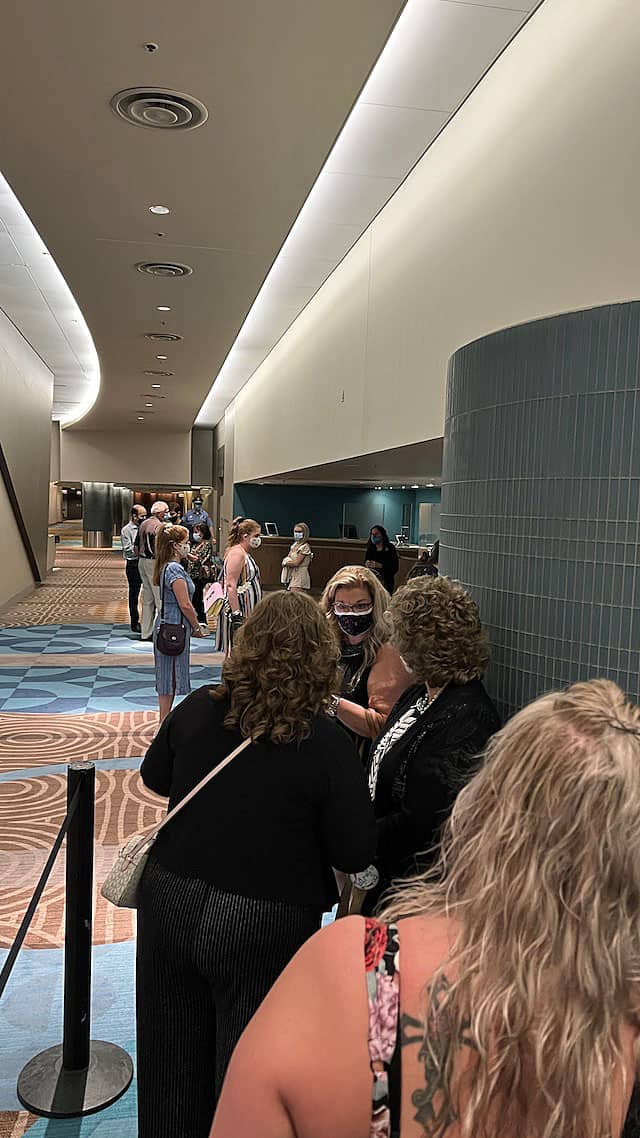 Located on the 2nd floor of Disney's Contemporary Resort, there is a podium solely for California Grill. After checking in we took California Grill's private elevator with our own personal escort. Check in began 20 minutes before the event official start time of 8:00pm.
First Impressions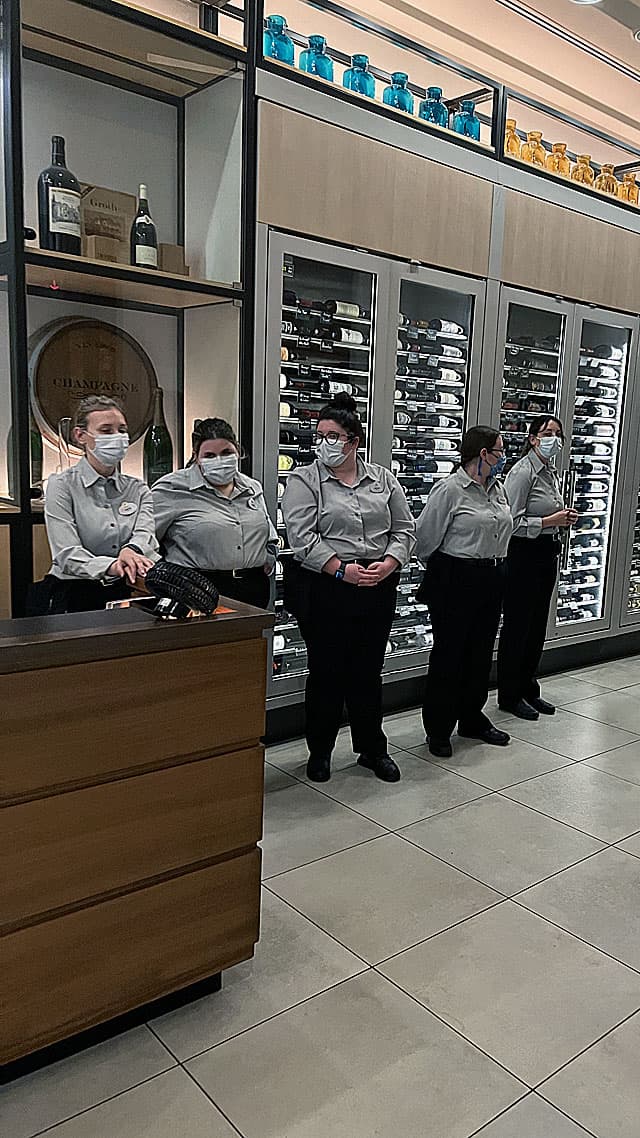 Upon stepping off the elevator, we received smiles from a sea of California Grill Cast Members. W strolled to the private Napa and Sonoma dining rooms.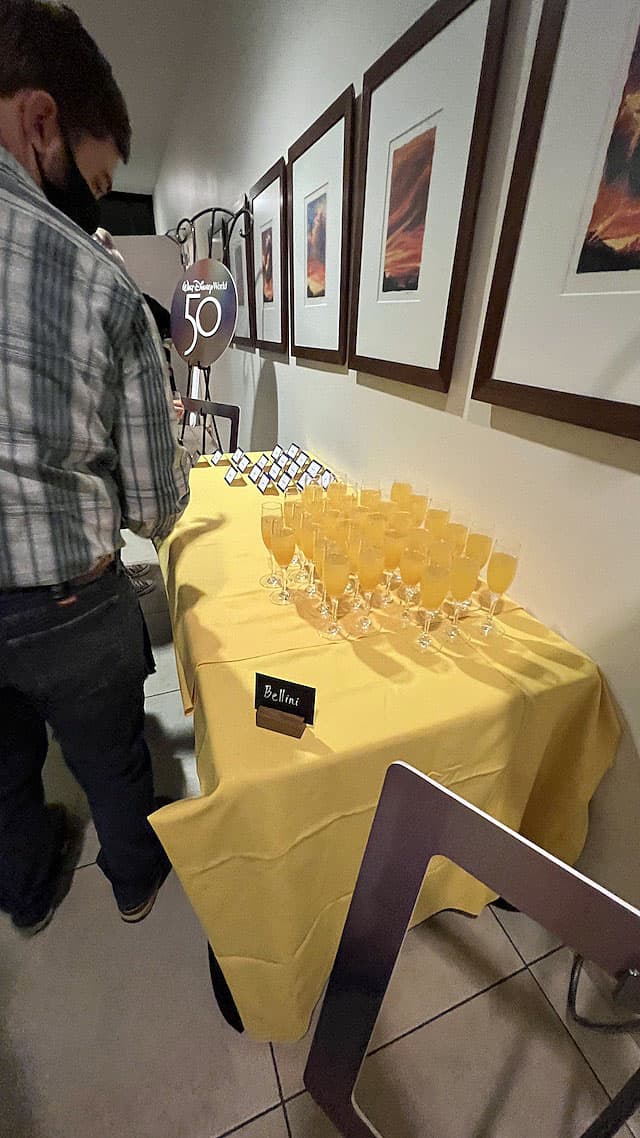 Greeted by friendly Cast Members, we grabbed a Bellini, along with our name card, and headed to a table. Since we were one of the first parties to arrive, we had our choice of tables. Tables are not pre-assigned, so we were free to choose our favorite spot. Maggie, pictured below, was ready for fun!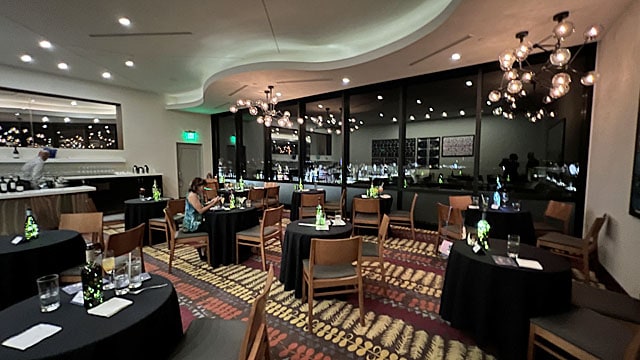 When we sat down, a Cast Member asked what we would like to drink. Since we just got there, we decided to take everything in before ordering. However, this was a mistake. Once the room filled up, it was very difficult to get a Cast Member's attention. I (Susan) walked over and got ice waters for both of us beside the bar area. Finally, a Cast Member took our beverage order.
TIP: Arrive early and order your drink promptly.
Napa Room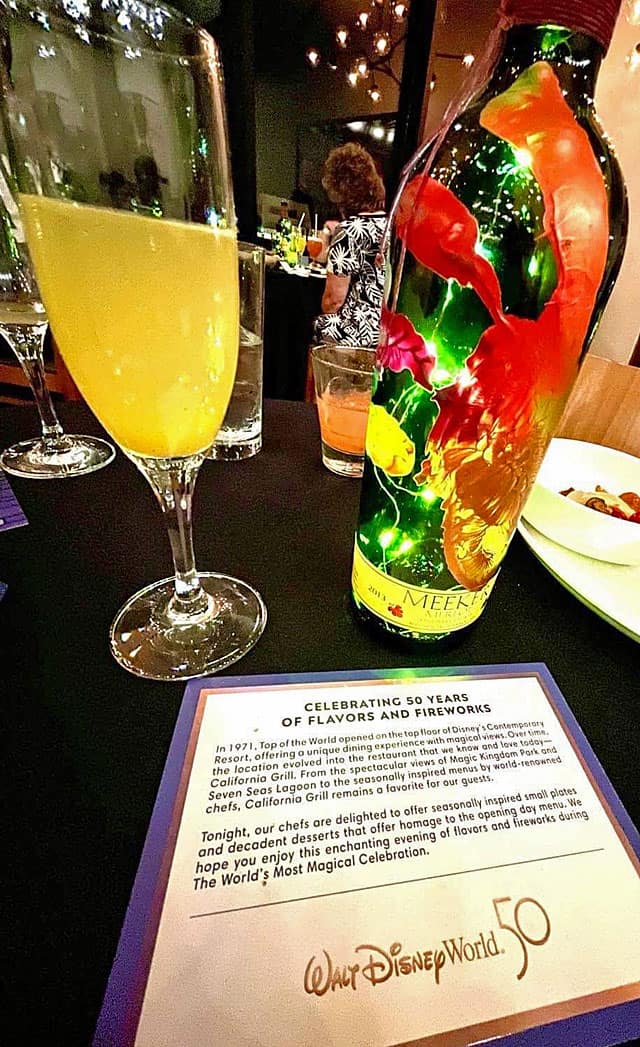 Both the Napa and Sonoma private dining rooms at Disney's California Grill are used only for private events, such as weddings. Anytime we can be treated to an exclusive Disney area it's a treat. Not only is the room itself breathtaking, but it also has a million dollar view of Magic Kingdom.
Even though the event appeared sold out, we did not feel cramped in any way. I (Susan) counted 18 tables in the Napa Room. Here, guests found the full-service bar as well as a connecting door to the fireworks balcony. Disney provided a simple, yet elegant, atmosphere.
The handprints painted on the wine bottle created a simple, but gorgeous decoration. So simple, yet the effect was beautiful. Along with California Grill's main dining room, this room evokes an upscale casual modern vibe.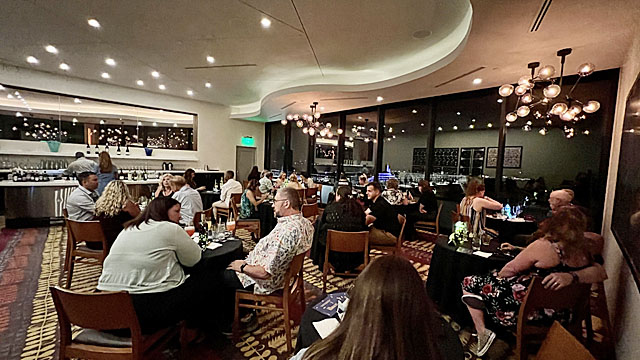 There was only one "bad" table – one squeezed in the corner under the exit sign. Here, guests were situated between the exit behind them and the bar to the side. Other than that, any table had stellar views. Arrive early to get your choice of seats!
Drinks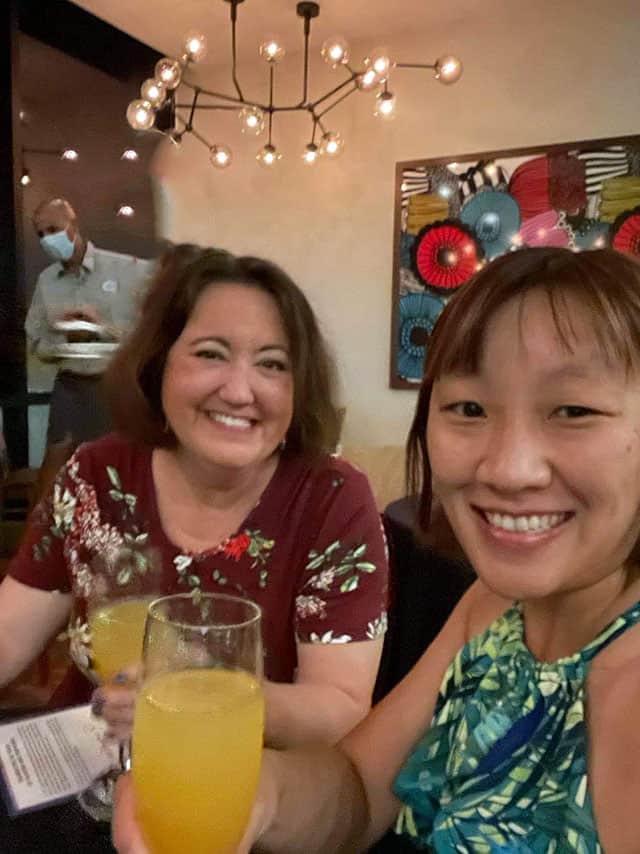 The Celebration of the 50th boasts an unlimited full service bar. For those choosing to drink, the included unlimited bar can be a huge money saver. Although California wines were featured, Cast Members were eager to make anything guests wanted.
We were pleased Cast Members also suggested a variety of mocktails with fruit juices and other fun flavors.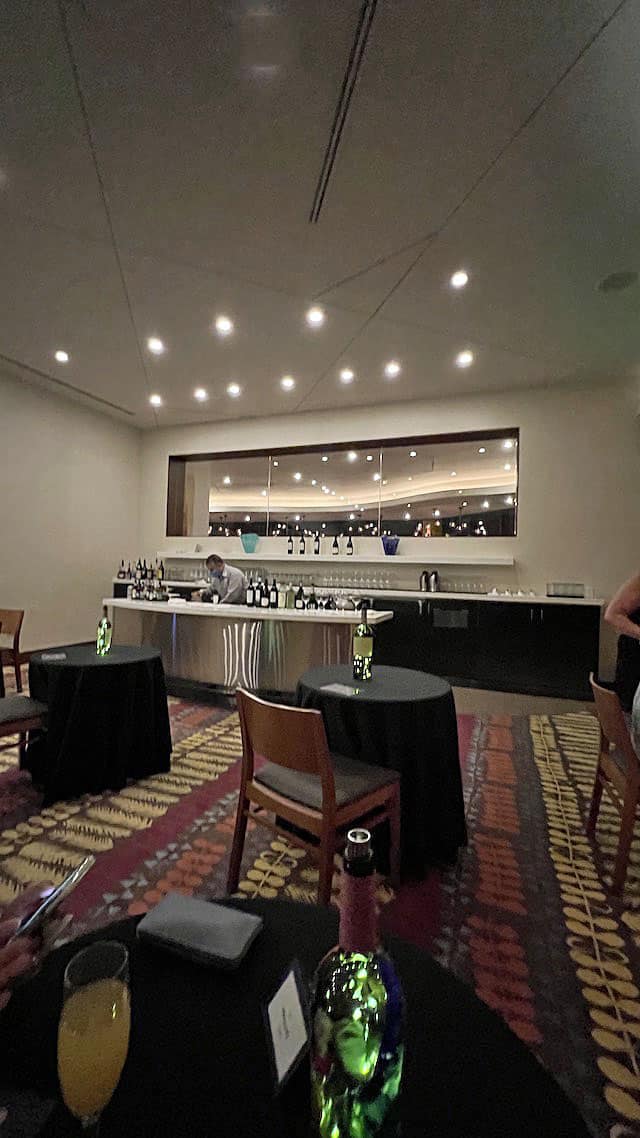 Food Set Up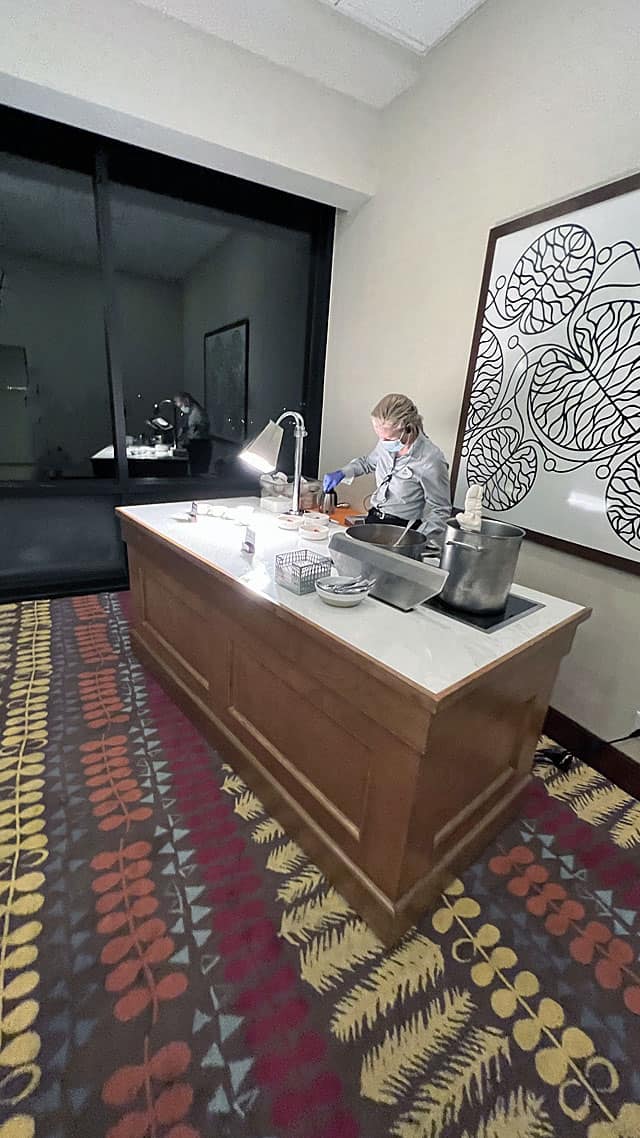 Food was set up buffet-style as shown below in the Sonoma room. Upon arrival, we began sampling the small plates. Dessert was saved for after fireworks, but everything else was ready to go! Several small stations were set up throughout the room that made it convenient to sample as much as you wanted.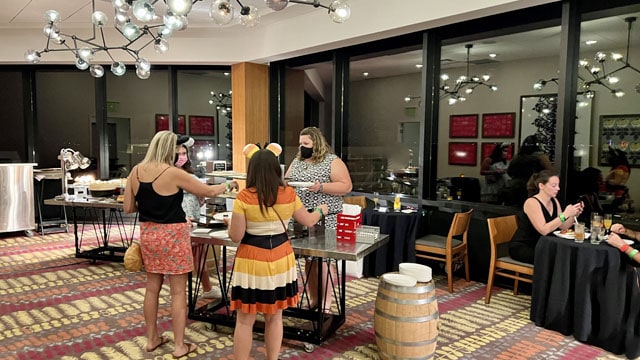 As you can see in the photo above, the Sonoma room was also used for a couple of overflow tables. It started out with 6-8 tables, but a large party arrived late. When they asked to join the rest of their party in the Napa room, Cast Members added tables.
This left seating in the Sonoma room sparse and a little awkward looking. Personally, I think seating should be dispersed more evenly, or seat everyone in the Napa Room to start with. I chalked this up to "growing pains" since this event is brand new.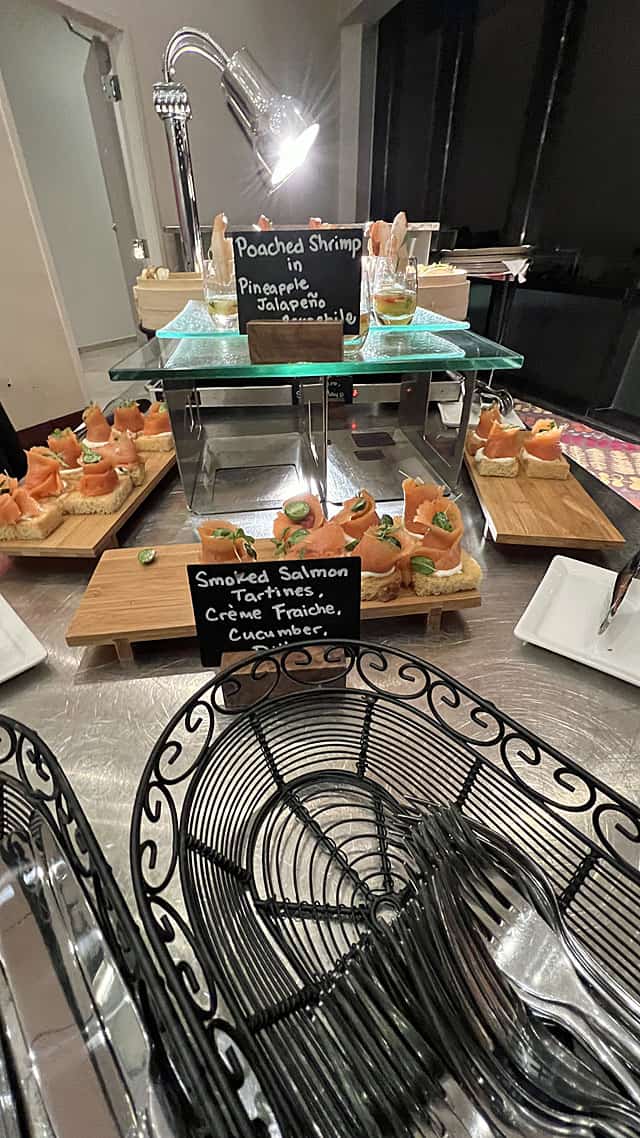 Sushi Heavy Menu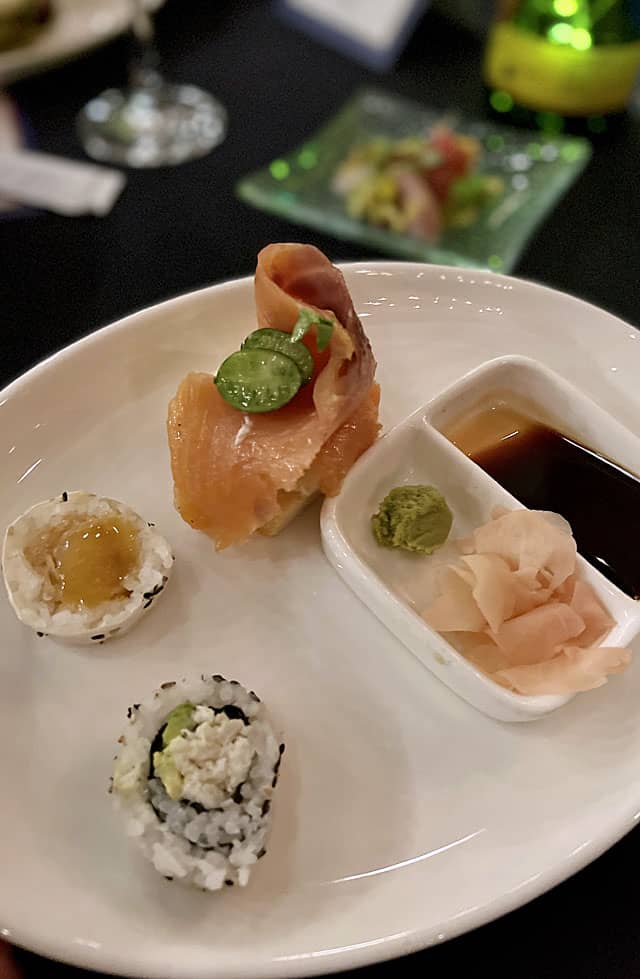 Tonight's menu featured all types of sushi. Please keep that in mind when considering this fireworks event. As you can tell, I love sushi!!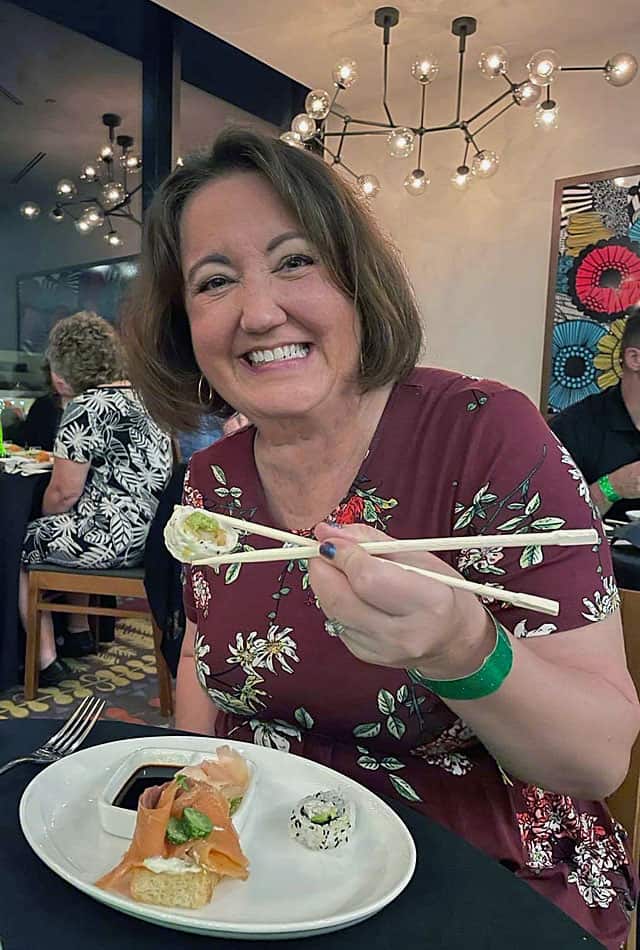 Blue Crab California Roll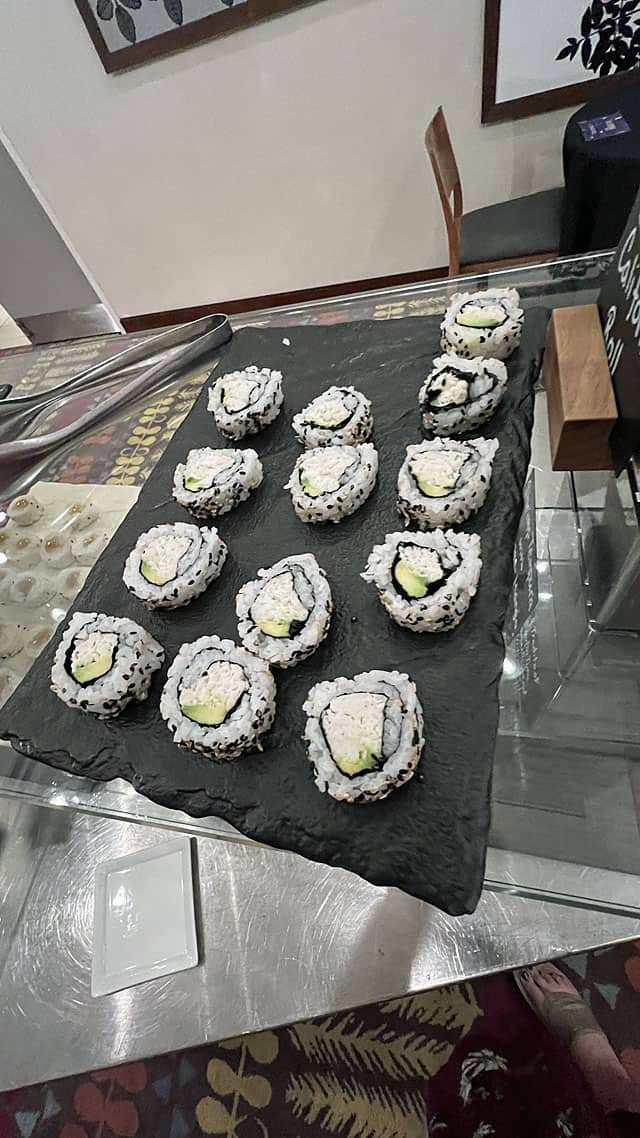 First is the Blue Crab California Roll. Crab is the star of this dish accented by cucumber and rolled in black sesame seeds. If you're unsure about trying sushi, this Blue Crab California Roll is a wonderful place to start. The flavors are fresh yet subtle.
Shrimp Tempura with Orange Mango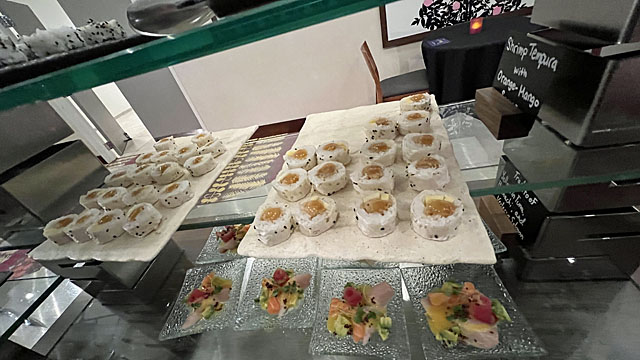 Second, check out the slightly sweet Shrimp Tempura with orange mango. Another winner that kept me going back for seconds!
Poached Shrimp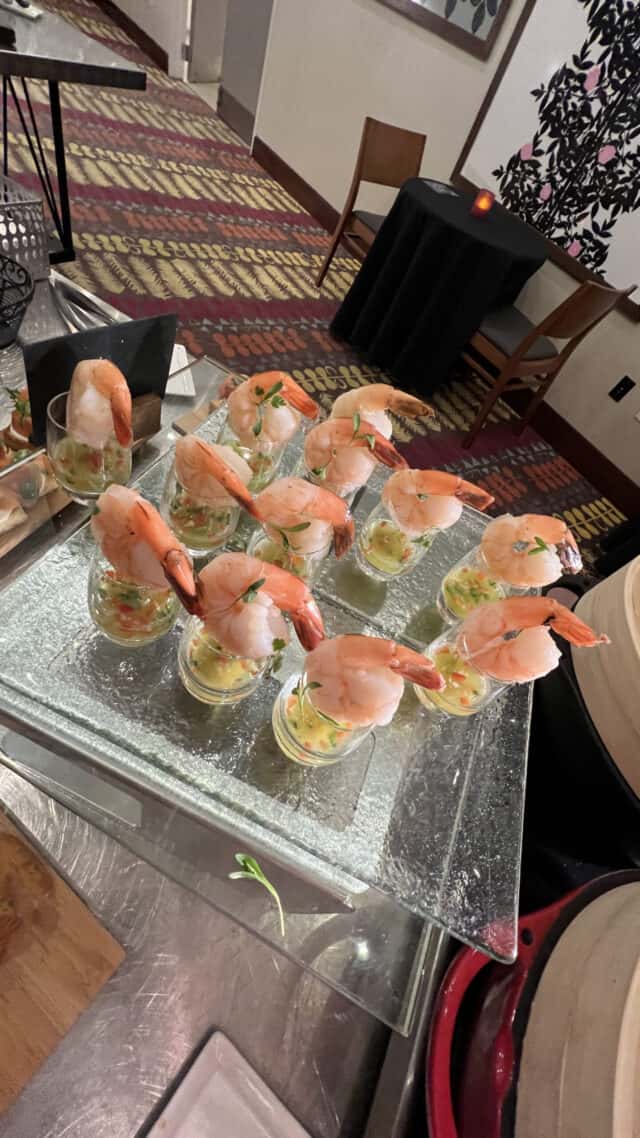 Next, check out the single shrimp portions. If you're looking for cooked seafood, this shrimp dish fits the bill. Again, the poached shrimp in pineapple jalapeño sauce was delicious.
The shrimp was tasty on its own, and we were confused if we should pour the sauce over the shrimp or dip it in the tiny jar.
Smoked Salmon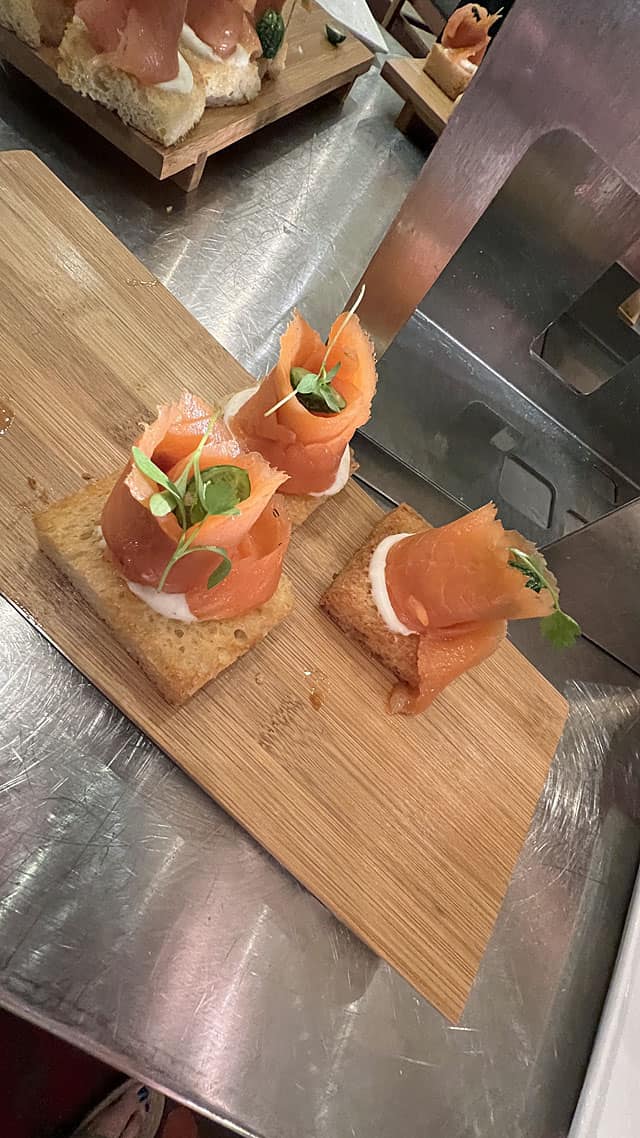 Even though I have mixed thoughts about smoked salmon, I was determined to try every dish here. The smoked Salmon Tartines, Créme Fraiche, Cucumber and Dill shown above was not only delicious but also beautiful in its presentation.
Tiradito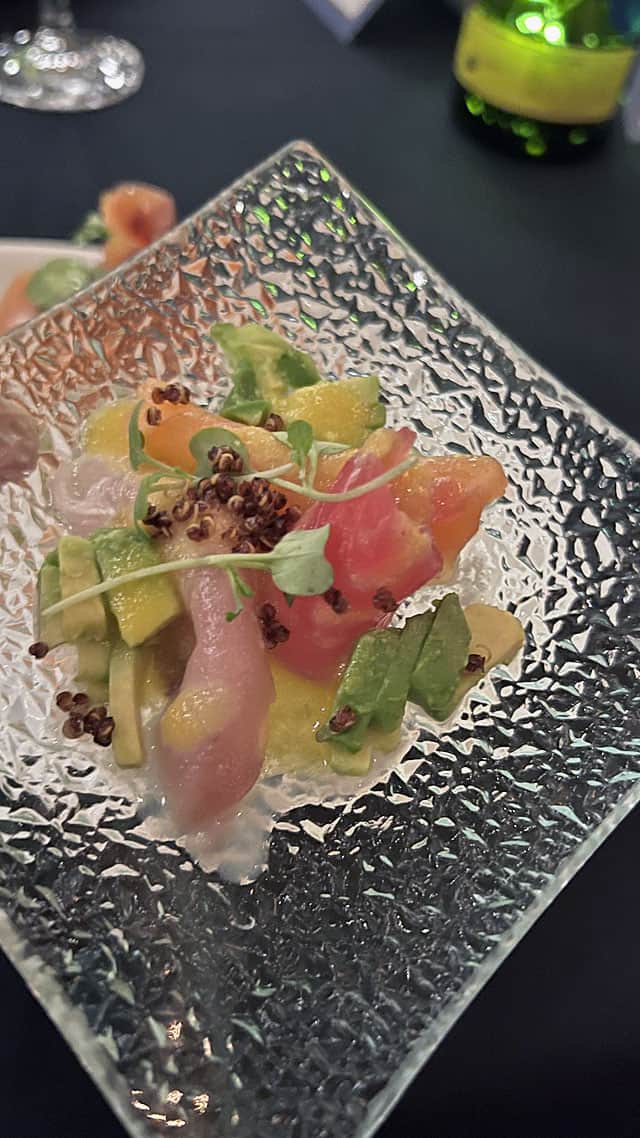 Last, but certainly not least, is the unique sushi salad consisting of yellowfin tuna, hamachi, and salmon. Every single bite, including this trio-sushi salad, was the most fresh and delicious seafood I've ever tried. The blend of sushi, avocado, and bright citrus sauce notes make this dish my favorite.
Also served at the buffet were tiny combination dishes containing pickled ginger, wasabi, and soy sauce. Wasabi is my favorite so I sampled that with the majority of my seafood. I highly recommend the California Grill sushi and would go to the restaurant to dine on it any time!
Other Menu Items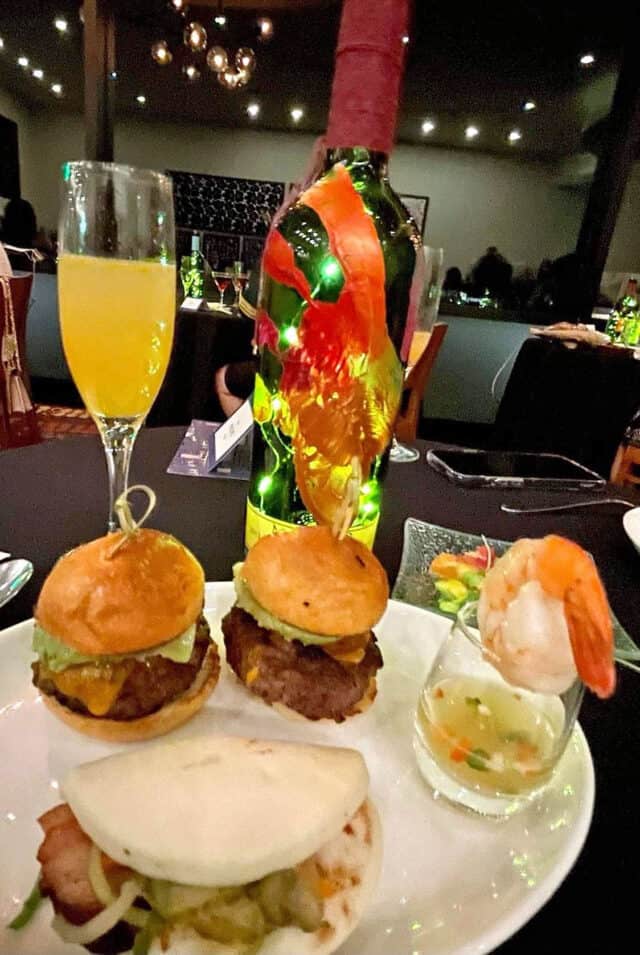 As a non-sushi eater, Maggie really enjoyed the cheeseburger sliders. However, I thought the Artesian Beef Sliders with Heirloom Tomatoes and Crispy Potatoes were a bit on the dry side.
The potatoes gave the sliders an extra crunch, which Maggie really liked. I prefer my burgers a little less cooked than these which I'm sure they would have accommodated if asked. The sushi was so delicious, I just stayed with that.
Goat Cheese Ravioli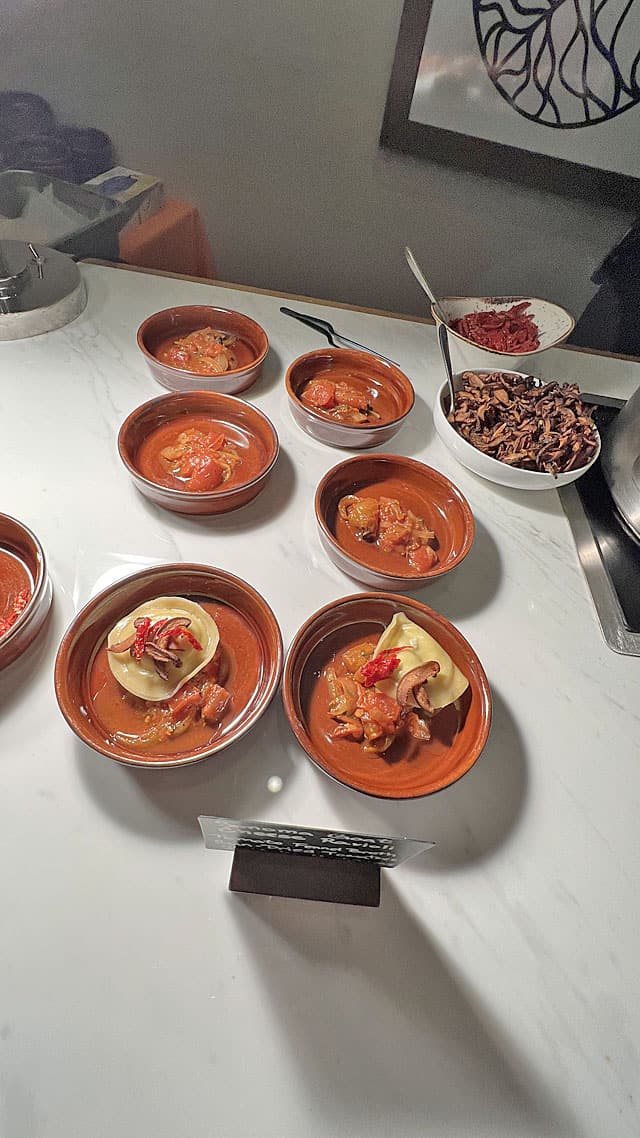 Assembled in front of us, we enjoyed the freshness of the tomato fennel broth served with sun-dried tomatoes and mushrooms. However, the creamy goat cheese in the ravioli really made this dish stand out!
Bao Buns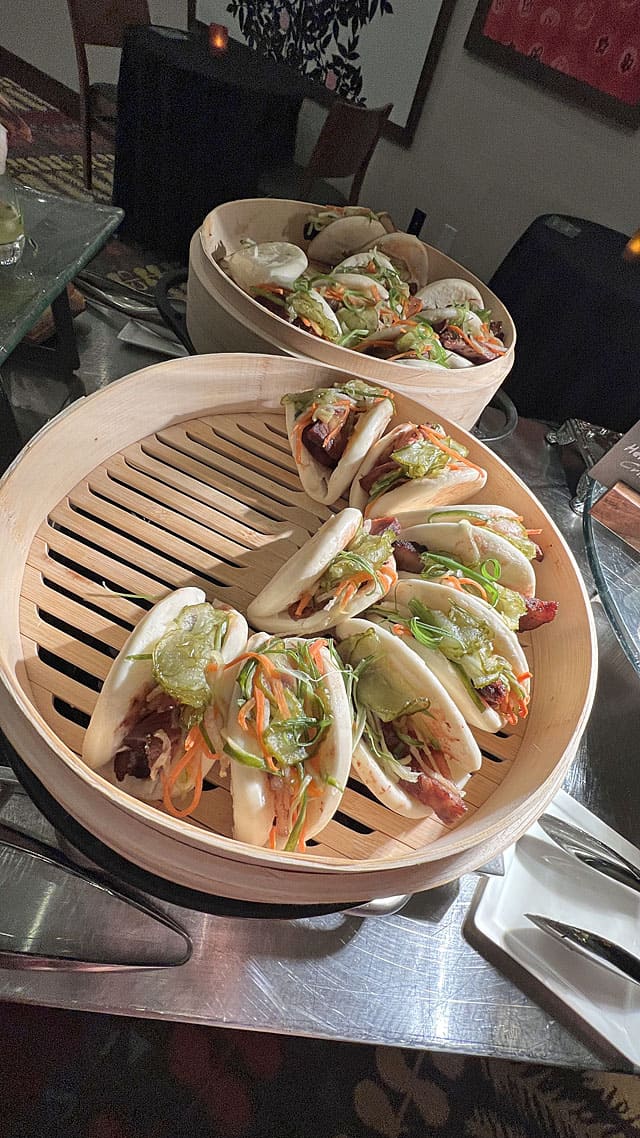 Port Bao Buns were prepared perfectly, and the slightly sweet sauce went together perfectly with the pork. Also, the combination of the super soft steamed bun and the crunch pickles and veggies added another flavor dimension that made this dish one of our favorites!
Florida Lobster Bisque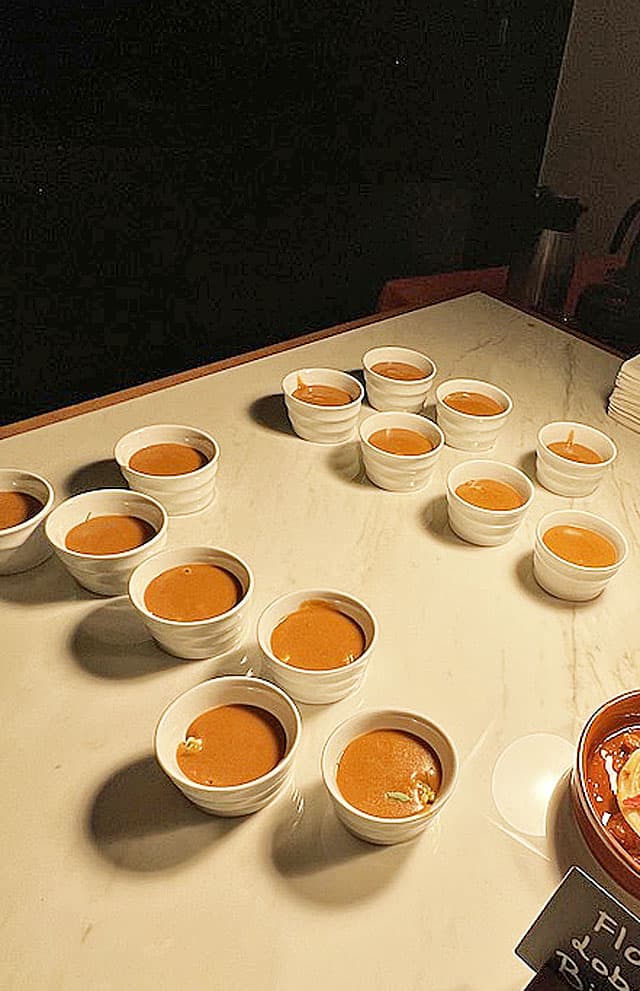 The Florida Lobster Bisque was fresh, but a bit too sweet and heavy. After tasting it, I moved on to seconds of sushi!
Fireworks Viewing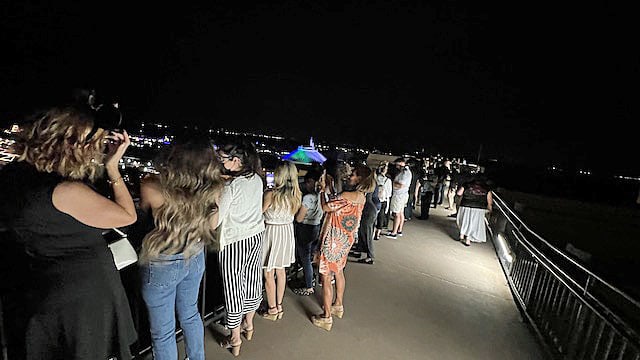 Part of the fun at dining at California Grill is the balcony area to view Magic Kingdom fireworks. The fireworks party bragged about having a private viewing balcony just for us. However, our private balcony was behind the main balcony. This limited the fireworks view since you're literally standing several feet behind everyone else.
As soon as I noticed someone move outside, Maggie and I dodged for the balcony to get a front row view. It was then that someone told us this was the main balcony, instead of our private area. All this meant is that other California Grill diners were here watching too.
Literally no one stayed on the private balcony once we noticed this one had such stellar views. Even though it wasn't private, we didn't feel crowded here at all. Whoever designed this balcony did a magnificent job. There really are no bad views here!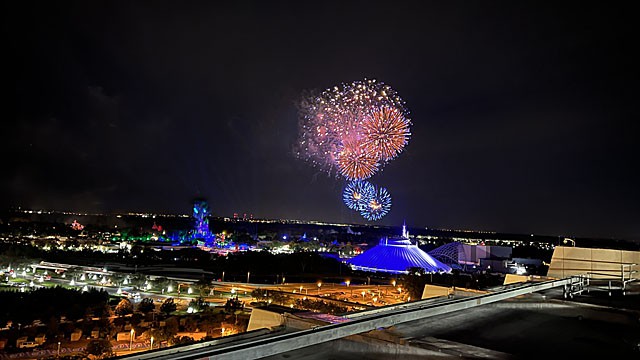 Although it's difficult to see Cinderella Castle from the picture above, we could see it clearly. Not only that, but the color-changing projections were visible here as well. We couldn't see the details on the castle, but the effect was still gorgeous. Afterwards, we both agreed that we were very happy watching fireworks from here.
Desserts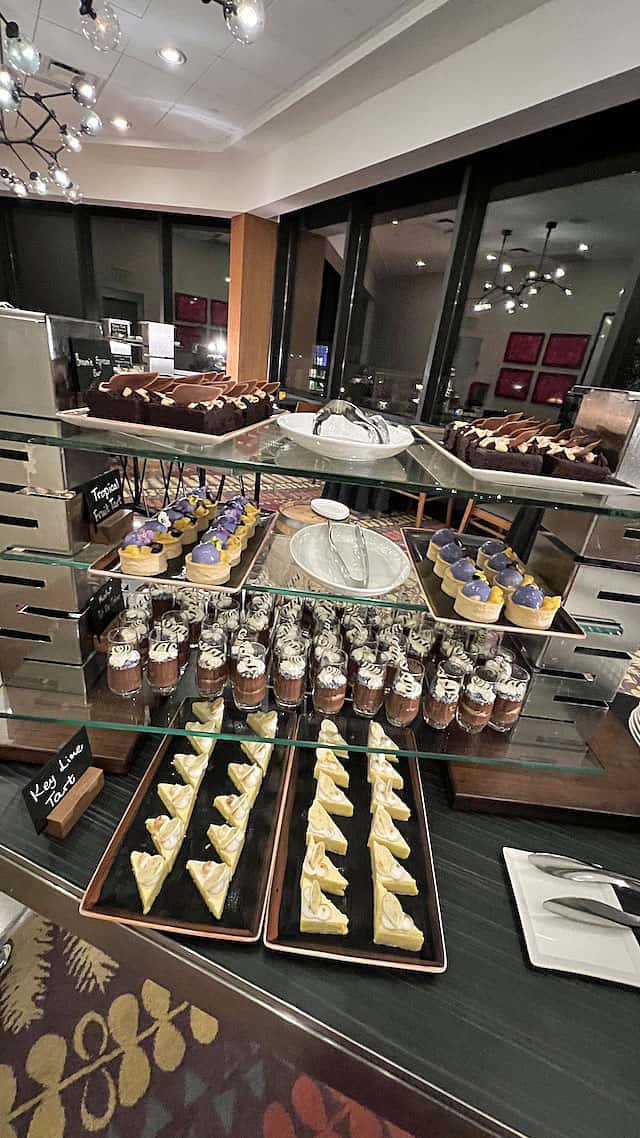 After fireworks, we returned to our private room. Cast Members instructed us to enjoy the dessert table. It was difficult to fill up a plate, however, since there was only 1 dessert table for all 22 tables to share.
The small plate buffet tables were still available, but everyone wanted dessert. Hopefully, they will offer multiple dessert tables in future parties. With that being said, the desserts were wonderful!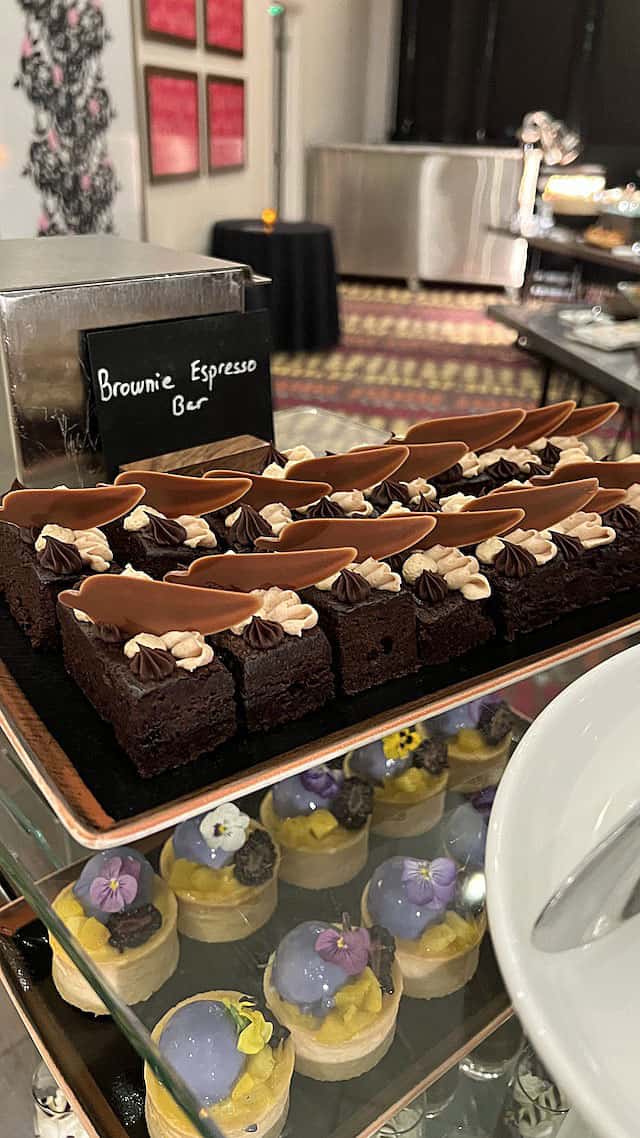 The Brownie Espresso Bar was heavy on chocolate flavor rather than coffee. It was dense and decadent. If you love fudge-type brownies, this is your dish. While we enjoyed this dessert, we couldn't eat an entire brownie.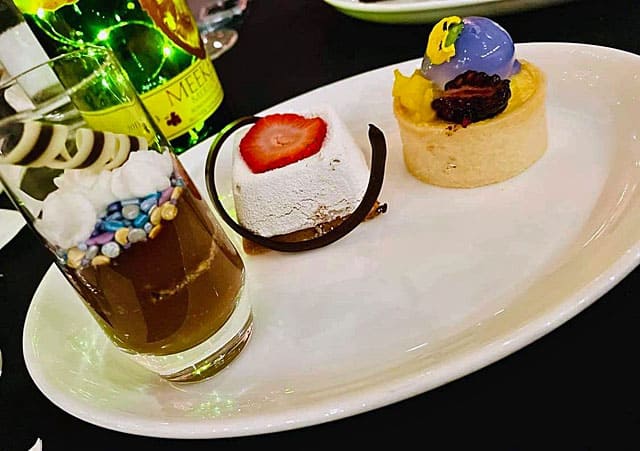 Three other desserts are shown on the plate above. First, the chocolate mousse served in tiny glasses garnished with whipped cream, 50th colored sprinkles, and a mixed chocolate garnish was good, but nothing remarkable. It tasted like a standard chocolate mousse.
Next, the sour cream cheesecake shown in the middle had a strange covering. Neither Maggie or myself cared for this dessert because we couldn't get past the coating.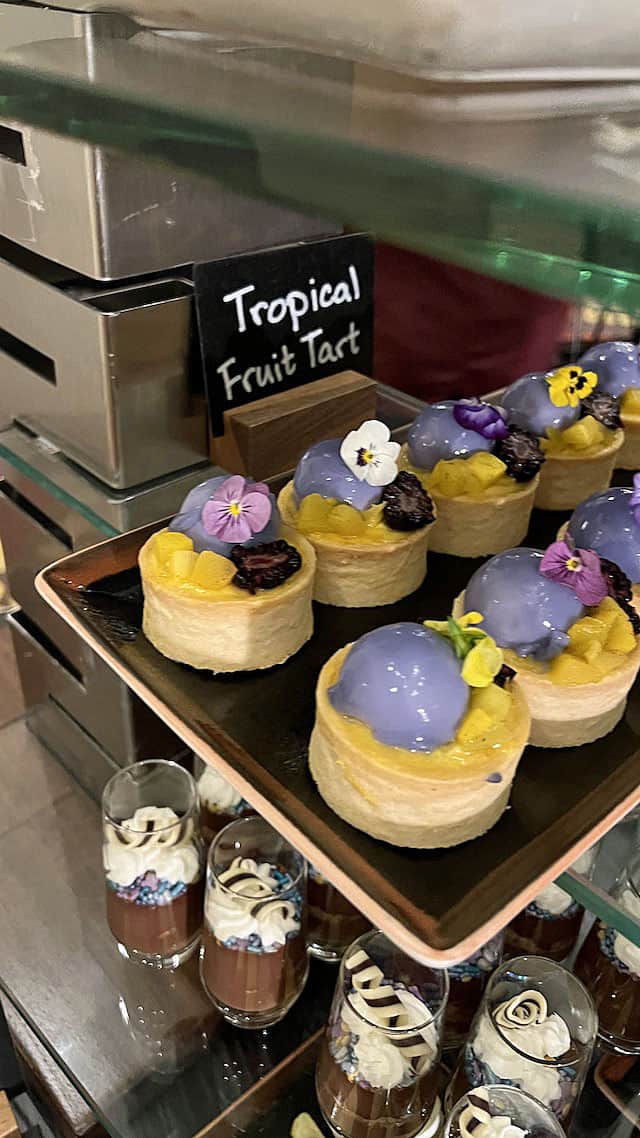 Finally, my absolute favorite dessert of the evening is the tropical fruit tart. Just look how stunning presentation! Is it me, or does everything beautiful just taste better? This dish wasn't overly sweet, but the creaminess and slight fruit flavors made this a winner! It fit well with the lighter sushi dishes on the menu.
Would we return to California Grill?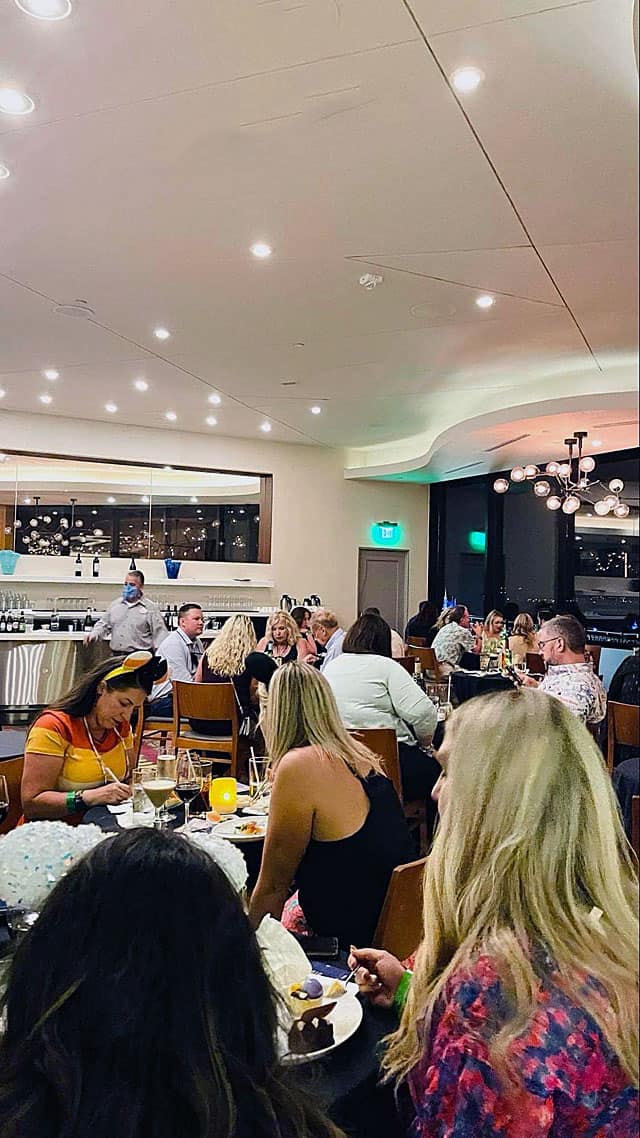 Overall, Maggie and I both agreed this event was outstanding and well worth the cost. It was both of our first time experiencing California Grill. While I enjoyed the freshest sushi ever, Maggie shared that she didn't feel like she lacked non-seafood choices here.
Her favorite dish is the pork bao buns, and she shared that the steamed buns held the pork together perfectly. My favorite was the trio-seafood salad. Partially because it was so delicious, and partly because I wasn't expecting to like it.
Desserts here were light and sweet. Both of us agree that this event is superior to any other fireworks dining or dessert party. Although the price tag is higher by about $30, it's worth it for the unlimited drinks, small plates and desserts. Food here was on a higher caliber than other dessert parties.
We thoroughly enjoyed Enchantment from the private balcony and would return to California Grill to experience this or the main dining room again. As part of "The World's Most Magical Celebration," California Grill also offers a limited-time three-course menu with dishes inspired by past favorites as well as new market-fresh creations. Read all the details on this menu HERE.
Not Enough Cast Members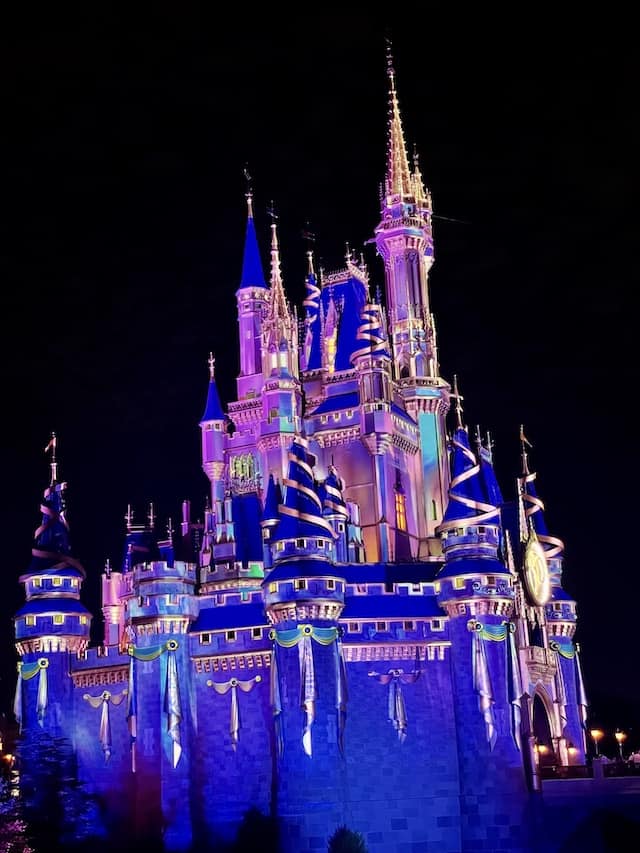 The only negative was there were only four Cast Members taking care of us during the event. Other Cast Members were working to bring out food but struggled to keep the buffets stocked when food was first brought out. Hopefully, this is due to the even being new, and Disney will add more Cast Members. The Cast Members working the event never stopped, though, and did their best to meet everyone's needs.
Takeaways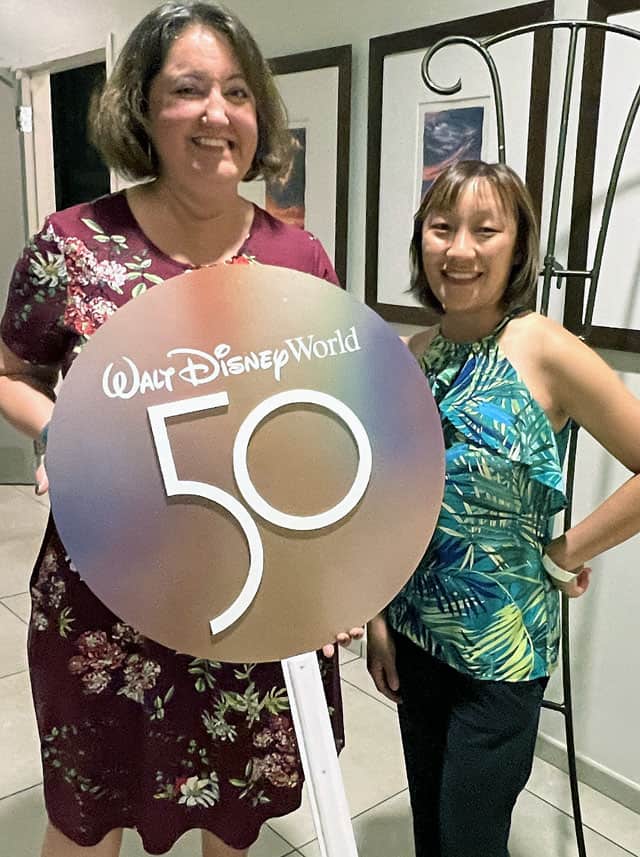 We were left with a few takeaways from the evening also. First, there were two props, including the one above for photos. Second, the Cast Members shared that a bottle of exclusive Disney "50th" champagne was included. However, these bottles were not in stock yet, so they took names and address to mail them to us.
Will you consider a fireworks party during the 50th anniversary celebration of Walt Disney World? If so, which one interests you? Please let us know on the comments below. Continue the discussion on our Kenny the Pirate Facebook page or join our crew.