Storybook Dining recently returned to Disney's Wilderness Lodge. Check out what's changed and what's stayed the same since reopening.
Snagging a Reservation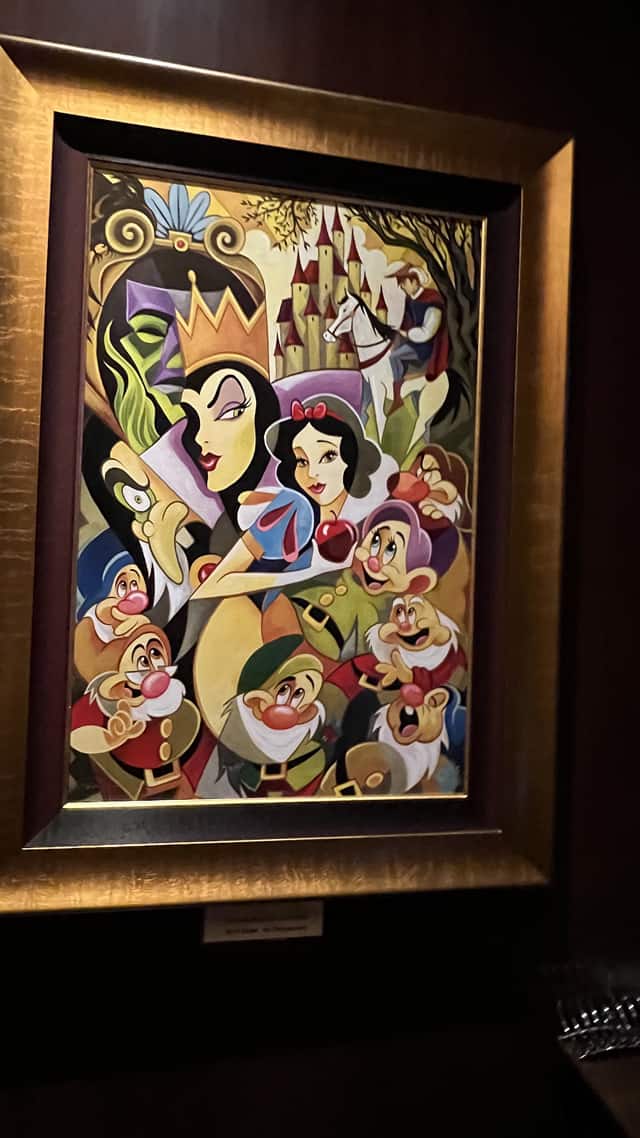 Since reopening on December 16, Storybook Dining has been one of the hottest Disney World reservations. Disney changed the timeline for reserving restaurants from 180 days to 60 days. It's one of the positive changes Disney made since reopening. 60 days is a lot closer to your trip, giving guests a better idea of where they want to dine.
Dining reservations are still open at 6 am Eastern Time on My Disney Experience. However, you can call Disney dining at 7 am Eastern Time. Since this is a wildly popular dining experience, book this first when your dining window opens. For steps to get difficult dining reservations, read HERE.
Dining with Characters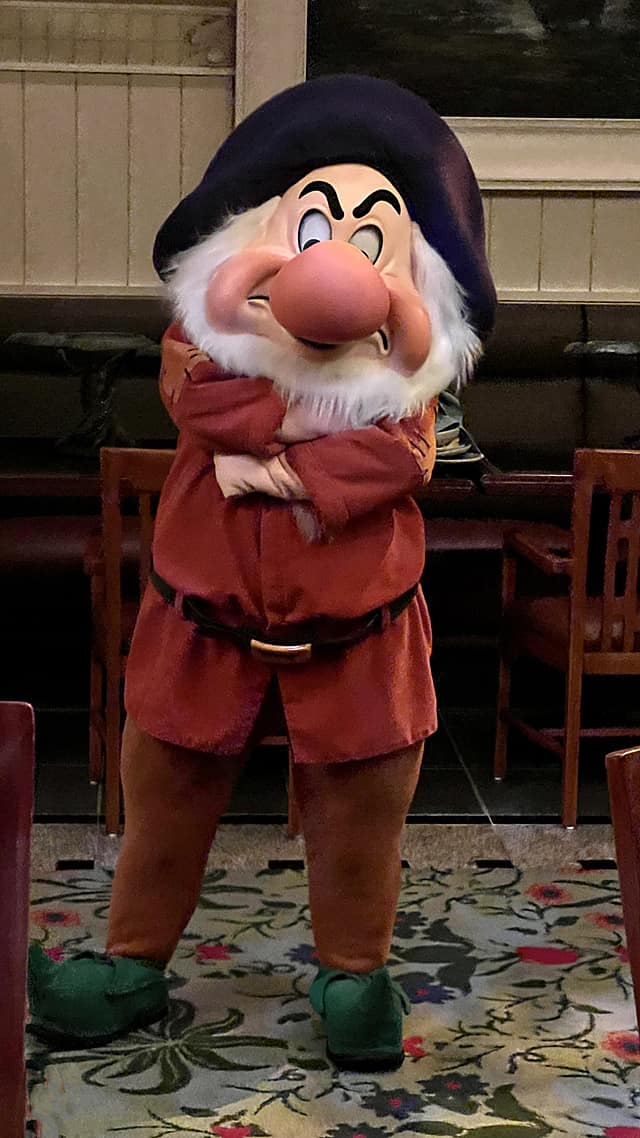 Character dining experiences. It seemed like at least half of the restaurants in the theme parks offered some type of character meet and greet while Guests dined.
Character meals are a great way to meet a handful of our favorite friends while eating. It eliminated time waiting around in line and offered a wonderful distraction to children while they waited for food.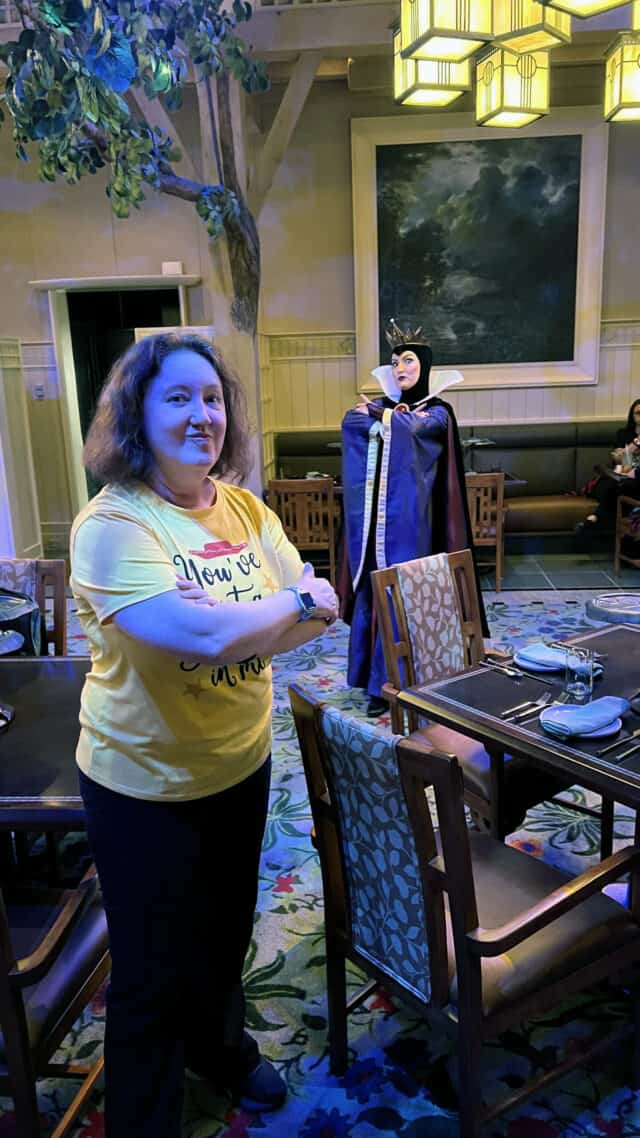 Now, with reduced capacity in restaurants and physical distancing, the list of restaurants that offer character interactions has drastically declined. Not only that, but characters have been meeting from a distance.
Check out our reviews with modified character experiences at Tusker House and Topolino's Terrace.
Storybook Reopens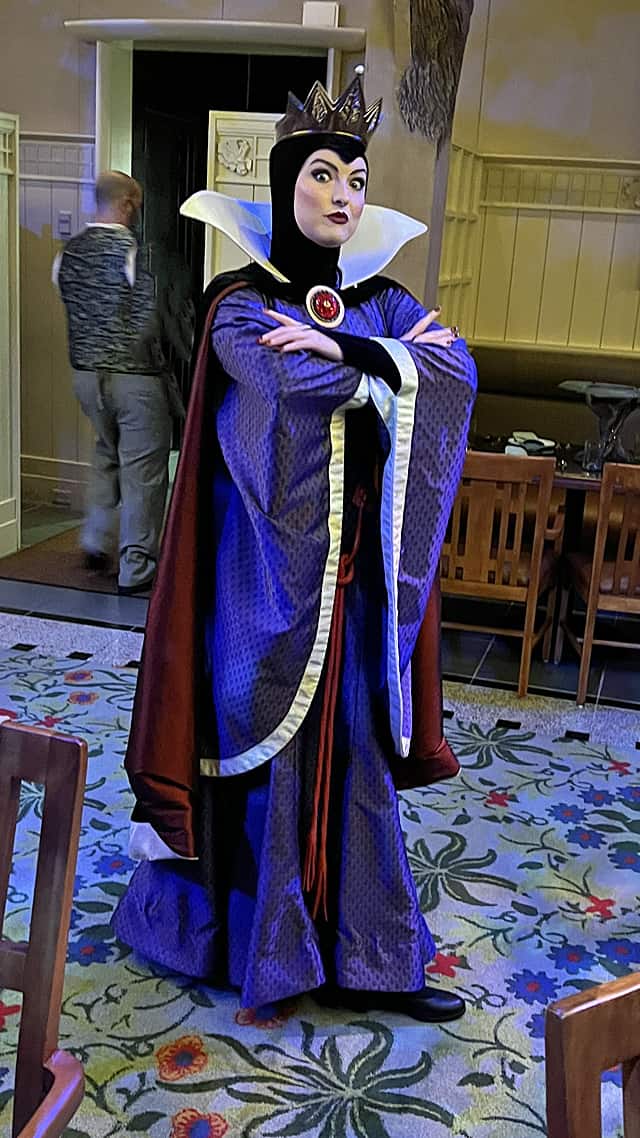 I (Susan) was so excited when Disney announced the reopening of Storybook Dining. As part of this Character Dining experience, guests see Snow White, Dopey, Grumpy, and The Evil Queen stroll through the Enchanted Forest.
Disney describes a the meal as a bountiful prix fixe dinner with the choice of individually plated entrées and shared starters and desserts.
Atmosphere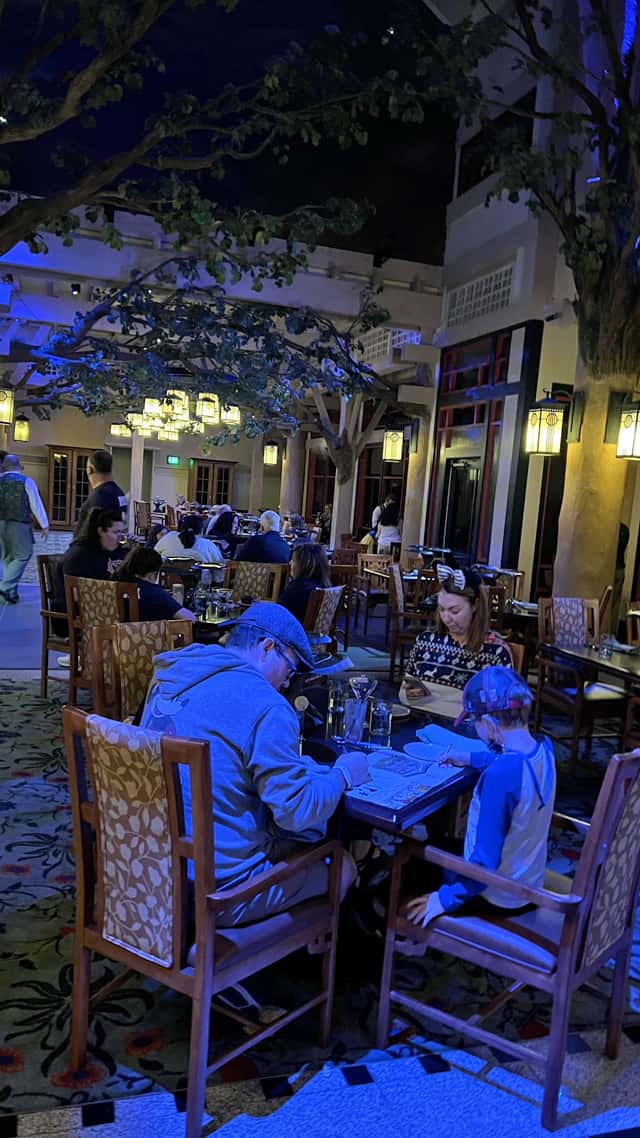 Storybook Dining at Disney's Wilderness Lodge transformed Artist Point into an enchanted forest. After all, where else would we find Snow White and her dwarf friends?
As you can see in the picture above, lighting is used in a creative way. The blue light symbolizes the light shown in the "sky" of the enchanted forest. While trees and branches have "overgrown" in the area giving guests a feeling of being in a fairytale. Disney's Wilderness Lodge's rustic theming with oversized wood fits very well with the theming at Storybook.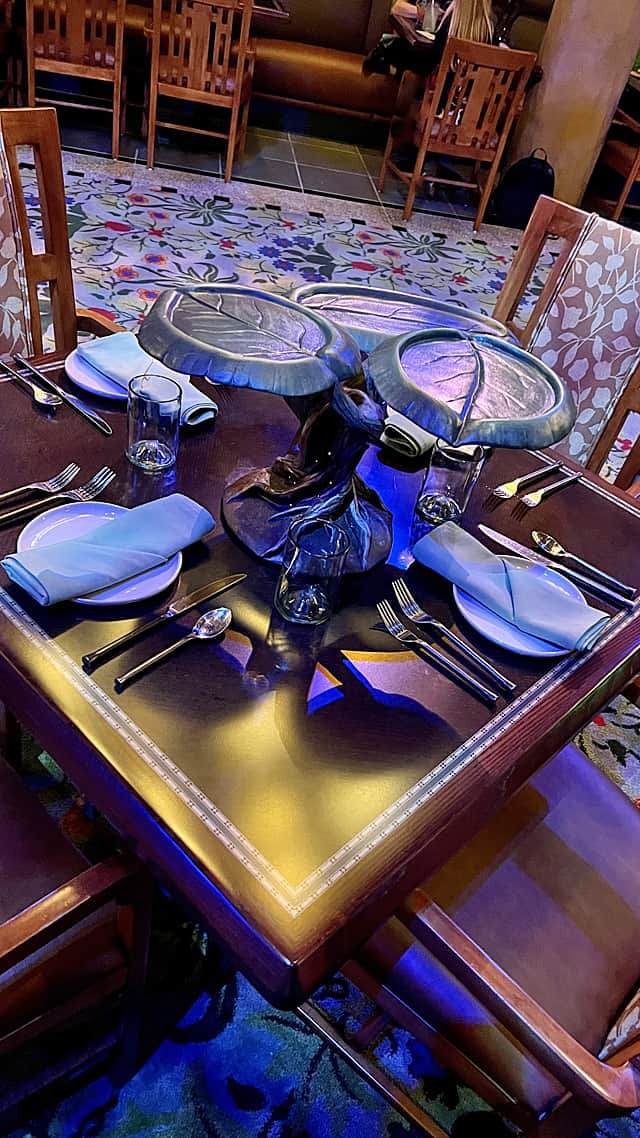 Each table had the centerpiece shown above. The presentation was fabulous! We looked forward to receiving our food on these "tree branches."
Tables weren't overly close, but don't expect a table closest to characters for a party of 2. This is the second time my husband and I (Susan) have dined here. Both times we were given a small table against the wall. It was quite dark there and made pictures more difficult to take.
Appetizers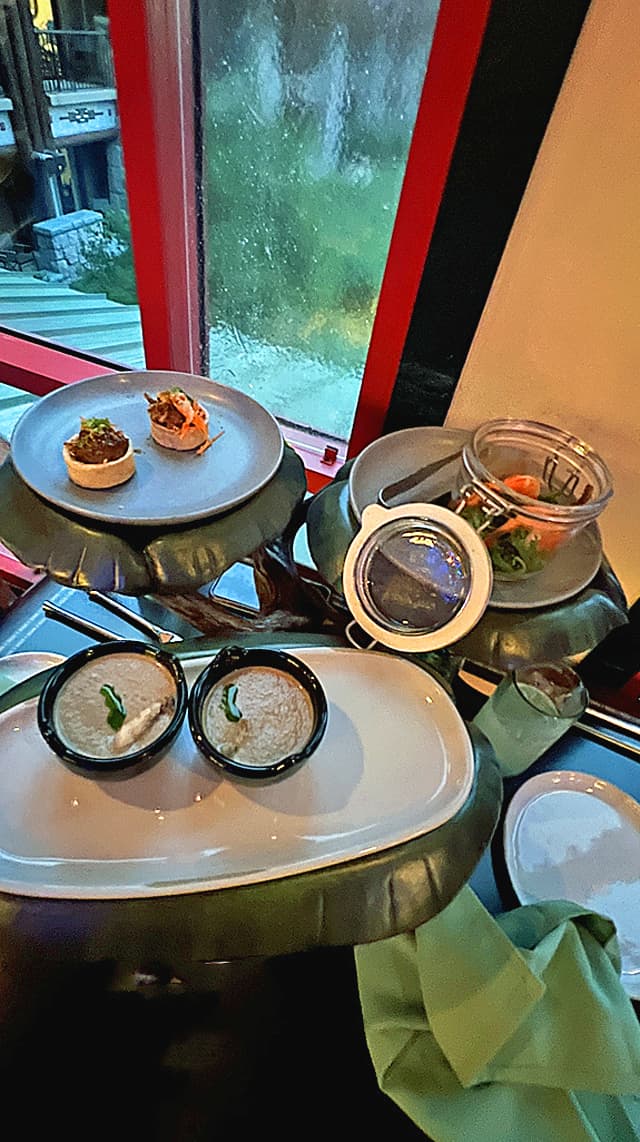 As mentioned above, appetizers are prix fixe. As our server, explained Snow White "carefully chose our appetizers and desserts." In other words, no choices here.
The table presentation is an extension of the enchanted forest theming.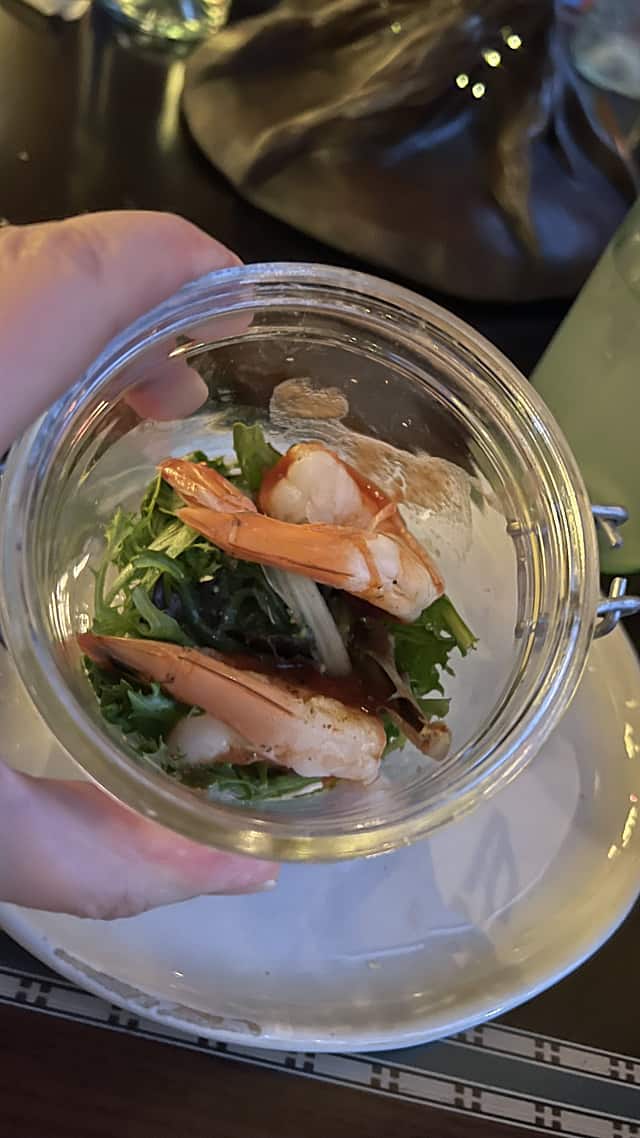 We were served 3 appetizers to share. First, shown above is the Wicked Shrimp Cocktail. It's described as having a bloody mary vinaigrette, seaweed salad, and spiced house-made seasoning. We were given a total of 2 shrimp. They were fresh, but not nearly as cool as the description sounds. To me, they tasted like fresh (and peeled/deveined) shrimp with a touch of cocktail sauce. The seaweed salad is more of a garnish.
Next, I tried the Hunter's Pie with turkey and chicken sausage, black truffle, cranberry preserve, and crispy sauerkraut. Honestly, this tasted like a nicely seasoned meatball in a tart. The ingredients were ground together and the cranberry/sauerkraut gave it a terrific flavor. This was tiny, one bite for both of us.
Finally, my favorite appetizer is the wild mushroom bisque. There was a small mushroom garnish in the soup, but the consistency was creamy without chunks. I'm a huge fan of mushrooms and enjoyed the fresh flavors. Again, this was small but delicious.
Prime Rib Entree
My husband is a steak and potatoes guy so he chose the Royal Prime Rib Roast for his main course. We were pleased that he was able to order it medium well since prime rib tends to be served less cooked than that. Disney describes this dish has having horseradish-mashed potatoes, carrots, and jus. The potatoes are hiding under the prime rib in the picture above. They were creamy and very lightly seasoned with horseradish. In no way did the horseradish overpower the potatoes.
Carrots were more of a garnish than an actual side. If we ordered this again, we would ask for the gravy on the side instead of poured directly on the prime rib. Although the prime rib was tender, there was too much fat and not enough prime rib to fill my husband. The "roll" looking item was a flaky, delicious croissant-type baked pasty. It was our favorite item on the dish!
"Cottage" Beef Stroganoff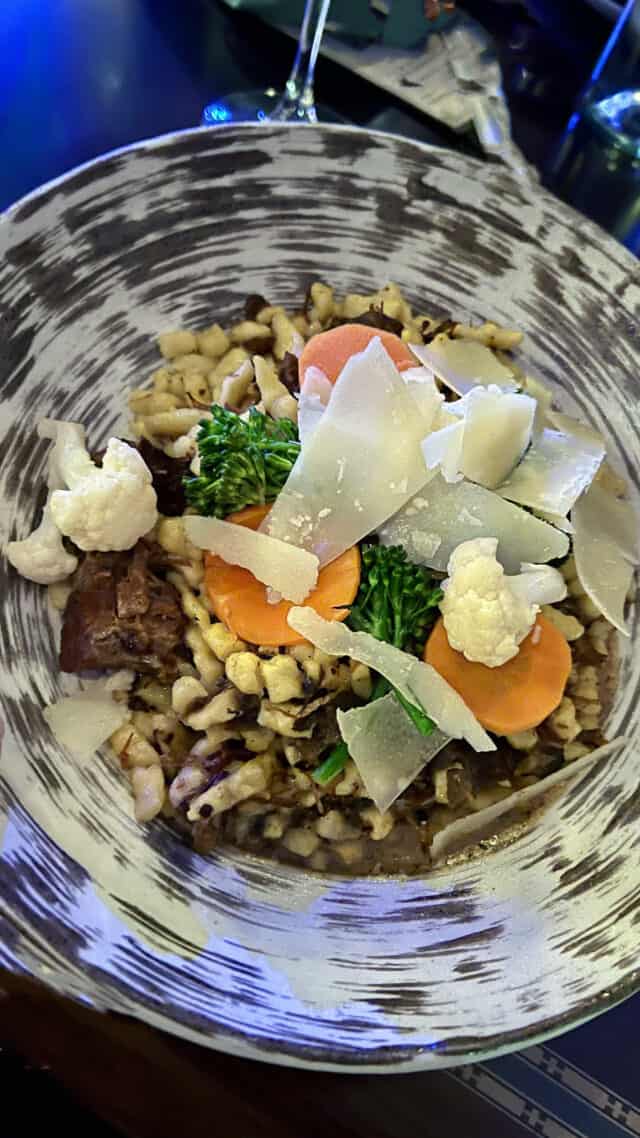 Just like when I was on the dining plan, I wanted to get the "most for my entree money." However, since my husband ordered the prime rib, I chose a German dish instead. The "Cottage" Beef Stroganoff is described by Disney as tender beef, preserved vegetables, spätzle, mushrooms, and aged cow's milk cheese. I'm not sure what preserved vegetables are, but the veggies here were terribly bland. I skipped them.
The majority of the dish consisted of spätzle. Spätzle is a type of small noodle or dumpling made with fresh eggs, I wanted to love this dish! After all, it has such a fascinating name. Instead, it fell flat. The beef tasted like slow-cooked beef and was indeed tender.
However, I couldn't get past the SPATZLE being mushy. Although spätzle isn't cooked al dente, it was definitely overcooked rather than light and fluffy. I did not detect mushroom flavor in the dish. As I tried to pick out the meat, I eventually gave up and didn't eat much of it. At this point, I was hoping dessert would be the showstopper.
Sweet Endings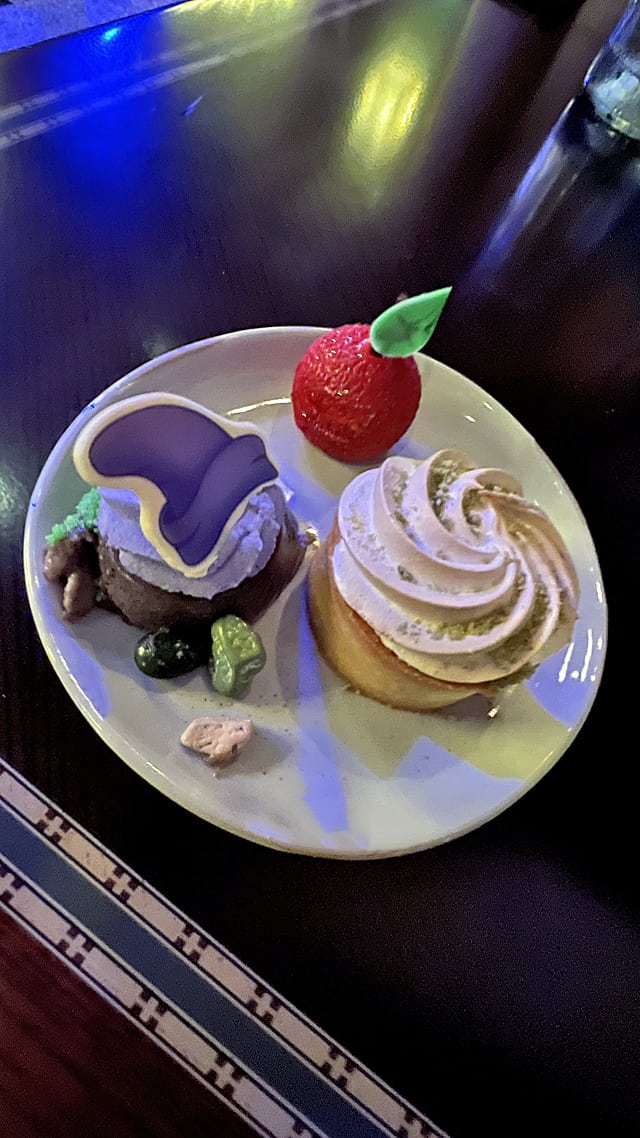 Like appetizers, "Snow White chose our desserts." We were given 3 dessert items to start out. First, I tried the "poison" apple. Disney describes this as dark-chocolate-apple mousse and sour center. It was a very rich chocolate mousse and I didn't detect a sour center or apple flavoring. Next, the Miner's treasures has an adorable white chocolate Dopey hat garnish. These are more for looks than taste.
The "gems" are candy-coated chocolate bits. The dessert itself is cookies and cream panna cotta. It was just okay. Finally, I had high hopes for the Fairy Tale Gooseberry tart with gooseberry and meringue. However, this also lacked flavor. I've had better desserts at some Disney quick services, such as a wonderful 50th chocolate mousse found at Gaston's Tavern.
Huntsman Gift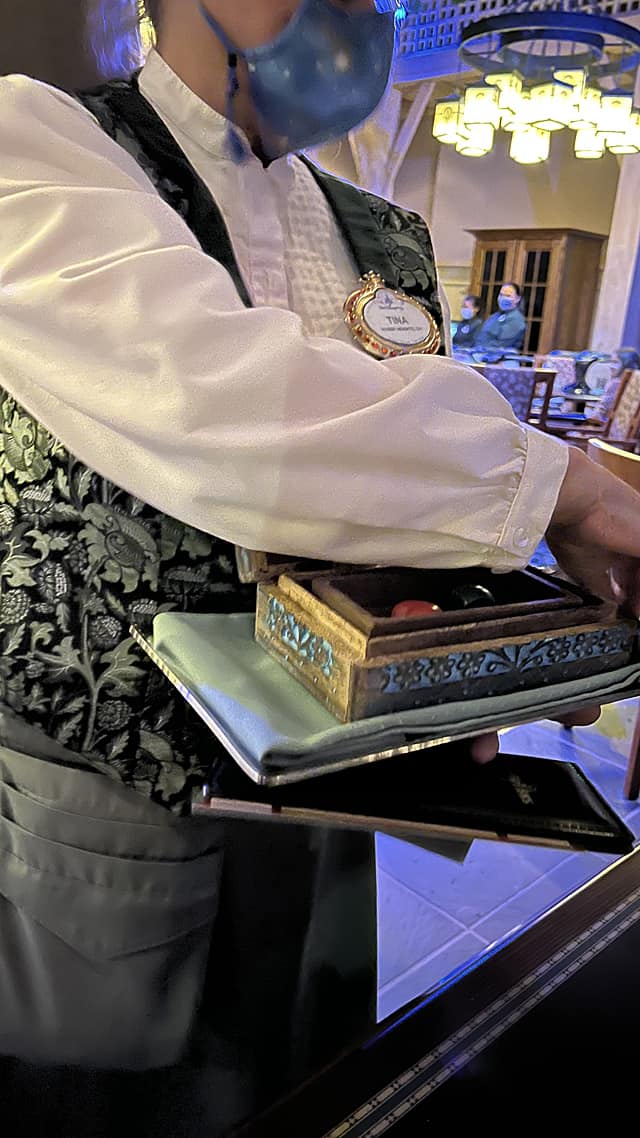 After we finished the dessert selection, our server presented us with the "Hunter's Gift to the Queen". She explained that although the Evil Queen requested Snow's actual heart, the Hunter couldn't do that. Instead, we were given chocolate treats presented in a wooden chest. How do they clean/sanitize this chest between guests?
Speaking of our server, both times we visited Storybook service was top notch! Between the food delivery and the characters coming by, everything ran smoothly. We spent a little over an hour here but could have spent longer if we wanted.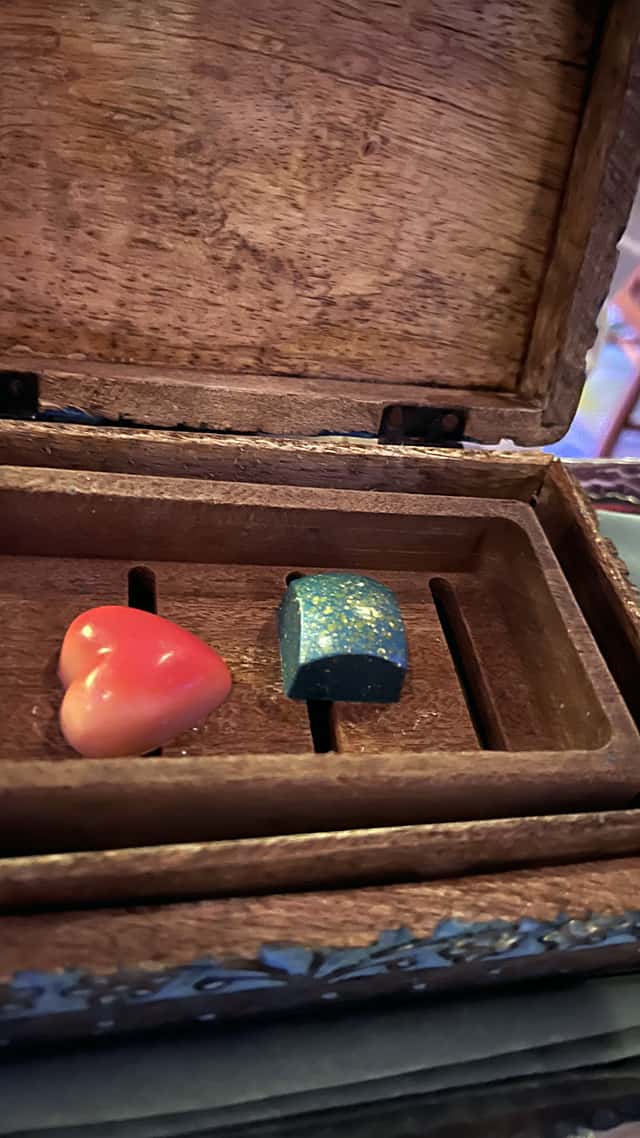 Note that before Storybook closed, this treat consisted of toffee popcorn with chocolate pieces. The popcorn was delicious. I wish it would return! The dark chocolate truffles both had fruit fillings, but neither of them were quality chocolate.
Character Processionals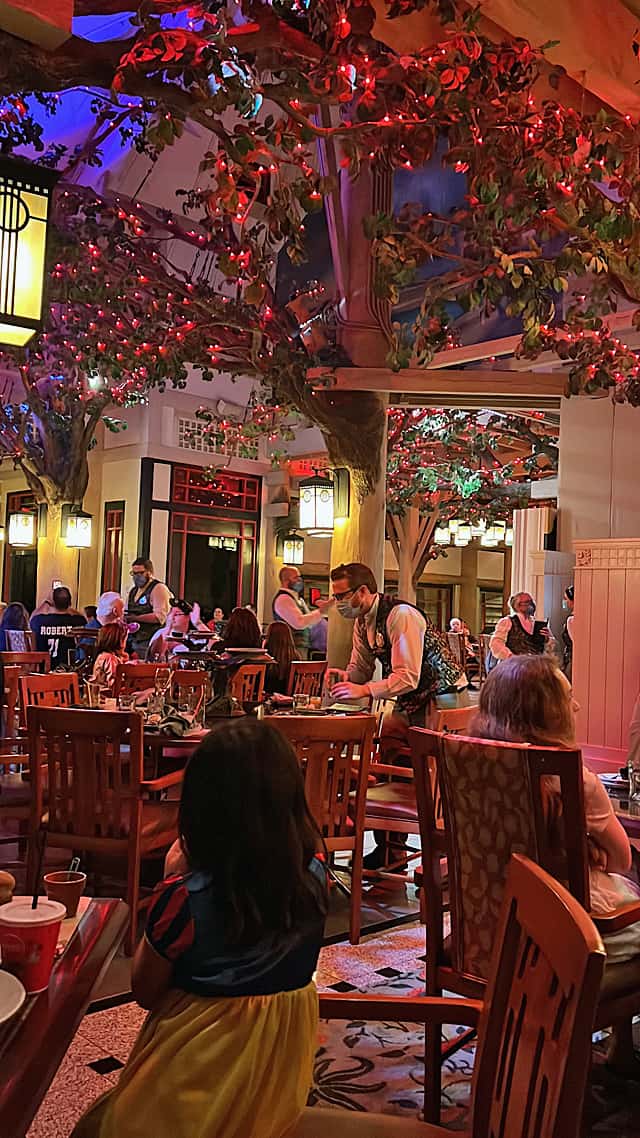 Like many Disney character meals, at Storybook Dining characters first come around dancing and waving swiftly around the tables. While Snow and the Evil Queen came by solo, Dopey and Grumpy danced together in a cute song.
The soft fairytale lights quickly turn red when the Evil Queen comes by. This was an extremely cool effect adding to the sinister feel.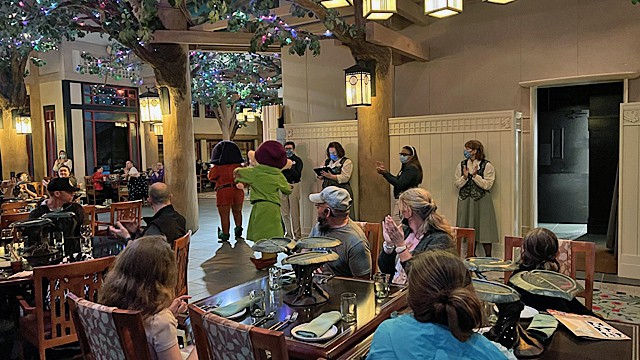 If you're not quick, you'll miss a great photo op like I did below. They don't stop at all during processionals. Wait….
Character Photos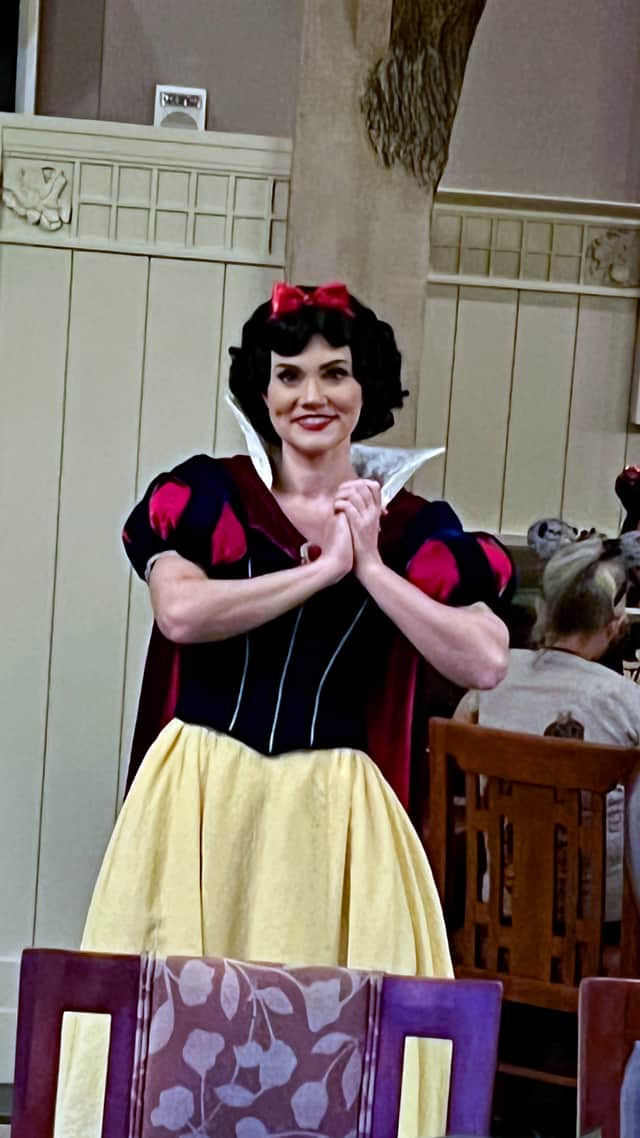 Once seated, we eagerly awaited character arrivals. We just missed Snow White coming by our table and I was afraid we would have a lengthy wait for her return. However, this wasn't the case. When she walked back toward the kitchen, I waved at her and Snow came back to interact with me.
However, my pictures were all taken behind other tables. Not only that, but the dark area to the sides where we sat made it difficult to get just the right photos.
Character Interaction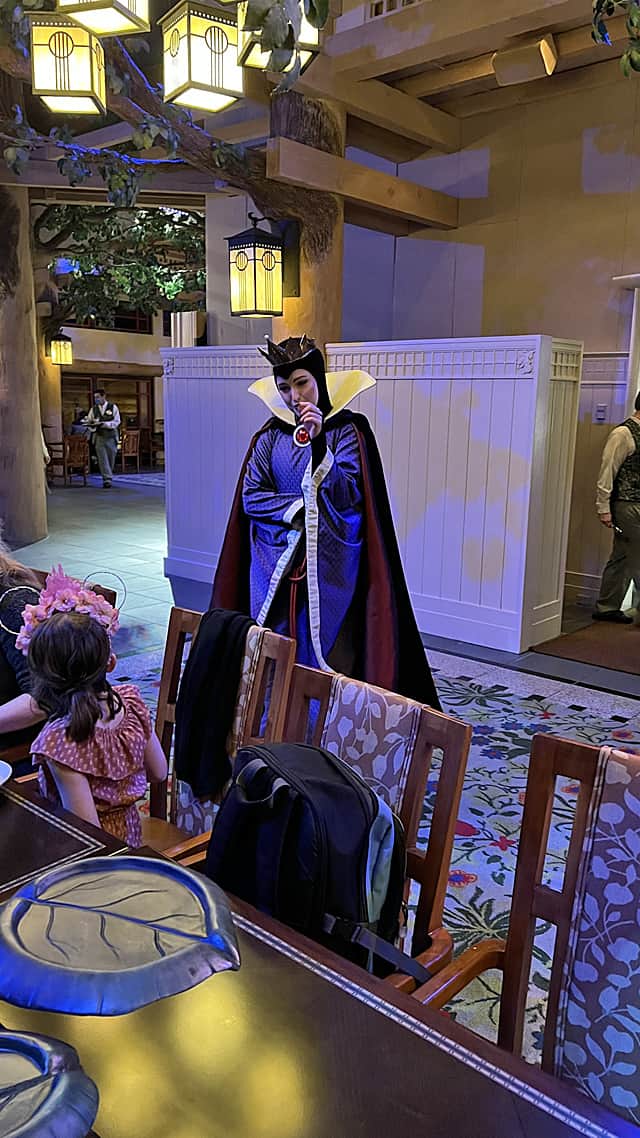 Snow stops and talks from a distance which I enjoyed very much. She is always so sweet! Dopey and Grumpy both posed for us without any personal interaction. The Evil Queen had her normal sour face. She did pose and wave her cape around, but oh, I miss harassing her!
Like before, Disney's Storybook Dining presents each guest with an autograph card to take home. This is a great souvenir to keep to remember the evening.
Something's Missing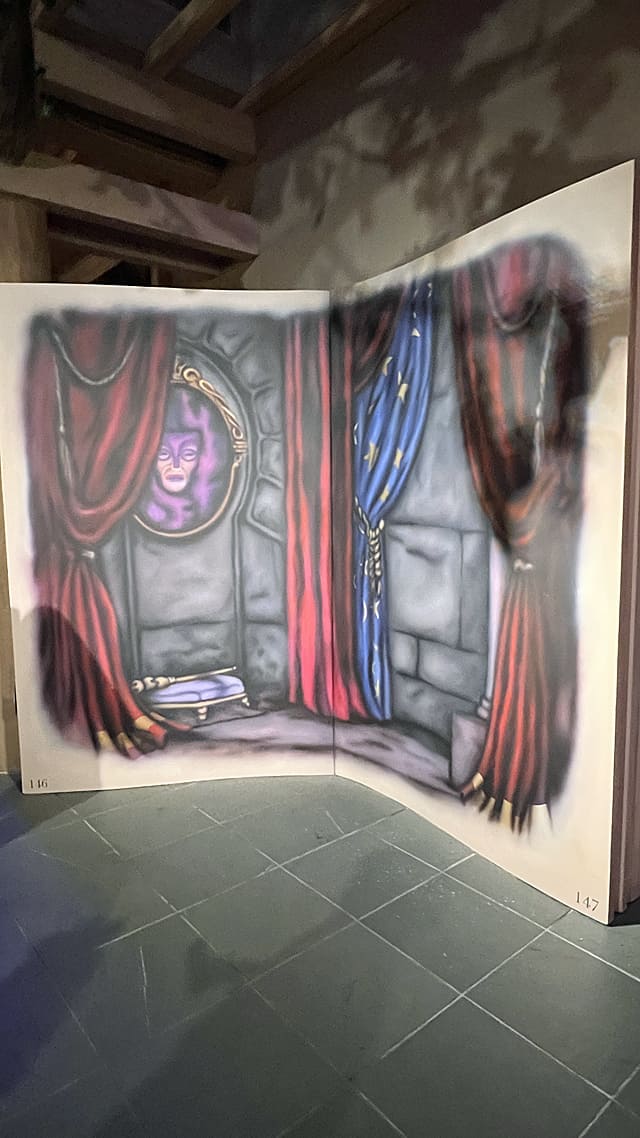 Last time we went to Storybook Dining (before Disney's closure), the Evil Queen posed with guests. Here, guests were able to speak directly for her and she was so very entertaining. Villains are some of my favorite Disney characters to interact with.
However, this time, there is just a lonely backdrop. Simply a reminder to us of what was.
Final Thoughts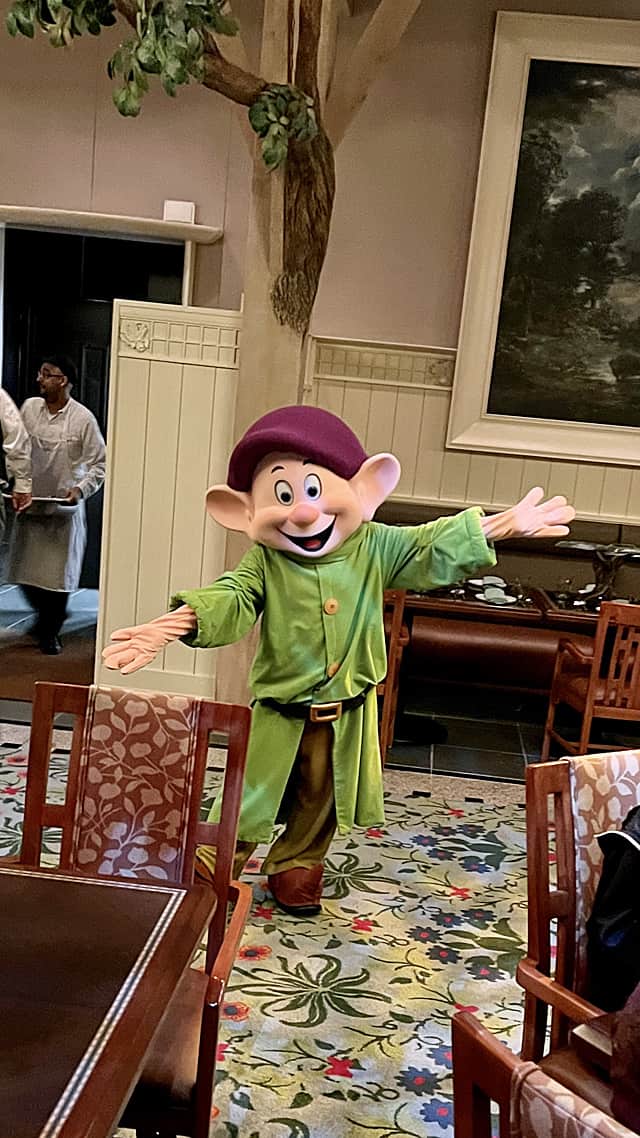 When comparing our visits, the food has definitely declined since before. Hopefully it will improve since it only opened 2 days before our visit. We still enjoyed the fairytale atmosphere so very much.
And characters? Well, they did their best given the social distancing requirement. Each character was willing to pose and/or speak to guests as long as we wanted. This was especially great with young children. At no time did we feel rushed by either the characters or servers. However, just look at our time now with Dopey (above) versus our previous visit shown below.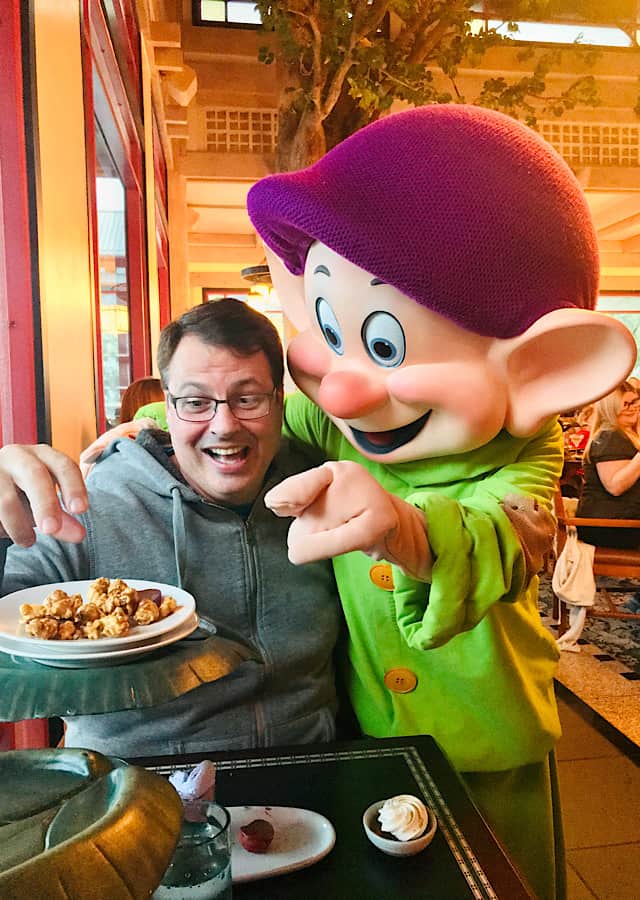 As you can see there is hugging and playfulness going on. Again, I miss this so much. Not just at Storybook, but in general. You can also see the tasty popcorn dessert that Dopey is trying to "steal."
Would I go back? For $60.00 plus tax and gratuity, I expected more from the food quality. I totally get that you're paying for characters here. Maybe if we hadn't visited before I wouldn't know what I was missing? If you're okay with so-so food and need to get your Snow and friends/foe fix, then I would recommend it. Just be sure to keep realistic expectations.
Are you planning to get dine at Story Book Dining or skipping it? Please share your thoughts in the comments below and on Facebook.

Are you planning a vacation? Reach out to our trusted travel agency sponsor Authorized Disney Vacation Planner
Mouse Class Travel
!