Check out all the amazing things to experience as well as a photo tour of one of Disney's most immersive resorts!
At Disney's Wilderness Lodge, the clock turns back to the turn-of-the-century National Park northwest lodges. Here, guests soak in the craftsman details and the wilderness. Whether you take in the outdoors or enjoy the indoor amenities, there's something for everyone here.
Resort Overview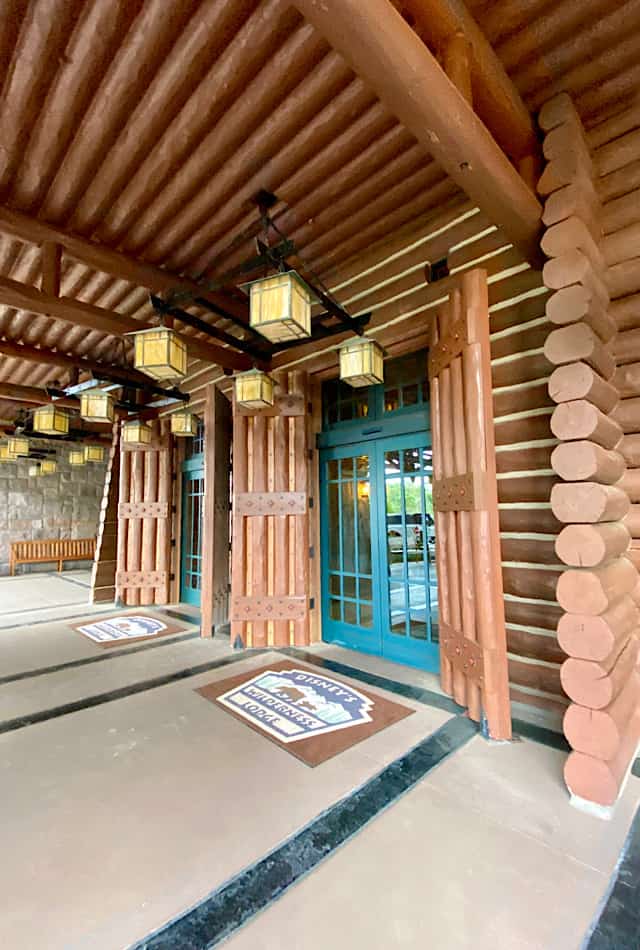 The Wilderness Lodge opened in 1994 and is inspired by the Old Faithful Inn in Yellowstone in 1902. There are so many wonderful details at this charming Disney Resort. Timber pillars, giant tepee chandeliers, and numerous fireplaces add to the lobby's rustic, yet luxurious, feel.
Not only is the theming amazing, but every detail is also symbolic. Check out the relics, artwork, and even rugs to find nods to the Lewis & Clark expedition.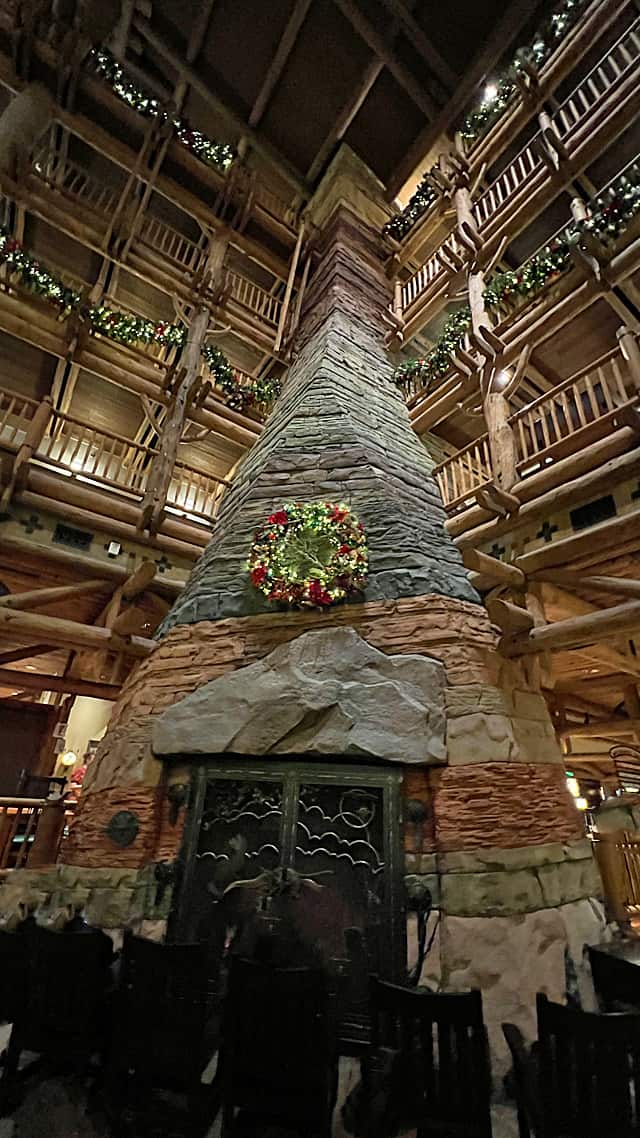 In the main building, take in the oversized timber construction. The first showstopper is the 82-foot tall massive stacked stone fireplace. Every time I go to Wilderness Lodge, I wonder how they built it. Next, check out the magnificent 55-foot tall Native American totem poles!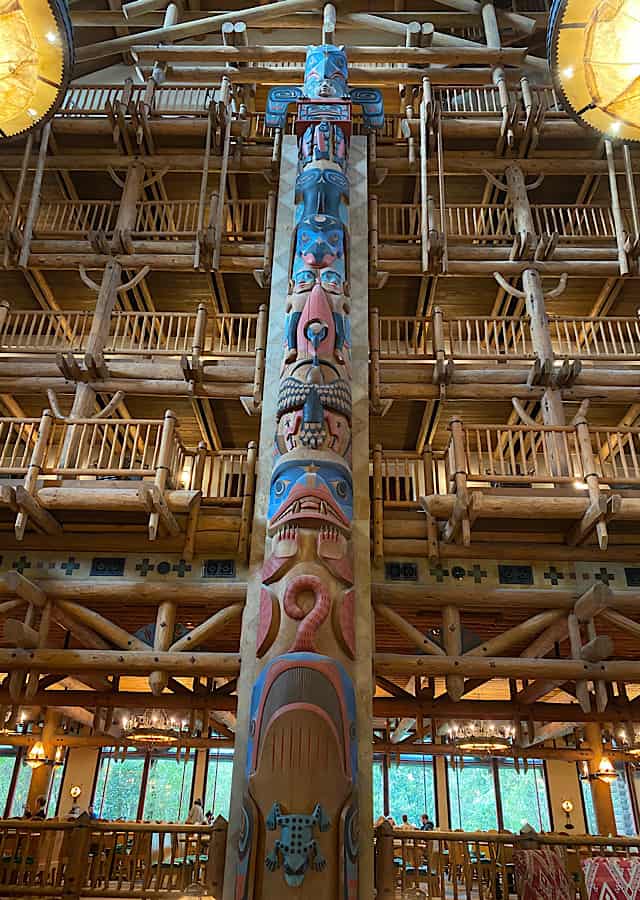 The lobby has lots of small seating areas with oversized comfortable chairs and rockers for guest to enjoy. You may be lucky enough to snag a seat by the gigantic fireplace.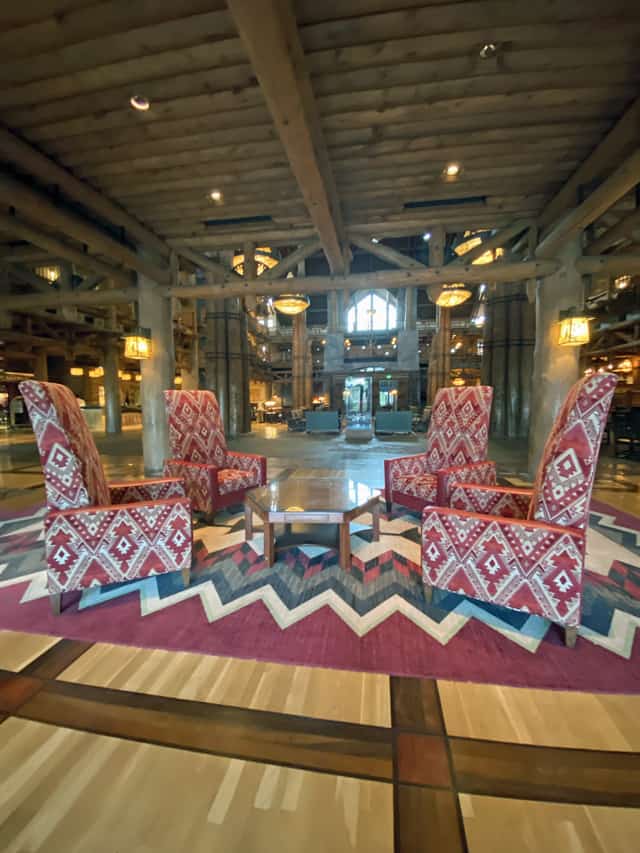 Disney's Wilderness Lodge is home to two DVC resorts. Boulder Ridge DVC is housed in a separate building. Copper Creek DVC consists of half the main lodge.
Then, there are Disney owned standard and club level rooms in the other half of the main lodge.
Location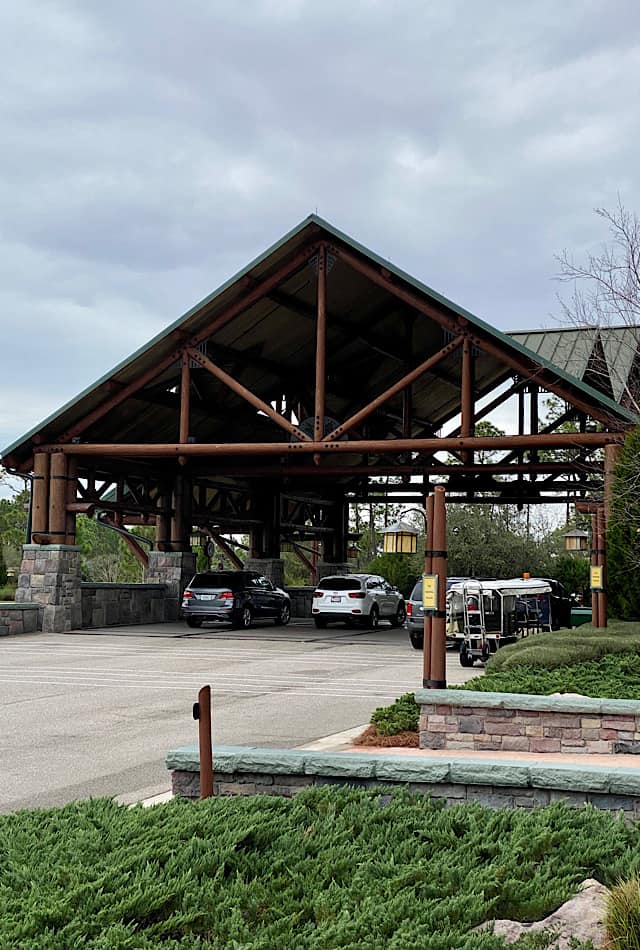 Disney's Wilderness Lodge is located on Bay Lake. However, the many trees throughout the property make guests feel like they are situated in the wilderness. Guests arriving get an immediate sense of the majesty and incredible theming here.
Mascot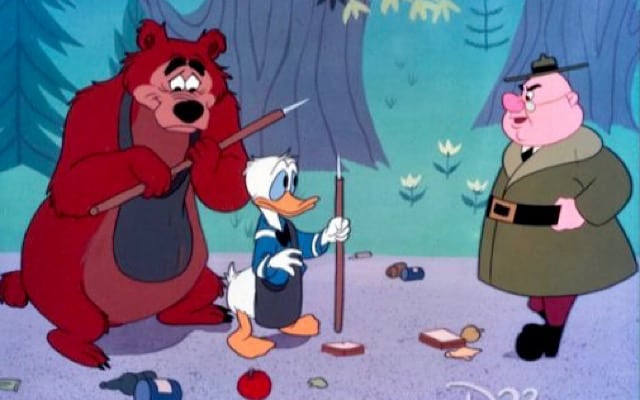 It is worth noting Disney's Wilderness Lodge is the only Disney World Resort to have an official mascot. Throughout the resort, you'll see a cute brown bear, Humphrey.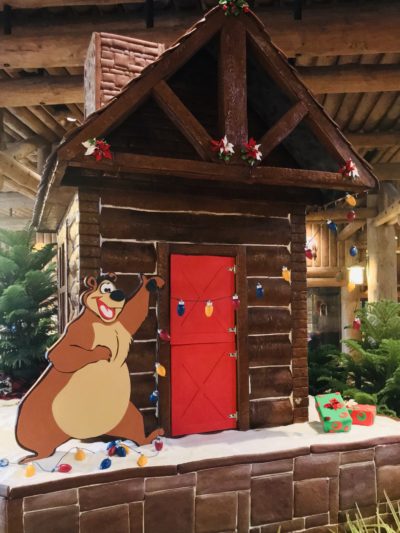 According to Disney, Humphrey the bear is not only the resort's mascot, but he also debuted in 1950s cartoon shorts. Look for Humphrey on the totem pole at the entrance of the Wilderness Lodge Mercantile.
Also, in 2019 Disney debuted a gingerbread log cabin with Humphrey outside decorating. For more details, check out my article here.
Check-In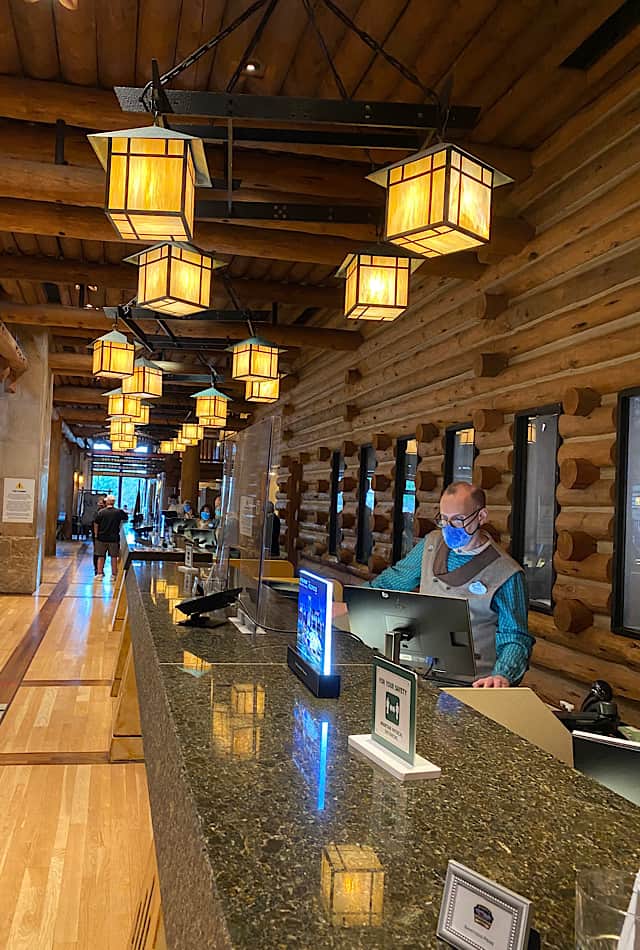 The check-in area is to the right when you walk in from the parking lot. When we arrived, there were several cast members ready to assist us. Since we didn't know the layout of the Resort, this was very helpful. They provided us with a resort map too.
Shop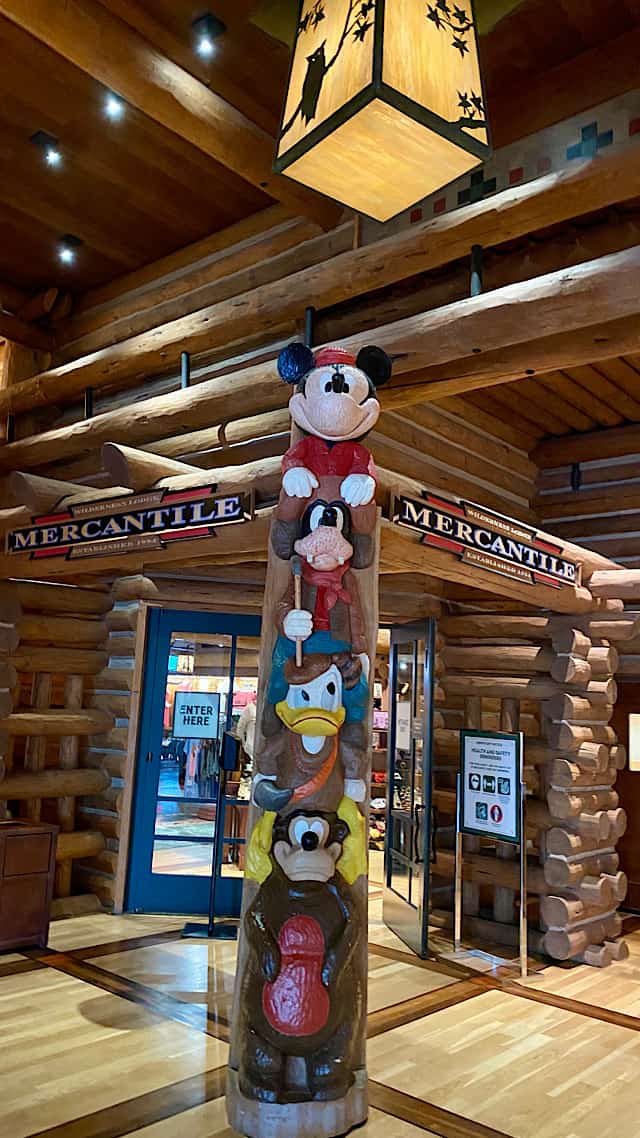 There is one large shop here, Wilderness Lodge Mercantile, located in the main building. I just love the whimsical totem pole with not only our favorite Disney characters but also Humphrey.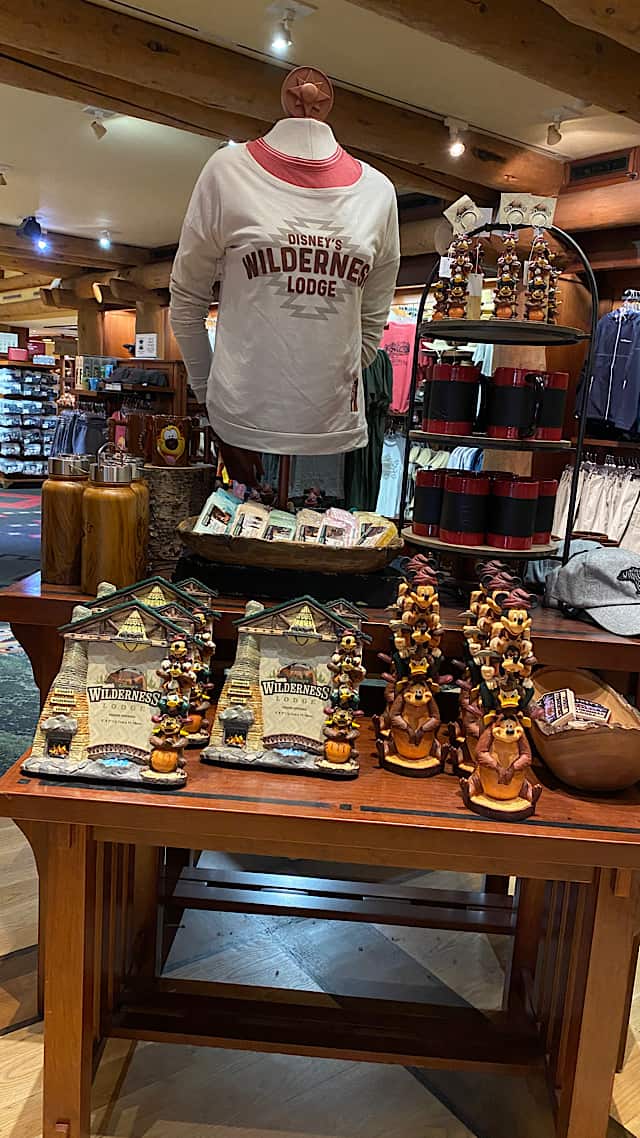 Follow the whimsical totem pole inside to find totem pole souvenirs along with other Wilderness Lodge specific merchandise. I snagged a magnet for an inexpensive memento.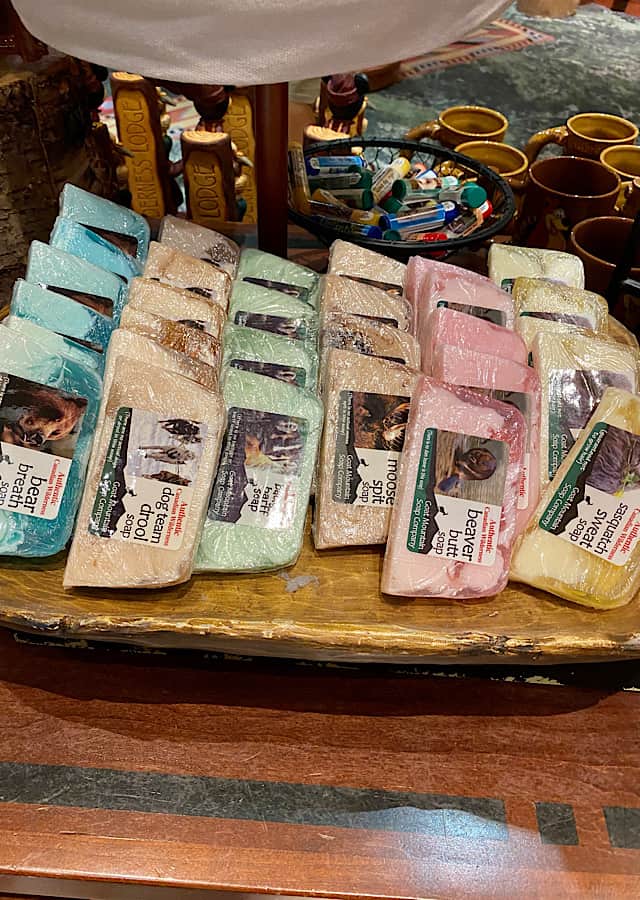 One of my favorite gifts found at Disney is the cleverly named soaps found both here and the Canadian World Showcase gift shop. My favorite is the beaver butt soap!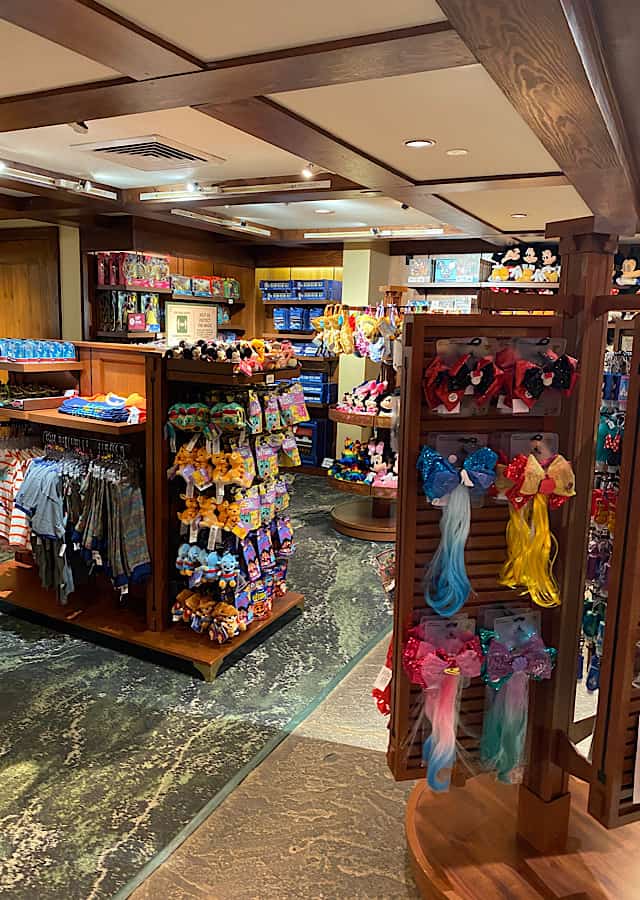 As in other areas of the resort, guests find a large fireplace along with a display of the Resorts Top Shop awards.
Also, check out the large variety of Disney themed clothing, accessories, and home decor items.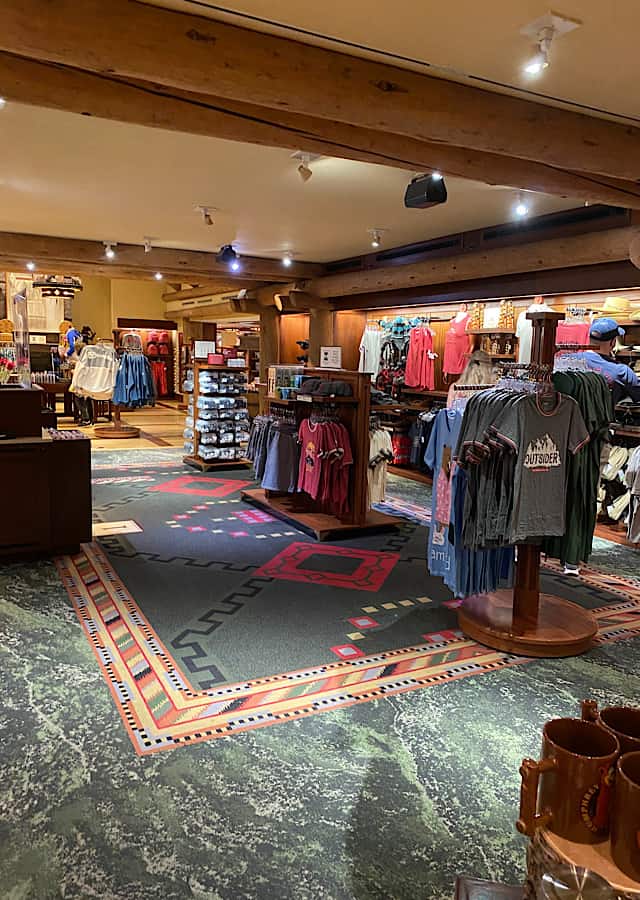 There's a candy wall and a corner filled with pantry grocery items to take back to the room. In addition, the back wall is filled with refrigerated items that can help guests relax and save money by eating in their rooms. This is especially helpful for larger rooms with kitchens.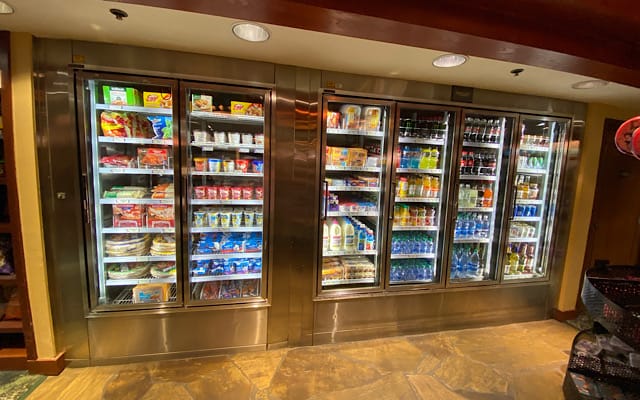 If you run out of your medications, diapers, or other toiletries, Disney has you covered! Check out the assortment in the photo below.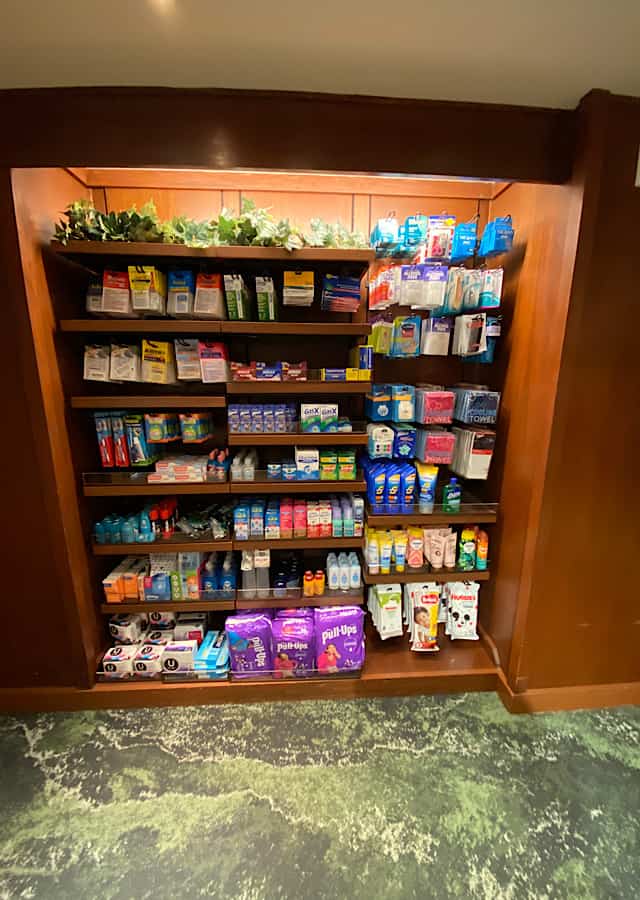 Rooms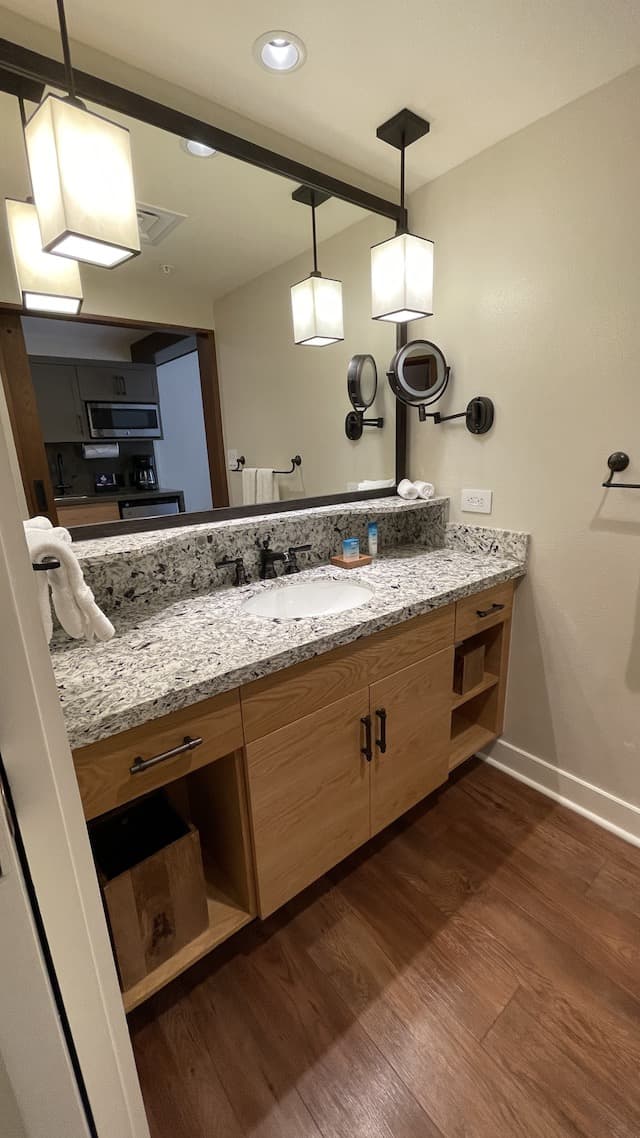 The Wilderness Lodge has both DVC and Disney deluxe rooms. The non-DVC rooms are located inside the main building. In addition, there are two DVC sections: Copper Creek and Boulder Ridge. Check out a review of an alternate floor plan HERE.
Standard Rooms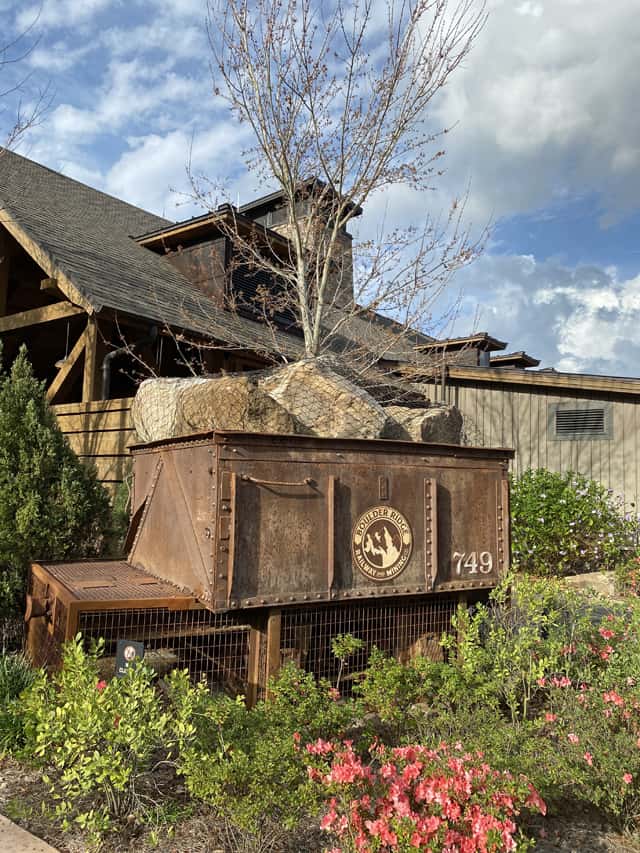 Disney's Wilderness Lodge standard rooms are the Disney owned rooms located adjacent and overlooking the main lobby. They sleep either 4 (2 queen beds) or 2 guests (king bed) offering a variety of views.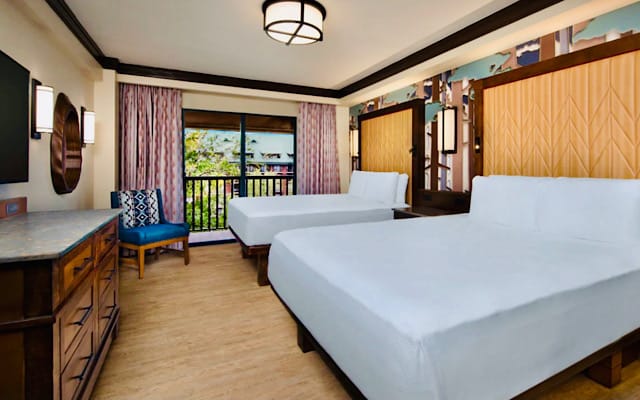 Available views consist of standard, courtyard, nature or fireworks. These rooms offer the least expensive Disney Deluxe rates at Disney World.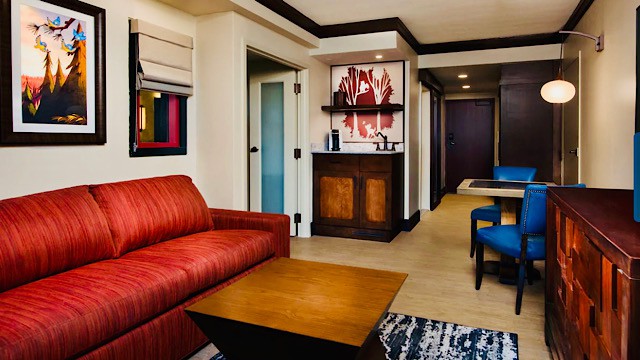 Like other Disney Deluxe Resorts, the Wilderness Lodge offers club level rooms. Club level rooms offer both standard and deluxe rooms. Standard are the same as above rooms while Deluxe rooms are larger.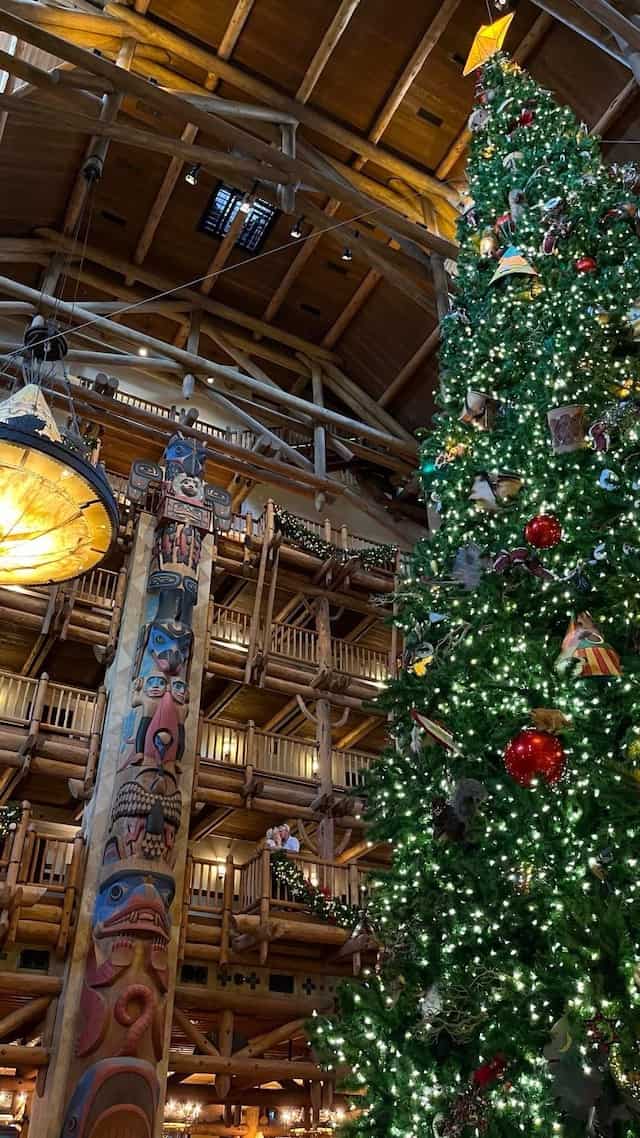 Here, guests enjoy the Old Faithful Club that includes food and drink. Club level guests begin the day with coffee and continental breakfast and end with desserts and cordials. (Food, drinks, including alcohol, and concierge services are included with Club level.) Before reopening, Club Level guests also enjoyed additional privileges.
Boulder Ridge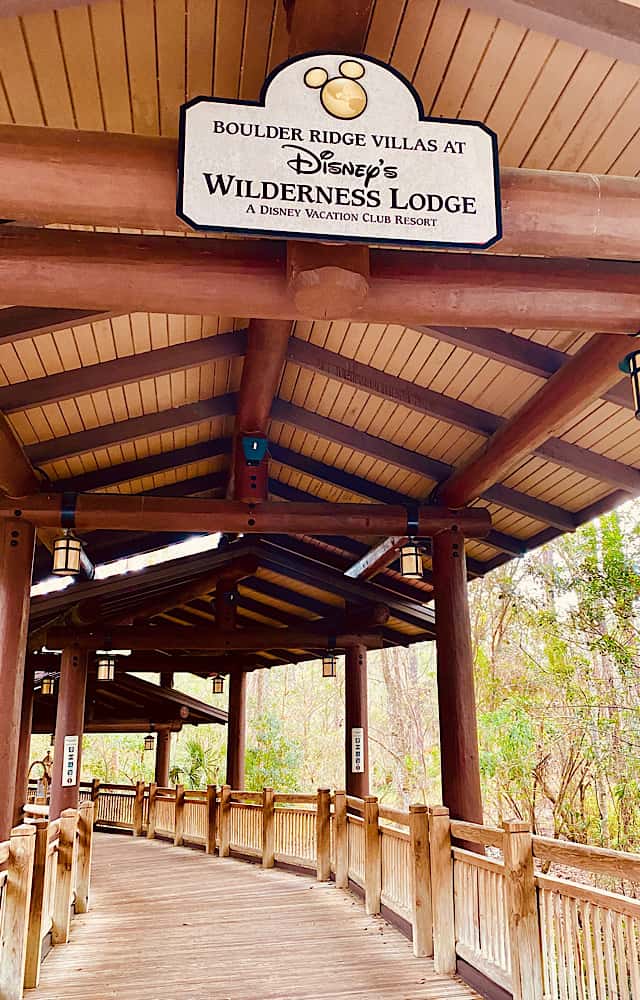 Although it's a part of Wilderness Lodge, Boulder Ridge gives guests the feeling of having their own resort. To get to the Boulder Ridge building, simply take a right after the check-in area and follow the covered walkway.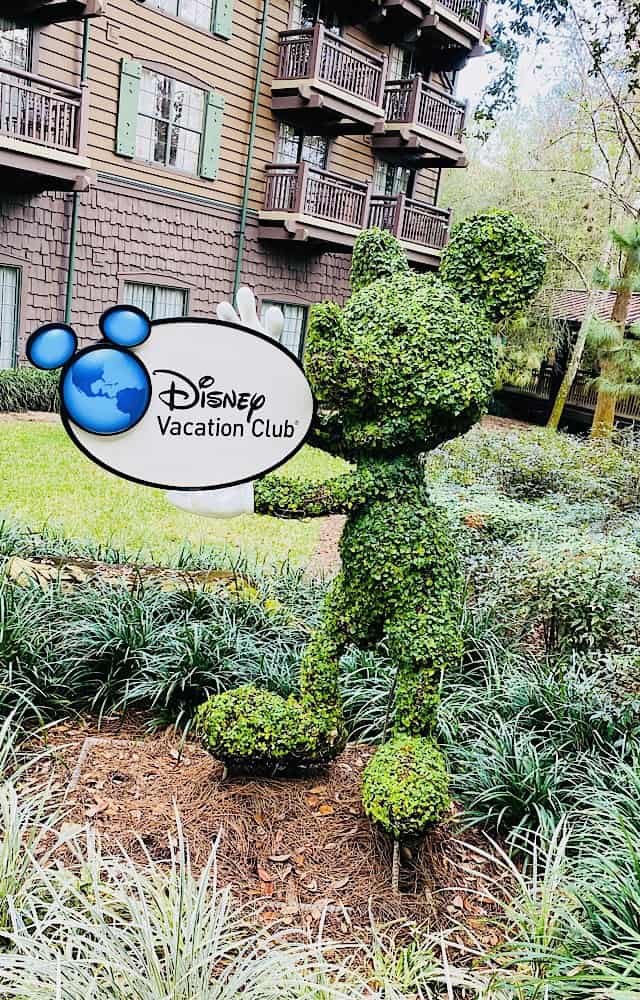 Outside the building, guests enjoy rocking chairs, giving a homey feeling and stunning views of the surroundings. Once inside the building, you'll be greeted with several cozy seating areas. Some even include fireplaces! We absolutely loved the massive wooden timbers at the center of the lobby.
Boulder Ridge gives guests the feeling of having their own resort.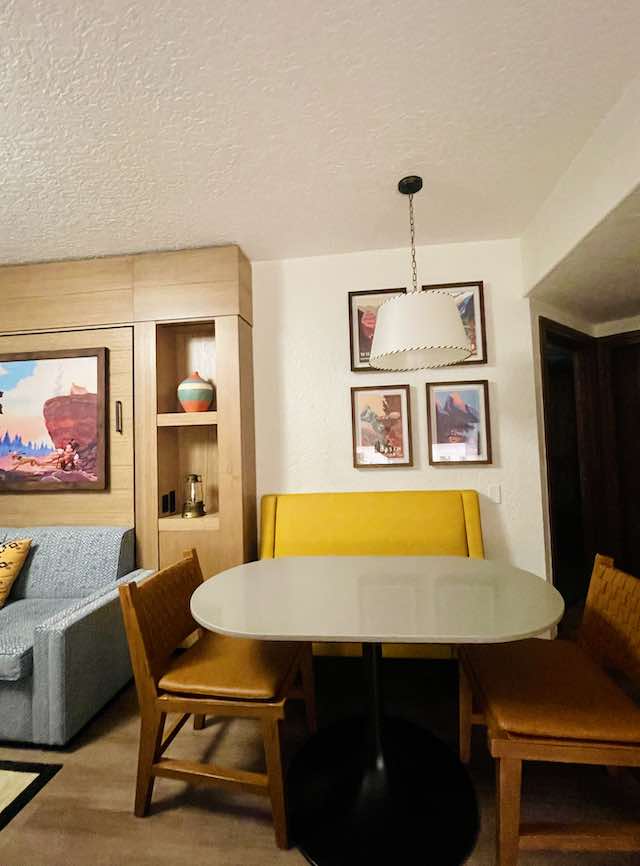 Boulder Ridge gives guests a choice of several room types. First, guests can book a deluxe studio that sleeps up to 5 people. These rooms include 1 queen bed, 1 double sleeper sofa, and a single pull down bed.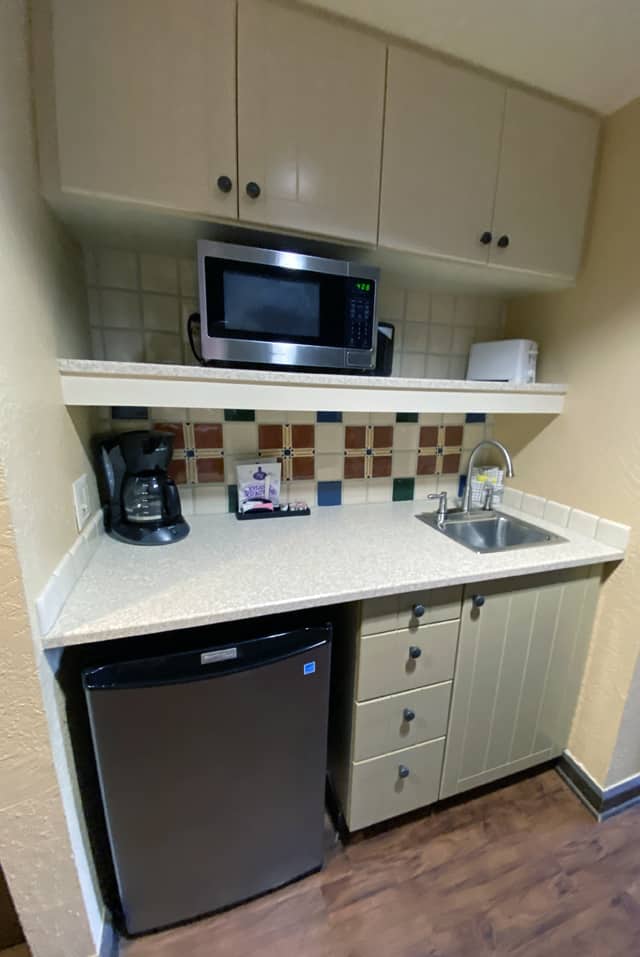 Deluxe Studios include a kitchenette area. Check out my Boulder Ridge Deluxe Studio Review here.
Here, guests can also choose from a 1-bedroom (sleeps 4) or a 2-bedroom (sleeps 8) Villa. Villas also include a washer, dryer, and a full kitchen.
Copper Creek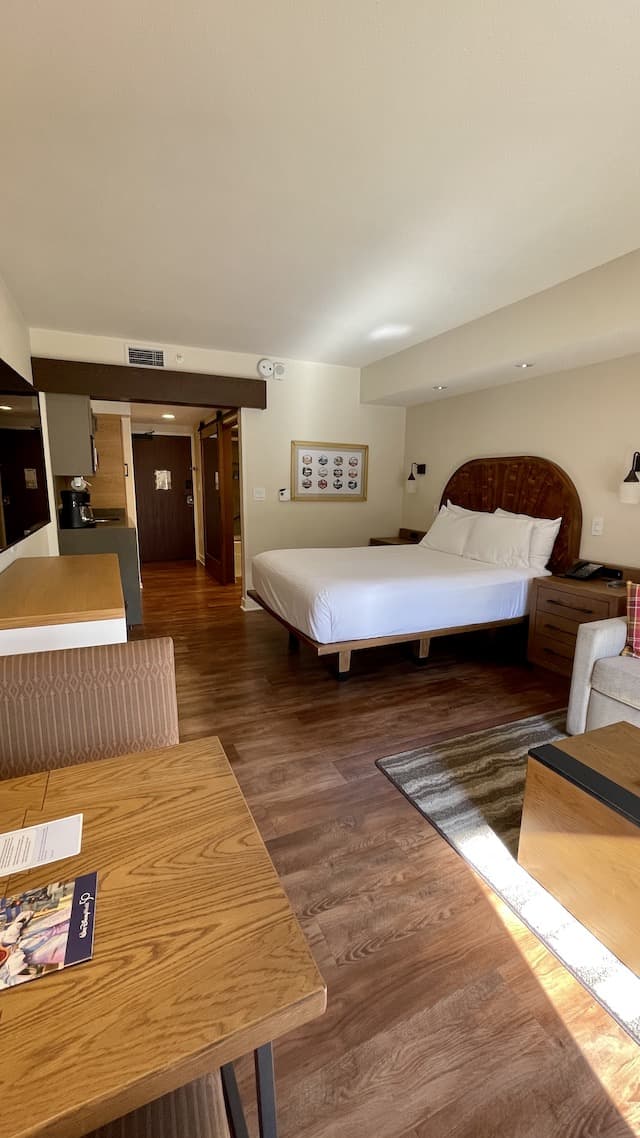 The Wilderness Lodge's newest DVC section, Copper Creek rooms are located in the main lodge. Like Boulder Ridge, Copper Creek rooms also offer Deluxe Studios. Check out a Copper Creek Deluxe Studio review HERE.
However, these rooms only sleep 4 due to no pull down bed. Opening in 2017, Copper Creeks have lighter, more updated decor than Boulder Ridge.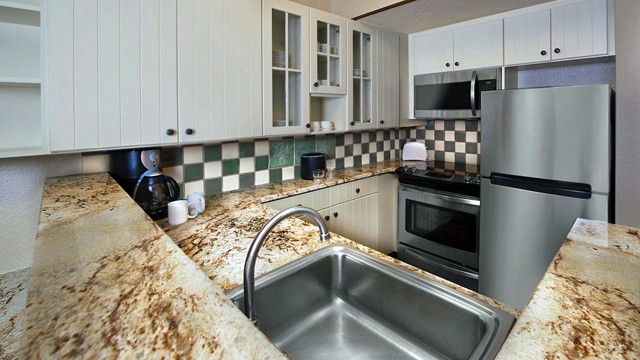 Like Boulder Ridge, Copper Creek Villas are also available in 1-bedroom (sleeps 4) and 2-bedrooms (sleeps 8). In addition, guests can also book 3-bedroom Grand Villas that sleep up to 12!
Cascade Cabins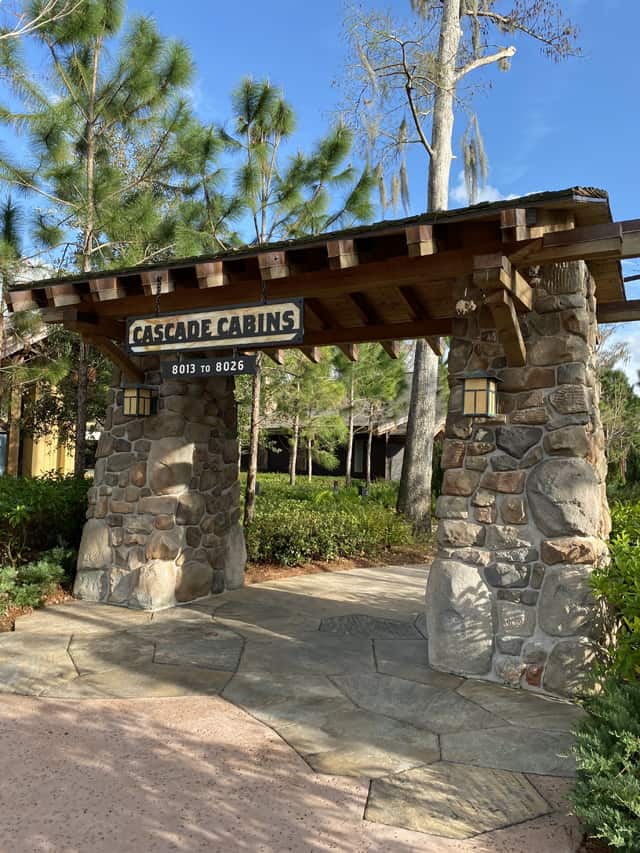 Also part of the Copper Creek DVC, the Cascade Cabins are the Wilderness Lodge's most luxurious accommodations. Here, guests enjoy true luxury with a rustic feel in these two-bedroom waterfront cabins.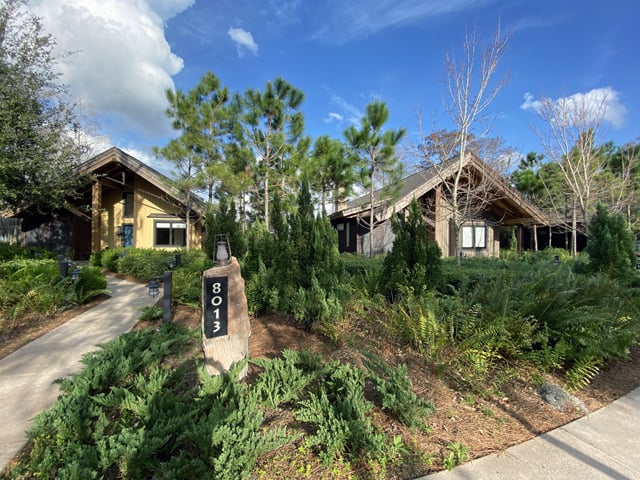 Sleeping accommodations include 1 king bed, 1 queen bed, 1 queen-size sleeper sofa, 1 single pull down bed, and 1 twin-size sleeper chair. All together, the cabins sleeps up to 8 adults.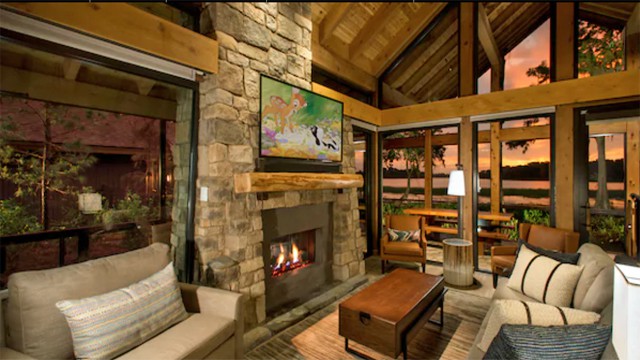 These amazing cabins feature a full kitchen with an island and a private porch with hot tub overlooking Bay Lake. Just imagine watching the Electric Water Pageant float by in your own hot tub!
Transportation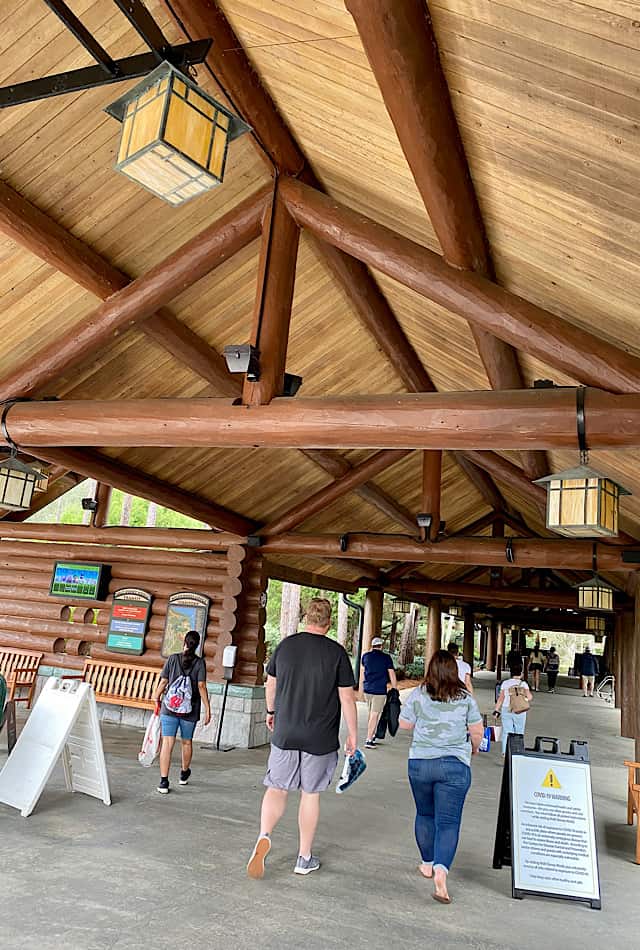 Guests staying at Disney's Wilderness Lodge have a couple of transportation options. Catch a bus to Hollywood Studios, Animal Kingdom, EPCOT, and Disney Springs. You'll find the bus stop in front of the Boulder Ridge building.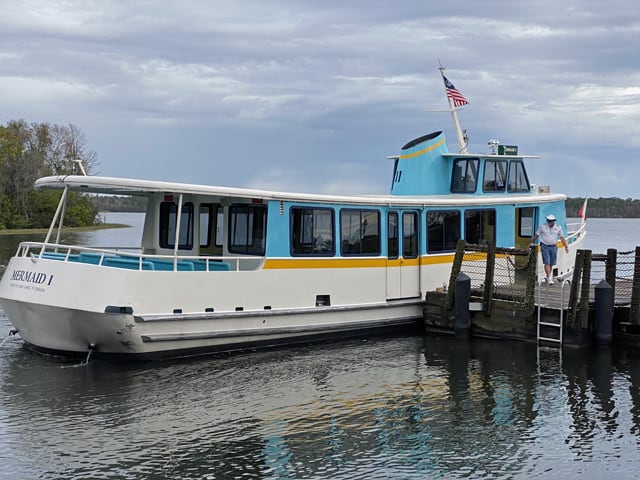 In addition, guests have access to water taxis running on Bay Lake. Just take the red flag boats to and from Magic Kingdom. It's just a short 10-minutes direct route there. Water taxis come about every 15 minutes.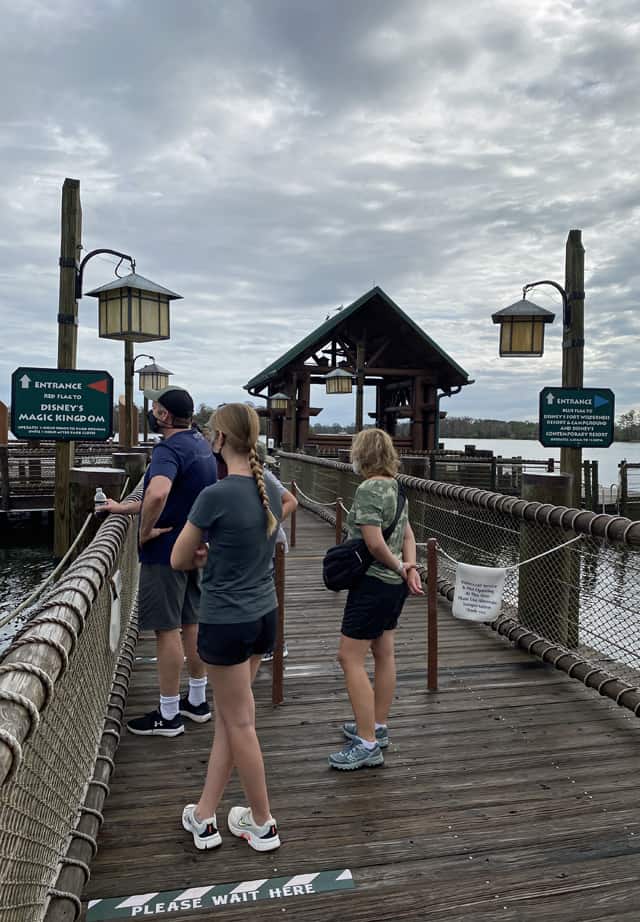 Boats with blue flags transport guests to Fort Wilderness and the Contemporary Resort. These boats run from 6:45 am to 11:30pm. This route makes it super easy to catch meals at the Contemporary. Just make sure you choose the right route.
Restaurants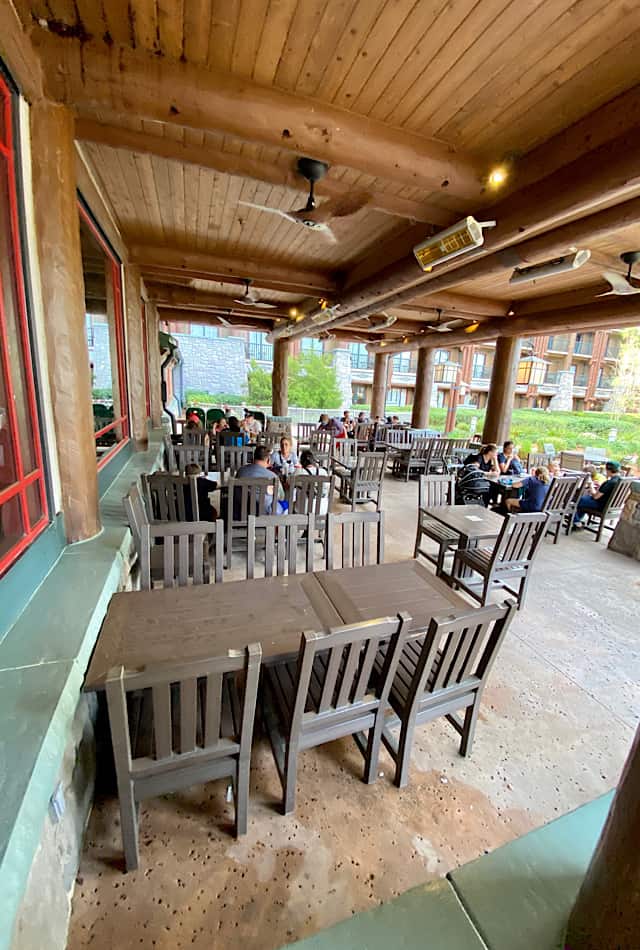 In addition to larger rooms with full kitchens, the Wilderness Lodge offers a variety of meal options. Don't forget the Contemporary is just a short boat ride away also! The Wilderness Lodge offers room service for convenient dining for an additional cost.
Storybook Dining at Artist Point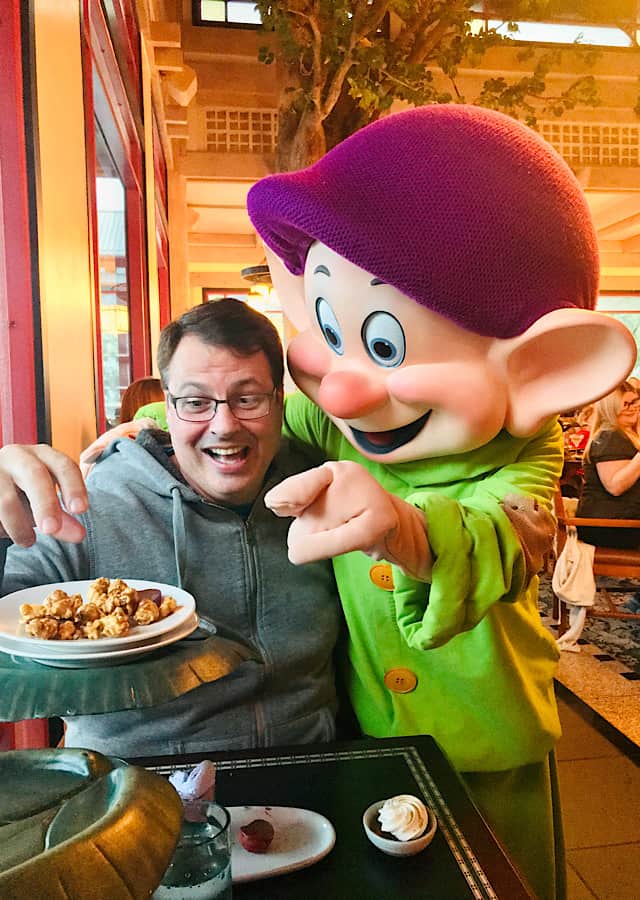 One of my favorite character meals, Storybook Dining, offers table service in a Snow White "fairytale forest." All of the food and beverages were Snow White themed. While appetizers are a little unusual, we really enjoyed our entrees. Service was also top notch.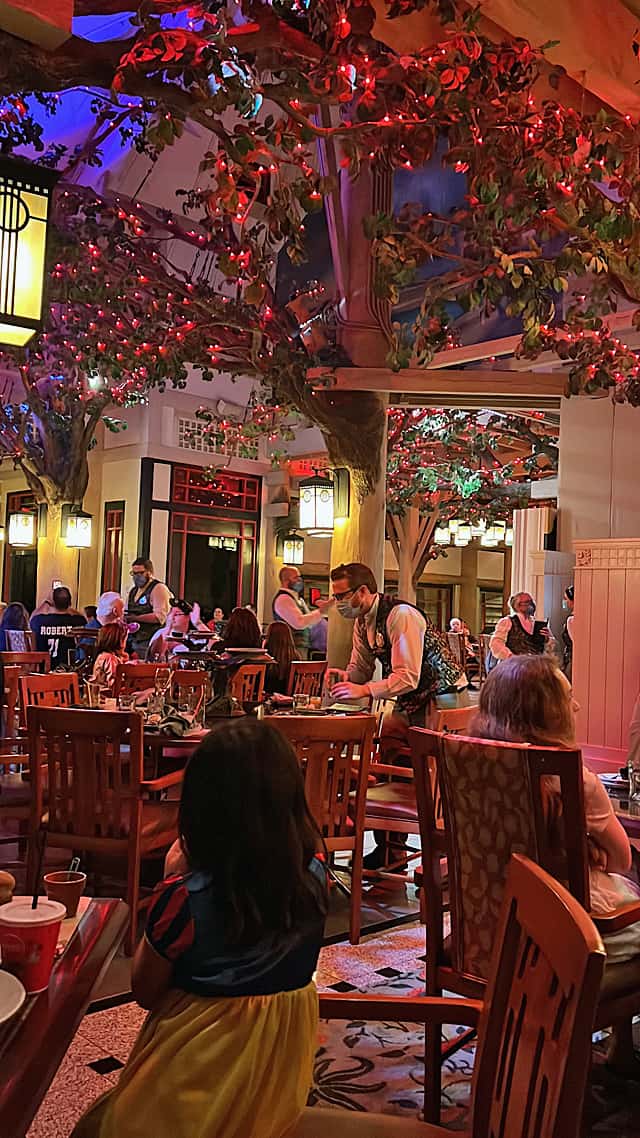 What we enjoyed most here is the opportunity to meet rare characters. Before reopening, Disney offered a PhotoPass opportunity with the Evil Queen. This was a special treat! Check out my review of this meal HERE.
Territory Lounge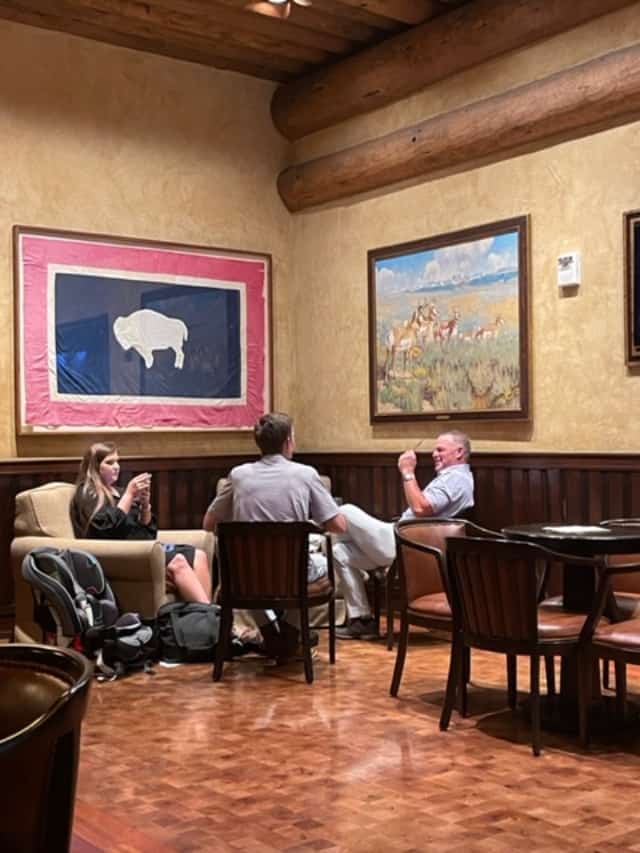 Located in the main lodge, Territory Lounge offers guests a quiet place to unwind and relax after a busy park day. Tree trunks carved into grizzly bears hold up the bar. Look for a Lewis and Clark trail map on the ceiling.
Roaring Fork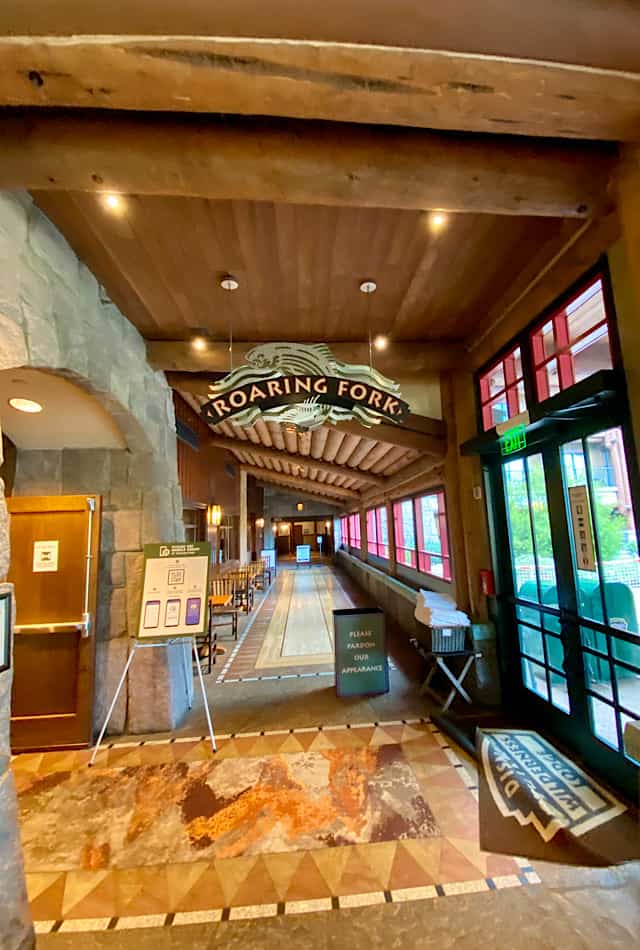 Wilderness Lodge's only quick service location, Roaring Fork, offers breakfast, lunch, and dinner options. Grab-and-go items as well as refillable mugs can be purchased here. When we visited, they offered specialty cupcakes.
Whispering Canyon Cafe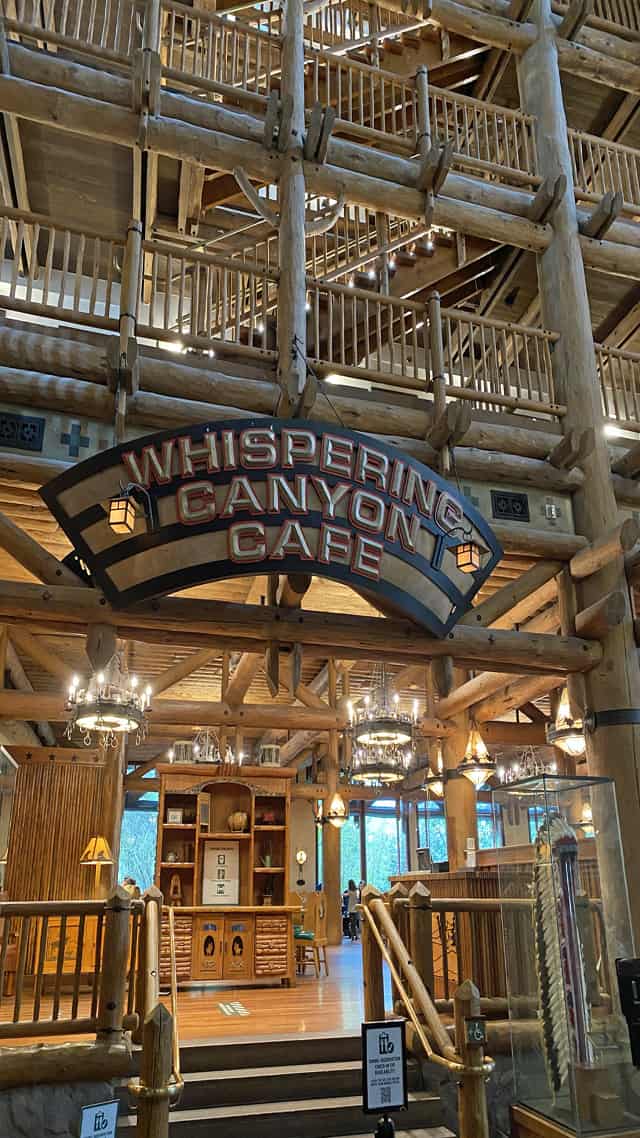 The dining area is very inviting with several fireplaces. It consists of the main dining area, a smaller space, and the "porch" area. Theming mimics the rustic wood along with American pioneer details.
Unlimited skillets are featured here. Check out my review on Whispering Canyon Cafe for more information and photos. Also, read about Donna's experience at Whispering Canyon Cafe HERE.
Geyser Point Bar and Grill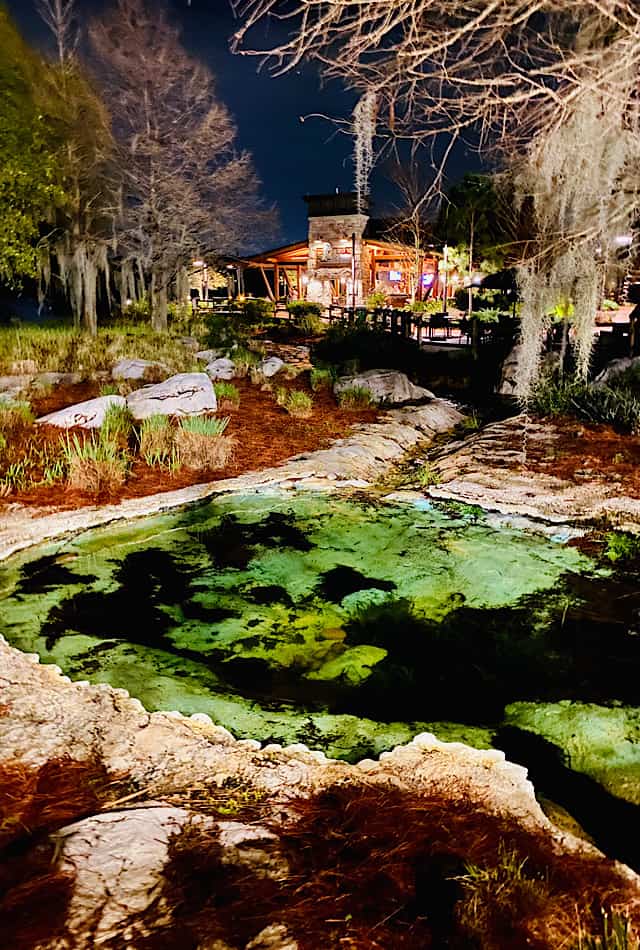 At Geyser Point, guests find grab-and-go items as well as hearty lunch and dinner selections. The menu includes a bison cheeseburger, smoked turkey sandwich, and a grilled Portobello salad.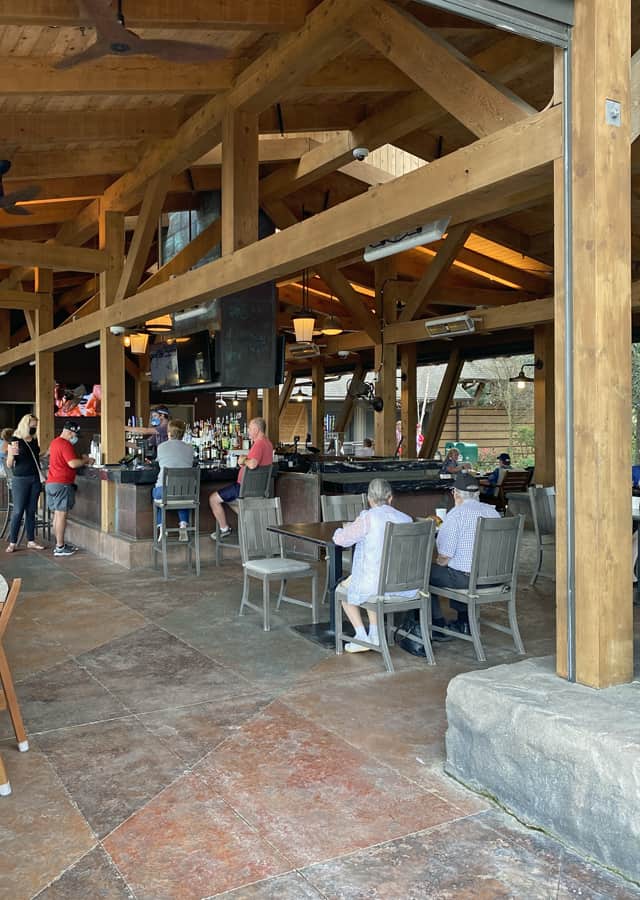 This scenic restaurant overlooks Bay Lake and the beautiful Wilderness Lodge grounds. There's even a fire pit nearby to enjoy those cooler evenings outside. To see more details, go HERE to see our review of Geyser Point Bar and Grill.
Outdoor Recreation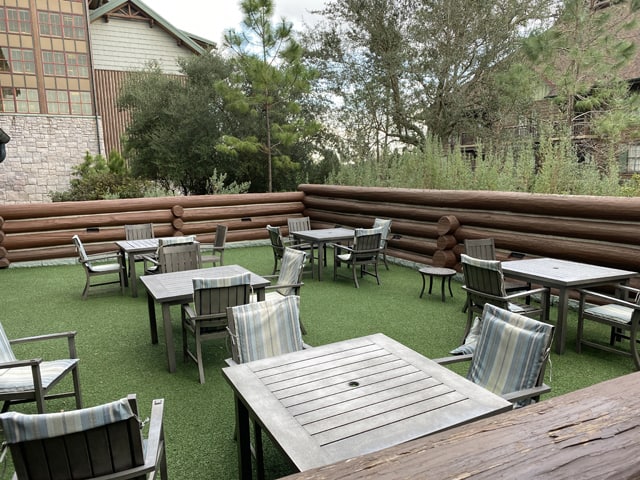 To fully take advantage of this resort, spending time outside is a must! In addition to the 2 pool areas, Wilderness Lodge also offers the following outdoor activities:
barbecue pavilion
basketball court
beach area
bike rentals
campfire
children's activities at the Club's Den
fishing
jogging trails
marina
movies under the stars
watersport boat rentals
When we visited, the children's activity was making Disney tie-dye shirts. The kids were having a great time here, and it's free!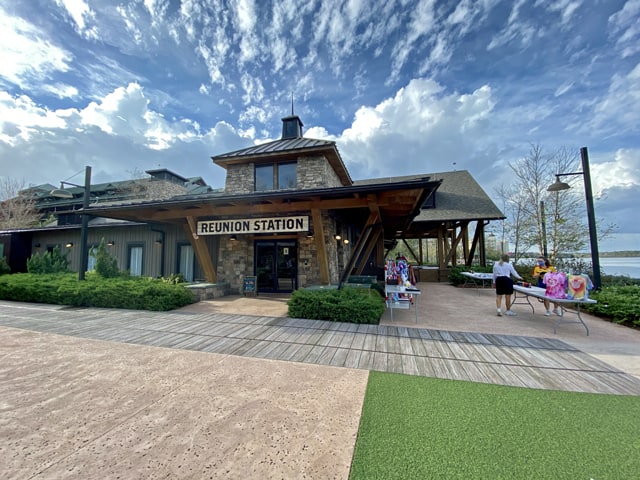 Check with resort concierge for a schedule of outdoor activities.
Pools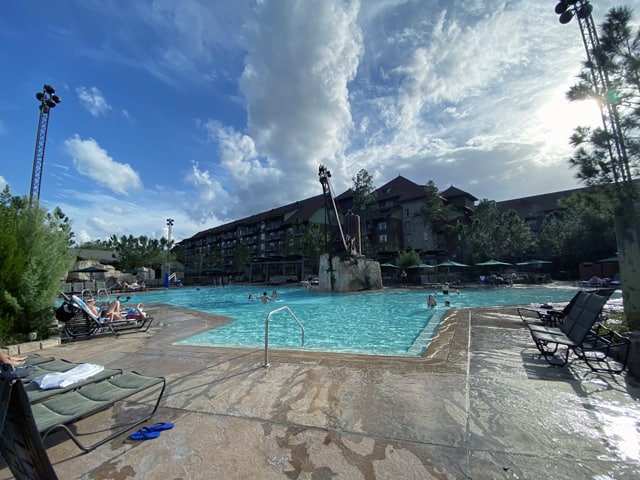 Guests get not only one, but two pool areas to choose from here: the playful Copper Creek Springs Pool or the relaxing Boulder Ridge Cove Pool. It's nice to enjoy both pools!
Copper Creek Springs Pool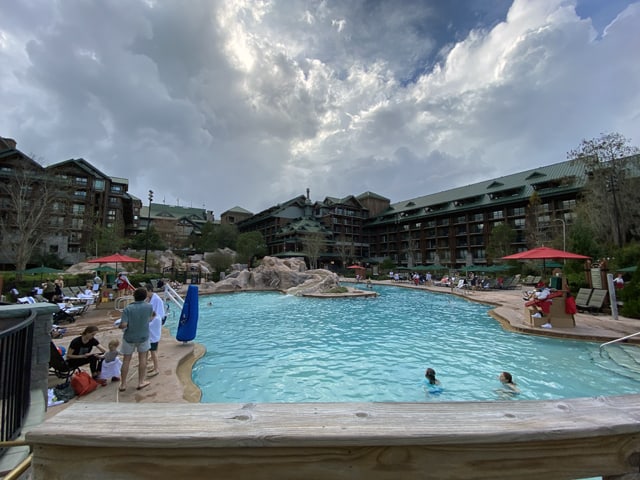 Where else can you follow an indoor babbling spring outdoors to a swimming area? Guests simply follow the Copper Creek Spring down the walkway, and it actually flows into the pool. I love this unique feature here!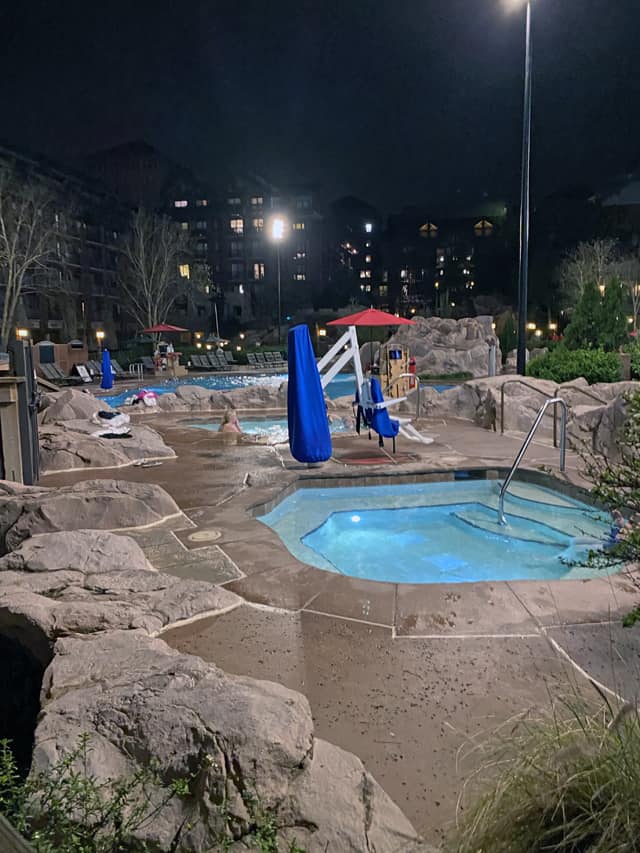 Like all of Disney's pools, Copper Creek offers a heated pool. Like other resort areas, guests are surrounded by nature here. For adventurous swimmers, there is an awesome 67-foot waterslide built into rocks. For guests seeking relaxation, check out the hot and cold whirlpool spas.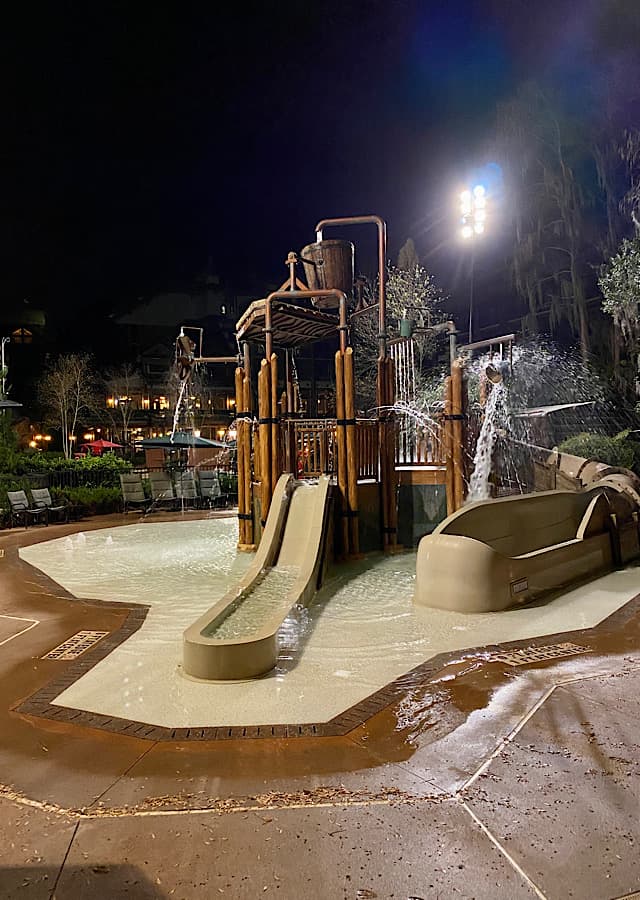 Recently, Wilderness Lodge added a water play area at Copper Creek. Disney strategically located this near the Geyser Point Bar and Grill. This outdoor dining location offers food and drinks to enjoy at the pool.
Boulder Ridge Cove Pool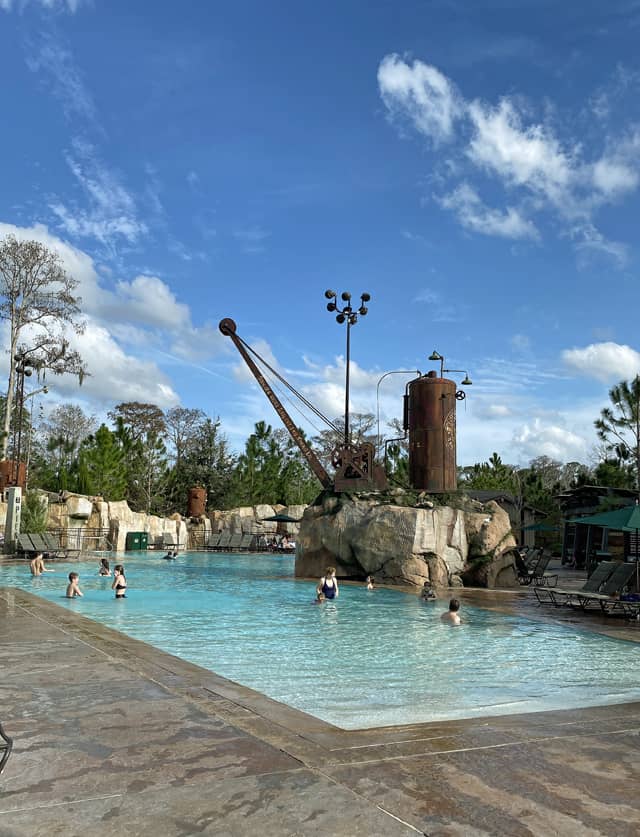 Open to all Wilderness Lodge guests, the Boulder Ridge Cove pool is nestled between the main lodge and Boulder Ridge Villas.
Here guests soak in the laid-back oasis that includes a zero-depth entry pool and a whirlpool spa.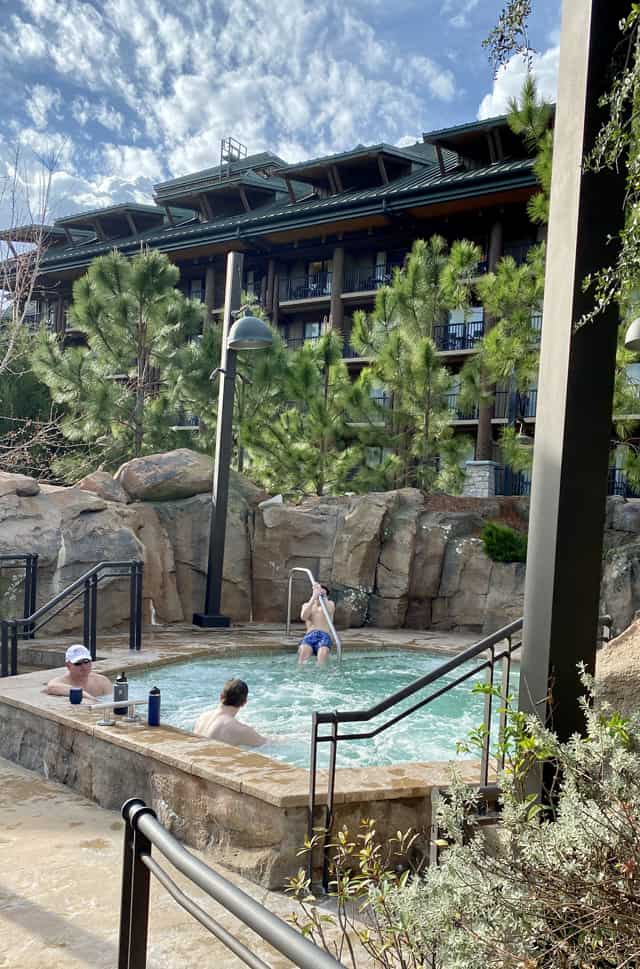 Unique to this area, guests can enjoy any of the 6 shaded seating areas. This seating is first-come first-serve so come early if a shady spot is important to you.
Amenities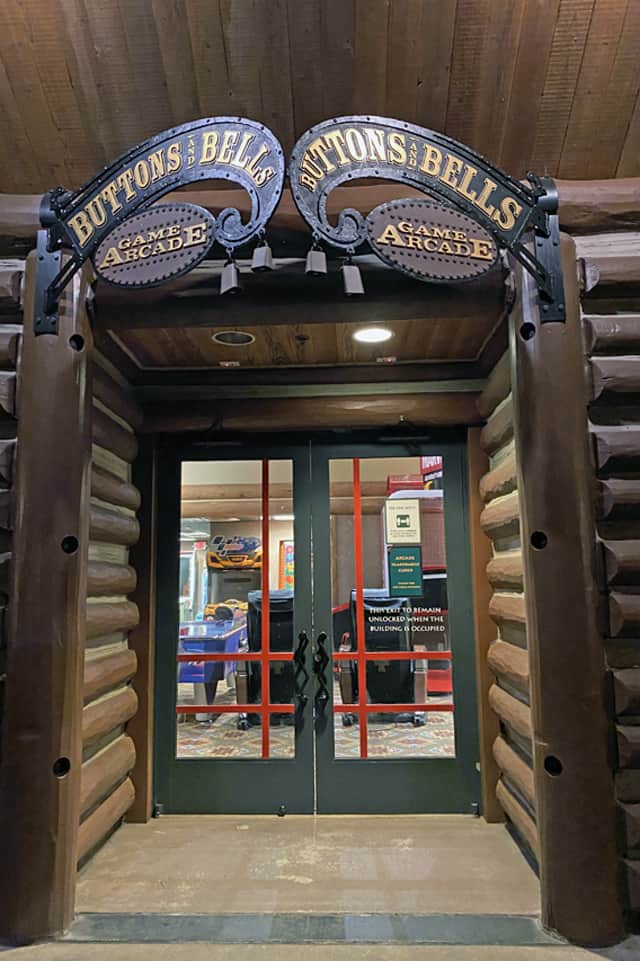 Disney Deluxe Resorts, including the Disney's Wilderness Lodge, offer many amenities. Check out the list below:
banking and ATM
laundry and dry cleaning services
childcare
room service
designated smoking areas
mail services
resort concierge
arcade (Buttons and Bells)
drink and ice machines
valet parking
Gym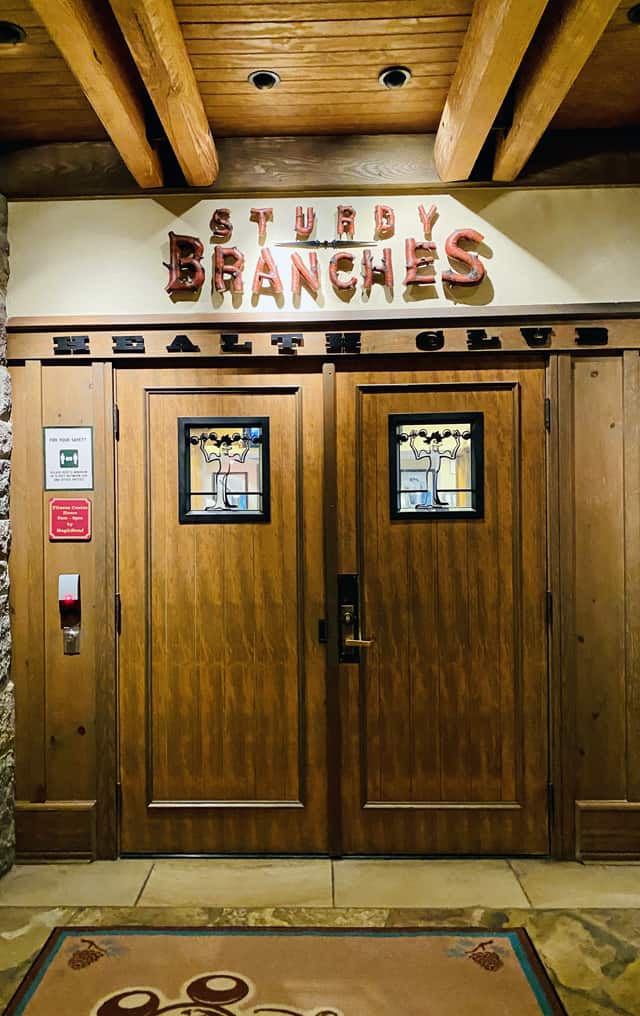 Located inside Boulder Ridge's Lobby is Wilderness Lodge's gym, Sturdy Branches health club. I love the name! There's an entrance inside Boulder Ridge as well as an exterior entrance. Magic Bands are used to access the gym.
Salon by the Springs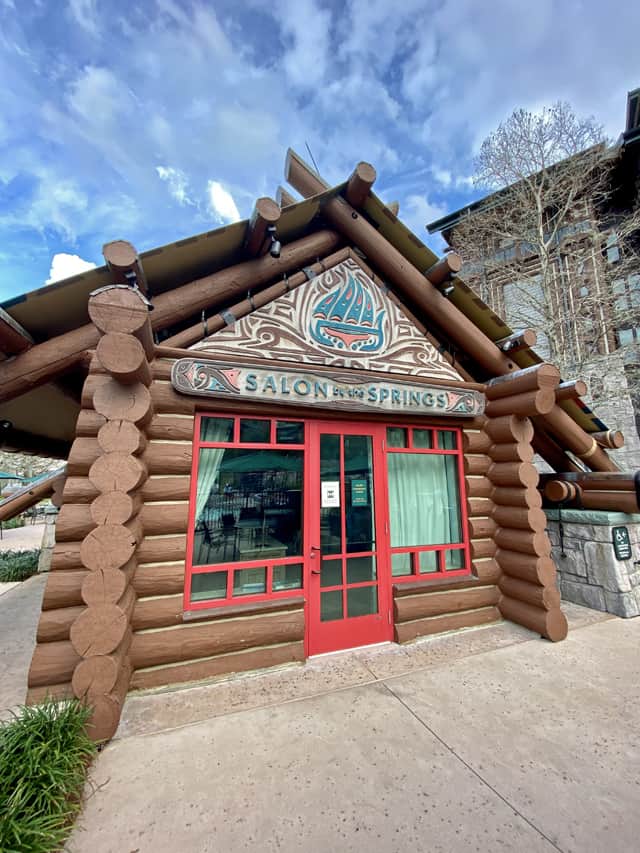 To find the salon, look for a small "log cabin" on the pathway between Copper Creek Springs pool and Bay Lake. Here guests enjoy a one-stop spot for manicures, pedicures, hair services and more. The salon operates daily from 9:00 am to 5:00 pm.
Electric Water Pageant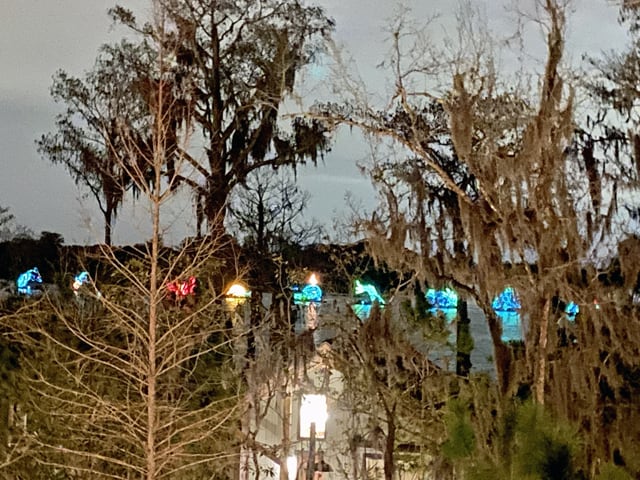 At night, guests can enjoy the Electric Water Pageant from certain rooms or at the beach area overlooking Bay Lake. This fun floating nighttime parade sets sail across the Seven Seas Lagoon with spirited Disney tunes in the background. It lasts 15 minutes.
The Electric Water Pageant floats by every evening about 9:30pm. Times may vary based on the closing time of Magic Kingdom.
Since we stayed during the winter, many trees didn't have leaves. If they did, they would have obstructed our view. The beach is the best viewing spot.
Outdoor Water Features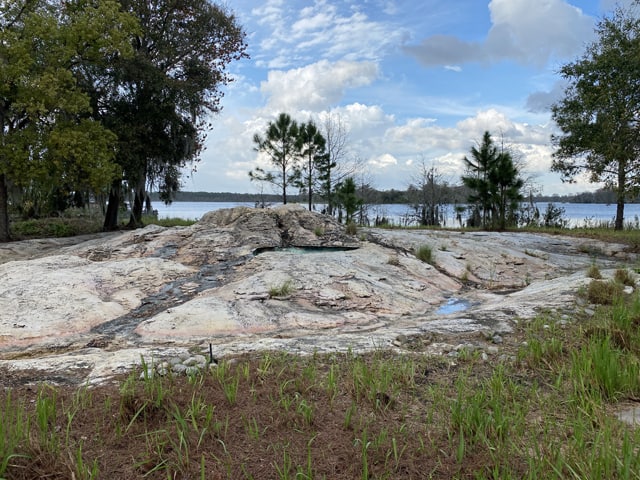 Where else can you find a 120-foot geyser that shoots off every hour east of the Mississippi River? Check out this amazing feature located between Copper Creek and Bay Lake. It's designed after Yellowstone National Park's famous Old Faithful geyser.
Guests also find "natural" streams throughout the resort along with a mineral pool. The outdoor water features make this resort stand out!
Final Thoughts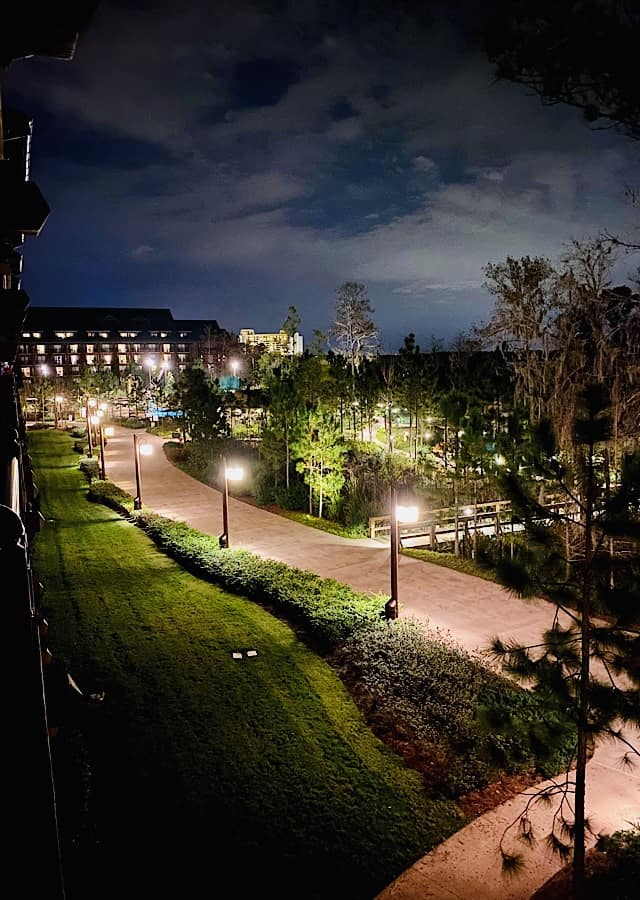 While we thoroughly enjoyed our stay here, we left feeling like there was so much left undiscovered. Maybe that's the sign of a successful resort? It leaves you wanting to come back for more! I hope you'll consider staying here and take in everything the resort has to offer.
Have you ever stayed at the Wilderness Lodge or would you consider staying here? Please share your thoughts with us in the comments.