Wilderness Lodge is inspired by early 20th century National Parks. If you are looking for a piece of the wilderness in the heart of Disney World, check out details on the DVC Boulder Ridge Deluxe Studios.
Disney's Wilderness Lodge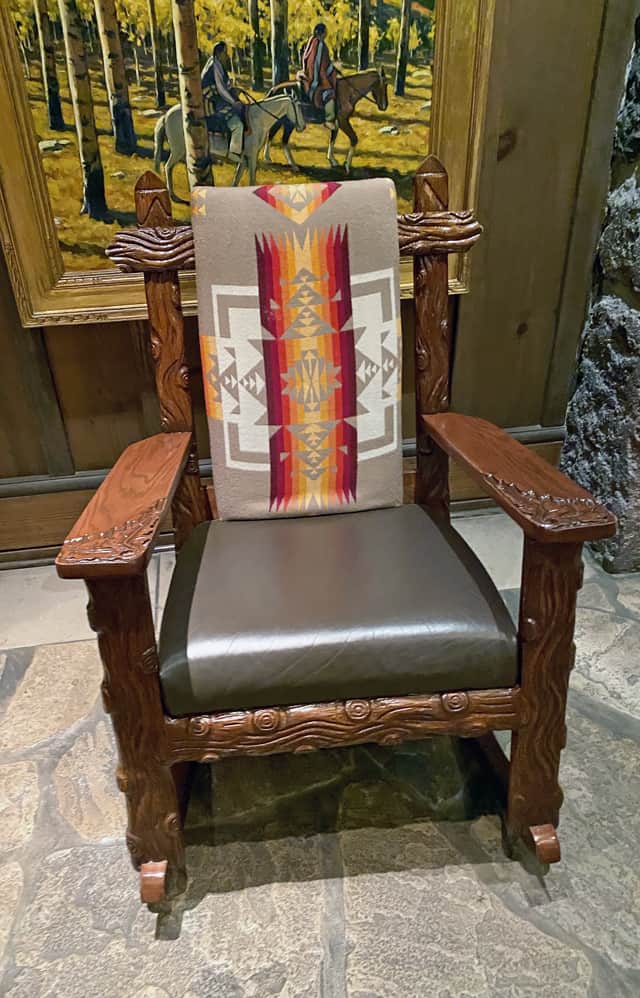 American pioneer and Native American details throughout the resort make an amazing immersive experience.
Disney's Wilderness Lodge is designed after the turn-of-the-century's Northwest National Park lodges. Here, guests take in American craftsmanship and a rustic wilderness feel. Guests explore nature trails through pine forests or relax in rocking chairs.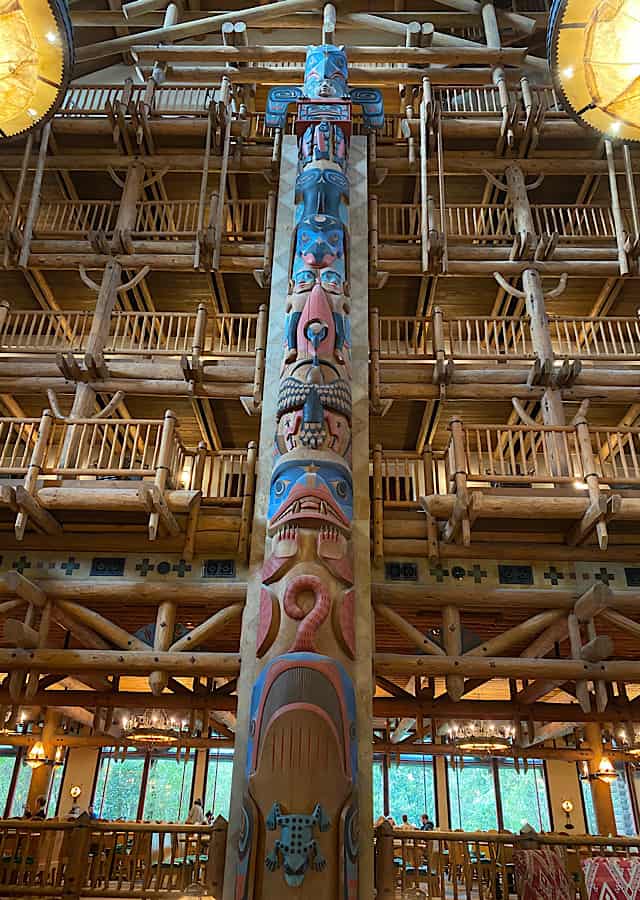 Timber pillars, giant tepee chandeliers, and fireplaces add to the lobby's rustic yet luxurious feel. You'll find nods to Lewis and Clark in the main lodge too.
The first showstopper is the 82-foot tall amazing stacked stone fireplace. Then, the two 55-foot tall Northwestern Native American totem poles are magnificent!
Room Offerings
The Wilderness Lodge has both DVC accommodations and Disney rooms, although the Disney rooms are currently closed. The non-DVC rooms are located inside the main lodge. There are plans to reopen these rooms in June.
In addition, there are two DVC sections: Copper Creek and Boulder Ridge. There are two pool areas here so that's an extra bonus!
Getting to Boulder Ridge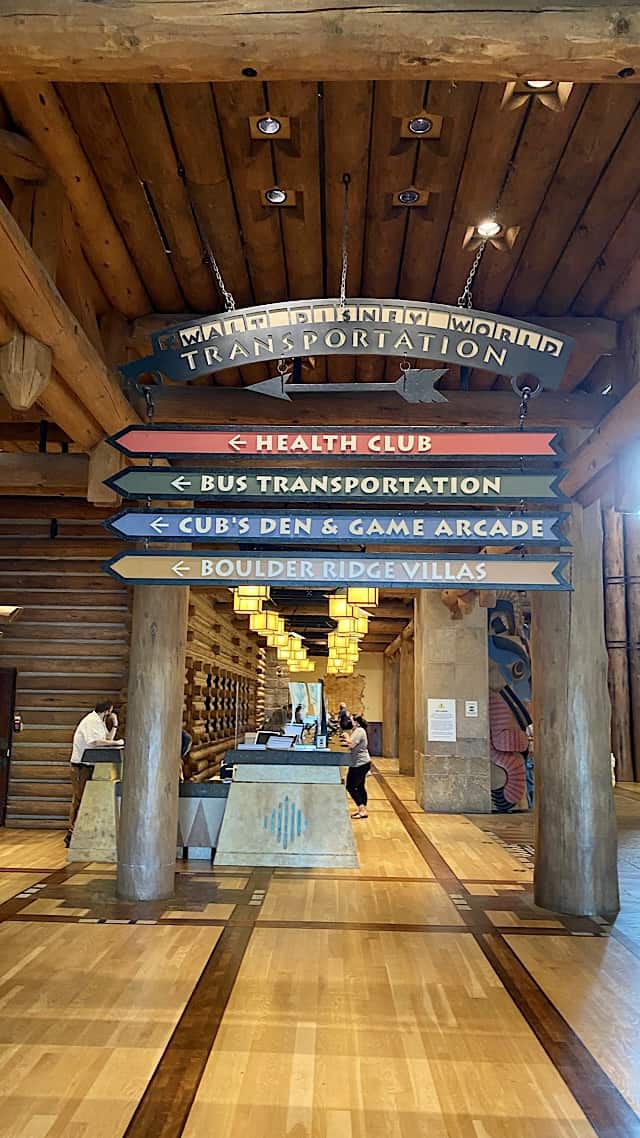 Although it's a part of Wilderness Lodge, Boulder Ridge gives guests the feeling of having their own resort.
First, we took a short walk on the covered walkway to Boulder Ridge. We loved seeing a topiary Mickey greet us as we entered.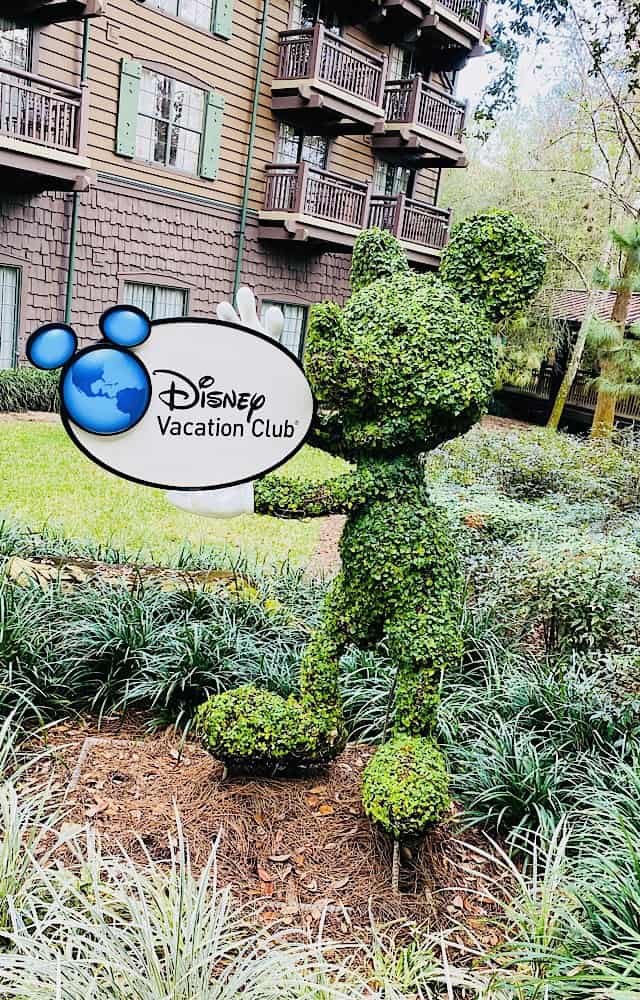 Beyond the covered walkway, guests can soak in the adjacent woods. You really feel like they're in the wilderness and not a Disney Resort.
Outside the building, guests can enjoy rocking chairs. This gives a homey feeling and offers stunning views of your surroundings.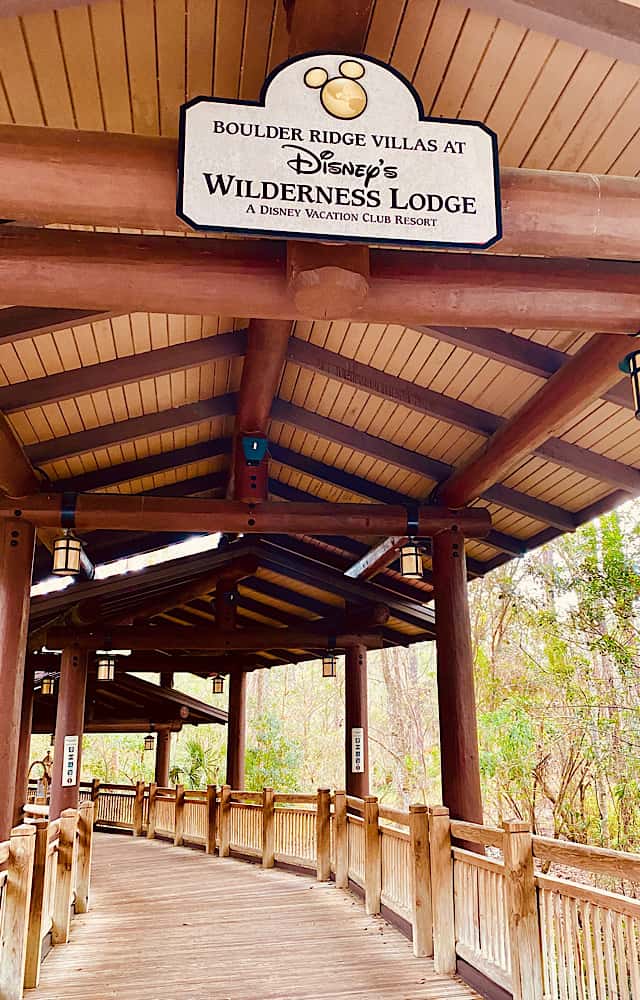 Boulder Ridge Building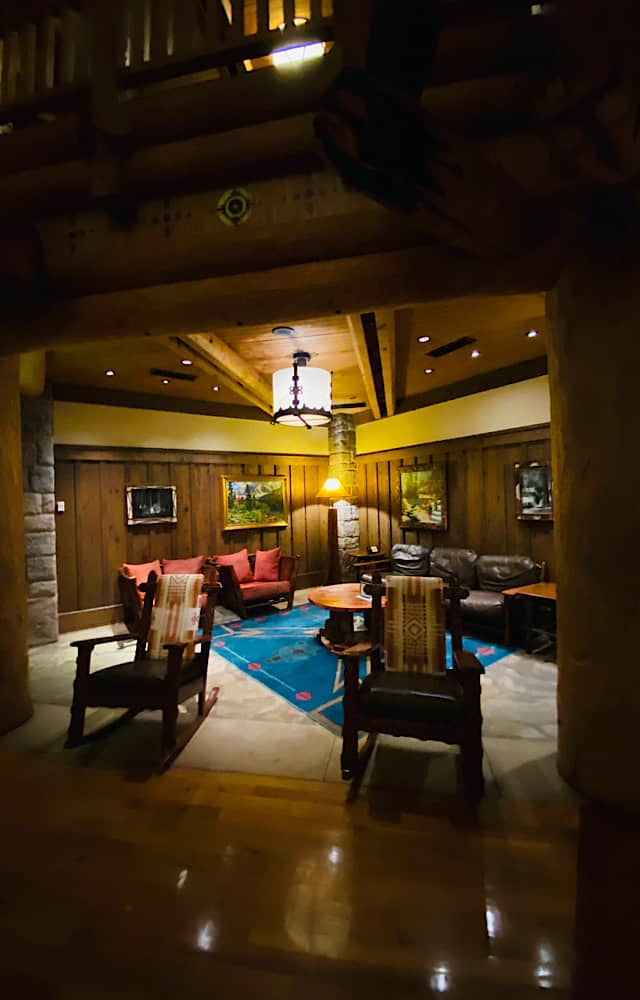 As we entered the building, we felt an immediate sense of coziness in several warm and inviting seating areas. Seating areas offer a variety of arrangements.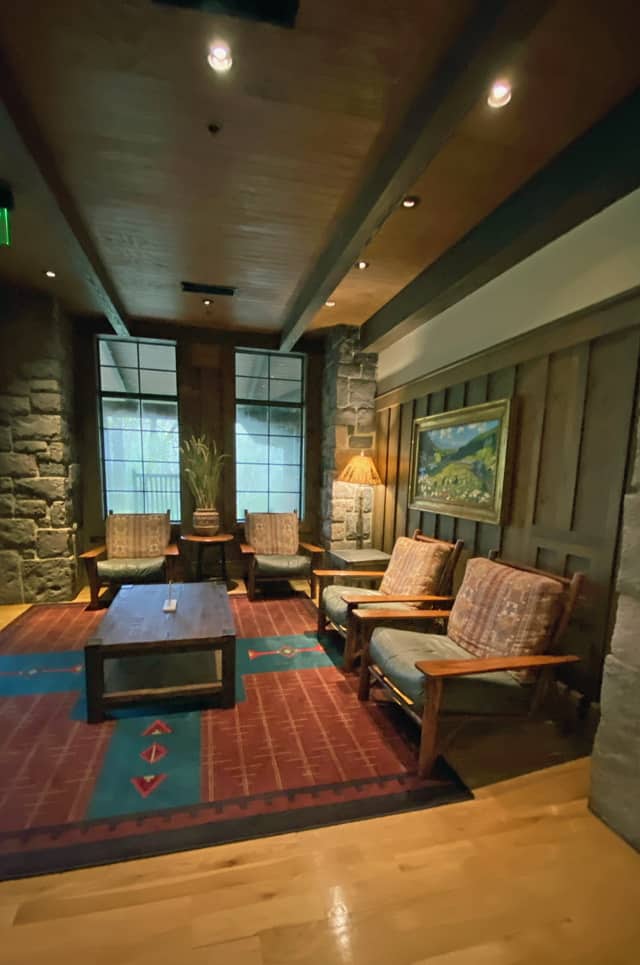 One of my favorite things about both Wilderness Lodge and Boulder Ridge are the fireplaces weaved into every area. While the majestic fireplace is easily the centerpiece of Wilderness Lodge's lobby, I prefer the comfortable and private fireplaces.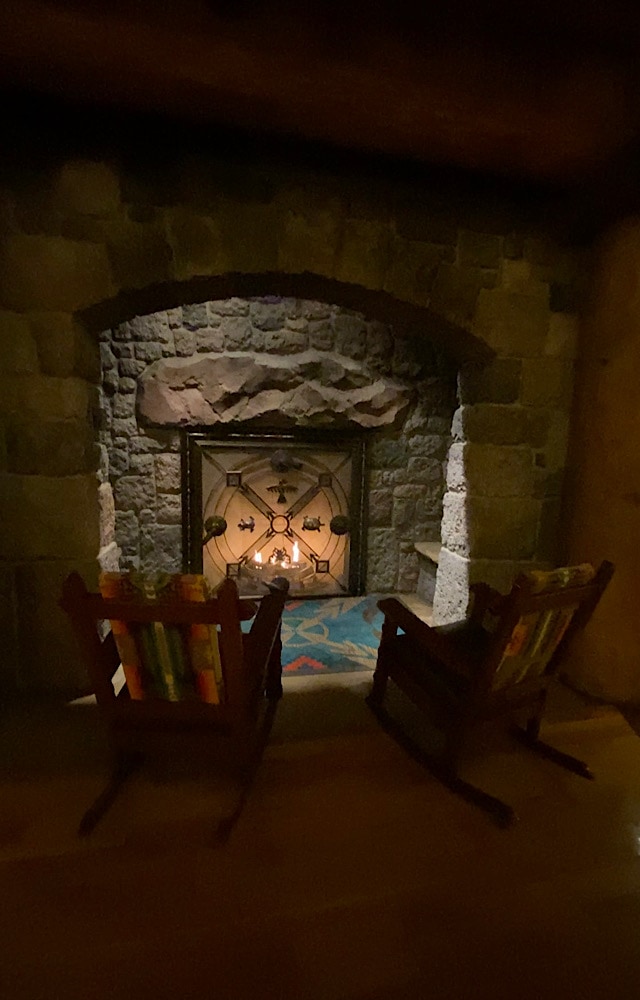 To the left of Boulder Ridge's Lobby is Wilderness Lodge's gym, Sturdy Branches Health Club. I love the name! There's an entrance inside Boulder Ridge as well as an exterior entrance. Magic Bands are used to access the gym.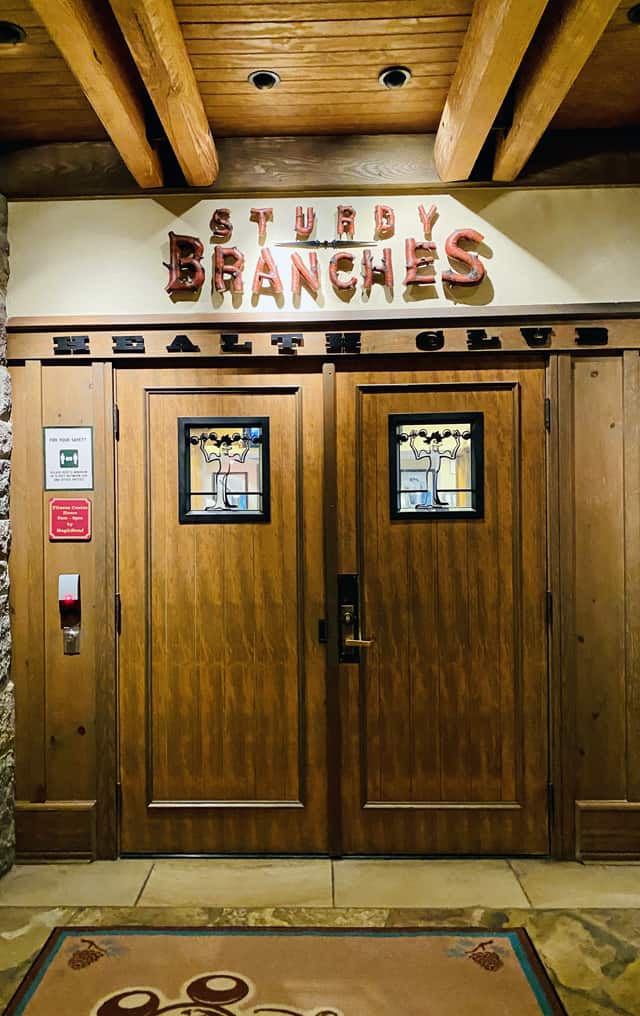 My very favorite aspect of this building is the continuation of the oversized timber detailing. Check out the picture of the circular supporting beams below. Every time we passed this area, I had to stop and just take in the beauty.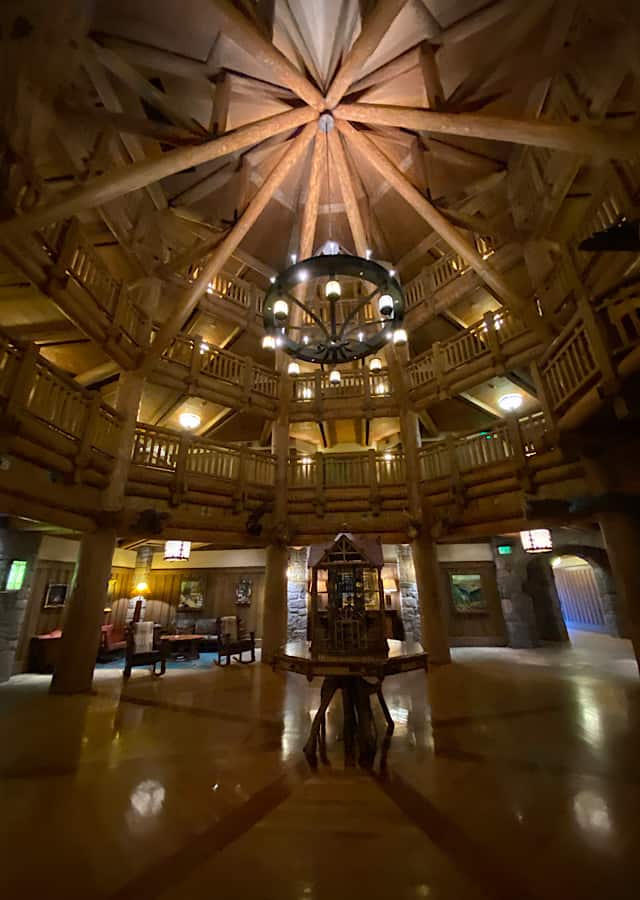 First Impressions of Room
Entering the elevators were super easy and uncrowded. Once we left the elevator, however, our room was at the very end of the hallway. While this may not seem like a big deal, when you're tired after a busy park day every step counts! On this trip, I forgot to ask for a room near the elevator. We won't make that mistake again.
Pirate Tip: To avoid long hallway walks, ask for a room near the elevator.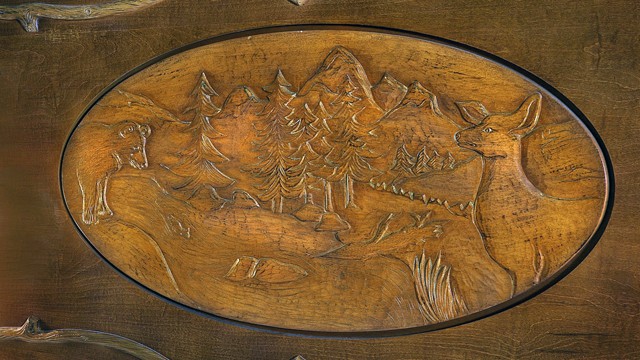 The solid wood entryway doors fit in wonderfully with the overall feel of the resort. I kept thinking, "They don't make doors like this anymore!" While stained wood elements were used in the decor, due to the large sliding glass door and balcony, it didn't feel dark.
The headboard contains an amazing wood-carving of animals and nature shown in the picture above.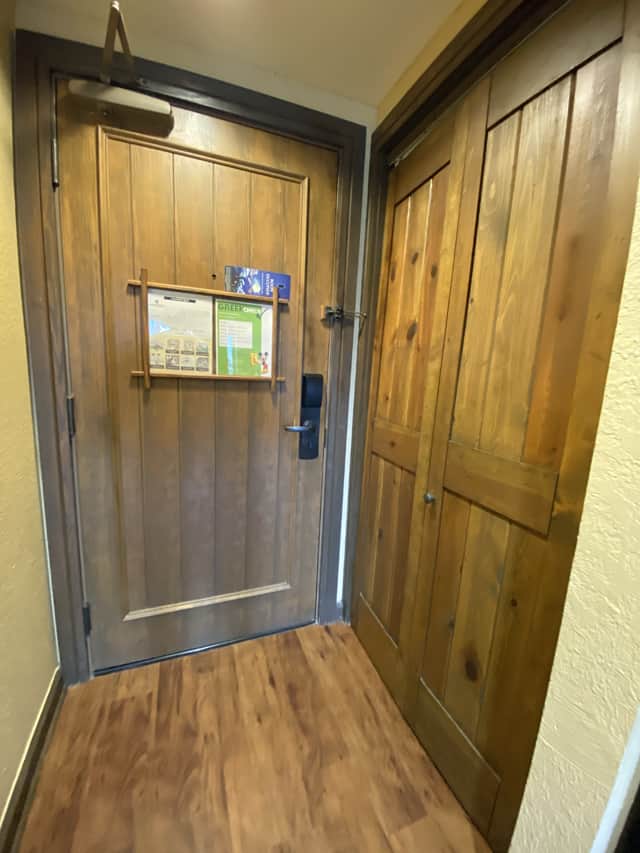 However, we did feel some of the room's elements were dated and in need of a refresh. According to Disney, Boulder Ridge is scheduled for refurbishment in 2022.
Boulder Ridge Deluxe Studio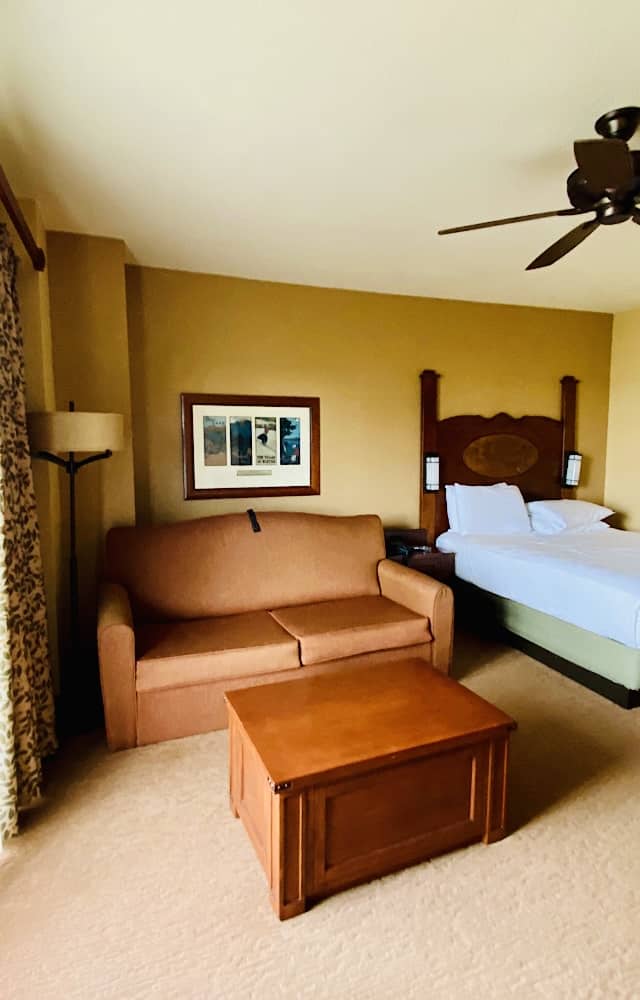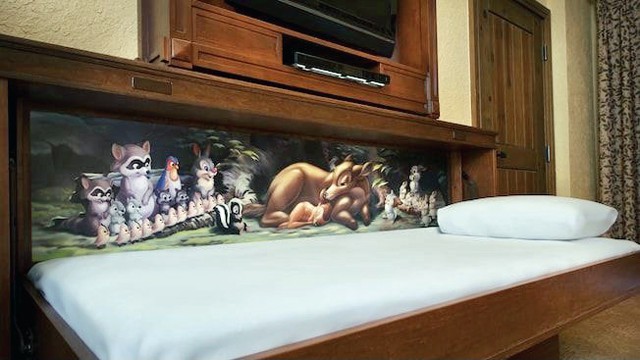 Designed to sleep up to 5 Guests, Deluxe Studios feature a queen-size bed, sleeper sofa and single pull-down bed. We found the bed to be very comfortable.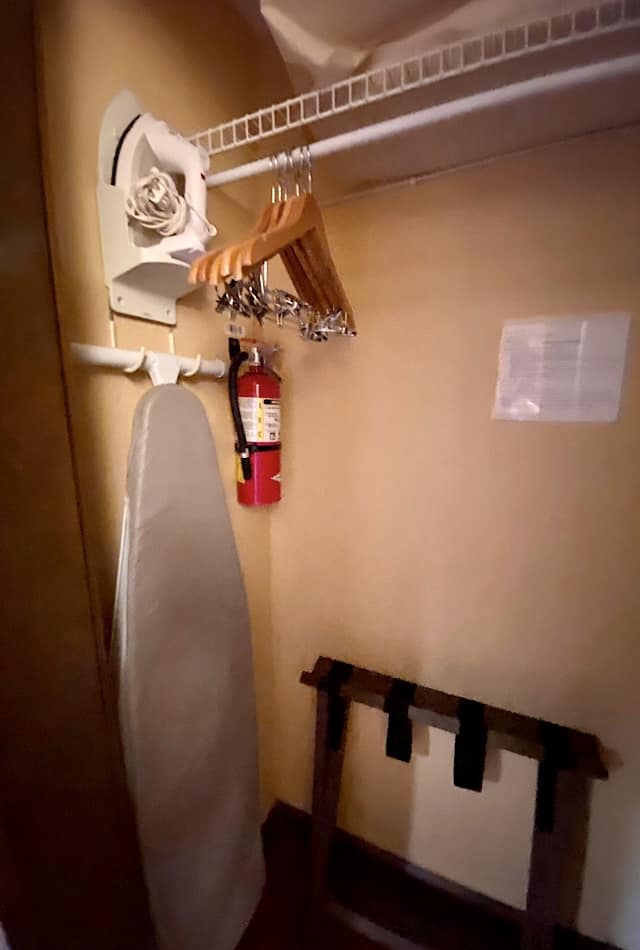 Inside the closet, you'll find extra pillow and blankets. Also, a standard iron and ironing board as well as a small safe for valuables are provided.
Pirate note: The single trundle bed is built more for a child than an adult.
Because we were in a corner room, it was a bit larger than other rooms. This would be a perfect room choice for guests needing cribs or a place to park a scooter. Although we enjoyed our stay here, the rooms need that 2022 refurbishment.
Kitchenette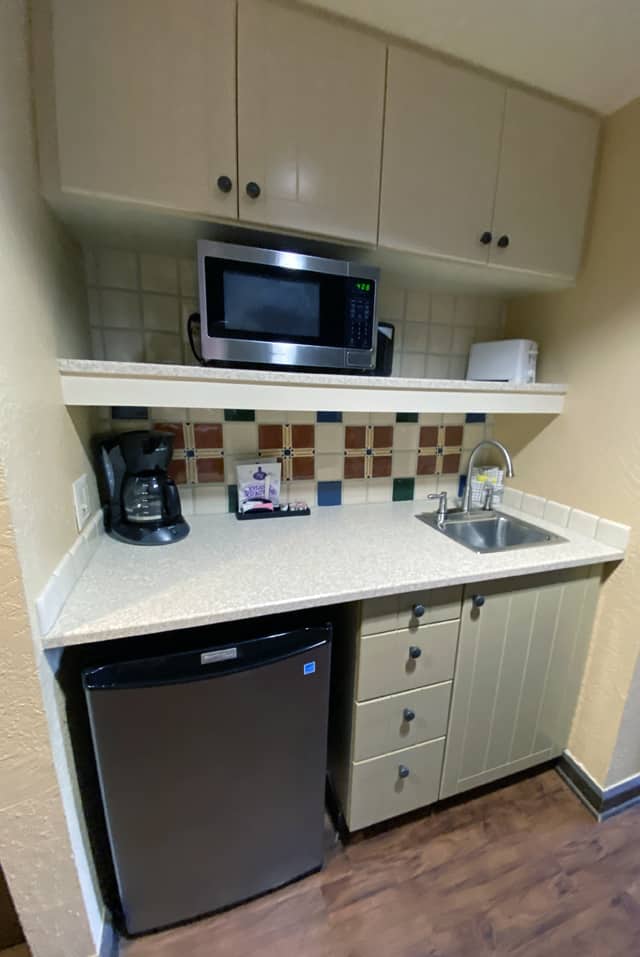 Deluxe Studios are equipped with a kitchenette. It includes a mini-fridge, sink, microwave, and coffee maker.
Additionally, hand towels, paper towels, and dish soap are provided for easy clean up. The tiling backdrop is a nice touch here.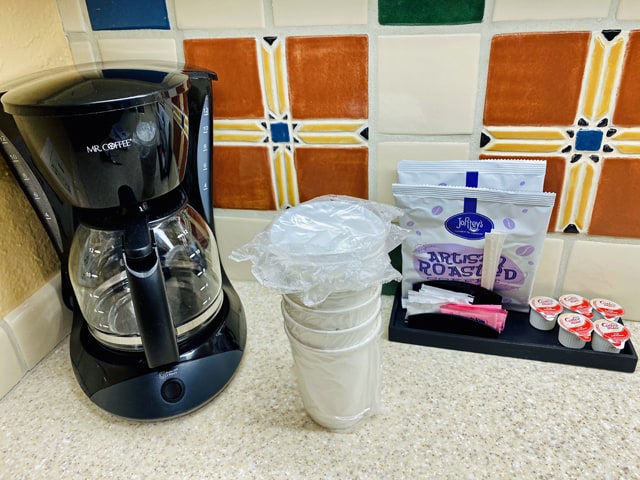 Everything needed to make coffee as well as individually wrapped disposable utensils, dishes, and glasses are provided. You'll find Joffrey's regular and decaffeinated pods.
Bathroom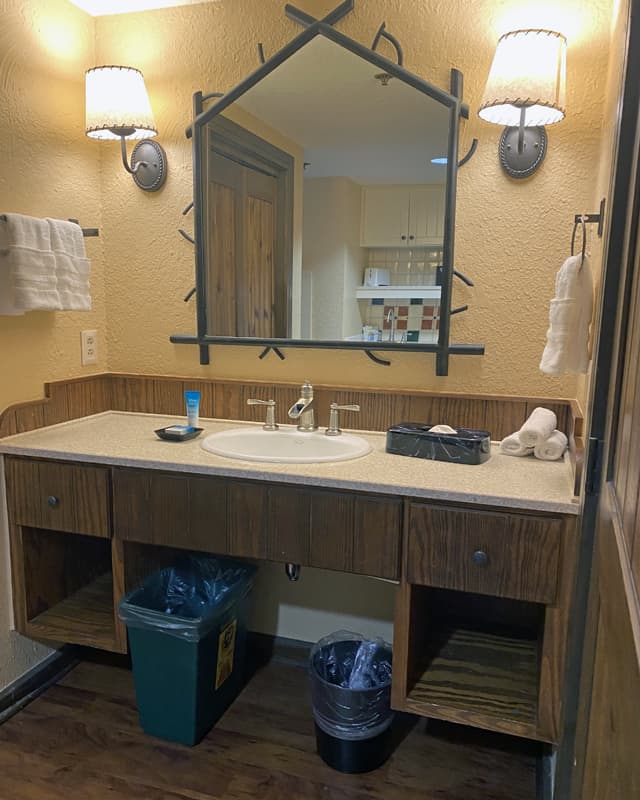 The bathroom features a separate vanity area from the rest of the bathroom. This comes in handy for getting ready for those early park days! The rustic touches here are charming.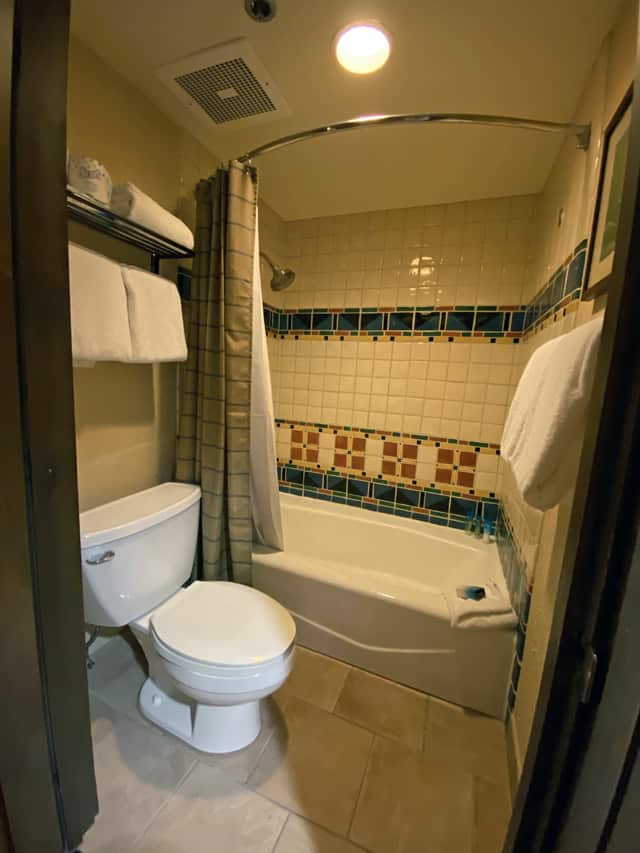 Inside the main bath area, you'll find a standard toilet and shower. It was clean, and towels were well-stocked. Overall, this area lacked theming.
Seating Areas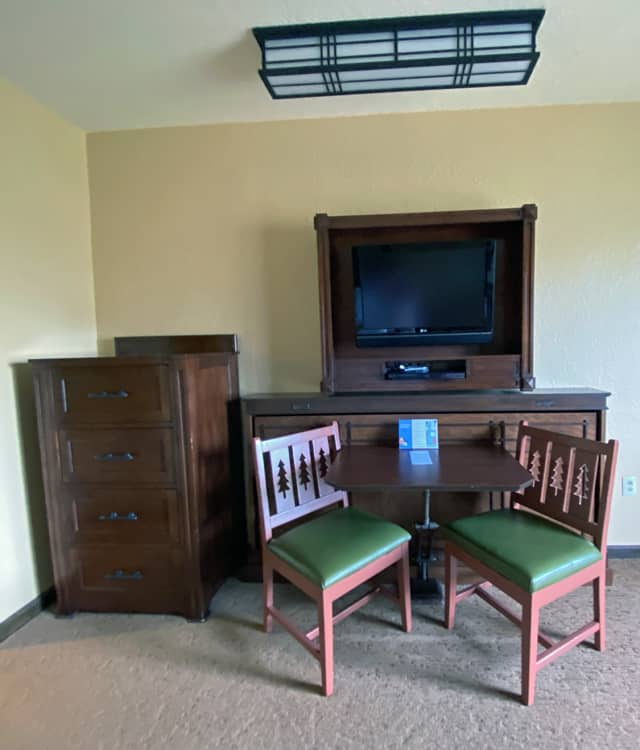 Rather than providing 2 regular beds, DVC Deluxe Suites offer additional seating areas. First, there is a pullout sofa with a coffee table. The sofa felt outdated and was a little hard. But, it was nice having it to relax on.
Next, the trundle bed serves as a seating space with a small table and two chairs. On the left side of the seating area is a dresser. Attached above the trundle bed is a flat screen television mounted to the wall.
The View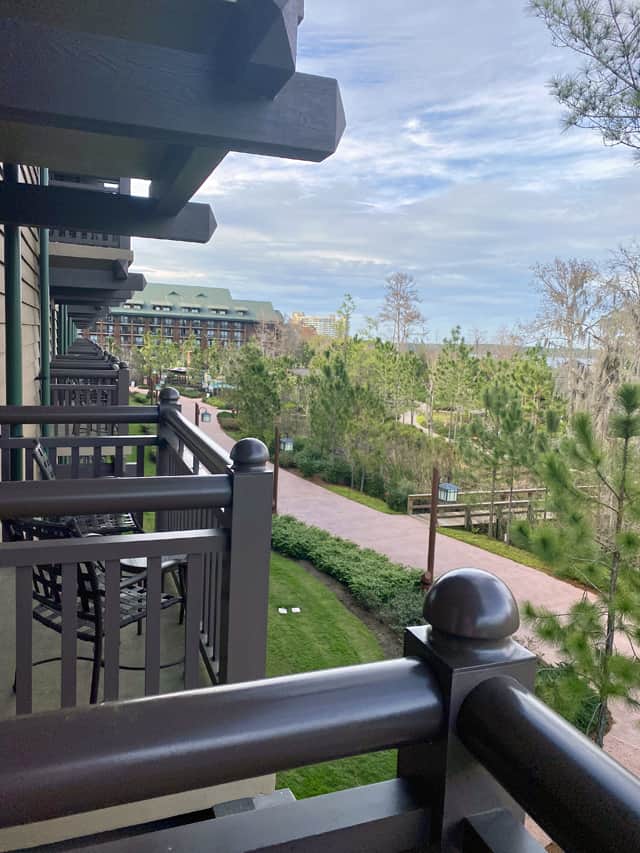 One of our favorite things about staying on a high floor at Boulder Ridge was the balcony view. Both day and night views were stunning. The feeling of privacy from the woods was wonderful. Such a great place to unwind at the end of a busy park day.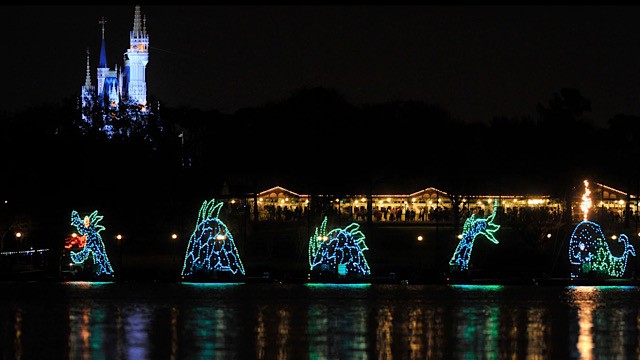 At night, we even watched the Electric Water Pageant from our balcony. This fun floating nighttime parade sets sail across the Seven Seas Lagoon with spirited Disney tunes in the background. It lasts 15 minutes.
Pirate Note: The Electric Water Pageant floats by every evening about 9:30pm. Times may vary based on the closing of Magic Kingdom. It may be a bit loud from some rooms.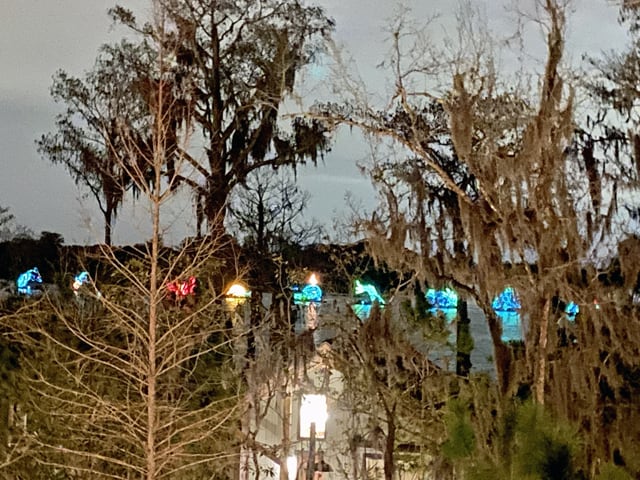 Since we stayed during the winter, many trees didn't have leaves. If they did, I'm pretty sure they would have obstructed our view. The beach overlooking Bay Lake is the best viewing spot at Wilderness Lodge.
Final Thoughts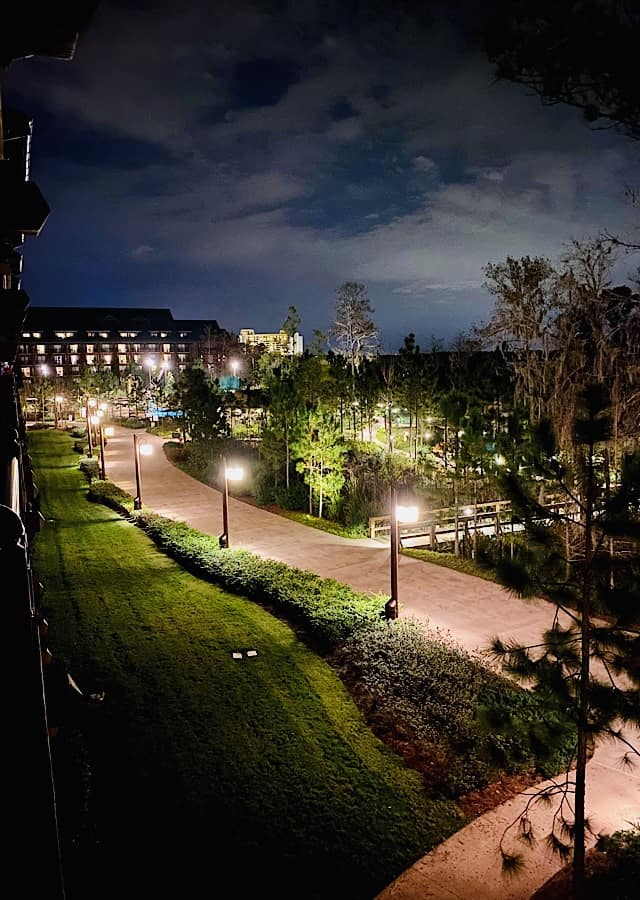 There have been so many changes since Disney World reopened. But, our stay at Disney's Wilderness Lodge was amazing! Although the room needs remodeling, we still enjoyed our room very much. From having coffee on our balcony to enjoying the many fireplaces here, it is a unique and wonderful experience.
We loved eating at Whispering Canyon Cafe here too! Check out my review here from breakfast and dinner.
Have you ever stayed at the Wilderness Lodge or Boulder Ridge? If so, what did you think? Please share your thoughts with us on Facebook.