Calling all pioneers! Check out Whispering Canyon Cafe's hearty Western food with all-you-can-eat skillets and more. Is it still a roaring good time despite the changes?
Have you ever visited Wilderness Lodge or wanted to eat there? It has some of the most unique and immersive theming in all of Disney World. After reading my review, I hope you'll consider eating at Whispering Canyon Cafe. Check out why we loved it here!
Location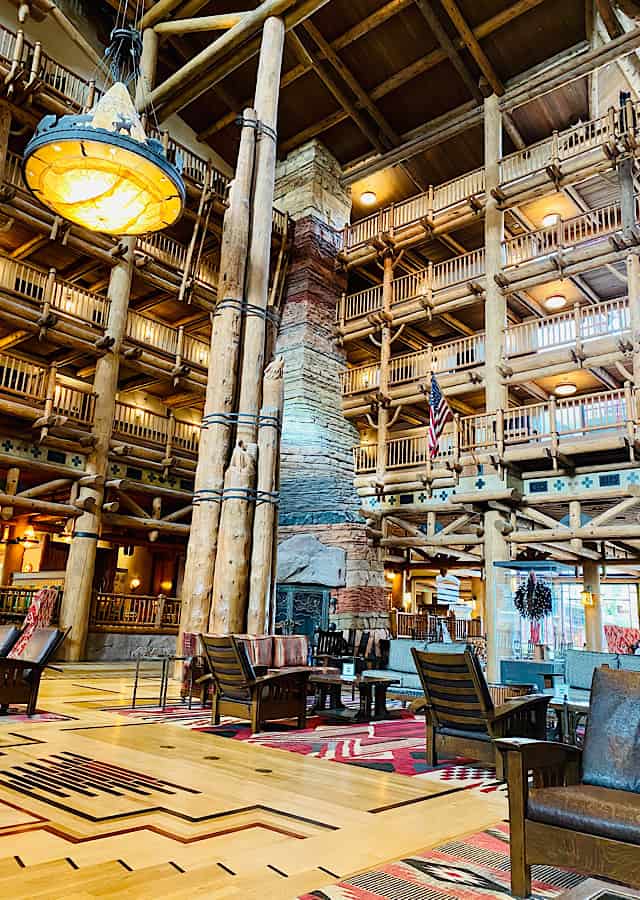 The Wilderness Lodge captures the rustic beauty of America's Great Northwest National Park Lodges. Guests can take in American craftsmanship elements. Look around for artifacts and theming on American Pioneers and Native Americans. Whispering Canyon Cafe is located in the main building.
Check-In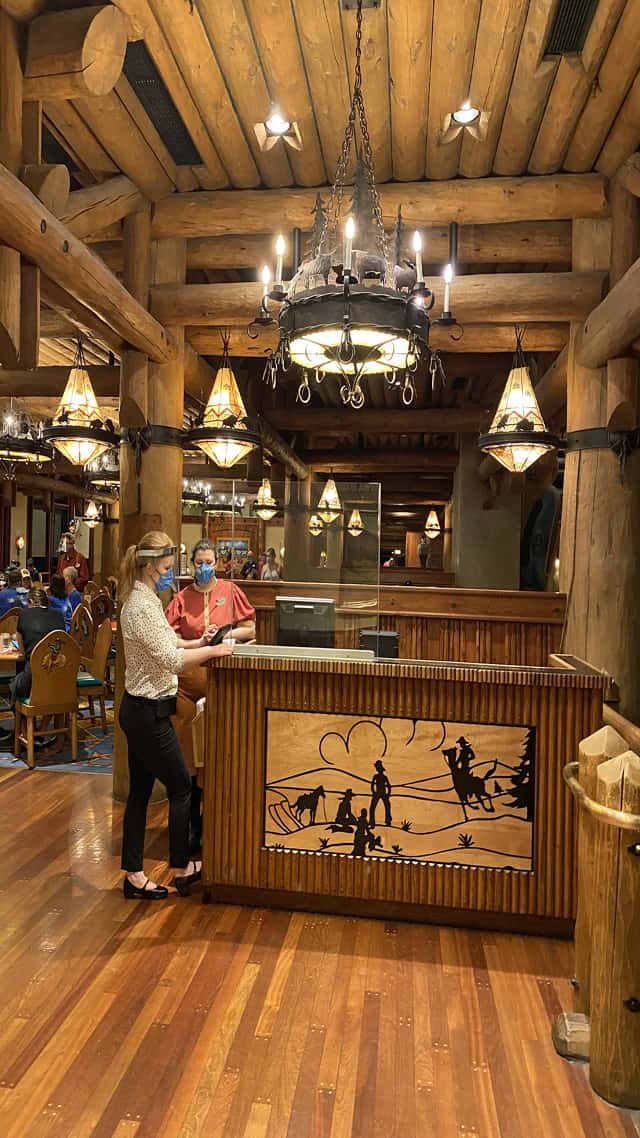 Check-In was super easy using the QR code located at the front entrance. This is similar to mobile ordering at select Disney World restaurants. Almost immediately, we received a text that our table was ready.
Then, we proceeded to the check-in area. On both of our visits, we were seated near fireplaces away from the main dining area. We really liked the cozy feeling of being in smaller spaces.
First Impressions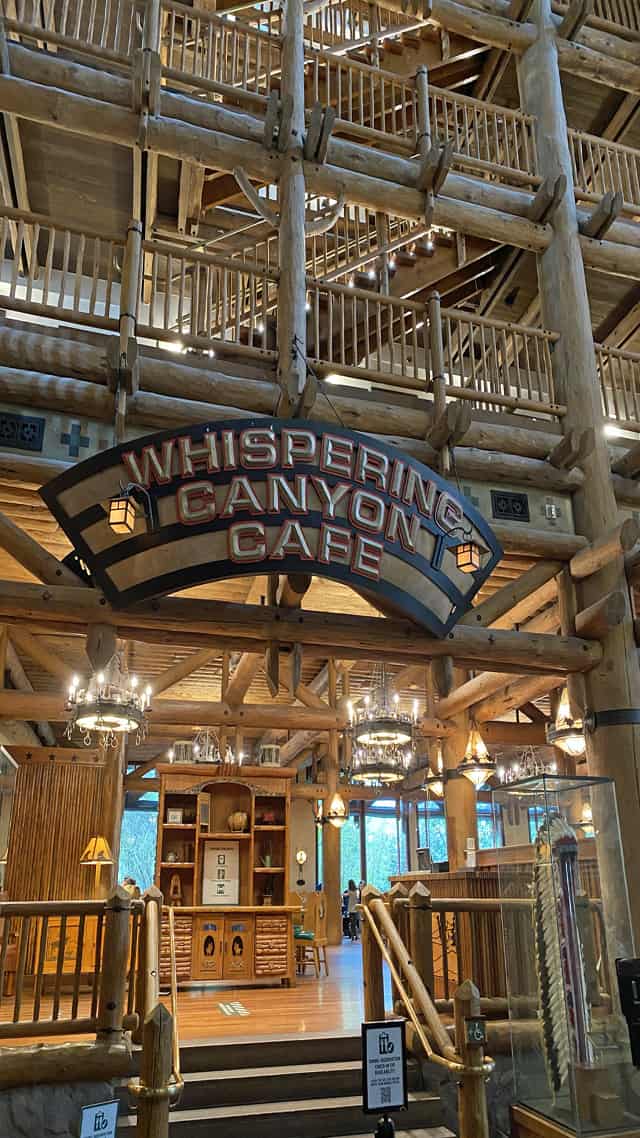 Before eating here, we heard many stories about the fun shenanigans from the servers. However, like many things at Disney, we wondered if this had changed since Disney re-opened in July.
Entering the restaurant, we immediately felt like we like we stepped back in time. We were excited to finally try this charming restaurant.
Restaurant Theming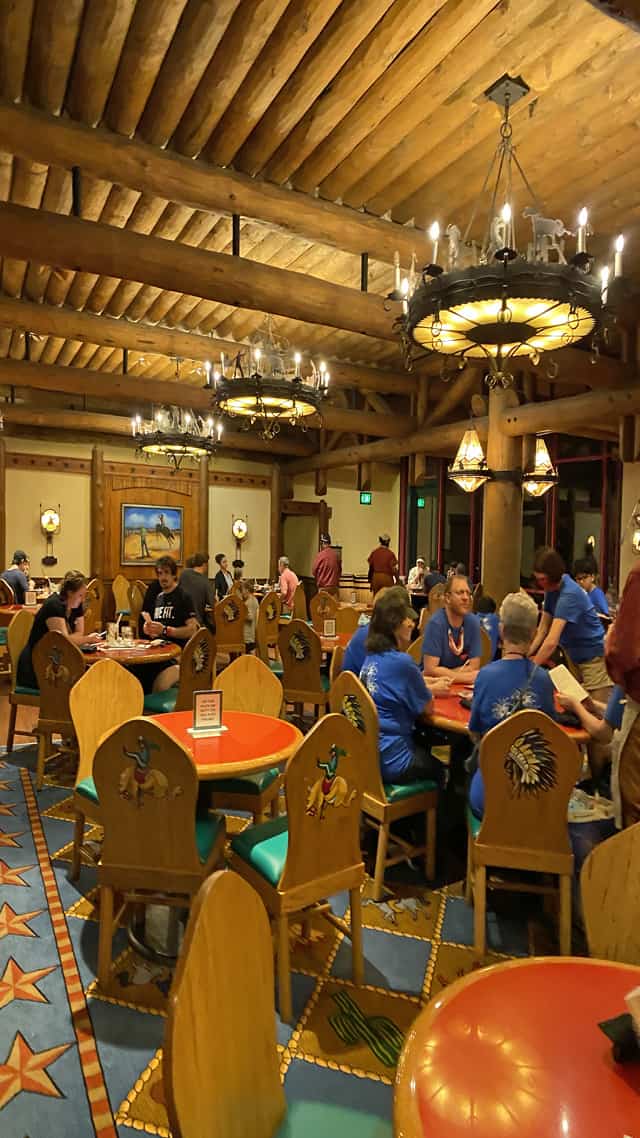 The dining area is very inviting with several fireplaces. It consists of the main dining area, a smaller space, and the "porch" area. Theming mimics the rustic wood along with American pioneer details.
Disney calls the restaurant a log-cabin lodge with rough-hewn charm and colorfully named Cast Members.
It really does feel like you've entered a large log cabin. We absolutely loved all of the details, including the "library" on the porch area.
Frontier Themed Menu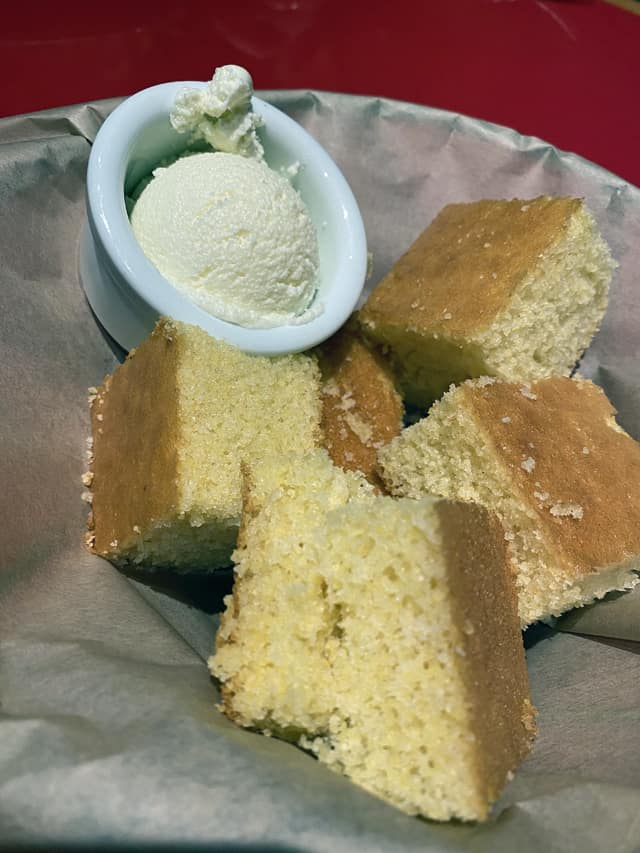 Guests choose from bottomless skillets and chuck wagon favorites to please the entire gang. Make sure you bring your appetite because portions are served large! Here, guests can enjoy breakfast, lunch, or dinner.
Celebrate Easter and Mother's Day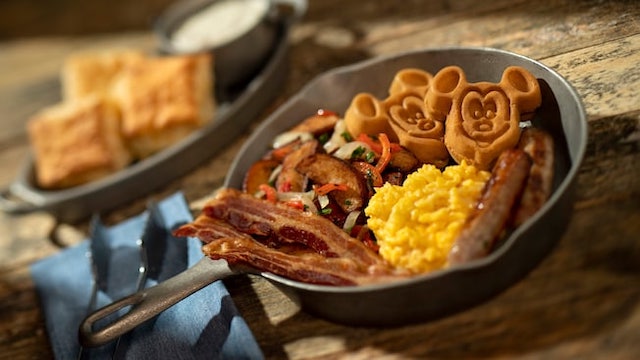 Also, check out the seasonal brunch during Easter and Mother's Day weekends. For more information on this and another brunch location, check out our recent article here.
These holiday brunches consist of Brunch-B-Q Menu including the all-you-care-to-eat signature skillet.
These yummy skillets feature mini pastries, house-made buttermilk-cheddar biscuits with sausage gravy, scrambled eggs, country potatoes, hickory-smoked bacon, sausage, smoked salmon and pulled pork, Mickey Mouse waffles and green asparagus with Hollandaise sauce. For vegan diners, plant-based options are available upon request.
Breakfast Skillets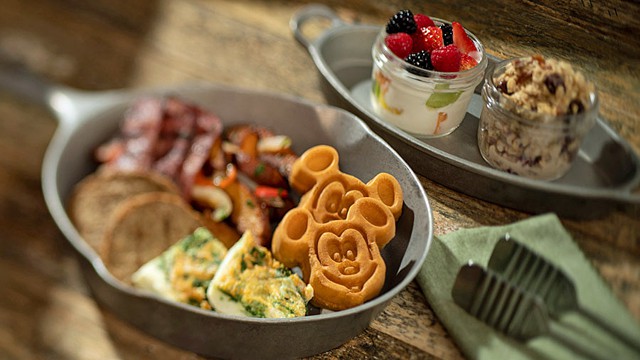 Each of these skillets are all-you can eat, and cost $22 per adult. In addition, children can order all-you-can eat skillets for $13 per child. Check out the variety of choices for hearty appetites below:
The Heritage – House-made Buttermilk-Cheddar Biscuits and Sausage Gravy with Mickey Waffles, Scrambled Eggs, Country Potatoes, Hickory-smoked Bacon, Pork Sausage Links
The Lighter Side – Bircher Muesli (Swiss Oatmeal), Fresh Fruit, and Yogurt with Egg White-Spinach Frittata, Turkey Bacon, Turkey Sausage, Country Potatoes, Mickey Waffles
The Carnivore – House-made Buttermilk-Cheddar Biscuits and Sausage Gravy with Scrambled Eggs, House-smoked Ham, Oak-smoked Beef Brisket, Hickory-smoked Bacon, Pork Sausage Links
Other Breakfast Fare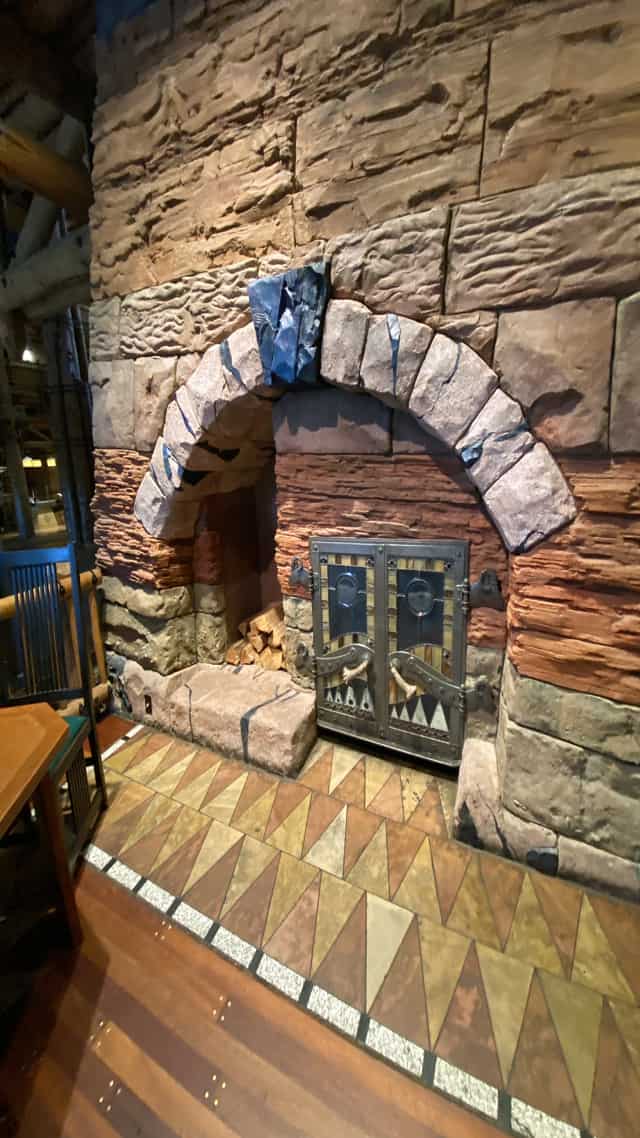 Along with breakfast skillets, guests can enjoy traditional breakfast dishes. Some of the breakfast highlights are the plant-based Pepper Jack Cheese, and the Ham and Cheese Omelet. Also, check out the Belgian Waffle served with fresh berries and your choice of sausage links.
Lunch Offerings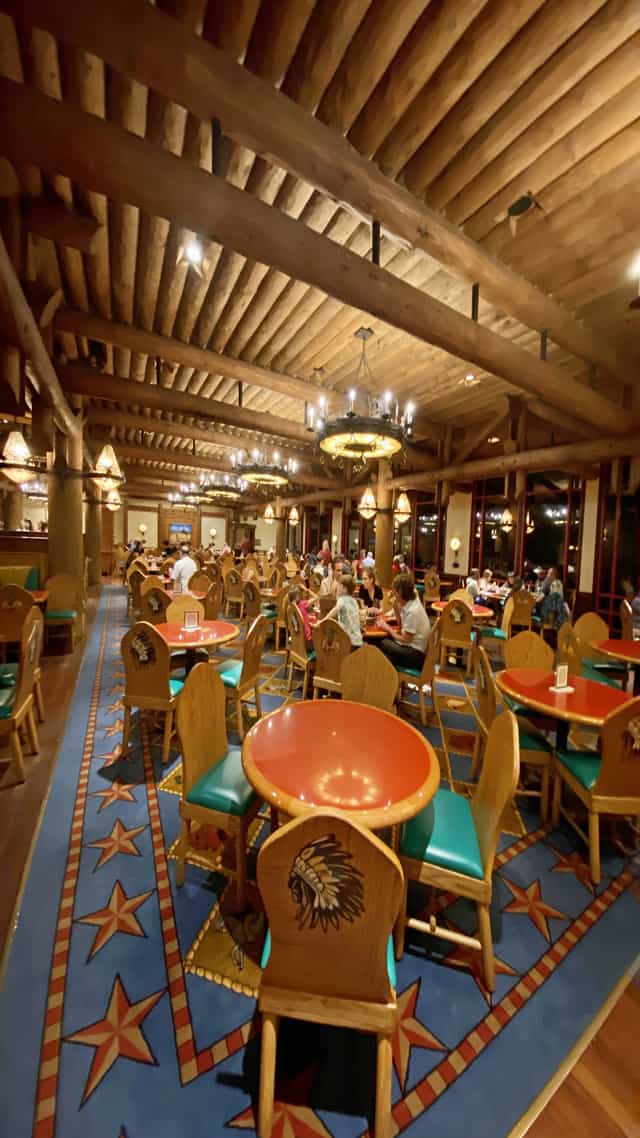 For lunch and dinner, "Burnt Ends" Nachos appetizer with pulled pork is offered. Also, guests can dine on bison burgers, applewood-smoked turkey sandwiches, and even a chopped salad.
One of the all-you-can-eat signature skillets is available for lunch. For $24 per adult, guests can enjoy the following in this delicious skillet: Maple-Chipotle Barbecued Slow-smoked Pork Ribs, Barbecued Pulled Pork, Citrus-Herb Chicken, Smashed Potatoes, Buttered Corn, Charred Carrots, Roasted Peppers, Sautéed Green Beans. Plant-based Option Available Upon Request.
Trailblazing Dinner Starters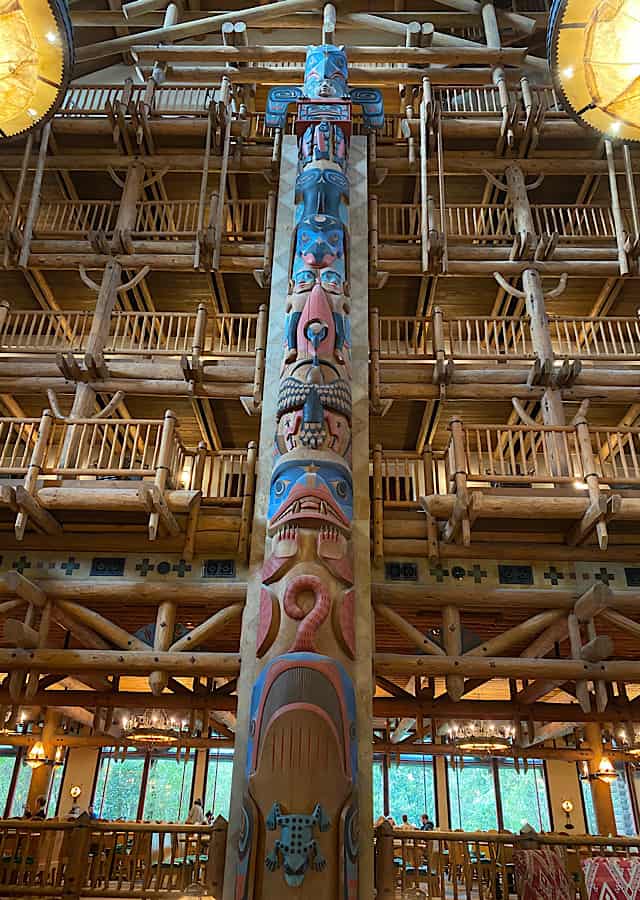 'Burnt Ends' Nachos – Topped with Beef Brisket, Barbecued Pulled Pork, Cheese Sauce, and Fresh Salsa $12.00
Whispering Canyon House Salad – Dried Cranberries, Seed Brittle, Goat Cheese, and Cranberry-Poppyseed Vinaigrette $9.00
Maple-Chipotle Barbecue-braised Jackfruit Dip – Plant-based Pepper Jack Cheese, Jalapeño, and Tortilla Chips (plant-based) $12.00
Famous Dinner Signature Skillets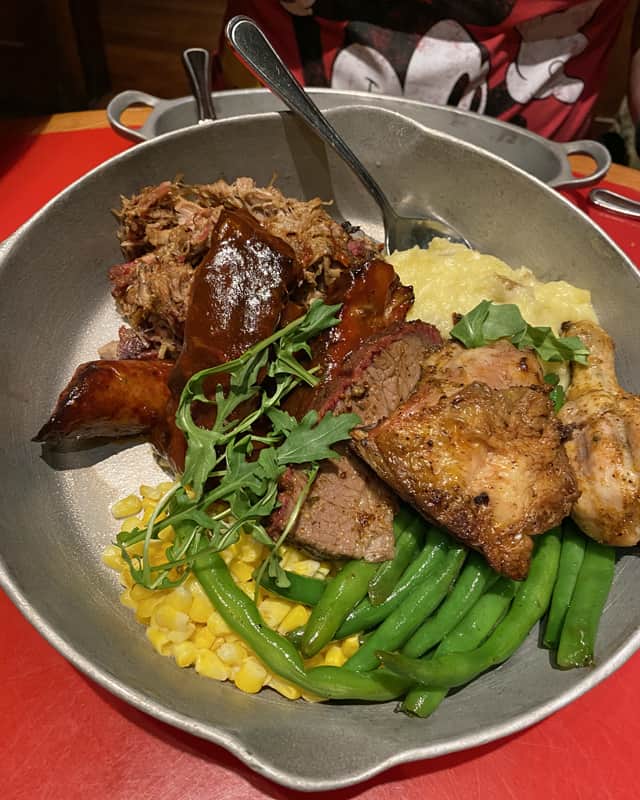 Choose from a variety of all-you-can-eat skills for dinner. Although the price is $34.00 per person, our server allowed each of us to share skillets.
The Traditional – Oak-smoked Mustard-Barbecued Beef Brisket, Maple-Chipotle Pork Ribs, Slow-smoked Pulled Pork, Citrus-Herb Chicken, Western-style Sausage, Smashed Potatoes, Buttered Corn, Sautéed Green Beans
The Pig – Braised Pork Belly, Maple-Chipotle Barbecued Pork Ribs, Slow-smoked Pulled Pork, Mustard-Barbecued 'Piggy Wings', Western-style Sausage, Smashed Potatoes, Buttered Corn, Sautéed Green Beans
The Land and Sea – House-smoked Salmon, Citrus-Herb Chicken, Spicy Vegan Sausage, Charred Portobella, Barbecued Cauliflower, Roasted Potatoes, Sautéed Green Beans, Oven-roasted Carrots
Plant-based – Maple-Chipotle Barbecued Jackfruit, Spicy 'Sausage', Mustard-glazed Beefless Tips, Herb-brushed Trick'n Chick'n, Roasted Potatoes, Oven-roasted Carrots, Sautéed Green Beans, Charred Peppers
Cowboy Entrees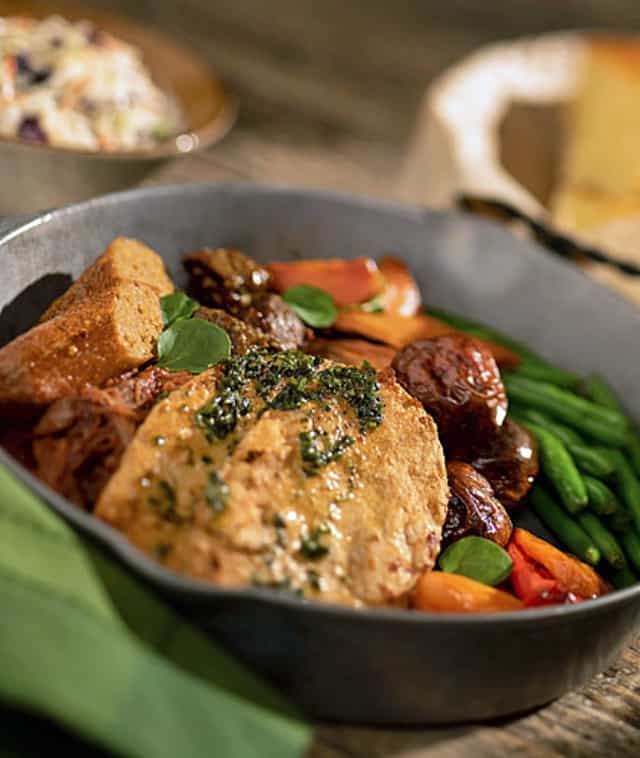 Char-crusted New York Strip – Honey-roasted Carrots, Crispy-fried Red Potatoes, and Whiskey-Onion Butter $34.00
Pan-fired Red Quinoa Cakes – Pickled Corn, Oven-roasted Peppers, and Avocado Spread $19.99
Cedar Plank Salmon – House-smoked Salmon, Ancient Grains, Roquette, Fennel, Parmesan, Lemon Crème Fraîche $26.00
Happy Trail Endings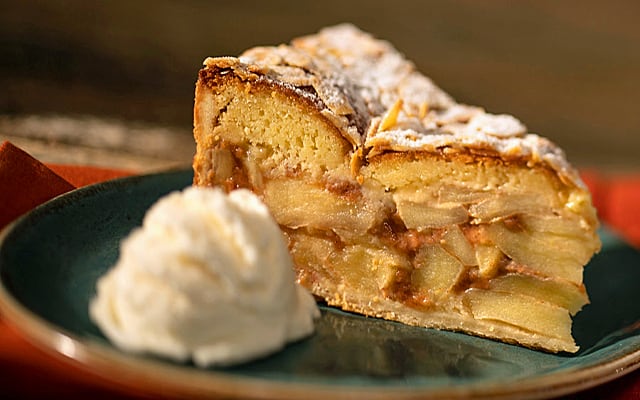 Famous for their apple pie, the pioneer chocolate cake sounds amazing too! I love that vegetarians and vegans have a choice too.
Whispering Canyon Pioneer Chocolate Cake $8.00
Granny Smith Apple Pie À la Mode $9.00
Rice Milk Panna Cotta, A No Sugar Added Dessert with Marionberries and Strawberries (Plant-based) $9.00
Breakfast Review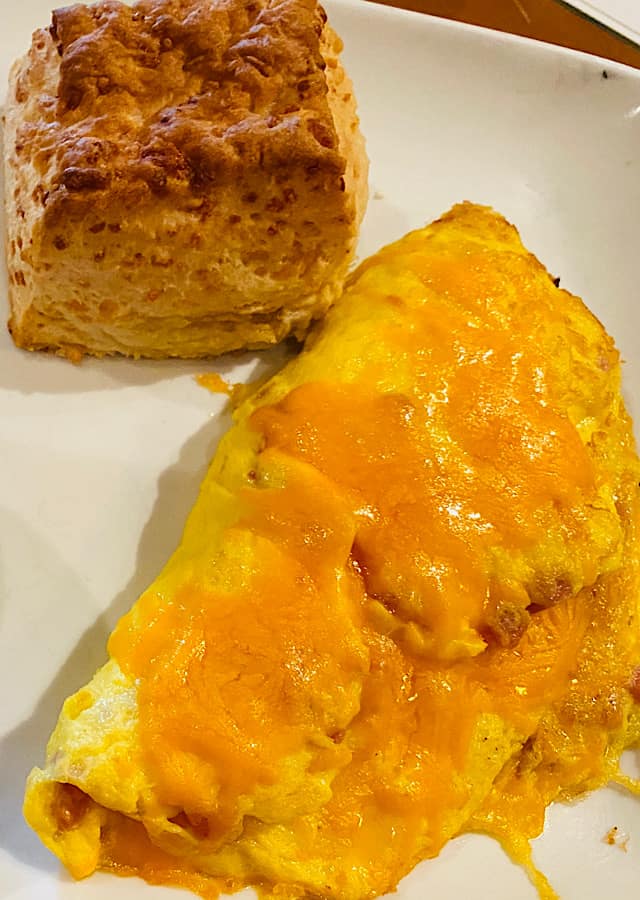 On Valentine's weekend, we dined at Whispering Canyon Cafe for breakfast and dinner. For breakfast, I ordered the ham and cheese omelet. It was fresh, delicious, and plentiful. Also, the House-made Buttermilk-Cheddar Biscuits served with fresh, whipped butter were simply delightful. I could have eaten a plate of them and been happy. Not a big fan of breakfast potatoes, our server allowed me to substitute fresh berries for no additional charge.
Disney's website states that the omelet comes with a choice of meat. However, our server told us that was a mistake, but they still honor it. I chose BACON of course!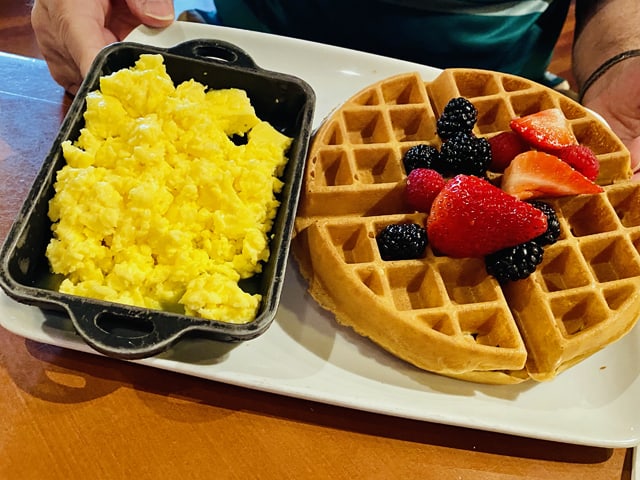 Next, Larry, my husband, ordered the Belgium waffle with fresh berries. The waffle was freshly prepared and served warm. He substituted a side of eggs for the sausage at no additional cost. They were light and fluffy. Since my omelet and cheddar biscuits were plenty for me, I gave my husband my bacon. True love, right?
Dinner Review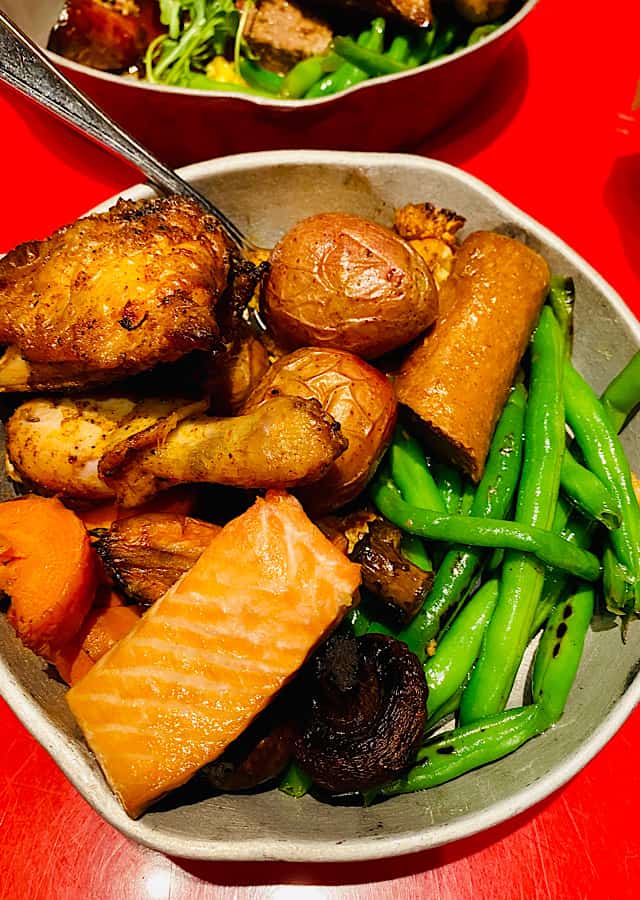 We also visited Whispering Canyon Cafe for dinner the night before. Visiting on Valentine's Day evening, I questioned the setting. Would it be too loud for us to enjoy? Should I have picked something more upscale?
Both of us ordered an all-you-can-eat Signature Skillet. First, my husband chose the Traditional Skillet. Our favorite from this skillet were the Maple-Chipotle Pork Ribs, Slow-smoked Pulled Pork, and Citrus-Herb Chicken. The vegetables were standard fare but tasty. My husband enjoyed the mashed potatoes.
Then, I chose the The Land and Sea Skillet. My favorite items were the House-smoked Salmon, Citrus-Herb Chicken, Charred Portobella, Barbecued Cauliflower, and oven-roasted Carrots.
Because we ordered two skillets, we were allowed to share them. That was so nice to try so many items in one meal. It really was like a table side buffet. We were asked throughout the meal if there was anything we wanted more of.
Seating Locations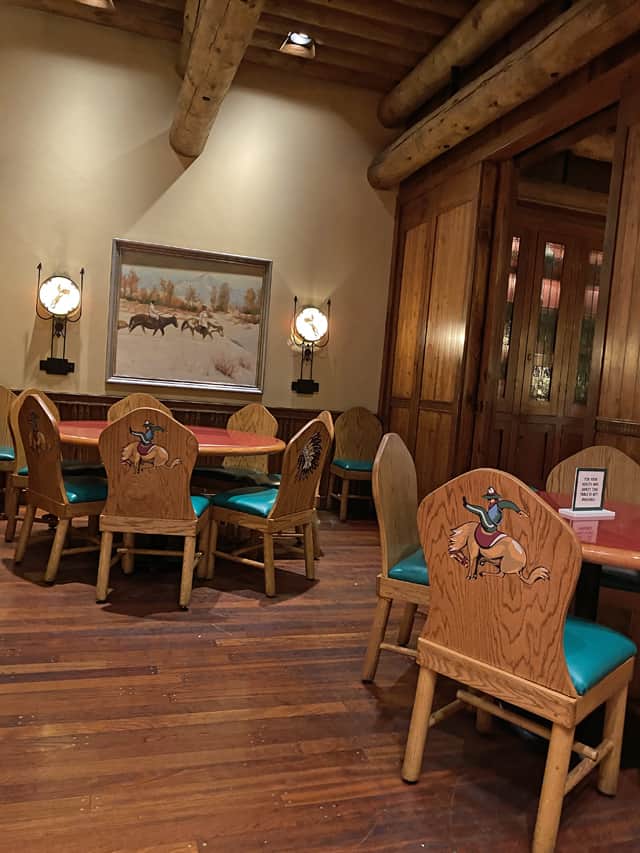 Choosing Whispering Canyon Cafe on Valentine's Day made me second guess my choice. But, since we were staying at Wilderness Lodge and wanted a relaxing evening, we kept our reservation.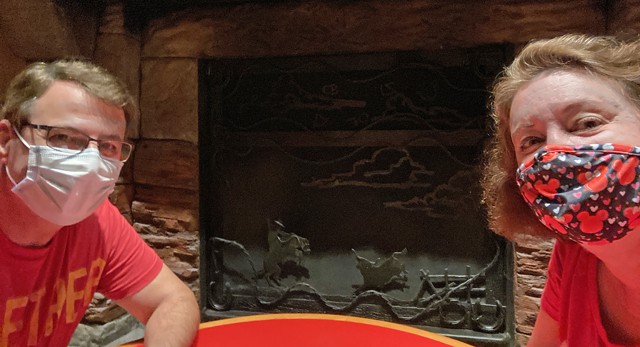 Thankfully, we were seated in a small alcove for dinner that only had a handful of tables. It felt very quaint sitting next to a pioneer fireplace in such a secluded spot. For breakfast, we ate on the "porch." This location was at the end of the restaurant that felt more like you were on a lobby porch than a large restaurant. Again, this spot had a small number of tables and was quiet and enjoyable.
While the dining area didn't appear too loud with social distancing tables, we were thankful for the more secluded dining spot. If you're looking for a quiet area, ask for one of these locations. An advantage of the larger dining room is it included larger tables to accommodate an entire party sitting together. Check out our tips on how to survive Disney World with a big family here.
Atmosphere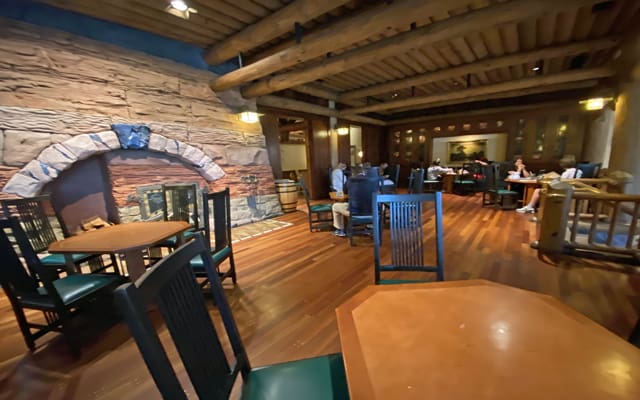 We heard rumors that since Disney World reopened, the fun shenanigans have stopped at Whispering Canyon Cafe. We were hopeful that this was not the case. At first, the server just made pioneer references and spoke in a country accent. Then, my husband began playfully teasing her, and the entertainment began. She began giving us a hard time, and it was so much fun!
When we asked about changes since COVID-19, she shared that many diners are on edge and don't appreciate the high-spirited jabbing. Because of this, the restaurant toned down carrying on. She was quick to add that servers still love shenanigans with willing diners.
Final Thoughts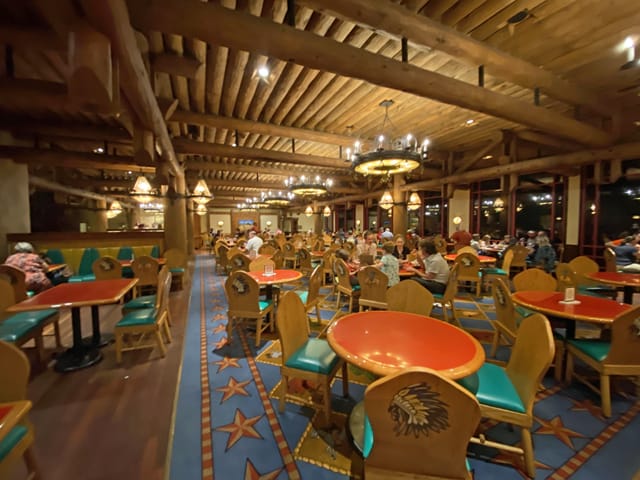 I've made several reservations for Whispering Canyon Cafe in the past but ended up cancelling them every time. It just seems so far away. But in reality, it's just a short boat ride away from Magic Kingdom! So, if you need an afternoon or evening park break, come sail away to Whispering Canyon Cafe. It will be even more fun when Disney World begins their 50th Anniversary festivities in October 2021.
For all the latest park hours and crowd information, check out Kenny the Pirate's Crowd Calendar.
Food was plentiful, fresh, and served quickly. As a matter of fact, our breakfast here was served faster than the onsite quick service location, Roaring Fork! We truly enjoyed everything we ate here.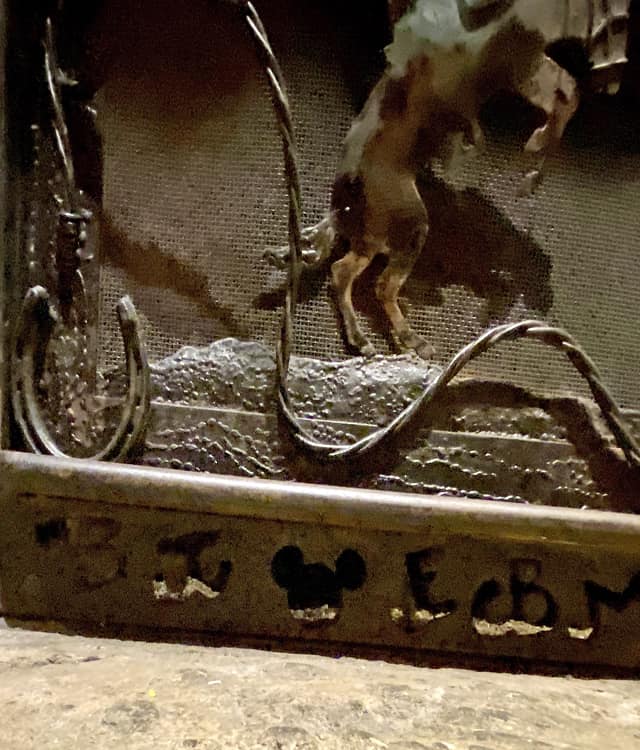 The atmosphere was warm and diners feel at home. We even had a hidden Mickey located at the bottom of our fireplace. The theming here was charming also. There are so many pioneer touches. Guests really feel like they are eating in the pioneer days.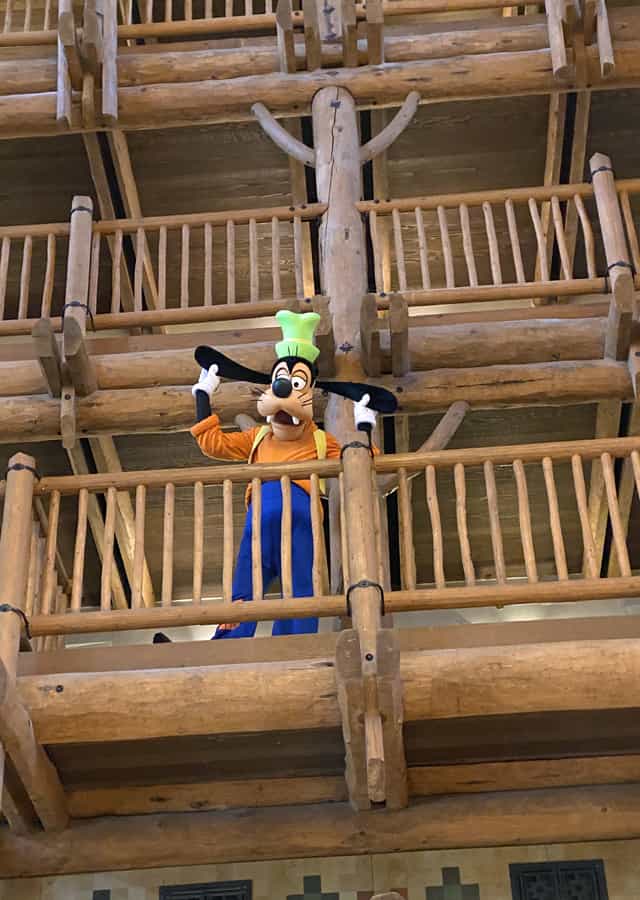 You may even receive a big of pixie dust and spot one of your favorite Disney characters in the Wilderness Lodge lobby like we did!
Prices are reasonable, especially when you consider the all-you-can eat skillets. I hope you'll try Whispering Canyon Cafe on your next Disney World visit! Seeing the lobby alone is worth the trip. In 2019, Wilderness Lodge premiered a gingerbread log cabin which was so cool. Hopefully, they'll bring it back for the holidays!
Have you eaten at Whispering Canyon Cafe? Share your thoughts if you've eaten there or want to try it on Facebook!