Fireworks have returned to Walt Disney World, and we are ready for them! Even if you can't get a Park Pass reservation to see your favorite fireworks show up close, there are still lots of great fireworks views to be found. Here's where you can find them.
The skies light up
Disney pulls out all of the stops when it comes to nighttime entertainment! Magic Kingdom hosts "Happily Ever After," a firework show complete with an outstanding soundtracks and fantastic projections right on Cinderella Castle.
Epcot is currently hosting Epcot Forever. This dazzling show is a celebration of Epcot's past, present, and future. The new HarmonioUS show will launch as part of Walt Disney World's 50th anniversary beginning October 1, 2021.
You may find yourself not wanting to stick around to experience the fireworks inside the Parks. So, if you aren't in the Parks can you still see fireworks? You sure can! Here are some of the best viewing locations we've found. It's important to keep in mind some of these locations may be restricted, and Disney's policies are subject to change.
Best viewing for Magic Kingdom fireworks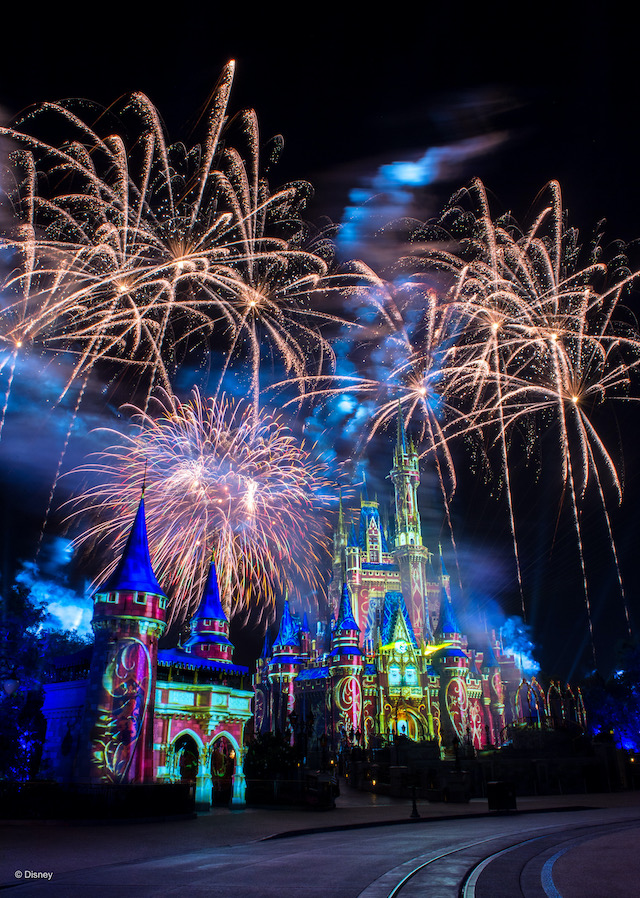 There are several places that will give you a spectacular view for viewing Magic Kingdom's Happily Ever After fireworks show!
Although you will not be able to see the stunning castle projections, the fireworks themselves are outstanding and definitely worth watching.
Disney's Contemporary Resort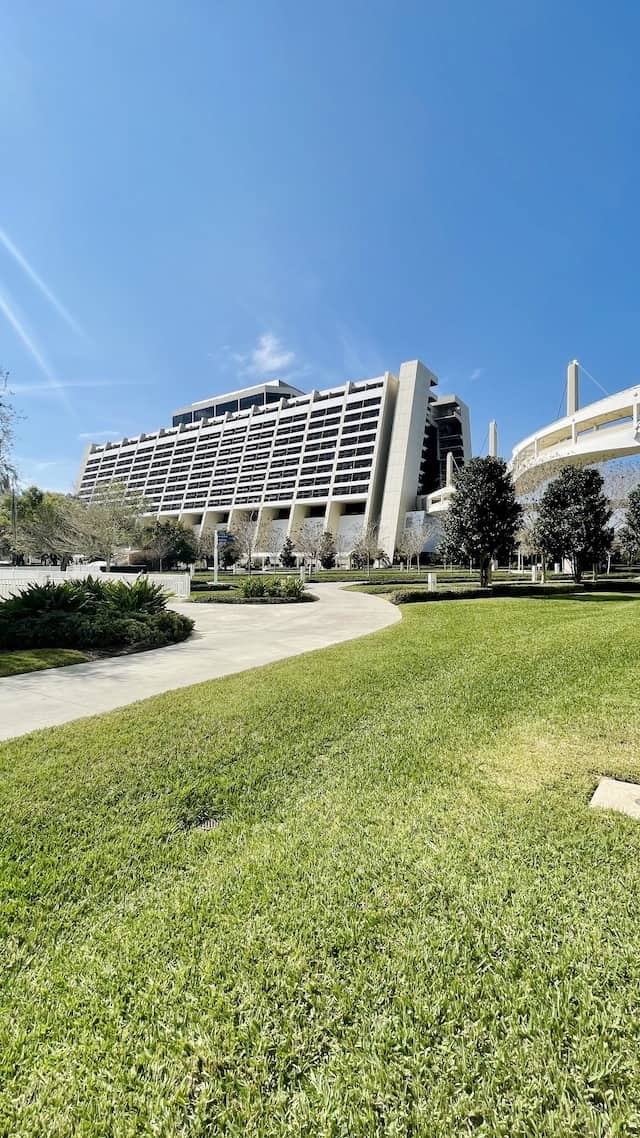 Disney's Contemporary Resort is located right next to Magic Kingdom and is largely regarded as the best place to view Magic Kingdom fireworks outside of the Park itself.
For the best fireworks view, you'll want to head up to the 4th floor. Here you'll find the observation deck, located on the back right corner behind the gift shops. The view is phenomenal!
Another great location for fireworks viewing at Contemporary is the Sky Way Bridge at Bay Lake Tower. This bridge offers an unobstructed viewing area of Happily Ever After.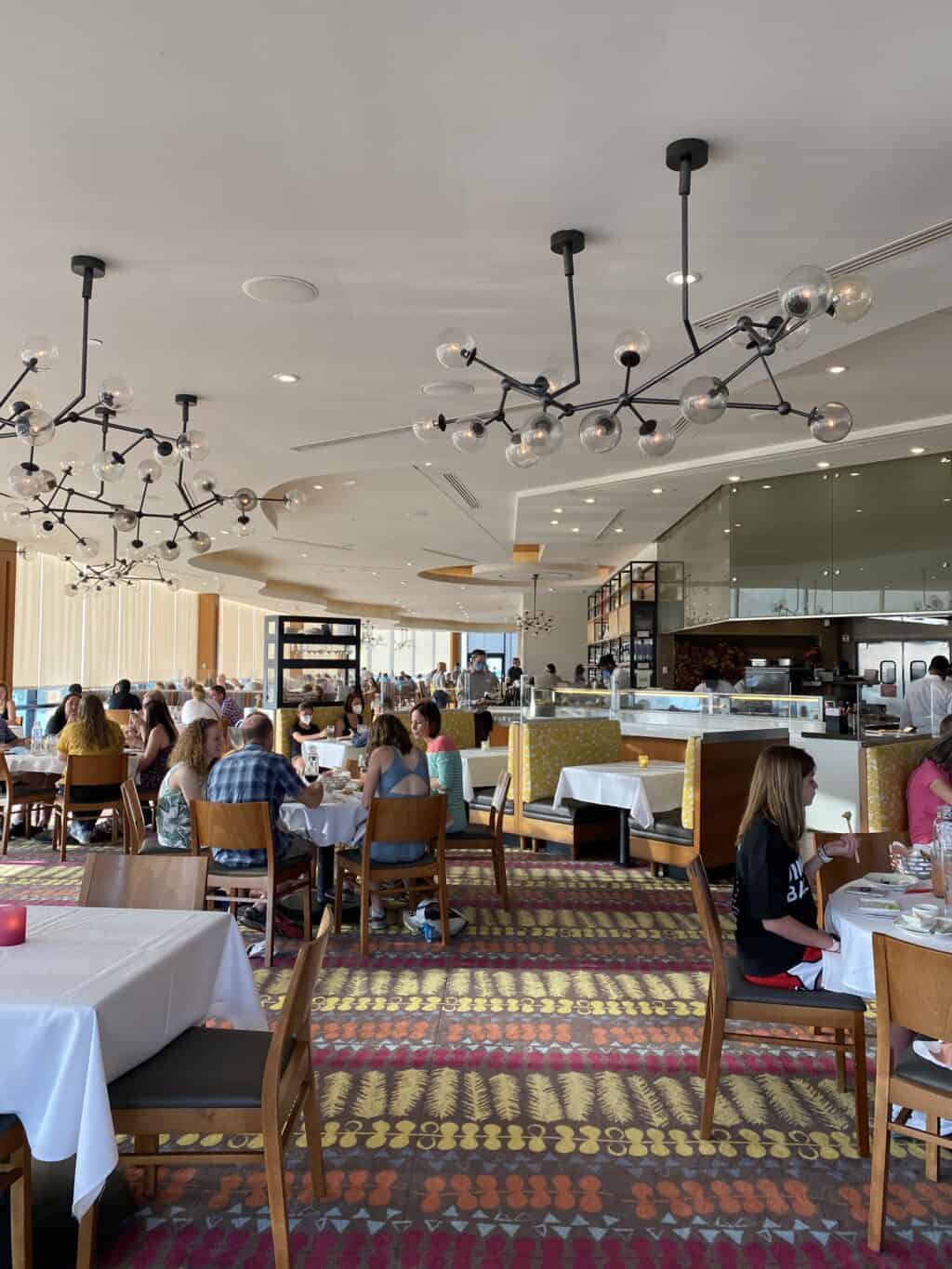 Contemporary's California Grill restaurant is a spectacular place to view the fireworks. The restaurant dims the lights, and plays the soundtrack. There is even an outdoor viewing platform! Reservations during fireworks times book up quickly so be sure to book this one as soon as your dining reservation window opens!
If you visit California Grill anytime during the evening and keep your receipt, you'll be allowed to head back up there for fireworks viewing!
Disney Vacation Club Members can also visit Top of the World Lounge at Bay Lake Tower. This lounge is available on a first-come, first-serve basis until it reaches capacity, which it is sure to do while fireworks are happening! You'll want to arrive early if you plan to view fireworks from Top of the World Lounge!
Disney's Grand Floridian Resort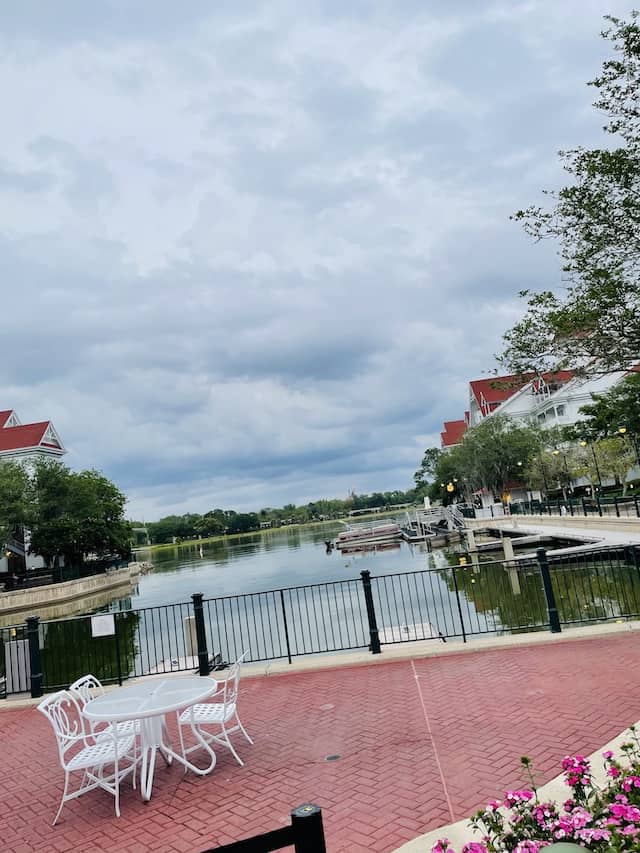 Disney's Grand Floridian Resort offers a stunning view of Cinderella Castle by day and a spectacular view of fireworks by night!
My favorite spot to view fireworks is the marina area, just outside Gasparilla Island Grill. You can also head over to the water taxi dock for a great view on the water!
Grand Floridian's Narcoossee's allows diners to step out on the verandah on the Seven Seas Lagoon for great views of the fireworks with the music playing.
Disney's Polynesian Resort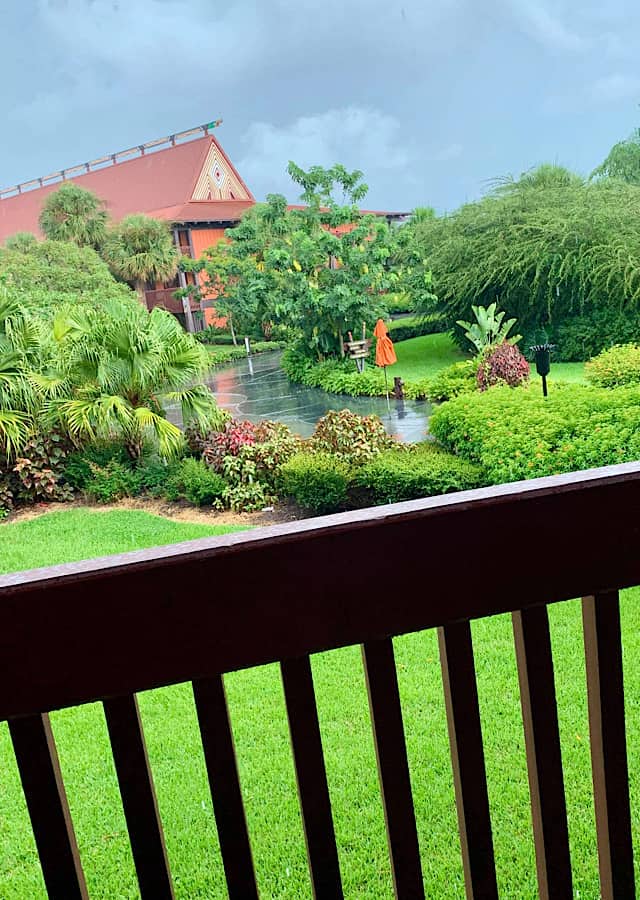 There is something so special about watching Happily Ever After from the beach at Disney's Polynesian Resort. You can sit back and relax on the sandy shore with a perfect view of the fireworks. Grab a Dole Whip and head to the beach to enjoy this great show!
You can also head out to Polynesian Resort's boat launch for another great viewing location!
If you're in the mood for a delicious dinner with a view, try 'Ohana! 'Ohana offers excellent views of Happily Ever After, as the restaurant is lined with floor to ceiling windows. The music for the show is piped in to the restaurant, so you can enjoy your noodles with some good music and a spectacular view!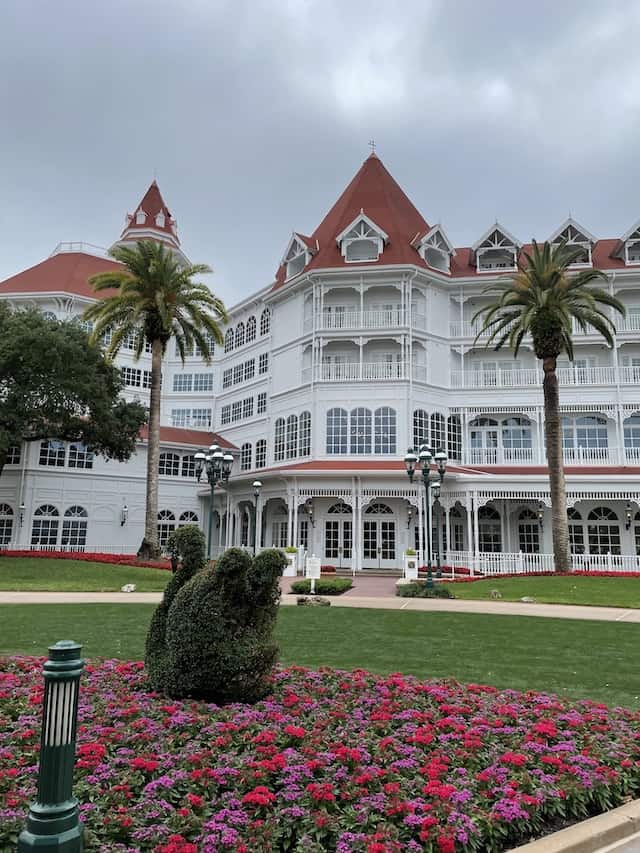 If you are a Guest staying in any of these Resorts, why not splurge for a Theme Park view room? You'll be able to see the fireworks right from your room!
If you are not a Guest staying in any of these Resorts, tt is important to note that you will not be able to park at any of these Resorts without a hotel or dining reservation. You can take Disney Transportation to these locations without a reservation, so if you think you'll want to try one, plan ahead!
Or, go ahead and grab those dining reservations, because there is nothing like dinner with a view!
Ticket and Transportation Center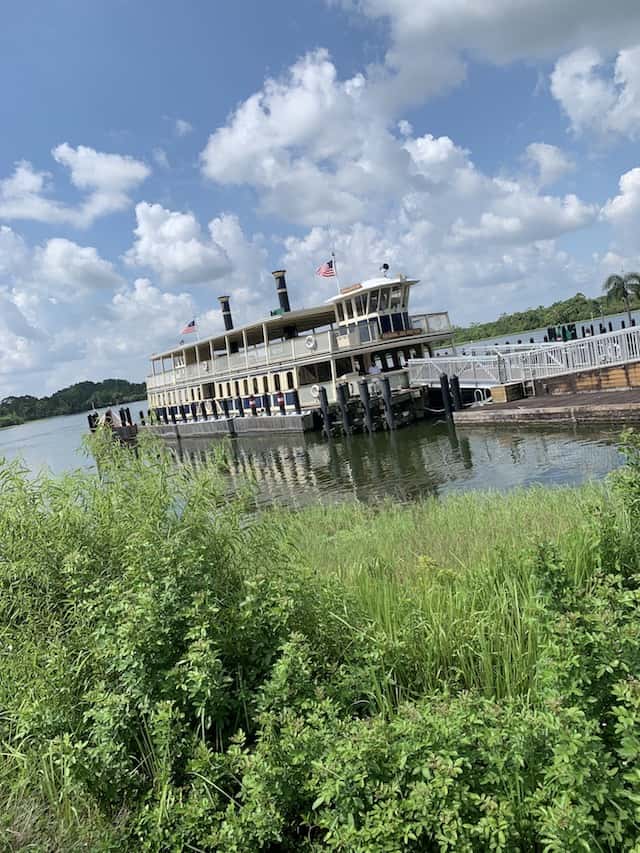 If you are lucky enough to be on the Ferry Boat when Happily Ever After starts, you are in for a treat! Head up to the top deck for the best views.
You can also view Happily Ever After from the ferry boat launch area at the Ticket and Transportation Center. Bonus: you'll be able to head straight back to your car after the show with no crowds!
Best viewing for Epcot fireworks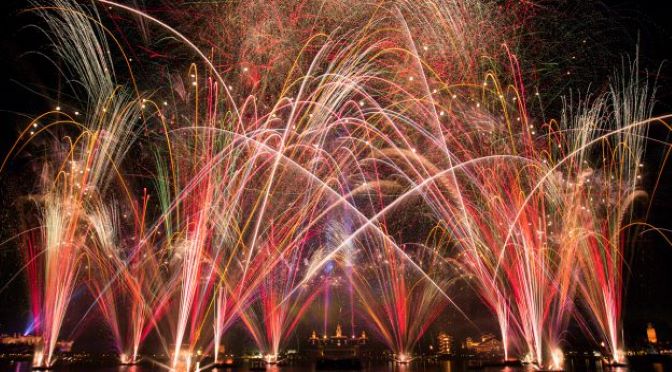 Since this firework show is best viewed in Epcot, watching it outside of the park offers a different viewpoint. Because some of the fireworks are a bit lower, it can seem as though the show is over, but hold on, there is more coming!
Boardwalk Resort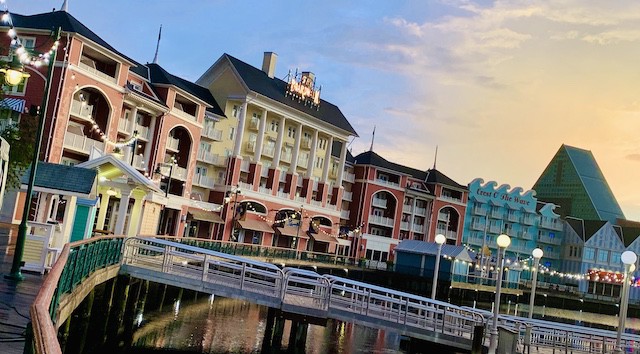 Disney's Boardwalk Resort offers great views of Epcot fireworks! The best view of the fireworks is outdoors over near Jellyrolls and Atlantic Dance Hall.
Beach Club Resort and Swan and Dolphin
You can also walk towards Disney's Beach Club and catch a stunning view on the bridge connecting Boardwalk and Beach Club.
Additionally, you can head to the bridge that connects Boardwalk to Walt Disney World Swan and Dolphin, for another spectacular view.
Riviera Resort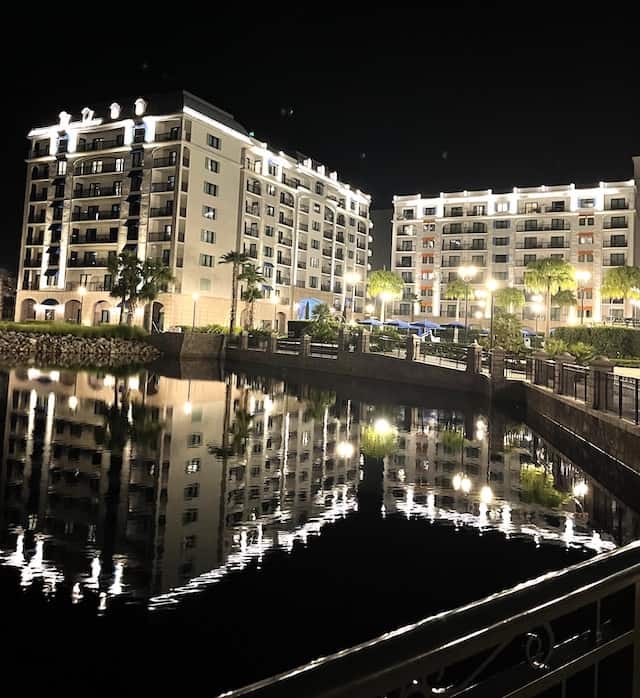 Riviera Resort's proximity to Epcot offers a truly phenomenal viewing location. Topolino's Terrace, located on the top floor of Riviera Resort, offers a rooftop viewing area with a magnificent view of Epcot firework show.
Many of Riveria's resort rooms also offer stunning views of Epcot's fireworks.
Fireworks return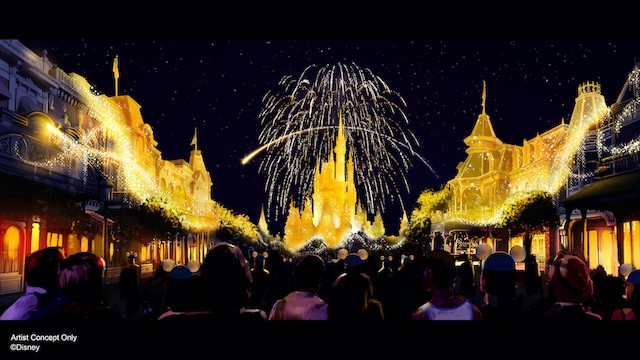 Fireworks will return to Walt Disney World on July 1, 2021, so plan out your evenings now!
Beginning on October 1, 2021, Walt Disney World will celebrate their 50th anniversary! To mark this special event, Magic Kingdom will host a new fireworks show, Disney Enchantment. We can't wait for this new show! It is sure to be a stunning sight.
Epcot will also debut it's newest fireworks spectacular, HarmonioUS on October 1, 2021.
Where is your favorite location for viewing fireworks outside of the Parks? Let us know on Kenny the Pirate's Facebook page, or join our crew and continue the discussion!