Where can you find traditional, new, or unique DOLE Whip creations? If you are looking for an up to date list of places to find the iconic Disney treat, this one is for you!
What is DOLE Whip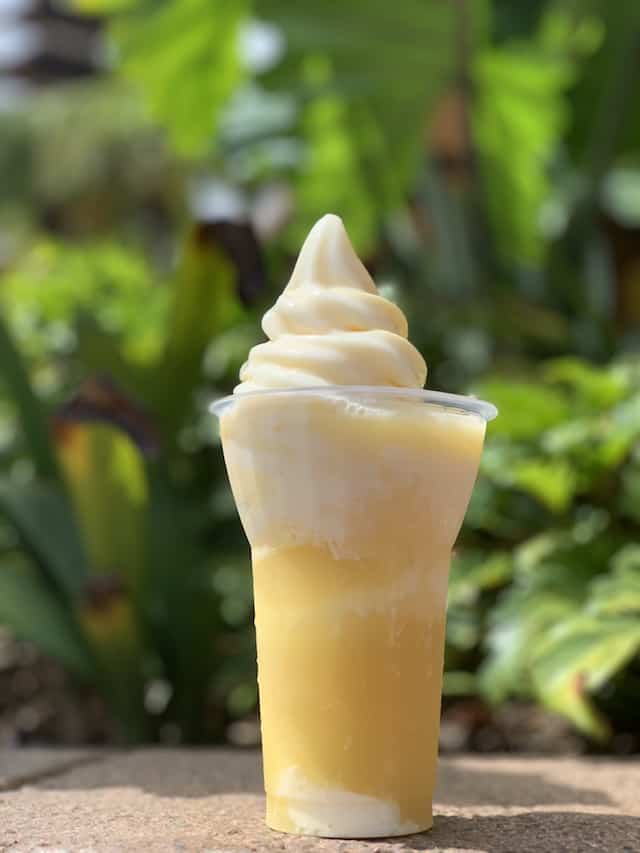 DOLE Whip is a treat so popular that it has its own fan following. Whether you are a die hard DOLE Whip fan or a guest looking to try it for the first time, you can use this guide to find every place that currently offers it.
That being said, DOLE Whip is a Disney Treat that can draw a hard line among Disney fans. People either love it, or they just don't get it.
I am personally part of the fandom! To me, no trip is complete without it.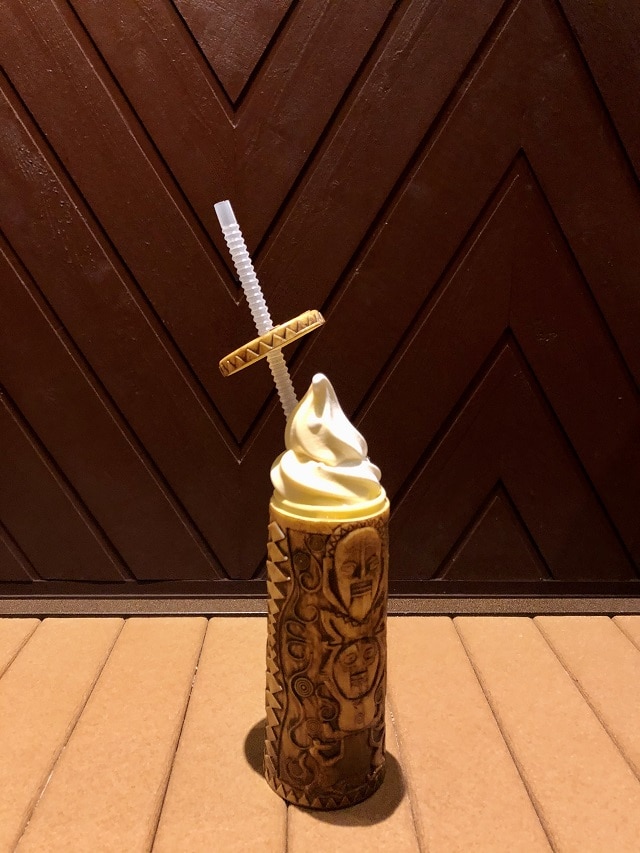 Traditional DOLE Whip is a pineapple flavored frozen dessert. It is dairy free, so it appeals to those with allergies who want to partake in a frozen treat.
DOLE Whip is also available in a number of flavors, which vary seasonally. These include orange, raspberry, lime, strawberry, lemon, and coconut.
And of course, it is also available in beverage form. Various eateries offer DOLE Whip floats. You can even find this treat blended into a number of alcoholic beverages as well.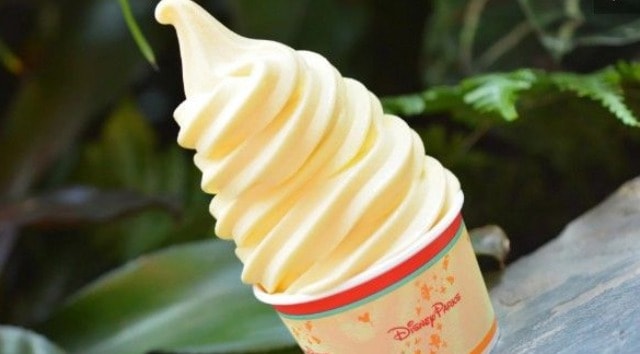 Check out everywhere you can find Dole Whip Right Now
So where can you find Dole Whip as of now? Read on for the most current list (as of March 2021):
Aloha Isle: Magic Kingdom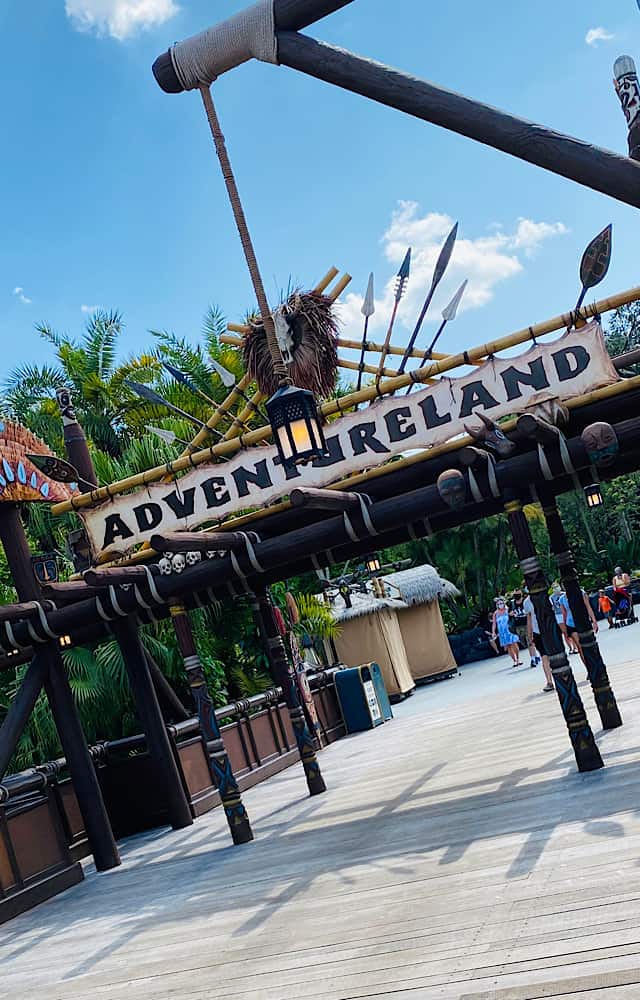 You can find Aloha Isle in the Magic Kingdom. It is located in Adventure Land between Country Bear Jamboree and the Enchanted Tiki Room.
This location offers traditional pineapple, vanilla, or pineapple vanilla swirl DOLE Whip. You can also purchase DOLE Whip floats, which are any flavor of DOLE Whip doused in pineapple juice.
UNIQUE OFFERING: You can currently order the Kakamora Float, which the menu describes as Coconut Soft-serve on top of Pineapple Juice and Blue Curaçao Syrup garnished with a Chocolate Kakamora Cake Pop. You can also order JUST the coconut soft server in a dish if you would like to have it as a stand alone dessert.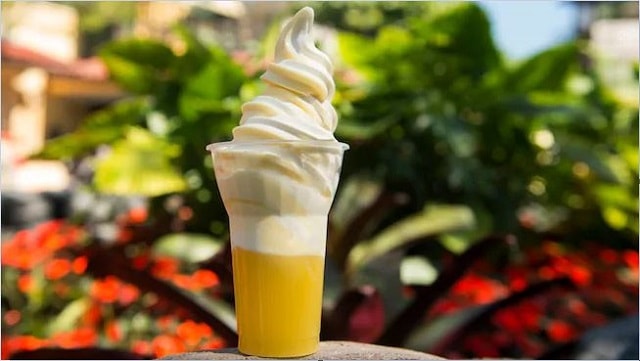 Pirate Tip: You can Order JUST the Coconut Soft-Serve in a cup.
Again, Aloha Isle changes its offerings seasonally. My favorite is the raspberry swirl. It tastes the way I envision the Bombastian Bars that enable time travel in Duck Tales would taste if they were real.
Sunshine Tree Terrace: Magic Kingdom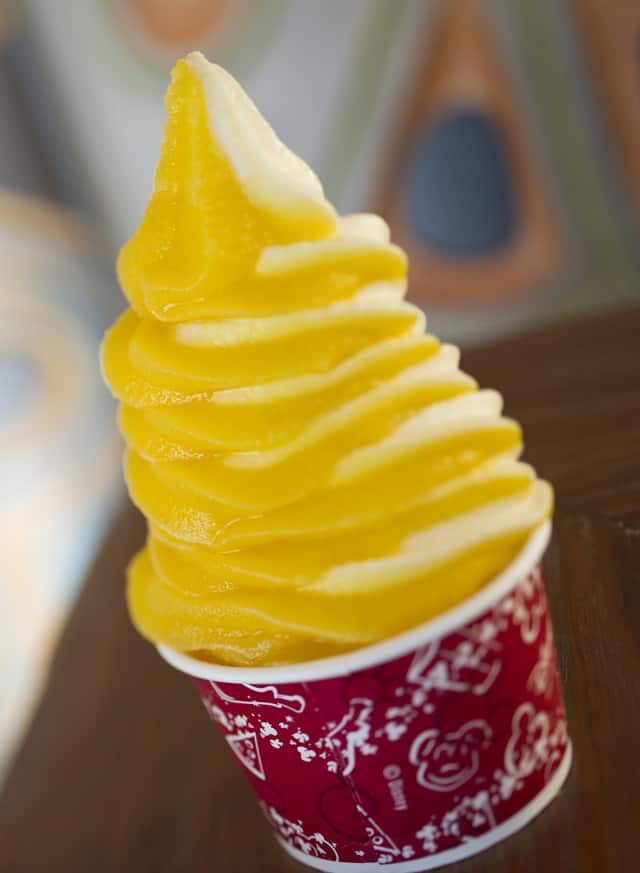 You might be thinking, Wait a second! Isn't Sunshine Tree Terrace the Home of Citrus Swirl? If you are thinking that, you are right.
Sunshine Tree Terrace is indeed the home of Citrus Swirl and the adorable Orange Bird! It is located in Magic Kingdom near the Adventureland entrance.
Many people are die hard fans of Citrus Swirl and prefer it to DOLE Whip. I personally come from a house that is divided on the issue.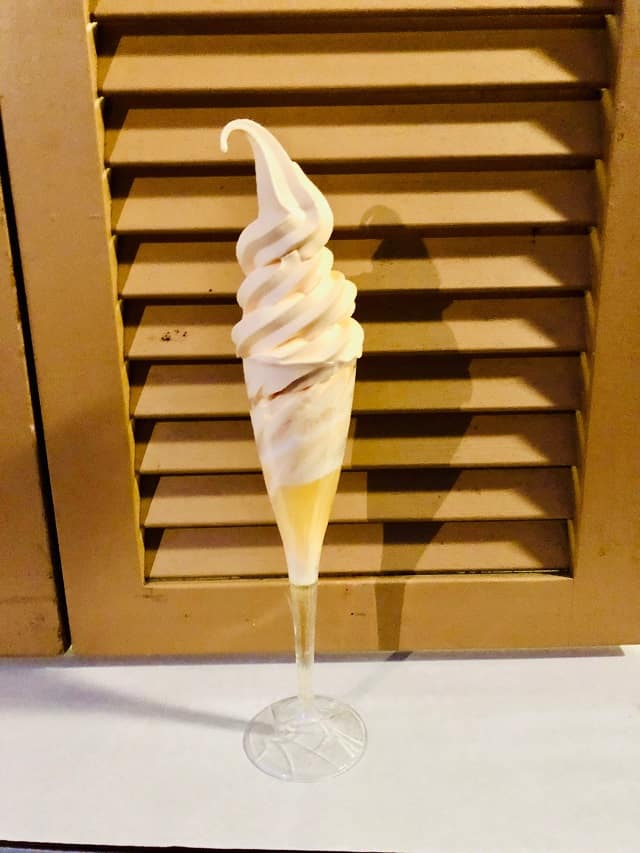 However, it seems that DOLE Whip and Citrus Swirl are teaming up lately. The current menu offers both the original Citrus Swirl as well as a treat called Orange Cream.
Orange Cream is DOLE Whip Orange and vanilla soft serve. It is available in a dish or as a soda float.
As it is with the other locations with DOLE Whip offerings, the options available at Sunshine Tree Terrace change periodically.
Pineapple Lanai: Polynesian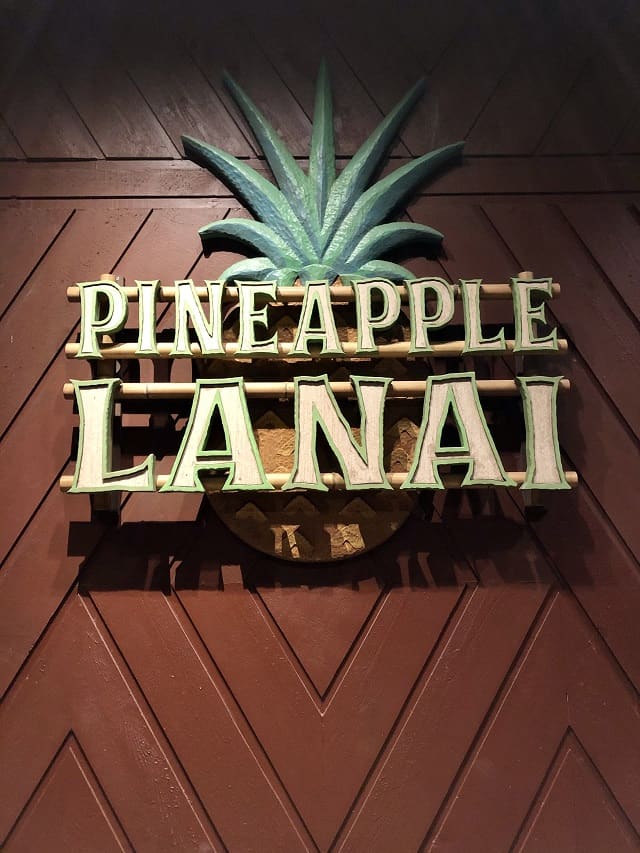 Pineapple Lanai is located near the Lava Pool at Disney's Polynesian Resort. It is just outside of the Great Ceremony House.
The stand currently serves DOLE Whip in pineapple, vanilla, or swirl in a cup or a souvenir sipper. It also offers floats.
If you want to enjoy an alcoholic drink by the pool, try the DOLE Whip® with Rum Floater. The menu describes it as DOLE Whip Pineapple with Parrot Bay Coconut Rum.
Tamu Tamu Refreshments: Animal Kingdom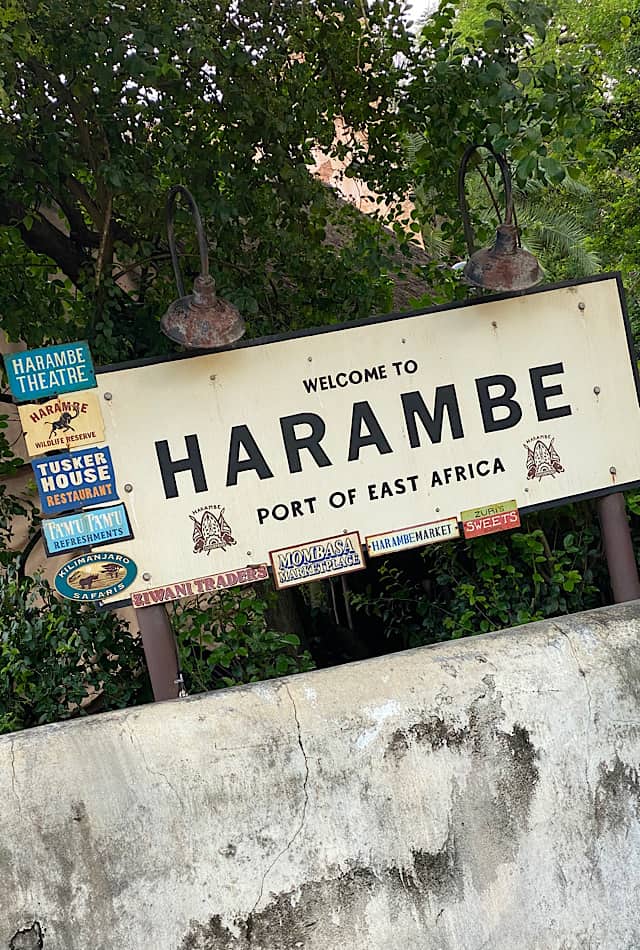 Tamu Tamu Refreshments is located in Disney's Animal Kingdom at Harambe in Africa. Like other locations, it serves traditional pineapple, vanilla, or swirl DOLE Whip and Floats.
UNIQUE OFFERING: Tamu Tamu is also home to unique DOLE Whip offerings that come and go seasonally. Right now you can find the Simba Sunset. It is described as DOLE Whip® Pineapple with Watermelon, Strawberry and Coconut-flavored Syrup.
The Simba Sunset is back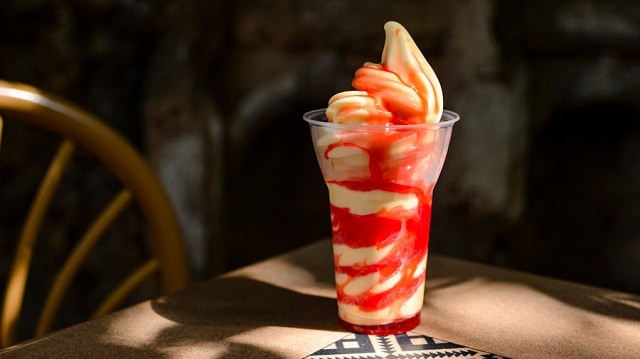 Additionally, many fans also relish the unique DOLE whip alcoholic creations at Tamu Tamu. If you are like Jack Sparrow and like a bit of rum now and then, you might enjoy trying one.
These drinks include: DOLE Whip Pineapple Cup with Parrot Bay Coconut Rum or DOLE Whip® Pineapple Float with Plantation Dark Rum. Both drinks are also available as floats.
Pineapple Promenade: EPCOT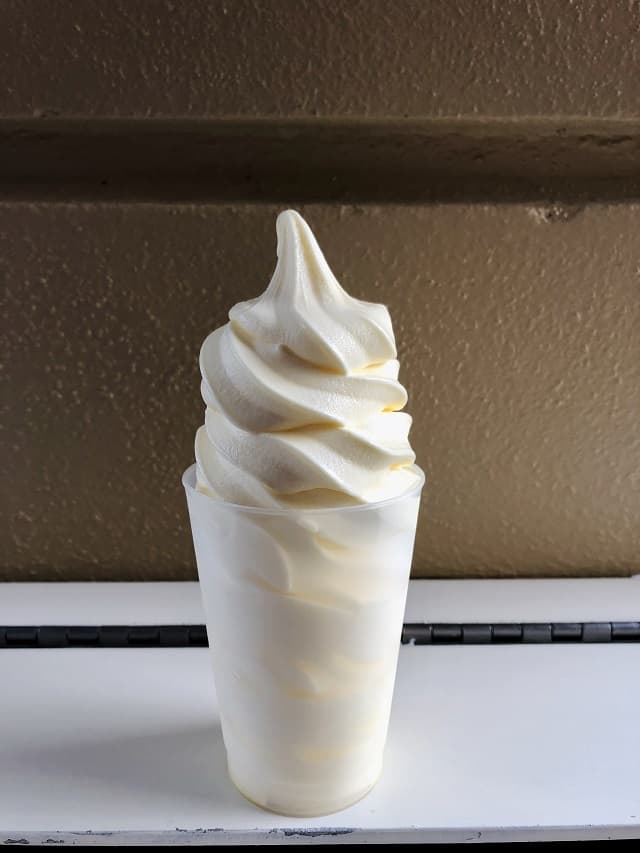 Epcot has DOLE Whip from time to time, typically during its festivals. Right now, you can find it at one of the EPCOT International Flower and Garden Festival outdoor kitchens.
Pineapple Promenade makes a logical home for DOLE Whip during the festivities. Now-July 5th, you can stop by the kitchen if the craving strikes. While you are there, you can check out some of their other offerings featuring pineapple as an ingredient.
Market Place Snacks: Disney Springs
Market Place Snacks is located in Disney Springs, Disney's shopping, entertainment, and dining district. You can access it without a theme park ticket.
Its menu offers classic DOLE whip and floats. But, it also has a creative twist on the treat.
UNIQUE OFFERING: You can order DOLE Whip Nachos! The menu describes the decadent treat as: waffle cone chips topped with DOLE whip, mango boba pearls, fresh pineapple, strawberry sauce, whipped cream, and sprinkles.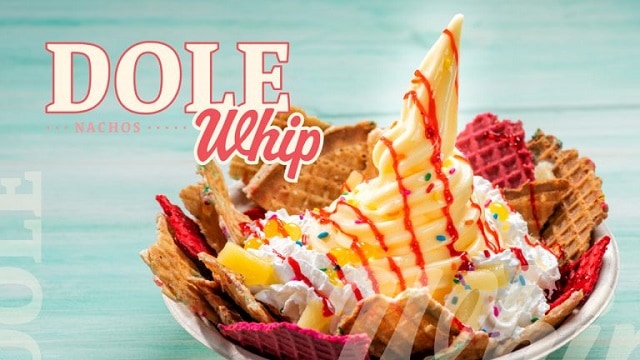 It also offers a DOLE Whip Pina Colada Slushie. Like most Disney drinks, you can order it without alcohol.
Market Place Snacks also offers any of its DOLE whip floats or slushies with rum. You can customize them with several rum offerings.
Wine Bar George
Wine Bar George is also located in Disney Springs. It receives consistently high ratings among visitors.
It serves a variety of unique food an beverage offerings. And, for now, some of them involve DOLE Whip!
The Friezling with DOLE Whip lime is a drink made with Riesling, vodka, and lime. It looks divine.
You can also order the Frozcato which is described as DOLE Whip with Muscato, pineapple, and vodka. It sounds like a refreshing twist on an old favorite.
For a limited time you can get these drinks in a Wine Bar George Corkcicle. The deal extends to any other frozen drink menu offerings as well.
Do you Miss Dole Whip?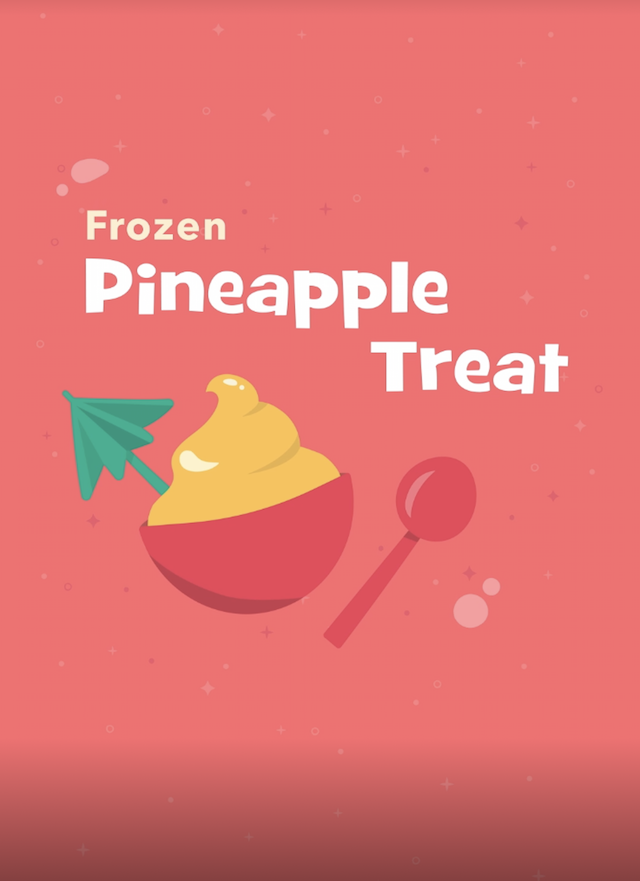 All this talk of DOLE Whip has me wanting to plan a trip just to taste all of the current offerings. We here at the KtP Crew will keep you updated as new flavor combinations pop up.
If you are like me and MISS DOLE Whip, check out the Copy-Cat Recipe from Disney Parks Blog. For the Story, Click Here.
If you are lucky and have a Menchie's in your area, you might be able to find DOLE Whip there as well. My local Menchie's serves it year-round.
Are you a DOLE whip fan? What is your favorite DOLE Whip creation? Let us know in the comments on the KtP Facebook page and in our friendly Facebook group!