On this sweet dessert showdown, I (Marisol) review who has the best new decadent sweets at Disney Springs. It is Gideon's cookies battling it out with Everglazed donuts. Who will reign champion? Read on and let me know what you think!
Gideon's Bakehouse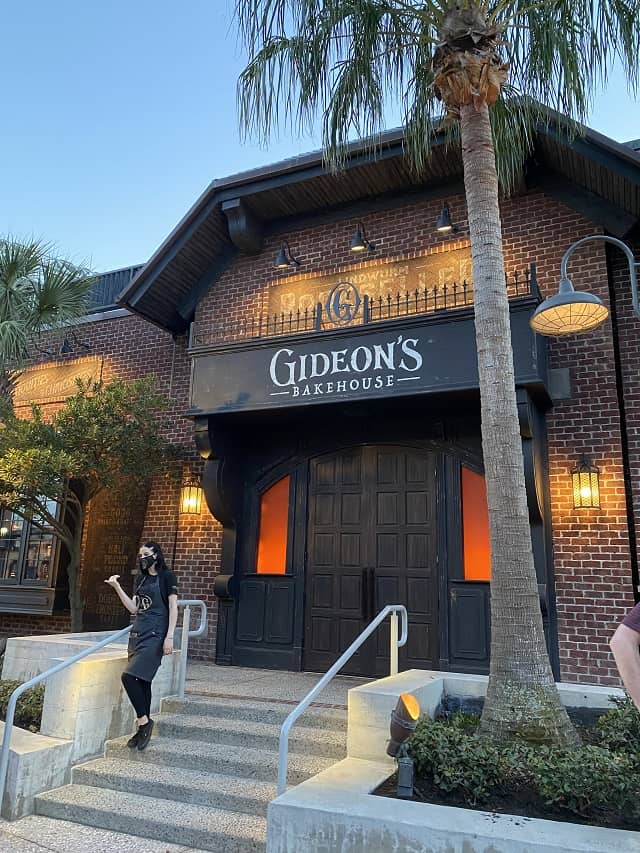 If you've never heard of Gideon's Bakehouse, trust me, you're not the only one.
The only reason I first heard about this delectable storefront is because of all the Instagram photos that I saw of people posting the day it had its soft opening.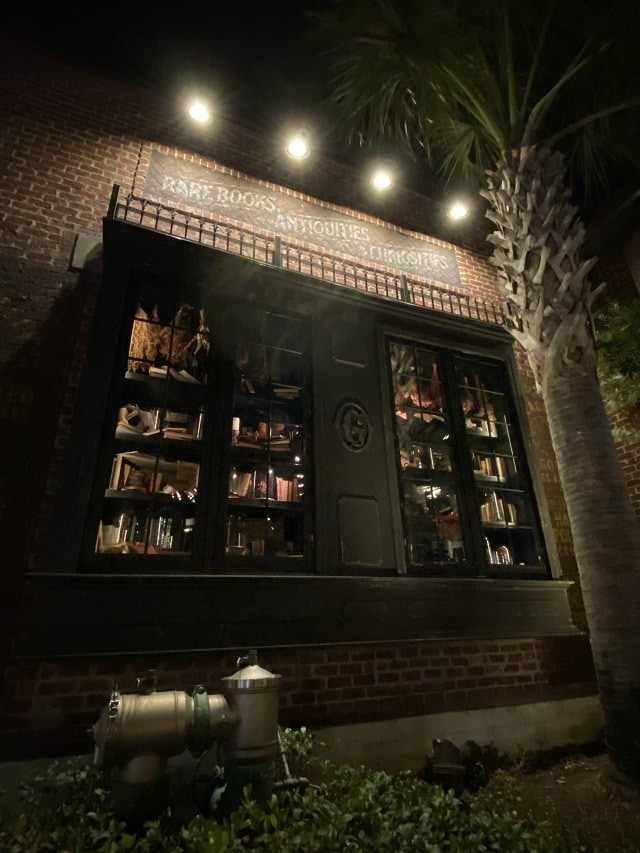 I mean, would you wait eleven hours for a cookie?
The first Gideon's Bakehouse first opened in East End Market, Central Florida's original food hall in October 2016 with one single employee and an $800 budget.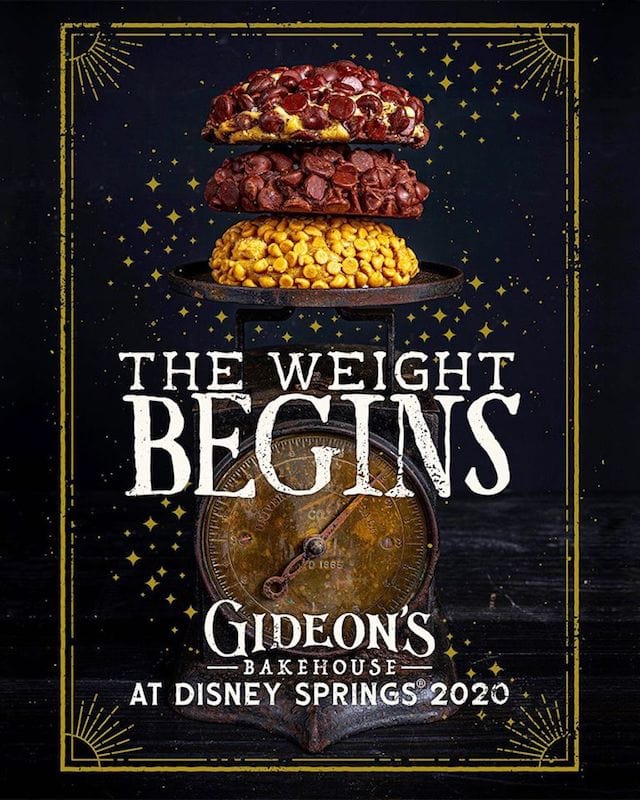 In no time, Gideon's Bakehouse cookies were being awarded and known as the "best cookies in Orlando, in Florida and in the World."
The storefront location in Disney Springs opened January 2021.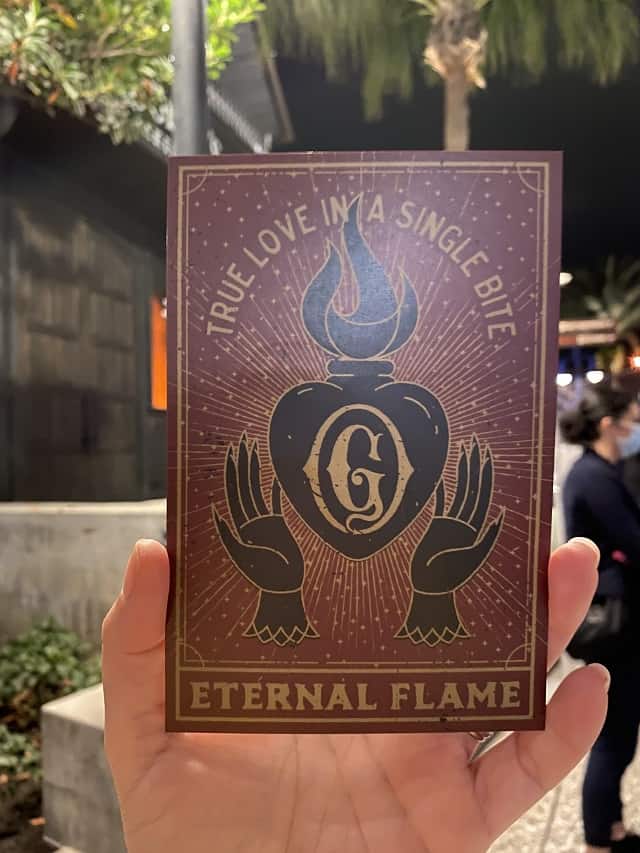 So, what makes Gideon's Bakehouse so unique? Let us begin with the name itself and its origins.
In his never-ending search for baking inspiration, Steve Lewis, the bakery creator, purchased what he thought was an antique cookbook published in 1898.

To his surprise, the margins were filled with faded notes and doodles from what appeared to be a young boy who had dreams of becoming a baker.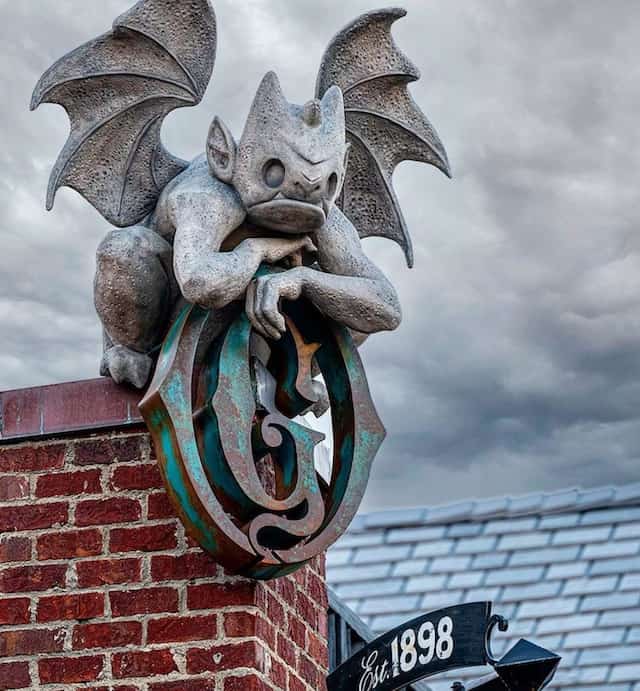 The name written at the back of the book was "Gideon," and Steve decided to fulfill that child's wishes with the name Gideon's Bakehouse™.
The cookies are from made from scratch in small batches. Each unique cookie comes in at almost a 1/2 pound and takes over 24 hours to create.
Virtual Que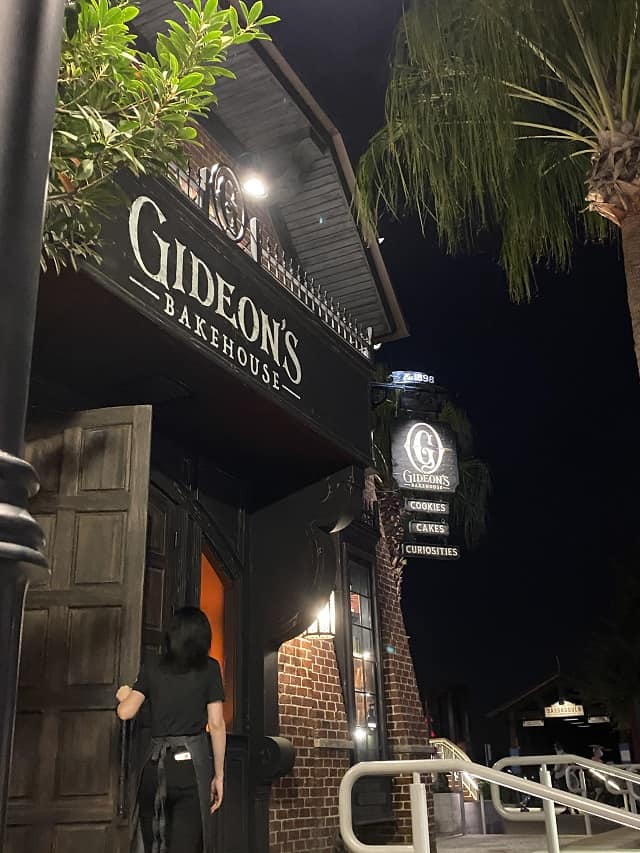 We arrived at Disney Springs on a Tuesday afternoon to find a line of people waiting to get in.
I did not know at the time, but those people had received their text message to return as they had placed themselves on the virtual list.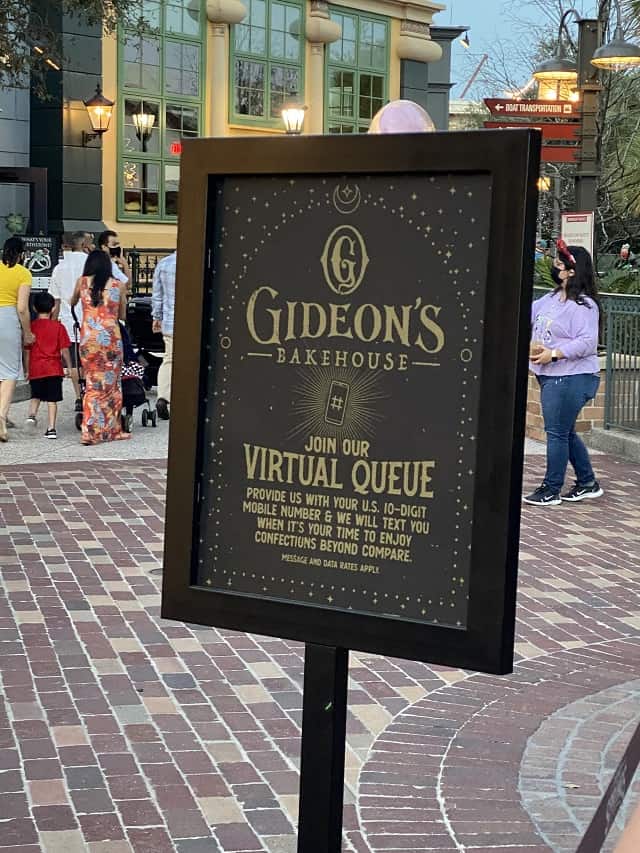 I walked over to join the virtual line.
It is located across from Morimoto Asia near the bridge.
I was told that I would receive a text informing me that I had been placed on the virtual list and then I would receive another when it was time to visit the bakery.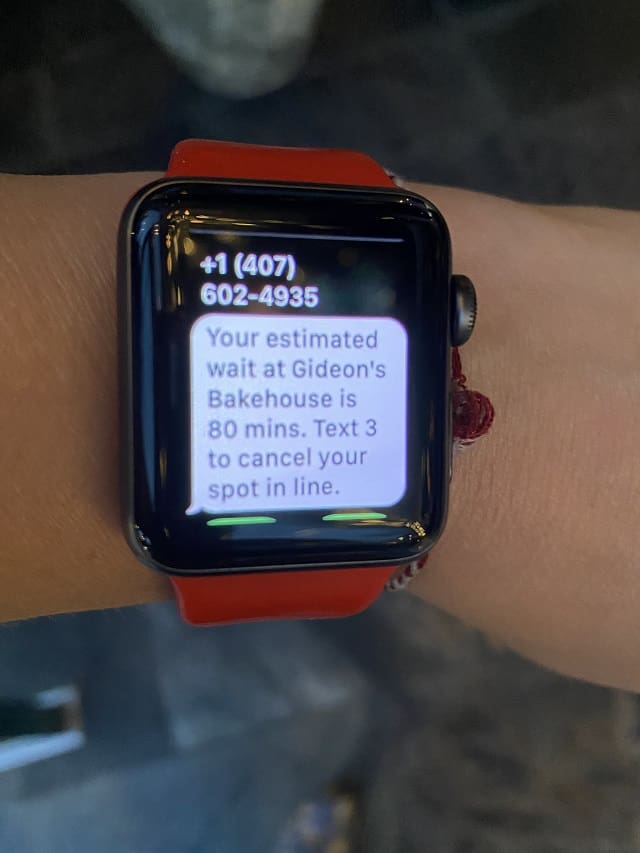 Our estimated time was about 80 minutes.
Not too bad as we had reservations to eat at Morimoto's and then the plan was to visit Everglazed and the new M&M store!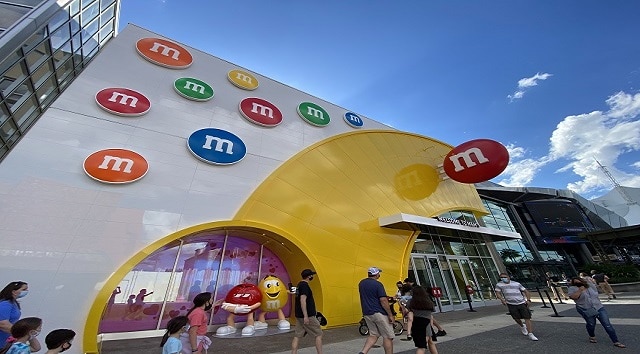 More on our visit to Everglazed in a moment, but if you have not had the time to read my review of the M&M store as well as our experience of personalizing the delectable chocolates, you can click here!
Time to Go Inside!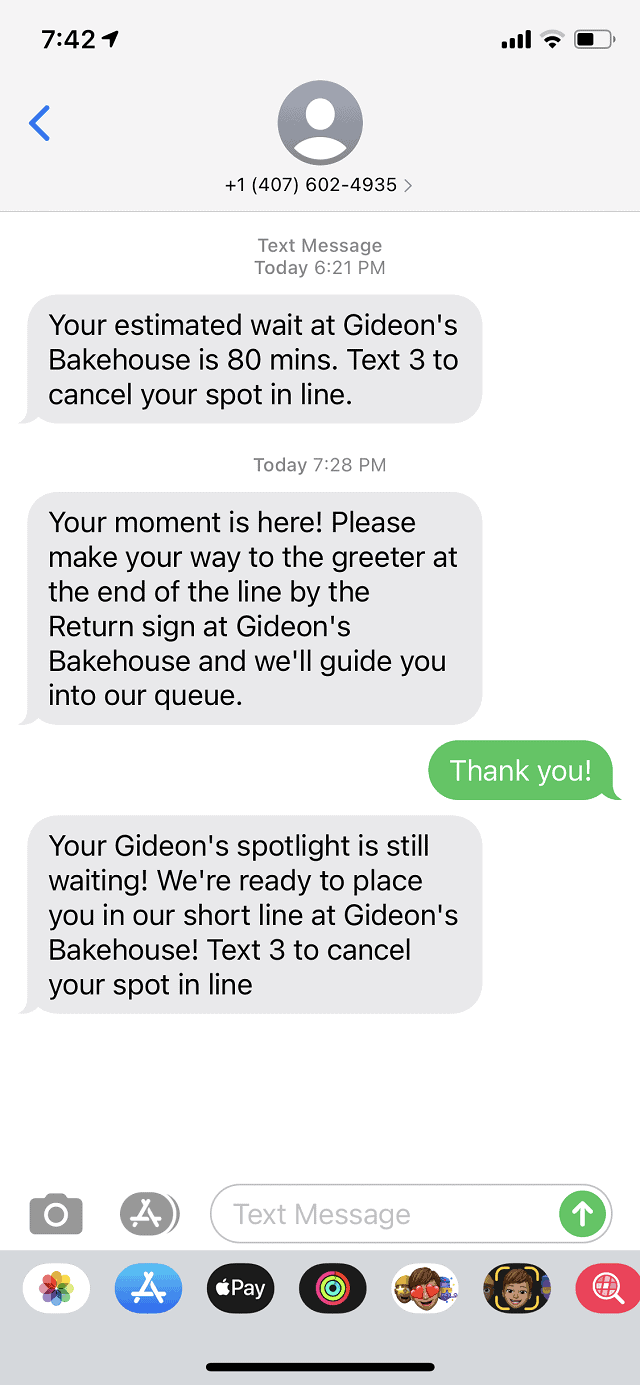 The time had come, and I received my return message! As you can tell, we waited less than what we expected.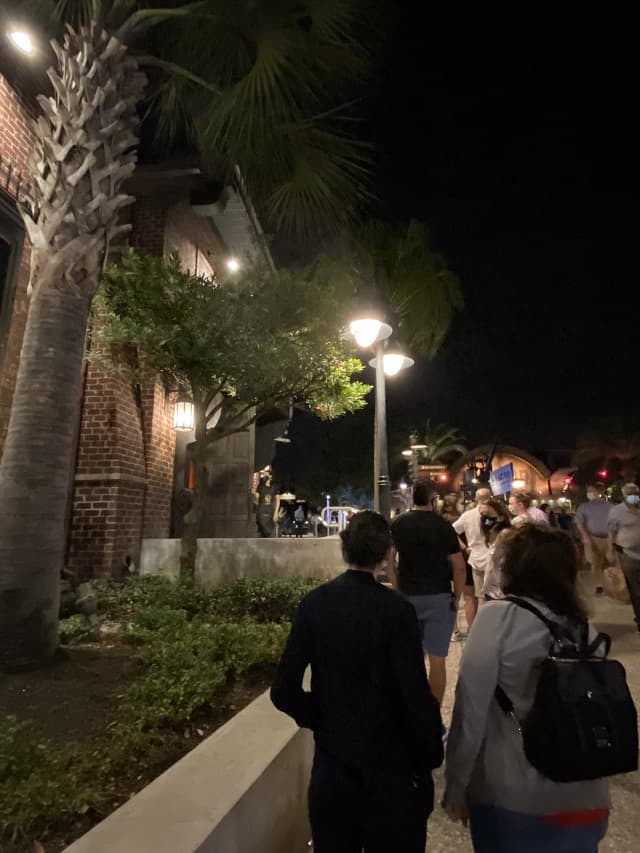 We made our way to the line where the staff member verified my name and my text message.
While waiting in line, we were given a menu. This was nice as we could have a better idea of what to order by the time we reached inside.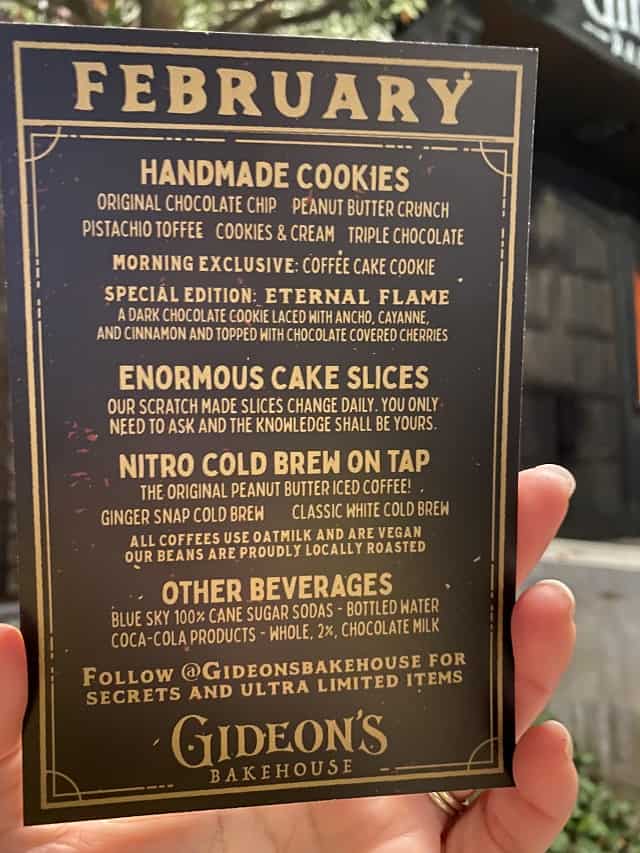 They offers 6 Cookie flavors daily.
Certain items might have special days, like Candied Walnut Wednesday at East End Market, and Coffee Cake Cookie every morning at Gideon's at Disney Springs!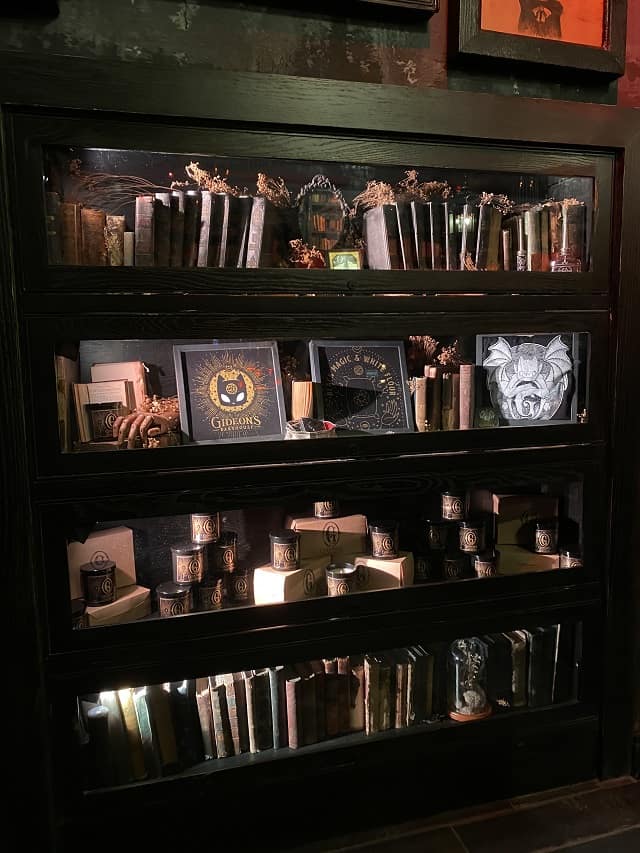 Moment of truth, it was finally our turn to enter the storefront.
Now, I'm the type of person that does not look at videos or pictures before I experience something for the first time as I like to be genuinely immersed so I had no idea what to expect on the inside.
Inside Gideon's Bakehouse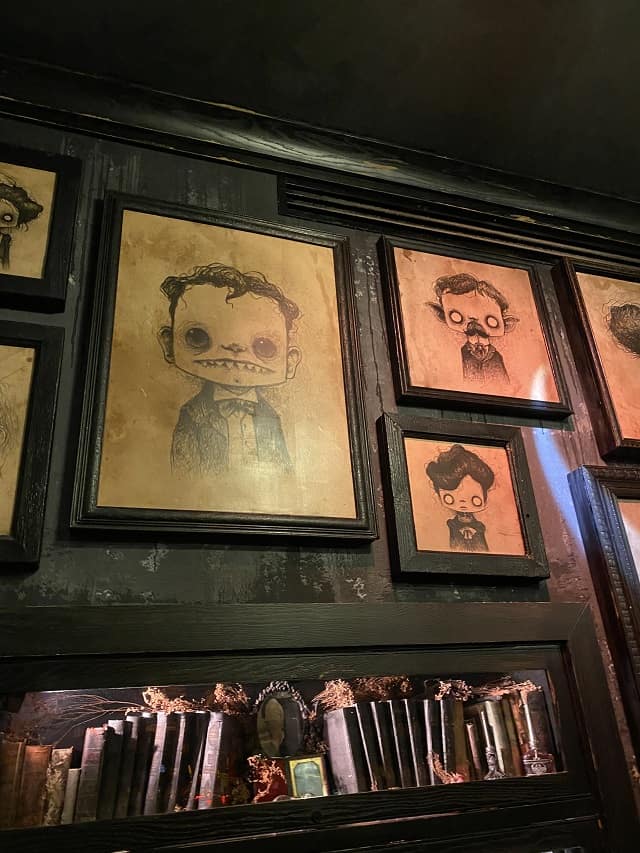 I was quite blown away as it was visually appealing. The decorations, the colors, the atmosphere were pretty awesome.
My daughters immediately said, "I feel like we are inside the Haunted Mansion."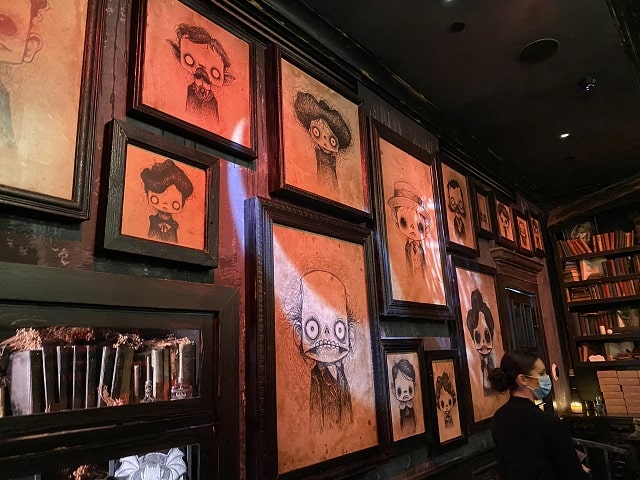 And they were quite right. Imagineers would be proud of the inside of Gideon's Bakehouse.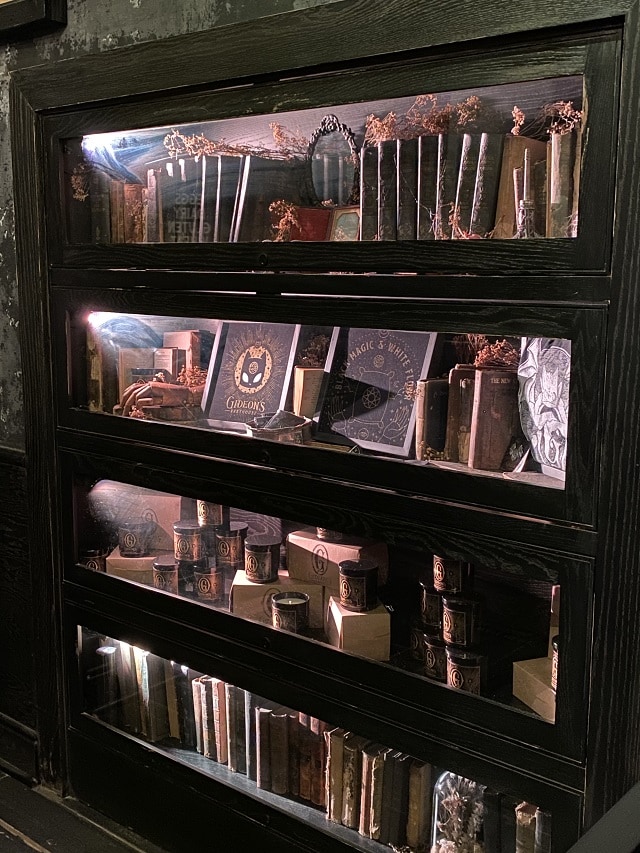 It's a Gothic Haunted Mansion bakery turned up 150%.
Walking through feels like you are about to embark on an attraction. However, the attraction awaiting you at the front are cookies!
I was quite surprised at how small the area is inside, but you quickly forget that as your eyes are darting wall to wall.
The pictures that I took do not even do it justice. There are special effects of from a fog machine.
The details of this bakery are quite impressive, and I had yet to even purchase a cookie! In fact, my husband told me to stop taking pictures because there were people behind us waiting to order!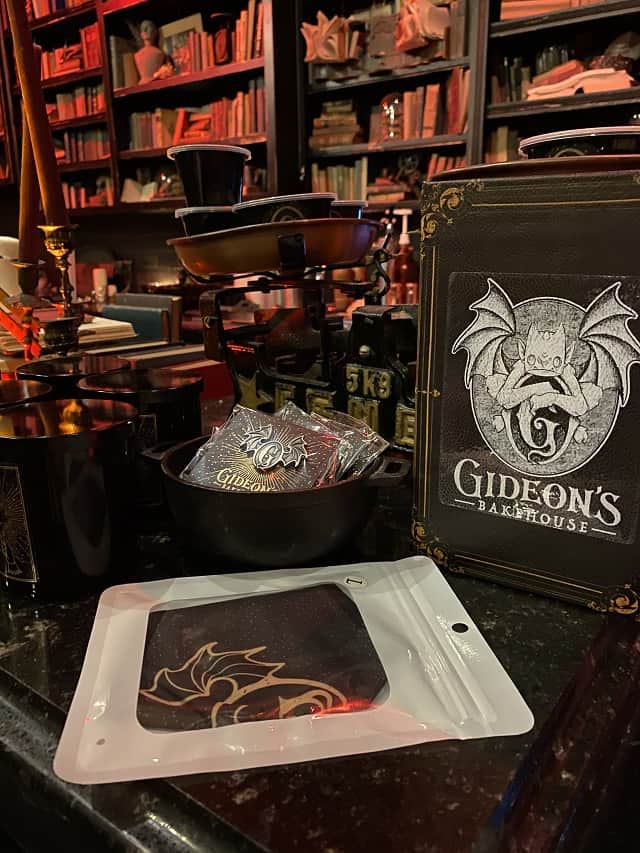 We finally made it to the register, and I still could not focus on what I was going to order! At the end we purchased three different cookies.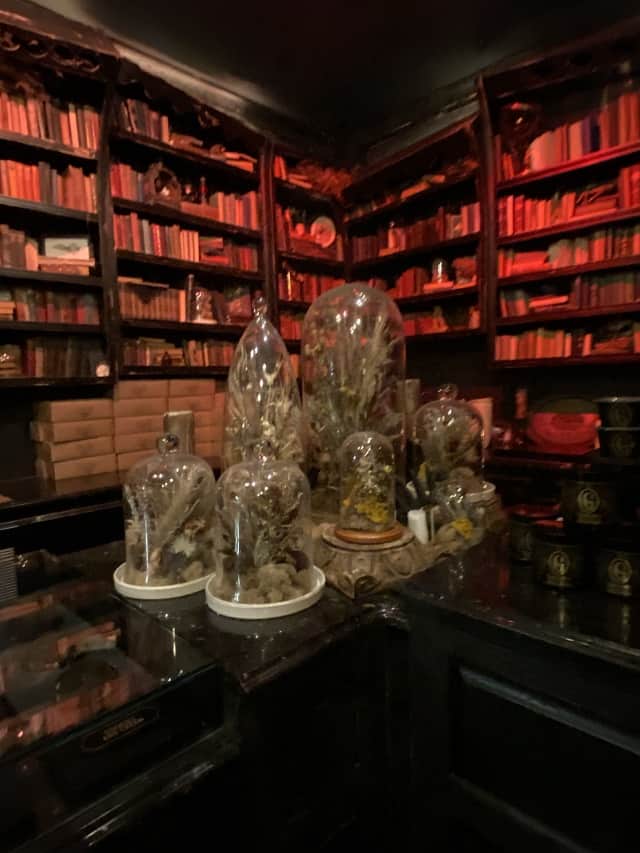 One of the reasons I love Disney so much is because they pay attention to the smallest of details. It is the littlest of things that makes me much "curiouser" as our dear friend Alice said.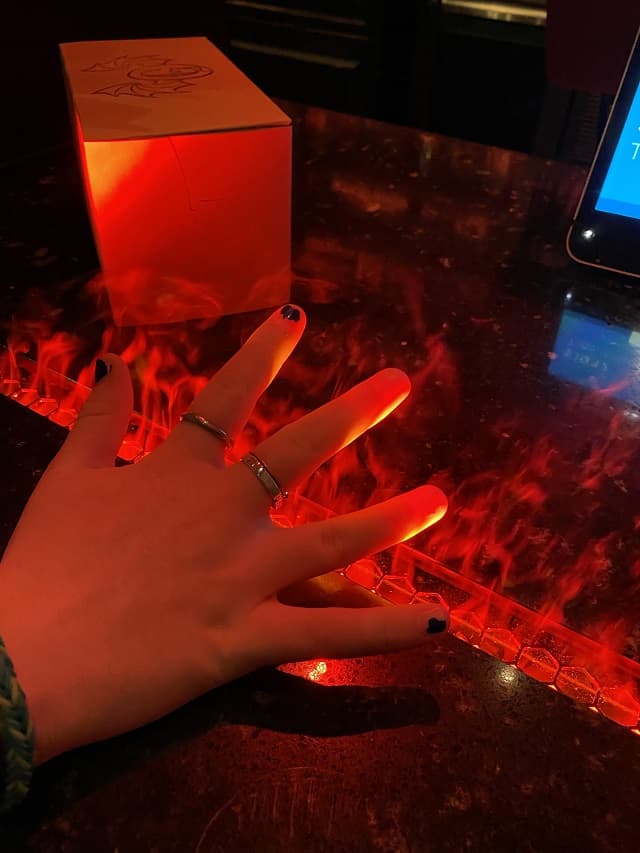 I mean… the picture above is my daughter placing her hand over a "fire."
It is placed quite strategically as you hand over your form of payment to the staff employee.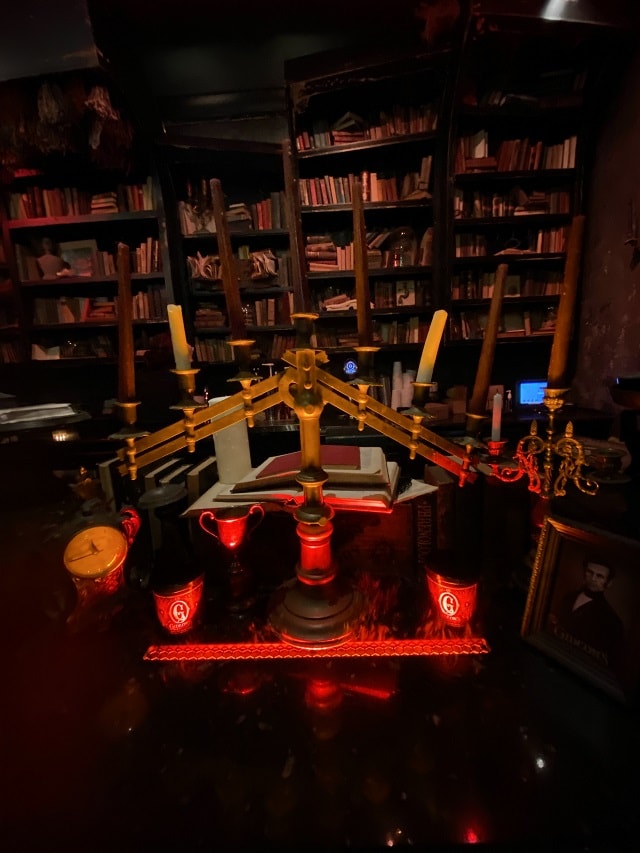 There is a limit of 6 cookies per person/transaction at the checkout counter.
So, which cookies did we purchase? You will have to wait just a minute longer!
Everglazed Donuts & Cold Brew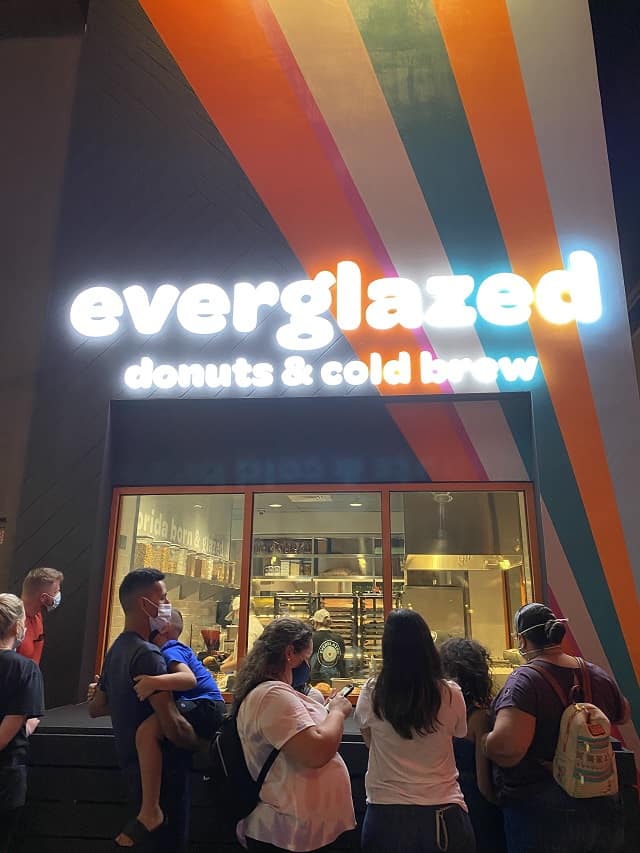 Our first attempt at visiting and purchasing from this hip donut shop was a fail on a Tuesday night as the line wrapped as far as the front to the AMC theatre.
I was hoping that we would be able to have a better chance on our next visit to Disney Springs.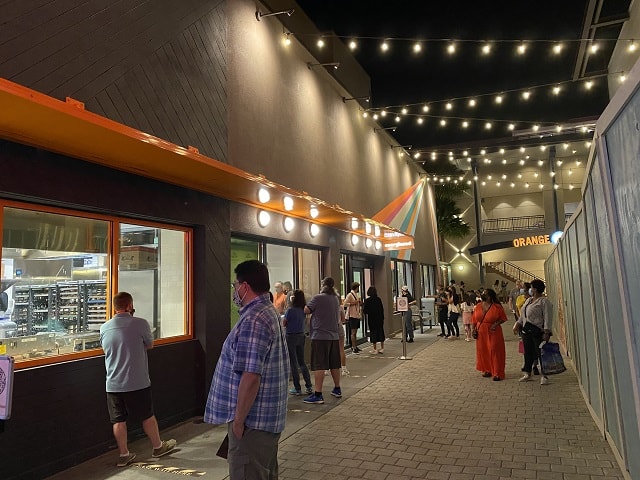 Well, lo and behold, visiting Everglazed Donuts & Cold Brew was successful on a Tuesday early afternoon. In fact, the time stamp on my picture shows 12:19 pm.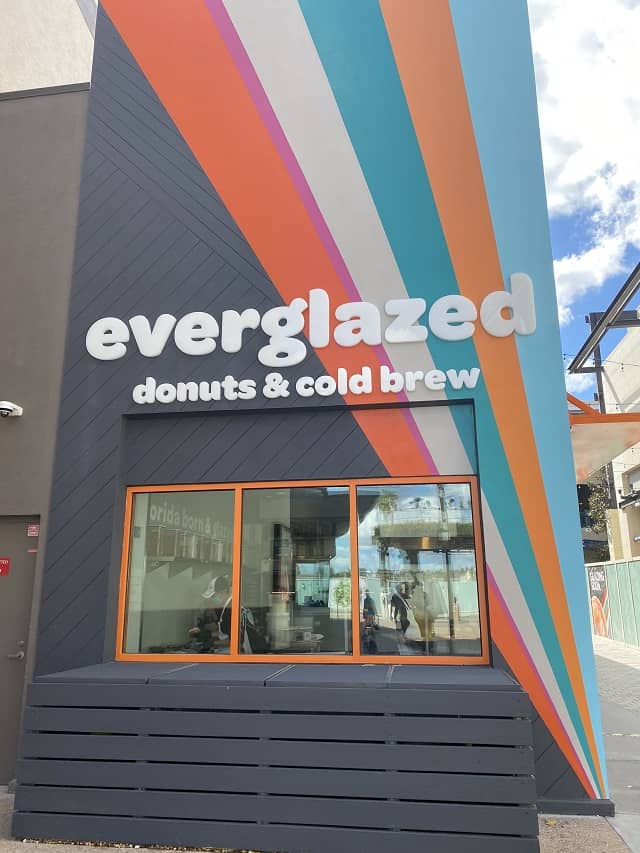 Big difference from the pictures above right? Day and night!
Pirate tip: if you are going to visit make sure to go earlier in the day before the afternoon and especially evenings as there is no virtual wait list.
Everglazed Donuts & Cold Brew is located adjacent to Splitsville and shares the wall with the AMC theatre.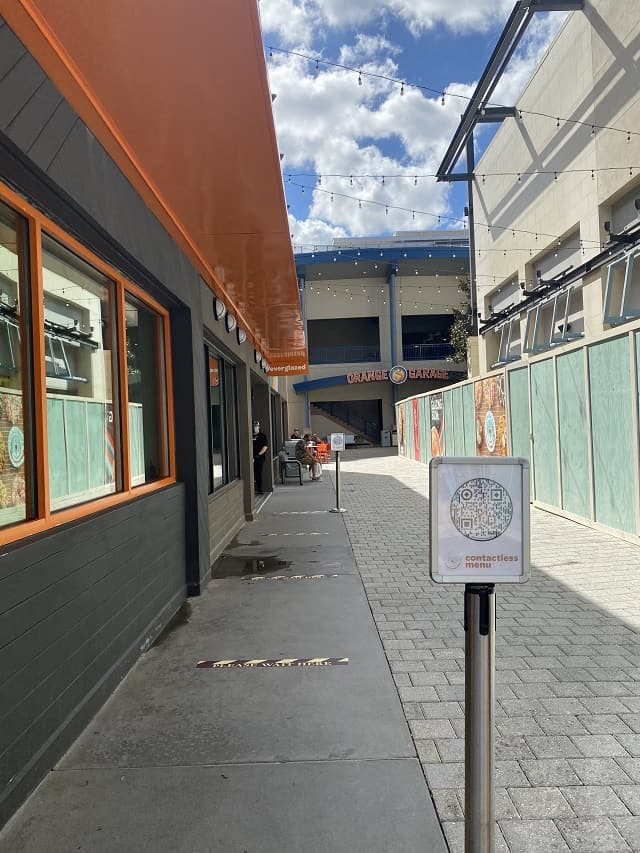 It is near the west entrance and exit of the Orange Parking Garage. In fact, you can see the signage of the parking lot itself!
As you are standing in line, you are able to use your phone to scan the QR code for the contactless menu.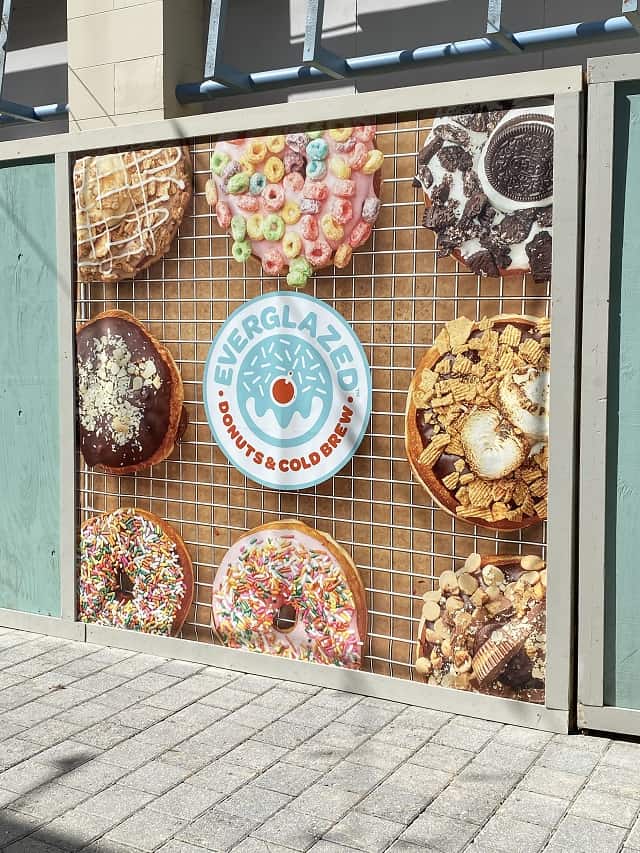 I really liked the window that exposes the kitchen and the staff making the fresh donuts as you stand in line outside. It reminds me of walking down on Main Street at Disneyland and watching them make sweet treats.
The Menu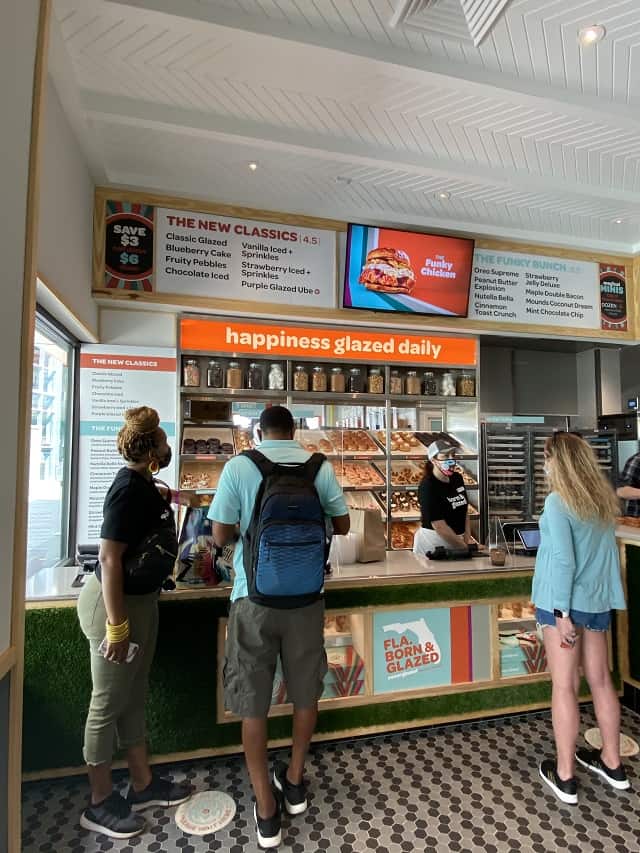 Featuring both classic donuts and gourmet creations, Everglazed is where happiness is glazed daily. Also specializing in cold brew coffee, Everglazed offers bespoke beverage combinations like the Cinnamon Bun and Strawberry Mocha.

If you're looking for some savory bites, an array of sandwiches including the soon-to-be famous B&G Burger and The Funky Chicken are available day and night. Come find your new happy place!

-Everglazed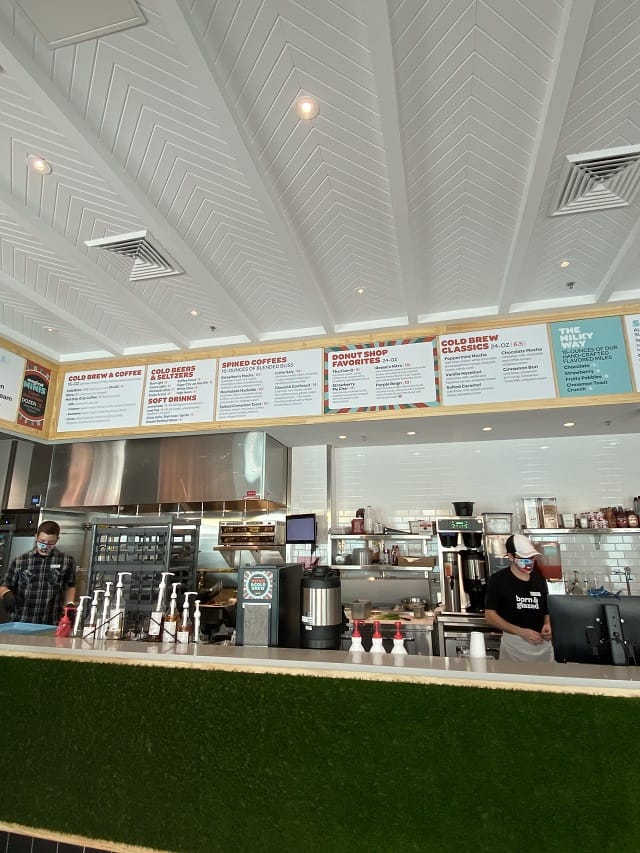 The donuts are made from scratch daily in limited quantities, and the maximum order is two dozen per person.
The most popular donuts are available year round while other rotate seasonally.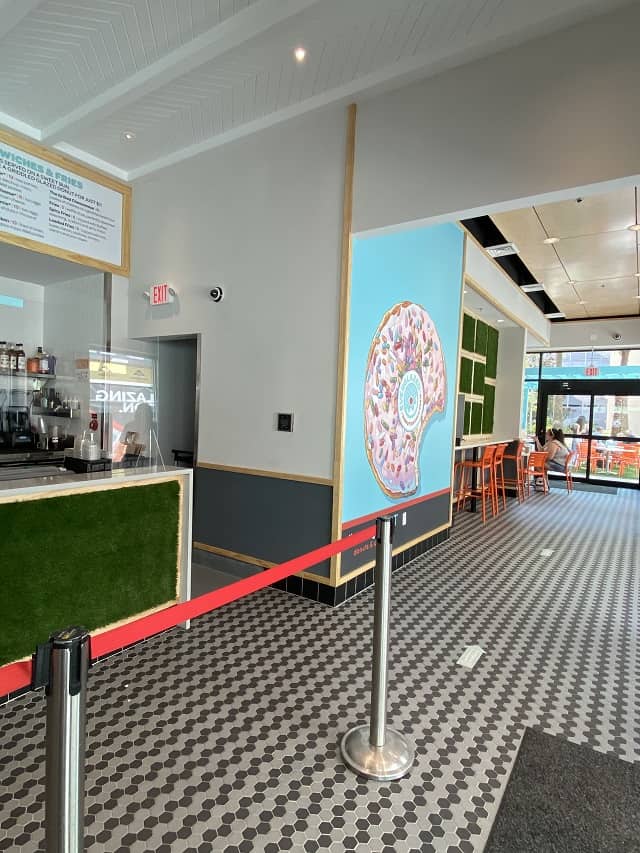 One of the cool parts of this shop is that not only does it sell donuts, but they also make sandwiches and fries!
Each of them are served in a unique way!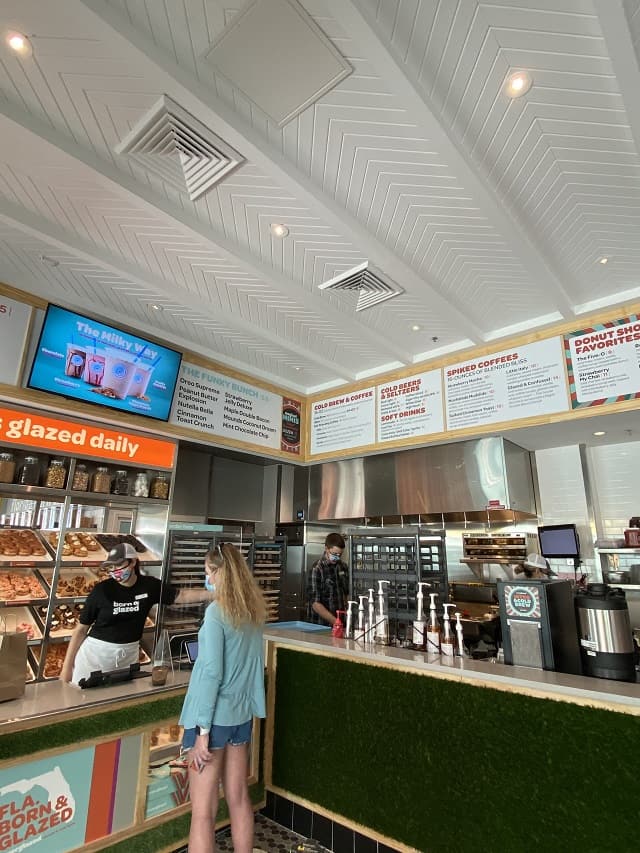 Specialty drinks are available. They include cold brew coffee, soft drinks, spiked coffees, and flavored milks.
Oh yes, you read that right! Spiked coffees and flavored drinks such as milk flavored with Chocolate, Strawberry, Fruity Pebbles, or Cinnamon Toast Crunch are available.
Brings me back to my childhood days!
Tell Me More About the Donuts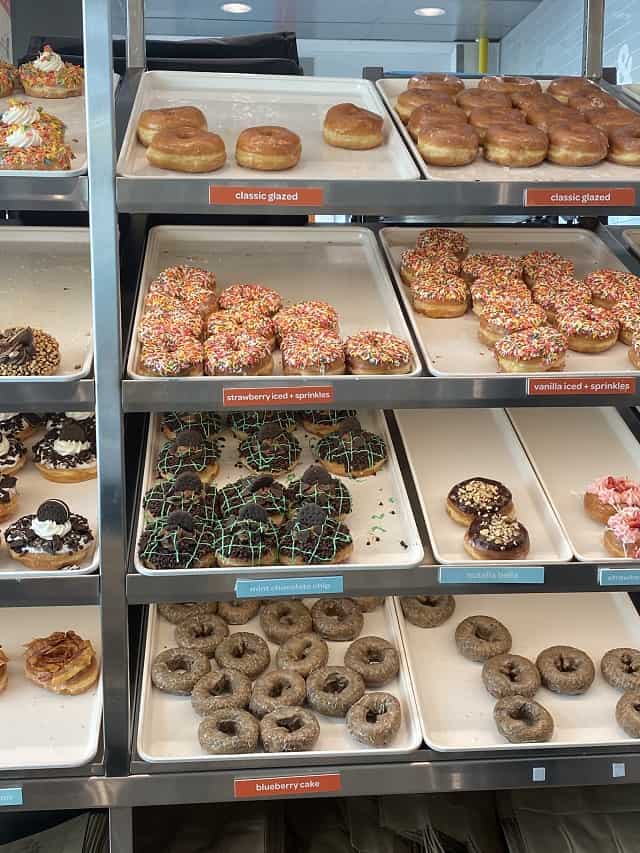 The donuts are truly worthy of being photographed and placing on your Instagram feed. I mean, just looking at them screams, "Put me on social media!"
Here are the "Funky Bunch" Donuts: Oreo Supreme, Peanut Butter Explosion, Nutella Bella, Strawberry Jelly Deluxe, Cinnamon Toast Crunch, Maple Double Bacon, Mounds Coconut Dream, and Mint Chocolate Chip.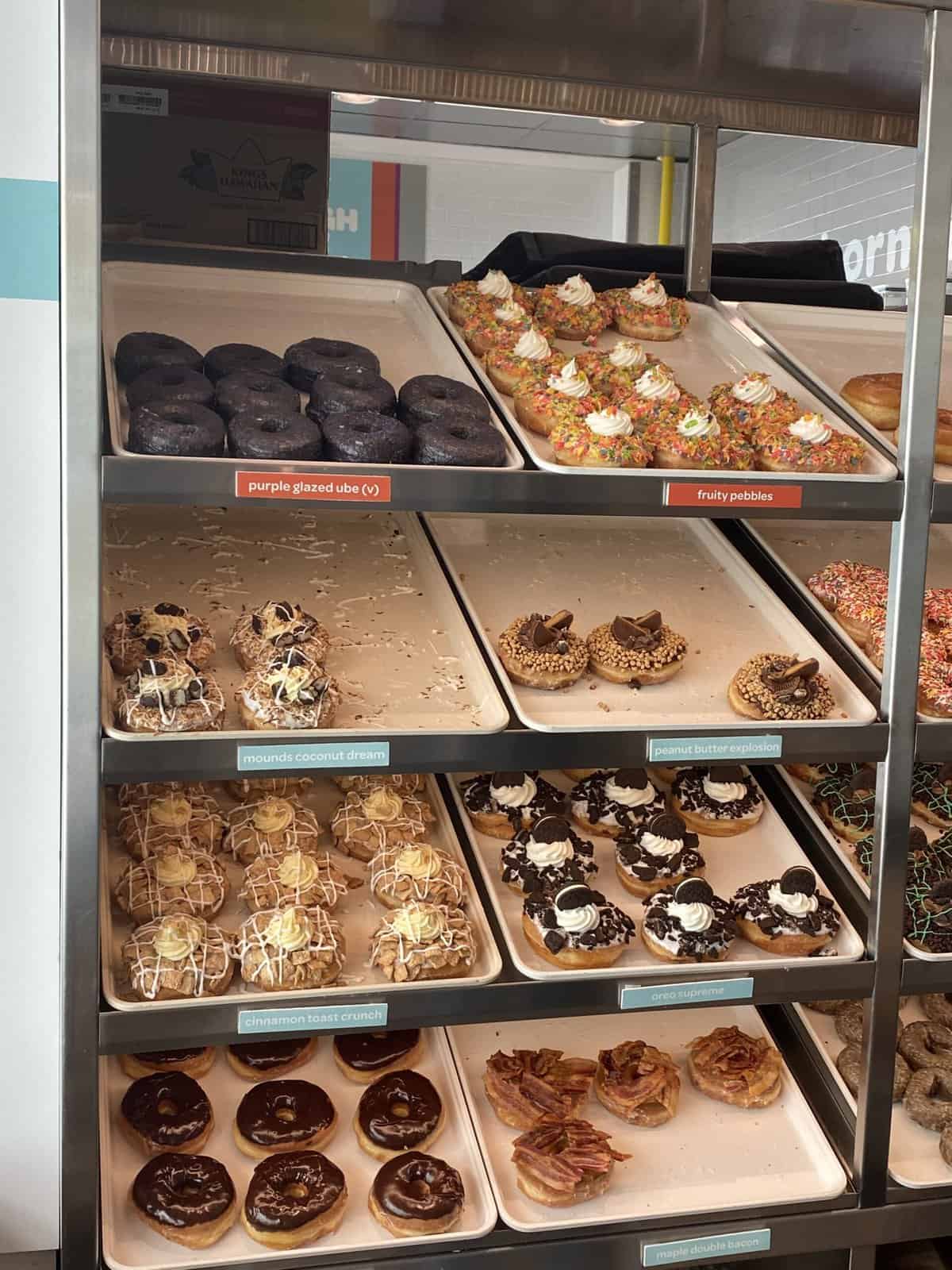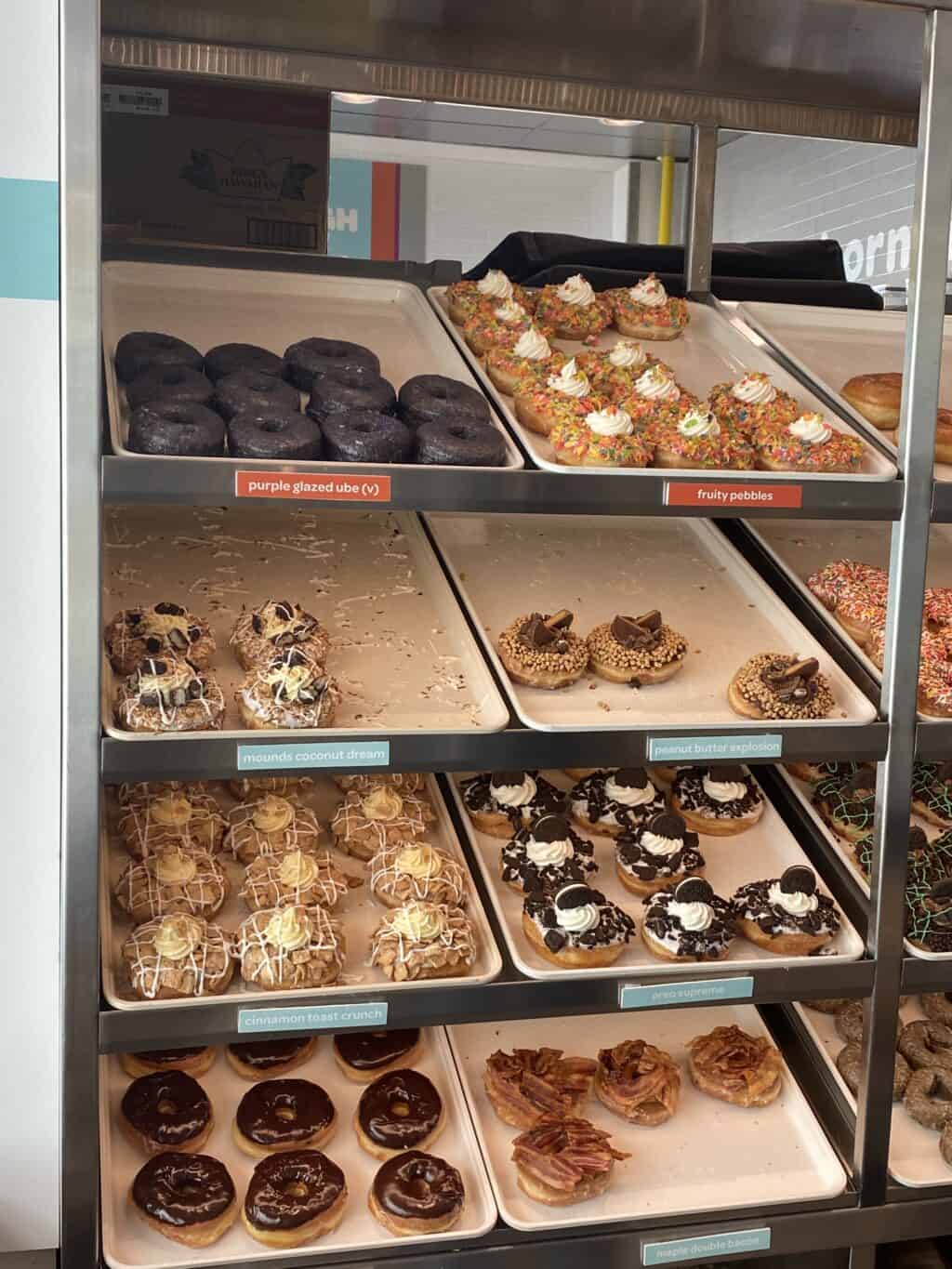 I won't lie to you when I say that it was a bit overwhelming trying to decide which donut to get!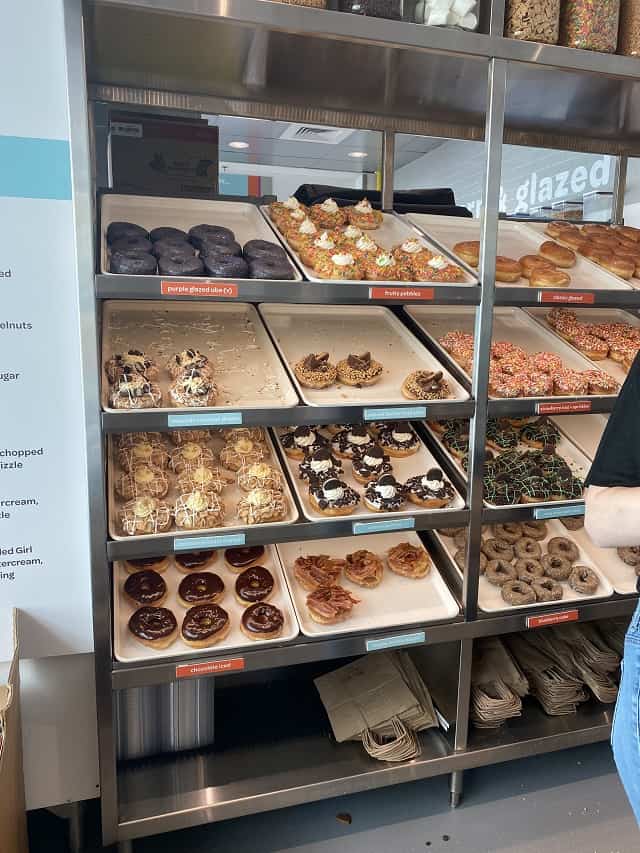 For those customers that want to have the taste of donuts without having an entire sized portion, there was also the option to purchase donut holes.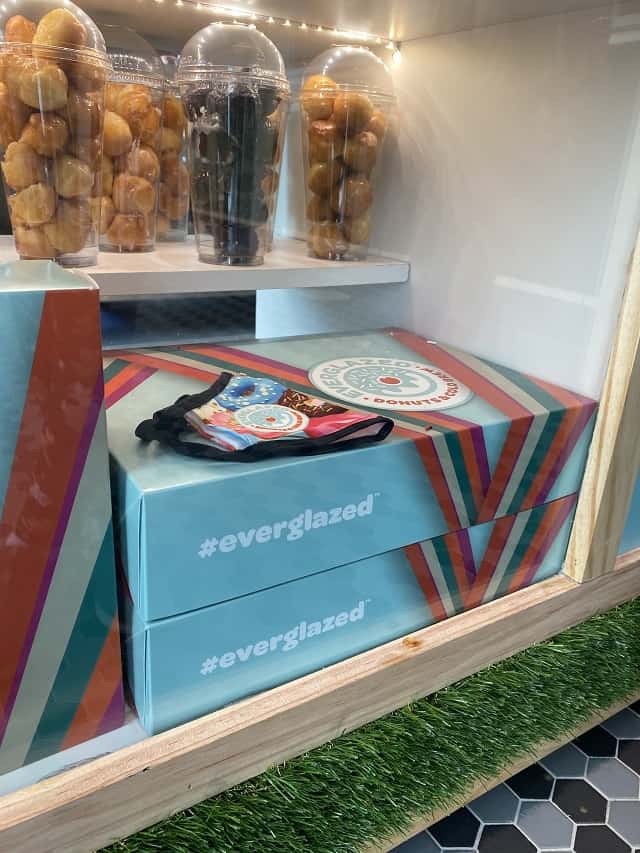 Outside of the store, there is a garden seating that reminded me of a nice breezy and warm July night.
It also brought back memories to a juice bar that I was frequently visit when I was in college attending University of College, Santa Barbara in California.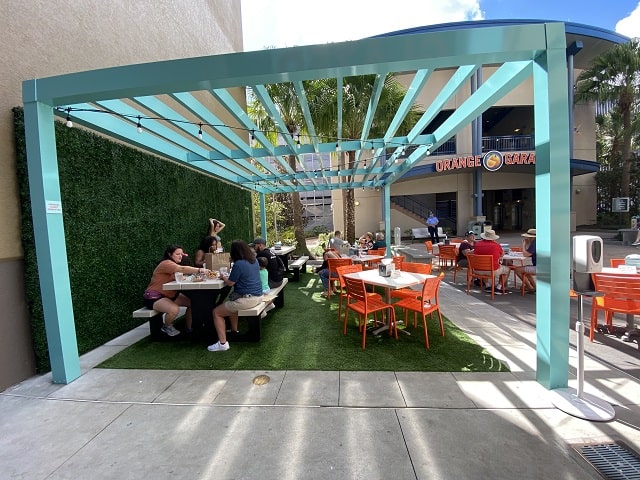 The colors and aesthetic are very close to one another. I won't lie when I said that I went down memory lane for a minute.
I very much picked up on the vibe with the artificial grass both outside in the patio as well as inside the storefront itself.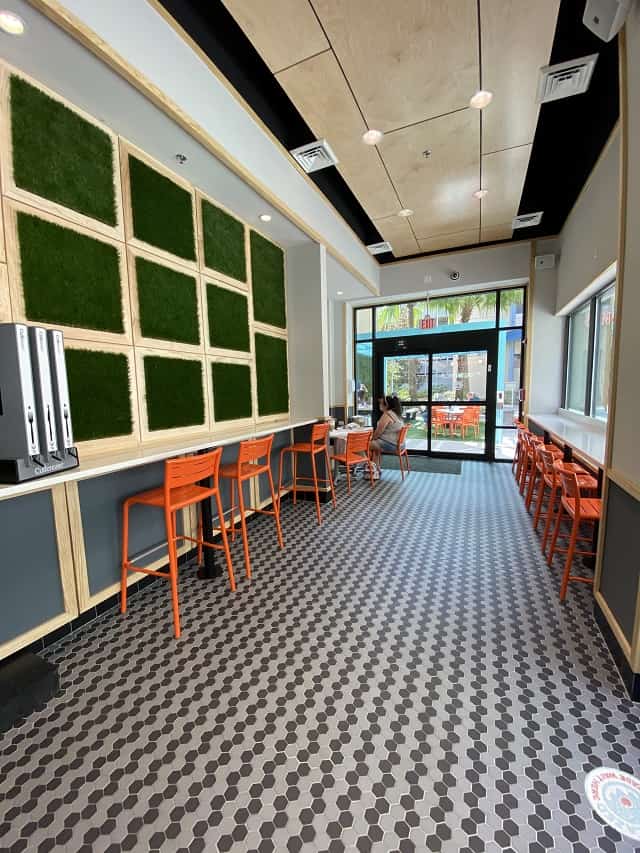 So… What Treats Did We Purchase?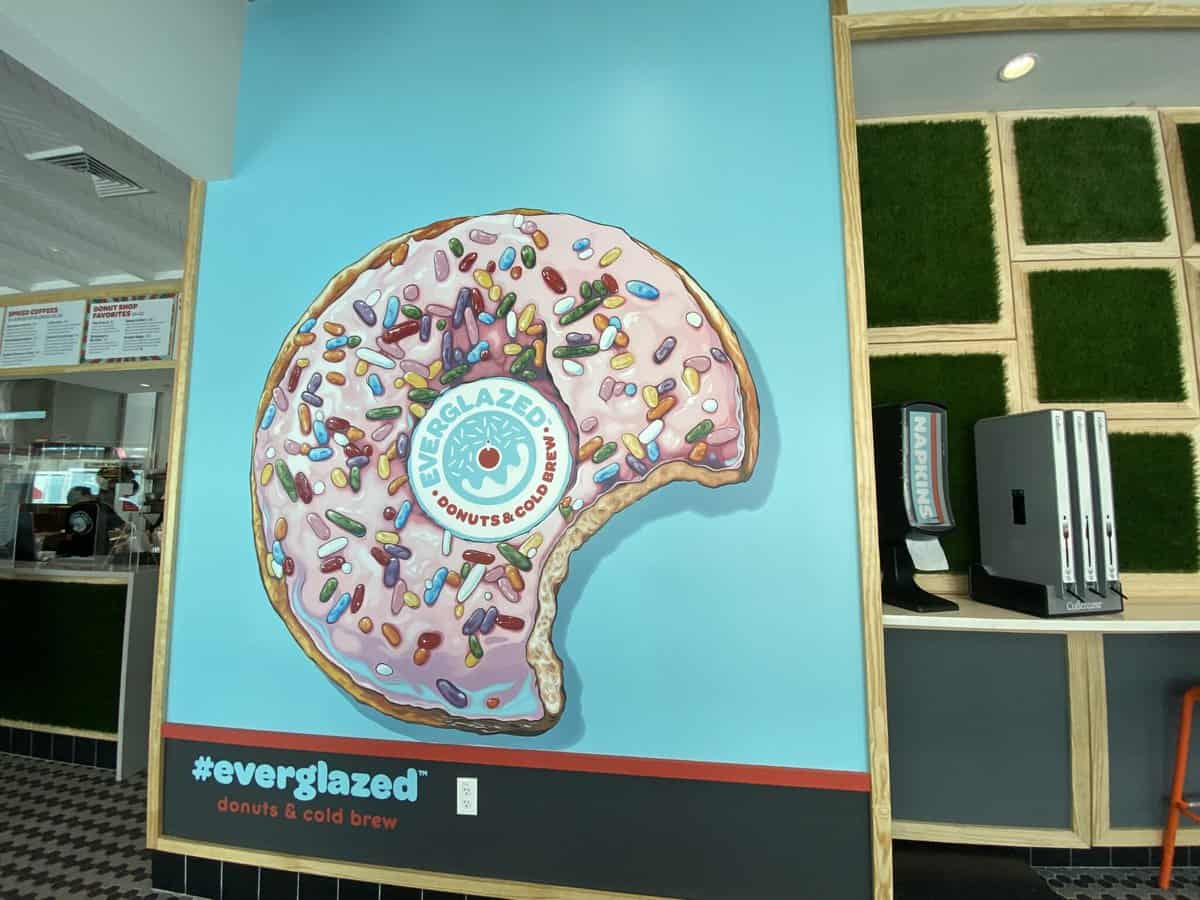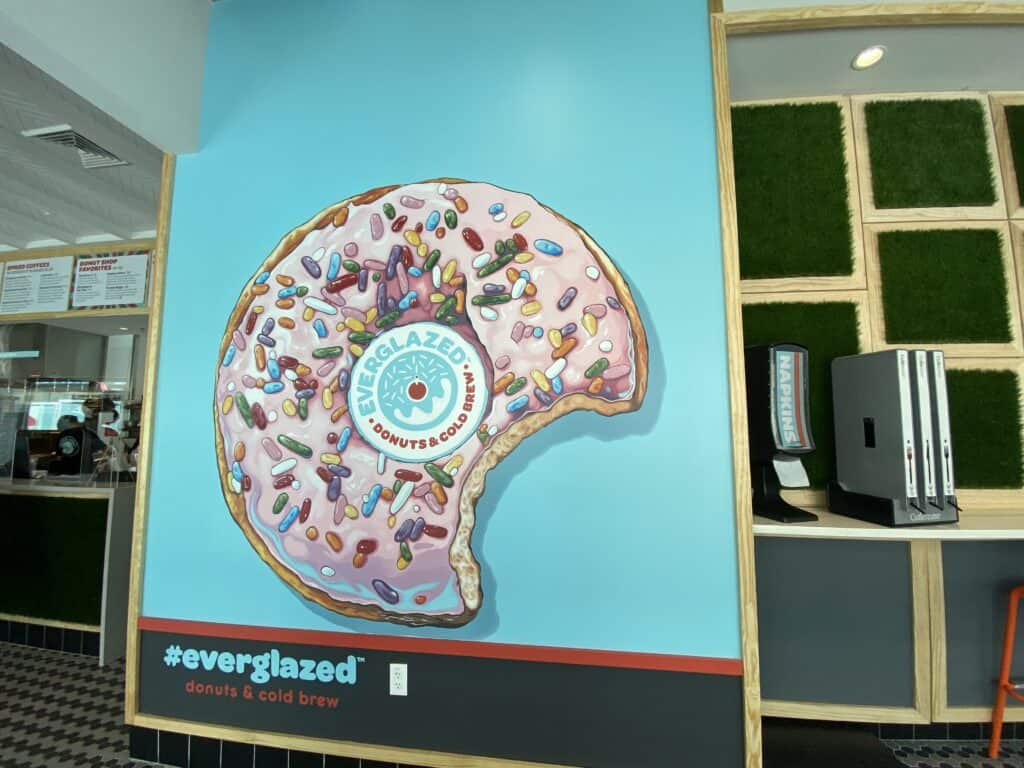 My oldest daughter and I were the only ones to purchase a treat from Everglazed since my husband and youngest daughter are not big donut fans.
Thinking back, I should have had them order a sandwich or the fries or at least one of the specialty drinks.
But to be honest, we had already had so many sweet treats during our visit to Disney World that to eat one more sweet would have given us a sweet hangover… and not the good kind either!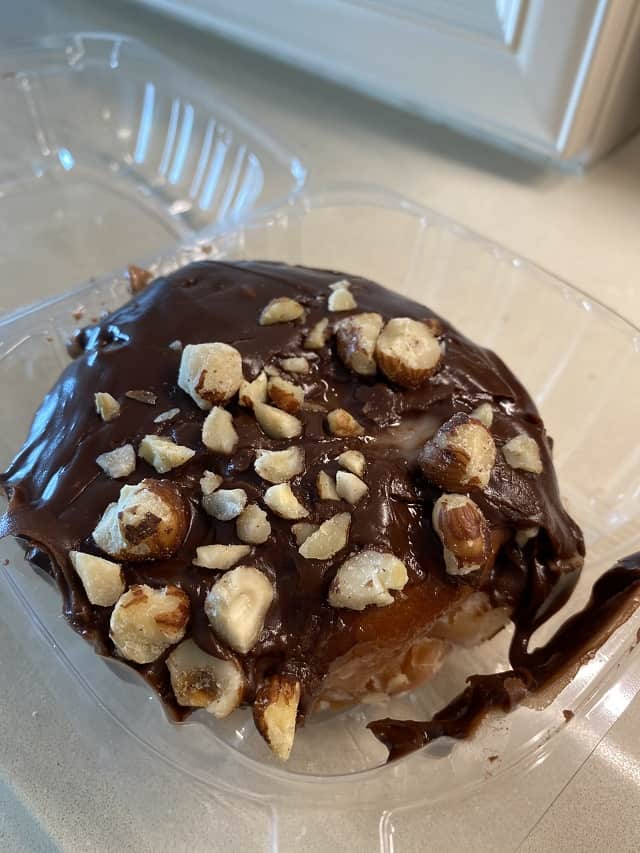 My daughter's eyes went directly to the Nutella Bella donut which is priced at $5.50.
It is made of Nutella creme-filling, chocolate iced and topped with crushed hazelnuts.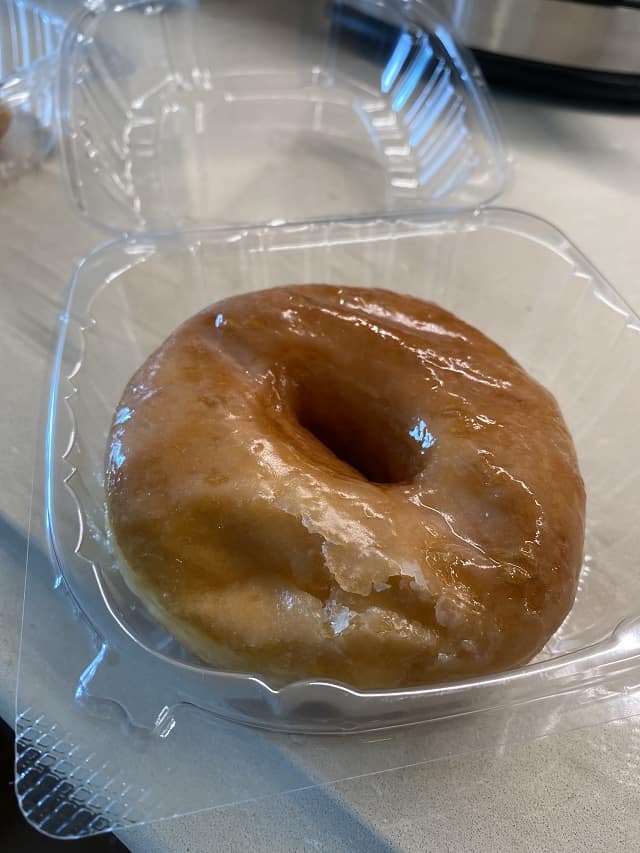 I decided to go plain and order the regular glazed donut.
As we were getting ready to have lunch at The Boathouse we decided to wait until we got back to the resort to enjoy them.
Final Verdict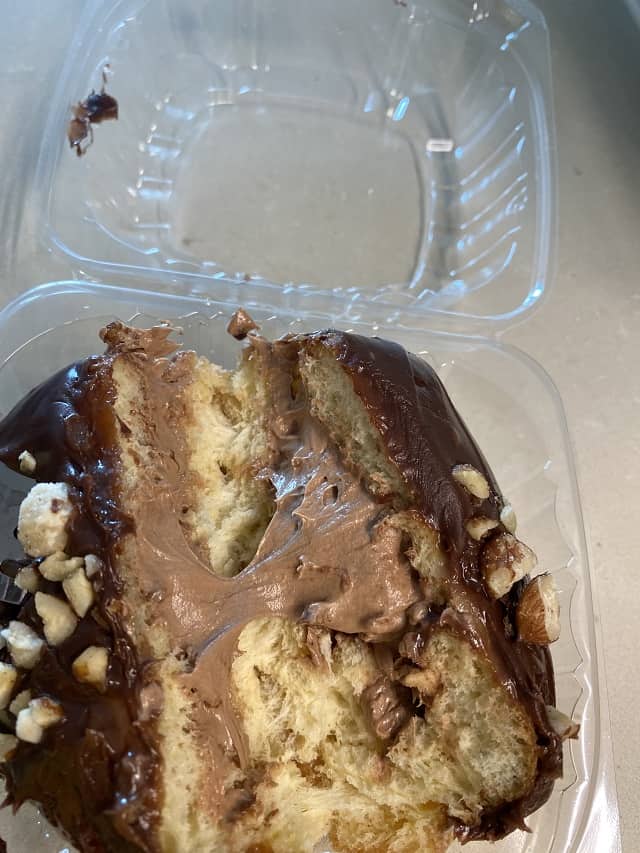 When you hear the word Nutella you think of the dark hazelnut color. However, we were quite surprised when we noticed that the Nutella creme was whipped and creamy.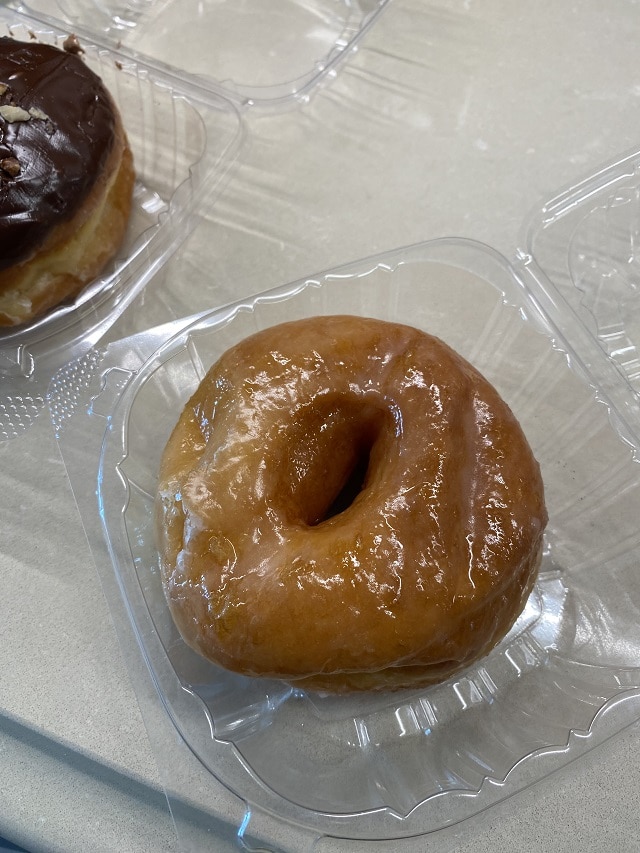 As for my Classic Glazed donut it was nothing special as it tasted quite similar to a different brand of donuts that I shall not name. The cost of this donut was $4.50.
Everglazed does offer an Disney World AP discount.
Gideon's Bakehouse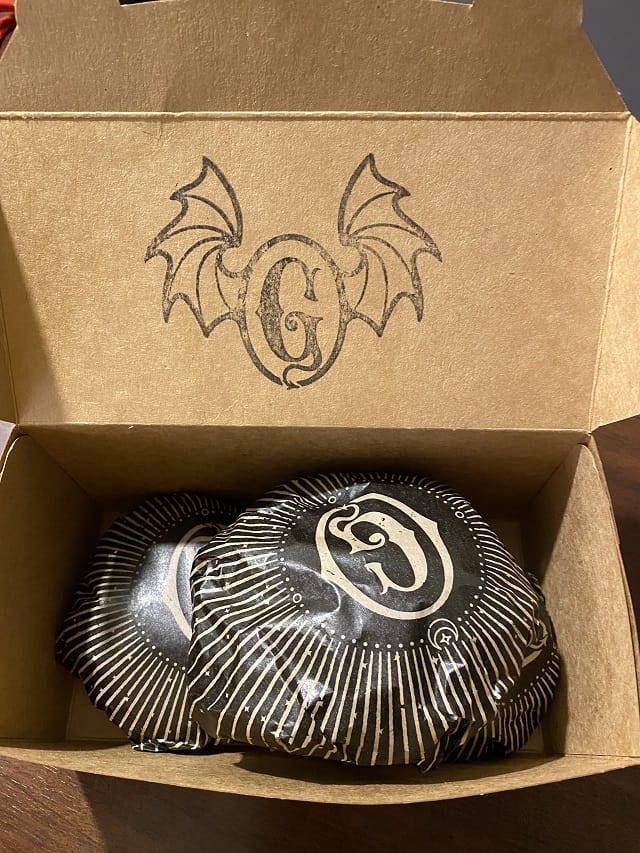 As Valentine's Day falls in February, it came with no surprise that the special cookie is called: The Eternal Flame.
"It is a velvety Five Flavor Chocolate Cookie laced with a special house-made Ancho, Cayenne, and Cinnamon Spice Mix and topped with Chocolate Covered Cherries."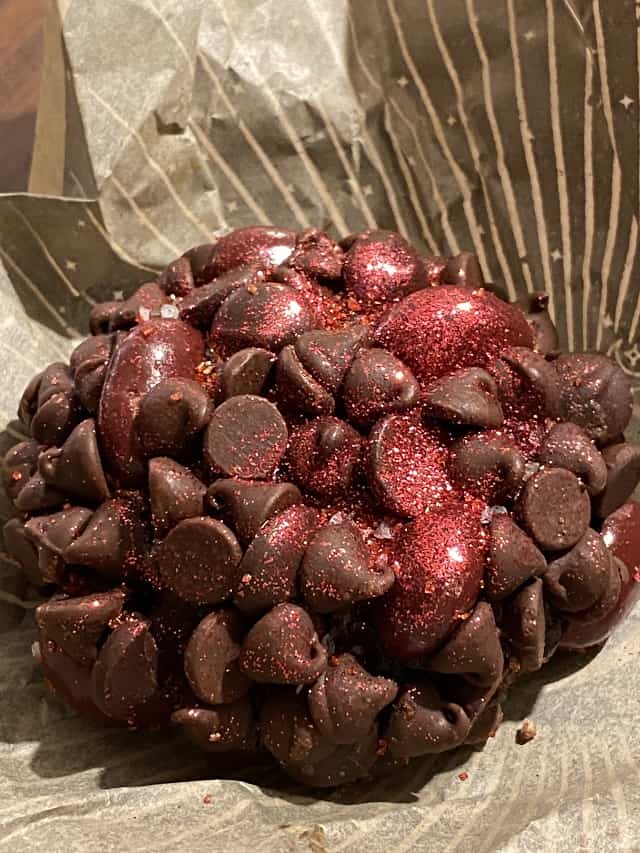 My husband ordered this cookie. You have the option of regular spicy or super spicy. He opted for the second spicy.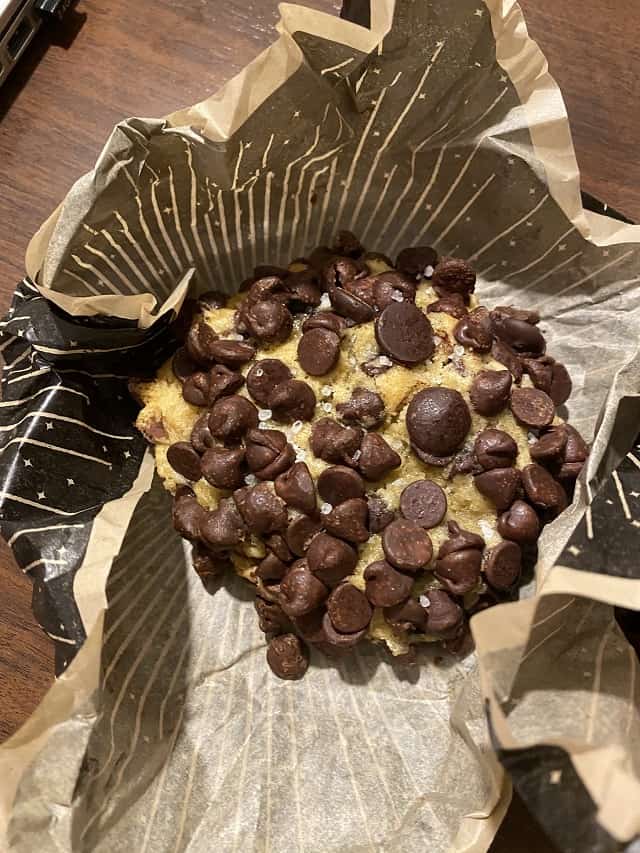 My youngest daughter ordered the Original Chocolate Chip.
"It is packed inside and out with a variety of Chocolates, infused with differing vanillas and has a texture that might almost trick you into thinking you're eating Cookie Dough."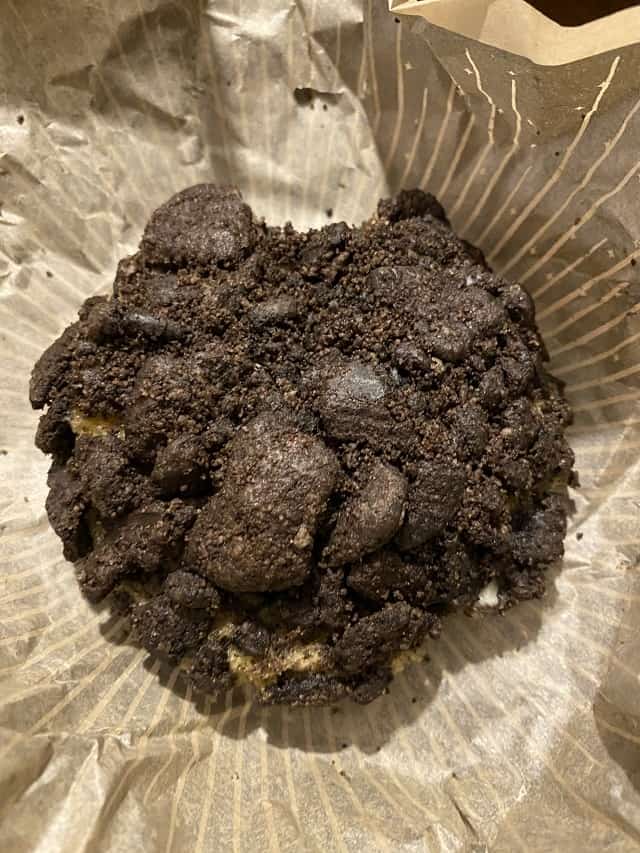 Lastly, I purchased the Cookies & Cream cookie.
"It starts with our ultra-soft vanilla bean cookie filled with chunks of hand-cut Double Stuff. We top it with a complete covering over crushed cookies to solidify Cookies & Cream in a way you've never experienced."
Each cookie costs $5.00.
Final Verdict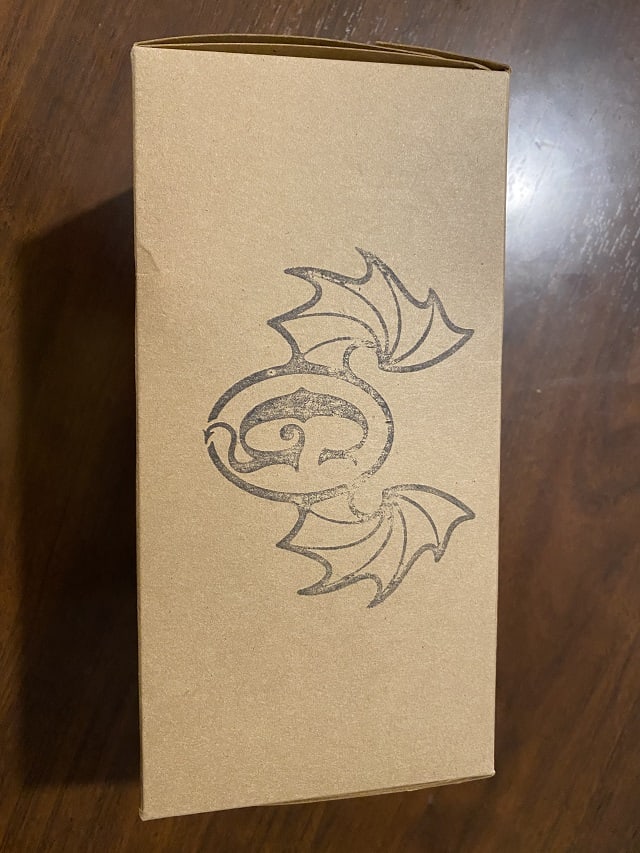 The cookies were so big that it took my husband three separate times to finish the cookie itself. However, as a person who enjoys spicy, especially hot peppers, he appreciated the fact that they offer a spicy option as it contrasts the very sweet cookie.
My youngest who loves chocolate and can never seems to stop eating it, in fact, told us out loud that it was too chocolatey for her, and that she could only eat a little bit at a time.
I love Oreos so I went full speed ahead, but also had to eat it at separate times, and even then I was not able to finish it all myself.
Who's the Winner?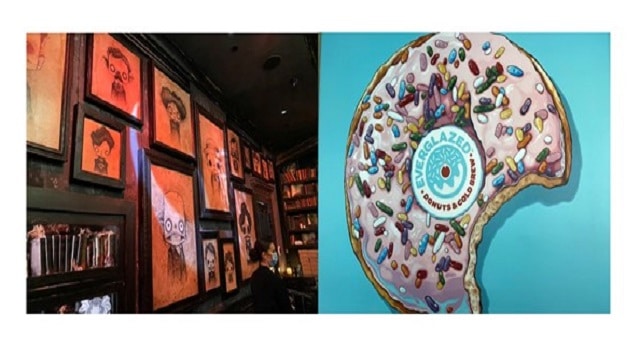 If I was paying a visit to Disney Springs and I could only visit one of the two places, I would definitely have to go with Gideon's.
I truly fell in love with the design, immersion experience and the visual aesthetic inside. That's worth the wait! We also enjoyed the cookies as they are unique in themselves and felt that $5.00 a cookie was not too bad.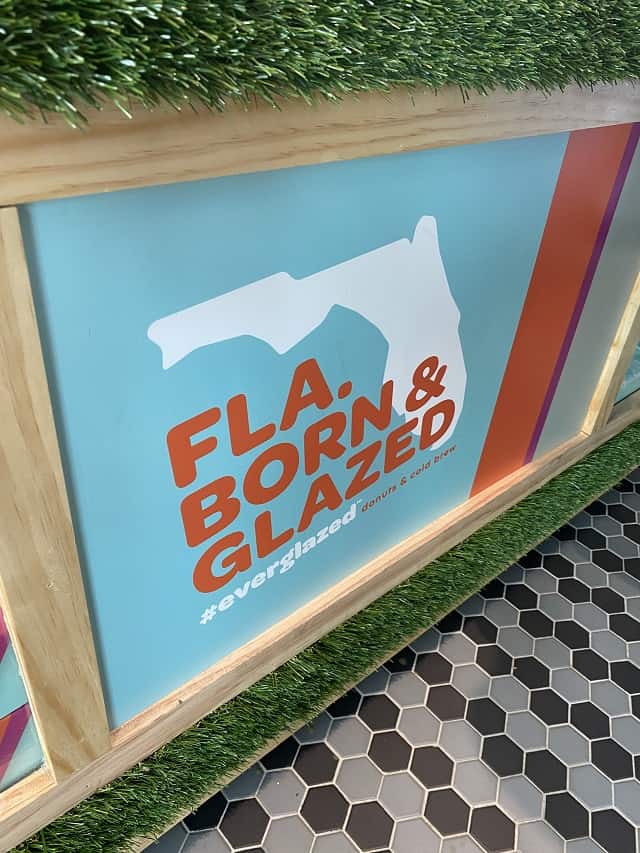 In terms of Everglazed, we did feel that paying $4.50 and $5.50 was a bit high for a donut.
However, I definitely want to visit again and purchase a specialty drink and the fries!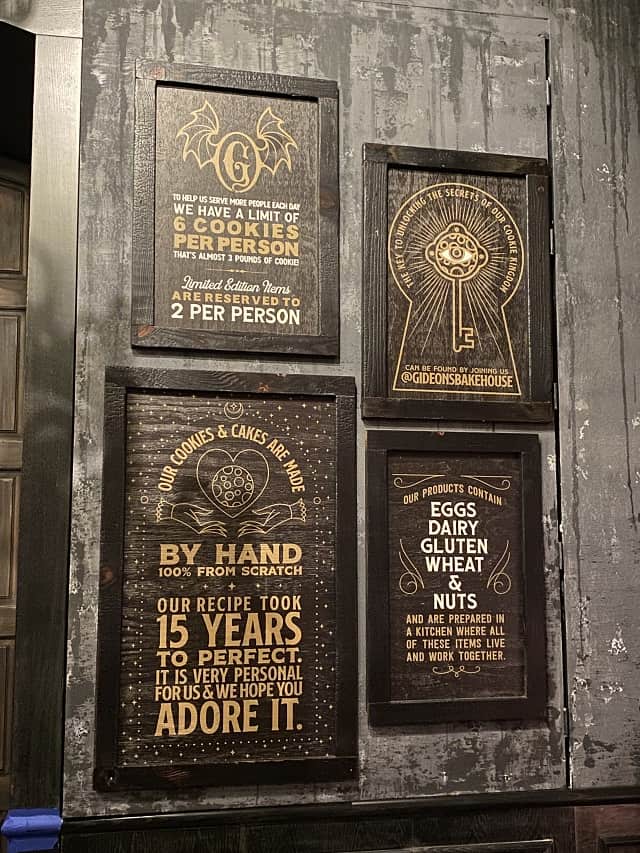 Thankfully, I don't have my yearly physical and blood test until late March especially after indulging in so many sweet treats!
Have you ever visited Gideon's and/or Everglazed? Which is your preference? If you have yet to visit, which one piques your interest? Let us know in the comments on Facebook and in our Facebook group.