Do you want to stay near the Disney Magic without booking one of Disney's Resort Hotel? The Dolphin might just be for you!
What Is The Dolphin?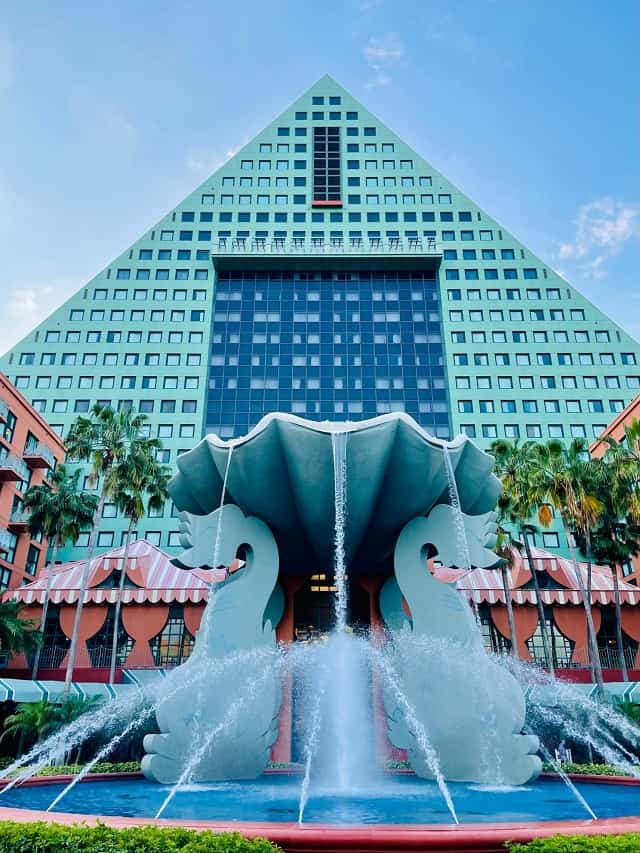 Many potential Disney guests find the idea of the Walt Disney World Swan and Dolphin resort a little bit confusing. After all, the resorts are on Walt Disney World Property; however, they are Marriott hotels.
Additionally, The Swan and Dolphin is one resort made up of two separate, distinctly different hotels. Since The Walt Disney World Swan and the Walt Disney World Dolphin are separate entities, potential guests must be prepared to select one or the other.
You may have seen them before while visiting the parks. The Dolphin is the triangular shaped building, and the Swan is the arch shaped building.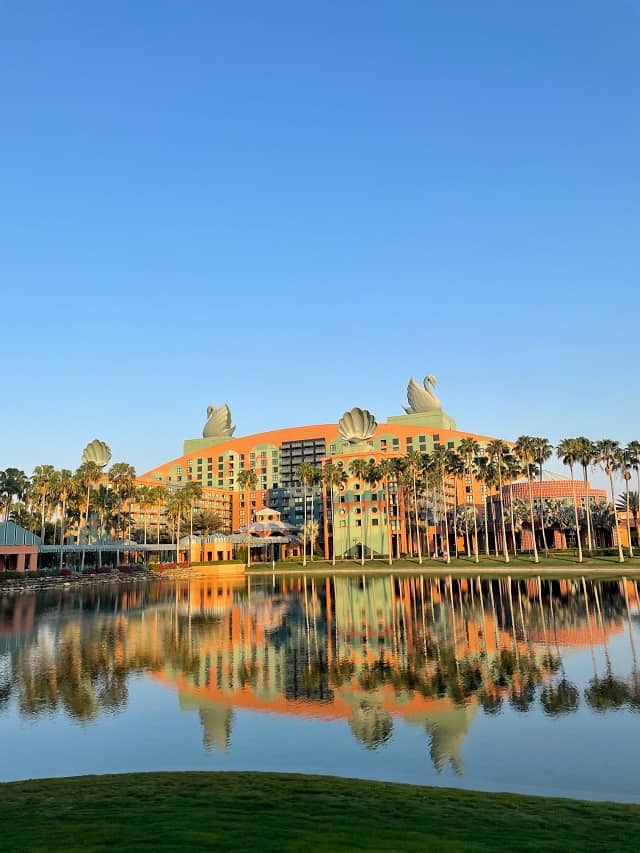 For this particular trip, I (Katie P) elected to stay at the Dolphin. It was a first for my travel party, but it will not be our last!
I found the resort to meet my needs perfectly for a quick three night trip for two to Walt Disney World. However, I can see myself enjoying an extended amount of time here with my entire family as well.
Why The Dolphin?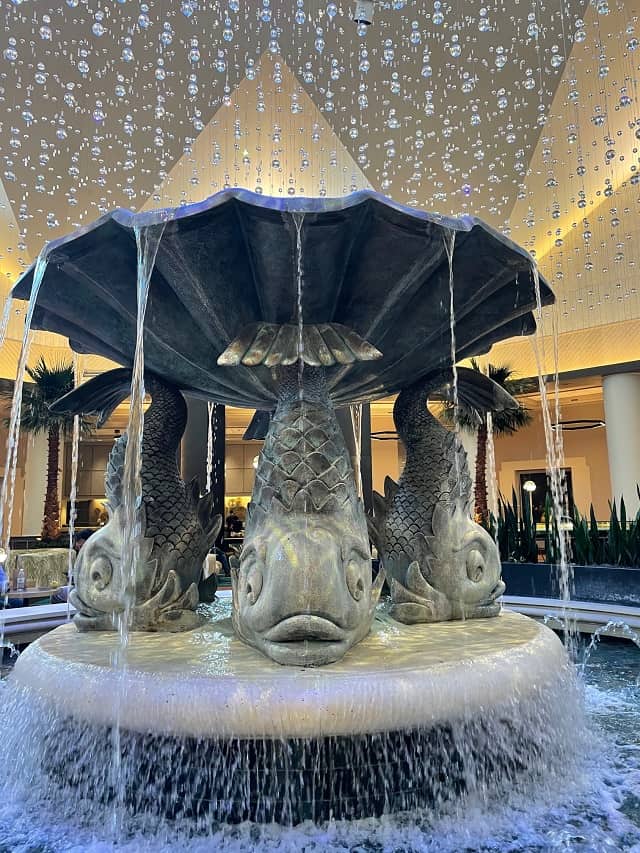 You might be wondering what made me select the Dolphin over the Swan. Honestly, upon reading about both, they seemed relatively equal in terms of meeting our needs. My non-negotiable this trip is that I wanted to be able to walk to Epcot.
So, the deciding factor was that the Dolphin's room rates for the trip were slightly less than rates at the Swan. In fact, rates were also significantly less than any of the Disney owned Epcot Resort area hotels, including the DVC points rental opportunities I found.
Dolphin Rates and Fees
It seems to me that the Swan, for reasons unknown to me, is typically a little pricier than the Dolphin year-round. However, there are excellent rates to be had, particularly if you are willing to stay in a standard room with no view.
To check out the Dolphin's rates, head over to its booking site. Keep in mind that there are often discounts available for Annual Passholders, nurses, teachers, AAA members, seniors, government employees, and military personnel.
You should also keep in mind that the posted rates do not include resort fees. However, you can check a box on the booking site to show rates that include taxes as well as these fees. I highly recommend doing this to prevent sticker shock.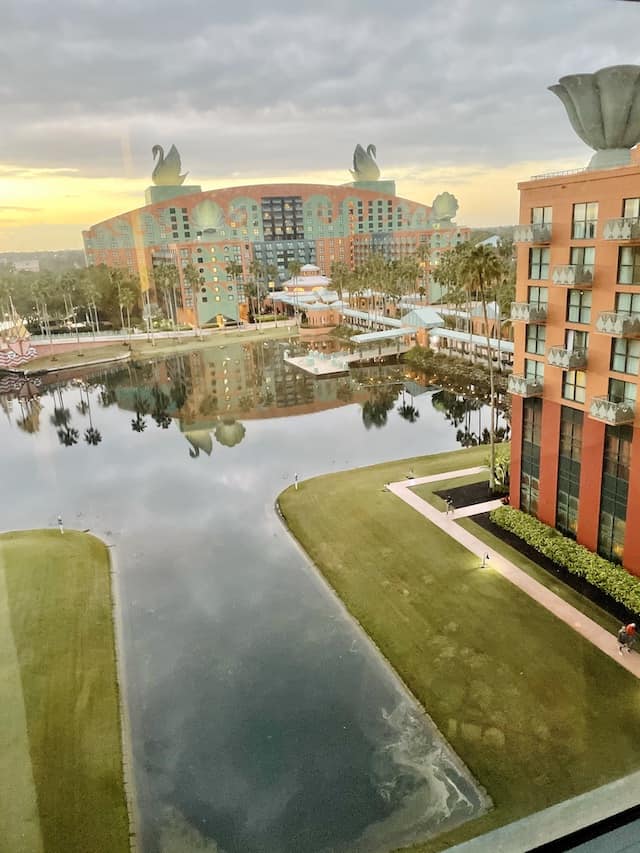 You will also find that you can save by becoming a Marriott Rewards Member or with an existing membership. This membership will allow you to earn Marriot Rewards points for bookings at The Swan and Dolphin just as you would any other Marriot hotel.
Finally, you should know that parking is not included in the fees. When I traveled, self parking was $29 a night and Valet parking was $39 a night.
What's Included?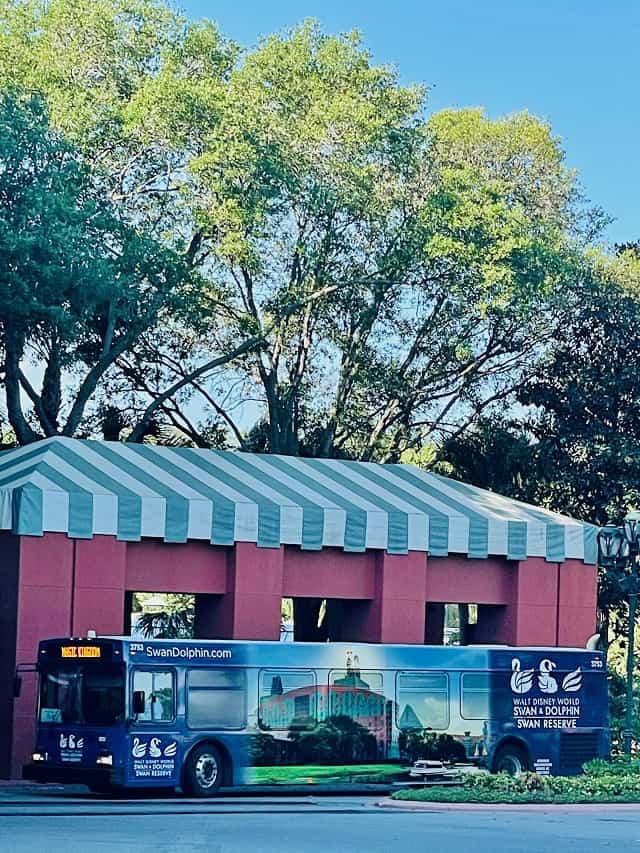 Unlike a Disney Resort hotel, guests of the Swan and Dolphin do not get complimentary luggage tags at the desk, nor do they get discounted Magic Bands. You also do not get complimentary Magical Express transportation to and from the airport. However, this service is ending soon anyway, so it may not be a deciding factor depending on your dates.
However, Dolphin guests do get "Good Neighbor Resort Benefits." These include shuttle transportation to the parks as well as boat transportation to Epcot and Hollywood Studios. Typically, benefits also include advanced FastPass reservations and Extra Magic Hours, but for now neither of those are available.
Check In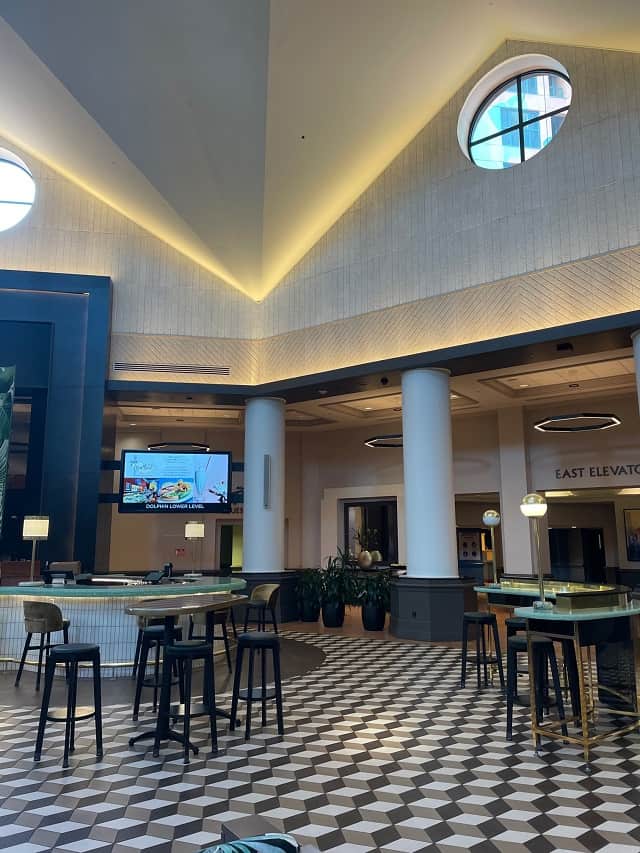 Check-in at The Dolphin was somewhat busy but not terribly so. We were able to use to the app to see if our room was ready, and we were able to check in early.
There were carts and attendants available to help with luggage. Guests cannot borrow a cart to use themselves, rather an attendant loads the cart and brings it up to the room.
If you have no bags to deal with, you can go on into the lobby and check in and collect your key cards. I really loved the huge revolving doors that led to the lobby. I know it's silly, but these doors are the kind of trivial detail I could see my children reminiscing about for years if we do a family stay here someday.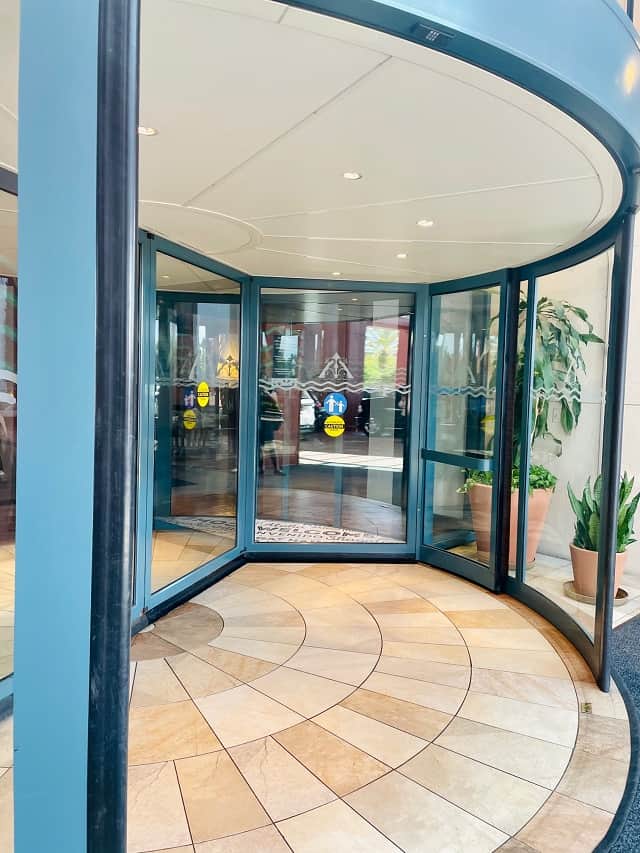 The line moved quickly, and the staff member I spoke with was extremely friendly. She let me know that we received a surprise complimentary upgrade! This was a completely unexpected little bit of Pixie Dust.
We had originally booked a traditional guest room with no view. However, The Dolphin upgraded us to a resort view, which is not huge, but it is still an extremely welcome bit of magic.
The Rooms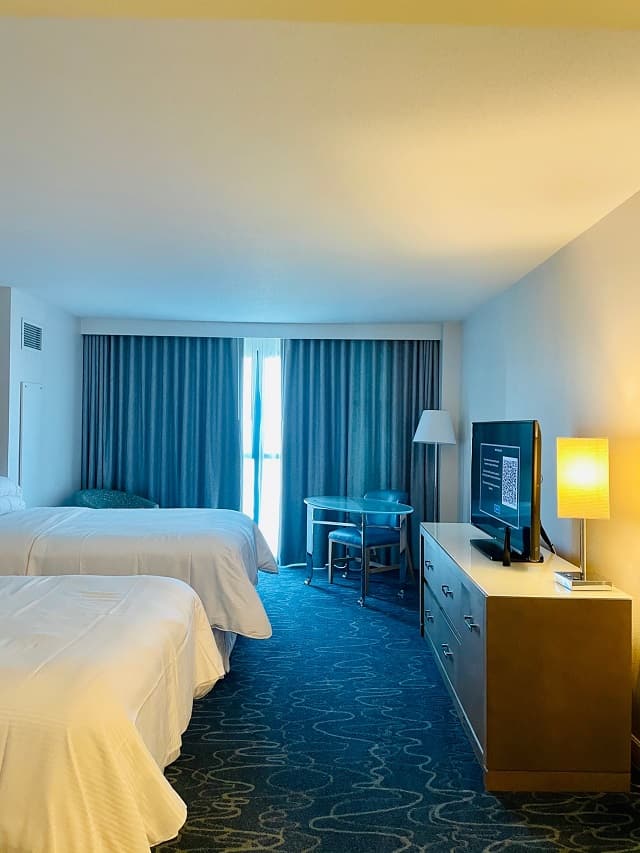 Since we were a small party on a quick trip, a traditional room was plenty of space. We took the elevator to our room and found it to be perfectly comfortable.
To me, they are comparable with standard rooms at a Walt Disney World Resort deluxe hotel without the Disney theming. However, the pricing is more comparable with a moderate room.
Traditional Guest Room Specs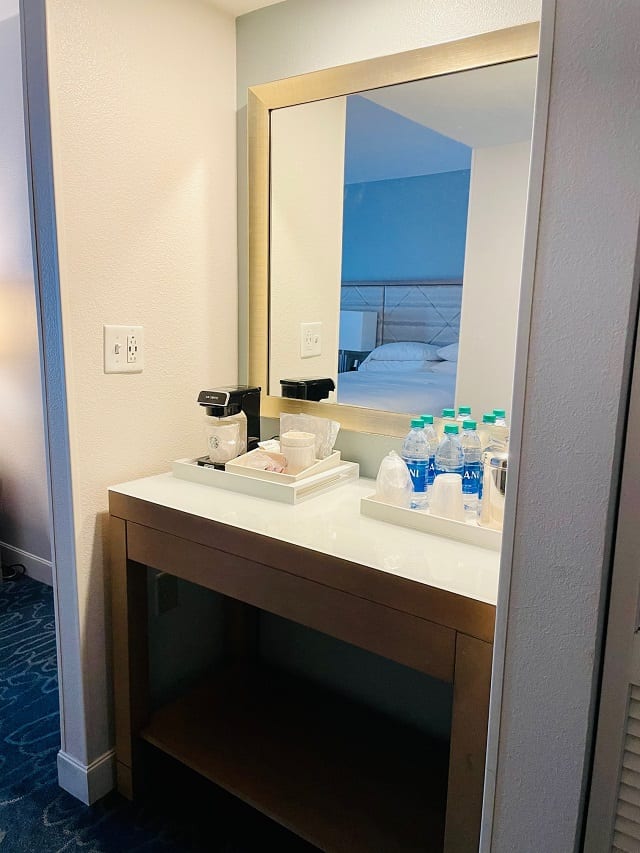 The traditional guest room was 360 square feet. It had a mini fridge, coffee maker, and complimentary bottled water available.
Our room had two full beds, and I found them comfortable. King bed options are available as well if that is your preference.
The decor was nothing special, and the flooring was covered with hotel carpet, which is usually questionable at best. But, the plans for this trip did not require a room with high aesthetic appeal.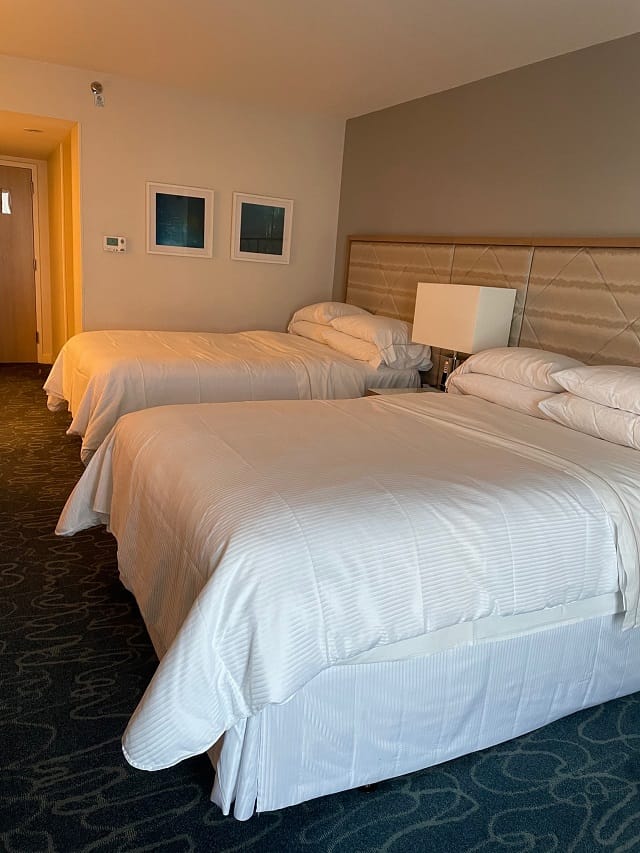 The furnishings included a dresser with a flat screen TV. I was sad to find that the resort channel available in Disney Resort Hotels was not available here, but that is where the drawbacks end.
Additionally, the room had a desk and a chair. This would make a suitable workspace for those working on the road. It also had a second chair to increase seating options.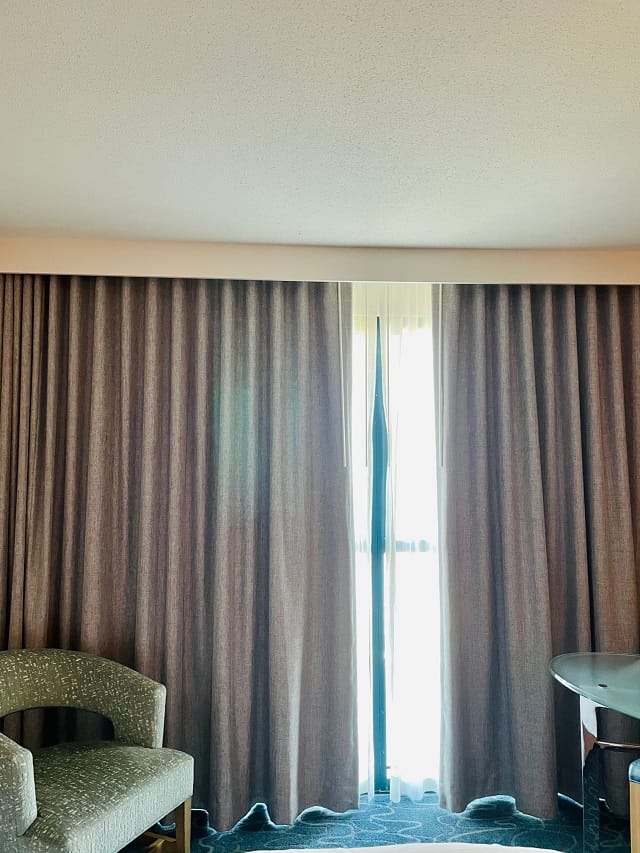 My favorite feature of this particular room was the floor to ceiling windows. The front desk had promised a resort view, and it did not disappoint.
Check out the big reveal!
We had a glorious view of Epcot and Hollywood Studios. I could see Spaceship Earth, Tower of Terror, the Skyliner, and even Aerophile over in Disney Springs.
I typically don't spend enough time in the room to worry about a view. However, it surely is nice to have one. I really loved the chance to lounge around watching the Friendship boats and the Skyliner during our afternoon breaks.
Traditional Bathroom
The rooms, of course, also had bathrooms. The Shower/tub and sink areas were separate, which to me is nice when sharing a room with others.
The shower area was small although this one did have a curved bar, which is typical of Sheraton hotels, to provide more space. It did have great water pressure and adjustable settings.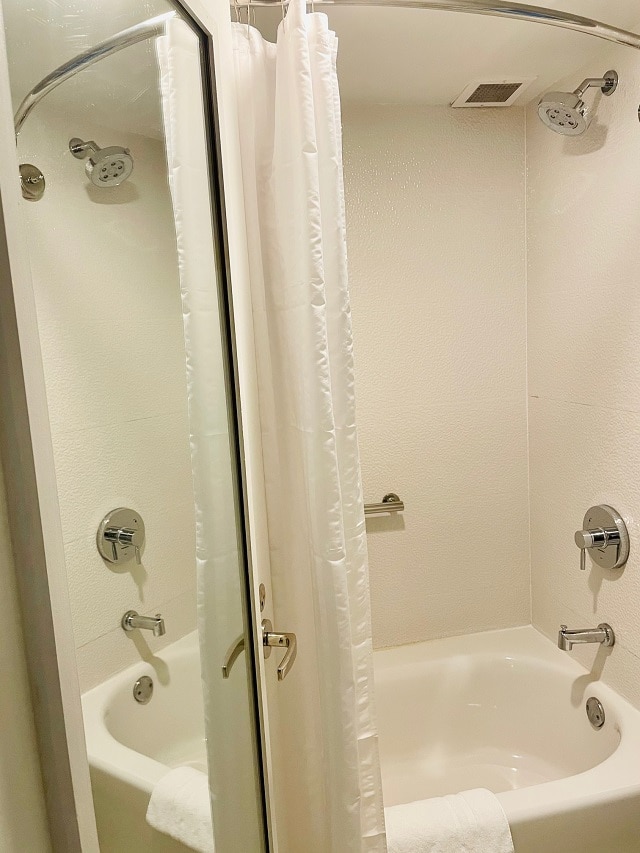 Also, it may be important to you that this resort still gives out tiny toiletries in contrast to Disney's refillable wall mounted bottles. It may also be important to you that a relatively decent hairdryer is available.
Overall, I liked the room. I did not find myself missing the Disney theming typical of Disney Resort hotels, but that might be because we had such a lovely view of the actual parks. If theming is important to you, you might consider this a drawback.
The Resort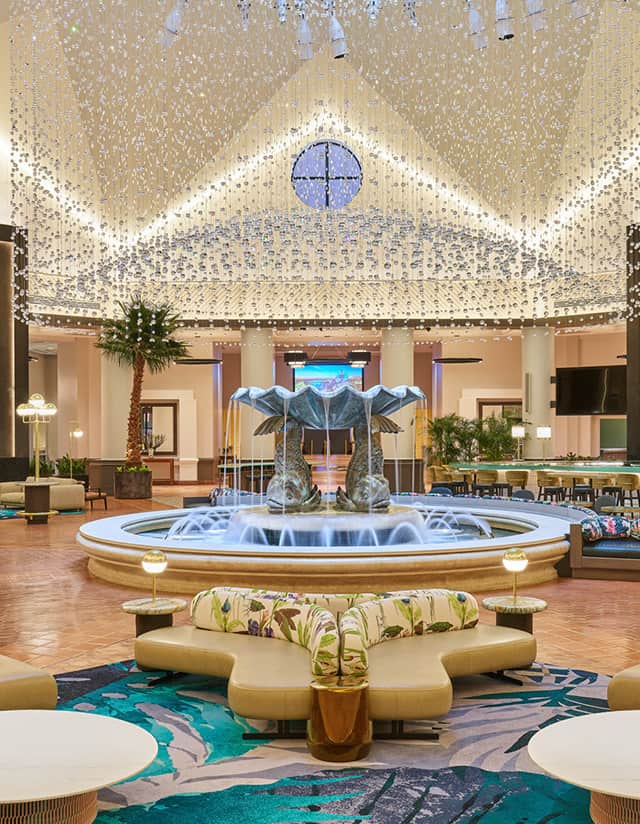 The resort itself feels very much like a conference center style hotel. It is large with 2 wings, but it was not unmanageable.
Since it is a large hotel, it can take a little time to orient yourself to how to get to the amenities. More importantly, you will want to be sure you know how to get to the transportation and walkway to the parks. We found a staff member who pointed us in the right direction.
Dining
We regrettably did not have the time to check out all of the dining options at Swan and Dolphin. However, there are a number of fine dining and casual dining options.
Both Todd English's Blue Zoo and Shula's continually receive high ratings, and I look forward to trying both someday. However, I had a lot of food booths to sample and review for you over at Flower & Garden.
I'd also love to try Garden Grove someday, especially once character dining returns to the Swan and Dolphin. We are already seeing character dining trickle back to the Disney Resorts, so I imagine it don't be long before some modified experience comes to Garden Grove.
My travel party and I did stop by Fuel, a coffee shop at the Dolphin. As a Chai lover, I sampled the Chai, but I definitely prefer Joffery's or Starbucks to Fuel.
I did notice it had a variety of snacks, including some Disney inspired cupcakes. Those were a cute touch.
I also discovered that Fuel does not accept Disney gift cards as a payment method. If being able to pay for everything with gift cards is important to you, this might be something to consider.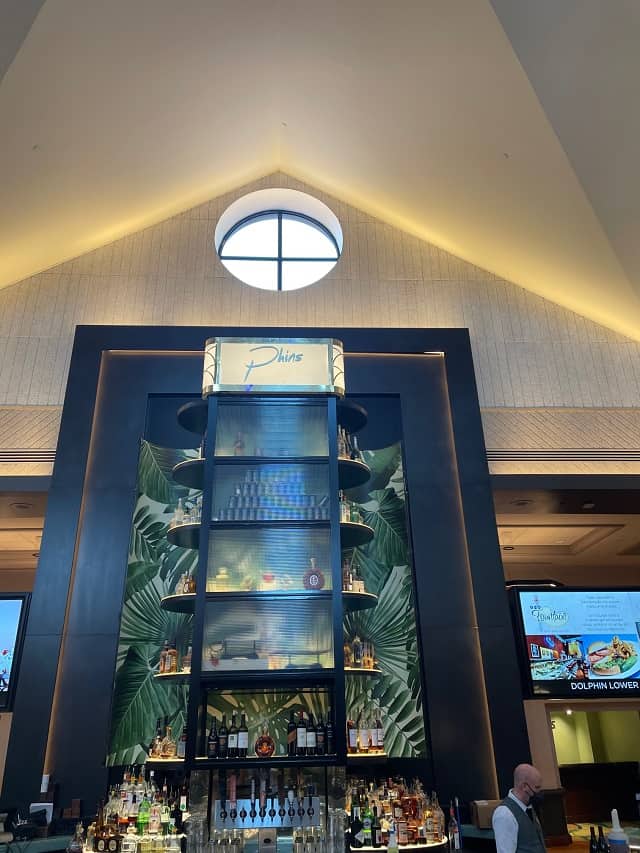 In addition to restaurants, the Dolphin has a bar called Phins. We did not stop there, but it seemed very popular in the evenings.
Guests who crave even more variety can also head over to the Swan. It has a full menu of fine dining and casual dining as well.
Shopping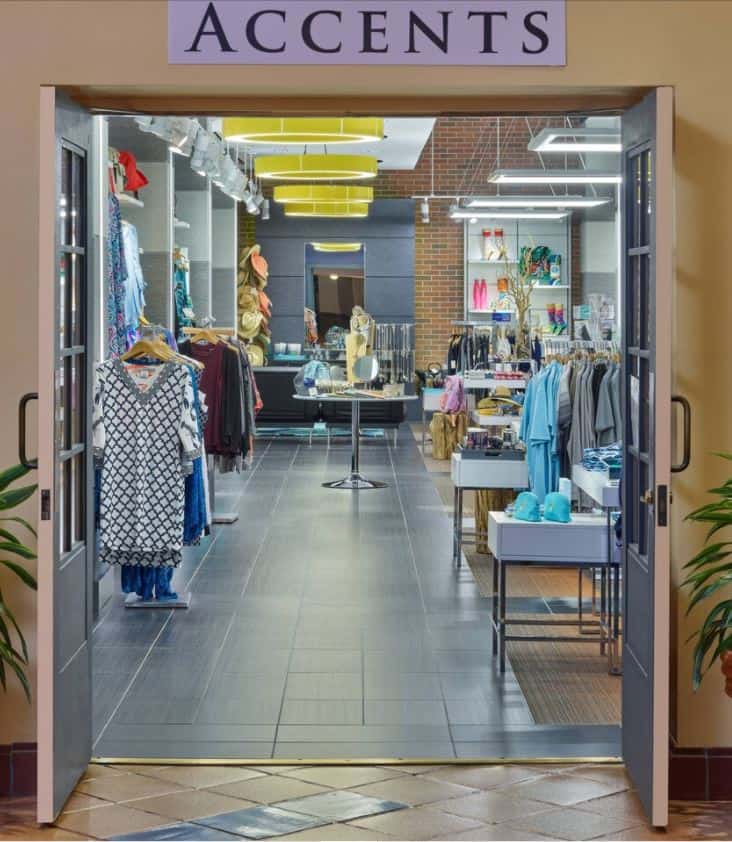 The Dolphin has 2 shops for your vacation needs. You should know that while these shops did accept the AP discount at the time of my stay, they did not accept Disney gift cards as a form of payment.
Accents is a boutique style shop in the Dolphin. It primarily has resort wear such as dresses, hats, and sandals, but you can also find shoes and jewelry. A few of the pieces even have Disney inspired patterns.
I scooted in to look for aloe to alleviate a bit of sunburn. Everywhere else I had checked was sold out, but Accents had bottles in stock and ready to go. Unfortunately, the price was also a bit elevated, even after the AP discount.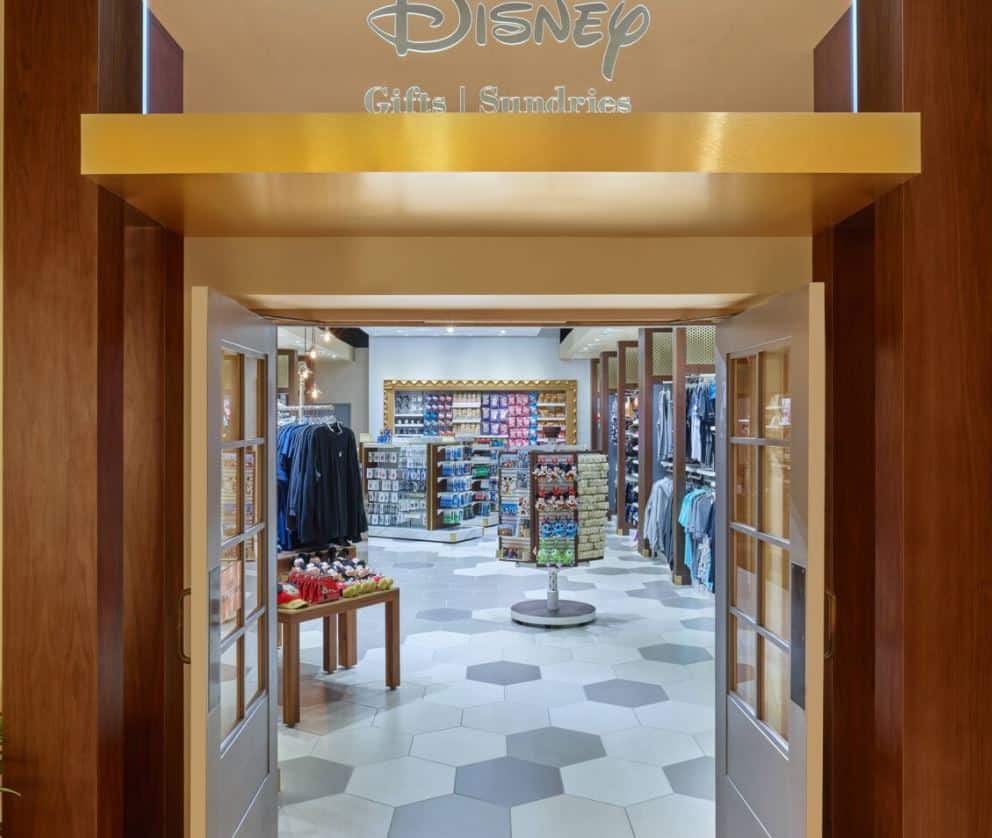 The other store is Disney Gifts and Sundries. This location is more of a souvenir shop, which is convenient if you need or want mementos or gifts and do not have time to shop at the parks.
I browsed because I love checking out the shops. The store had some of Disney's popular souvenirs like ear headbands, t-shirts, plush toys, magnets, and snacks. Nothing stood out as particularly exclusive or difficult to find in the parks, so unless you are hunting for basic Disney merch, you may want to skip it in favor of in park shopping.
Amenities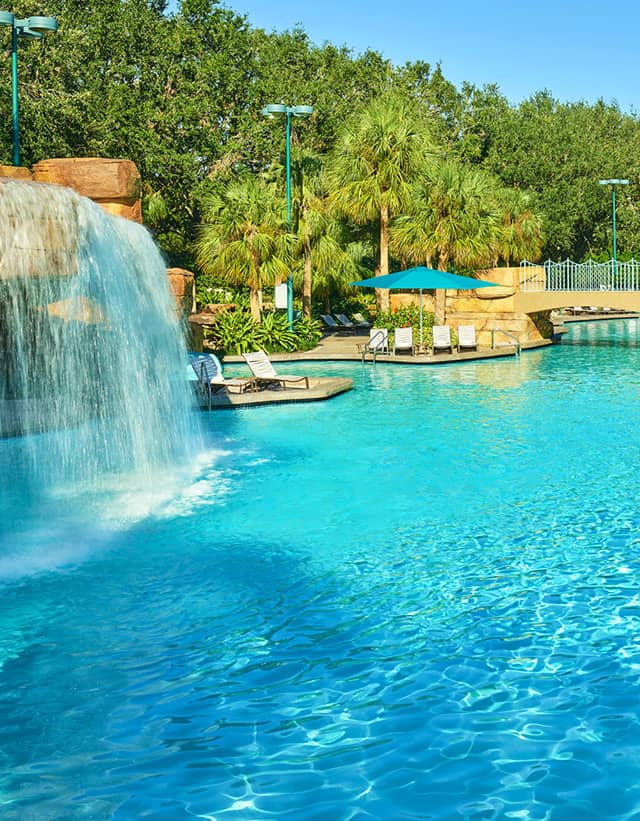 I did not really take advantage of the amenities since it was a short trip. However, I did take a look at them. I can see myself returning for a longer family trip and using them.
There are 5 lovely pools at the resort. There is also a nice beach area guests can enjoy. I noticed guests could take Swan paddle boats out on the lake, which looked fun. I'd try it.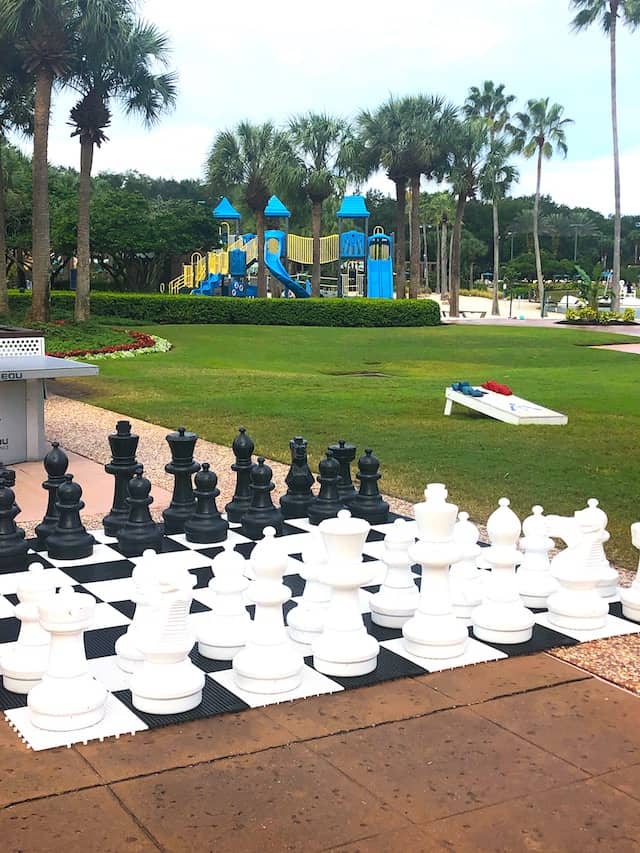 I also noticed a nice playground. While this might not seem important for guests without tiny travelers, playgrounds can be a really nice break for families with little ones and can even help families avoid vacation meltdowns.
There was also miniature golf available at an additional cost. However, the wait for Fantasia Gardens was over an hour when my travel party checked, so we skipped it.
Transportation Options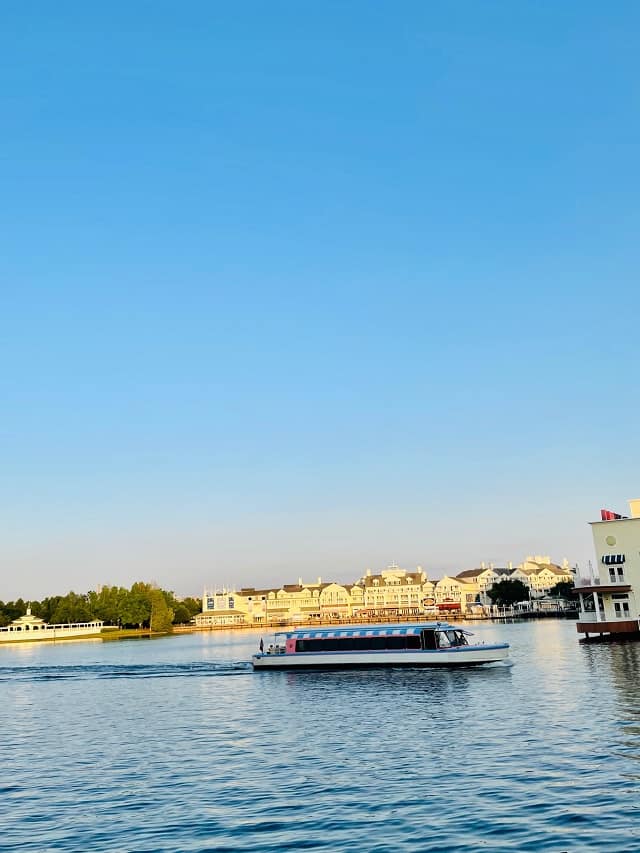 Walt Disney World's Friendship boats make stops at the Swan and Dolphin resort en route to both Epcot and Hollywood Studios. However, Boardwalk and Beach Club/Yacht Club share these boats with Swan and Dolphin.
This means that the longest part of the boat ride can be waiting for others at the resorts to disembark and board boats. It can also mean that ocasionally the boat is mostly full when it reaches you.
If this happens, do not worry. The boats come along every 5-10 minutes. The one thing to be certain of is that you are in the correct line for Epcot or Hollywood studios.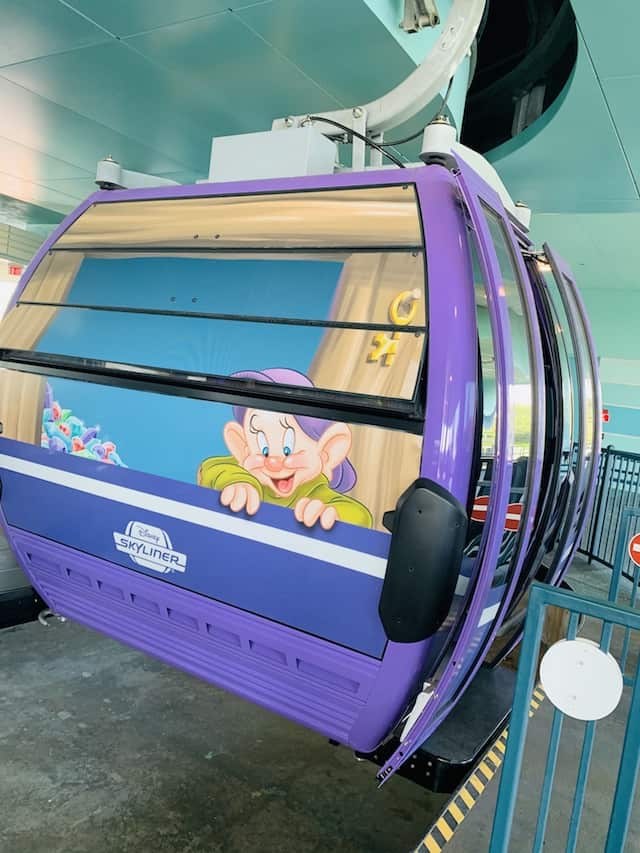 One happy benefit is that guests of the Swan and Dolphin can hop aboard the Skyliner at Epcot's International Gateway. I personally love the Skyliner, so any access to it is positive.
My travel party used the Skyliner to head over to a dinner reservation at Topolino's Terrace at the Riviera. We took a boat to Epcot then transferred to the Skyliner for the ride.
Even if I didn't need to utilize the Skyliner to get somewhere, I would probably arrange to hop on and ride just because I like it.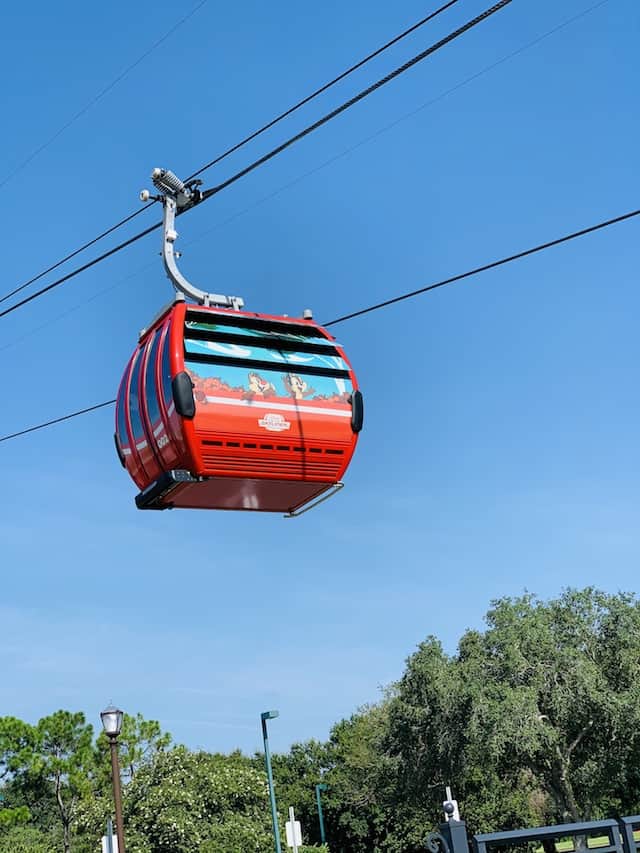 There is also complimentary bus transportation to the parks. I did not utilize it while we were there, but it is similar to the service at resort hotels. Busses arrive every 20 minutes or so for guests.
Of course, you can always drive to the parks. At the time of this review, guests of the Swan and Dolphin receive complimentary theme park parking, so that may be to your benefit as well. Alternatively ride share services are easy enough to utilize.
My party did elect to drive to Animal Kingdom rather than taking the bus. We did this primarily because it marked our last day in the parks, and we wanted to depart straight from Animal Kingdom.
Walking to the Parks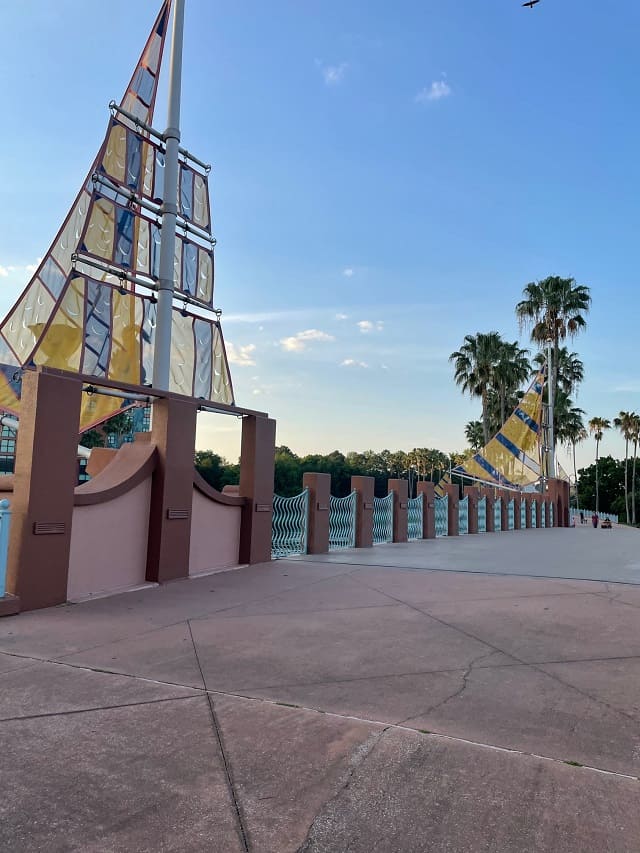 As I mentioned, the most important perk to me was the ability to walk to Epcot. My party was visiting Flower and Garden, and so it was nice to wake up and walk over without having to wait for a bus or a boat.
The path is relatively easy to find. You can either walk along the Boardwalk, or you can walk by Yacht and Beach Club. To me the Yacht/Beach Club Walk was a bit shorter, and I liked looking at Storm Along Bay. A word of caution though: taking this path might make you start dreaming of staying at the Beach Club on your next trip.
Regardless of the path you take, the walk is about 10-15 minutes depending on your pace. If you are thinking of taking the boats, and you don't catch a boat right away, you might be better off walking. If there is a boat there and waiting, it can be a little quicker and cooler to take the boat.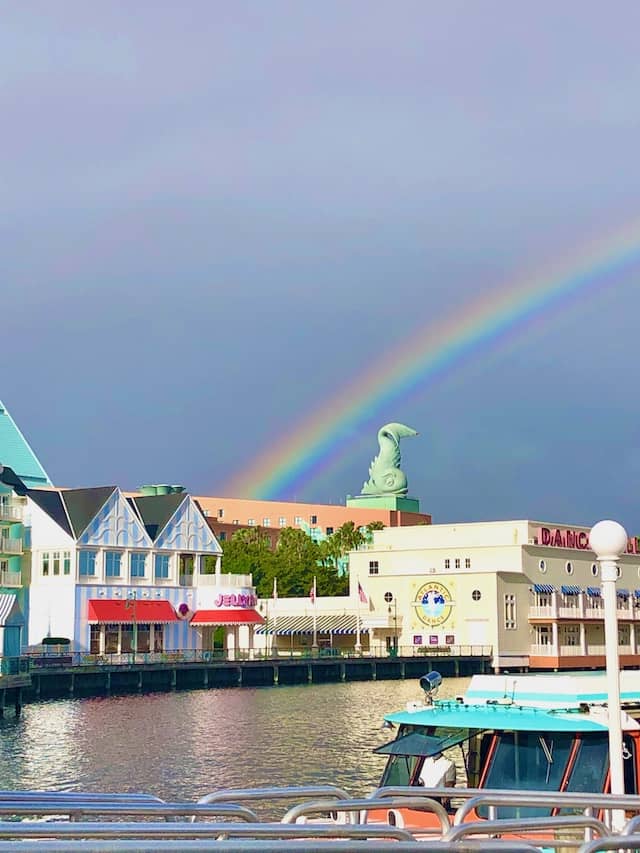 You can also take the boat to Yacht club and walk from there. We did this one morning because the boats will NOT take you all the way to Epcot more than an hour before the park's opening. Since we anticipated Epcot would be letting guests in a bit early, we wanted to go ahead and get there, so we did the half-walk/half ride option.
My party likes to take midday breaks and made a reservation at Beaches n Cream for ice cream one day. It was easy to stop by on our way from Epcot to the Dolphin. It was also easy to stop at Boardwalk Bakery for a treat if we wanted to.
Overall, the ability to walk back and forth was lovely. We did not walk to Hollywood Studios this time, but I imagine I would love walking there as well, particularly if I planned to rope drop.
Overall Impressions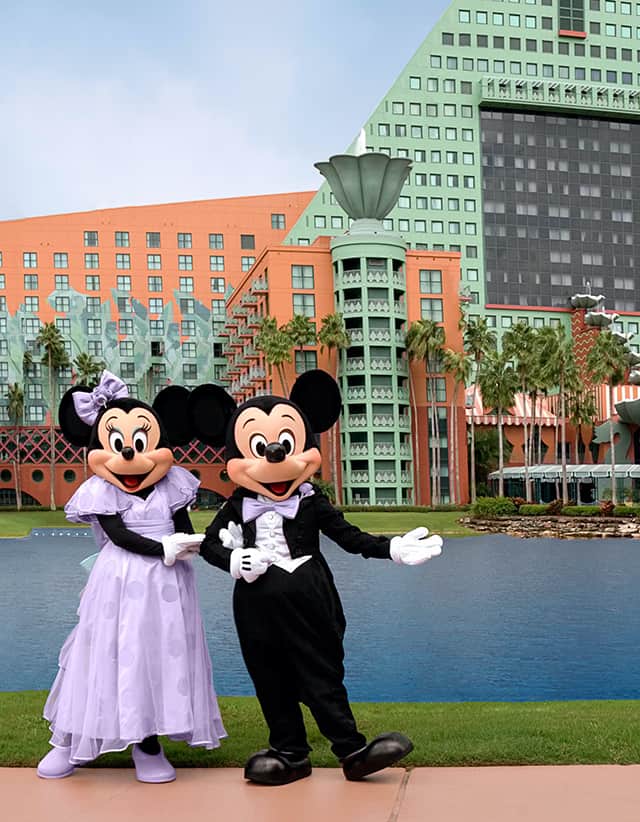 We only experienced the Dolphin building, but you might also be interested in the Swan. For a guide that includes tons of information on the Swan, click here.
Overall, I would not hesitate to stay at this resort again, especially for a trip where Hollywood Studios and Epcot were on the itinerary. It is such an excellent blend of cost and convenience.
Have you ever stayed at Walt Disney World's Swan and Dolphin? What did you think of it? Let us know in the comments below or on our Facebook page. Feel free to share them with us in our crew, too!
Are you planning a vacation? Reach out to our trusted travel agency sponsor Authorized Disney Vacation Planner
Mouse Class Travel
!