So, when the Disney skyliner was first announced I was definitely not into the idea. But now that I've tried it, I think I like it! If you're a skeptic of the Skyliner as Disney World Transportation, allow me to try to convince you otherwise.
When Disney first announced that the Disney Skyliner would not have air conditioning, I (Rebecca) was definitely one of the naysayers that was like "Yeah, no thanks! I'll stick with the bus."
I figured the skyliner would not work for our family. My husband is afraid of heights, my son scares easily, and I have a heat sensitive autoimmune disorder.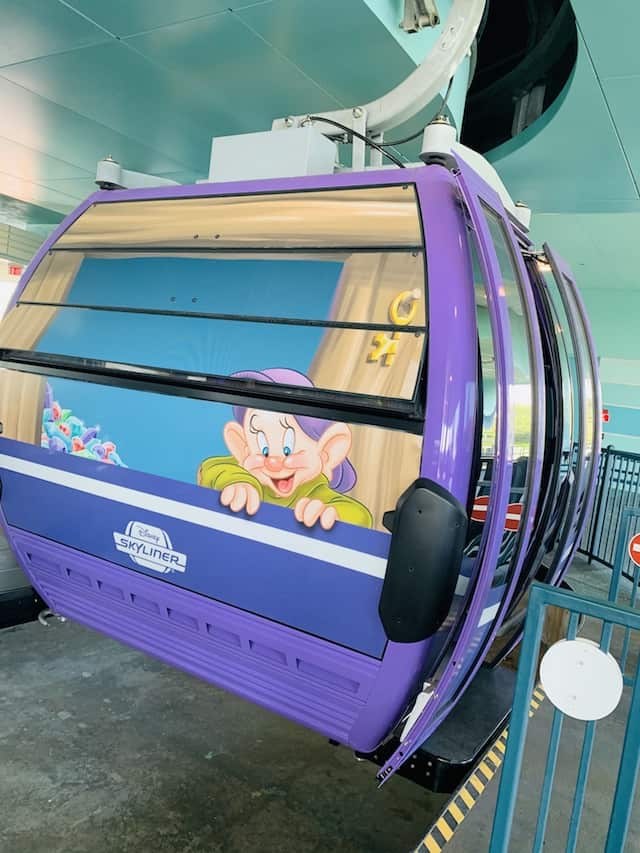 But I kept finding myself inexplicably drawn to it, wanting to simply joyride on it during our Christmas break trip just to see what it was like.
My Family Tries the Skyliner
One night, we were leaving Epcot, and we were in Italy. I was feeling a bit lazy about walking back to the bus bay to grab a bus back to Port Orleans French Quarter and it was raining.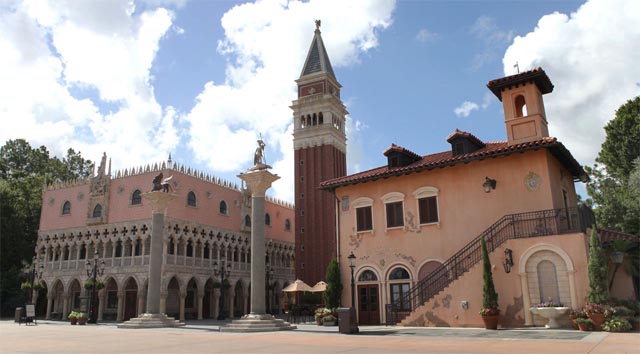 As we were discussing walking to the Yacht Club and grabbing a Lyft from there, I suggested taking the skyliner to Rivera and then doing the ride share from there.
After all, it wasn't that late and we had time!
I was surprised that both my boys liked the idea. My husband said he felt better about trying it in the dark and my son had seen the cute vehicles and wanted to see which one we would get!
It was a quick walk over, and the line to board was short. There were maybe 3 vehicles of people in front of us. The Epcot Forever fireworks show was just about to start, so that probably contributed to the short line.
We boarded our plain yellow Disney World gondola (not the most exciting gondola, but that's ok) and off we went!
The skyliner moved quickly and took turns quickly too! It was almost like a very mild thrill ride.
We debarked at Riviera as planned and all agreed we were surprised by how much we liked it!
We have since taken it a few other times, and while I'm still not planning to utilize it in the hot Florida summers, it is totally a viable option during the winter and spring for us.
What I Liked About the Disney World Gondolas
One of the best things about the gondola system is that most of the gondolas have cute character or Disney parks themed overlays! There are several gondolas featuring the Haunted Mansion, Mickey and Minnie, Monsters Inc, and so many more!
It's really fun to see which gondola your family will end up riding in!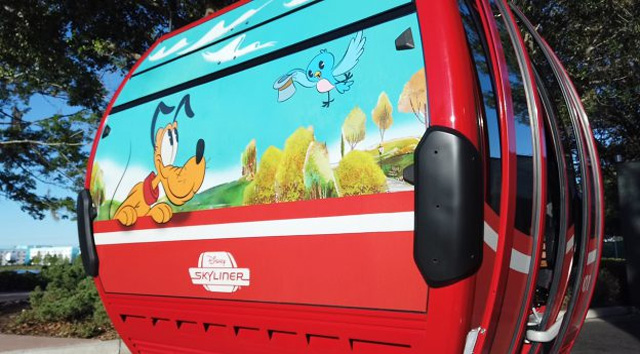 The gondola system is also very convenient. It connects Epcot and Disney's Hollywood Studios to each other and to the following resorts: Riviera, Caribbean Beach, Pop Century and Art of Animation.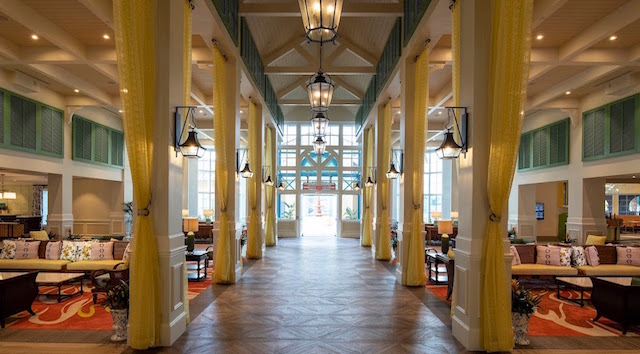 Guests wishing to take the gondola system from the boardwalk area resorts (Yacht Club, Beach Club, Boardwalk, Swan and Dolphin) could walk to the Epcot gondola station.
However, for some of those resorts it might not save much time when compared to walking to Hollywood Studios.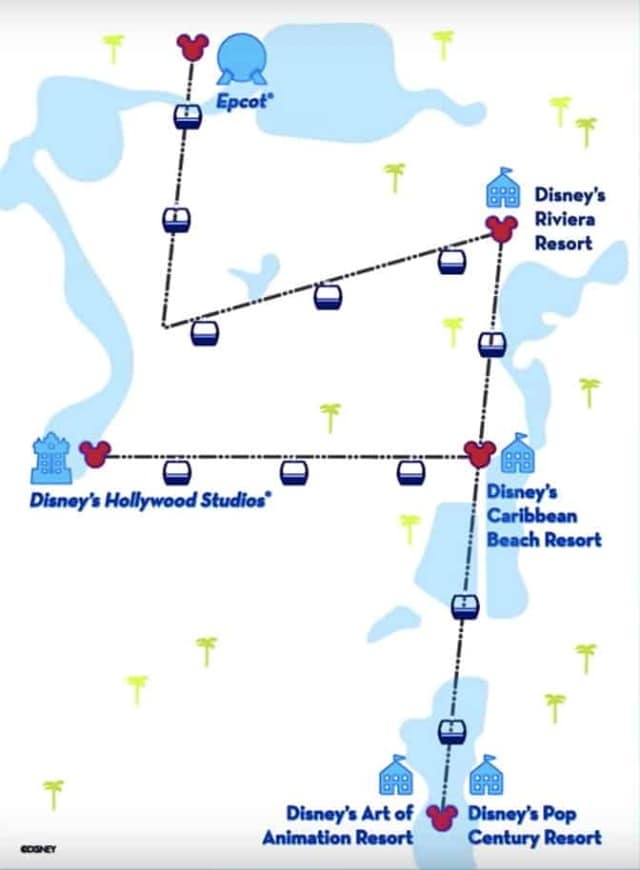 As I stated above, the gondolas move quickly.
There was also very little wait, especially when compared to the notoriously unpredictable Disney bus system.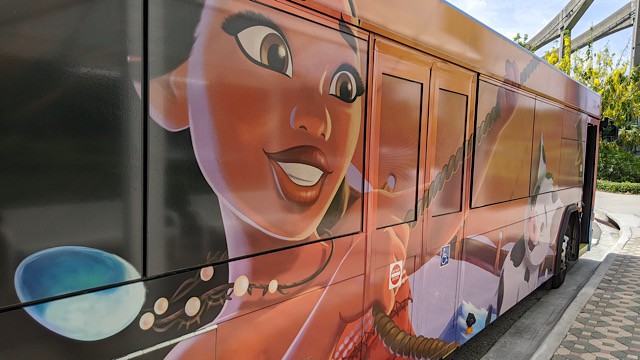 Waiting for your turn on the gondola beats waiting on a bus any day! It's much more predictable and you can more accurately estimate your wait time.
The gondolas just keep coming! It is a very efficient way to get around the Walt Disney World resort.
During a pandemic, the Disney Skyliner system is a wonderful option as only one party will ride in a gondola. So, it's great for social distancing!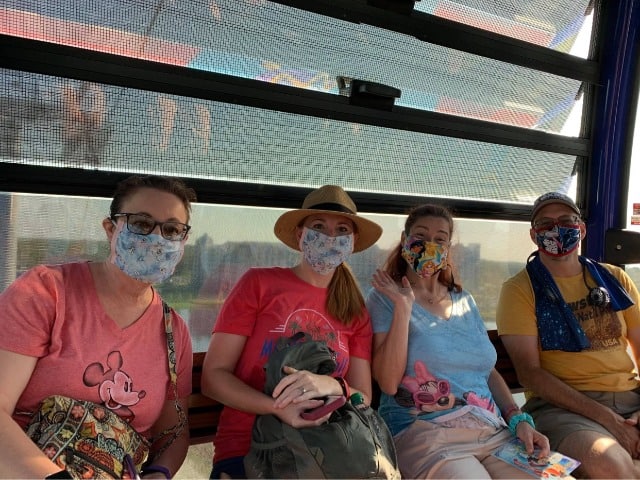 Finally, the merchandise for the Skyliner is as adorable as the themed gondolas themselves! And I'm the type who loves to buy Disney merchandise!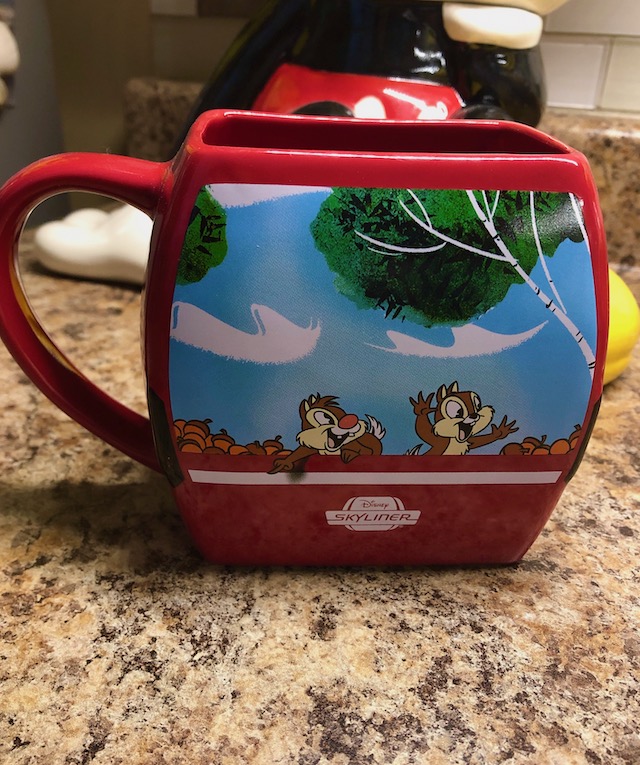 What I Didn't Like About the Gondolas
While there was a lot to like about the gondola system, some have complained that it is an eyesore. I don't have a strong opinion on that. They look fun and whimsical to me.
The reason I would not want to ride during the summer is that I'd hate to get stuck on a gondola. With no air conditioning and being so high off the ground, when there was an issue during the first week of operation, it was a bit of a mess trying to evacuate it.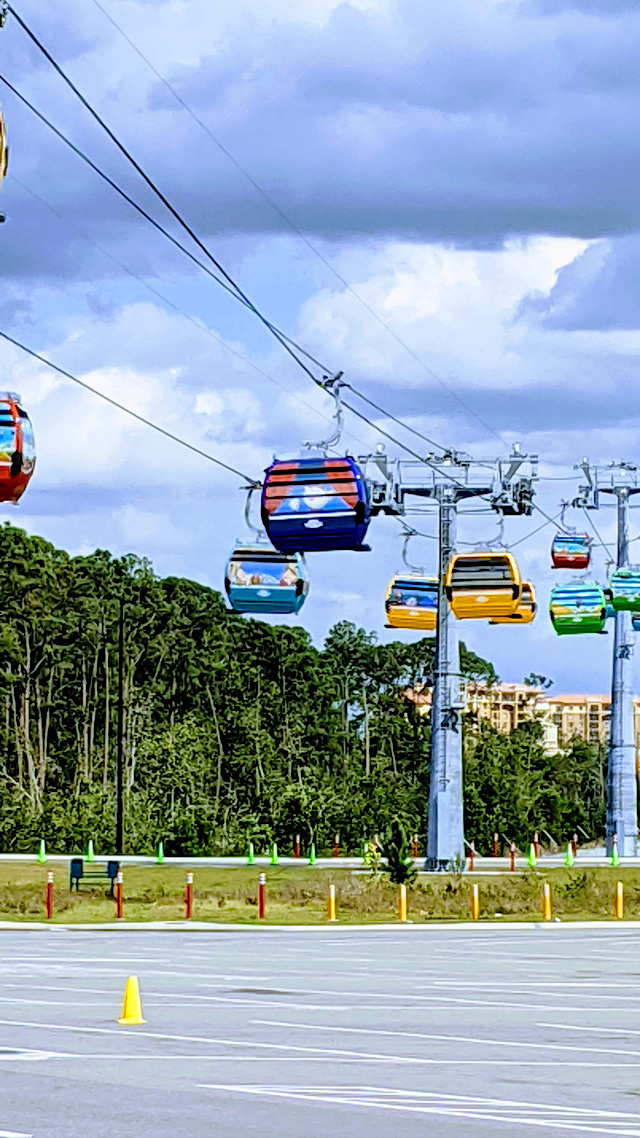 The gondola system has been running pretty much since September 2019, apart from the shut down due to coronavirus, and has not had any significant delays since that first week.
However, I find myself shying away from the idea of staying at a Skyliner resort during the summer simply because I don't want to take the chance of the system going down while I'm on board.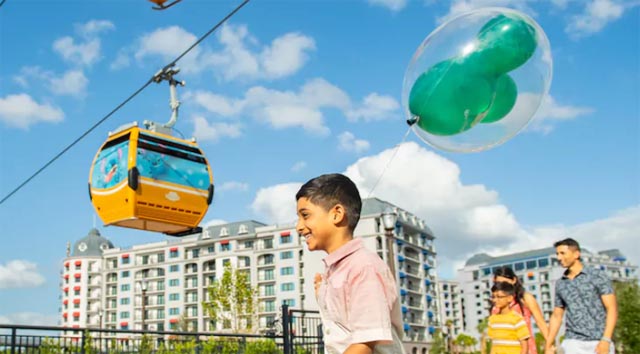 I know its a small chance, but it is a "ride" and rides sometimes have mechanical issues. It isn't a chance I want to take in the heat.
On a personal note, Epcot and Hollywood are two parks I don't spend a great deal of time at. So, because of that the Skyliner is not as exciting for me as it would be if it connected resorts to Magic Kingdom or Animal Kingdom.
More About Disney's Skyliner System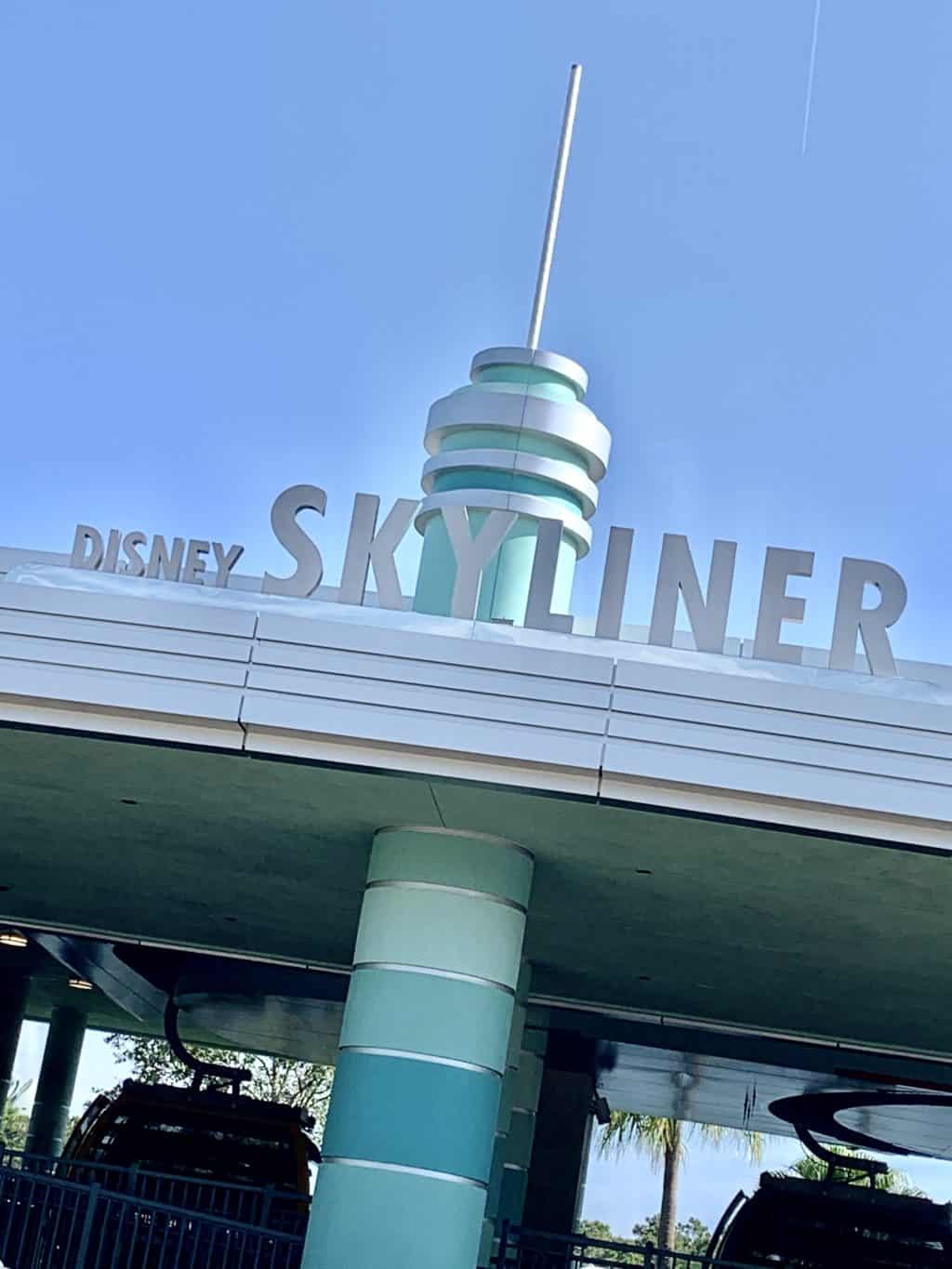 Did you see that Dooney & Bourke released a new skyliner bag? Check it out here.
If you're staying at a skyliner resort (Art of Animation, Pop Century, Riviera or Caribbean Beach Resort), know that bus service to Epcot and Disney's Hollywood Studios has been significantly reduced. Guests are expected to utilize the skyliner in order to access these parks.
To read about the accident that caused the shut down of the skyliner 6 days after opening, click here.
For information about the skyliner evacuation plan, check out Kenny's article here.
In Conclusion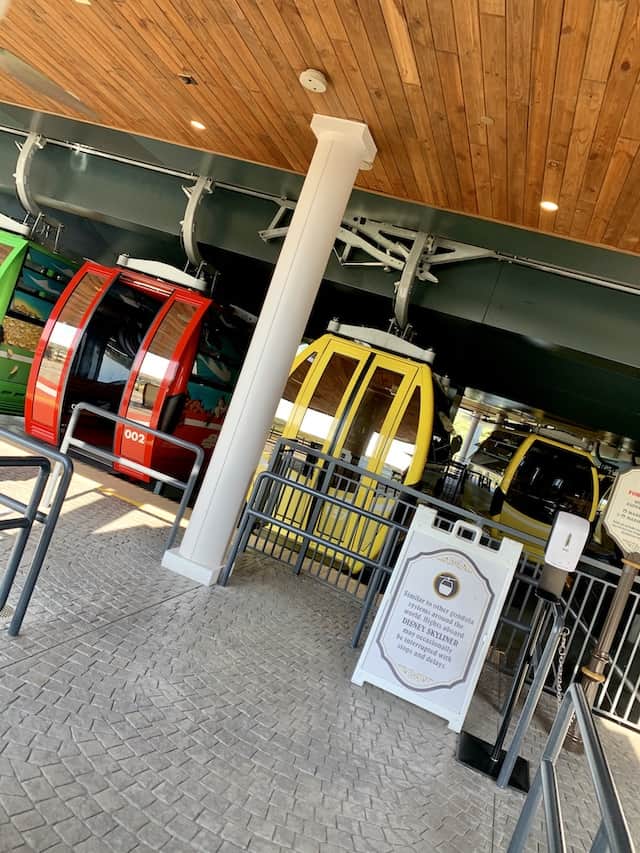 I try to admit when I've been wrong. I misjudged the skyliner and prematurely dismissed it as a floating sweat box. In my defense I didn't realize how cute and efficient the Skyliner system would be!
So, next time you visit Disney, join me on the Skyliner! Well, as long as it isn't too hot outside!
Have you and your family ridden on the Disney Skyliner system? Does Skyliner availability impact your choice on where to stay? Let us know in the comments on Facebook and in our Facebook group!
-Rebecca W Davis
Are you planning a vacation? Reach out to our trusted travel agency sponsor Authorized Disney Vacation Planner
Mouse Class Travel
!