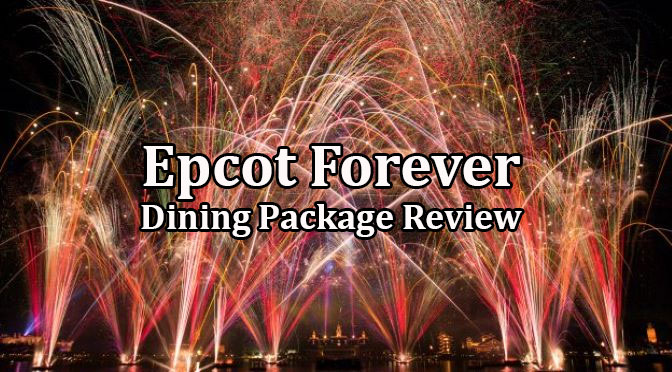 On Sunday October 6, my parents and I enjoyed dinner on the Rose and Crown outdoor patio for the Epcot Forever dining package! We loved everything about it, from the picturesque views, the food, the service, and of course the new fireworks show!
The Rose and Crown British Pub in the UK pavilion offers a prix fixe meal option with seating on the patio for the new Epcot Forever fireworks show.  The price is $89 per adult and $39 per child. This includes a 3 course dinner, reserved patio seating, "all you care to enjoy" British draft beers and wine, tax and gratuity.
I considered it to be an excellent value for what was included, particularly because we normally tip at 20 percent, so the meal itself was around $70 per adult. I compared that to the Frozen Ever After Dessert Party, priced currently at $79 per adult and $47 per child (and increasing to $99/$59 on December 1), and found it was an easy choice.
Dinner began at 8 and we could check in as early as 7:45. The gentleman at the host stand informed us that the tables are preassigned, so there is no need to check in early. So know that you don't need to rush over to get a good table.
But what about the food? Well, there were three choices of appetizer and the three of us ordered different ones! They were all very good.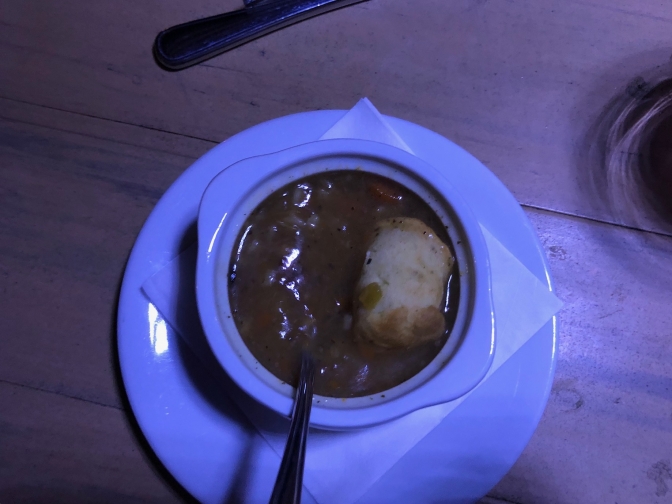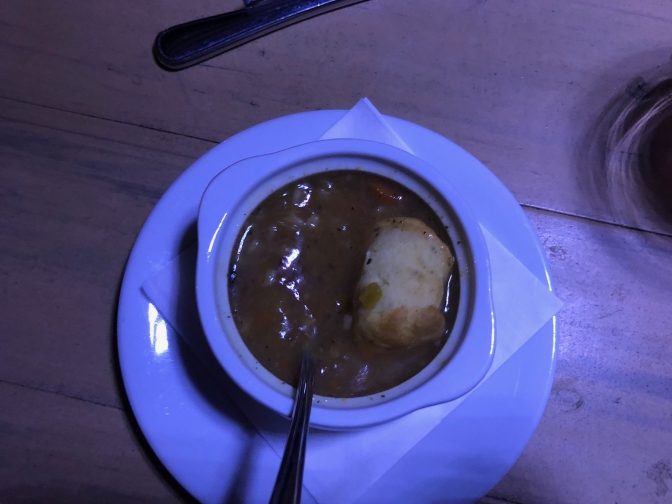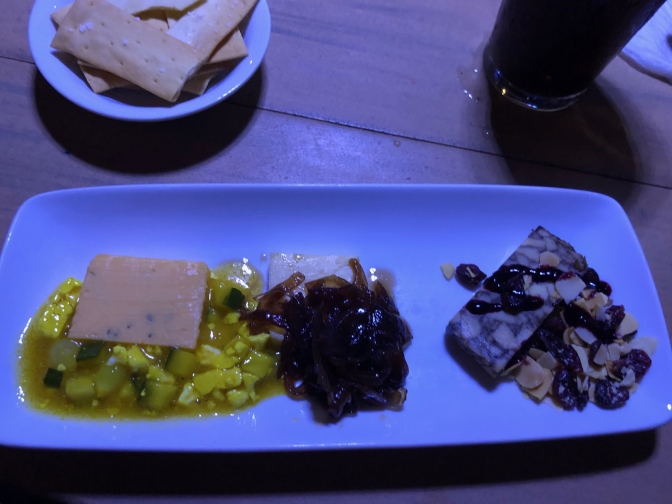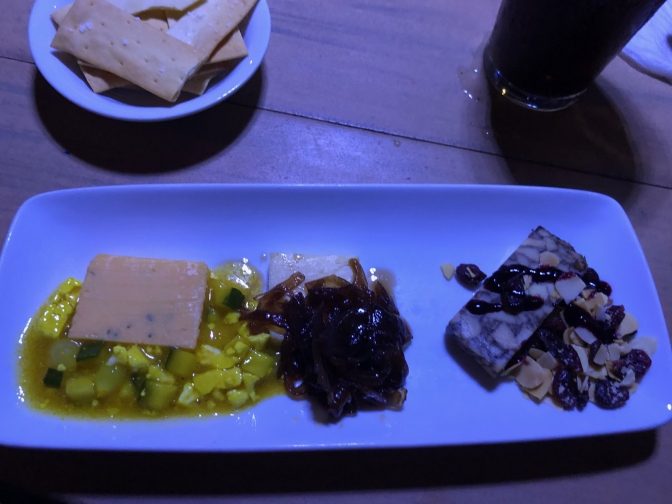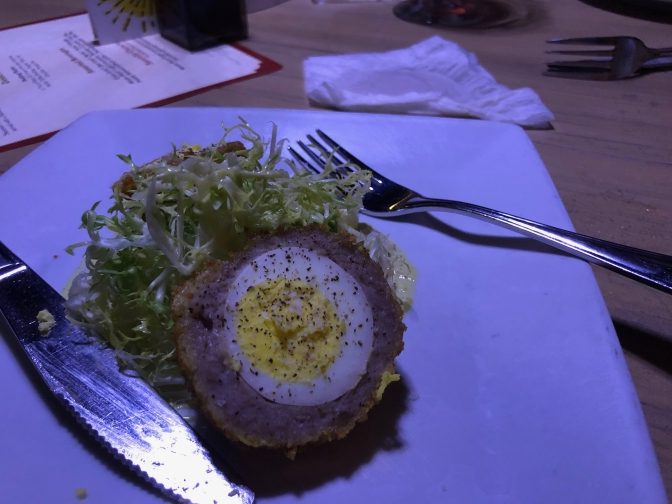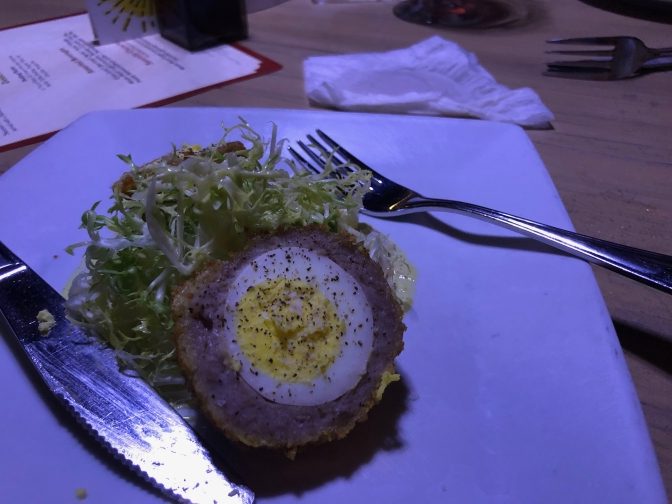 For our next course, I believe there were 4 options including bangers and mash, fish and chips and salmon. My father enjoyed the bangers and mash, but I didn't get a photo. My mom and I both loved the fish and chips!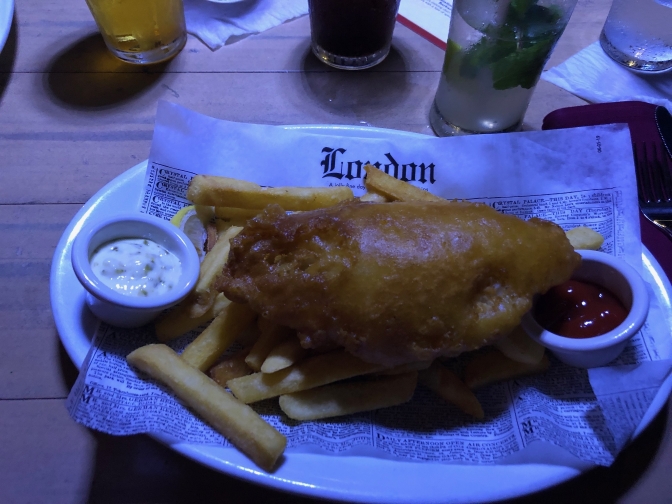 While my parents both enjoyed a couple of beers, I don't drink alcohol. I was disappointed that there weren't any specialty drinks without alcohol on the menu. While I'm fine to stick to my coke and water, I like to feel festive too! I asked our server about it and he said they didn't have anything like that. I lamented that I wished they had a virgin mojito or something like I had enjoyed on Castaway Cay.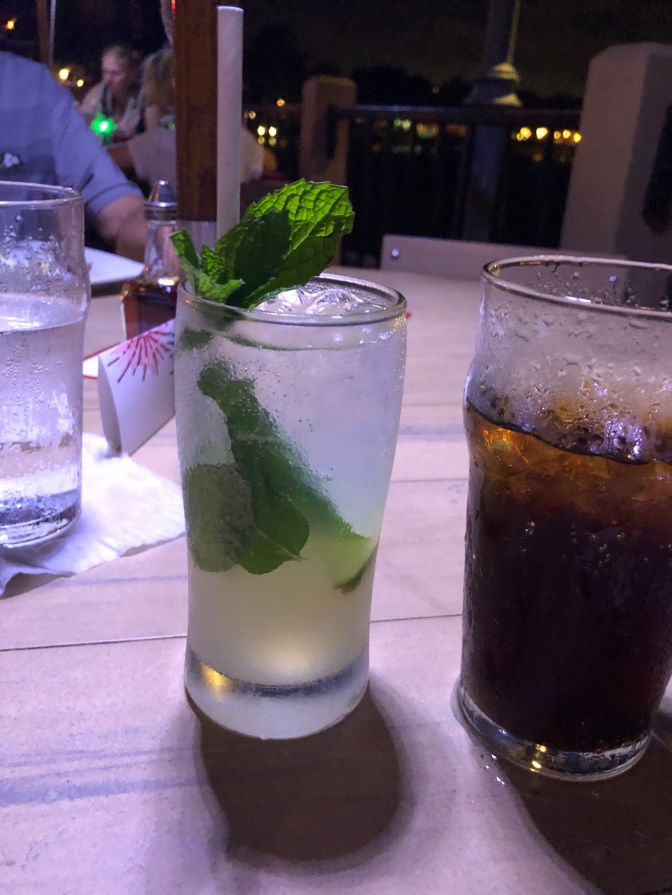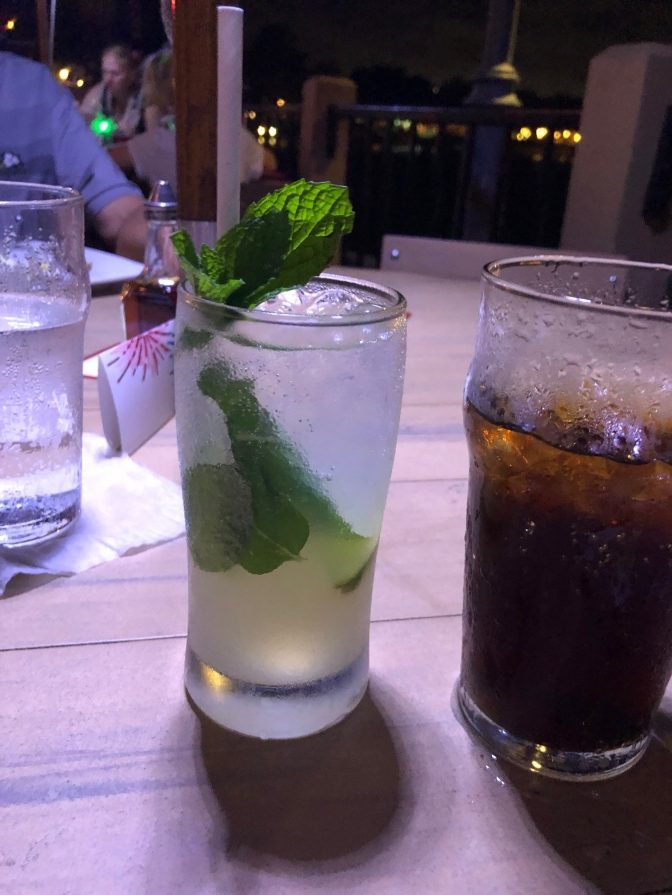 Our appetizers and entrees were served prior to the fireworks show. After our appetizers and entree were served, our server came to ask if we'd like any more drinks before the fireworks were to start. They do not come to the tables during the show in order to avoid interrupting your viewing. This was a welcome policy as it would be annoying to have them checking in during the show.
I admit I had fairly low expectations for Epcot Forever. I had read a handful of reviews from other guests claiming they didn't like the music or the "synergy" aspect of incorporating things from Epcot future world into the show. For instance, at one point the narrator said "Or should I say YOUR future?" and I immediately smiled at the thought of the spaceship earth ride where the quote is from. I'm not too big on hearing kids sing either, but the complaints here were unwarranted as the children's voices were not at all grating and the song was fine. It wasn't my favorite and it wasn't what I would have chosen, but it tied into the theme of "the future of Epcot" well. So, if you haven't heard the best things about this temporary show, I encourage you to check it out for yourself because my party agreed it was delightful!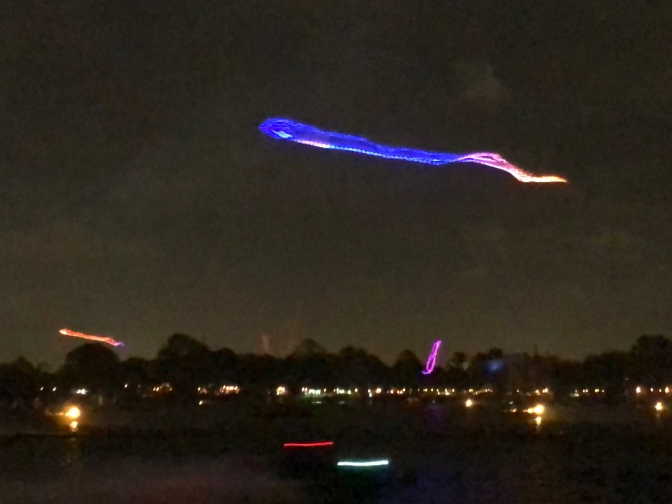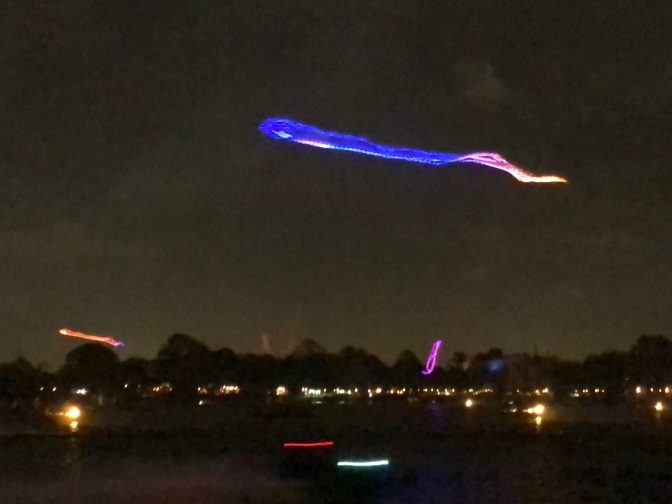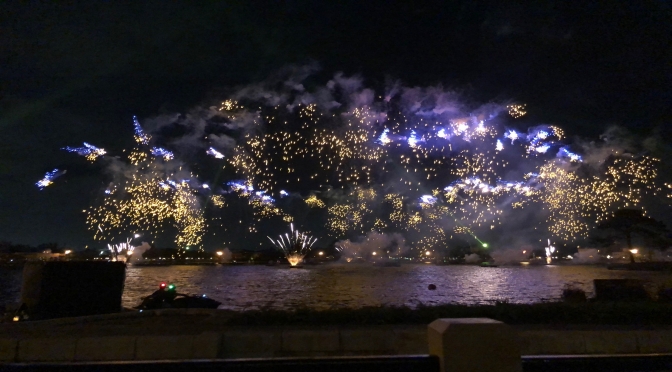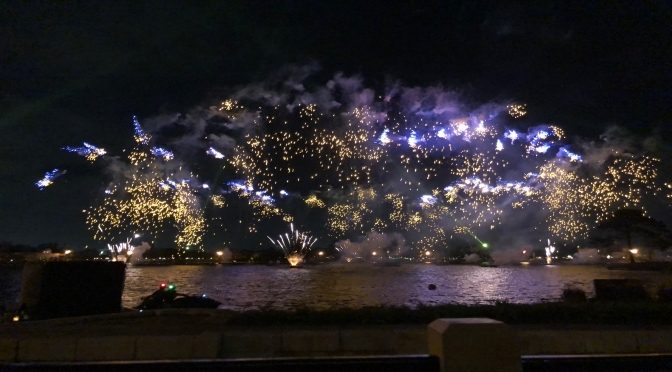 After the show ended, our server brought out our dessert. There is not a choice of desserts, but rather you are given a trio sampler with a chocolate nougat (wonderful), a parfait of some sort (just ok) and a sticky toffee pudding (sensational)!
Our server let us know that the bar is open until 9:30 if we wanted additional beers to have with dessert. I had noticed he was wearing an "I'm earning my ears" tag under his name tag. When he said something about grabbing our bill for us, I was confused as it was completely prepaid. He apologized for the error and confessed it was actually his first day! I told him he better double check me on it so we don't accidentally walk off without paying him!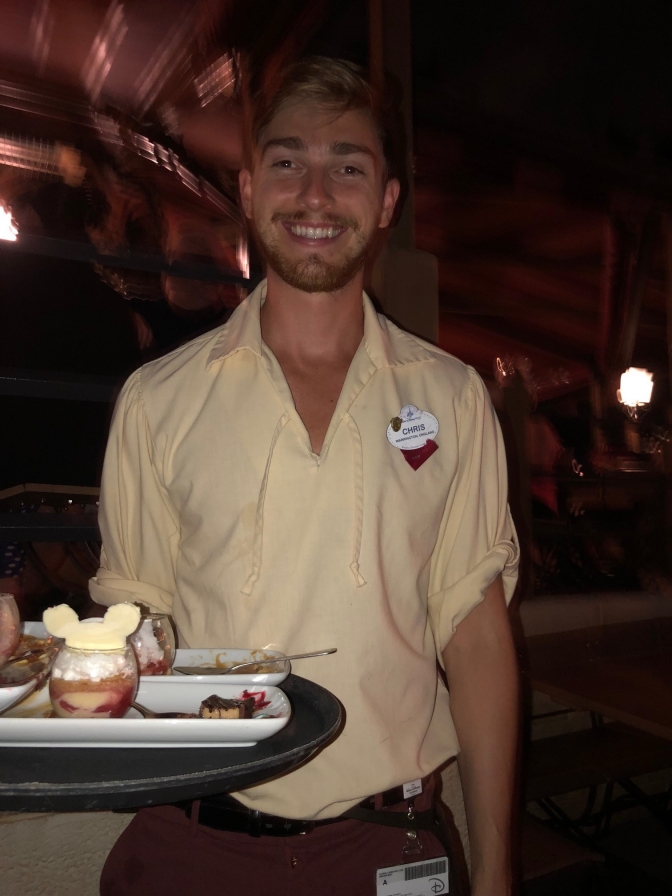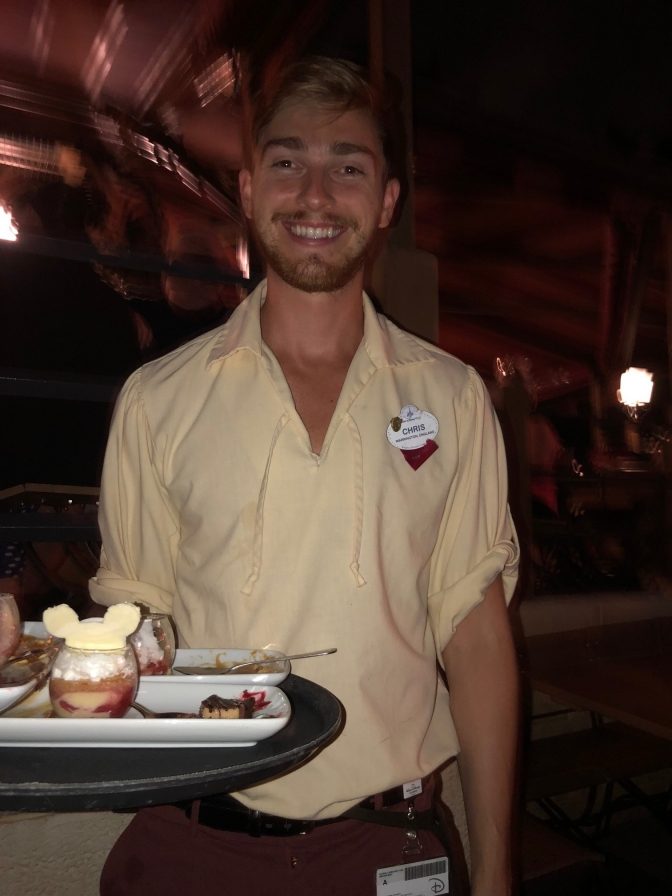 Overall, I don't have anything negative to say about the Rose and Crown Dining package! We would do it again in a heartbeat and will likely book it again for our Christmas break trip once dates are released. I felt a little bad that my husband was back home in Virginia while we enjoyed all of this stuff he would totally love! I hadn't ever tried the restaurant before and was pleasantly surprised with everything we ate!
Would you book this Epcot Forever package?  I'd do it again in a heartbeat!
-Rebecca W Davis