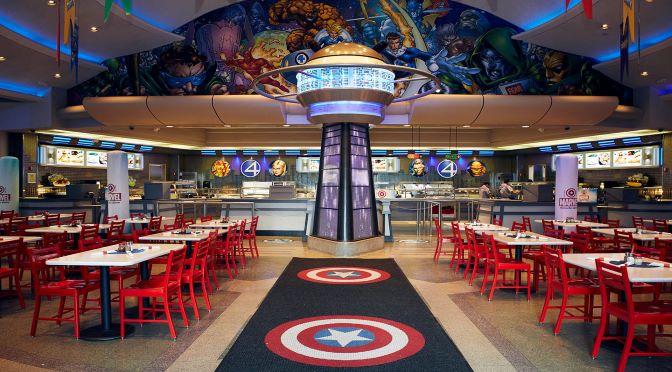 I planned a trip to Orlando for my son's 11th birthday and wanted to try something different for his special dinner.   He was so excited when he found out that Universal offered a character dinner with Marvel Super Heroes. The pricing was pretty similar to a Disney Character Dining Experience, so we decided to surprise him and give it a try.
Spider-man and Captain America are the main draws, while you also meet and greet with Wolverine, Rogue, and Cyclops from The X-Men. Universal's website mentions Storm in the list of characters, but she wasn't there when we attended in September.
[the_ad id='41480′]
The dinner is held at Cafe 4 Marvel Super Hero Island at Universal's Islands of Adventures. Admission is not included, so you will have to have a valid park ticket to Islands of Adventure to enter. Marvel Super Hero Island is located the left of the entrance of the park. You'll cross the bridge under The Incredible Hulk Coaster, Cafe 4 is straight ahead.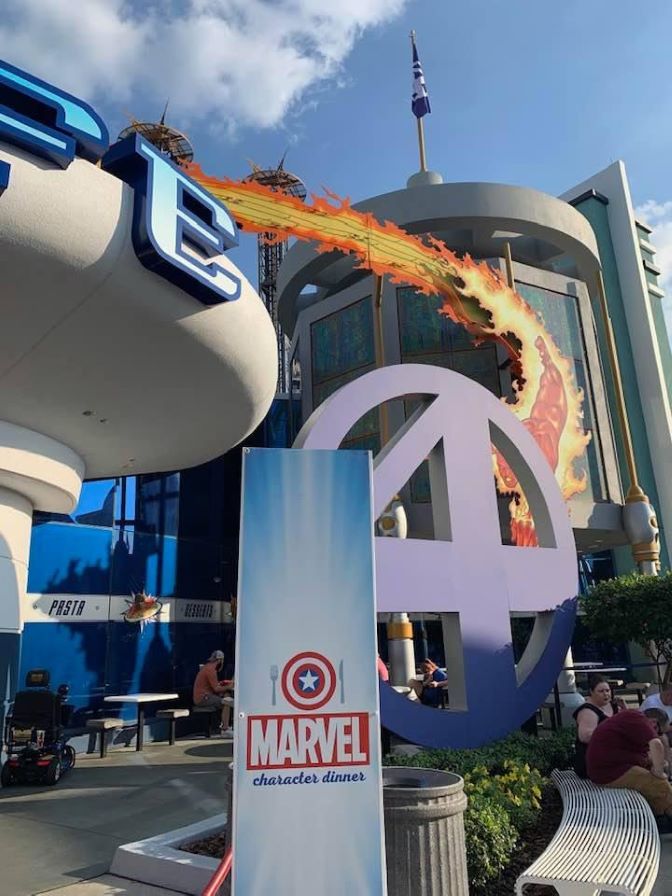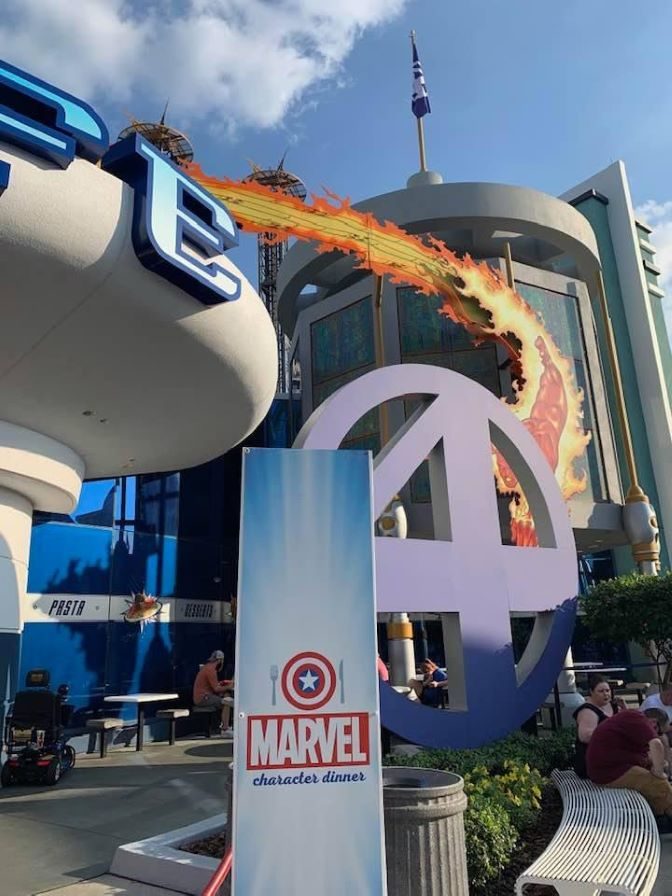 The check-in is outside the front entrance, and you wait outside on the patio for your table. Waiting outside was a bit brutal in the heat, but they did provide cold water and lemonade. We tried to check-in 40 minutes early for our 5:45 p.m. reservation, and were told that it was a little too early and the gentleman suggest hopping on a ride before waiting outside in the heat. We did as suggested, rode the nearby Amazing Adventures of Spider-man ride and strolled in Kingpin's Arcade before heading back 30 minutes later. Once we were checked in we waited approximately 5-10 minutes before being called in to our table. You are then instructed how to use your photo card with the photographers and able to grab some food.
The dinner is buffet-style Italian inspired cuisine, including:
Pre-Made Salads: Orzo, Marinated Artichoke, Bow Tie Pasta, Fresh Fruit, Fresh Mozzarella & Tomato, Chef-Tossed Caesar, Tossed House
Pastas: Tomato Basil, Alfredo, Penne Bolognese, Stuffed Jumbo Shells with Pesto
Meats: Roasted Rosemary Lemon Chicken, Chicken Scaloppini, Shrimp Scampi
Specialty Pizzas: Tuscan, Roman Bianco, Mediterranean Vegetable, Hawaiian, Cheese
Assorted Deserts: Cakes, Cookies
Assorted Beverages (non-alcoholic)
The food was good for standard buffet, and the desserts were delicious. One thing that we've had issues with at theme park restaurants is my kids not really eating enough to justify spending the money, and  they ate a ton (what kid says no to unlimited pizza). It wasn't anything new or exciting, but it was enjoyable. Everything was warm and labeled and kept refilled at bar.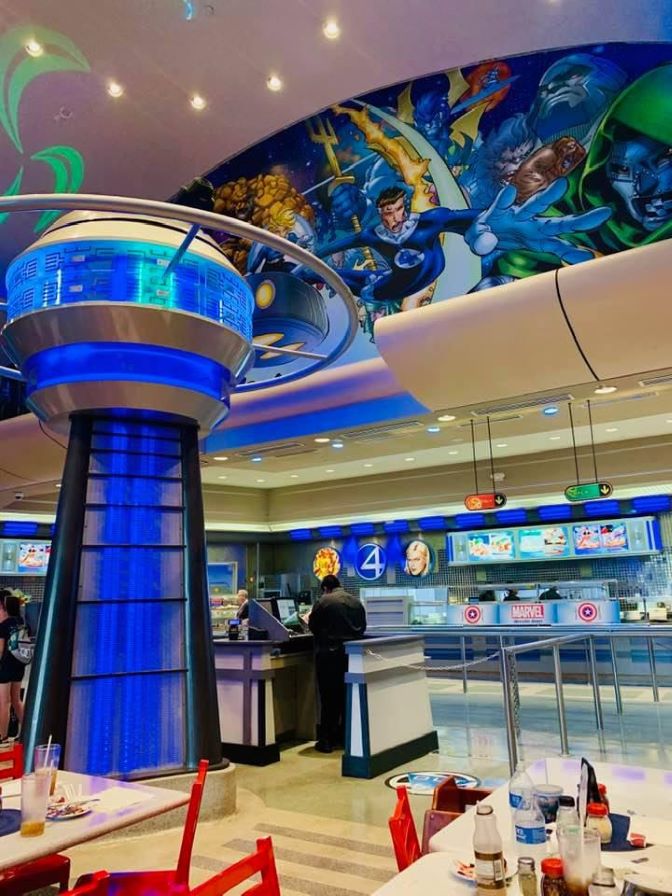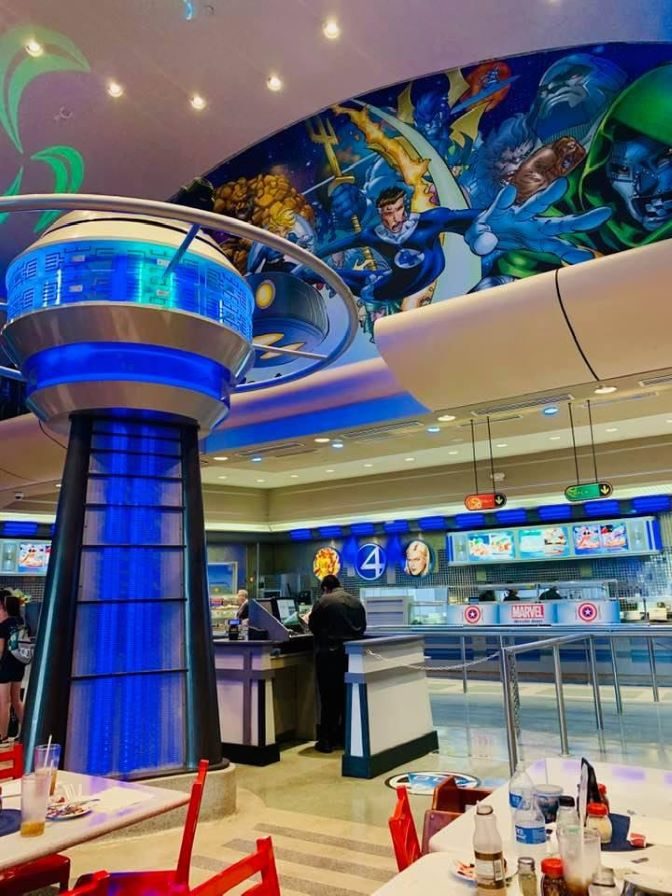 We had a little bit of time before the first character came over, and we took notice of the pattern they were taking to visit each table. This way we could time our buffet runs so that  we didn't miss anyone. We never felt rushed or brushed off. Wolverine specifically would notice if kids were looking his way with anticipation and  call out things like "Keep your pants on, I'll be there in a minute!" and "Is this kid timing me?" It was all in good fun and kept you engaged while waiting for your turn.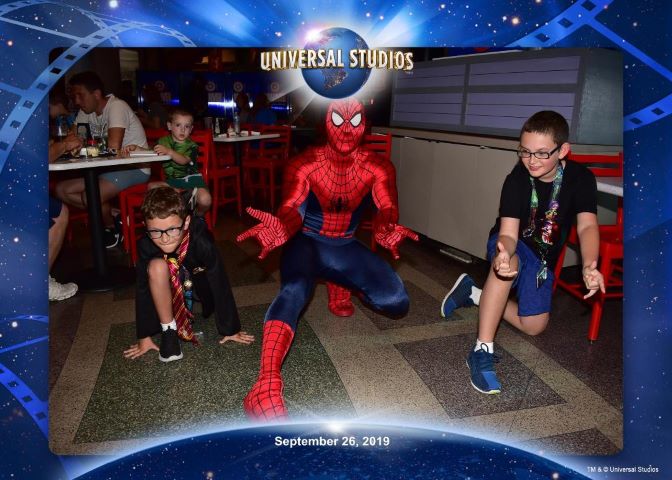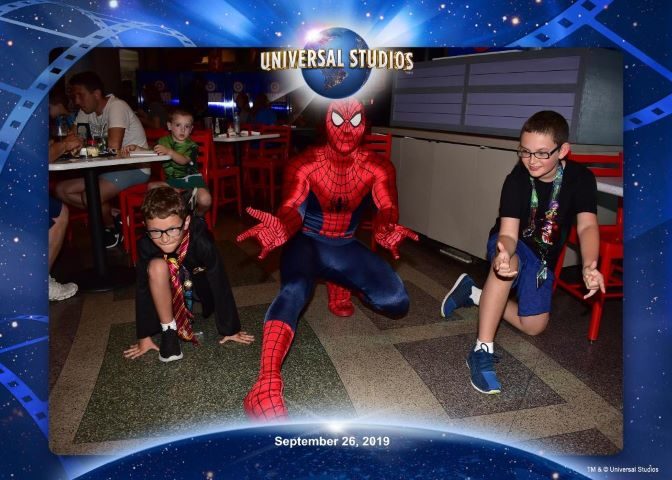 Since Disney now owns Marvel, the characters are familiar but not portrayed the same as the recent movies that have come out. They are dressed in more traditional, comic book looks. They will respond, if asked questions about the latest Marvel Cinematic Universe installments. They will even reference them themselves.
Just don't expect Endgame era looks from Captain America and Spider-man.  All the characters were wonderful; very interactive, engaging and entertaining. Wolverine and Spider-man would poke fun at each other from across the restaurant and make jokes. Each character had pose ideas to do with you, Captain America even let us hold his shield!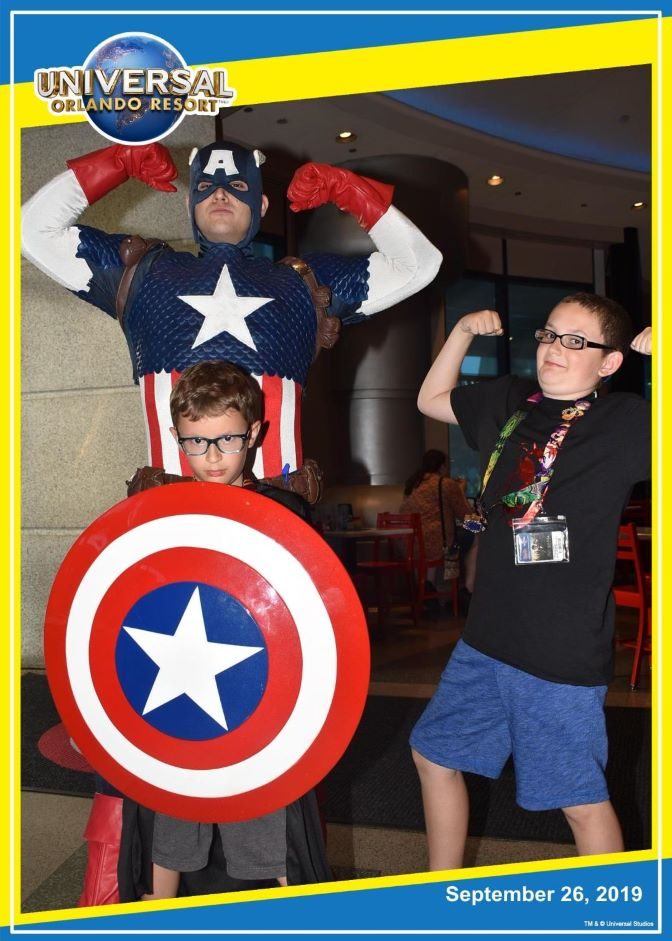 The price is $49.99 for adults and kids 3-9 is $24.99 (plus tax). This includes buffet, one non-alcoholic beverage, and digital photos taken while the characters are interacting with your party. Universal's official website says that this includes one digital photo, but we were given a card with all our images on them. This may change at any time, but we were please to get to keep all our images versus the one we were expecting.
The photographers were NOT walking around with every character. They were with Spider-man and Captain America. They photographed during our interactions as well as our posed photos before they were heading to the next table.  All photos taken with Wolverine, Cyclops, and Rogue were taken on our own cameras.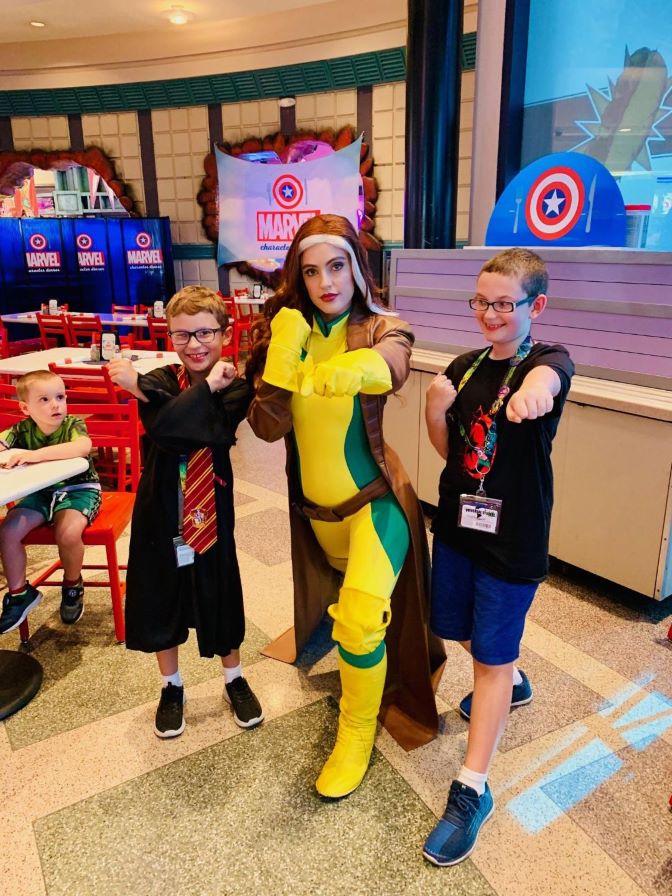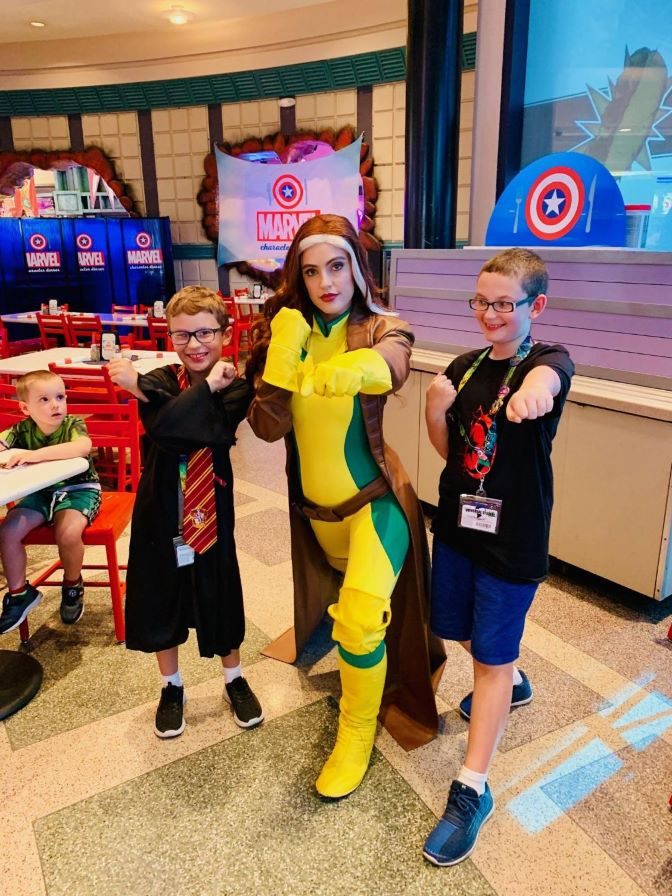 Cafe 4 is open from 11 a.m. to Park Close, but the Marvel Character Dinner is only offered Thursday- Sunday, beginning at 5 p.m. Reservations are recommended since it's only offered four days a week. We made our reservation a month in advance and had no trouble getting our desired date and time. I'm not sure how much harder they are to get closer to your date, so I would book early or keep an eye on the available reservations. In-park reservations at Universal can be made 30 days in advance, and we were required to pay in full, with no refunds or exchanges offered.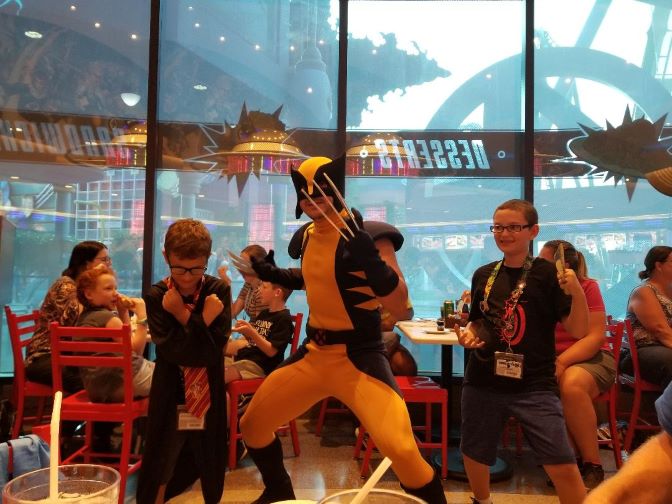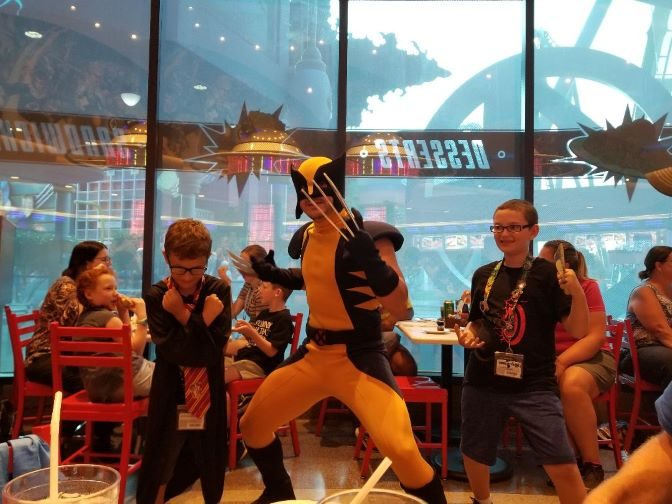 My family immensely enjoyed the Marvel Character Dinner. I'm not sure that I would feel the need to do this more than once, but the food was pleasant, and the characters were worth the price for a Marvel fan.
Have you tried Universal's Character Dining? What were your thoughts?
Kimberly Barley
Featured Photo was used from Universal Orlando Resorts website. All additional photos are my own, or from My Universal Photos.