Are you interested in staying in a 2 bedroom villa at Disney's Beach Club? Are you curious what exactly they look like? We recently stayed in one, and I have many photos to share!
Disney's Beach Club
Disney's Beach Club is designed after New England's charming beaches. It is more casual than its stuffier sister, Disney's Yacht Club. The resorts are within walking distance to EPCOT, Hollywood Studios, and Disney's Boardwalk Resort.
Disney's Beach Club is home to Stormalong Bay, one of the best feature pools at Disney World! Enjoy a pirate shipwreck, a lazy river, sand bottom pool, and so much more. You can read more about why I think it's the best pool HERE.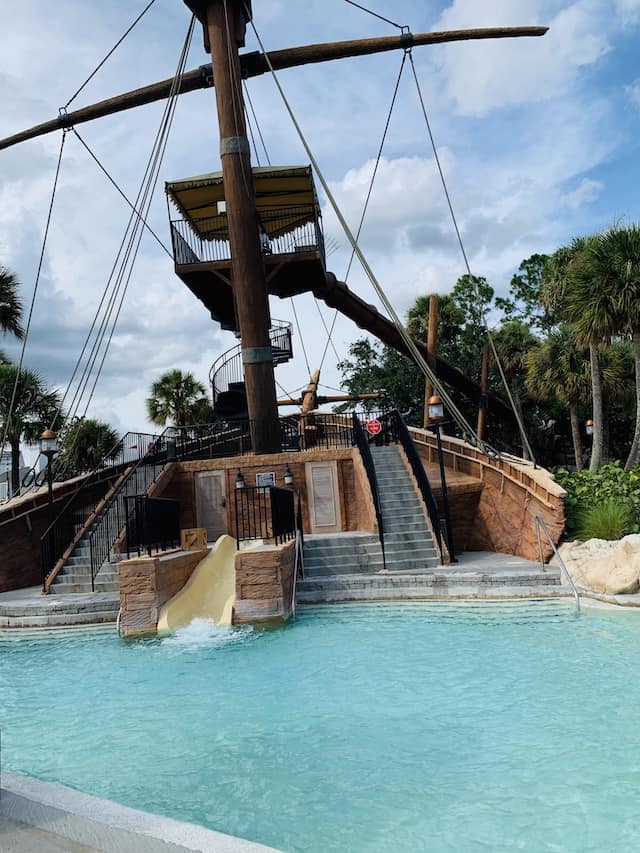 Beach Club has DVC accommodations and regular deluxe rooms, although the regular portion remains closed.
We rented DVC points and stayed in a 2 bedroom villa. We have also stayed in a 2 bedroom villa at Old Key West and Riviera. Of the three, the Beach Club villa offered the least amount of space. However, the location of the resort itself puts it above Old Key West.
Beach Club Resort did not win against Riviera Resort though. Let's take a look at the room, and I'll let you decide what you think!
Entryway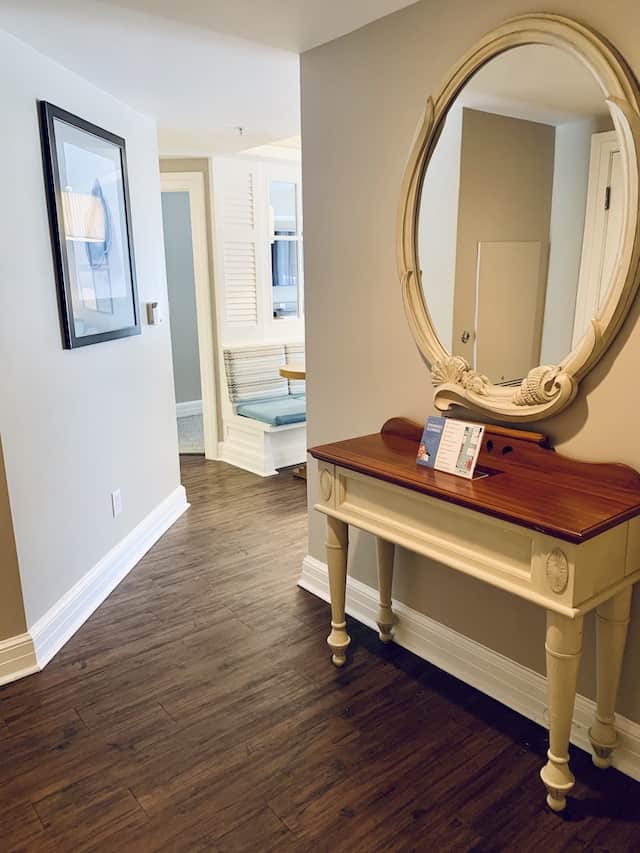 When you first step into the villa, there is a small entryway table and a mirror directly facing the door. This table and area came in very handy for us because we all took off our Magic Bands and masks the second we walked in the door. It was easy to keep track of where they were.
We also kept our single stroller out of the way in the corner.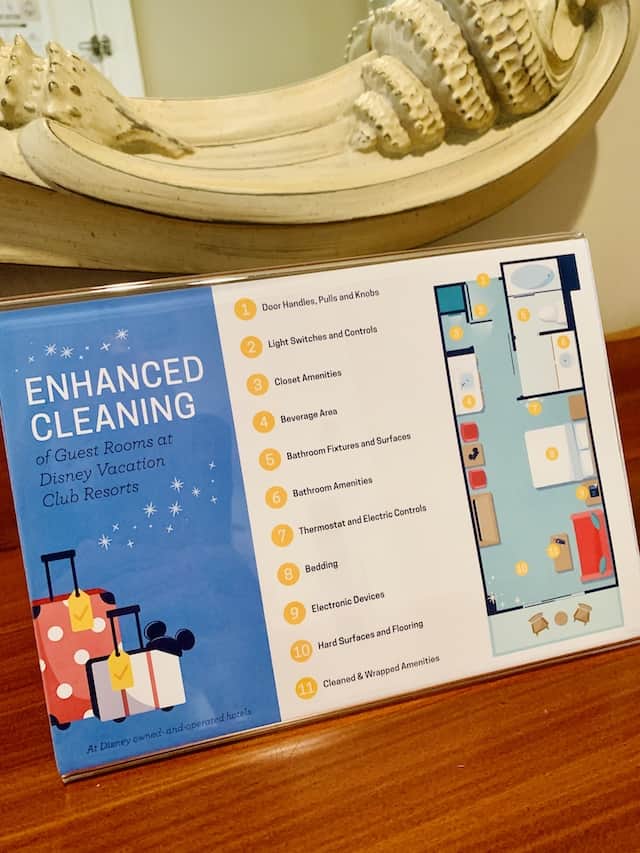 There was also a little sign on the entryway table sharing the enhanced cleaning procedures of guest rooms at Disney Vacation Club Resorts. They include:
Door handles, pulls, and knobs
Light switches and controls
Closet amenities
Beverage area
Bathroom fixtures and surfaces
Bathroom amenities
Thermostat and electric controls
Bedding
Electronic devices
Hard surfaces and flooring
Cleaned & wrapped amenities
Included was a little diagram of a room with the corresponding number.
Kitchen and Dining
To the left of the entry way is the kitchen and dining area. All DVC villas have a full kitchen, which we love to take advantage of.
Once you step into the kitchen area, the sink and dishwasher are on the left while the refrigerator and stove are on the right.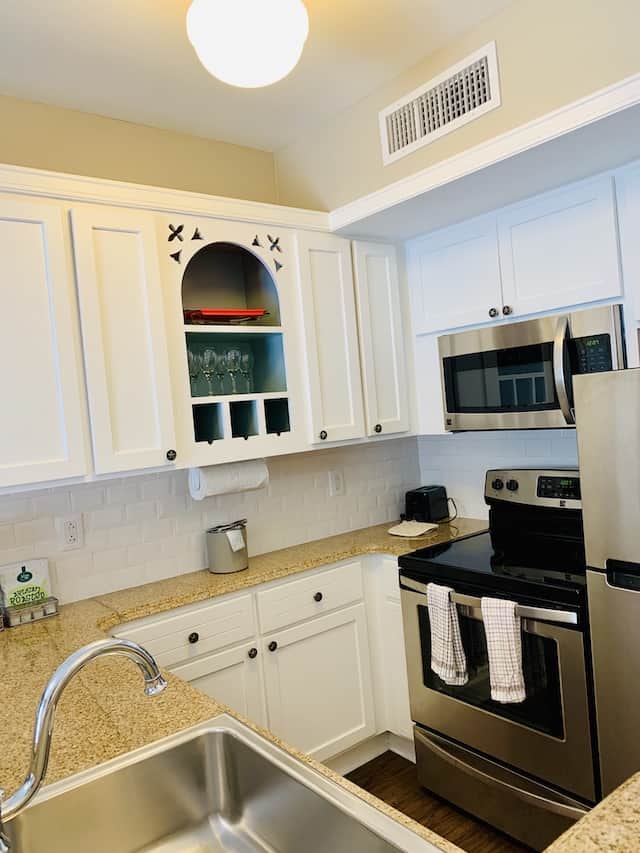 The refrigerator is full size and plenty big enough to hold our leftover pizza from BoardWalk Bakery, snacks, and 2 liters. You could easily shop for groceries for an entire week and the refrigerator and freezer would hold it all.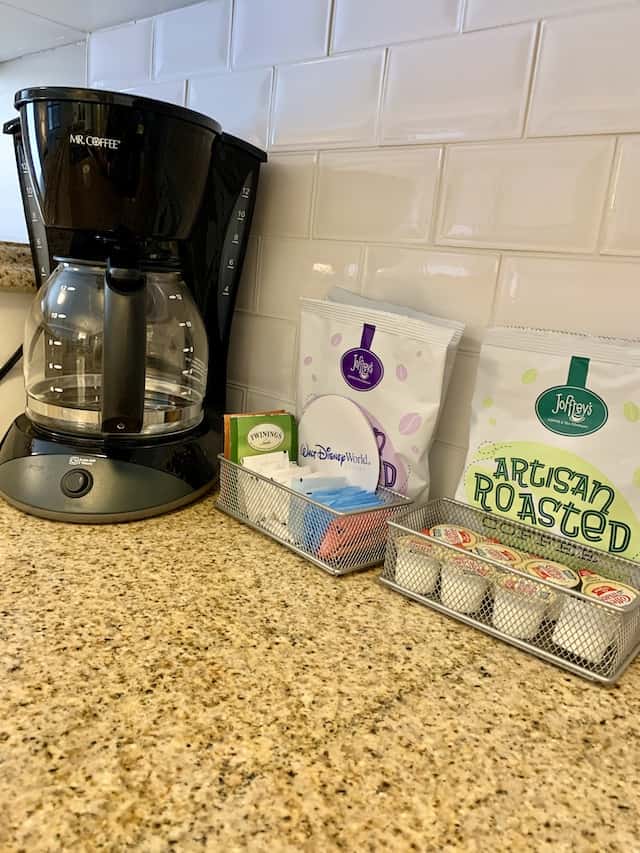 The coffee area has a coffee maker, Joffrey's coffee, Twinings tea, sweetener, and creamer.
There is plenty of cabinet space to hold all of the kitchen utensils and gadgets needed to prepare meals just like you would at home.
Plates, cups, bowls, strainers, measuring spoons, mixing bowls, utensils, spatulas, and pots and pans all fill the cabinets.
Additionally, there are hand towels and paper towels along with dish soap and detergent to keep the kitchen area tidy.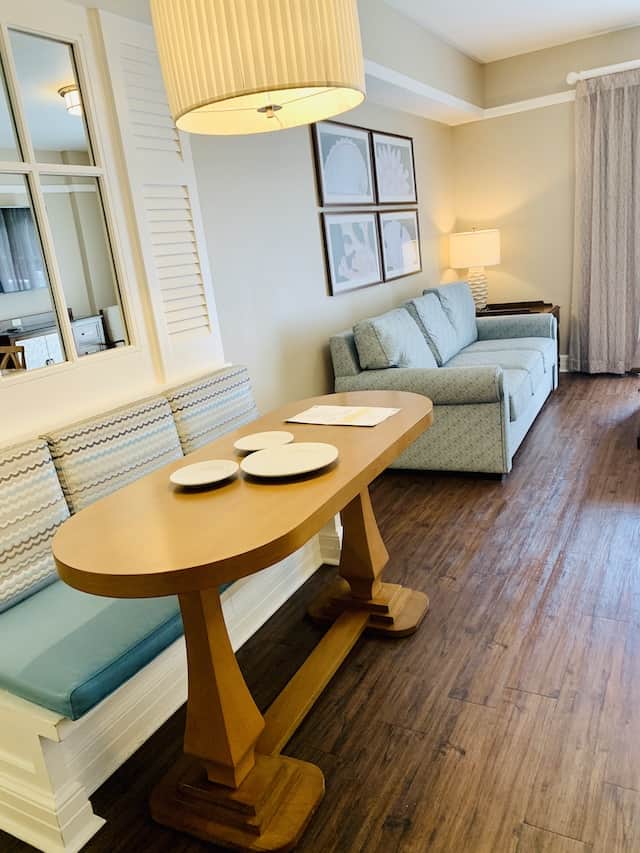 I did not like the dining area at all, and it is the biggest disadvantage of staying in the Beach Club villas.
The dining area is split up into two areas. There is a small table with one bench that seats 2-3 individuals. Then, on the other side of the kitchen is a countertop bar area that has an additional two seats.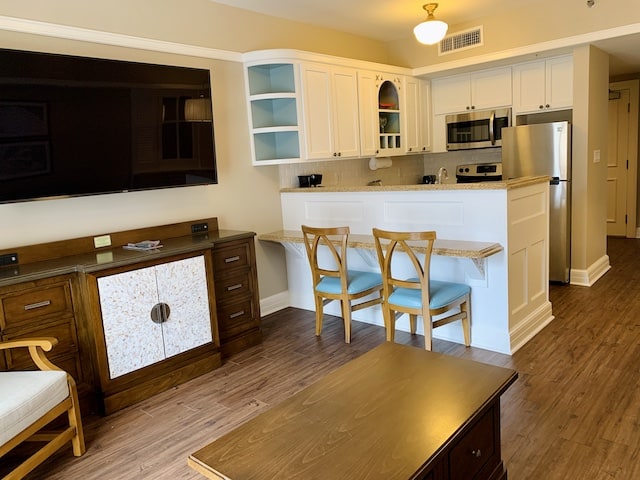 That means only 5 people max can sit in the dining area in a 2 bedroom villa. We had 8 in our party (which is also the max number of people who are allowed in a 2 bedroom) so this was a bit uncomfortable for us trying to eat our meals.
The table area still welcomed us with Mickey shaped plates and the in-room dining menu. We ordered from this service two times during our stay so I can confirm Disney is offering in-room dining at the time of publication.
Living Area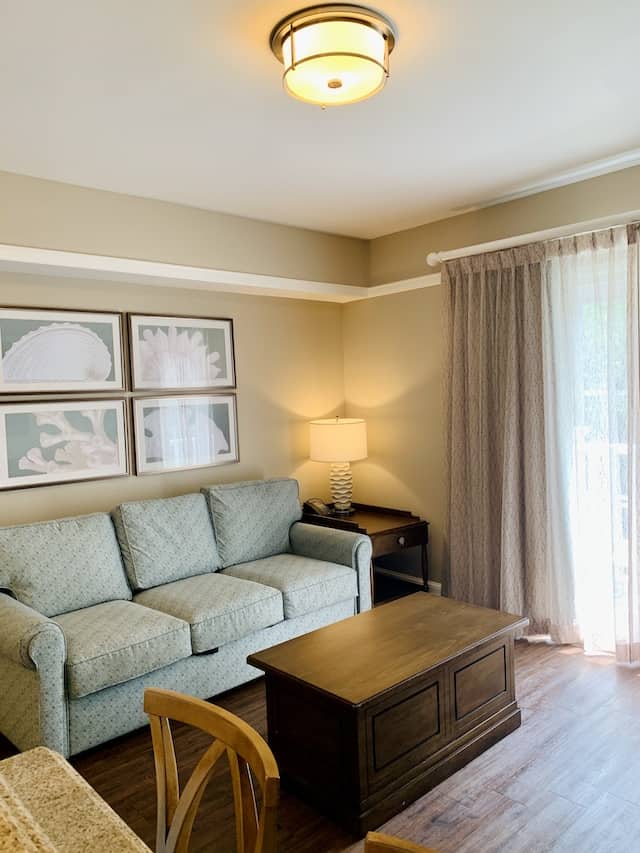 Beyond the kitchen and dining area is the living area. It is a semi-small area with a sofa, end table, and coffee table on one side. On the other side is a chair and hutch area with flat screen television mounted to the wall.
Then, there is the countertop bar area.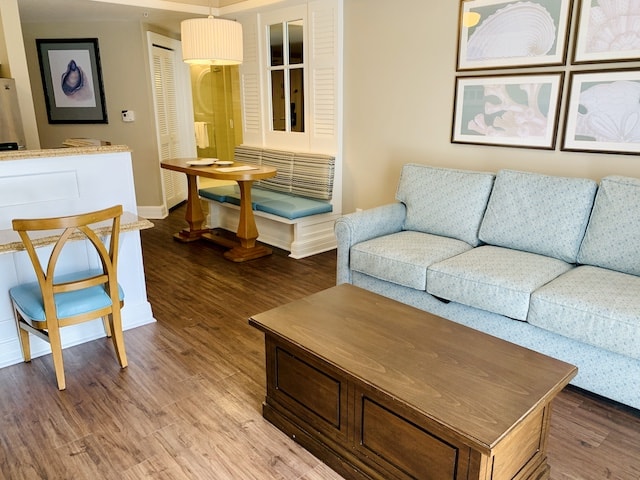 There is also a large sliding glass door, which leads you outside to the small balcony. The balcony is nothing special as you can barely sit down outside. We had a view of the courtyard area, which I was not very impressed with.
I wasn't necessarily there for the room view, but it would have been nice to see maybe Crescent Lake or part of Stormalong Bay.
Laundry Area and Master Suite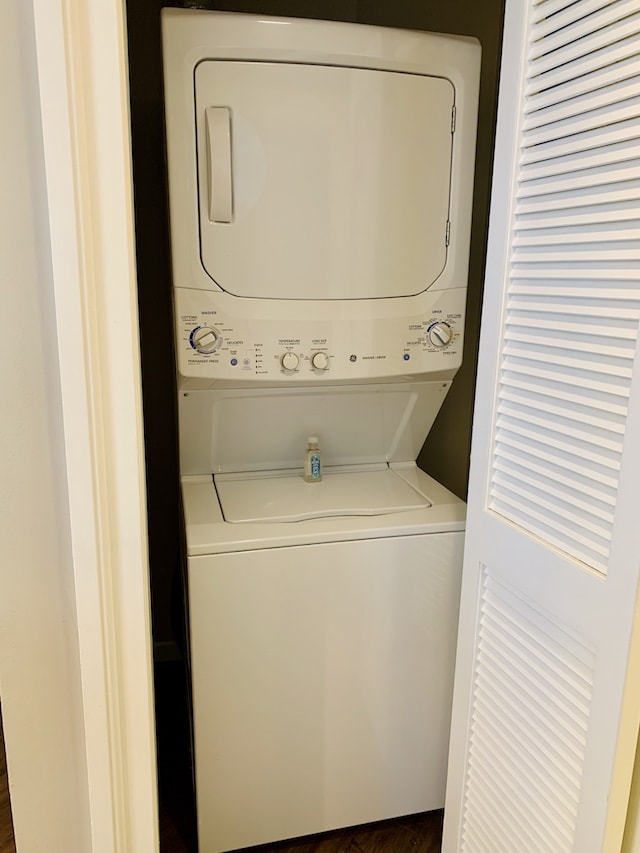 If you leave the kitchen and dining area, immediately to your right is the laundry closet. It is a stackable washer and dryer with bifold door. In the photo of the living area above, the washer and dryer is located right next to the dining table.
There was also a bottle of laundry detergent included, which was nice to have since we did not bring any with us.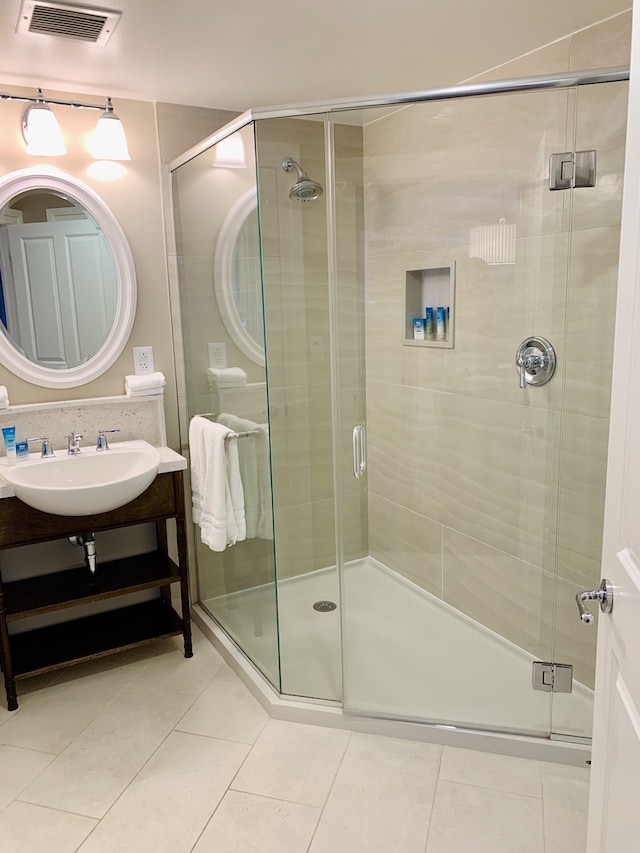 Located right next to the laundry closet, is the master bathroom. It's actually broken up into two "rooms" with the toilet, a small vanity, and the large walk-in shower (with individual bottles of shampoo and conditioner) in one room.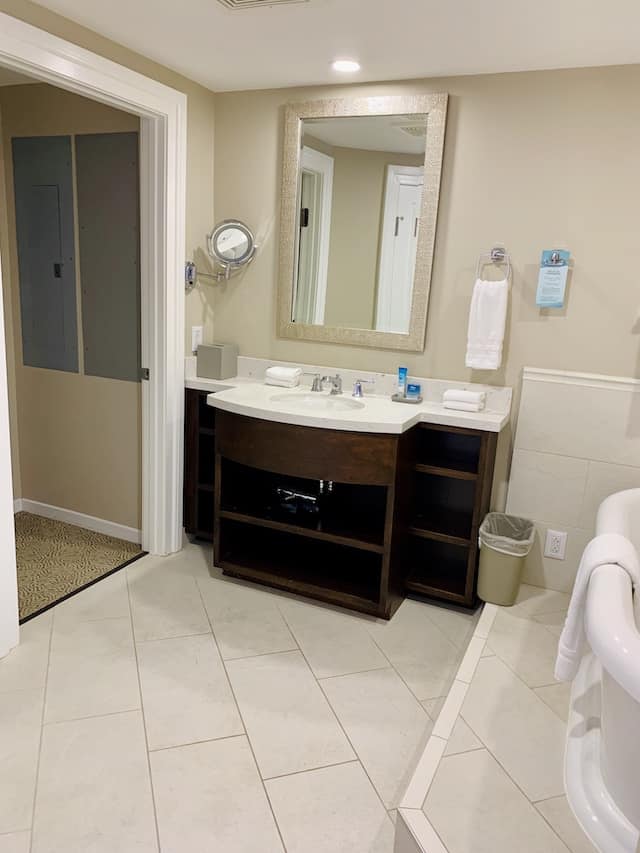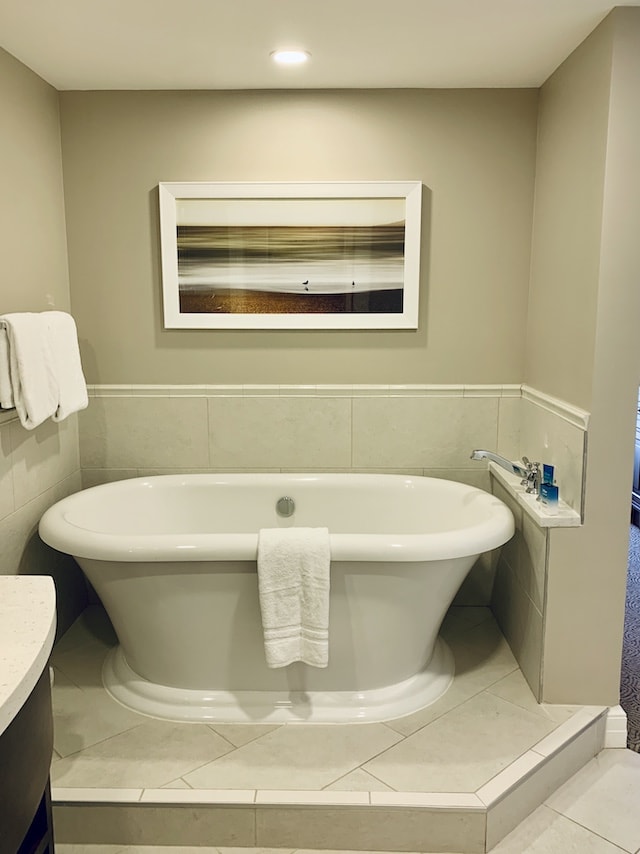 Then in the second room, you will find the larger vanity, tub, and closet area. There is a hamper, hangers, and extra pillows and blankets in the closet.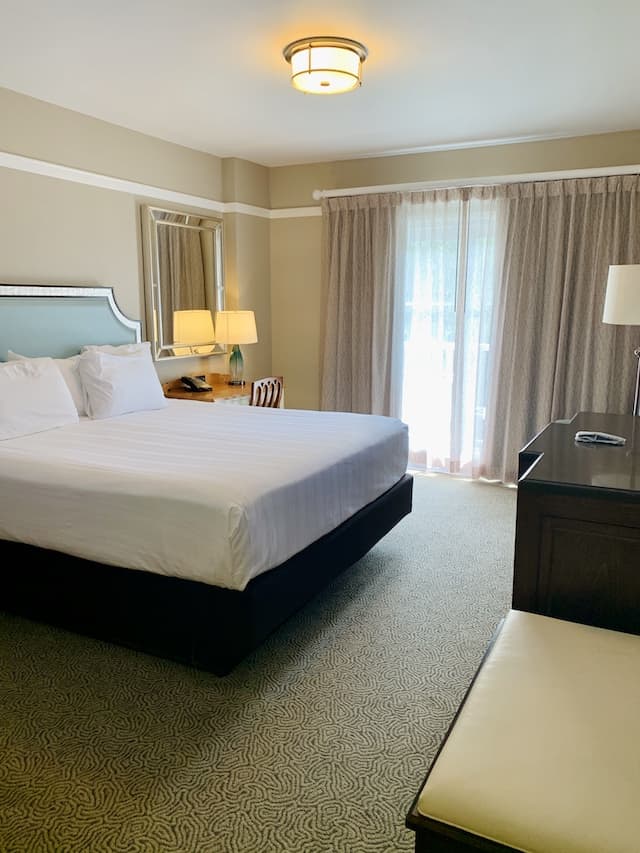 Finally, you walk into the master suite. There is a king size bed, bench seat and mirror, dresser with flat screen television above, and a desk area.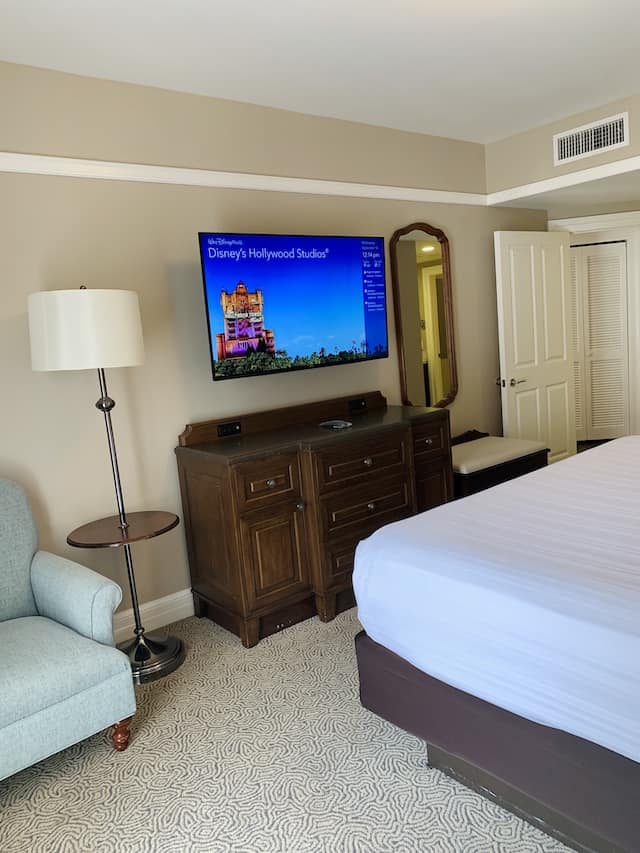 Additionally, there is a chair with lamp in the room for extra seating.
Second Bedroom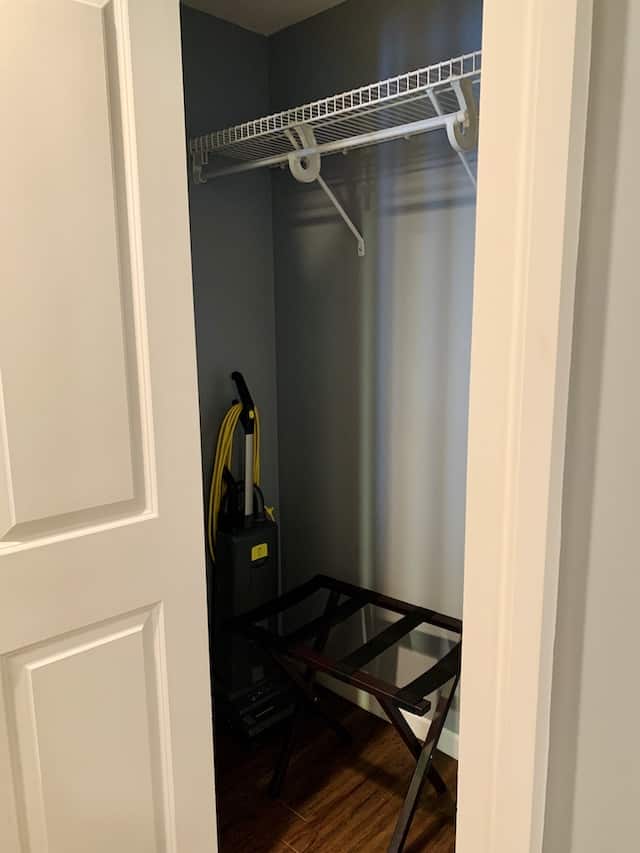 If you make your way back to the entry way and the other side of the suite, you will first find a closet area that holds a luggage rack and vacuum cleaner.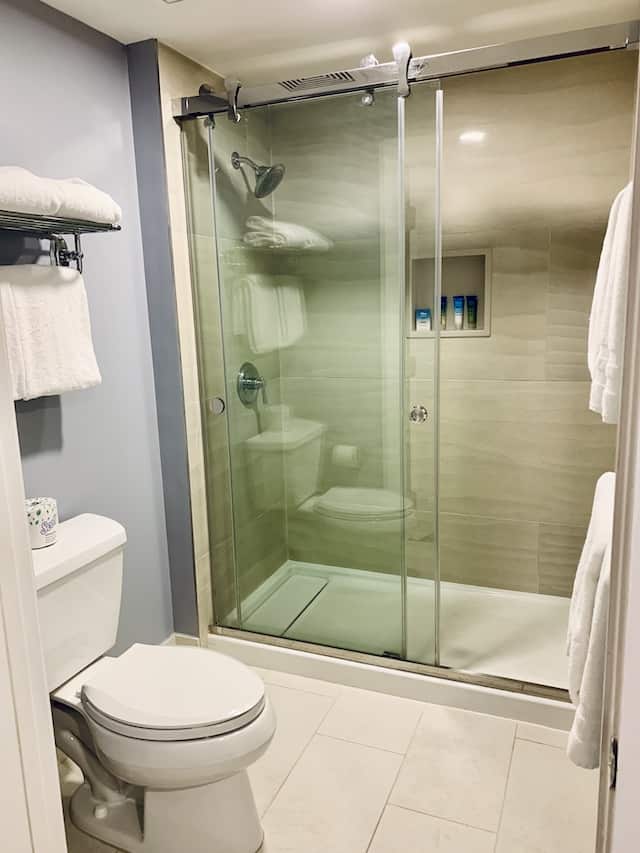 Once you walk into the first bedroom, the bathroom area is the first thing you will notice. In one room is the large walk in shower and toilet.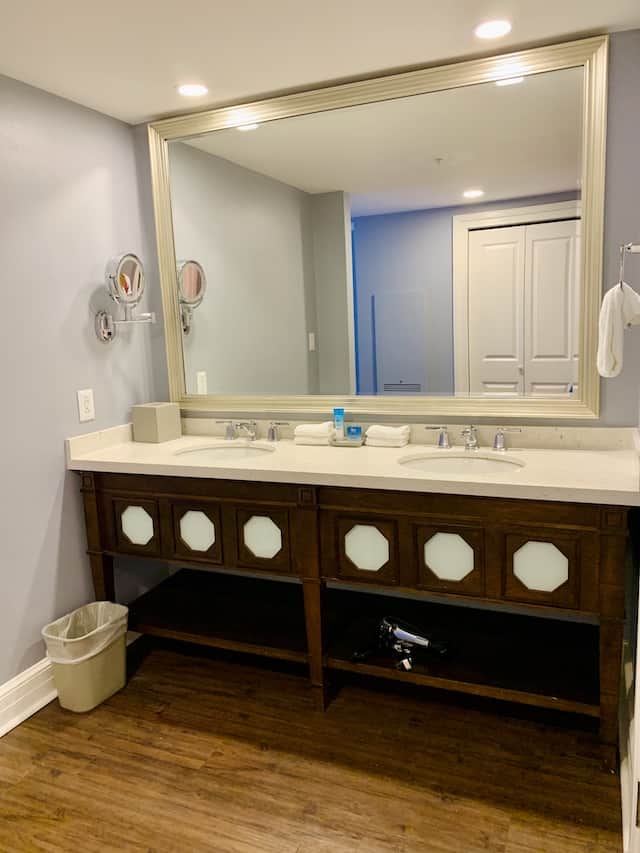 Then, the vanity area is out in the open and does not have a door blocking it off. The vanity has two sinks along with the typical towels, hair dryer, and facial soap.
Directly across from the vanity area is another closet with a luggage rack and more hangers.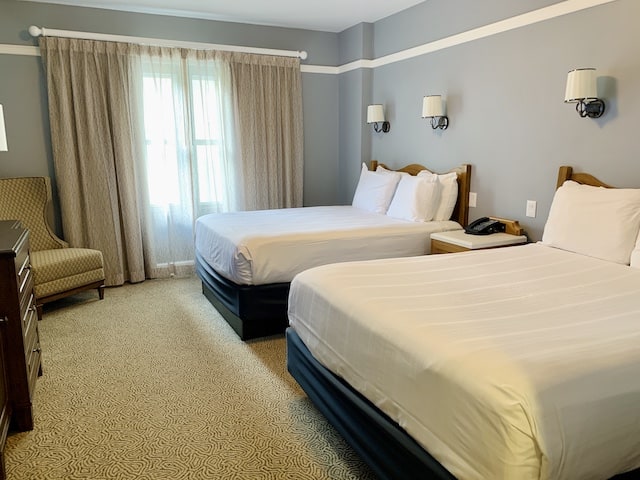 The bedroom itself has two queen size beds, a shared nightstand with telephone, dresser with television above it, and a chair.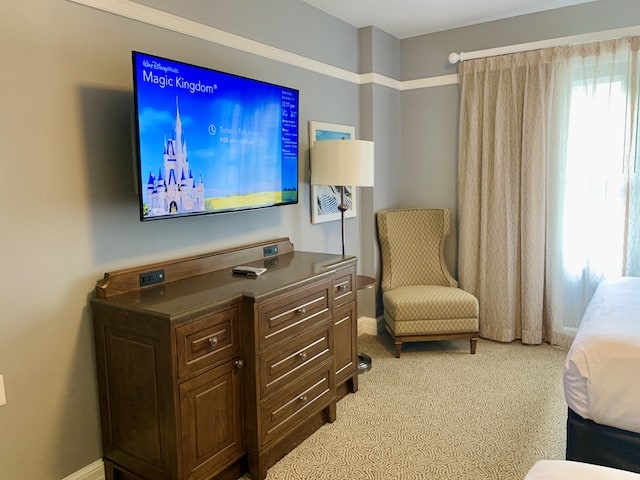 There is also a second balcony off this bedroom.
Villa Lounge Area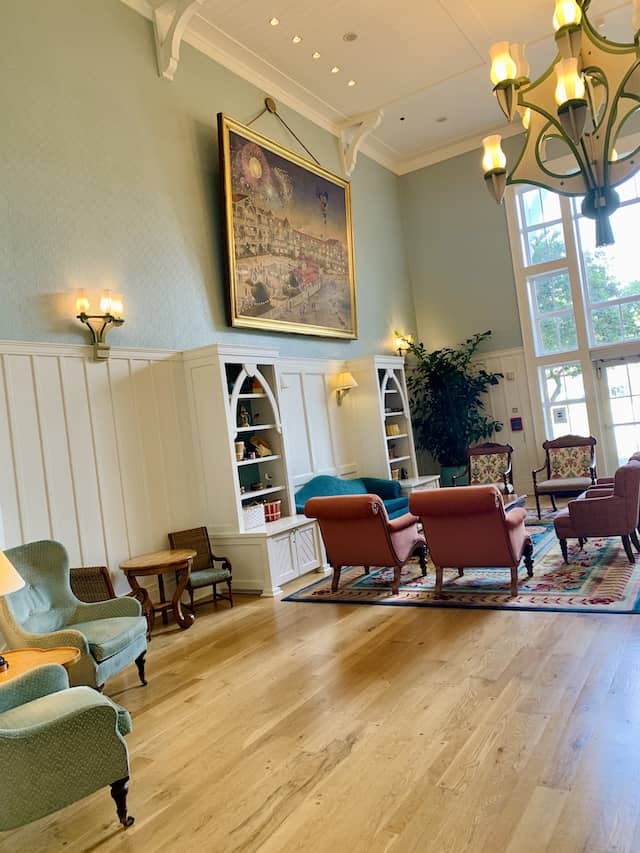 We did not have a lot of time to explore the villas as we spent most of our time at Stormalong Bay. However, I did peek in at the lounge area that is located on the first floor when you first enter the villa building.
The lounge area was absolutely beautiful with nautical theming and fun touches. I loved the enormous shelf area above the bench seating that extended all the way to the ceiling.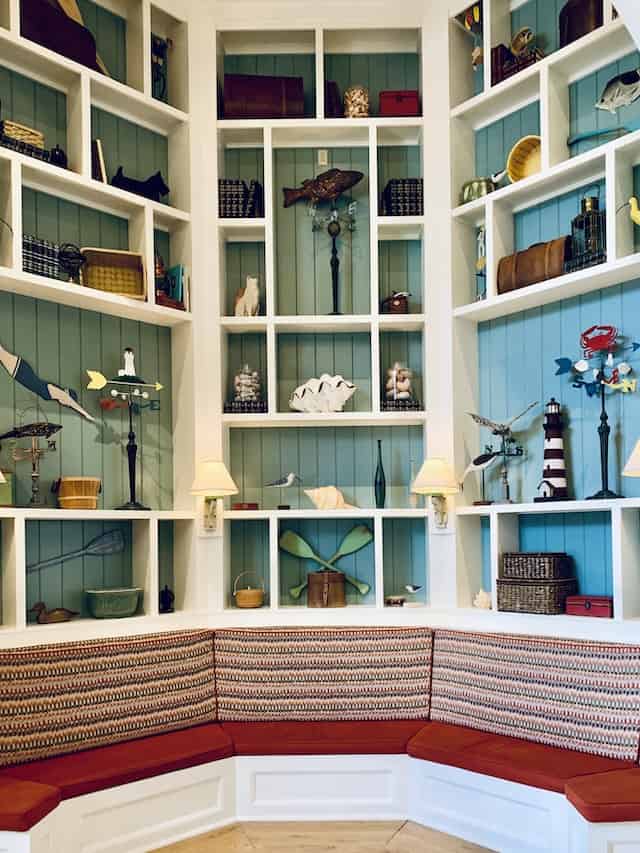 There were all kinds of fun trinkets and things that reminded me of the beach.
There were even a child-sized seating arrangement for young ones.
This would be a great place to unwind after a day in the parks or a place to meet family and friends who are also staying at Disney World.
Final Thoughts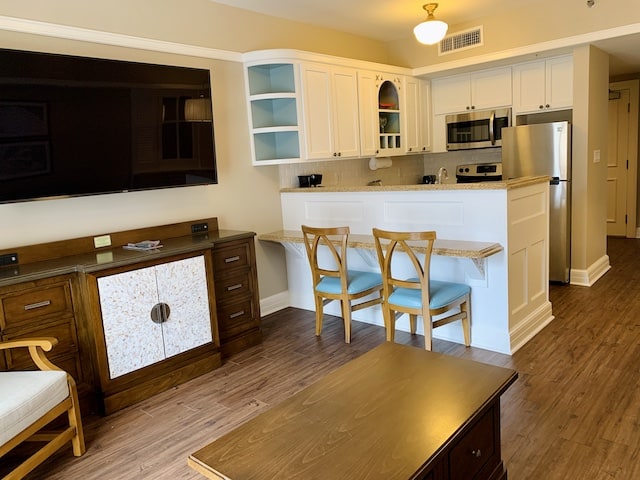 Overall, we enjoyed our stay at Beach Club, but the room accommodations were not the reason why we loved it so much. I think the proximity to two of the theme parks plus Stormalong Bay are what make Beach Club such a desirable resort to stay at.
The villa itself was just okay. It did not wow us like when we walked into our villa at Riviera during the second half of our split stay, and the dining situation was really less than ideal.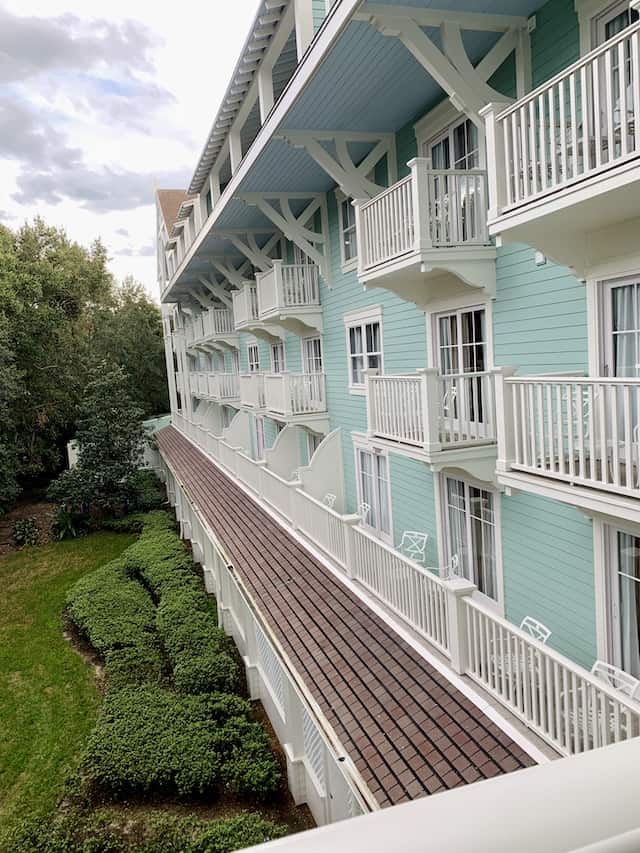 We appreciated that they had been updated in recent years and that there was plenty of bedroom and bathroom space. However, the space of the main living area needs re-worked, in my opinion.
However, we would definitely stay there again because of the reasons I mentioned above. The room accommodations would not stop us from staying there again. Overall, the disadvantages are pretty minor compared to all the benefits of staying at Disney's Beach Club!
Have you ever stayed in a villa at Disney's Beach Club? What did you think? Share your thoughts with us on Facebook.