Just in time for Halloween, make this fun and yummy Oogie Boogie Worms in Dirt recipe. Sure to be enjoyed by kids of all ages!
In just a week, ghosts and goblins all over the world will be celebrating Halloween with their favorite treats. This year, people are looking for more stay-at-home goodies versus traditional trick or treating.
Disney Themed Donuts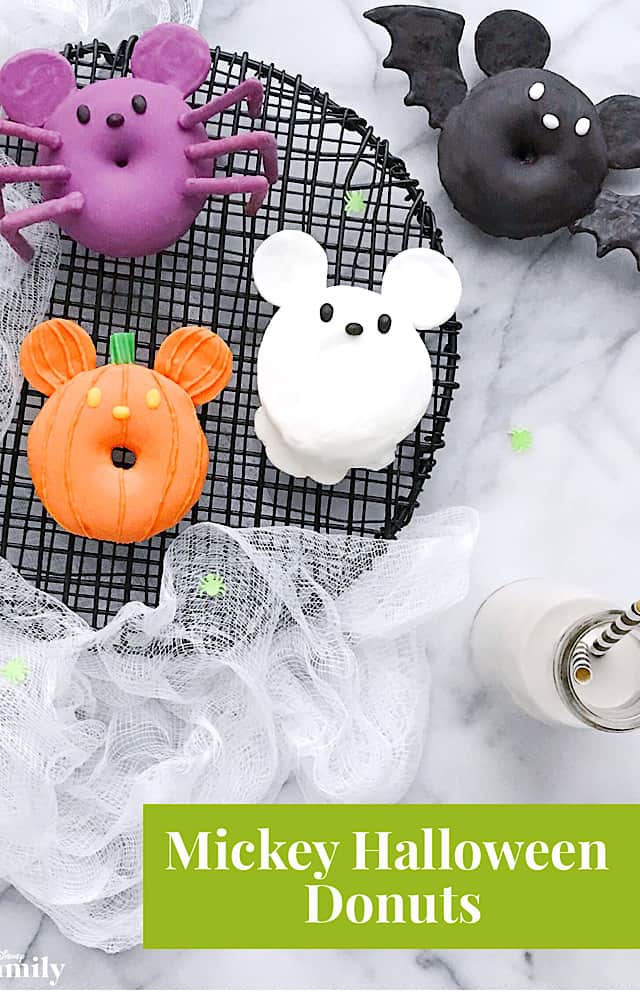 Everything tastes better Mickey shaped, and this certainly includes donuts! For a detailed recipe on a delightfully sweet and spooky donut recipe that kids of all ages can enjoy, read here!
Where To Buy Oogie Boogie Worms in Dirt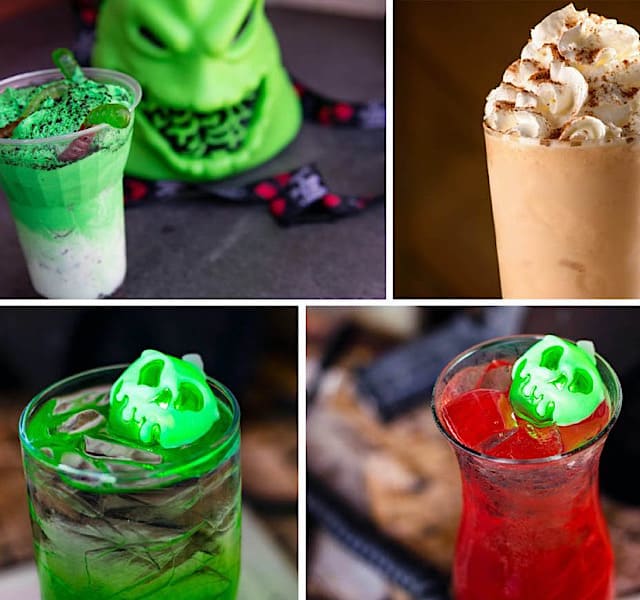 For the Halloween season, guests can enjoy Oogie Boogie Worms in Dirt treat at Disney Springs. AristoCrépes has the following creepy fall treats:
Oogie Boogie Worms in Dirt (Available through Nov. 2) – Mint ice cream, chocolate cookie crumbs, and gummy worms
Bug Juice (Available through Nov. 2) – Vodka, raspberry liqueur, melon liqueur, and blue curaçao with house-made sweet-and-sour and topped with cranberry juice and gummy worms
Oogie Boogie Premium Popcorn Bucket
For a complete guide Disney Springs and Hotels fall treats read here. You can also find a Fall Foodie Guide here for all Disney World Theme Parks.
Ingredients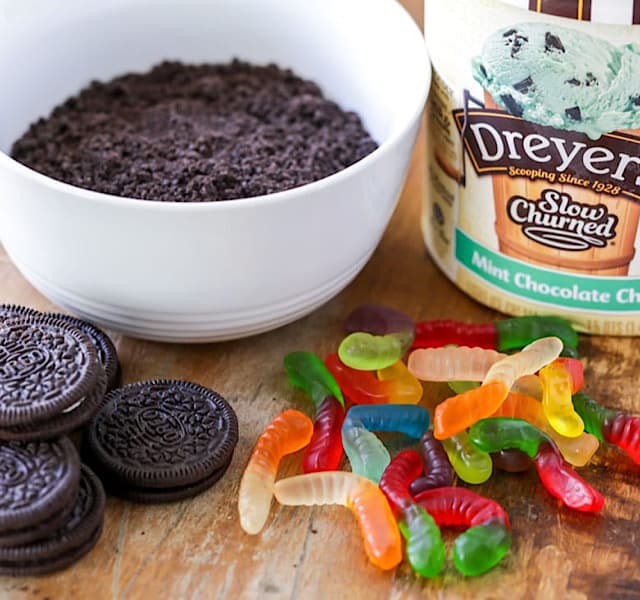 2 small boxes chocolate pudding mix (6.6 oz each)
3 cups milk
Chocolate cake box mix, plus ingredients listed on back
Large contained of whipped topping (or 16 oz. whipped cream)
Green food coloring
Package chocolate sandwich cookies
Gummy worm candies
Instructions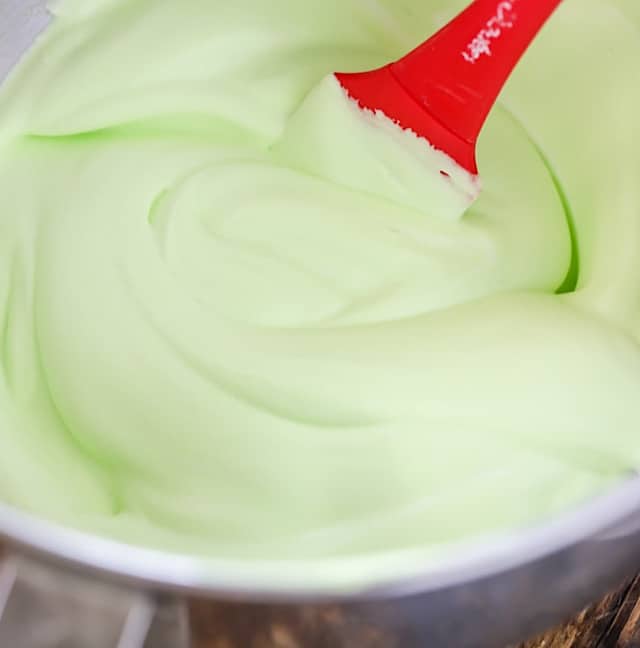 Add a few drops of green food coloring to whipped cream and set aside.
Make pudding by mixing pudding mixes and milk. Add the whipped cream, mix well and refrigerate for at least 30 minutes.
Make cake as directed on box. Let cool and cut into cubes.
Crush chocolate sandwich cookies by placing in a food processor and you get a crumb consistency. Set aside.
Start layering ingredients in trifle dish or individual containers from the bottom beginning using about 1/4 of mixture for each layer
First, add crushed cookie crumbs to make the bottom layer.
Next, add a few gummy worms and a scoop of ice cream.
For the top layer, add the green whipped cream and a thin layer of crushed cookies.
Garnish with gummy worms on top, sticking out to look as if they're climbing out.
Chill in the refrigerator for at least 1 hour or until ready to serve.
Recipe Notes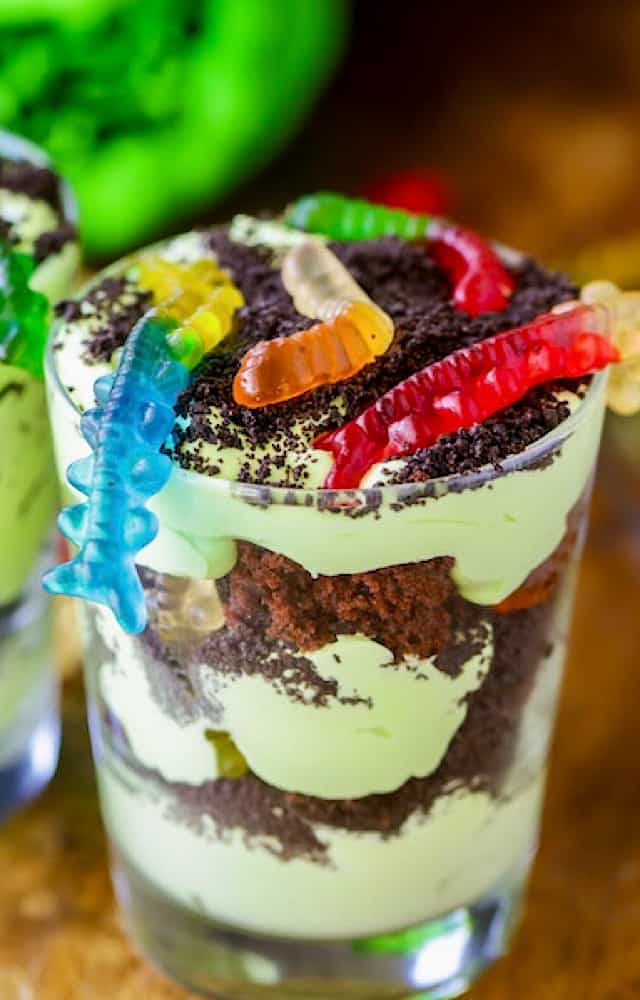 Disney Parks Blog recently shared this delicious recipe from Lil' Luna.
If mint chocolate-chip ice cream isn't your favorite, check out these other green colored flavors: pistachio almond, green team, or simply soften vanilla ice cream and mix in a few drops of green food coloring. Be sure to put it back in the freezer to allow it to harden after coloring.
If mint is your favorite, add mint Oreos and sprinkle the top with chopped Andes mints.
This recipe works great for individual servings or made in a large glass bowl.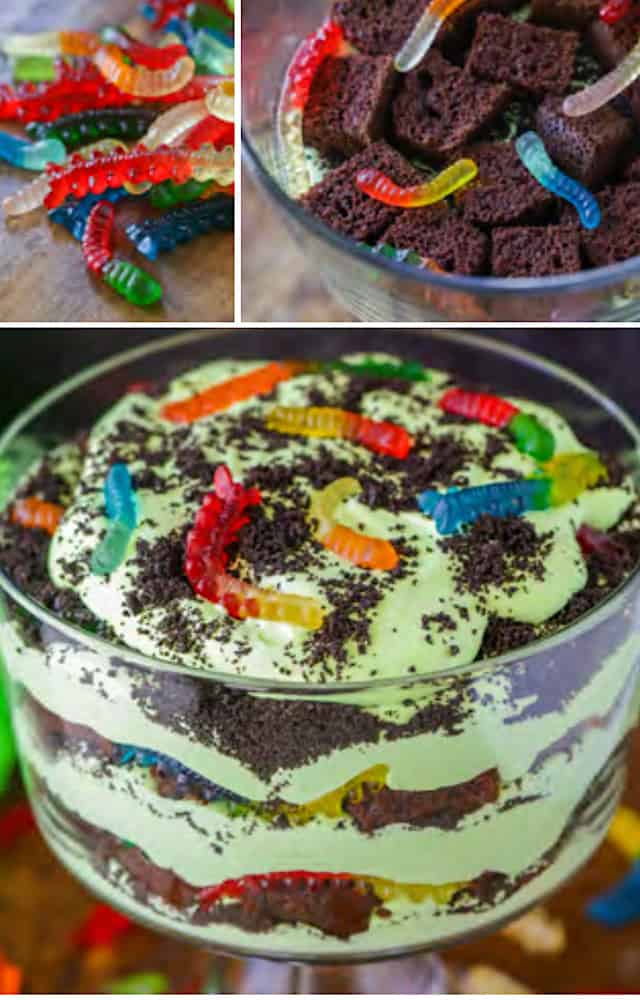 This recipe works great with any kind of gummy bugs, not just worms. Any why not, since Oogie Boogie is filled with bugs?
For a free downloadable, printable version of this recipe, click here.
Recipe credit: Lil' Luna
Have you tried this fun dessert at Disney Springs or will you make it at home? Please share your thoughts and favorite Disney Halloween themed treat on Facebook or the KtP Crew Page.