Here are the best sweet and savory dishes the Taste of Epcot International Flower & Garden Festival has to offer this year. If you are planning to go, check these out!
Flower & Garden is here!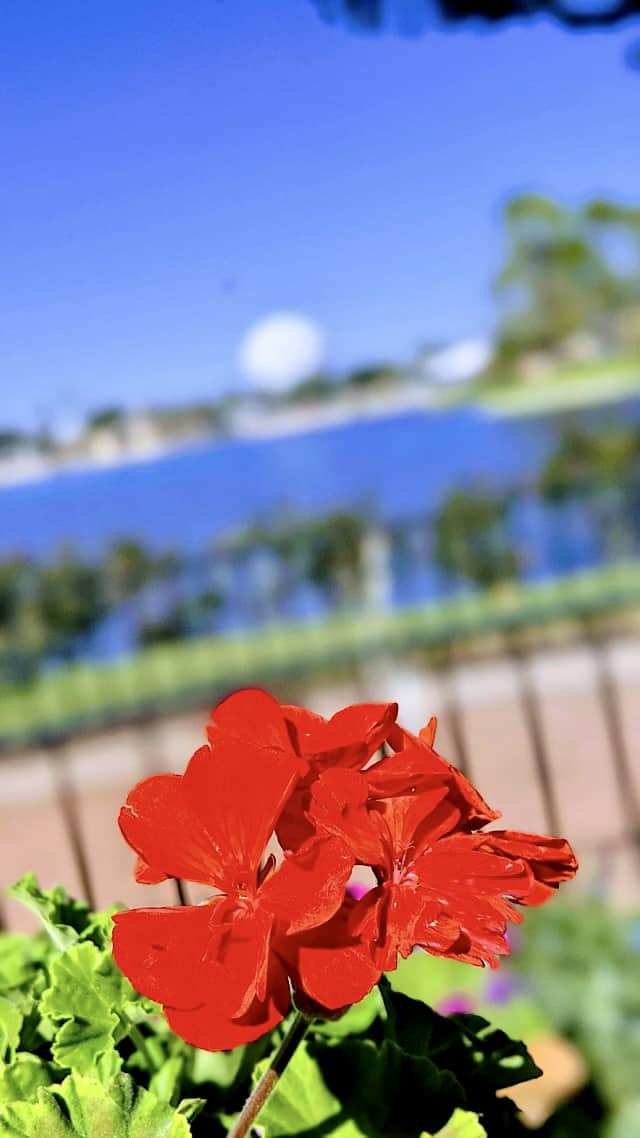 Taste of Epcot International Flower & Garden Festival is here! The festival is going to run through July 5, 2021, so you have plenty of time to visit! Visitors can delight in the both visual and culinary delights!
You can check out a full guide to the festival right here. To help you make the ever important plans for what dishes you want to taste, here is a rundown of the festival's sweet and savory dishes at 2021's outdoor kitchens. And, there are also a few tips on what to skip!
Savory Treats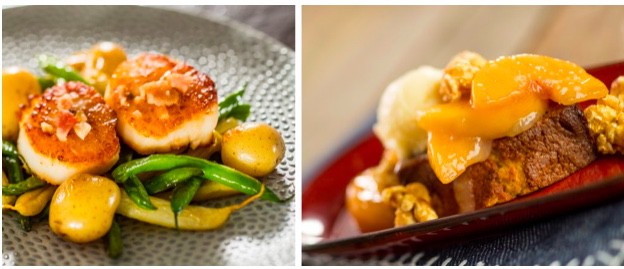 I have to start by saying, while I love the Flower and Garden Festival, the savory treat selection is not as strong as it is at either Food & Wine or Festival of the Arts. The dishes are beautiful, but some of them this year were bland and skippable.
Now, a lot of this MIGHT have had to do with how fresh they were. After all, many things are just better served immediately.
For example, the pork belly dish over at Citrus Blossom is one I was looking forward to. Unfortunately, it was cold. It probably would have been delicious served hot and fresh.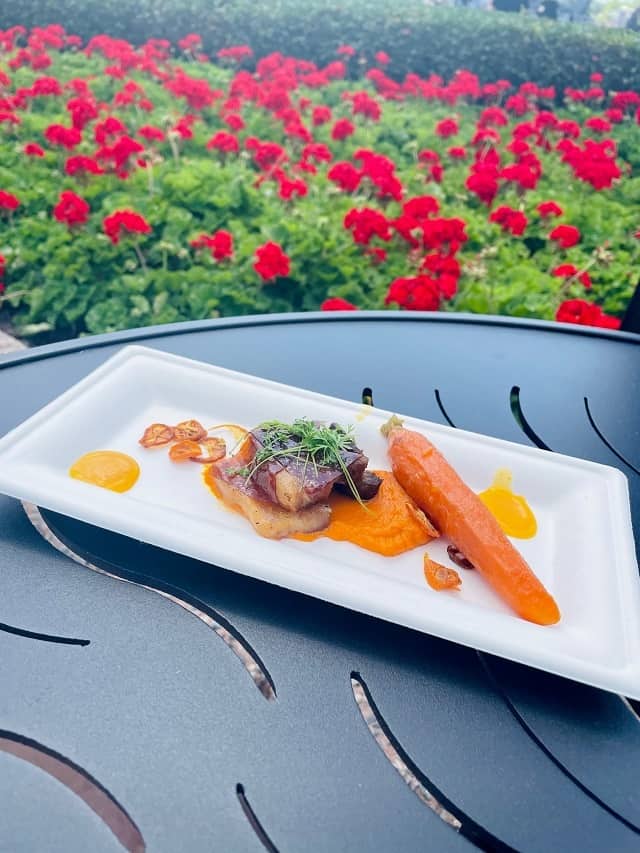 Overall, I do prefer the savory food at other festivals. However, a few dishes did stand out as being highlights this year.
Here are the 5 best savory treats this year according to my travel party. I am also adding an honorable mention that surprised us.
5. Avocado Toast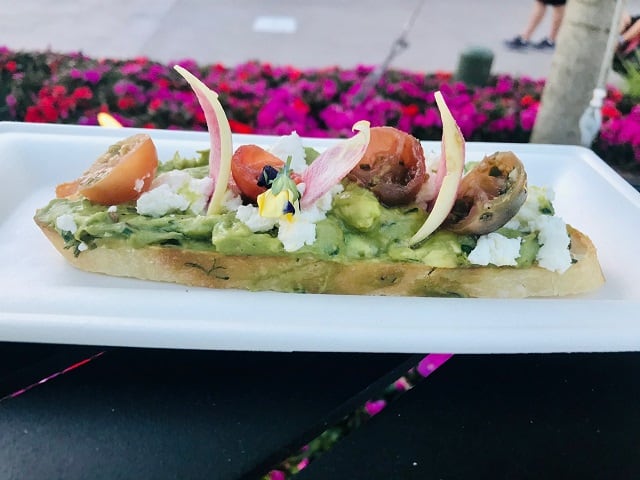 The Avocado Toast is located at Epcot Sunshine Griddle. It costs $5.75. It is a beautiful dish described as: avocado toast with marinated toybox tomatoes, fresh goat cheese, and toasted ciabatta.
This one has nice flavors. I was surprised that a simple avocado toast would make my top 5, but here we are!
4. House Made Crab and Cheese Wontons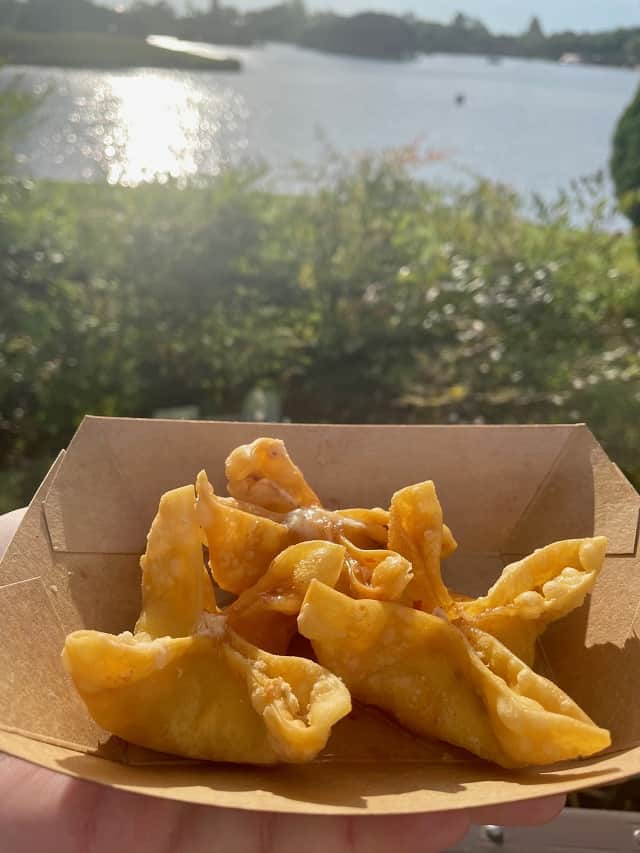 This is actually one of my husband's picks. I could not try them myself because I cannot eat crab, but he promises me they belong in the top 5. He tried them more than once and said that if you can get them fresh when they haven't been under the heat lamp that they are amazing, but they are still good regardless.
The wontons can be found at Lotus House. This is the outdoor kitchen in China. They cost $6.95.
3. Toasted Pretzel Bread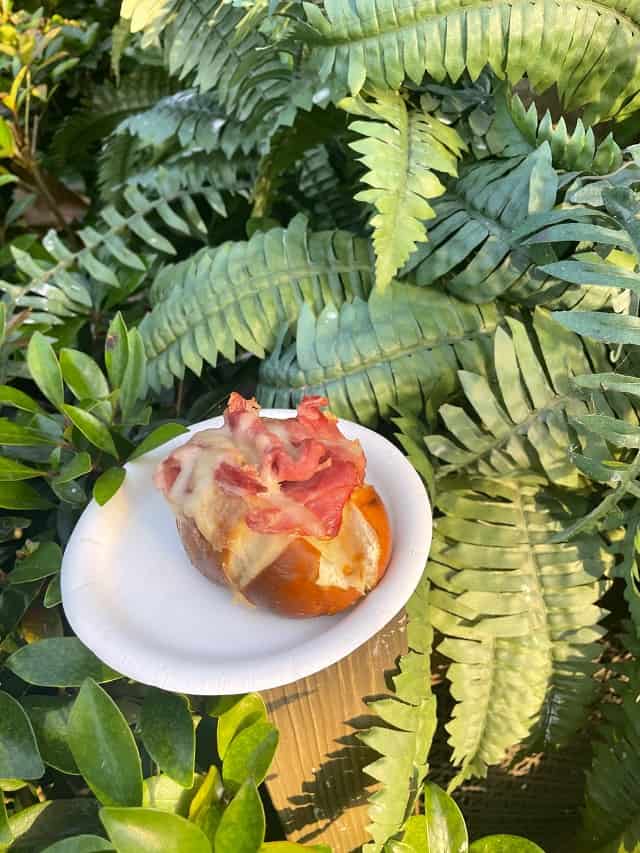 Okay, wait wait. What is a ham and cheese sandwich doing at the top of the list? Y'all. This sandwich is amazing. And, like I said, the dishes at Flower & Garden were mostly just fine this year.
You can get the Toasted Pretzel Bread at the Bauernmarkt Farmer's Market. This is the outdoor kitchen in Germany.
It is basically toasted pretzel bread topped with Black Forest Ham and Melted Gruyère Cheese. It's simple, but it is so so flavorful and good.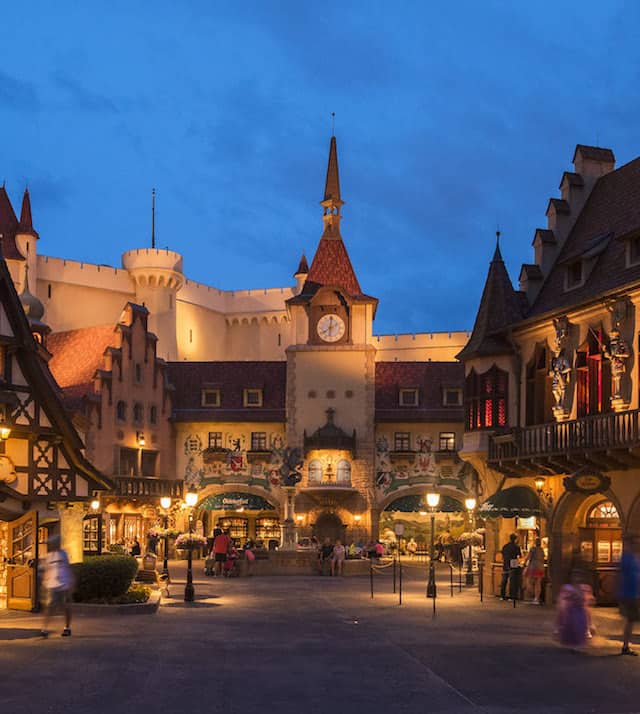 It is $5.50. So while it isn't one of the better values at the festival, it doesn't sting too badly either. And, if you have members of your travel party who aren't super adventurous, it is a pretty safe bet for not too high a price.
I will say, ours were hot and freshly made. I imagine that if you get one that has been sitting under the heat lamp for a while, it would not be as delightful. But, our experience was a positive one.
2. Seared Verlasso Salmon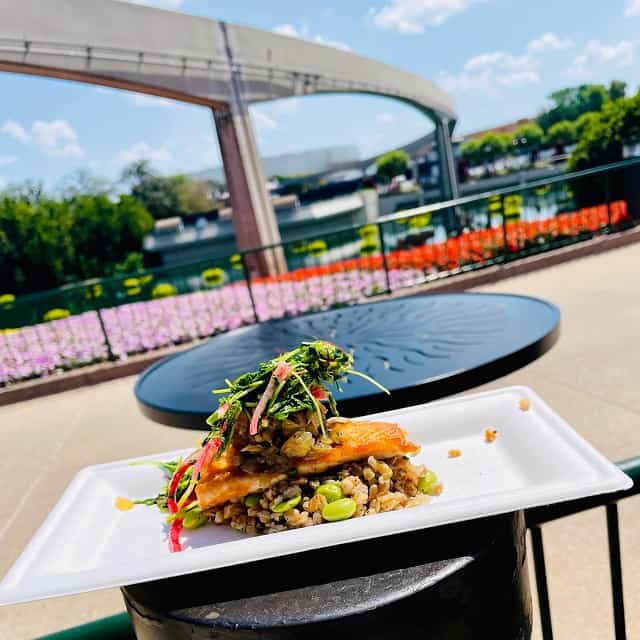 This salmon dish is available at Flavor Full Kitchen, and it is $6.25. So, it is a little pricier than other options around the festival.
This was the very first thing we tried at this year's festival. As such, I thought that it may fall further and further down the list as we tried more and more food, but it held up!
The salmon is served with farro risotto and micro herbs. And, honestly, the plants are the star of the dish!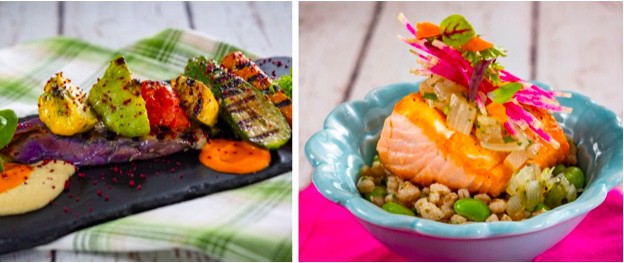 They are so flavorful and perfectly balanced that I thought they would make a fine stand alone dish. And, as it turns out, you can order just the risotto and micro herbs. If you are vegan, this modification might be a good option for you!
Our salmon was perfectly cooked. Sometimes the festival salmon dishes can be a little dried out, but this was not the case today.
1. Meyer Lemon-Poached Lobster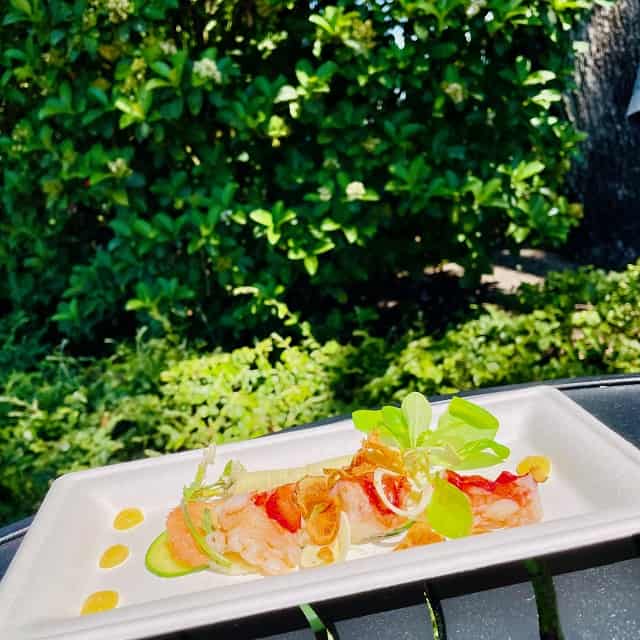 The Meyer Lemon-Poached Lobster Salad is served at the Citrus Blossom, which is probably my favorite festival booth this year. It costs $8.25, making it one of the pricier dishes at the festival.
The dish is described as Lobster Salad with Grapefruit-Rosé Vinaigrette, Yuzu-marinated Hearts of Palm, and Avocado-Yuzu Panna Cotta. It's gluten free if that is important to you.
I know a lot of fans are disappointed that the lobster dish of previous years has been replaced as it was popular. But, this little dish holds its own.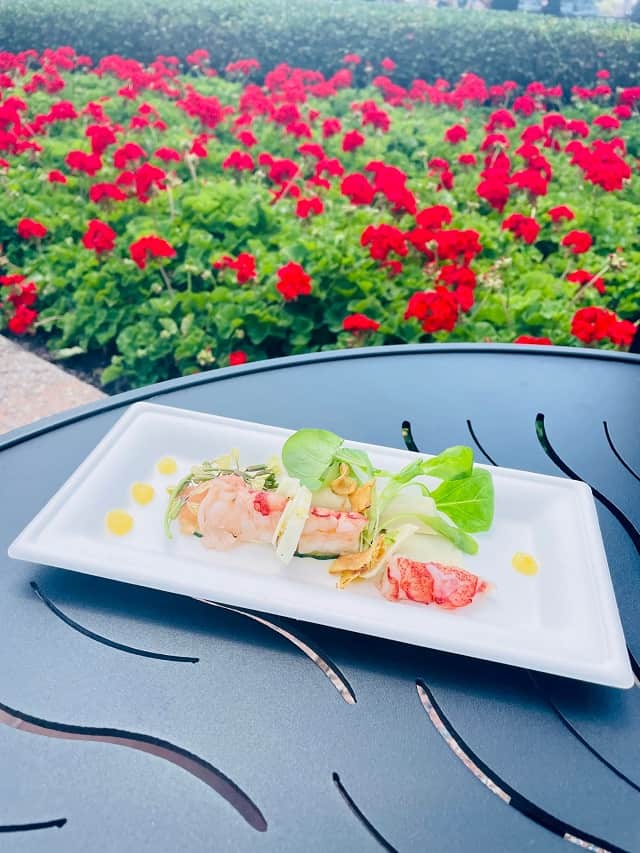 I am surprised that it hasn't gotten great reviews because I loved everything about it. The individual components and the overall dish are lemony and delicious.
I tried it more than once during the festival, on separate days, and it was even better the second time. If you are on the fence, give it a try. I would venture to say that I like it better than the dish it replaced!
Surprise Favorite!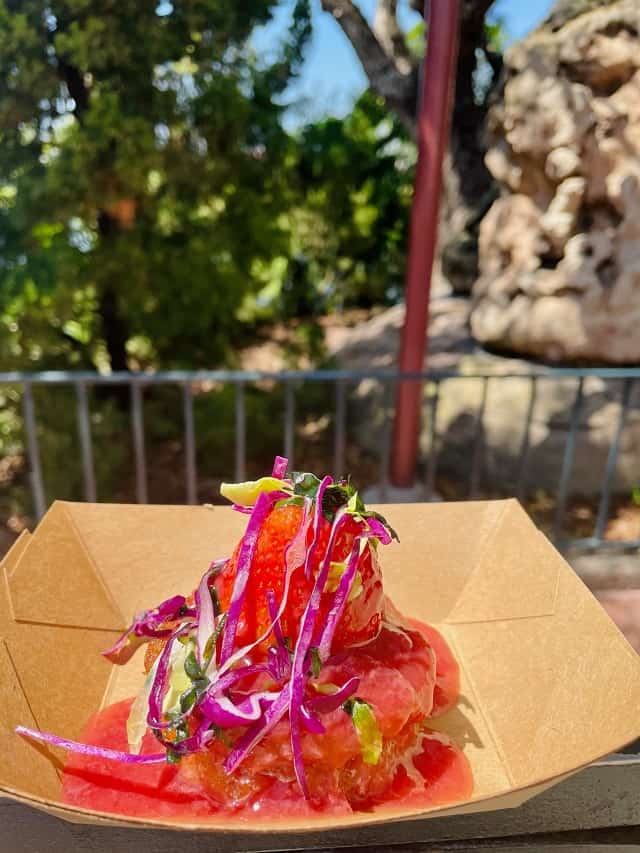 Honorable mention goes to a dish I wasn't even planning on trying. However, I thought it was worth mentioning because it was such a nice surprise.
The Papa Cakes are delicious. They are located at the Lotus House in China.
At $7.95, they are not a great value. But they are so good that I wasn't even mad about it.
Papa Cakes are described as potato cakes filled with shrimp and water chestnuts served with house-made strawberry sauce. Somehow shrimp and strawberries work together! Who would have thought?
They were so flavorful, hearty, and delicious and one of the more creative dishes at the festival. I wish they had been a little crispier, but aside from that, I found them to be fantastic.
Sweet Treats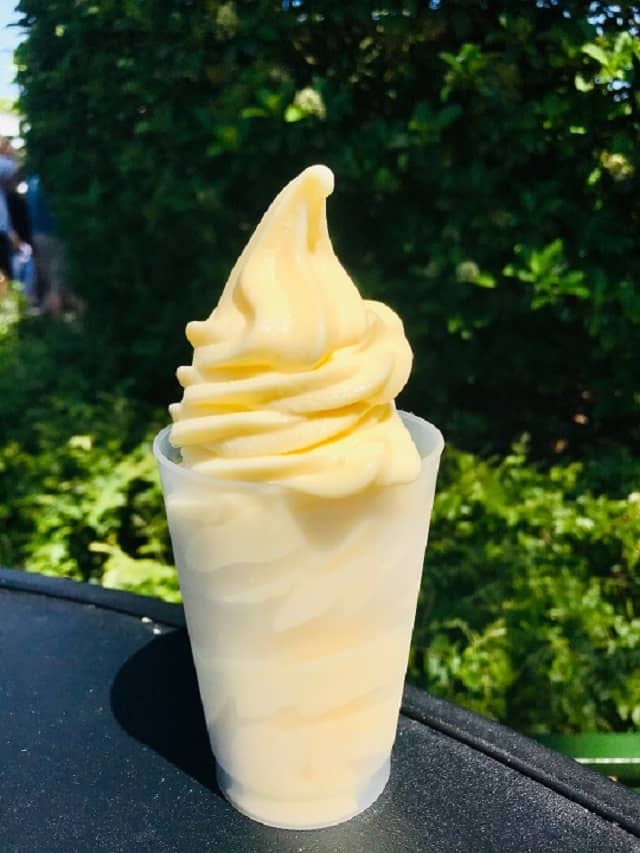 I typically do not love the desserts at the various Festivals. At Food & Wine and Festival of the Arts I stick with the savory snacks because they are just so good.
However, Flower & Garden was an exception this year. I liked the sweets BETTER than the savory dishes, which is highly unusual for me. In fact, there were a good many delectable sweets that DOLE Whip, which always makes my list, didn't make my list (mainly because it is more expensive in Epcot for a smaller portion than it is in its normal locations). Here is a run down of my top 5.
5. Strawberry Mousse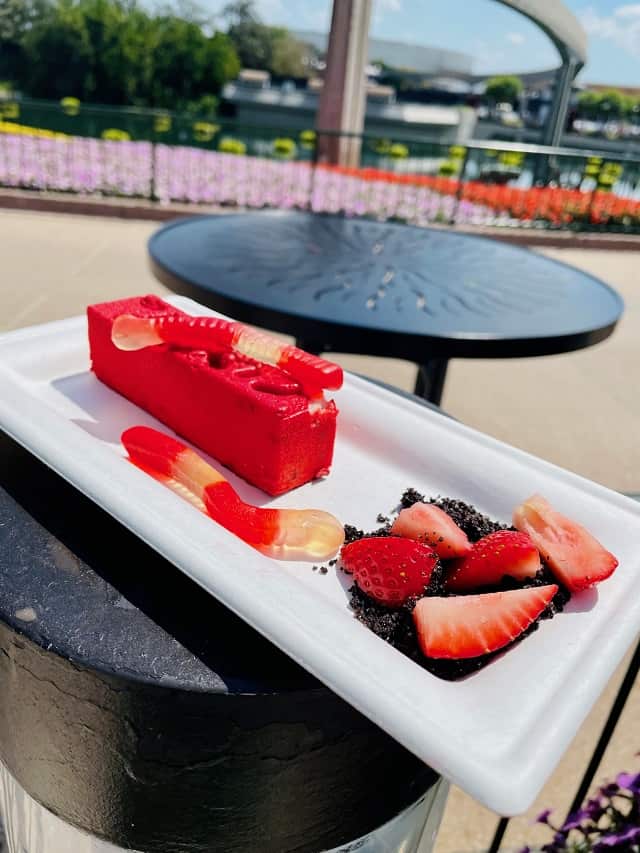 If you want to try this year's strawberry mousse dish, head over to Flavor Full Kitchen. It is a good value at $4.75.
The Strawberry Mousse dish is served with chocolate crisp pearls. From the description, I expected a little clear plastic cup full of pink stuff topped with chocolate balls.
Boy, was I surprised when I saw it. In actuality, it is a red brick topped with gummy worms.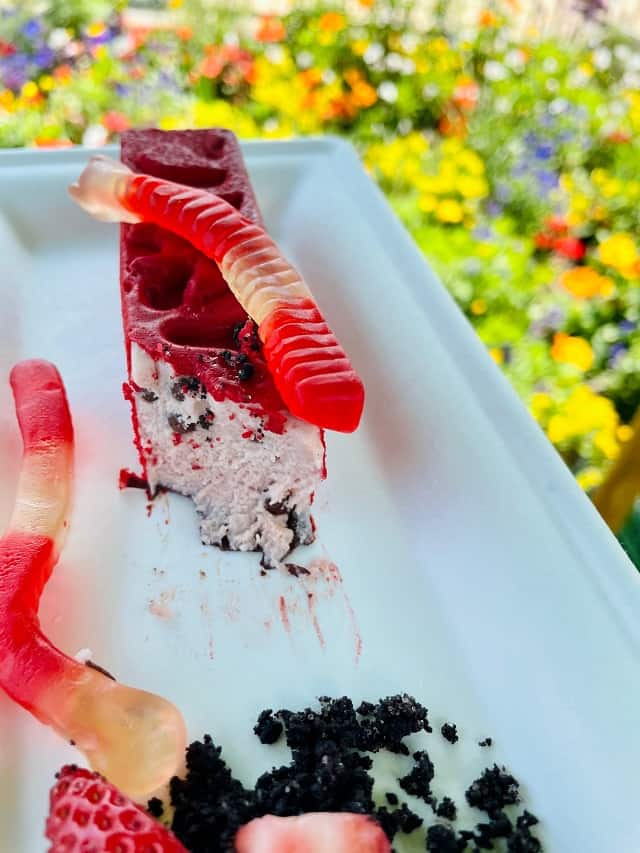 I was a little leary of it because it didn't look appetizing to me. However, it was cool, creamy, and light.
The chocolate pearls are mixed in with the mousse, so you get a mixture of chocolate and strawberries in every bite. Overall, this one is tasty if you are looking for something light and super sweet.
4. Orange-Lemon Smoothie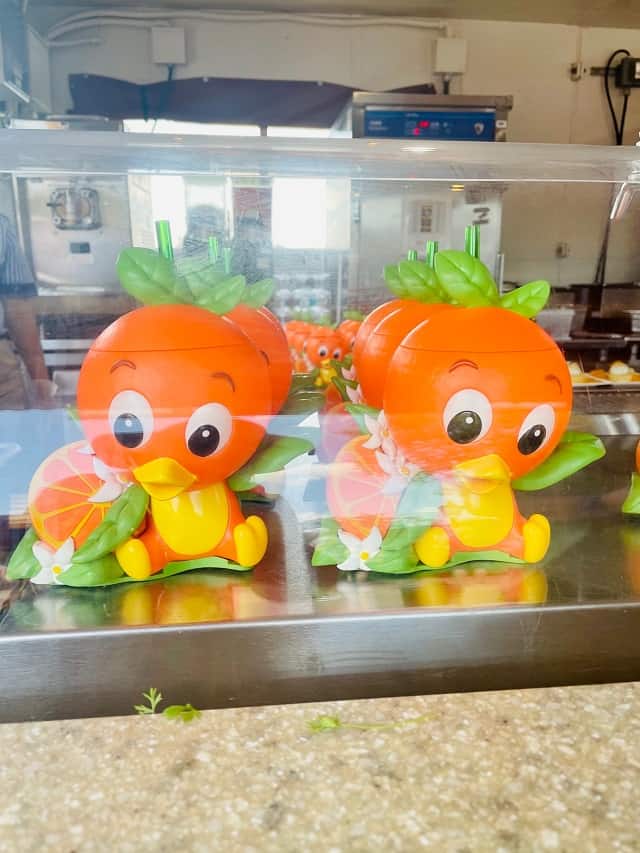 The Orange-Lemon Smoothie can be found at the Citrus Blossom outdoor kitchen. Many people purchase it because it comes in an adorable Orange Bird Sipper for $15.00.
But, what a lot of people don't know is that you can get just a cup of this dessert drink for $4.50 without the sipper. My husband got it this way and had a cup pixie dusted to him one evening.
Maybe it is in my head, but I think it tastes better this way. The sippers give it a plasticy vibe.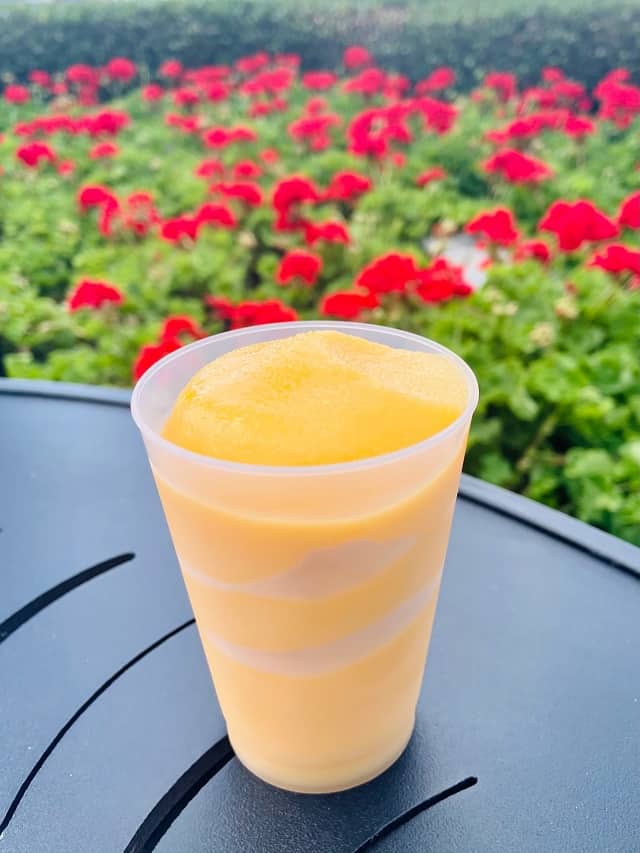 I wanted to skip this one because I had the sipper drink at the 2019 festival and thought it was sickly sweet. However, this year's version is really tasty!
It reminds me a lot of an orange Push-Pop (remember those?), but in smoothie form. It was cool and yummy and gave me a sense of nostalgia. I liked it a lot. This one is a winner.
3. Warm Cheese Strudel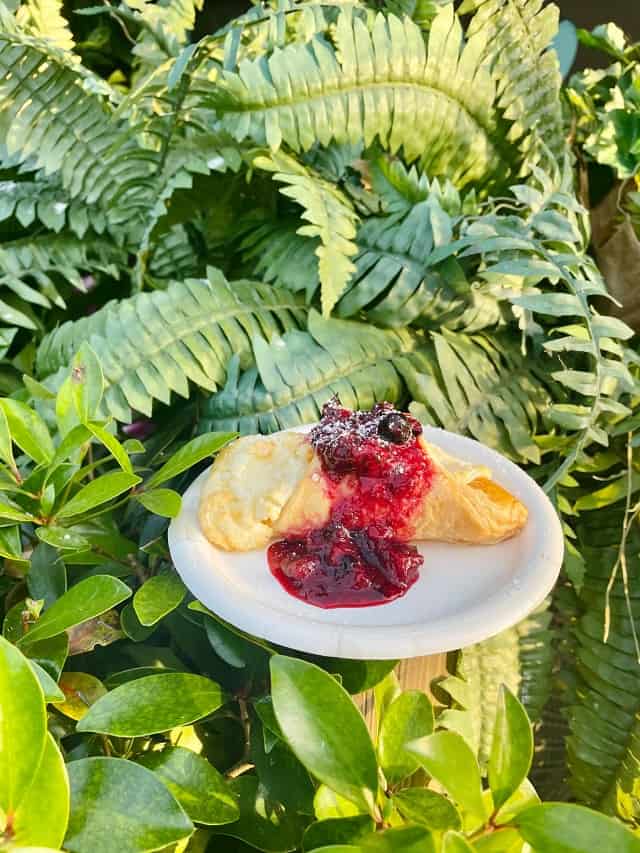 The Warm Cheese Strudel served with mixed berries is located at Bauernmarkt Farmer's Market. This is the outdoor kitchen in Germany.
It costs just $4.50. This makes it a pretty reasonable value compared to other dishes.
We tried this dish because were were there anyway, and we thought "why not." I didn't expect much and thought it would probably be dry and forgettable.
I was wrong. It was delicate, decadent, and delicious. The cheese was rich, the pastry was just right, and the berries complemented it nicely.
Sometimes the simplest dishes turn out to be winners. This one is definitely worth trying, even though the description makes it sound unremarkable. It's one of the better desserts at this, or any, Disney festival.
2. Local Wildflower Honey Mascarpone CheeseCake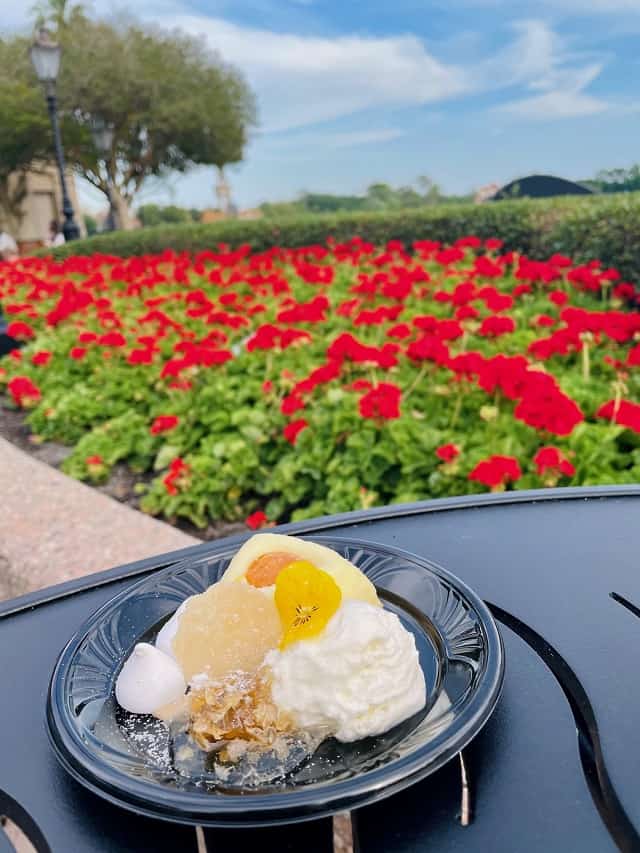 This dish is always a favorite. I will say that this year's version was ever so slightly less delicious than variants of the past, but it is still a treat! You can find it at the Honey-Beestro for $5.00, and it is worth every cent.
The Local Wildflower and Honey Mascarpone Cheesecake is described as being Mascarpone Cheesecake with Orange Blossom Honey Whipped Cream, Whipped Honey, Crystalized Honey, Honeycomb, Dehydrated Honey, and Fennel Pollen Meringue Kisses.
It is one honey of a dish! It is one of the best festival desserts not just for Flower & Garden, but for any Epcot Festival.
1. Frozen Dessert Violet Lemonade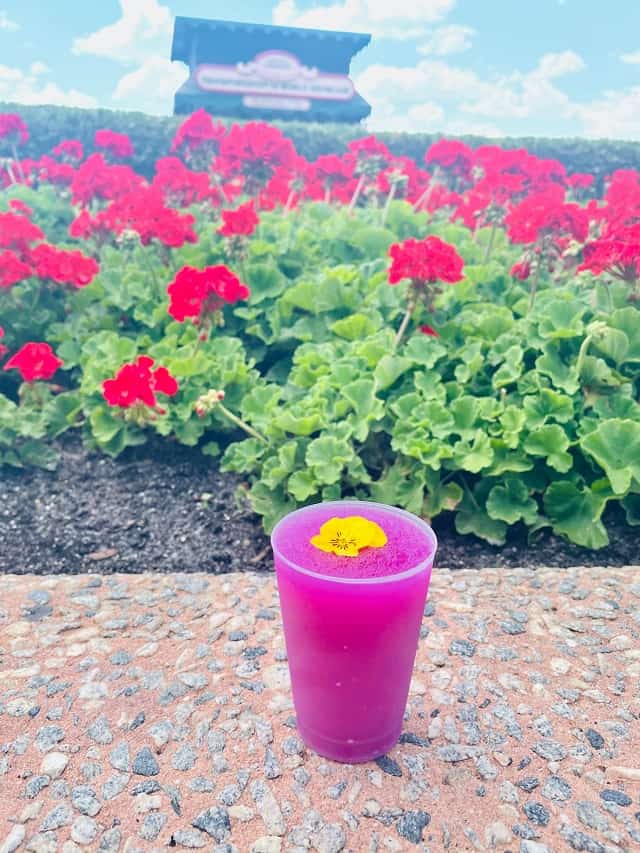 I am surprised that the cheesecake did not get the number one spot this year. It is always my #1. But, this year something edged it out for me.
I have never tried the violet lemonade, partly because I am weary of things that potentially contain red or blue dye and partly because I don't really like slushies or icees. But this year, I caved to the hype.
Verdict: this thing is worth the hype. It tastes like a berry lemonade slushy. It is bright and flavorful and so refreshing in the warm weather!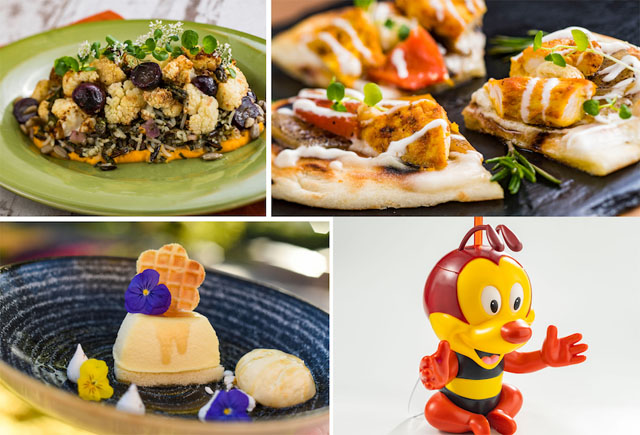 You can find Violate Lemonade at Pineapple Promenade. It is one of the festival's less expensive options at $4.50.
If you are on the fence about it, give it a try. It's delightful. I think it is one of those things I am going to crave randomly…like right now as I type. Dear Disney, please bring back violet lemonade every year and never change it. It's perfect.
What's Skippable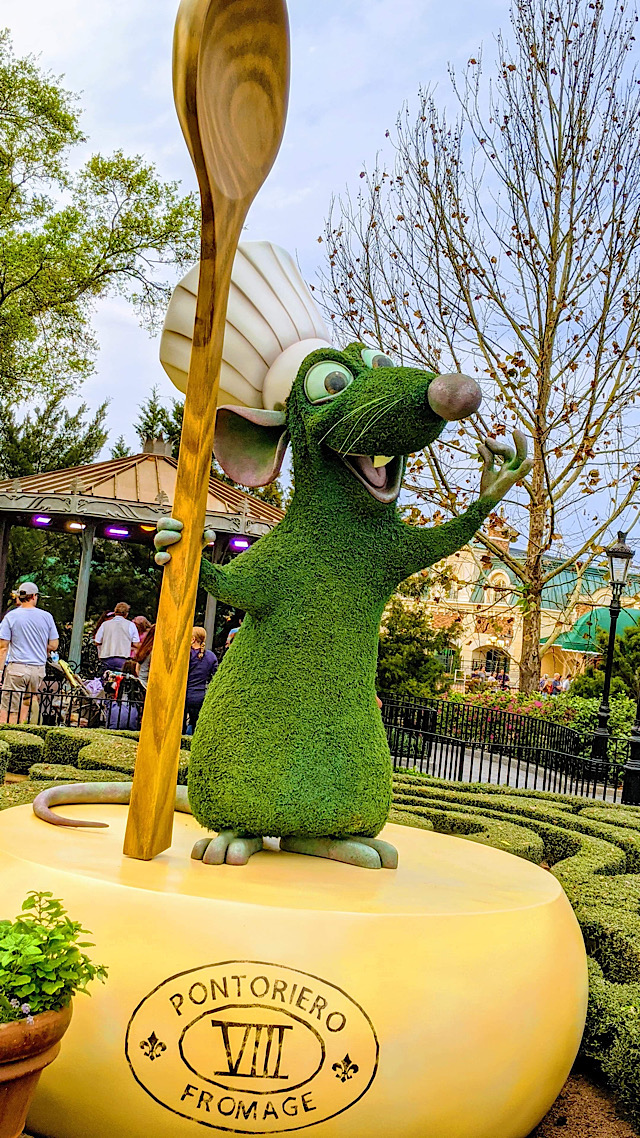 Every festival brings with it some treats that look and sound like they are going to be winners and then fall flat. This year was no exception.
If you are planning a trip, here are a couple of treats you might want to skip. Now, it is possible we just had bad luck, but I have met others who agree on these. Let us know in the comments if you think we got it wrong.
Beef Tenderloin Tips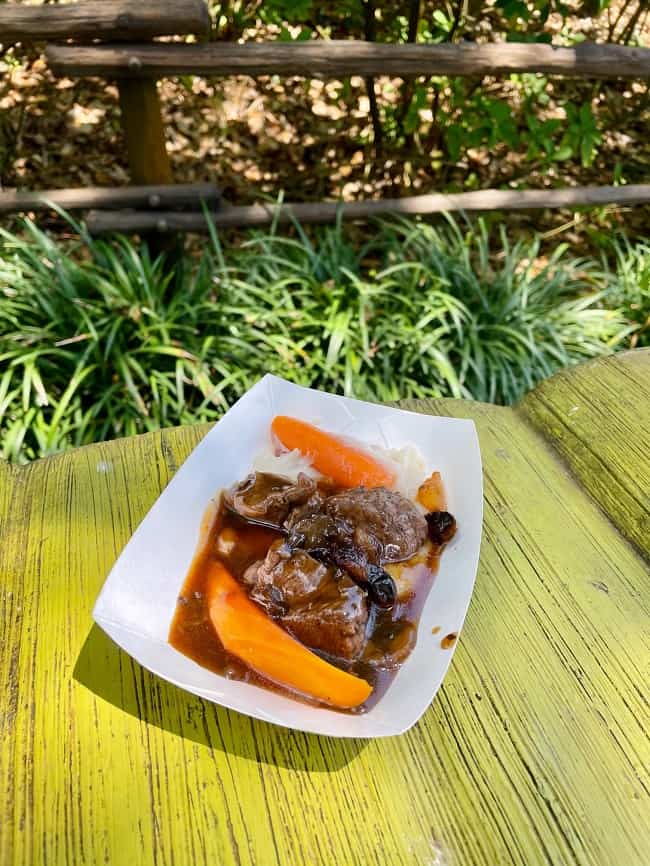 The Beef Tenderloin Tips are available in Canada at Northern Bloom. The dish costs $6.75, which isn't too pricey in terms of beef dishes. However, it really isn't worth it since this dish falls flat.
The beef tips are served with a mushroom bordelaise sauce. They also come with whipped potatoes and garden vegetables.
Now, if you are a fan of Food & Wine, then you are probably used to Canada's outdoor kitchen being one of the festival must dos. This is NOT the case for Flower & Garden 2021. In fact, the whole booth is surprisingly skippable because everything else we tried there was fine but not magical.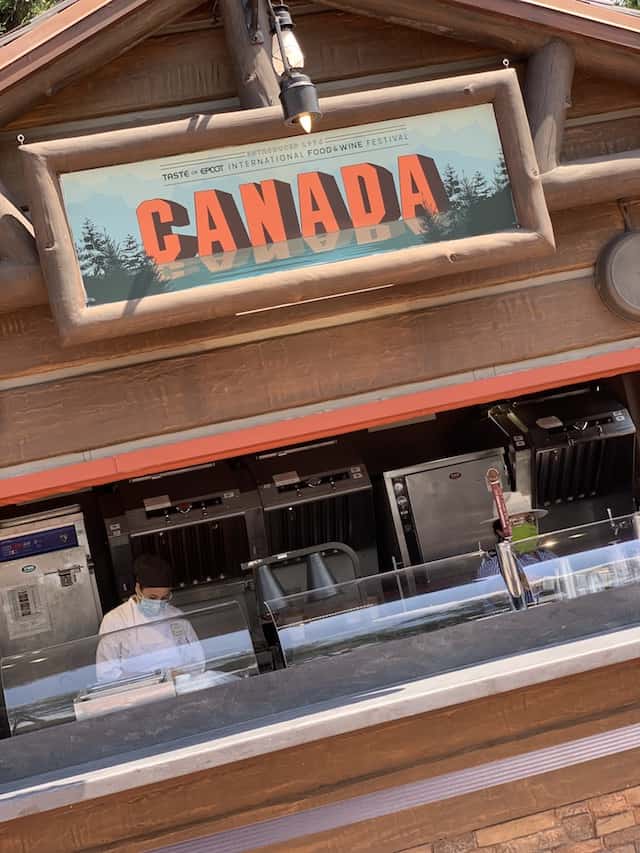 The beef tenderloin tips were extremely tough and chewy and not tender at all. It may be that we hit it up on a bad day, but I have heard other guests who attended on different days say the same.
The sauce wasn't all that flavorful, and for me the carrots were a bit too tough as well. I did like the potatoes, but the rest was disappointing. Overall, this one is a skip unless you hear the booth is having a really, really good day.
Off the "Beet"en Path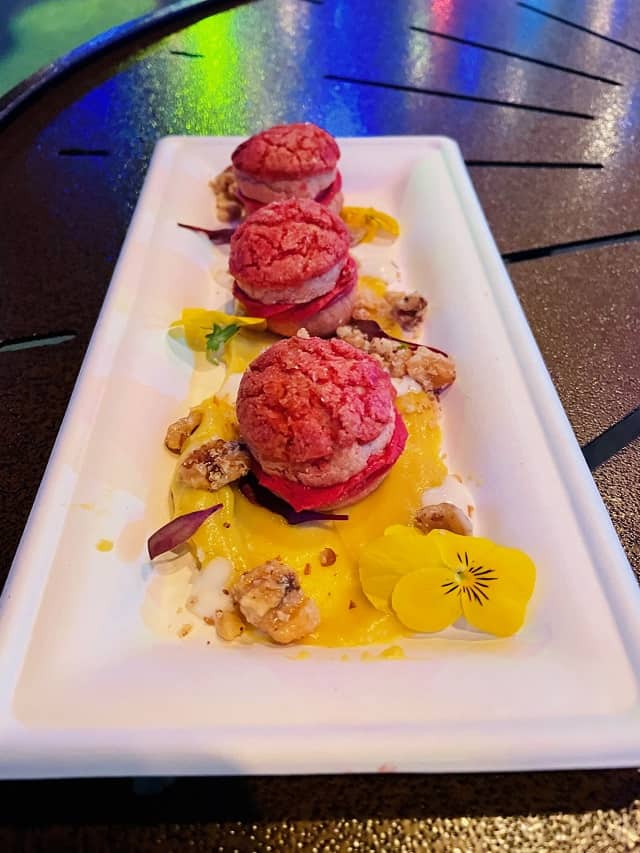 You can find Off the "Beet"en Path at Epcot Farmer's Feast . It is literally off the beaten path in the festival building near the UK Pavilion, which is a great place to cool off! It costs $5.50, which would be a value if the dish were good.
I am so shocked to find this dish on the list. Why? I love beets and anything made with beets. In fact, one of my top 5 favorite foods in all of Walt Disney World is the Beet Salad at Topolino's Terrace.
Plus, this little dish looks beautiful! It has a clever name, and I love punny things. I thought this dish had everything: the name, the aesthetics, the ingredients. But, y'all, this little dish just wasn't good.
The profiteroles were dry and chewy and had an unpleasant texture. There were hard to swallow and made the whole dish unappealing.
The beet mousse wasn't bad. It just wasn't good either. The candied walnuts seemed a little stale. Maybe this is a case where it had just been sitting around for way too long. Either way, this one was a surprising miss.
Final Thoughts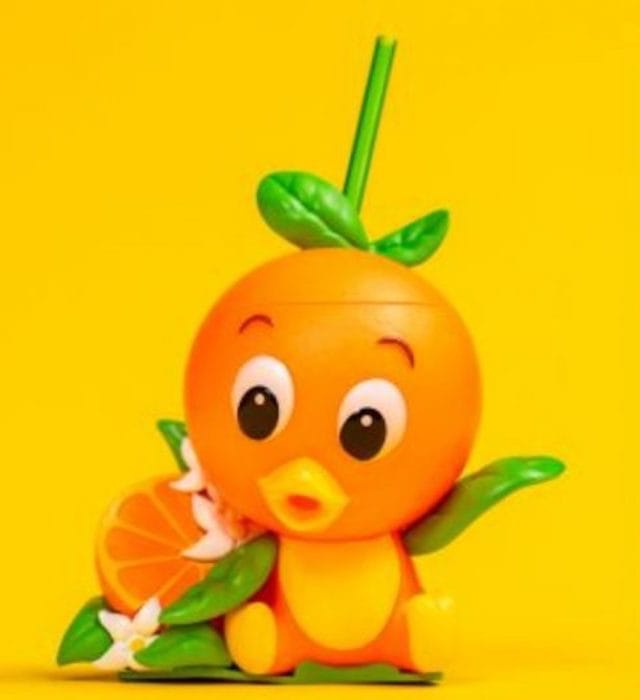 Overall, the sweets outperformed the savory at this year's festival. If you aren't normally a festival fan, I would not hesitate to skip most of the booths and enjoy some of Epcot's tried and true favorite dishes.
However, if you love making meals of festival flavors, there are a few gems for you. Unfortunately, some of them may be hit or miss depending on their temperature and time spent under a heat lamp.
What are your 2021 Flower & Garden festival favorites? Did we get any of them wrong? Let us know in the comments below or on our Facebook page. Or, keep the conversation going and share them with us in our crew, too!