Disney's Port Orleans is made up of French Quarter and Riverside. Both perfectly capture the essence of Louisiana pageantry and romance. There is so much to see and do, so let's take a look at these resorts. Hopefully this guide will help you decide which one to stay at on your next Disney World vacation.
Port Orleans History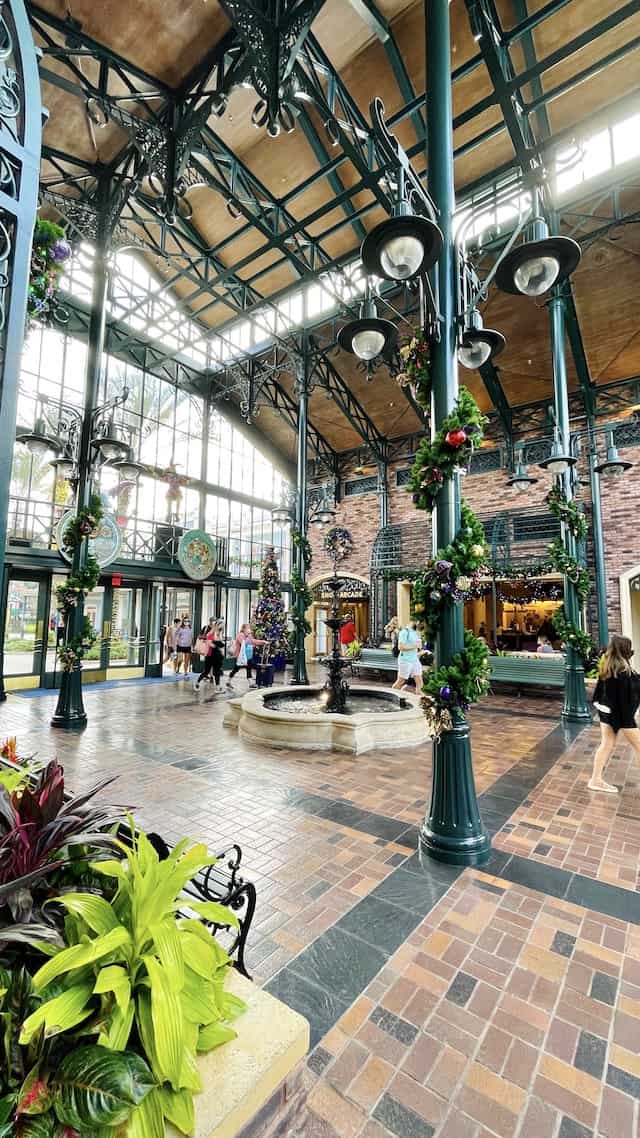 The concept of Port Orleans originally began in the early 1980's as both a hotel and shopping complex. Originally intended to evoke the feeling of New Orlean's Square at Disneyland, shops and restaurants would be on the ground floor with reasonably priced rooms on the second floor. Unfortunately, this dream died off for a few years. Later in the decade, Disney resurrected the idea, and Port Orleans opened in 1991.
The hotel did not have the marketplace like originally planned but became a resort with its own theming and stand-alone hotel. Just one year later, a second resort, Dixie Landings, opened just a little way down the Sassagoula River. The two hotels remained separate until 2001 when Disney combined the two and renamed them Port Orleans French Quarter and Port Orleans Riverside.
French Quarter is the original Port Orleans hotel, and Dixie Landings became Riverside. Together, they form the largest resort on Disney World property.
Location and Transportation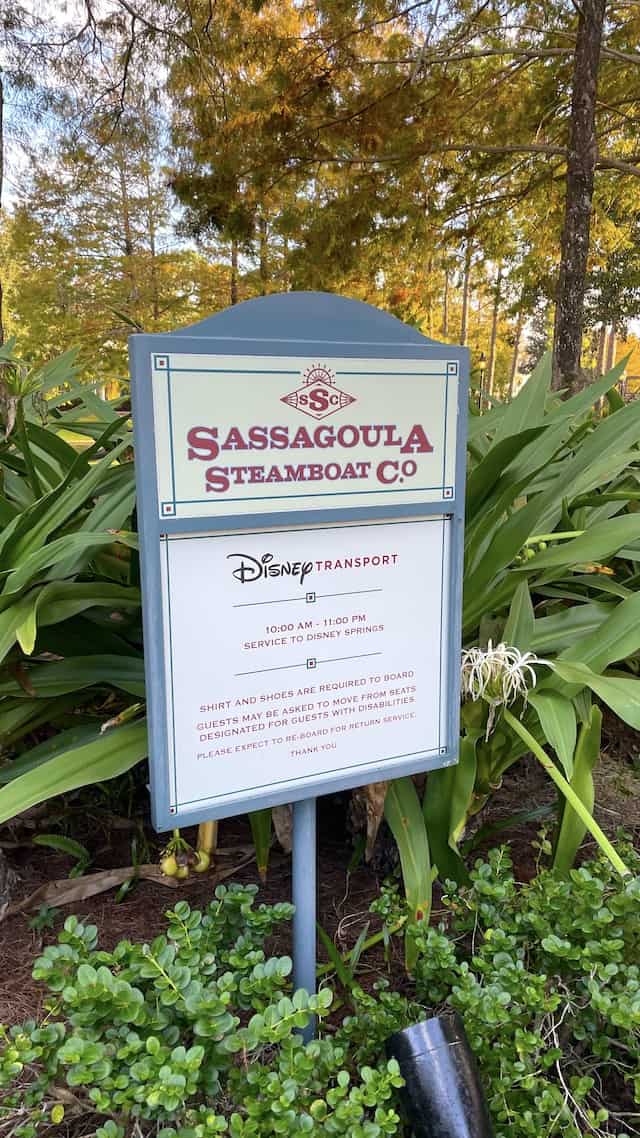 Both Port Orleans resorts are situated on the Sassagoula River in the Disney Springs area. You can actually take a boat down the river to Disney Springs. Along the way, you will pass by Saratoga Springs Resort. It is a peaceful 15-20 minute boat ride depending on how long each stop takes. French Quarter and Riverside are connected by walkway, and it is a quiet 10 minute walk in between resorts.
Unfortunately, the only method of transportation to the parks is by bus. The resorts are not accessible by Monorail and Skyliner. It is actually located pretty close to Epcot, but it is separated with a few highways. If you needed to get to another restaurant for a dining reservation, take a bus to the closest park and use the transportation options there.
For example, if you have a reservation for Topplino's, you could take the bus to Hollywood Studios and ride the Skyliner to Riviera Resort. If you have a reservation at any Magic Kingdom Resort, take the Port Orleans bus to Magic Kingdom and then hop on the Monorail or walk.
Theming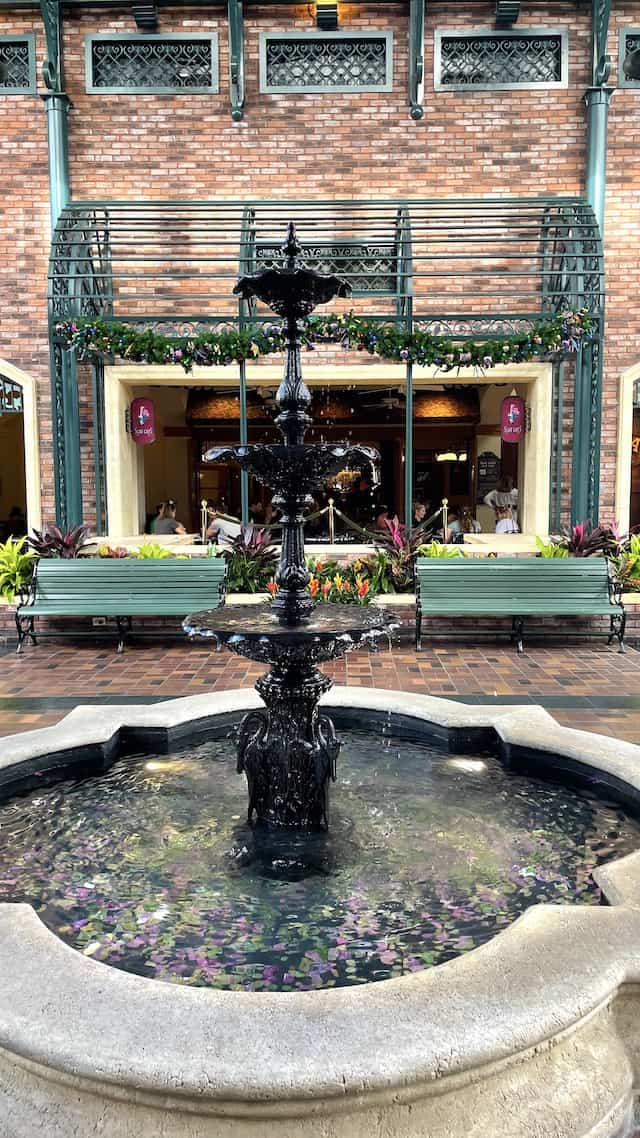 French Quarter is like stepping into historic New Orleans at the turn of the 20th century. The cobblestone walkways are lined with gas lamps, and the colorful buildings have wrought-iron balconies. The historic Jackson Square is represented in the main lobby, which feels like an old-time town square. The Mardi Gras touches like the jesters, masks, and jazz influences draw you in to experience a southern way of life. This resort is relatively small with only 1,008 rooms.
On the other hand, Riverside is more reminiscent of rural Louisiana. If you can imagine what life looked like in the late 1800's on a river, steamboats and mill wheels come to mind. There is actually a working cotton press mill outside the Riverside food court. The Alligator Bayou section features cottages with tin roofs while the Magnolia Bend section features stately white mansions and fountains.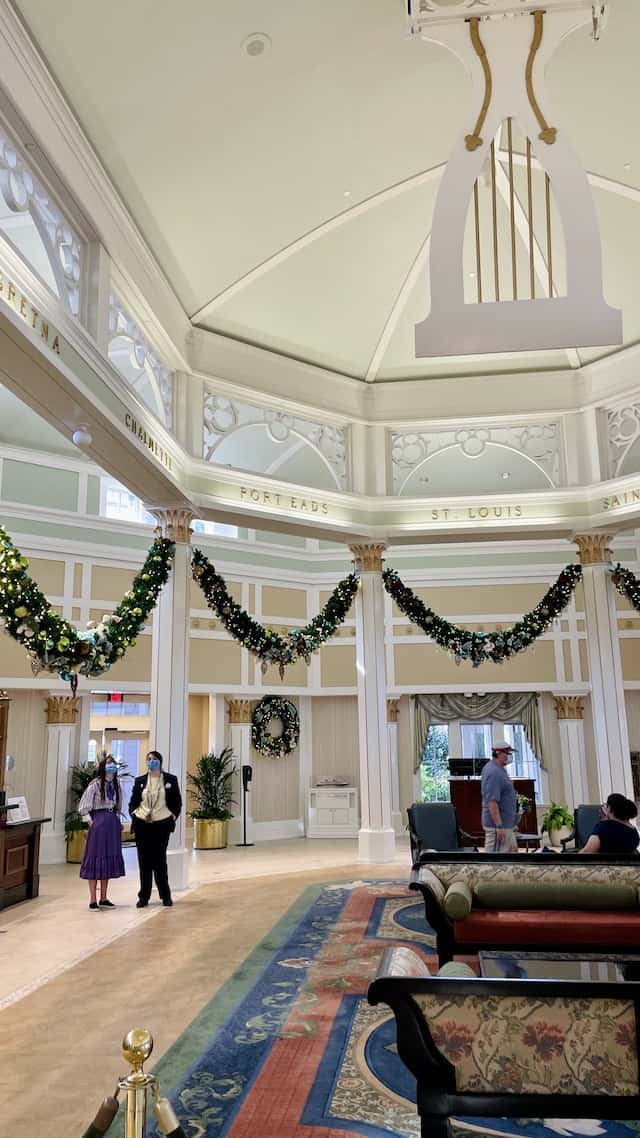 The inside lobby of Riverside pays homage to every main city located on the Mississippi River. If you look above, you will see names like Vicksburg and Memphis. It's pretty neat! Riverside is considerably larger with 2,048 rooms. This will undoubtedly increase the amount of walking you do around the resorts depending on where your room is.
The two resorts have vastly different theming when you consider they are themed after one state during one general time period. French Quarter is more lively while Riverside evokes a laid back feel. Your preference will greatly impact which resort you choose to stay at.
Room Accommodations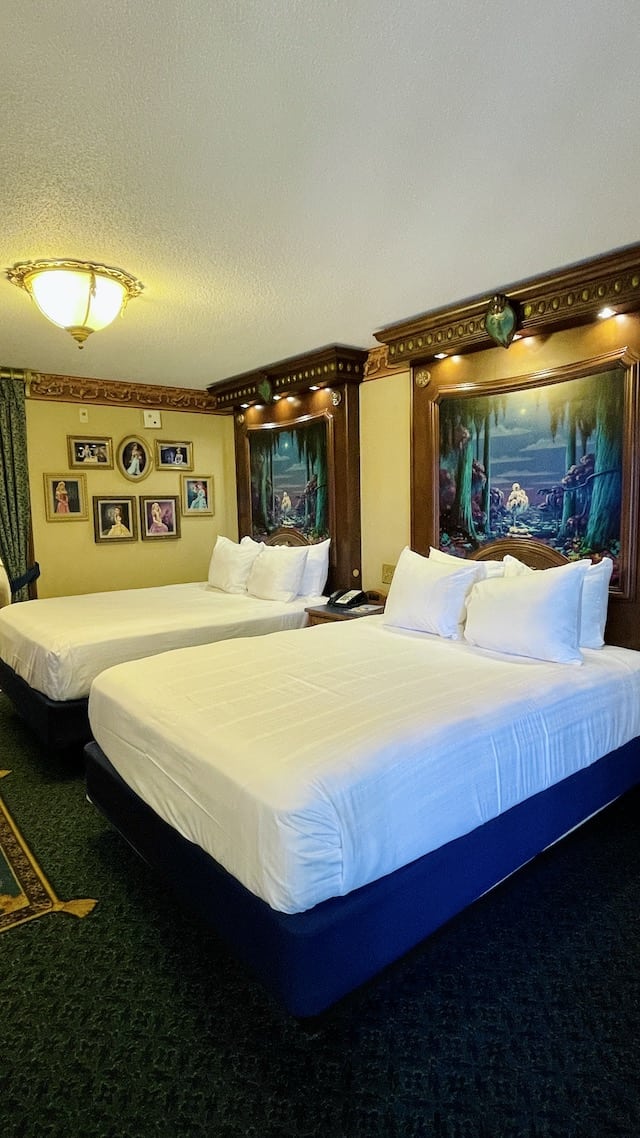 Another difference that will impact which resort you choose: room accommodations. The Royal Guest Rooms belong to Riverside, and I argue that these are the best themed rooms in all of Disney World. If you have a Princess Lover in your party, I highly recommend staying in one of these rooms. Riverside also provides a 5th sleeper option, which is great for families with three kids.
Otherwise, the rest of the rooms at Riverside and all the rooms at French Quarter are standard 4-person rooms. They have two queen sized beds and one bathroom. You can see what the standard rooms look like in Kate's review HERE.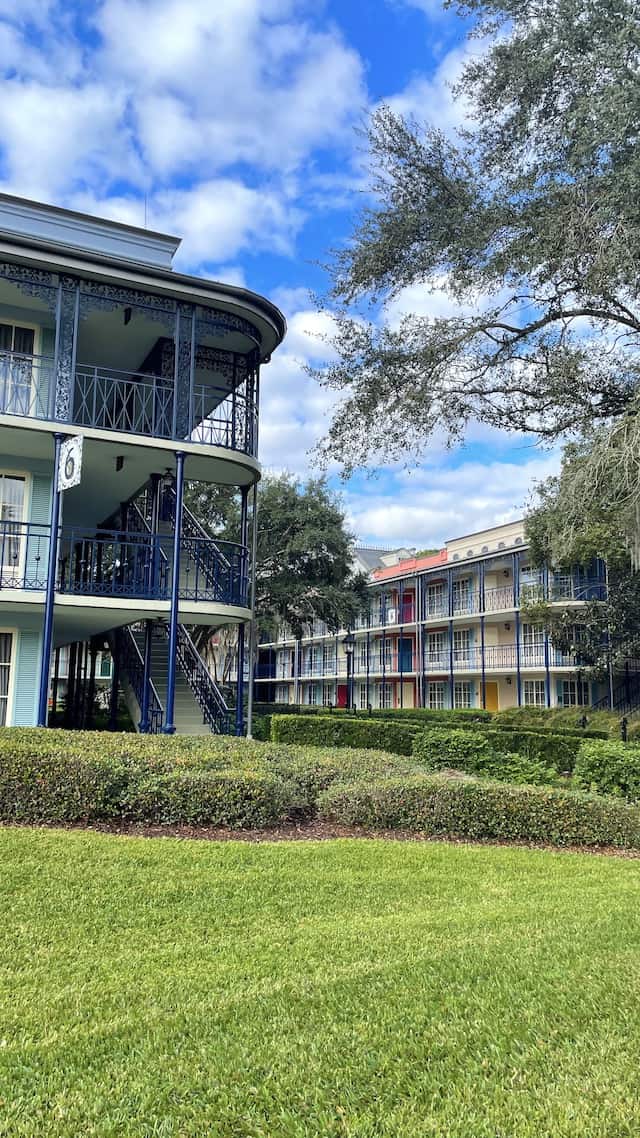 Since this is a moderate resort, you will not have too many bells and whistles. These rooms are very standard, but they do have a second dedicated bed vs a pull-down bed in the value resorts. The shower/tub and toilet are separate from the vanity and "closet" area. Depending on your view and the type of room you book, you can pay anywhere from $250 to $500/night.
Recreation and Amenities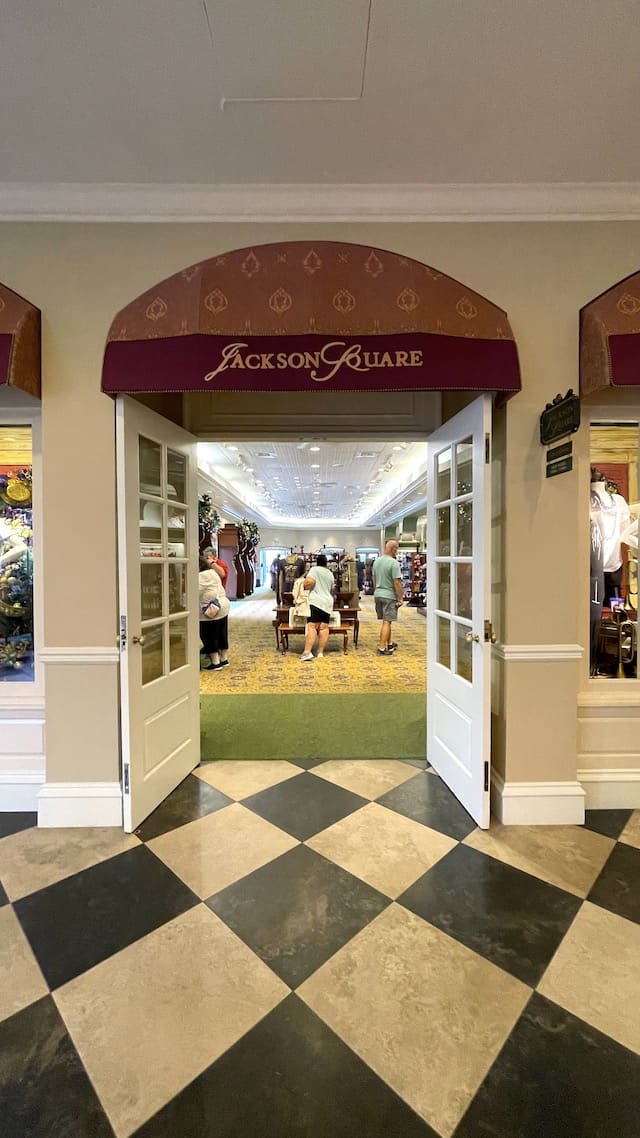 Both French Quarter and Riverside have many of the recreational activities and amenities one would expect at a Disney Resort. A main lobby with check-in services and a gift shop are at each resort. You can find various merchandise and food/beverage items to help make your stay more comfortable. Laundry facilities are located at both resorts as well.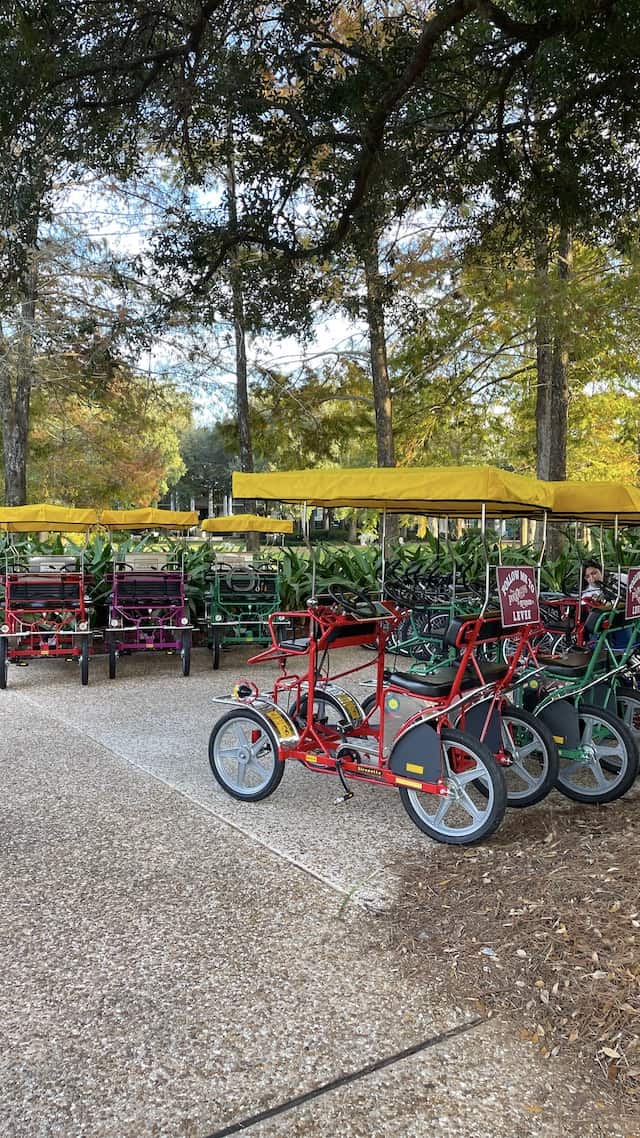 As far as activities, horse drawn excursions loop around the resorts using the pathways that line the banks of the Sassagoula River. You can also participate in bike rentals, movies on the lawn, campfires, and Surrey bike rentals. Fishing, jogging trails, arcades, and playgrounds are located at each resort and provide some great fun during a rest day or afternoon break from the parks.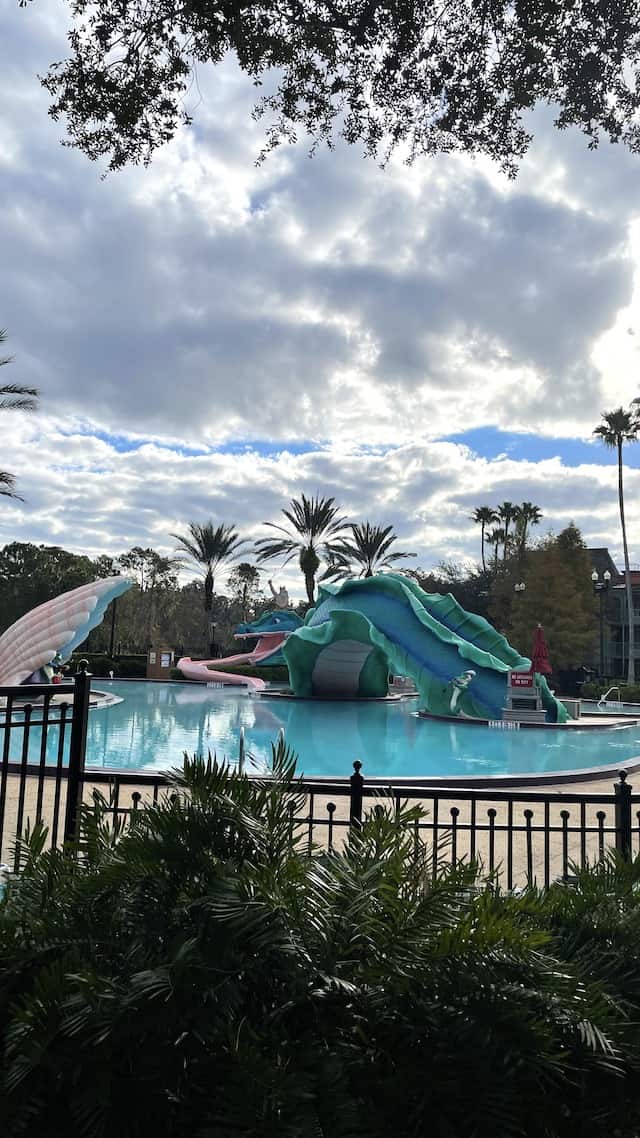 There is one pool in each resort that fit with the theming of the hotels. The Doubloon Lagoon at French Quarter has a blue sea serpent water slide and alligator jazzy touches. Riverside's pool is called Ol' Man Island and is more like a swimming hole with wooden bridges and a rustic waterslide.
Beignet Fun Runs also take place at French Quarter and Riverside, but unfortunately, these are temporarily paused until a future date. With the recent return of in-person racing, we hope these are next!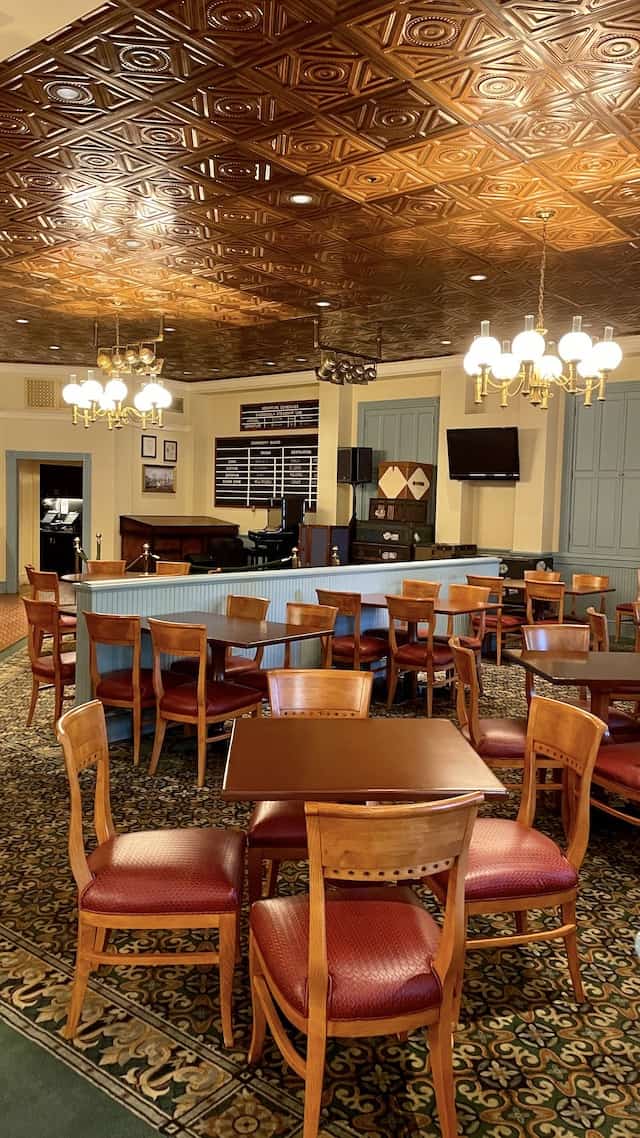 At night, both the Scat Cat's Club at French Quarter and River Roost at Riverside come alive with performing acts throughout the week. Yeeha Bob performs his comedy act and songs several nights a week at River Roost. Hear some toe-taping jazz at French Quarter. Both offer food and beverage delights as well.
Restaurants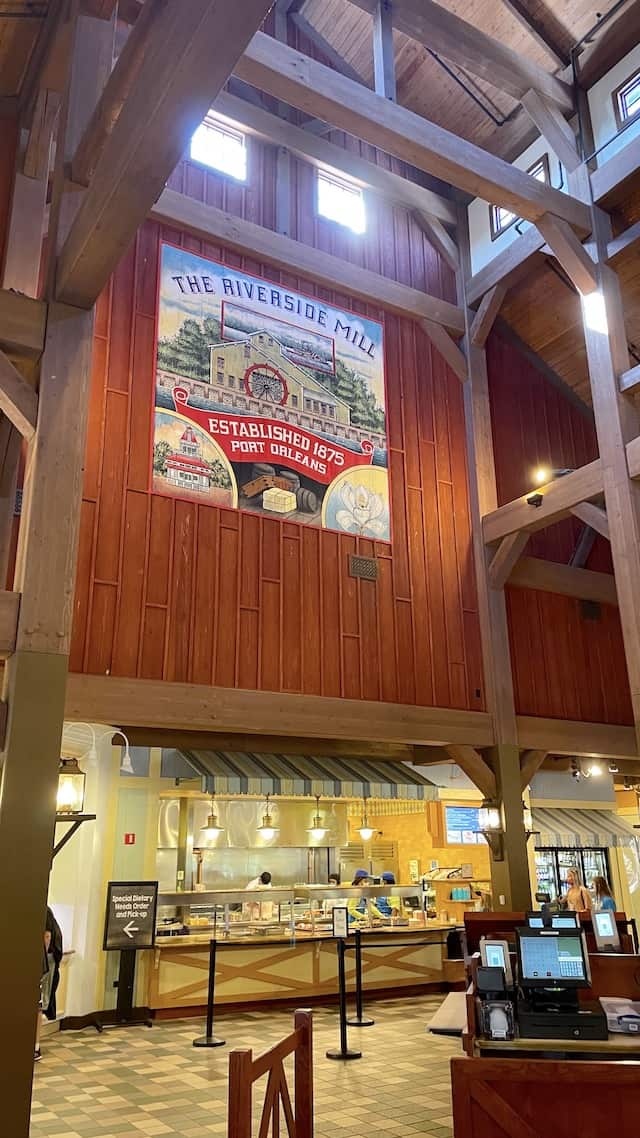 Since Port Orleans Riverside and French Quarter are moderate resorts, you can expect to find food court style options. Riverside is home to Riverside Mill which serves Southern Louisiana style favorites along with classic staples.
Boatwright's Dining Hall is a table-service restaurant – home to Southern hospitality and all-you-can-eat platters. You'll also dishes like jambalaya and hot chicken.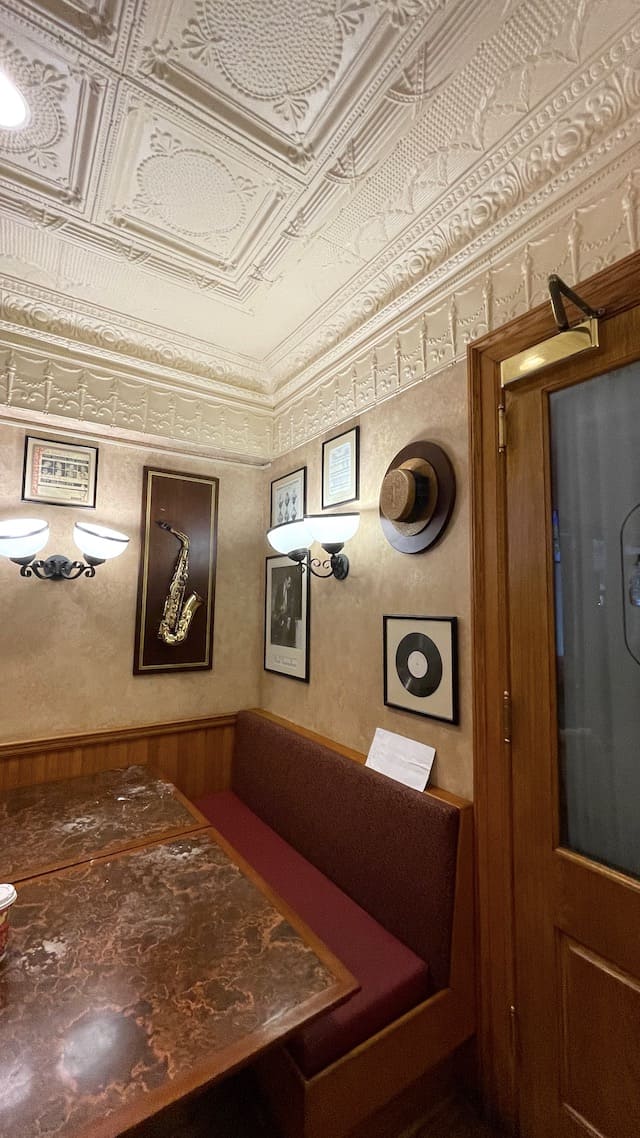 French Quarter has one quick-service food court called Sassagoula Floatworks and Food Factory. Classic Cajun and Creole dishes along with some classic American fare are available. Mickey beignets are available at Scat Cat's Club as well, and you must try these if you are staying at either resort.
If you are looking for some better table-service options, I recommend taking the boat over to Disney Springs. There are so many more restaurants with better food than what you will find at either Port Orleans resorts. If you need a quick breakfast, there are plenty of standard dishes at either hotel.
Final Thoughts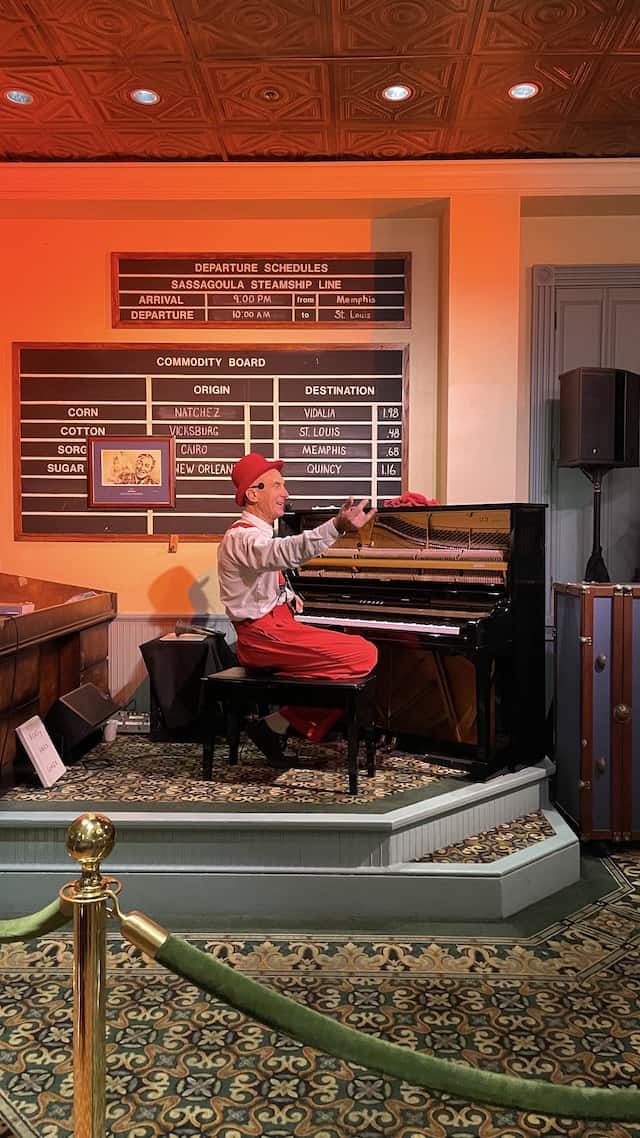 French Quarter and Riverside are considered fan-favorites in the moderate category. The unique theming and proximity to Disney Springs give it an edge over Coronado. It may have a harder time competing with Caribbean Beach for the simple fact that Caribbean Beach is the main hub of the Skyliner.
Yeeha Bob is also extremely popular with a full lounge of people enjoying his act every night. People visit from other resorts just to get the only Mickey beignets to be found on property. Plus, people just really love these resorts. It was one of the last to reopen, much to the dismay of fans.
If you are looking for a smaller resort with fun theming, I would definitely consider French Quarter. If it weren't for the Royal Guest Rooms at Riverside, I would have stayed at French Quarter. Riverside's theming is just not as exciting, and the resort is so large you could be walking quite a bit.
Have you ever stayed at Port Orleans? What did you think of your stay there? Share your experience with us in the comments below and on Facebook.