Does the idea of taking an ice cream break during your Disney vacation appeal to you? If so, you should consider stopping at Boardwalk Ice Cream.
Ice Cream in Disney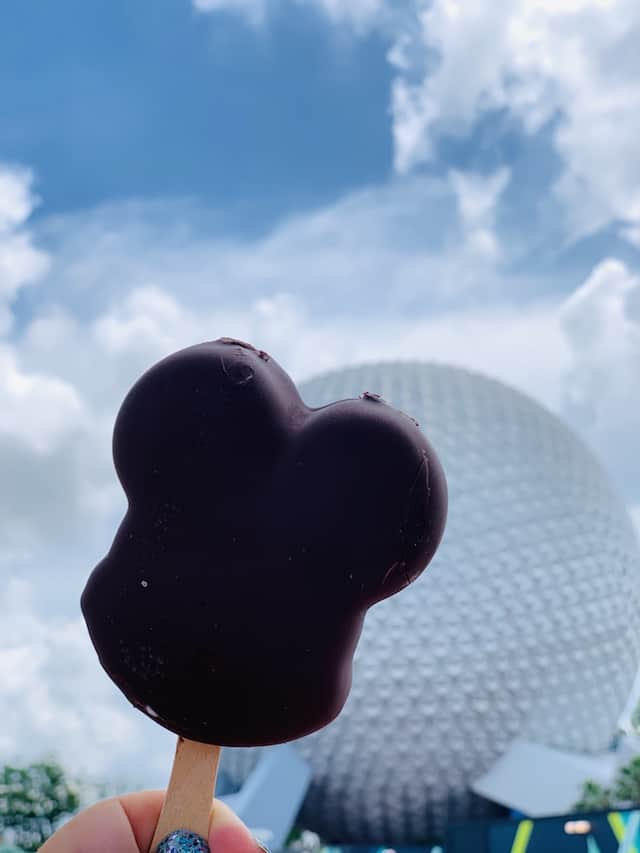 Walt Disney World knows that one of life's simplest delights is a little jaunt to grab ice cream. Park guests can find ice cream treats in every park on property.
From iconic Mickey Bars to sweet Dole Whips and delicious Sundaes, there is a cold creamy treat for every palate. You can grab a quick pre-packaged delight at a snack cart, or you can enjoy a more elaborate treat at one of Disney's ice cream parlors.
An Alternative to a Popular ADR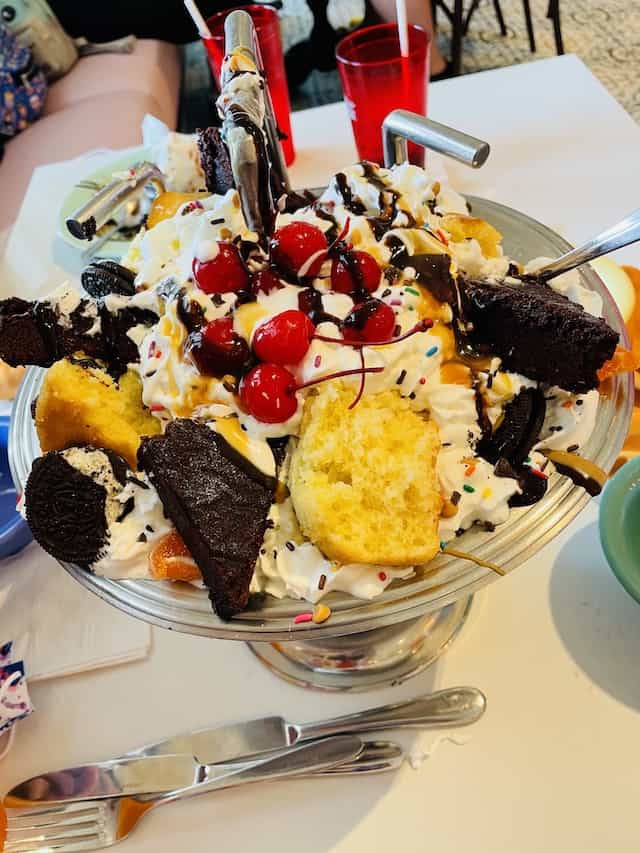 One of the most popular places to grab an Ice Cream is Beach Club Resort's Beaches & Cream Soda Shop. Guests can enjoy a table service meal of sandwiches or burgers accompanied by treats such as sundaes and shakes.
Some guests even book the destination just to grab an ice cream! People love smash hits like the No Way Jose sundae.
However, the restaurant is extremely popular and books up quickly. So, guests who want a sweet treat need to search elsewhere.
This is where Boardwalk Ice Cream swoops in to the rescue. Many of the parlor's treats are inspired by Beaches & Cream, so they are nearly identical! Even better, you do not need an Advanced Dining Reservation to enjoy the treats.
Boardwalk Ice Cream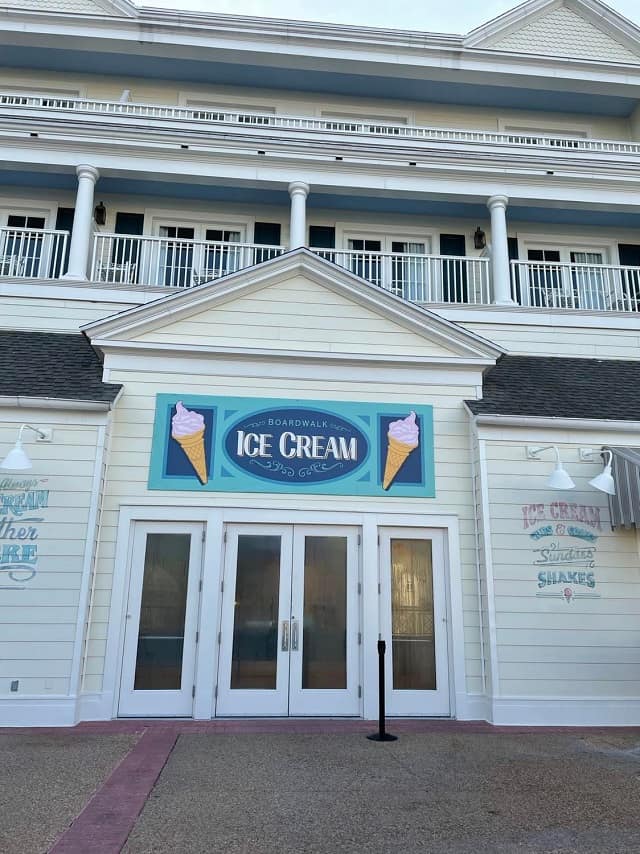 You can probably deduce that Boardwalk Ice Cream is located at Disney's Boardwalk. It is a small shop with little room to stand around eating ice cream; however, there is plenty of seating including tables and park benches outside on the Boardwalk.
Conveniently located just outside of Epcot, it is a great place for guests to take respite from the hustle and bustle of the parks to grab a treat. It can be fun to grab an ice cream in the evening and enjoy the Harmonious pyro from the Boardwalk.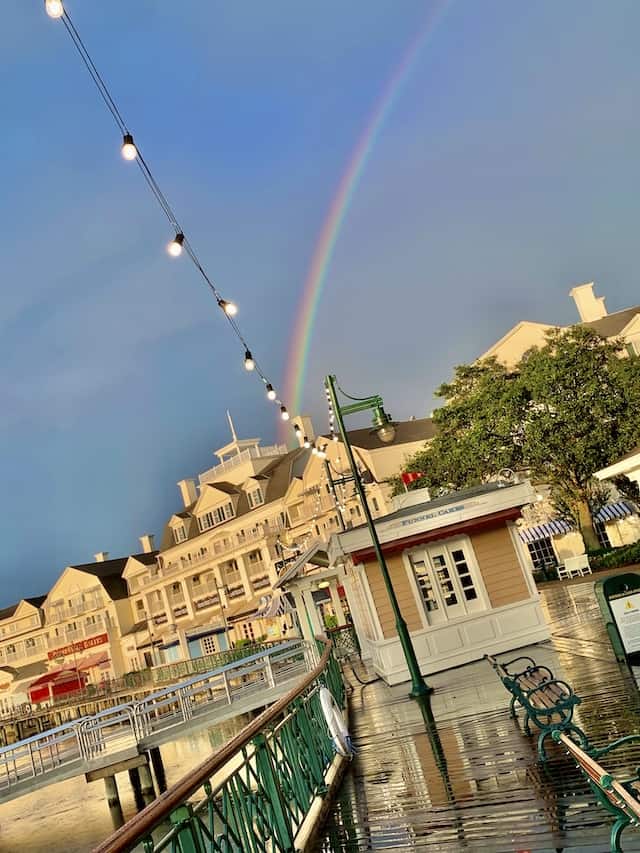 If you are in the park, you can visit by exiting Epcot via International Gateway and strolling over to the Boardwalk. Alternatively, you can catch a boat from Epcot to the Boardwalk.
Walking might be a little quicker depending on whether a boat is ready and waiting for you. However, the boats can serve as a fun attraction, especially for families with children.
The Treats!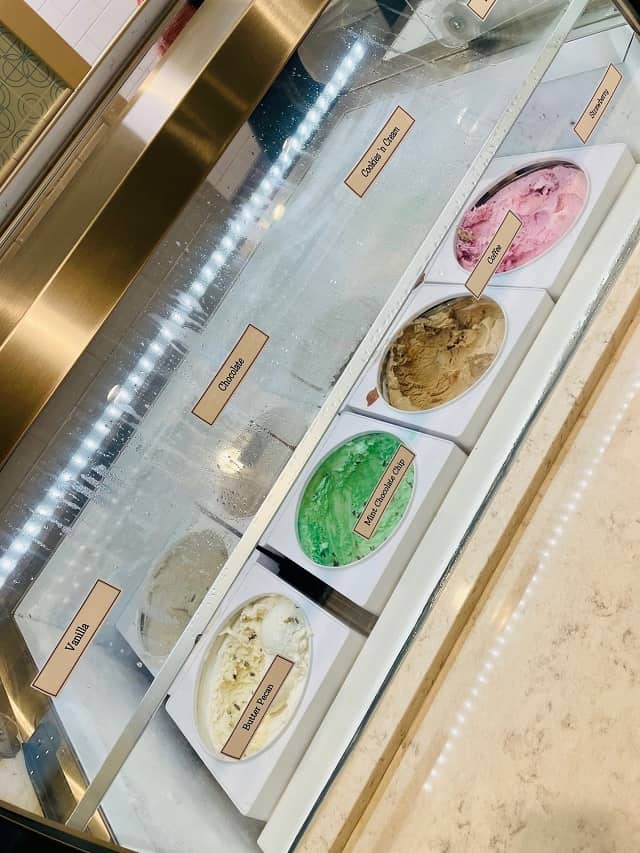 Boardwalk Ice Cream's menu offers ten ice cream flavors. These include classics like: vanilla, cookies 'n cream, rainbow sherbet, chocolate, butter pecan, mint chocolate chip, coffee, strawberry, cookies n' cream, and chocolate-vanilla swirl.
Guests who cannot indulge in dairy are not out of luck. Soy-based options are available such as Vanilla Soy Milk Frozen Dessert and Chocolate Soy Milk Frozen Dessert.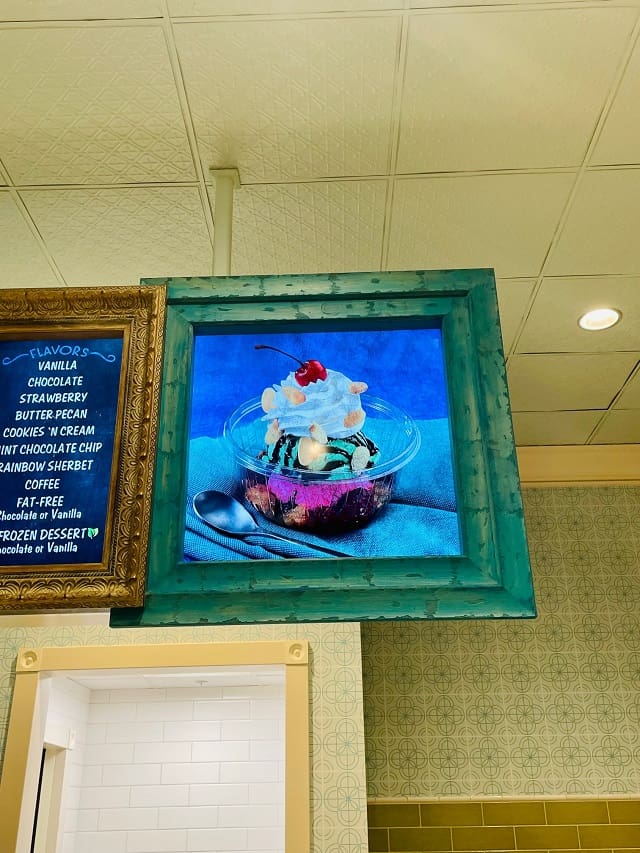 These flavors can serve as the base for delicious milkshakes. Guests can also enjoy the simplicity of ice cream scoops in a cup.
What would an ice cream shop be without sundaes? There are several options for guests to create a sundae starting with either two or three scoops of the ice cream in flavors of their choice.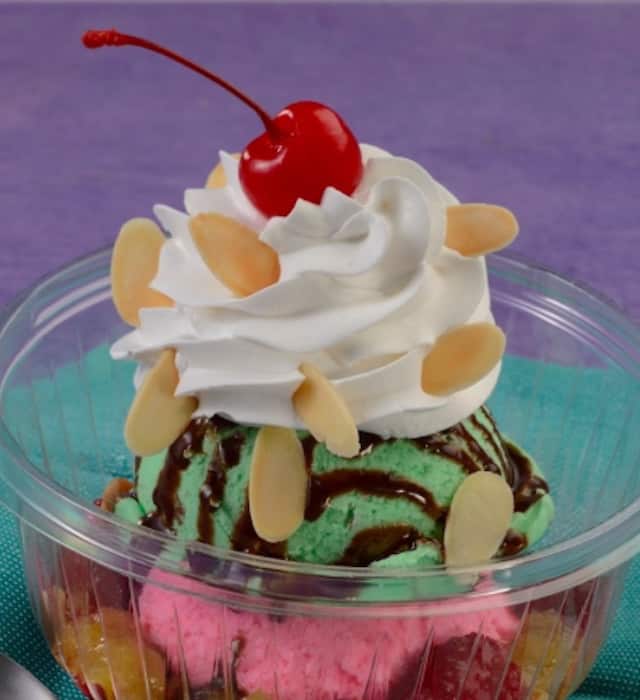 All of these options include whipped cream, almonds, and a cherry. However, guests can also select one of the following toppings: marshmallow, strawberry, pineapple, peanut butter, hot fudge, caramel, or chocolate syrup. Additional toppings are $1 upcharge.
However, the stars are the specialty desserts. For example, you can enjoy a a
Bayside Brownie À la Mode, which is gooey, chewy brownie, hot fudge, and vanilla ice cream topped with whipped cream, chocolate sprinkles, and a cherry.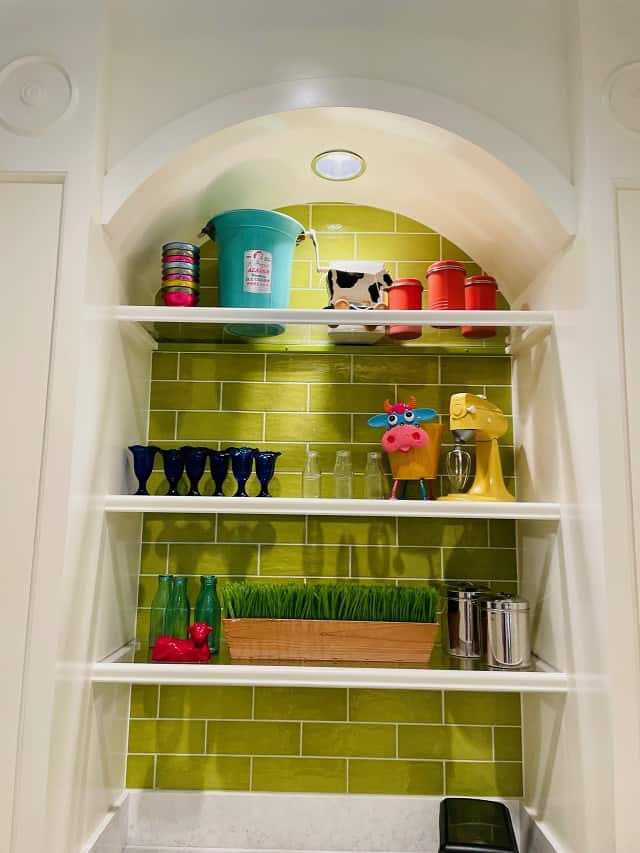 Another delightful option is strawberry shortcake. The classic treat includes: vanilla shortcake, strawberry compote, vanilla ice cream, and whipped cream.
A third popular treat is the Shoreside Sundae. This one is made from three scoops of vanilla ice cream smothered in hot fudge, marshmallow topping, and SNICKERS® bar pieces topped with whipped cream, chopped peanuts, and a cherry.
Thundering Surf Peanut Butter and Chocolate Sundae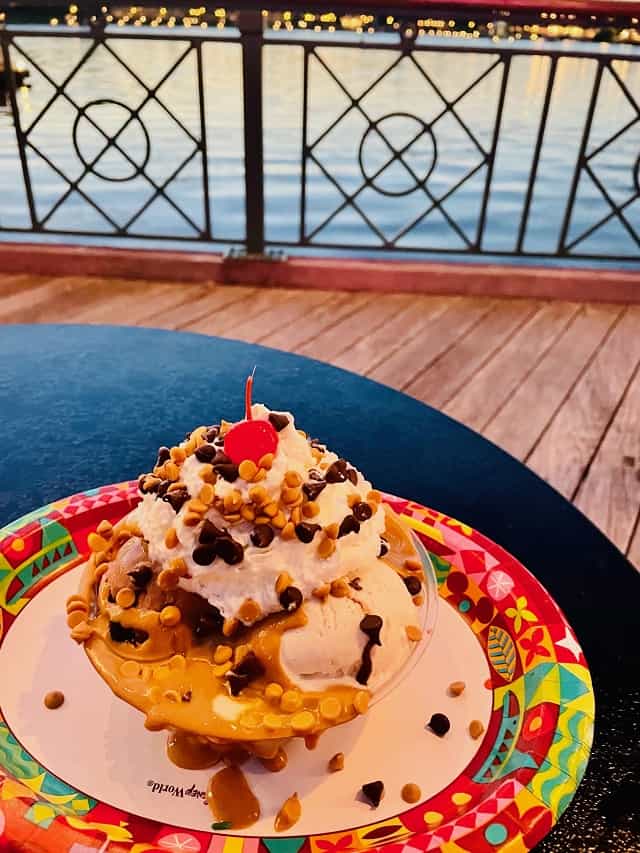 Of course, my (Katie P's) very, very favorite is the Thundering Surf Peanut Butter and Chocolate Sundae. For those who know their way around Disney ice cream, this creation is very similar to the No Way Jose over at Beaches & Cream and the All American at Main Street Ice Cream Plaza.
I was enjoying the Boardwalk with fellow KtP Writer Ashley when I got to try this Sundae. We had been enjoying a day at Epcot's International Food & Wine Festival and decided to stop by on the way back to the Swan, by way of the Boardwalk.
It is amazing to me that after enjoying the festival, I had room for Ice Cream, but that was the case! My friend did not plan on having any ice cream, but she was willing to sit and enjoy the scenery while I indulged.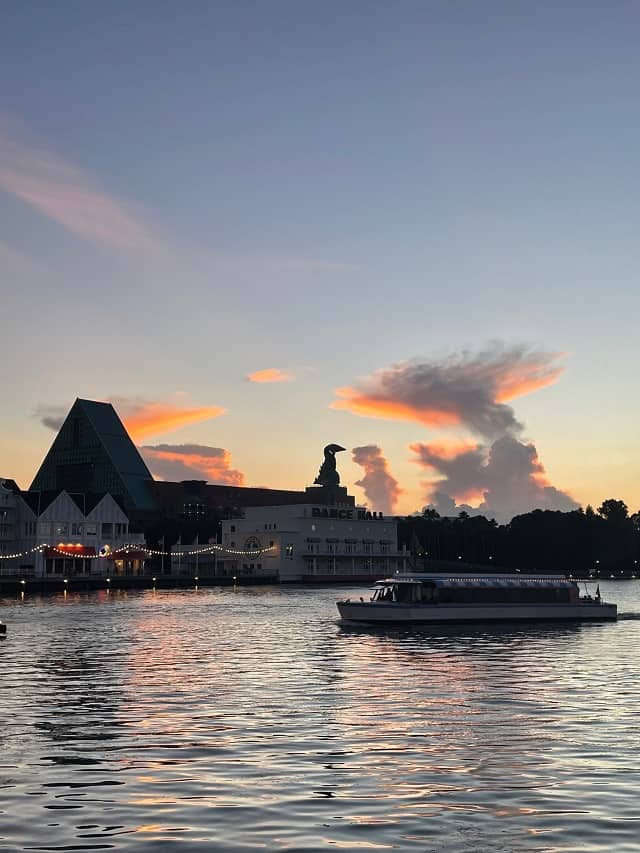 As a peanut butter fan, I had to order the Thundering Surf Peanut Butter and Chocolate Sundae. This Sundae is described as a peanut butter and hot fudge delight featuring chocolate and vanilla ice cream, peanut butter and chocolate morsels, whipped cream, and a cherry.
I asked for it with extra peanut butter because Walt Disney World Peanut butter topping is one of my favorite things in life. The Cast Member building the Sundae did not disappoint. The whole thing was served in a waffle cone bowl.
The problem is that this sundae is HUGE. It was much to big for me, so I grabbed two spoons, and Ashley who had not intended to have ice cream, got to have ice cream.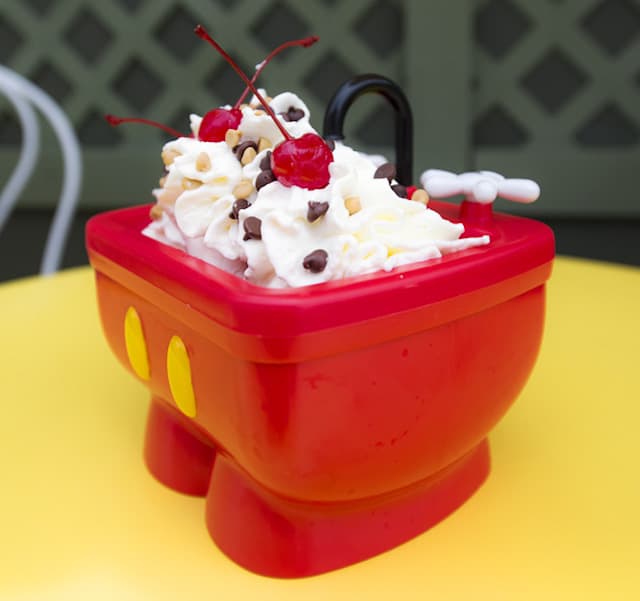 The two of us couldn't finish it ourselves. If you are going to try to eat the whole thing, come hungry! Otherwise, plan to share.
It was absolutely delicious as expected. If you like peanut butter, this is a treat you should try at lease once. Or if you are in Magic Kingdom or at Beaches & Cream, you can try its twins the No Way Jose or the All American.
Want More Ice Cream?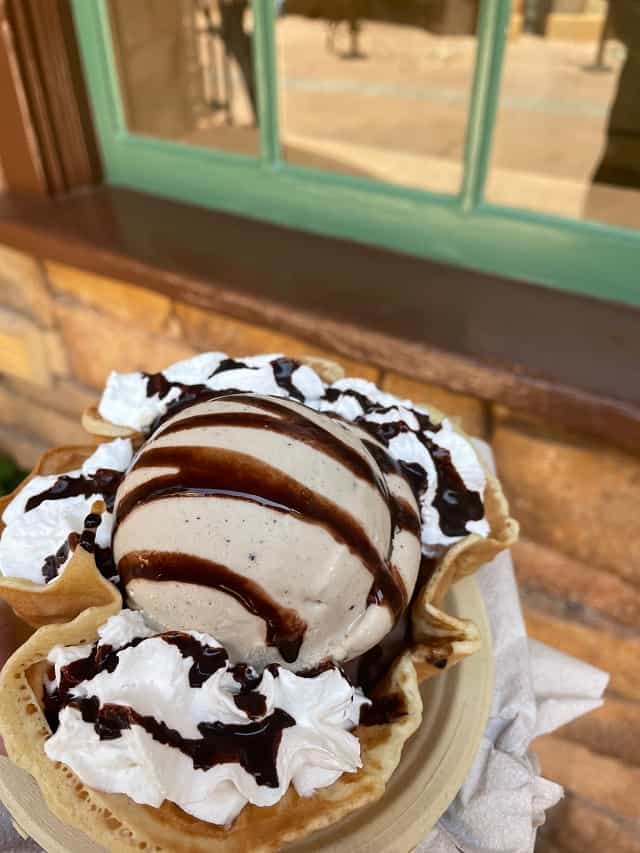 Even though I am a fan of Boardwalk Ice cream, Epcot has an amazing option right there in the park. They do not serve peanut butter sauce, but the ice cream itself is probably the best on property.
It is tucked away in the France Pavilion. To read a full review of L'Artisan des Glaces, click here.
Have you ever had ice cream at the Boardwalk? Share your stories with us on Facebook!