Are you looking for a charming, nostalgic resort to stay in at Walt Disney World? If so, consider staying at Disney's BoardWalk Villas.
Disney's BoardWalk
On a recent trip, I (Maggie) was able to stay at Disney's BoardWalk Villas and it was simply delightful! This was my first time staying at this resort. I was so excited to experience the charm, nostalgia and everything this resort had to offer.
For a complete guide to staying at this resort, you can read Monica's post HERE. A few things have changed since the guide was written, including the refurbishment of the resort's pool. I am not going to lie. The refurbishment of the pool is definitely one of the reasons I finally settled on staying at this resort.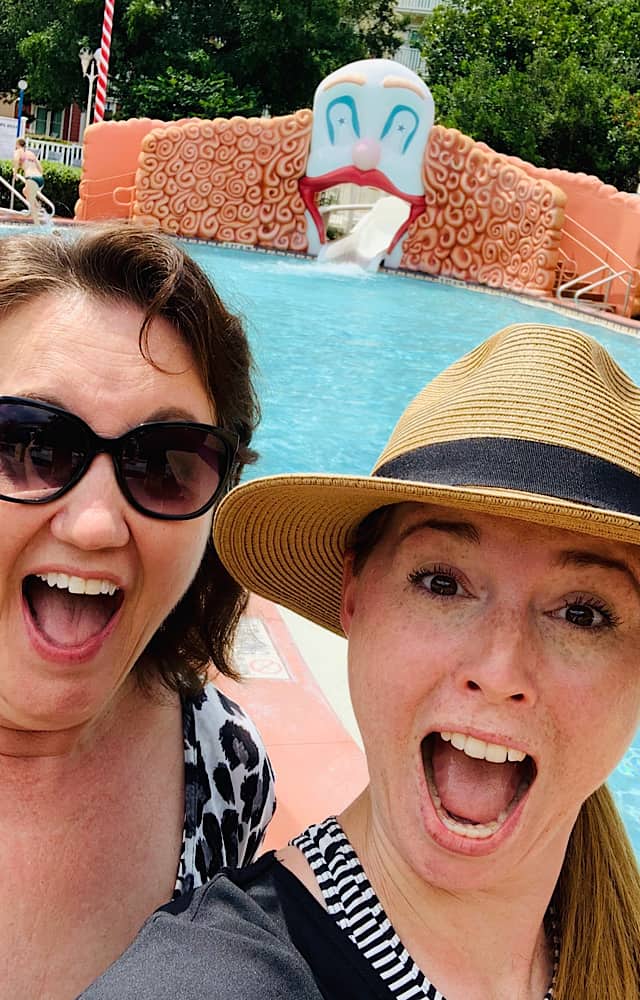 Why is that, you may ask? Enter the creepy clown pool that is no longer here, thank goodness.
Some people love it, like KtP writers, Monica and Susan here. Others, like myself, were completely horrified by it. Just look at it. I have so many concerns. Will it eat me? Has it eaten anyone else? Why did the eyes glow? Thankfully, he is gone and we can all breathe a sigh of relief.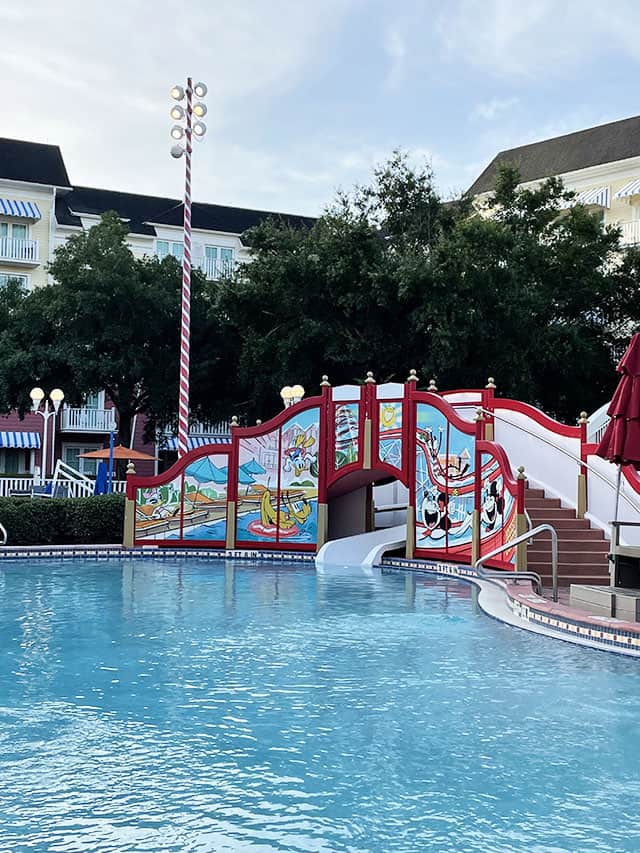 It has since been replaced with our pals, Mickey Mouse and Minnie Mouse! Their other pals have also joined them. Now, this is what I call fun.
I am also pleased to report that I took a couple of rides down the slide and I not only had fun, but I also survived!
Enter … Paul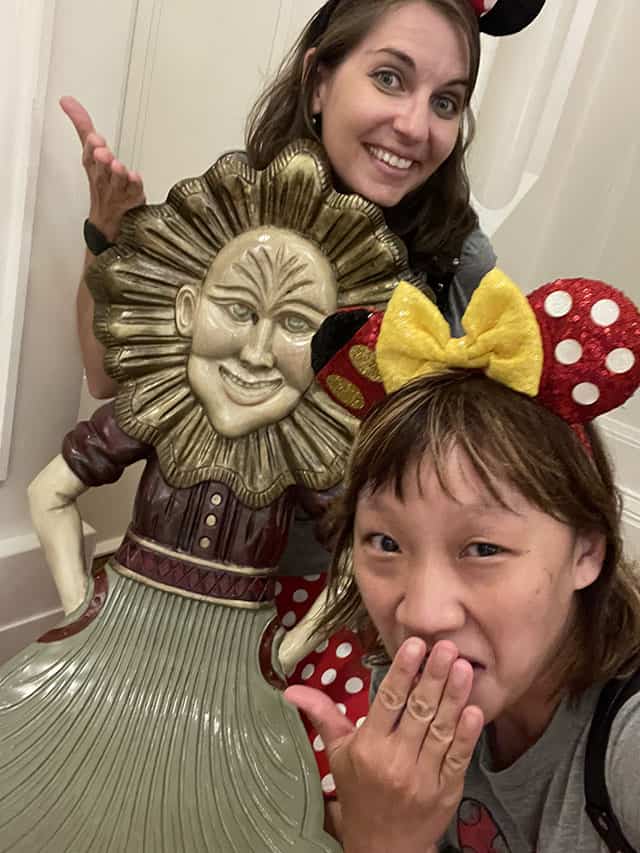 However, despite the clown pool being gone something is still lurking inside the resort that can be rather unsettling. These are the Nanny chairs. If you read Monica's guide, she mentions the origin of these chairs. They seem innocent enough, but to me they are also a little bit creepy.
Luckily, I had my friend and other KtP writer, Donna, here with me for protection. Thanks, Donna! Each Nanny chair is named. We met Paul during our visit. If you care to look around the resort for the other Nanny chairs, you can! Paul was more than enough for me.
Deluxe Studio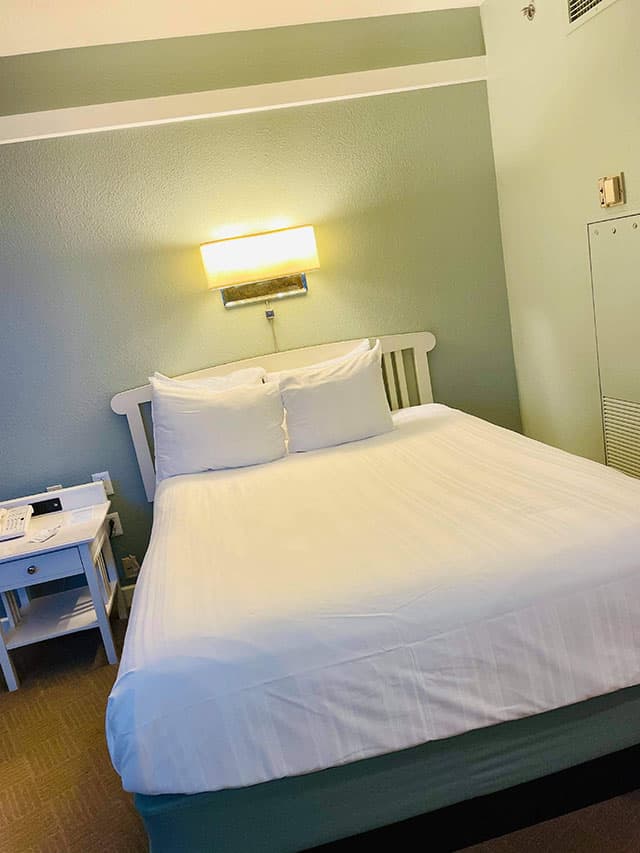 During my stay, I (Maggie) along with four other writers stayed in a Deluxe Studio.
Five grown women in one deluxe studio, with one bathroom? Can it really work?
The answer is yes! The important thing is to make sure you all like each other because you will be close and you will be requesting extra towels! In fact, I think we requested to have extra towels brought to us not once but thrice!
When it is dreadfully hot in the middle of July in Orlando, you can count on extra showers being taken. If you are not sure about visiting Disney in the month of August, you can read more about why it's a good time to go HERE.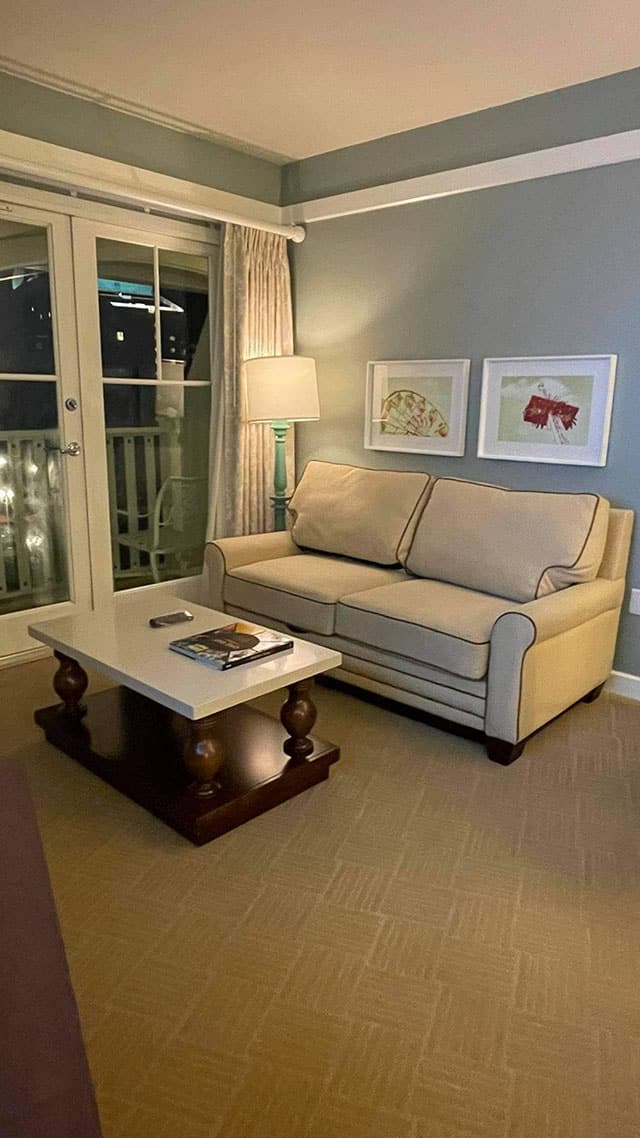 Each studio includes a Queen bed, 1-Double Sized Sleeper Sofa and 1-Single Pull Down bed.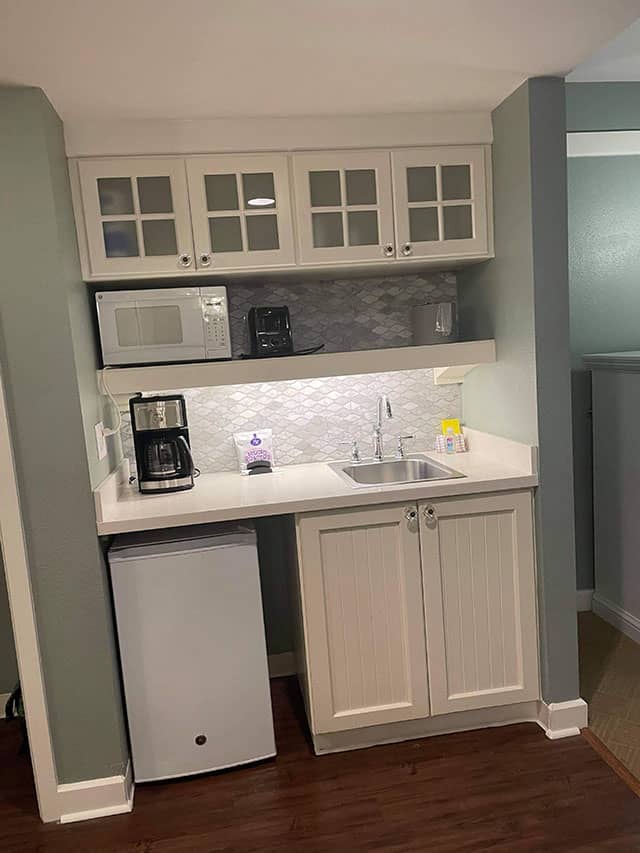 A kitchenette is also included along with a small fridge and microwave. This is a nice place to make coffee in the morning or heat up something quick to eat.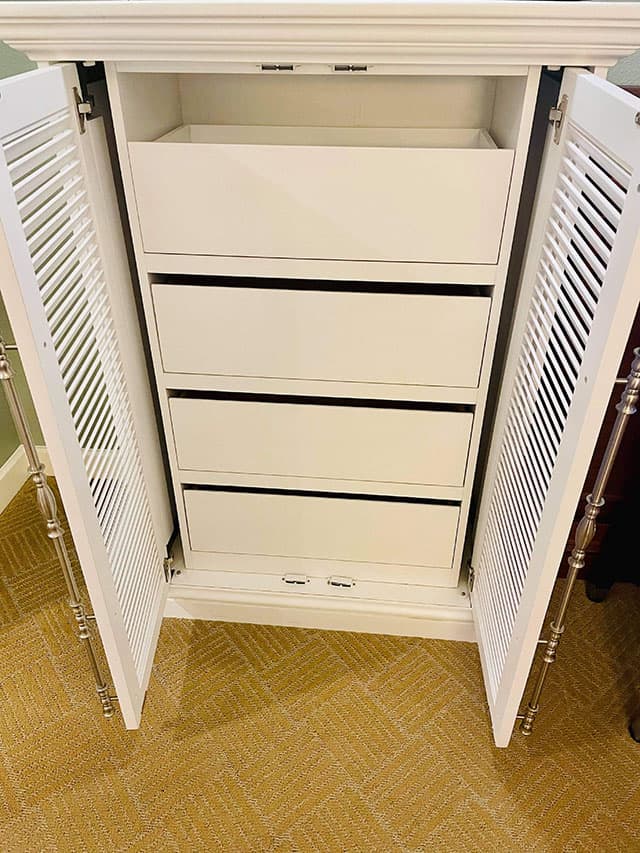 I found the studio to be plenty big enough for all five of us. There is plenty of space as you can see from the pictures here. We had a drawer for each of us and closet which offered plenty of extra space to hang clothes and store our suitcases.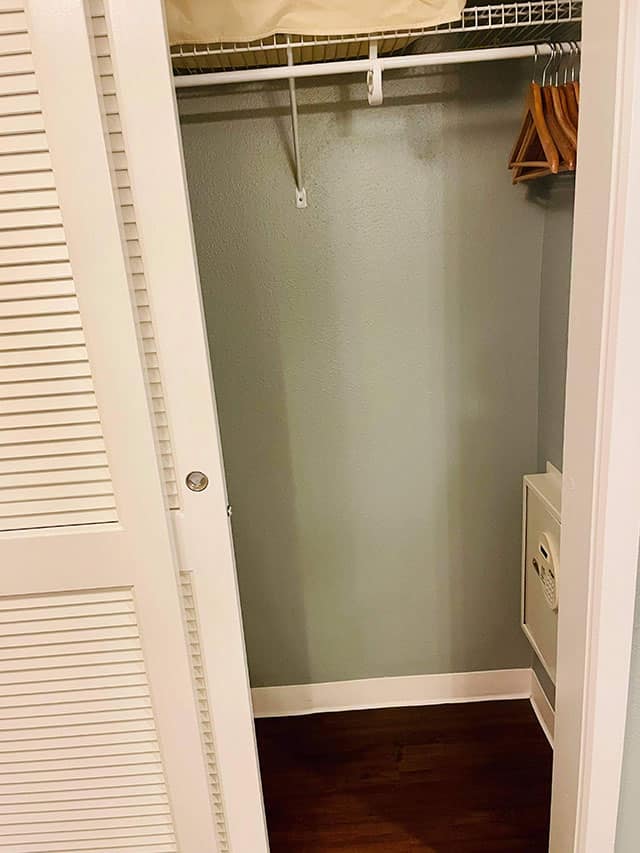 I slept on the cutest pull down bed ever! Don't you just love that is is decorated with a sleeping Dumbo? Usually during vacations, my children are the ones sleeping on the pull-down beds, so this was fun. Just be careful getting up because you do not want to hit your head.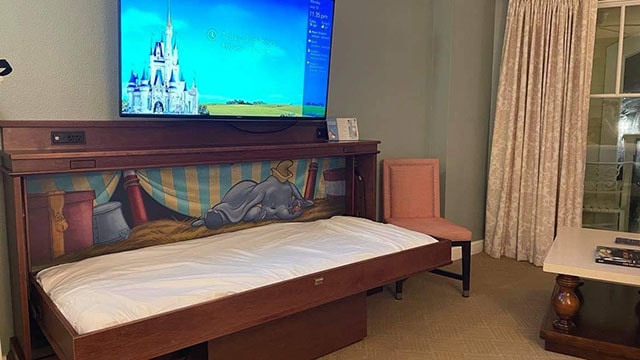 There were plenty of places to charge all of our devices throughout the studio. While I am on vacation, this is something I always appreciate and look out for especially visiting Walt Disney World. You will use your phone for just about everything!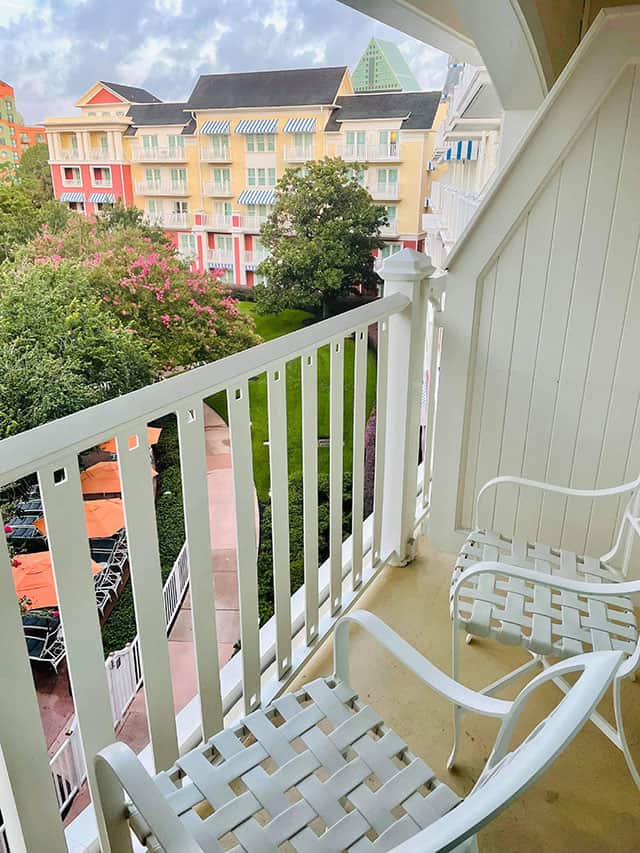 Our studio also had a balcony. We were able to see the Swan & Dolphin resort from our room and even the Twilight Zone Tower of Terror.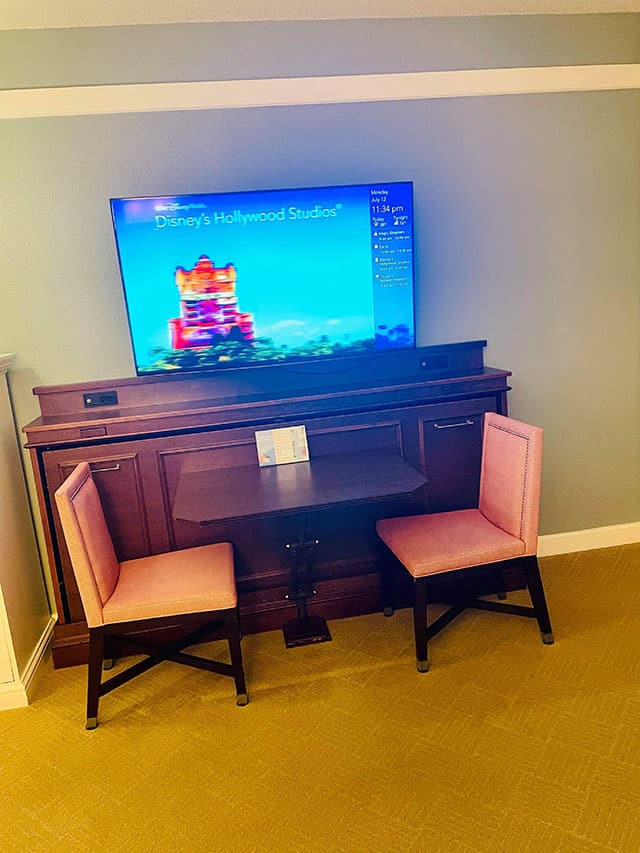 If you want to sit down to eat, there is also a table available. Just fold up the bed and you are all set!
Final Thoughts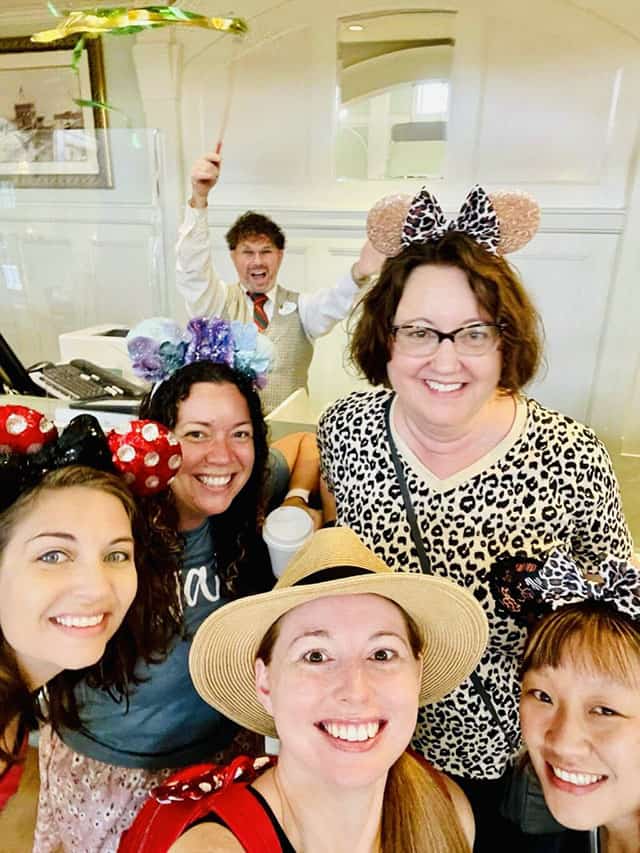 How was my first time staying at Disney's BoardWalk? Overall, I had a great time and I would definitely stay here again. The resort is full of charm and if you want the feeling of being on the boardwalk by the coast, this is the resort for you.
I think Kirk, the Cast Member pictured above, would also agree! He even has the streamers to celebrate all of the fun activities at this resort. Actually, in this picture he was just celebrating the mere fact that it was Wednesday. However, we love him for it.
I (Maggie) am from Ohio and Disney's BoardWalk resort reminds me of the Hotel Breakers at Cedar Point because it has a similar theme. No scary clown pool over there though, but its decorations are the same. In this sense, it really did feel like home. Though, I will admit to Walt Disney World as being my "second home". Isn't that true with all Disney fans?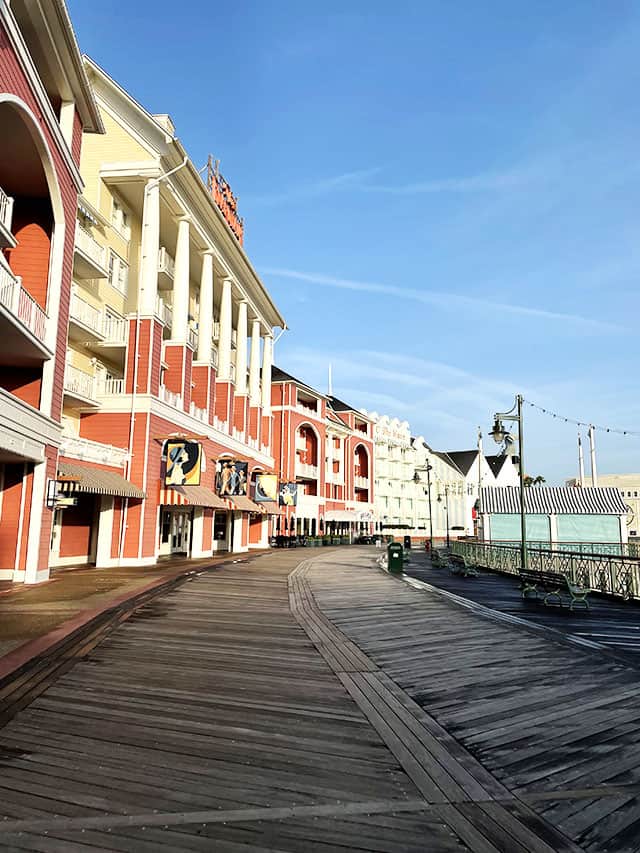 Other great features of Disney's BoardWalk are the entertainment, restaurants and great location. I feel like you can you spend a day just walking along the boardwalk visiting all of the different shops, restaurants and games that line the boardwalk.
It is a really hopping place to be and with more and more places reopening, it can be a really fun environment. Make sure you visit restaurants like Trattoria al Forno, Boardwalk Bakery, the Pizza Window and Big River Grille & Brewing Works.
Have you stayed at the Disney BoardWalk Villas? What was your experience? Would you stay again? Tell us about it in the comments below or on our Facebook page.
Maggie Baltz