Calling all foodies! Are you considering grabbing ADR for a dinner at Topolino's Terrace? Read here for an honest review.
Location, Location, Location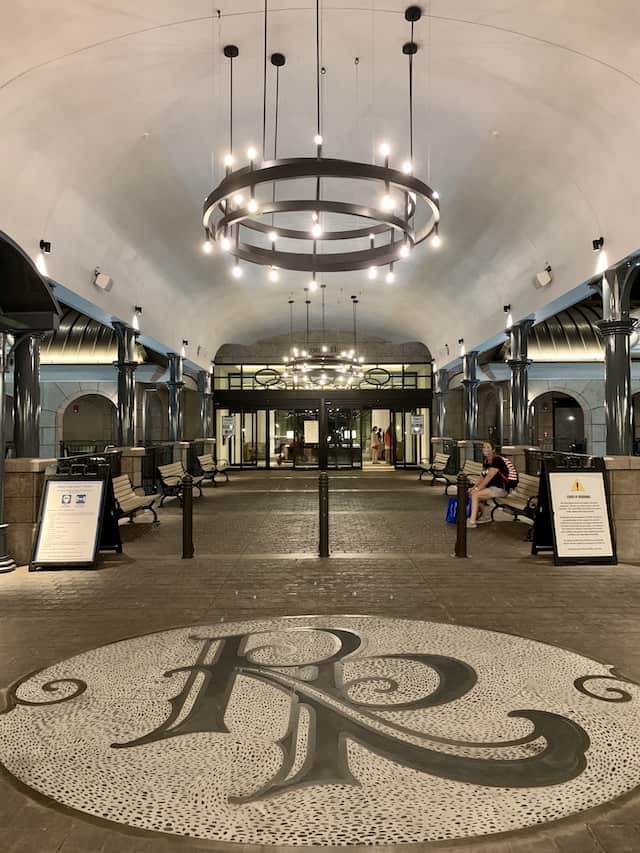 Topolino's Terrace- Flavors of the Riviera is a relatively new offering in terms of Disney Dining. It sits atop the roof of the Riviera Resort, Disney's latest DVC offering.
If you are staying at one of the Skyliner resorts, Topolino's is simple to get to. Just hop in a bucket and go! You should be able to get there easily any evening of your trip.
It is also easy to access from both Epcot and Hollywood Studios for the same reason. If you are planning to visit Epcot or Hollywood Studios, you might consider booking your Topolino's ADR on one of those evenings.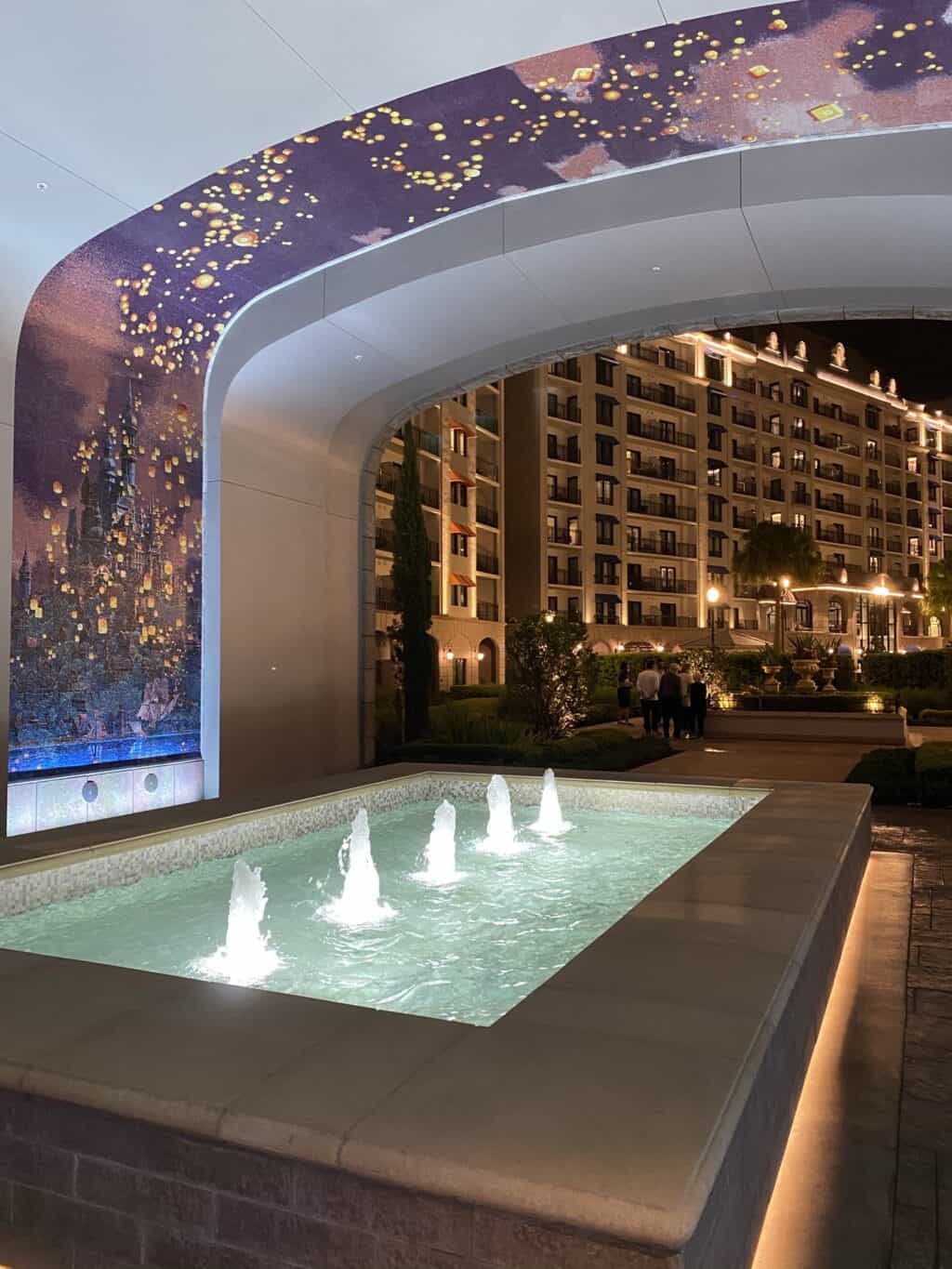 Just check to make sure the Skyliner isn't going to be affected by a refurbishment before you try to use it. For January 2022's refurbishment dates, read here.
My (Katie P.) travel party dined at Topolino's during our stay at the Dolphin hotel. We walked to the Skyliner and rode from there, and I have to say the ride made a perfect, breezy start to our evening. Plus we got to see Riviera's beautiful murals as we exited.
Dinner Ambiance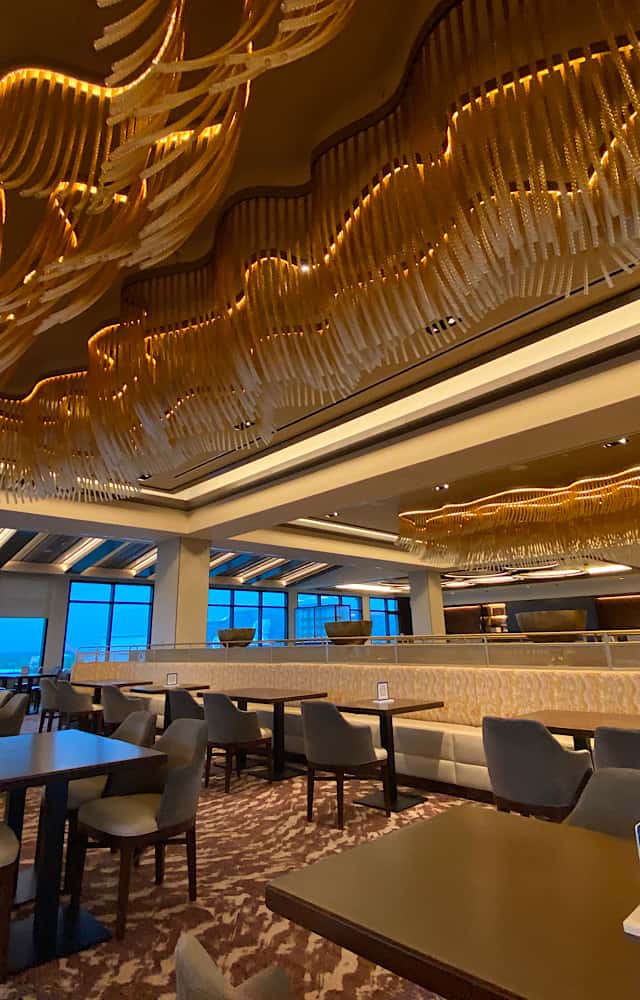 Did you know that the restaurant is named after Mickey Mouse? Mickey's Italian name is Topolino! So, in essence, this is Mickey's own fine dining establishment.
While the restaurant is a character meal for breakfast, dinner is a completely different experience. Truly, dinner is signature dining at its best.
The dining room is quiet and dimly lit. It also offers lovely sweeping views from the rooftop terrace.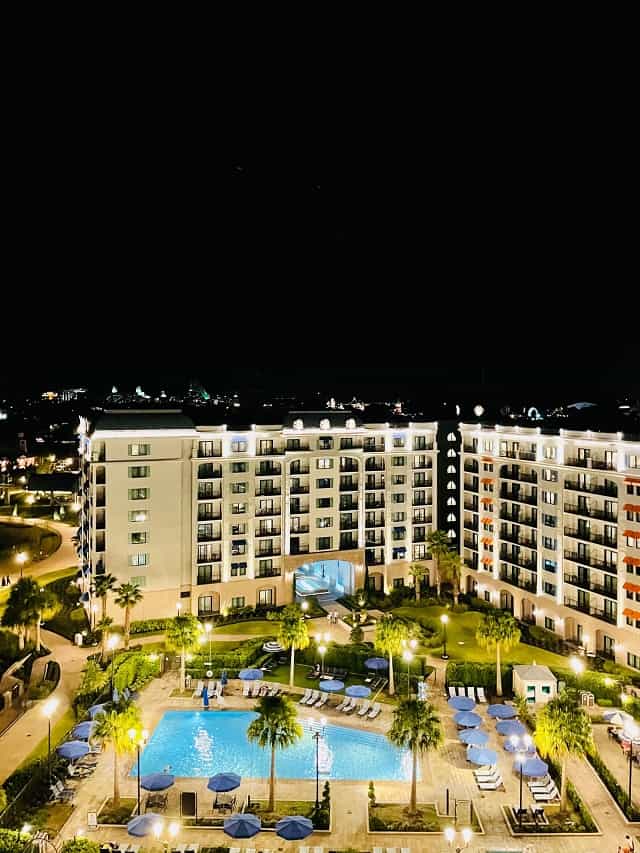 After our dinner, we stepped out on the terrace to enjoy the views. We could even see the Dolphin in the distance. I highly recommend getting a glimpse if you have thee chance.
It is quite a sight, and if you love a nice view, you will not want to miss it. However, do so with caution-you run the risk of wanting to book your next trip at Riviera.
Check In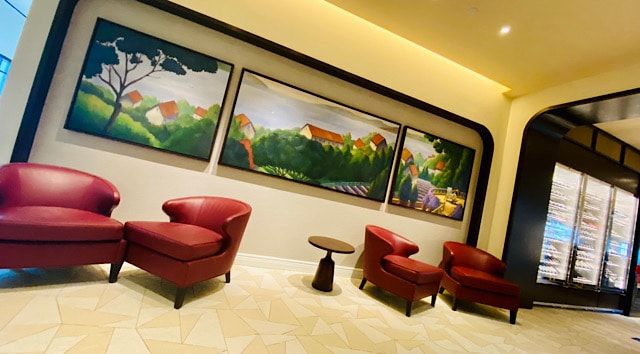 Upon arrival, my party took the elevator to the restaurant. Our check in experience was quick and easy.
We were only there a few moments when we received the alert that our table was ready. I am sure there are times when the restaurant runs behind schedule, but this night everything ran smoothly.
Starters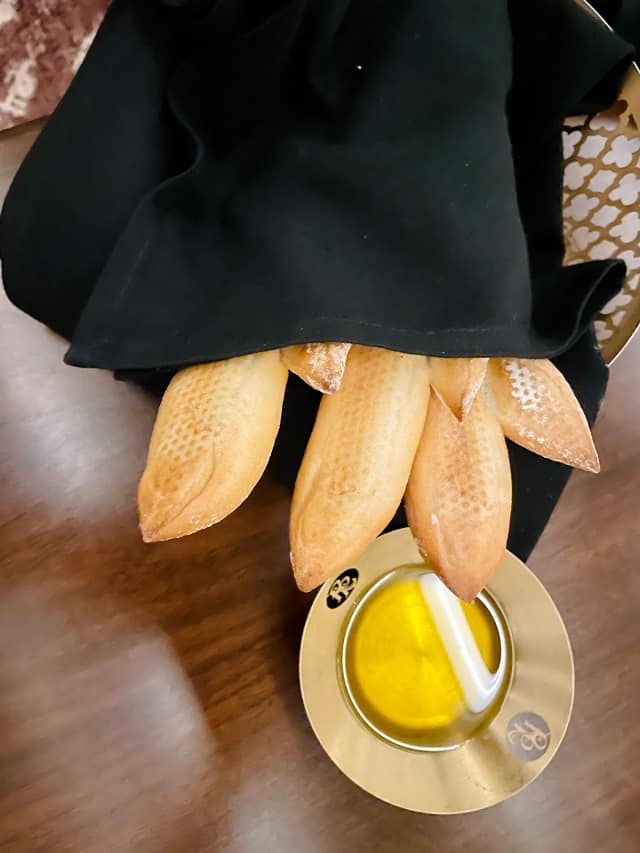 The meal started with a bread service. I have to be honest, I don't remember anything about the bread.
I am not sure whether it is because the bread was relatively unremarkable or because everything else was so delicious. Regardless, I was surprised when I went back through my photos and saw a bread basket.
We decided to order starters, which we do not always do, because the menu was so irresistible. I have to say they, unlike the bread, were both unforgettable!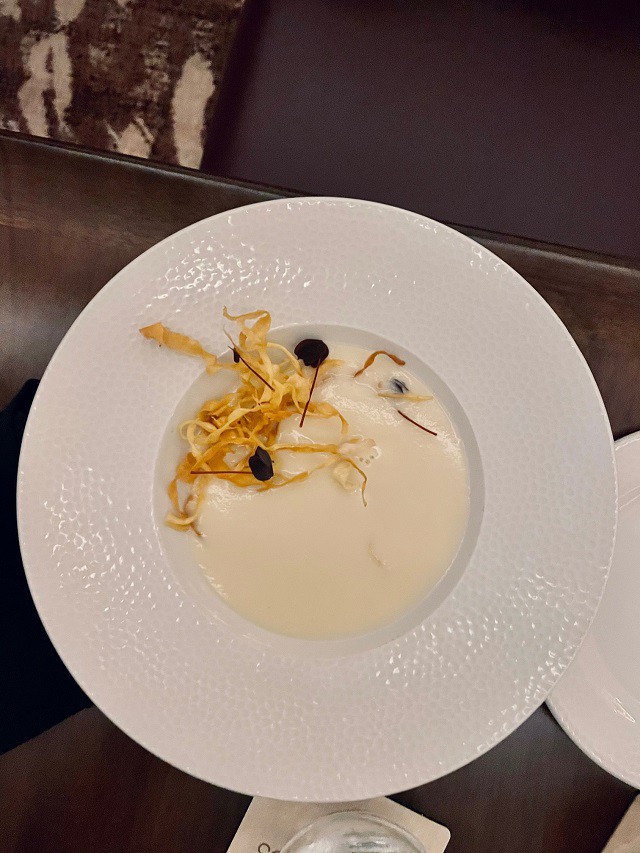 My (Katie P's) husband started with the root bisque. This creamy soup dish is comprised of parsnip, celery root, heirloom apple, cocoa nibs, and sorrel.
I have to say, it is one of the best soups I have ever tasted. It was perfectly creamy, smooth, and flavorful! We both loved it, and I think I would have been jealous had I not loved my own starter so much.
I opted for the beet barigoule. I love beets, particularly beet salads, so if I spot one on the menu, I cannot resist trying it.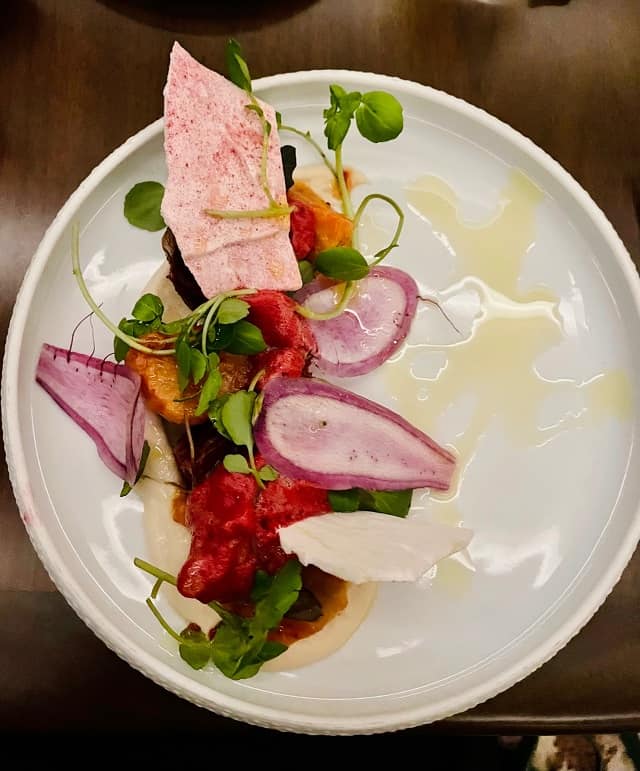 The beet preparation includes white Beans, watercress, garden radish, and lemon Meringue. Mine was absolutely delicious. It is certainly one of the top 5 things I have ever eaten in Walt Disney World. I will return to Topolino's for this dish alone.
Overall, I highly recommend not skipping the starters here. If you are going to pick one meal to go all out on, this is probably the one you should go with. You might even consider skipping entrees altogether and just grabbing starters. They are THAT good.
Entrees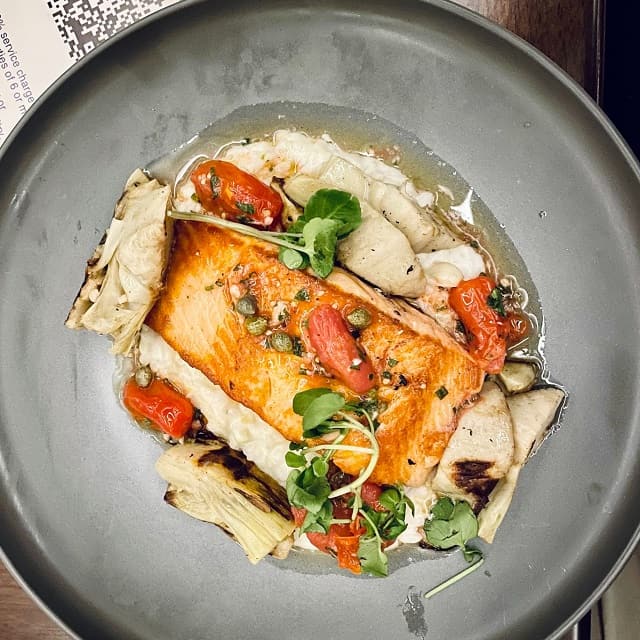 Of course, if you did elect to eat only starters, you would have to miss out on the entrees. And the entrees here are nothing short of amazing. So, a better plan would be to simply come hungry.
My husband decided to try the king salmon as it is served with risotto, and, just as I cannot resist beets, risotto is the food he cannot notice and not order.
Salmon is not always on the menu, but if you see it, you should not hesitate to try it. The preparation included mi-cuit artichoke risotto, sauce vierge, upland cress, and French olive oil. We both found it to be flavorful and delicious. Not a bite remained.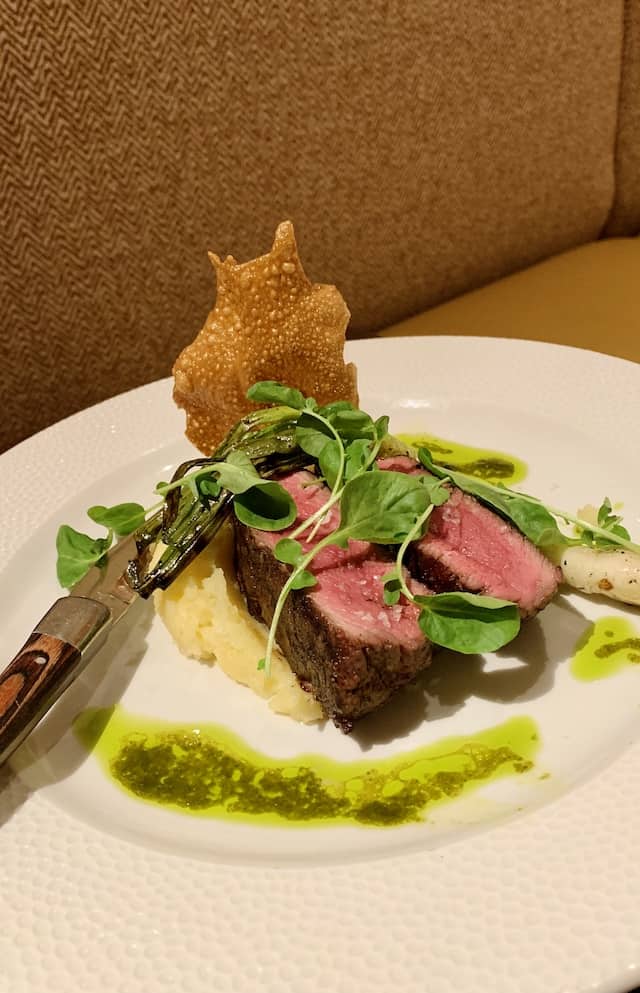 I had heard good things about the filet mignon at Topolino's. In fact, fellow KtP writer Monica included it in her 2020 review of the restaurant. I decided I had to taste it for myself.
It absolutely lives up to the hype. I can confidently say it is the best steak I have eaten in Walt Disney World, and I have eaten steaks all over.
It is no secret that I have a fondness for heading to Le Cellier and indulging in the filet there. But this particular steak beat out my old favorite.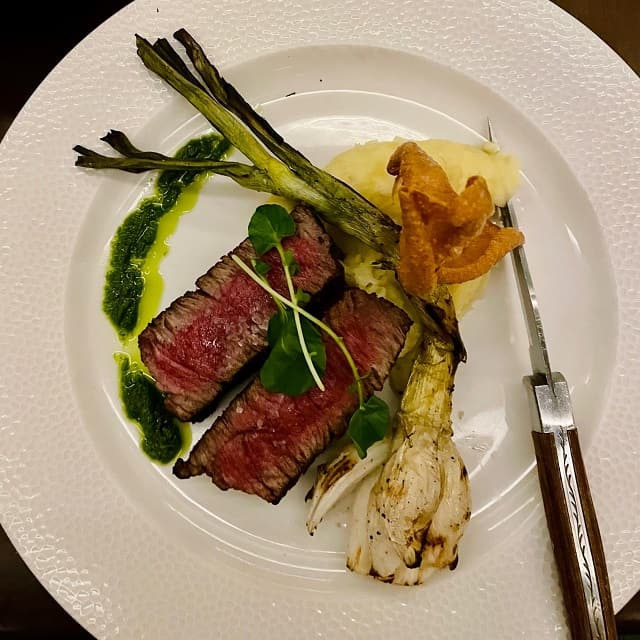 Topolino's currently prepares its filet with truffled mashed potatoes, charred torpedo onion, forest mushroom purée, and vinaigrette. My husband and I both found it to be perfectly cooked with just the right amount of char.
I dream of having this steak again. I ate every bite (aside from the few I shared) except for the torpedo onion. The server assured me it is edible, but I did not like the texture and decided to save a bit of room for dessert.
Dessert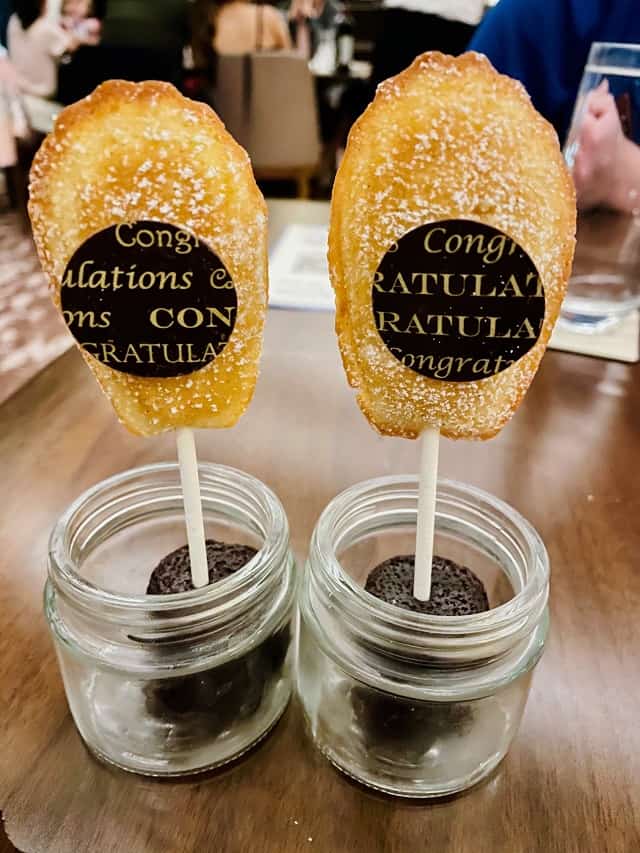 We intended to split a dessert, but our server had other plans. Since we were celebrating, she brought us a complimentary dessert.
It was brownies topped with cake pops of sorts. We both liked them well enough, but they were not a highlight for us.
Overall Impressions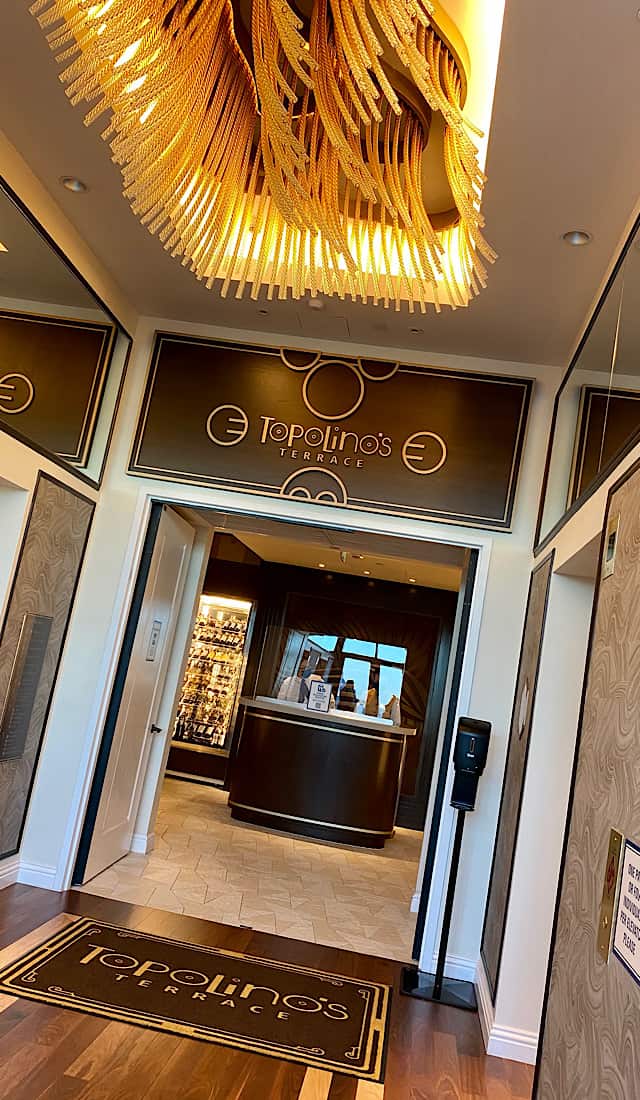 Topolino's Terrace-Flavors of the Riviera is a hot ADR, and for good reason. This is one Disney dining experience I cannot wait to repeat. Until then, I will be dreaming of the beets.
If you need further reviews of Topolino's, you can read breakfast reviews here and here. And, you can read the dinner review I referenced earlier here.
Have you had dinner at Topolino's Terrace yet? What did you think? Let us know on Kenny the Pirate's Facebook Page, or join our crew and continue the discussion!
Are you planning a vacation? Reach out to our trusted travel agency sponsor Authorized Disney Vacation Planner
Mouse Class Travel
!