Did you know that Disney is celebrating both Black History Month and Valentine's Day in February with lots of limited-time food options? Here is a rundown of what is being offered and a review of what we tried.
February Foods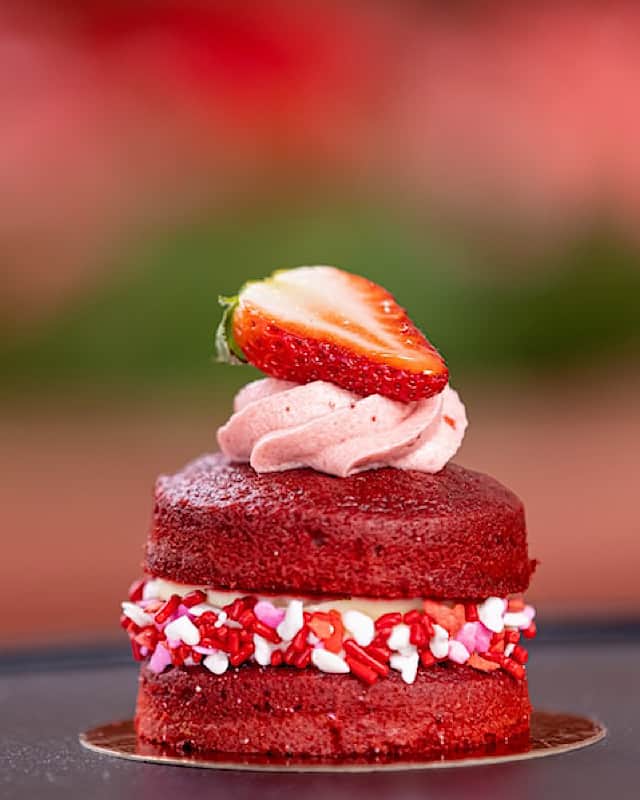 Walt Disney World has a lot to celebrate in February and is bringing you plenty of food to enjoy throughout the month. The EPCOT International Festival of the Arts is already in full swing with its food studio offerings.
Moreover, Disney is celebrating Valentine's Day with plenty of sweet treats. Black History Month has also brought soul food to the parks and resorts!
Black History Month Foods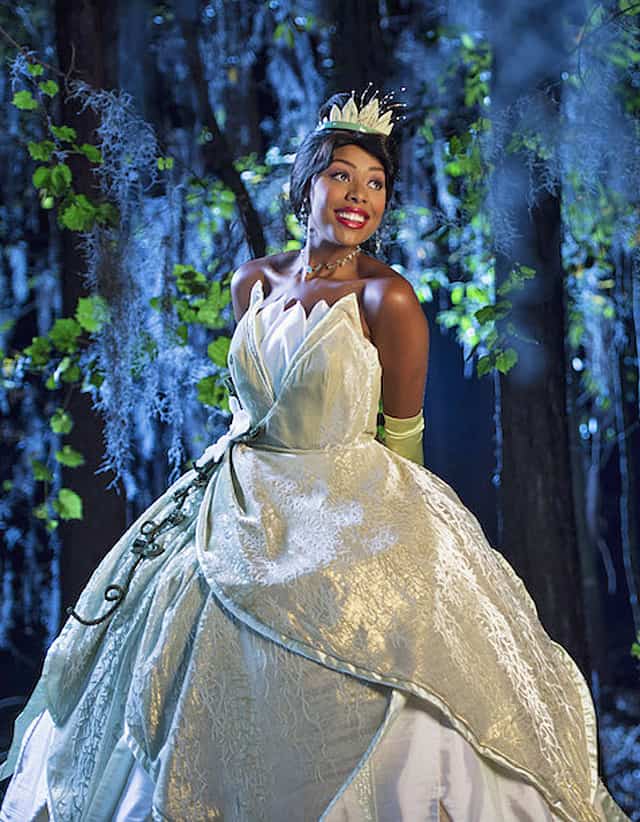 Walt Disney World is shining a spotlight on Black History Month with a variety of experiences to celebrate, educate and honor Black heritage and culture throughout the resort. One part of that celebration is food!
Some new items debuting for February include: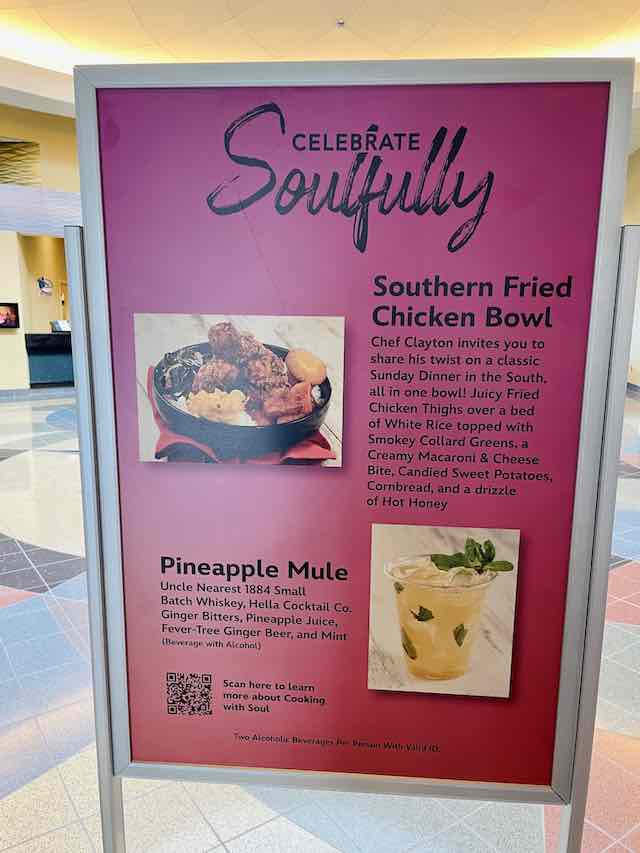 Shrimp & Grits featuring spicy shrimp, corn grits with bacon jam and crispy radish at Tiffins in Disney's Animal Kingdom Theme Park 
Tiana's Mardi Gras Shake featuring a cinnamon vanilla milkshake topped with a Mardi Gras King Cake Doughnut served at Hollywood Scoops in Disney's Hollywood Studios 
Gumbo with chicken, andouille sausage, okra and seasonings offered at ABC Commissary in Disney's Hollywood Studios 
Pineapple Mule cocktail with Uncle Nearest Tennessee Whiskey, pineapple juice, ginger beer and mint available at Geyser Point at Disney's Wilderness Lodge 
Soulful Sunday Dinner at The Artist's Palette at Disney's Saratoga Springs Resort & Spa featuring a dinner plate of barbeque chicken, collard greens, black eyed peas and house-made cornbread
Jamaican Jerk Chicken Frites featuring Sweet n' Hot jerk marinated chicken, pineapple salsa, scotch bonnet aioli and fries available at The Daily Poutine at Disney Springs. 
Black History Month Food Review!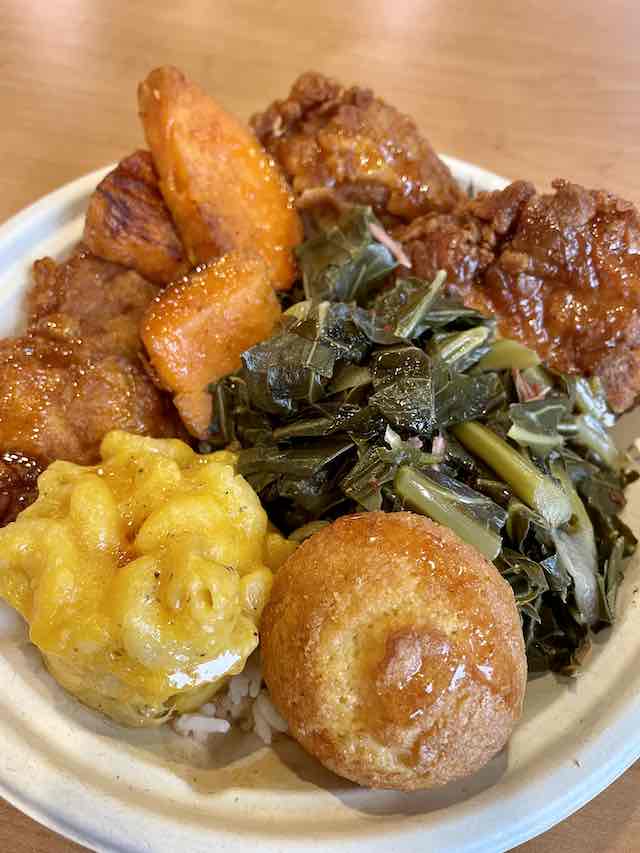 I (KatieP) was able to try one of the items debuting in February on a recent trip. Disney's POP Century Resort and many other resorts are celebrating with a special dish.
During the lunch and dinner meal periods, Guests can order the Southern Fried Chicken Bowl. Chef Clayton invites you to share his twist on a classic Sunday Dinner in the South, all in one bowl! The dish is comprised of: Juicy Fried Chicken Thighs over a bed of White Rice topped with Smokey Collard Greens, a Creamy Macaroni & Cheese Bite, Candied Sweet Potatoes, Cornbread, and a drizzle of Hot Honey.
I simply had to try this meal! Some parts of the dish were hits, and others were a bit of a miss. For example, two of the chicken pieces were fresh and delicious, but one had been sitting under the heat lamp for too long and had gotten chewy and a bit soggy. This is definitely a dish best served fresh.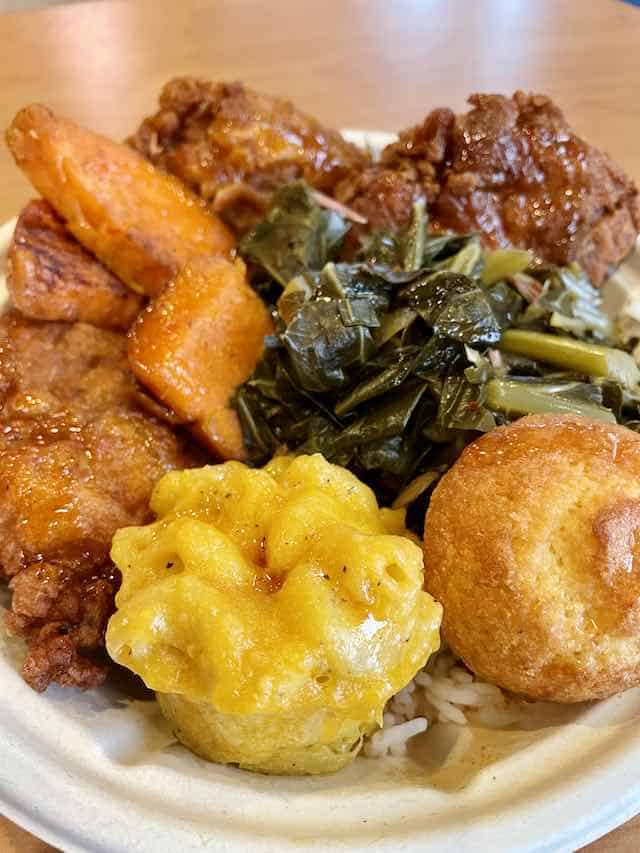 On the other hand, The rice and sweet potatoes were perfect. And that honey drizzle was phenomenal and added the perfect sweet spot to balance the seasoning. The greens were flavorful and spicy. The mac n cheese is more of a mac n cheese muffin, and it is heavily seasoned with black pepper. This was good, but it is also one of those items that will not do well when left to harden under a lamp.
The most disappointing part was the cornbread. It was sweet, and I would have liked it, but it was cold and hard. Again, this will not be a problem if you catch a fresh batch.
Overall, this dish has a lot of potential to be amazing, but it has equal potential to go wrong because it has so many components that rely on freshness, and at $13.49, it is a high price to take a gamble. But, it might just pay off with some phenomenal flavors if you manage to order when it is all fresh!
Where to find it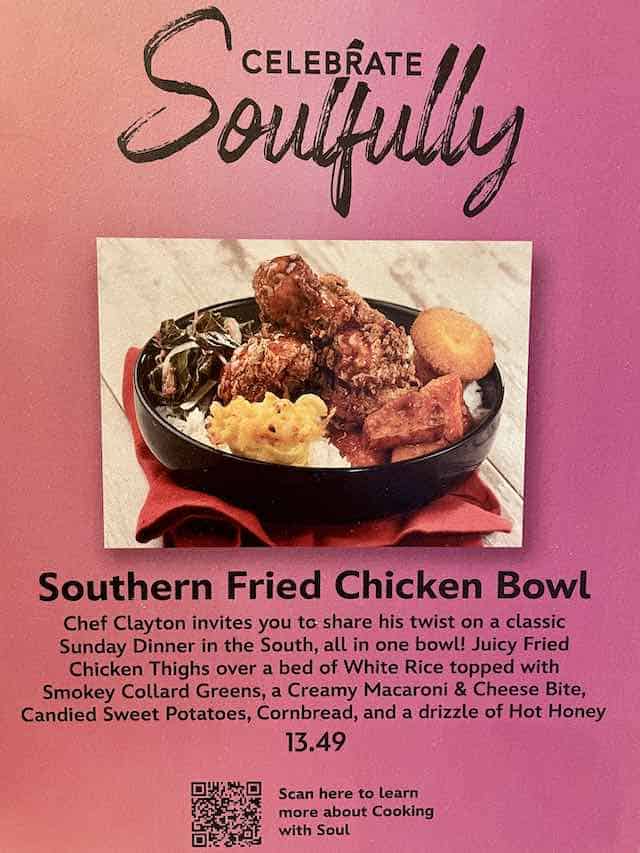 This dish is available at many resort restaurants:
Valentine's Treats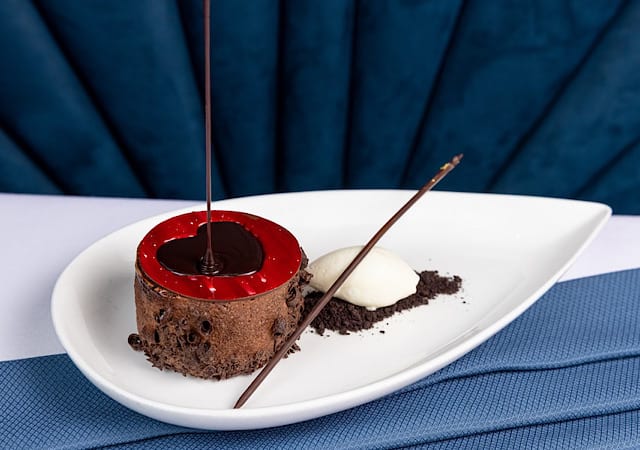 Throughout February, Disney is also offering treats in celebration of Valentine's Day. Some of these will be available on February 14 only. You will find such offerings at table service restaurants like Flying Fish and California Grill. Some other treats will be around for most of the month at snack stands and quick service restaurants. Be sure to check menus to see what is available!
Disney Springs is fill of special offerings for the day. You can read about them here.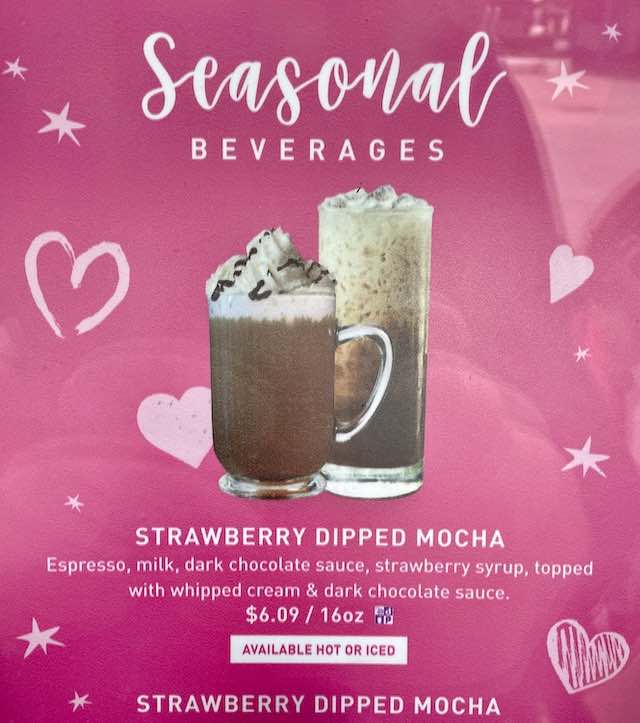 Additionally, Gideon's Bakehouse has a February Cookie, Cake Slice, and Cold Brew. You can read about them here.
Joffrey's is offering a number of coffee treats including a Chocolate covered strawberry mocha. You can read a review here.
Chcolate Lover's Delight Cupcake Review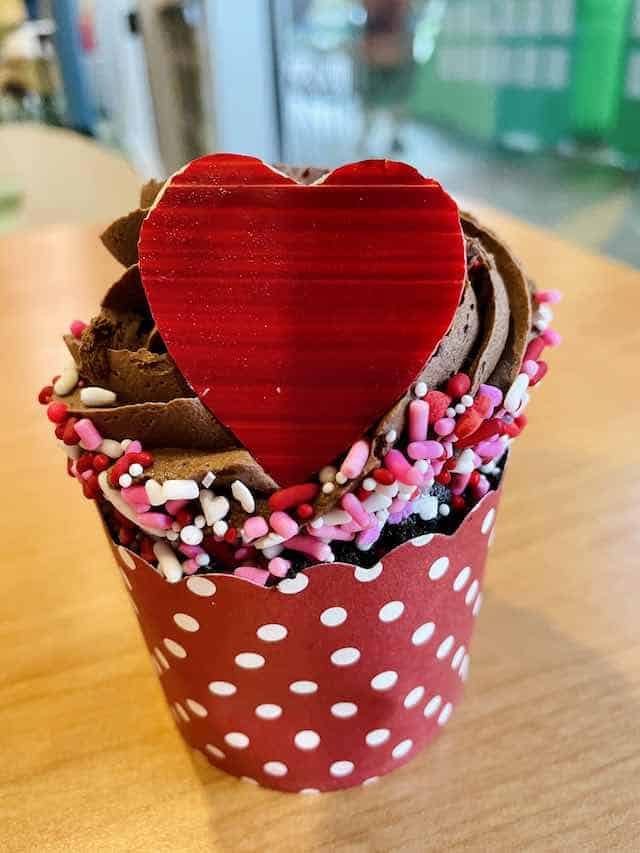 I had a chance to try the Chocolate Lover's Delight cupcake. You can find it at both Pop Century and Art of Animation. In terms of Disney cupcakes, it was relatively good! It is a Chocolate cupcake with hazelnut filling, chocolate hazelnut buttercream, white chocolate heart décor, and sprinkles. I usually do not like the limited cupcakes, but this one was mostly devoid of dye and had great flavors thanks to the hazelnut.
The chocolate cake was not too dense or dry. The chocolate hazelnut buttercream was lovely, but the hazelnut cream filling is the best part. It made for a delicious treat overall.
Now, the cupcake itself was a little too cold when I ate it. If you order one, I suggest letting it get a bit closer to room temperature than i did so that it is a more enjoyable experience.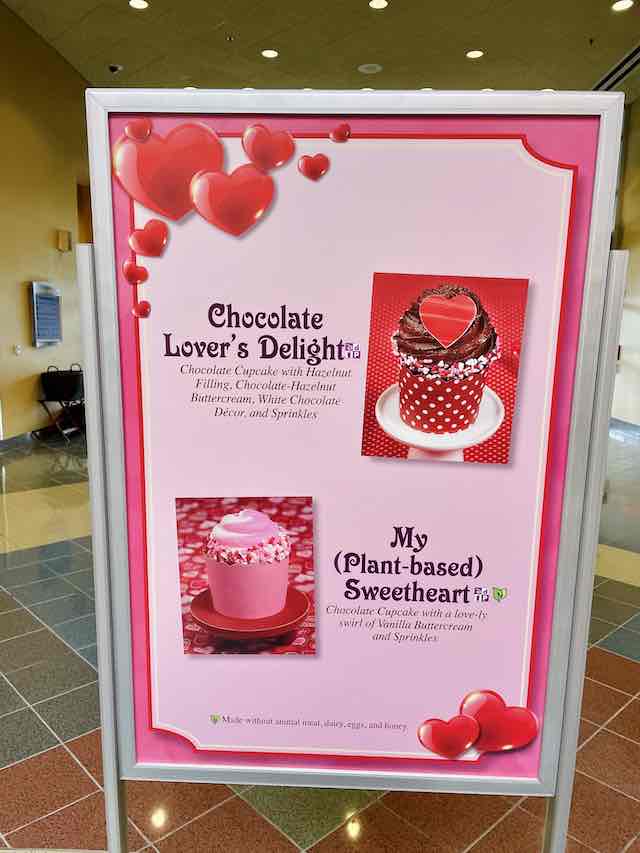 Disney also has a plant-based cupcake avaliable if you prefer. I did not get to try it, but it looked pretty.
More Reviews for February Food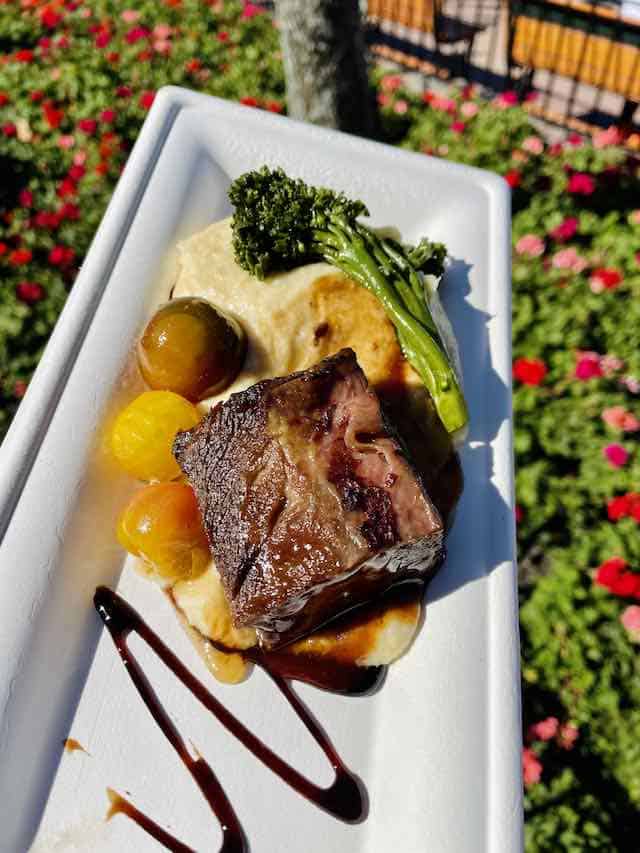 Walt Disney World has a lot to celebrate in February and brings you plenty of food to enjoy throughout the month. The EPCOT International Festival of the Arts is already in full swing with its food studio offerings. We have reviews for you here:
Do you know someone who is traveling in February and would be interested in rundows and reviews of all the special food offerings available? Be sure to pass this information along so they can enjoy the treats! And, don't forget to follow along with all the announcements and fun on Facebook.