Many things have changed since Disney World's reopening. We found one hidden gem that is still top-notch.
Port Orleans French Quarter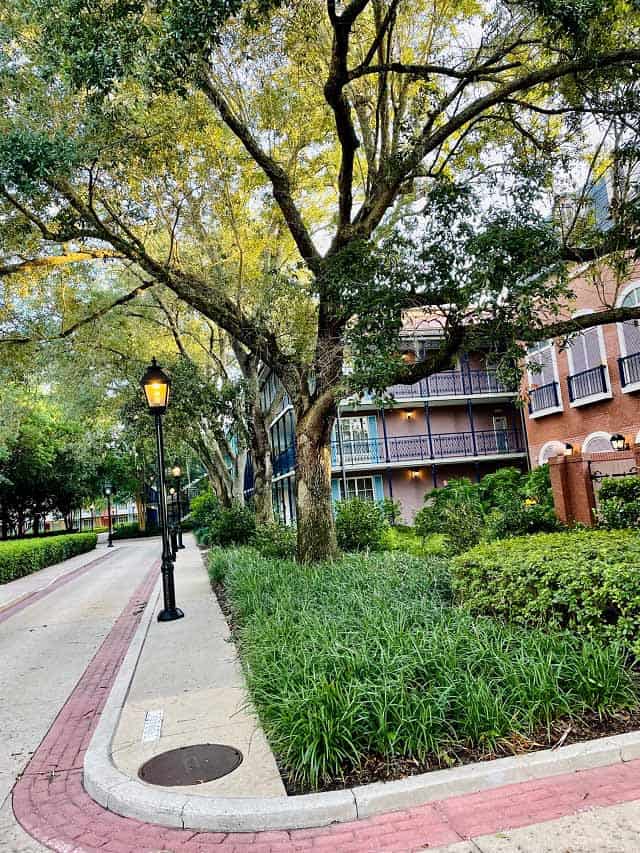 If you head over to one of Walt Disney World's quietest corners, you will find Port Orleans French Quarter, a resort that manages to feel tiny and out of the way. Not only is Port Orleans French Quarter one of Walt Disney World's best places to stay if you want a small, quiet resort, but it is also one of the best places to enjoy quick-service dining.
For one thing, it is home to Walt Disney World's famous Mickey-shaped beignets. You can find them at Scat Cat's Club. Options include a few fun specialty beignets for those who want to taste a unique spin on the snack.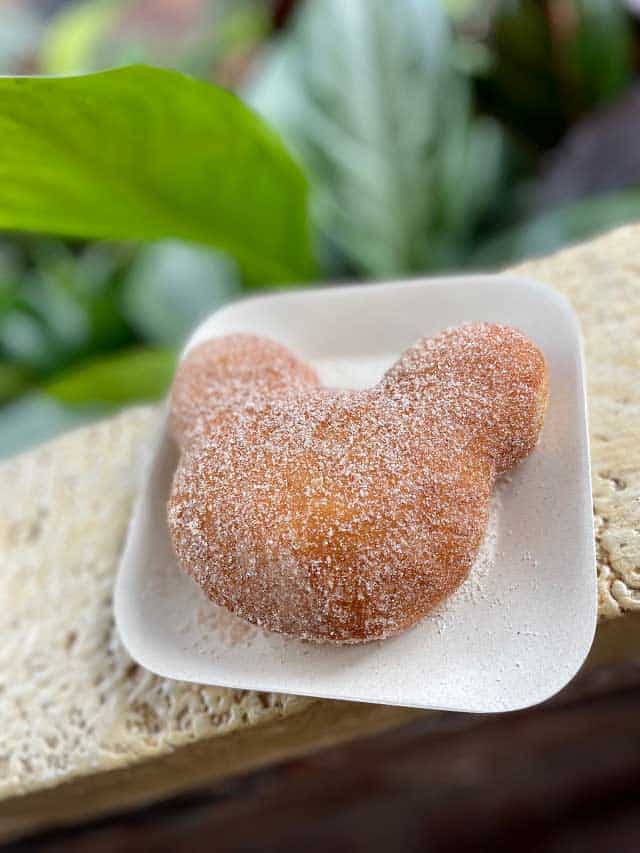 Not only are the beignets amazing, but if you head to Port Orlean's French Quarter's primary quick service location, you will find food options that you cannot find at just any food court. Sassagoula Floatworks and Food Factory was and still is one of Walt Disney World's best when it comes to quick-service dining at resort hotels.
Sassagoula Floatworks and Food Factory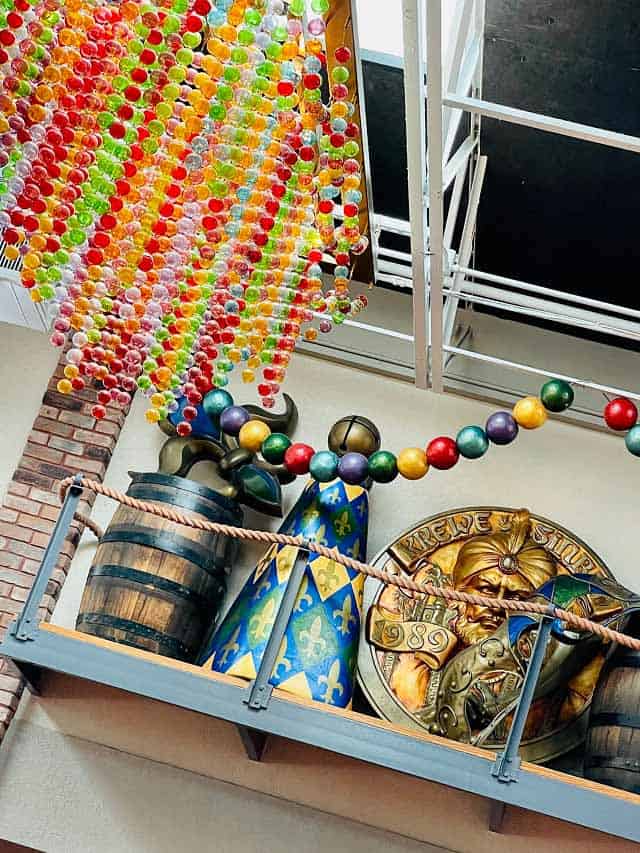 Since Port Orleans French Quarter has no table service dining options, Sassagoula Floatworks and Food Factory has the task of being the only place for a full meal at the resort. While Boatright's over at sister resort Port Orleans Riverside is accessible on foot, by shuttle bus, or by boat, some Guests would prefer not to leave the resort.
Fortunately, Sassagoula Floatworks and Food Factory is great in terms of quick-service resort dining. The restaurant has Mardi Gras theming for decor. And, while it does serve "safe" American fast food options, it also offers classic Southern food as well as Cajun and Creole flavors for the more adventurous soul.
Like many Walt Disney World quick service restaurants, Sassagoula is divided into several stations, each offering a specific grouping of foods for order. After receiving your food, you head to the checkout and then to the dining area, which has ample seating as well as a refillable drink station.
Breakfast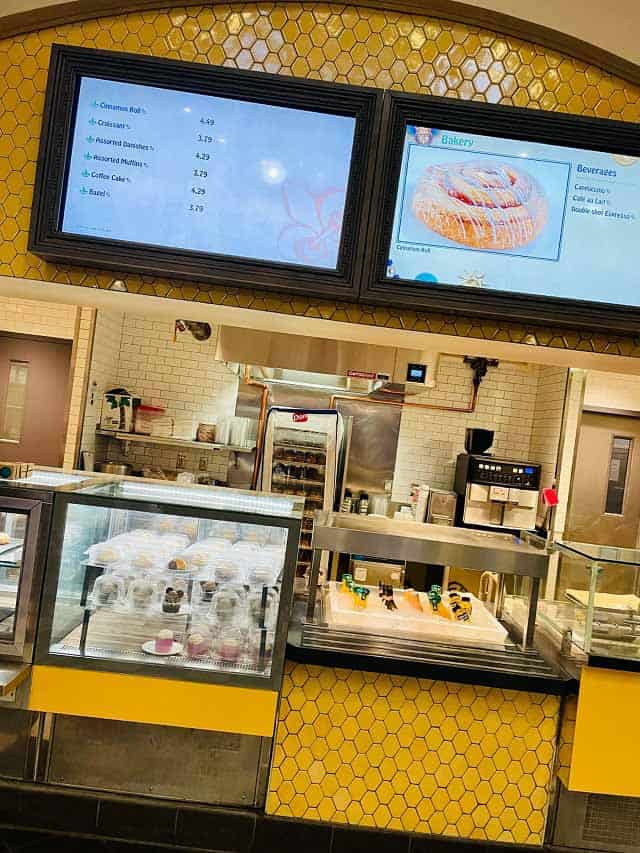 When it comes to unique food offerings, breakfast is probably where Sassagoula Floatworks and Food Factory falls the shortest. I do miss some of the options on the old menu including the French Toast.
However, if you like typical Disney breakfast, like I (Katie) do, you are in luck. Currently, there are relatively standard offerings including the Bounty Platter you find at most resorts, Mickey Waffles, Bagle Sandwiches, Omelets, and Pancakes. There are also plant-based offerings like overnight oats and frittata.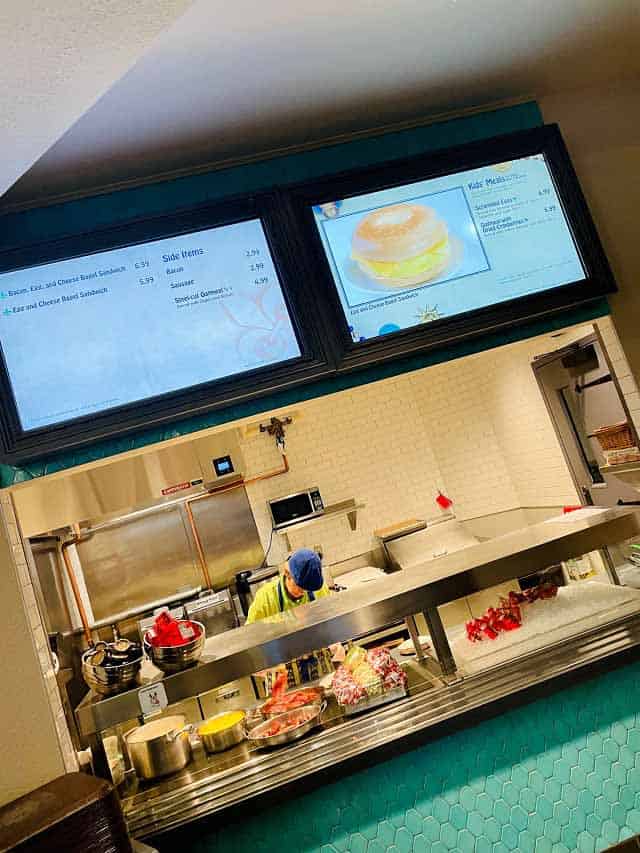 Children have four options including Mickey Waffles, pancakes, scrambled eggs, and oatmeal. And, of course, there are sides, bakery items, gab-n-go options, and beverages, including the ever-popular resort refillable mug, as well.
Some of the food is pretty good despite being basic items you can find nearly anywhere across Disney World. On a recent stay, I (Katie) had a chance to try a couple of the offerings.
Obviously, I can't go to Walt Disney World without enjoying Mickey Waffles at least once, so I decided to get my fix by ordering a kid's meal. One of the nice things about quick-service dining is that it is one of the places adults can order off the kids' menu. And, Mickey Waffles are one of the items that are the same regardless of whether they are part of a kids' meal or an adult meal.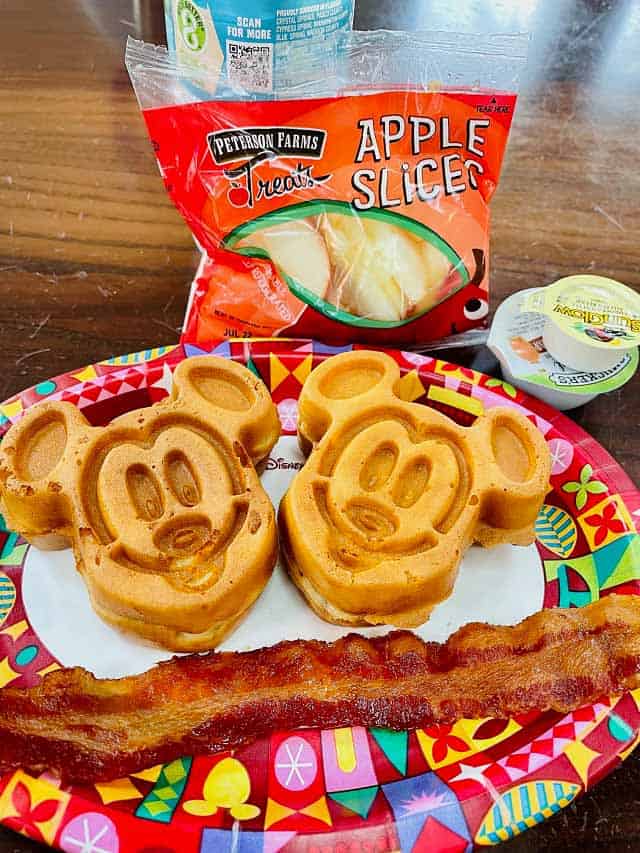 The kid's meal included bacon, a side, and a drink. I chose a bottle of Dasani and saved it for the parks for later. I also asked for a counter service water, which is always free.
On another morning, I enjoyed the pancakes with berry compote and asked for the kid's portion again. It came with a drink and two sides.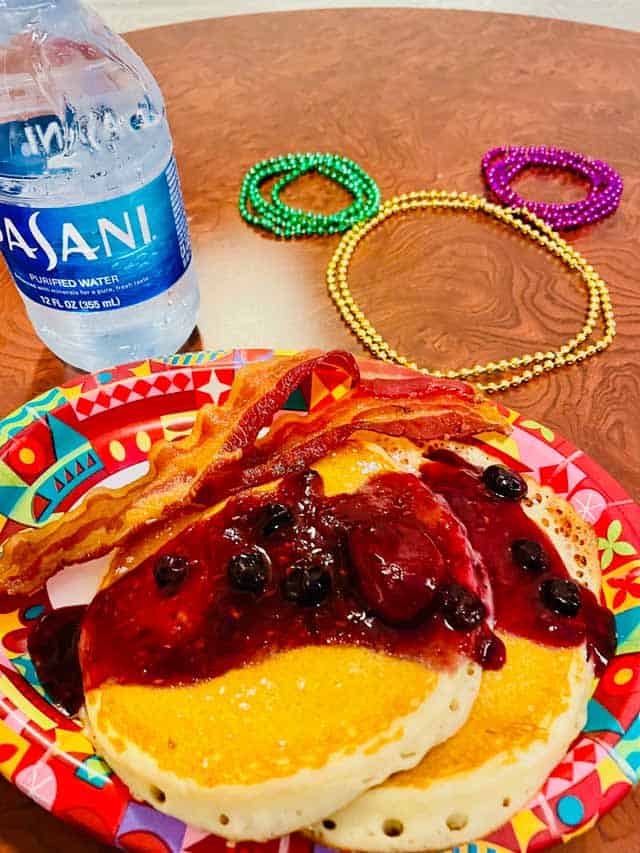 The pancakes are standard Disney World pancakes, and you can find them at several locations. I was surprised to find that I really liked them.
A large part of the surprise is that the berry compote is actually delicious. I usually prefer fresh berries to anything syrupy. However, this is more than just your standard strawberries in sugar and red dye. Rather, it is a mixture of berries including blueberries, strawberries, and blackberries. While it is sweet, it is not cloyingly sweet and even has a hint or tartness. Plus, it is served warm, which makes it taste infinitely better in my opinion.
Lunch/Dinner Menu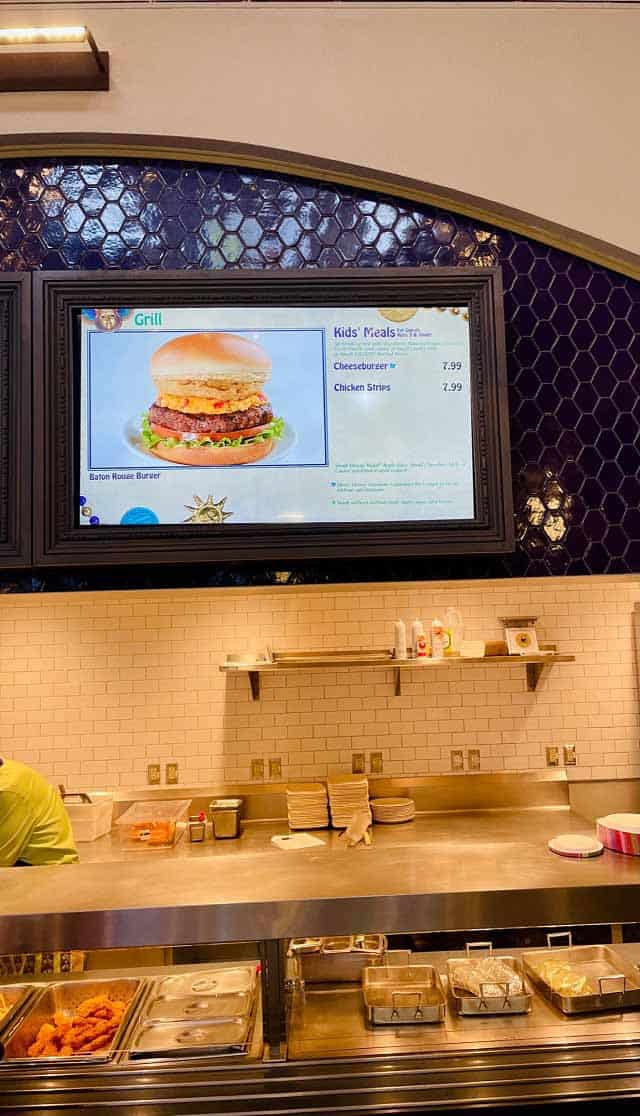 The lunch/dinner menu is where the options shift from standard Disney World fare to unique and delicious offerings. You can order specialty items like Jambalaya or Gumbo. Additionally, the menu boasts Southern classics like Shrimp and Grits and Buttermilk Chicken. You can even get a Baton Rouge burger, which is topped with Fried Green Tomatoes, Pimento Cheese, and Bacon.
You will find salmon and salads for lighter fare. Various pasta dishes and gnocchi are available as well. Then, there are also plenty of sandwiches, burgers, and pizza for those who are less adventurous. One thing is for certain, if you are looking for variety, Sassagoula Floatworks and Food Factory has you covered.
On my most recent stay at Port Orleans French Quarter, I met up with one of my dear friends who tried the Gumbo. This particular gumbo is a Rich Stew with Chicken, Sausage, Okra, and Spices served with Rice.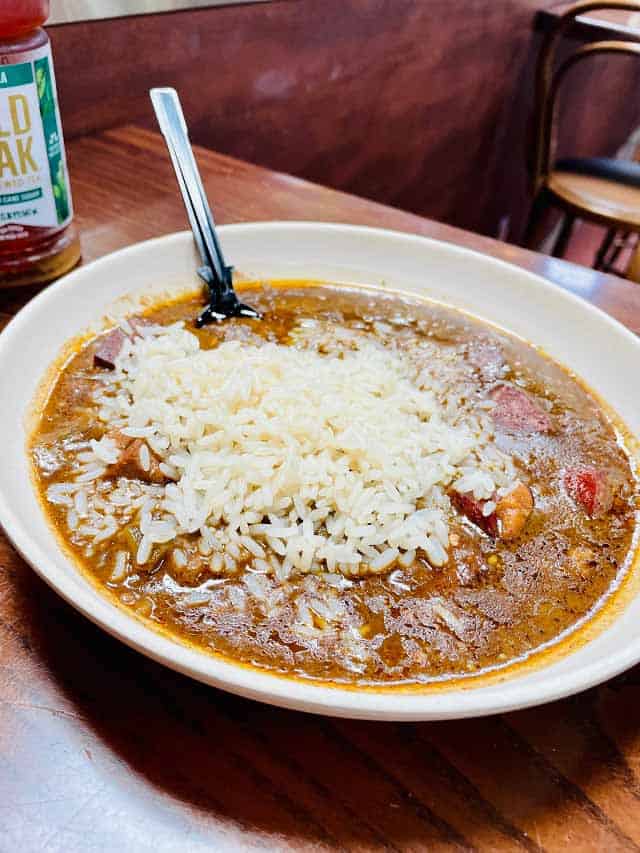 The portion was generously humongous. It is a dish that is easily big enough to share, and she certainly could not finish it all. She said it was delicious and flavorful. If you are looking for some of the flavors of New Orleans, you should try this meal.
I ordered the Prime Rib Dip sandwich. It is Shaved Prime Rib with Provolone served with French Onion Au Jus. Wow! This was a delicious surprise.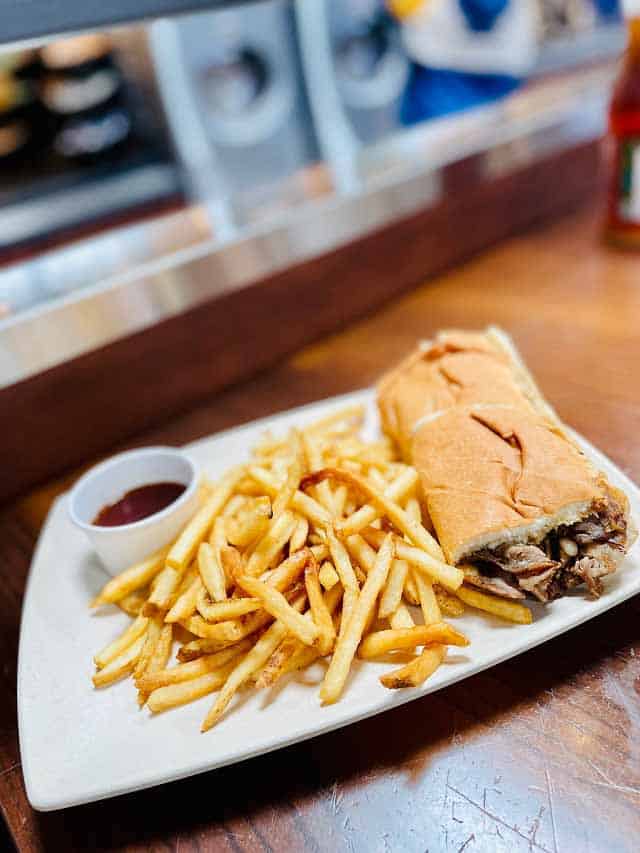 It was tender and yummy, and the au juice enhanced the flavor nicely. I also enjoyed the fries it came with, but then again, I like plain ole Disney World French Fries now and then.
This is a dish that I could have easily shared. It isn't huge, but it would have been enough, especially in the heat of the day.
Getting There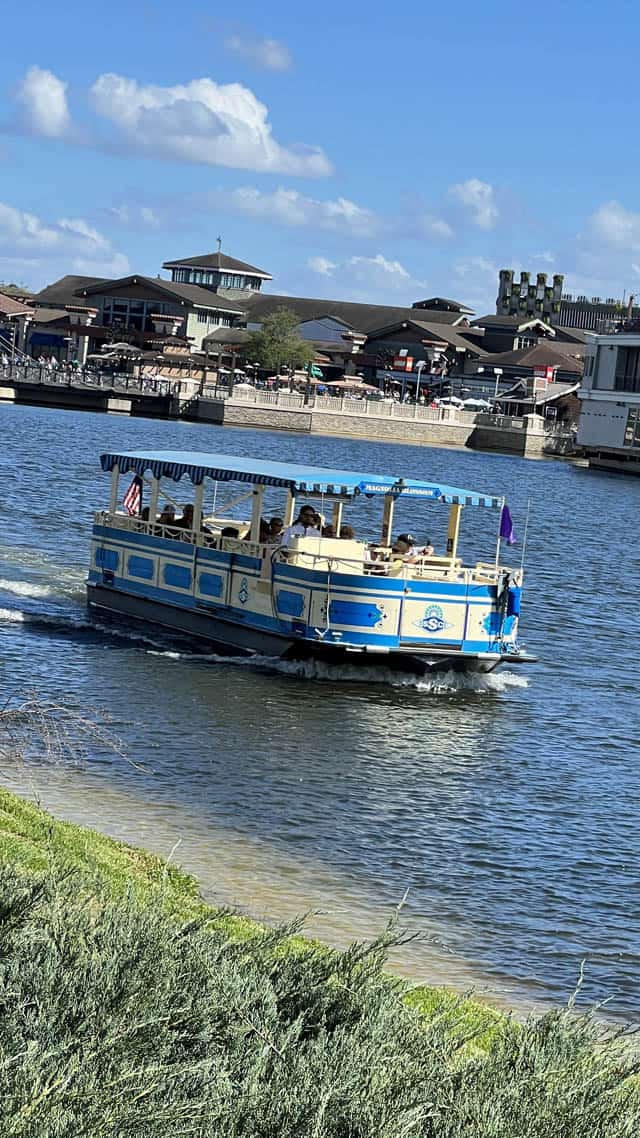 One of the drawbacks to Sassagoula Floatworks and Food Factory is that unless you are staying at Port Orleans French Quarter or Port Orleans Riverside, it is not particularly easy to get to. If you are staying at Riverside, you might actually want to walk over, take the shuttle bus, or take the boat over because Sassagoula Floatworks and Food Factory is better than the quick service option at Riverside.
Guests staying anywhere else may have a little tougher time getting there. However, if you are the type of person who likes seeing the various resort hotels, it may be worth the effort, especially since you can enjoy lunch and dinner and beignets at Scat Cat's Club afterward.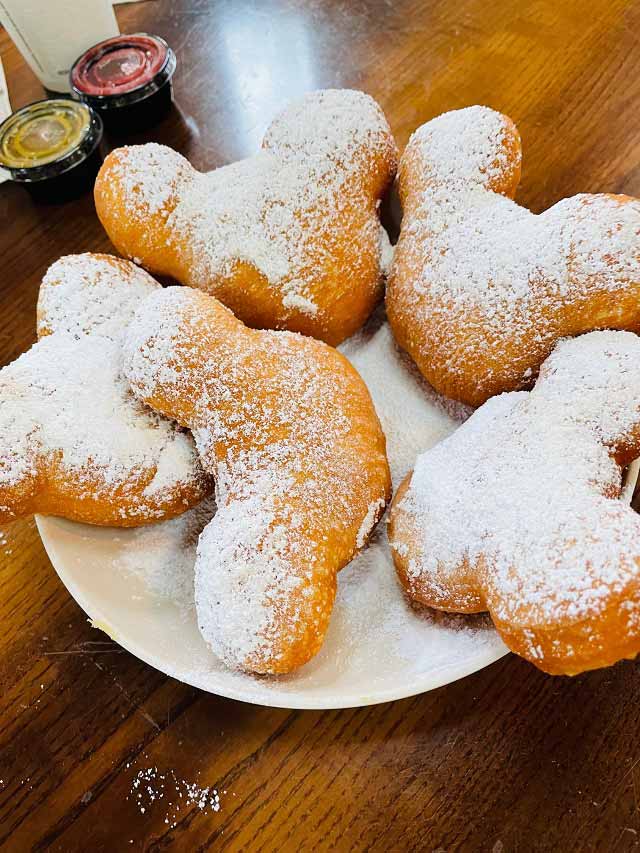 You can get there from any of the theme parks by hopping on a bus to Port Orleans French Quarter. You will then have to take a bus back to the parks to get back to your car in the parking lot or to transfer to your resort. If you just want a nice lunch and a bit of a break from the parks, this is a great way to take that break, have some good quick service food, and see one of the most charming Walt Disney World Resort Hotels.
Also, you can take a boat to Port Orleans French Quarter from Disney Springs. However, there is so much great food at Disney Springs that you may prefer to just stay there.
Overall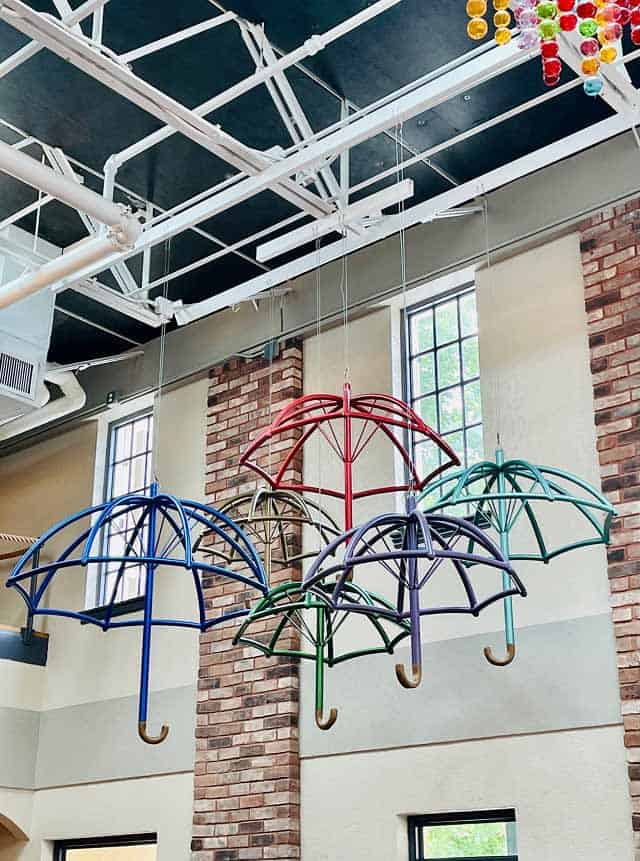 If you want to take a break from the parks and try something a little different in terms of quick service, this is a great place to eat. It is also one of the many reasons you might enjoy staying at Port Orleans French Quarter. It is a great place for a perfect blend of basic and unique quick service items.
Have you tried Sassagoula Floatworks and Food Factory? Did you enjoy your meal? Let us know in the comments or head over to Facebook and share your experiences there.