If you are headed to Walt Disney World for EPCOT International Festival of the Arts and want to know what to eat, Italy has got you covered. L'Arte di Mangiare did not disappoint.
EPCOT International Festival of the Arts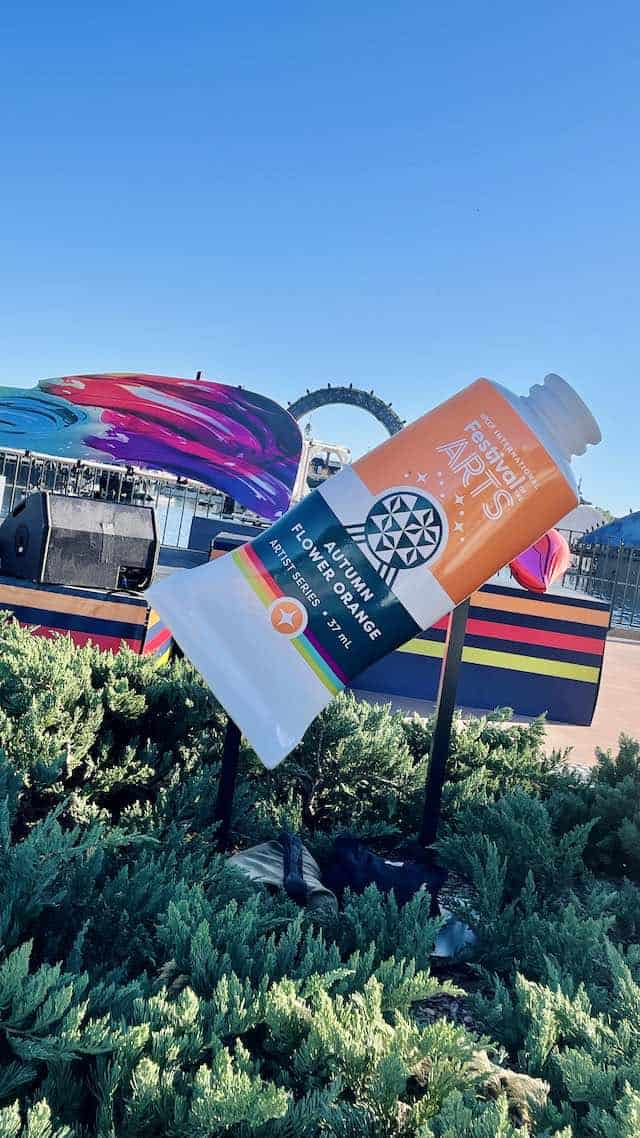 EPCOT's International Festival of the Arts is here now through February 20, 2023. From dozens of food and beverage items to fun photos and a special light show on Spaceship Earth, this festival provides so much fun and entertainment for Disney fans.
Be sure to check out everything NEW for this year's festival in this post HERE. You can also find all of the menus for the many food locations HERE. In addition, you can see all of the fun Magic Shots for this year HERE.
L'Arte di Mangiare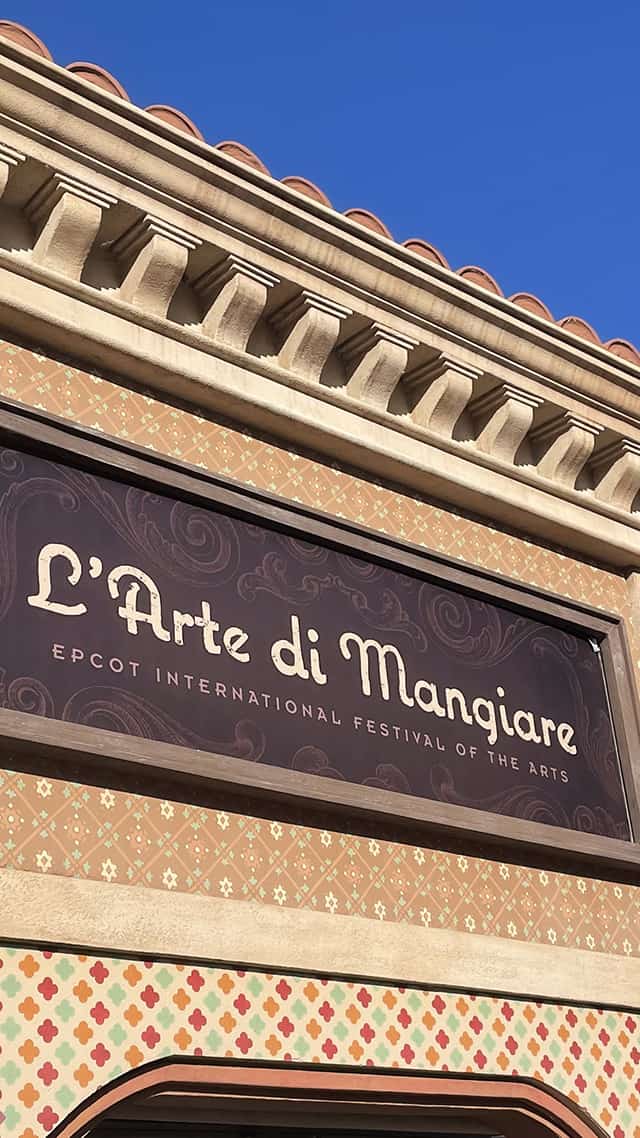 If you head over to Italy in World Showcase, you will find L'Arte di Mangiare. This is one of the 16 Food Studios available to serve up culinary art at this year's festival.
Previously Italy's food offerings failed to impress. It seemed to serve up the same dishes over and over. You can read Maggie's analysis of the situation right here.
But, this year, Italy shook things up a little bit! Perhaps Mickey is listening after all. The dishes were better than they have been in some time, and they even included a fun offering that was popular with the kids.
Food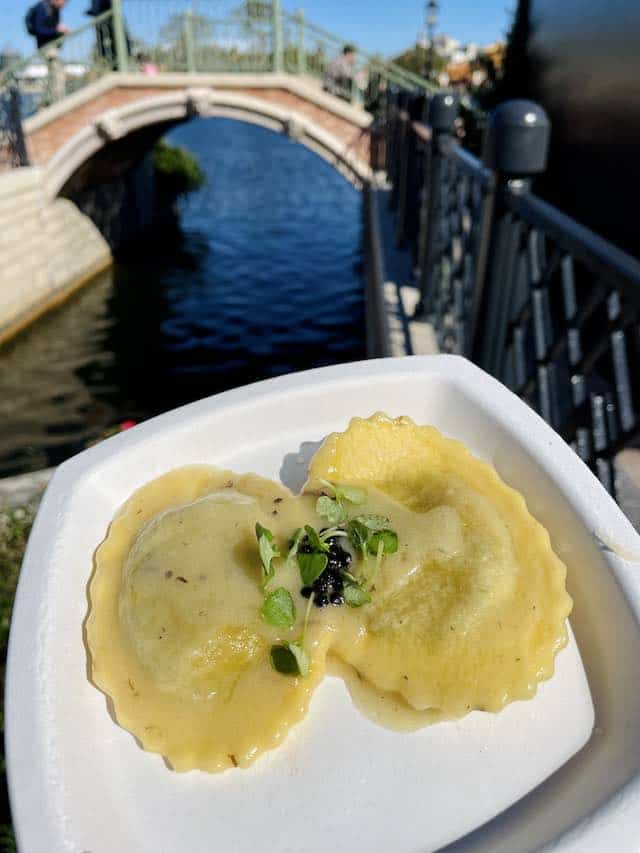 My party tried the Ravioli ai Funghi, Perle Tartufat. The menu describes it as Ravioli with Wild Mushroom-Stuffed Pasta with Truffle Butter and Truffle Pearls.
Okay, so maybe ravioli does not sound like it is unusual for Italy. However, this particular dish was special as far as festival items go. The flavors were rich and worked well together. The notes of the truffle were perfect.
It is important to try the ravioli while it is still warm. If you do, you will find it is one of the best ravioli dishes Italy has offered lately. We liked it enough to eat it twice!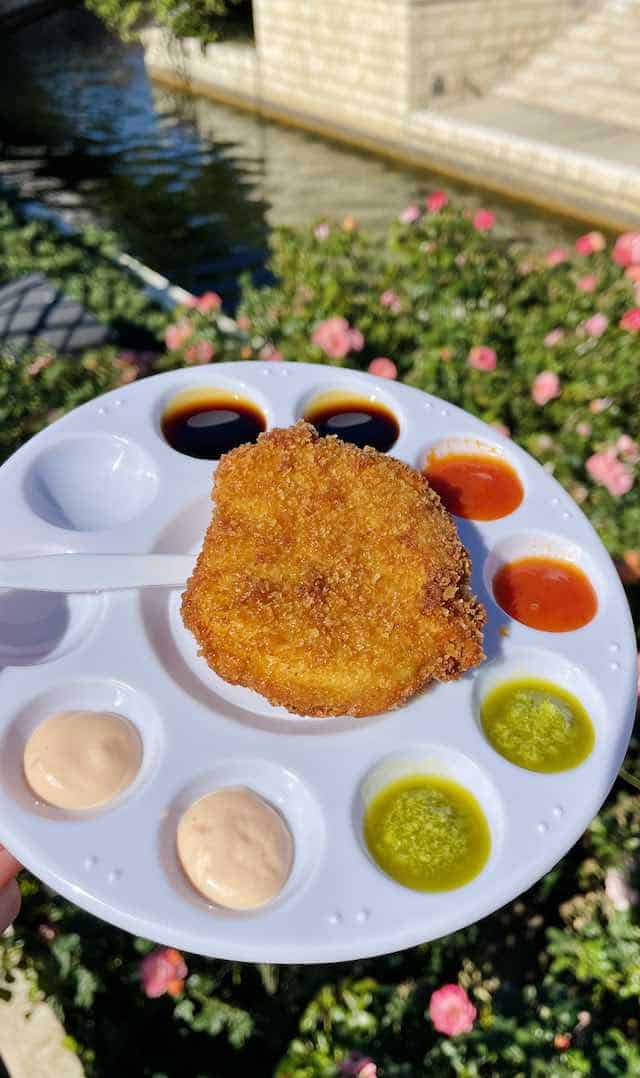 We also had the Mozzarella Fritta. This is basically a large cheese stick. But the unique and fun part of this dish is that it comes with an Artist Palette of sauces to dip it in. These included a spicy marinara, a balsamic glaze, an aioli, and a pesto.
The sauces are what made what could have been a boring old cheese stick dish fun and interesting. It reminded me a lot of the ever-popular bread service at Sanaa. In fact, I probably would have found it bland and disappointing were it not for the accompaniments. My favorites were the balsamic and the aioli.
My kids liked it too! It is a good starter dish if you are introducing little ones to eating around a festival because a cheese stick feels safe, but they can venture into new flavors through the neatly presented sauces. For more tips on taking your kids to one of EPCOT's festivals, head over here.
Drawback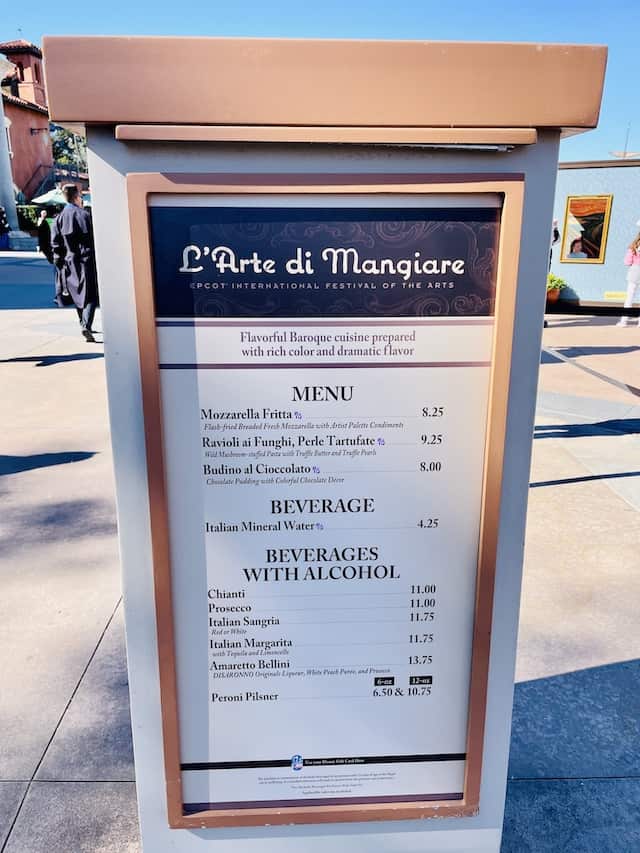 The biggest drawback here is the pricing. The Ravioli ai Funghi, Perle Tartufat was a whopping $9.25 for two pieces. And the Mozzarella Fritta was $8.25, which seems high for fried mozzarella, even if it is fun to eat.
This is especially true considering there are some dishes at the festival that feel like decent values this year, particularly compared to comparable dishes on Walt Disney World menus around the parks. Italy has worked on the flavors, but it is still lacking in terms of value.
Do you know anyone heading to Walt Disney World during EPCOT International Festival of the Arts? Be sure to share our reviews so that they know what to spend their hard-earned Disney Dollars on.