EPCOT's International Festival of the Arts is in full swing! With plenty of food, art and entertainment, there is sure to be something for you to enjoy at this fun festival. We tried one of the dishes from the Italy booth and here is what we thought.
International Festival of the Arts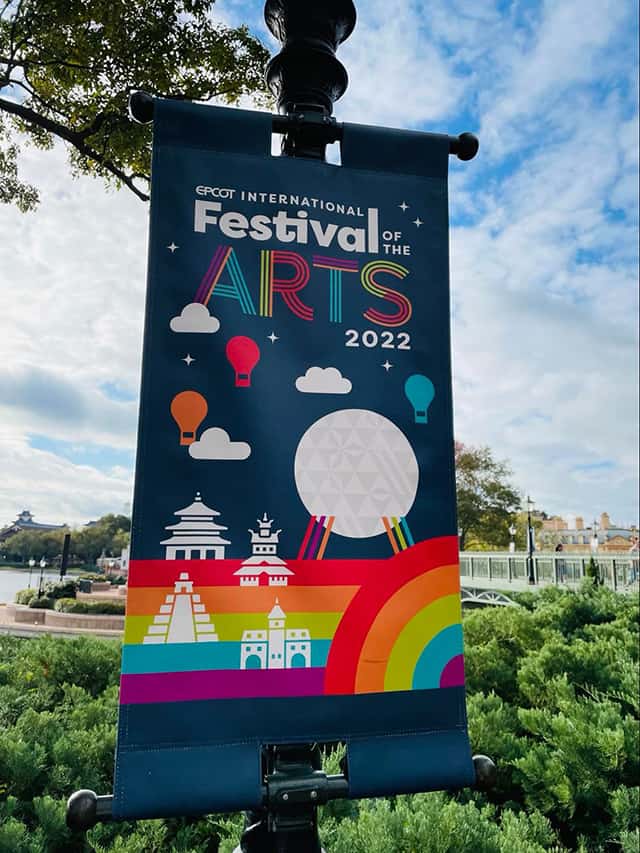 The International Festival of the Arts kicked off on January 14th and will run through February 21st. The Festival of Arts is one of my (Maggie) favorite festivals.
This festival features two of my favorite things: art and food! There are so many booths to try and sample. Each booth has a unique menu selection and one of the best parts is you can sample food with so many different tastes.
L'Arte di Mangiare (Italy)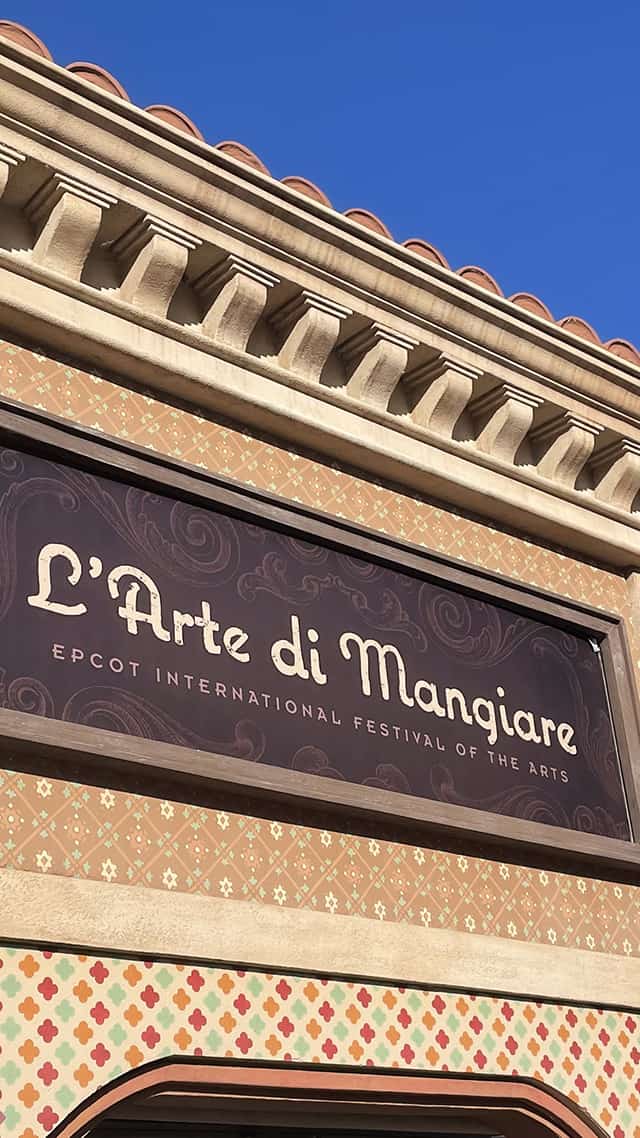 A few of the KtP writers were able to try some dishes from a few booths and we are excited to share our thoughts with you! You can read about what we thought of the new and very popular Encanto booth HERE.
The L'Arte di Mangiare (Italy) booth can be found in the Italy pavilion. Here are the menu items that can be found at this booth:
Food
Arancini: Fried Risotto Balls stuffed with Braised Beef and served with Pomodoro Sauce
Ravioli alla Boscaiola: Sweet Sausage Ravioli, Mushrooms, Caramelized Onions and Creamy Parmesan Sauce
Bomboloni: Chocolate-Hazelnut Italian Donut with Powdered Sugar
Beverages
Peroni Pilsner
Pinot Grigio
Chianti
Prosecco
Rosa Regale
Moscato
Italian White Sangria with Prosecco
Italian Red Sangria with Cabernet Sauvignon
Italian Margarita with Tequila and Limoncello
Amaretto Bellini: Amaretto, White Peach Purée and Prosecco
Bergamotto: Italicus Rosolio Di Bergamotto, Prosecco and Cerignola Olive
Arancini: Fried Risotto Balls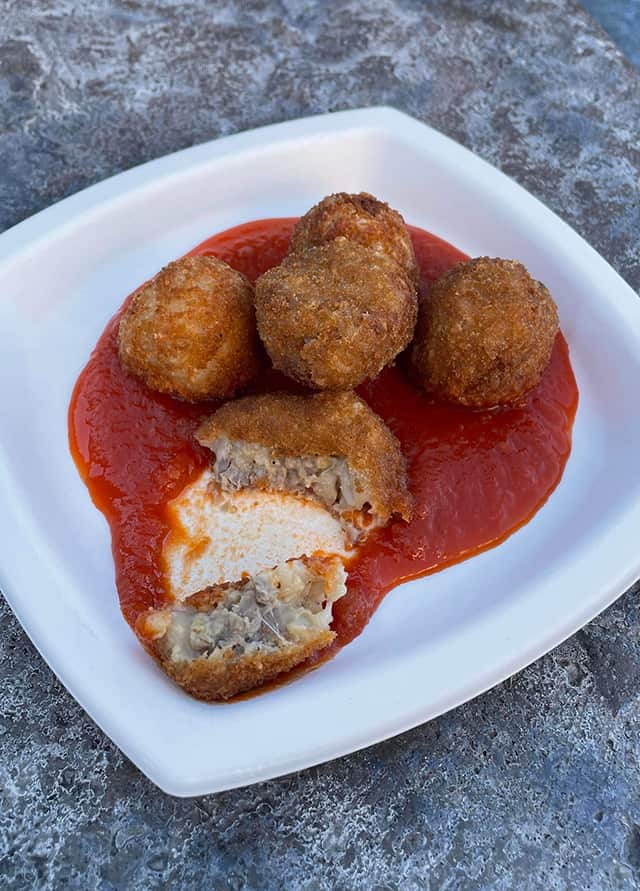 We decided to try the fried risotto balls. They were stuffed with braised beef and served with a pomodoro sauce. The dish was hot and tasty. I suppose the best way to describe it is as a fried meatball.
It kind of reminded me of the meatballs my mom used to make but fried. The sauce was a nice addition and was very good.
One thing to note about this booth is that it is one of the more expensive booths at the festival. Because of that, we only decided to try one dish! Each dish ranges from $11 to $14. I think that seems like a lot for such small portions of food. At other booths you can get all the dishes for the price of one Italian dish.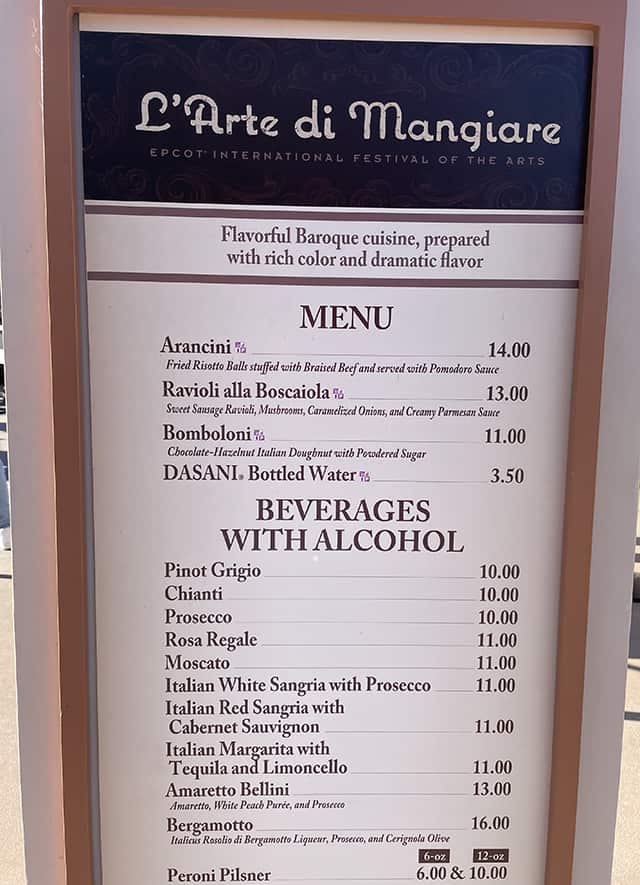 Another thing worth mentioning is that this does not seem like anything new for Italy. Dishes from past festivals are pretty much the same and prices are also on the higher end. If you look at Heather's review from the International Food and Wine Festival, you can see how the dishes and prices are very similar to ones offered at this one.
Should we expect the same for the upcoming Flower and Garden Festival? I guess we will see!
Have you visited the Festival of the Arts this year at EPCOT? What food booths are you excited to try? Do you want to see a particular food booth reviewed? Tell us in the comments below or on our Facebook page.