The All-Star resorts are all so similar, but they are also different in their own unique ways. I'm here to break down each resort so you can make an informed decision about which of Disney World's All-Star resorts you should stay at. Which is your favorite?
All-Star Resorts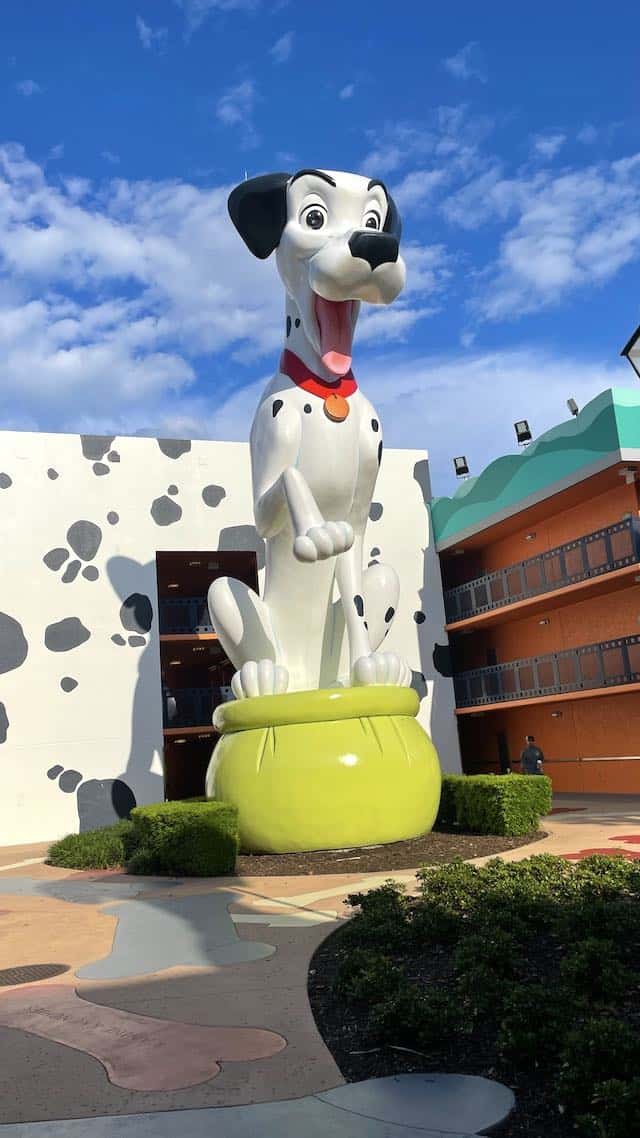 There are five value resorts at Disney World, and three of those are the All-Star Resorts: All-Star Movies, All-Star Music, and All-Star Sports. For the purposes of this article, I will simply call them Movies, Music, or Sports.
Like the term "value" implies, All-Star resorts rely heavily on cost and theme. Value resorts are the cheapest of the Disney World resorts, so if you are visiting Disney on a tight budget you will want to start by pricing out the value resorts. The value resorts are also great if you only plan to sleep and shower in your room and spend your days in the parks. Many rope drop to close Guests book cheaper rooms because they do not plan to spend any time in their rooms or at the resort.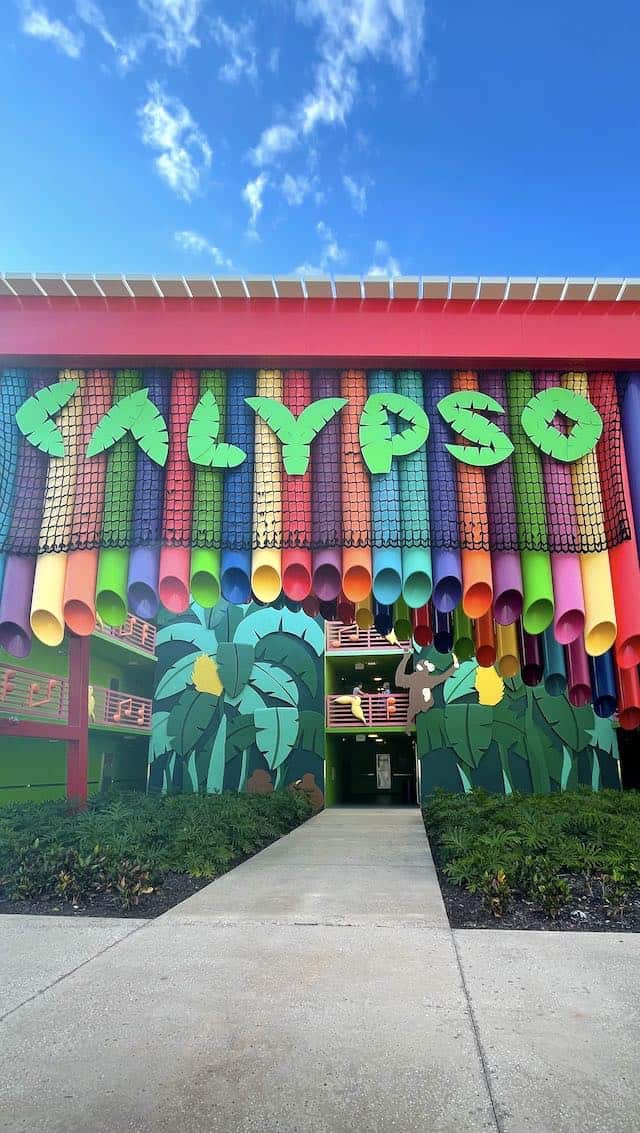 Value resorts are also more heavily "Disney themed" than the moderate and deluxe resorts. Because of the larger than life statues and Disney characters throughout the resort, families with young children love value resorts. Nothing says "I'm at a Disney hotel" like seeing a giant Woody statue right outside your room!
But, which All-Star resort should you stay at? They all have similar layouts and amenities, but there are a few things that differentiate the three. I'll be looking at a few topics to help you decide: theming, rooms, transportation, and recreation/amenities. You'll see side by side comparisons to show you how they are all alike yet different.
Theming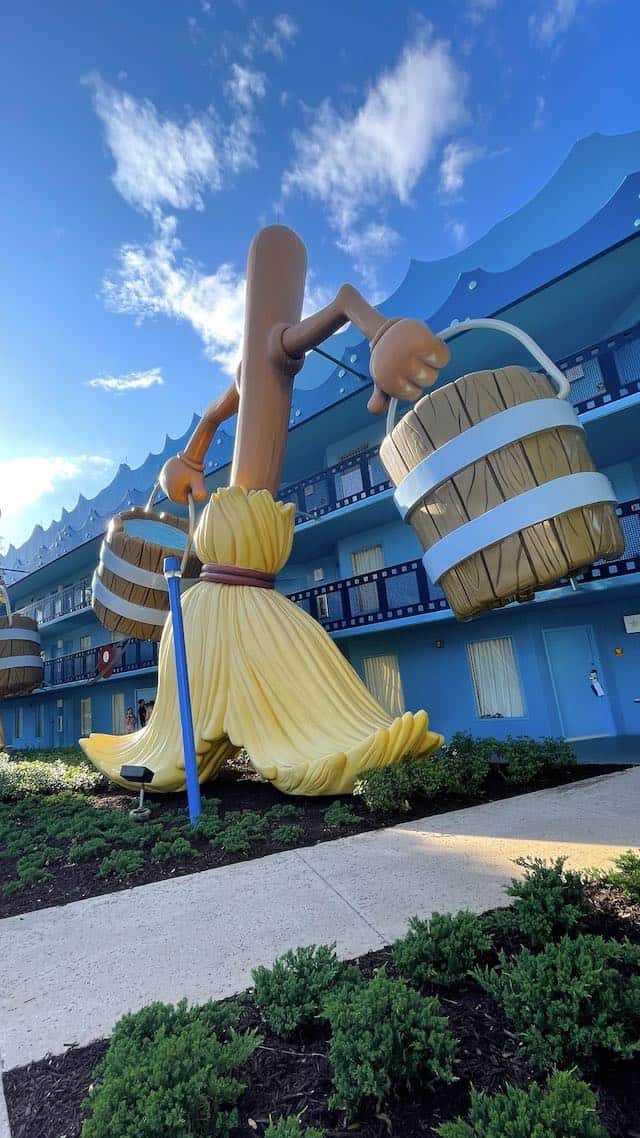 As you may suspect, Movies is themed after iconic Disney movies. You'll see giant statues from popular film franchises like Toy Story, Fantasia, 101 Dalmatians, and more in each section of the resort. The lobby and food court area resembles a movie theater premiere, and the pool is Fantasia themed with a giant Sorcerer Mickey that shoots water out at Guests.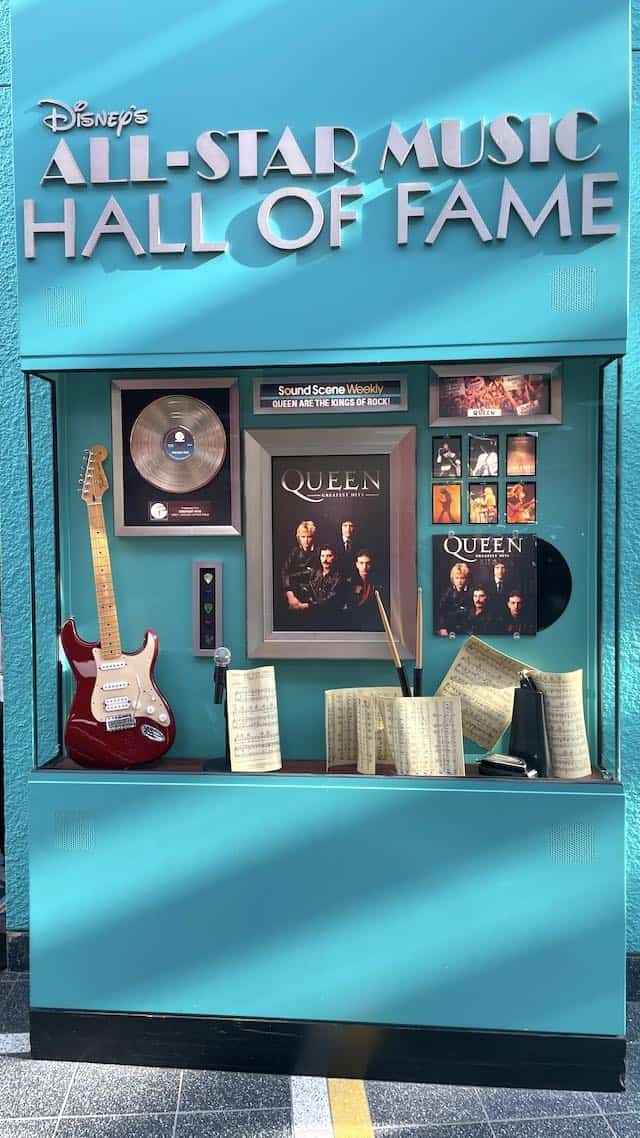 Music may have the most bland theming of the all the All-Star resorts. You will still see the incredible larger-than-life statues around the outdoor areas of the resort, but they are simple musical instruments and do not resemble anything "Disney" that kids could relate to. Inside, the lobby and food court areas have famous musicians on the wall along with a Hall of Fame display.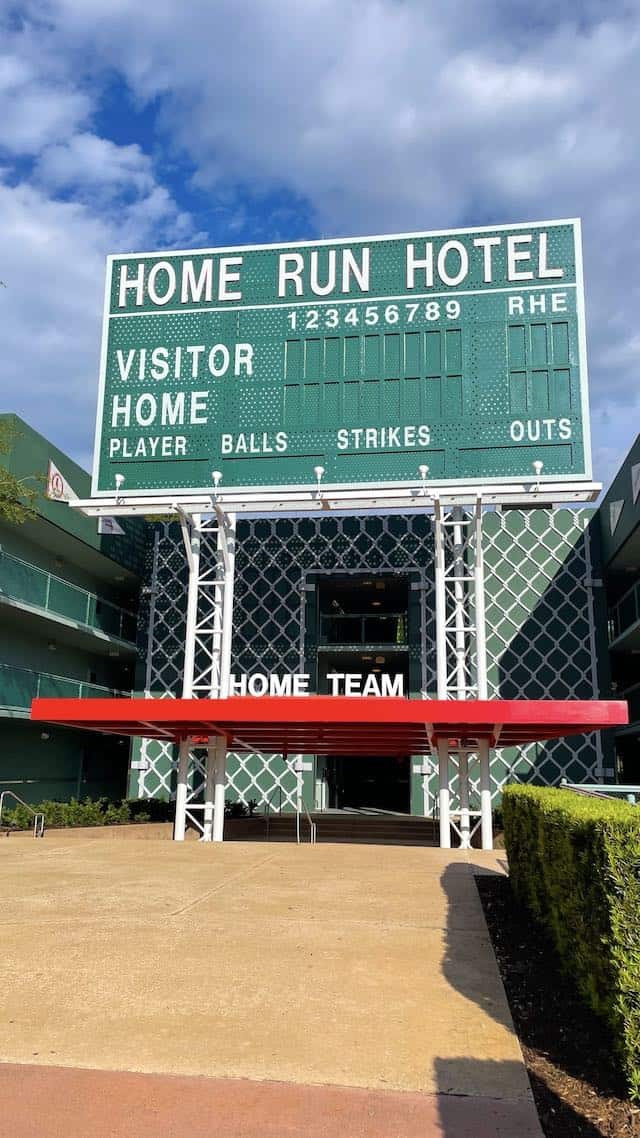 Sports is perfect for the active people in your travel party. Each outdoor section is themed after a different sport like baseball, football, and and hockey. There are plenty of common areas to throw the football around or enjoy a game of ping-pong. The pool has a surfer theme, which is a nice tie-in with the sporty atmosphere.
Rooms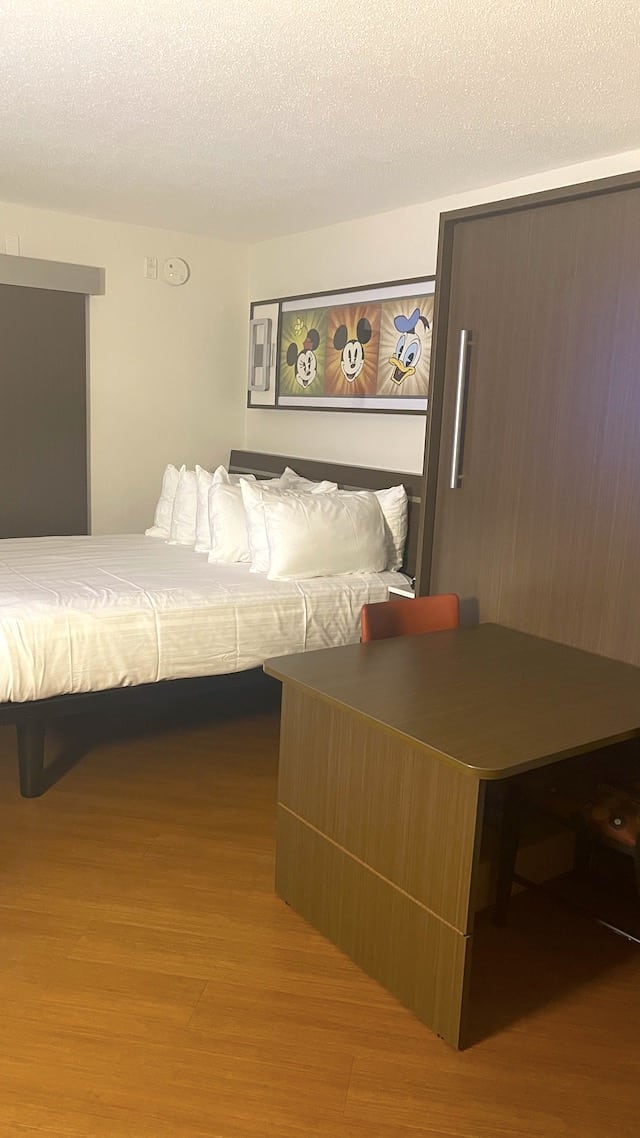 Movies was the first All-Star resort to be refurbished. I (Monica) remember staying there in 2019 and the rooms were partially redone. Since then, all work is complete at Movies. They are your standard Disney rooms with no carpet and no real theming inside. Additionally, there is only one room type at Movies which is one queen bed and one queen table bed.
Music was refurbished after Movies, and work was just completed on that in 2021 when it reopened. In my opinion, Music has an advantage over the other two because there are also suites. These have a full kitchen, a second bathroom, and more space to spread out. The suites will cost more, which is to be expected but they are a great value if you have a large travel party. In addition, Music also has standard rooms like Movies.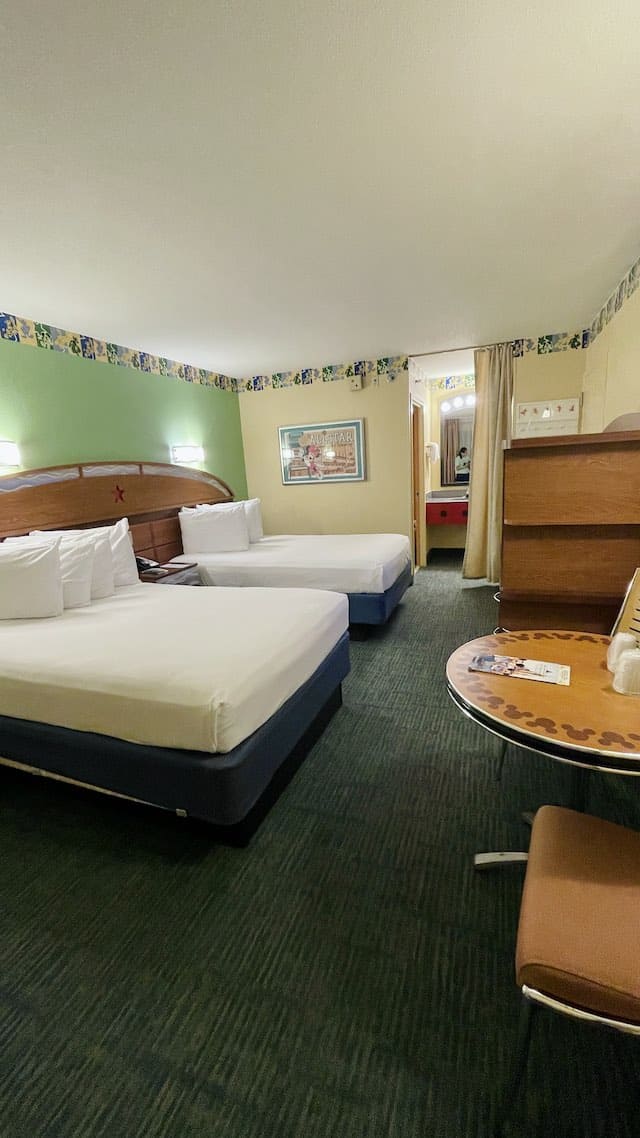 In my opinion, Sports is the worst Disney World resort on property due to the lack of updates. This room is still stuck in the 90s/early 2000s with the outdated carpet and paint and the lack of electronic charging outlets and storage space. You pay the same price for Sports as you do Music or Movies, so why not stay in a nicer room?
You can see the photos and more thoughts on Sports rooms HERE.
*Do note that it appears Disney is in the beginning stages of refurbishing Sports rooms as of summer 2022. We have not heard anything official from Disney at time of publication.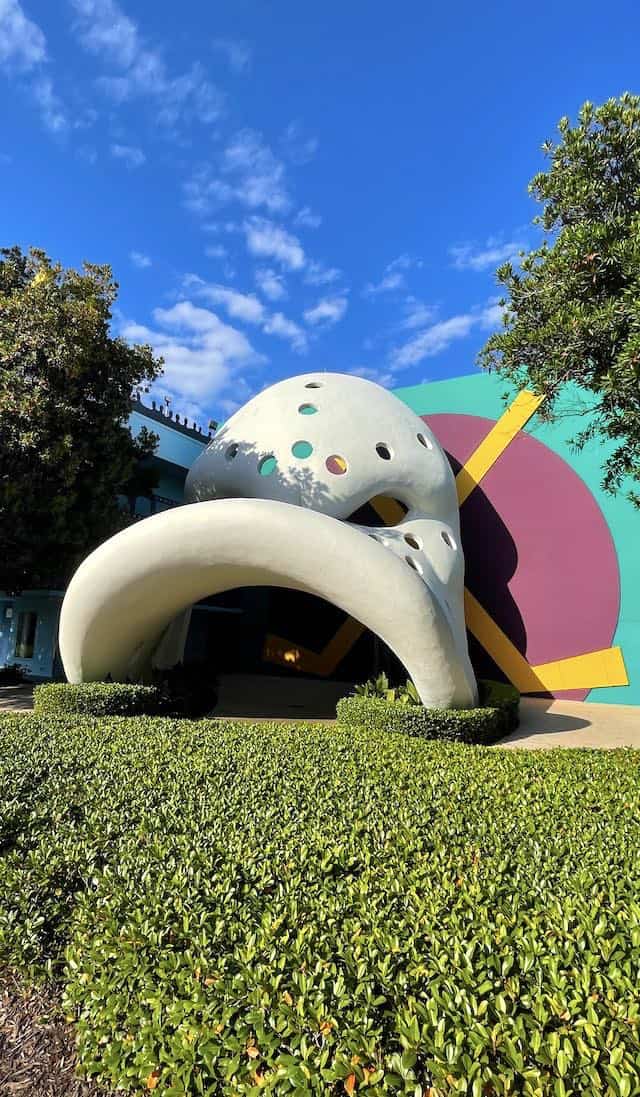 Like I mentioned above, all the rooms are priced about the same with the exception of the Music suites. Non-peak seasons will put pricing around $175 without discounts while peak seasons will drive the price up to about $250-$275 for standard rooms.
Booking a preferred room at any of these resorts will put you closer to the pool and main building. However, the resorts are so small that there really is no advantage compared to standard. If you want some peace and quiet, I would definitely avoid a preferred room. It can get rather noisy in the main resort area.
Transportation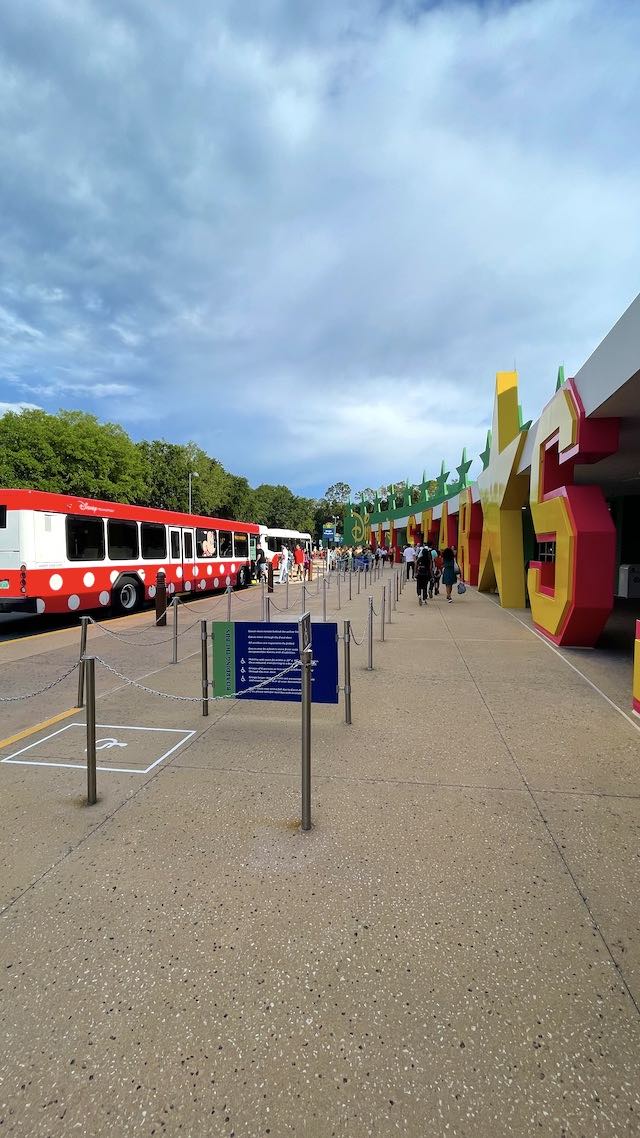 All of the All-Star resorts rely solely on bus transportation to all four theme parks and Disney Springs. There is only one bus stop in front of the lobby, so you are competing with everyone else for a spot on that bus. The resorts are not massive by any means, but each resort has between 1,600 and 2,000 units so I suggest getting to the bus stop a bit early if you plan to rope drop the parks.
Additionally, bus transportation is shared between the three All-Star resorts. This means if you are traveling to/from the parks during a non-peak time of day, you should expect to make multiple stops. Coming from the parks, you will stop at Sports, then Music, then Movies as the last stop. During busy times of day (first thing in the morning and late at night), they rarely share buses since they fill up faster.
All three resorts may share transportation during non-peak hours.
One fun thing about the All-Star resorts is that they are completely walkable and have a path connecting them all. If you are staying at one and want to see what the others are like, you can stroll through them all! I was able to walk from Sports to Movies and back in about 45 minutes while stopping for photos along the way. I would set aside about 1.5 hours if you wanted to walk at a more leisurely pace and let your kids play around.
Recreation and Amenities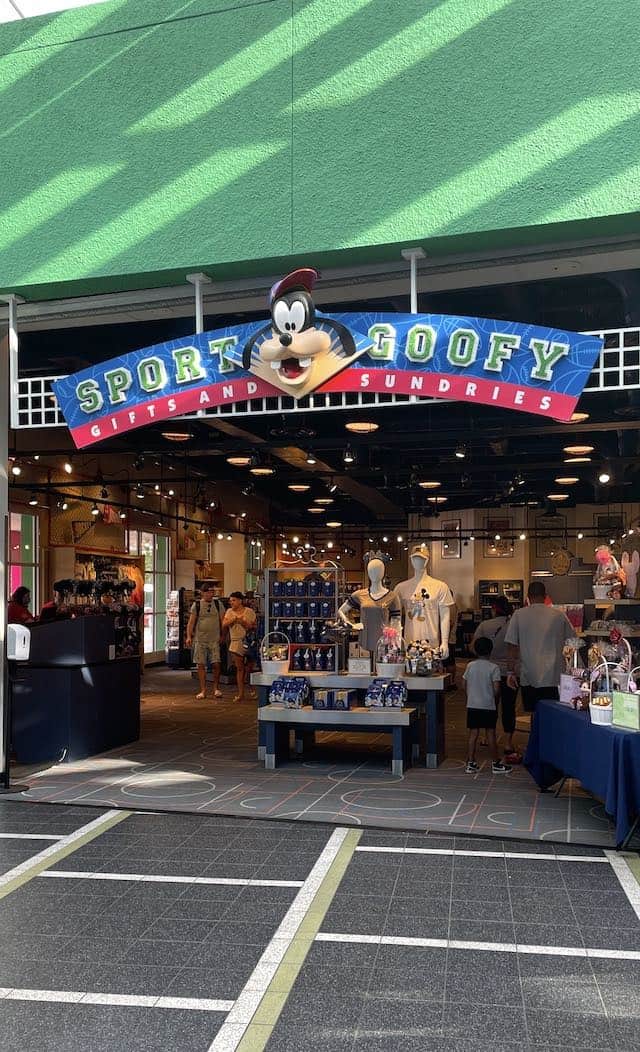 Each All-Star resort features one food court, one gift shop, an arcade, a playground, pools (a main pool with an outdoor food lounge/bar and a quiet pool), and laundry facilities. The food is your standard park food with breakfast items including pastries, eggs, and waffles. Lunch and dinner items include pizza, pasta, burgers, and chicken nuggets among other options.
The gift shop is located in the main building right next to the food court, arcade, and main lobby. You will find resort-specific items along with merchandise found around property. There are also refrigerated and non-perishable food and beverage items, but they are a bit pricey. If you want to have some snacks in your room, I suggest grocery delivery.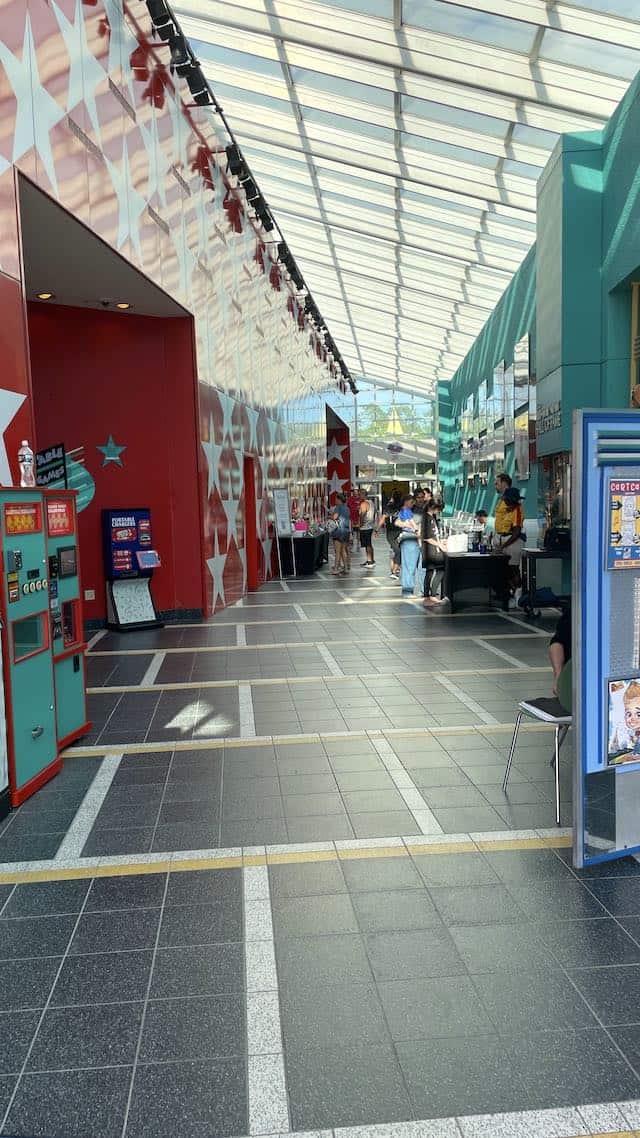 The lobby is where you can check-in in person and ask questions. There are chairs and a television to keep young ones busy. You will find bell services outside to the side of the lobby where you can leave your luggage. This is also where you will be picked up and dropped off if you are using non-Disney transportation.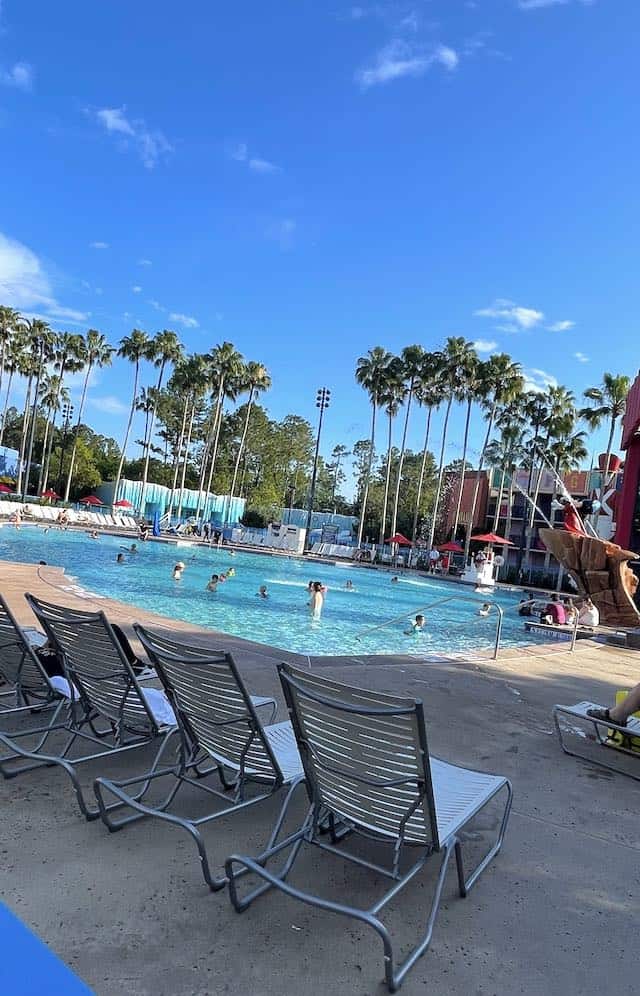 Cast Members at the pool will have trivia, water games, and more activities for Guests to participate in. Do keep in mind there are no slides at value resort pools. Movies Under the Stars also takes place throughout the week. Laundry facilities are located near the pool at each resort. There is a vending machine with laundry products if you do not bring any with you.
These recreational activities and amenities are all exactly the same at each All-Star resort, but they are designed to tailor the resort's themes.
Final Thoughts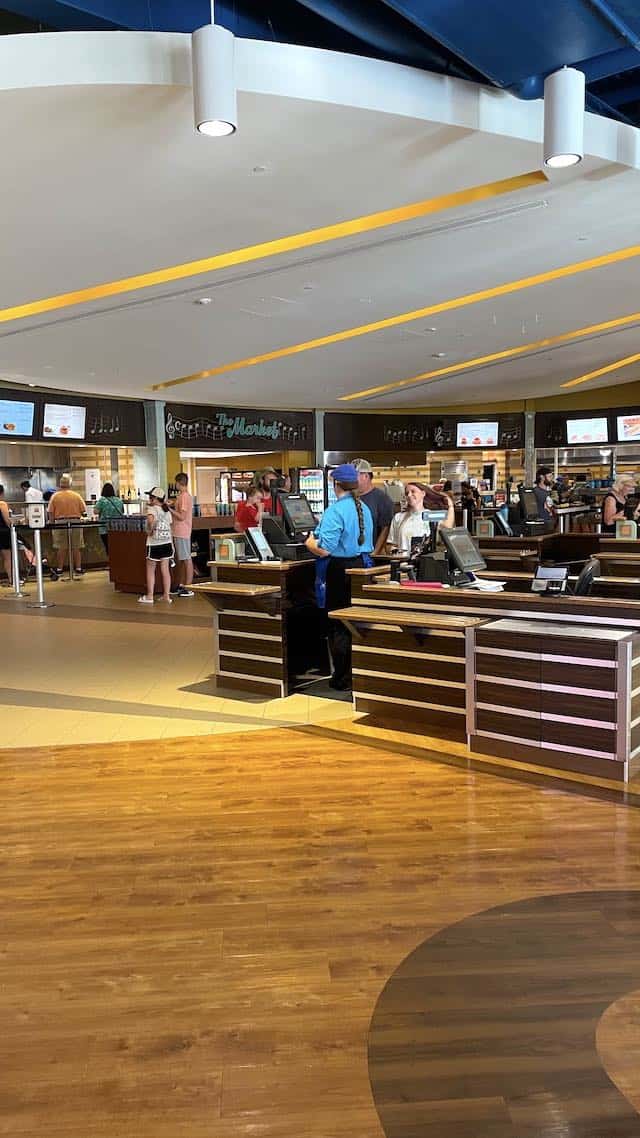 The All-Star resorts are great for budget-conscious people or families who want to give their kids a quintessential Disney vacation. The statues and theming really cannot be beat if you have kids who want to enjoy Disney touches at the resort.
As shared throughout this article, all of these resorts are basically carbon copies of one another. The only thing that changes is the theming. I will say the unfurnished rooms at Sports could sway your opinion one way or another so just keep that in mind as you decided where to stay.
Which All-Star resort is your favorite? What questions do you have about these resorts? Share your comments and questions below and on Facebook!