All-Star Sports is open once again, meaning Disney has officially reopened all Disney World resorts! I can see why Disney would wait so long to reopen it. It is the WORST resort to stay at. See my review here.
All-Star Sports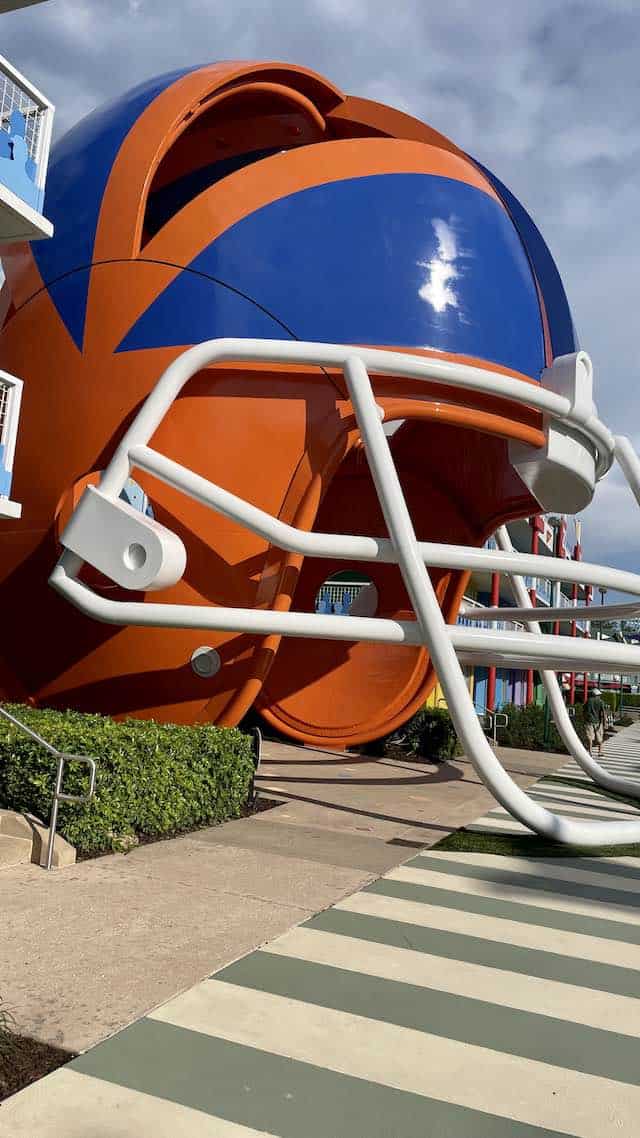 One of the three All-Star resorts is All-Star Sports. It sounds exactly as you would expect: a sports theme. Since this is a value resort, Disney really went above and beyond with the in-your-face theming. The larger than life statues and team colors are perfect for any sports enthusiast. Value resorts are synonymous with reasonable prices and accommodations and amenities geared towards children and families.
We will have a full guide to All-Star Sports along with All-Star Movies and All-Star Music soon, but in the meantime we want to share why we believe All-Star Sports is the worst hotel on Disney property.
Theming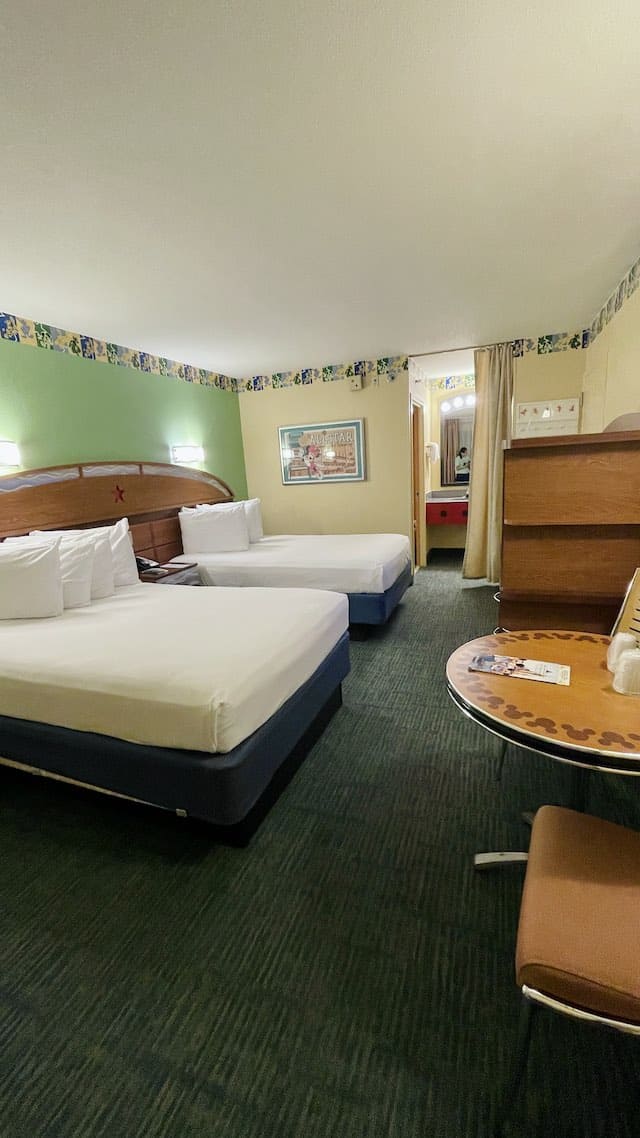 If you have ever stayed at the All-Star resorts or even POP Century, you know the inside of the room is not themed at all. Even though the main building and outdoor areas are themed, the rooms themselves are not. In fact, all of these rooms are exactly the same inside.
While All-Star Sports rooms still have a little theming compared to other value resorts, everything else about the room screams I NEED UPDATED. I was really thinking (hoping) Disney would have taken the time during the last two years to refurbish these rooms. I last stayed at All-Star Sports in February 2020 and remember thinking how much these rooms needed some TLC. Recently, I stayed there again.
Everything about this room is so wrong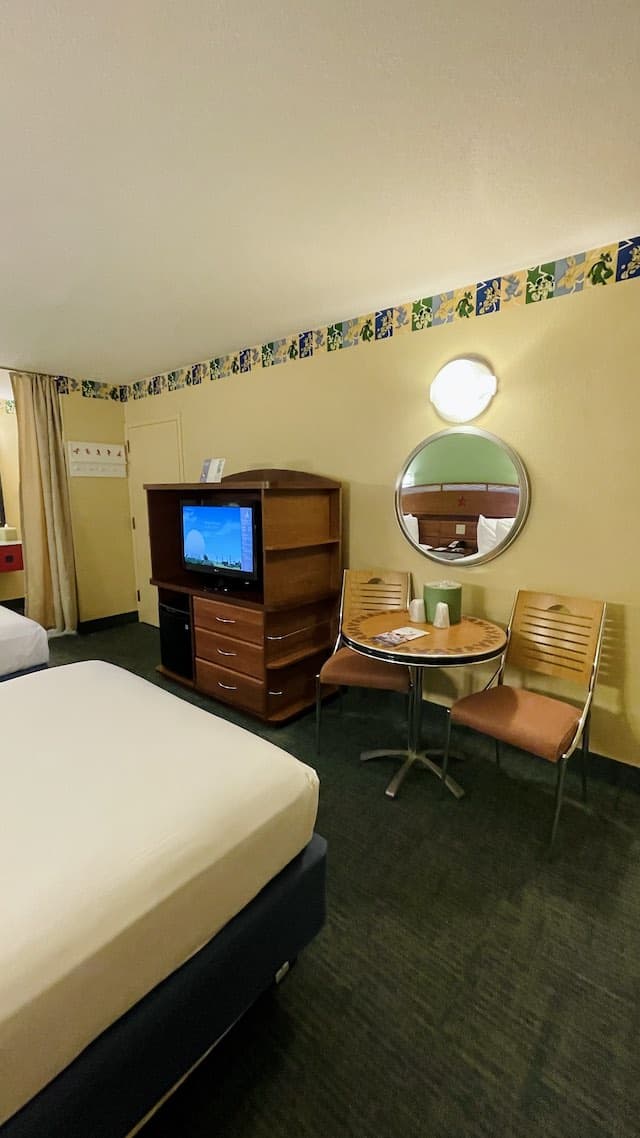 When you walk in, the first thing you notice is carpet. I know many of our readers have a love/hate relationship with hardwood because it makes a room feel sterile. However, I am team hardwood floors. I am not a germaphobe by any means, but carpet in a hotel room gives me icky feelings.
The carpet is blue with shades of green stars because all-stars. It clashes with the green and beige walls and sports-y wallpaper and accents. Kids will probably love the fun colors, but it really shows its age.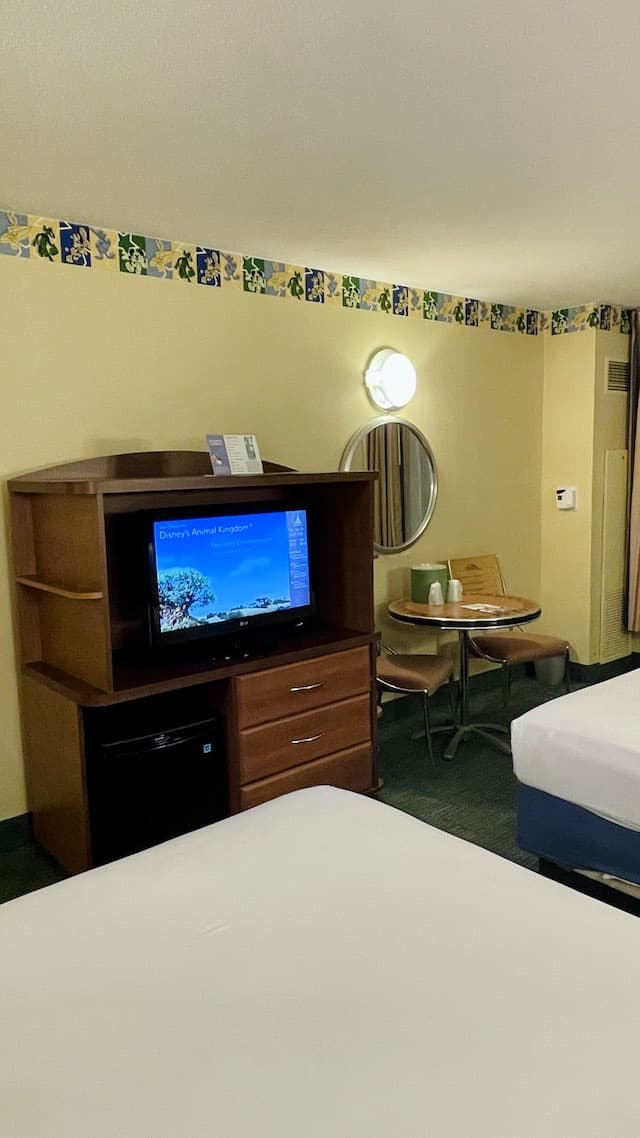 There are two double beds, and while I love the fact that both are actual beds and one is not a pull-down bed, double beds can be quite tiny for families of four. This is definitely something to keep in mind if your children are older or maybe you just aren't used to smaller beds.
Then you have the small table and chairs, a very tiny yet bulky dresser (3 small drawers), a beverage cooler/mini-fridge, and small television. I was only here for one night with Donna, but my mind cannot wrap around how I would stay here for a week with my family.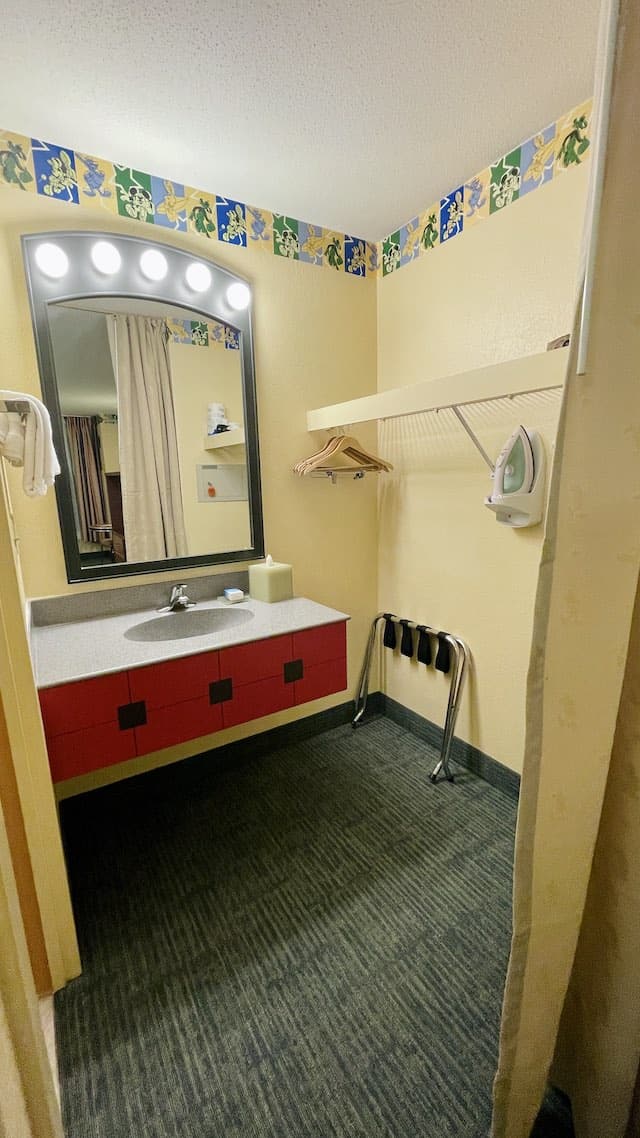 There is really no functioning space to put your clothes in drawers or lay out all your park essentials that always get thrown around the room the second you get back to your room. Additionally, the nightstand in-between the beds does not have outlets for your electronics. This can be extremely inconvenient trying to find a spot to charge all of your devices.
The bathroom area is curtained off and has a basic single sink, closet-shelf (if such a thing exists) and a separate locked-off area for the toilet and shower/tub combo. Again, there is nowhere to put your things because there is no storage space. The logistics of getting an entire family ready for a park day in this bathroom would make me question my sanity.
How can Disney make this right?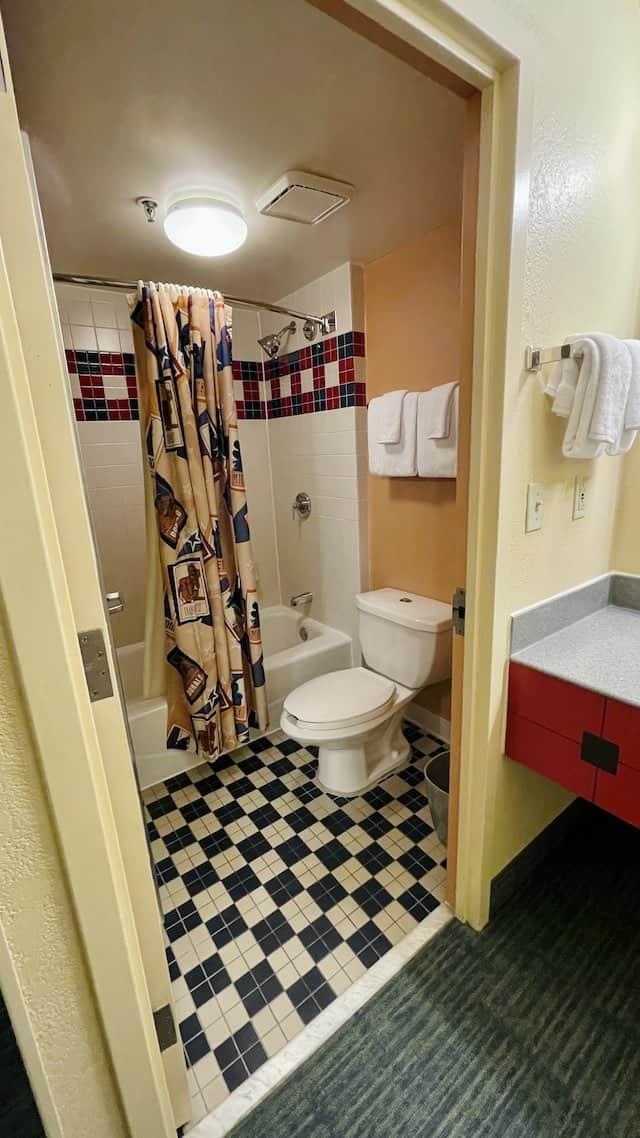 I think with many recent resort refurbishments, Disney has looked to create a timeless look. However, in doing so they have taken out all theming and character that the resort offers. I also understand that many people do not spend their day in their rooms, and that the resort is simply a place to sleep. And that is fine! I am the same way.
But, I believe Disney still owes it to its Guests who are paying $150-$250/night to stay here to at least bring the room up to the 2020s. Starting with hardwood floors and a fresh coat of light blue or light green paint throughout the bedroom and bathroom would be really pretty but keep some of the theming.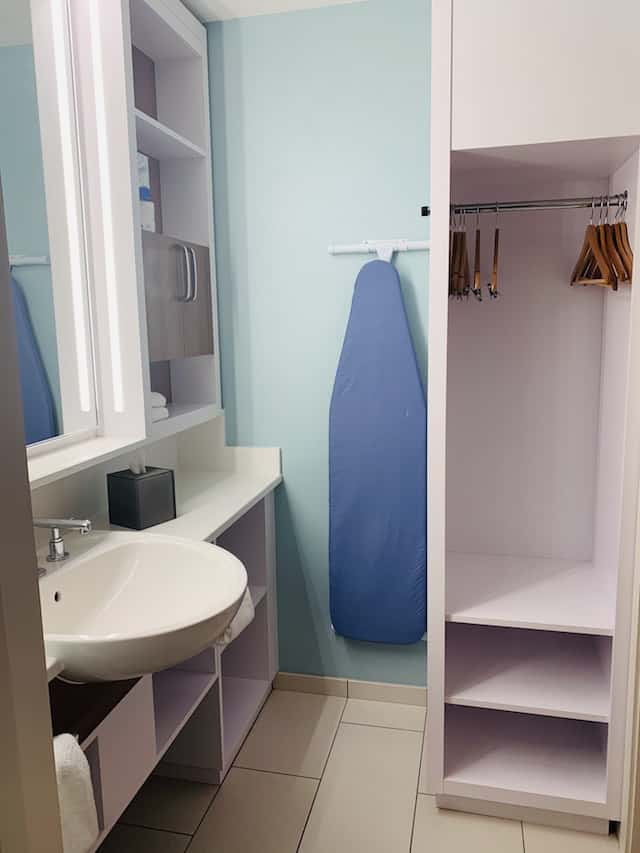 The second biggest thing would be to remove the current dresser and place a larger, more sleeker one in its place. Mounting a television on the wall so there is adequate "counter" space would be amazing. Look at the bathroom at POP Century (pictured above). There's no reason why Disney cannot do in the Sports rooms. Both Movies and Music are updated as well! Why spend the same amount of money at Sports when I can stay in an updated room at Movies or Music?
Lastly, I would put a new vanity and mirror in the bathroom. Even if they only keep one sink, at least adding some more counter space and drawers would greatly help. I really love the storage space in POP Century and would love to see something similar.
Call me, Disney, I can help you fix All-Star Sports.
For families…or not?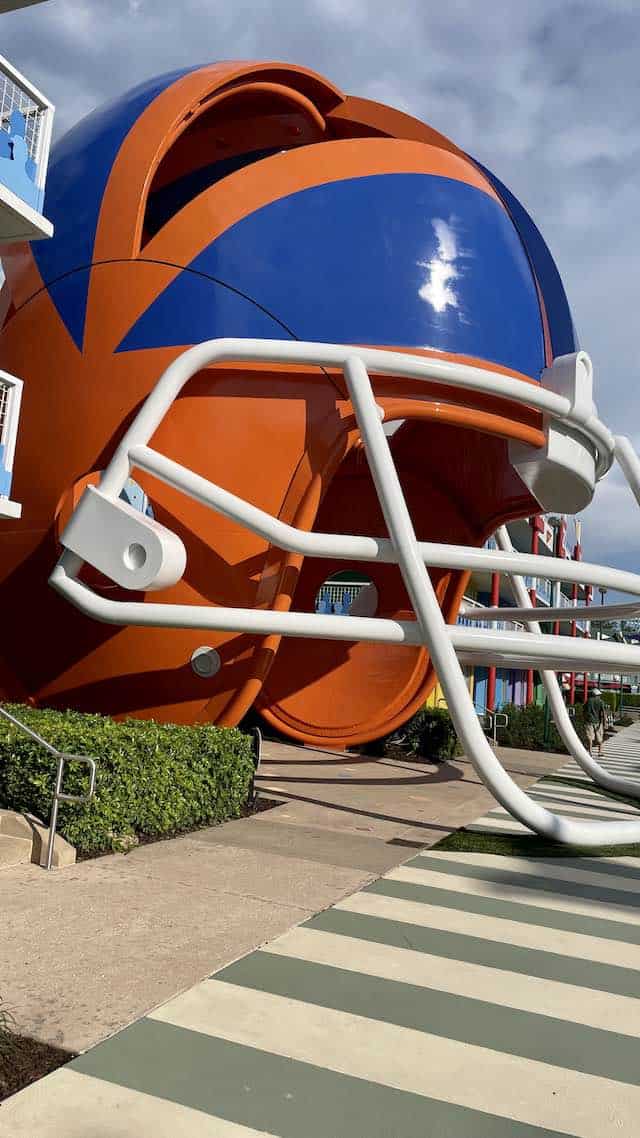 I know some of you may be shaking in your head that I am talking so horribly about All-Star Sports. I get it. It's one of the last few resorts that have really great theming for small children, and its price point makes it affordable for more families to visit Disney World.
However, there is just no adequate storage space in these rooms that would hold everything a family needs for a week at Disney. Unless you like living out of a suitcase (I don't), this lack of organized space will frustrate you.
Let's not forget that there is only bus transportation at the All-Star resorts. You can spend a little bit more and stay at POP Century or Art of Animation and have Skyliner access to two parks. Art of Animation still has heavily-themed rooms, which is perfect for small children.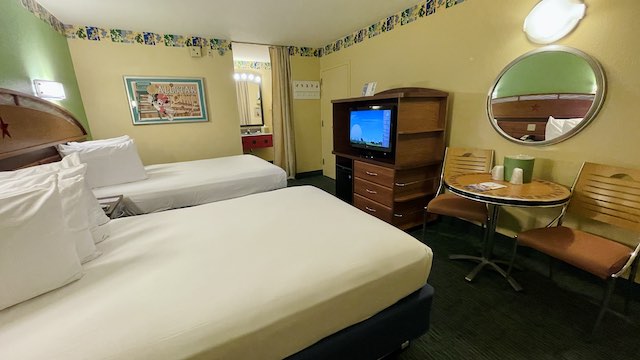 Yes, it is still a nice resort! Any resort on Disney property will be clean and comfortable. However, for the reasons listed above All-Star Sports ranks dead last out of all the 30+ Disney World hotels.
I really wanted to like All-Star Sports, but after staying there two times I just cannot bring myself to stay here until Disney refurbishes the rooms. In the future, I definitely prefer Movies if I am planning to stay at an All-Stars resort.
Do you love All-Star Sports? Is your favorite resort to stay at? Or, do you agree with my review? Let me know in the comments below and on Facebook!