The Skyliner is Disney World's newest mode of transportation, and it makes getting around a breeze. You know you want to stay at a resort that accesses the Skyliner, but which one? They all have their advantages and disadvantages. I'm comparing and ranking them to help you decide!
Disney's Skyliner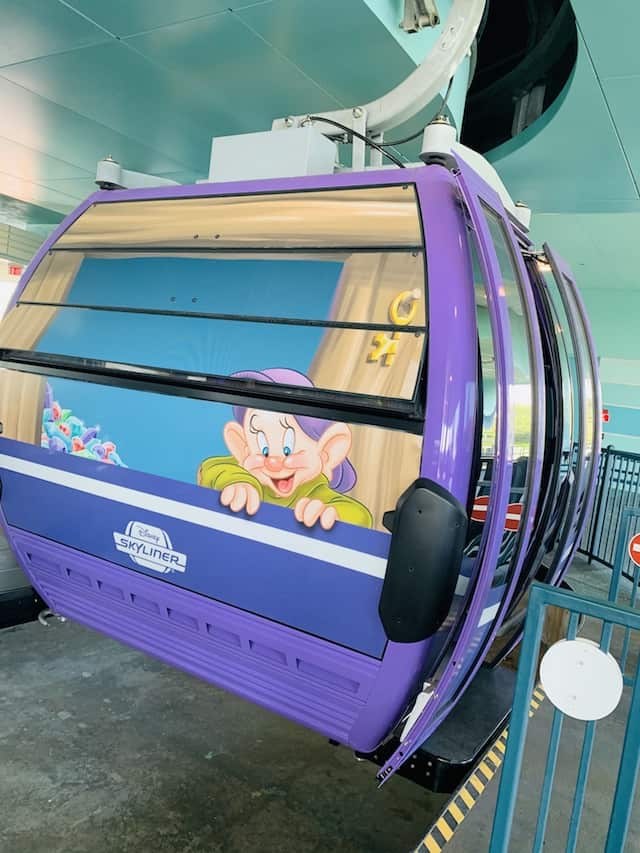 Introduced in the fall of 2019, the Disney Skyliner became one of the best ways to travel around The Walt Disney World Resort. While you have to wait for other transportation options like the monorail and bus, the Skyliner is a continuous loading process. You can get from Caribbean Beach to Hollywood Studios in less than 5 minutes!
Disney's Skyliner has not been without issues, however. Everything from collisions to evacuations cause some Guests to be skeptical of it. Additionally, severe weather will shut the Skyliner down forcing Guests to find alternate transportation. While these problems are few and far between, it does prove that the Skyliner does have its disadvantages.
Do note that the Skyliner will be closing for refurbishment in early 2022.
Skyliner Resorts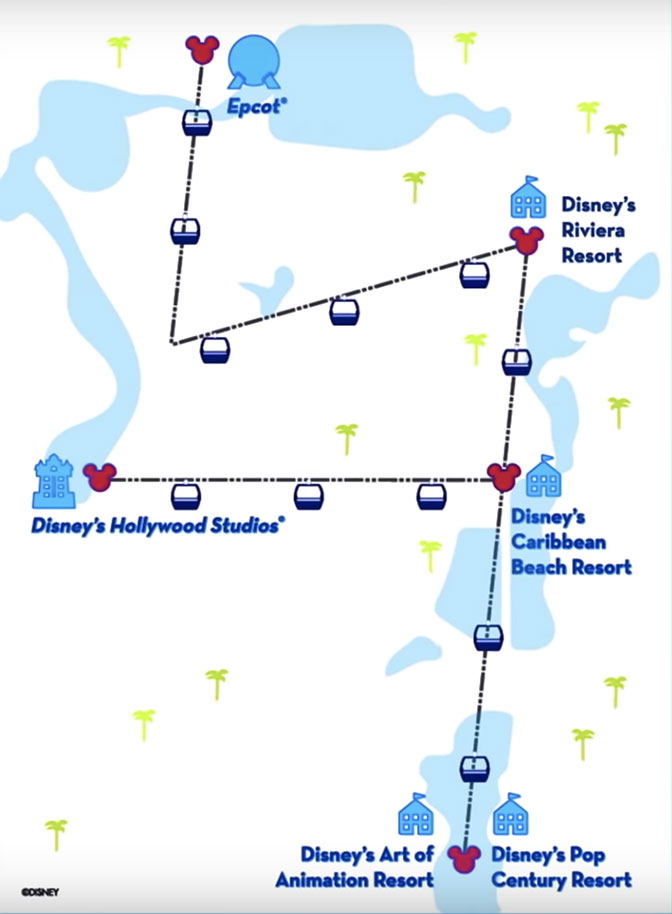 There are four resorts that have access to Disney's Skyliner – one deluxe, one moderate, and two value resorts. Riviera Resort is the deluxe option and also Disney's newest resort on property. Caribbean Beach is the moderate resort on the Skyliner, and Art of Animation and POP Century are the two value resorts.
Really, any of these are a clear winner since having access to the air transportation is a major perk, but depending on your wants and needs you may be more inclined to book one over the others. Donna shared why she loves staying at Skyliner resorts, which you can read about HERE.
Riviera Resort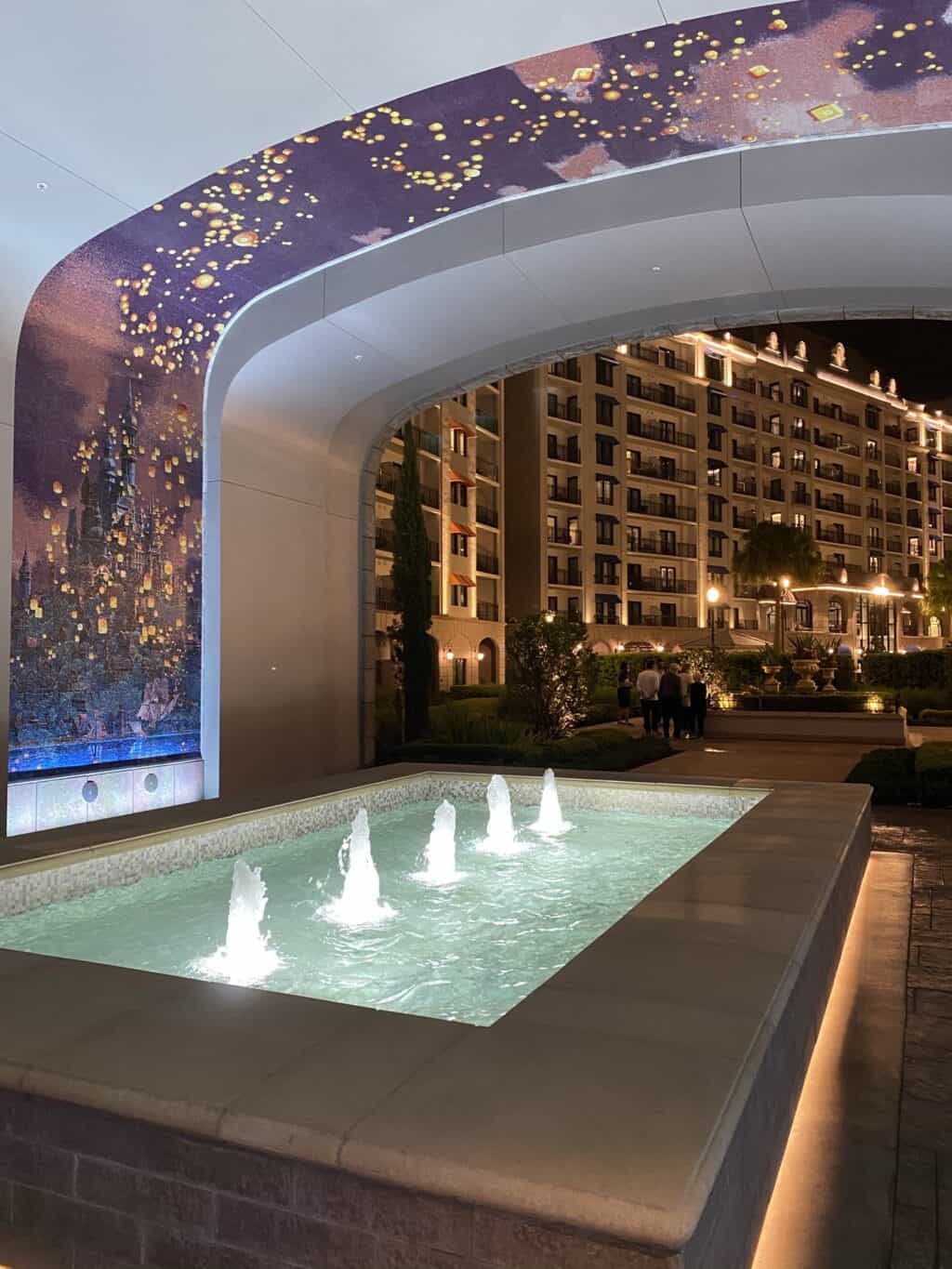 Riviera has many advantages over the other resorts as far as amenities, proximity to Epcot, and more. Being that it is the newest Disney Resort, the hotel is pretty much brand new. No updates or refreshes are needed.
The amenities are really top notch, as well. There are outdoor games on the lawn like giant chess and bocce ball as well as a gelato cart in the pool area. The resort has plenty of lounge areas indoors and out. Indoors, the lounge feels more like a private study with cozy chairs and dark colors.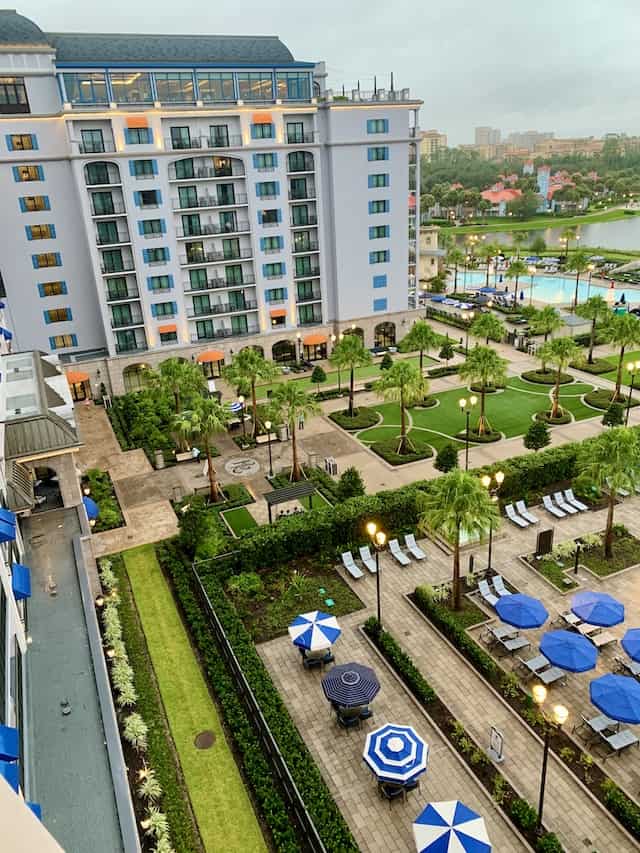 Eating at Riviera is an experience all in its own. Enjoying the outdoor lounge at Topolino's Terrace in the evening for fireworks should be on your list if you are eating there! Breakfast is equally amazing with the best character meal on property (in my opinion).
Primo Piatto is one of the best quick-service restaurants on property, and even the food at Bar Riva is amazing.
In addition, Riviera is the closest of all Skyliner resorts to Epcot. You hop on a gondola and don't need to transfer to another. Next thing you know you're flying over the International Gateway! To get to Hollywood Studios, you would have to take the Skyliner (or walk) to Caribbean Beach and transfer.
However, all of these amazing benefits come with a price tag. Being that Riviera is a deluxe resort, prepare to pay deluxe prices! Without a discount, a standard room can run up to $800 during busy seasons. You can stay in one of the tower studios, which are the only rooms on property that sleep two people. They are a bit cheaper than studios. Or, you can rent points to try to save some money which is what I prefer to do for most of my trips.
To learn more about Riviera, you can check out our full guide HERE.
Caribbean Beach Resort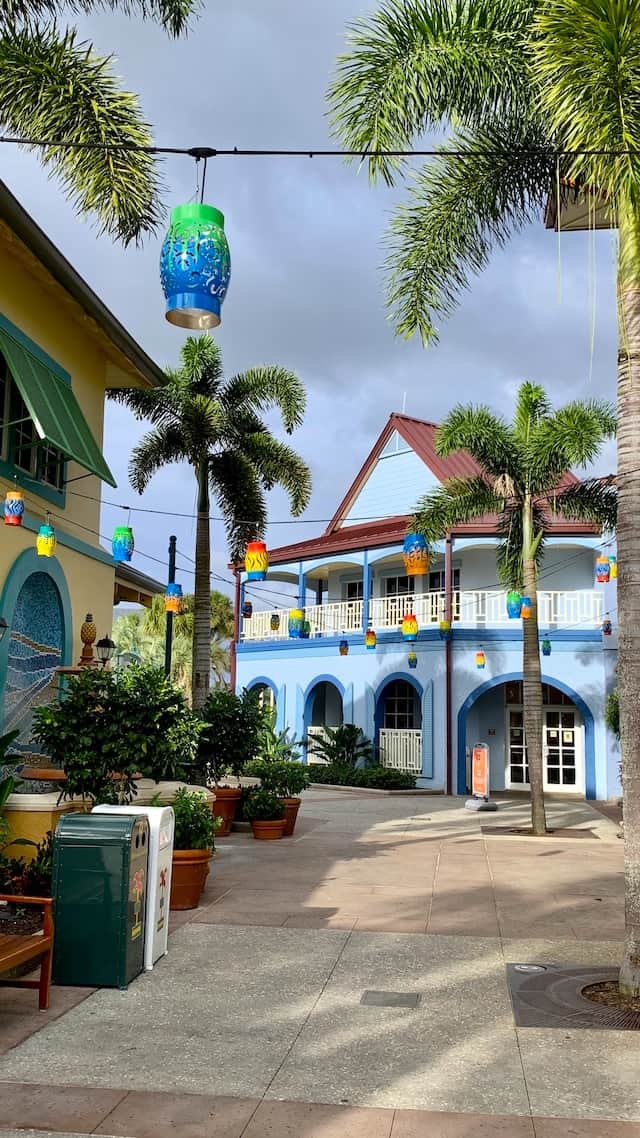 The only moderate resort on the Skyliner is Caribbean Beach Resort. Is it also the largest moderate resort on property with approximately 1,500 rooms!
Caribbean Beach serves as the main hub for the Skyliner. All lines meet there, so if you are coming from Riviera or the POP Century/Art of Animation stations, you will have to get off and transfer gondolas. Staying at the main hub is a great benefit because you will not have to get off anywhere else to transfer! It is a direct route to Hollywood Studios. If you are planning to go to Epcot, you will pass the Riviera station, but you do not have to get off.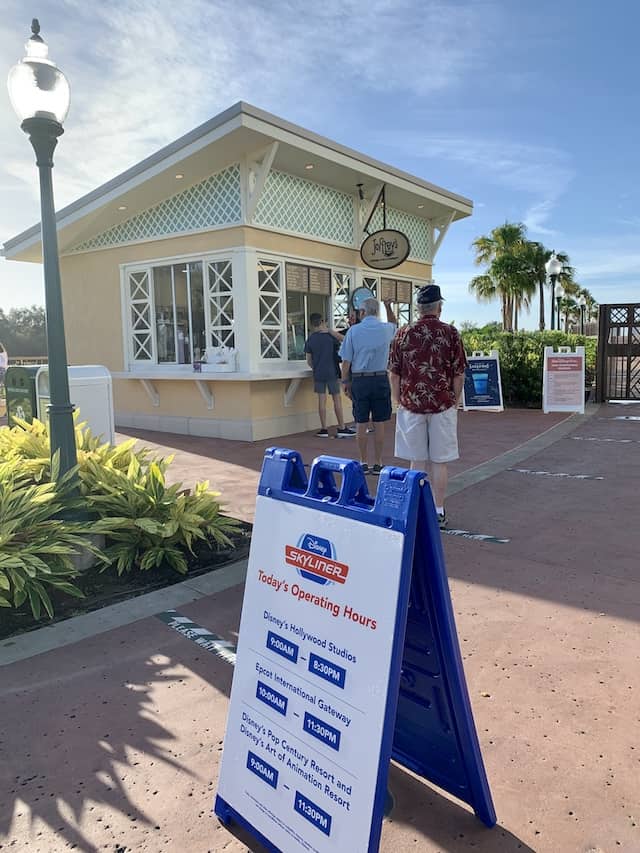 Bonus: there is also a Joffrey's at the main hub! You can grab a coffee and donut while you are waiting to load.
The rooms at Caribbean Beach are also unique in that there are a few different options. You have the pirate rooms, which are great for kids (but a little harder for parents – two double beds!) and a 5-person room option that comes with two queen beds and a pull down bed. The rooms were fine to me, but many complain that they needed updated.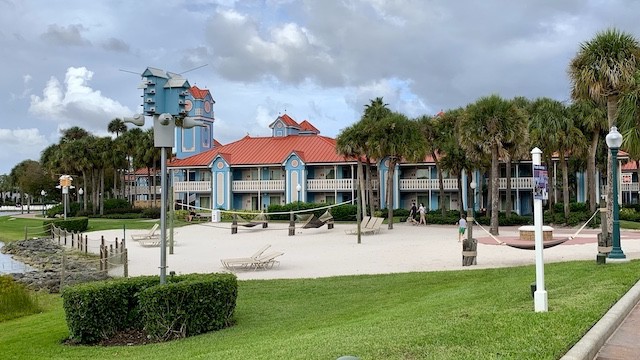 The sandy beaches and water amenities make Caribbean Beach feel like a tropical destination in the middle of Florida. There are five quiet pools along with a great themed pool, and you are never too far from a sandy beach to stop and relax!
One disadvantage that comes to mind is the size, and therefore transportation, issues at Caribbean Beach. Since it is the largest moderate resort, there are internal buses as well multiple stops for buses heading to the parks. If you are planning to go to Magic Kingdom or Animal Kingdom often, be prepared to wait a bit.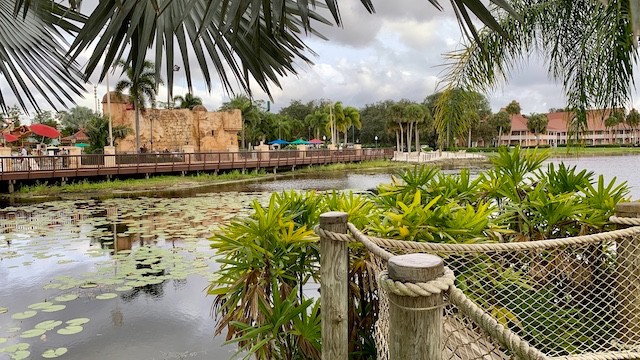 The size can also make it difficult to get to the main pool and restaurants. I would suggest staying in a preferred room, or look at the map to help you decide which amenities you want to be close to.
To learn more about Caribbean Beach, you can check out our full guide HERE.
POP Century and Art of Animation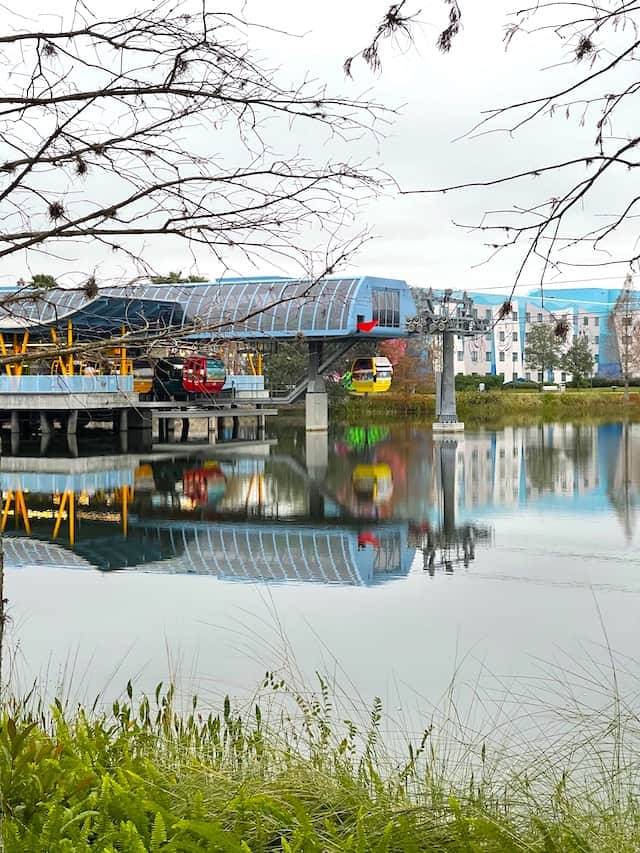 Since Art of Animation and POP Century share a Skyliner station and are both value resorts, I am going to group them together.
Both resorts have to travel to Caribbean Beach first. Then, you will transfer to another loading area heading to either Hollywood Studios or Epcot. In my opinion, these two resorts are the most inconvenient to stay at when thinking about Skyliner benefits. Don't get me wrong – staying at any Skyliner resort is still better than having to take a bus everywhere.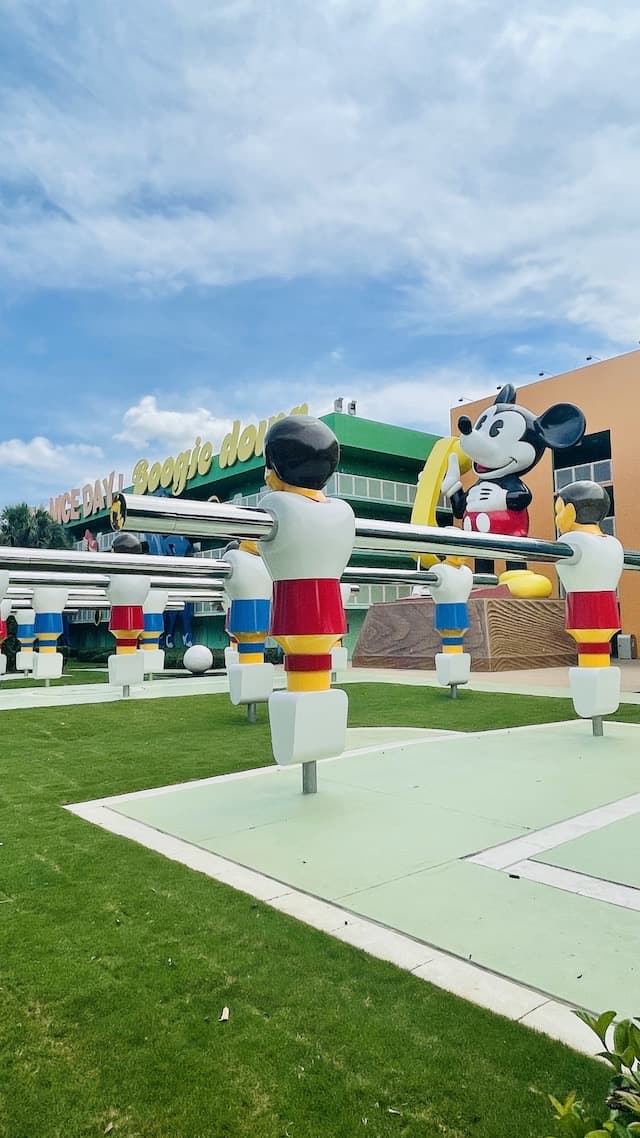 One of my favorite value resorts is POP Century. It is a relatively small resort and has a really fun theme. Paying the small increase in price from the All-Star Resorts is worth it to have Skyliner access.
I love that everything is pretty close to the main building and pool area. The food court options are pretty lackluster so do not plan to stay at POP for an amazing culinary experience.
Unfortunately, all of the rooms at POP are the same. They are all standard rooms and are pretty small, although they do make great use of space. The theming of the rooms is also pretty bland. Only the buildings and outside statues are themed to the decade. There are also some fun games to play. To help you decide which decade to stay in, check out my article HERE.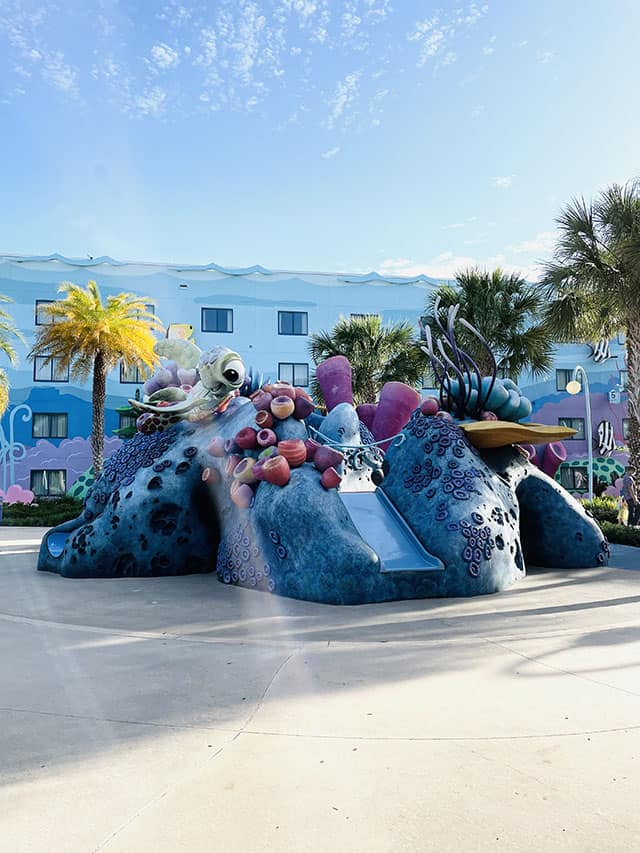 Art of Animation, on the other hand, offers over-the-top wonderful themes and various room types! Not only will you see giant statues throughout the resort, but each area is themed for Little Mermaid, Nemo, Cars, and Lion King. There are Little Mermaid standard rooms, and the rest are suites. This is one of the best hotels to stay at if you have young kids who want to feel like they are at Disney World.
If you are a large family, Art of Animation is great for staying on the Skyliner with a smaller budget. Just make sure to do your math because sometimes it is cheaper to get two rooms at POP!
You can read more about POP Century HERE and Art of Animation HERE.
Final Thoughts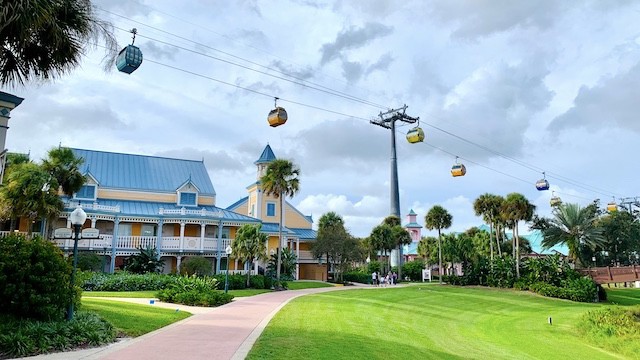 I really can't declare a winner because each resort is great for different families and trips. I have stayed at all but Art of Animation, and I chose each of them based on my needs at the time.
Personally, I keep going back to Riviera because it is my favorite resort on property – Skyliner or no Skyliner! I enjoy ending my nights at Epcot so being a few minutes away makes Riviera desirable to me. I am also a big fan of eating at the resort I'm staying at, and Riviera really does have the best food on property.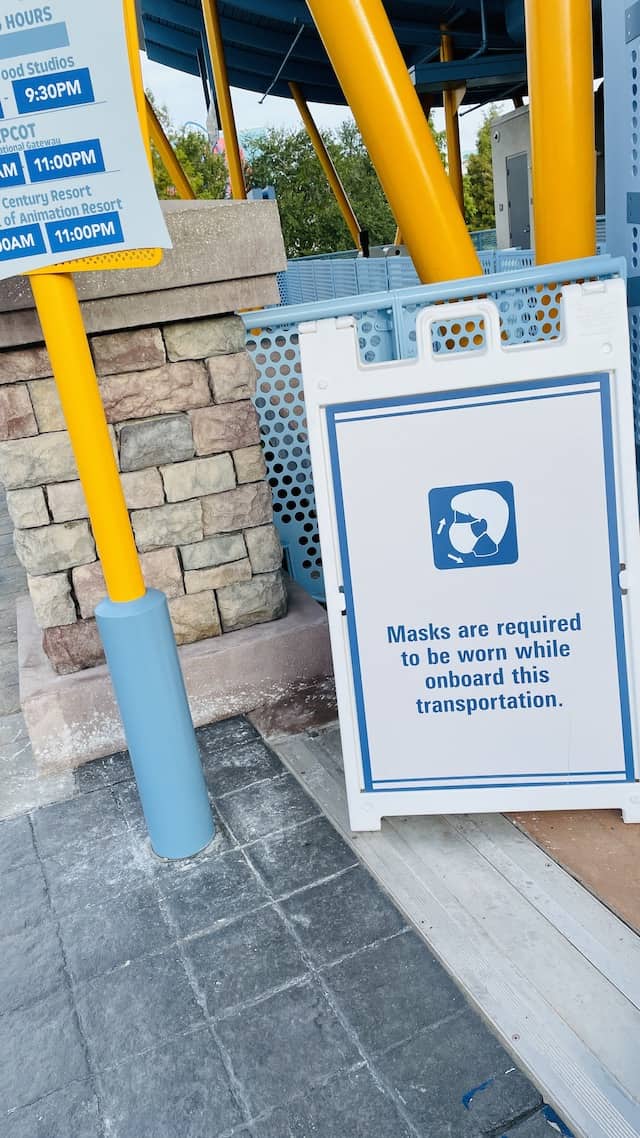 Caribbean Beach would be great for families of 5 on a budget or adult travelers who don't want the childish theming. I would not recommend it if you plan to visit Magic Kingdom or Animal Kingdom more than once throughout your vacation. The bus situation is just not ideal. If you have small kids, request a building close to the Skyliner – either at Caribbean or closer to Riviera (since you can walk to Riviera).
I would choose POP Century or Art of Animation last simply because you are transferring at Caribbean Beach to get to both Hollywood Studios and Epcot. Again, not a huge deal but it does add some time to your travel.
Which Skyliner resort is your favorite? Least favorite? Join the conversation below and on our Facebook page!
Are you planning a vacation? Reach out to our trusted travel agency sponsor Authorized Disney Vacation Planner
Mouse Class Travel
!