Calling all artists! Do you have a love for Disney and Pixar movies? Do you adore the animation and artistry of the films? If so, you might want to consider staying at Disney's Art of Animation Resort.
Art of Animation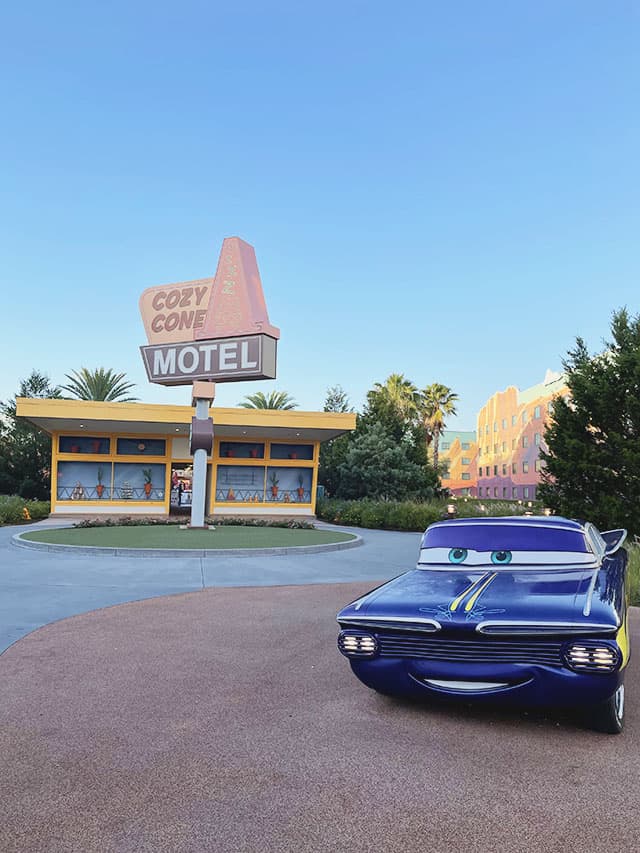 Immerse yourself into your favorite Disney and Pixar animated films, such as Finding Nemo, Cars, The Little Mermaid, and The Lion King at Disney's Art of Animation Resort.
Here guests feel drawn into their favorite animated films and have a sense of being part of the animation process.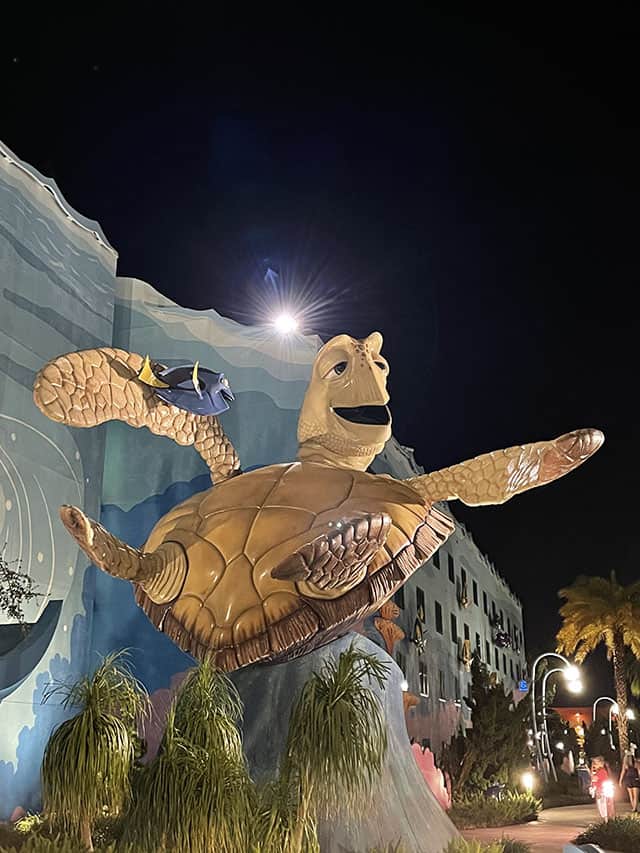 Like Pop Century Resort, guests are surrounded by larger than life statues and figurines. Only instead of favorite icons of the centuries, guests are surrounded by their favorite characters.
This resort is one of Disney's value resorts, so not only is it affordable, but it has fun theming throughout. It is an excellent choice for families.
Rooms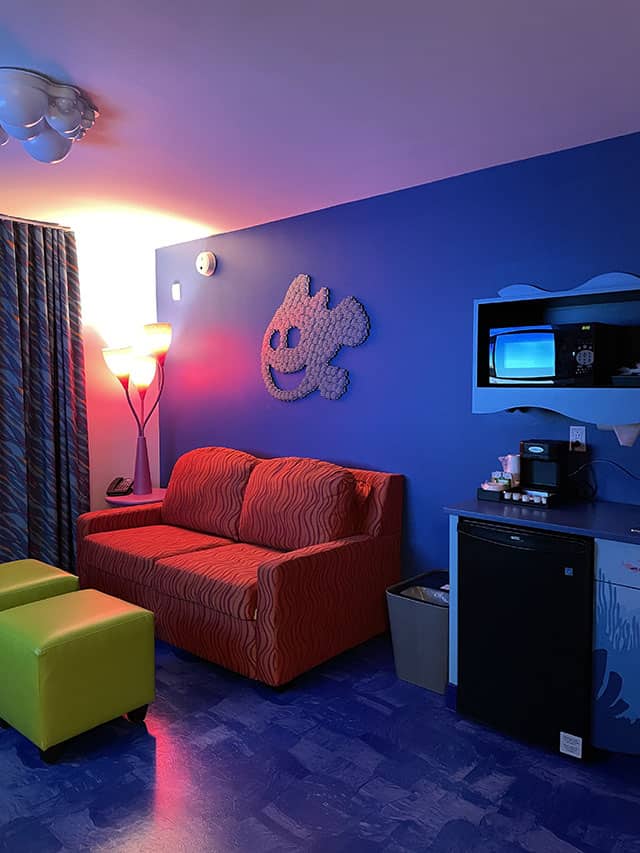 Art of Animation includes several different room offerings, including standard Little Mermaid rooms and several family suites that have fun themes.
Standard Little Mermaid rooms sleep up to four adults and typically include 2 Queen Beds, 1 Double-Size Table Bed, 1 Double-Size Sleeper Sofa.
Suites include the following:
The Lion King Family Suites
Cars Family Suites
Family Suites
Finding Nemo Family Suites
Family suites can accommodate up to six adults and include a bedroom with one queen-size bed; one double-size convertible Table Bed; one double-size sleeper sofa; living room; 2 bathrooms and a kitchenette.
All rooms have a view of the courtyard, pool or parking area.
During a recent stay, I (Maggie) and a friend stayed in a Finding Nemo Family Suite. It is worth mentioning that at the time of booking, I chose to stay in a Little Mermaid standard room. However, during my online check-in, I indicated that I would prefer to stay in a room located near Disney's Skyliner transportation.
Sure enough, the Finding Nemo Family Suites are the closest suites that are located near Disney's Skyliner. It is about a five minute walk to the skyliner station from the suites, so if being close to the skyliner is important to you, keep that in mind.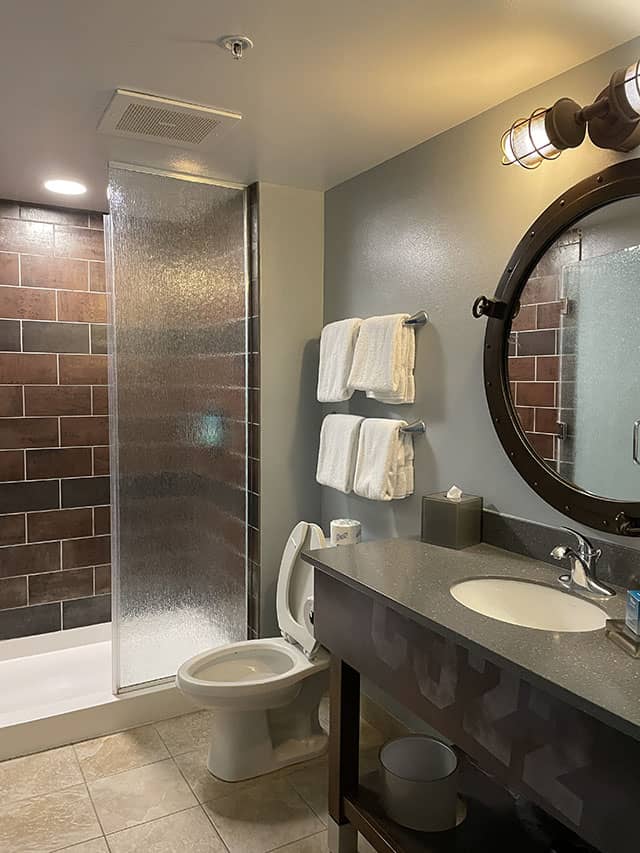 Our suite included 1 bedroom, a living area, small kitchen, eating area and two full bathrooms. Having two bathrooms was a great convenience and this was definitely a plus of this particular suite.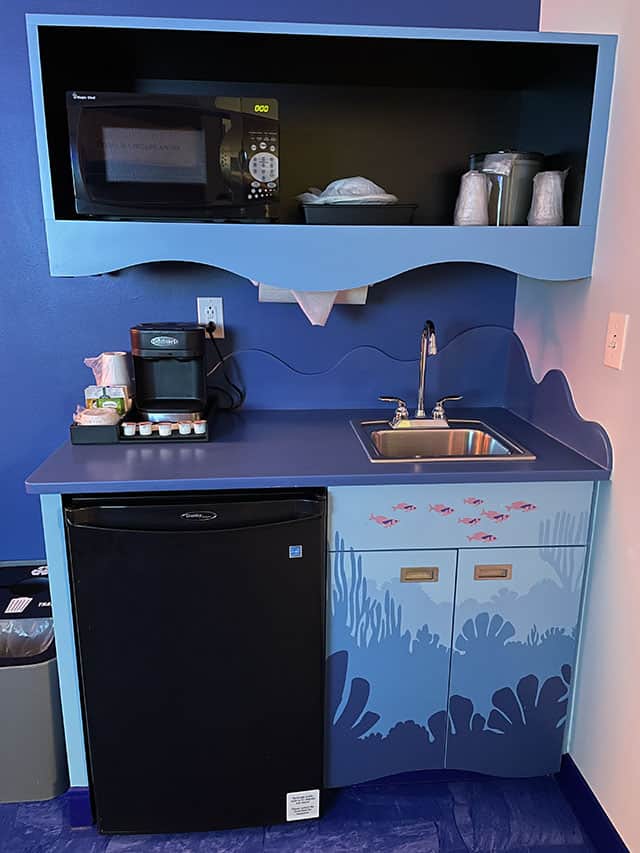 Room amenities include the following: hairdryer, internet – free WiFi service, coffee maker, telephone, in room safe, iron and ironing board and a mini refrigerator.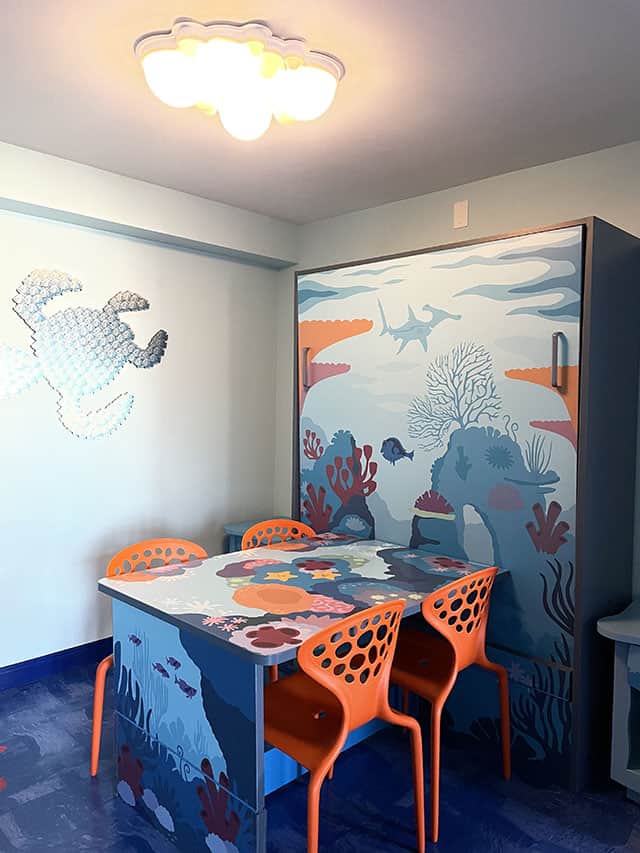 I love all of the little details of the rooms. The walls and floors are all blue, making it feel like you are swimming with Nemo and all of his friends and the lights look like little sea bubbles.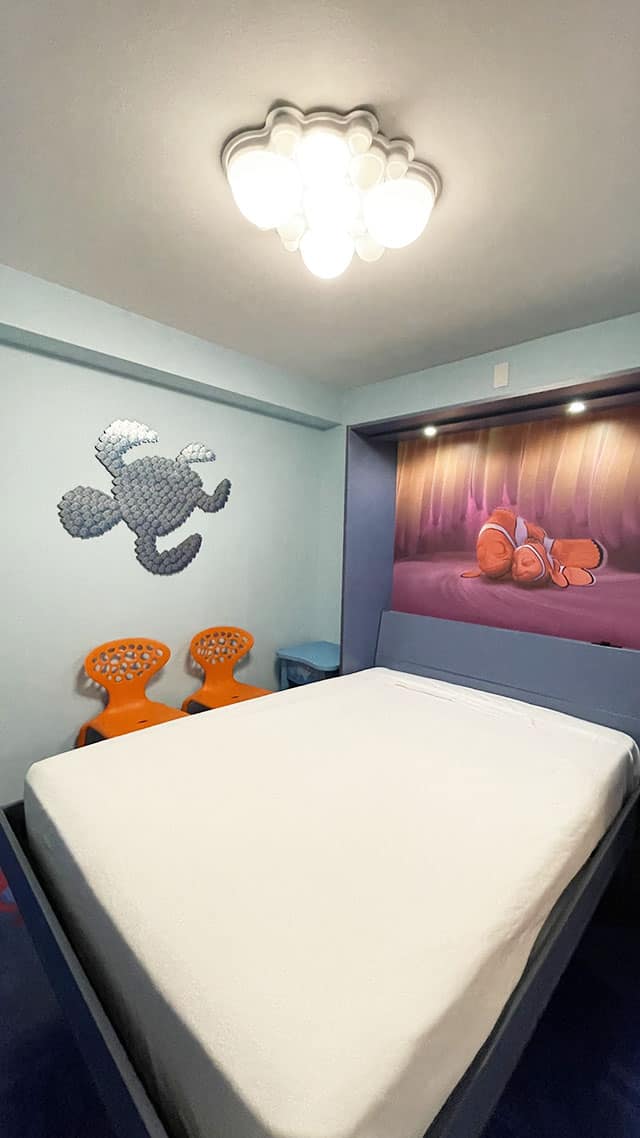 Transportation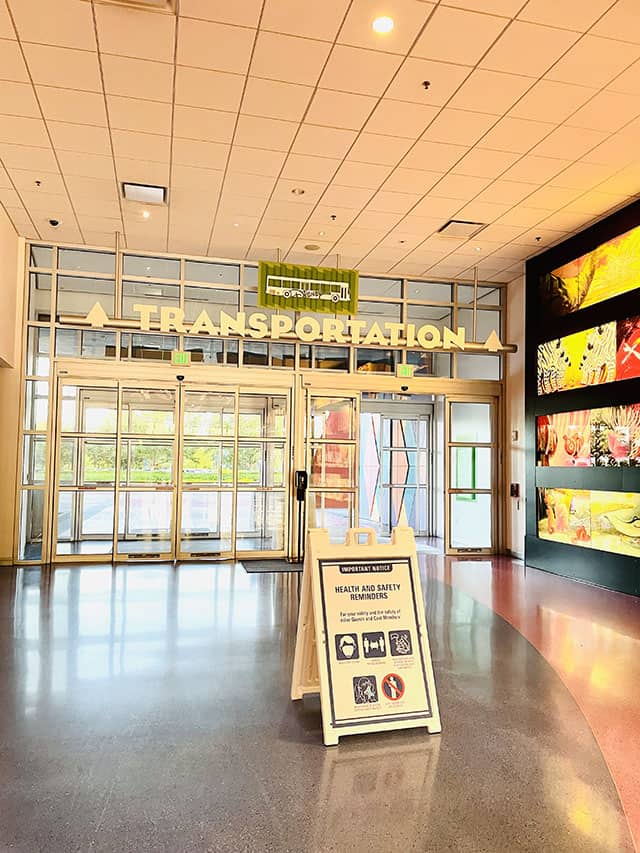 If convenient transportation is important to you when staying at a resort, Art of Animation is a great choice!
Buses and Disney's Skyliner transportation are available to all guests. Bus transportation is frequent to all four theme parks. During our stay, we often saw more than one bus heading to the Magic Kingdom and Animal Kingdom.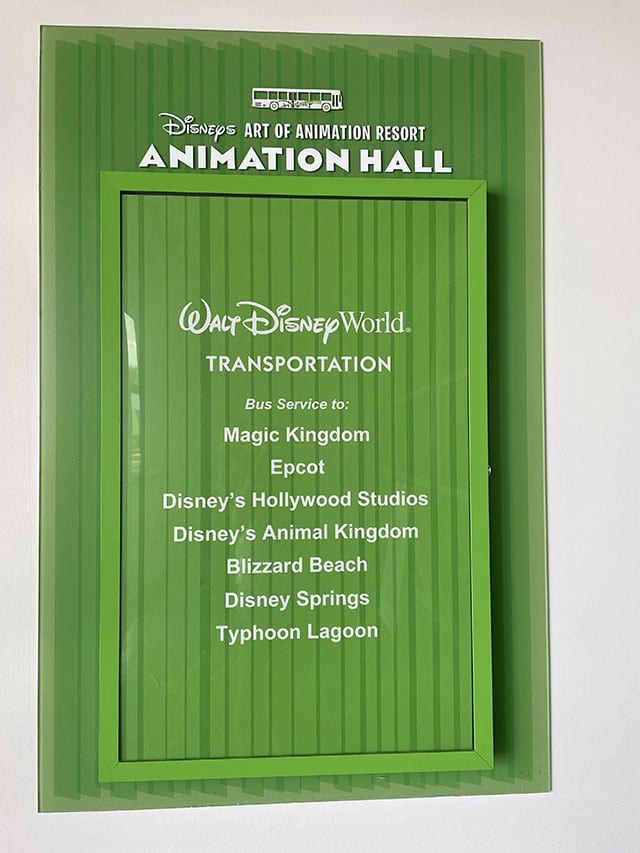 Though Disney's Skyliner is probably the most convenient and preferred method of transportation to EPCOT and Disney's Hollywood Studios, bus transportation is still available as well.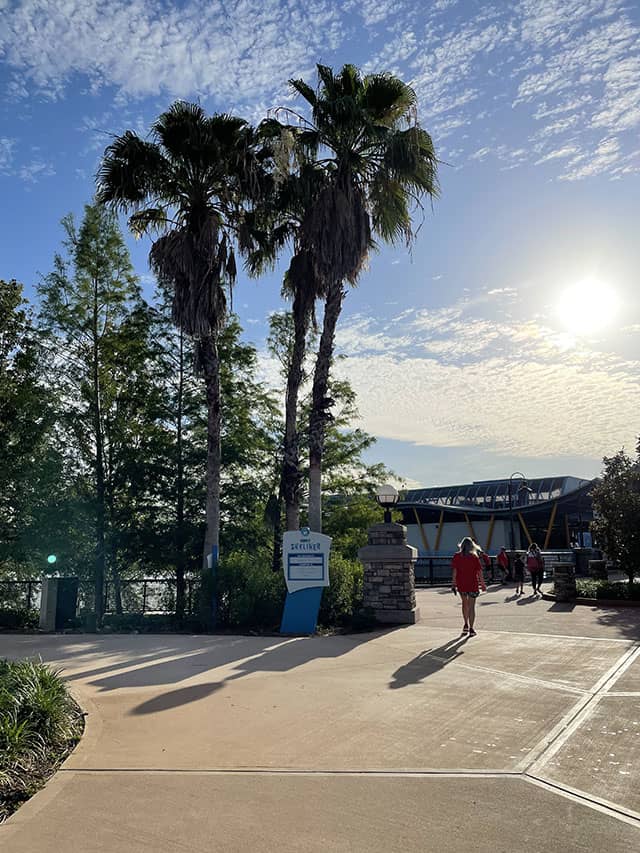 Access to Disney's Skyliner from the Art of Animation is just a short walk from the Finding Nemo suites.
PIRATE TIP: REQUEST A FINDING NEMO SUITE FOR CLOSEST ACCESS TO DISNEY'S SKYLINER
If you are staying in a Little Mermaid room, it's worth mentioning that you will have a little bit of a longer walk to the skyliner as these rooms are furthest away from the entrance.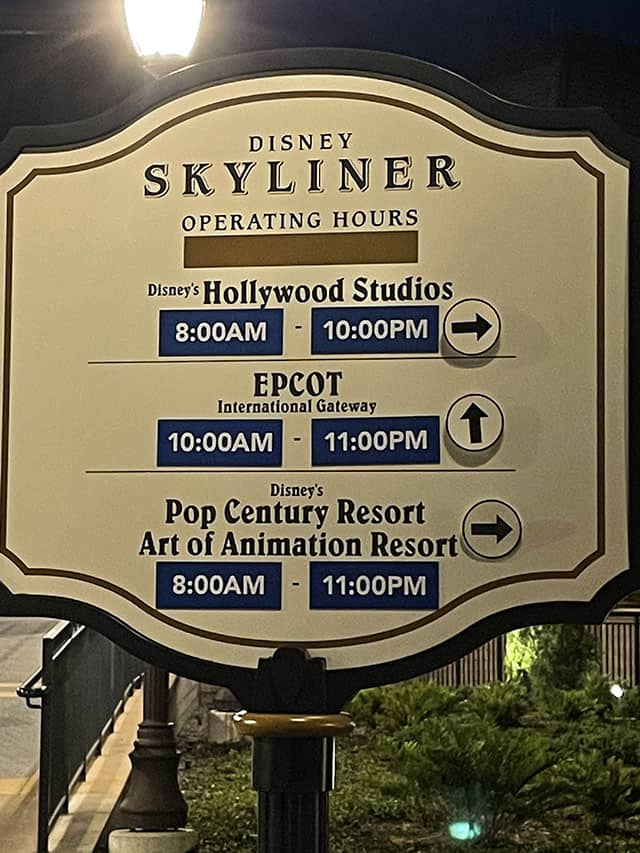 Typical hours for Disney's Skyliner are as follows:
Disney's Hollywood Studios: 8:00 a.m. – 10:00 p.m.
EPCOT: 10:00 a.m. to 11:00 p.m.
Disney's Pop Century Resort and Art of Animation Resort: 8:00 a.m. to 11:00 p.m.
If you are one of those guests like me who wants to get to the parks as early as possible, plan to be in line for Disney's Skyliner or bus a good hour and a half before park opening, as lines do tend to get pretty long.
Lines move pretty quickly though, but if you want to arrive early get in line as soon as you can.
If you take Disney's Skyliner and have breakfast reservations at any of the EPCOT resorts, simply show a Cast Member your reservation on your phone to access the skyliner to EPCOT since this line opens a little later than the other lines.
Animation Hall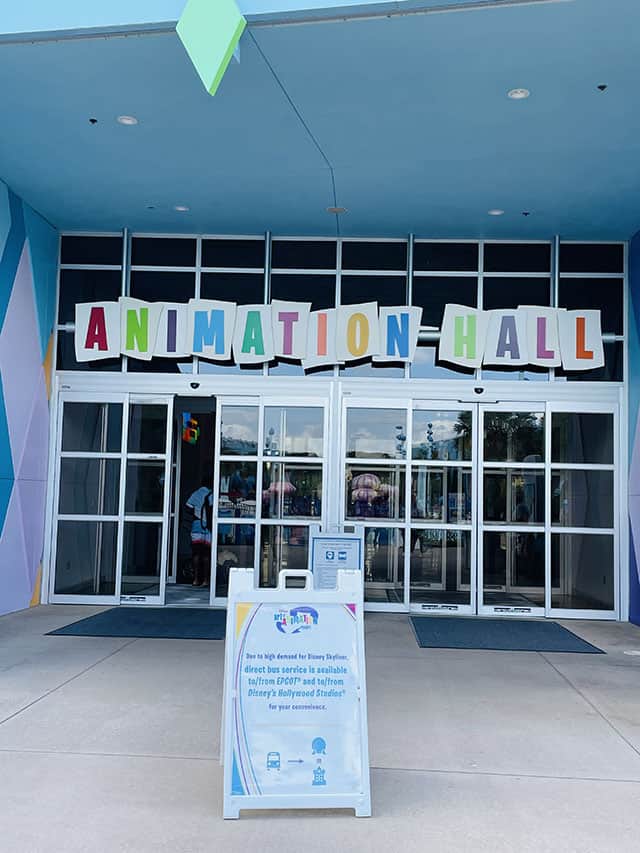 Animation Hall is the main building of Art of Animation and is where guests can find the lobby, front desk services, dining, and shopping. Plenty of recreation options are not far from here.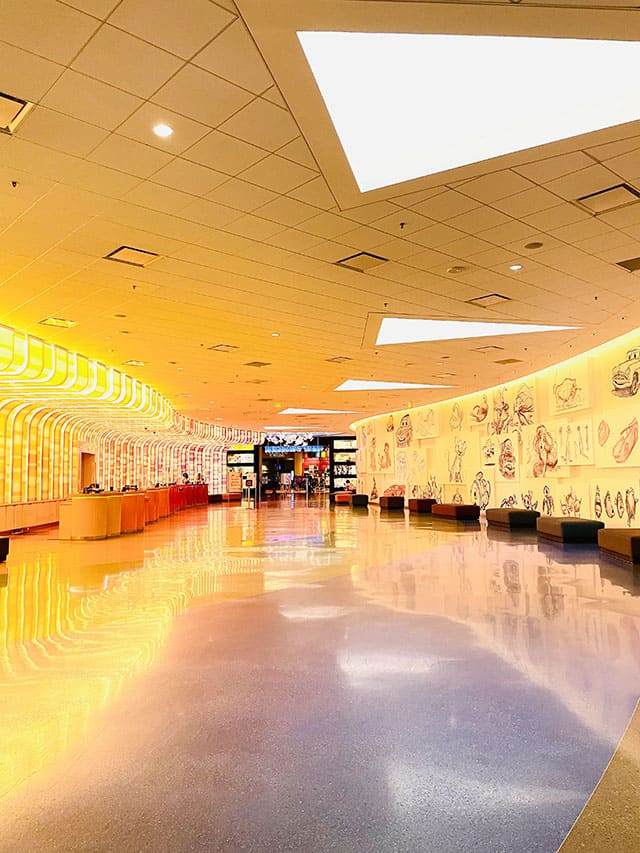 I really love seeing all of the drawings lining the walls of the lobby that feature all of your favorite Disney and Pixar pals!
Dining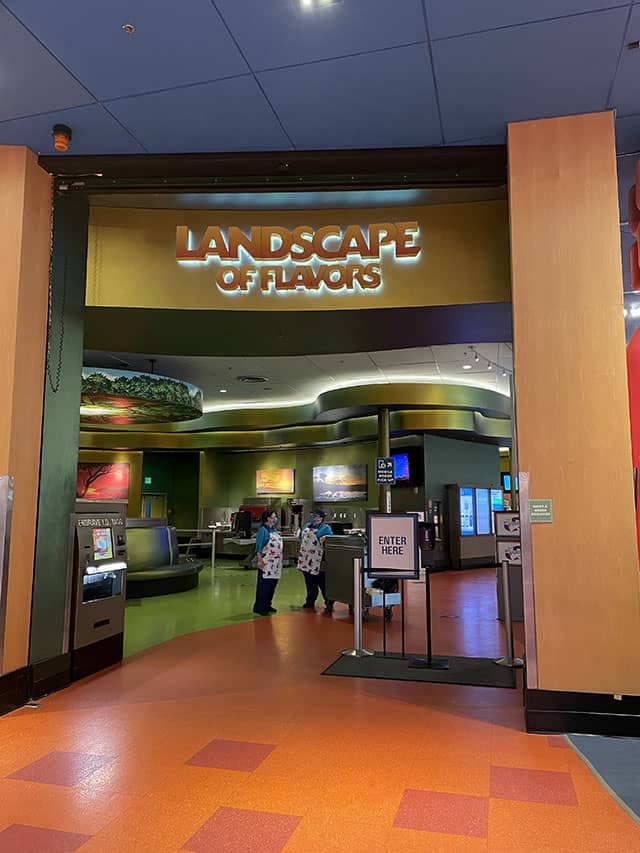 Landscape of Flavors
Landscape of Flavors serves breakfast, lunch and dinner. It is a quick service location and guests can order through mobile ordering. Food includes breakfast choices such as waffles, omelettes and continental breakfast and burgers, grilled chicken sandwich, and chicken tenders for lunch and dinner.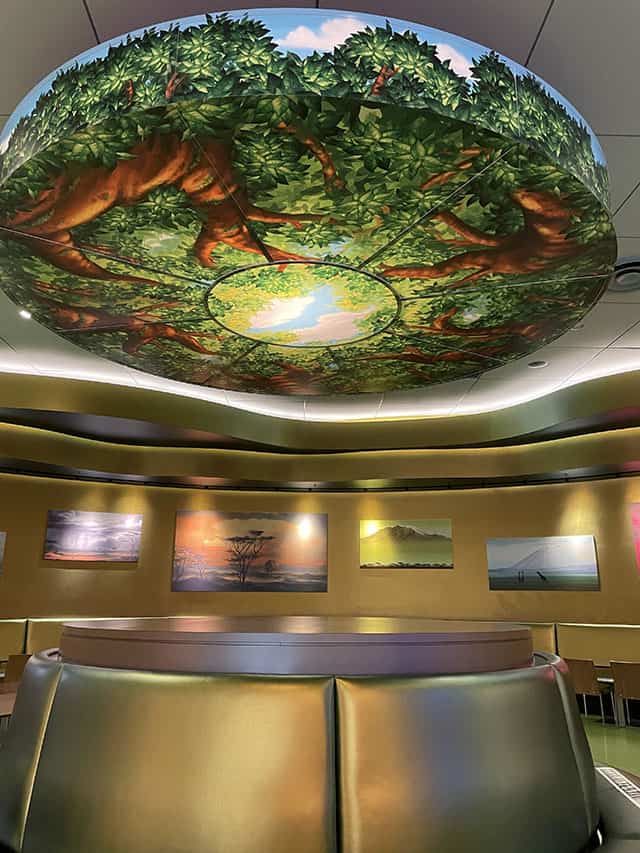 A variety of desserts are also offered along with a kids' menu. Guests also have a wide variety of snacks, beverages, beer and wine to choose from. Allergy friendly meals are offered, too.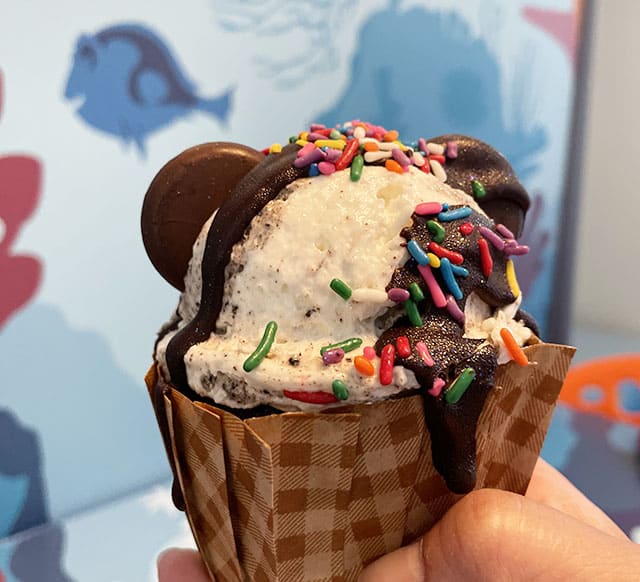 I did not have either breakfast or lunch here, but I did order a Cookies 'n Cream Sundae Cupcake.
The Drop Off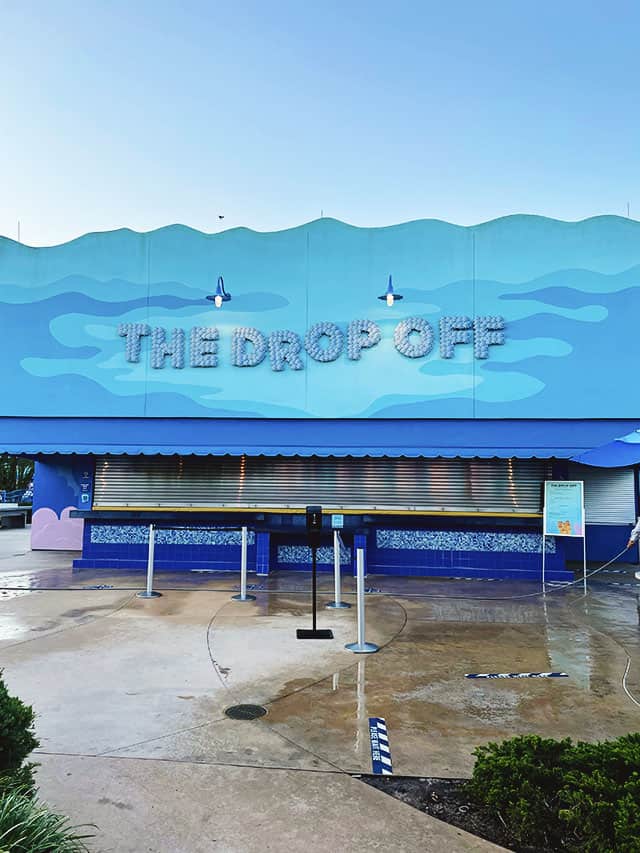 The Drop Off is the pool bar at Art of Animation. Guests can order cocktails, beer, wine, and other beverages and snacks.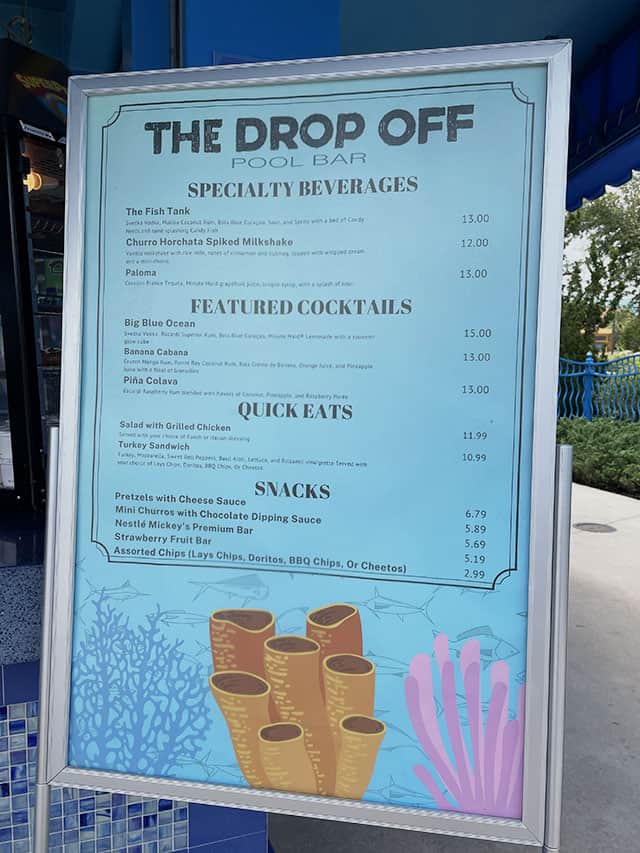 Recreation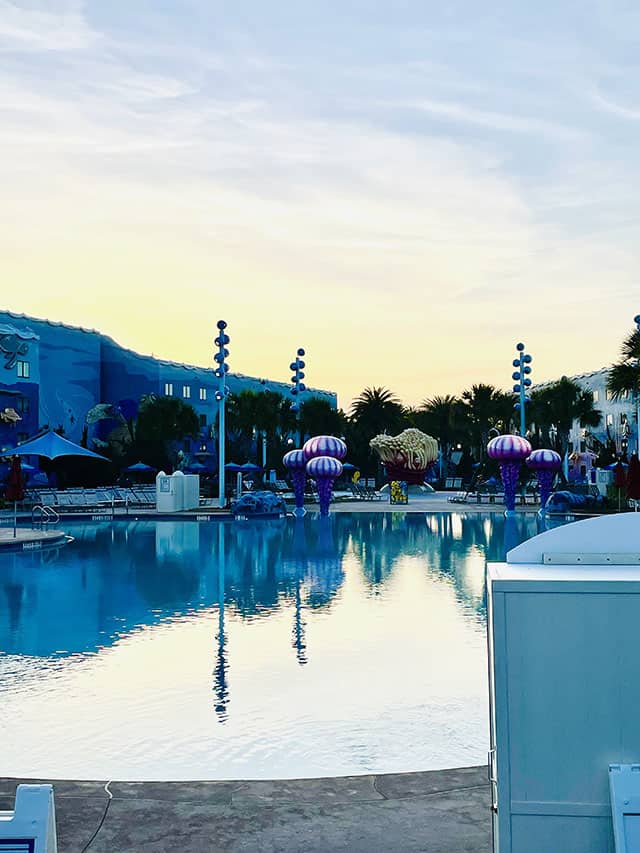 There are so many activities to do at Art of Animation, too! Art of Animation has three pools: The Big Blue Pool, Cozy Cone Pool and the Flippin' Fins Pool.
Did you know The Big Blue Pool is the largest pool in all of the Walt Disney World resorts?
Characters such as Nemo, Crush and other friends can all be found around the pool area here. The zero depth entry pool is great for guests and small children.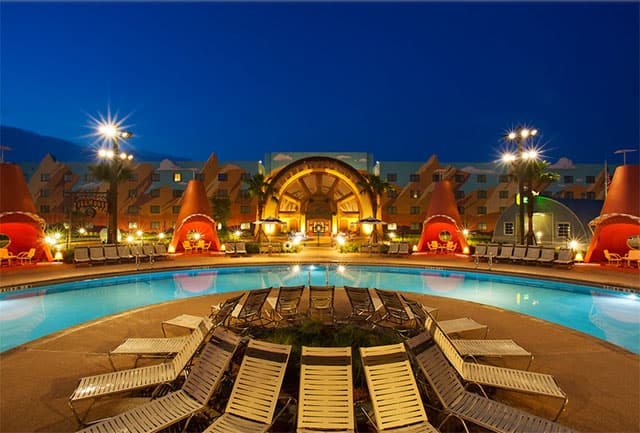 Guests can enjoy swimming, resort activities and a Movie Under the Stars each night.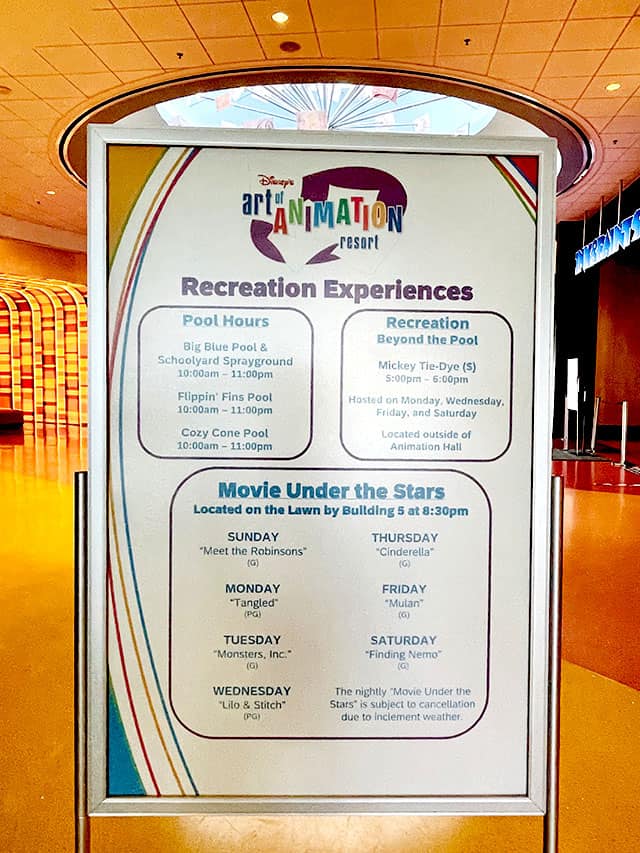 Other recreation activities include a 1.38 mile long jogging trail and the Righteous Reef playground located in the Finding Nemo courtyard. During our stay, the playground was open.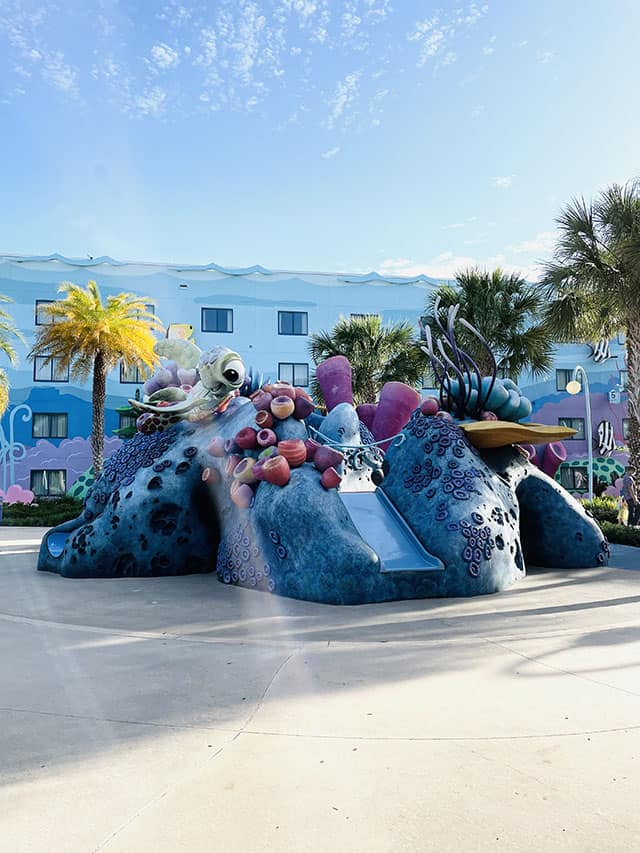 Another recreation option is the Pixel Play Arcade where guests can play a wide range of arcade video games. At the time of writing this guide, the Pixel Play Arcade was unavailable to guests.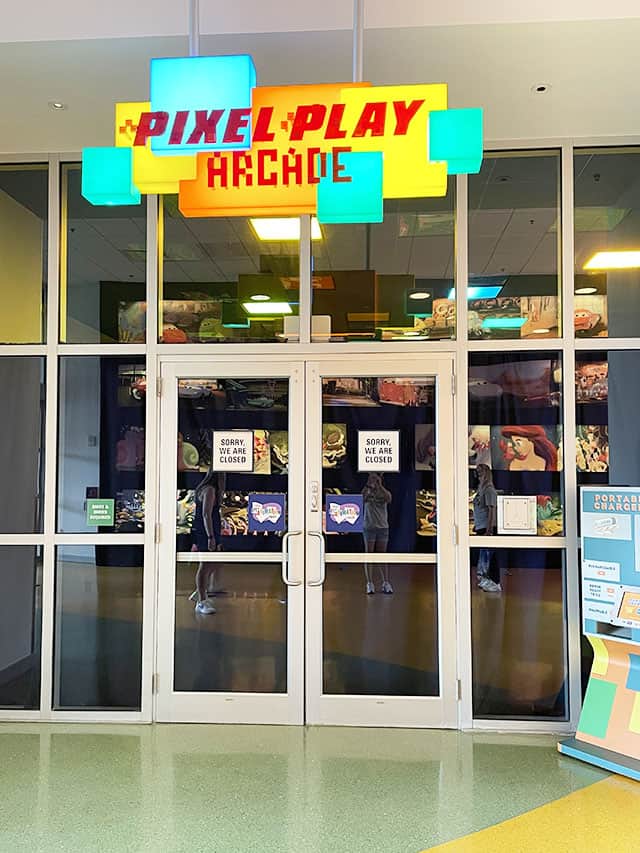 Other resort amenities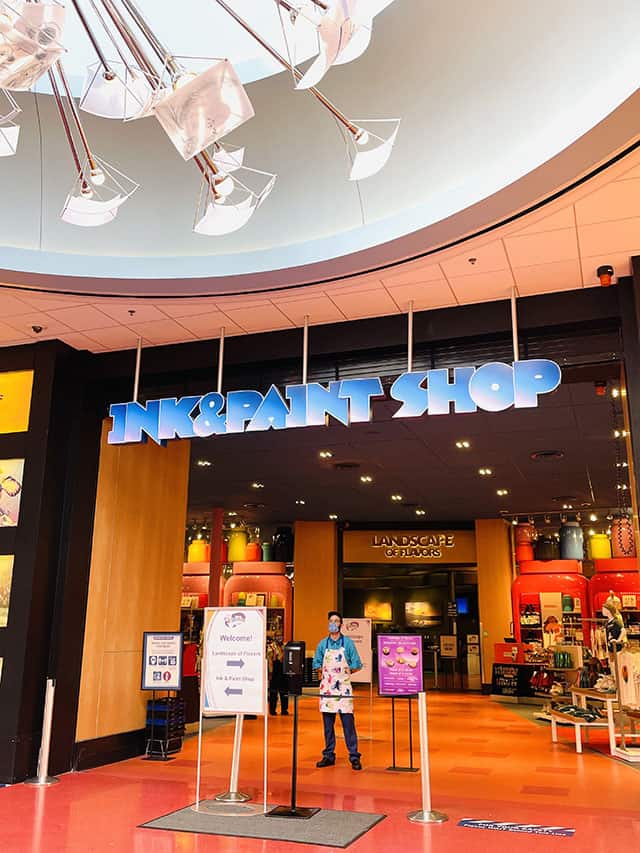 Ink&Paint Shop
The Ink&Paint Shop is the resort's gift shop. Guests can find a wide range of Disney souvenirs, toys and clothing.
This is also the entrance to the Landscape of Flavors. Do keep in mind in order to enter here, guests must have already placed an order through mobile ordering.
Business Center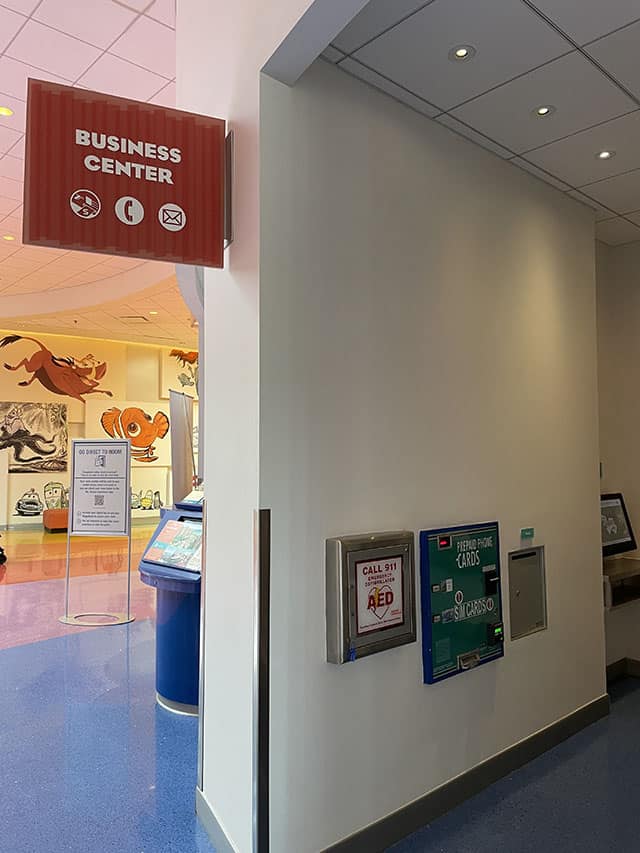 A business center is available to all guests for internet access, airline check-in, printing boarding passes or printing services.
Laundry Services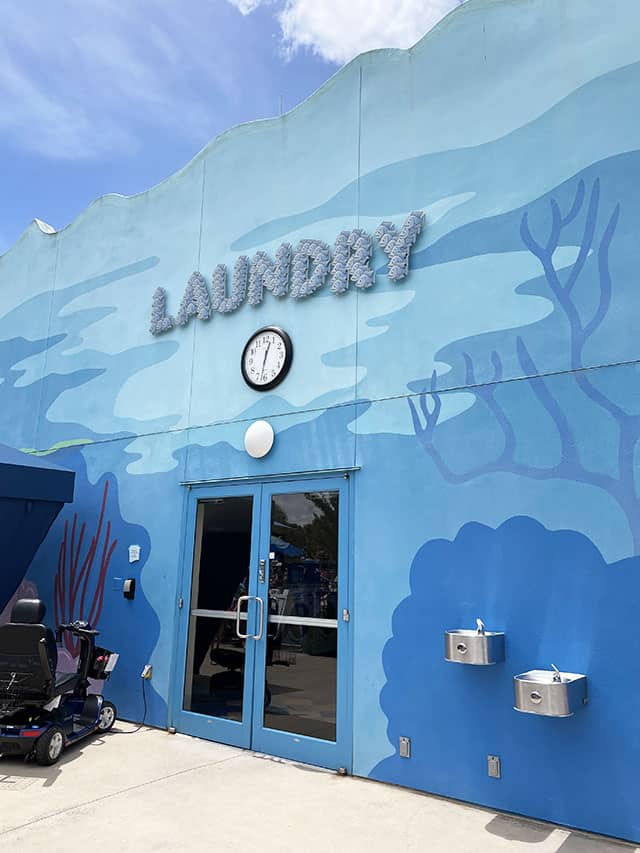 Another nice service available to all guests is laundry service. 24-hour self service laundry rooms are available if guests wish to use this service.
Final Thoughts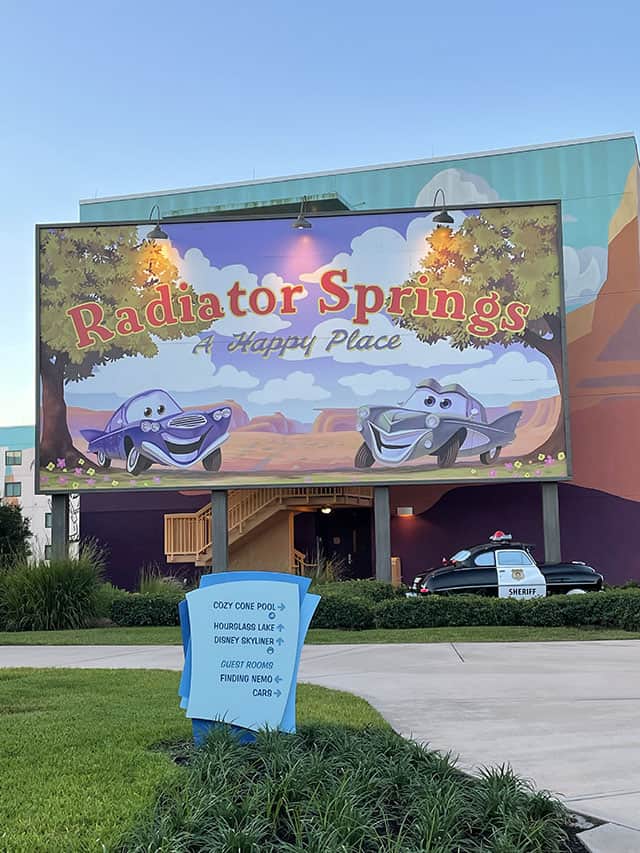 This was my first time staying at Disney's Art of Animation Resort, and I could not have been happier! I had a quick trip and I'm sorry I did not get to enjoy everything the resort had to offer.
The resort has wonderful theming throughout. I would definitely think about staying here again with my family. My two young boys would love all of the theming, swimming in The Big Blue Pool and playing on the playground.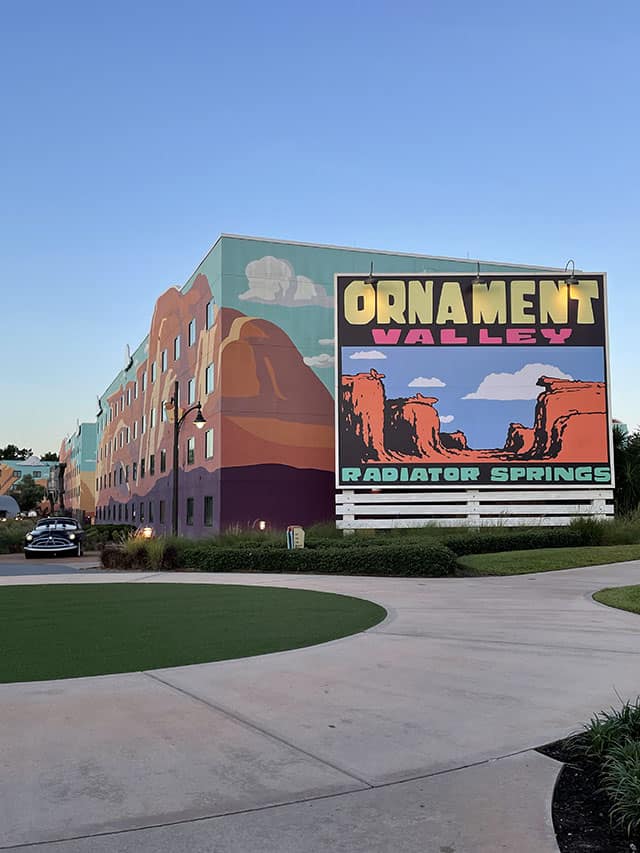 Our room was plenty spacious enough for my friend and I and we could have easily had at least four other guests with us. It's a great resort if you are looking for a large room and do not want to spend too much money.
The access to Disney's Skyliner is also a big plus for visiting EPCOT or Hollywood Studios, or even any of the other EPCOT resorts.
Have you ever stayed at Disney's Art of Animation Resort? Tell us about your experience in the comments below or on our Facebook page. Share them with us in the crew, too!
Maggie Baltz