Tucked away at Disney's Riviera Resort sits one of the best quick-service restaurants at Disney World. Primo Piatto is *chef's kiss* and here is my full review!
"First Course"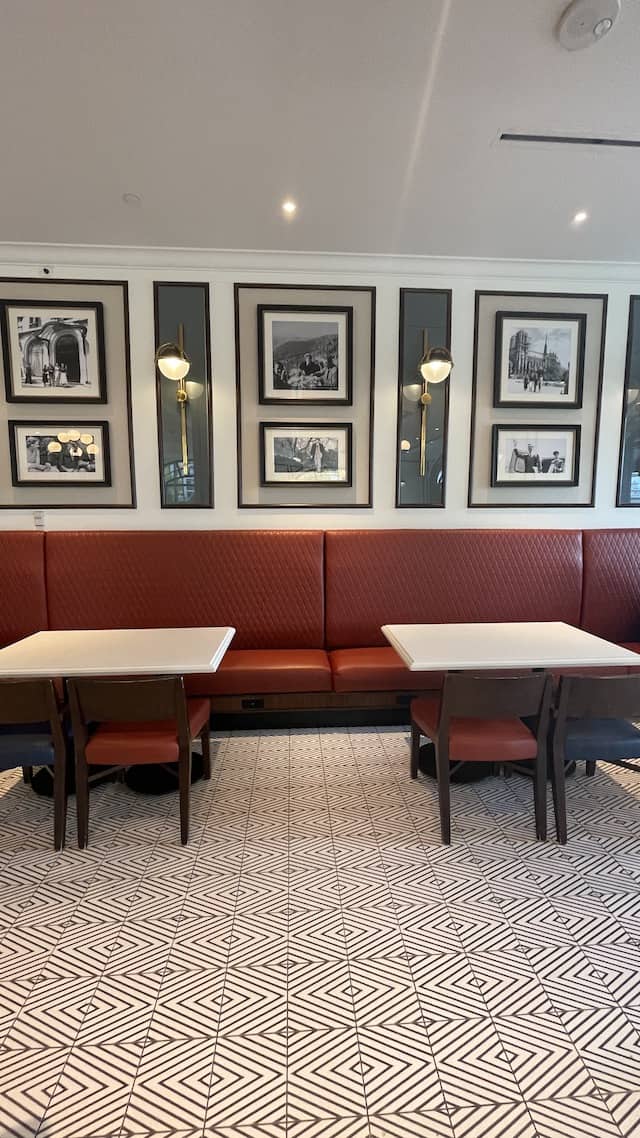 Translated to Italian, primo piatto means "first course." This quick-service meal at Disney's Riviera Resort is one of several amazing restaurants at the hotel. It can be hard to compete with Topolino's Terrace, but I (Monica) think everyone should experience Primo Piatto if given the opportunity.
Primo Piatto Location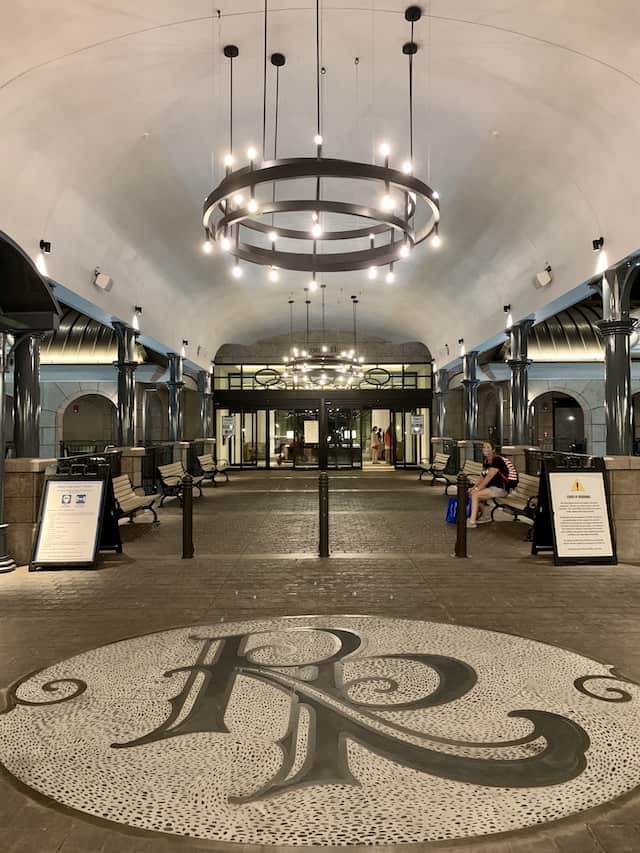 Open daily from 7 am to 10 pm, you can find Primo Piatto on the first floor of Disney's Riviera Resort. From the skyliner station, use the sidewalk to head to the pool area. You will see the sign right next to the giant game area.
Primo Piatto is an excellent option if you are staying at another Skyliner resort that does not have the best food options. During a previous stay at Caribbean Beach Resort, I actually took the Skyliner to Riviera so I could eat there instead. If you are at Pop Century or Art of Animation you would have to exit your gondola at Caribbean Beach and get on another one.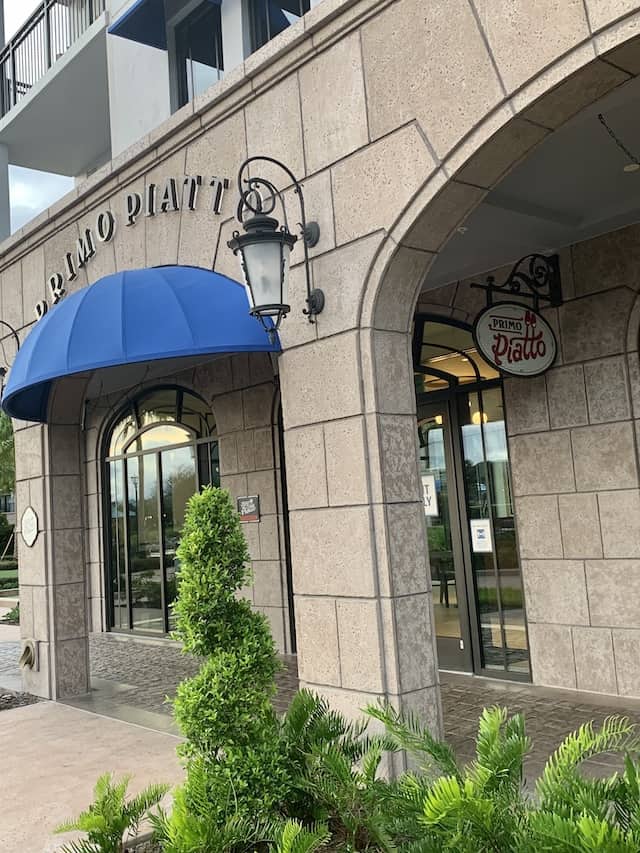 If you are coming from inside the hotel or by bus, enter the lobby and take the steps down. You will make a left and follow the hallway around. Or, you can walk outside and the outside entrance is right there.
Primo Piatto is an excellent choice if you are staying at the hotel and want to grab a bite to eat while swimming. The pool is just a few steps away! It's also perfect for mobile ordering and taking back to your room. We enjoyed breakfast almost every morning at Primo Piatto during our stay at Riviera.
Like sitting in a cafe on the Riviera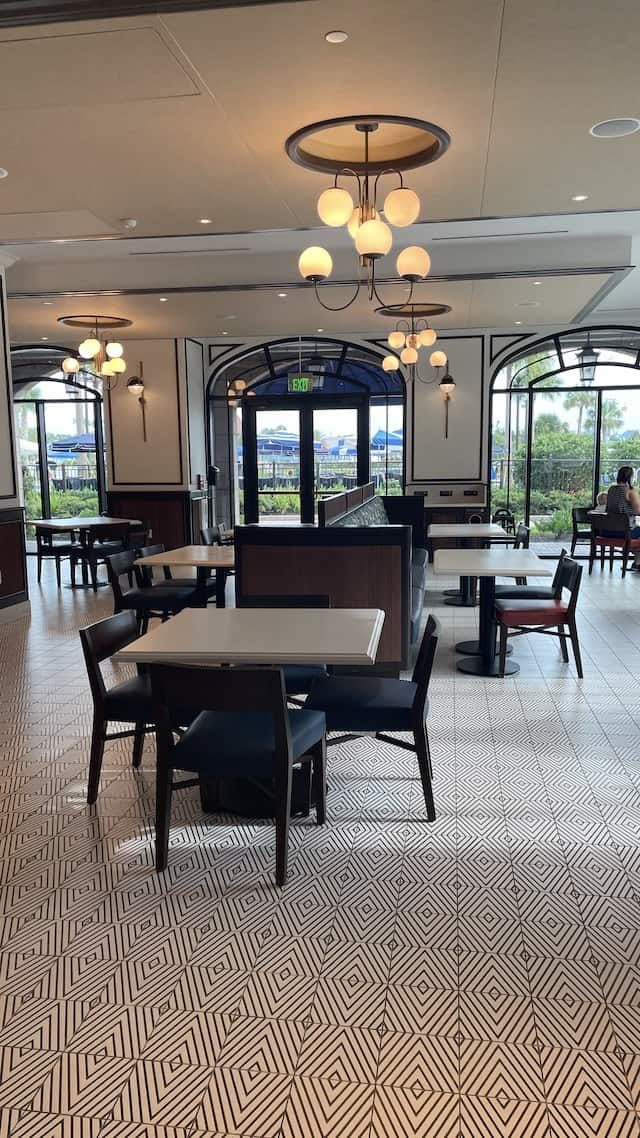 Riviera Resort is themed after the French and Italian Riviera, and the architecture here is just marvelous. Many complain it doesn't have that Disney theming, but I argue Imagineers did a great job with the resort. It's a deluxe resort after all, so it's not going to have giant statues or bright colors.
The inside of Primo Piatto features beautiful tile flooring, arched windows, and chandeliers hanging from the ceiling. This is not your average Disney food court!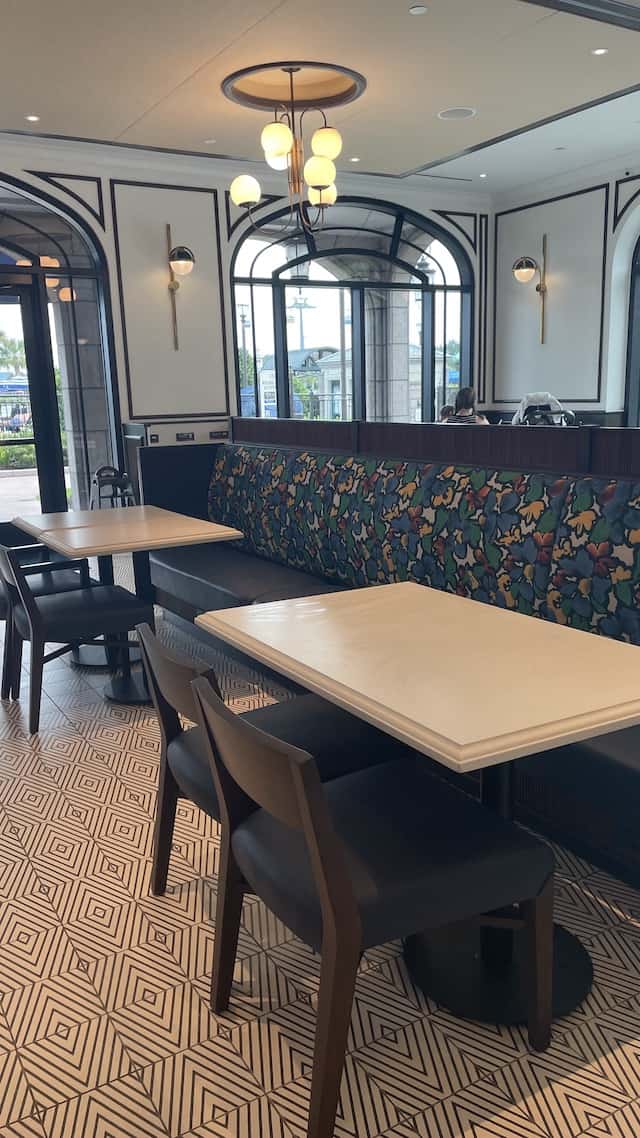 Pops of color can be found on the bench seating, but the real star of the restaurant is the old photos of Walt and Lillian Disney. If you wander around the rest of the resort, you will find numerous photos of Walt on his European adventures.
They carried those photos into Primo Piatto as well. The black and white photos coupled with the architecture of atmosphere of the restaurant really make this feel like a luxurious quick-service.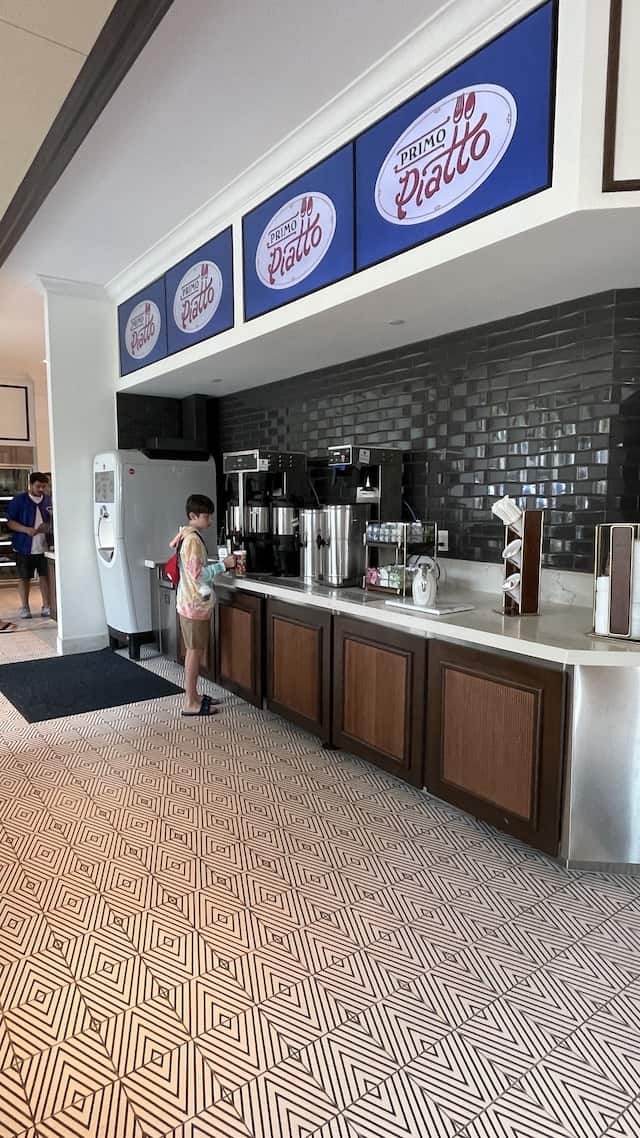 Don't get me wrong, though. Primo Piatto is still very much a place for kids! The restaurant is still comforting and inviting. It did not feel uptight or stiff but rather like you are enjoying brunch in a cafe in the Riviera.
Adding to the upscale feel are the freestyle Coke machines and, before the pandemic, real silverware and plates! Unfortunately, food is now put in cardboard boxes and you get disposable utensils for meals. I do hope they return some day!
Breakfast Options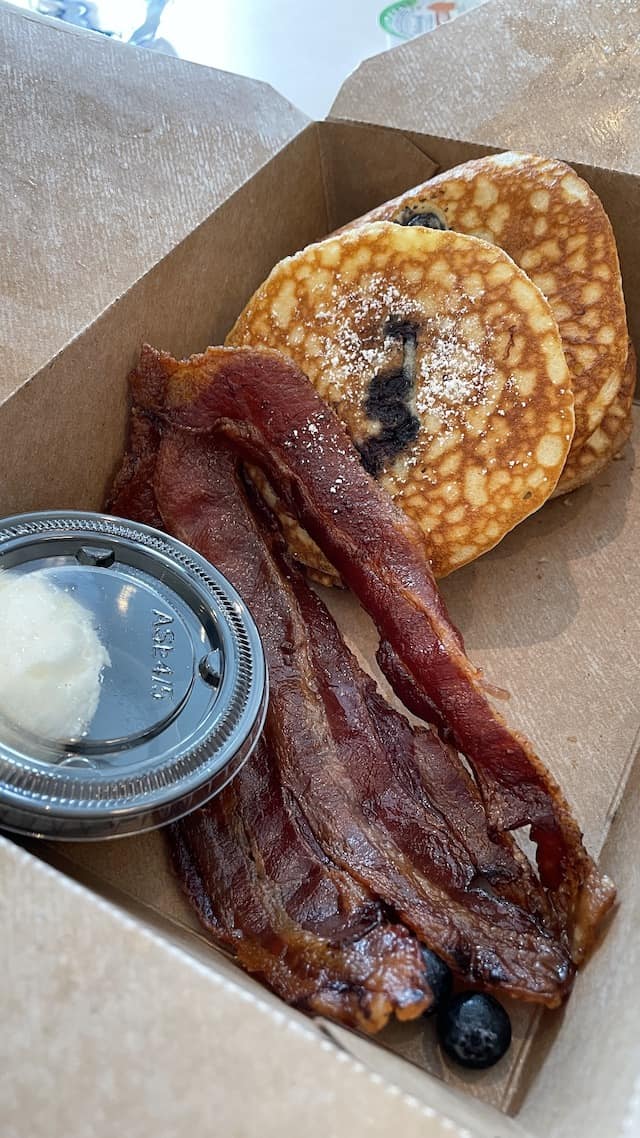 Start your morning off right with classic breakfast fare or more unique items that you cannot find anywhere else on property.
The full menu can be found on Character Locator, but here are the items I have personally tried and enjoyed.
The Blueberry-Lemon Pancakes are, hands down, my favorite breakfast item at Primo Piatto. If I didn't dream nightly about the Sour Cream Waffles at Topolino's Terrace, these pancakes would be teasing me every night.
I love anything with fruit and lemon, and this stack of fluffy pancakes delivers. There are real blueberries in the pancakes, and the mascarpone cream adds the perfect sweetness.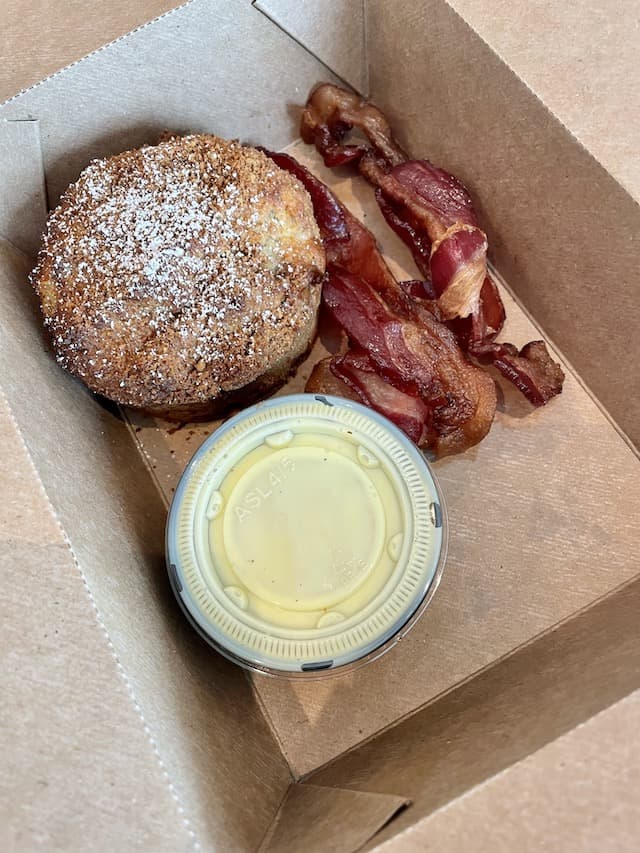 The Cinnamon Crumble "French Toast" Bread Pudding comes in at a close second. This giant cinnamon French toast bread comes with an ample supply of vanilla custard to maximize the yumminess. If I could eat both the pancakes and the bread pudding I totally would.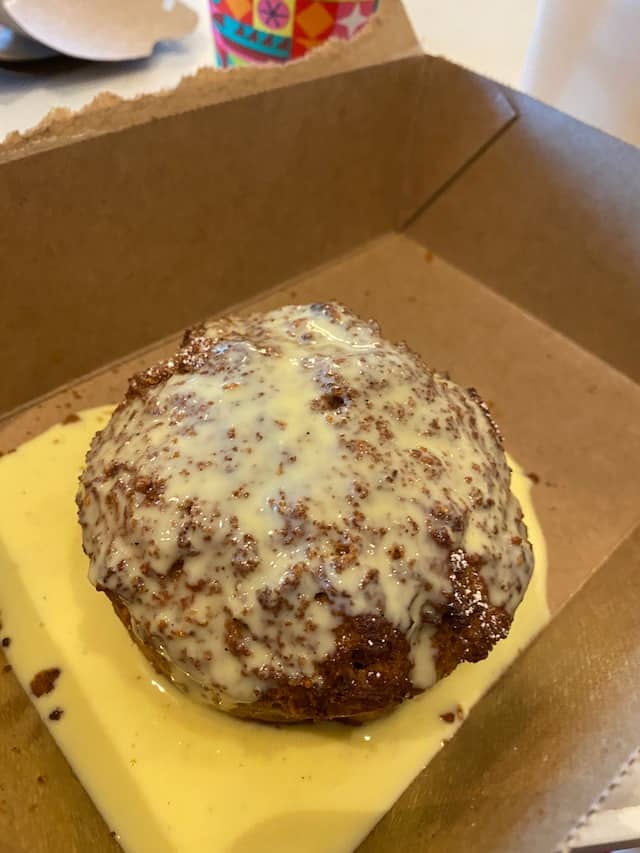 The Primo Piatto breakfast is your classic eggs and meat, but it comes served over Mascarpone Polenta and with a brioche roll, which kicks the entree up a few notches compared to other quick-service eggs and meat.
Unfortunately, I have not had the Croque Madame, but it is next on my list to try!
Lunch and Dinner Options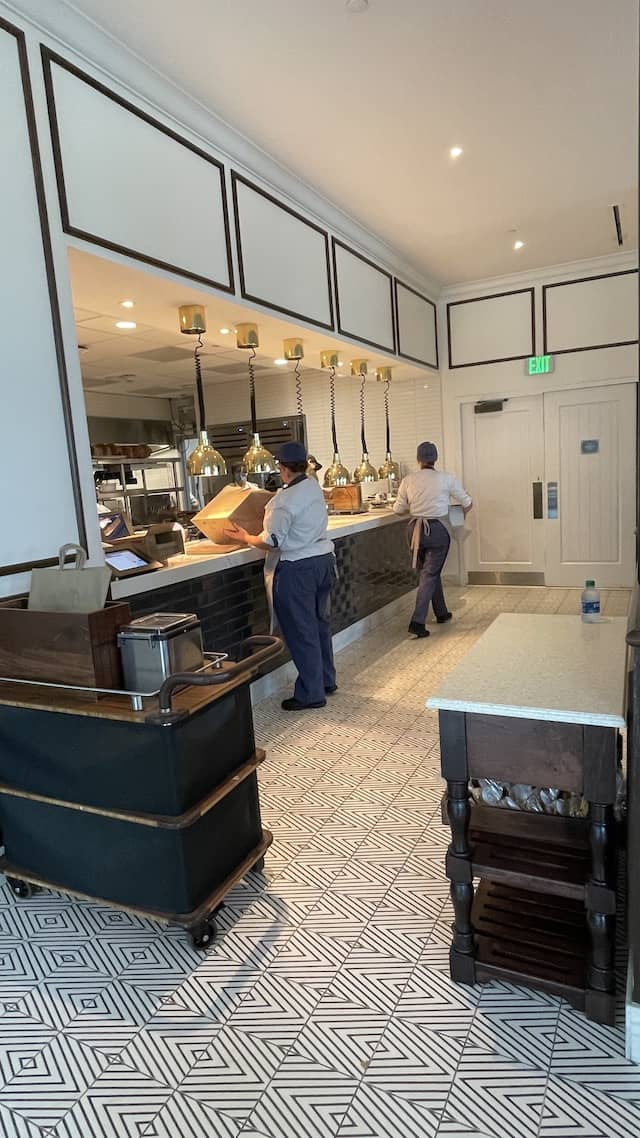 Prior to the parks shutting down last March, Primo Piatto served STEAK! Yes, quick-service steak! The menu was much more robust then than it is now. Half chicken and crispy chicken cutlet entrees used to be the norm, but the menu has been greatly pared down since the reopening.
We still have some classics like burgers, grilled chicken sandwiches, and hearth baked pizzas. The Croque Monsieur is excellent and not something you can find elsewhere on property. It is a classic ham and swiss sandwich and, when paired with the soup, the best kind of comfort food.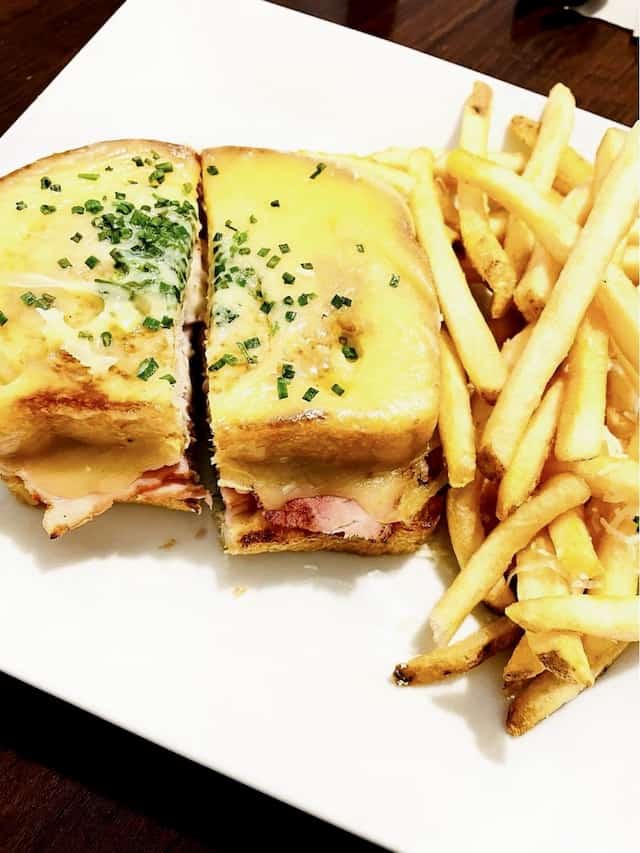 There are other options like salads and a sub that I have not tried, but I'm willing to bet they are of the same quality as the rest of the food at Primo Piatto.
Traditional kid meals like burgers, chicken tenders, and pizza can be found at Primo Piatto as well. My kids really enjoyed the pizza here even though it was more like your average theme park pizza.
Bakery and Snack Items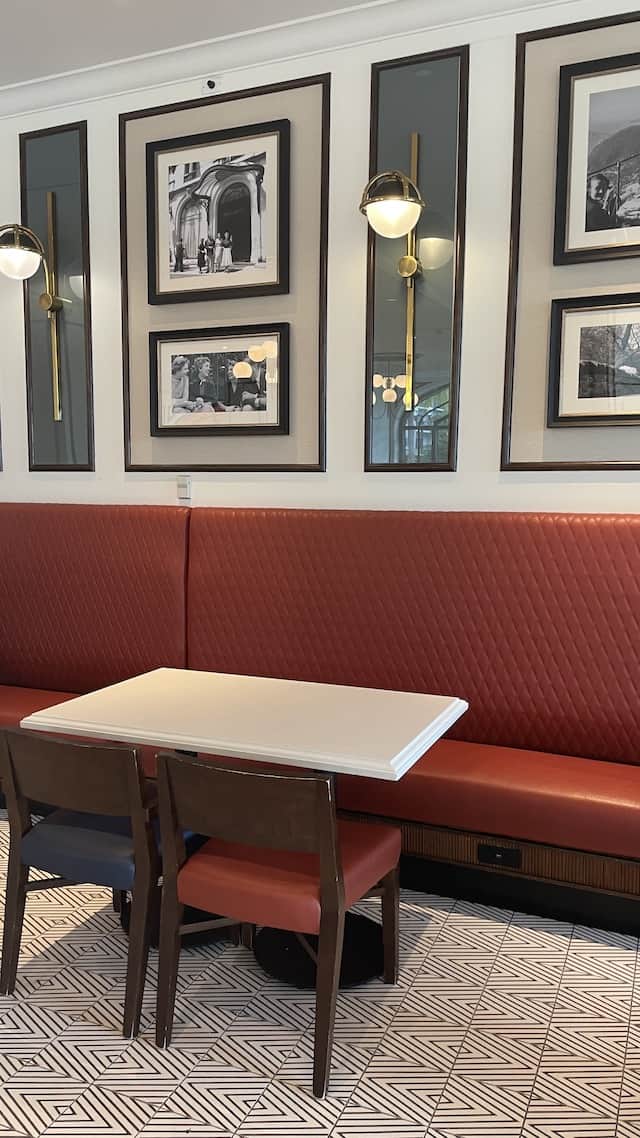 There are many bakery items available at Primo Piatto all day long. Cinnamon buns, croissants, muffins, and bagels can appease any palate and are a great option for grabbing something on your way out to the park.
Snack items like a charcuterie plate, a cheese plate, cereals, fruit, chips, and cookies also make great snack options to bring back to your room or have in your day bag. Although these are definitely more expensive than what you would find in your grocery store back home, so if you have the room in your luggage you would be better off bringing some snacks to save money.
However, it is really convenient to have the bakery and snack items if you don't want to mess with groceries!
Final Thoughts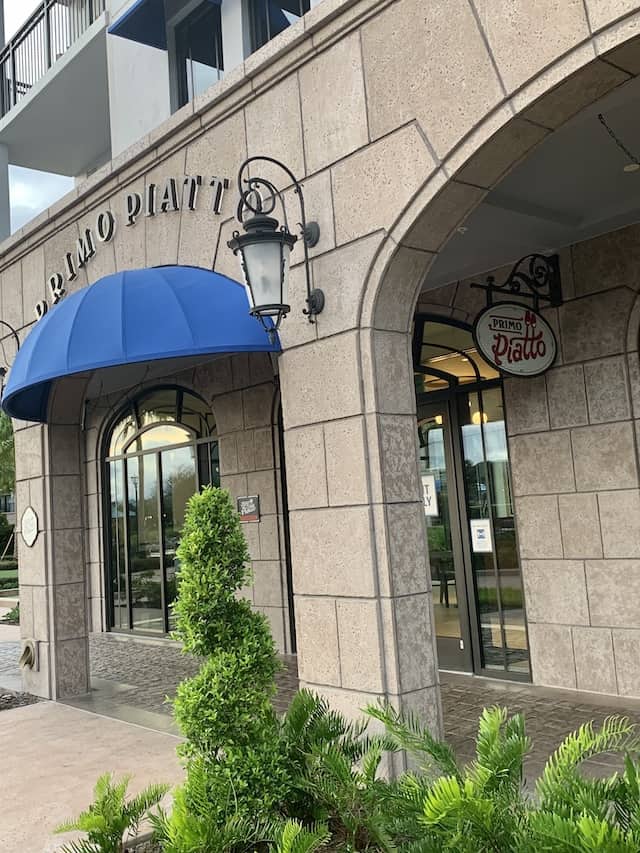 Not only is Primo Piatto in a great location – it is easily accessible from two theme parks and four resorts – but the food is some of the best you will find for quick-service. I know there are some really great options at Disney World, but not many can be found at the resorts.
Primo Piatto is one of the many reasons Riviera has quickly become my favorite resort.
Have you ever dined at Primo Piatto? What did you think? Share your thoughts with us on Facebook!