Figment's Inspiration Station at EPCOT International Festival of the Arts is more than just popcorn buckets. If you are in Walt Disney World, you should stop by for a treat.
EPCOT International Festival of the Arts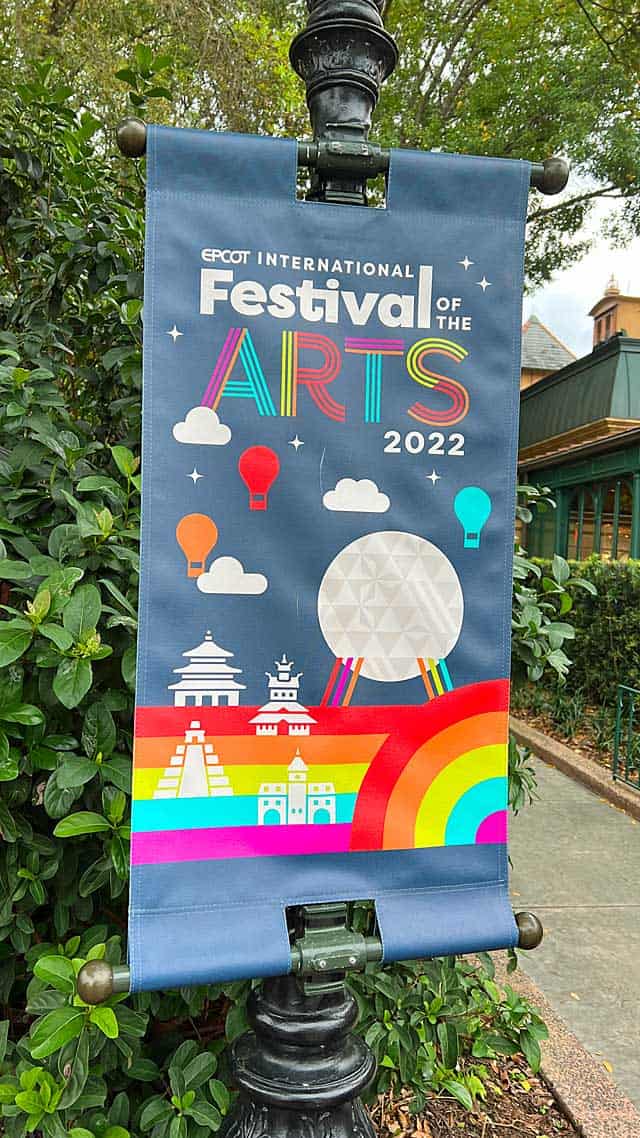 EPCOT's International Festival of the Arts is here now through February 20, 2023. From dozens of food and beverage items to fun photos and a special light show on Spaceship Earth, this festival provides so much fun and entertainment for Disney fans.
Be sure to check out everything NEW for this year's festival in this post HERE. You can also find all of the menus for the many food locations HERE. In addition, you can see all of the fun Magic Shots for this year HERE.
Figment's Inspiration Station at the Odyssey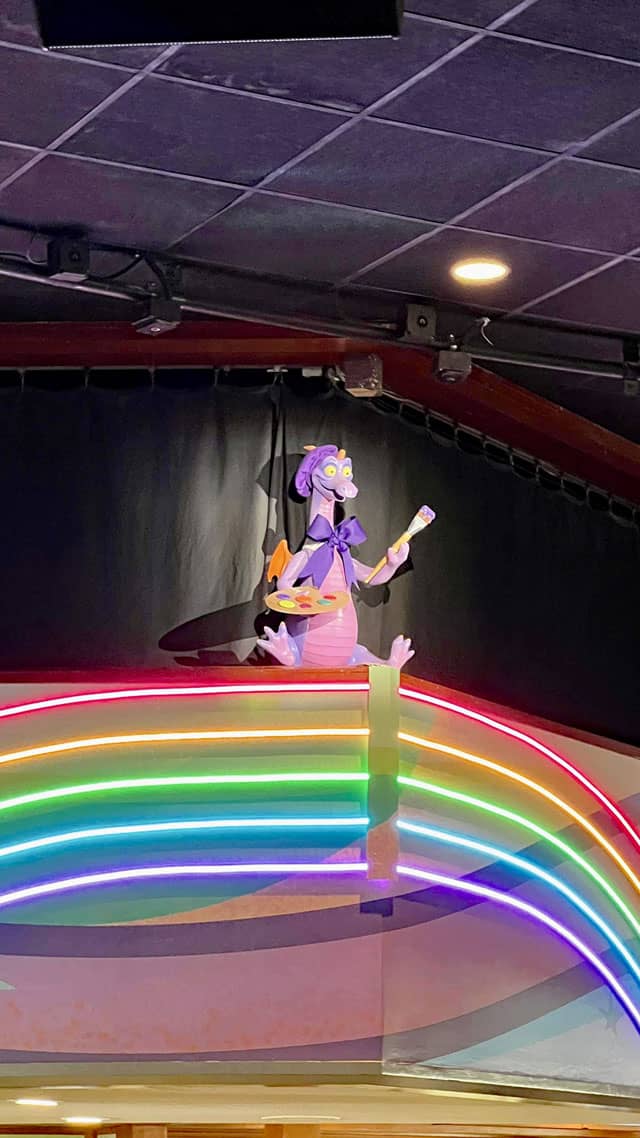 I (Katie) am a bit of an old-school EPCOT fan, which is part of the reason I loved visiting this all-new addition to EPCOT International Festival of the Arts. It is a Food Studio and an imagination studio combined, and it brings back a piece of a classic!
Of course, it is also the hub for Figment Popcorn Bucket pick-ups. You can find out how to mobile order one for yourself right here and here.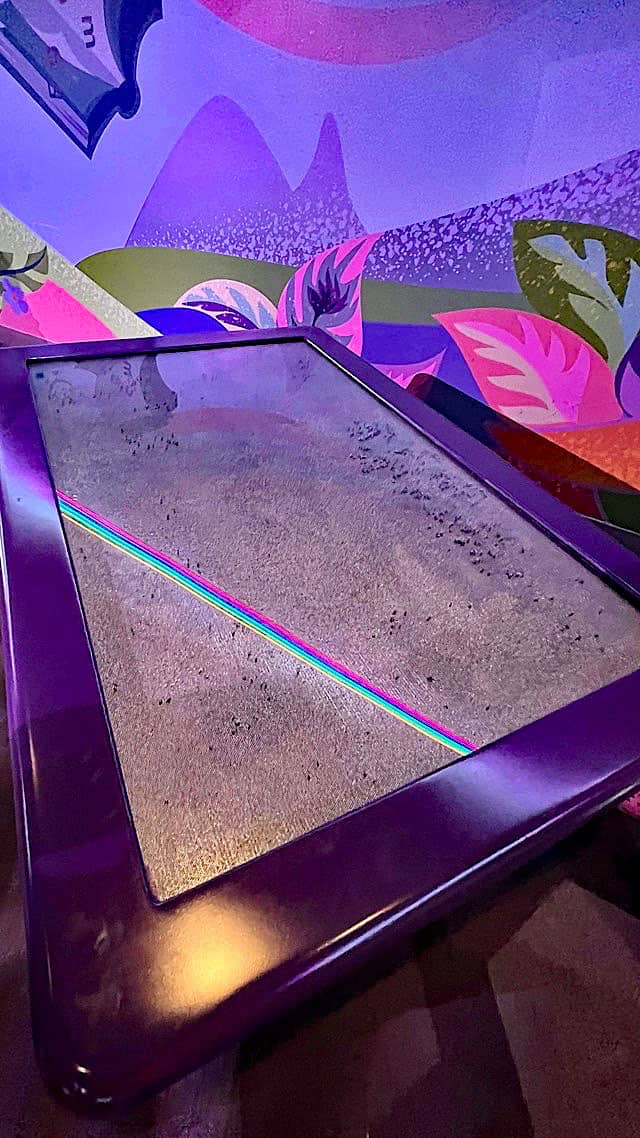 There is also a delightful collection of relics from the original Imagination Pavilion on display for Guest interaction. For example, the pin tables from ImagineWorks are there waiting to be played with. If you are heading there and remember playing with these yourself as a child, it is pretty magical to see your own children enjoy them!
Additionally, animated projections from the original ride pop up on an Imagination mural. An animatronic from the original ride watches over the whole thing from a perch above one of the entryways. You can read all about the fun here.
The Food!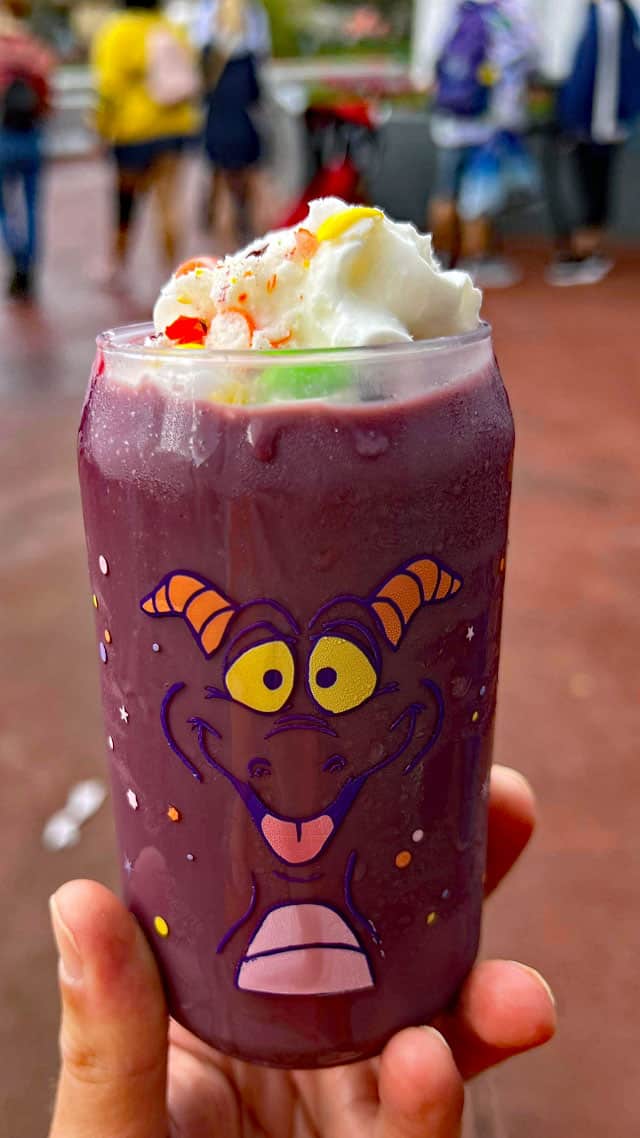 If you are looking for festival food, one of the very best deals at EPCOT International Festival of the Arts is right here! Figment's Inspiration Station offers several menu items.
Fruit Pizza: Watermelon, Compressed Cantaloupe, Berries and Berry Balsamic (plant-based) (gluten/wheat-friendly)
Pop't Art: Sugar Cookie with Blueberry Filling (Wonderful Walk of Colorful Cuisine item)
Rainbow Cake with freeze-dried SKITTLES® bite-sized candies
Figment Premium Popcorn Bucket with Rainbow Popcorn
Grape Smoothie with freeze-dried SKITTLES bite-sized candies (nonalcoholic)
Fruit Pizza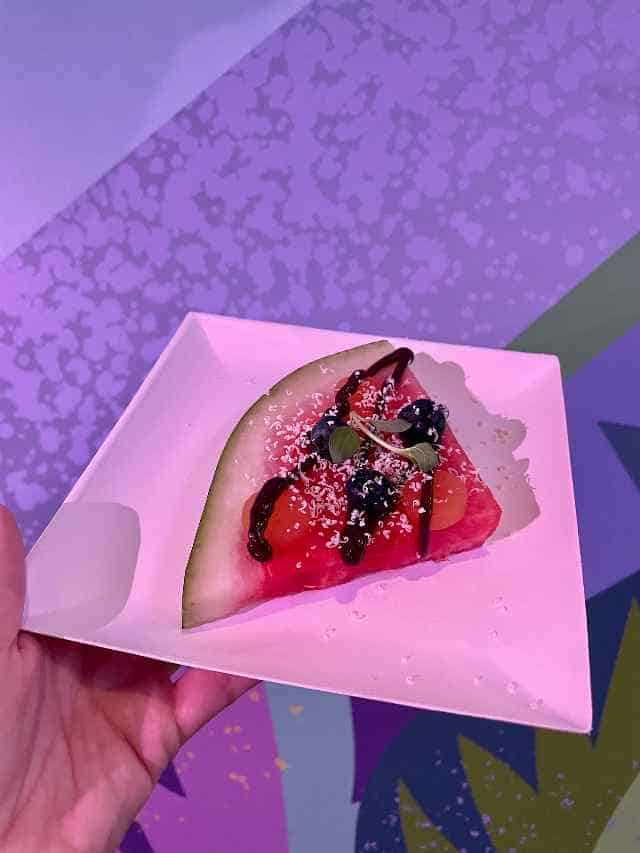 We were surprised at how much we loved the Fruit Pizza! It simply is made of a fresh triangular slice of watermelon topped with cantaloupe, berries, and a berry balsamic sauce. This is a perfect treat for someone who is craving something light, fresh, and sweet but not overly sweet like a sugary dessert.
The watermelon slices were substantially thick. The slice I tried was a perfect crispy consistency and was not mushy at all! The berries and berry balsamic were delicious as well. My party found it to be a refreshing treat!
Moreover, at $3.75, it is one of the best values at the Festival of the Arts. In fact, it is the least expensive item at the entire festival.
The Watermelon Pizza is the best deal at EPCOT International Festival of the Arts, and it is tasty too!
Be sure to share with your friends who are heading to EPCOT so that they know where to go if they are looking for a delicious deal! Have you tried Figment's Inspiration Station yet? Is it on your wishlist? Let us know in the comments below!