EPCOT's International Festival of the Arts is in full swing. See why we think the food from Refreshment Port is a miss!
Festival of the Arts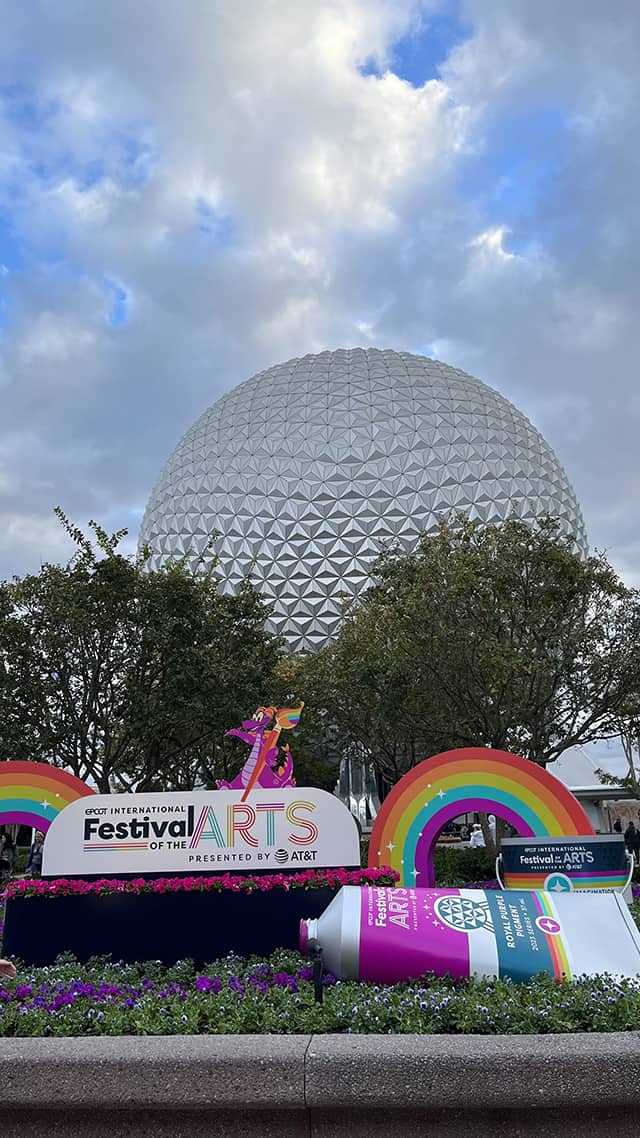 EPCOT's International Festival of the Arts is here now through February 20, 2023. From dozens of food and beverage items to fun photos and a special light show on Spaceship Earth, this festival provides so much fun and entertainment.
Be sure to check out everything NEW for this year's festival in this post HERE. You can also find all of the menus for the many food locations HERE. In addition, you can see all of the fun Magic Shots for this year HERE.
Our team at Kenny the Pirate is bringing you various reviews of some of the food items from the festival booths. Be sure to check out Kate's review from the brand new studios, Figment's Inspiration Station as well as the Moderne studio.
Refreshment Port – Showcase Plaza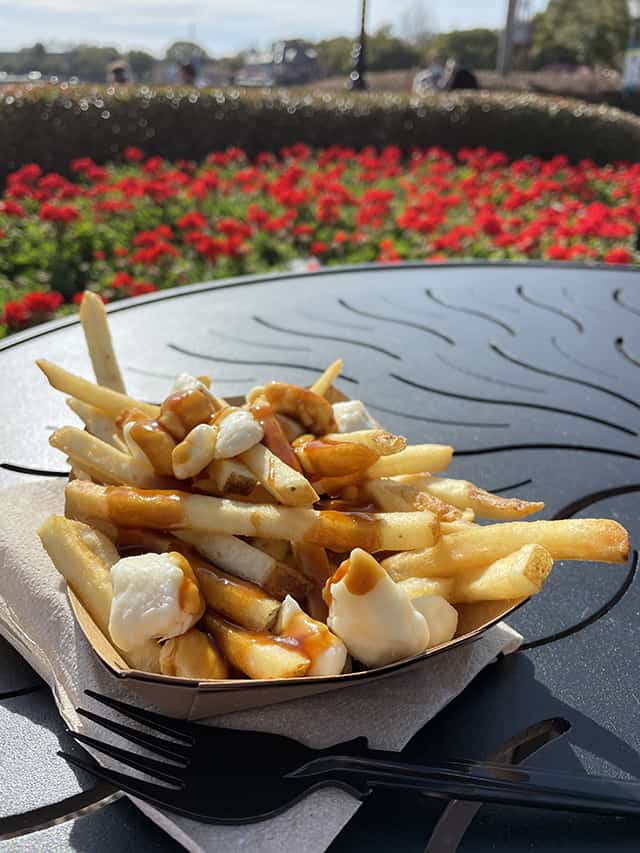 I (Maggie) had high hopes for this food booth, but I was left with feeling like this booth could have been skipped. Refreshment Port is located in Showcase Plaza between Gourmet Landscapes (Canada) and Deco Delights (Port of Entry).
The menu includes the following items:
Gnocchi Poutine with Red Wine-Braised Beef, Cheese Curds, Basil and Burrata $10.00
Traditional Poutine with French Fries, Beef Gravy and Cheese Curds $7.50
Artist Palette Jumbo Chocolate Chip Cookie $5.50
Beverages
Blood Orange Cosmo: Boyd & Blair Potato Vodka with Blood Orange, Cranberry and LimeBoulevard Brewing Co. Quirk $11.50
Blueberry Lemon and Lavender Hard Seltzer, Kansas City, MO $11.25
Our Thoughts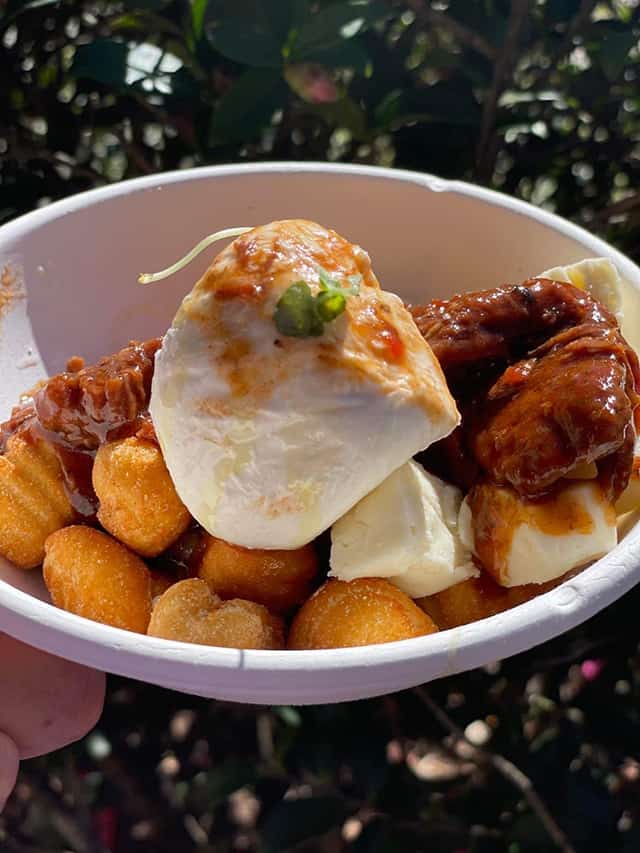 A couple of years ago, I tried the Traditional Poutine. I am a lover of French Fries, so fries, beef gravy and cheese? It all sounds good to me! However, the only negative thing about this dish in my opinion are the cheese curds. They just seem to have a rubbery taste and are just not good.
On my most recent trip, I decided to try the Gnocchi Poutine. It comes with with Red Wine-Braised Beef, Cheese Curds, Basil and Burrata. While the braised beef was decent, the cheese curds were still much too large and, again, very rubbery. The gnocchi itself seemed to be a little too fried and tasteless. This item is rather disappointing for $10.00.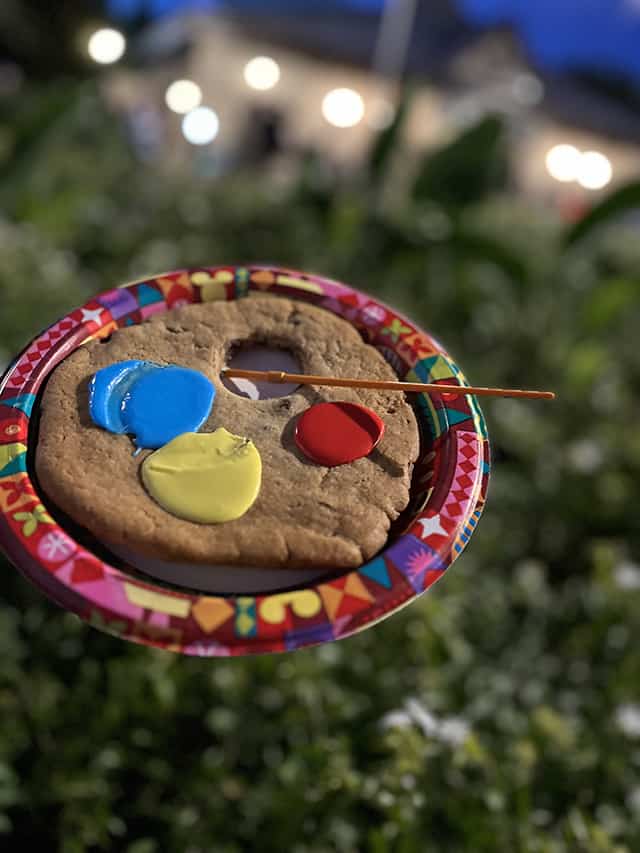 If I had to choose only one item out of the entire booth, it would be the Artist Palette Jumbo Chocolate Chip Cookie. It comes with a fun presentation shaped like an artist palette and the best thing is that you can literally paint the cookie. This item is fun for children or anyone who wants to play with their food.
It is a standard chocolate chip cookie. I would not be running to this booth specifically for this, but if you want a quick and yummy snack, this would be just fine. Overall, I would give this booth a 5/10.
Have you tried Refreshment Port at the International Festival of the Arts? What did you think? Let us know in the comments below or share this post with a friend who is visiting.