Are you headed to EPCOT International Festival of the Arts? We have been eating all the things so you know what to try!
EPCOT International Festival of the Arts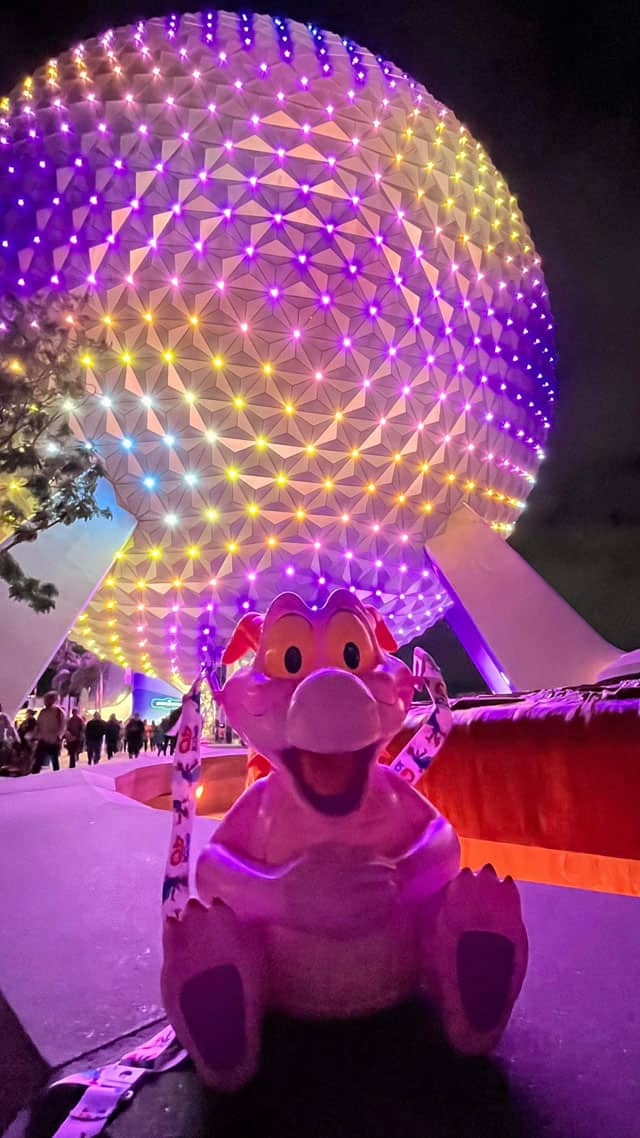 EPCOT's International Festival of the Arts is here now through February 20, 2023. From dozens of food and beverage items to fun photos and a special light show on Spaceship Earth, this festival provides so much fun and entertainment for Disney fans.
Be sure to check out everything NEW for this year's festival in this post HERE. You can also find all of the menus for the many food locations HERE. In addition, you can see all of the fun Magic Shots for this year HERE.
Moderne – Near Test Track Presented by Chevrolet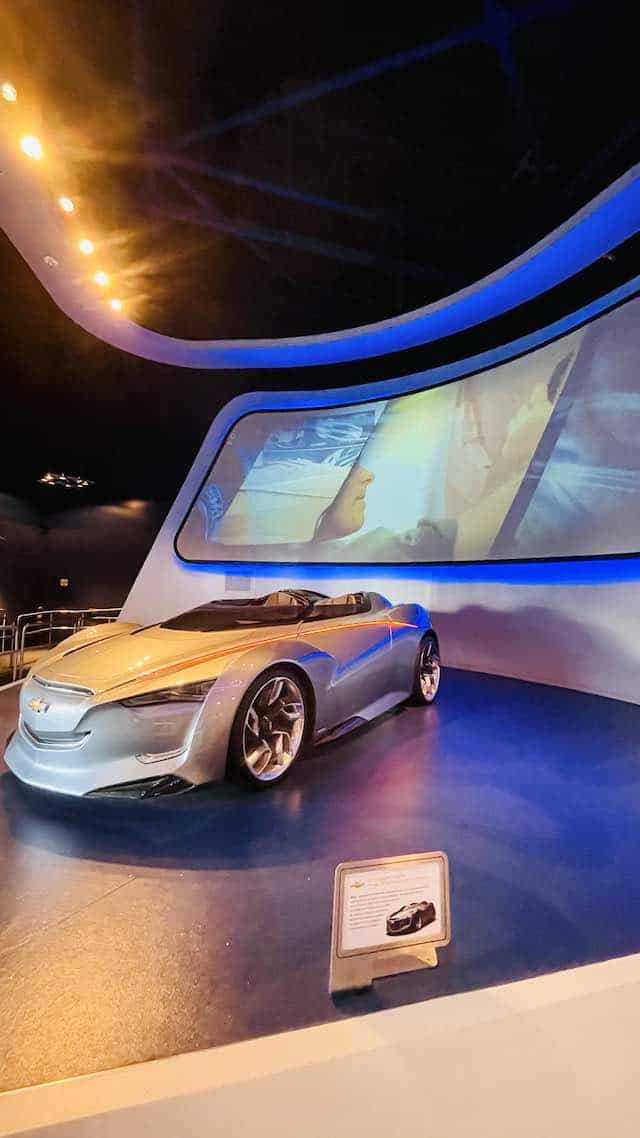 Modern is one of the new additions to the Food Studio lineup for this year's EPCOT International Festival of the Arts. This little culinary creation station invites you to take your taste buds on an enticing culinary journey with avant-garde menu items.
It is pretty easy to locate. You will find it near Test Track in Future World. My party enjoyed it while the kids played in the Advanced Training Lab play area.
The menu includes:
Compressed Watermelon Tataki with Pickled Watermelon Rind, Yuzu Pearls, Watermelon Foam and Wasabi (plant-based)
Angry Crab: Whole Crispy Soft-Shell Crab with Green Papaya Salad, Mango-Sriracha Fluid Gel, Coconut-Lime Foam with Pomegranate and Mango Crush Pearls
Pan-Seared Scallops with Vanilla-Butternut Squash Purée, Brown Butter Cauliflower Purée and Lime Foam (Wonderful Walk of Colorful Cuisine item)
The Tropics: Lilikoi Mousse, Guava Cake, Coconut Crémeux, Compressed Pineapple and Mango Gel
Pan-Seared Scallops with Vanilla-Butternut Squash Purée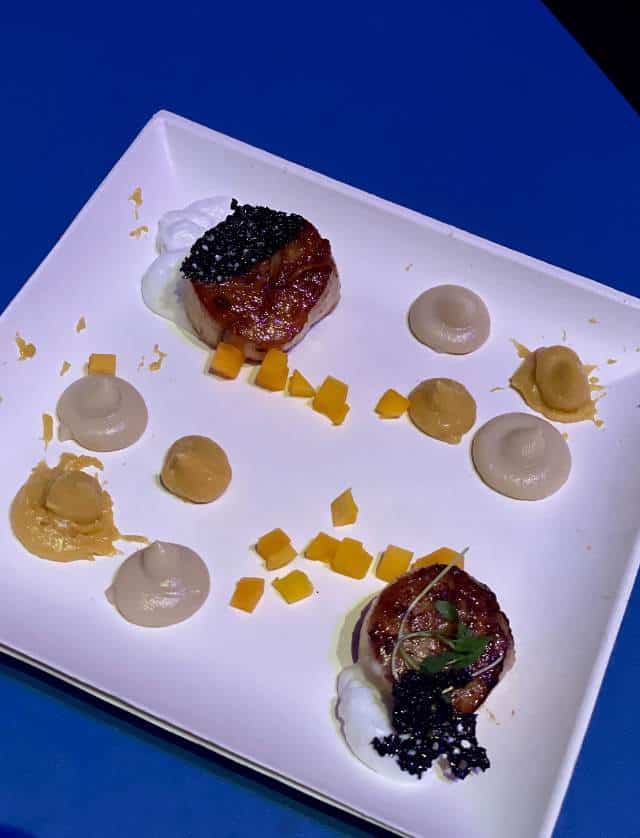 My travel party decided to taste the Pan-Seared Scallops with Vanilla-Butternut Squash Purée. I (Katie) love scallop dishes but have been relatively disappointed in some of the scallops offered at EPCOT's various festivals.
This was not the case with this dish. The Pan-Seared Scallops with Vanilla-Butternut Squash Purée were delicious for the most part. The flavors of the Vanillia-Butternut Squash Puree and the Brown Butter Cauliflower Puree worked nicely together.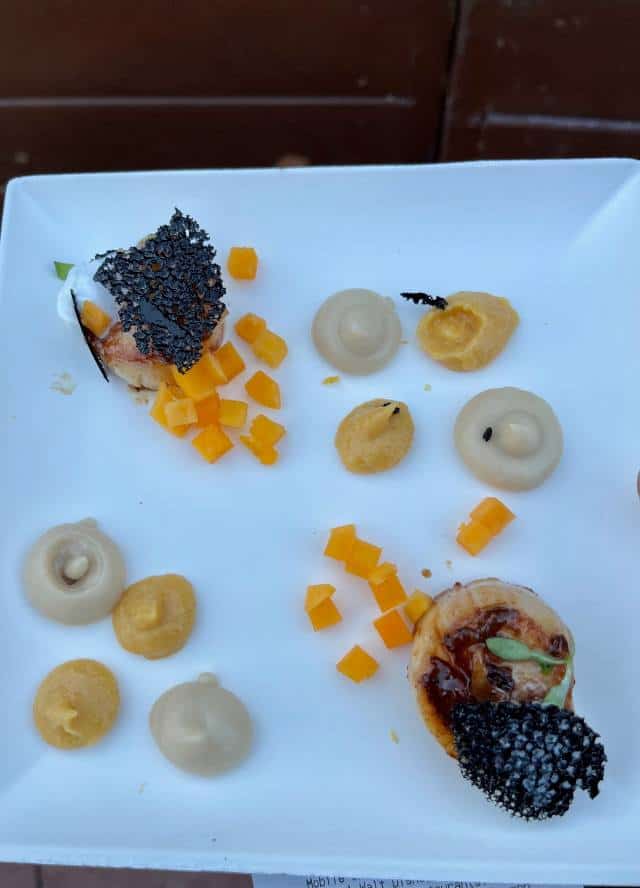 However, the Lime Foam did not pair well with the other flavors. In fact, it was a bit too sour and a bit too bitter. We left it on the plate. If it had been left out of the recipe, this would have been just about the perfect little dish.
Each plate comes with two scallops and quite a few dollops of puree. At $7.50, it is a surprisingly decent value considering the price point of a scallop accompaniment or appetizer at most restaurants.
If you know someone who is heading to EPCOT, be sure to share our Food Studio reviews so that they know which dishes to each and which to avoid to get more bang for their Disney buck! Let us know what your favorite dishes are over on Facebook.