EPCOT has so many fabulous dining choices! Check out all of the restaurants here and see which ones you need to try.
San Angel Inn Restaurante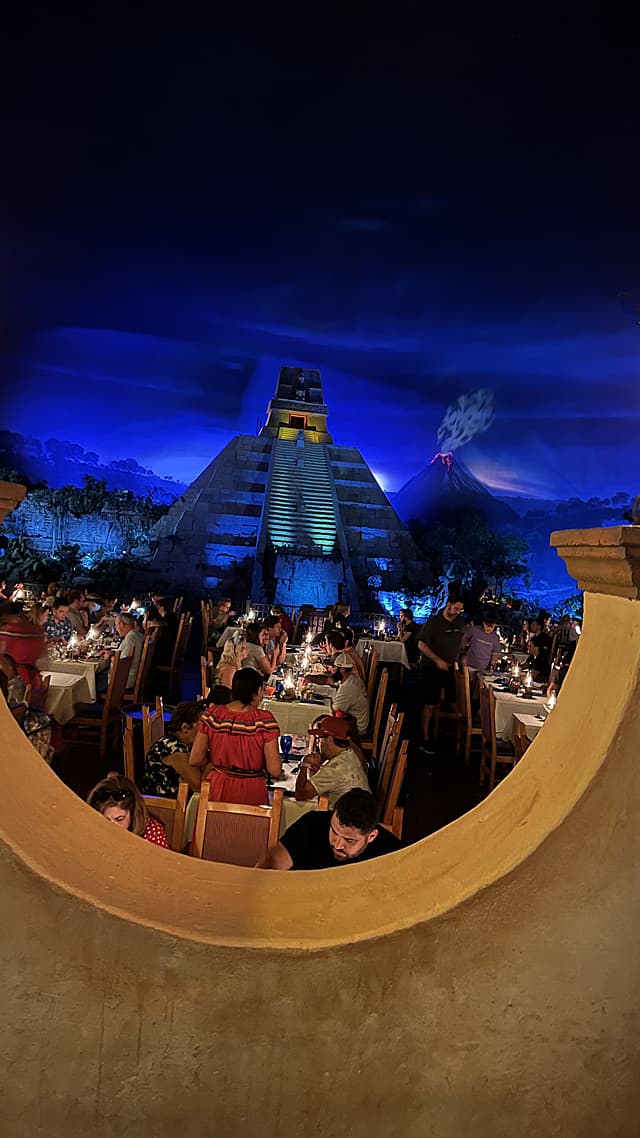 San Angel Inn Restaurante is a a table service dining location. Here, guests dine under a blue-lit twilight sky. This Mexican restaurant is modeled after a 17th-century hacienda at the base of Mayan ruins. Although tables are a bit tight, the feeling of eating outdoors is amazing.
La Hacienda de San Angel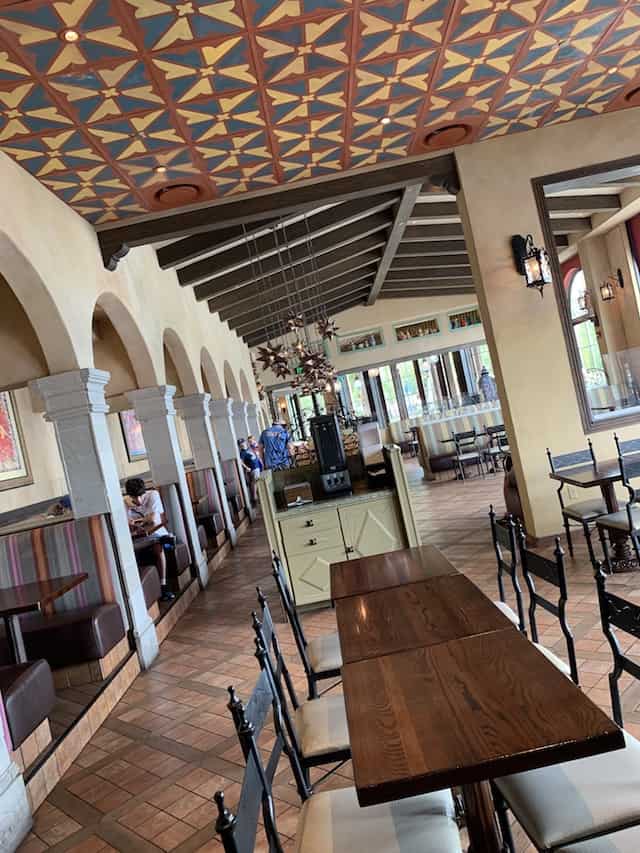 La Hacienda de San Angel is a table service restaurant located across the path from the pyramid. It serves authentic Mexican cuisine from various Mexican regions. This restaurant boasts waterfront dining. However, this location isn't open for lunch. Guests find a wide variety of house-made salsas with all levels of heat here.
La Cantina de San Angel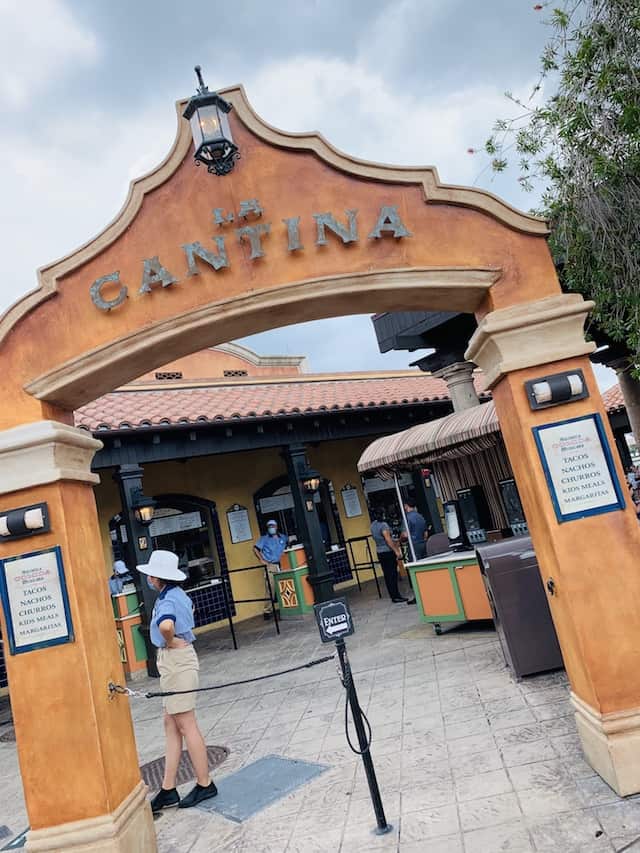 Mexico's quick service is located waterfront adjacent to the Hacienda restaurant. At La Cantina de San Angel, look for tacos, empanadas, and churros. This is a great place to eat in air conditioning or open air tables. If you time it right, you may be able to watch Harmonious from your table.
Akershus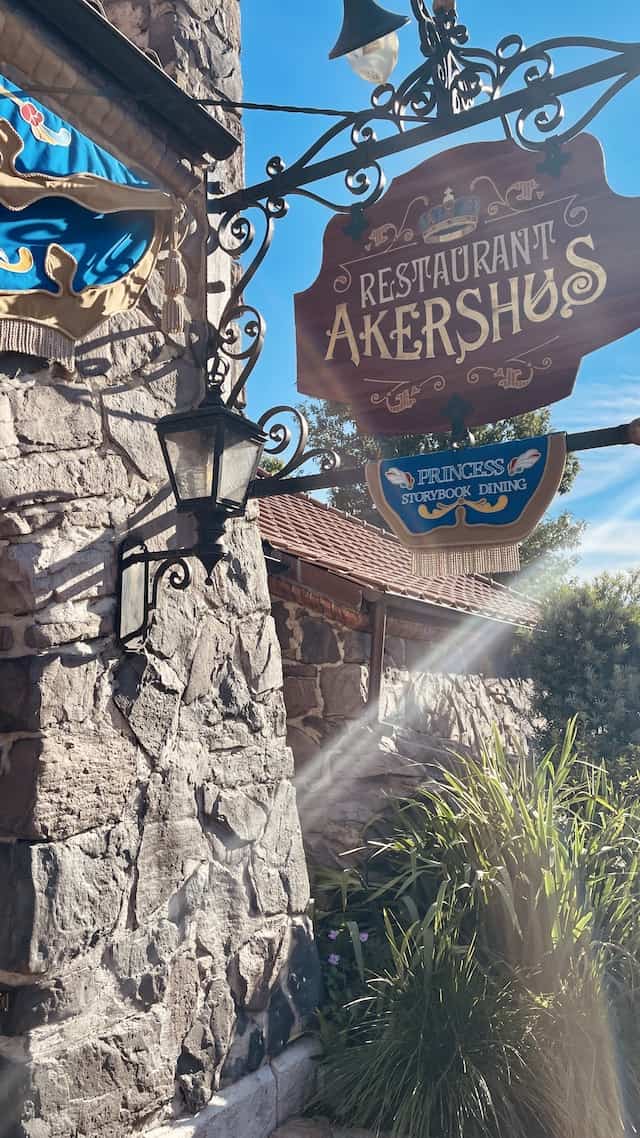 Guests greet Disney Princesses inside a wonderfully themed medieval castle with soaring archways and cathedral ceilings. Sometimes, this location is seen as the "other" princess meal in contrast to Cinderella's Royal Table.
However, we enjoyed Akershus more than Cinderella's Royal Table. The princess interaction was so personal here. I (Susan) hope princesses and this dining location return soon!
Kringla Bakeri og Kafe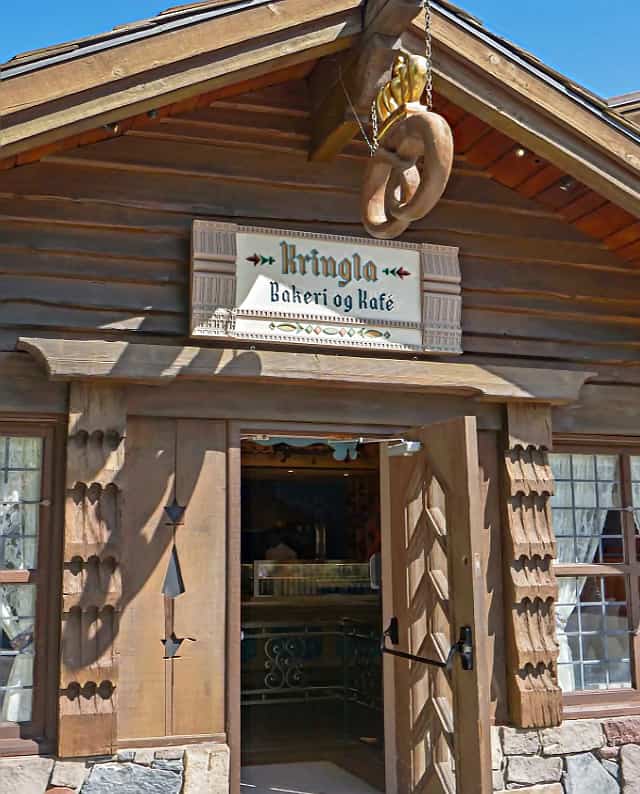 Savor traditional Norwegian specialties like kringla sweet pretzels, sweet lefse flatbread or the famous school bread. Then, enjoy Viking adult coffee! Beer is also available. This quick service location offers covered seating in front of the ordering area.
Joy of Tea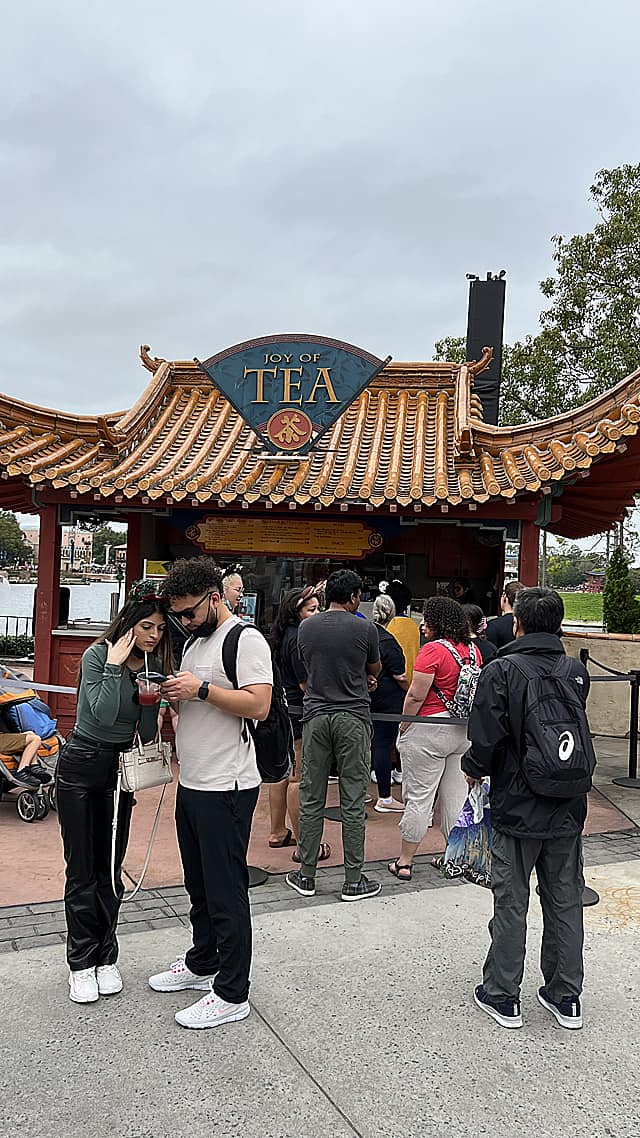 While waiting for the show in China's courtyard, I grabbed a couple of egg rolls and Hibiscus tea. Both were amazing and reasonably priced! The egg roll consisted of pork and cabbage/veggies. It had an amazing crunch and was very fresh.
Lotus Blossom Cafe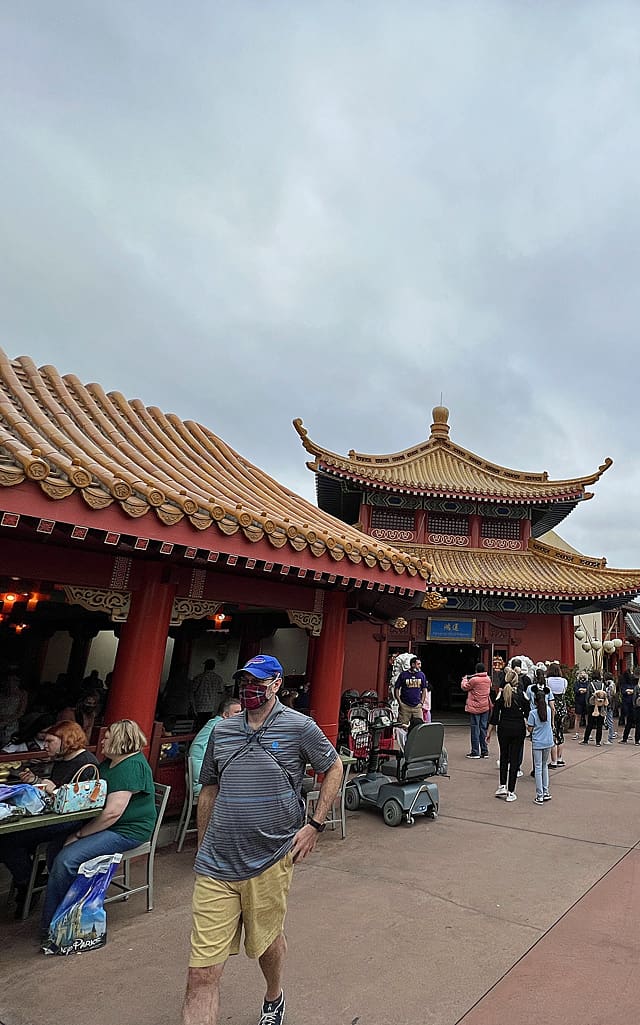 If you're looking for a quick and hot meal, check out the Lotus Blossom Cafe. Chow down on Chinese favorites here like pot stickers, egg rolls, orange chicken, chicken fried rice, Mongolian beef and more. Then, try the ginger ice cream! Plum wine and beer are also available.
Nine Dragons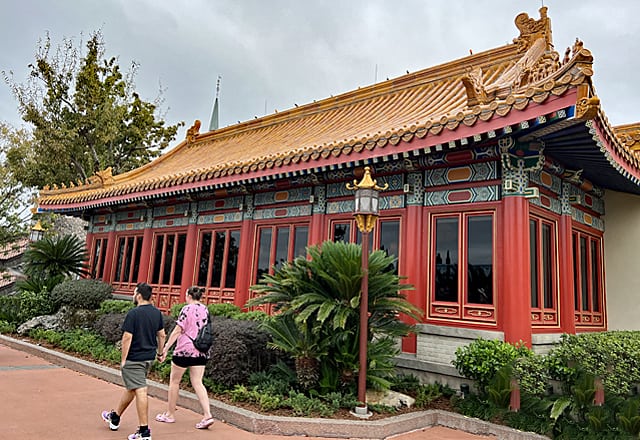 Guests feast on Chinese cuisine with ornate wood carvings, traditional lanterns and exquisite glass artwork. While the food isn't necessarily top notch, prices are reasonable for Disney standards. If you're a fan of traditional Chinese food, I hope you try it.
Biergarten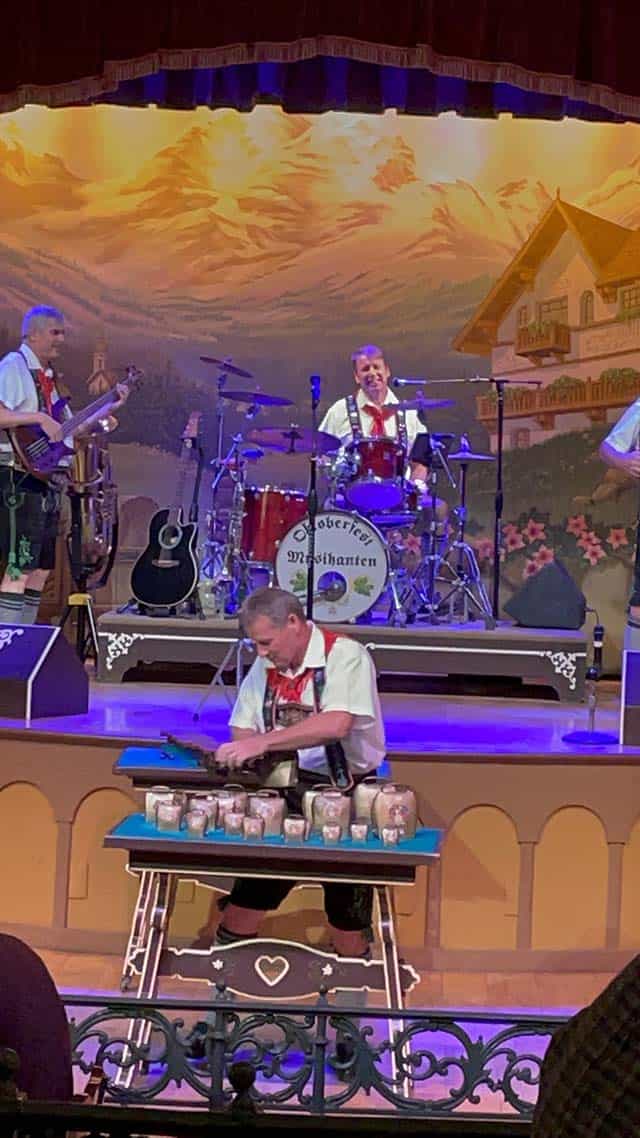 At Biergarten Restaurant, Oktoberfest is celebrated all year long with authentic German cuisine and lively entertainment. Here, the pretzel rolls are very popular. For a brief time, Biergarten was served family-style. However, it is back to buffet offerings.
Bier Stand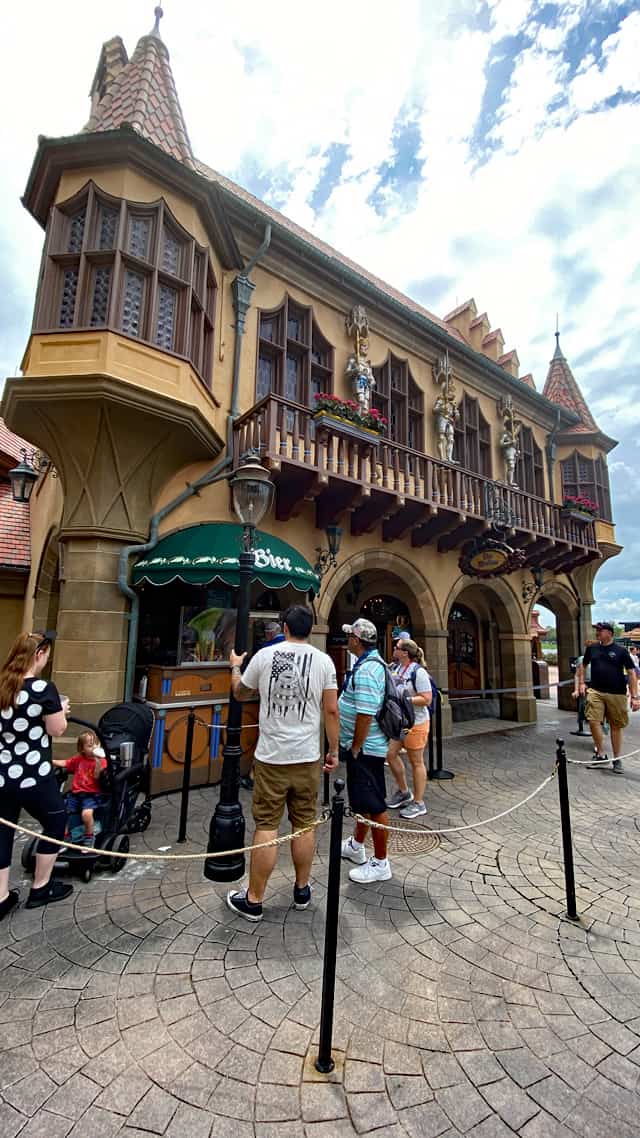 As the name implies, this walk-up window serves German beers. Germany is a favorite drinking spot for guests.
Karamell-Küche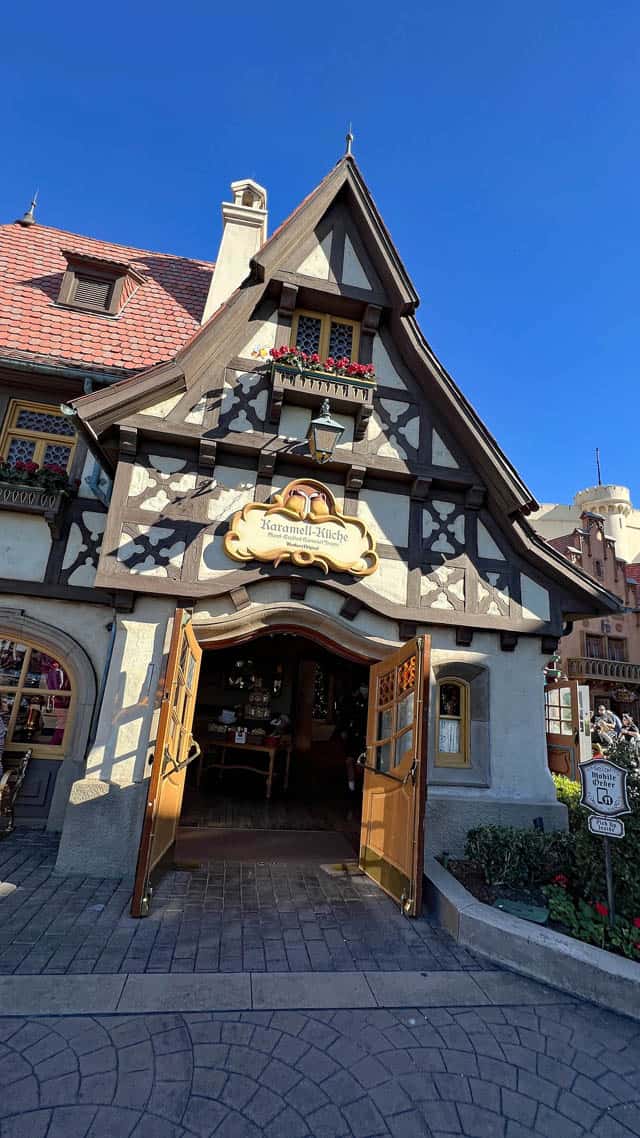 The shop also carries pre-packaged popcorn that uses Werther's Original Signature Caramel and house made chocolates and other assorted candies and sweet treats. The turtle candies here are amazing, too!
Sommerfest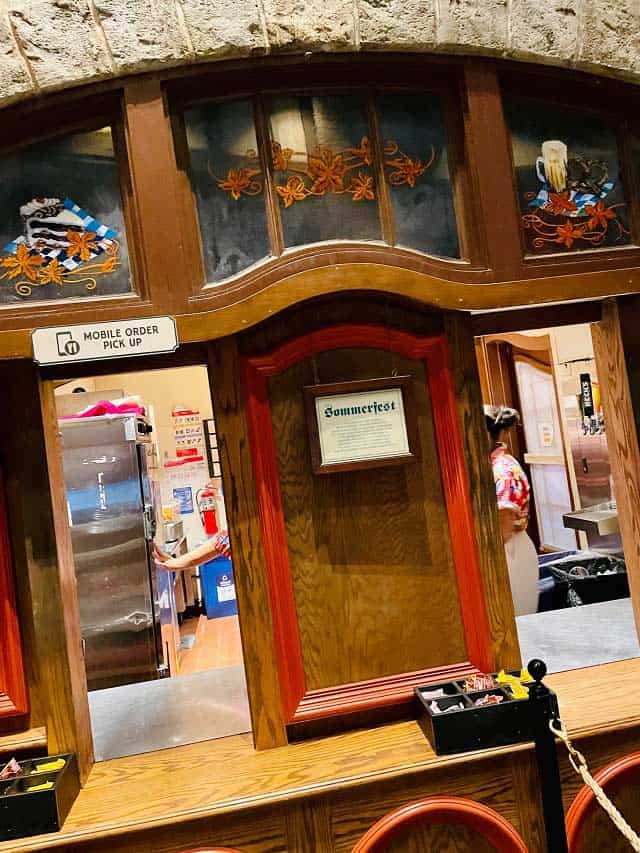 Snack on delicacies at this walk-up eatery at World Showcase. Here, you'll find bratwurst with sauerkraut, jumbo pretzels, German beer and wine. It's tucked away in the back of the pavilion close to Biergarten.
Trinken Beer Stand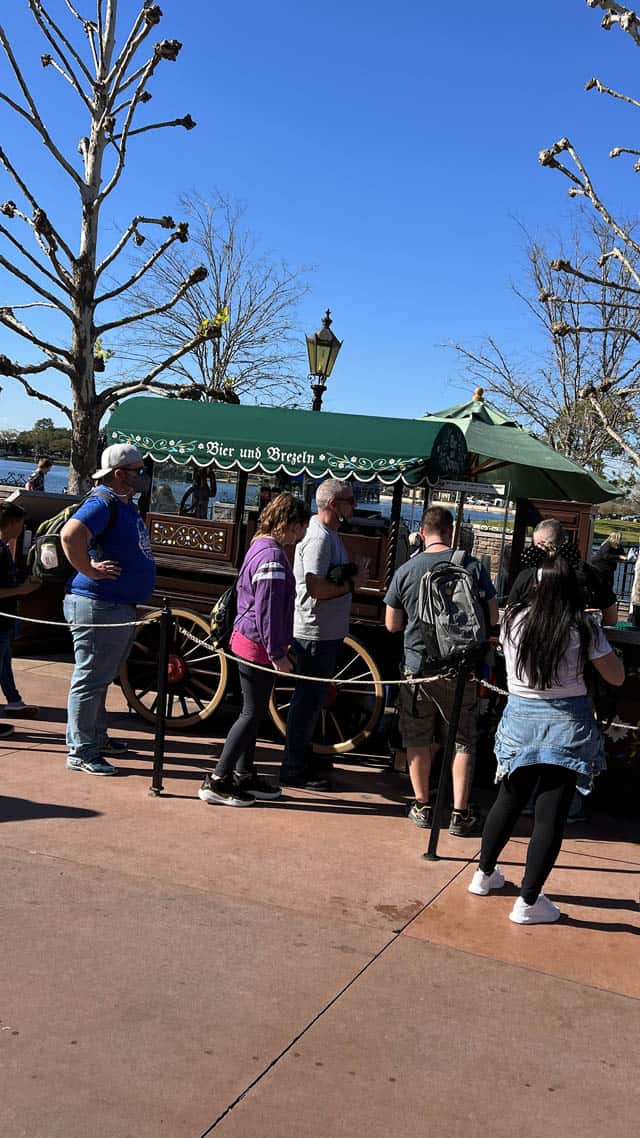 If you're walking by Germany on the main World Showcase Lagoon path, be sure to be on the lookout for this cart. They serve German pretzels and beer.
Gelateria Toscana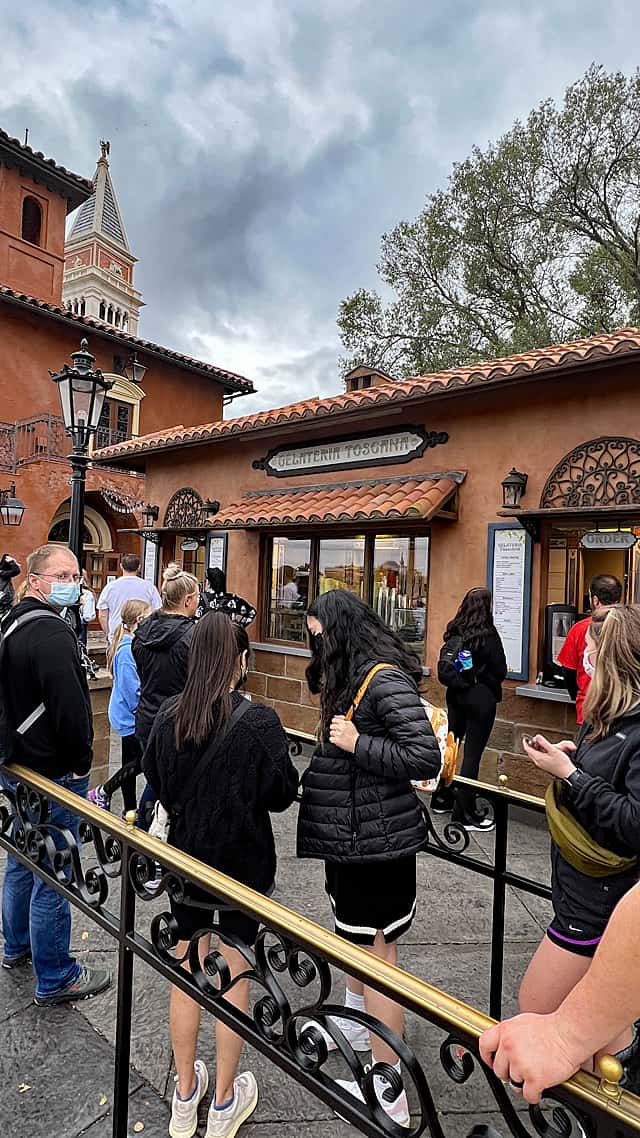 Treat yourself to authentic Italian gelato or sorbet. You can order these hand-scooped treats in a cup, cone or featured in a dessert. Also enjoy Italian pastries with a beverage, including soft drinks, Italian coffee selections, beer, and wine.
Tutto Italia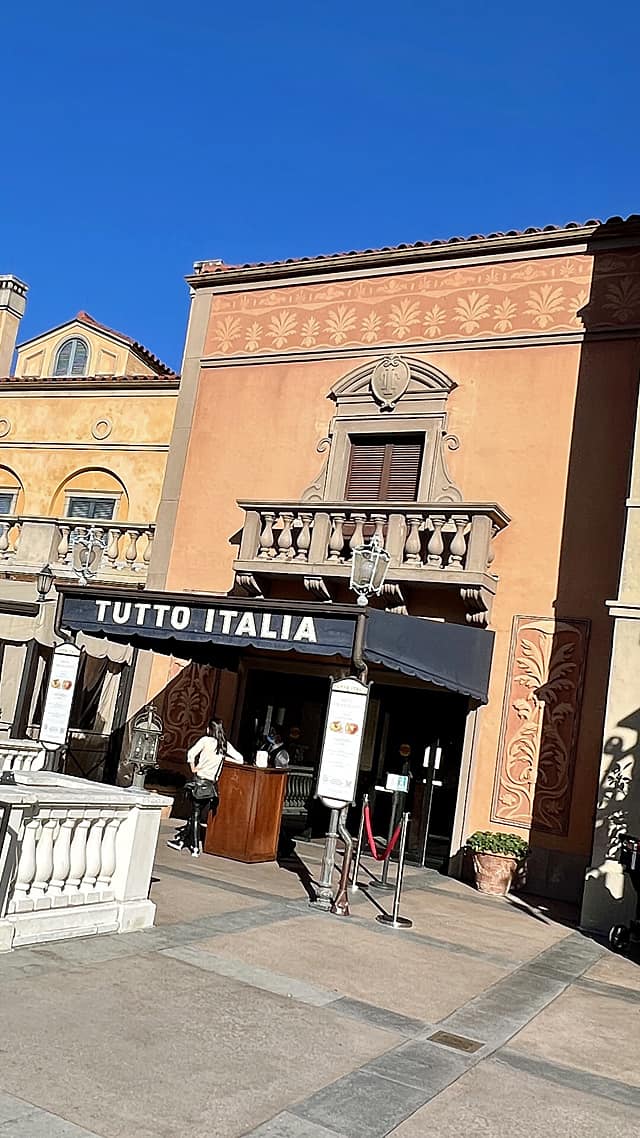 Relax in Old World ambience with your favorite Italian dish. On the outside patio or in the dining room, dine with murals of ancient Rome and sparkling chandeliers. Here, you can choose from a variety of appetizers.
Then, continue with entrees that may include pan-roasted fish, grilled steak and seasoned potatoes, and classic spaghetti and meatballs. Finally, order gelato, chocolate cake or crispy cannoli to complete your dining experience.
Tutto Gusto Wine Cellar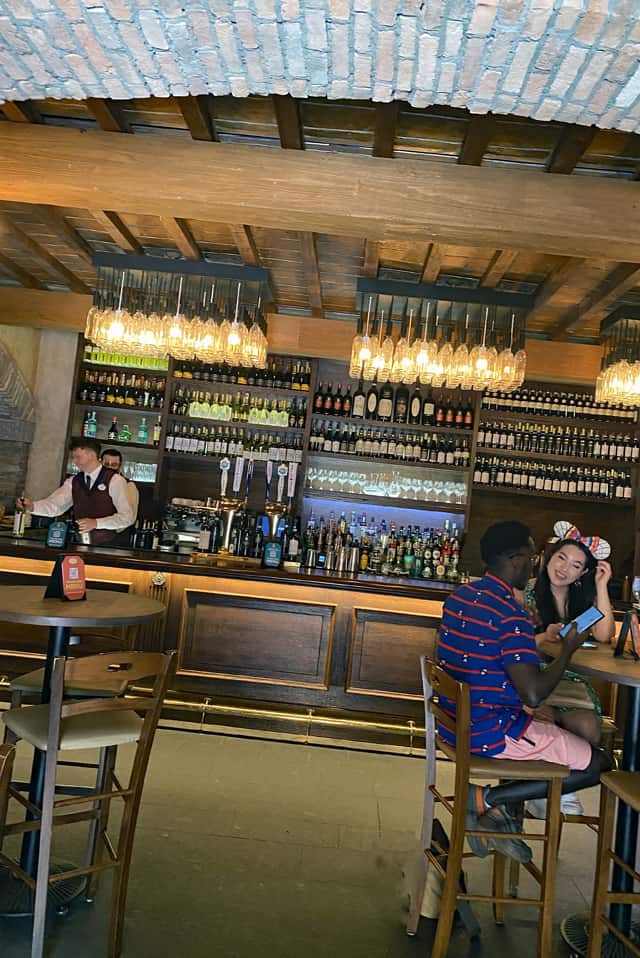 Experience the flavors of Italy at this cozy wine bar. Tutto Gusto offers over 200 bottles of Italian wine, beer and a small-plate menu of meats, cheeses, panini, pasta and desserts. Since it's small, it's quieter than larger Disney dining locations.
Gelato Cart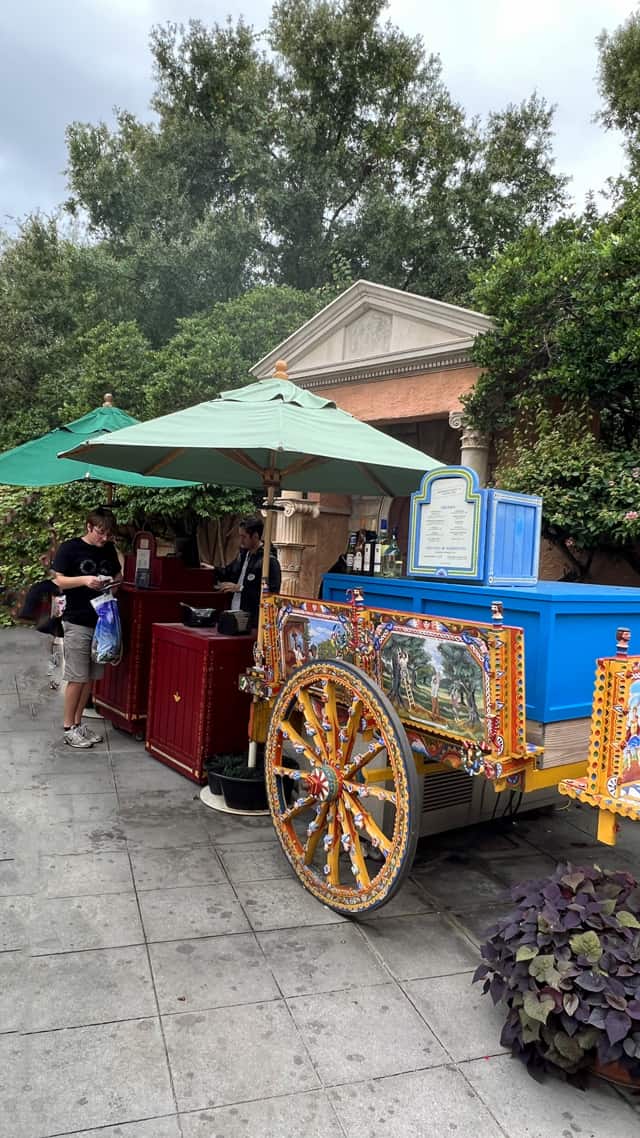 We're not finished yet. There's also a "donkey-drawn" cart offering Italian gelato adding to the feel of being transported far away from a theme park.
Via Napoli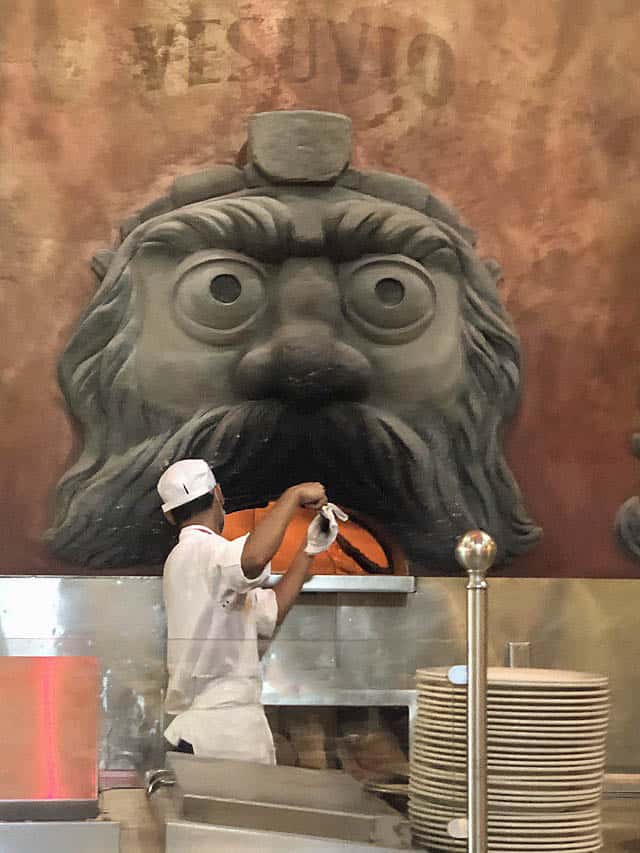 Via Napoli is known for its thin-crust pizzas which are made with fresh mozzarella cheese, San Marzano tomatoes, and authentic Caputo flour (imported from Southern Italy)! The water for the dough is flown in and sourced from a spring similar to Italy's Campania region. Check out our review of this restaurant HERE.
Garden House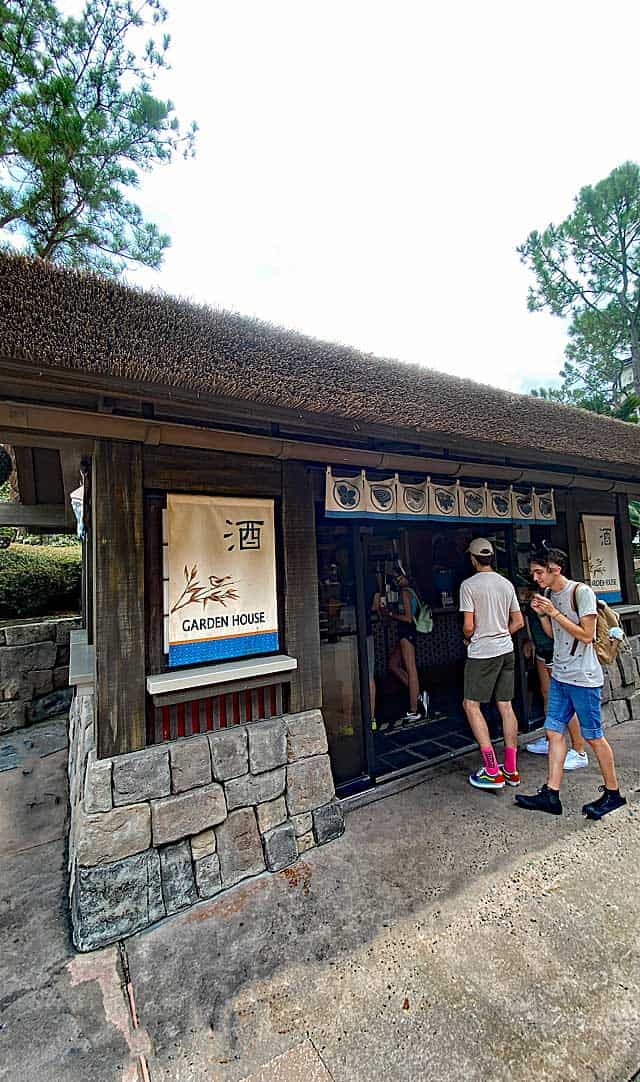 Garden House is an outdoor sake bar in the courtyard of the Japan Pavilion. This is your quick stop for assorted Japanese sodas & beer, plum wine, and hot or cold sake. You will also find Coca-Cola products and seasonal smoothies.
Kabuki Cafe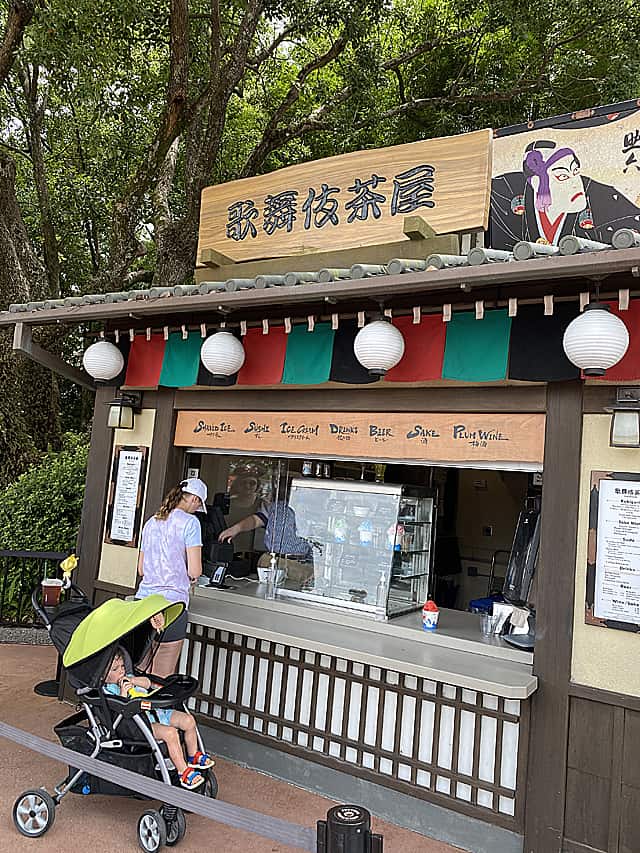 At this kiosk, look for the Japanese favorites of otsumami-style sushi, edamame, kakigōri, assorted Japanese sodas and beer, plum wine, and hot or cold sake.
Katsura Grill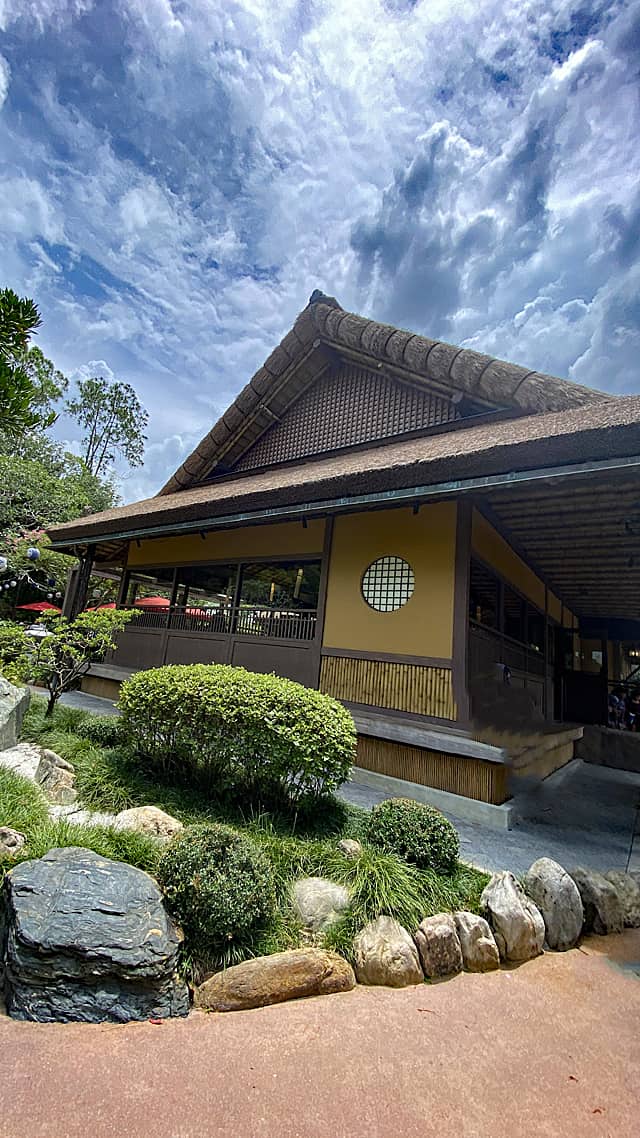 Quiet your mind and your satisfy your hunger in this serene setting. While you're eating you may even catch the taiko drummers performing. At this quick service location, enjoy teriyaki, sushi, chicken cutlet curry, salads and more. Draft beer, sake and plum wine are also available.
Takumi-Tei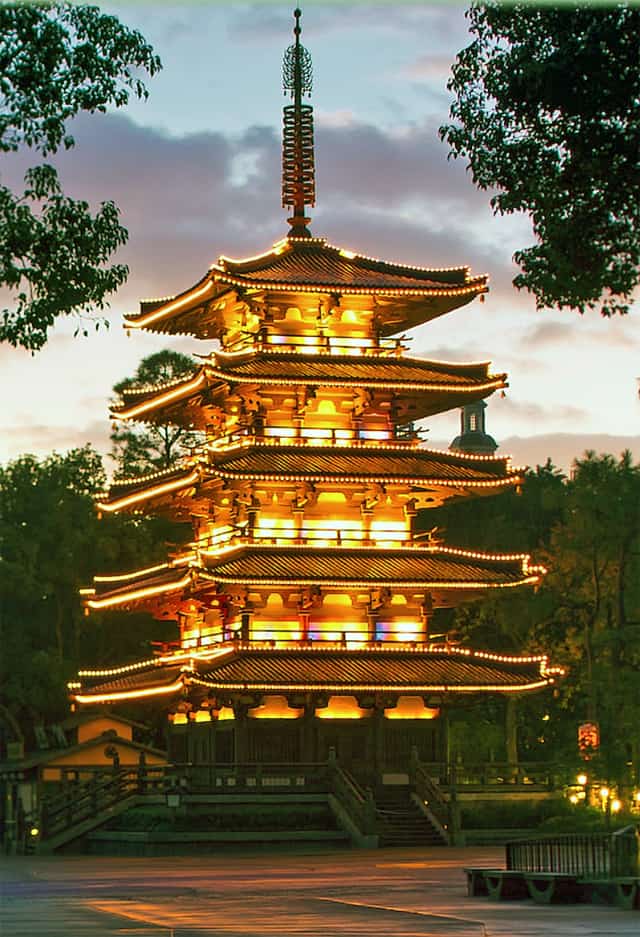 Takumi-Tei means "House of the Artisan" in Japanese. This signature restaurant features rooms with natural elements: stone, wood, washi paper, water, and earth. Each dining room gives guests a private dining experience which is rare at Disney. The menu features premium seafood, sushi, and beef.
Teppan Edo
At Teppan Edo, every seat has an excellent view. This fun restaurant brings guests authentic Japanese cuisine. Not only that, but the dining experience is part meal and part show. In the communal ritual of Teppan-yaki-style cooking, skillful chefs chop and stir-fry dishes on grills at your table.
Tokyo Dining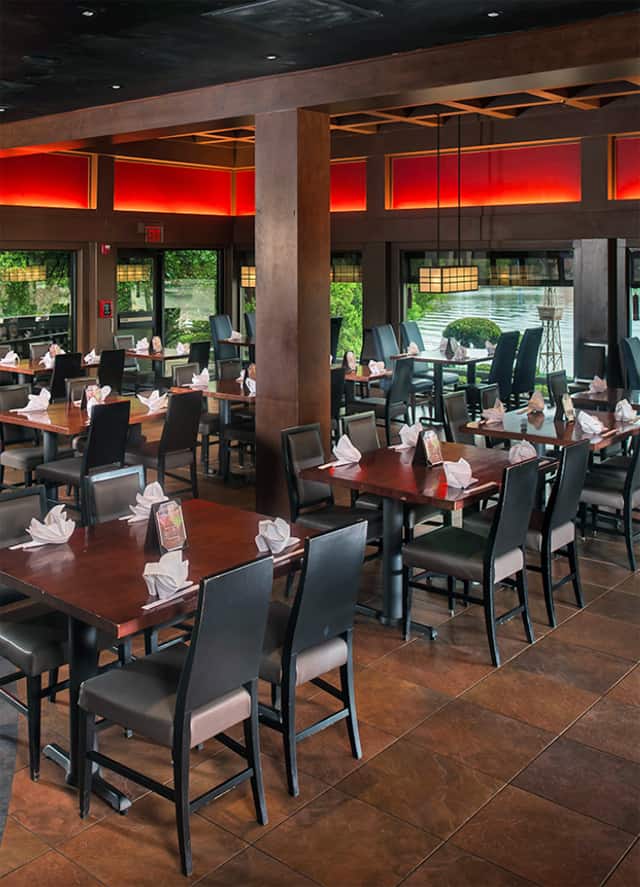 Diners at Tokyo Dining are immersed in Japanese culture. Here, old-world traditions blend with modern-day Tokyo, creating an enjoyable dining experience. This table service location features a variety of sushi.
Block and Hans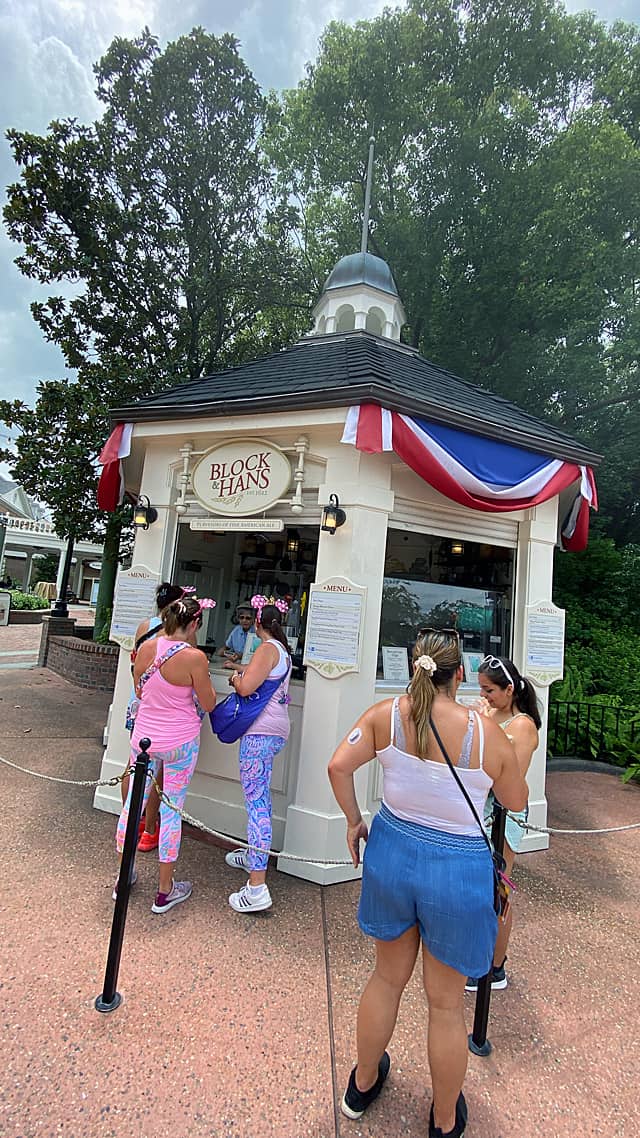 Stop at this popular spot if you're thirsty for American craft beers! In addition, they serve Mickey pretzels with cheese sauce and bottled water.
Coffee and Pastry Stand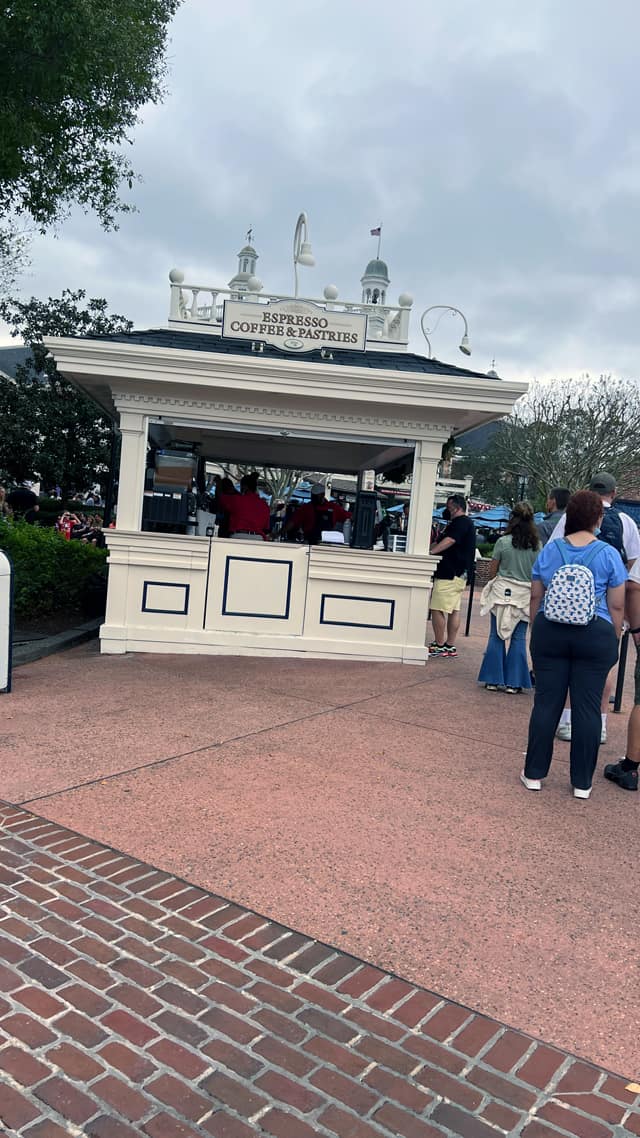 At the front of the pavilion, you'll find the coffee and pastries stand. Here, guests can purchase a variety of espresso and coffee drinks. This makes a great early stop for a quick breakfast.
Fife and Drum Tavern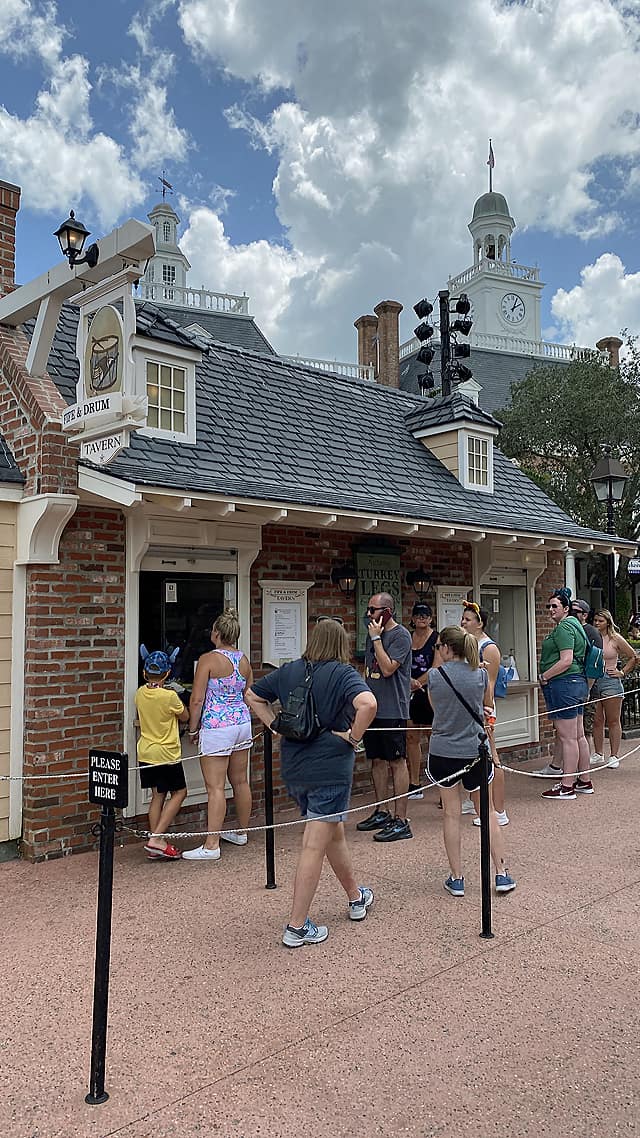 Hungry for a turkey leg? Search no further because they're served at the Fife and Drum Tavern. Other American dishes served here are popcorn and root beer floats. Alcoholic beverages, including beer and wine are also available.
Funnel Cakes
Satisfy your sweet tooth with a classic funnel cake or cookies 'n cream funnel cake. Then, top these delicious treats with lots of choices: powdered sugar, chocolate syrup, or vanilla ice cream.
Regal Eagle Smokehouse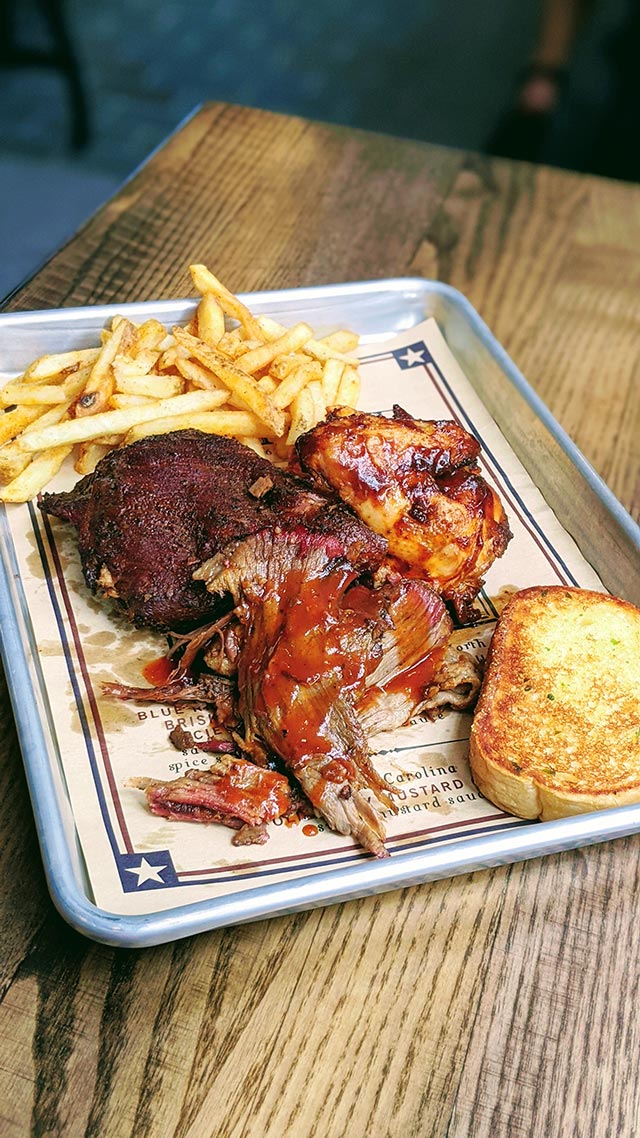 At Regal Eagle, guests find American barbecue and craft beers. Delicious meals are prepared by a pit master using techniques from classic barbecue regions to smoke selections over oak wood.
Wash it down with all-American beverages, including beers and ciders from around the United States. Check out our Regal Eagle Smokehouse review HERE.
Oasis Sweets and Sips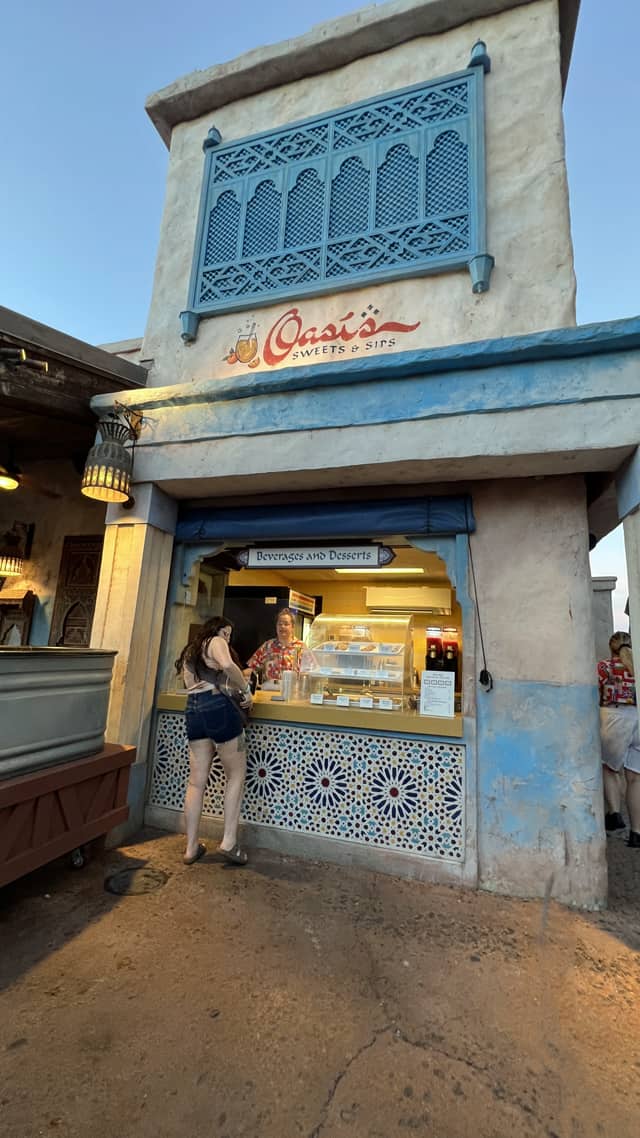 Delight in delectable treats like Pistachio Baklava and Almond Crescent Cookies, as well as exotic drinks—Frozen Cocktails, Sangria and more.
Restaurant Marrakesh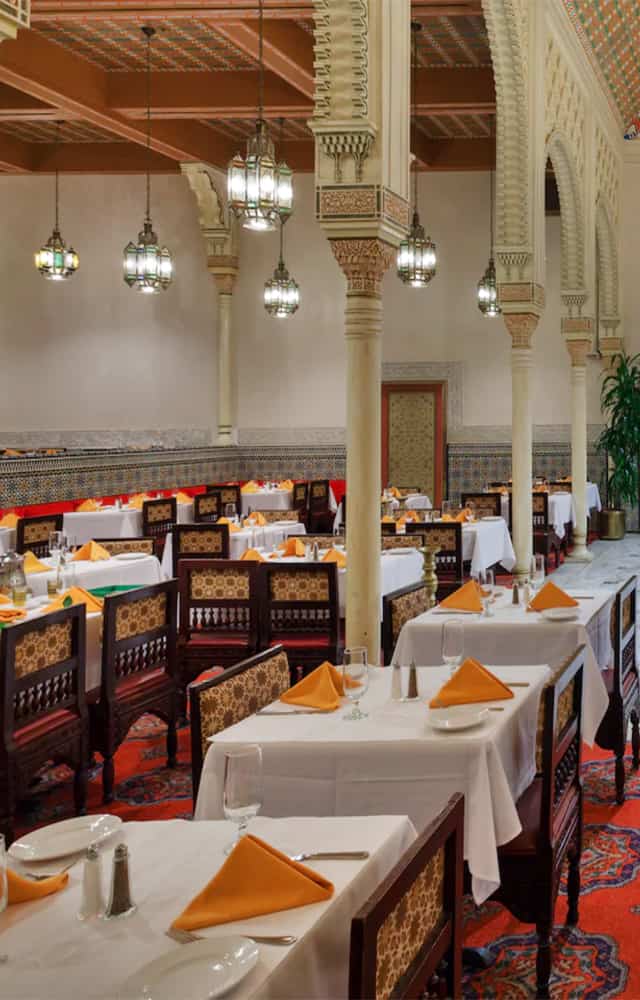 When open, Restaurant Marrakesh offers traditional Moroccan cuisine and live entertainment, including a belly dancer. However, this location remains temporarily unavailable. Now that Disney owns this spot, would you like it to reopen like before or incorporate a character dining experience?
Spice Road Table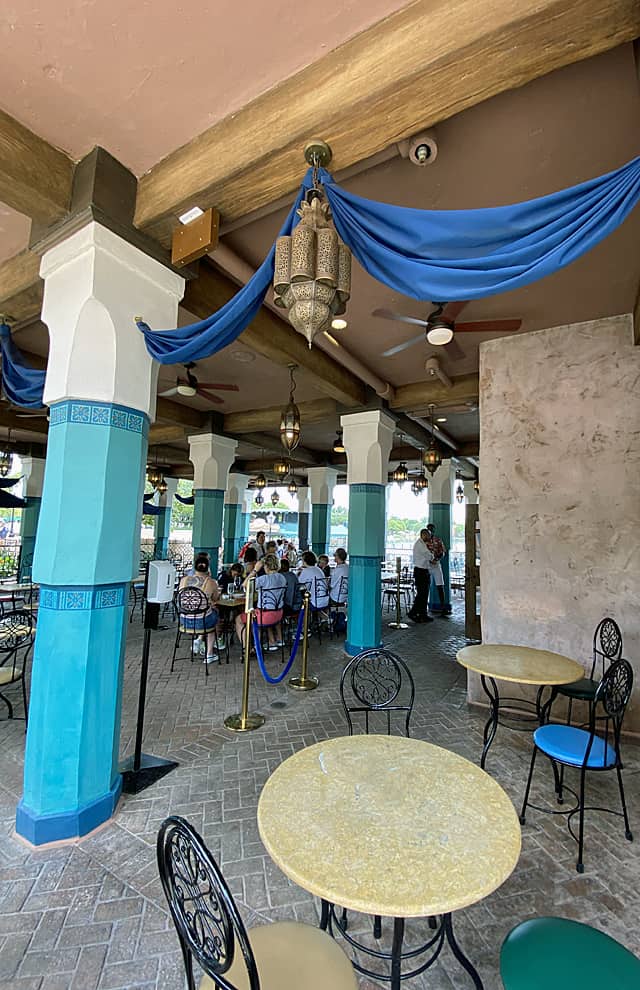 Take in the flavors of the Mediterranean as you unwind at the waterfront restaurant. The menu at Spice Road Table features a selection of assorted small plates and cocktails.
Tangierine Café
Tangierine Café, one of the most delicious quick service locations in all of Disney, serves authentic shawarma platters, tempting pastries and specialty coffee drinks. However, since reopening, Disney rotates the menu here for festivals.
Les Halles Boulangerie-Patisserie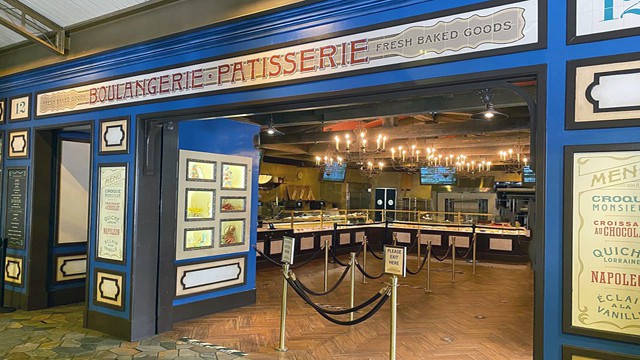 When you enter Les Halles Boulangerie-Patisserie, you'll immediately be taken in by all of the beautiful dishes and tantalizing smells in this small space. Everything from quiches, sandwiches, and salads are served here.
L'Artisan Des Glaces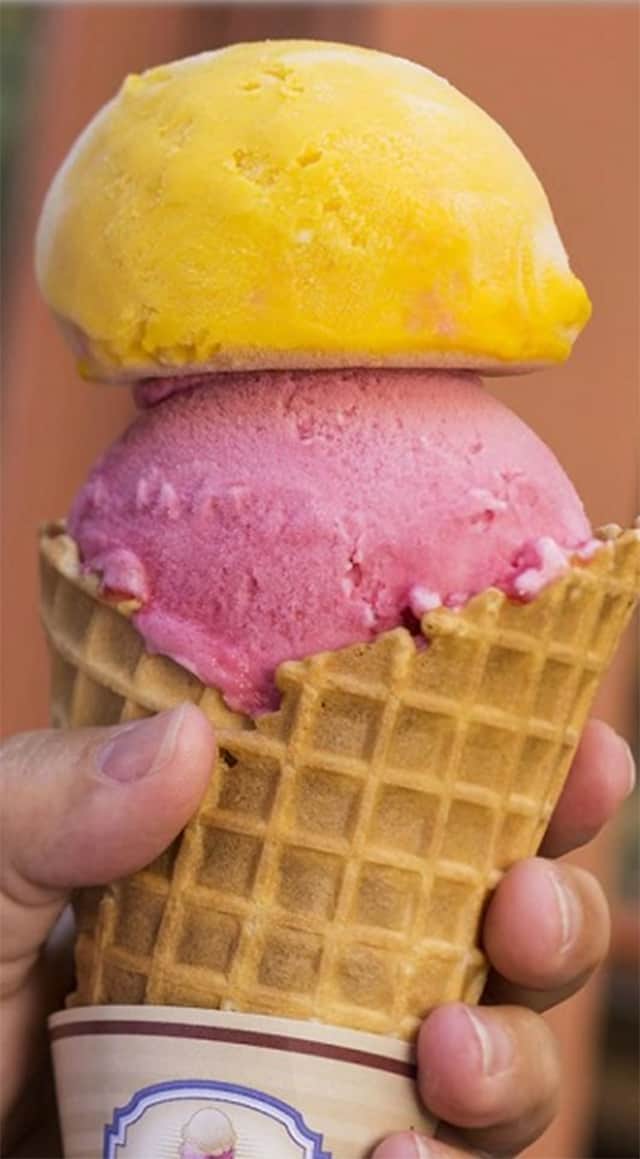 Delight your sweet tooth at this artisanal French ice cream shop. The English translation of L'Artisan des Glaces is "the ice cream maker." Since all of the ice cream, handcrafted frozen goodies, and sorbet is made here, this is a perfect name.
Chefs de France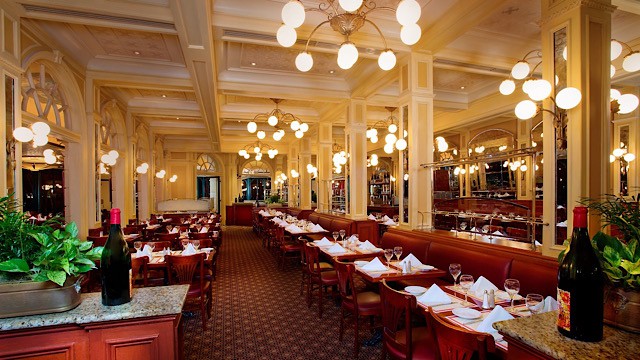 This charming location transforms guests to a French café with its wall of windows looking out toward the France Pavilion. Every time we walk by, these enormous windows draw me in. The table service location features creative French cuisine with simple ingredient combinations that highlight fresh flavors.
Monsieur Paul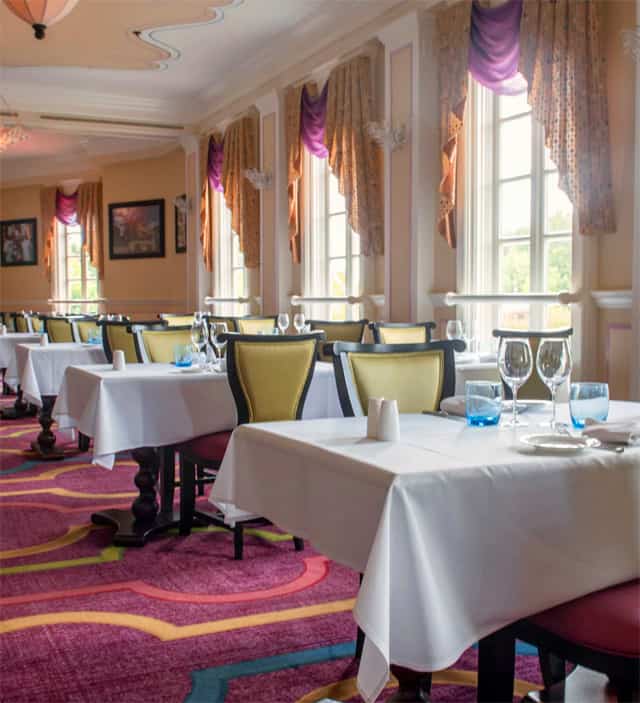 Monsignor Paul's is a signature restaurant located on the 2nd floor of the France Pavilion. Dining here, your senses will be delighted in the finest French Cuisine. The décor features a classic French architecture with bright colors and a whimsical design. This restaurant is temporarily unavailable.
Les Vins Des Chefs de France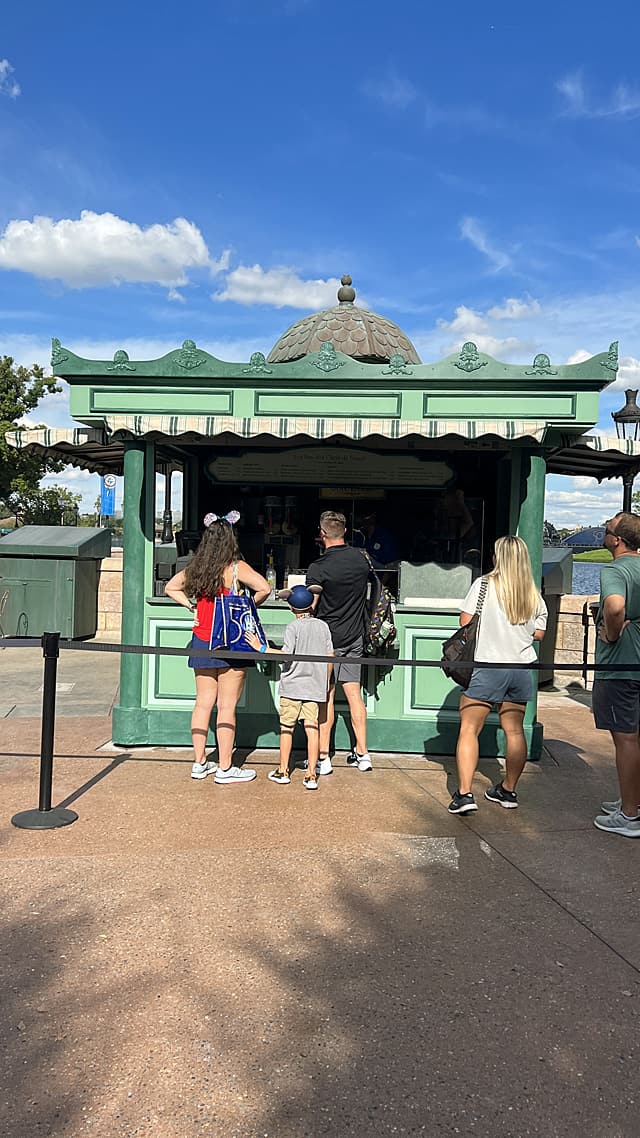 Check out Les Vins Des Chefs de France kiosk that serves adult beverages. At this kiosk you'll find the popular Grand Marnier Orange Slush.
La Crêperie de Paris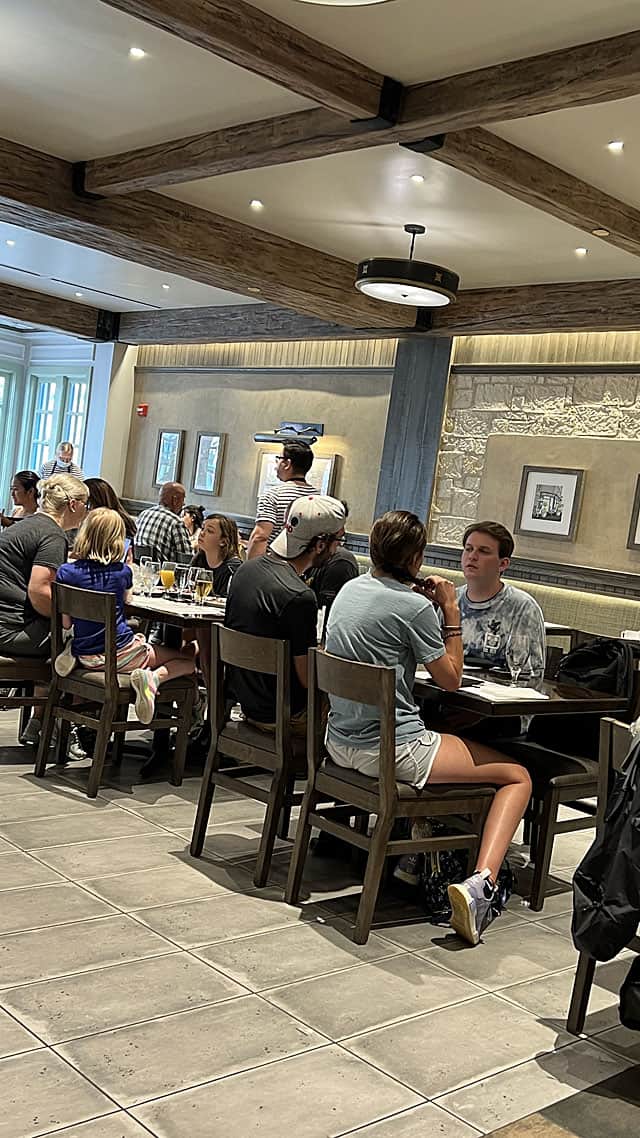 La Crêperie de Paris' menu will feature sweet crepes, savory buckwheat galettes, and French Hard Cider. In front of this table service location, there's a walk-up crepe window.
Rose and Crown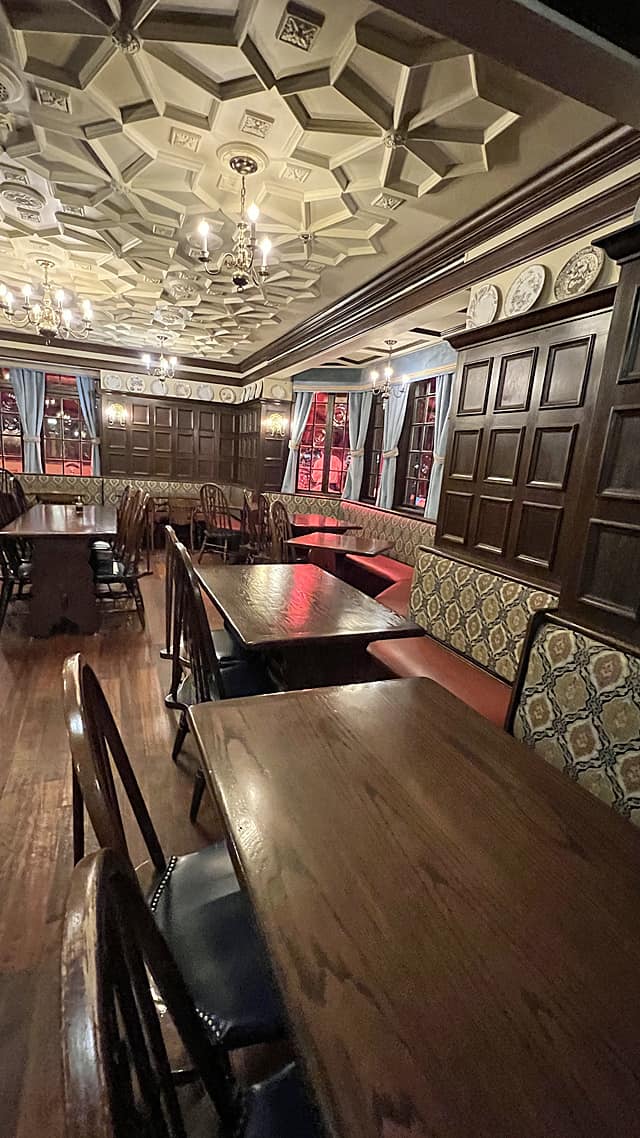 Delight in British specialties like fish and chips, bangers and mash, and traditional shepherds pie in this table service location. In addition to British selections, the kids menu includes favorites like turkey meatballs and cheesy pasta. Located beside the Rose and Crown is a walk-up beer stand.
Yorkshire County Fish Shop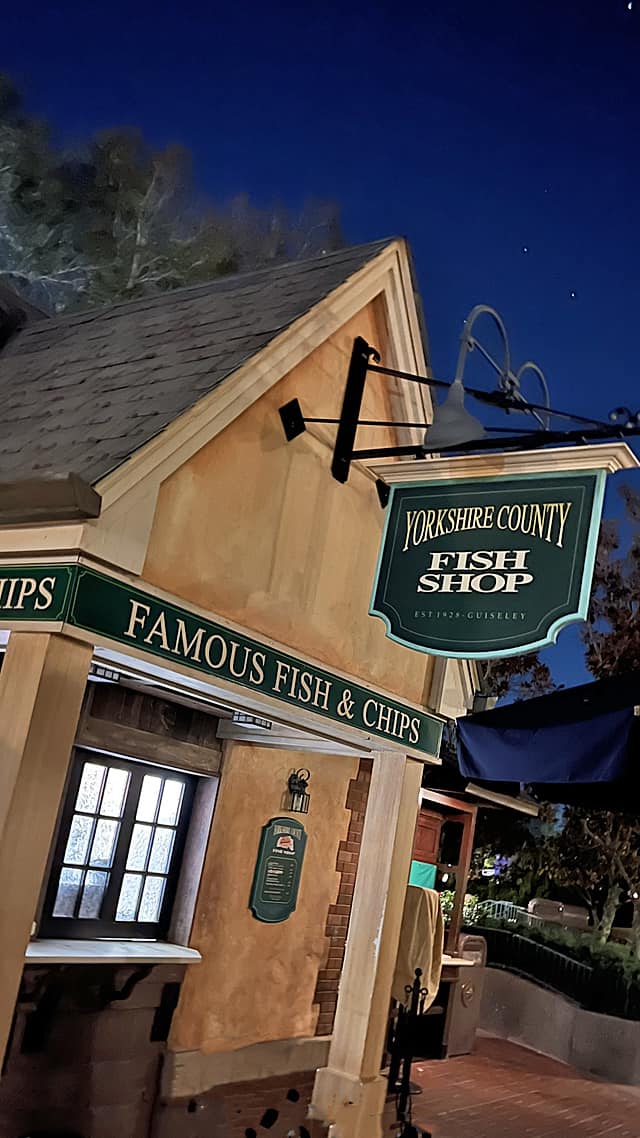 For the best fish at Disney, try the famous fish and chips at this quick service spot. Not only that, but there are several waterfront tables to enjoy it facing the World Showcase Lagoon.
Popcorn Stand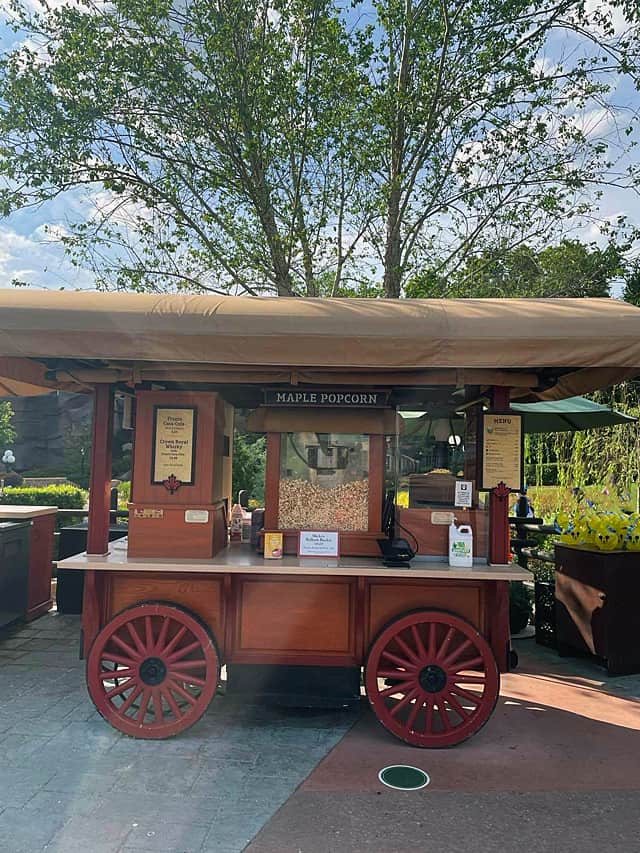 Check out this adorable popcorn stand. How can you possibly go wrong munching on maple popcorn? Also, you'll find Canadian Royal Whiskey, frozen Coke, and other beverages.
Le Cellier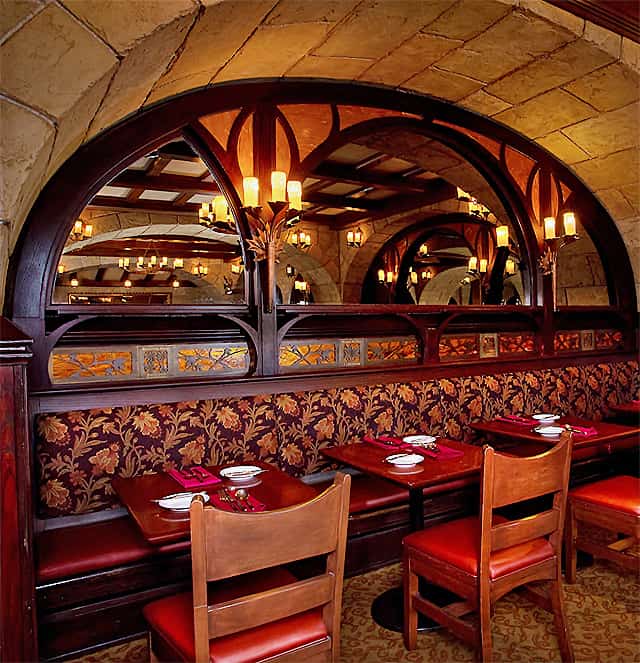 One of Disney's signature restaurants, Le Cellier, is located at the Canada pavilion. Walk over the bridge in the gardens to locate this quaint dining location. Le Cellier's exterior theming resembles a wine cellar of a château-style hotel. Check out Kate's Le Cellier review HERE.
TO ACCESS ALL OF THE DISNEY MENUS, ATTRACTIONS, AND SO MUCH MORE, GO TO CHARACTERLOCATOR.COM.
What is your favorite thing about eating at EPCOT's World Showcase? What are you looking forward to eating here on your next visit? Please share your thoughts below or on our KtP Facebook group.