Head northward with our World Showcase Canada Pavilion guide. See the details and photos on all the dining, shopping and attractions here.
Getting to Canada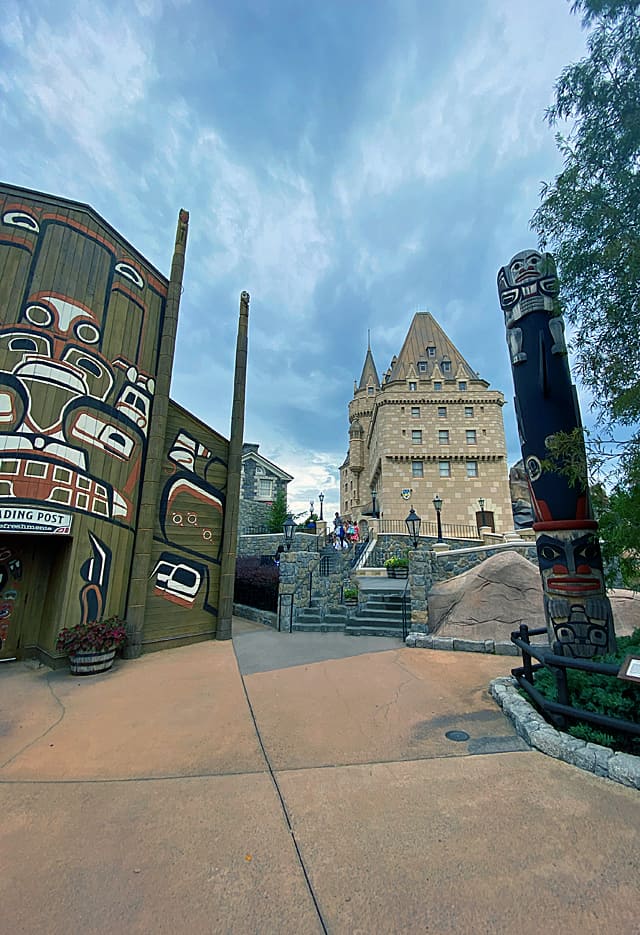 To find the Canada pavilion, turn right as you enter World Showcase from Epcot's main entrance. It's the first pavilion you'll see. Or, if you're entering from the International Gateway, keep going straight past the United Kingdom pavilion.
Overview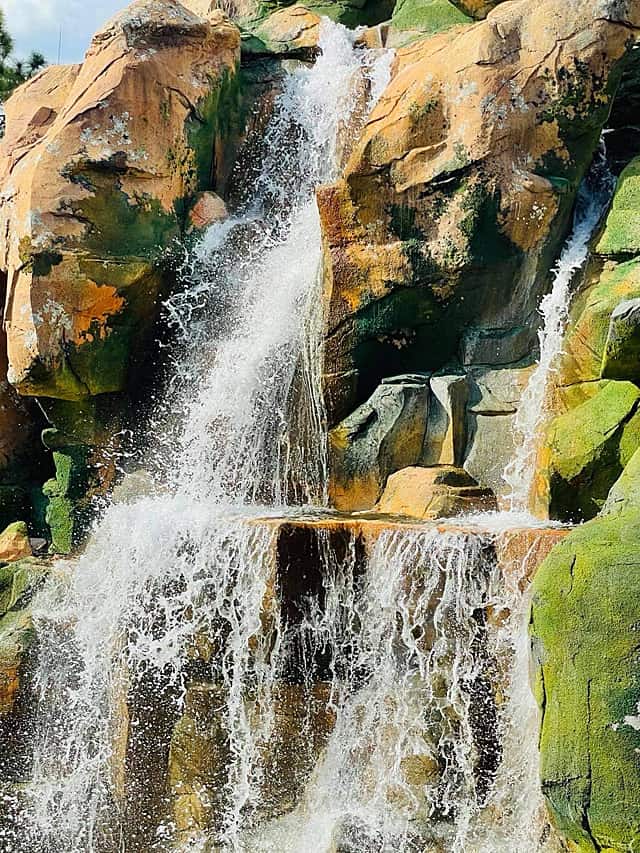 The natural wonders of Canada are on display at this breathtaking pavilion. Be on the lookout for the Rocky Mountains, a 30-foot waterfall, and lavish gardens can be found at the Canada pavilion. The most prominent landmark you see is Hotel du Canada, patterned after the French Gothic design of the Chateau Laurier in Ottawa.
There is a small shop with a giant totem pole guarding it representing the more rugged side of Canada. To check out the real life inspirations of the World Showcase Pavilions, read our article HERE.
Experiences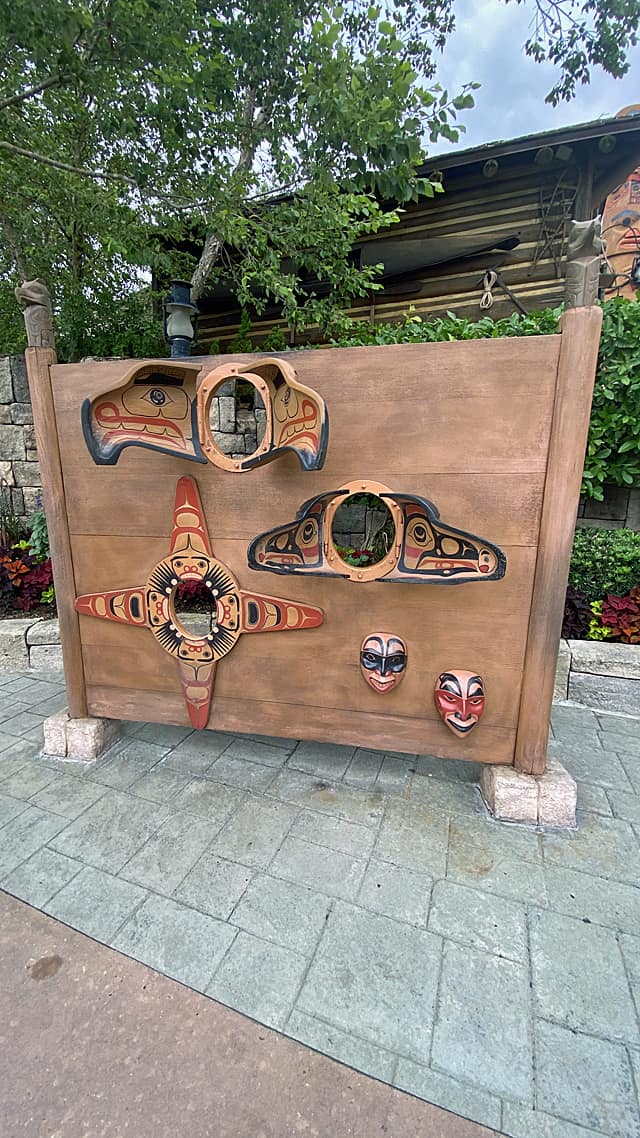 When guests arrive at Canada, they're usually just starting or ending their journey around the World Showcase Lagoon. Either way, Canada is a perfect spot to take in all of the richness and natural beauty found here. The gardens with the adorable cottage are so peaceful. If time allows, I always stop and take them in.
Also, Canada gives guests an attraction as well as a signature table service restaurant. If you're looking for a photo op, check out the fun totem pole cutout above. Coming from Epcot's main entrance, it's located along the main World Showcase path just past the main buildings.
Mill Stage Stage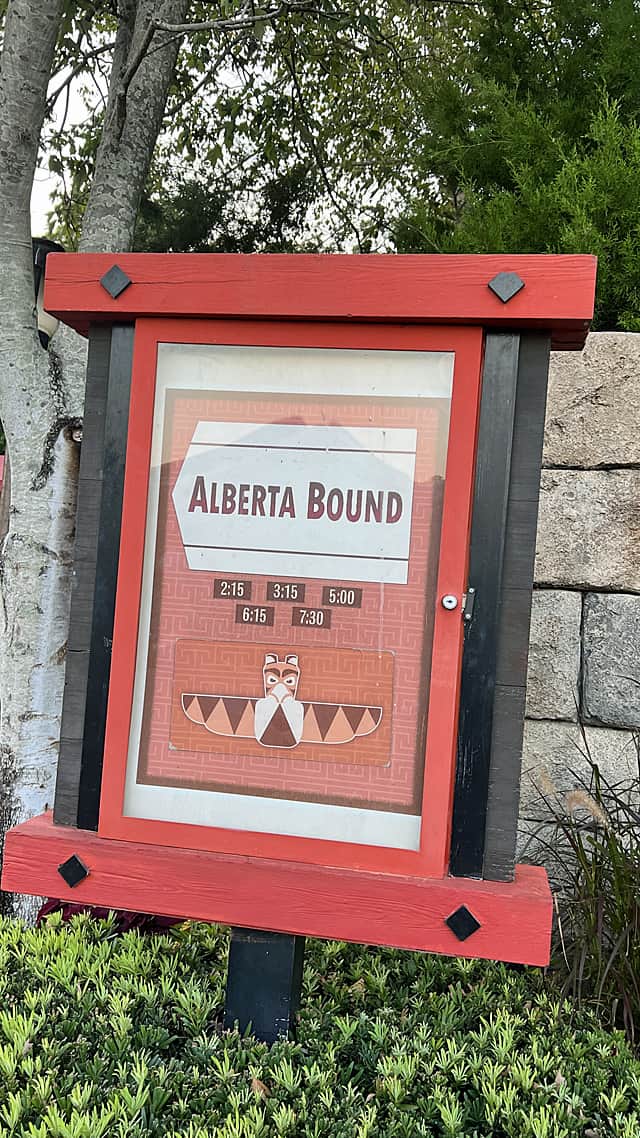 In front of the main pavilion building, look for the Old Mill Stage. Over the years, various acts have performed here including the very popular Off Kilter group. However, when Disney reopened in 2020, they did not return. Now, Alberta Bound performs shows various times during the day. They perform traditional fiddling to songs from beloved Canadian songwriters.
Although the seating is uncovered here, it's so nice to have bench seating to enjoy the show. Recently, the JAMMitors have been performing here, too.
Check out Alberta Bound and JAMMitors at the Canada Mill Stage.
Canada Far and Wide Film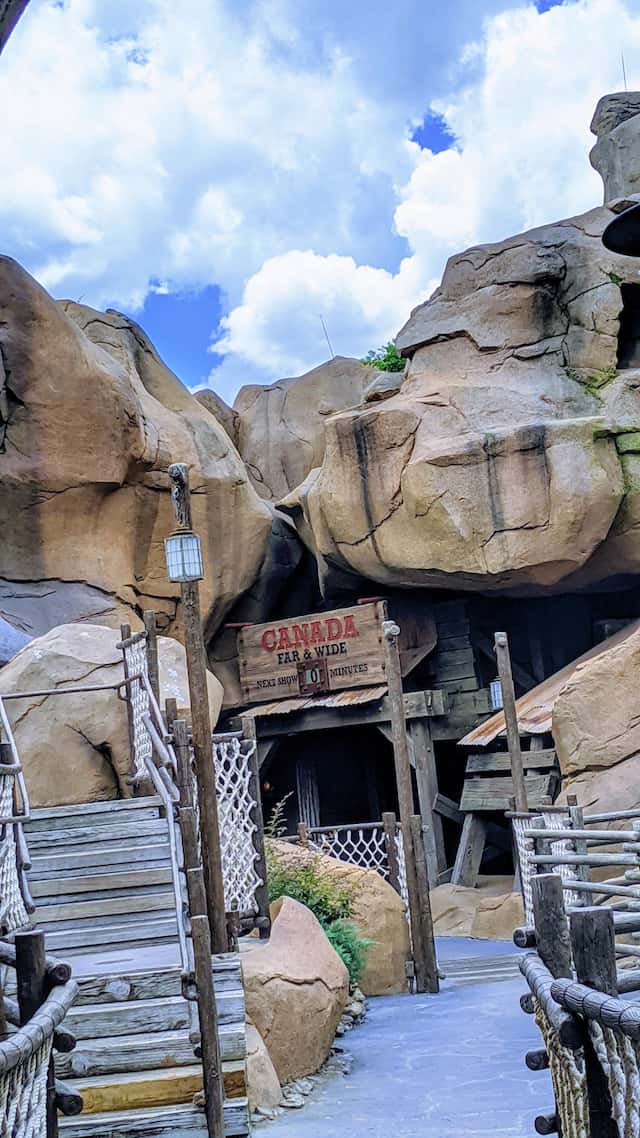 Although I miss Martin Short's narration in the previous version of Far and Wide, the new film is amazing. Now, guests experience an updated version of seeing breathtaking Canada scenes in a the 12-minute Epcot Circle-Vision 360 degree presentation. Note: Because the film is shown 360 degrees, there is no seating available. Guests must stand the entire presentation. However, it is wheelchair accessible.
Note: Because the film is shown 360 degrees, there is no seating available.
Gardens
When visiting the Canada Pavilion, be sure to take in the amazing gardens. Disney finds inspiration from the Butchart Gardens in Victoria, British Columbia. The actual Butchart Gardens have been growing over 100 years! They receive over a million visitors each year and are a National Historic Site of Canada.
This spot just may be the most beautiful in all of Disney! I love to take in the flowers and greenery and pebbled pond overlooking the tiny cottage on the other side.
Shopping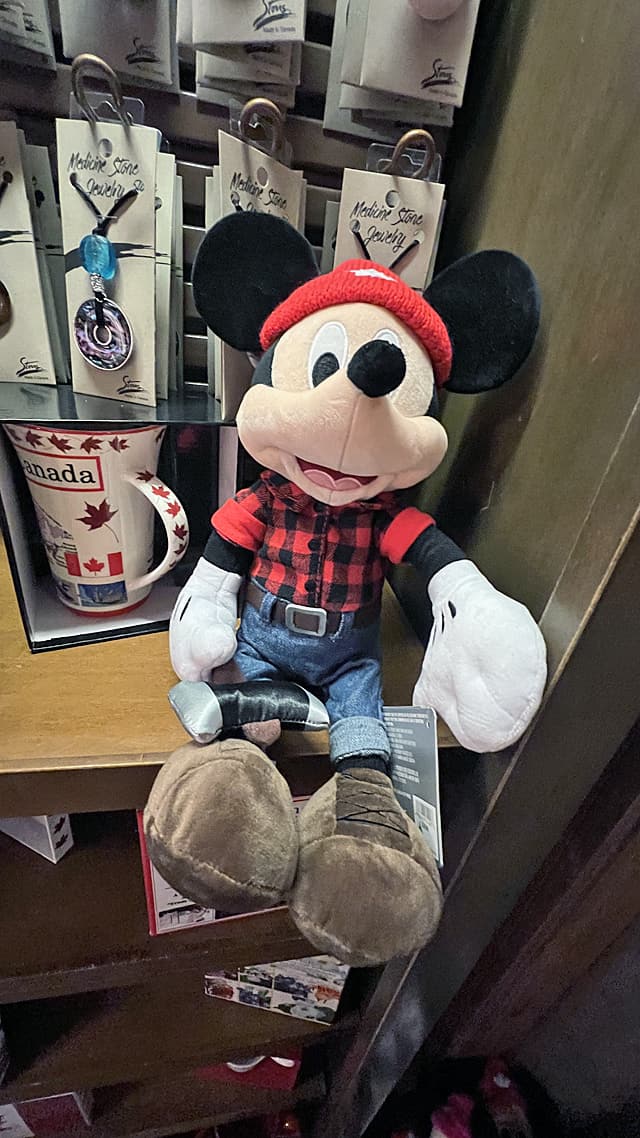 The Canada pavilion has 2 stores, the Northwest Mercantile and the Trading Post. Both of these fit in with the woodland theming of this area as well as turn-of-the-century Northwest Disney's Wilderness Lodge theming.
Northwest Mercantile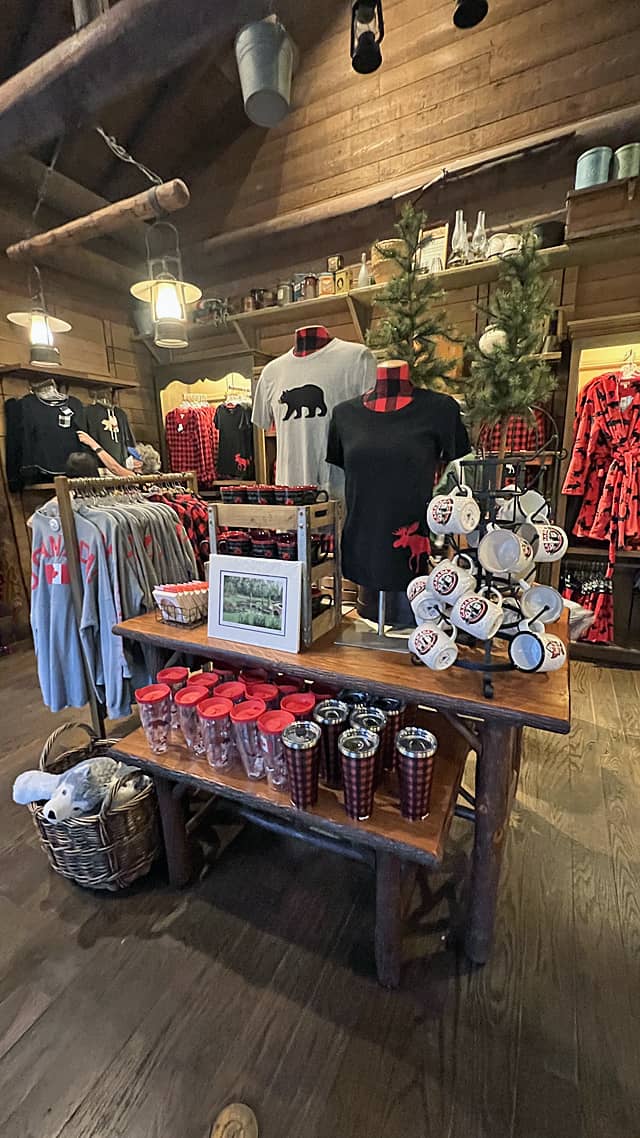 Entering this shop, guests feel as they've been transported away from a theme park and into the Great North. The oversized timber construction and the red and black plaid merchandise make it an interesting place to shop.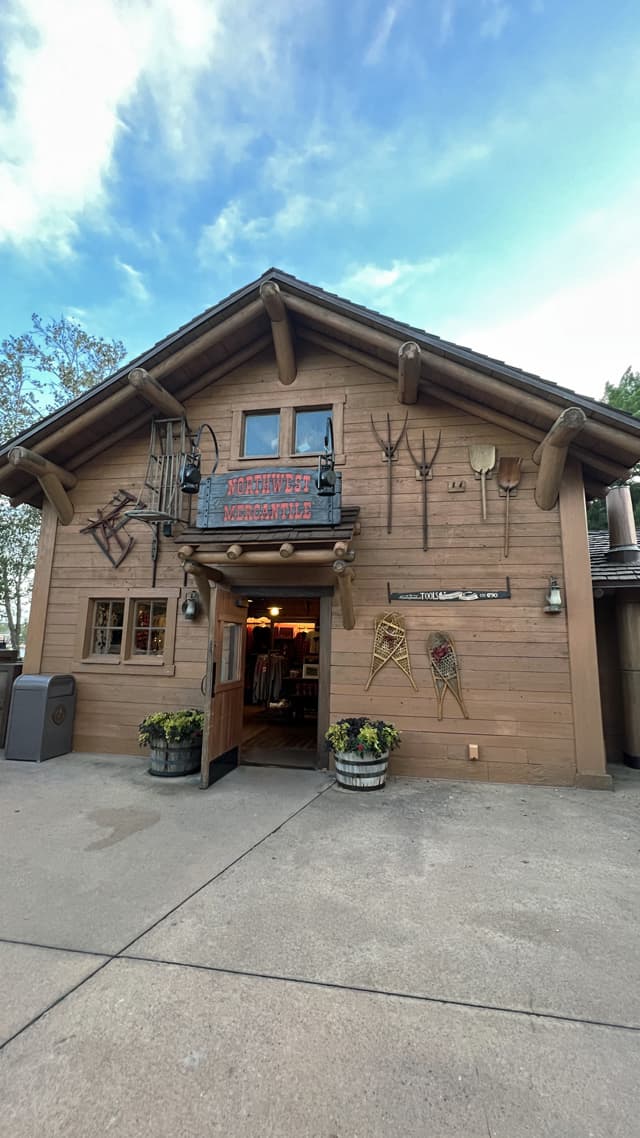 The Northwest Mercantile has a variety of Canadian items available. First, check out the handmade ornaments. Then, shop for authentic clothing, Ice Wines, fragrances, soap and body care items with clever names like "Beaver butt soap." Plush forest creatures and maple products are plentiful here.
Trading Post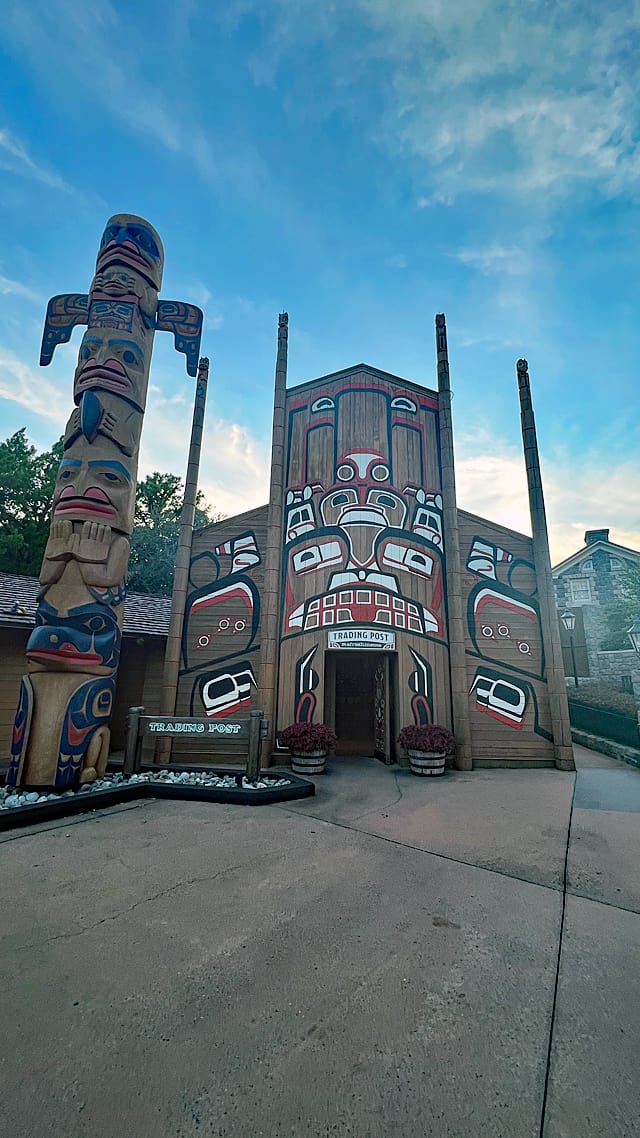 I love this store. Where else can you "walk inside" a totem pole.? It feels like I should be trading crops or fur here rather than being at a theme park. At the Trading Post, guests shop for hand-carved wood gifts and Canadian Maple Syrup. *The Trading Post is currently unavailable.
Kiosk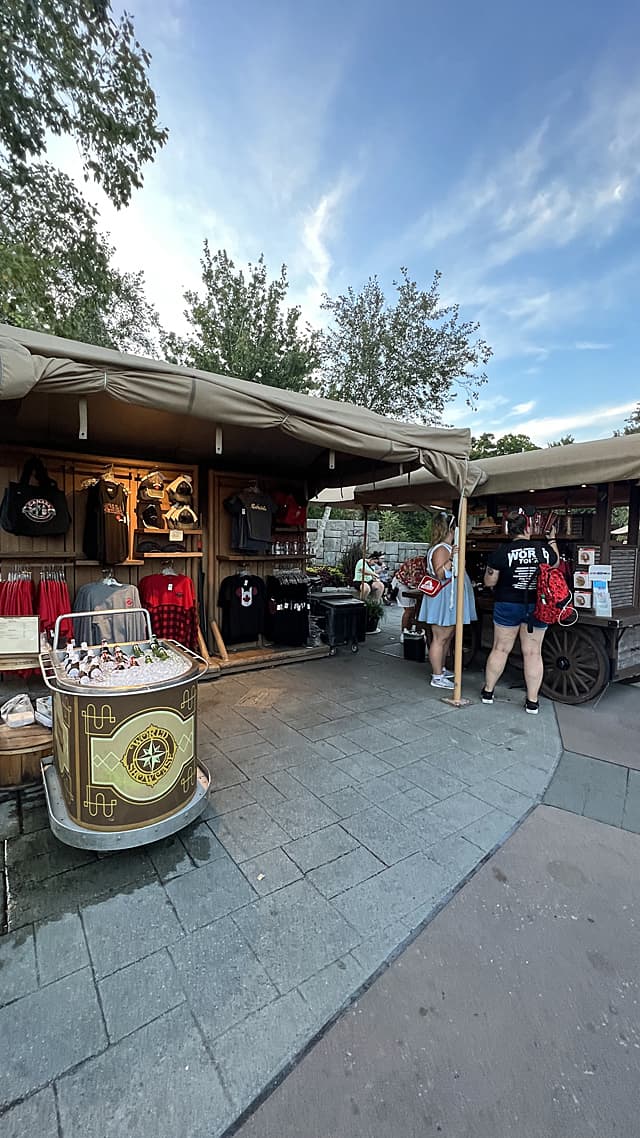 At the front of the pavilion, you'll find outdoor kiosks with more Canadian clothing. Not only that, but shoppers browse through Canadian Minnie headband ears, Canadian flags, pins, and mugs. You can also grab a drink to go from the large cooler.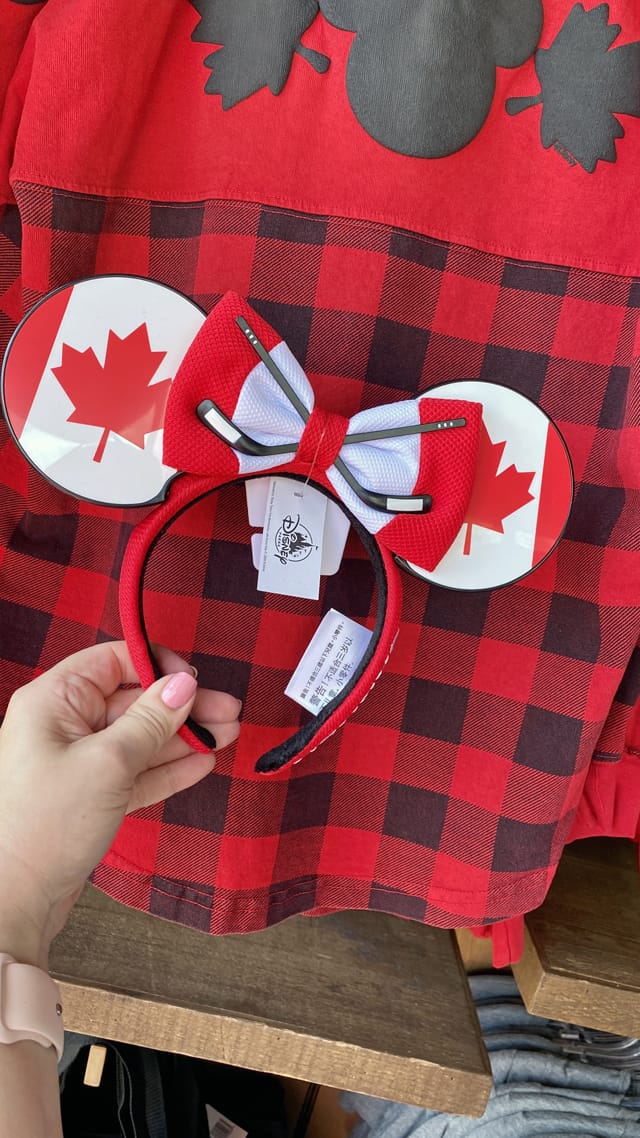 Check out the adorable hockey puck ears below. To take a look at unique ears available in the World Showcase Pavilions, read our article HERE.
Dining
While there are no quick-service restaurants in Canada, you can still find some food!
Popcorn Stand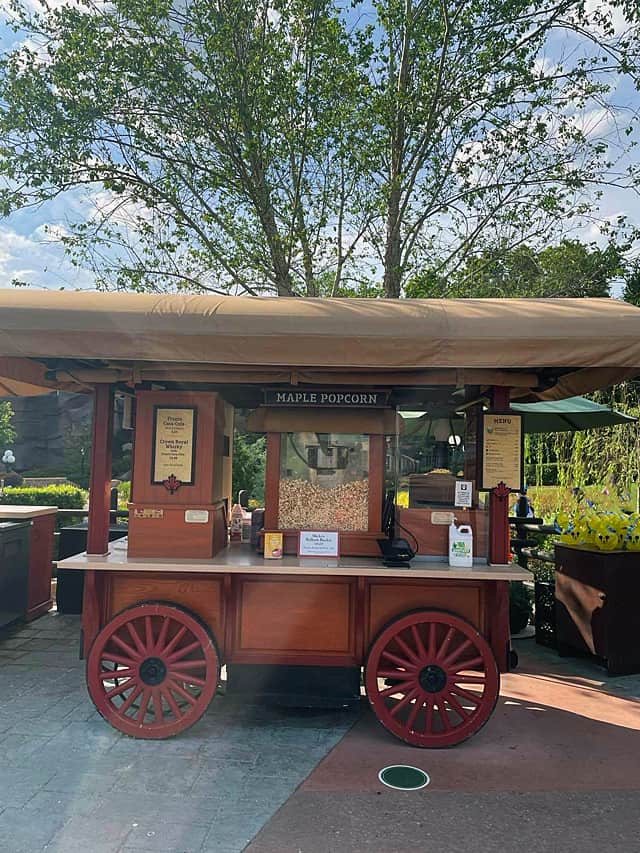 Check out this adorable popcorn stand. How can you possibly go wrong munching on maple popcorn? Yum! In addition to popcorn, you'll find Canadian Royal Whiskey, frozen Coke, and other beverages.
Le Cellier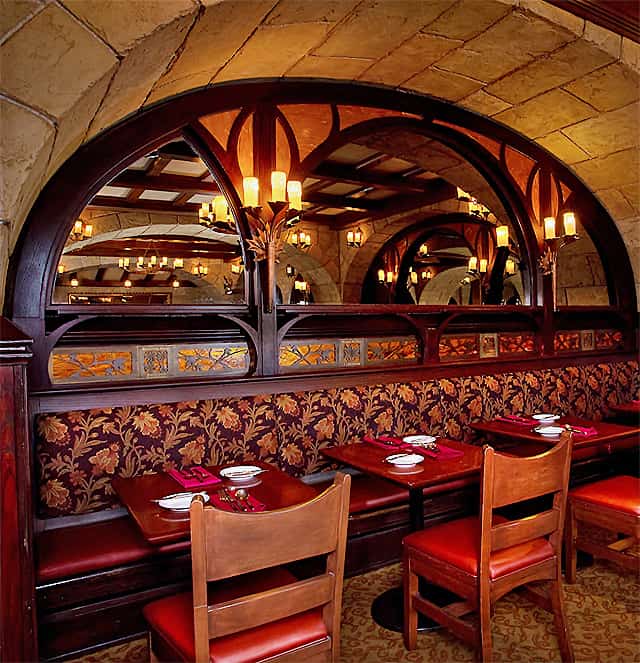 One of Disney's signature restaurants, Le Cellier, is located at the Canada pavilion. Walk over the bridge in the gardens to locate this quaint dining location. Le Cellier's exterior theming resembles a wine cellar of a château-style hotel.
Theming in this small dining location uses dark wood and dimly lit lights. It has a cozy, upscale feel. Some of Disney's best steaks are served here. Check out Kate's Le Cellier review HERE.
Final Thoughts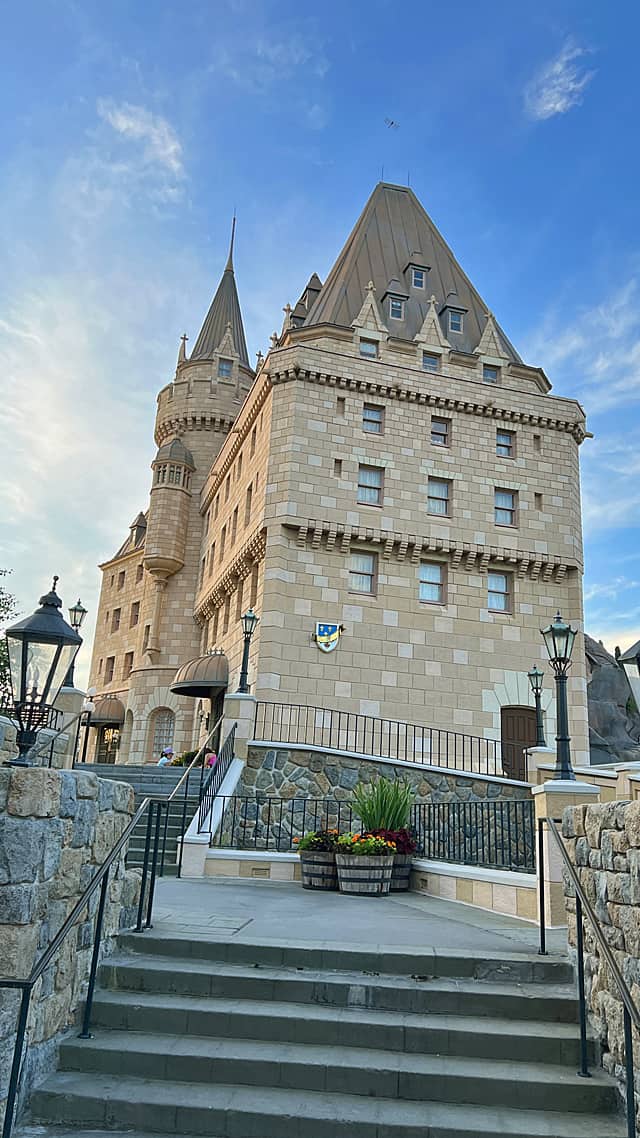 Although there is only one restaurant and attraction in Canada, the pavilion itself is an experience. Where else can you go and experience so much of Canadian regions in one place? Incorporating so much of Canada's beautiful landscape and architecture sets this pavilion apart.
World Showcase Pavilion Guides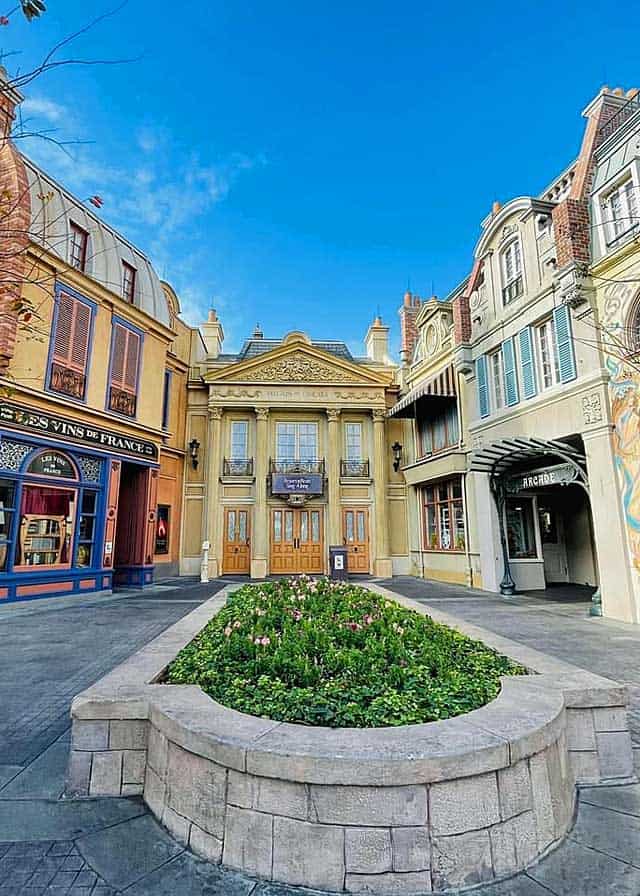 I hope our World Showcase Pavilion Guides spark a desire to explore each one! Check out our other guides below by clicking on the name below:
What is your favorite thing about Epcot's Canada Pavilion? What are you looking forward to doing here on your next visit? Please share your thoughts below or on our KtP Facebook group.