Whether you're interested in shopping, attractions or dining, check out our guide to the World Showcase Japan Pavilion here.
Japan Pavilion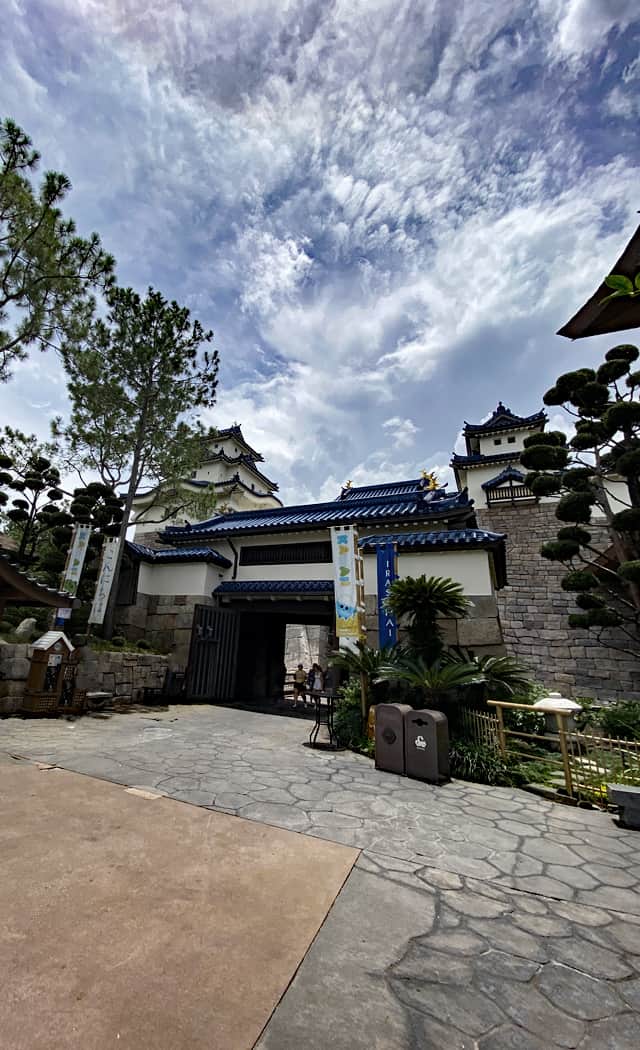 Whether you're a first time visitor or a frequent visitor to Disney World, EPCOT has so much to explore! The Japan Pavilion is located between the America and Morocco Pavilions.
Hopefully this guide will help you not only enjoy the beauty of Japan but also score some authentic Japanese souvenirs.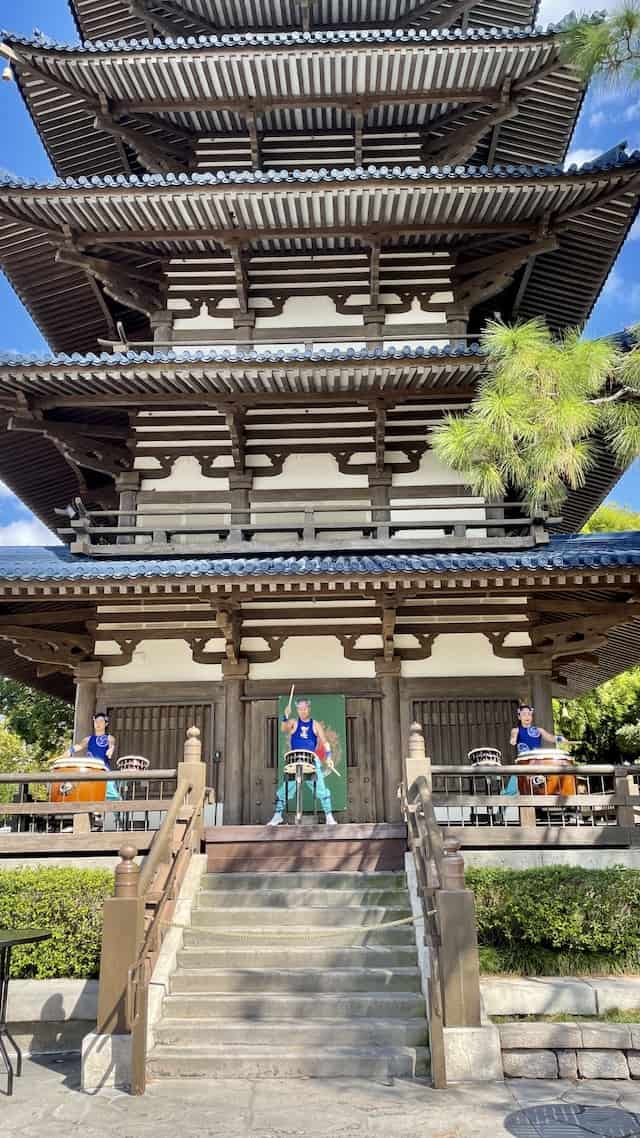 Here, shoppers can explore Mitsukoshi Department Store, the largest shopping location in World Showcase. Mitsukoshi USA operates the merchandise, restaurants, and kiosks in the Japan Pavilion.
Not only that, but EPCOT guests can't miss the iconic architecture here.
Architecture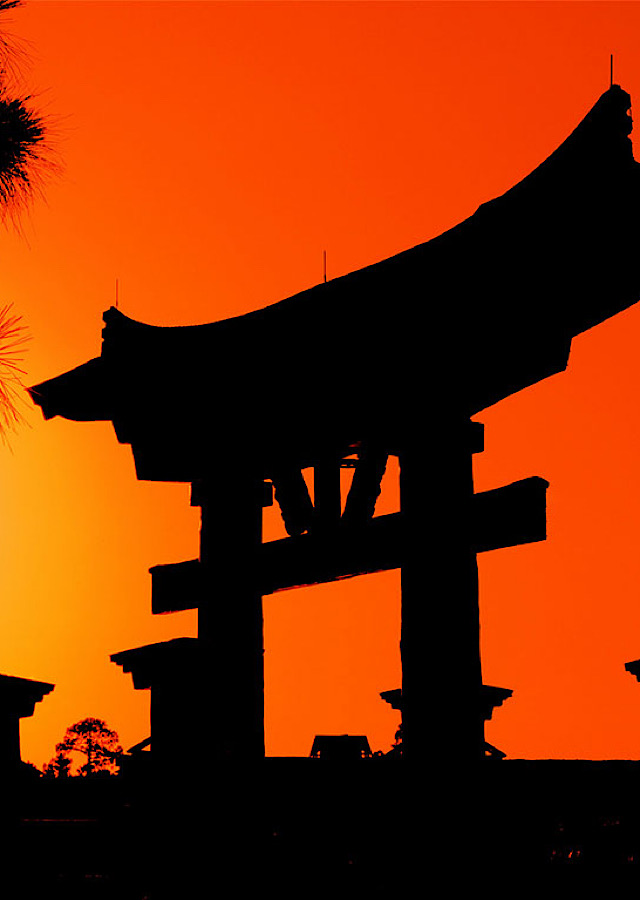 The floating torii of Itsukushima Shrine on Miyajima is among Japan's best-known landmarks. Located on the water, the Torii gate at Epcot invites guests inside the Japan pavilion. Check out more information on the real life inspirations from Japan's and other World Showcase icons here.
The torii typically marks the entrance to a sacred space and can be seen across Japan. They vary in size from a couple of inches tall to massive structures that span across roads.
Restaurants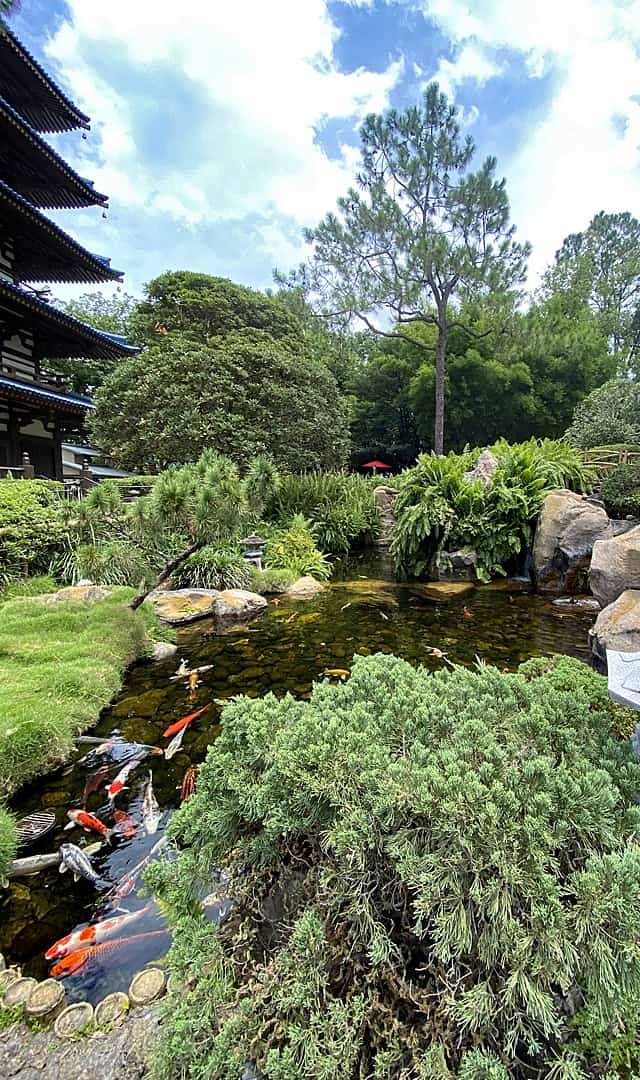 The Japan Pavilion boasts several unique dining offerings, everything from a new signature restaurant, Takumi-Tei, to the popular quick service restaurant, Katsura Grill. Check out all the dining options below.
Garden House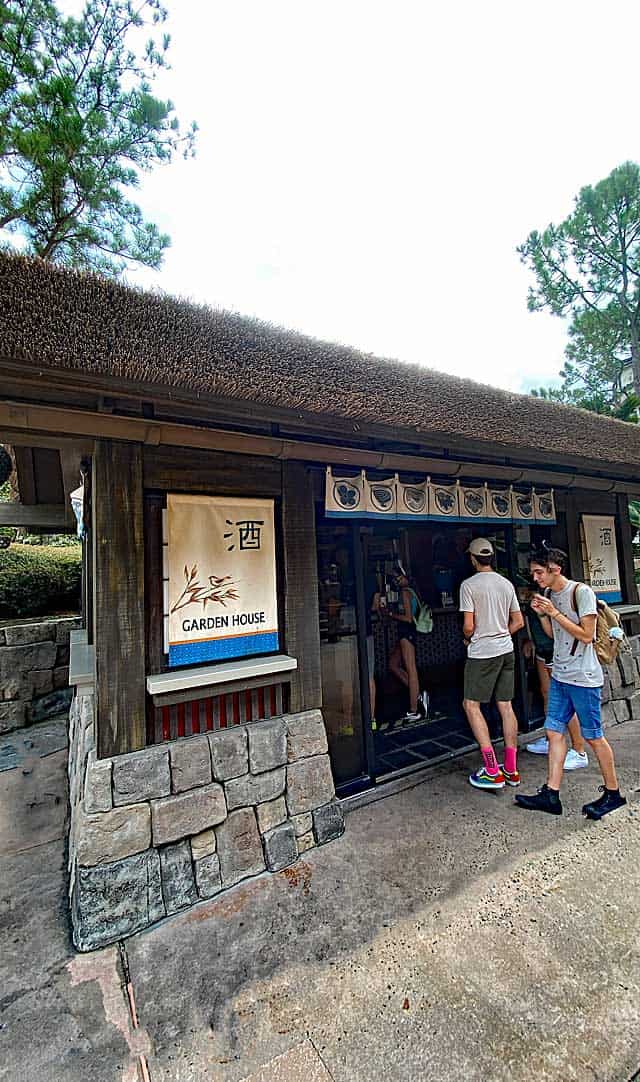 Garden House is an outdoor sake bar in the courtyard of the Japan Pavilion. This is your quick stop for assorted Japanese sodas & beer, plum wine, and hot or cold sake. You will also find Coca-Cola products and seasonal smoothies.
Kabuki Cafe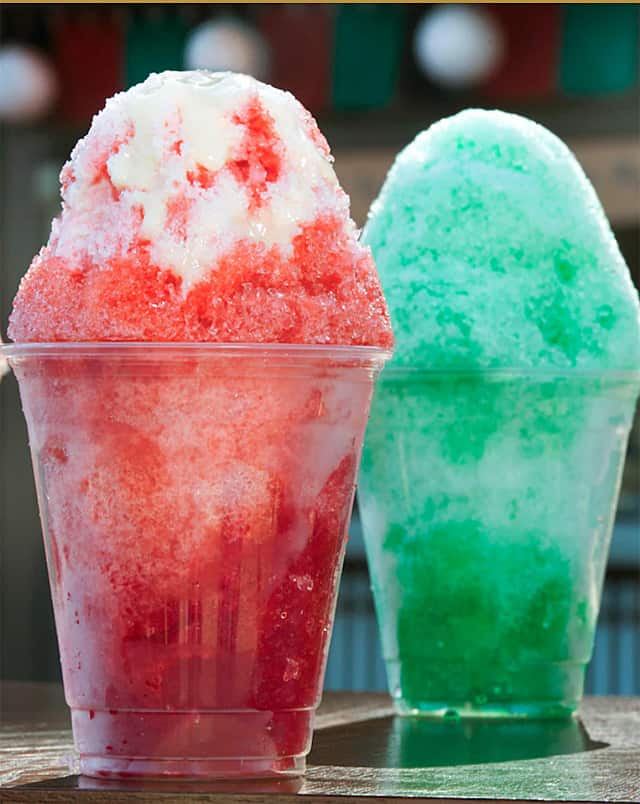 At this kiosk, look for the Japanese favorites of otsumami-style sushi, edamame, kakigōri, assorted Japanese sodas & beer, plum wine and hot or cold sake.
Katsura Grill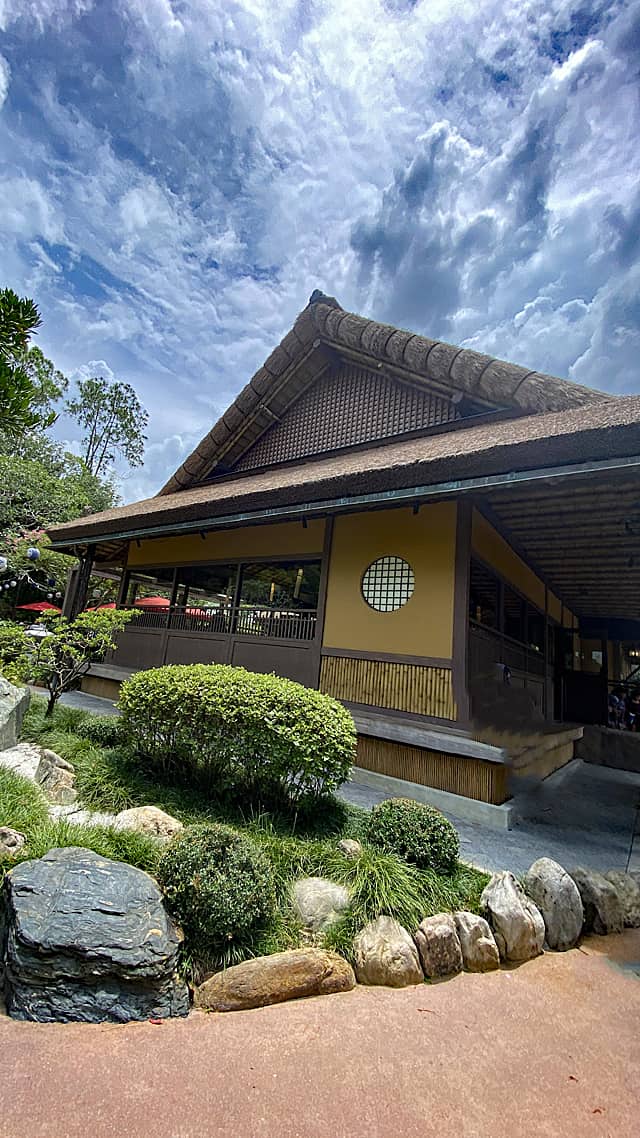 Quiet your mind and your satisfy your hunger in this serene setting. While you're eating you may even catch the taiko drummers performing. At this quick service location, enjoy teriyaki, sushi, chicken cutlet curry, salads and more. Draft beer, sake and plum wine are also available.
To find it, enter the courtyard between the main buildings. Then, take the garden path on the left side of the courtyard to find this tasty quick service restaurant.
Takumi-Tei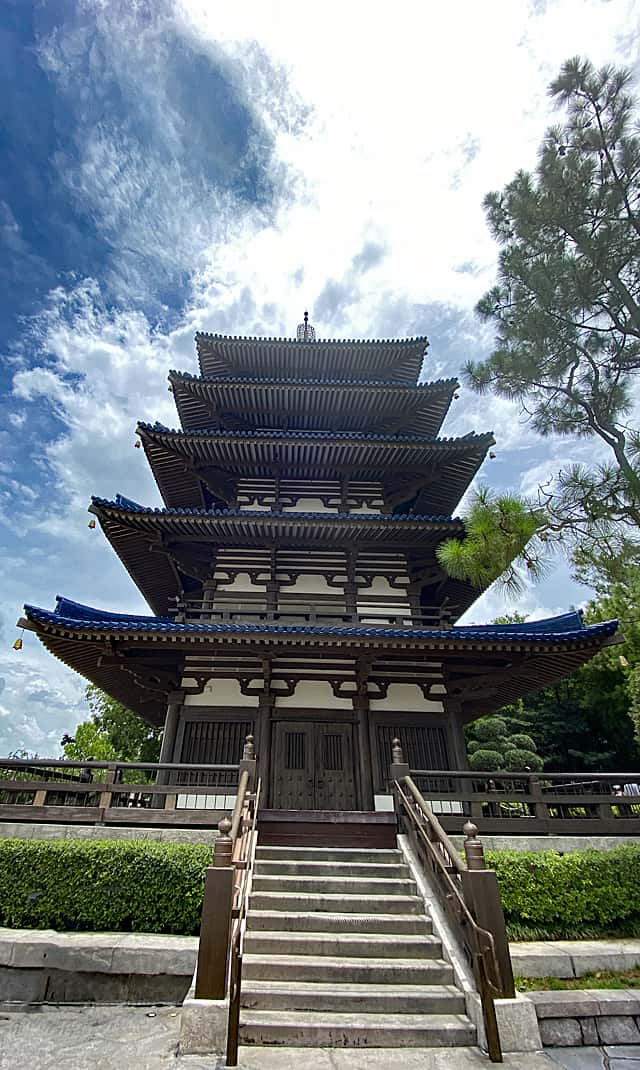 Takumi-Tei means "House of the Artisan" in Japanese. This signature restaurant features rooms with natural elements: stone, wood, washi paper, water, and earth. Each dining room gives guests a private dining experience which is rare at Disney.
The menu features premium seafood, sushi, and beef.
Teppan Edo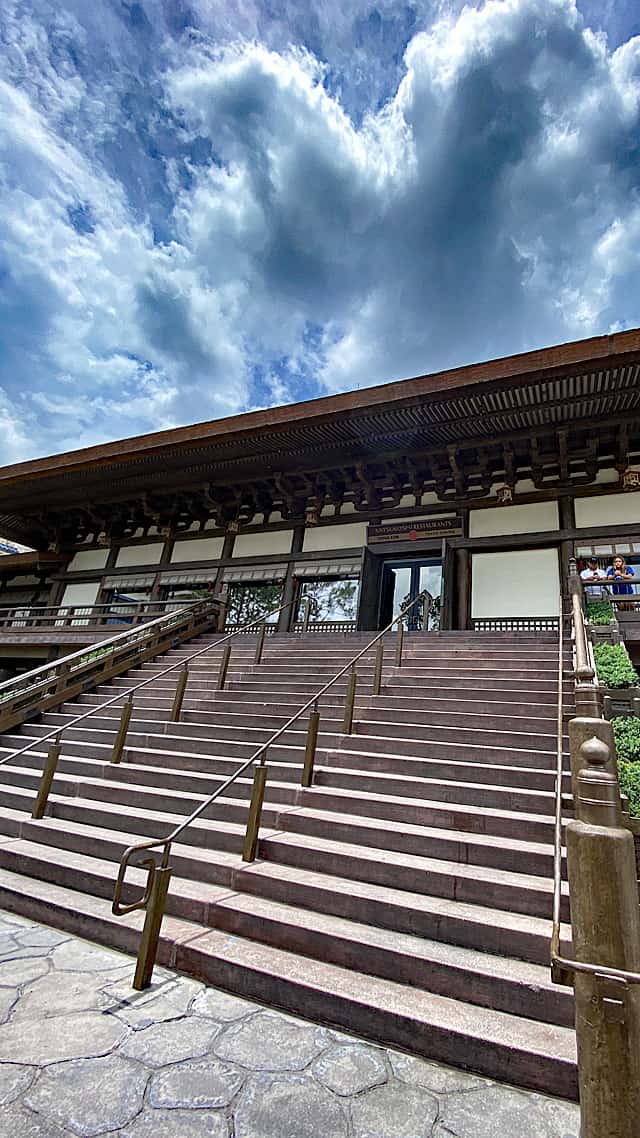 At Teppan Edo, every seat has an excellent view. This fun restaurant brings guests authentic Japanese cuisine. Not only that, but the dining experience is part meal and part show. In the communal ritual of Teppan-yaki-style cooking, skillful chefs chop and stir-fry dishes on grills at your table.
Select from steak, chicken, seafood and vegetable entrées, served with Udon noodles and steamed rice. You can also order edamame and assorted sushi rolls.
Shiki-Sai:Sushi Izakaya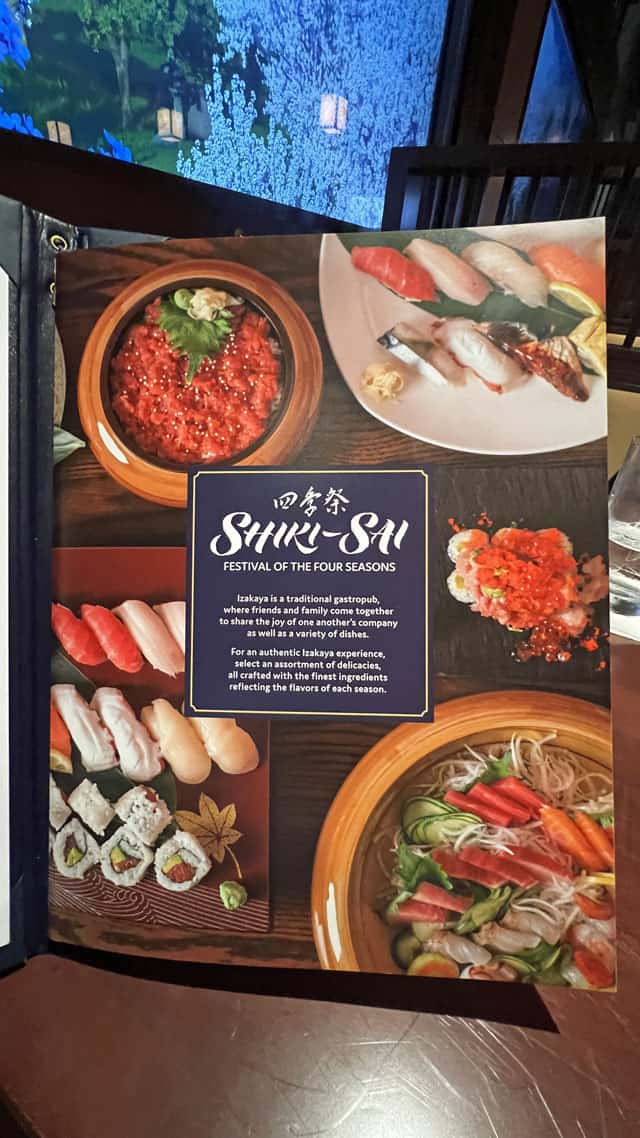 At Shiki-Sai: Sushi Izakaya, enjoy stunning views, delightfully authentic dishes, and the magic of year-round Japanese festivals. It's located on the second floor of the pavilion above the Mitsukoshi Department Store.
Attractions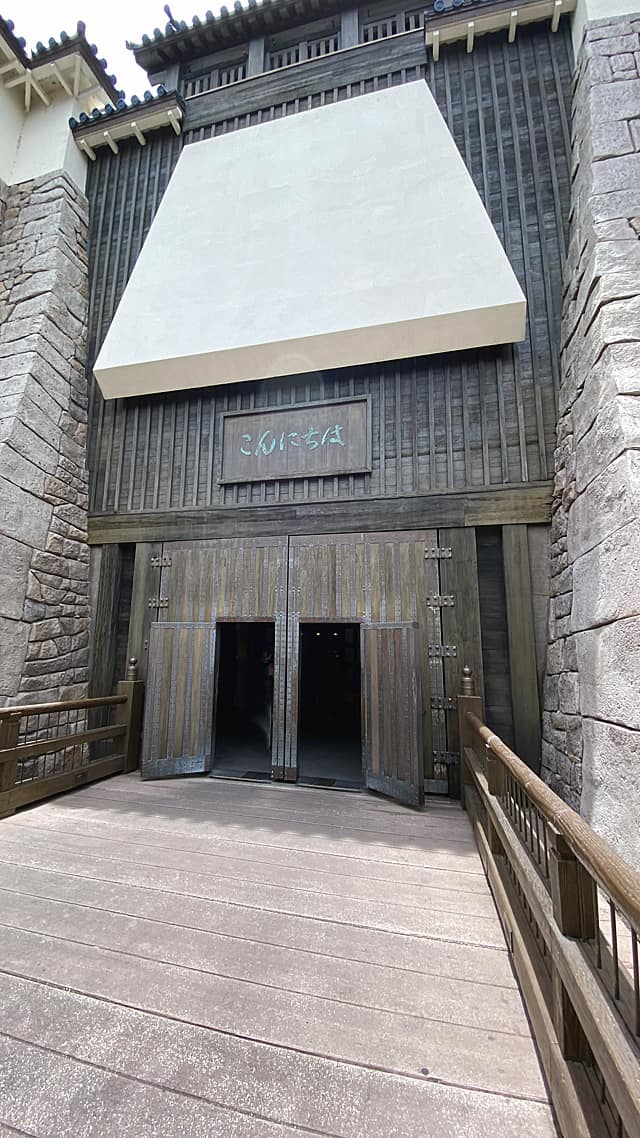 Bijutsu-kan Gallery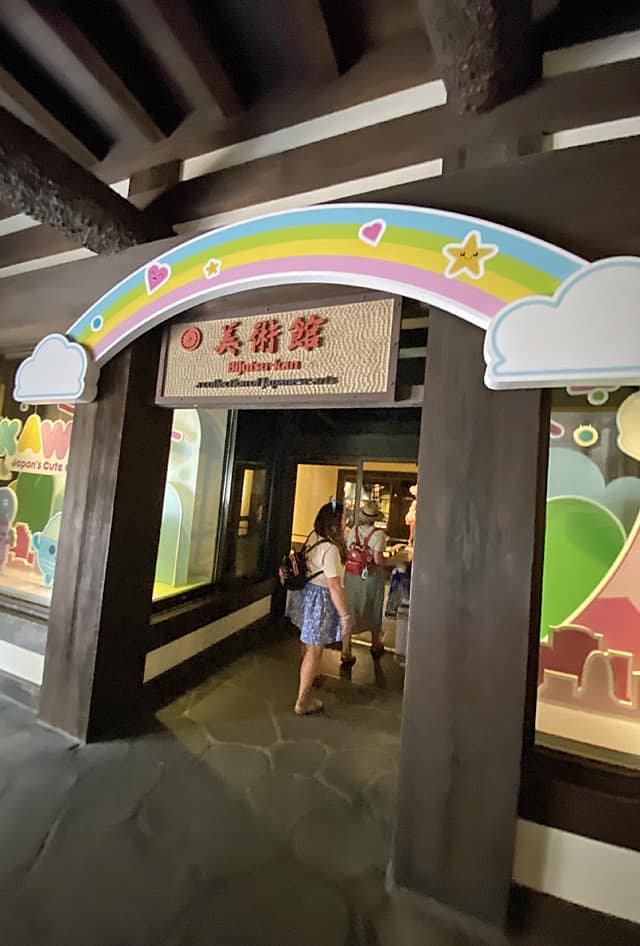 Enjoy a delightful exhibit on charming kawaii—Japan's "cute" culture—in this gallery dedicated to Japanese art. Kawaii is more than just a word to Japanese people. The word itself has taken on a persona of "cute", "lovable" and "adorable."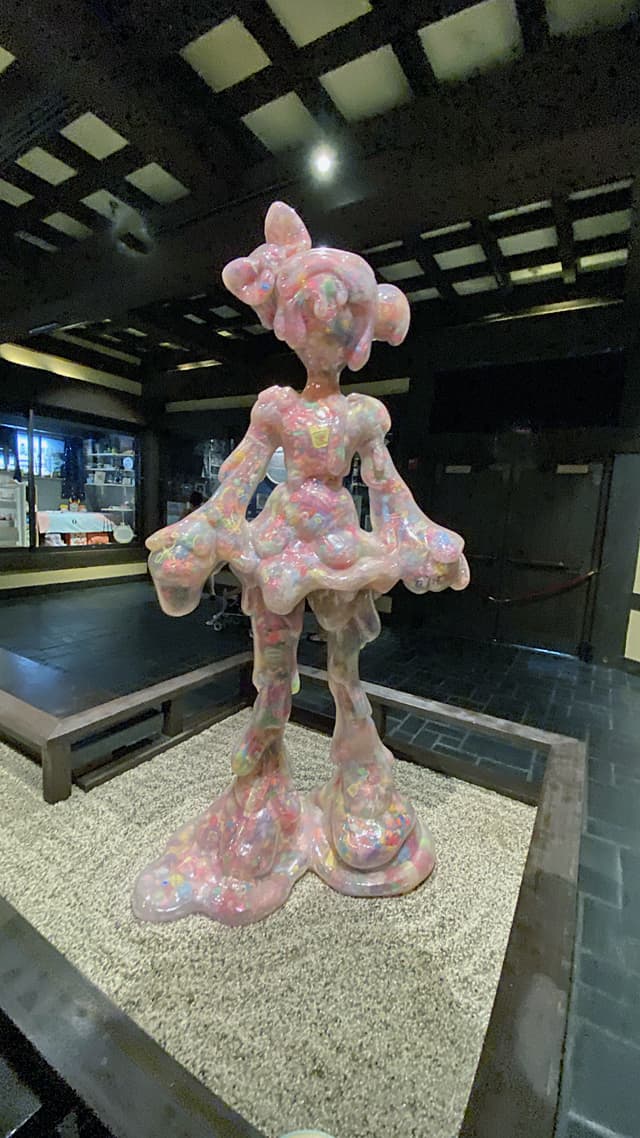 You'll discover how kawaii is rooted deep in Japan's Shinto past and how it's become a core aspect of Japanese culture—and a new form of self-expression.
Gardens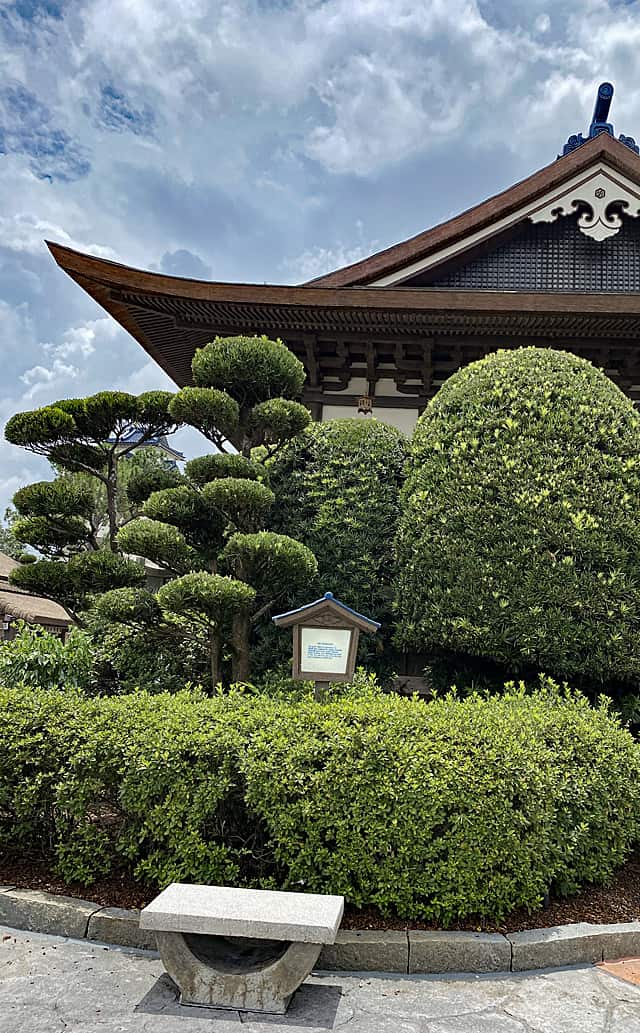 Epcot's Japan Pavilion offers a lovely retreat away from the busy path of tourists. I (Susan) hope you'll check out the gorgeous winding paths of gardens intertwined with amazing koi ponds. You'll feel like you've left the theme park and entered into an exotic land.
If you're feeling stressed by Disney crowds, take your time here.
Matsuriza Drummers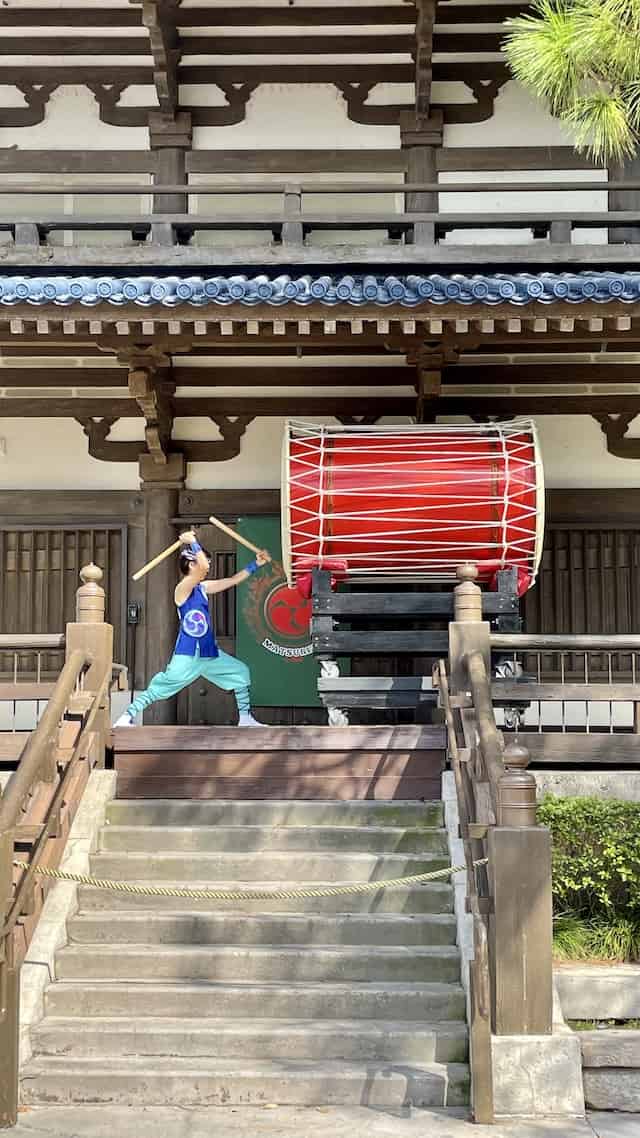 Experience the thundering sound of Taiko, an ancient form of Japanese drumming with the Matsuriza Drummers. Here, a group of traditional Japanese drummers perform intricate musical arrangements on giant drums in a powerful display.
Japanese Taiko drums have been captivating audiences for years in religious ceremonies, festivals and even on battlefields. This is really a cool performance and lasts 15 minutes.
Be sure to check Character Locator for the Matsuriza Drummers and other performances at Disney.
Kidcot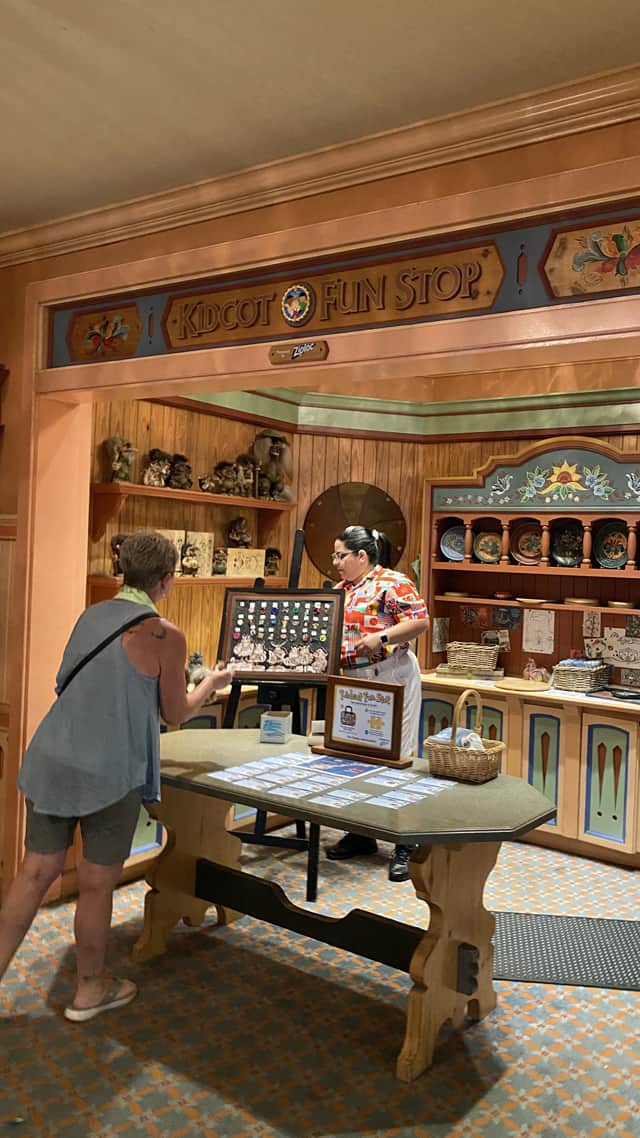 Participate in a fun discovery experience collecting activity cards at each country throughout World Showcase! Here, kids of all ages pick up a memorable memento with facts and activities featuring the culture and traditions of each country. You can find the Kidcot Fun Stop in the Bijutsu-kan Gallery.
Shopping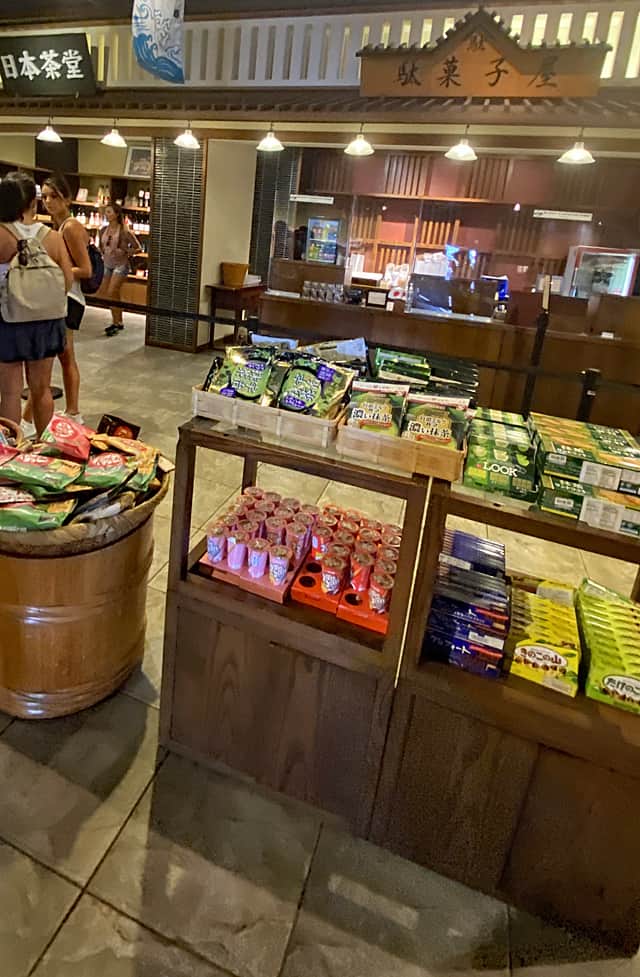 At Japan's Mitsukoshi Department Store, you'll find stunning décor, featuring red ceilings with exposed wood beams. The Mitsukoshi Department Store is wildly popular. In addition to the unique apparel such as kimonos, Japanese handbags and scarves, an entire area within the store is devoted to snacks and candies.
You'll also find a Sake Bar at the Mitsukoshi store, where you can try a variety of samples. The Mitsukoshi Department Store is located on the ground floor of the Japanese Pavilion, which resembles an Imperial ceremonial hall. It extends the length of the pavilion.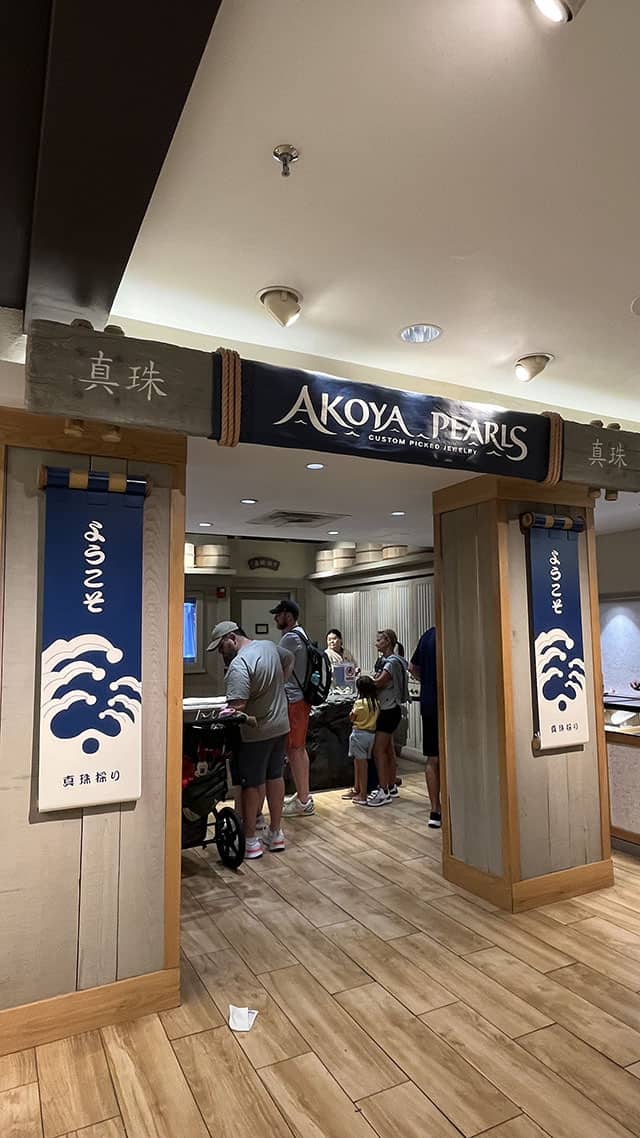 And you can collect your own pearl here. Take a look at details of this experience HERE.
Final Thoughts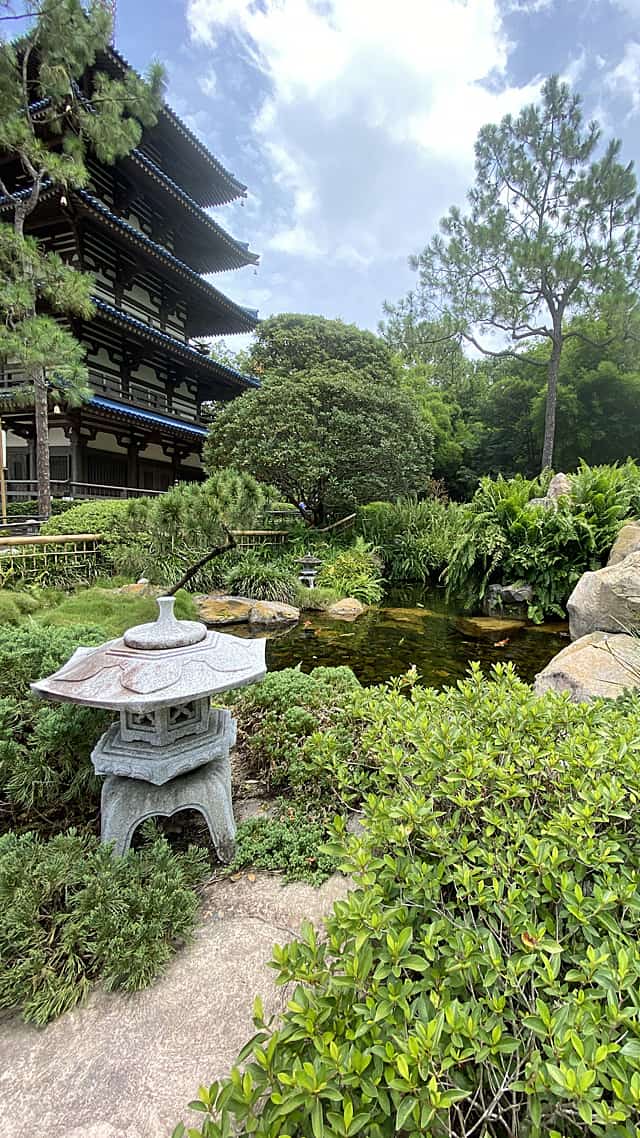 While there's not an "attraction" here, there kind of is. Hear me out. The beauty and splendor of each building, garden, and water feature make this wonderful pavilion its own attraction. In Japan, you'll find a larger courtyard with everything more spread out so there's room for guests to breathe. That's a rare find at Disney World! The best part of each World Showcase Pavilion, including Japan, is the meticulous attention to detail in so many spaces.
World Showcase Pavilion Guides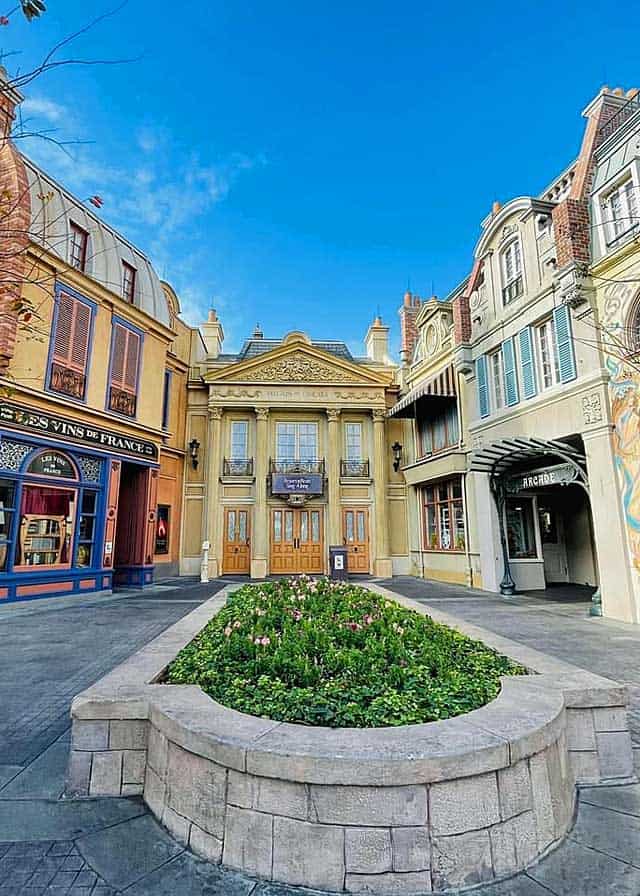 I hope our World Showcase Pavilion Guides spark a desire to explore each one! Check out our other guides below by clicking on the name.
What is your favorite thing about the Japan Pavilion? Or, what are you looking forward to doing here on your next visit? Please share your thoughts below and share this post with a friend.