Take a trip to America halfway through the World Showcase. Check out the details and photos on everything to do and see in this Epcot Pavilion.
America Pavilion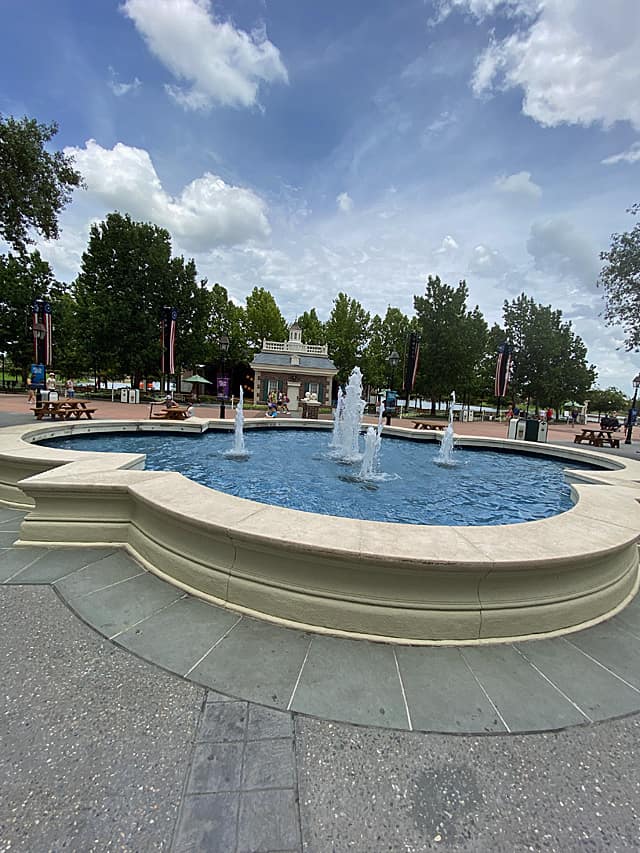 The America Pavilion is located between the Italy and Japan Pavilions. If you're walking from Epcot's front World Showcase entrance, it's halfway around the World Showcase lagoon. However, if you're looking to save steps, take the World Showcase boat to Morocco. When entering from the International Gateway, walk toward France.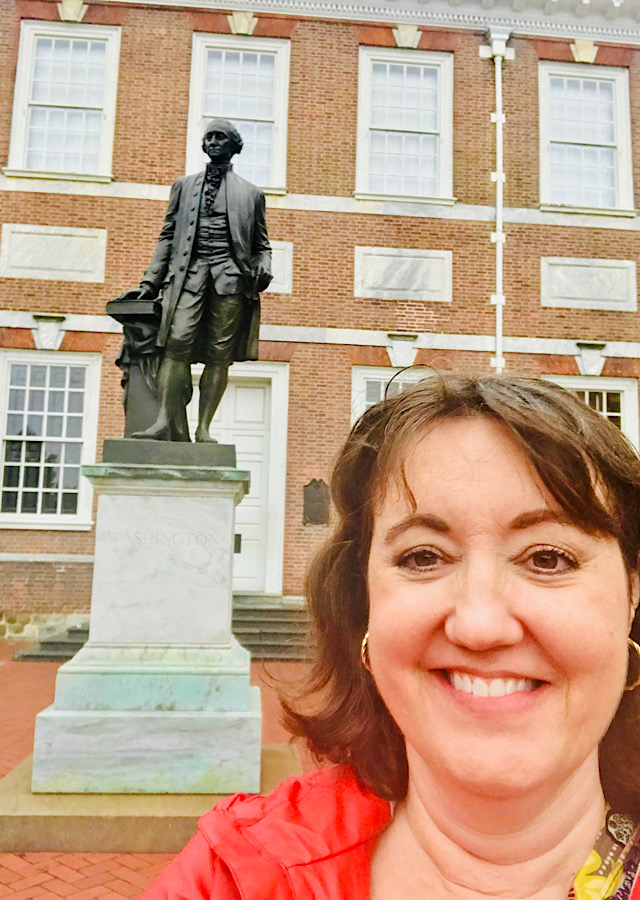 The American Pavilion takes design inspirations from the classic Georgian style of the late 1700s, Colonial Williamsburg, Independence Hall. It also incorporates designs from Thomas Jefferson's Monticello and the Old State House in Boston. Seeing the America Pavilion brings back memories of when I (Susan) visited the Independence Hall in Philadelphia (shown above.)
Check out the real life inspirations for all the World Showcase Pavilions HERE.
Experiences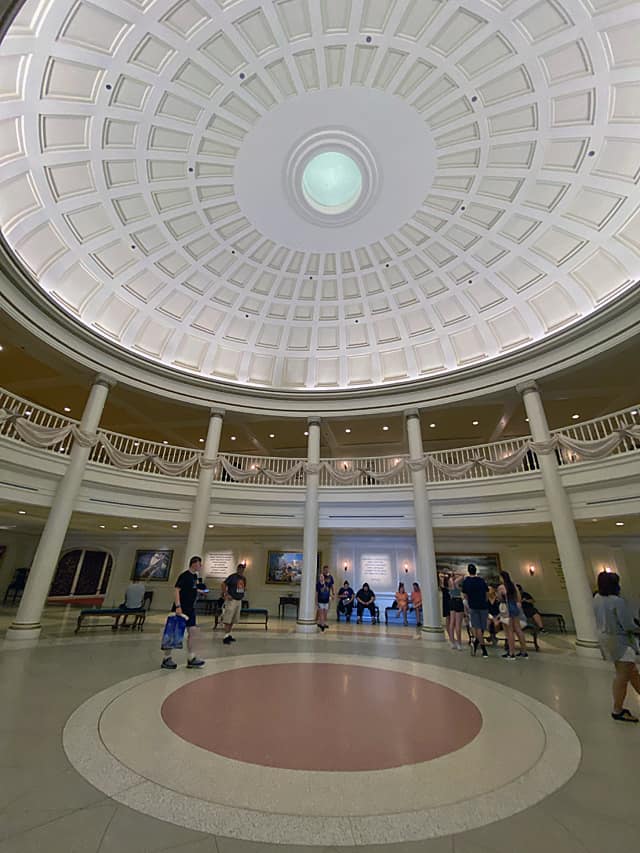 When you enter the rotunda, be sure to take in the beautiful artwork and inspirational sayings that embody Americas history and present. As an added bonus, this building has wonderful air conditioning to take a break from the heat.
The American Adventure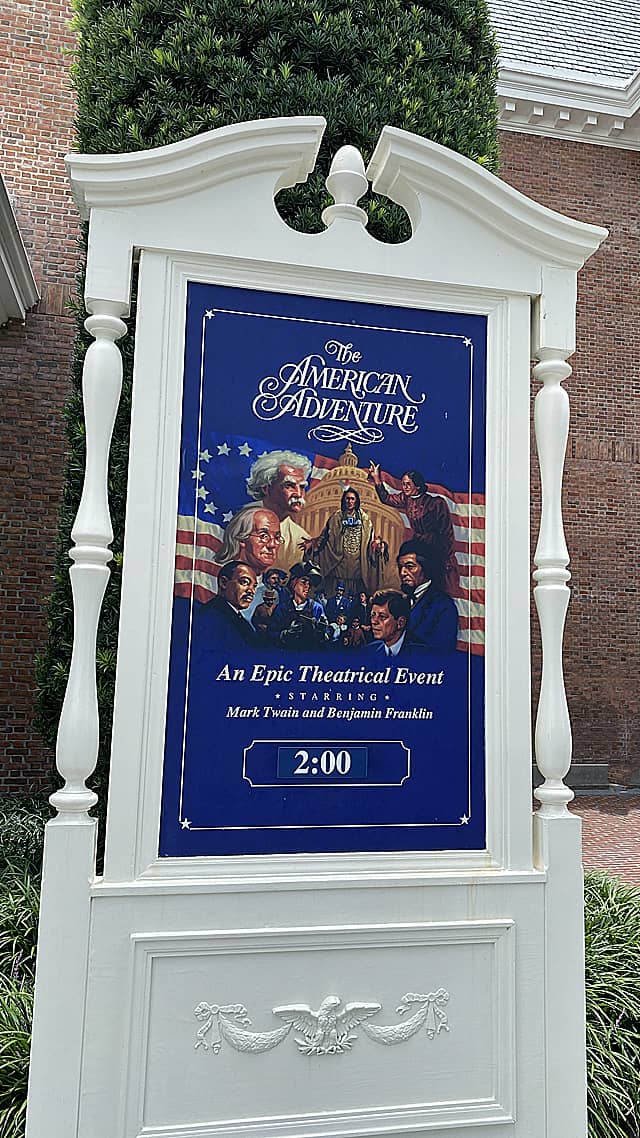 At the American Adventure, guests feel America's inspiration to greatness in an inspiring retelling of America's history. In this dramatic attraction featuring 35 Audio-Animatronics figures, digital rear-projection images on a 72-foot screen and patriotic songs, you'll watch America's story unfolds.
Also, guests witness landmark events like landing of the Mayflower, the Boston Tea Party, the winter at Valley Forge, the penning of the Declaration of Independence, the Civil War and the Great Depression. It's amazing to see the engineering that take place to flawlessly move the story along.
American Heritage Gallery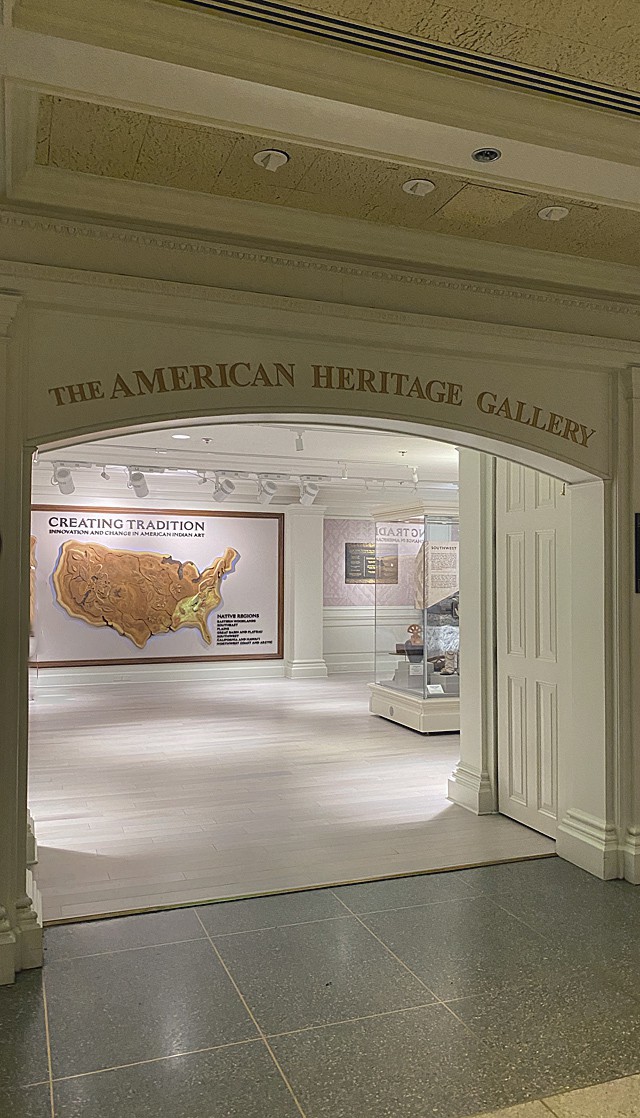 Inside the American Adventure Pavilion, there are rotating exhibits just off the rotunda. Now, guests can enjoy an American Indian art exhibit here. In this exhibit, look for displays from 7 United States regions. In addition, artwork here displays the richness and depth of Native cultures, both past and present.
Some of the featured artists are fashion designer Loren Aragon (Acoma Pueblo), doll-maker Glenda McKay (Ingalik-Athabascan) and Juanita Growing Thunder (Assiniboine Sioux) from the Growing Thunder family of Montana.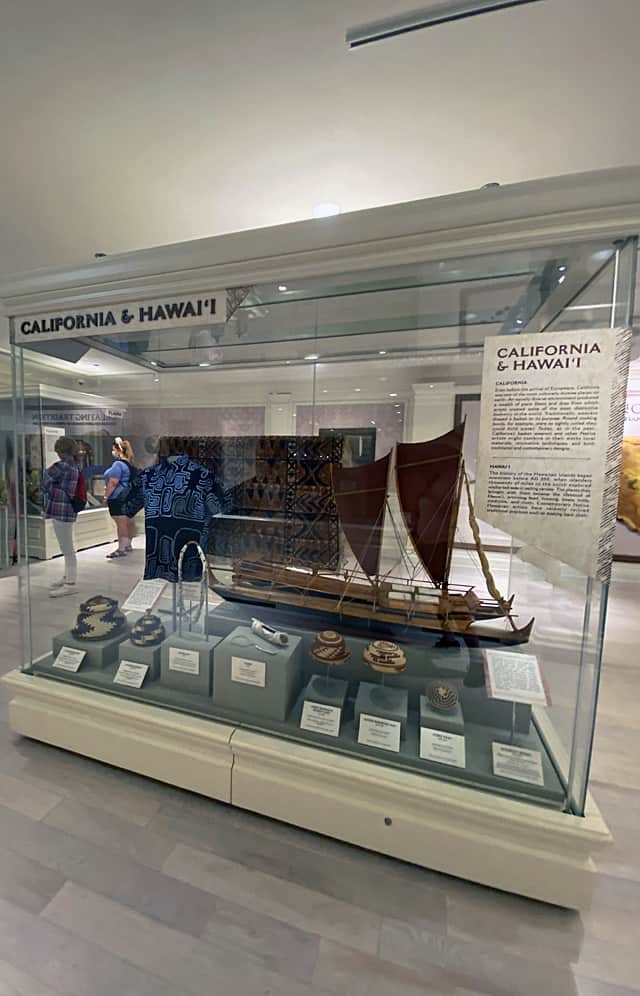 This collection is made possible through the collaboration of the Museum of Indian Arts and Culture (MIAC) in Santa Fe, New Mexico, and the Smithsonian National Museum of the American Indian (NMAI) in Washington, D.C.
Voices of Liberty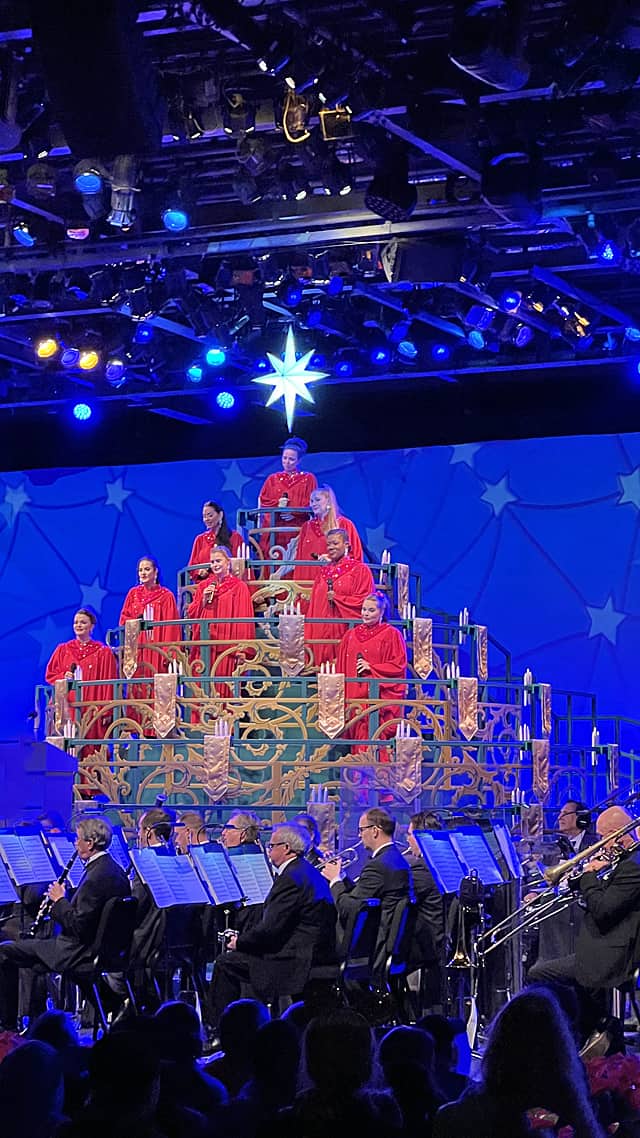 Voices of Liberty is a popular a cappella group that entertains crowds of all ages! They perform a wonderful 15 minute show in the America rotunda featuring patriotic songs. In addition, they take the stage at America Gardens Theater different times of the year performing our favorite Disney songs.
For example, in December 2021, they sang in the tree at the Candlelight Processional (shown above.) Be sure to check them out when visiting America.
American Gardens Theater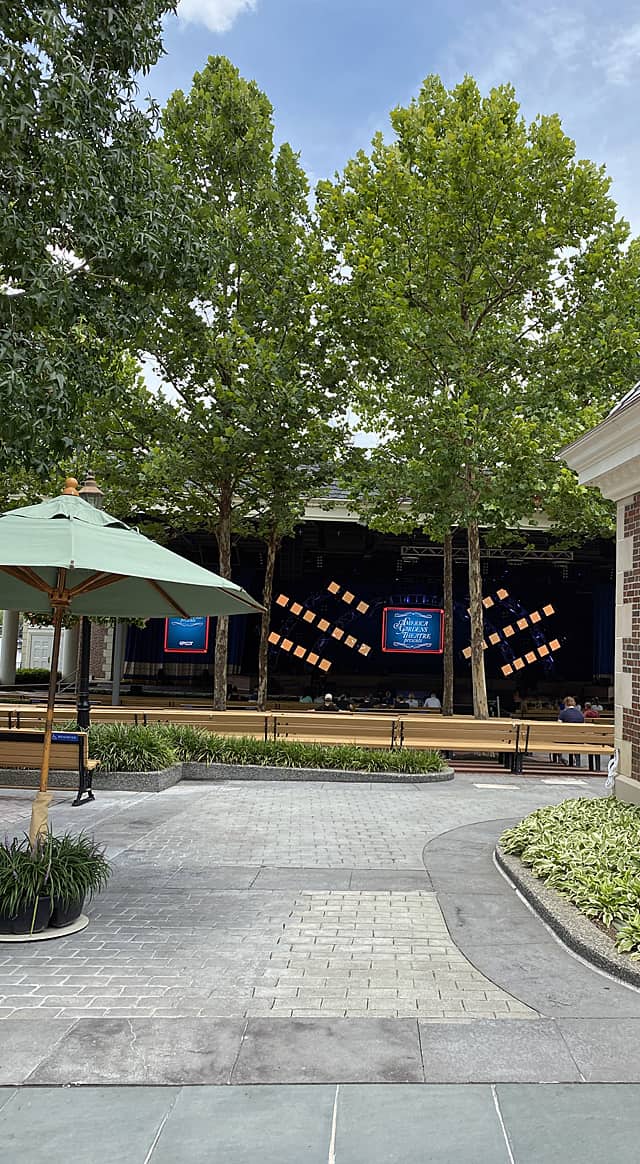 The America Gardens Theatre features special events and entertainment throughout the year. You'll find the theater facing the World Showcase Lagoon. Here, guest enjoy the Candlelight Processional, Disney on Broadway, Eat to the Beat Concerts, Garden Rocks Concert Series, Summer Concert Series, and the Voices of Liberty.
Kidcot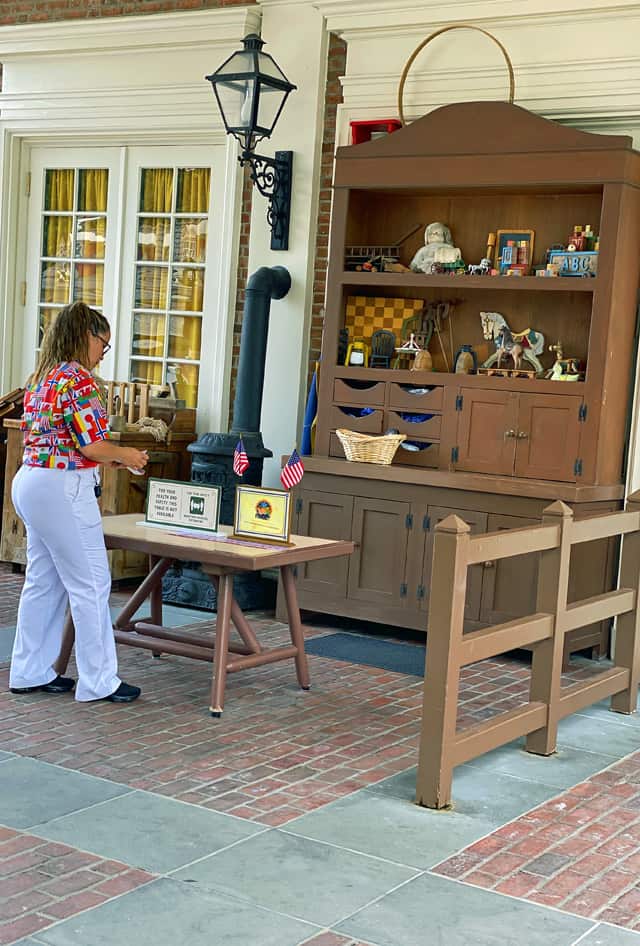 To find the Kidcot area, look outside near the Art of Disney shop. Here, children participate in a fun experience collecting activity cards at each country throughout World Showcase.
Shopping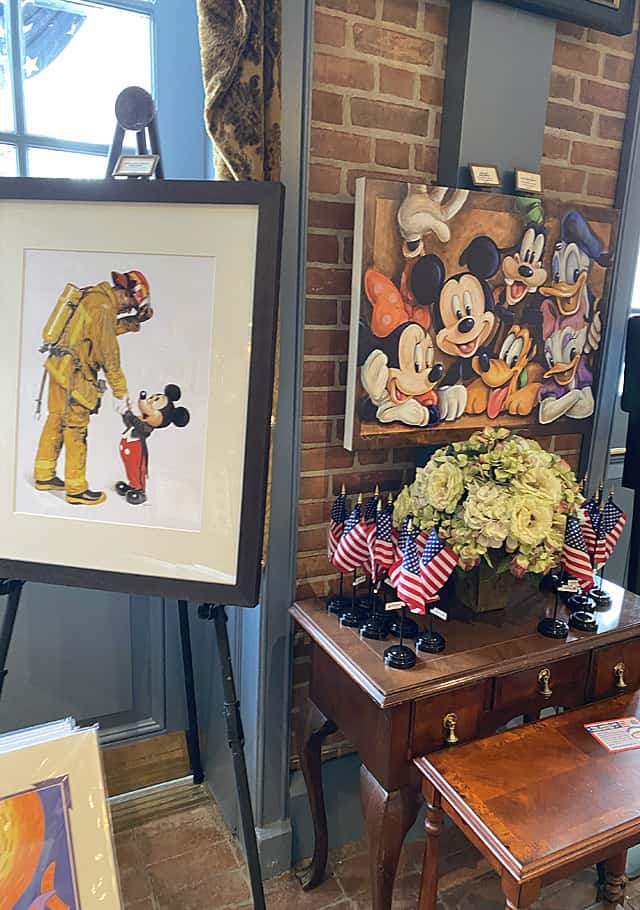 Art of Disney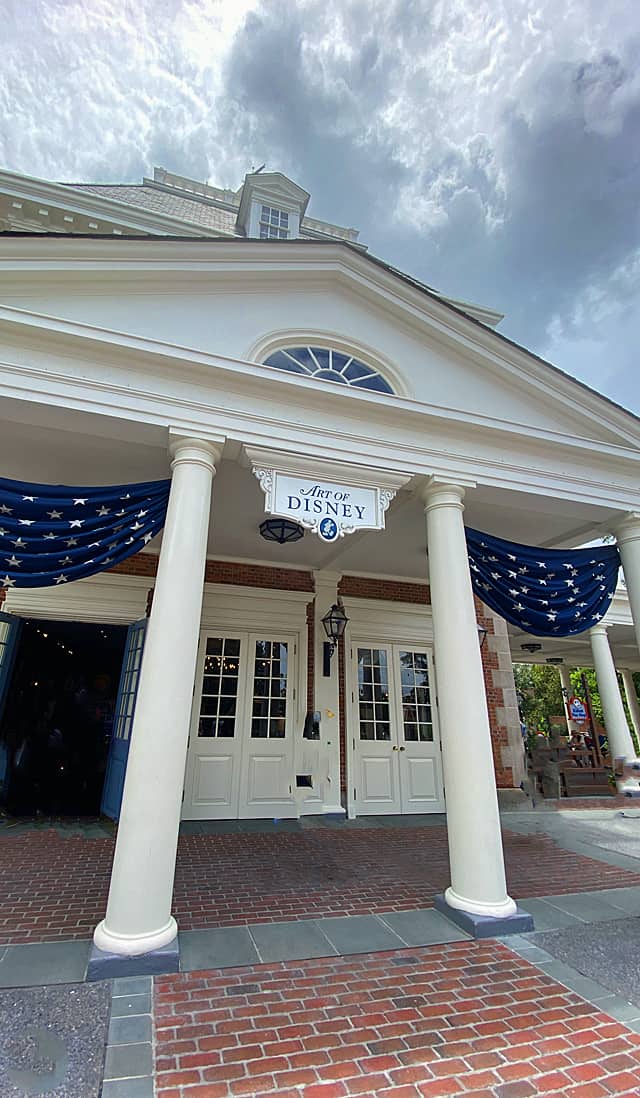 Many World Showcase pavilions have multiple shops. However, America only has one, the Art of Disney. Shoppers here will find traditional Disney artwork mixed with patriotic pieces. Not only that, but you'll also find jewelry, limited-edition prints, figurines and the popular Disney Classic Collection. Also, they have a wide selection of Alex and Ani bracelets.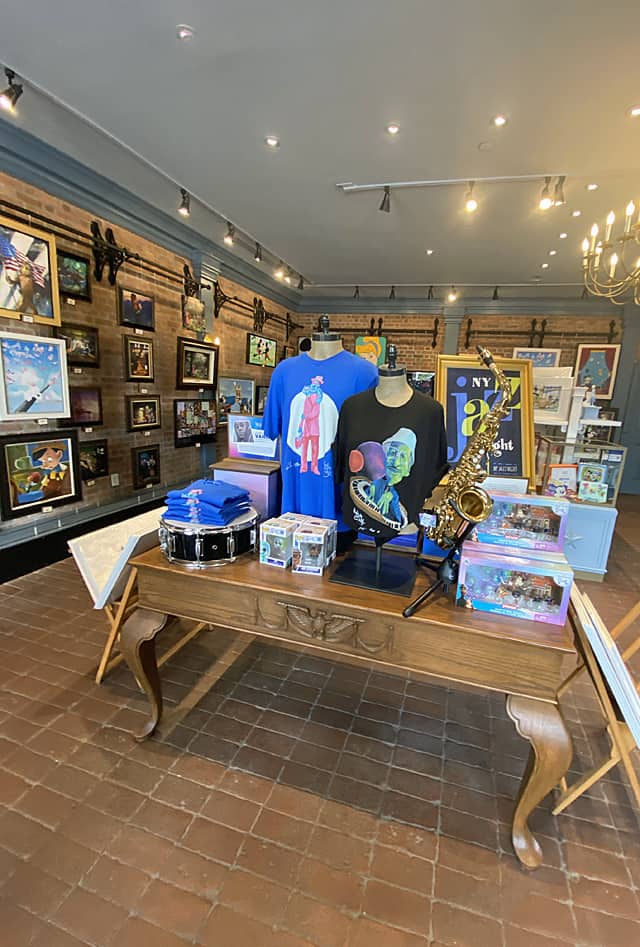 Check out the photo above displaying some of the Soul merchandise you'll find here.
Dining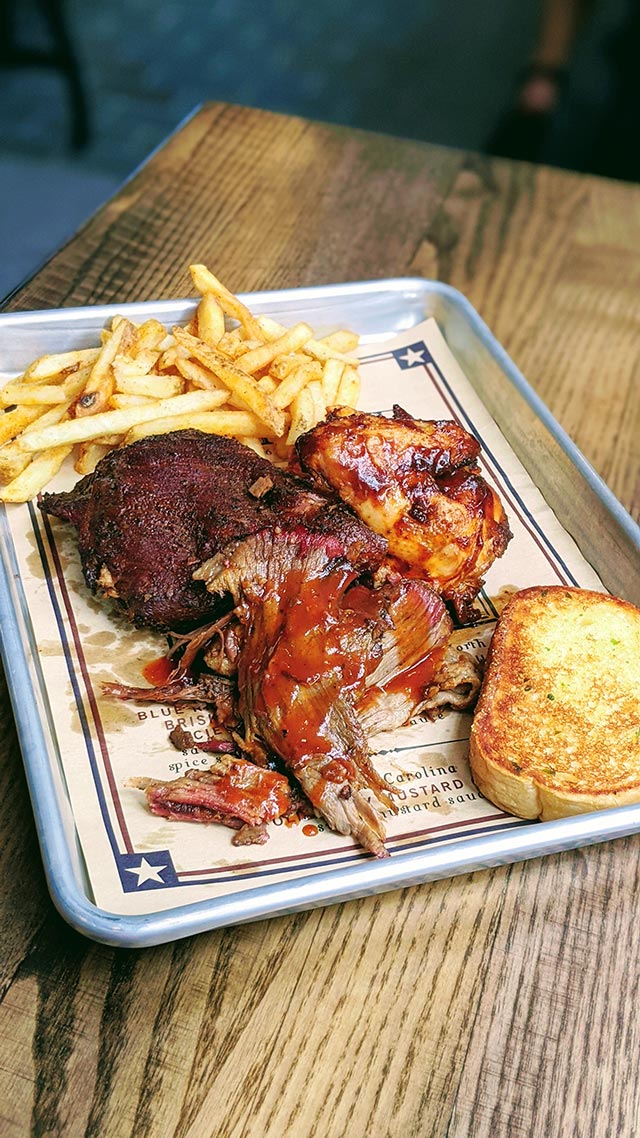 Block and Hans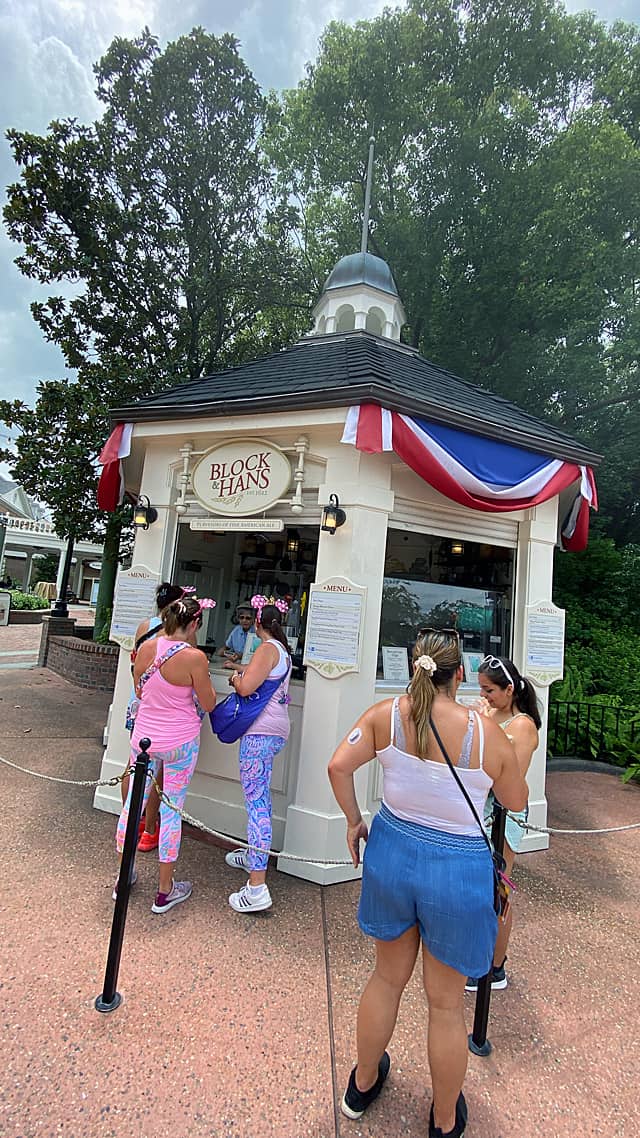 Stop at this popular spot if you're thirsty for American craft beers! In addition, they serve Mickey pretzels with cheese sauce and bottled water.
Coffee and Pastries Stand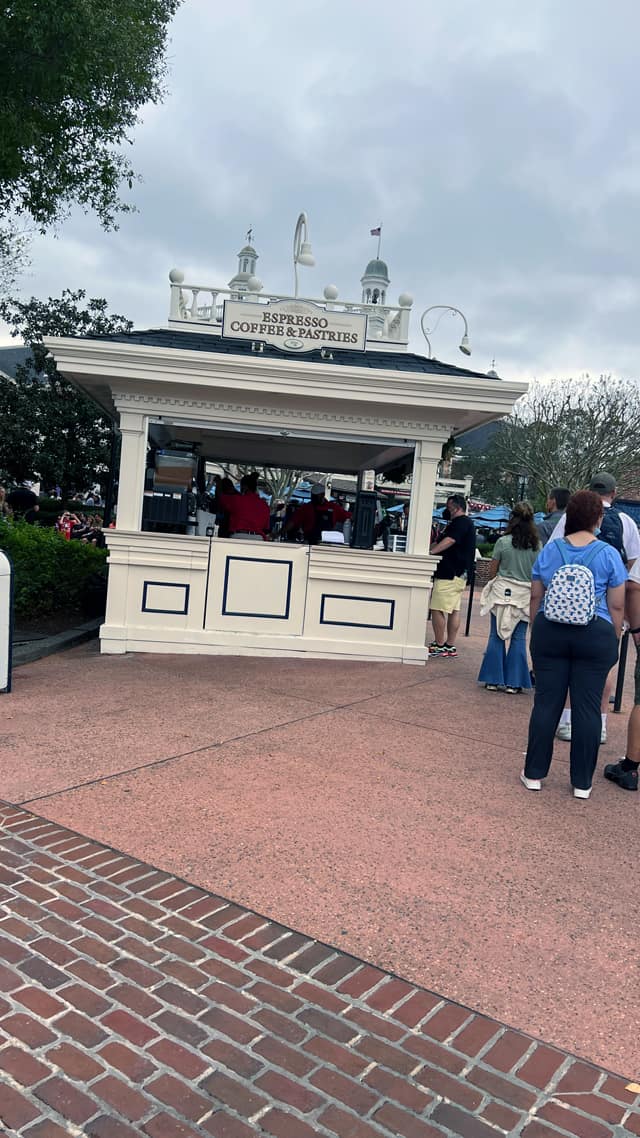 At the front of the pavilion, you'll find the coffee and pastries stand. Here, guests can purchase a variety of espresso and coffee drinks. This makes a great early stop for a quick breakfast.
Fife and Drum Tavern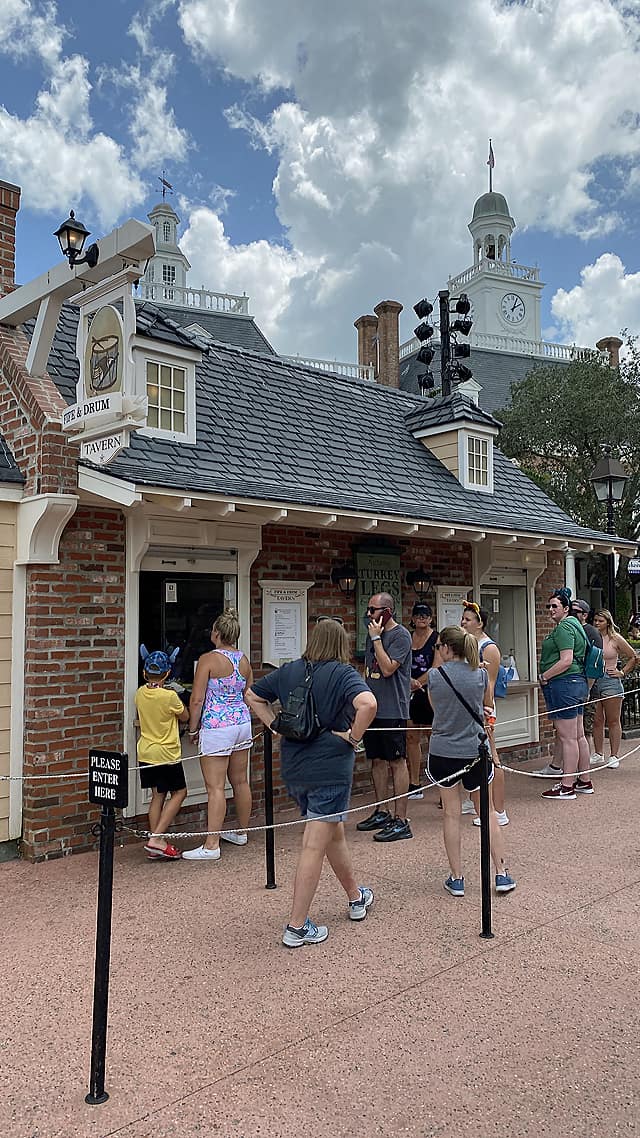 Hungry for a turkey leg? Search no further because they're served at the Fife and Drum Tavern. Other American dishes served here are popcorn and root beer floats. Alcoholic beverages, including beer and wine are also available.
Funnel Cakes
What's more American than a delicious funnel cake? Satisfy your sweet tooth with a classic funnel cake or cookies 'n cream funnel cake. Then, top these delicious treats with lots of choices: powdered sugar, chocolate syrup, or vanilla ice cream. Here, guest can purchase a funnel cake kit to make at home. Yum!
Regal Eagle Smokehouse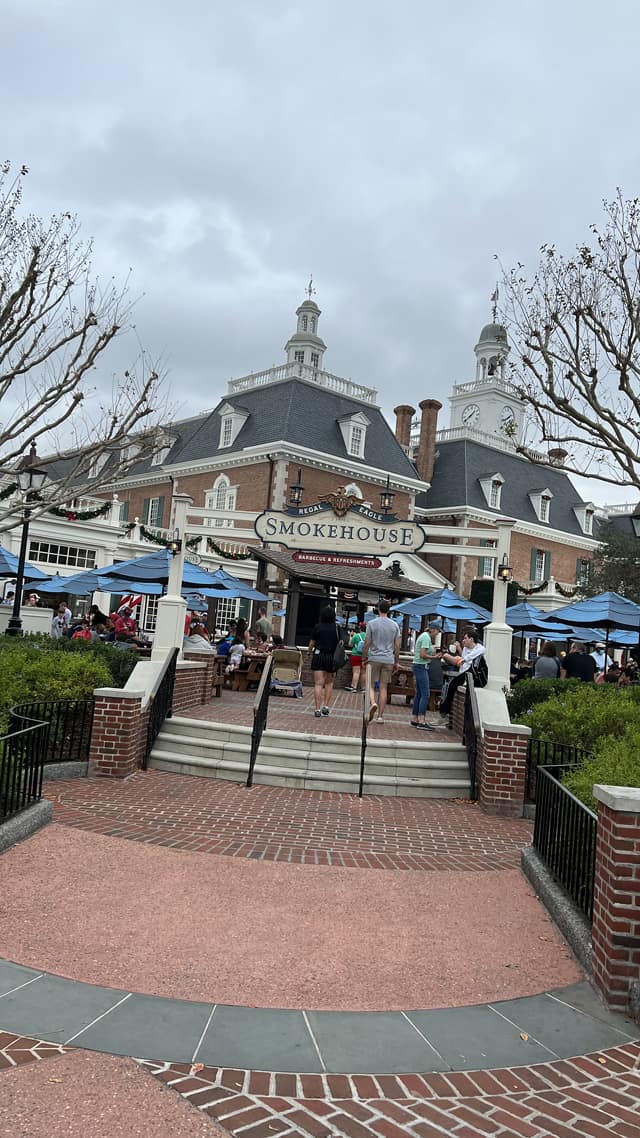 At Regal Eagle, guests find American barbecue and craft beers. Delicious meals are prepared by a pit master using techniques from classic barbecue regions to smoke selections over oak wood.
Disney offers 4 barbecue sauces:
Blue Ribbon Brisket Sauce – Savory Spice Sauce
Sizzlin' Pit Dry Rub Coalition – Classic Smokehouse Sauce
Old Glory Mustard Guild – Sweet Mustard Sauce
Blue Ridge Vinegar League – Vinegar Base Sauce
Wash it down with all-American beverages, including beers and ciders from around the United States. Check out our Regal Eagle Smokehouse review HERE.
Final Thoughts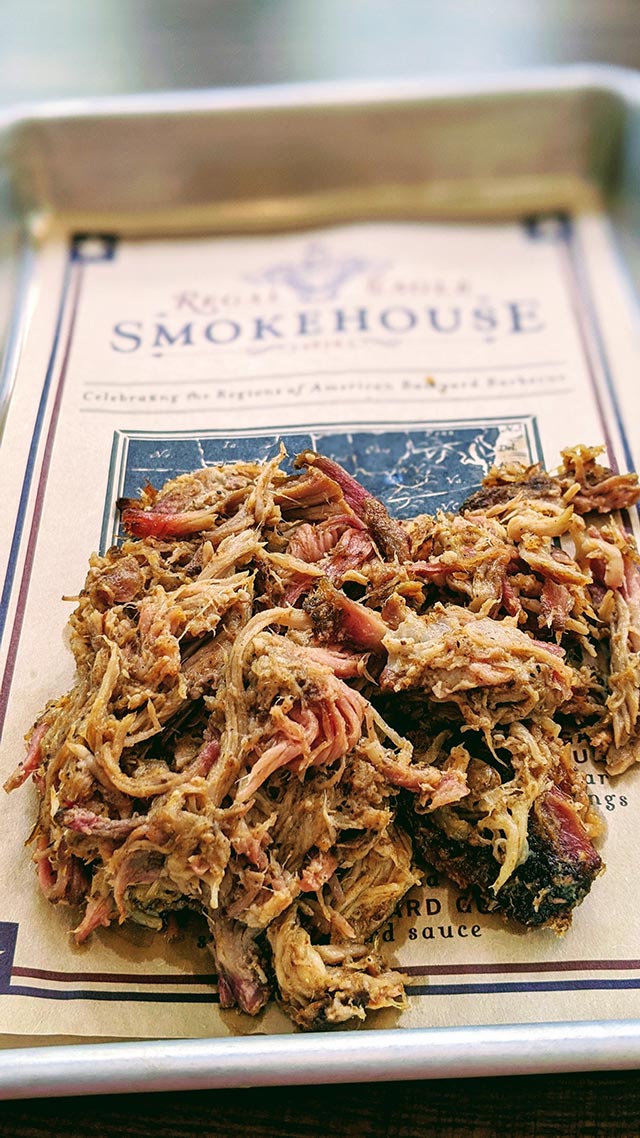 Whether you're looking for traditional American food or just want a cool place to relax, you'll find that and so much more at the America World Showcase pavilion. If you visit during the holiday season, you may see Santa Claus!
Not only that, but the American Gardens Theater almost always has a performance going. Grab a bite to eat and an American beverage, then take a seat and enjoy the show. I love the tribute to American history here.
World Showcase Pavilion Guides
I hope our World Showcase Pavilion Guides spark a desire to explore each one! Check out our other guides below by clicking on the name below:
What is your favorite thing about Epcot's American Adventure Pavilion? Also, what are you looking forward to doing here on your next visit? Please share your thoughts below or on our KtP Facebook group.