Head south for our Mexico Pavilion Guide. See details and photos on all the dining, shopping and attractions here.
Overview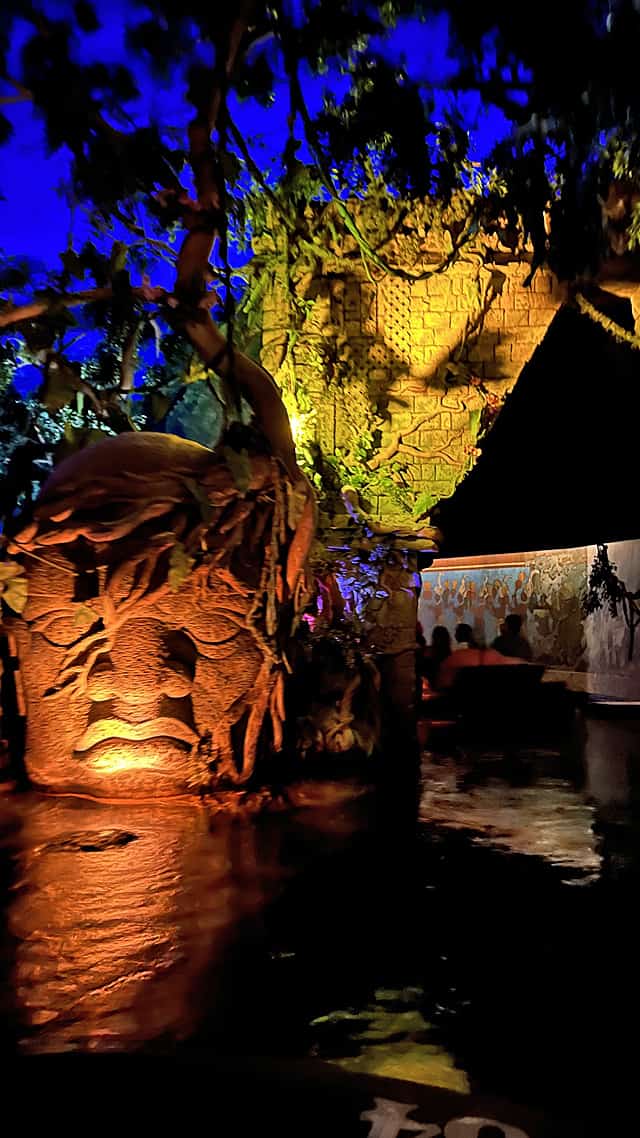 Whether you're a first time visitor or a frequent visitor to Disney World, Epcot has so much to explore! The Mexico Pavilion is the first pavilion traveling left as you enter World Showcase. It is an immersive experience and one of my (Susan) favorites. Hopefully this guide will help transform you to "Mexico."
Mexico is one of my very favorite places to relax at Disney World – especially in the open-air Plaza de la Amigos market. I pretend to be in Mexico, taking in all the sights and sounds.
Inside, look for restaurants, an attraction, and our favorite duck, Donald. The outside of the Mexico Pavilion is based on architectural designs of ancient Mesoamerican civilization. Check out the real life inspirations for all the World Showcase Pavilions HERE.
Mexican Folk Art Gallery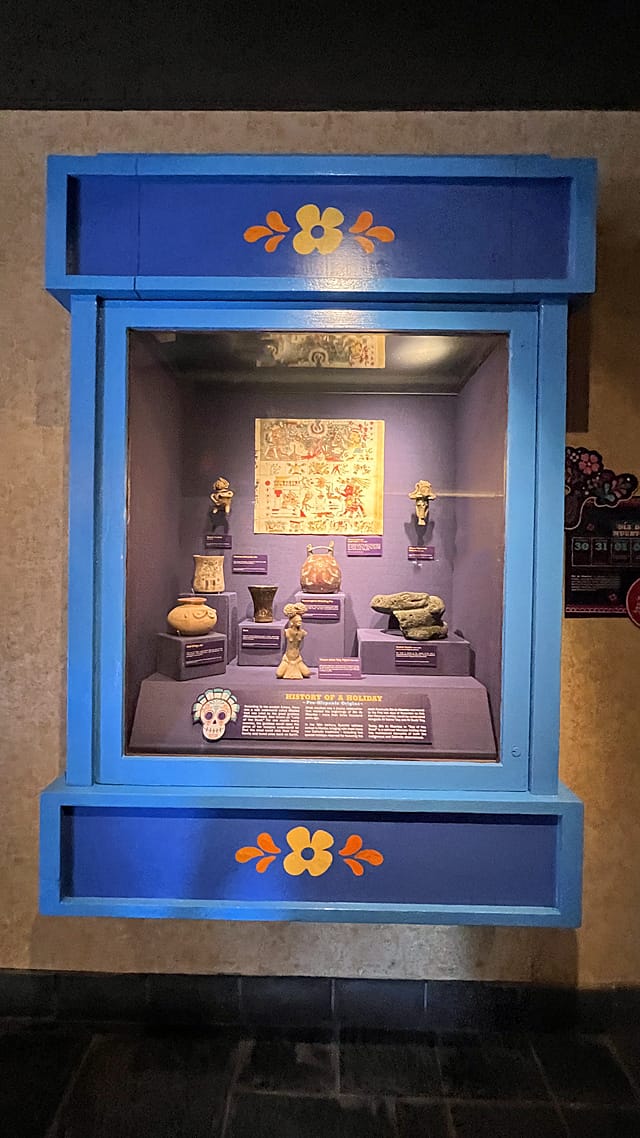 As you enter the pyramid, look for the amazing exhibits. These beautiful display feature art created by prominent Mexican artists along with and a display inspired by Disney Pixar's Coco.
First, check out the La Celebración del Día de Muertos. It embodies the the beautiful colors and Day of the Dead holiday. In Mexico, the celebration honors the dearly departed with parades, elaborate costumes and vibrant arts and crafts. To learn more about this unique holiday, read HERE.
Tour the gallery's intricately cut pieces of papel picado as well as calaveras, or decorative skulls made of sugar. Next, check out pre-Hispanic art and modern pieces that depict current life in Mexica.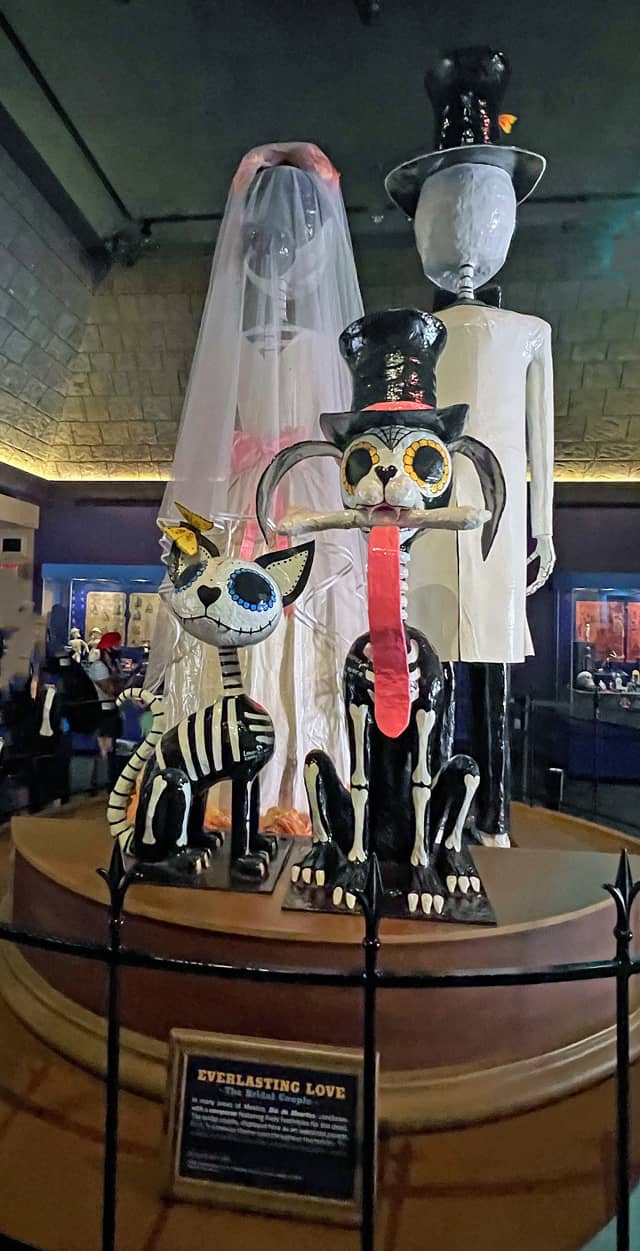 Last, the famous skeleton Bridal Couple is prominently displayed in the center. This pair represents the eternal value placed on love where couples stay together in the afterlife. Please take a moment to explore this area before diving deeper into the pyramid.
Architecture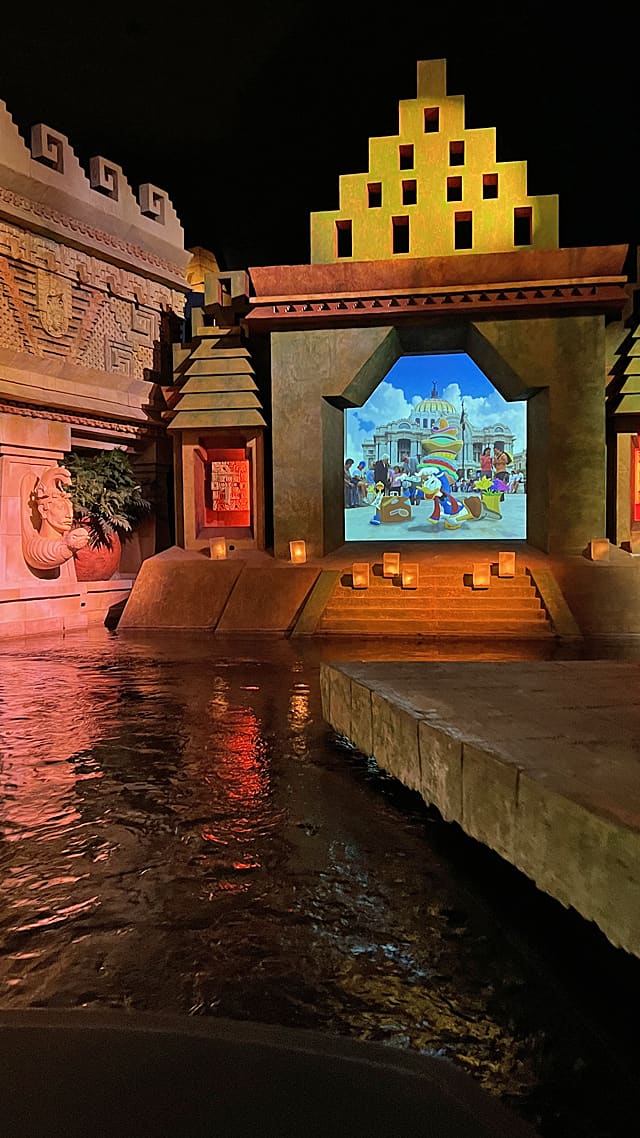 The pre-Hispanic city of Chichén Itzá was the most important Maya area. After the Spanish arrived, it became the center of worship in the Yucatan peninsula. One of the most famous temples, El Castillo, was built here between 800 and 1100 A.D.
Imagineering added a super cool effect to the pyramid. Each day as the sun goes down, the shadow "snake" also appears in the World Showcase. Check out all of the real life inspirations for each World Showcase pavilion HERE.
Dining
San Angel Inn Restaurante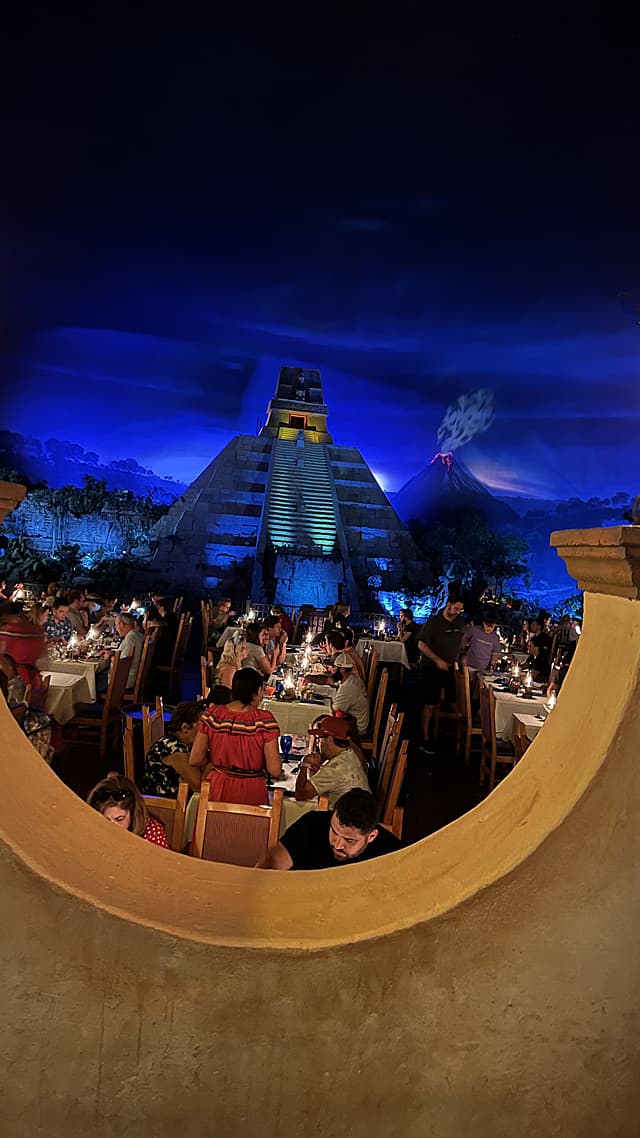 San Angel Inn Restaurante is a a table service dining location inside the pavilion. Here, guests always dine under a blue-lit twilight sky. This Mexican restaurant is modeled after a 17th-century hacienda at the base of Mayan ruins. Although tables are a bit tight, the feeling of eating outdoors is amazing.
Dine on traditional Mexican dishes at San Angel Inn Restaurante. Guests start with appetizers like tortilla soup topped with avocado, cheese and tortilla strips.
Then, savor steak, chicken and fish entrées. These are served with various chipotle pepper, chocolaty mole and green tomatillo traditional sauces. Last, finish your meal with creamy Bavarian mousse, or cheesecake covered in caramel sauce! Yum!
La Hacienda de San Angel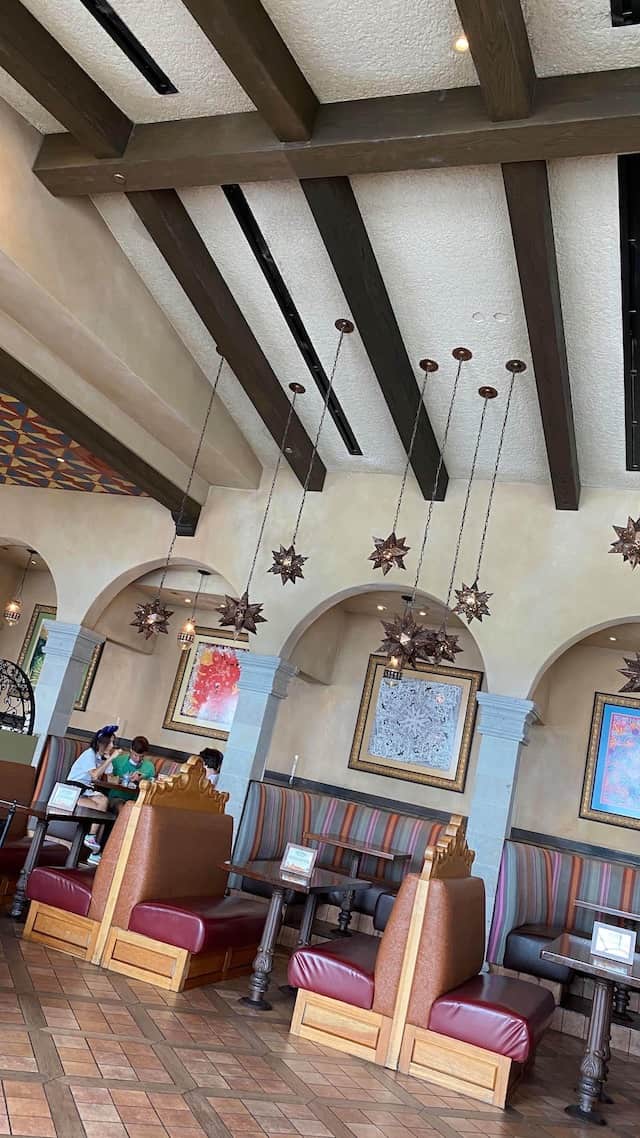 Look for authentic Mexican cuisine from various Mexican regions and premium margaritas are served with Old World hospitality here. La Hacienda de San Angel is a table service restaurant located across the path from the pyramid. This restaurant boasts of waterfront dining. However, this location isn't open for lunch.
Here, corn tortillas are house-made each day. Not only that, but it also features a wide variety of house-made salsas with all levels of heat. Zesty appetizers include Queso Fundido, a dish of warmed cheese with poblano peppers and sausage. Then, share a meaty mixed grill with a parrillada for two. Yum!
La Cantina de San Angel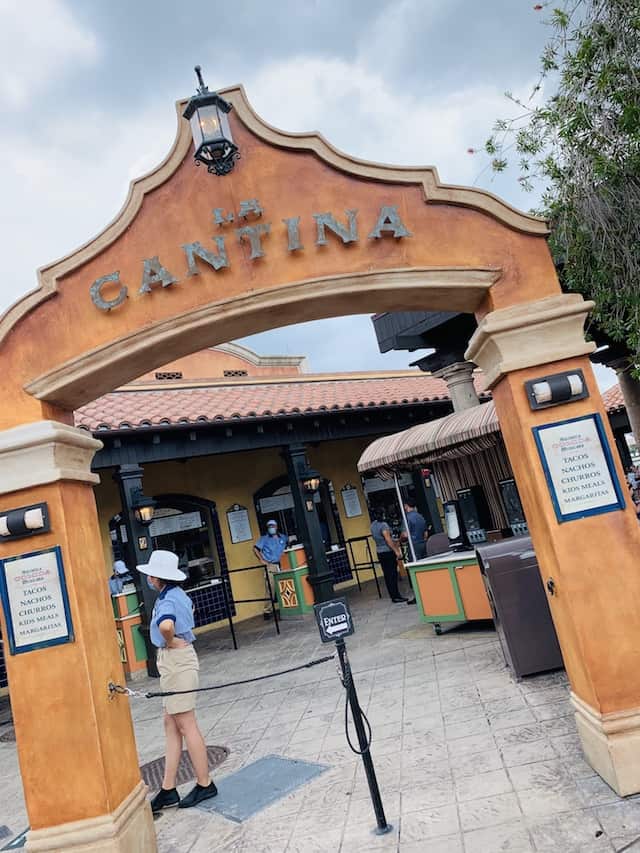 Mexico's quick service is also located waterfront adjacent to the Hacienda restaurant. At La Cantina de San Angel, look for tacos, empanadas, and churros. This is a great place to eat in air conditioning or open air tables. Also, if you time it right, you may be able to watch Harmonious from your table.
Adult Beverages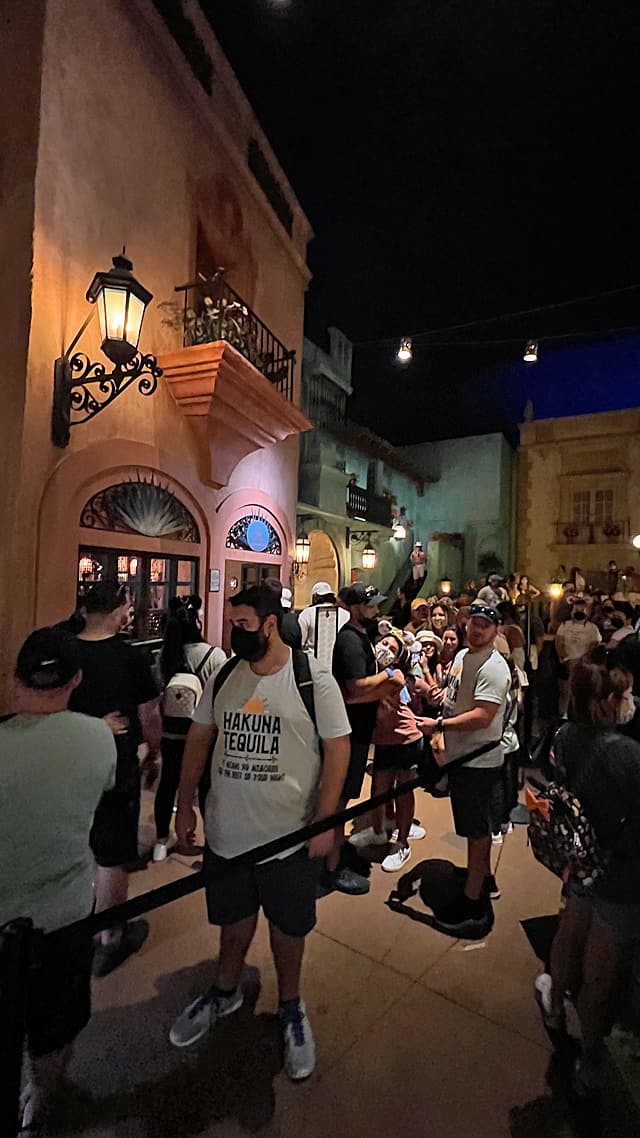 La Cava del Tequila
This is one of the most well-known spots at Disney for adult beverages, especially unusual Margaritas like wild passion fruit and avocado. It features 200 tequilas, along with Mexican beer and wine too. Light snacks such as guacamole and queso with corn chips are served. Although this is a tiny location, Disney allows drinks to be taken to go.
Note: This is an extremely popular location. Check out the long line in the photo above.
Here, guests can sign up for La Cava Experience. Learn the history and sample the tastes of the quintessentially Mexican spirit with a certified Tequila Ambassador as your host. Note: This is a paid experience.
Choza de Margarita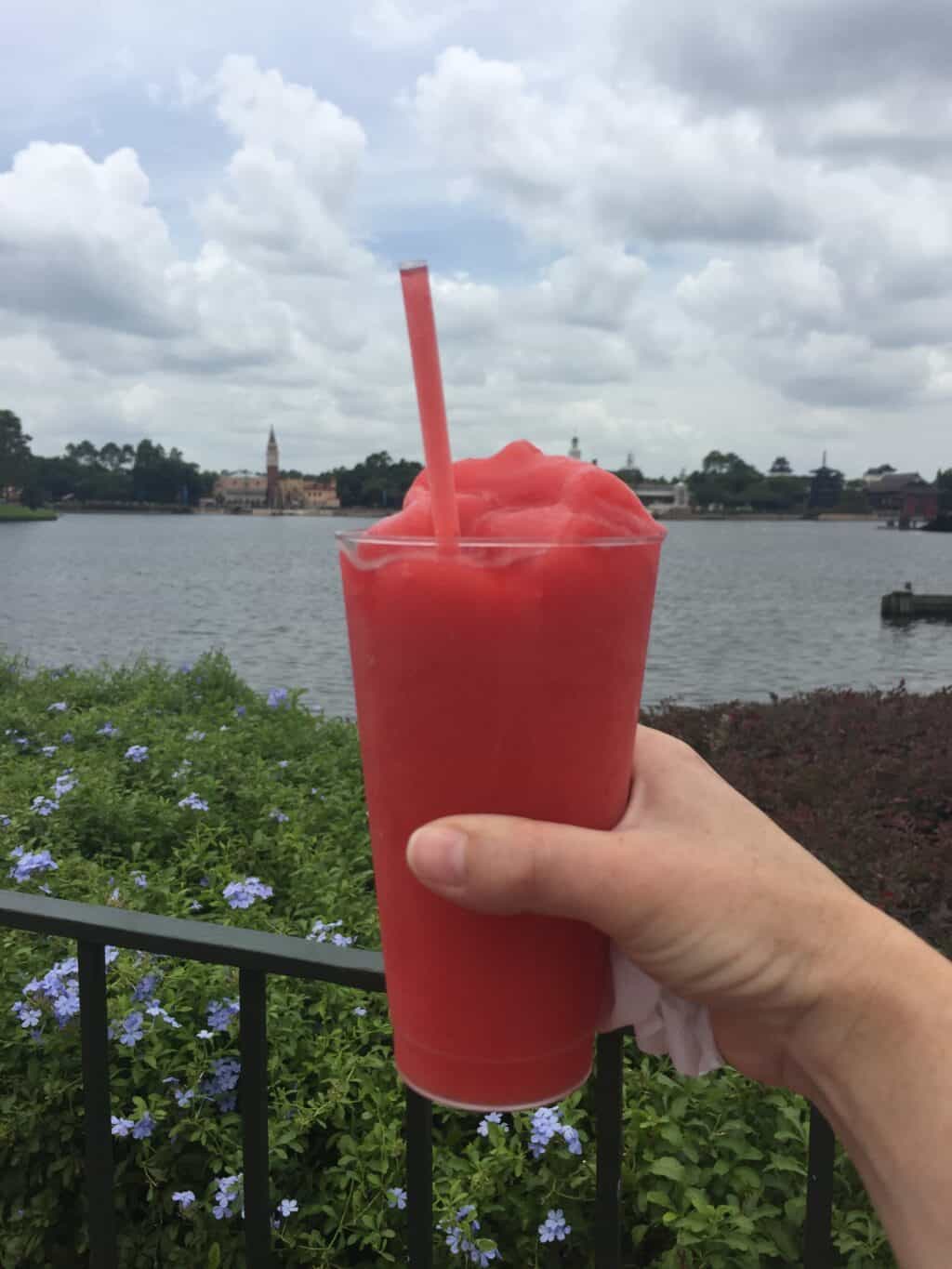 In addition, to avoid long La Cava lines, check out this outdoor kiosk. Located to the left of the Mexican pyramid entrance, Choza de Margarita has a reputation for excellent margaritas.
Experiences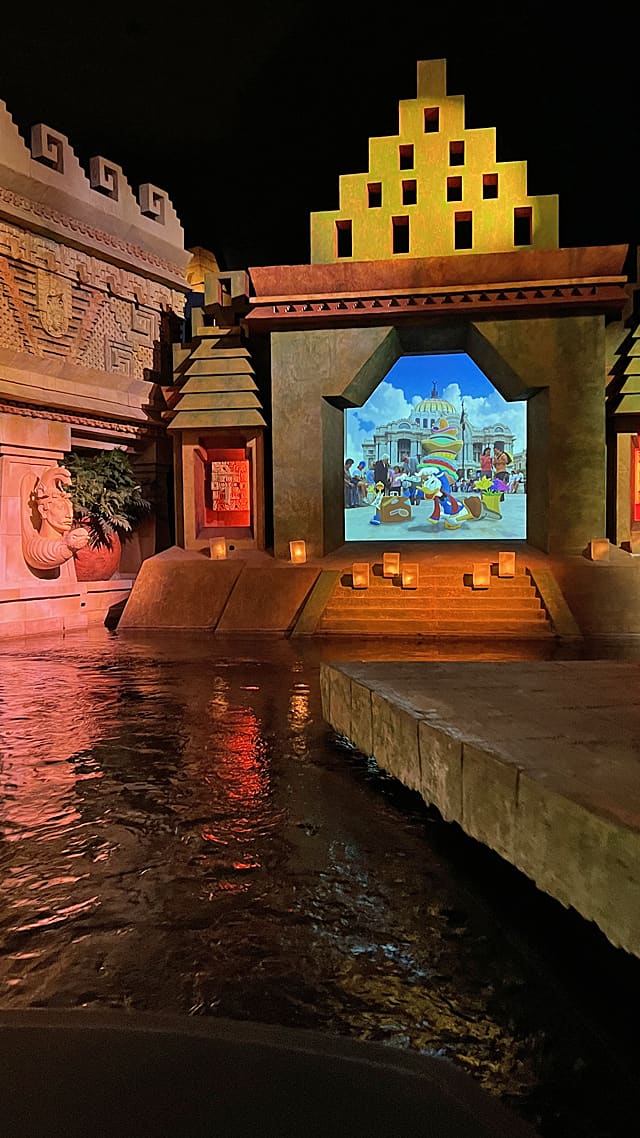 Mariachi Cobre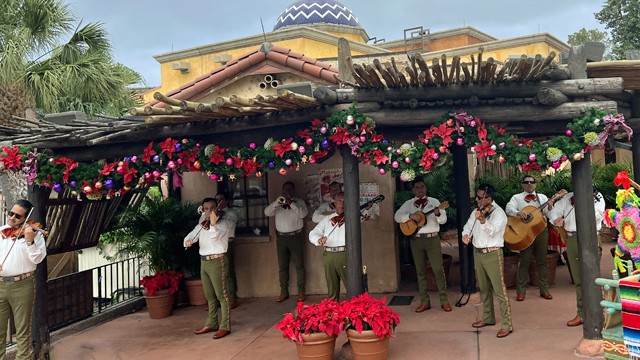 Mariachi Cobre is a mariachi band that performs traditional folk music from Mexico right across from the pyramid. Sometimes, a Mexican Marimba Trio may perform in place of the full mariachi band. This band is one of the longest playing at Disney and always thoroughly entertains guests with its lively tunes. Love experiencing them serenade guests.
Check out one of their performances from their Instagram account below. This band is not to be missed!
KIDCOT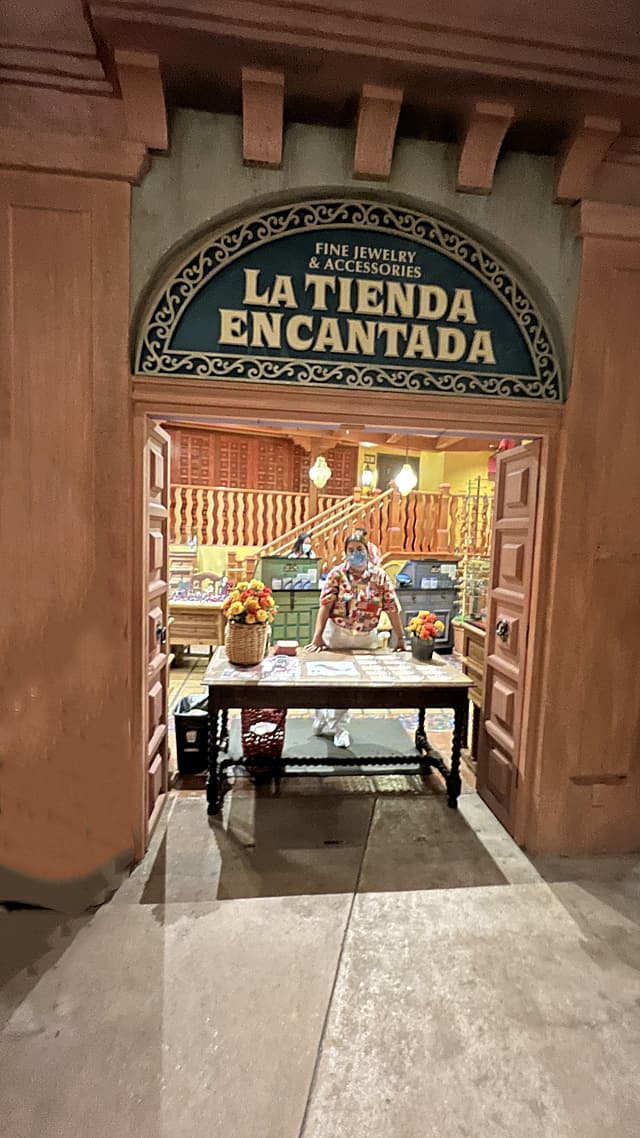 Each of the World Showcase Countries has a special "KIDCOT" area that where children complete a unique craft at each location. They earn a sticker for each activity completed.
To learn about the storytellers and holiday customs of Mexico, read HERE.
Gran Fiesta Tour Starring The Three Caballeros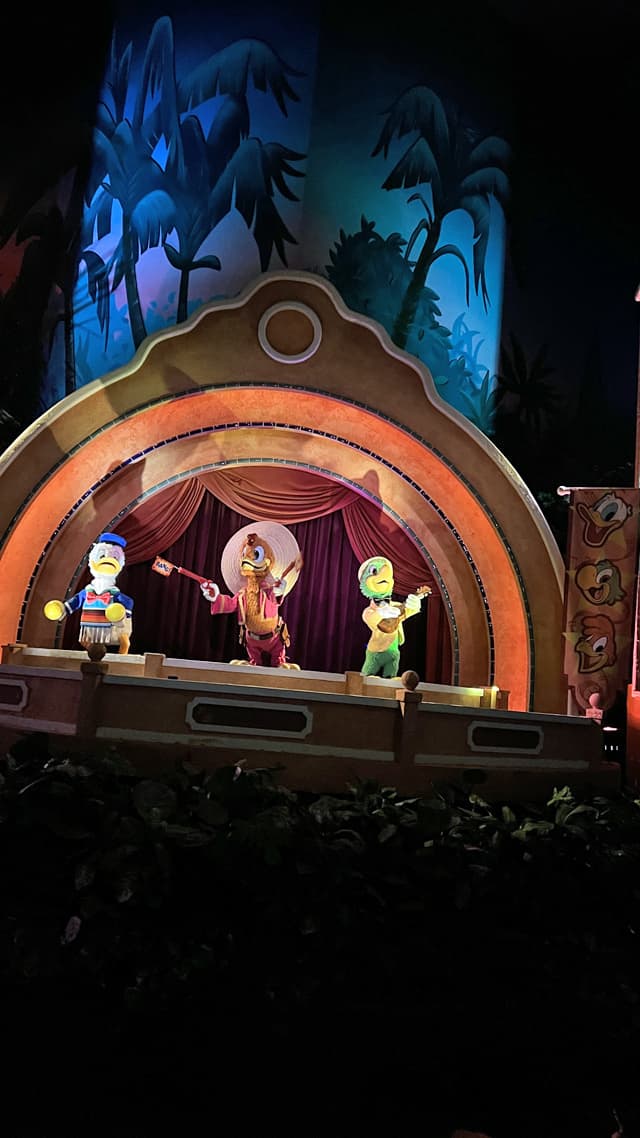 This indoor boat ride holds sentimental value to me and my family. When my children were young, they laughed so hard looking for Donald along our journey. On this ride, Guests take in the sights of Mexico and the antics of 3 feathered amigos floating through the Mexico Pavilion.
Donald's disappeared south of the border, and the other 2 caballeros from the musical trio, Panchito, the Mexican charro rooster, and José Carioca, the Brazilian parrot, chase him around Mexico. It's hilarious!
Characters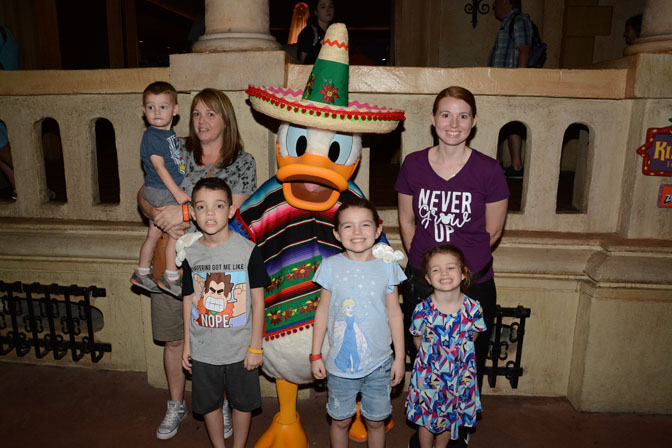 Donald is proud of his Mexican heritage and one of my favorite characters. Look for Donald on a trail to the right of the pyramid. Here, he's decked out in his Mexican attire from the 1944 Disney film "The Three Caballeros."
Shopping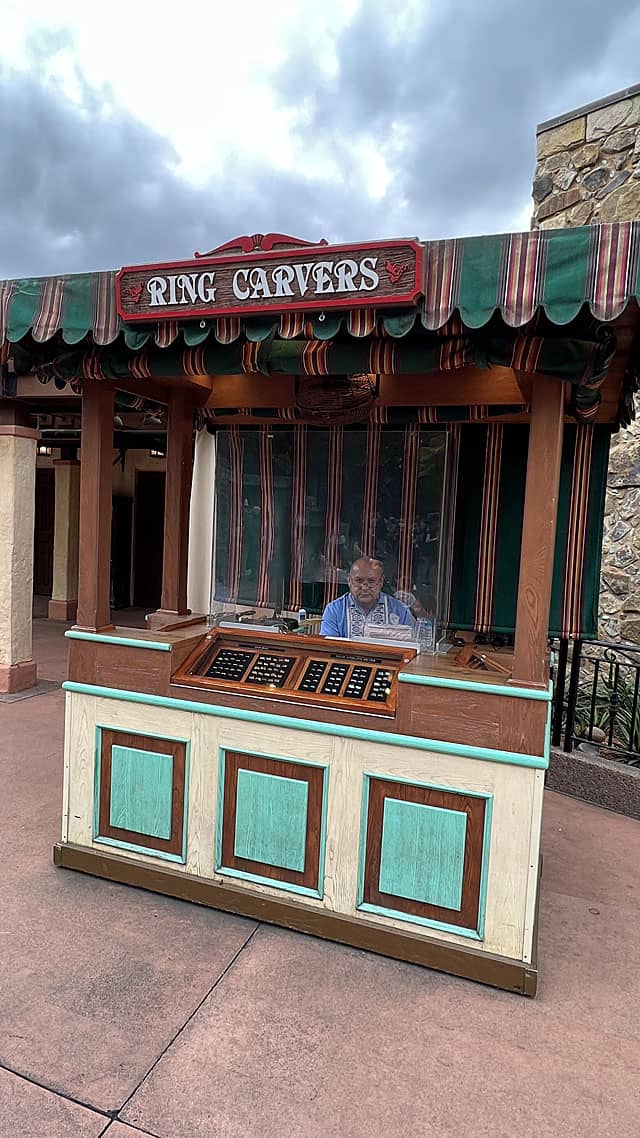 Plaza de los Amigos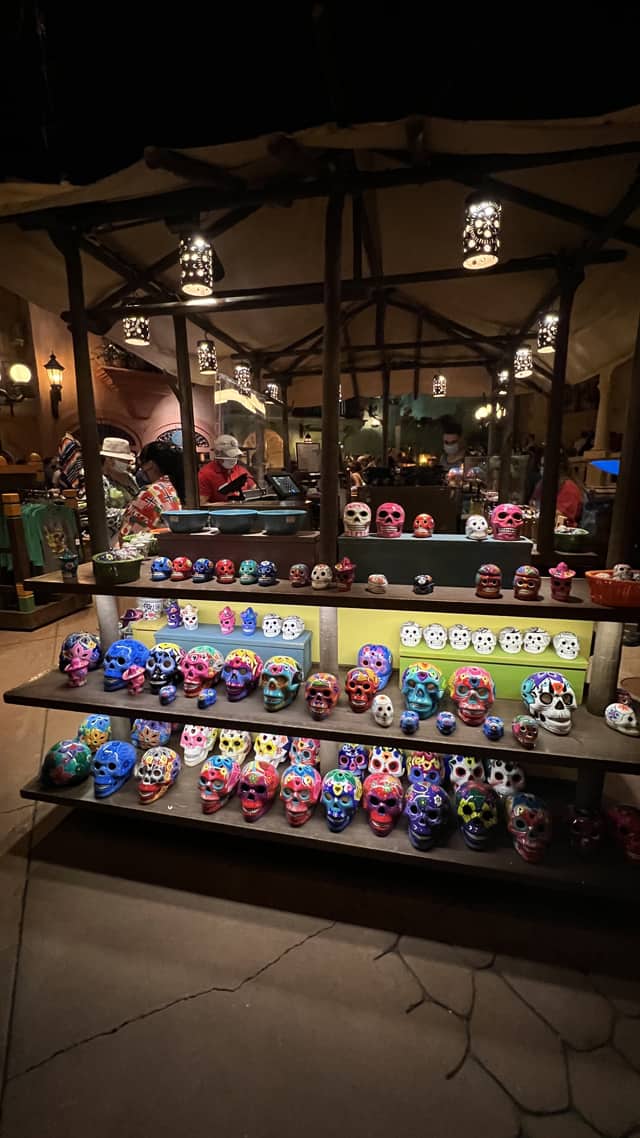 As you walk into the pyramid past the exhibits, you'll feel as if you've been transformed to Mexico. Throughout Plaza de la Amigos, you'll find carts filled with vibrant assortments of leather goods, glassware, piñatas, ceramics, and so much more.
Not only that, but you may catch Coco and Encanto merchandise as well as authentic clothing and accessories. In addition, it's a very large area that is fun to window shop.
La Princesa de Cristal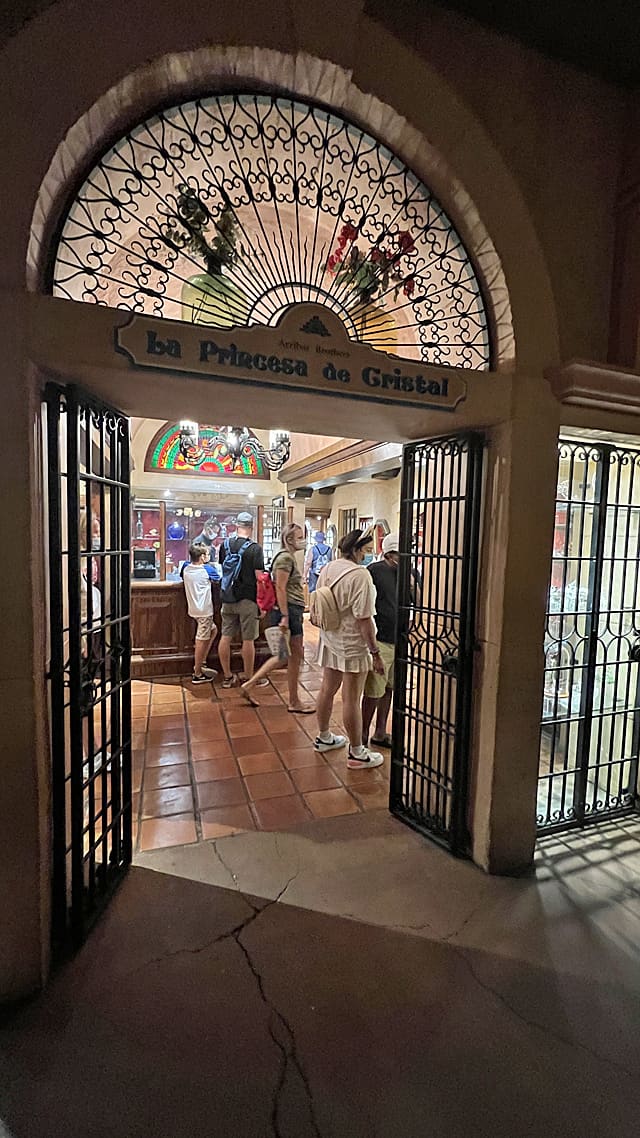 In addition to the open air market, the Mexico Pavilion offers shopping in smaller store to the side of the market. At La Princesa de Cristal look for Arribas Brothers crystal and glassware, cut crystal, blown glass and crystal figurines. You may even catch artisans making these items.
La Tienda Encantada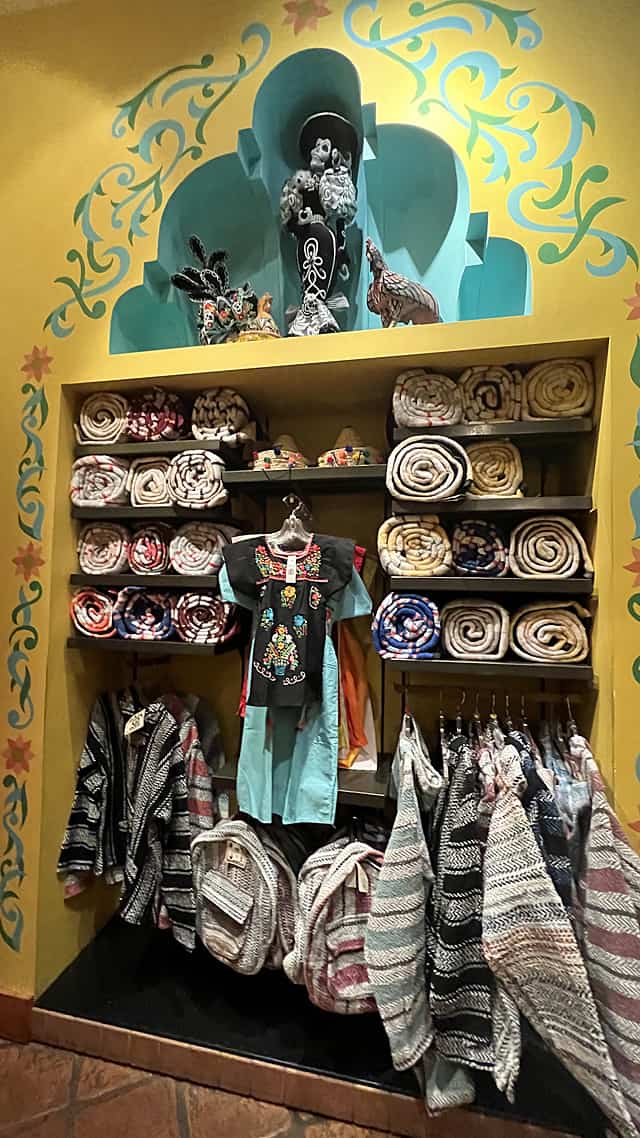 Next to La Princesa de Cristal, you'll find La Tienda Encantada. This authentically inspired Mexican gift shop sells jewelry, accessories and handcrafted items.
El Ranchito Del Norte
This shop is just across from the pyramid on the waterside. At El Ranchito Del Norte, guests shop for collections from the various stores in the indoor plaza. At the time of publication, this shop is temporarily unavailable.
Ring Carvers Kiosk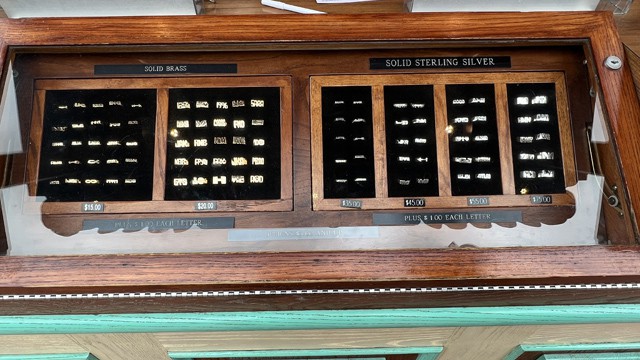 Last, the Ring Carvers kiosk is located adjacent to La Hacienda de San Angel. Here, guests can purchase personalized rings. Watch the artist at work carving name or initials into a ring. These handmade rings make a wonderful souvenir and are reasonably priced.
Final Thoughts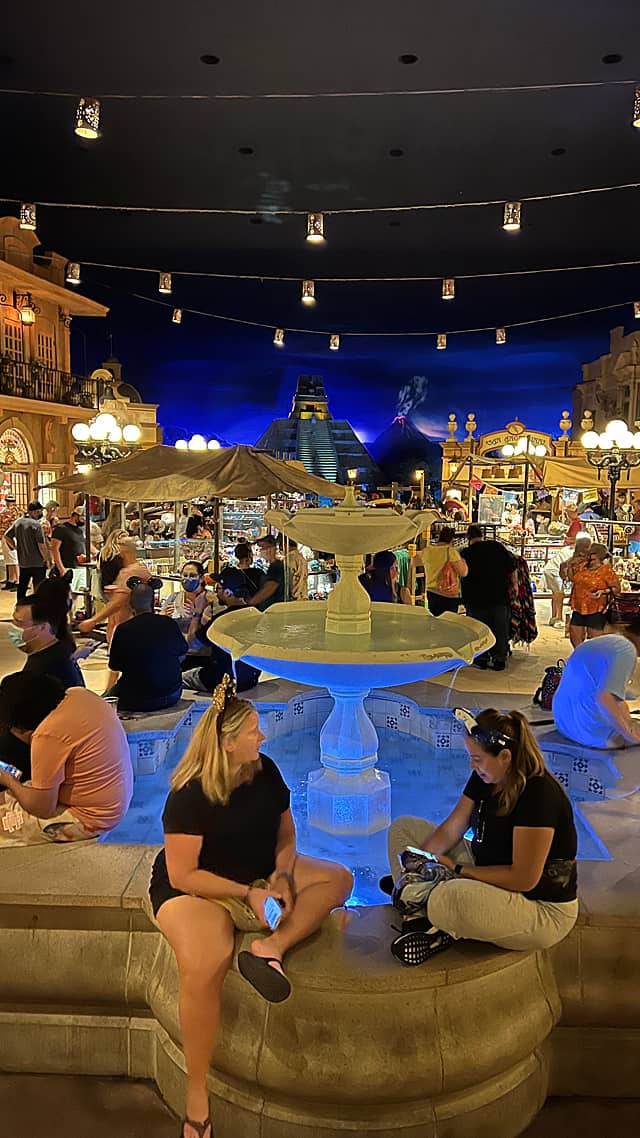 Mexico is one of my absolute favorite World Showcase Pavilions! The feeling of being transformed to Mexico is amazing. The best part of each World Showcase Pavilion, including Mexico, is the meticulous attention to detail in so many spaces. One of my favorite resting spots is by the iconic water fountain.
World Showcase Pavilion Guides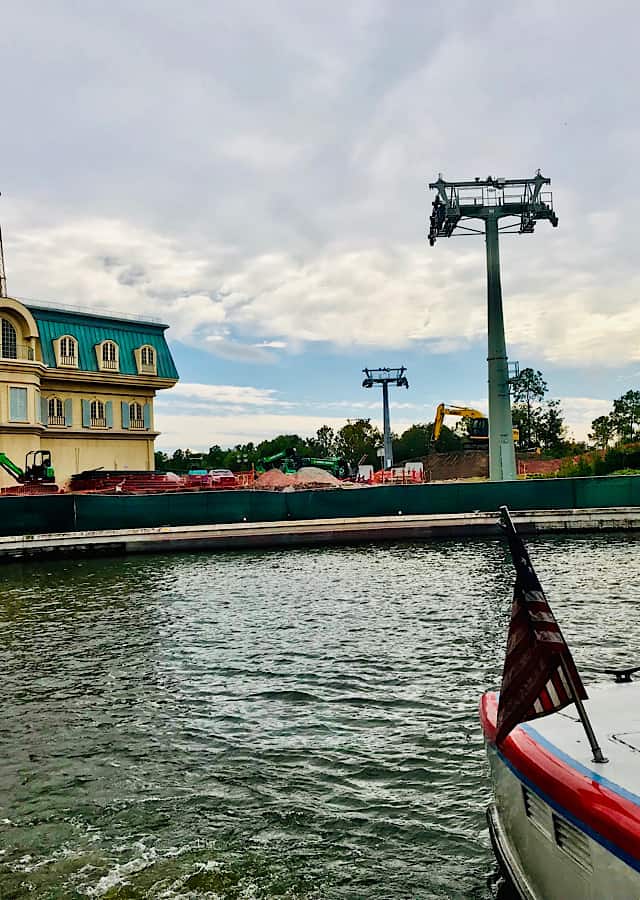 I hope our World Showcase Pavilion Guides spark a desire to explore each one! Check out our other guides below by clicking on the name.
What is your favorite thing about Epcot's Mexico Pavilion? What are you looking forward to doing here on your next visit? Please share your thoughts below or on our KtP Facebook group.