Head east with our World Showcase China Pavilion guide. See the details and photos on all the dining, shopping and attractions here.
Getting to China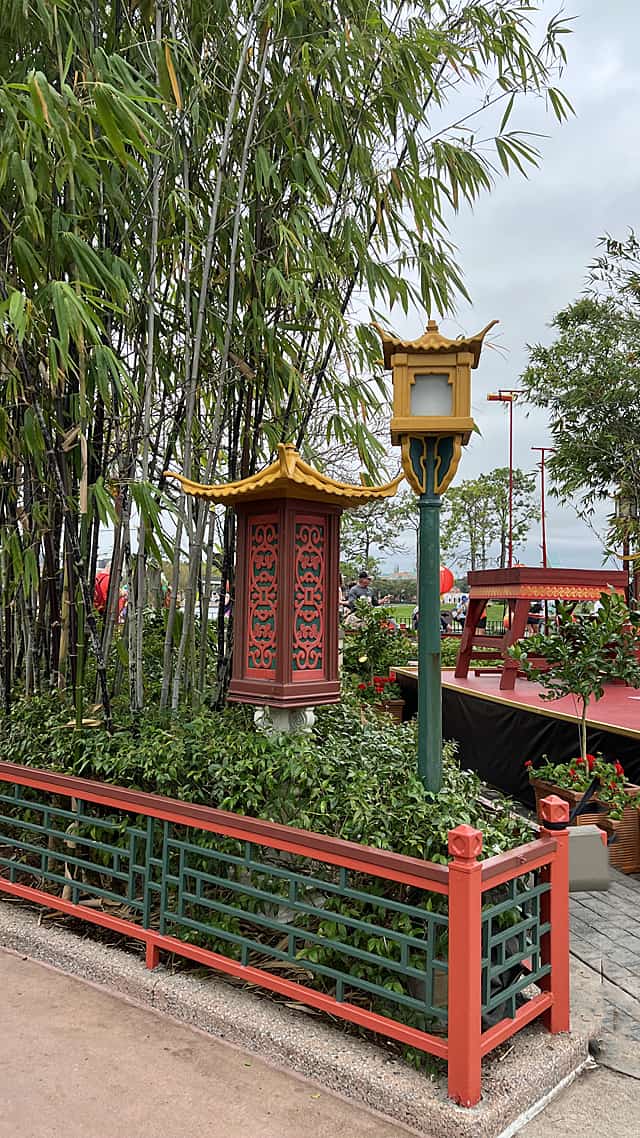 To find the China pavilion, turn left as you enter World Showcase from Epcot's main entrance. It's the pavilion after Norway. Or, if you're entering from the International Gateway, turn right until you reach China. It's located between the Norway and Germany World Showcase pavilions.
Overview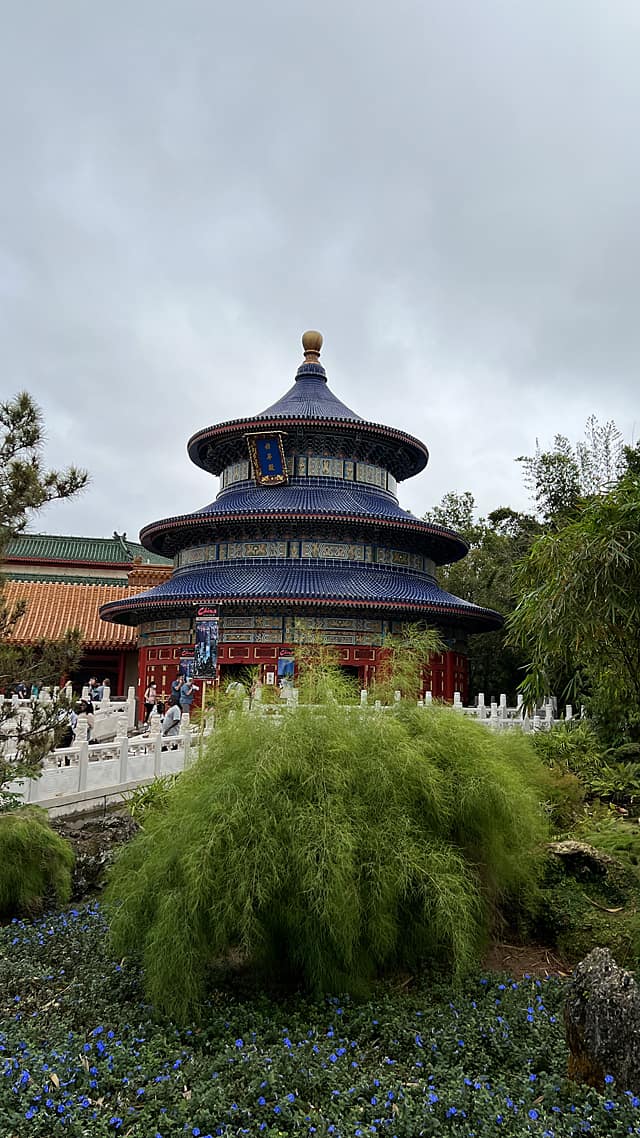 Strolling around the beautiful China gardens and landscape, it's easy to imagine transforming yourself half way around the world.
In the southeastern part of central Beijing, brilliantly-colored and ornate religious buildings cover the landscape. The round China Pavilion represents The Temple of Heaven. This was built in the early 1400s during the Ming and Qing dynasties. Check out all the real life Epcot World Showcase pavilion inspirations HERE.
The China Pavilion has something for everyone! Whether you want to experience shopping in a China marketplace, eating cuisine from this area, seeing characters, or taking in a show, I (Susan) hope you stop and take in this unique Pavilion.
Dining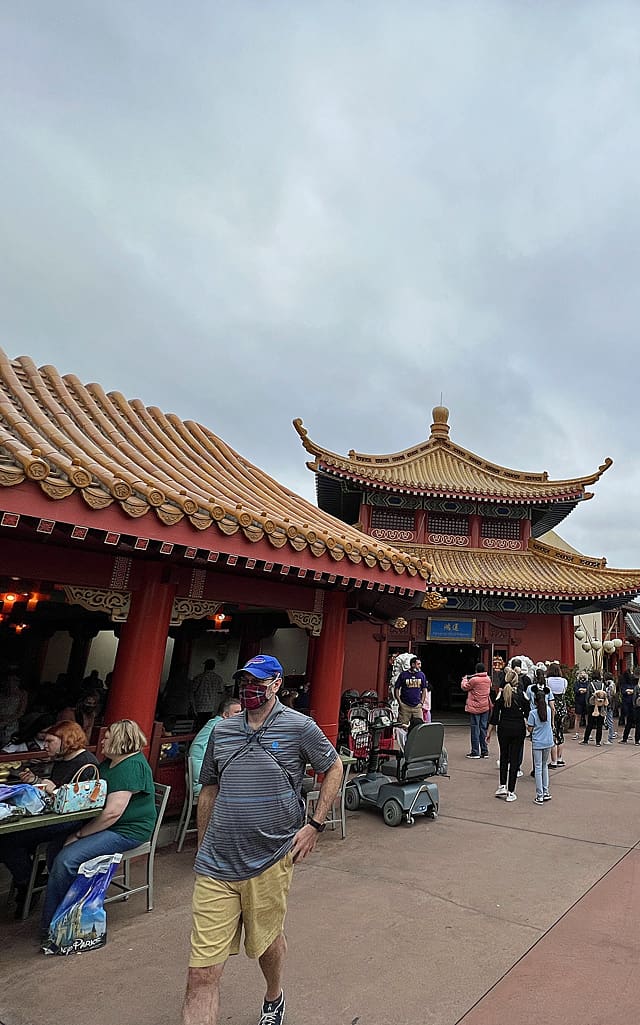 At the China pavilion, guests will find an assortment of dining options. China has a variety of quick and table service locations. Check out more detail on each one below.
Joy of Tea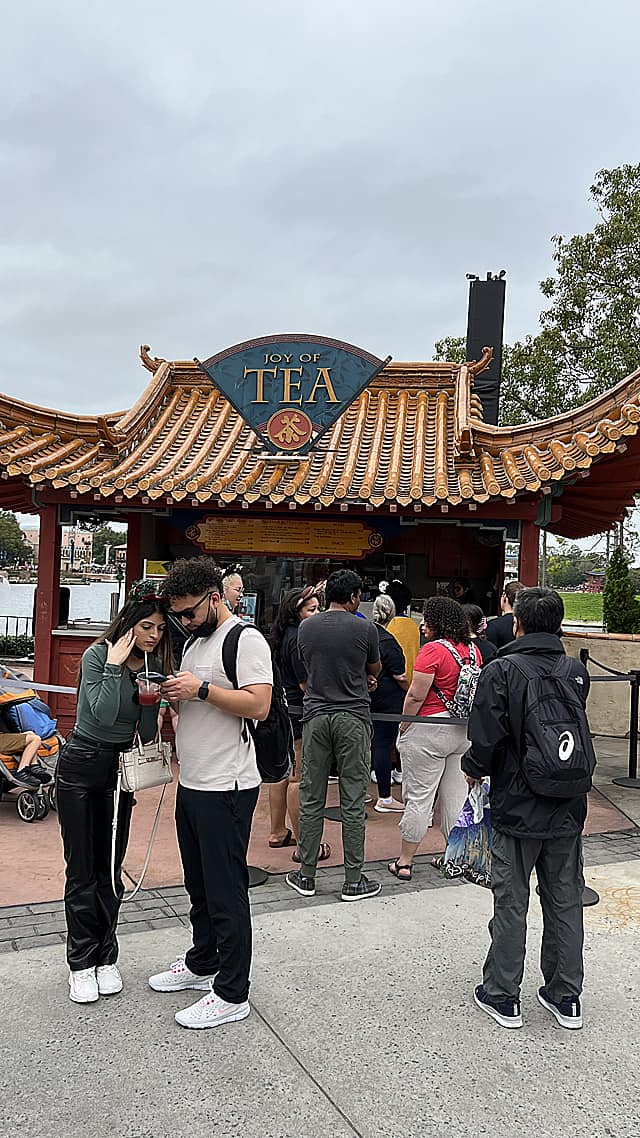 I've always been curious about China's bubble tea. When visiting during a recent Epcot Festival, the booth lines were so long. However, the Joy of Tea line was considerably shorter.
While waiting for the show in China's courtyard, I grabbed a couple of egg rolls and Hibiscus tea. Both were amazing and reasonably priced! The egg roll consisted of pork and cabbage/veggies. It had an amazing crunch and was very fresh.
Lotus Blossom Cafe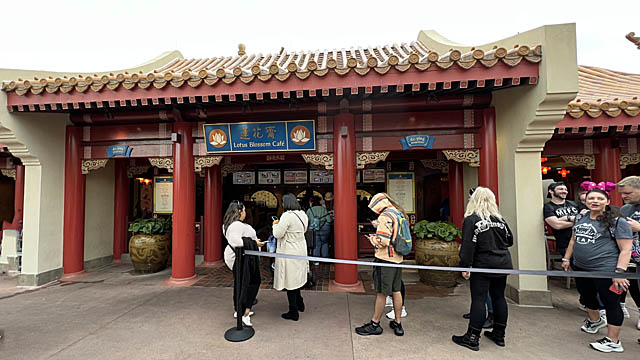 If you're looking for a quick and hot meal, check out the Lotus Blossom Cafe. Chow down on Chinese favorites here like pot stickers, egg rolls, orange chicken, chicken fried rice, Mongolian beef and more. Then, try the ginger ice cream! Plum wine and beer are also available.
Nine Dragons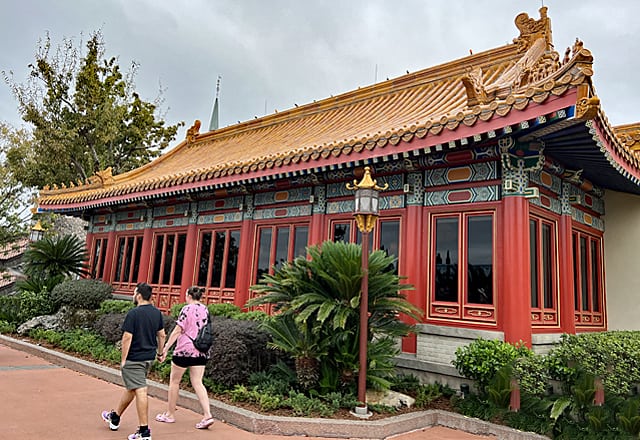 If you need a break from the theme park, try the Nine Dragons table service restaurant. Guests feast on Chinese cuisine with ornate wood carvings, traditional lanterns and exquisite glass artwork. While the food isn't top notch, prices are reasonable for Disney standards. If you're a fan of traditional Chinese food, I hope you try it.
Experiences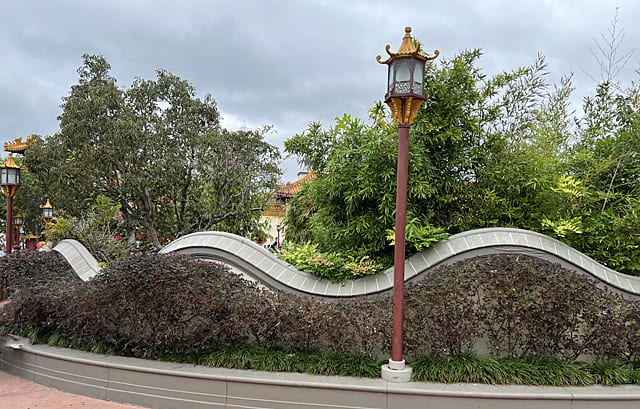 In doing research for this pavilion, I noticed a replica of the Great Wall of China. When walking on the main World Showcase lagoon path, look toward the China Pavilion. It's so cool!! China offers performers, shows, and characters. Check out the details below.
Reflections of China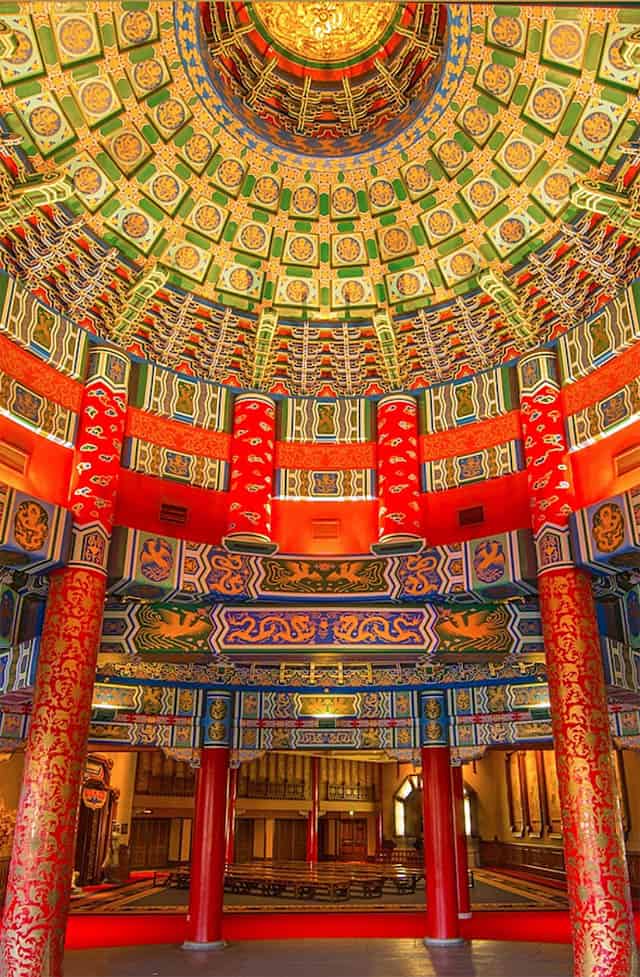 Reflections of China runs continually through the day inside the temple building. The film's guide, Tang Dynasty poet Li Bai, takes guests on an immersive tour through the sights and sounds of China. You'll float down the Haungpu River to Shanghai and see historic Nanjing Road. Witness the gentle, fluid movements of tai chi and the agile acrobatics of the Peking Opera Company. Then, viewers scale the beautiful Huangshan mountain range into the mythical Sea of Clouds.
Follow the Yangtze River to the water-bound city of Suzhou, dubbed "the Venice of the East" by Marco Polo. Finally, visit a busy night market in Xinjiang Province and trek across the Gobi Desert on the ancient Silk Road and enter the vast Forbidden City. Note that due to "wraparound" Circle-Vision 360° cinematography, seating is not available. However, it is wheelchair accessible.
Note: Seating is not available at the Reflections of China Circle-Vision film.
Jeweled Dragon Acrobats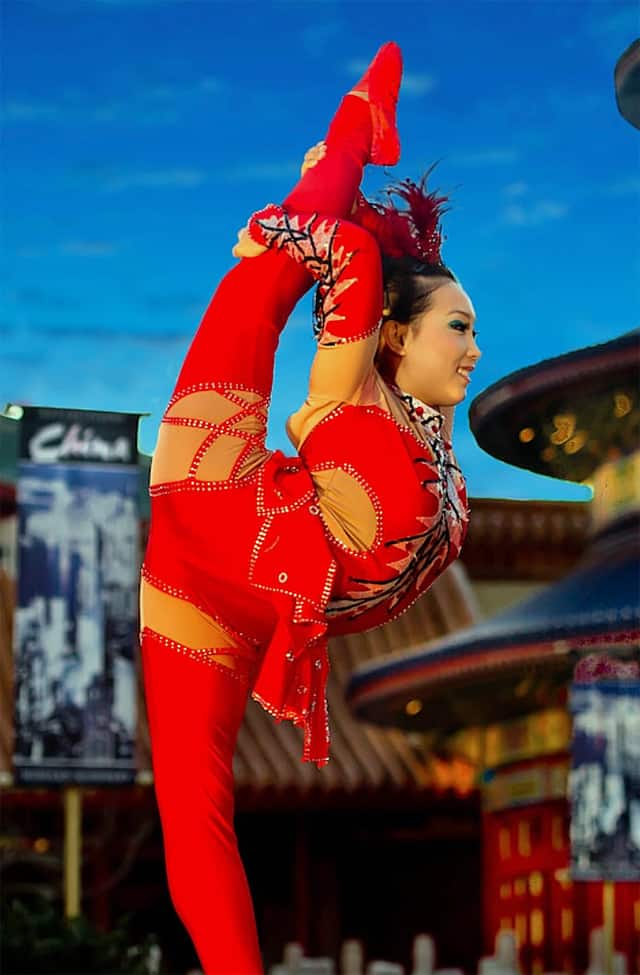 Marvel at a vibrant display of artistry and skill when these amazing acrobats perform. Using props, springboards and seesaws, they will astound you with tumbling, twisting, flips and leaps. Witness an acrobatic troupe from China perform incredible feats of strength, agility and balance. This act is temporarily unavailable.
House of the Whispering Willows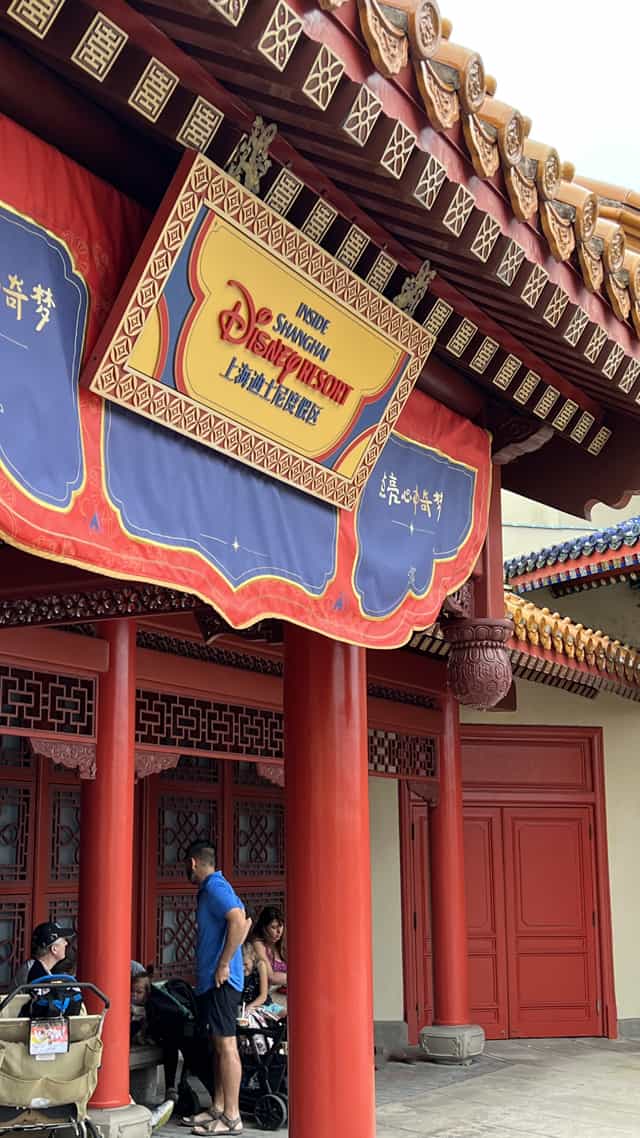 The House of Whispering Willows formerly held the Terracota Army. Guests find Shanghai Disney displays here. It was interesting seeing the artifacts, layout, and design of Shanghai Disney. Discover some of the ingenious ways Walt Disney Imagineers wove elements of Chinese culture into every aspect of the groundbreaking Resort.
View drawings, photos and artwork of the cutting-edge attractions, 6 different themed lands, 2 hotels. You can also explore the shopping, dining and entertainment district known as Disneytown. Then, check out how architecture and design together seamlessly created an authentically Disney experience that remains distinctly Chinese.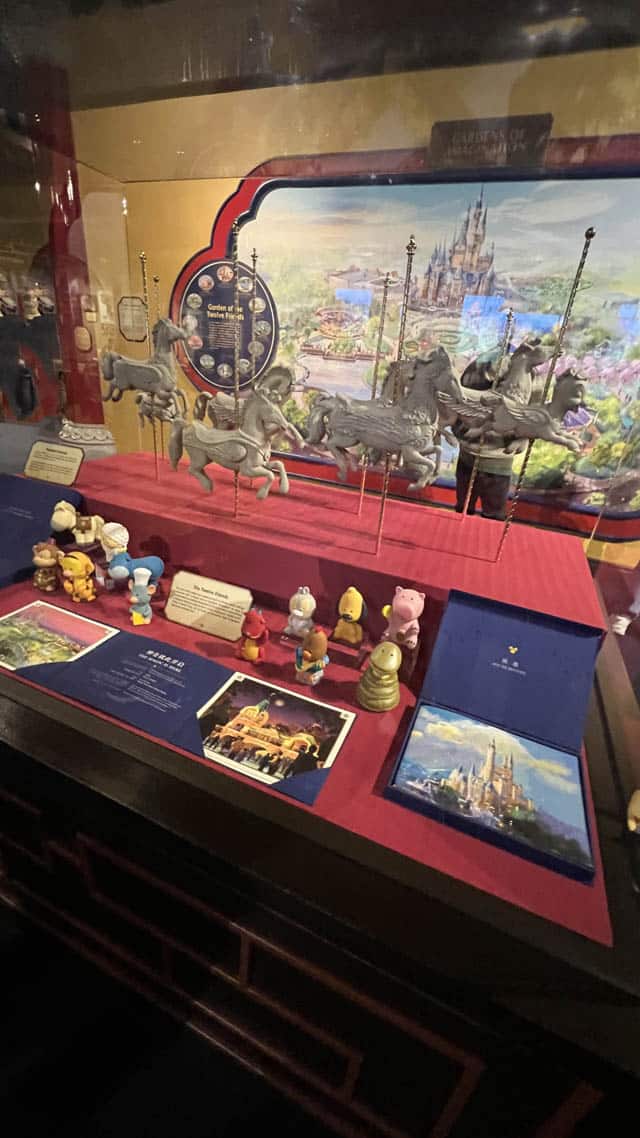 As you can see below, Rapunzel has a larger part in Shanghai Disney's Fantasyland. The park's castle, called Enchanted Storybook Castle, represents all princesses, not just one. A brand new unique attraction called Voyage to the Crystal Grotto is also included and is a guided boat ride tour through the castle and around Fantasyland.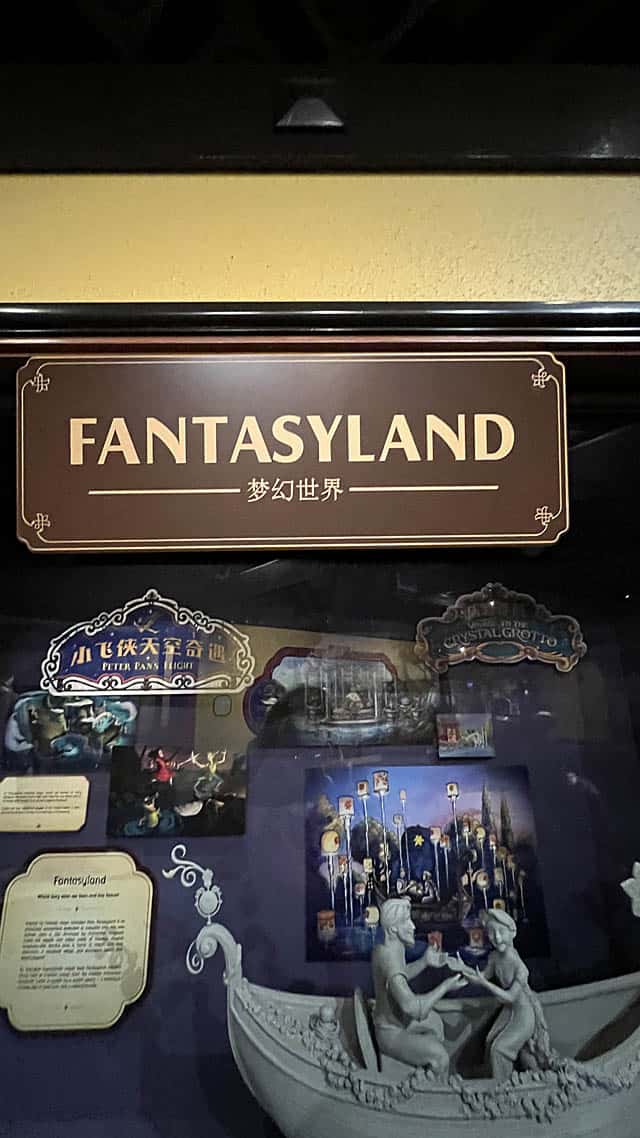 Have you visited Shanghai Disney? If so, please share your thoughts. There are so many cool displays at the House of the Whispering Willows.
Gardens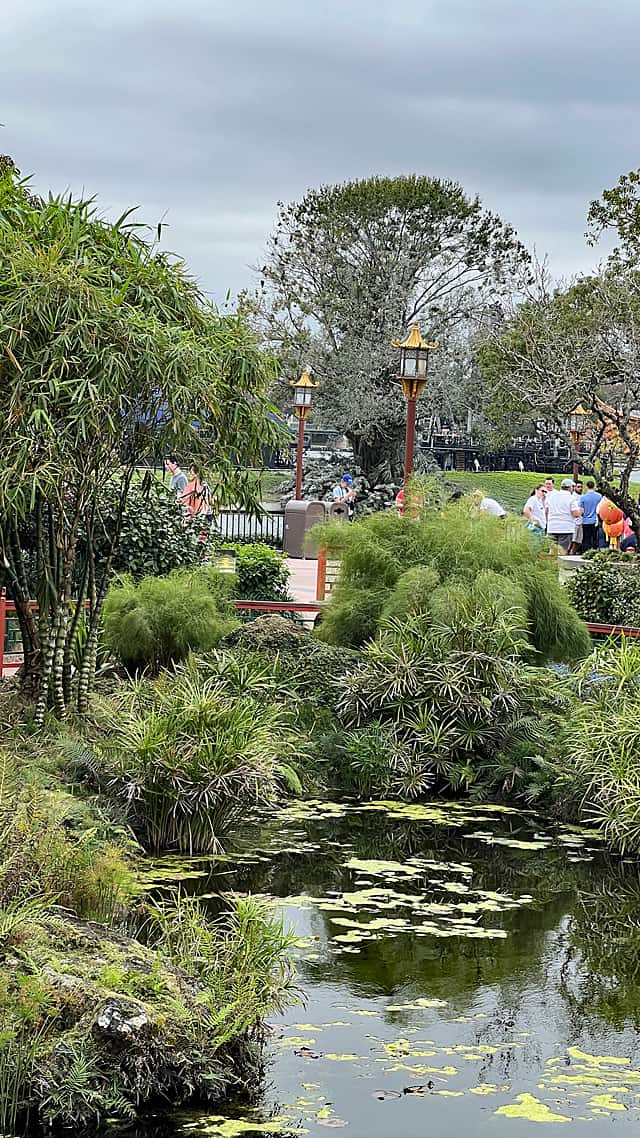 There are so many beautiful buildings and serene gardens throughout the China pavilion. Spend a little time walking around and taking in the natural beauty here. Gardens replicate what you would see visiting when visiting China with bamboo, lily pads, ferns, and other greenery.
Shopping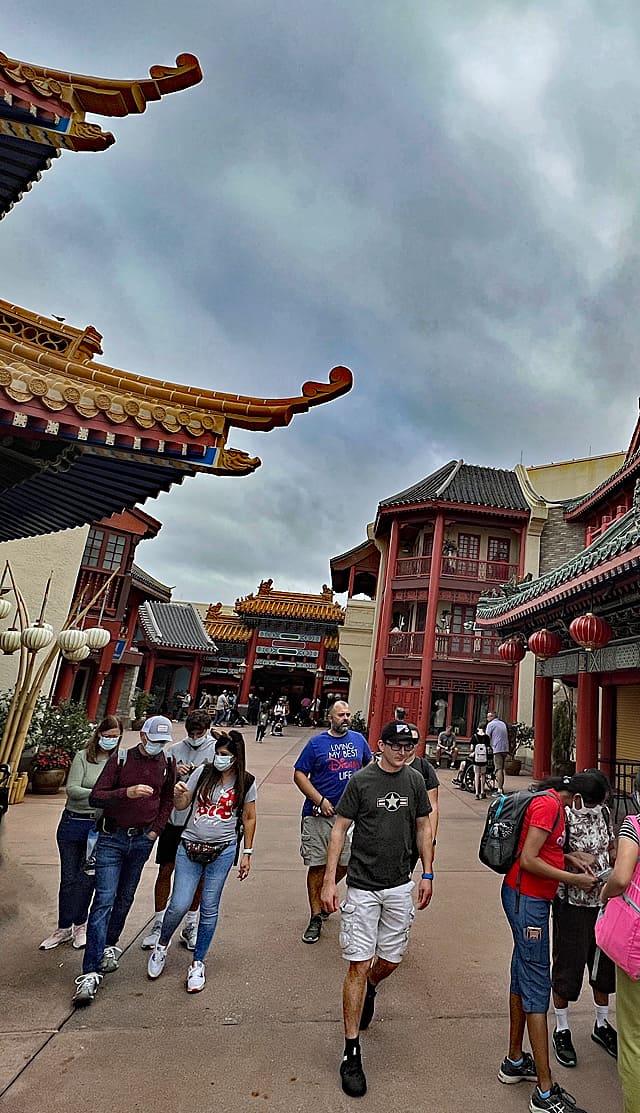 China offers one of the largest shopping locations in Epcot. Take time to explore the back of the pavilion. Building facades make it seem like people actually live here. The attention to detail is amazing.
Good Fortune Gifts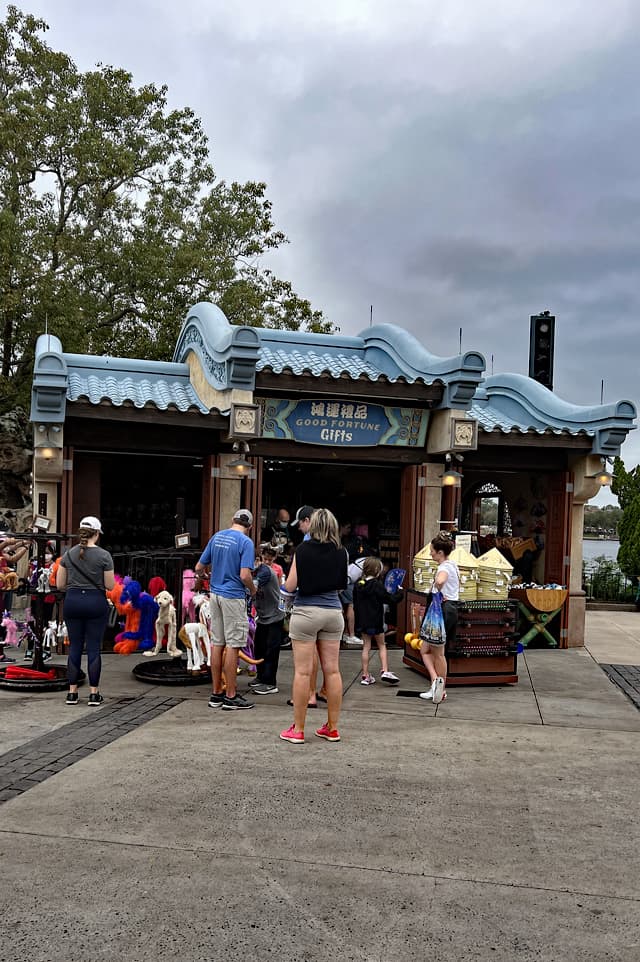 If you're in a hurry or don't want to explore the larger store, House of Good Fortune, check out the kiosk shown above on the main World Showcase Lagoon pathway. Although it's a small location, they stock a variety of goods.
House of Good Fortune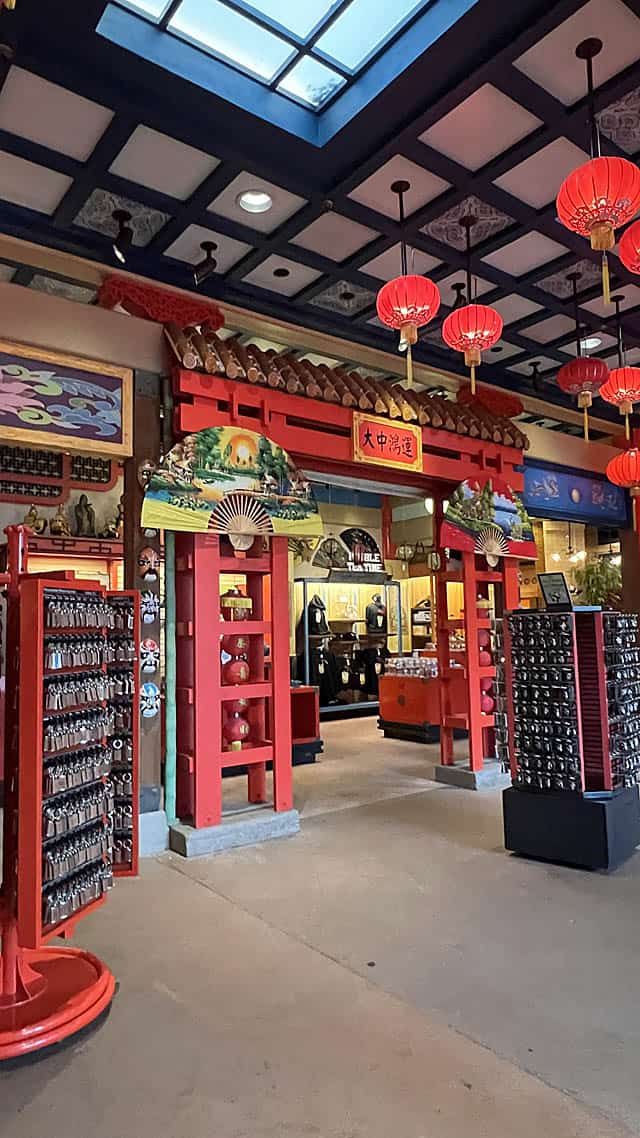 House of Good Fortune is a large department style store that carries a wide assortment of authentic Chinese souvenirs including lanterns, clothing, jewelry, teapots and cups, statues, trinkets, and snacks. The part of the shop shown above feels like an open air market shop. I (Susan) enjoy shopping here.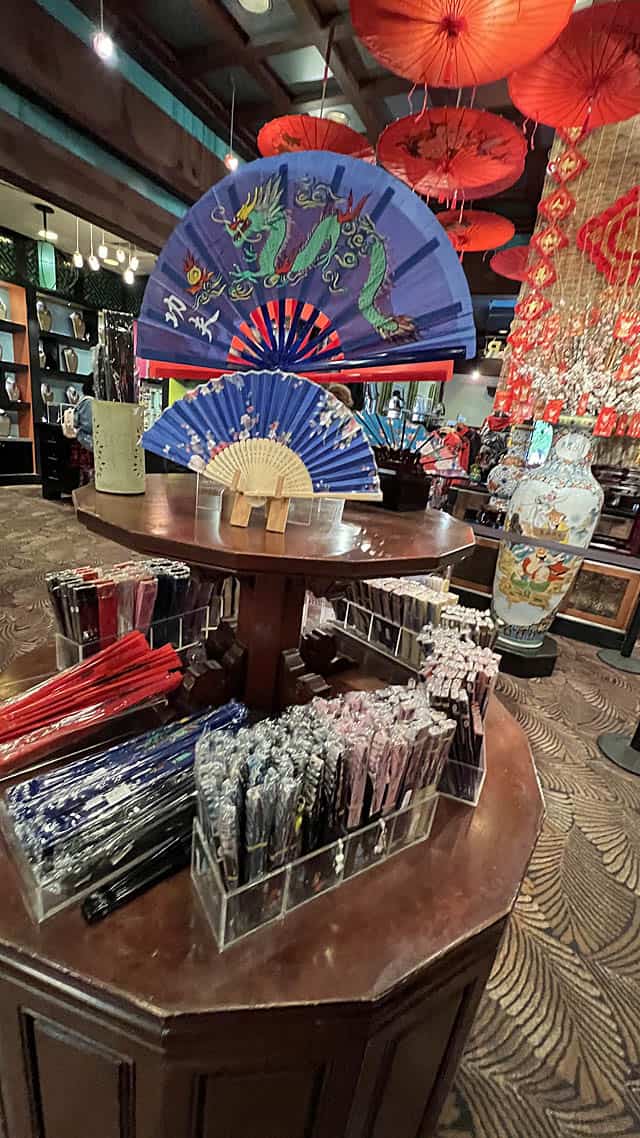 Here, you'll find authentic fans – perfect for a hot Florida day! They're reasonably priced and pretty effective in cooling off guests.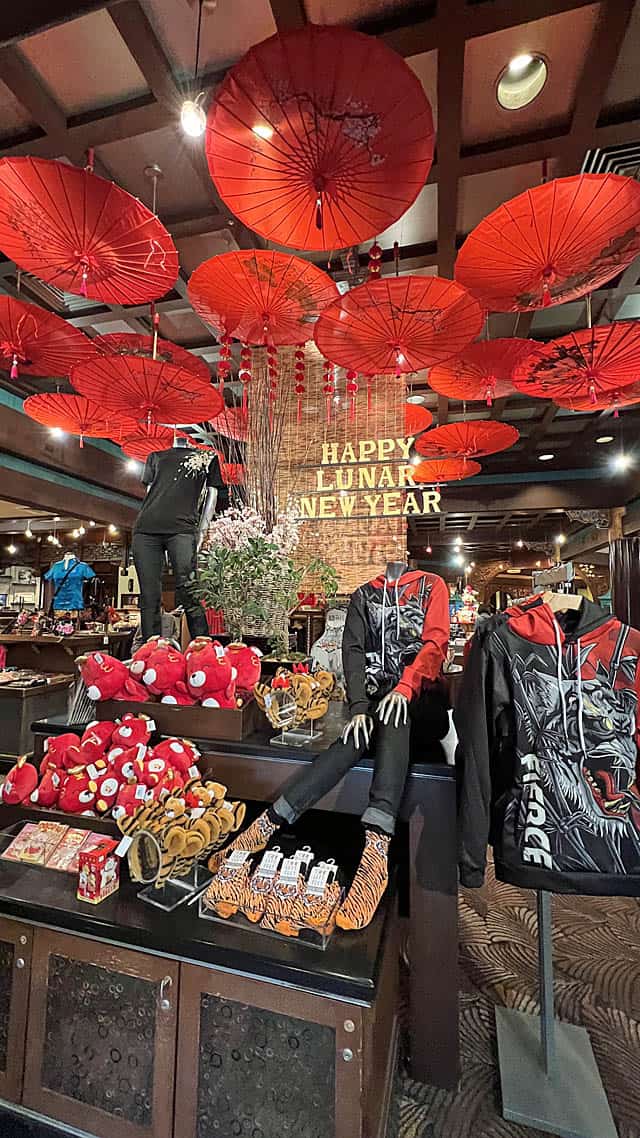 In January and early February, guests can purchase Lunar New Years merchandise such as spirit jerseys, key chains, jacket, socks, plushes and more.
Characters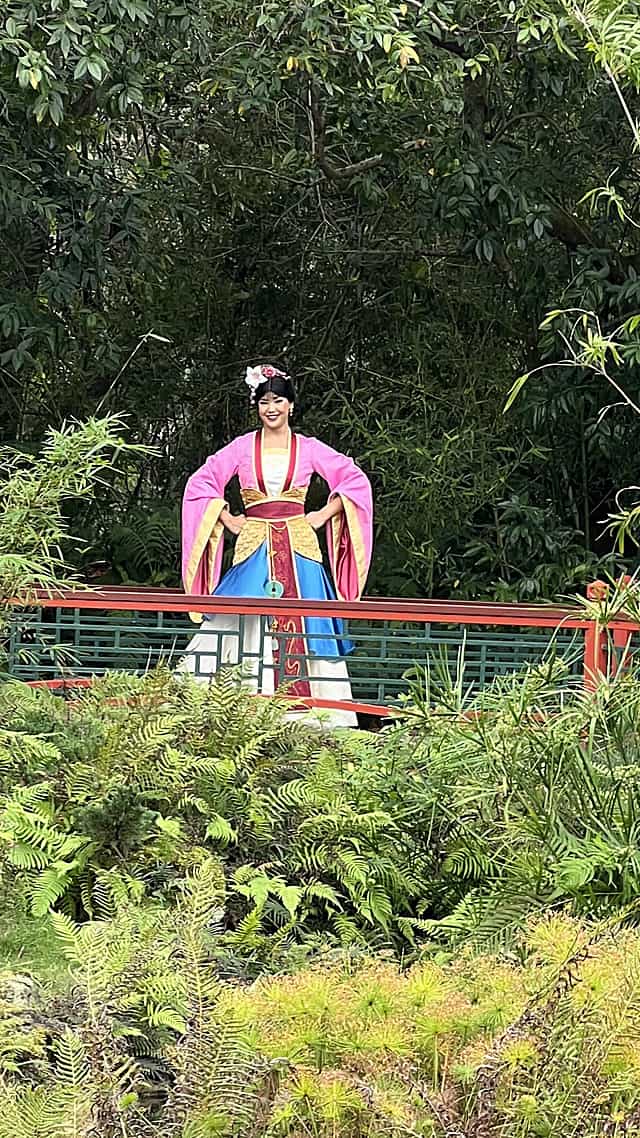 Before Disney reopened, Mulan's meeting place was inside the Temple building. Now, in a distanced character greet, she appears across the bridge overlooking the garden. Mulan is very happy to greet and interact with guests. However, you'll need your own camera for pictures.
Kidcot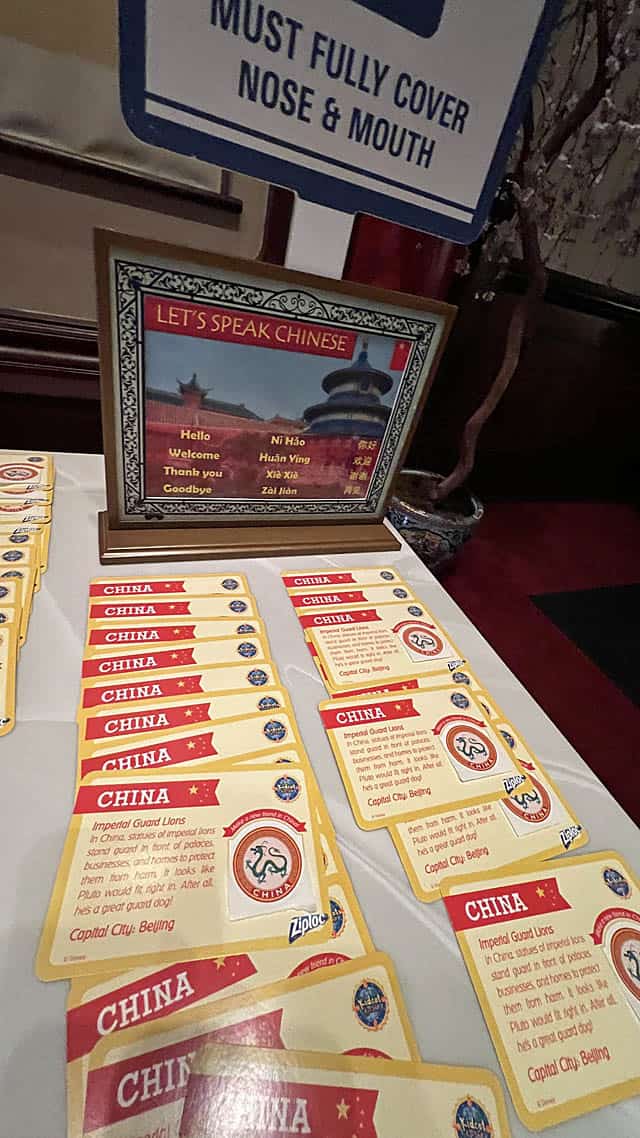 Participate in a fun experience collecting activity cards at each country throughout World Showcase! To participate in Kidcot, pick up a card with facts and activities featuring the culture and traditions of each country. You'll find a Kidcot Fun Stop in every World Showcase pavilion at Epcot. In China, look for it inside the temple building.
Festivals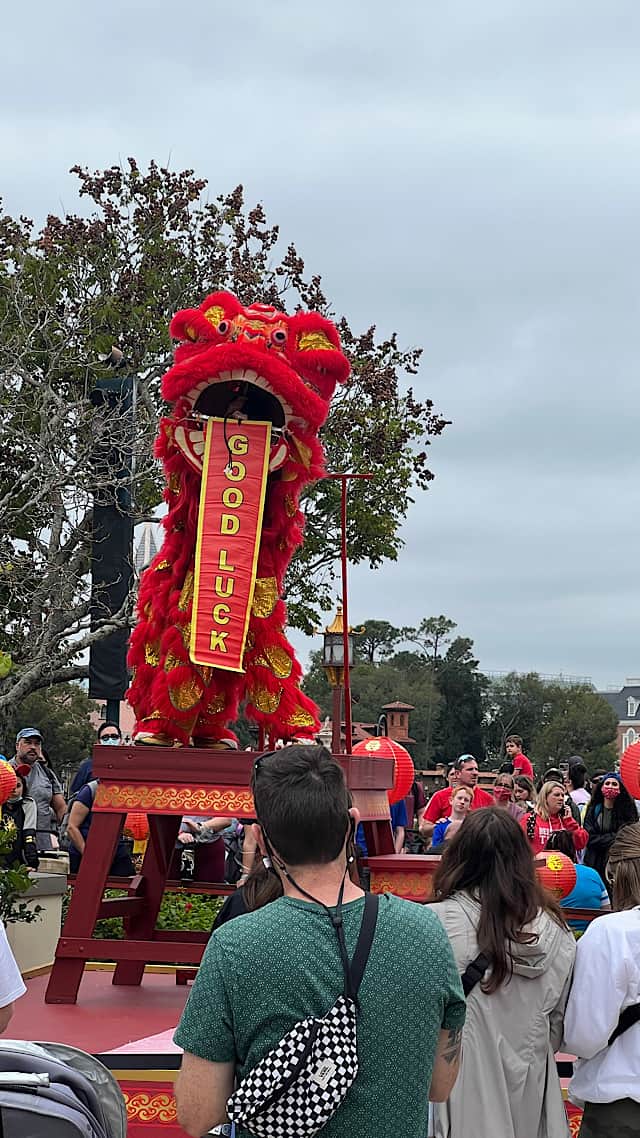 At various festivals, you'll find performances in a small stage at the front of the pavilion. The picture above shows the Dance of the Lion during Epcot's Festival of the Holidays.
Final Thoughts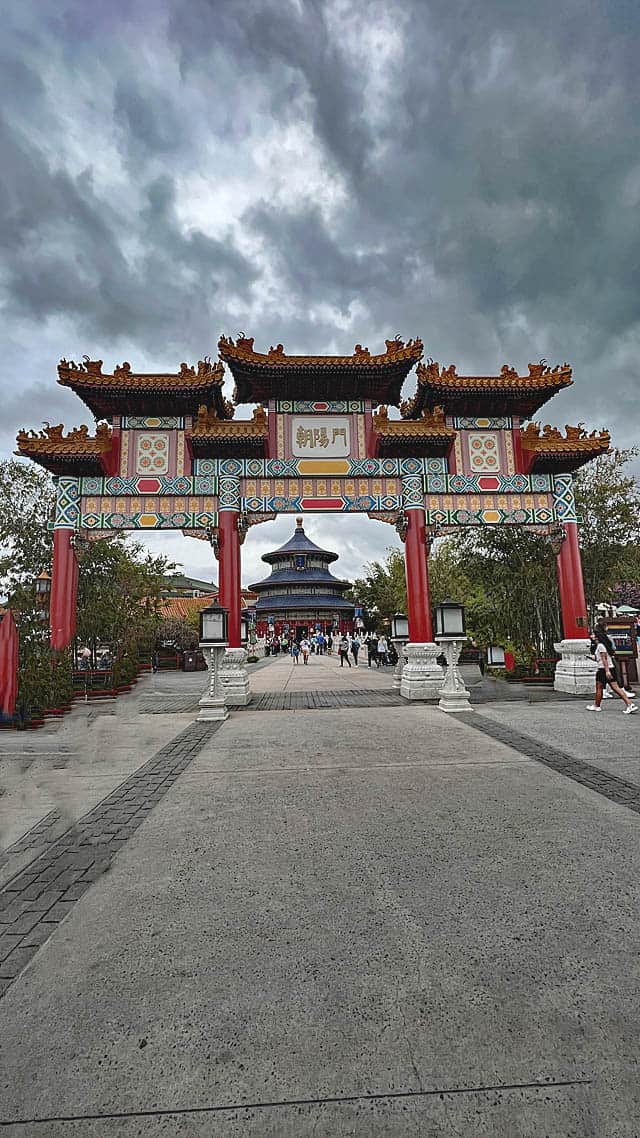 When you think of your favorite World Showcase Pavilion, China may not come to mind. However, there's so much to experience here. Next time you're at Epcot, I hope you'll take the time to explore this amazing pavilion.
World Showcase Pavilion Guides
I hope our World Showcase Pavilion Guides spark a desire to explore each one! Check out our other guides below by clicking on the name.
What is your favorite thing about Epcot's China Pavilion? What are you looking forward to doing here on your next visit? Please share your thoughts below or on our KtP Facebook group.