Take a trip to Italy in Epcot's World Showcase. Check out the details and photos on everything to do and see in this Epcot Pavilion.
Getting to Italy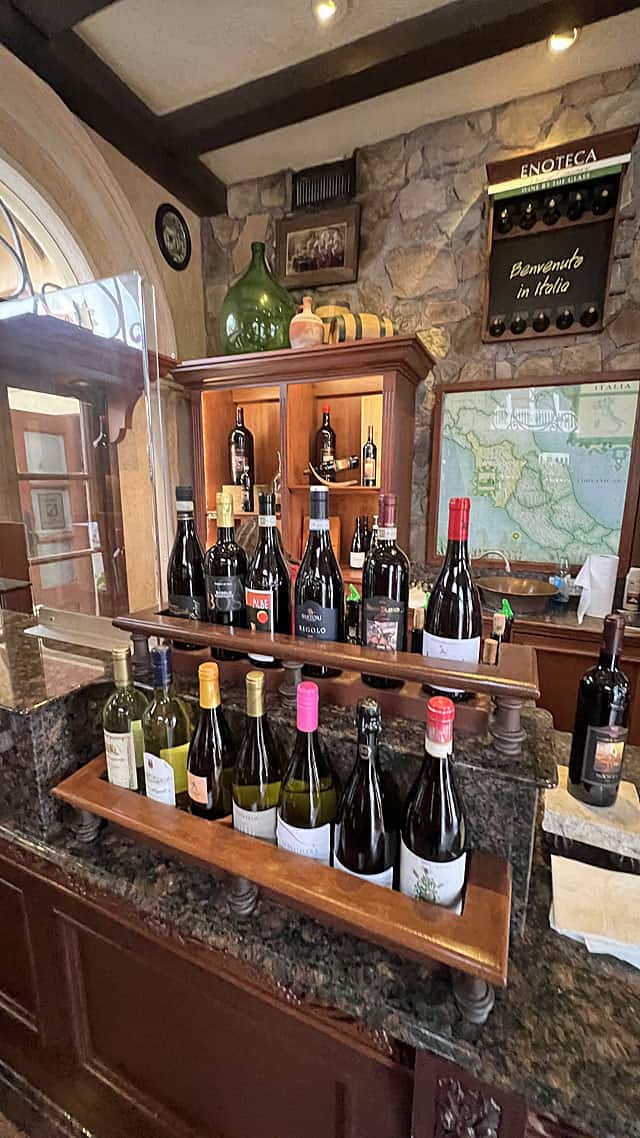 The Italy Pavilion is located between the Germany and America Pavilions. If you're walking from Epcot's front World Showcase entrance, turn left toward Mexico.
Overview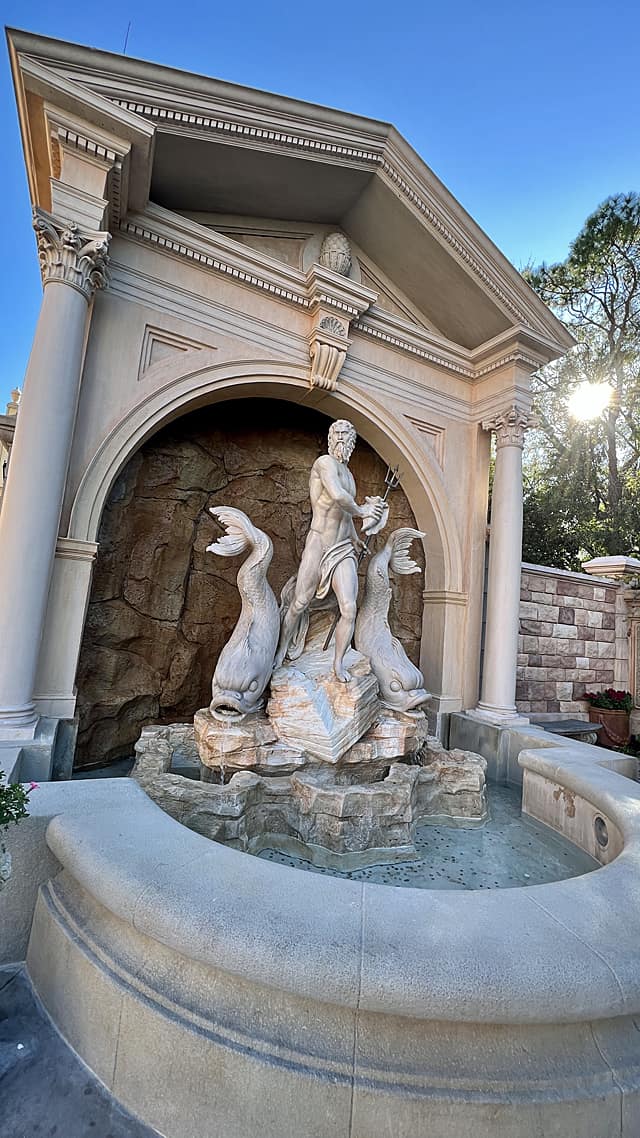 The Italy Pavilion offers a variety of authentic Italian shops and restaurants. It's an iconic sight from across World Showcase lagoon that immediately transports you to Venice. Here, guests find a large open courtyard with so much to explore.
In the central plaza area of the pavilion, the Plaza del Teatro, guests will find the "Fontana de Nettuno." The fountain is inspired by Bernini's "Fountain of Neptune" which is located at the heart in city center of Rome.
Architecture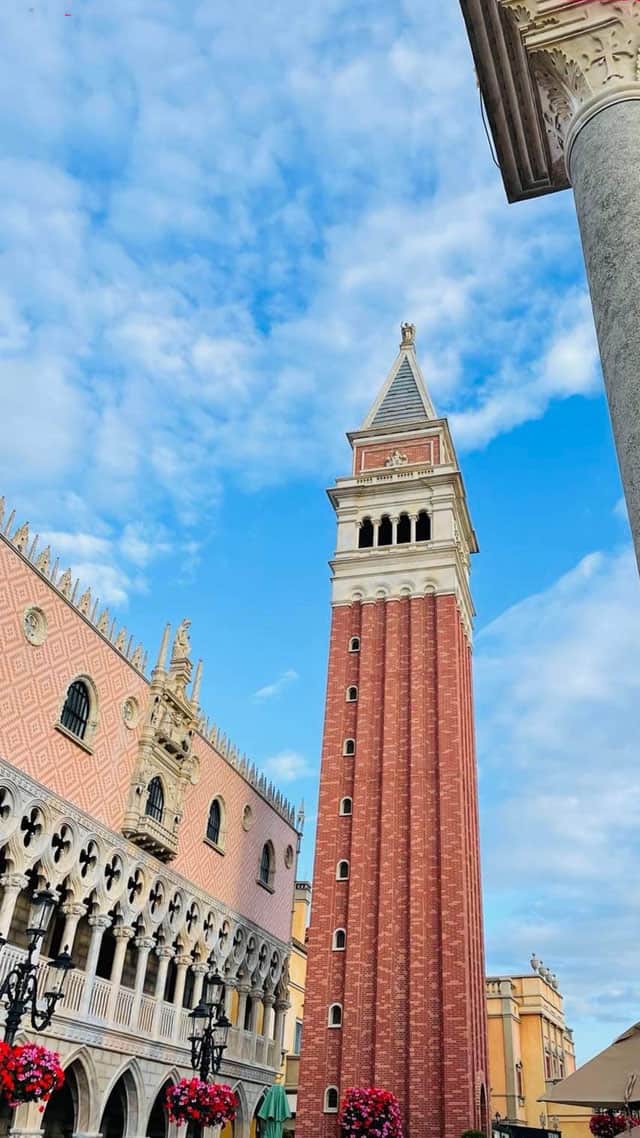 Italy's pavilion also incorporates traditional Italian architecture, food, and shops. At the center of this pavilion is the replica of the St. Mark's Campanile Bell Tower. The St. Mark's Bell Tower in Italy was built in the ninth century. However, it collapsed in 1902 and had to be rebuilt.
To read about real life inspirations of all the Epcot World Showcase pavilions, read HERE.
Experiences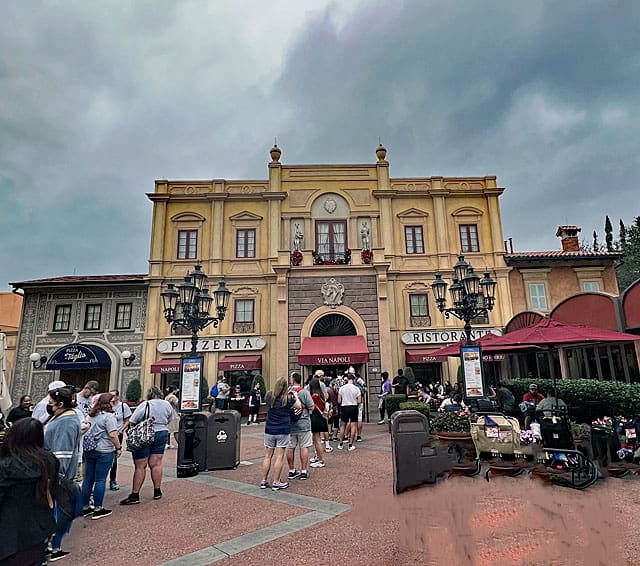 Whether you're looking for performers, kids activities or Italian statues, I (Susan) hope you'll spend some time exploring Epcot's Italy Pavilion.
Sergio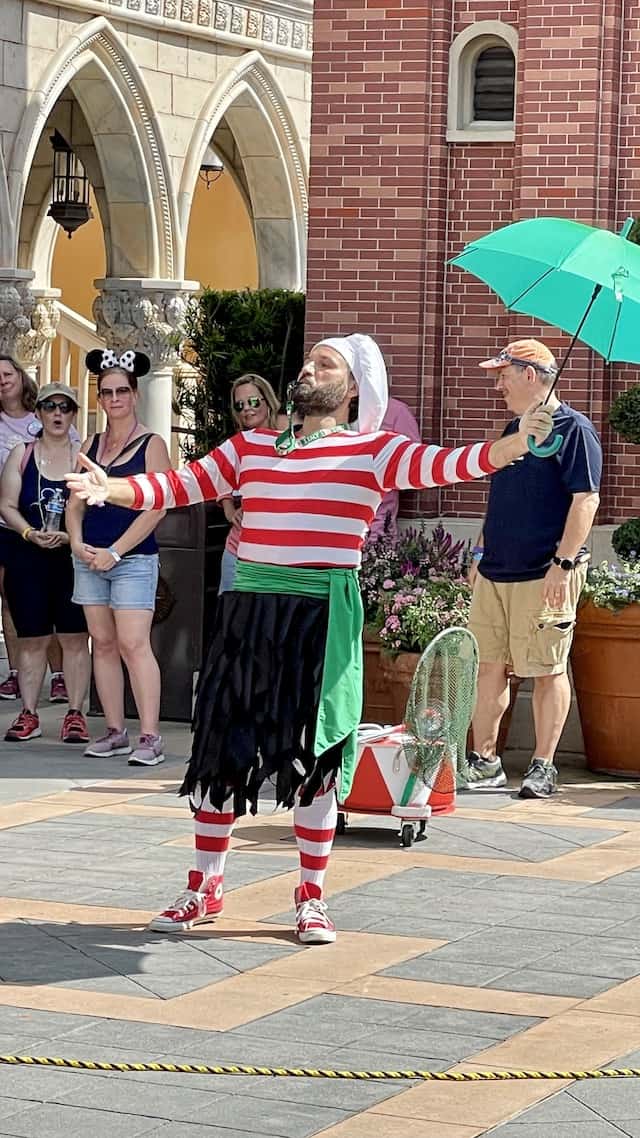 One of the best parts about making your way around the World (Showcase) are the performers in each country. They perform and entertain Guests. Sergio the Italian juggler performs in the Italy courtyard. he has a small stash of props which he uses for his act.
He's multi-talented. Just watch him juggle, "walk the tight rope", and toss his umbrella about. This comedy act will have you laughing! Check out more information on Sergio HERE.
Kidcot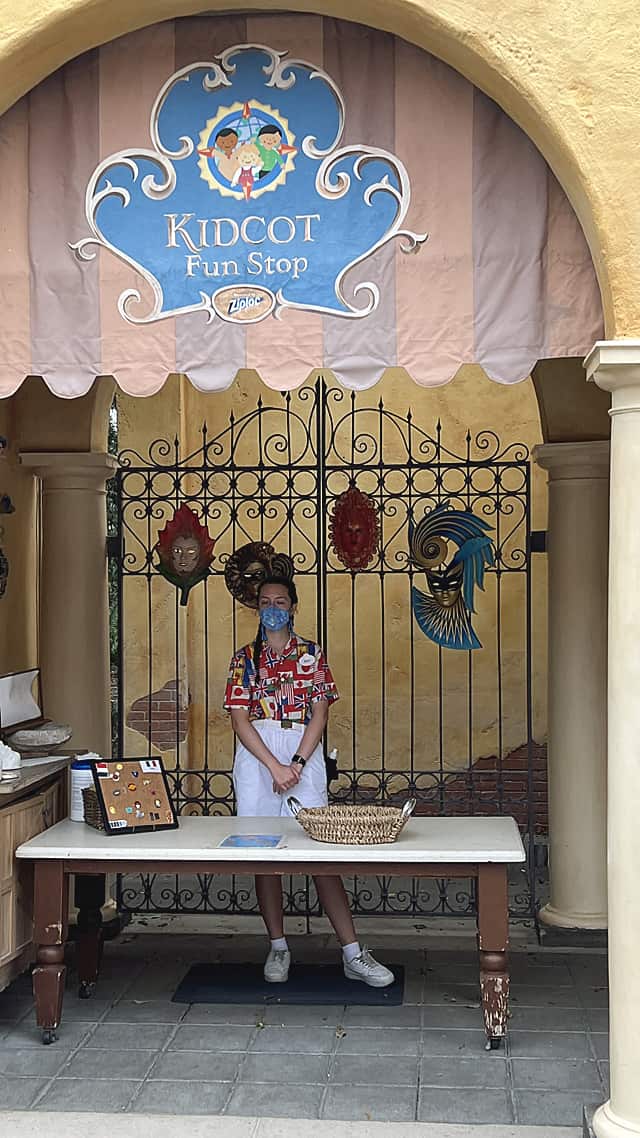 Participate in a fun discovery experience collecting activity cards at each country throughout World Showcase! Pick up a memorable card with facts and activities featuring the culture and traditions outside near the La Bottega Italiana in the Italy pavilion. Also, children of all ages can pin trade with Cast Members here.
Shopping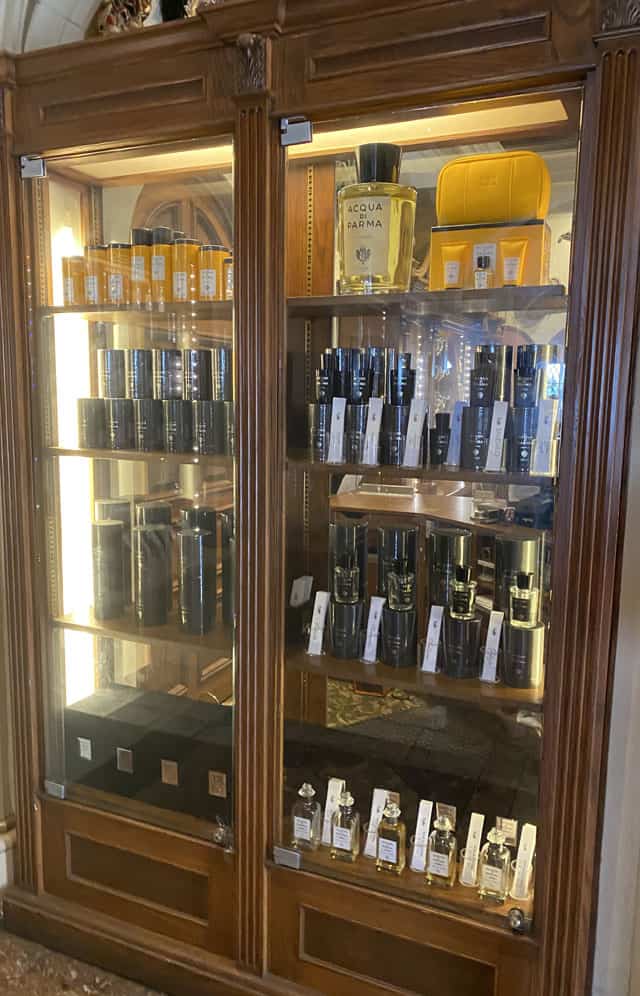 Like all World Showcase Pavilions, these shops have a variety of authentic products from Italy. There are some items created especially for the Italy Pavilion including apparel like the "That's Amore" shirt with Mickey and Minnie Mouse and drinkware.
II Bel Cristallo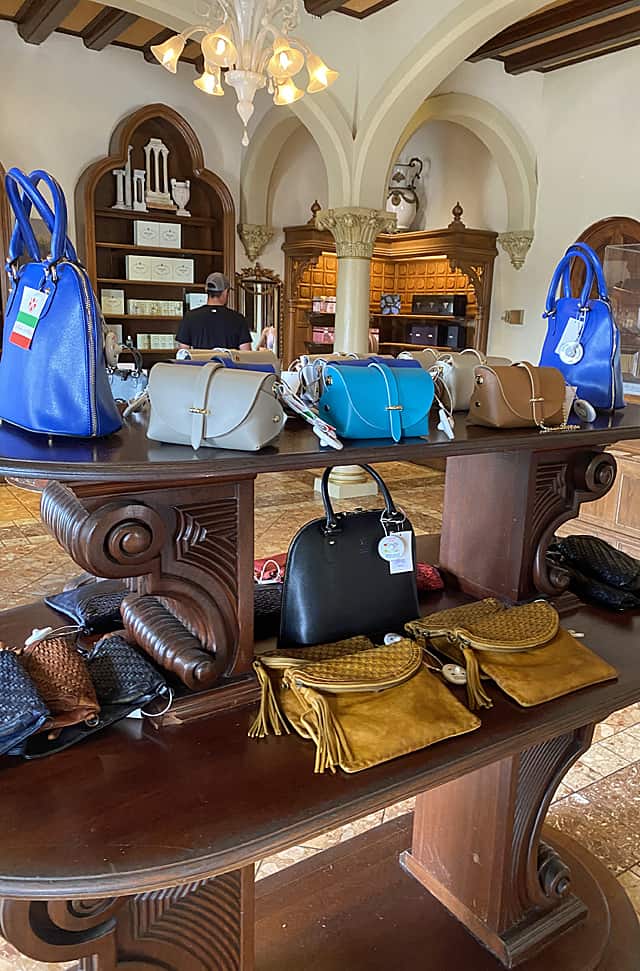 II Bel Cristallo sells fine Italian merchandise including Murano glass, jewelry, chic handbags, clothing and accessories. This shop also carries fragrances by Prada, Acqua di Parma, Bvlgari and Valentino. Everything in this shop is beautiful.
La Bottega Italiano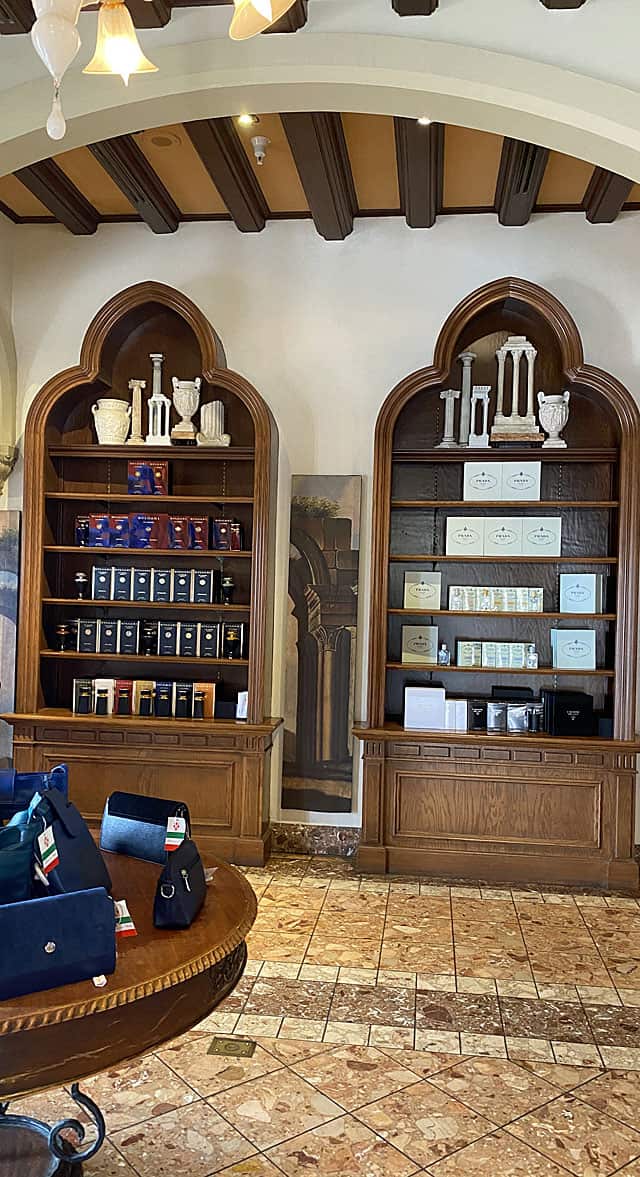 In La Bottega Italiana, guests find cookware, decorative items, Italian food and apparel.
La Gemma Elegante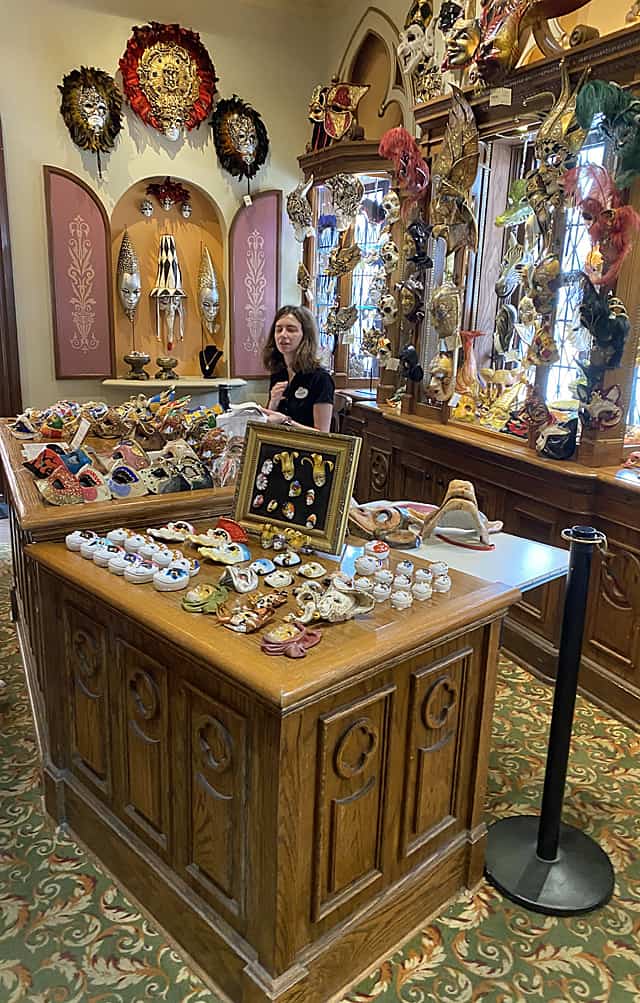 La Gemma Elegante also carries Italian items. Featured here are dazzling, handmade Venetian masks. They're so vibrant and playful!
Enoteca Castello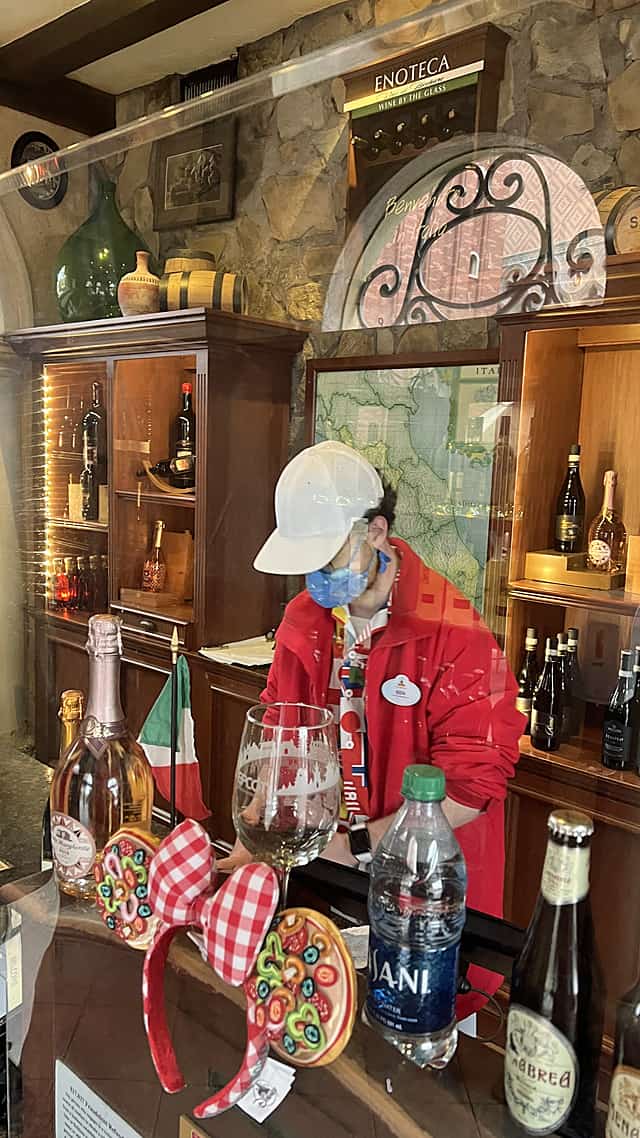 This shop is connected to La Bottega Italiana. It sells a variety of Italian wines that can be purchased by the bottle. It also offers snacks and kitchenware.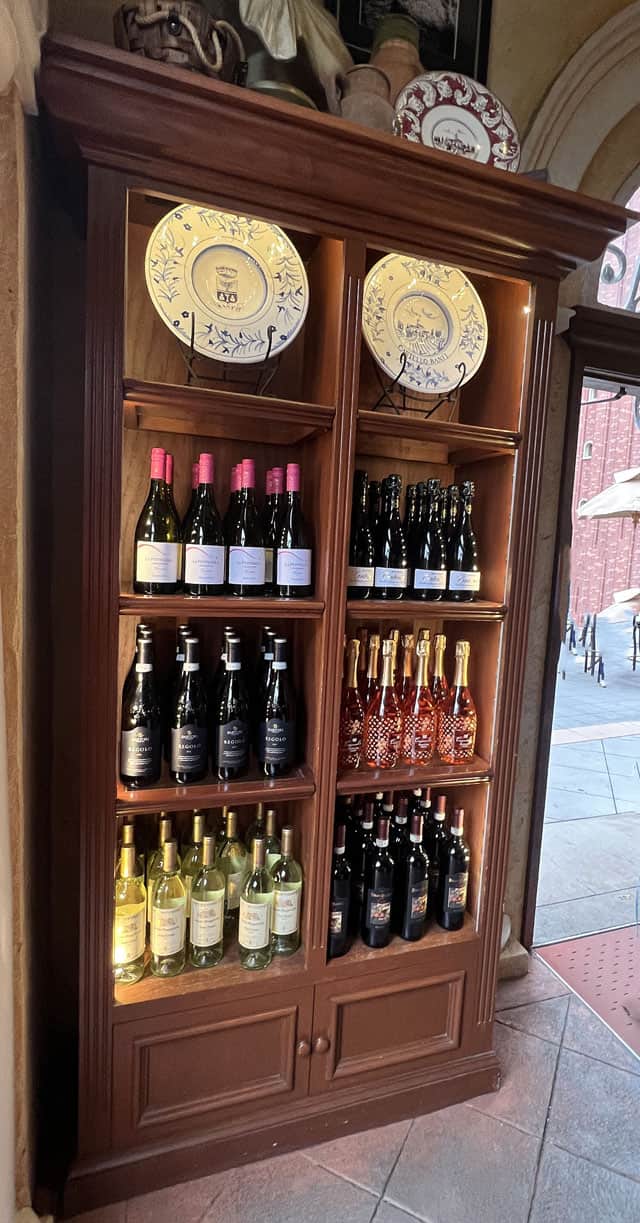 Also, there's a walkup window to purchase beer or wine by the glass to go. It's a tiny area so you may need to look for the Enoteca Castello sign over the doorway.
Dining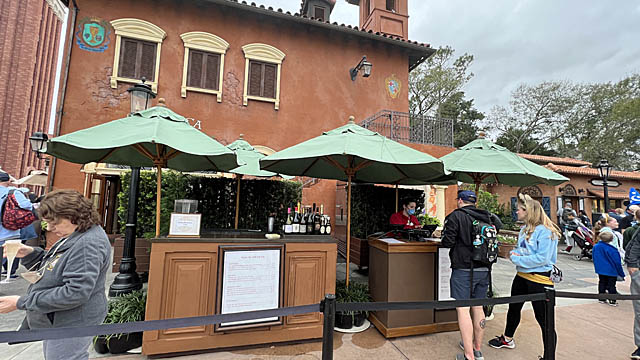 Take a break from your busy theme park day to enjoy Italian food and drinks. Check out the walk-up kiosk above where guests can purchase glasses of wine and beer.
Gelateria Toscana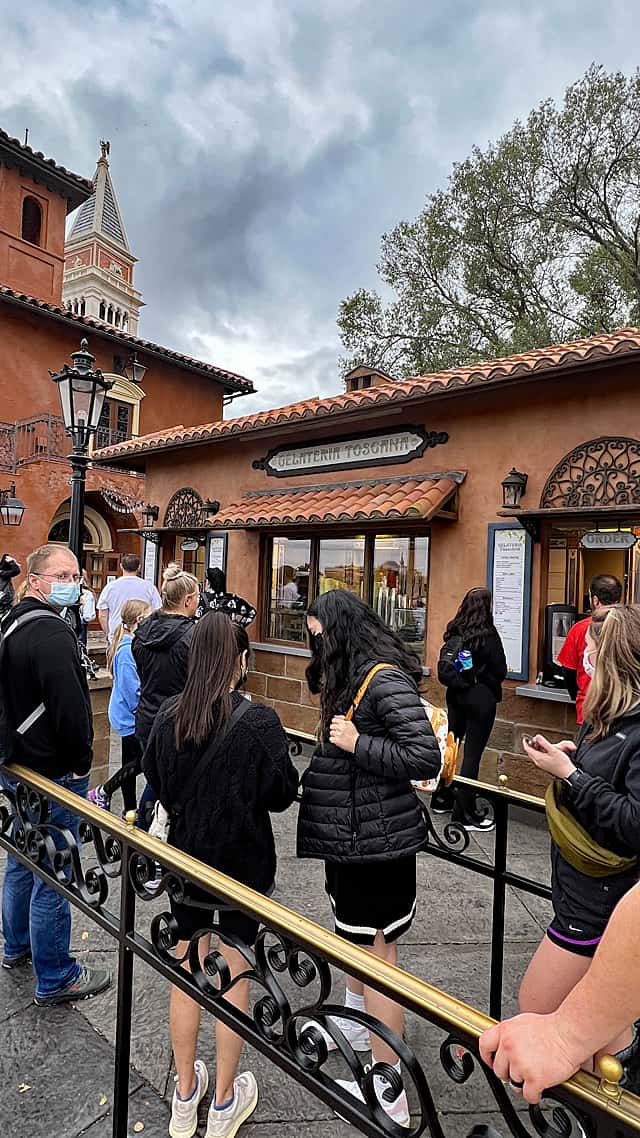 Treat yourself to authentic Italian gelato or sorbet. You can order these hand-scooped treats in a cup, cone or featured in a dessert. Also, enjoy Italian pastries with a beverage, including soft drinks, Italian coffee selections, beer, and wine.
Tutto Italia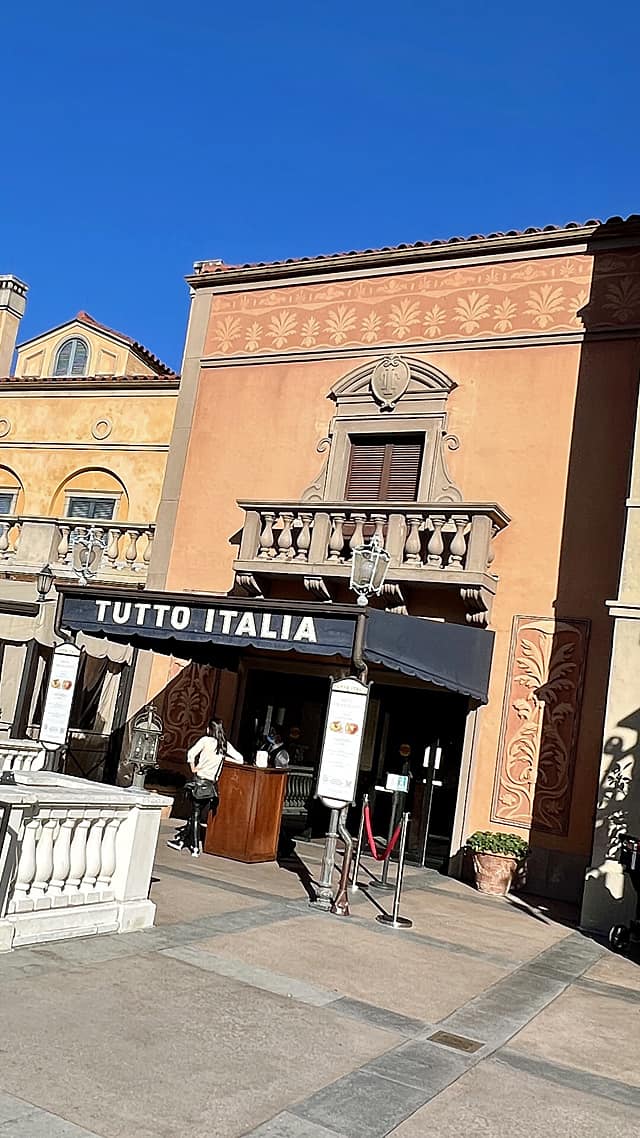 Relax in Old World ambience with your favorite Italian dish. On the outside patio or in the dining room, dine with murals of ancient Rome and sparkling chandeliers. Here, you can choose from a variety of appetizers.
Then, continue with entrees that may include pan-roasted fish, grilled steak and seasoned potatoes, and classic spaghetti and meatballs. Finally, order gelato, chocolate cake or crispy cannoli to complete your dining experience.
Tutto Gusto Wine Cellar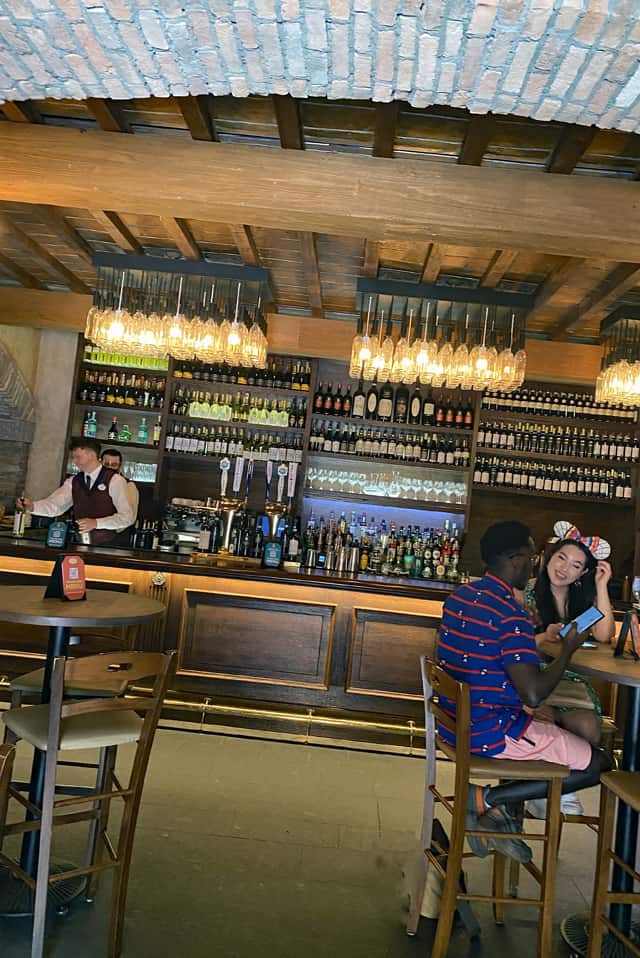 Experience the flavors of Italy at this cozy wine bar. Tutto Gusto offers over 200 bottles of Italian wine, beer and a small-plate menu of meats, cheeses, panini, pasta and desserts. Since it's small, it's quieter than larger Disney dining locations.
Gelato Cart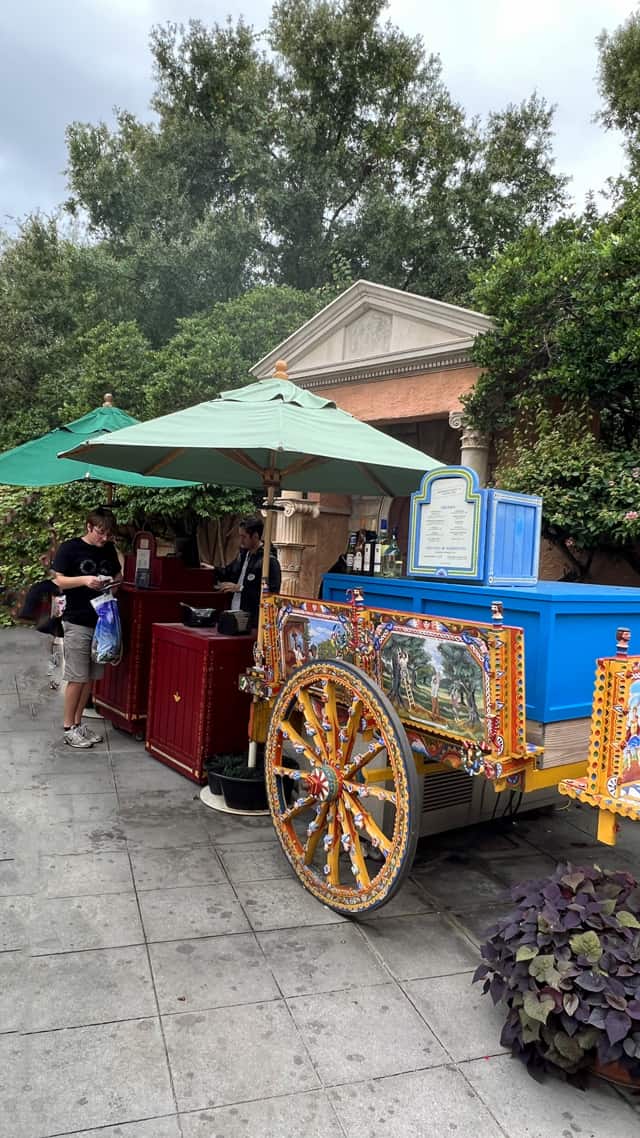 We're not finished yet. There's also a "donkey-drawn" cart offering Italian gelato adding to the feel of being transported far away from a theme park. In addition, drinks are available.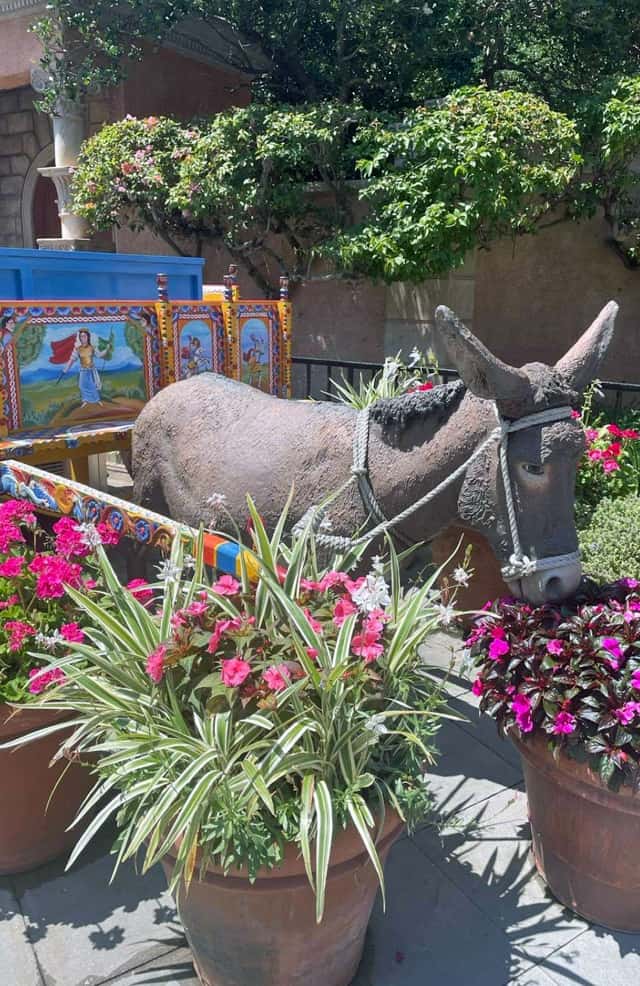 Via Napoli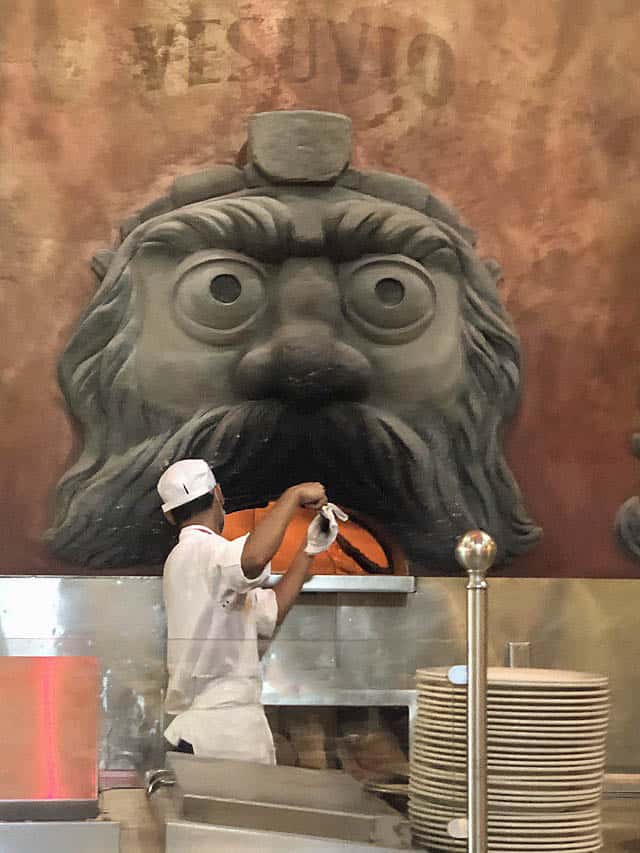 Via Napoli is known for its thin-crust pizzas which are made with fresh mozzarella cheese, San Marzano tomatoes, and authentic Caputo flour (imported from Southern Italy)! The water for the dough is flown in and sourced from a spring similar to Italy's Campania region. Check out our review of this restaurant HERE.
Festivals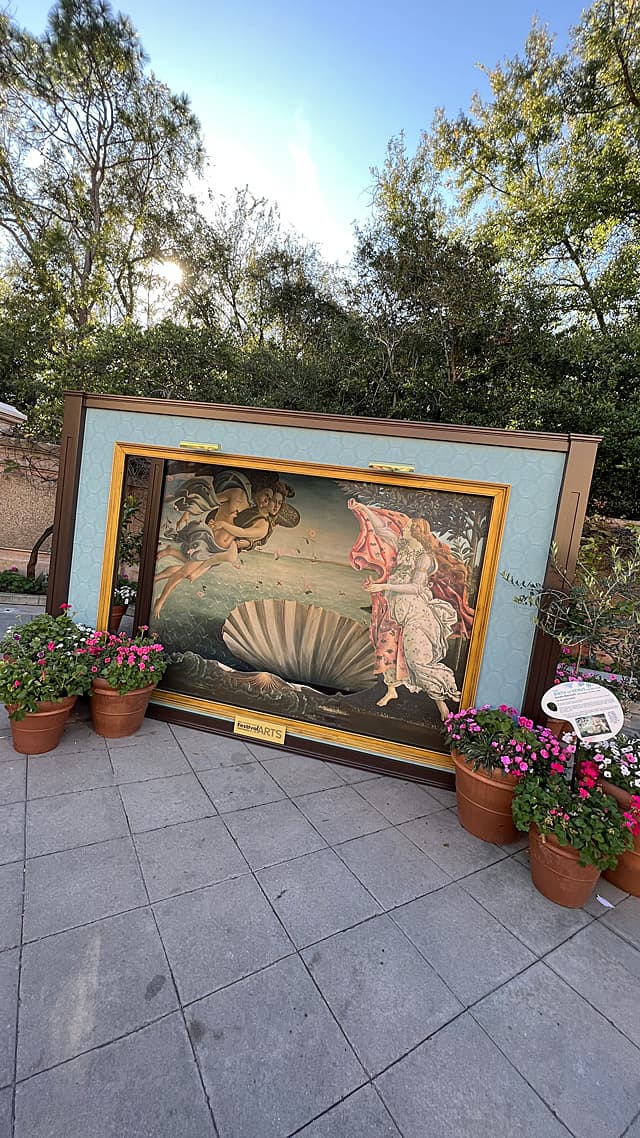 Epcot Festival's are so much fun! And it seems there's one almost all the time! Check out fun backdrops like shown above during the Festival of the Arts. Also from this festival, check out the Luca chalk designs here below.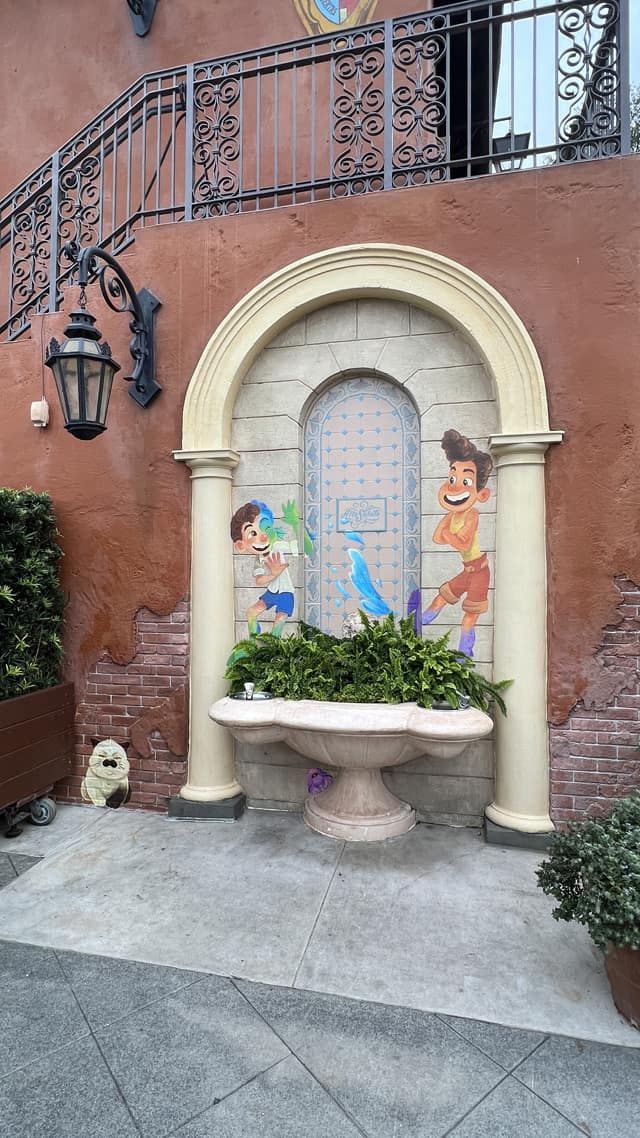 Not only that, but Italy also participates in the holiday Storytellers. Read more about the Italy's Storyteller and other holiday customs HERE.
World Showcase Pavilion Guides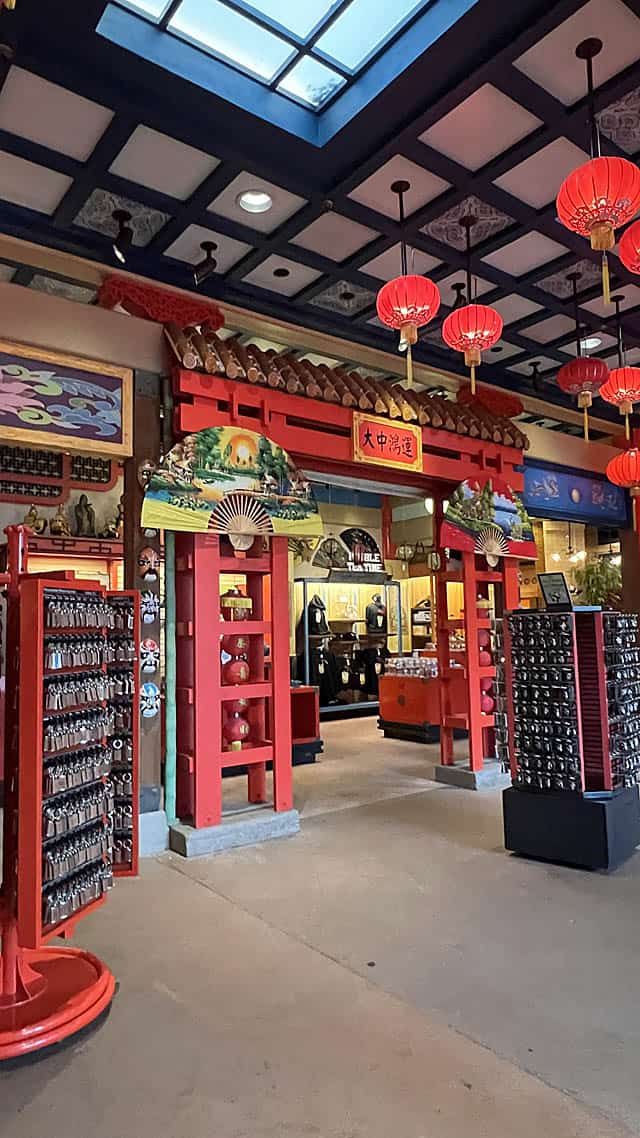 I hope our World Showcase Pavilion Guides spark a desire to explore each one! Check out our other guides below by clicking on the name. 
Final Thoughts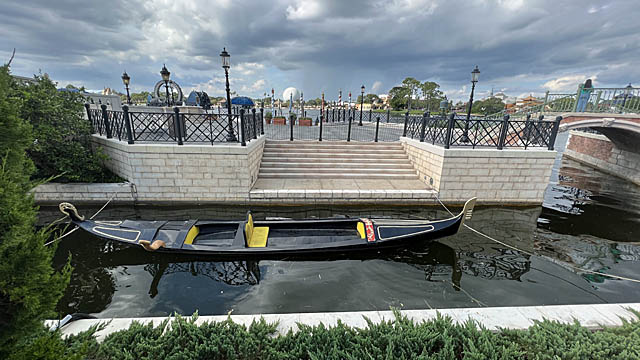 Want to feel as if you've been transformed to Italy? Explore this lovely pavilion. If you look across the main World Showcase Lagoon path, you'll spot a gondola just waiting be be taken for a ride. Wouldn't that be amazing?
What is your favorite thing about Epcot's Italy Pavilion? What are you looking forward to doing here on your next visit? Please share your thoughts below or on our KtP Facebook group.