Whether you're looking for amazing food or authentic clothing and accessories, the Morocco pavilion is not to be missed. See details and photos on dining, shopping and attractions here.
Getting to Morocco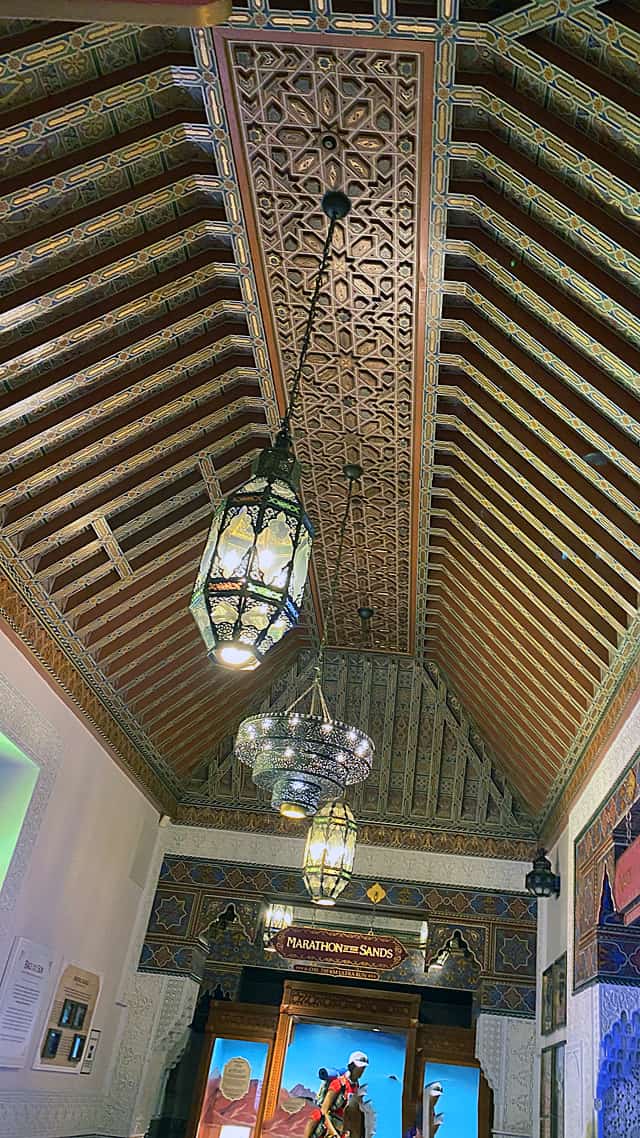 You'll find the Morocco Pavilion between France and Japan. It's also one of the Friendship boat stops that run on World Showcase Lagoon. From the front of Epcot, the quickest way to get here is by Friendship Boat. If you're coming from International Gateway, turn right toward France.
Architecture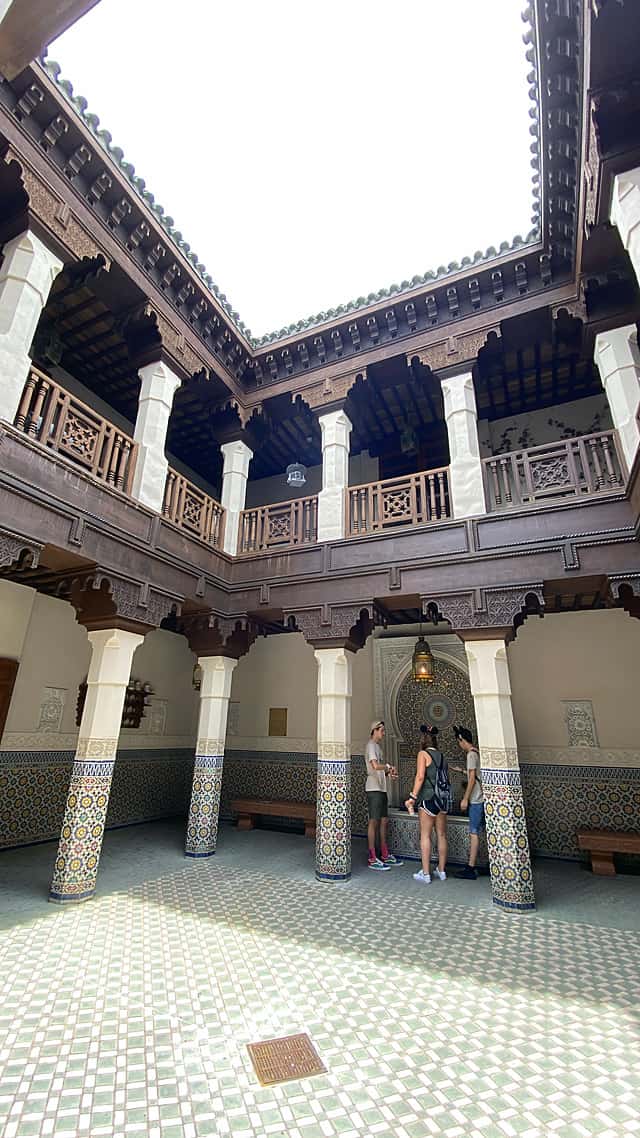 Under supervision of the Moroccan government, this pavilion is made of rammed earth, an ancient technique used in Moroccan villages, instead of steel or concrete. It features the Koutoubia Minaret, a replica of the Koutoubia Mosque in Marrakech. Here, you'll find elements of ancient and modern design.
Overview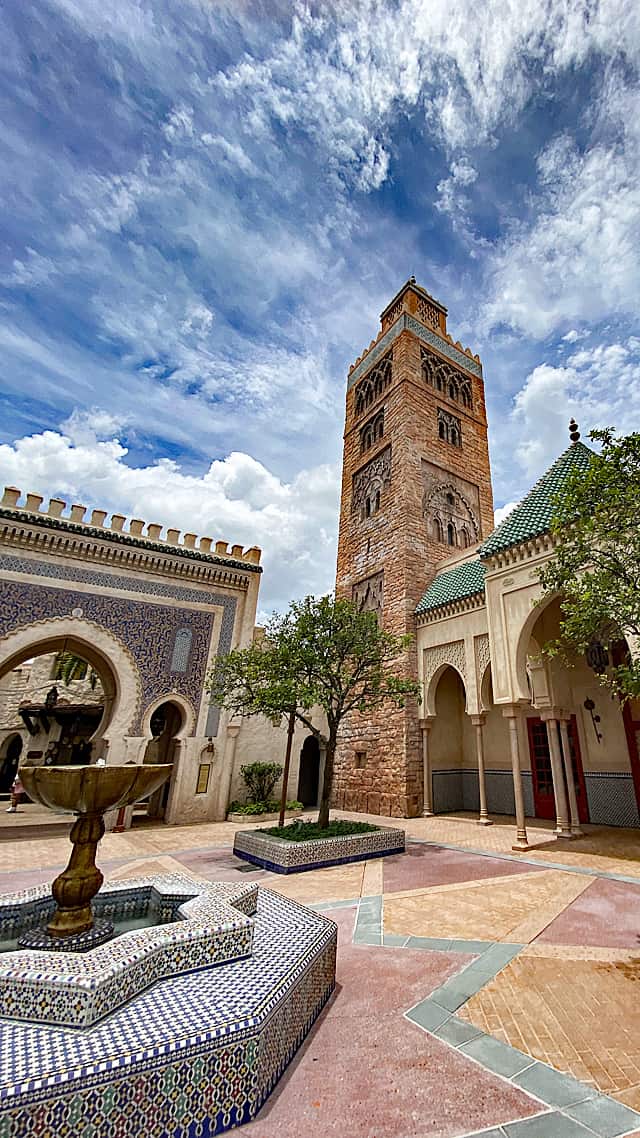 From the narrow paths and markets to the hand-laid breathtaking tile, the Morocco pavilion is an especially immersive experience at World Showcase. Morocco boasts being the only pavilion where the country's government played an important role in designing the pavilion.
Wandering throughout the narrow streets gives guests the feeling of being transported to a distant land. Previously, Morocco retained ownership of the shops and stores. However, at the end of 2020, Disney took ownership of the Morocco Pavilion. Unfortunately, this pavilion is still in transition, and many aspects remain closed.
Restaurants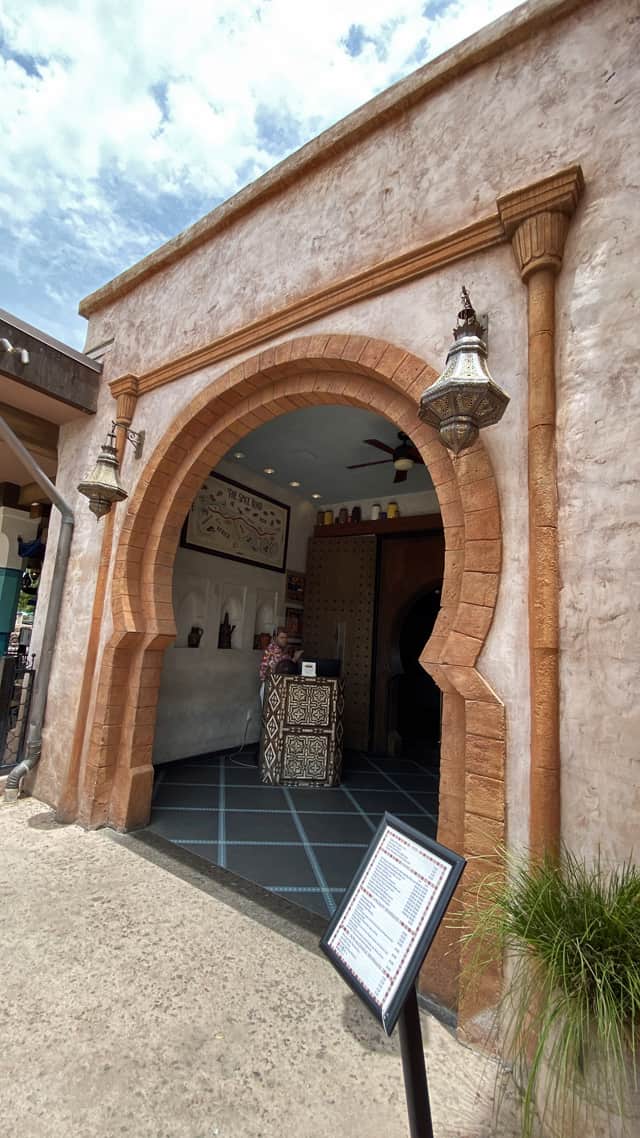 Some of my (Susan) favorite food is found in Morocco. There's a mix of table service, quick service, and kiosks. Hope you get to check them out on your next visit.
Oasis Sweets and Sips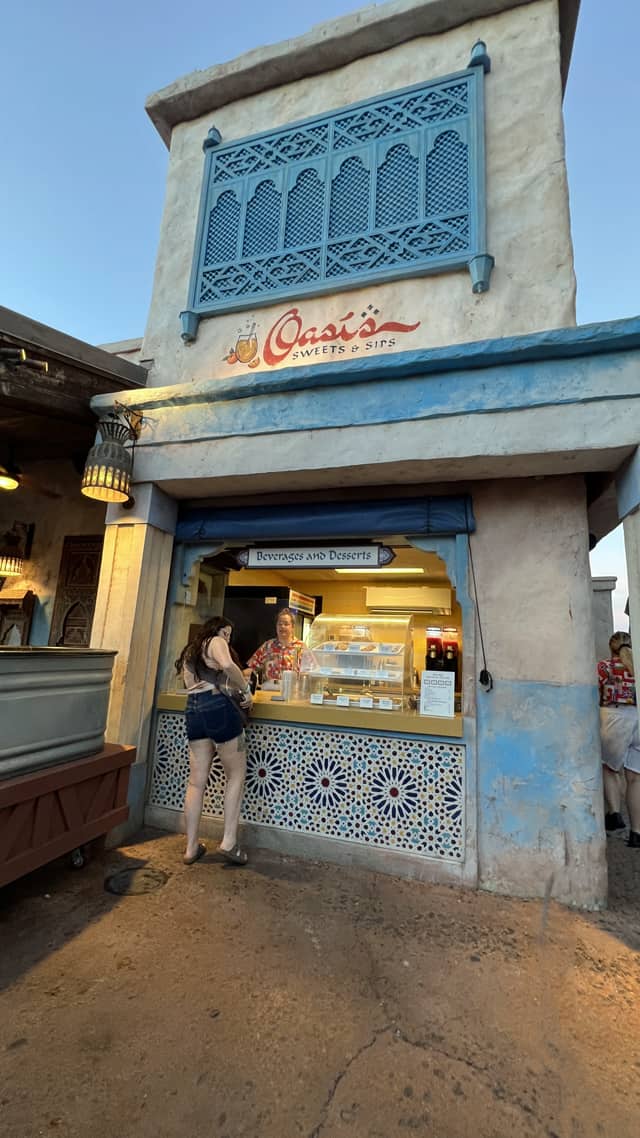 Delight in delectable treats like Pistachio Baklava and Almond Crescent Cookies, as well as exotic drinks—Frozen Cocktails, Sangria and more. Also, non-alcoholic Beverages are available. Yum!
Restaurant Marrakesh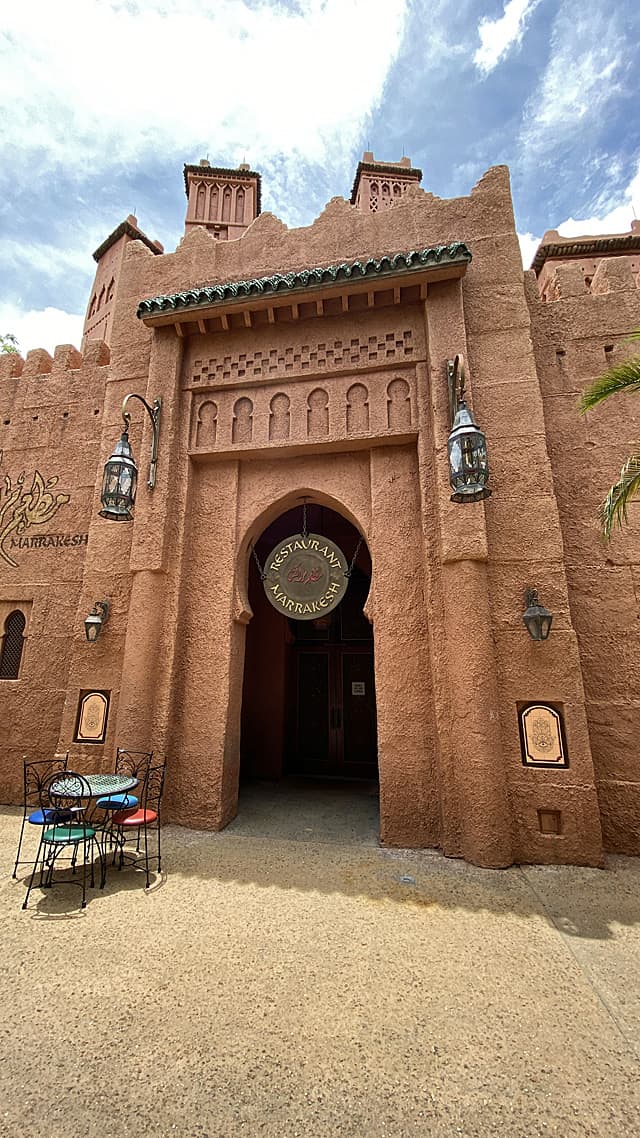 When open, Restaurant Marrakesh offers traditional Moroccan cuisine and live entertainment, including a belly dancer. However, this location remains temporarily unavailable. Now that Disney owns this spot, would you like it to reopen like before or incorporate a character dining experience? I'm in if Genie's there!
Spice Road Table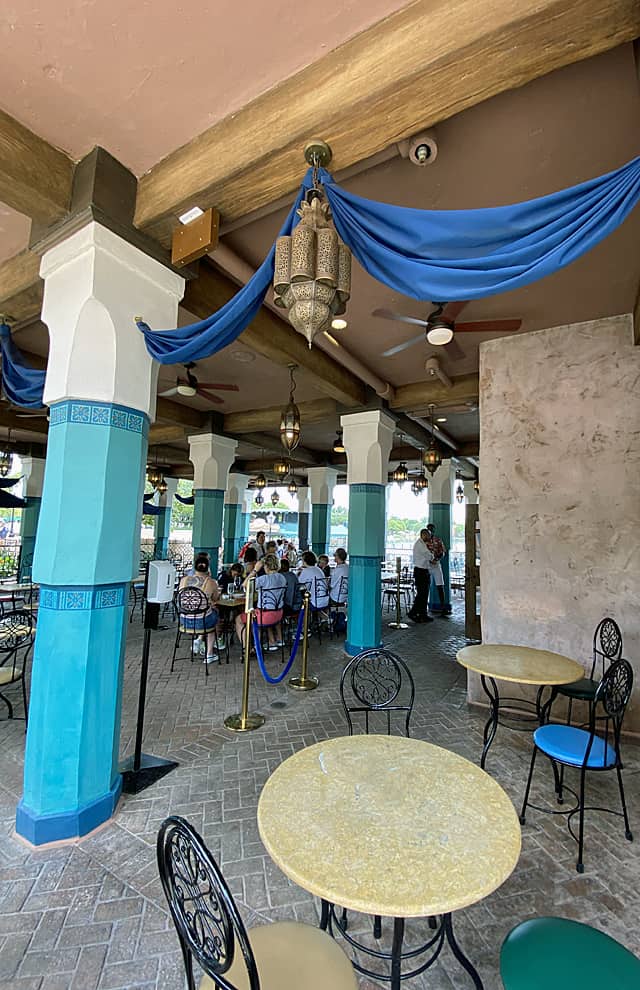 Take in the flavors of the Mediterranean as you unwind at the waterfront restaurant. The menu at Spice Road Table features a selection of assorted small plates and cocktails. Guests are able to order at the lounge which makes for an informal and laid back atmosphere.
Time your visit right and you'll catch fireworks right from your table!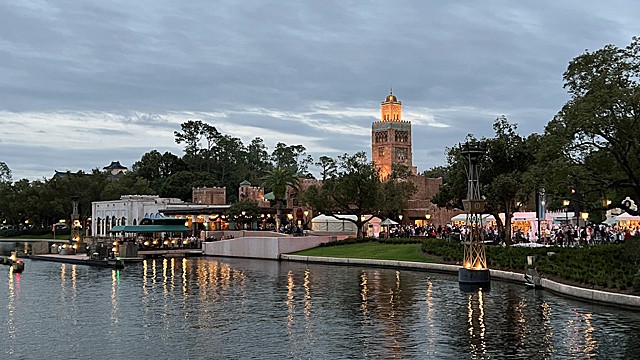 Tangierine Cafe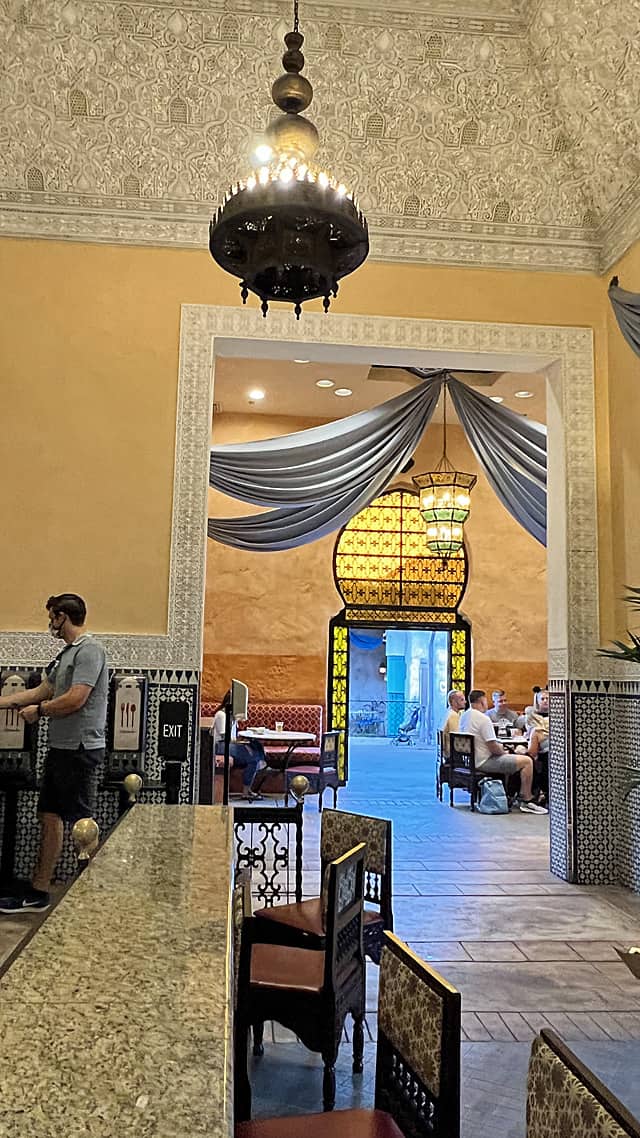 Tangierine Café, one of the most delicious quick service locations in all of Disney, serves authentic shawarma platters, tempting pastries and specialty coffee drinks. If you like the Naan bread at Sanaa, you'll love the Moroccan bread here! If you're feeling ambitious, you can even make the Sanaa Naan bread with this recipe found: HERE.
In addition, we recently reviewed Tangierine Café being used as a Food and Wine location.
Experiences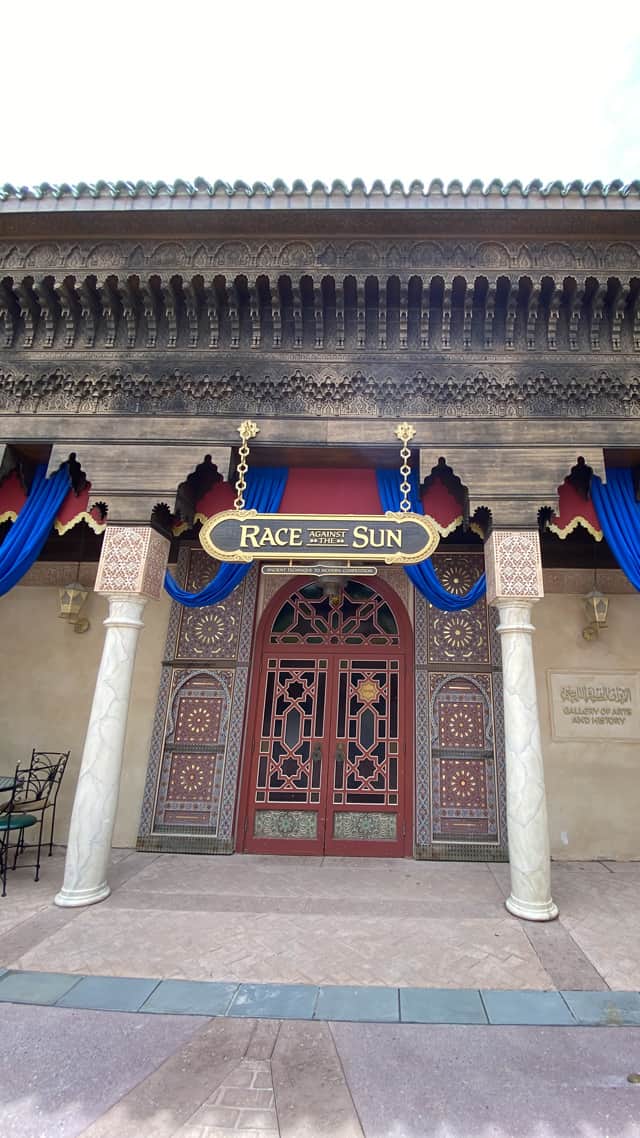 Before researching my World Showcase Pavilions, I feel like I missed so much! One of the coolest finds is at the Gallery of Art and History. Not only that, but kids of all ages enjoy characters here.
Gallery of Art and History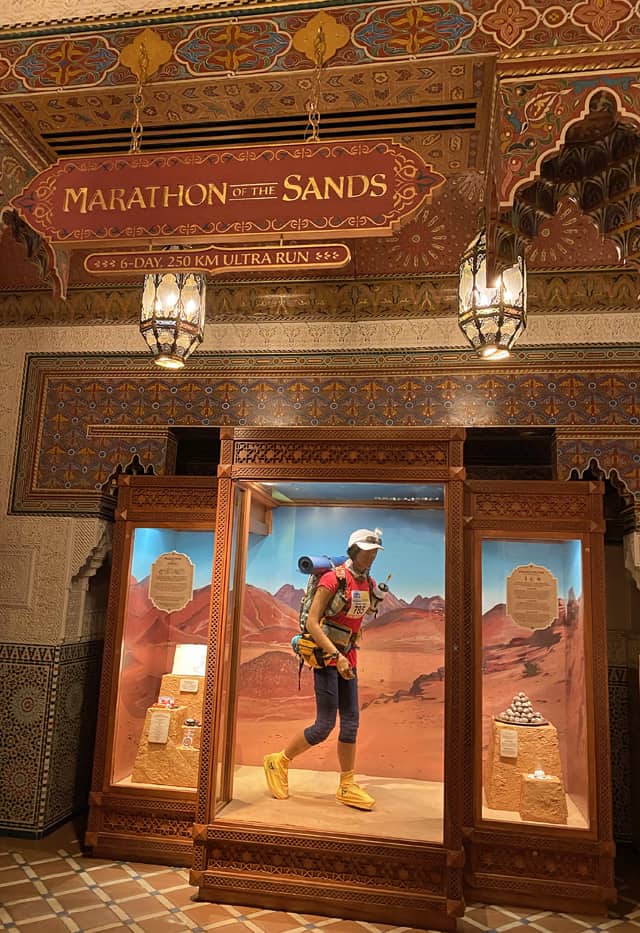 One of my favorite things about Epcot is getting to experience art, history and cultures from all around the world. The "Race Against the Sun" is a hidden gem that many guests miss. Here, you'll see an array of displays featuring "ancient techniques to modern competition." It features two incredible present day competitions and the rich history of the ancient inhabitants.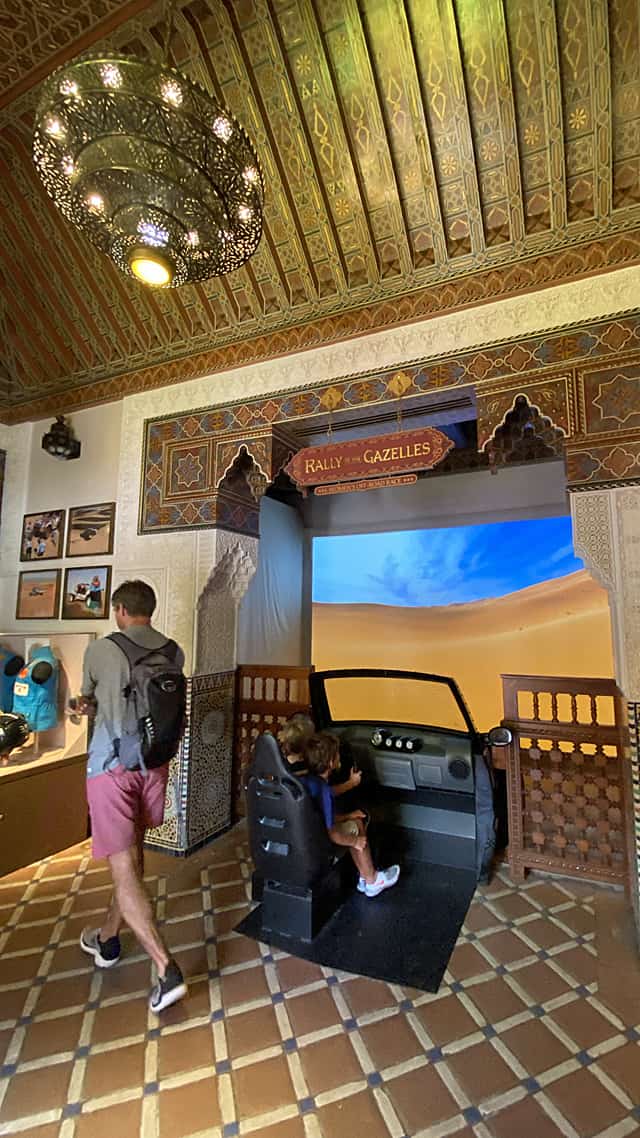 The exhibit features immersive experience, such as a lifelike diorama of Marathon of the Sands with race gear and trophies.
Next, look for an interactive photo opportunity from Rally of the Gazelles, an off-road all-woman dessert rally. It's incredible to see how competitors overcome the dessert's heat to compete. Please check it out next time you visit!
Characters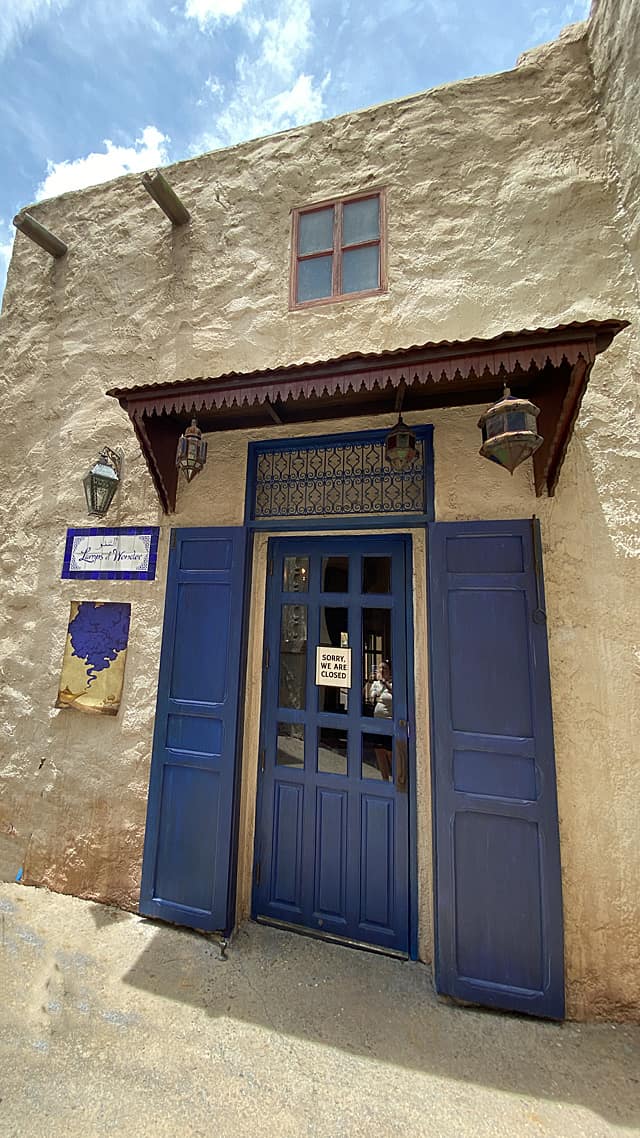 Jasmine greets guests at the Lamps of Wonder. Being indoors, this character spot gave guests a break from the heat and a wonderful background for photo. Previously, she met on the outdoor stage shown below.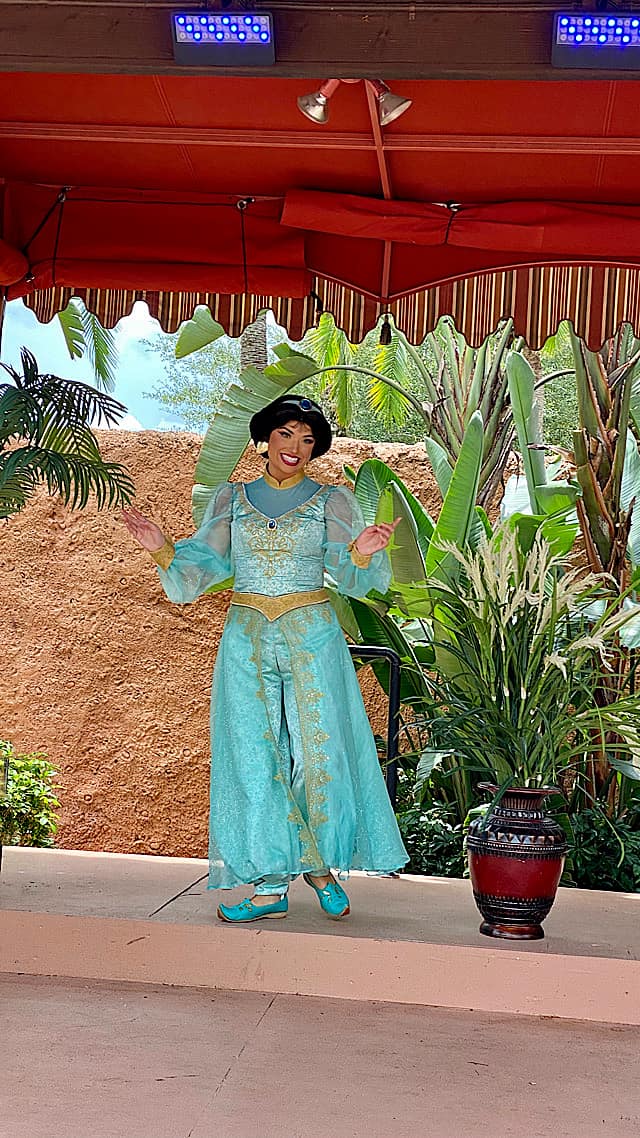 Previously, Aladdin met with Jasmine, but he hasn't returned to this spot.
Kidcot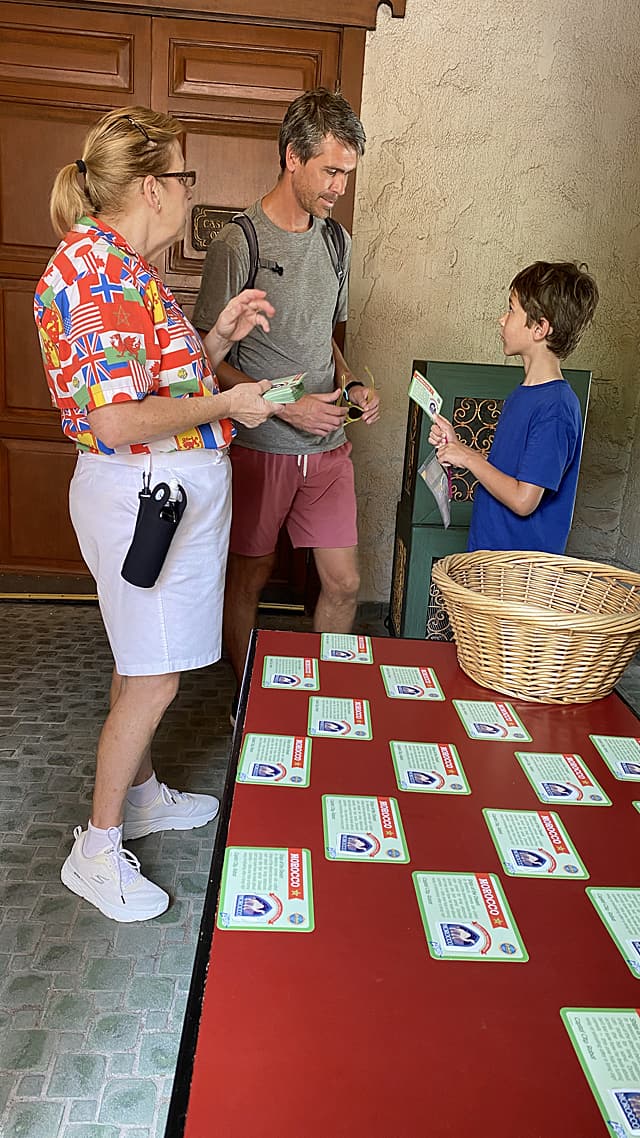 Participate in a fun discovery experience collecting activity cards at each country throughout World Showcase! Kids of all ages pick up a memorable memento with facts and activities featuring the culture and traditions of each country. At Morocco, you'll find the Kidcot Fun Stop at the Marketplace in the Medina.
Shopping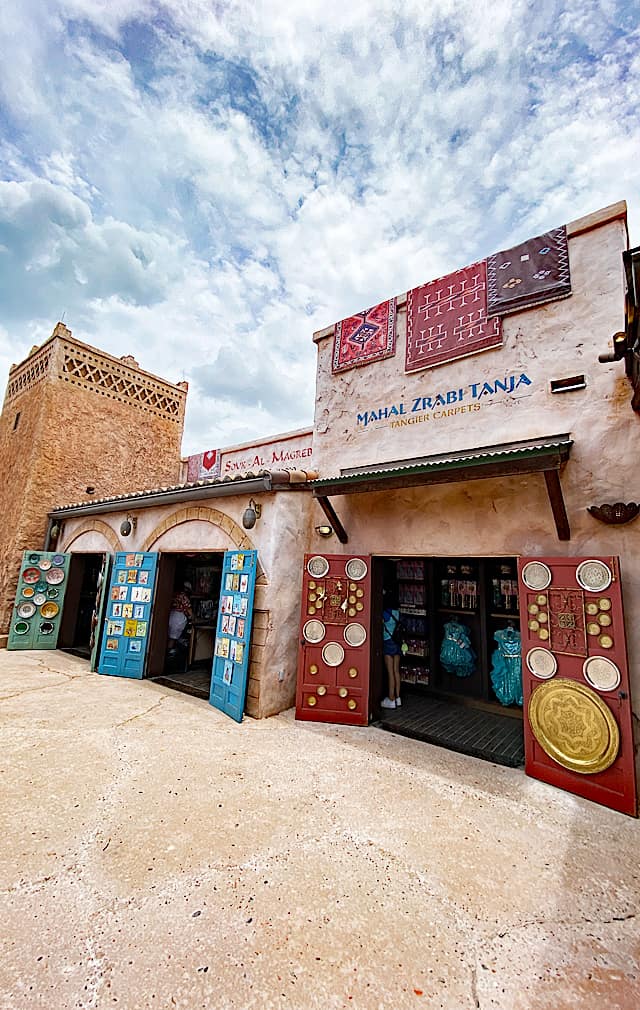 Like in Morocco, guests at this pavilion shop in an open air marketplace winding through the pavilion. Not only that, but shops here make you feel like you're on a far away journey.
Casablanca Carpets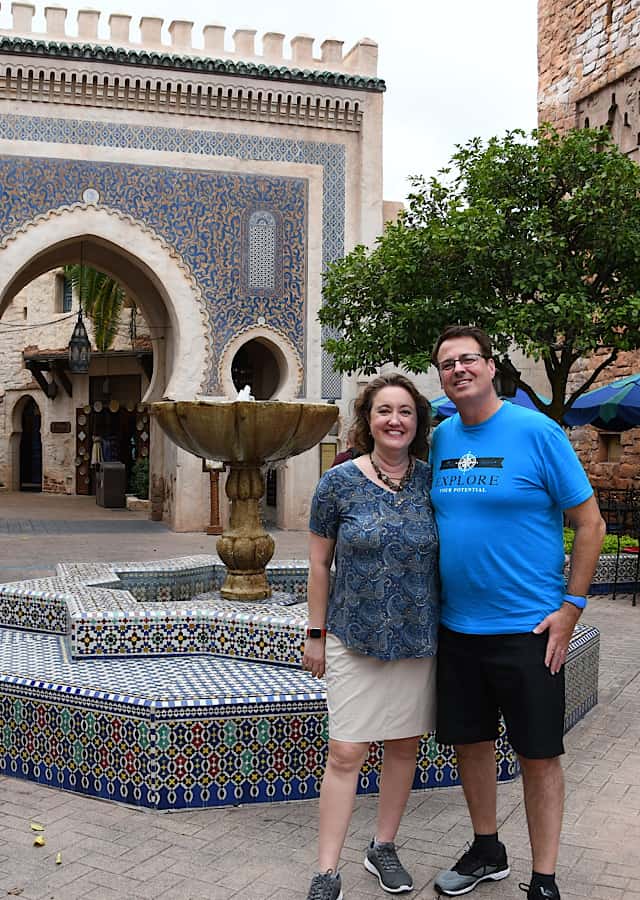 Casablanca Carpets looks bare now since it is temporarily unavailable. However, when open, handmade Berber carpets are displayed beside beautiful prayer rugs. Also found here were wall hangings, home decor items, throw and floor cushions.
Marketplace in the Medina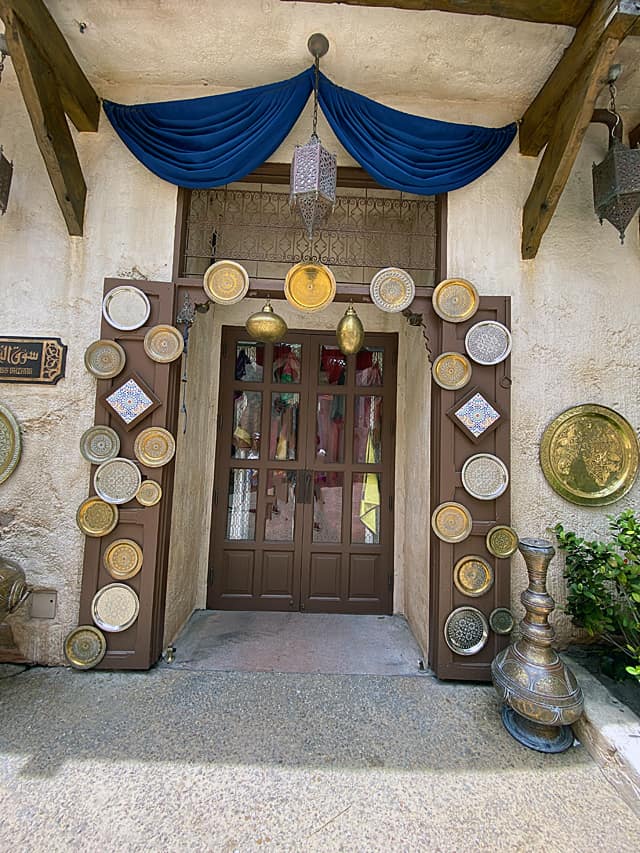 Walk through the entrance to shop at The Medina. Here, visitors find a collection of interconnected shops that contain the same energy found in a busy Moroccan market. Look for all kinds of goods from home decorative items to apparel to luxurious rugs.
The bold and bright colors used on products really standout in every shop. There are beautifully adorned lamps, ornate jewelry, and decorative Thuya wood boxes. This location is temporarily unavailable.
Souk-al-Magreb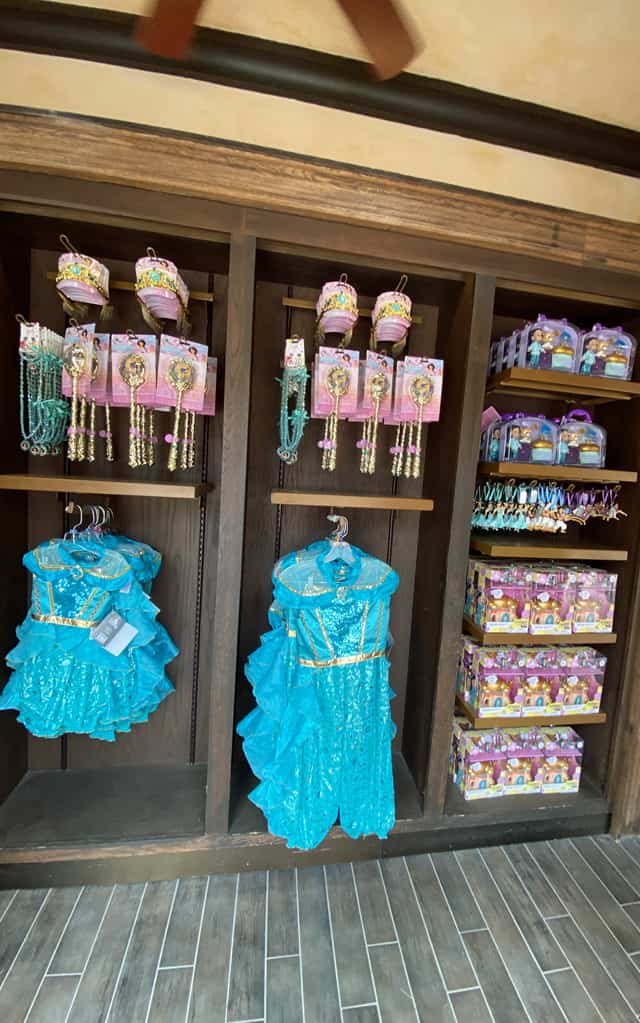 Adjacent to Spice Road table, look for Souk-Al-Magreb on the main World Showcase Lagoon path. It contains gifts with the Moroccan flag, wine, spices, tea sets and beautiful pottery. Recently, we've spotted more Jasmine merchandise available here.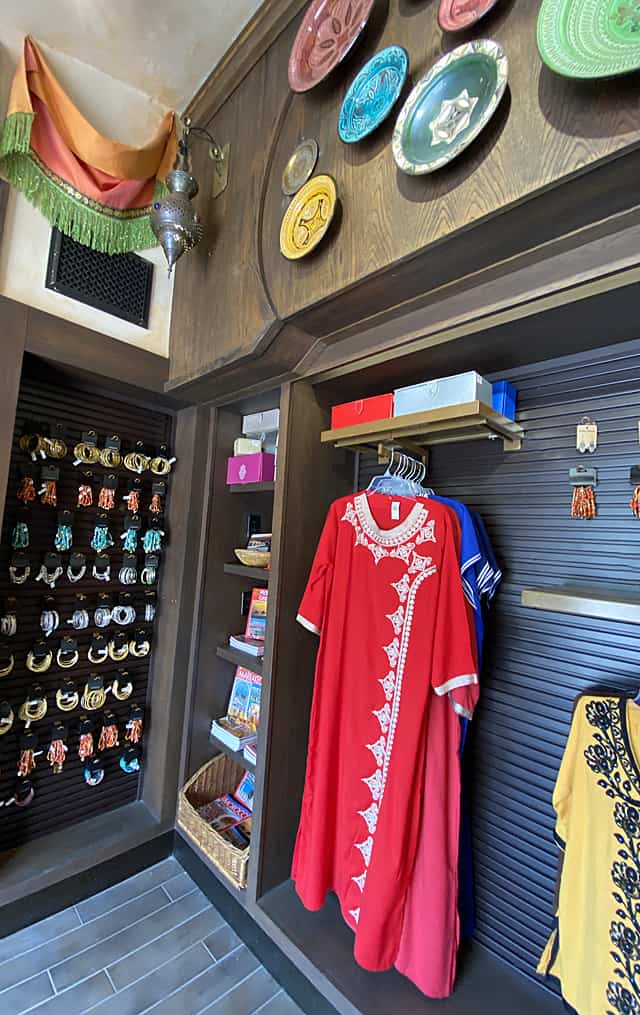 Check out the authentic jewelry and apparel shown above. This is one of the most adventurous shopping spots in all of Disney!
Tangier Traders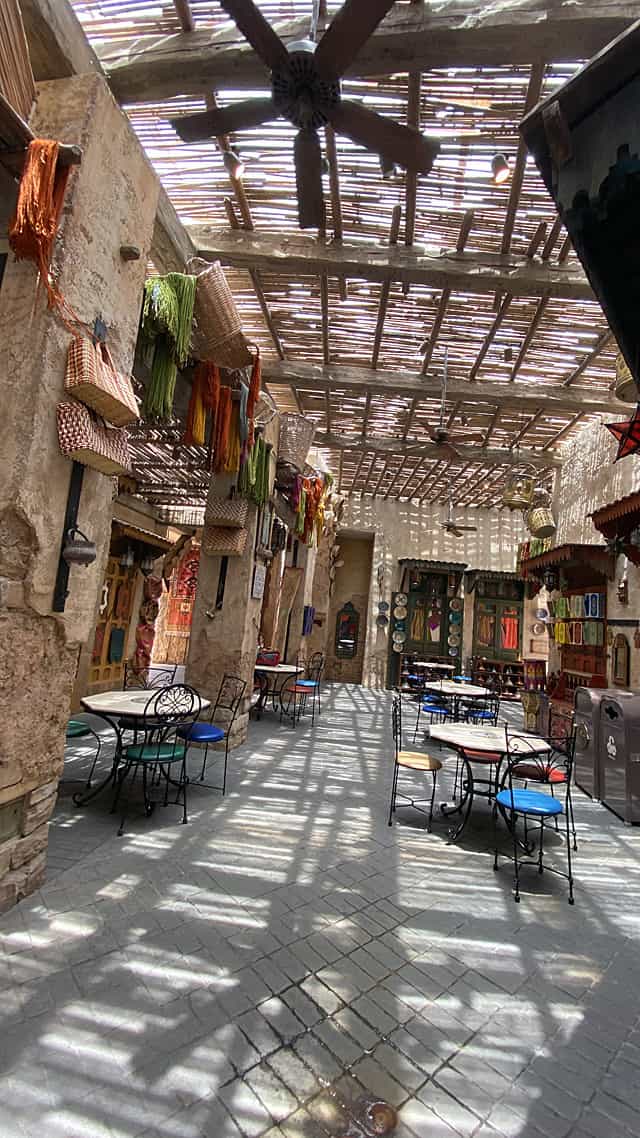 Tangier Traders offers a variety Moroccan themed clothing, jewelry, accessories, and gifts. However, this location is currently unavailable.
The Brass Bazaar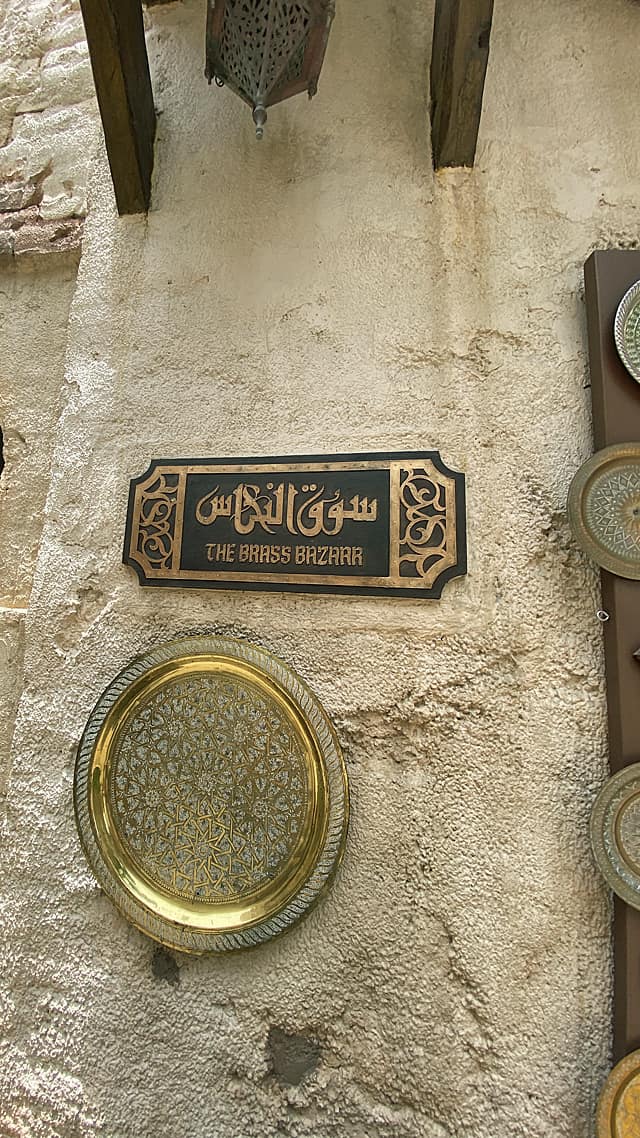 At The Brass Bazaar shoppers find authentic Moroccan brass pots and homewares. However, this location is currently unavailable.
Final Thoughts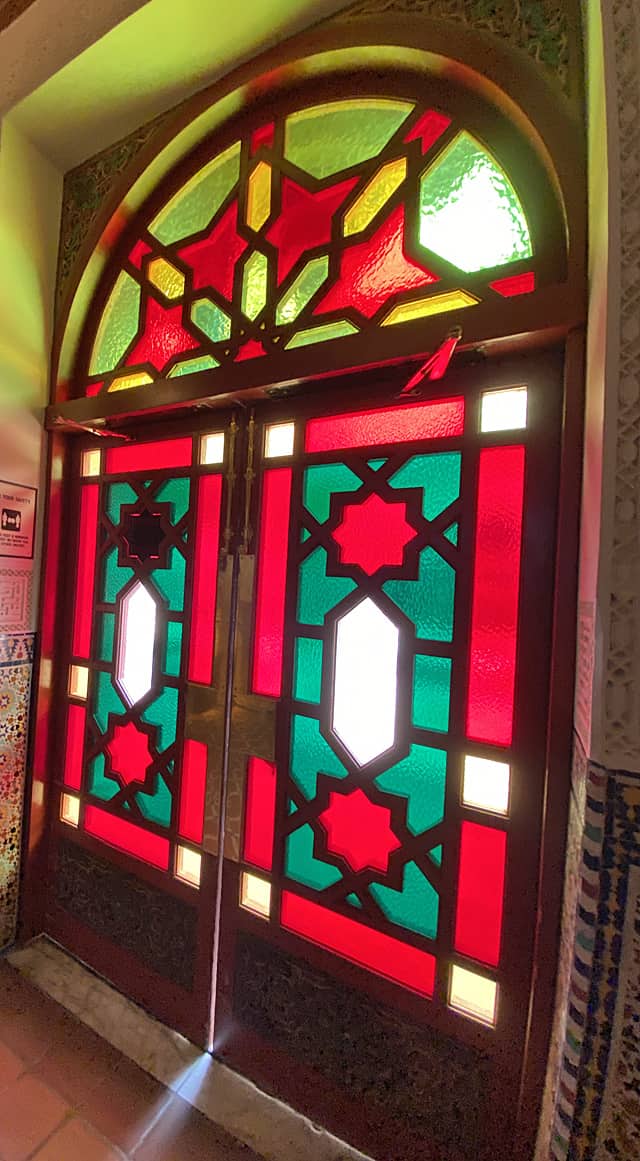 Even with several things currently unavailable, it's worth a trip to Epcot's Morocco Pavilion. Here, you'll find tasty Mediterranean dishes along with charming places to shop and rest in the courtyard. The more I (Susan) visit this unique place, the more I appreciate it.
World Showcase Guides
I hope our World Showcase Pavilion Guides spark a desire to explore each one. Check out our other guides below by clicking on the names below:
What is your favorite thing about Epcot's Morocco Pavilion? What are you looking forward to doing here on your next visit? Please share your thoughts below or on our KtP Facebook group.