San Angel Inn Restaurant is a beautifully themed dining experience at Epcot. Check out what I thought of this restaurant and how it stacked up next to all the amazing meals we had on our trip.
Mexico Pavilion Dining Options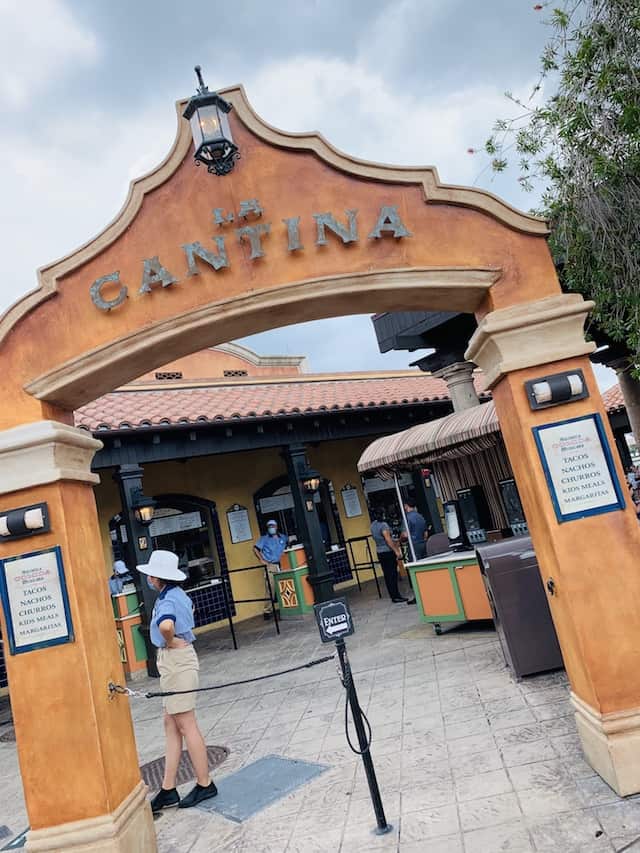 I (Ashley) ate at San Angel Restaurante in Epcot's Mexico Pavilion for the first time. Let me first break down the different dining options at Epcot's Mexico Pavilion because the names are all very similar and it can get a little confusing.
First, there is a quick service restaurant called La Cantina de San Angel. It has a very similar name but a different dining experience. This one is located by the water and does not take reservations. It has indoor and outdoor dining options and tasty basic Mexican offerings such as tacos and nachos. They also offer beer, sangria and a few different margarita options. You can read a complete review here.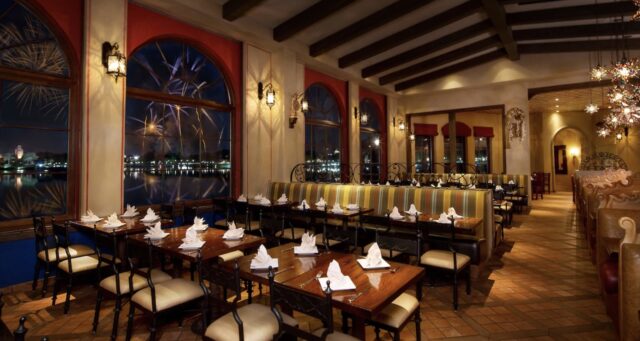 Next door to La Cantina is a table service restaurant called La Hacienda de San Angel. This restaurant is also located on the World Showcase Lagoon and is known for amazing views of the Epcot fireworks. It is on my Disney bucket list to eat here during the fireworks someday.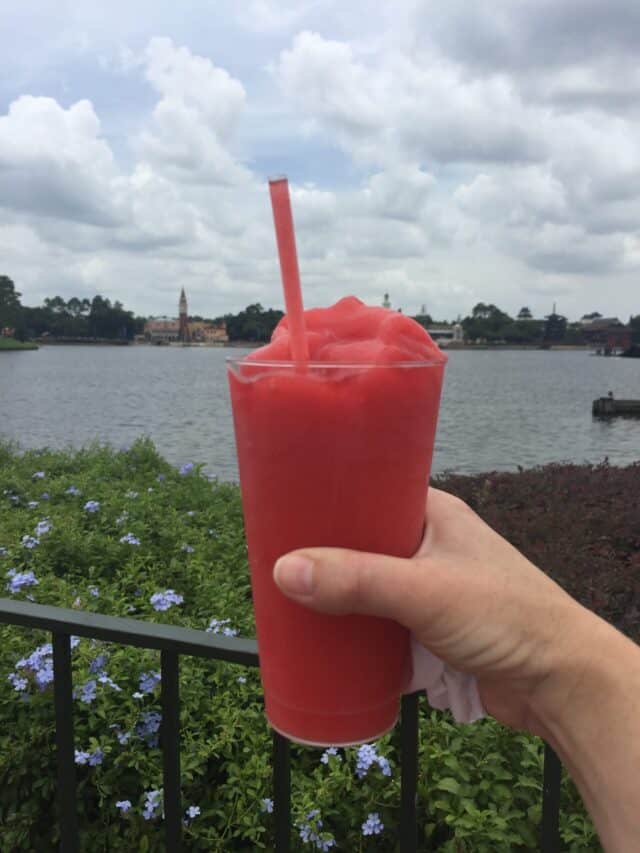 There is also another quick service location called Choza de Margarita that focuses on an extensive margarita menu. However, you can also get a few food options such as tacos, empanadas and guacamole. This location is very popular so be prepared for long lines!
Located next to San Angel inside the pyramid is a quick service bar called La Cava del Tequila that serves drinks and light snacks.
And, last but not least, the subject of this review is the table service restaurant located inside the pyramid called San Angel Inn Restaurante.
Atmosphere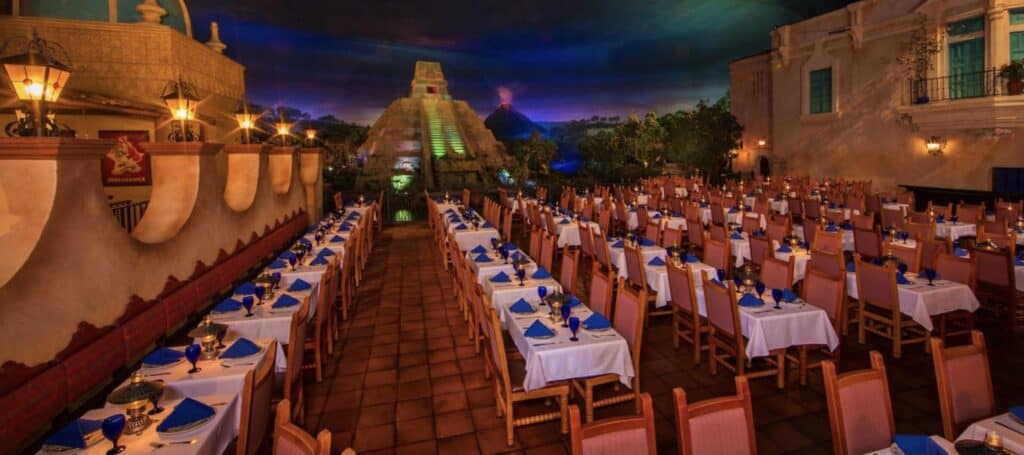 San Angel Inn definitely has the best theming of the Mexico Pavilion's restaurants and is arguably one of the best themed restaurants on Disney property. It is located inside the Mayan pyramid in an "outdoor" Mexican square under a twilight sky.
The tables are surrounded by a bustling marketplace, 17th century Mexican architecture, a smaller scale version of the pyramid, a smoking volcano in the distance and the river that carries the boats for La Gran Fiesta Tour.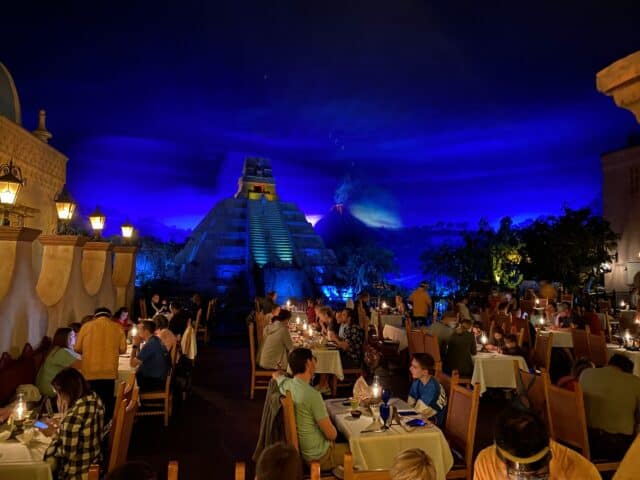 Children especially would love sitting near the water and watch the boats drift by. It has a similar vibe to Blue Bayou at Disneyland where you sit inside the Pirates of the Caribbean attraction and watch the boats on the water. You can put in a request to sit near the water if you don't mind waiting for a table to open up.
The dark and cool atmosphere inside the pyramid makes this restaurant a refreshing break on a hot day. It feels worlds away from the hot Florida sun.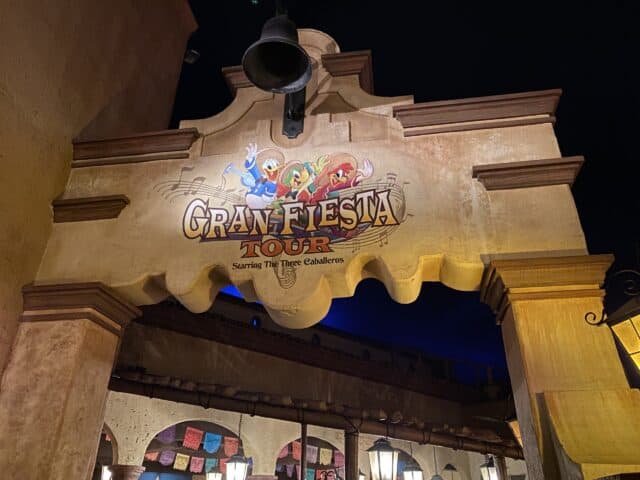 The entrance to the Gran Fiesta Tour ride is right next to the restaurant so it's very nice to be able to hop onto the ride after dinner or before if you have a long wait for a waterside table.
Food and Drinks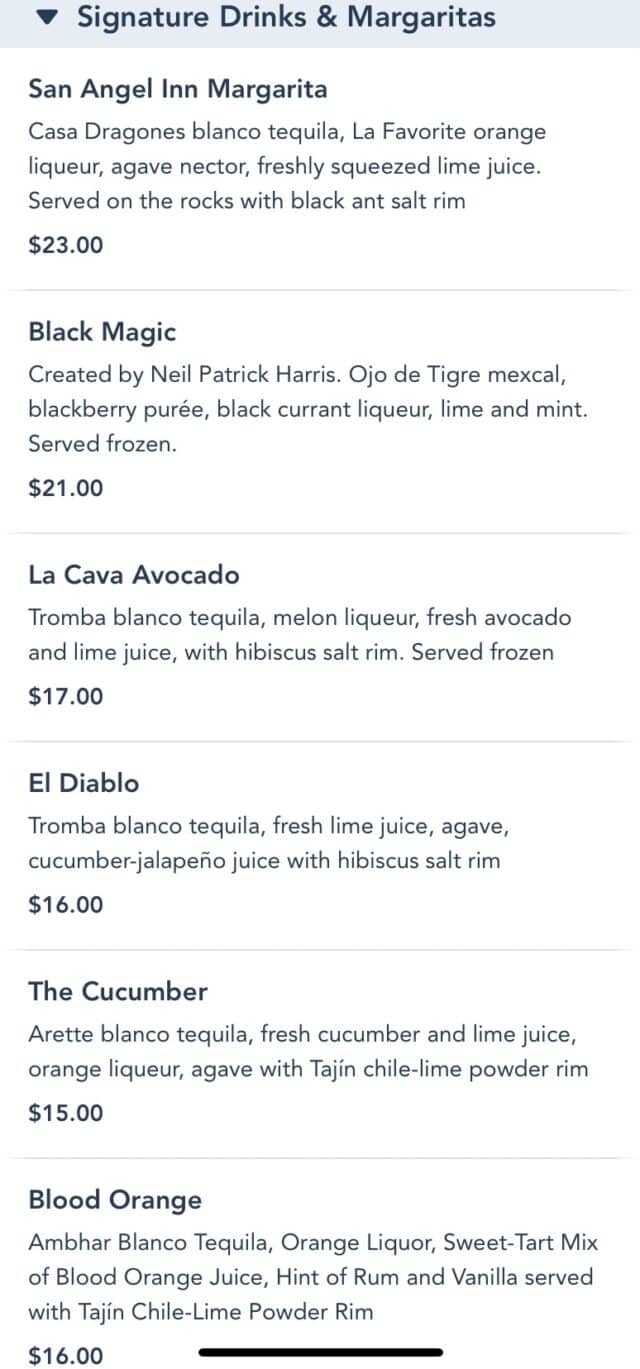 We started off the meal with drinks and some tasty guacamole topped with mango and toasted pumpkin seeds. There is a large selection of margaritas available on the menu. Some are very unique such as the La Cava Avocado and the Black Magic which uses blackberry puree and was created by Neil Patrick Harris!
I prefer a lighter margarita so I chose the Cucumber which is made with fresh cucumber and lime juice, orange liqueur, agave and Tajin chile-lime powder on the rim. It was very refreshing!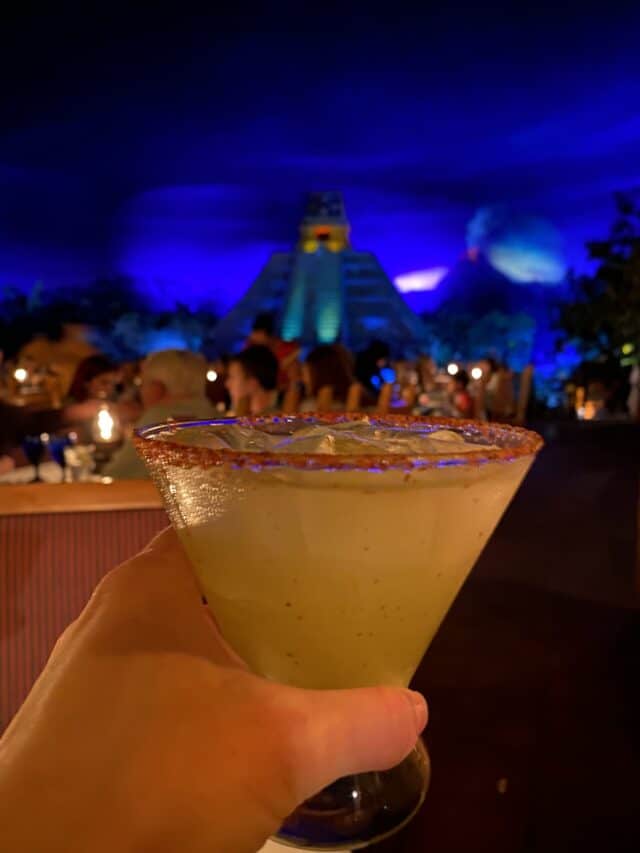 For my entree I chose the Enchiladas de Pollo which is corn tortillas filled with chipotle chicken, covered with salsa verde, crema mexicana, and cotija cheese and served with refried beans and plantains. I had read some old negative reviews about the quality of the food, but I heard that the food improved over the years and I thought it was delicious!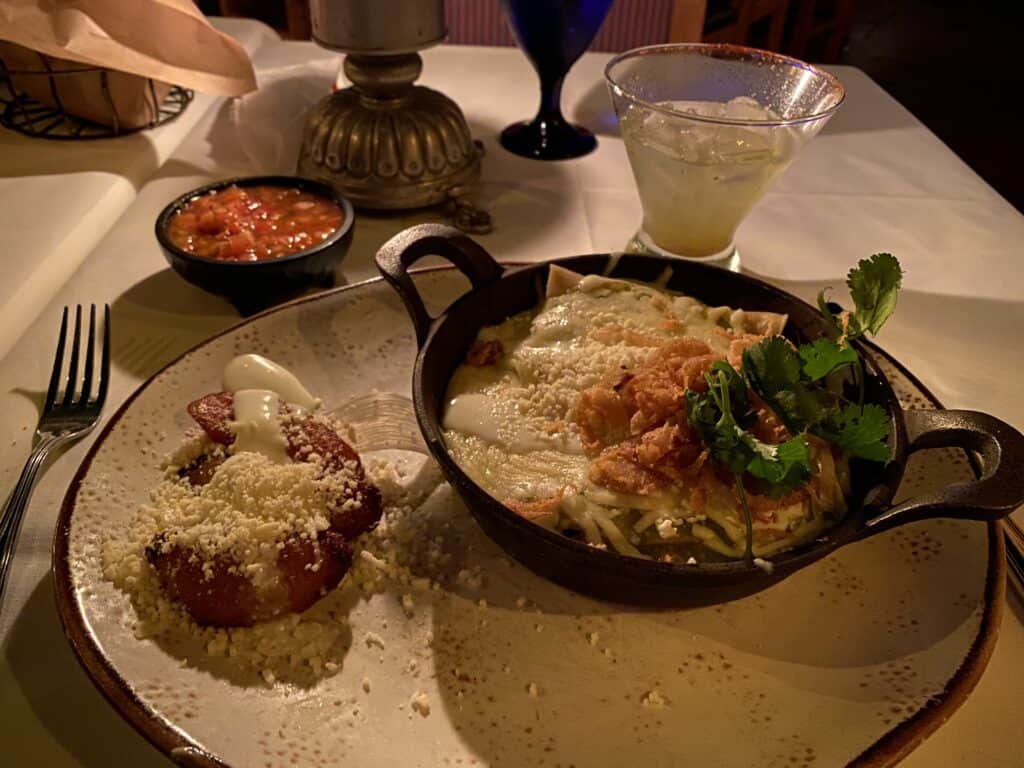 We chose not to get dessert but I bet the Tres Leche de Horchata, which is rice milk soaked sponge cake topped with sweet corn ice cream and toasted almonds, is delicious. I'll have to go back and try it!
Who would like San Angel Inn?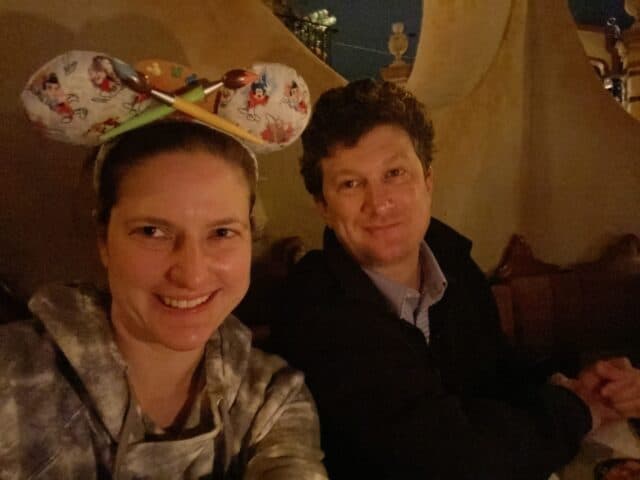 I think this restaurant would appeal to anyone who loves immersive Disney theming.
If you like Mexican food you should be very happy with the menu! For children who may not be adventurous eaters there are basic tacos, quesadillas, grilled chicken breast, chicken tenders, and macaroni and cheese. This makes it a great choice for families. Children are sure to love the experience of eating "outside" while inside and seeing the boats on the river.
But because of its dim lighting and waterfront location I think it also makes for a romantic Disney date night choice. I (Ashley) ate dinner there with my husband on our adult-only trip and we thought it was a great choice!
How did it compare to our other meals?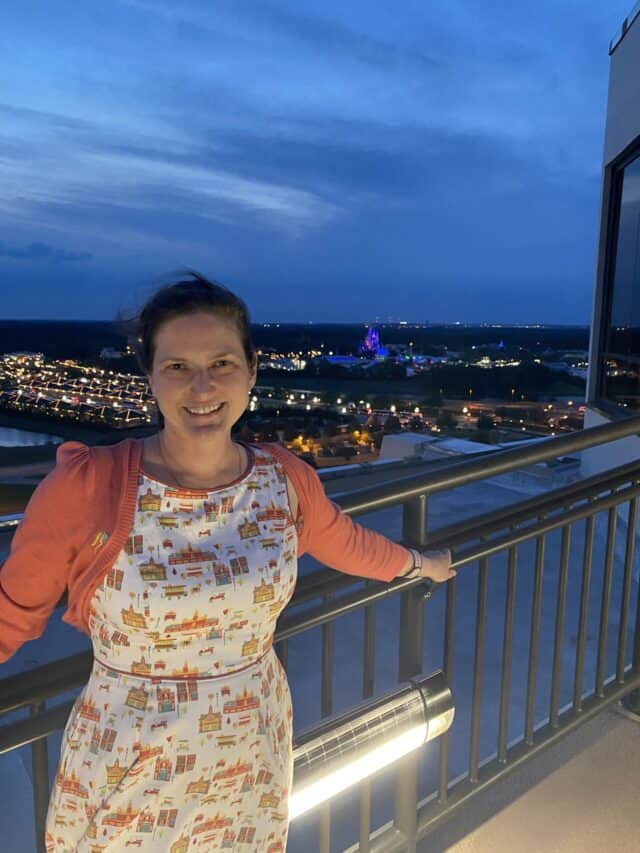 On this adult-only trip my husband and I ate at some amazing restaurants. Our reservations included Skipper Canteen, Sanaa, Yak and Yeti, Via Napoli, Topolino's Terrace for breakfast, Beaches and Cream, Sci-Fi Dine In, Chefs de France, Liberty Tree Tavern and California Grill.
I loved the food and theming at Skipper Canteen and the pizza at Via Napoli is amazing. Liberty Tree Tavern, however, was a disappointing experience because we were seated in the overflow section. Fortunately, the overflow section is no longer being used! California Grill was definitely a highlight of the trip. I wrote a complete review that you can read here.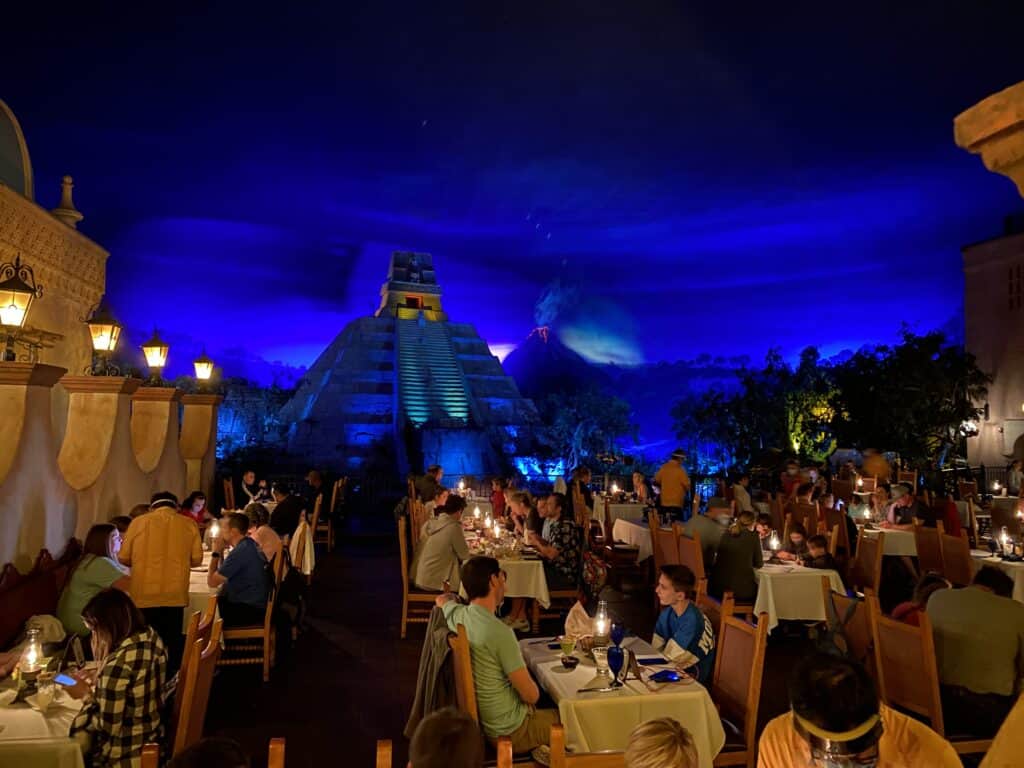 My husband and I both agree that when you consider atmosphere and food together San Angel Inn was tied with California Grill for our favorite meal of the trip! I realize this is a bold claim, but we really enjoyed our dinner there and would definitely go back.
Have you eaten at San Angel Inn? Comment on Facebook and tell us about your experience.
Ashley Beckwith McKellar
Follow me on Instagram: @disneyparksmom