Deconstructive Dish uses creative flair to help use all our senses. Check out our thoughts to see if this studio is worth trying.
Festival of the Arts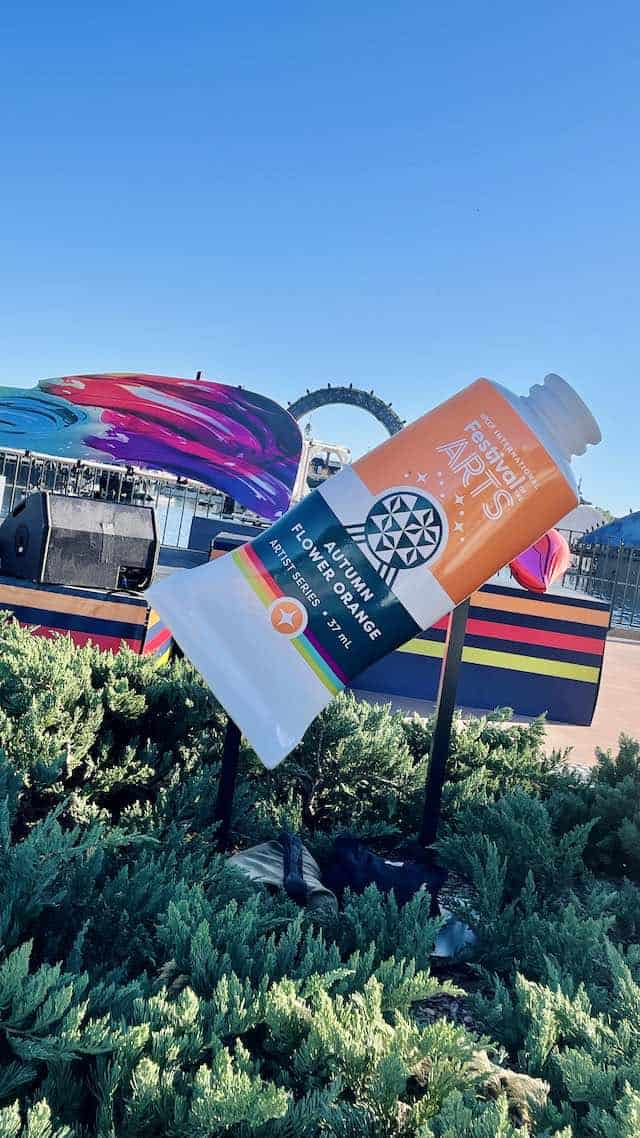 The International Festival of the Arts at EPCOT begins January 14, 2022 and runs through February 21, 2022. This festival has just a little bit of everything, including, art, food menus and entertainment. Spaceship Earth debuted a wonderful Rainbow Connection show.
Check out other colorful cuisine offered, and don't want to miss the return of the Disney on Broadway Concert Series! In addition, check out the full lineup of the artists performing HERE.
The Deconstructed Dish Menu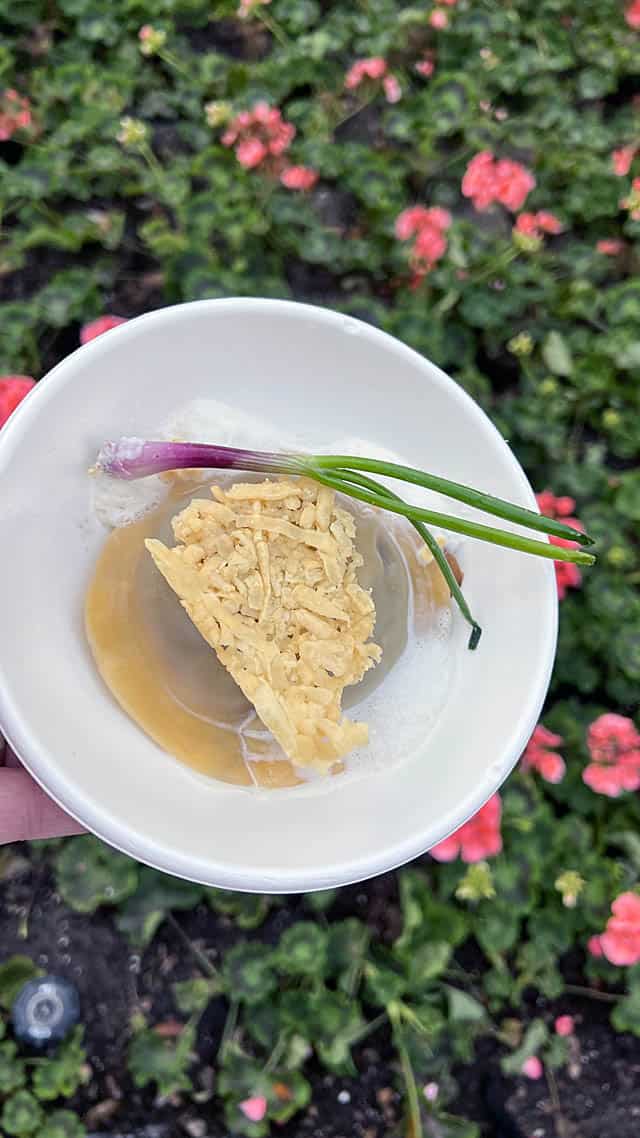 I (Susan) don't really "get" the deconstructed concept. Nevertheless, I tried each dish at this unique studio with mixed results. Like other festival items, portions are small and prices are reasonable. Here, each item costs between $4.75 to $7.00.
Deconstructed Menu items are listed below:
BLT: Crispy pork belly, soft-poached egg, brioche, watercress espuma, and tomato jam
French Onion Soup: Beef broth ravioli, Gruyère espuma, onion bread pudding, and onion textures (New)
Key Lime Pie: Flexible Key lime curd, "Key lime" mousse, graham cracker cake, and meringues (Wonderful Walk of Colorful Cuisine – Green) (New)
Continue reading to see photos and my thoughts on each dish at The Deconstructed Dish.
Deconstructed BLT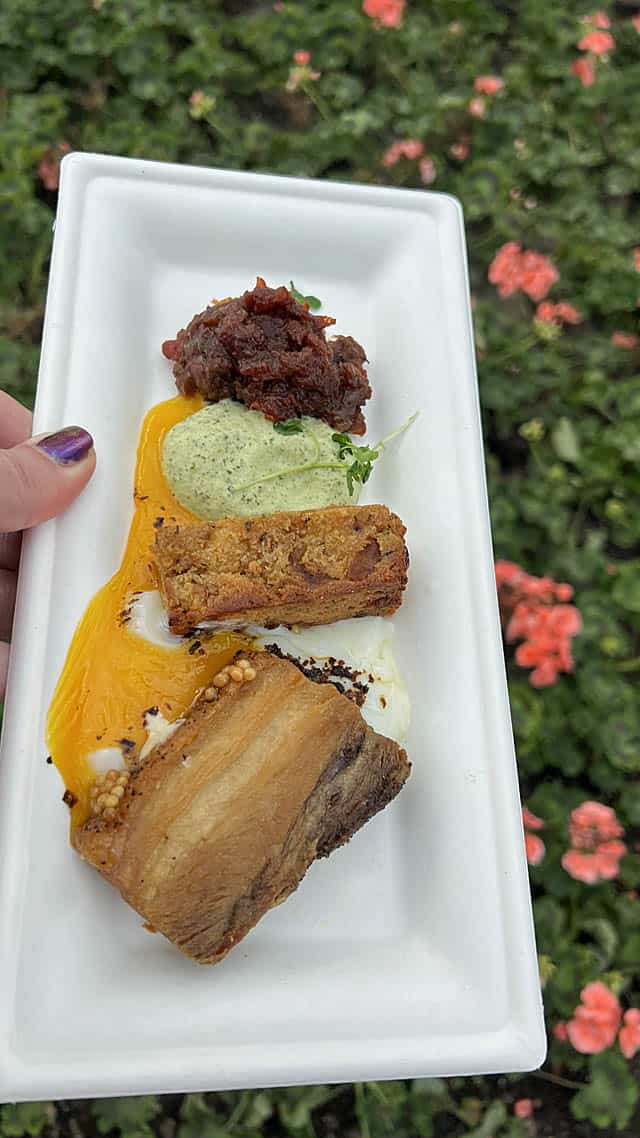 The Deconstructed BLT is the only returning dish which led me to think it must be popular item. However, I did not care for it. The soft-poached egg was broken and spread throughout the plate. This was a huge turn off. I expected more thinly sliced bacon than the crispy pork belly. Never trying pork belly before, I was hoping it tasted better than it looked. However, I was disappointed by this "hard" chunk of really chewy fat and dried out pork.
Next, it was served with brioche. The bread was underwhelming. Maybe I would have liked it better if it didn't have egg on it. The watercress espuma was mildly flavored and quite fresh. It would be an excellent spread for BLT sandwiches. It was my favorite part of the dish. Then, I tried the tomato jam. I'm a huge fan of tomatoes, but this was sweet and very odd tasting. The deconstructed BLT was my least favorite dish at this booth.
Key Lime Pie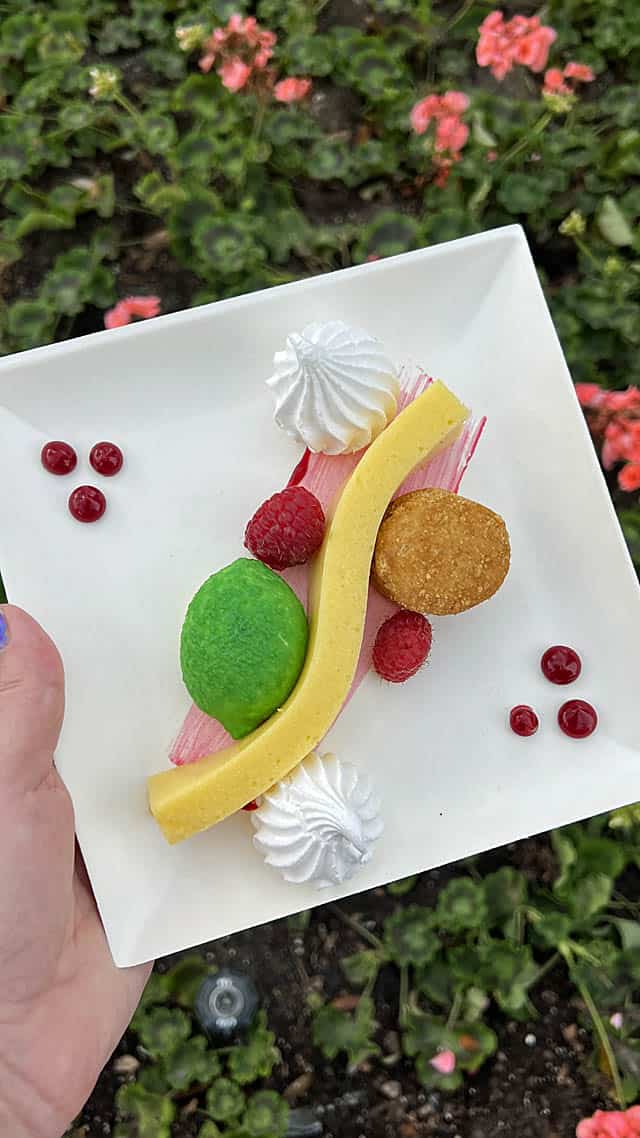 The Deconstructed Key Lime Pie features Key Lime Curd, "Key Lime" Mousse, Graham Cracker Cake and Meringues. I found the Key Lime Mouse fresh and packed with flavor. There's something about key limes that keeps me loving them.
The adorable Key Lime Curd was covered in a thin layer of green sugar and "key lime" shaped. It tasted like the top layer in Key Lime pies.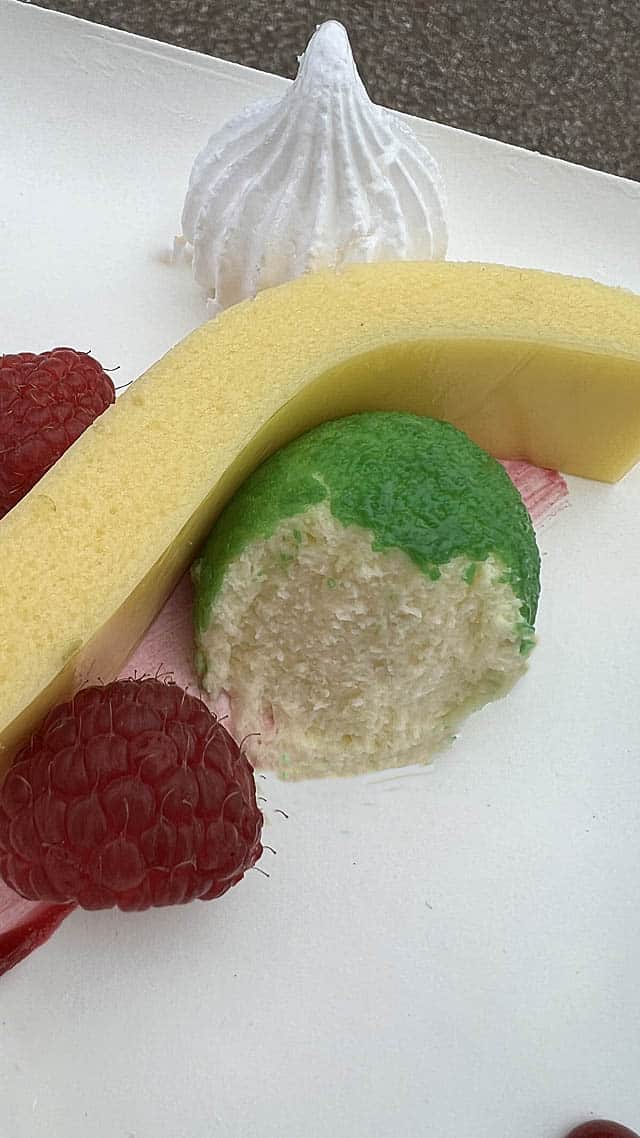 However, I wasn't a fan of the Graham Cracker Cake, but I usually eat the pie filling and not the crust. It was cooked well, but it just didn't have much flavor.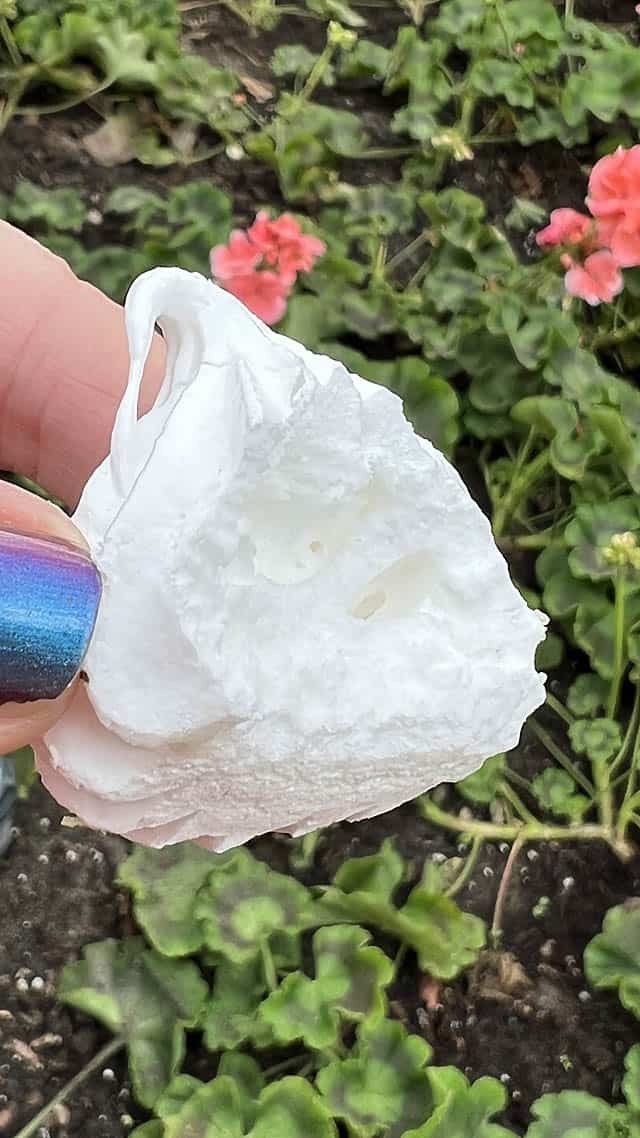 Here, the Meringues were light and tasty, and reminded me of Christmas. As a result, I ended eating these on their own rather than combining layers. Also, the drops of raspberry puree tasted like a flavor intensified perfect raspberry. Don't let the small size fool you!
Soup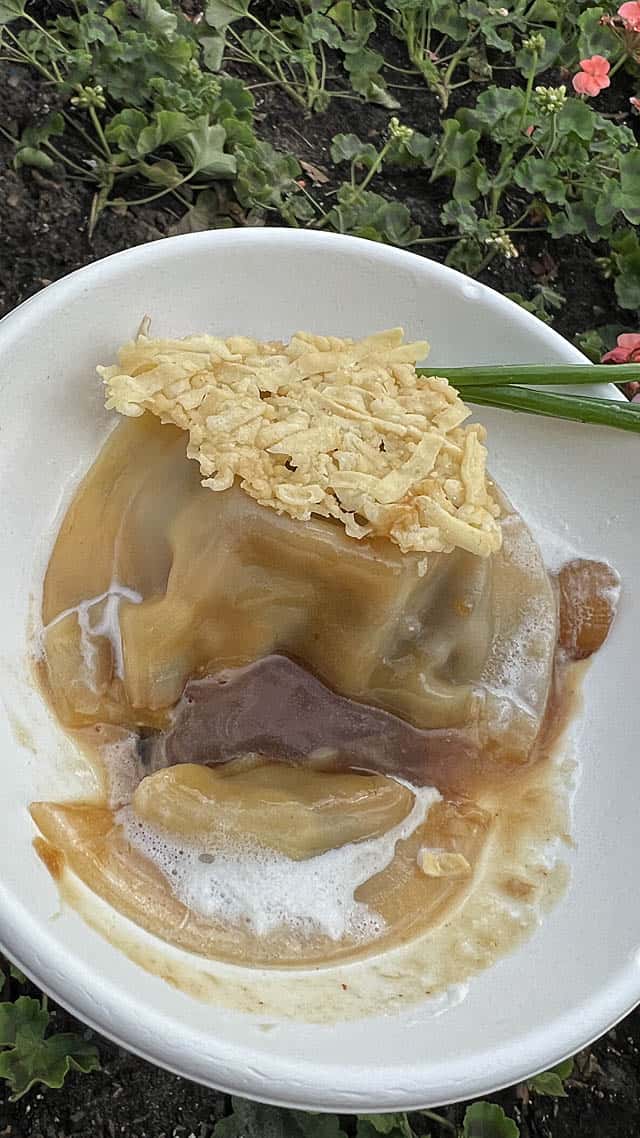 Next, I tried the Deconstructed French Onion Soup. Looking at the dish, I was unsure what to think. First, the main component in this dish is a beef broth ravioli. The ravioli was tender and cooked just right. I enjoyed the rich beef broth, but wondered how this dish was deconstructed.
I liked the toasted Gruyère espuma . As a huge cheese fan, this complemented the broth well. Finally, underneath the ravioli, I discovered the cooked onions. While it wasn't a bad dish, I prefer the traditional baked french onion soup.
A fellow writer, Donna sampled the deconstructed soup. She loved the rich beef broth and thought it was the best non-dessert festival dish! If you've tried it, let us know what you think!
Deconstructed Apple Pie à la Mode (New)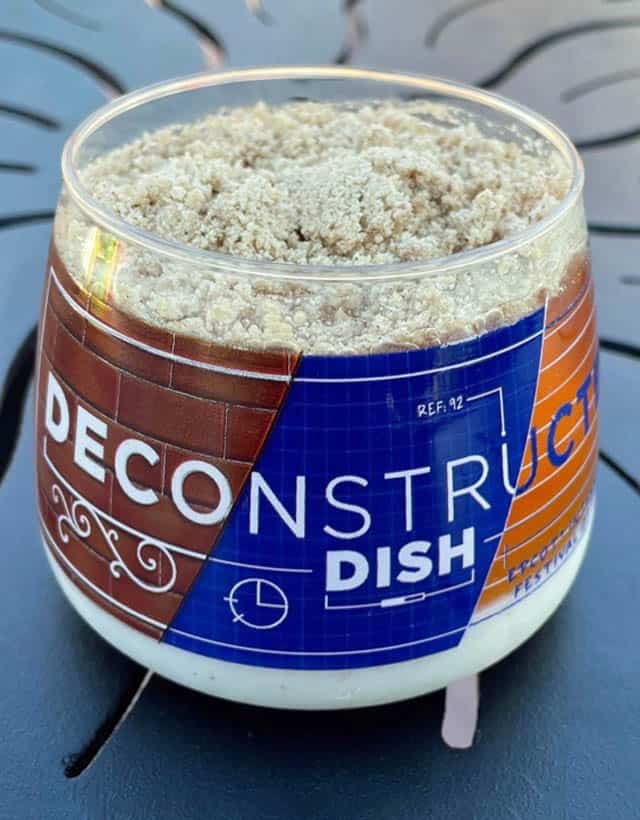 Last, there's a new non-alcoholic drink in the Deconstructed Booth this year. It consists of apple-cinnamon gelato, cinnamon apple cider, apple pie filling, and streusel. Two of my fellow KtP writers, Monica and Maggie, tried this drink.
Check out Maggie's thoughts: "The drink tasted cool, but seemed a little tart as if it had alcohol. The apple pieces tended to stay on the bottom of the drink but I liked the crunchy toppings."
Monica shared that it was too tart, even though apple is one of her favorite dessert flavors. Try this drink/dessert for $4.50.
Are you interested in Deconstructed Dishes? If so, which dish looks the best? Please share your thoughts in the comments below or in with our crew on our Facebook page.