For Festival of the Arts, Disney debuts the Muppets Rainbow Connection. Read all about the newest Spaceship Earth light show here.
Festival of the Arts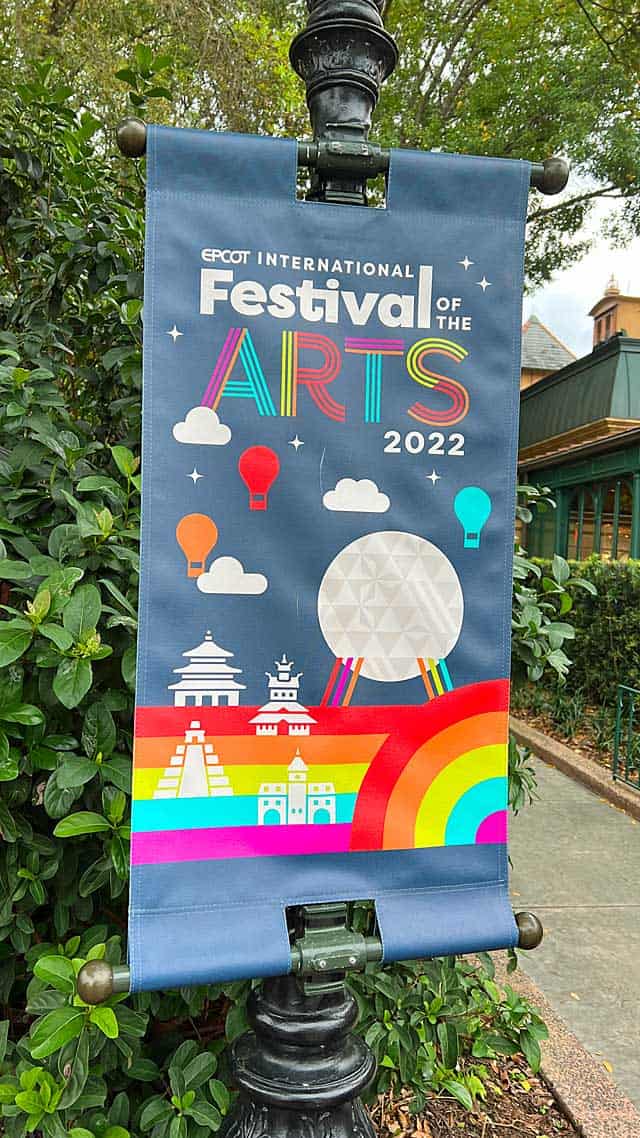 The International Festival of the Arts at EPCOT began on January 14, 2022 and runs through February 21, 2022. This festival has just a little bit of everything including merchandise, artists, and new foods. Also, just for this festival, guests can purchase Spin Art, paint squares on an enormous Figment mural, see creative chalk art, take unique photos and more!
Guests will also want to be sure to check out other colorful cuisine offered, and you don't want to miss the return of the Disney on Broadway Concert Series! For a full lineup of the artists performing, check out this post HERE. There are also a variety of classic art backdrops that allows Guests to step into the paintings. These are so much fun and make great souvenirs from the festival.
Show Debut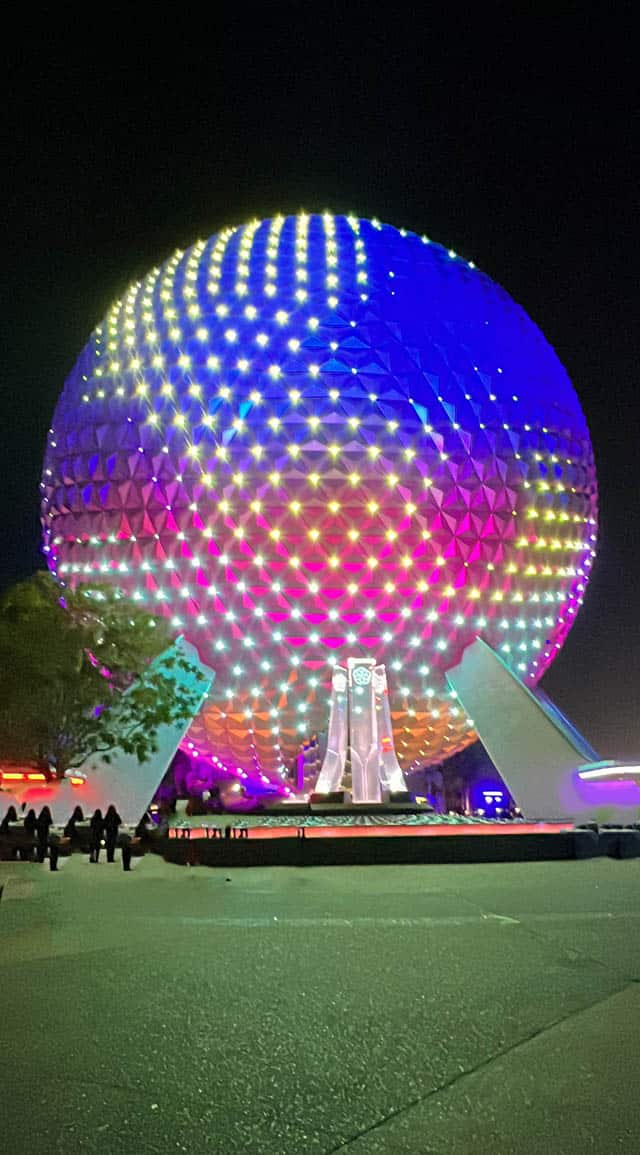 Debuting for EPCOT International Festival of the Arts, Spaceship Earth displays an amazing spectrum of light. As the Festival of the Arts celebrates all types of artistry during this festival, color and imagination play an important role and our latest lighting design reflects those ideas.
The core values of EPCOT and the optimistic symbolism of Spaceship Earth are perfectly complemented by The Muppets singing "Rainbow Connection" with this new look!
Kermit Sings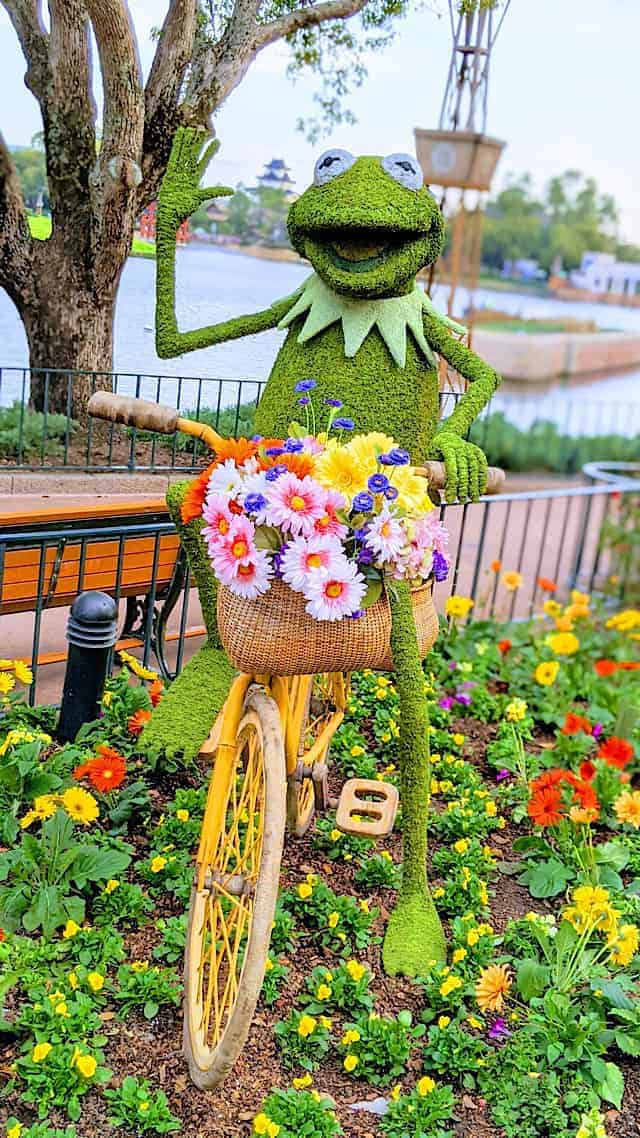 I (Susan) experienced the "Rainbow Connection" recently, and was blown away by not only the nostalgia but also the stunning visual displays. Sit back and listen to Kermit sing, "Why are there so many songs about rainbows and what's on the other side…?"
Are you singing yet? The song brings back so many warm memories of watching the Muppets on television.
Light Show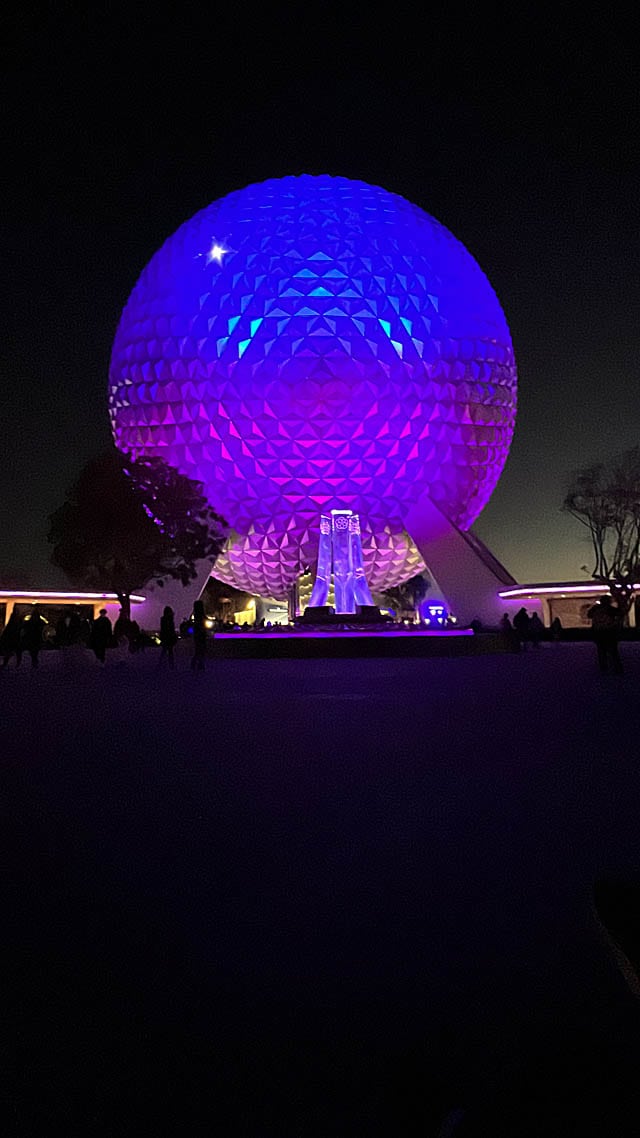 As you can see from the picture above, Spaceship Earth starts out blue, then displays one white "twinkling" star as Kermit sings and dreams about rainbows. Then, guests watch as a vibrant rainbow of colors is unveiled. First, you see a tiny piece of the rainbow.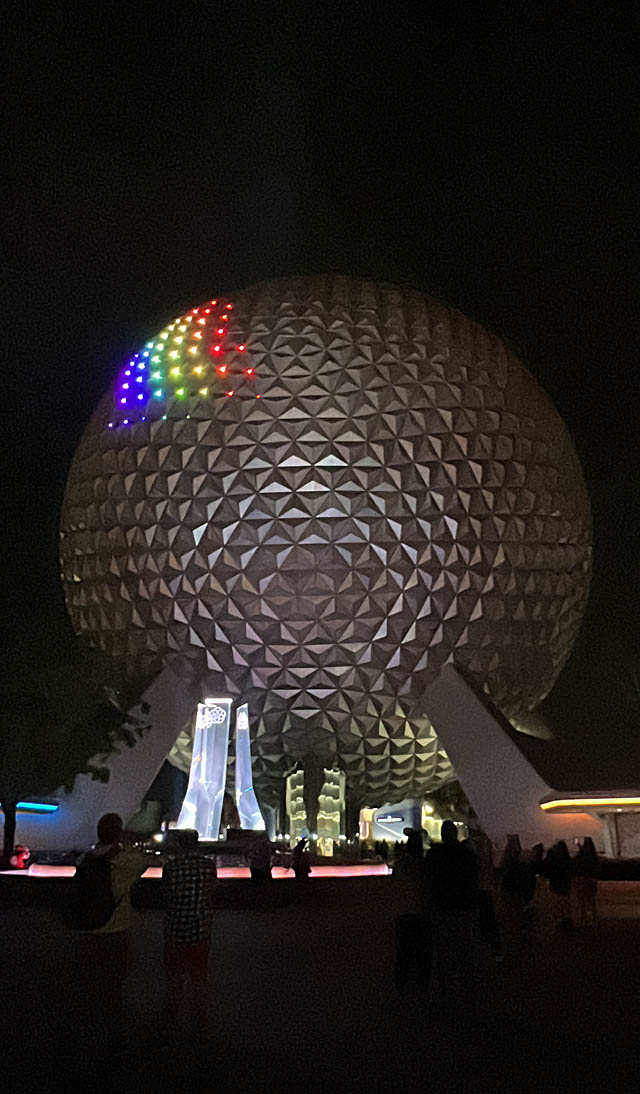 Then, it continues downward Spaceship Earth to create a partial rainbow. This was such a fun show in person. I hope you'll watch it soon!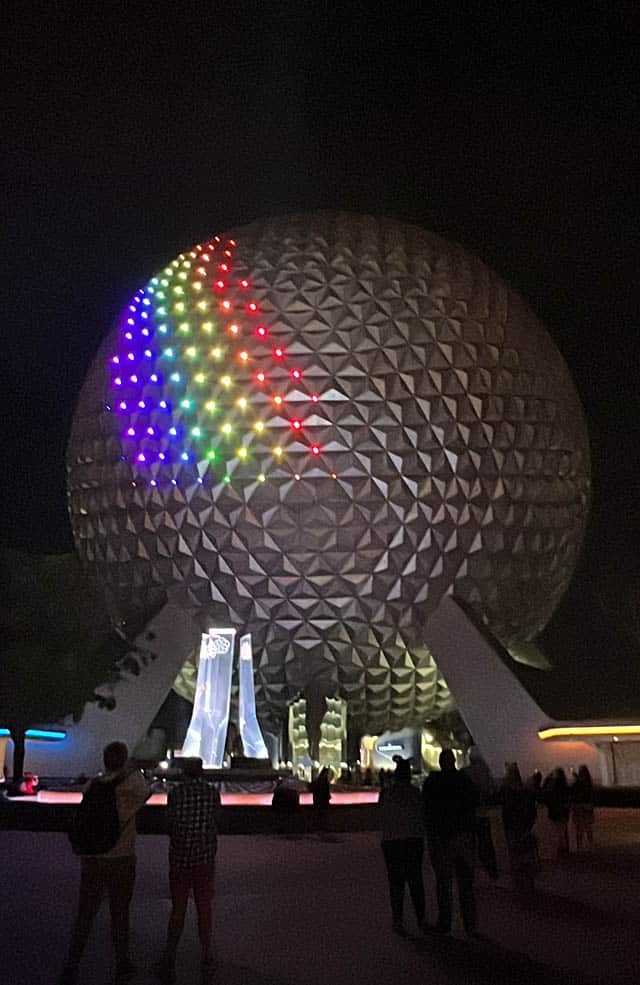 Then, guests watch as a vibrant rainbow of colors slowly is unveiled. It's truly magical watching the dazzling display.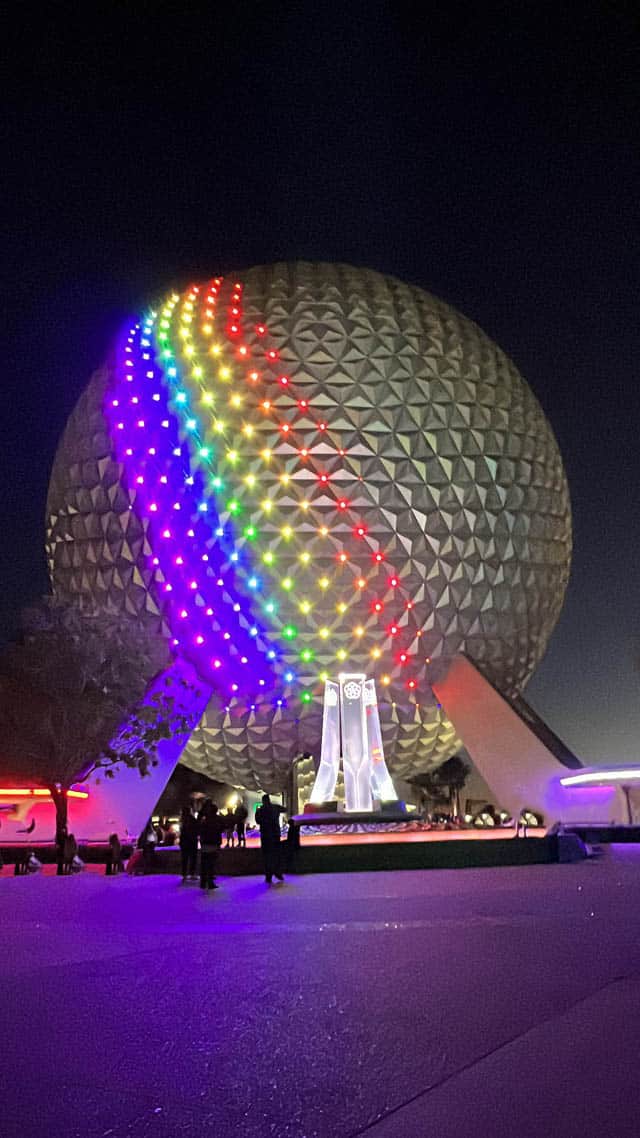 Spaceship Earth lights are one of my favorite things that's been added for Disney World's 50th celebration. Be sure to check out the Beacons of Magic light show also.
When to Catch the Show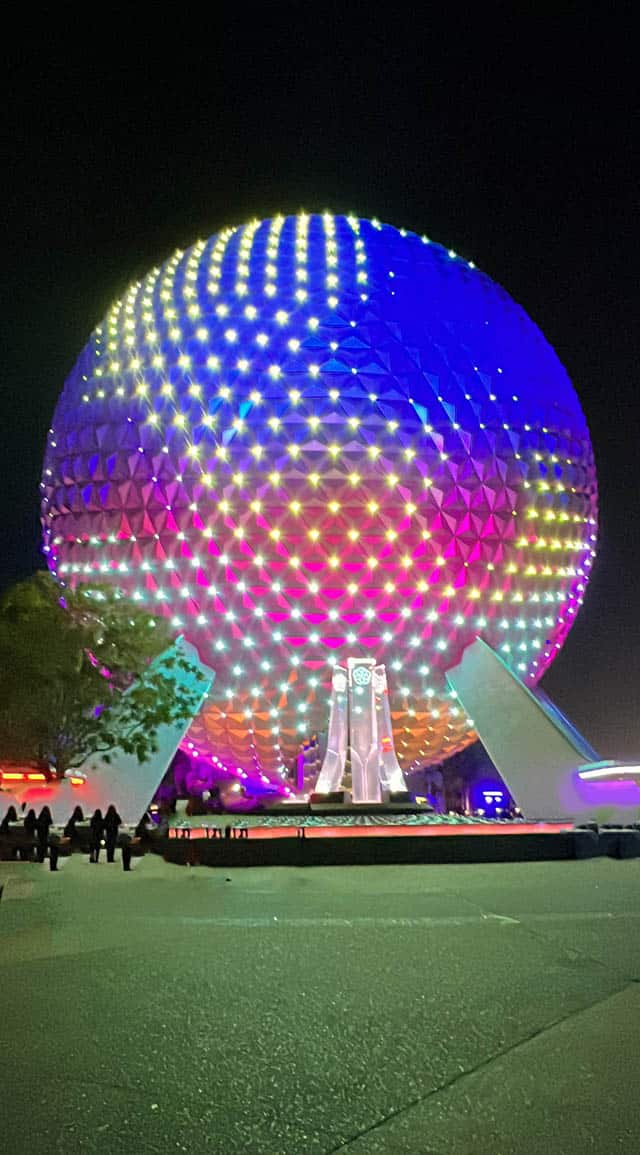 At the end of the show, Spaceship Earth seems to explode into a burst of color shown above. To catch this stunning display, grab a seat on the exit side of Spaceship Earth to avoid walls blocking your view. At dusk, be on the lookout for the Beacons of Magic show illuminating Spaceship Earth. Then, directly after that "The Rainbow Connection" show begins. You'll find yourself following along:
Someday we'll find it, The Rainbow Connection, the lovers, the dreams and me.
What do you think of the new Rainbow Connection show? Do you hope it continues beyond the Festival of the Arts or would you like to see something else added in the future? Please share your thoughts with us on our Facebook Page.