When people think of Disney, one of the first things that come to mind is princesses. There are so many princess experiences in the parks, but we have found the very best!
Akershus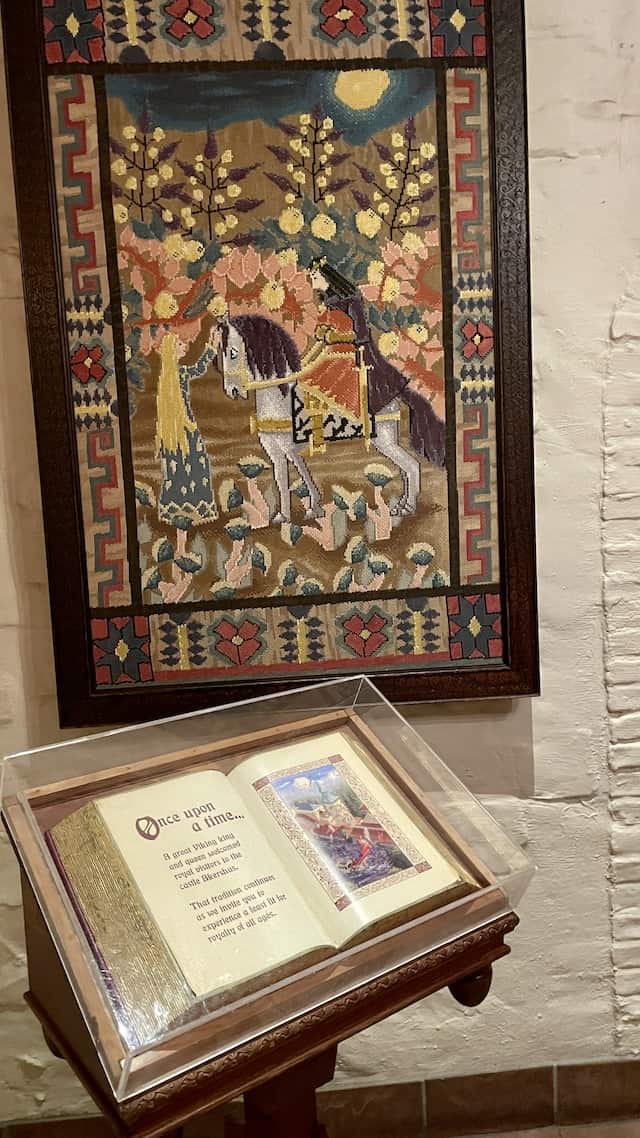 Located in the Norway Pavilion of Epcot, Akershus is a character dining experience. Join various princess inside a medieval castle as you feast on a smorgasbord of Norwegian and American food. Booking a meal here is an excellent strategy to meet several princesses like Belle, Snow White, Ariel, Cinderella, and Princess Aurora and enjoy a sit-down meal.
Unfortunately, Akershus closed in March 2020 and remained closed even when the parks reopened in July of that year. However, Disney and Florida Blue opened a lounge at this location in the fall of 2021.
Akershus finally reopened on November 4, 2022! However, it is not quite the same meal you may remember. First, the meal is no longer a buffet. Instead, food is served family-style. Second, dinner is the only meal available instead of breakfast and dinner. Finally, there are a few new menu items to please more palates. Let's take a look at those now.
Menu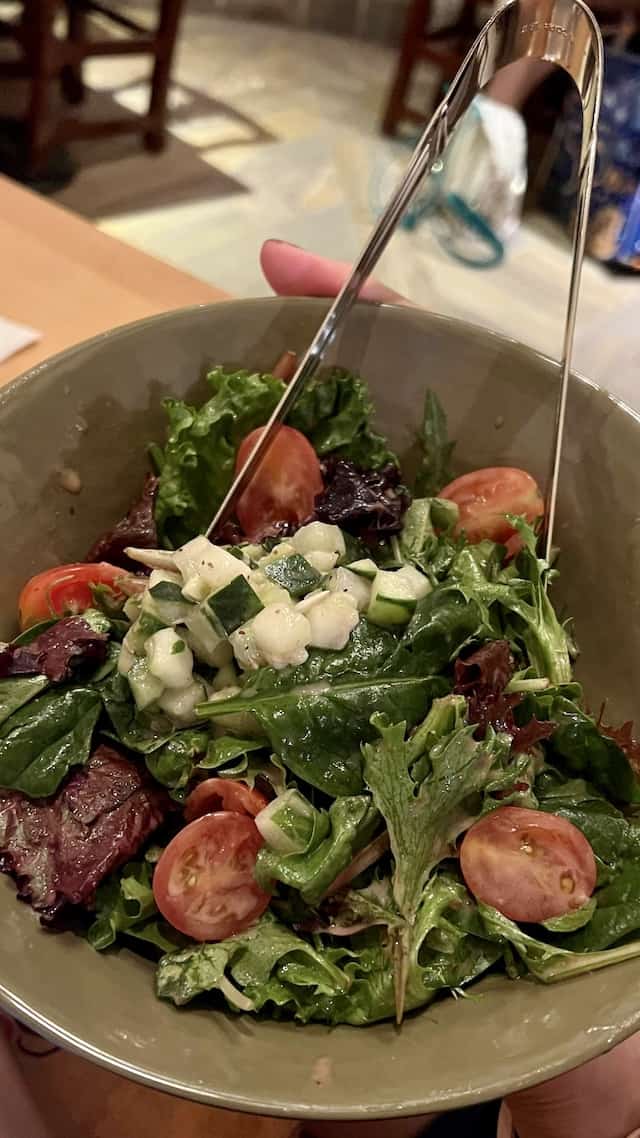 Enjoy a taste of Norwegian food in this medieval castle. For starters, enjoy potato flat bread with cinnamon sugar butter. Our server recommended opening the bread, spreading the butter, and then rolling it back up which is exactly what we did. This is a Norwegian take on classic dinner rolls.
Akershus also serves a salad with pickled cucumber, mixed greens, grape tomatoes, and citrus lingon vinaigrette. We enjoyed both just fine. While there was nothing particularly wrong with them, the main course and desserts were much better.
Main Course
Akershus serves several dishes as part of the main course, all of which come out family-style. The salmon was very fresh and lightly smoked and buttered. We (Maggie and Monica) never tasted salmon before in our lives, and we tried it because it looked fantastic! I was very happy with my first experience with salmon.
Second, there is a beef and pork meatball served on top of a bed of mashed potatoes. The meatballs were very large, so each of us were happy to take just one. The mashed potatoes are served with a sour cream demi with lingon in the sauce. I thought they were very creamy mashed potatoes, and they will definitely be a favorite for people who want some more American food.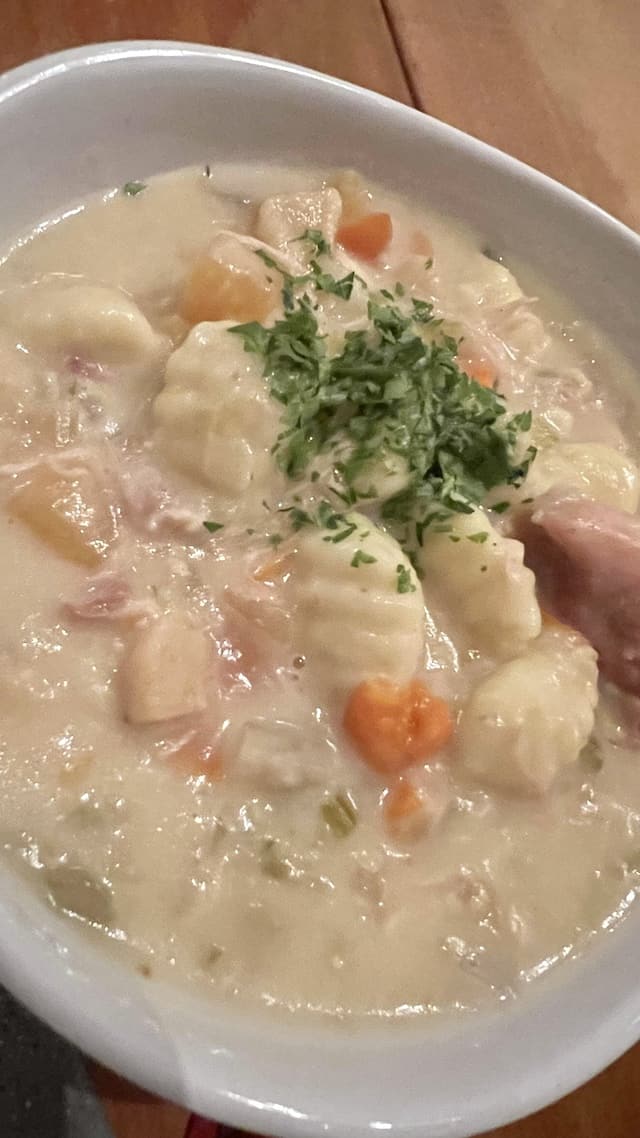 The chicken and dumplings and macaroni and cheese were probably the most American items on the menu. Both tasted exactly like you would expect. The dumplings were soft, and the macaroni and cheese was very creamy. Fun fact: macaroni and cheese is not served in Norway.
Red cabbage is a holiday specialty in Norway, according to our server. I am not a fan of red cabbage, but fellow writer Susan said it tasted just fine. We also had green beans on the platter, and they were your standard Disney green beans. They were not soft or wilted, though.
Dessert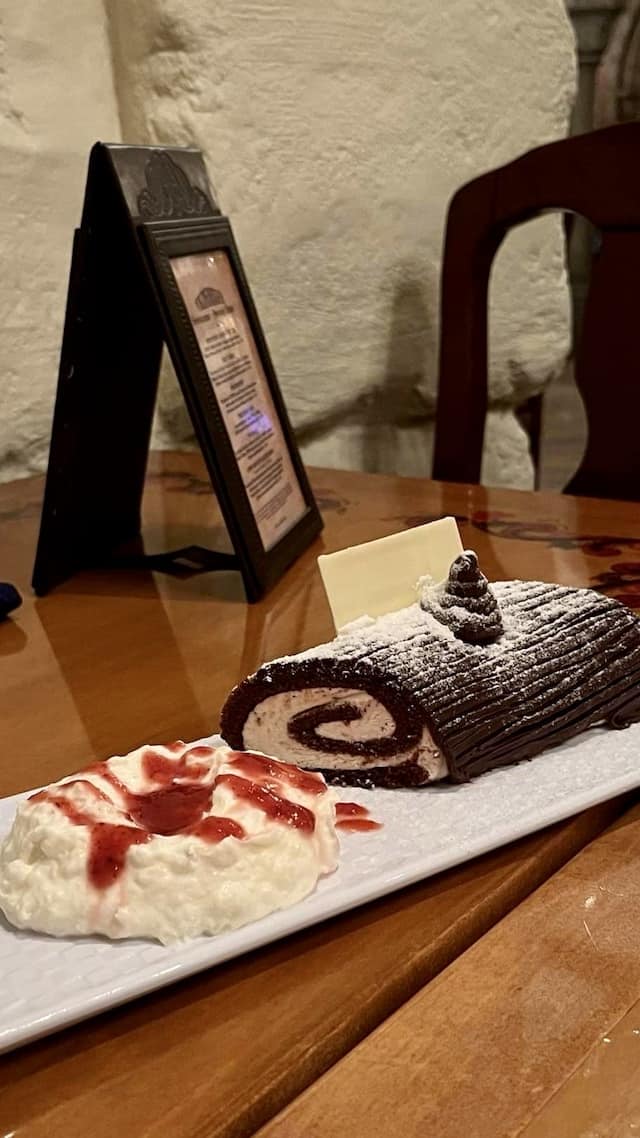 For dessert, enjoy rice cream with lingon berry sauce and a holiday chocolate roll with a white chocolate flag. We all preferred the delicious chocolate roll over the rice cream. Rice cream has a bit of a lumpier texture, so it will not be smooth like ice cream.
Lingonberry is the theme throughout the meal as it is featured in the salad, sauce, and dessert. This berry is commonly found in arctic tundras and Norwegian forests as they grow in cold climates. I thought this was a great way to honor Norwegian culture at Akershus and give us a taste of how it is used there.
Atmosphere and Characters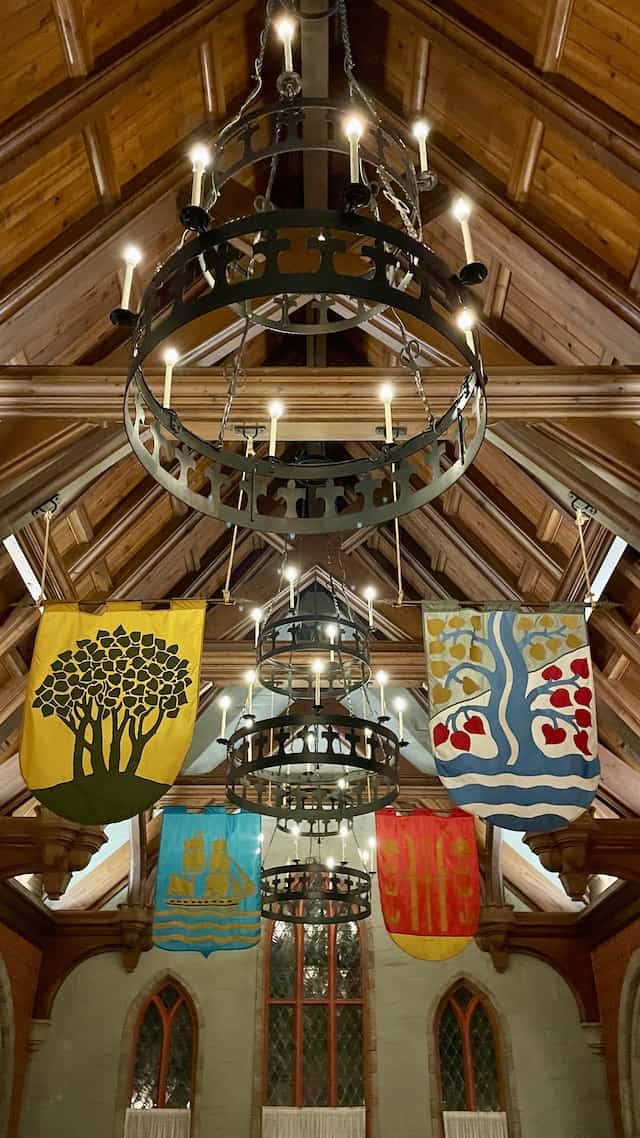 If you have ever been inside Cinderella's Royal Table, Akershus is similar in atmosphere. Cinder block walls, wood beams, and tall windows make you feel like you really just stepped into a medieval castle. Giant flags and chandeliers hang from the ceilings as well, and hutches and paintings bring a more homey feeling into the restaurant.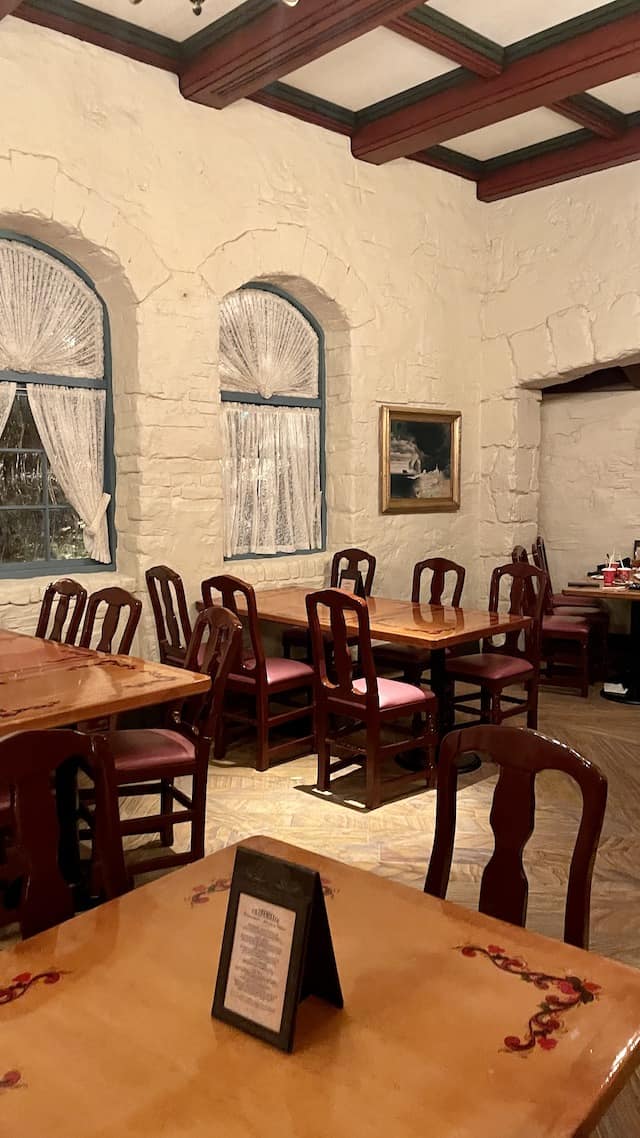 The real reason people come to eat at Akershus is that it is currently the only place where you can meet princesses while you enjoy a meal! Cinderella's Royal Table only offers a photo opportunity with Cinderella before heading up to the dining room. There are no princesses moving from table to table to greet Guests as they eat at Cinderella's Royal Table.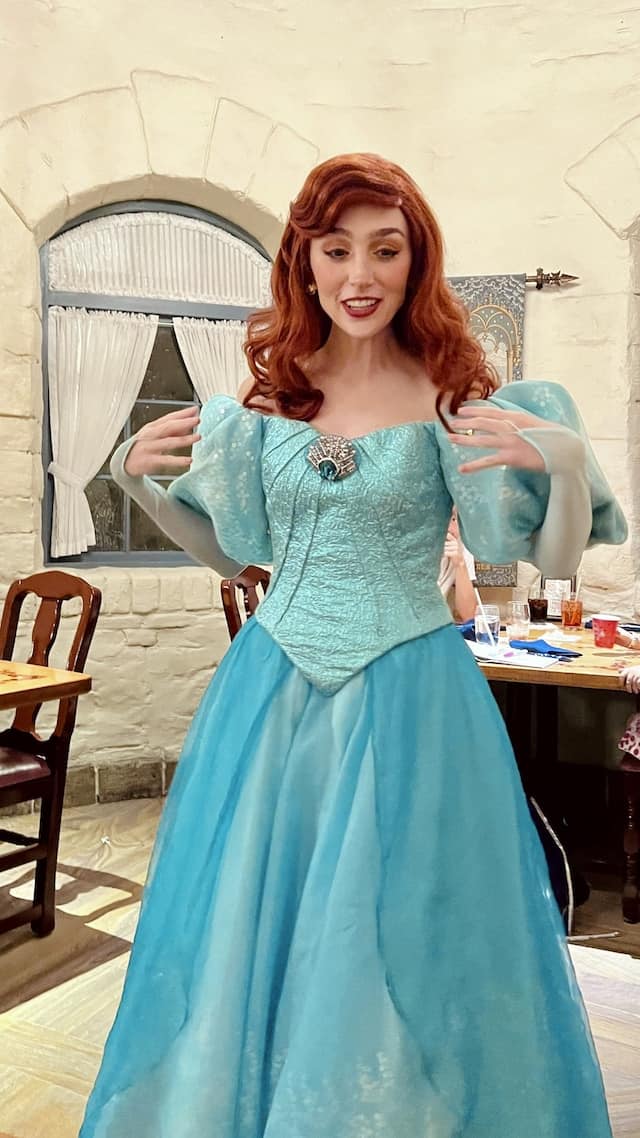 Akershus, on the other hand, offers five separate princess interactions during your visit! Not only that, but they are wonderful personal interactions. They will sign and pose for photos, and Akershus does hand out autograph cards as well. They all come out one at a time, in the following order:
Ariel
Belle
Aurora
Jasmine
Snow White
The best of the best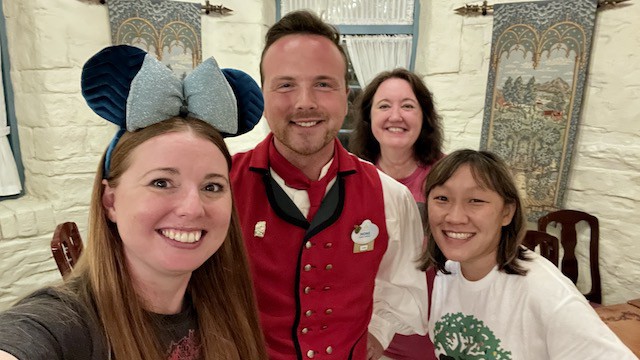 To top off our amazing food and fun interactions, we had excellent service at Akershus. Mons, our server, was incredibly knowledgable and had a warm demeanor. He is currently on his third round with the Cultural Representative Program, and we were so happy to chat with him and get to know him better.
We have said it many times before here on Kenny the Pirate, but the Cast Members really are what makes Disney so great. Especially in a place like Epcot with so many opportunities to learn about other cultures, the authentic experiences from people who live in those countries really do add to the magic formula in the parks.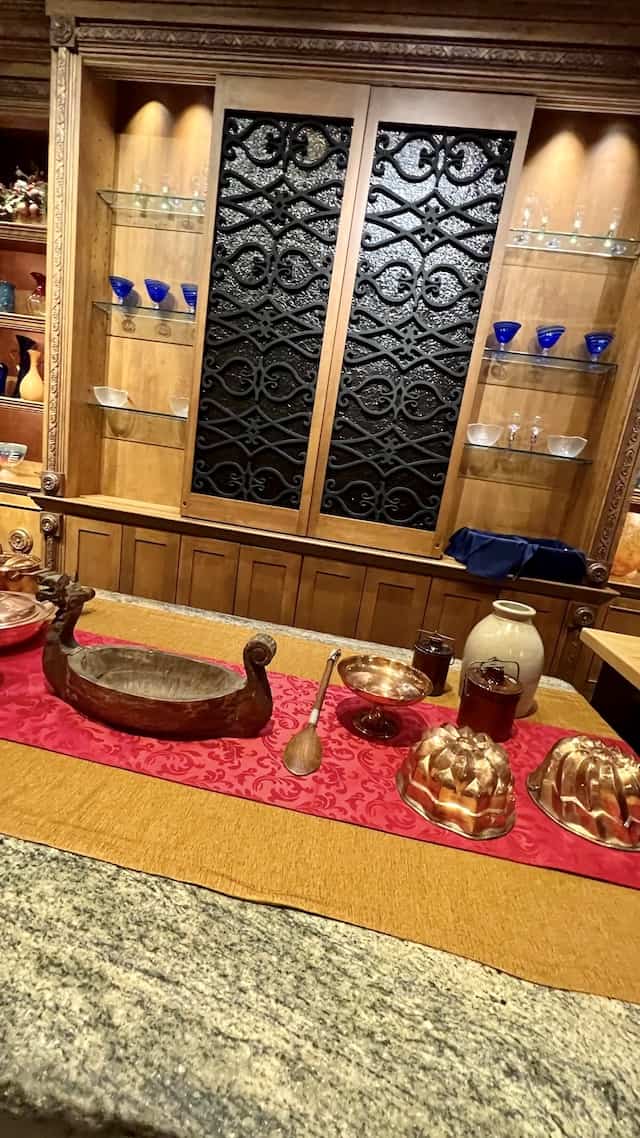 Overall, the new menu is much better than what was previously offered, the princesses were a nice welcome back to Akershus, and our service was incredible. We would not hesitate to revisit in the future.
The only thing I will say is if you have picky kids, I do not foresee them enjoying too much on the entree menu other than maybe the macaroni and cheese and the chicken dumplings. However, it is definitely a step up from the strict Norwegian fare served here before. You may be able to ask for chicken tenders or something, but I am not sure if they would accommodate that.
Do you love Akershus since it reopened? Are you planning to eat there on your next visit? Let us know in the comments below and on Facebook.
Are you planning a vacation? Reach out to our trusted travel agency sponsor Authorized Disney Vacation Planner
Mouse Class Travel
!